All-Clad D3 Tri-Ply Stainless Steel vs. D5 Brushed Stainless Cookware
People frequently say, "variety is the spice of life" but there is more than spice to consider when cooking. Choosing the right stainless steel cookware for you is critical. Even when you have decided to go for the name brand and gold standard, All-Clad cookware, there are still others things to consider. All-Clad has been making fully-clad stainless steel cookware for more than 20 years. As the manufacturer continues to expand it's cookware lines a frequently asked question is what's the difference between All-Clad d3 vs. d5?
All-Clad D3 Stainless Cookware
The All-Clad d3 tri-ply stainless steel cookware line features All-Clad's original 3-ply design. It has 18/10 stainless steel for a cooking surface which doesn't interact with food, even acidic foods such as tomatoes and citrus. Your recipes will always have a consistent flavor. It also features an aluminum core which ensures that your pan heats evenly across its cooking surface. Its third layer is made from 18/0 stainless steel, which is magnetic so it can be used on an induction cooktop. And it's dishwasher safe.
All-Clad D5 Brushed Stainless Cookware
The All-Clad D5 brushed stainless steel cookware line has 5 layers of metal and is more substantial than the original All-Clad D3 Tri-Ply stainless steel cookware. It has the same 18/10 stainless steel for a cooking surface and an aluminum layer followed by another stainless steel layer. The fourth layer is aluminum to further promote even heating. The fifth and exterior layer is magnetic 18/0 stainless steel allowing it to be used on induction cooktops, same as original All-Clad Tri-Ply stainless steel. In all, All-Clad d5 has 2 aluminum layers and 3 stainless steel layers. It features a more ergonomic handle and flared brims, similar to what you find in the All-Clad Copper Core line. It also features a larger second handle to make it easier to pick up and use pot holders/oven mitts.
Read our All-Clad D5 review.
All-Clad d3 vs. d5
The benefits of the d5 are slightly more comfortable to use handle and rims that make pouring a bit less messy. The extra stainless steel layer will make d5 less likely to warp and provide even heating. d5 stainless also weighs more than d3, so it's slightly more difficult to lift. Additionally, All-Clad d5 stainless cookware is also about 15% more expensive.
All-Clad d3 has been the standard for high-performance cookware for more than 20 years. It is still an outstanding line of pots and pans and has a lifetime warranty. While extra layers of metal in the d5 cookware make it less likely to warp, I cannot remember when an All-Clad cookware item was returned for warping. The Tri-Ply stainless steel line is lighter than d5, and I believe it heats faster.
Both styles feature All-Clad's signature "stay cool" stainless-steel handles because the metal itself doesn't conduct heat well. The extra layer of stainless steel in the d5 works to make it less likely to warp and more even heating, but it does not seem to heat or cool as quickly as the original stainless steel.
What is All-Clad D3 ARMOR?
All-Clad d3 ARMOR is a recent addition to All-Clad family of cookware. It features a tri-ply construction as you would expect from All-Clad but features a  textured finish (vs. a non-stick coating) to improve nonstick performance.
Which do I choose?
All-Clad d5 cookware has a few improvements, but the original d3 Tri-Ply cookware is still extraordinary cookware. If you're looking to save money, choose the d3 stainless. The extra metal in the d5 adds to its cost, but you do get slightly better performing cookware. You get to decide which line best meets your needs. Either style of cookware is sure to please, as All-Clad is still the undisputed champion of cookware!
Filed Under: Product Guides
Sours: https://blog.metrokitchen.com/guides/all-clad-stainless-steel-vs-d5-cookware/
The thing about capitalism is that, dang, companies really can't stop at one or two products, even if they're really good ones. There's always a market for more, which All-Clad—a company that produces very well-regarded stainless-steel pots and pans—has risen to meet over and over again over the years. There's All-Clad with a copper core. All-Clad with an aluminum core. Three-ply All-Clad. Five-ply All-Clad. Nonstick All-Clad. Sort-of-nonstick All-Clad.All-Clad with Thomas Keller.All-Clad with Emeril.
The products are expensive but they've got a lot of admirers—for evidence, just look at all the stans in the comments section of this Serious Eats post—and a nice story, too: most All-Clad pans are made at the company HQ, in Canonsburg, Pennsylvania, using American materials. ("Cladding," I have recently learned, is in fact the name of the technique All-Clad routinely uses to make its cookware; it refers to the layering of materials in such as way that something conductive, like copper or aluminum, ends up sandwiched between nonreactive materials like stainless steel.)
So now there's a new product that combines some of the features of various of its forebears: All-Clad has come out with a "hybrid cookware" pan, an extension of its d5 line. The hybrid products—currently available as a four-quart sauté pan, and a few different sizes of frying pan—are stainless steel on the bottom (alternating with layers of aluminum, for a grand total of five ply) but the sides are coated with nonstick material, the idea being that it allows for great searing while being easy to clean.
Why make the sides—and just the sides—nonstick? "Easy stirring and cleanup" is the pitch, but were we having trouble stirring and cleaning before? The nonstick coating is also said to help juices from whatever it is you're cooking drip back down into the pan, rather than...whatever else they would do, I guess. Given the nature of gravity, I suspect those juices would tend downward anyways, but I guess the new walls may give them a little extra lubrication, the way tumbling to the bottom of a hill is easier if you've got a Slip'N Slide underneath you.
How do these things work? Given that they're extremely nice pans to begin with—nonstick coating or no—the answer is: great. They feel heavy and durable in the hand; their handles stay cool while their contents heat. They're dishwasher-friendly and oven-safe up to 500 degrees. The other night I cooked some vegetables in the frying pan and made chicken paprikash in the sauté pan. The recipe called for first searing the chicken pieces in a little oil before adding onions and liquids and spices and letting all the ingredients finish cooking together. For this project, particularly the searing, the stainless steel acquitted itself beautifully—much more evenly than the cast-iron Dutch oven I'd usually use. The stirring was not conspicuously easier; the cleanup was about the same.
The prices for the frying pan are between $120 and $200 (it's available in eight-, ten-, and 12-inch sizes) and, for the sauté pan, $310—a pretty big chunk of change to drop on a single vessel. (The closest comparable All-Clad product is maybe the five-ply copper-core four-quart sauté pan, listed at $385 but available on Amazon for $205. The new nonstick-sides products are sold at Williams Sonoma.) If you think you can stand for something a little, uh, less clad, the company also sells a triple-ply four-quart sauté pan that lists at $245). Whether the steeper price for the hybrid frying pan is worth it or not depends entirely on how much money you have to spend on cookware and whether you want your stirring and dishwashing imperceptibly easier. Again, they're great pans that cook beautifully, and would be a terrific addition to any kitchen that does not already have All-Clad products in it. But I wonder if they're intended to solve a problem that didn't really exist to begin with.
Sours: https://www.epicurious.com/expert-advice/all-clad-d5-hybrid-pan-stainless-steel-nonstick-review-article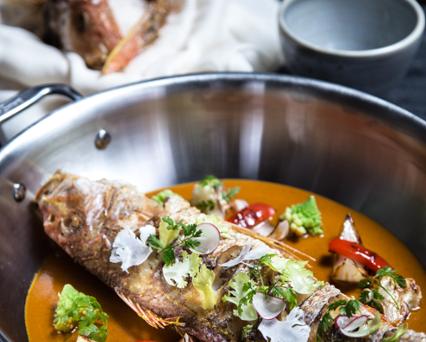 Crispy fried snapper, coconut scented curry sauce, sweet pepper, roasted cauliflower
View Recipe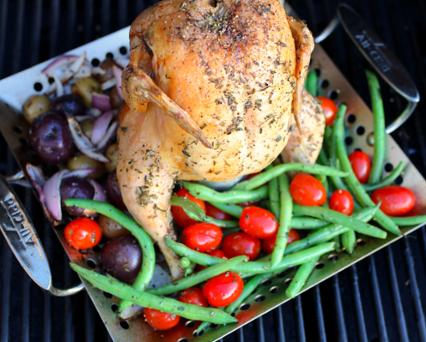 White Wine and Citrus Grilled Chicken with Grilled Niçoise Salad
View Recipe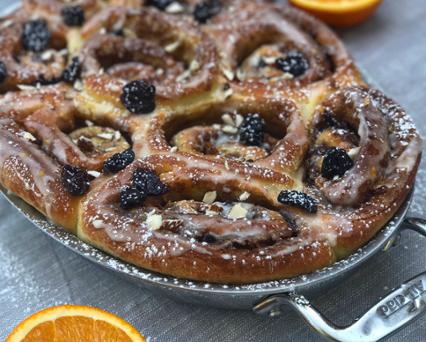 Orange & Cardamom Glazed Morning Buns with Sour Cherry & Almond
View Recipe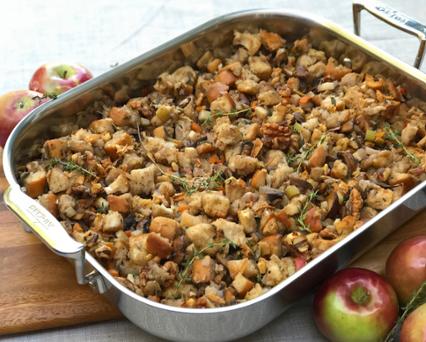 Sourdough & Sage Stuffing with Mushrooms, Apple and Walnuts
View Recipe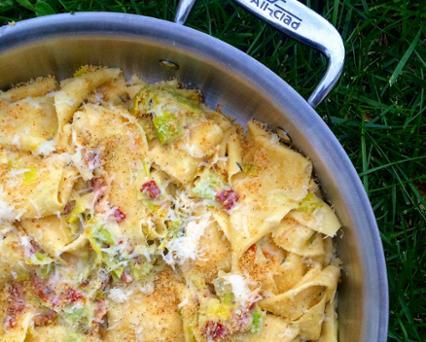 Fresh Pappardelle with Creamed Leeks, Bacon & Garlic Breadcrumbs
View Recipe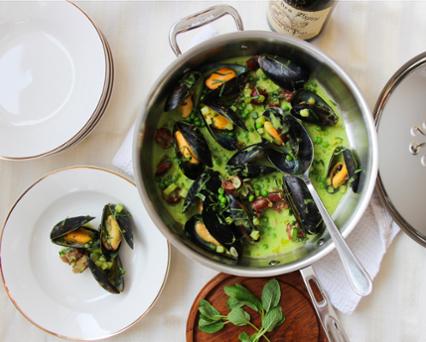 Mussels with Lamb Sausage, Peas and Fresh Mint
View Recipe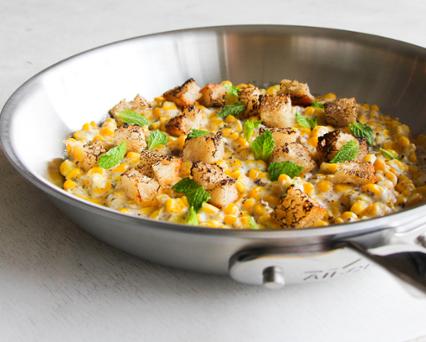 Brie And Black Truffle-Creamed Corn With Mint And Grilled Sour Dough
View Recipe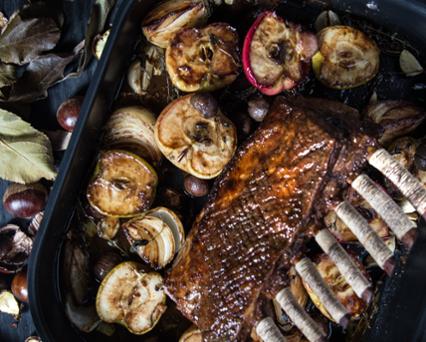 Roasted Heirloom Pork rack, caramelized apples, chestnuts, Maple and Vincotto butter
View Recipe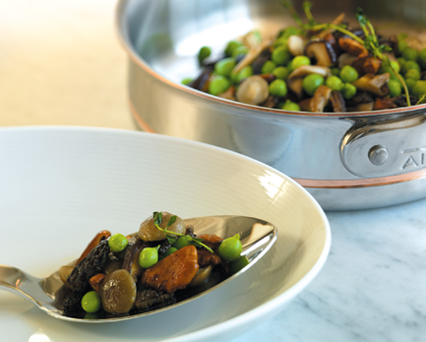 Creamy Scrambled Eggs with a Fricassee of Wild Mushrooms and Peas
View Recipe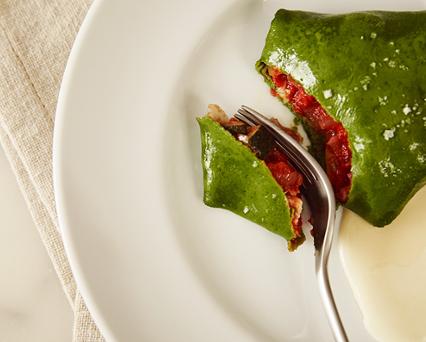 Sweet basil crepes with ratatouille and roasted garlic cream
View Recipe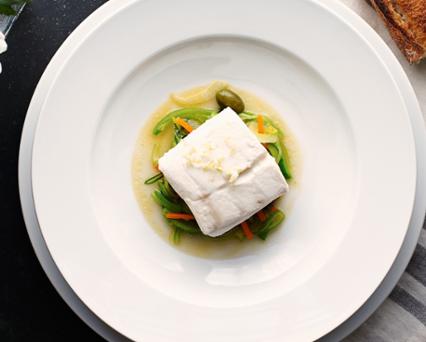 Steamed Fillet of Halibut with Picholine Olives
View Recipe
Sours: https://www.all-clad.ca/en/COOKWARE/SETS/d5-Brushed-Stainless-10-Piece-Set/p/8400001085
Equipment Review: The Best Stainless Steel Skillet, Our Testing Winners and Why All-Clad is Worth It
All-Clad d5 Brushed Stainless Steel 10-Piece Set Review
We purchased the All-Clad d5 Brushed Stainless Steel 10-Piece Set so our reviewer could put it to the test in her kitchen. Keep reading for our full product review.
As the innovators of multi-ply bonded cookware, it's no surprise that All-Clad is considered top of the class when it comes to stainless steel pots and pans. Multi-ply bonded cookware—as the name suggests—is made from multiples types and layers of metal (typically stainless steel and aluminum) which promote even heating and heat retention. Whether you're building your first cookware collection or are looking to upgrade your current pieces, All-Clad's pieces ensure professional-level results and rock-solid durability that'll easily last a lifetime.
The All-Clad d5 Brushed Stainless Steel 10-Piece Set promises superior heat retention, even heating, and resistance to stuck on food with zero warping. The set is designed to be compatible with all cooktops (including induction burners) and is oven-, broiler-, and dishwasher-safe. The d5 set is an aesthetically pleasing addition to any kitchen, but is its performance and craftsmanship worthy of its near $1,000 price tag? We cooked up everything from spaghetti to seared salmon to find out.
Design: Beautiful, functional workhorses
The All-Clad D5 10 Piece Stainless Steel Cookware Set includes an 8-inch fry pan, 10-inch fry pan, 1.5-quart sauce pan with lid, 3-quart saucepan with lid, 3-quart saute pan with lid, and 8-quart stockpot with lid. The assortment and sizes of these pieces should be able to handle the majority of your cooking needs. 
At first glance, this stainless steel cookware set is absolutely beautiful. The exterior and bottom of each piece is made of brushed stainless steel, which resists fingerprints and water spots. The interior has a starburst finish, designed to help prevent food sticking. Pot handles and lids are made from shiny, polished stainless steel. The combination of brushed and mirror finish is bright, contemporary, and eye-catching.
This set complemented our stainless steel kitchen appliances. Honestly, it's pretty enough to leave your favorite or most often used pot out on your stovetop. We opted to store the stockpot on our stove since it was a little too wide to fit comfortably in our cabinets with the rest of the set and our other pans. 
As soon as we unboxed them, we were impressed with how solid and study each piece felt. The pots are certainly heavier than the nonstick cookware we're used to, but not nearly as heavy as our cast iron pieces. The added weight is to be expected with the 5-ply construction, but we didn't find them so heavy as to be uncomfortable.
The capacity is etched on the bottom of each piece, so if you're not sure what size pot to use with a recipe, a quick glance makes it easy to double check you'll have enough room. We found this attention to detail helpful when selecting which saucepan to use for cooking small vs. large batches of grains like quinoa and rice.
As soon as we unboxed them, we were impressed with how solid and study each piece felt.
We especially loved the high sides of the saute pan; it's roomy and versatile enough to go from simmering stovetop sauces to finishing steaks in the oven. The stockpot is also generously sized and perfect for large batches of pasta, chili, soup, and even homemade stock.
All the pieces—with the exception of the stockpot—can nest inside of each other for more compact storage. Just note that scratches can occur when stainless steel pots rub against each other. These won't hurt the function of the cookware, but you may want to invest in liners if you're planning to stack your pans. 
Each piece in this set has a flared rim to make pouring easy and less messy. While the flared edge isn't quite as good as a dedicated pour spout, it still made draining excess liquid from steamed vegetables and transferring sauces and leftovers to storage containers much easier than usual.
The fry pans, sauce pans, and saute pan all have extra-long stainless steel handles riveted to the pots. We liked the contouring of the handles for comfort and ease of gripping. There's also a bolster on the underside of each long handle for finger placement, but we found it was placed too close to the base of the pots—and source of heat—to be of much use. Instead, we preferred gripping the handles toward the middle. The long handles may make storing the pans in a cabinet more difficult; with some creative stacking and maneuvering, ours just barely fit into our cabinet. Since they have a hole in the top of each handle, you could also opt to store them on a pot rack. 
The sauce pans, saute pan, and stockpot have short side loop handles. We found these roomy, comfortable to grip, and very ergonomic when transfering dishes from the stove to our dinner table. Be warned: These side handles do get very warm depending on how close they are to the burner and how high of a heat setting you're using. It's not a deal breaker, though; we just had to remember to reach for a pot holder or dish towel before picking them up.
The only real complaint we have regarding design is the material and shape of the lids. We tend to prefer glass lids—as opposed to this set's stainless steel lids—to keep an eye on food as it cooks and adjust heat settings as needed. It's more of a personal preference, but we still missed being able to see our food when we used a lid. The lid handles are generously sized and, but since they're also made of stainless steel, they retain heat and get hot to the touch. 
Both the lids and lid handles are flat versus domed, which is something to keep in mind when you place a hot lid on the counter. We've always laid our cookware lids handle side down to keep food and drips off the counter, but the flat handles of the All-Clad makes it hard to do so without touching the hot lid to your hand or wrist. We remedied this by placing the lids handle side up onto a cutting board or directly into the sink. In the future, we might use a plate to hold dirty pot lids in use—like a spoon rest, but for lids.
Material: Five alternating layers of stainless steel and aluminum
All-Clad's d5 collection is named for its five alternating layers of stainless steel and aluminum which deliver serious strength and performance. The interior is made of 18/10 stainless steel. In case you didn't know, the 18/10 designation refers to the amount of other metals (chromium and nickel) that are added to stainless steel to prevent rusting.
The heat conductivity is excellent; we browned ground beef and seared chicken sausages and salmon filets in record time.
The exterior of the cookware is also stainless steel and is magnetized for optimal compatibility with induction stovetops. Two layers of aluminum surround a stainless steel core within each piece of cookware. The combination of metals and extra layers makes these pieces extra durable and eliminates any potential for warping. They also ensure the pans heat quickly and evenly.
All-Clad says you can use any type of cooking utensil on this cookware, metal included. Stainless steel is prone to small scratches from metal on metal contact, though. These scratches won't hurt the performance of the pans, but to keep them looking their best, you'll need to take a bit of extra precaution or use wooden, plastic, or silicone utensils.
Heating Capacity: Fast, even heat distribution
All-Clad's pans heated quickly; faster than we expected and faster than our usual nonstick cookware. They also heated evenly with zero hot spots and retained heat a long time after cooking. In fact, they heat so well, low to medium heat on our gas range was sufficient to cook most things, resulting in enhanced energy efficiency. 
The heat conductivity is excellent; we browned ground beef and seared chicken sausages and salmon filets in record time. The proof is in the sizzle. Liquids also boil and simmer quickly in these pots; we were ready to cook pasta and rice and had tomato sauce simmering in no time. We were even able to scramble eggs in the fry pans over low heat without any sticking. Consider us impressed.
Cleaning: Dishwasher safe and easy by hand
While cleaning stainless steel pans isn't as easy as cleaning nonstick pans, the process doesn't have to be intimidating. We were pleased to find the All-Clad d5 pieces are a cinch to clean, as long as you follow the care instructions.
The pans and lids are dishwasher safe, but we had the best results when we allowed pans to cool and soak for a few minutes in warm soapy water. After a soak, we hand washed them with a nylon scrubbing sponge.
We were pleased to find the All-Clad d5 pieces are a cinch to clean, as long as you follow the care instructions.
After cleaning, we did notice some cloudiness on the interior of our cookware. This is often a result of mineral deposits from hard water. A second cleaning with a paste made from Bar Keeper's Friend and water removed stains and restored the cookware's brilliant luster. 
Price: Top of the line
There's no sugar-coating it: All-Clad is a high-end brand and their products come with premium price tags. The All-Clad d5 set is an investment with an MSRP of $900. If you're a serious and regular home cook, you can't go wrong with any of All-Clad's cookware. Their pieces are designed with performance and durability in mind. If the steep price tag gives you pause, rest easy knowing it's backed by All-Clad's limited lifetime warranty. 
If you aren't ready to commit to the full set, the d5 cookware is available to purchase as individual pieces. It's a good option if you want to try out the performance of a single pan before springing for the entire set. 
All-Clad 10-Piece Stainless Steel Cookware Set vs. Cuisinart Multiclad Pro Stainless 12-Piece Cookware Set
There are plenty of more affordable stainless steel cookware sets on the market. At around $200, Cuisinart's Multiclad Pro is an excellent choice that will meet the needs of most home cooks. The set is made from a 3-ply construction with two layers of stainless steel surrounding an aluminum core. The set contains the same types and sizes of pots and pans as the All-Clad, with the addition of a steamer insert with lid.
Cuisinart Multiclad Pro Stainless Steel 12-Piece Cookware Set Review
Final Verdict
If you take home cooking seriously, you won't regret investing in All-Clad.
If you can afford it, we don't think you'll have any buyer's remorse. The set heats quickly and evenly and it's built to last beyond your lifetime. 
Specs
Product Name d5 Brushed Stainless Steel 10-Piece Set
Product Brand All-Clad
MPN BD005710-R
Price $899.99
Weight 24 lbs.
Materials 5-ply bonded stainless steel and conductive aluminum
What's Included 8-inch frying pan, 10-inch frying pan, 1 ½-quart sauce pan with lid, 3-quart saucepan with lid, 3-quart sauté pan with lid, and 8-quart stock pot with lid
Warranty Limited lifetime
Sours: https://www.thespruceeats.com/all-clad-d5-brushed-stainless-steel-set-review-4768315
D5 all clad
World-renowned chefs and home cooks share at least one thing in common: a love for all things All-Clad. The brand, which literally invented bonded cookware — or cookware that bonds various metals together to get all of the beneficial properties from each metal — has been a leading cookware brand since its inception in 1971. But like any hot-ticket item (and in All-Clad's case, arguably the best cookware on the market), prices are high. Unless you're willing to wait for one of the brand's infamous factory seconds sales, get ready to pay up for some enviable pots and pans.
Luckily, competitors have been making comparable cookware to All-Clad albeit without the allure of the "All-Clad" name. Big name brands. like Cuisinart, have their own lines of bonded cookware, and the advent of direct-to-consumer brands, like Made In, have made it more approachable than ever before for those cash-strapped chefs to get to-die-for cookware without having to sell their soul for it. So whether you're looking for an affordable alternative to All-Clad, or you just want something that's different from the pack, here are the best All-Clad alternatives to buy.
If You Want All-Clad D3 Stainless Steel Cookware ...
Sur La Table
D3 Stainless Steel 10-Piece Set
All-Cladsurlatable.com
$699.95
SHOP NOW
All-Clad's D3 cookware is its flagship product, a continuation of what All-Clad's founder John Ulam crafted back in the '70s. The "3" in "D3" stands for the three layers of metal in the cookware: a bottom layer of induction-compatible stainless steel, an inner core of rapid-heating aluminum and a top layer of nonreactive 18/10 stainless steel. In layman's terms, the cookware gets hot evenly and stays hot for longer. The pots and pans are compatible on all cooktops, and they're safe to use in the oven at up to 600°F.
Get Cuisinart's Tri-Ply Pro Stainless Steel
Bed, Bath & Beyond
Tri-Ply Pro Stainless Steel 13-Piece Cookware Set
Cuisinartbedbathandbeyond.com
$299.99
SHOP NOW
Cooks have long turned to Cuisinart for its affordable and trustworthy cookware and kitchen gadgets. Its Tri-Ply Pro cook ware is similar to its All-Clad D3 counterpart touting three layers of stacked metal. With Cuisinart's cookware set you get more bang for your buck, and the pots and pans are also good to use on all cooktop surfaces, as well as in ovens, albeit with a maximum temperature of 500°F. Instead of offering stainless steel lids like All-Clad, Cuisinart's Try-Ply Pro series offers glass lids, which allow you to watch your food while it cooks while keeping the lid on.
More Alternatives to All-Clad D3 Stainless Steel Cookware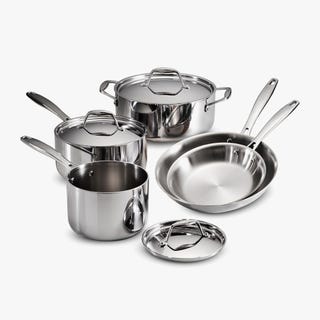 Gourmet Tri-Ply Clad, 8-Piece Cookware Set
Tramontinamacys.com
$499.99
SHOP NOW
Macy's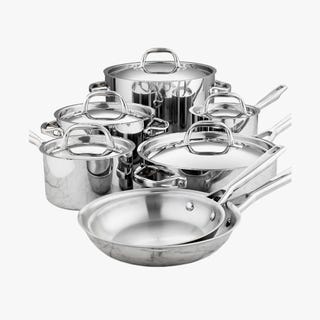 Tri-Ply Stainless Steel, 12-Piece Cookware Set
SHOP NOW
Macy's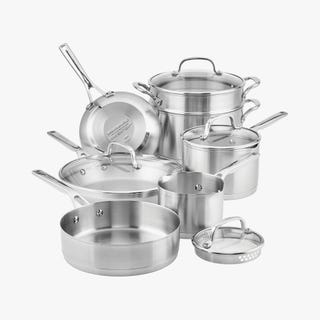 Brushed Stainless Steel, 11-Piece Cookware Set
KitchenAidmacys.com
$399.99
SHOP NOW
Macy's
If You Want All-Clad D5 Stainless Steel Cookware ...
Bloomingdale's
D5 Cookware, 10-Piece Set
All-Cladbloomingdales.com
$799.99
SHOP NOW
The line of D5 cookware from All-Clad ups the three bonded layers from D3 to five bonded layers. It alternates between layers of stainless steel and aluminum, and it's thought to add increased protection against warping (plus, a little extra heft since there are more layers). Five-ply cookware also has even faster, more even heating with few hot spots. All-Clad offers its D5 cookware in a brushed finish, which is matte, and a polished finish, which is shiny.
Get Made In's Stainless Steel Cookware
Made In
Stainless Clad Frying Pan
Made Inmadeincookware.com
$99.00
SHOP NOW
Made In has quickly become a fan favorite in the direct-to-consumer cookware market. Celebrity chefs back the brand, and it's easy to see why. Its cookware is a direct alternative to All-Clad, minus the huge markups. Its stainless steel pots and pans are comparable to D5 because of its five-ply makeup, which is equally as good as All-Clad's. Made In's stainless steel cookware is oven safe up to 800°F versus All-Clad's D5's maximum oven temperature of 600°F, though there are probably few instances when your oven would need to get the hot (or if it's able to at all).
More Alternatives to All-Clad D5 Stainless Steel Cookware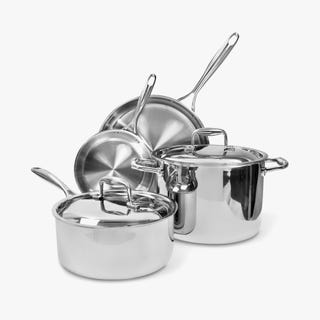 5-Ply Stainless Steel Cookware Set, 6-Piece Set
Brandlessbrandless.com
$130.00
SHOP NOW
Brandless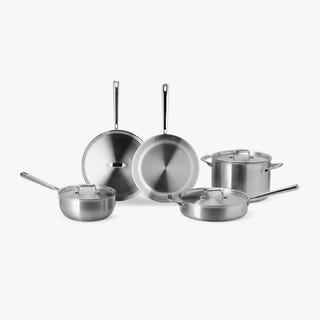 Essentials Cookware Set
SHOP NOW
Misen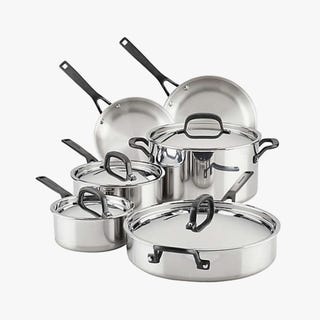 Kitchenaid® 5-Ply Clad Stainless Steel 10-Piece Cookware Set
KitchenAidbedbathandbeyond.com
$499.99
SHOP NOW
Bed, Bath & Beyond
If You Want All-Clad Copper Core Cookware ...
Macy's
Copper Core 10-Piece Cookware Set
All-Cladmacys.com
$269.99
SHOP NOW
Few pieces of cookware elicit as much awe as All-Clad's Copper Core cookware. It builds upon the D5 model by swapping out the middle layer of stainless steel for copper, which heats up incredibly fast, but also cools down just as quickly — this responsiveness to temperature control gives cook ultimate control over whatever they're making.
Get Anolon Nouvelle Copper Stainless Steel Cookware
Bed, Bath & Beyond
Nouvelle Copper Stainless Steel 10-Piece Cookware Set
Anolonbedbathandbeyond.com
$299.99
SHOP NOW
Anolon's Nouvelle Copper Stainless Steel is way more affordable than All-Clad's Copper Core pots and pans, offering a copper layer on the bottom of the pan, which gives a similar effect to the copper core. However, Anolon's copper pans are impact bonded, which means the price is lower, but heat doesn't distribute as rapidly up the pan since it's only the base that has copper.
More Alternatives to All-Clad Copper Core Cookware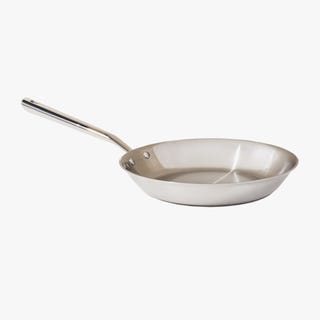 The Classic Pan
Materialmaterialkitchen.com
$95.00
SHOP NOW
Material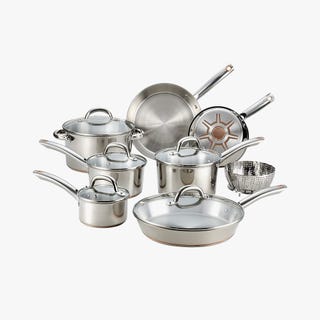 Ultimate Stainless Steel Copper Bottom, 13-Piece Cookware Set
SHOP NOW
Amazon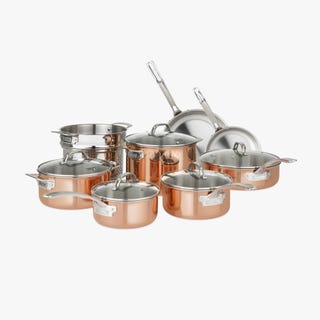 3-Ply Copper Clad, 13-Piece Cookware Set
Vikingwayfair.com
$599.99
SHOP NOW
Wayfair
If You Want All-Clad HA1 Hard-Anodized Non-Stick Cookware ...
Crate & Barrel
HA1 Hard-Anodized Non-Stick 10-Piece Cookware Set with Bonus
All-Cladcrateandbarrel.com
$399.99
SHOP NOW
Stainless steel is All-Clad's crème de la crème, but it also makes a very good line of non-stick pots and pans. It has a stainless steel base, which is compatible for induction cooktops; hard-anodized aluminum, which heats fast and evenly; and a coating of three layers of a PFOA-free nonstick material. The coating is resistant to chipping and peeling, offering top-of-the-line non-stick capabilities. Unlike most other non-stick cookware, All-Clad's is safe to use in the oven at a fairly high 500°F.
Get Calphalon Classic Hard-Anodized Nonstick Cookware
Macy's
Classic Hard-Anodized Nonstick Pots and Pans, 10-Piece Cookware Set
Calphalonmacys.com
$159.99
SHOP NOW
Calphalon has a reputation for making good non-stick cookware at approachable price points. Its Classic Hard-Anodized Nonstick Cookware is similar to its All-Clad counterpart in that it has two layers of PFOA-free non-stick coating, just one fewer than All-Clad. The Calphalon cookware can go into the oven, but only at a maximum temperature of 450°F. Minor details like pour spouts and stay-cool handles make Calphalon's non-stick cookware an easy choice for those looking for an All-Clad alternative.
More Alternatives to All-Clad HA1 Hard-Anodized Non-Stick Cookware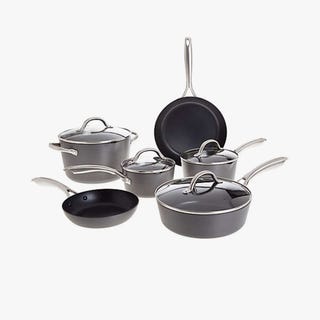 Our Table Nonstick Hard-Anodized Aluminum 10-Piece Cookware Set
bedbathandbeyond.com
$120.00
SHOP NOW
Bed, Bath & Beyond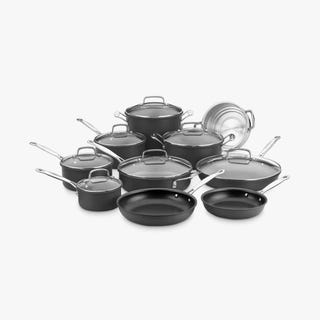 Chefs Classic Hard Anodized, 17-Piece Set
Cuisinartmacys.com
$439.99
SHOP NOW
Macy's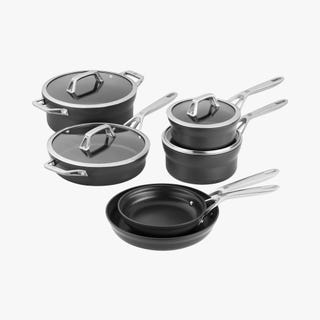 Zwilling Motion Aluminum Hard Anodized Nonstick, 10-Piece Cookware Set
J.A. Henckelsmacys.com
$459.99
SHOP NOW
Macy's
Sours: https://www.gearpatrol.com/food/a36958744/all-clad-alternatives/
ALL-CLAD D5 STAINLESS STEEL SET PROS \u0026 CONS REVIEW
Now Ill take you to the hygiene room and wash you properly. Realizing that yesterday's nursery is called the hygiene room, "Sasha raised his tear-stained eyes to Ira with the last hope. " Of course, bathe, she said to Natasha with an. Indifferent look.
You will also like:
I try to distract the boy with a light conversation about nothing, I chuckle and assent, where necessary, I take him away from the place and thoughts attached to this place. At the kiosk I let him make his own choice: beer.power engineer. Not.
988
989
990
991
992