If you suffer with cold sores, you'll probably go as far as saying that they're the absolute bane of your existence.
The initial telltale tingling that leads to blistering, itching, stinging, cracking and weeping is enough to put a downer on anyone's week, and that's before we've touched on how they look, not to mention the fact that they're highly contagious...
But there's no need to hide behind your scarf or bail on plans, because there are ways to keep them from rearing their ugly heads.
Soft, smooth lips, here we come.
Nicky J. SimsGetty Images
What Causes A Cold Sore?
In order to keep them at bay, it pays to know exactly what cold sores are.
According to the NHS, cold sores are small fluid-filled blisters that can appear anywhere on the face. They are probably most common on the lips and usually crust over into a scab.
Not pretty. But what causes them?
'Cold sores erupt when the normally dormant herpes virus is reawakened,' explains Dr. Marie-Louise Daly, Consultant Dermatologist at The Harley Street Dermatology Clinic.
A lot of people find that feeling run down, stressed and ill that can contribute to the unsightly blisters, but they aren't the only factors.
'Harsh environmental conditions such as extremes of temperature or wind can dehydrate and damage the lips,' says Dr. Daly. 'UV light has also been demonstrated to lead to reactivation of the virus from its dormant state.'
As with most things in life, even hormonal changes such as menstruating or pregnancy can also be a common trigger for cold sore breakouts.
Rosdiana CiaravoloGetty Images
What Do Cold Sores Look Like?
Cold sores can vary in appearance depending on how severe the infection is, from small spots to full blown blisters.
'Cold sores typically affect the lips, the skin around the mouth, the nose, cheek and chin. These blisters can appear differently in different skin tones. On white skin tones blisters appear pink whilst on black and brown skin tones blisters are either pink or skin-coloured', explains Dr Winnie Uchendu, Aesthetic and wellness doctor at TWN Clinic.
It's worth also noting that cold sores can sometimes leave pigmentation in their wake: 'Most cold sore breakouts don't cause scarring, however in black and brown skin tones, cold sores can cause hyperpigmentation (i.e. darkening of the affected skin) if the blisters are actively broken open by rubbing, aggressive washing, scratching or squeezing', says Dr Winnie Uchendu.
So it's important to avoid irritating them even further, as much as possible.
This content is imported from Instagram. You may be able to find the same content in another format, or you may be able to find more information, at their web site.
How To Prevent A Cold Sore
'Well-hydrated lips are less likely to have fissures and cracks and therefore are more resilient to environmental factors that can exacerbate cold sores,' explains Dr. Daly.
This means slathering on the lip balm, especially one that boasts an SPF to stop the sunshine from making things worse.
There are also some wellness aspect to consider if you're prone to getting cold sores.
'In people that already carry the dormant virus, cold sores usually erupt following triggers such as colds, fatigue, emotional or physical stress, excessive exposure to sunlight or wind, and trauma to the skin or lips. The key to prevention is to avoid these triggers. Getting enough sleep, having a healthy diet, engaging in effective stress management, avoiding excess sunlight exposure and using daily SPF on the face and lips, can all save you from a cold sore outbreak', advises Dr Uchendu.
That means making sure to get those zzz's in and trying some stress-relieving exercises (trust us, it works).
The Best Lip Balms, Treatments And Scrubs To Save Dry, Chapped Lips
Sheen Screen Hydrating Lip Balm SPF 50
SHOP NOW
We are just as tired as telling you to SPF as you are of hearing us tell you. Butttttt... (whispers) don't forget your lips too. Magically, this balm doesn't feel at all chalky but contains an impressive SPF50 level of protection. It comes in four sheer tones too.
Lip Butter Balm
SHOP NOW
As the name suggests, this silky smooth balm melts into lips like cheese on warm toast, to relieve any patchy dryness. It's ideal to keep in your pockets during winter months to combat any chill-induced cracks to leave lips soft but without any greasiness.
Tinted lip balm
SHOP NOW
The coolest of the cool make-up collection, designed and formulated by Byredo and Isamaya Frrench, is the gift that keeps giving. This tinted balm is vegan (many are formulated with bees wax) and leaves the sheerest hint of complexion boosting colour.
Kiss Mix Lip Treatment
SHOP NOW
If you've never tried this, where have you been? This cult product still has a special place in our hearts (and handbags) due to its pout perfecting qualities. It's especially good as a 'primer' under lipstick.
Le Rose Perfecto Beautifying Lip Balm
SHOP NOW
For a little luxury on your lips, treat yourself to one of these sleek bullets. Shea butter soothes, a pinch of pink pepper plumps, and the pink leather case, well, that's just an added bonus.
Mineralist Gloss Balm
SHOP NOW
A gloss balm hybrid might not be a product you thought you needed but picture this... a product that adds the shine of a gloss, with the hydrating texture of a balm. Gimme.
Lip Sleeping Mask
SHOP NOW
The OG sleeping mask has remained relevant and rightly so. It really, really works, soothing and sealing cracked lips overnight. Make it part of your bedtime ritual pronto.
Lip Fetish Lip Balm - Passion Flower
SHOP NOW
The Mother of make-up has your chapped lips sorted with this backstage-approved lip balm with a subtle 'your lips but better' tint.
Lip Balm
SHOP NOW
If there's one person that knows the science behind keeping your lips in good condition it's Dr. Barbara Sturm. Apply this shea butter, avocado and coconut oil-infused lip balm to protect chapped lips against harsh cold weather.
Extra Lip Tint - Bare Nude
SHOP NOW
If candy pink lip balms aren't your vibe, Bobbi Brown's rust-hued Lip Tint is the one for you.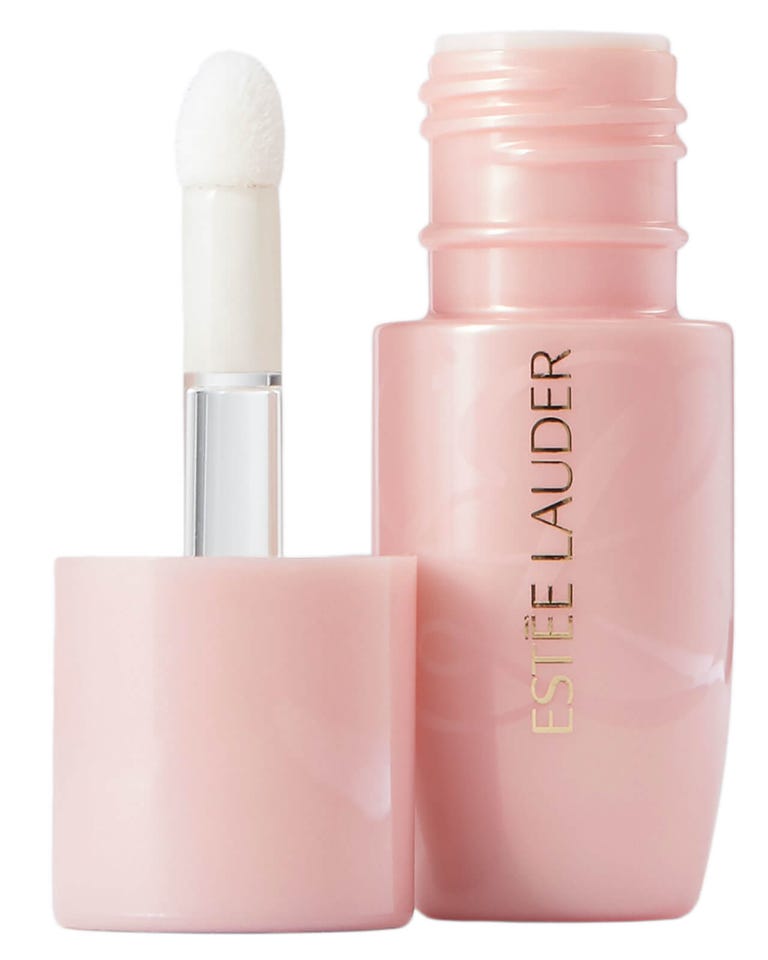 Estee Lauder Pure Color Envy Nighttime Rescue Lip Oil Serum - £25
SHOP NOW
Whilst a serum for your lips might seem a bit OTT, this is the ultimate hydration station for lips. Blending all the calming and hydrating oils together such as lavender, camellia and rose, this is the ultimate comfort blanket for lips.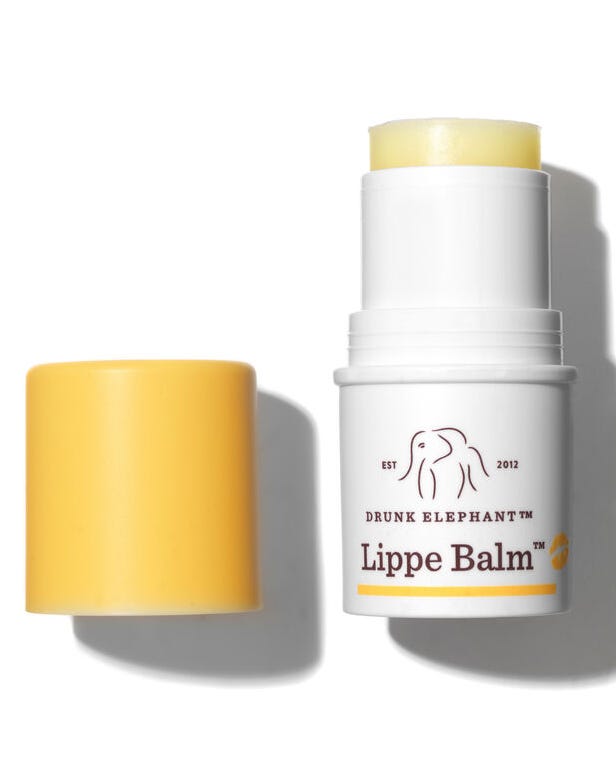 Drunk Elephant Lippe Balm - £15
SHOP NOW
Not only does the chubbier stick make this lip balm quick and easy to supply, it mixes vitamins A, D and E along with omega-3 fatty acids to give your lips and instant pillow-y boost. We guarantee there will be no chapped skin in sight.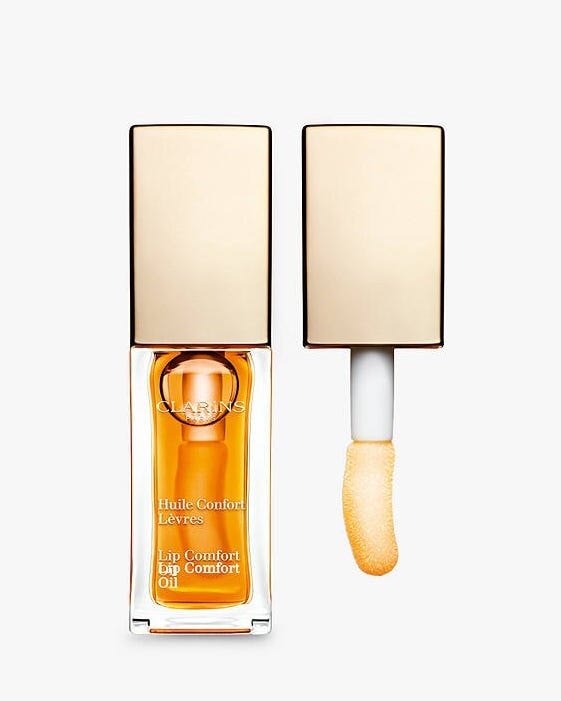 Clarins Instant Light Lip Comfort Oil - £19
SHOP NOW
For when lips need the ultimate TLC treatment, this non-sticky oil glides on to lips like jam, to leave you with a nourishing coating to lips. In a variety of shades, you can either pick from a subtle tint or honey coloured nude.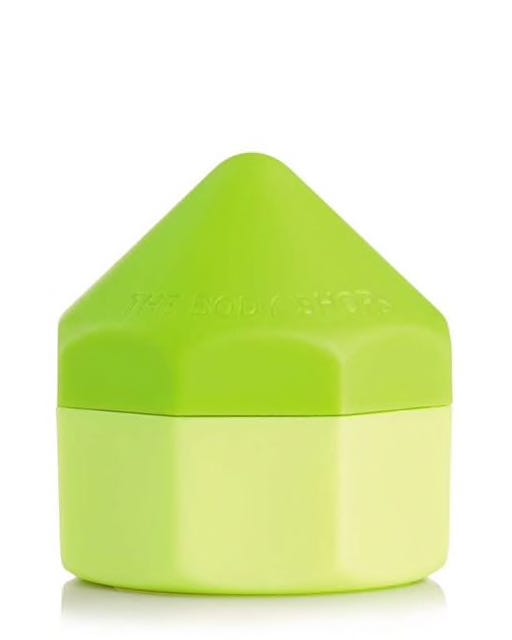 The Body Shop Lip Juicers - £7
SHOP NOW
Whilst these might look like a piece of stationary you might have had in your pencil case at school, they pack a powerful fruity punch when applied to lips. 100% vegan and formulated with community trade shea butter and olive oil, we challenge you to not lick these off five seconds after application.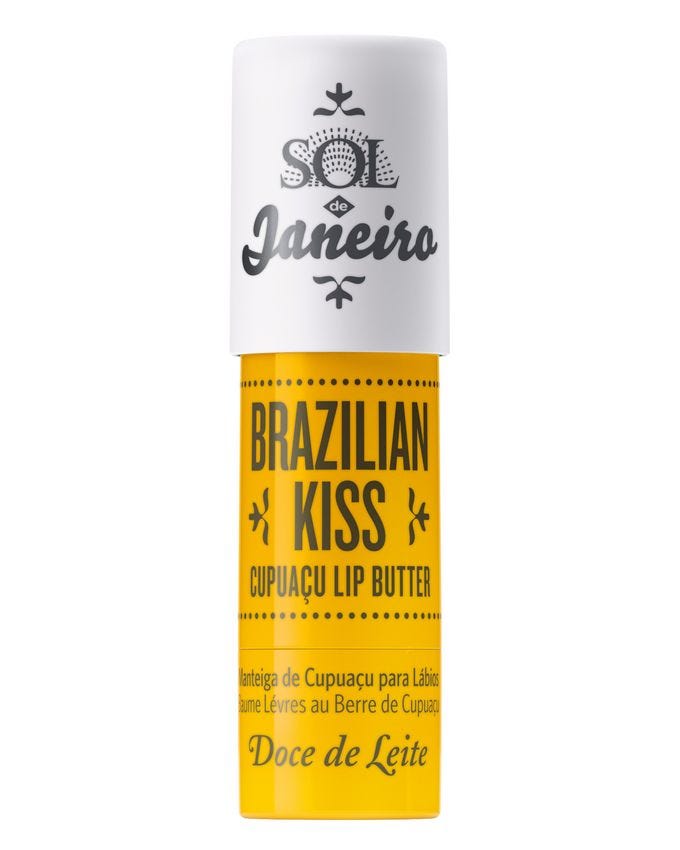 Sol De Janeiro Brazillian Kiss Cupuacu Lip Butter - £15
SHOP NOW
We're suckers for anything that smells of that signature Sol De Janeiro scent so when they launched a lip balm we were already on board. Enriched with acai and coconut oil, this managed to keep lips soft as well as providing a subtle shine.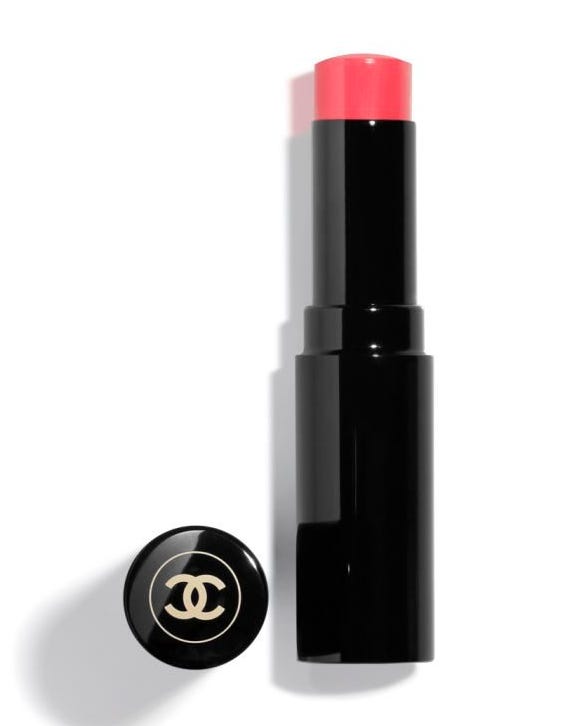 Chanel Les Beiges Healthy Glow Lip Balm - £32
SHOP NOW
If you avoid lipsticks because they'll just be a hot mess on your chapped lips, this lovely hybrid balm could be for you. Vitamin E lends a hand in making things juicy, whilst the colours (from a pink to a plum) are easily buildable.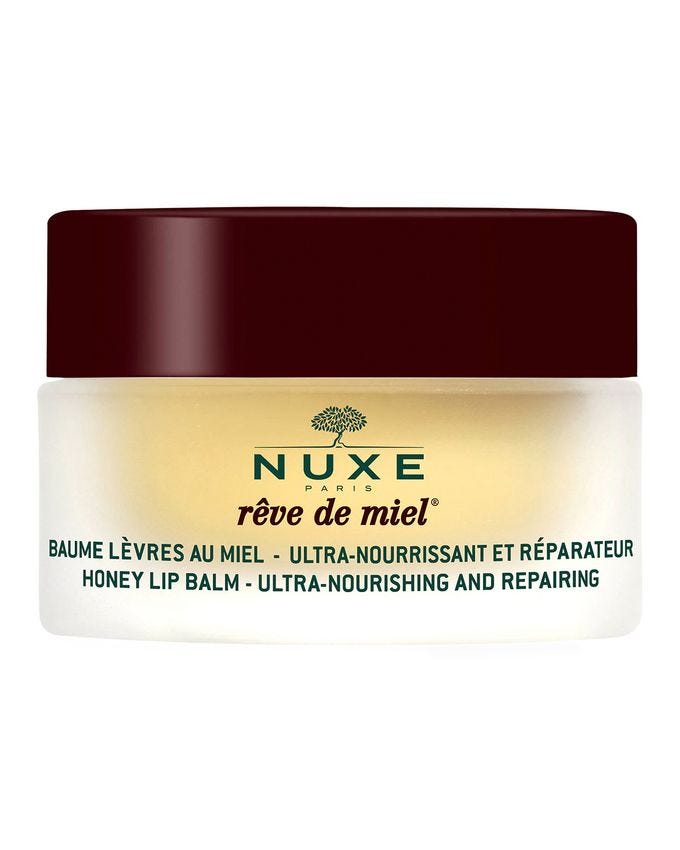 Nuxe Baume Levres Reve De Miel lip Balm - £11.50
SHOP NOW
A cult favourite for a reason, this thick but non-sticky lip balm is the perfect canvas to apply lipstick to. It somehow manages to make matte lipsticks more pigmented and glossy lipsticks more hydrating, all at the same time.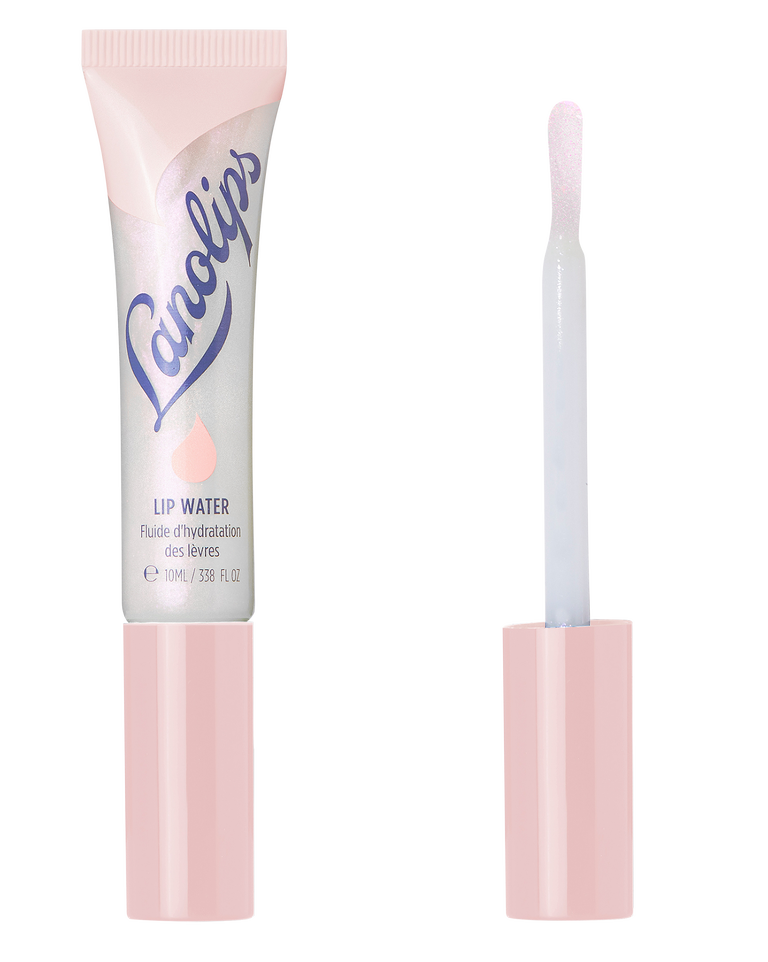 Lanolips Lip Water - £13
SHOP NOW
If you find balms too sticky, give this thinner treatment a try. It's boosted with moisture-boosting hyaluronic acid and has a subtle holographic shimmer that gives a veil of volume. We weren't convinced...until we tried it.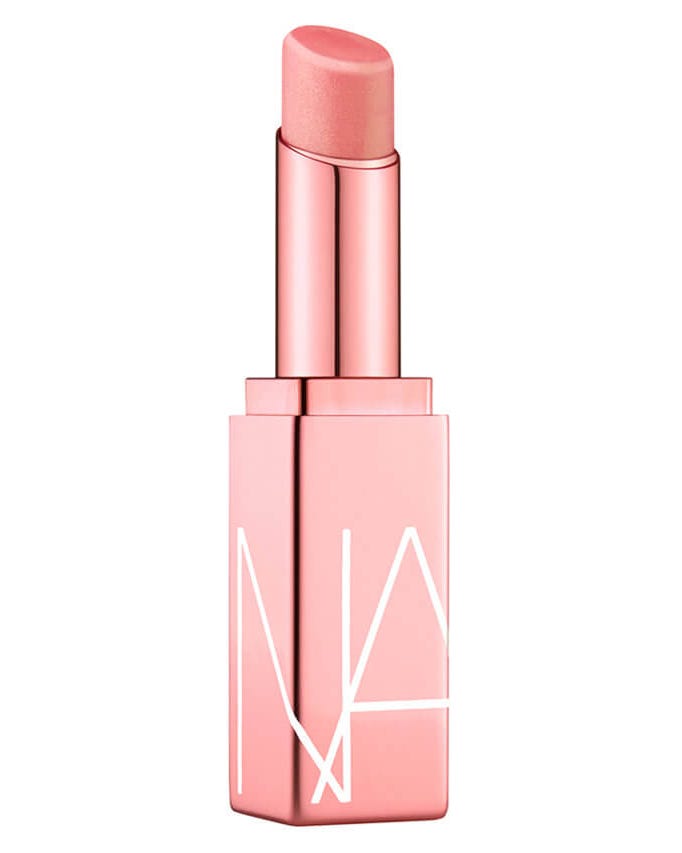 NARS Afterglow Lip Balm - £23
SHOP NOW
Originally launched as a limited edition treat, NARS brought this hydrating bullet back due to popular demand. And we can see why. It leaves lips soft (but not sticky), with a peachy-pink glow. Also great over a nude lip.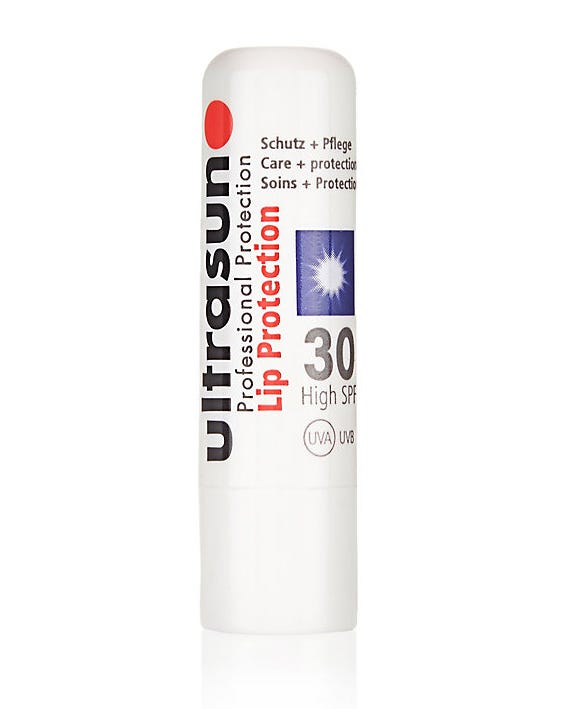 Ultrasun Lip Protection - £8
SHOP NOW
This might not look sexy, but neither do sunburnt lips. Without a chalky finish, this glides on to form a sun shield. An important addition to your beach bag or ski salopettes.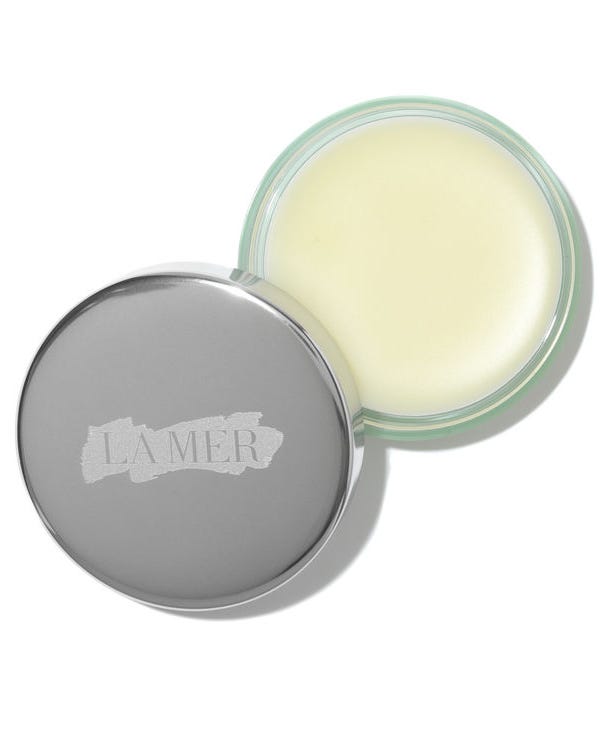 La Mer The Lip Balm - £52
SHOP NOW
Ok, we know this is an investment piece, but just a small dab goes a long way, so the cost-per-wear factor should be taken into account. Plus, it's very much not style over substance: we rate it as one of the most nourishing, long lasting balms out there.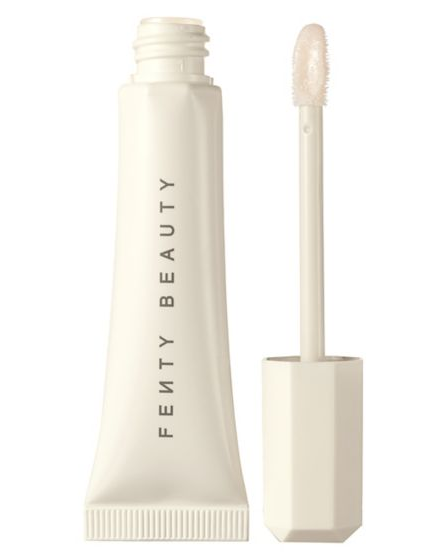 Fenty Beauty Pro Kiss'r Luscious Lip Balm - £15
SHOP NOW
Rihanna's beauty range can basically do no wrong, and this balm is no exception. Juicy and soothing, the doe-foot applicator means it's also perfect for neatly adding a sheen over (her brilliant, long-lasting) lipstick.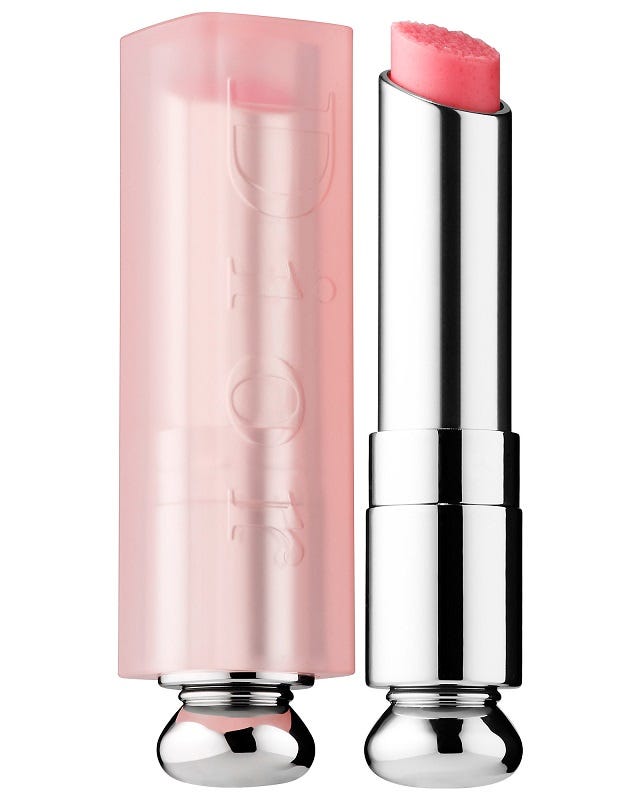 Dior Lip Sugar Scrub - £28
SHOP NOW

When your lips are not just dry but also flaky, you need to deal with that dead skin before you can treat the cause. With grains of sugar that melt into a salve, this gently exfoliates while it nourishes (and leaves a lovely hint of tint too). Unlike other scrubs, it's cleverly housed in a twist-up baton, so no mucky paws.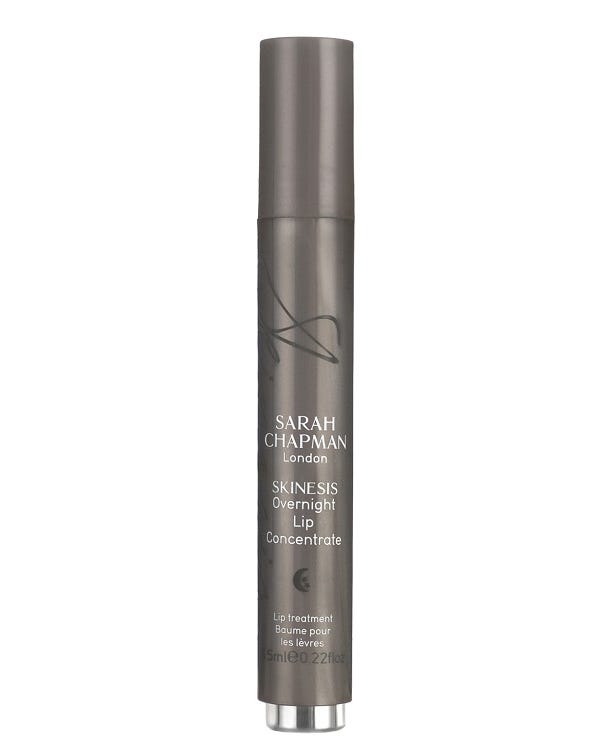 Sarah Chapman Skinesis Overnight Lip Concentrate - £34
SHOP NOW

If you're fed up of hourly application through the day, try this on for size. Applied before bed, the luxurious formula harnesses oils, butters, lipids and vitamins to iron away lines, all while you sleep. Keeps balming at bay well into the afternoon.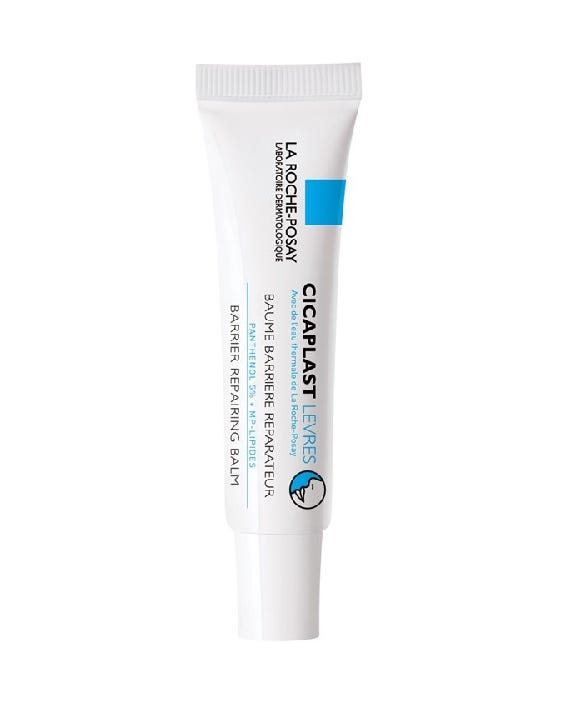 La Roche-Posay Cicaplast Baume Lips - £7
SHOP NOW

Recommended by many dermatologists, this is like a moisture magnet for parched, sore, red lips. It's all down to the clever lipids and pro-vitamin B5. Not only does it form a protective shield over fragile skin, but it works to heal painful cracks in next to no time at all. The best part? It doesn't feel like glue.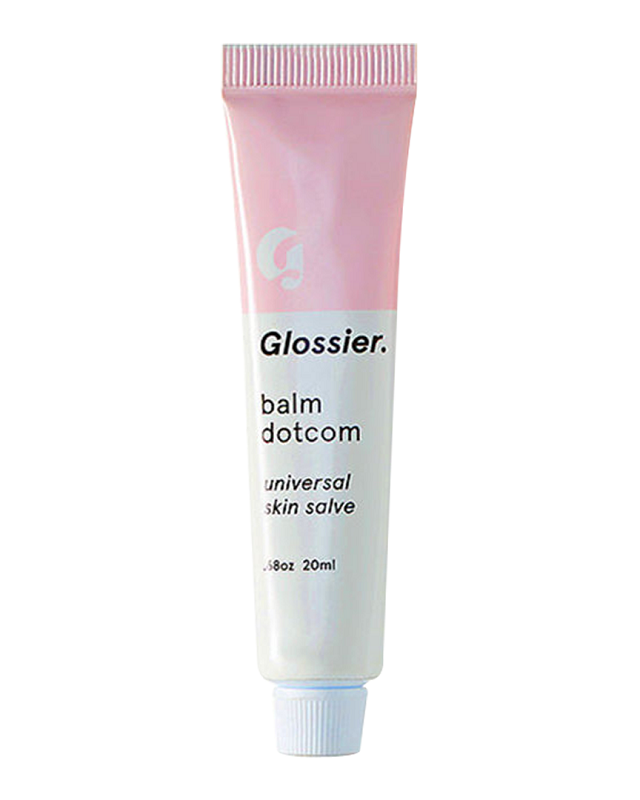 Glossier Balm Dot Com - £10
SHOP NOW

A salve-formula feels pretty thick on application, but this melts on contact with lips, turning them from dry and deflated to sensationally soft. Our favourite 'flavour' (there are eight, some tinted) is Birthday, which has a super subtle shimmer to it.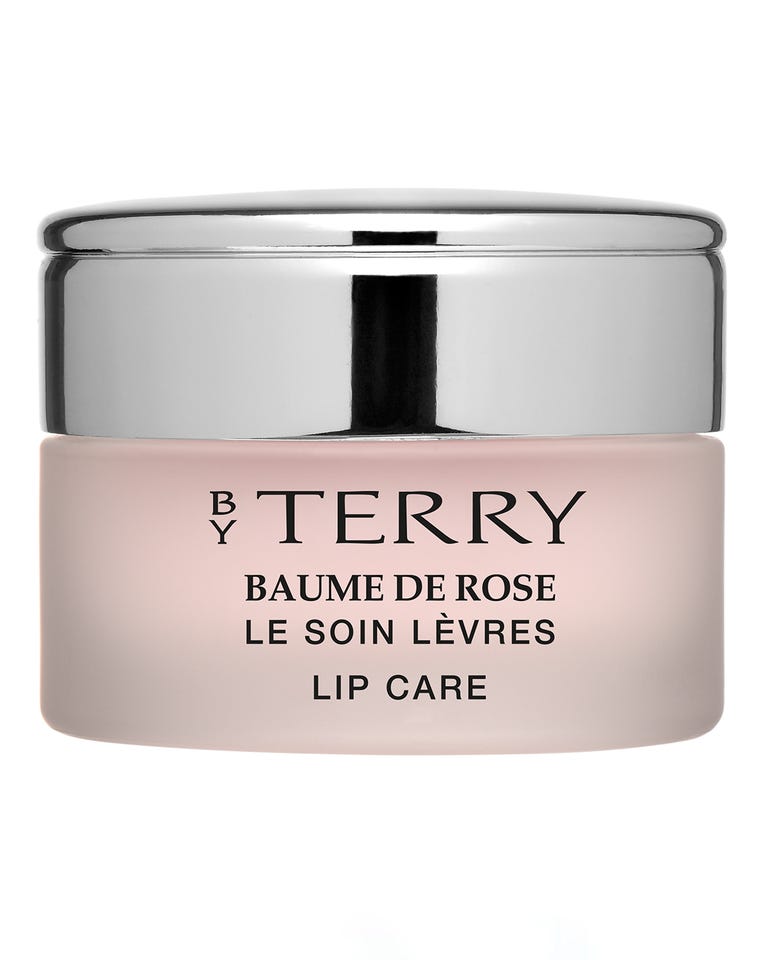 By Terry Baume De Rose - £40
SHOP NOW

This gives a hint of pink while it hydrates, and comes with a sweet rose scent too. It's nice and thick, so lips will withstand cold weather, air-con or just good old dehydration.
How To Get Rid Of Cold Sores
We hate to break it to you, but cold sores can't actually be cured.
Once you've been exposed to the virus, it stays in the skin for life. Although cold sores usually clear up after ten days, there are proven ways to speed up the healing process.
Creams like Zovirax and Virasorb (both of which can be purchased over the counter in pharmacies) contain Aciclovir, an antiviral ingredient that inhibits the infection from spreading further. Be sure to dab it on gently as not to irritate the blister.
Rosdiana CiaravoloGetty Images
'In terms of pain relief, creams containing lidocaine, benzocaine and benzyl alcohol can be very effective at settling the uncomfortable symptoms of cold sores. To prevent dryness and cracking from cold sores, creams containing calamine, petroleum and zinc oxide can effectively soften and protect the skin and the lips', explains Dr Nicole Uchendu, Aesthetic and wellness doctor at TWN Clinic.
Cold sore patches, such as Compeed, are also brilliant at easing the pain of lip blisters and protecting against harsh weather, which can sometimes make sores more uncomfortable or dry and flaky. Nail perfect application the first time round by using a magnifying mirror.
Dr Nicole Uchendu advises getting these products on ASAP for them to be the most effective: 'In order for topical creams to be effective, they must be applied in the early stages of the cold sore, before the blisters have appeared, i.e. as soon as you experience itching, pain, tingling or burning.'
ELLE Edit: Cold Sore Solutions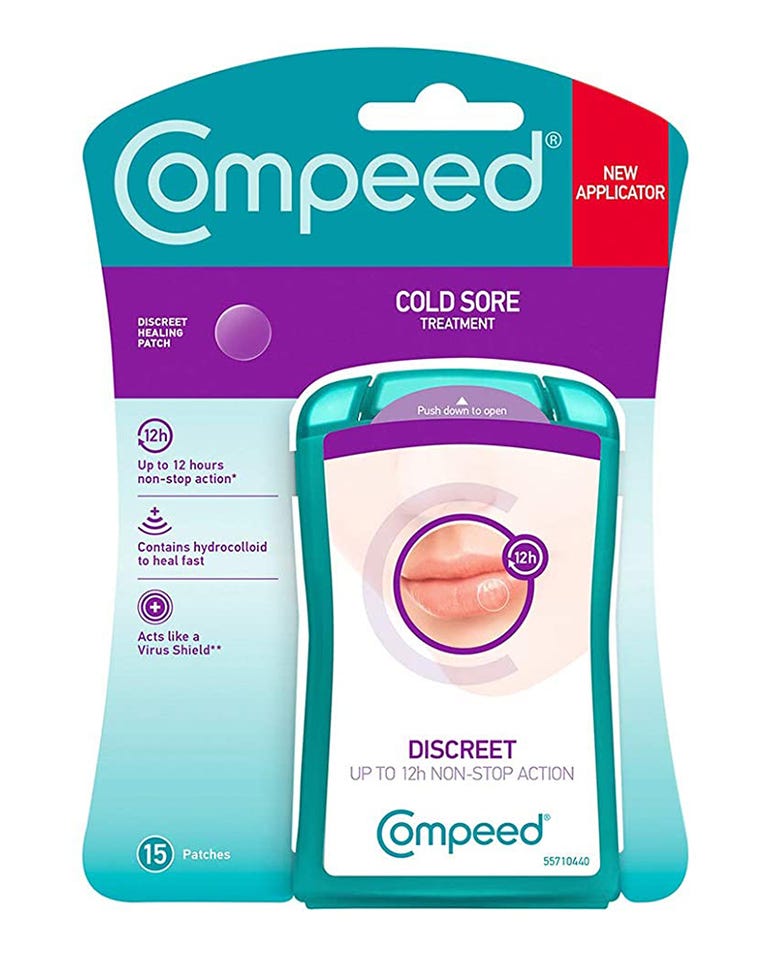 Compeed Cold Sore Patch - £6.19 for 15 Pack
SHOP NOW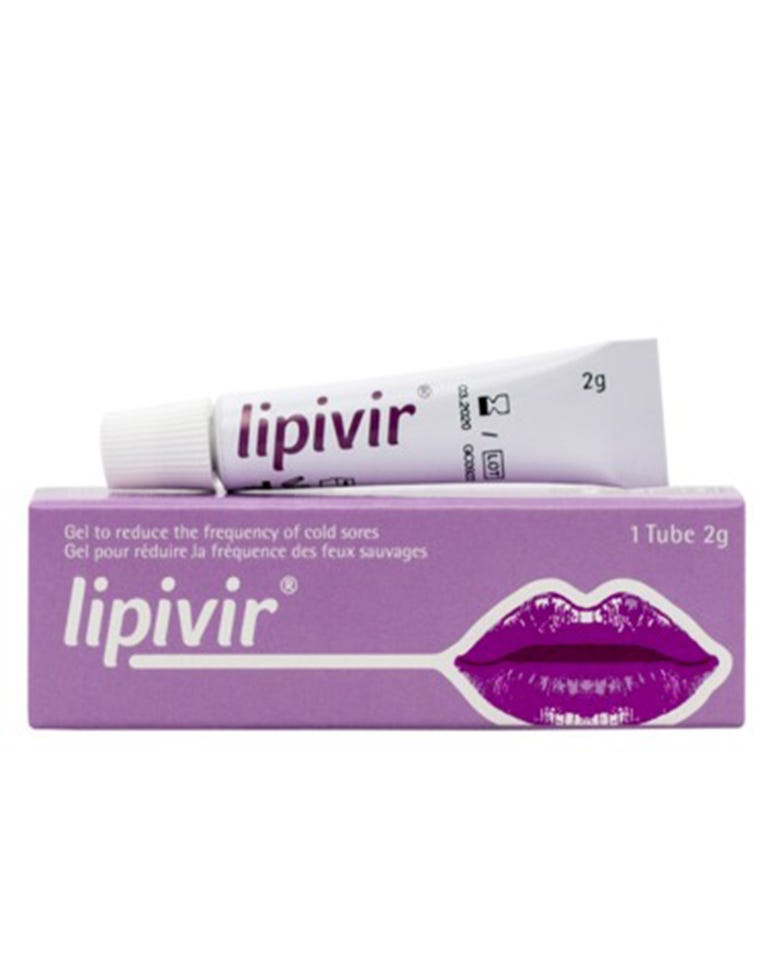 Lipivir Cold Sore Prevention - £8.99
SHOP NOW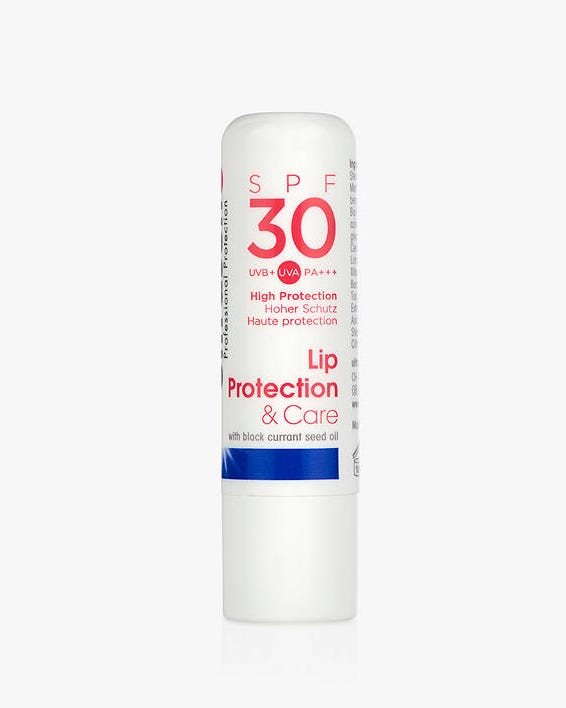 Ultrasun SPF 30 Ultralip Balm - £5.40
SHOP NOW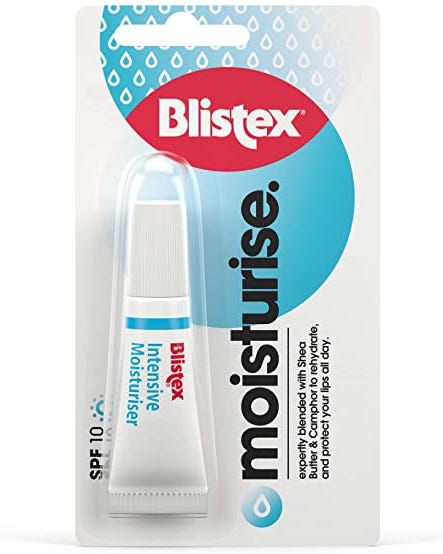 Blistex Intensive Moisturiser Hydrating Lip Cream SPF10 - £2.69
SHOP NOW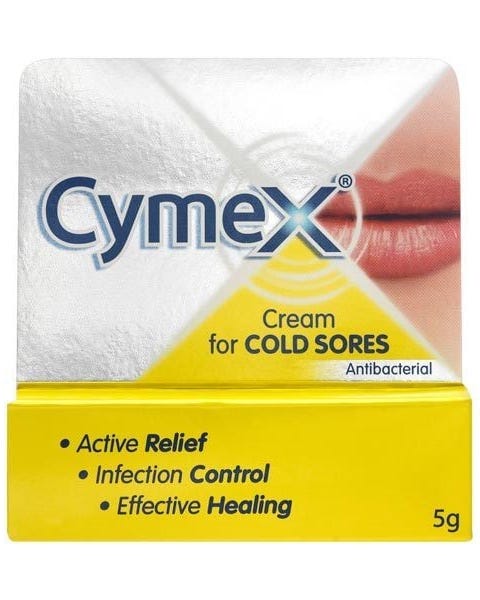 Cymex Cold Sore Cream - £2.79
SHOP NOW
Like this article? Sign up to our newsletter to get more articles like this delivered straight to your inbox.

In need of more inspiration, thoughtful journalism and at-home beauty tips? Subscribe to ELLE's print magazine today! SUBSCRIBE HERE
This content is created and maintained by a third party, and imported onto this page to help users provide their email addresses. You may be able to find more information about this and similar content at piano.io
Sours: https://www.elle.com/uk/beauty/skin/a41570/how-to-get-rid-of-cold-sore/
Kiss and Tell: Tips for Dating with Cold Sores
Tips for Dating & Cold Sores

Dating, or starting a new relationship can be one of life's most exciting times. It's kind of like a really long road trip with the windows down and plenty of Instagram-worthy sights along the way.
But if you're like the majority of the population, you have probably had a cold sore and you get them from time to time. However, that shouldn't make a new relationship feel like it's beginning with a big bump in the road. You may be feeling afraid of talking to your partner about having a cold sore, or even dating someone with a cold sore. However, dating with cold sores is possible, if you're open and honest about it.
In fact, telling your boyfriend or girlfriend about cold sores is only as big a deal as you make it. Because the truth is:
Cold sores are so, so common
If you have a cold sore, you shouldn't be ashamed because you're not alone. The fact is, one out of 4 people have recurring cold sores.1 So having a cold sore shouldn't be a deal-breaker when it comes to dating.
Cold sores are not a serious medical condition
Relationships can become quite serious, but having a cold sore is not considered a serious health condition. Cold sores are much more common than you think. Most people contract the cold sore virus as a kid from an adult who is carrying the virus. Once you understand your cold sore triggers, they are much easier to manage.
Cold sores are controllable
You can't control love but you can take some precautions to control a cold sore. Considering that cold sores are caused by a virus that means they are contagious. The virus spreads by skin-to-skin contact. Cold sores can be caused by kissing or from sharing objects like toothbrushes, cups, lip balm, or utensils. So, before you pucker up for your loved one, you may want to consider that you could spread the virus to them.
Usually a cold sore will go away on its own but you can speed up the process by applying Abreva® Cream at the first sign, like when the skin tingles. Abreva® is clinically proven to shorten the healing time of a cold sore.
Now that you know the facts, own it
Sours: https://www.abreva.com/managing-lip-health/dealing-with-cold-sores/tips-for-dating-with-cold-sores/
Anyone who has suffered from a cold sore will tell you they are grim, painful, near impossible to get rid of and feel like a big, red, house-alarm alerting everyone to your herpes ridden face. Unfortunately I'm not here to tell you the secret to getting rid of them (if you're a scientist looking for a project, here's an idea) but what I can tell you is about everything that I've tried and how helpful each has been, or not.
I started getting cold sores when I was 18. I went to the chemist, bought cold sore cream, and hoped for the best. No luck. These topically applied, over-the-counter creams haven't worked for anyone I know.
Fast-forward a year, to the next winter and my new "yearly friend". I tried a little circular patch. Placed right on top of the cold sore it soothed the pain, and disguised the little monster for nearly 12 hours. But you also have a sticker on your face in college. So there's that.
Sticker face
A few more years went by and I could no longer live my life as sticker face. I was getting desperate. I tried ice (slobbery), witch hazel (painful) and vanilla (tasty but no dice). I tried hydrogen peroxide, which turned my lips white; and then milk, which surprising helped with the pain, but didn't get rid of the cold sore.
I started regularly taking L-Lysine each winter and that helped reduce the size of the mouth goblins, but didn't stop them.
This year it's been different. A combination of voodoo and plain old sense seems to be helping. When I feel a tingle I drink gallons of water, apply tea tree oil, take lots of vitamins, sleep with a chicken feather under my pillow and get my repeat prescription for cold sore tablets.
None of these work on their own, but together, so far, they seem to do the trick. Go forth and (do not) blister. (I'm joking about the feather, mostly).
Sours: https://www.irishtimes.com/life-and-style/fashion/beauty/after-12-years-of-winter-cold-sores-i-ve-finally-found-a-cure-1.2945312
Cold sore - Do's \u0026 Don'ts
Cold sores: they're one of life's annoying plights. Not only are they itchy and painful, they're a pain in the butt to cover. Considering you've clicked on this article, we're assuming you already know what they look like. What you're here for, of course, is finding out how to get the pesky thing to go ASAP, and in the mean time the best possible ways to hide a cold sore like a pro.
So, we did some research, spoke to some experts, and got all the answers you need:
Cold sore causes
We know, you know, but it's a good idea to recap a few things so that you can spot the warning signs. Cold sores are small blisters that develop on the lips or around the mouth, they're most commonly caused by the herpes simplex virus HSV-1. According to the NHS, "the herpes simplex virus – or "cold sore virus" – is highly contagious and can be easily passed from person to person by close direct contact. After someone has contracted the virus, it remains inactive (dormant) most of the time."
You might not have symptoms when you are initially infected with the virus, so an outbreak can happen at any time. They also go on to note that, "some people have frequently recurring cold sores around two or three times a year, while others have one cold sore and never have another. Some people never get cold sores at all because the virus never becomes active."
Typically, they crop up in times of heightened stress and tiredness (make sure you're getting those 8 hours, people), but can also be caused by, "sunlight, fatigue, an injury to the affected area, and, in women, their period."
They're extremely contagious, so refrain from kissing, sharing toothbrushes or anything that has touched your mouth. The NHS says that: "cold sores are at their most contagious when they burst (rupture), but remain contagious until they're completely healed. Avoid close contact with others until your cold sore has completely healed and disappeared."
How to treat a cold sore
Although they will usually heal on their own after around 2 weeks, they can be uncomfortable, so you want them to disappear as quickly as poss. Over the counter antiviral creams containing penciclovir or acyclovir tend to work the fastest. "To be effective, these treatments should be applied as soon as the first signs of a cold sore appear – when you feel a tingling, itching or burning sensation around your mouth. Using an antiviral cream after this initial period is unlikely to have much of an effect," states the NHS. You'll need to keep applying them 4 to 5 times a day for about a week.
If you're cringing at the thought of going about your daily life with a big chunk of white cream on the corner of your lip, cold sore patches are your guy. Not only are they invisible, they foster the perfect environment for super speedy healing, and act like a shield, reducing the risk of contamination to others. Plus, you can pick them up on the high street.
In-between outbreaks, it's imperative to keep your lips in tip-top condition. These balms and ointments contain anti-inflammatories and natural ingredients proven to clear cold sores, so don't leave the house without one.
Best lip balms for cold sores
Everyday Lip Solve Bullet
SHOP NOW
Liquorice Lip Balm
Hurraw!lookfantastic.com
£4.99
SHOP NOW
Cold Sore Lip Balm
Herstatamazon.co.uk
£9.95
SHOP NOW
Everyday Lip Solve Tube
SHOP NOW
Alongside this, it's important to boost your immune system, so make sure you're getting a lot of rest, eating allll the fruit and veg, and just generally taking a bit of me time to chill tf out. There are a handful of savvy supplements specifically targeted to powering up your immunity, so it's worth looking into if you're feeling run down.
Best supplements for cold sores
Vitamin B6 100 Tablets
Holland & Barrett hollandandbarrett.com
£4.00
SHOP NOW
L-Lysine 1000mg Free Form 50 Tablets
Solgar hollandandbarrett.com
£9.39
SHOP NOW
Dlux 3000 Vitamin D Oral Spray
BetterYouhollandandbarrett.com
£8.49
SHOP NOW
Beta Glucans Immune Complex 60 Capsules
Solgar hollandandbarrett.com
£18.49
SHOP NOW
How to cover a cold sore
After chatting to celebrity makeup artist Jo Freeman, we got the low down on the dos and don'ts of expertly concealing cold sores...
When to cover up a cold sore
"You should take care not to apply makeup to a cold sore until the scab appears during its final stage. As hard as it is, try to avoid applying makeup during a cold sore's early stages and apply an invisible preventative treatment that can help reduce the life span of the cold sore."
How to hide a cold sore scab
"I'd recommend layering your makeup on top of a clear cold sore cream, so you don't have to deal with any white marks. I then hide redness with a neutralising green concealer and blend the edges so that they feather out seamlessly into the skin. Once I've applied the concealer I go over this with foundation or regular concealer, and finally, I set the area with a fine loose powder to ensure that the makeup doesn't move throughout the day."
The best tools for covering a cold sore
"I would advise using disposable applicators to minimise the risk of spreading the virus. Small makeup sponges will help achieve a better finish than cotton buds as the scab, plus moisture on the skin can encourage little bits of cotton to stick."
All.About.Face
Beautyblendercultbeauty.co.uk
£37.00
SHOP NOW
Airbrush Flawless Foundation
Charlotte Tilburycharlottetilbury.com
£34.00
SHOP NOW
123 Perfect Stackable Concealer
Bourjoislookfantastic.com
£7.79
SHOP NOW
Light Reflecting Setting Powder
NARS Cosmeticslookfantastic.com
£27.00
SHOP NOW
Follow Gabrielle on Instagram.
Gabrielle DyerSenior Beauty WriterGaby is the Senior Beauty Writer here at Cosmopolitan.com/UK.
This content is created and maintained by a third party, and imported onto this page to help users provide their email addresses. You may be able to find more information about this and similar content at piano.io
Sours: https://www.cosmopolitan.com/uk/beauty-hair/makeup/a39861/cold-sore-cover-up-tips/
Sores cold supermodels with
Alexa Chung: 'I want my cold sore to be discussed, and sneered at, on my own terms'
I have never hated anything as much as the cold sore I am currently sporting. What's worse is I think it's starting to spread to the other side of my mouth just to spite me. What misery. The last time I had one I was 17, when my then boyfriend and I had to perfect the side-of-mouth-only kiss. It was far from ideal, given at that age I was possibly even more awkward and perpetually embarrassed than I am now. This time around, though, I'm less worried about kissing and more concerned with the implications this outburst of herpes simplex b is having on my diary.
London Fashion Week was a write-off. I was supposed to be covering the shows for a magazine, but judging by the creations sent waltzing down the catwalk, having a scab the size of a coin occupying one's face isn't going to be "in" next season. And I managed to miss House of Holland, Luella and Charles Anastase altogether. Totally gutting. Then there were the photographers. Those that I did manage to attend to were kind: they offered to airbrush out the offending cold sore in exchange for a photo. Some of them I deemed trustworthy enough to let down my scarf-shaped guard; others had to make do with just a partial view as I went about disguising my mouth with a merry-go-round of champagne glasses, overly large cocktail rings, or, when all else failed, the back of my hand.
And then, there he was. Kanye West, in all his blazer-wearing glory, emerged from behind a sea of Yves Saint Laurent heels and wet-look leggings. He called to me like a siren on the rocks/celebrity in the front row of a fashion show. In the absence of any show coverage, I reasoned, my piece in the magazine could benefit from a few snapshots of one of rap's demigods. So I went over and took a photo. I liked that he was in London. I liked that he had shaved the sides of his hair but not the top. I liked that, when reminded of it, he pretended to remember our last encounter, at a festival somewhere, when I had to interview him. In response, he swooped in for a fumbled embrace, to which I found myself barking the regrettable words: "NO, KANYE! I'm diseased!" Oh, God.
This is the problem with cold sores. I find it necessary to inform everybody, right away, that I have one – as if they hadn't already noticed it. I want to be the one to broach the subject first. I want it to be discussed, and sneered at, on my own terms. I now feel sorry that I ever "eeuurrgghed" my way through photos of Katie Holmes' scab-infested mouth. Oh poor girl, I thought, she must be so run down, ha ha ha. So this is my punishment. But what a cruel one it is. I'm so vain that my cold sore has prevented me from being seen out in public, and I tried not to care – but in the end, the pitiful looks got too much for me.
However, even when the scab was at its weeping nastiest, one thing alone could still drag me from my lair: the NME Awards. But halfway through the night, I realised that I would forever be trying to gain entry into this particular ceremony. The first time I went I was 20, and was only admitted into the after party, where I felt incredibly rock'n'roll for weeing in the men's loos. This year I won Best Dressed, but because it's not a particularly relevant award they don't honour it on the night. That's a shame – I really wanted to make an acceptance speech about how much of an effort it is to look like you really don't care.
Oh, and before I run out of room: Anvil! is one of the best films (featuring middle-aged men pursuing a lifelong dream) that I have ever seen (this year). It's about a Canadian metal band who, apart from a brief flirt with fame in the early Eighties, have never made it big. You have to go and see it, it's like the real Spinal Tap. In fact, the café I'm in right now has some pretty whack heavy metal music playing. But I'm even more irked by the fact that I only came in here to use their internet and have just been told it's not working. Now I feel silly for sitting here with a laptop because I never wanted to be one of those people who smugly tap away in corners. Tap tap tap.
Sours: https://www.independent.co.uk/voices/columnists/alexa-chung-i-want-my-cold-sore-be-discussed-and-sneered-my-own-terms-1636713.html
Mayo Clinic Minute: 3 things you didn't know about cold sores
1
It burns and itches on your upper lip: a herpes infection is on the advance. Caught early, the number and size blisters can be controlled with virus-controlling salves, but the herpes simplex virus can recur at any time. "About 90 percent of the world's population carry it in them all their lives, once infected, and become sick again in stress situations," explains Dr. Anke Burger-Kentischer of the Fraunhofer Institute for Interfacial Engineering and Biotechnology IGB in Stuttgart. Coming down with a herpes virus is not always without its dangers. In the worst cases the nervous system and the brain become inflamed. The researcher, together with her team and the cell systems department, developed a 3D herpes infection model. This makes it possible for the first time to integrate the complicated dormant stage of the virus into a model of the skin. A patent application has been submitted for the new process.
The expert explains the particularity of the virus: "After the blisters subside, the herpes virus retreats to the nerve cells and rests there. At this stage, only the virus' DNA can be proven." As soon as a human suffers too much stress or is even exposed to too much intense sun, the nerve cell may release the virus. It travels along the neural pathways to sites where it has occurred several times before, and the new infection becomes visible.
To date the skin models used for drug testing and to detect the virus have been very simple and unable to simulate the dormancy state of the virus. "We have integrated a neuronal cell line into the certified skin model of the IGB and are able to detect this latency stage for the first time. Just like in the human nerve cells, the particles of the virus itself cannot be seen; only the presence of its DNA can be proven by means of a PCR (polymerase chain reaction) analysis," explains the expert.
The researcher and her team then exposed the skin model to ultraviolet radiation at wave lengths of 280 to 315 nanometers (UVB). This reactivated the herpes virus, and there was an infection on the skin model. Proof of this reactivation was also possible on a co-culture. For this, the researchers introduced the latently infected neuronal cell line to a carrier with pores. Subsequently the cells were also irradiated with UVB. The virus was reactivated and penetrated these pores, infecting the cutaneous keratinocytes -- the keratinizing cells cultivated previously. To verify the infection, the scientists used a specific antibody that binds to a specific protein on the outer layer of the virus. The coloration of this antibody made it possible to clearly show the infection of the skin cells with the reactivated virus from the nerve cells.
"The 3-D herpes infection model therefore simulates an in-vivo situation exactly. Animal experiments will in the future become largely unnecessary," happily explain Burger-Kentischer and the doctoral candidate, Ina Hogk, who has worked on the development of the model from the beginning.
Research on active ingredients can profit from the 3D herpes infection model of the researchers from IGB, a model that also enables improved study of infection mechanisms. This procedure might also be used to test new medications for shingles, which is also caused by a variant strain of the herpes virus.
---
Story Source:
Materials provided by Fraunhofer-Gesellschaft. Note: Content may be edited for style and length.
---
Cite This Page:
Fraunhofer-Gesellschaft. "Goodbye cold sores." ScienceDaily. ScienceDaily, 27 June 2011. <www.sciencedaily.com/releases/2011/06/110627095459.htm>.
Fraunhofer-Gesellschaft. (2011, June 27). Goodbye cold sores. ScienceDaily. Retrieved October 12, 2021 from www.sciencedaily.com/releases/2011/06/110627095459.htm
Fraunhofer-Gesellschaft. "Goodbye cold sores." ScienceDaily. www.sciencedaily.com/releases/2011/06/110627095459.htm (accessed October 12, 2021).
Sours: https://www.sciencedaily.com/releases/2011/06/110627095459.htm
You will also be interested:
She pulled on her panties and sat down opposite him. Well, get out your pepper and keep jerking off, I said. He was so embarrassed that he sat neither alive nor dead. I look that I was probably in a hurry, and I say. - If you dont want to, then Ill go.
955
956
957
958
959