25th April, 2021

Back when the 30th Anniversary Collection hit Japan, several bonus items shipped alongside of it, likely to help entice gamers after they had to wait an additional six months for it to arrive. One such item was a set of tarot cards with SF faces adorning them, all with spectacular art. Of course, these sold out immediately, but with Rose's entrance to Street Fighter V, we got a full set of these cards. There are 22 base entries, numbering 0-21, with an additional two to round it all out. These look just phenomenal and it makes this set the 154th gallery on this site. Just remarkable. These were all taken from Monkeygigabuster's post on Reddit.

Enjoy the sample below. I'll be moving across the Atlantic again soon, so I'll likely be quiet for a while.

Street Fighter V Tarot Cards
20th March, 2021

Two updates in a month! Fancy that! I finally got around to tossing together a Street Fighter Duel gallery. This Chinese-only mobile game features some utterly-spectacular art and it was time to get that represented on the site. I have a bevvy of other art from the game, all torn from the official site. However, none of these are complete enough to warrant inclusion. Just a quick update today - enjoy the samples of this fabulous art.

Oh, and one final note - I captured Dan's arcade endings and special endings making that gallery 100% complete again...at least until Rose's arrival!

Street Fighter Duel
7th March, 2021

Today's update is entirely related to Street Fighter III. All three major games were updated with higher-res source art and the galleries themselves were cleaned up, sorted and niceified.

Starting with New Generation, you'll find there are an impressive 10 galleries there now! Short version: it's all fixed up now and I added a pair of new galleries there: win and loss sprites. Ripping these from the original arcade games, I did palette swaps for every fighter in both NG and 2I. Combining them means that each gallery has over every color for every fighter. The Win Poses section features 145 images - roughly 12 colors for each character (6 for 2I fighters and 9 for Yun & Yang. Just 1 for Gill). The Loss Poses section has an additional half dozen thanks to Gouki's censored blood.

Thus, I fixed up the 2nd Impact page with new art, collapsing the old art into its proper gallery in New Generation. Finally, 3rd Strike has been improved. No new material, but higher-quality source art.

Remarkably, this brings the site's tally up to an astonishing 150 galleries! It's taken almost 20 years - but it's been well worth it, if you ask me. There's never been an ad on the site too! If you're feeling grateful, consider purchasing Street Fighter Compendium: A Definitive History, my massive, 250+ page tome on the Street Fighter franchise! Until then, some samples.

Loss Poses
23rd January, 2021

This site turns 19 years old next month and the art continues to flow. Today's update includes a bunch of Street Fighter V material. First up is a huge update to the Renders gallery. This includes all the alternate costumes for all 40 fighters and stands at a whopping 346 images. New updates are credited to Biachunli over at Reddit and I just culled through his posts to include only the unique outfits. That's a lot of costumes!

Continuing with the SFV love, DavidPN helped me a great deal in collecting all the arcade-mode endings as I hadn't updated that section in two years. Together we filled in the blanks which now totals 117 endings both with and without captions. Our supplier is French, so some of the new captioned ones are in his native tongue. But that's not all! He also provided a number of arcade special endings which motivated me to finish off that gallery too! There are 170 individual images there making the SFV pages the most expansive game section on the site (don't forget the Profiles section which hosts an additional 250 pics!) It's kind of crazy how much is in there.

Street Fighter V Endings
31st October, 2020

I forgot about some other updates in my big post from yesterday. In addition to all that work, all three Street Fighter EX sections were overhauled entirely. Let's see:

The first Street Fighter EX has completely new galleries of all fighters, including the EX+ and EX+A fighters as well. Both galleries were done by Bengus and these represent some of my favorite art the series has ever seen.

Street Fighter EX2 and EX2 Plus also got brand-new updates, replacing terrible, low-quality items from the early 2000s. Two galleries are present here with all 24 fighters from the arcade upgrade. I actually merged two galleries together in this process, thus losing one in my total site tally.

Street Fighter EX3 has no new art, as I had a great gallery from ages ago, but I updated the thumbnails. As this site was from a different era (launched in 2002), I used to keep thumbnails very small due to bandwidth concerns. No big deal nowadays!

Anyhow, the EX series holds a special place in my heart, and I'm glad to update these galleries with some better-quality versions. The search continues, however, as not all of these are the best.
30th October, 2020

2020 will be a year long remembered as being fraught with plight and woe. However, in the midst of a plague, quarantines and re-openings, this site has received a surprising amount of love. I've been holding off on making an announcement about all the updates, but by doing so, I've forgotten some of the tremendous amount of work that's been done!

Working from the most recent backwards, I totally redid all the Vampire / Darkstalkers pages. Each has been expanded with some key art/posters, revamped galleries and updated descriptions. I launched this section way back in early 2004 thinking I'd "exhausted most of my options when it comes to SF art." How foolish was I? So, for Vampire / Darkstalkers we've got a new series of Bengus art and another highlighting background stage concept art. For Vampire Hunter / Night Warriors, just a pair of official artworks follow the already-expansive section.

For Vampire Savior, I greatly detailed the individual entries, much like in 2012 FAQ for the series. This details all the unique revisions. Here, I also included several new pieces of key art, the iconic Bengus character artwork, a selection of background stage concept art and an overly-unnecessary win-portrait palette swap set containing 146 unique sprites.

Vampire Chronicle got a small update with revised art and the Logo Collection was expanded with explanations and new, higher-res captures where necessary. I still have some I can add to these galleries.

Over the summer, I dove into my favorite Street Fighter sub-franchise: Zero / Alpha. The first Street Fighter Zero has five new pieces of high-res art and two series of updated art (one and two). These new pieces are much-needed replacements for decades-old scans. In this and many others cases, I didn't replace thumbnails, but the full art, often in PNG format, is in the 1000 x 2000 pixel range - far better than my old entries! Zero 2, the best ever, received six posters and one updated gallery.

Moving on to Zero 3 - I never finished with key art, but Series 2, Series 3a and Series 4 all got updates.

That may be all - I don't know. My Site Map tells me I'm at 148 galleries. I surpassed 100 back in early 2013 when the site was turning a meager 11 years old. This coming February will mark the 19th anniversary and never once has an ad graced these galleries. I do hope you enjoy this art and if you're interested in the history behind all these games, consider my Street Fighter Compendium: A Definitive History book which is now on sale in Kindle format as well!
13th May, 2020

Just a reminder of my newly-published Street Fighter Compendium: A Definitive History book from March. The book is an absolute beast, packed with thousands of images, screenshots, promotional materiala, comparisons and a detailed history.

There are no new galleries today but I've updated the Street Fighter V Renders page with scores of new entries. This brings the gallery up to a whopping 287 images! This gallery is missing a handful of outfits, but it appears Capcom's CFN isn't updating with new costume renders. I suppose 287 will have to suffice!!!
29th March, 2020

I have just published Street Fighter Compendium: A Definitive History - a 250-page book covering every entry into the Street Fighter franchise. This is available in both paperback through Amazon all over the world and also on PDF for those who prefer that format. This book is phenomenal and really is a must-have for any fan of the series. Feel free to check out a quick flipthrough video I made.

Street Fighter Galleries turned 18 sometime in the last two months. In that time, I've moved from New York to Maine to Sweden to Italy. This franchise has been part of my life since I was 12; I am now 44. While the site has quite the comprehensive collection of art, I've opted to upload something new for this update. Taking sprite backgrounds from Street Fighter III, I've gone and upscaled them to show off their insane details. While I'd done this in the past and also posted non-upscaled backgrounds on my personal site, this was my first effort to do an entire set.

So, what we have is most of the stages from Street Fighter III: New Generation and all of the backdrops from both SFIII: 2nd Impact and SFIII: 3rd Strike. All are upscaled and look simply remarkable. These include most alternates as well - like day/night swaps, though again, certain ones are missing from the first entry.

I hope you are faring well in this time of global lockdowns and pandemic strife. We're almost three weeks locked entirely down. Looking forward to things improving in the coming weeks!

SFIII Stage Backgrounds
Street Fighter III: New Generation
Street Fighter III: 2nd Impact
Street Fighter III: 3rd Strike
3rd January, 2020

As the site approaches its 18th anniversary, it's remarkable that new content remains to upload! The other day, while working on my book, I did a routine search on my HDD which yielded some older Vampire Hunter (Night Warriors) art I never put up! Amazing! So, the usual thing happened: I ended up doing way too much work, updating new galleries, and recapturing old ones!

As I head up north for the weekend, just outside of Rome, I'll do a quick update with these new galleries. The first is an old one where I've captured alternate colors. These captures have eight of each color and are the usual excessive nonsense. The old gallery remains on the site.

Galleries 2 and 3 are just phenomenal. These are official galleries from both Ikeno and Bengus. Just check them out, they're worth it. This brings the site up to 140 galleries. Just amazing!

Vampire Hunter
27th June, 2019

Who would have thought that, after 14 months of radio silence, a pair of updates would arrive in the span of one week? Not only a pair of updates, but one revamped page and four new ones!

Part of it is that I will be without a PC until September. I move in 11 days - yet another blind leap to a nation I've never even once visited. And so why not blast out a few galleries - both old and new!

So today I am writing about the inclusion of a bevy of new galleries. *Takes deep breath*. With the newly-cleaned-up SNK Versus Games page, I was bothered by the absence of some games. I went through SNK Vs. Capcom: Card Fighters 2 - Expand Edition and...Why not go through the Neo Geo Pocket Color's final game and rip all 160 cards? It was a silly endeavor but totally worth it. These come from the fan-translated ROM which results in some minor name tweaks. As it never was released outside of Japan, this will have to do - and I cannot complain! This is a great gallery.

It then continues to the series finale. SNK Vs. Capcom: Card Fighters DS was the last game in the crossover franchise. This time there were only 150 cards, but these are in a higher resolution and, using the American ROM, contain all the Western names. Unsurprisingly, these look phenomenal as well.

The next galleries are sets of very old artwork which have been residing on the HDD for over seven years. First is for Ultimate Marvel Vs. Capcom 3. The upgraded title contains ridiculously-high-res art, many full-size PNGs clocking in at several Mb each. All 51 characters are here in what is likely the largest gallery on this entire site. Next up was Tatsunoko Vs. Capcom. There are two new galleries for this title and its home translation as well as three posters. The images are pretty high-res and while I don't particularly love the art itself, it's nice to finally get these on the site.

But it doesn't end there! The fighters from Vampire / Darkstalkers made some appearances in other titles. There are two games: Cross Edge and Onimusha Soul. The characters were mostly females, but the full artwork is really excellent and I only really thought of it after flipping through Udon's excellent Official Complete Works book.

Thought that was it? Silly you! Six galleries down and two more to go. With fewer and fewer games left uncovered, I dove back into the world of Final Fight. I've tossed galleries up for both Final Fight Revenge and Mighty Final Fight. Each comes from the now-defunct Arcade Gear, one of my favorite sites from back in the day.

Eight galleries enough? That brings the grand tally to 136. If I take a few months off to move, I think I can be forgiven, especially since this is the largest single update in over six years.
20th June, 2019

OK, while it truly has been a long time since my last update, I have a good excuse. First off, I've written two books. The first is dedicated to the Tony Hawk line of videogames while the second is on The Street Fighter Zero / Alpha series. The latter will eventually be combined into a super-book containing info on every SF ever released. It's kind of crazy.

And so, my time has been solely given to those projects and this site remained on the backburner. It's not all bad - this site is doing just fine without regular maintenance! However, today, before another move interrupts my life again, I've opted to update the SNK Versus Games Galleries. The section has been brought up-to-date with the likes of other series, and has logos and info on each and every versus title between the two companies.

In addition, I've finally gotten around to updating the site with Tatsunoko Vs. Capcom art. The decade-old game never quite reached the prominence of the mainline games or versus titles but it's worth including on the site! A pair of galleries exist with a slightly different roster of fighters.

Tatsunoko Vs. Capcom
2nd April, 2018

The collection of endings in SFV: AE made one gallery a bit unwieldy. I have, therefore, split the galleries into two: The first contains each character's ending in its comic-book style. These are now broken down by character rather than by game. Caption-free art is coupled with the full set of text-overlaid images. The entire set is complete up to Blanka, and will be updated with the remaining five characters as they are released.

The second gallery contains special endings. This section is comprised of new and legacy artwork and has some truly remarkable stuff.

Thus, there's really nothing particularly new here, though these sections have been continually updated since AE's arrival several months ago. As always, enjoy!
28th January, 2018

With the arrival of SFV: AE, I've been sucked back into the game and its new arcade mode offers an insane amount of new art. Over 200 endings are present, a number sure to grow as season 3 progresses. My newest insane endeavor is to collect all of these pieces of art, captured at full 1920x1280 (thus the large file sizes and slow load times, FYI). I've reached out for help and many have aided, all credited in the gallery itself. A number of these are arcade comic-style panels, but alongside some classic, legacy artwork resides a plethora of insanely-awesome new artwork. My goal is to collect all of these. If you can help, please let me know. It's tough choosing some samples, but here are just a few of the dozens I have on there already. Enjoy!
22nd October, 2017

Some inspiration drove me to upload yet another gallery today, Last month's Marvel Vs. Capcom Infinite arrived with a decent set of art and I've included all that's currently available. This gallery contains the 30 base characters and a handful of the first set of DLC fighters. This brings the site's total galleries to 125, rather impressive! I'd like to get some more up eventually...think there are some stragglers on the HDD. Here are a few samples from the high-res MVCI full-body action shots!
22nd October, 2017

The news of Street Fighter V: Arcade Edition wasn't a surprise, but it's damn exciting! Today I've updated the Street Fighter V page with a few things. First is the logo for the new AE release. Second is a pretty kick-ass poster for the title. Finally, thanks to Damastah101 over at Reddit, we've got scores of costume renders for all characters. These are all pretty cool and there are sure to be dozens more to come!
4th September, 2017

It's been a long while but I've got plenty going on. I'm 90% of the way through my Tony Hawk book and I just may have a SF one brewing for afterwards. In fact, I'm thinking of doing a few...but that's a different story. Today's update isn't even a full gallery...yet. It seems Capcom is putting together a new Puzzle Fighter, this time with a more abbreviated titles. It's looking like a mobile-only F2P game which will certainly look nice but I'm always leery of those F2P games. In any event I thought I'd toss up the logo and whenever the full art set rolls in, I'll have to set up another gallery to go alongside the existing ones. Until then, enjoy the new logo!
25th January, 2017

There are a few minor updates still brewing, but in my research to update the outdated Game List, I came across some info and artwork. Street Fighter: Battle Combination is a mobile-only "port" of SFIV. It's pretty standard fare for a mobile game and the roster is almost entirely made up of SFIV characters...with the exception of one. Capcom decided to toss R. Mika in there and in matching her artwork with the rest of the gang, they had someone redo her classic SFZ3 portrait. It's a truly unnecessary addition to the site. The left is her Zero 3 art and the middle pic is the new one. I am tossing that up as well as the Sakura load screen image just because.

| | | |
| --- | --- | --- |
| R. Mika (SFZ3) | R. Mika (SFBC) | Sakura (Load Screen) |
| | | |
14th January, 2017

I failed to post the new image Capcom made for USF2. It's a Bengus illustration made in the same style of his SSFII poster from over 20 years ago. It's actually pretty cool and features Evil Ryu, Violent Ken and Gouki, none of whom were present in the original release. I'm actually kind of excited about this title, despite its fundamental flaws. I'm really not expecting much, so any bone they could toss us would be great. However, if the price tag, roughly $40 equivalent to the Japanese price, is true, screw that. I'm hoping for a PS4 port anyways. $40? That's laughable.

So, I updated the USFII section with the new poster and then went back to fix up some other sections. First I added a poster to Marvel Super Heroes I'd been meaning to get to. Then I fixed up the Logos Gallery with some new items (I never posted about Marvel Vs. Capcom Infinite here yet!) So, two posters and some housekeeping today. :) More to come!

New Posters
USFII Poster
MSH Poster

Oh, if you wanted to compare the two posters, I tossed them side-by-side just for giggles. I think it's a cool update to this classic poster. Of course, the Super characters were removed for the redesign. Kind of neat.
13th January, 2017

...and you thought they were done!

Nope! More than 25 years after SFII launches, we're getting another version! This entry, titled Ultra Street Fighter II: The Final Challengers is a Nintendo Switch exclusive title and it adds a pair of 'new' fighters: Evil Ryu and Violent Ken. The former has been around since Street Fighter Zero 2 back in '96, but the latter only appeared in the SNK-developed SNK Vs. Capcom: Chaos in 2003.

This game appears to be just a slight makeover of 2008's Super Street Fighter II Turbo: HD Remix. It'll feature the classic sprites or the HD visuals and it adds a two-vs-CPU Dramatic Mode. Release date and pricing have yet to be announced. Therefore, all I have today is a logo but you can take a peek at some screenshots over at Capcom Unity.

Oh, and I arrived in Sweden back in September. I had a full update prepared for Tatsunoko Vs. Capcom but a HDD failure means I have to start from scratch. I endeavor to get to that gallery sometime shortly. Happy New Year!

USFII: The Final Challengers
25th August, 2016

Capcom'sCFN site began, several months ago, uploading character profiles for scores of individuals in the SF world. These span from the obvious fighters to relatives like Guile's daughter to the ever-popular Peter Zonta. From Retsu and Goutetsu to Dudley's butler and even Ibuki's pet raccoon. The entire Mad Gear gang and the fighters from the cancelled Capcom Fighting All Stars were also included as well as alternate, unused costumes in SFV. As of this writing there are almost 200 characters on top of the cast of SFV. It's ludicrous. I debated, for quite some time, whether or not this would fit on this site and since it's excessive and nonsensical and entirely unnecessary, the answer of course was yes. Therefore this gallery will be ever-evolving (while my drive to update it continues) but it's kind of cool seeing them all together. Just note two things:

First, with all those images, the section may take a bit to load up, particularly on slower connections.

Second, I'm moving to Sweden in about three weeks, so while things get shuffled around, I may be slow updating these. I'll likely be without my PC until almost November.

Anyways, enjoy this. It's fun and silly.
22nd August, 2016

Today's update covers the 1995 Capcom fighter Cyberbots. I really only wanted to get a sprite of Z-Gouki and that, of course, turned into a full capturing/editing process. (I did get both colors of Z-Gouki ripped, BTW) Anyhow, I ended up capturing three galleries from the arcade version along with some PS1 editing. Then I utilized the wonderful Arcade Gear to finish out the section with some official art. The gallery total is now up to 122 and I've linked all four galleries here for your samples. Enjoy the low-resolution, 20-year-old art!

Cyberbots: Fullmetal Madness
Selection Screen
Profiles

| | |
| --- | --- |
| Endings | Official Art |
| | |

Oh, and here are your Z-Gouki sprites. Just the standing pose for both colors. Full standing animations would be way too much work!

Oh, I suppose I should also point you towards something I did last month. I captured and did a comparison of all the dolls from SFV. When the story mode launched, I was thrilled to see all twelve included. So, I did a full gallery of them from SFV and compared them to their SFZ3 selves. I likely will have more doll art to come as I just found a gallery on my HDD from 2003. I haven't a clue who made them, I suspect they're not official, but it might be worth tossing on the site. For another day, perhaps! Enjoyo!
12th March, 2016

After a slew of updates last autumn, it's been quiet around here. Right now, of course, it's all about Street Fighter V and I'm thoroughly enjoying it. I've written a few FAQs on SFV as well BTW.

Alex will be released shortly and so I'll update the site with his art then, but otherwise I haven't much to share. Over at the Official Japanese SFV Site they've got some updates on Kiki and Bengus, a pair of official SF artists. Normally I don't put lower-resolution art here, especially when it doesn't fit in any gallery. But Kiki's art of the twelve Dolls and a piece from the SFV Vital Box are both pretty cool and I thought I'd share. Until the DLC characters start rolling out, it'll remain quiet around here.

Street Fighter V: Kiki
Street Fighter V: Bengus

The pic of all 12 dolls is pretty cool and with the additional focus on them, both in artwork and in Cammy's story, I wouldn't be surprised if we see Decapre or even alternate outfit choices.

In addition, the special editions of the Japanese game have an awesome cover. Featuring two of the Battle Costumes (including Hot Ryu) it's spectacular.

Street Fighter V Cover
22nd September, 2015

This is another set of art that's been on the hard drive for some time. Street Fighter: Puzzle Spirits is an Android/IOS puzzle game that came out about a year ago. While I've never gotten a chance to play this, the art is pretty solid! There is at least one more set of full art, but I don't have access to that unmarked. There are two galleries here and a pair of posters. All art is courtesy of the the official site and SOS Gamers. Enjoy this awesome SD art!

Street Fighter: Puzzle Spirits

Oh, and I've added art for F.A.N.G. in SFV. He's the sixteenth and last fighter confirmed for the initial roll-out of Street Fighter V. The six DLC fighters have been confirmed, though we're a long time away from them. Urien, Juri, Guile, Ibuki, M. Bison and Alex are coming. Alex is going to look utterly spectacular IMO.
22nd September, 2015

I proclaimed in January that, "almost all of my art possibilities" had been exhausted and that the site was "nearly complete." Foolish me! Four new galleries in four days and I could do more but my wife has surgery tomorrow. She should take precedent. This gallery isn't the best quality but I've opted to include it for completion purposes and also because I quite like it! There was no one true source, though many were found over at the Capcom Wiki. Several are low resolution, Boman is missing and it is far from a perfect set. However, it was fun going through these and marveling at the caliber of art. I may toss up the second game, but that'll have to wait a day or two.

Rival Schools (Series 2)
21st September, 2015

Three galleries in three days! Oh yeah! Today is Rival Schools. Carrying the Legion Of Heroes suffix in the east, it was renamed United By Fate in the west. I always liked this art even though I never really played the game ages ago. Looking back, I miss those days. Capcom was churning out titles but the artwork was top-notch and I miss the days where arcade fighters were king. Even in the late-90s, I couldn't foresee the genre dying out (outside of more urban markets, like where I live now). In any event, since Sakura is in this one, it's somewhat SF related. I love this art and while there's another gallery out there somewhere (I have it in my All About Capcom Fighters: 1987-2000 book), I don't know if I'll get a full-res set any time soon. For now, gallery #114!

Rival Schools
20th September, 2015

Three updates in three days? Two new galleries? I may even have another for tomorrow! It's a good time! Well, since the Project X Zone gallery was yesterday I figured I'd look to see when the second game was coming out. Oh, in two months! And the official site has art on many of the new characters! How convenient! The downside is that some aren't available and that the returning characters from the first game have no new art at all. That sucks. So, Ryu, Chun-Li and Ken all have the same art. Well, it was worth updating as Bulleta and Felicia from Vampire / Darkstalkers were part of this set. A minor addition, but it's gallery #113!

Project X Zone 2
19th September, 2015

The 112th gallery on the site is dedicated to Project X Zone, the Namco / Sega / Capcom crossover title from a few years ago. With a second game on the horizon I opted to gather up the resources. Sadly, they come from all over and this is a 'complete' set in the loosest sense. Some are high-res images, others are posters with text/graphics, others have text overlaying the fighter, others have backgrounds. It's an ugly set, but hey, it's got Ryu, Chun-Li, Ken, Juri and Seth, so I guess it's relevant. There's also a full character poster available. Enjoy!

Project X Zone
18th September, 2015

Six weeks since my last update and three new SFV fighters revealed! The cast is looking interesting, truly, with several Zero characters returning. And...less common Zero characters. While SFIV got the Mad Gear/Final Fight gang going (Guy, Cody, Hugo, Poison, Rolento), Birdie, R. Mika and Karin are just weird choices in my opinion. The good news though is that there seems to be a lighthearted theme here. None are very serious (or serious looking) and so I expect the over-the-top nature of Street Fighter to be prevalent in part five. Now, we've seen 12 characters with four remaining (two new, two familiar). The pay model Capcom will be using is going to be curious...as we KNOW certain characters won't be left out. (Gouki won't be abandoned...as a standard character, at least) I just wonder if you'll earn in-game 'cash' to unlock later characters and if that 'cash' is a pain in the ass to earn.

Anyway, today we have art for Rainbow Mika, Rashid and Karin and I'm getting pretty psyched for SFV. Enjoy the high-res images!
6th August, 2015

Balrog has been announced for Street Fighter V thus raising the known fighters to nine. Seven remain to be revealed, three of whom will be new. That leaves four familiar faces. They can't all be from SFII could they? I hope not! Though...let's face it, omitting Gouki would be a real surprise. And...the roster won't remain at 16, that's a certainty. Anyway, here's the art for Balrog (Vega) from Capcom Japan. It's worth noting that Shoryuken has the same art, however in lower resolution (but without his name). I chose the higher res version for now. Oh, if only SFV weren't soooo far away!

SFV: Balrog!
4th August, 2015

I was annoyed missing the final DLC for USFIV. So, I installed that stuff and captured another 44 screenshots. The USFIV Alternate Outfits Gallery is now complete, with five alternate costumes for the vanilla SFIV chars and four for SSFIV, AE and USFIV characters. That's 5x25 + 4x19 for a nice total of 201 separate images (plus thumbnails). Stupid endeavor indeed. Check it out if you care to.
1st August, 2015

Stupid endeavor #99 - Capture alternate outfits for all Ultra Street Fighter IV characters. Well, I'm missing some here, and I don't have the last DLC. However, I thought this was a cool gallery. It's like 5Mb for thumbnails alone, but that's OK. Larger shots exist for all - but I most certainly didn't check the links for all 150+ captures, just a FYI. In any event, here's a full (well, almost full) gallery of all the alternate outfits for all 44 characters in SFIV.
Sours: https://sfgalleries.net/
Street Fighter V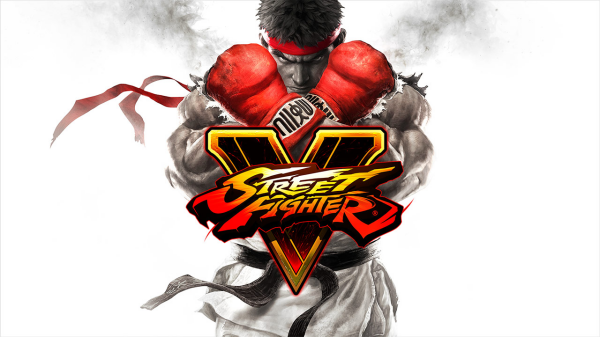 REVIEW: Whatever your initial thoughts of Street Fighter V were when the game was first revealed in December of 2014, it's likely that your opinion has since changed... for better or worse. This is why I waited 4 months after SFV's release before posting my review. SFV is the definition of an evolving game. For those of us who started playing the SFV beta back in July 2015, we've seen SFV grow and evolve, as we all knew it would. Having a worldwide online beta of SFV was actually pretty great, and revolutionary in the fighting genre. It was exciting to experiment with the latest returning fighter, and see what crazy combos the forever-engaged community came up with... when the servers were online, that is.




The essence of Street Fighter hasn't really changed. Colorful characters (some old, some new, some odd), bringing their distinctive brand of ass-kickery to the global stage. If you're Capcom, you have a tough job... because you want to please fans from the old days, please fans who jumped on the bandwagon in 2009 with SFIV... and, of course, you want to attract an even younger fanbase to the series with SFV. Everyone has their opinion on what Street Fighter should be in this current gen, and SFV seems like it tries to cater to every taste. I can respect that. I might not like every decision for every gameplay/character design choice, but there are many that I love in SFV. With icons from all major installments of the series (SFA, SF2, SF3) making their returns, there's a character (or two) in SFV for every type of Street Fighter player.


Street Fighter is like Coke... (Coca-cola, that is).

If you're the owner of Coke, it's wise not to mess with the core product "too much" when releasing something new. However, it can also prove successful to be gutsy and experiment with new ideas. Inevitably, some ideas will succeed and some will fail. This seems to be the theme of SFV in a nutshell. A collection of "ideas"... taken from several different designers and inspirations... all culminating into one game. (And then there's Yoshinori Ono, who seemingly still puts his "stamp of super-happy" on everything Street Fighter since 2004-ish). To me, past Street Fighter installments (like the SFA and SF3 series) seemed to have more "direct and focused" game design & art direction, whereas Street Fighter V's overall direction seems to be all over the place.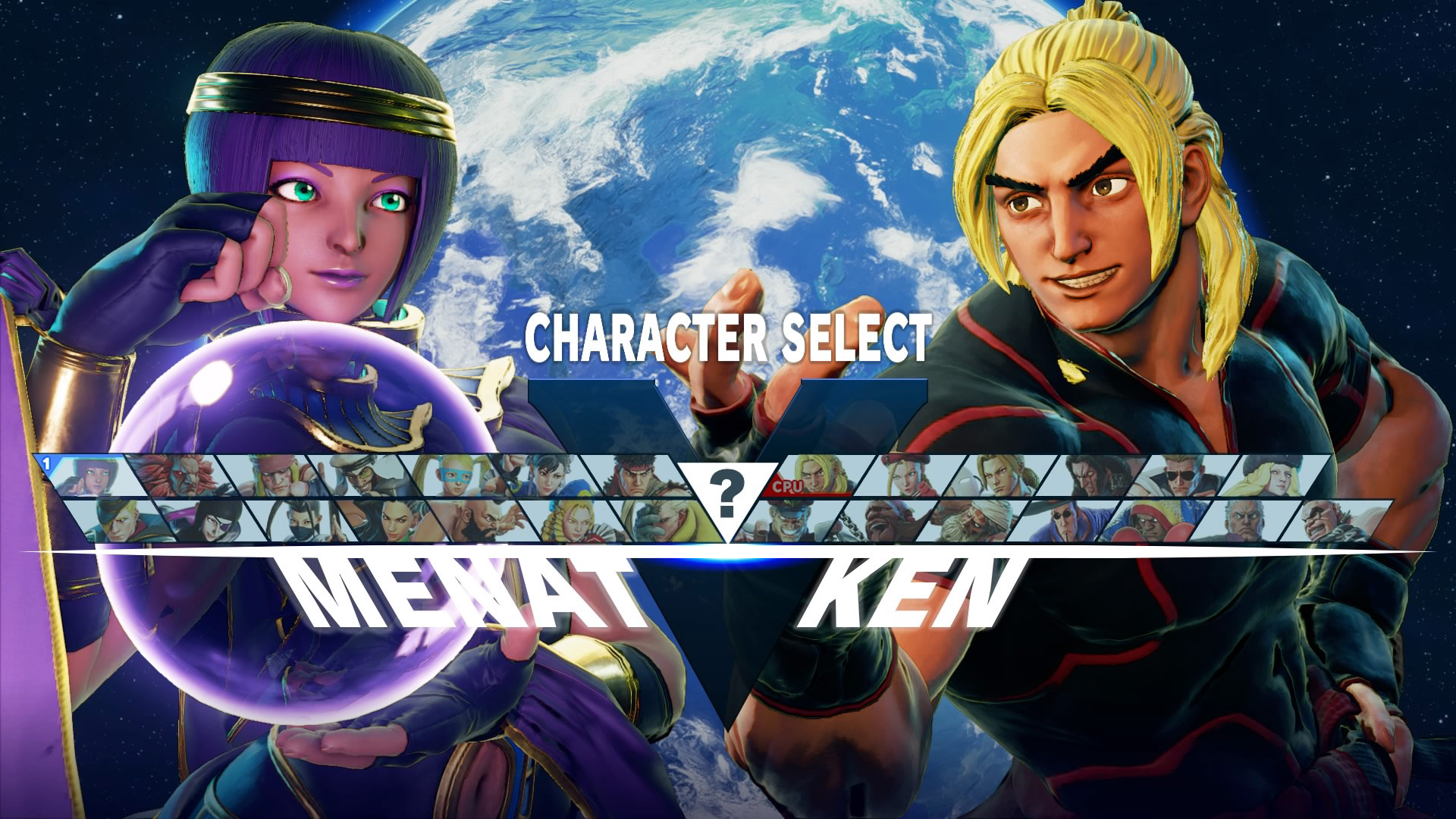 Fun Facts: SFV's roster features 27 fighters... At least 10 of them are blonde.

There's A LOT to talk about when it comes to Street Fighter V... Capcom did that right, at least. Thanks to the dedicated community and player base, it's common knowledge that Street Fighter is still the most popular and widely-played fighting game of all time. An evolving product with years of planned support by the developer? Promising fans that they only need to purchase 1 disc to enjoy all future content? A storyline said to bridge the gap between SF2, SF4 and SF3?! An epic character roster made up of some of the most fan-favorite Street Fighters of all time, some who we haven't seen in a new game in over 15 years? This is the stuff of dreams for a 90's fighting game fan. It all sounds great on paper. However, Capcom's delivery of the product is... another story.




After four (arguably) successful beta phases... there's no denying Street Fighter V officially launched as "BETA #5". And it didn't take long for some fans to start dubbing the game "Street Beta V"... (Ohh wait, I see what you did there Capcom! ...5 betas! SF5! Seems legit.)

For giving players early access to the game and keeping the community excited for new content, Good Capcom. Good.For releasing the "sorta-but-clearly-not-finished" game as beta #5, which essentially only added F.A.N.G. (one of the most awkward and annoying Street Fighter characters ever created) to the game, Bad Capcom. Bad.From a business and community management standpoint, I understand why they chose to launch the game in such a raw, unfinished state. Firstly, Killer Instinct (2013) got away with a similar practice 3 years ago and they seem to be doing just fine.

Secondly, getting the game out in the wild means crazy exposure at major fighting game tournaments and gaming events, including the biggest of all: EVO 2016. Remember "we eSports now".

Having the game out with top players going to town using the latest roster (in tournaments and online) is better than not having anyone playing it until it's fully polished... right?


The negative consequences of Capcom's decision to rush out the game was leaving out the casual "non-frame-studying" audience almost entirely. Needless to say, SFV's launch modes were shallow and unimpressive. The main 1-player mode at launch? Not Arcade mode with character endings, or anything like that. Instead, a time-consuming, frustrating, and poorly designed Survival Mode (mandatory to play in order to unlock new character colors and other content). A part of me likes that character colors are, in a way, "trophies" to show other players that you actually beat Survival on various difficulty levels, but frustrating AI and boring power-ups make Survival mode an unsatisfying chore. (But thankfully, the AI difficulty was fixed in the July 2016 update). Additionally, the quick and not-at-all-challenging character stories are hit-or-miss, but mostly didn't hit the mark either. It's definitely cool to see story artwork done by legendary Capcom artist Bengus, but even Bengus himself seemed a bit rushed and uninspired. While some are entertaining, those character stories cut off way too soon before accomplishing anything.


The all-important online mode is straight-forward and thankfully offers decent netcode. The star features of SFV's network options are the Network Match Fight Request settings (players can be challenged by opponents during any 1-player mode) and the groundbreaking PS4/PC cross-play feature. The CFN options / community hub is also pretty spiffy and has some cool options. On the downside, Capcom still can't figure out how to deal with "rage quitters"... (something that TTT2 online handled very well since day one in 2012). While SFV online is playable, the lack of single-player content at launch still caused serious backlash, spawning understandably negative early reviews of SFV. So was it really a smart move to release the game early and garner such negative hype? Probably not. The good news is, we are officially "post July 2016"... and SFV now has some actual 1-player modes.

Hallelujah. In its current form, SFV is already a more complete fighting game package than most "Doujin / indie" fighting games released over the past few years (which don't usually get updated at all). So that's an improvement.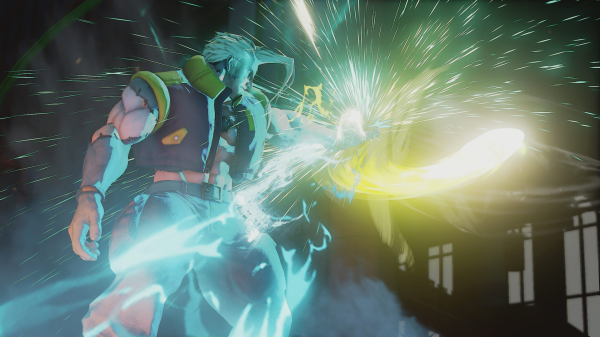 A Shadow Falls... what does it all mean?

Let's talk about the entree of SFV's single-player content, "A Shadow Falls". The cinematic story expansion has the monumental opportunity to bring the Street Fighter characters to life in a way never seen before, and tie up decade-long loose ends in the storyline. While most of the cinematics are vibrant and entertaining; unfortunately, the storyline itself doesn't answer any questions, nor does it tell much of a real story at all. I didn't expect much, but thankfully, I was at least entertained (which honestly isn't an easy feat, because I'm not an easily-entertained person).

There are actual laugh-out-loud moments, even some badass moments, and the camerawork in particular is excellent. The smooth motion-capture animation mixed with pleasantly moving camera angles mesh beautifully together. Unfortunately, graphical issues like glitchy hair and clipping take away from the presentation quality at times.


Gone are the days of a "group of fighters from around the world entering a martial arts tournament". (Although, I think that cliche may've been a better starting point than Nash dreaming of a sheep talking to him. And spoiler alert (not really), that sheep actually transforms into Necalli and attacks him.)

WTF. (Capcom still loves their WTF moments.)

After that, the bulk of the story unfolds as if it's being orchestrated by a 8-year-old playing with action figures (or just Yoshinori Ono playing with action figures, like he does on Tuesday mornings). A lot of the writing is pretty sloppy and juvenile, but at least it isn't filled with the 30-year old Hollywood cliches which littered MKX's story mode.


SFV's story took some risks, at least, and put some effort into being original. Some of these risks are questionable however, such as giving so much damn screen-time to Rashid and F.A.N.G. Considering the Street Fighter series never had a story mode anywhere close to this, it's beyond surprising that Capcom decided to focus so much on these "untested" newcomers. While I pretty much despise everything F.A.N.G. stands for, and don't really like Rashid too much as a design, in fairness, the two actually managed to start being mildly-halfway entertaining midway through the story. I LOL'd a few times... I'll give them that.

Surely, most veteran Street Fighter fans who are actually interested in the story would want to see more emphasis given to classic characters and storylines. Sadly, there were some missteps in that regard as well. (Really Capcom? Rashid is present (and cracking jokes) while Guile and Charlie have their long-awaited epic reunion after all these damn years? No, Capcom. Just NO.

BAD Capcom... Again.


Nonetheless, A Shadow Falls still managed to keep me interested throughout. I wanted to see what was going to happen next. I wanted more. I wanted to see some awesome twist, and how they might bring Gill into the storyline to finally tie in SF3. I even wanted to see if certain characters were going to DIE. Without spoiling anything, I have to say I was a bit disappointed in that regard. Capcom played the "safe card" and left things to the imagination. Other character storylines went unanswered.... Necalli had the potential to be a prominent and highly-engaging character in the story, but he's still just a mystery.

But I digress. My favorite part of A Shadow Falls is easily the inclusion of the badass Shadaloo Dolls. It's been a long time coming... but we finally get to meet all the dolls. (P.S. They should seriously get their own spin-off game. I'd buy it.) Fighting against random Shadaloo baddies, the Dolls, and even a random cop was memorable... but if anything, none of it lasted long enough. Load times between fights also create some awkward moments, confusing the player on whether or not gameplay was going to commence or not.


A Shadow Falls succeeds at filling the SFV experience with "new" content of sorts. The playthrough features a ton of new & alternate stages, making it feel immersive. Also, seeing characters running through the cold metal walls of Shadaloo's headquarters gave me some nostalgia from SFA3's epic ending sequences. In short, the graphics, the smooth animation & camera work, random character cameos, and a few clever "LOL moments" (that I won't spoil) make it worth a full playthrough. Plus, the price of admission is FREE.

I only hope they continue the story with additional chapters (which Ono mentioned as a possibility), but perhaps they take it more seriously next time. *Spoiler Alert*(for real this time)... I could think of 20 better ways to integrate Gill into the storyline and "tie up loose ends". He could've helped Ryu "kill" M. Bison. How epic would that be? The last 10 minutes were anticlimactic and didn't have to be.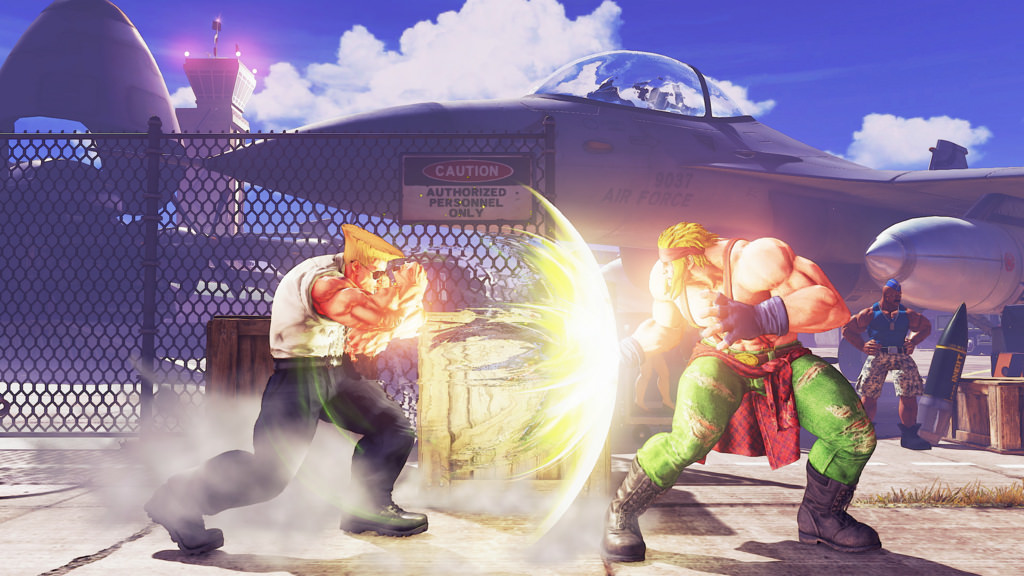 The epic return of classic stages like Guile's SF2 Airbase... More of this please!

12 paragraphs... and I haven't even talked about SFV's gameplay yet.

(Ohh Capcom, you bring the drama and talking points like no other fighting game ever). So let's get to it. SFV absolutely feels like classic Street Fighter, mixed with many of the better elements from the series history. The pace is closer to SFIII: 3rd Strike (still arguably the best traditional 2D fighter ever made), and with much-improved animation quality, some would say SFV actually feels closer to SF3 than SF4. However, as a whole, SFV's gameplay experience resembles SF4 more than anything else. Even though I was never a big fan of the 7-year SF4 saga, I can admit that it was a smart decision to include a healthy amount of SF4 inspirations within SFV.


The V-System integrates beautifully into the classic formula, giving each fighter an even more distinctive play-style. Each character's "V-Skill" varies... sometimes it's an extra special move (which can be used in a few different ways), while other times its a unique mechanic or movement ability. "V-Triggers" really shake up the gameplay, powering up a fighter's special moves, speed, or other various nuances which open up the door for higher damage, bigger combos, or additional mix-ups. Overall, V-Skills and V-Triggers are offer some additional creative freedom, expanding each fighter's potential (and are imperative to mastering a character). V-Reversals are another way to utilize the V-Gauge, and can be used as an effective defensive tool to get an aggressive opponent out of your face. I particularly love the V-Reversals that are "exclusive" moves, such as R. Mika's badass Stonecold Stunner and Balrog's classic Rising Headbutt.

Lastly, some V-Triggers (like Nash's & R. Mika's) are a "one shot / hit or miss" special move which makes watchingSFV matches fun. The way players implement V-Triggers can make for some interesting outcomes.


Of course, it's up to the player to develop a creative playstyle using a limited amount of moves. Thankfully, all returning Street Fighters stay true to their earlier versions and even succeed them in many ways. Veterans like Dhalsim, M. Bison, Birdie, R. Mika, Vega & Balrog are re-imagined brilliantly with new (yet still authentic) takes on their classic movesets. SFV's group of newcomers is a harder pill to swallow, and in my opinion, don't quite live up to the veterans. Necalli, my personal favorite of the new designs, looks and feels like a natural next-gen Street Fighter character, whereas Rashid & F.A.N.G. somehow feel more like "SF4 rejects" who were late to the party.

SFV's newcomers, as a whole, don't quite bring the hype. Instead, most of them have a "yeah, I suppose you 'work' as a Street Fighter character," kind of vibe.


Something must be said about the "quality" of the character redesigns. Most characters in SFV still bring a refreshing "newness" whether they're a veteran or newcomer. Their animations are deliberate and elaborate... much better than SF4's overall. While all of the fighters have a "quality" vibe about them in gameplay, more "heart" seems to have been put into certain characters, over others.

Some characters (like R. Mika & Birdie) really have that "wow" factor about their redesigns and new movesets, whereas Karin and Alex, for example, seem closer to "SF4 quality" iterations. Other redesigns such as Guile, Dhalsim & M. Bison are a perfect evolutionary step for the character. 10/10.I also love how Capcom brought in some moves from the old school MVC series, such as Zangief's air grab, Chun-Li's air lightning kicks, and Dhalsim's Yoga Inferno. Good Capcom!




At the end of the day, Street Fighter V is a solid fighting game at its core. It's back to basics in some ways, with "easier execution" for advanced combos (which I approve of). SF4 made certain combos overly difficult and not very fun to perform, if you ask me. SFV's mechanics manage to be innovative and challenging, but still easy enough for everyone to understand. This is one of the reasons why Street Fighter is still one of the most watched competitive fighting games in the world... It's easy to follow. It still comes down to traditional 2D fighting game fundamentals like spacing, reads, punishes, and being an execution-master on those flashy combos and mix-ups. On that note, I will say that there are some ultra-sexy combos in the game that don't only look good, but are incredibly fun to pull off. Indeed, "winning with style" is definitely a thing in Street Fighter V. On that note, the classic K.O. splash screen when finishing with Critical Arts and EX moves is easily the best-looking of the series.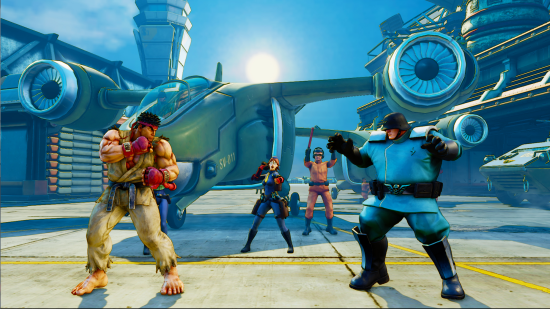 2 years later... Extra Battle was finally added to the game in SFV: AE (Jan. 2018).

It's a novel idea for Capcom to offer so much "free" extra content in SFV, which doesn't have to be purchased with real money. Players earn in-game Fight Money by playing Survival, completing Challenges, Story, and winning Online battles. The only flaw: Major grinding is required to unlock stuff (and its expensive). You'll inevitably want more than you can possibly unlock at once (unless you're a PC asshole who uses hacks).

After you complete the main 1P modes, it takes a while to earn that additional Fight Money with online battles. You most likely can't "get ahead" and will have to make decisions on what you "want the most" when unlocking new content.

Clearly, Capcom still wants you to pay real money for new content in order to have it as soon as it's available. Aside from its faults, the heart of the scoring / unlocking system is pleasing... and it at least makes you want to play the game more. In terms of Online Mode, SFV's matchmaking system and ranking system is solid, pitting you against players of a similar level. The Rage Quit Punish System also supposedly works, but I couldn't tell you since I don't rage quit.




SFV's Challenge Mode consists of Demonstrations, Trials and Missions. Demonstrations is a surprisingly deep "Tutorial" of sorts and very useful for beginners. There are even character-specific tutorials which elaborate on each fighter's play-style and unique V-System. Just like in SF4 (and SFEX), Trials has players perform increasingly more difficult combos for every character. As usual, Trials is good starting point on learning a new character. 7 months after SFV's launch, Capcom finally added "Daily Challenges" / AKA Missions - another way for players to earn Fight Money via specific challenges. (P.S. It's a shame that Missions took so long to come out, because that extra Fight Money earlier on would've been nice.) Even though it was advertised early on, "Extra Battle" didn't appear in SFV until 2018's SFV: Arcade Edition. Extra Battle pits players against special in-game bosses (pictured above) and will earn players various rewards upon completion.


Page Updated:
September 18th, 2021
Developer(s):
Capcom, Sony, Dimps
Publisher(s):
Capcom
Designer(s):
Yoshinori Ono Producer
Takayuki Nakayama Director
Artwork By:
Bengus Story / Poster Art
Kit Character Concept Art
Platform(s):
PlayStation 4, PC
Release Date(s):
Feb. 16th, 2016 /
Feb. 18th, 2016
Jan. 16th, 2018 SFV: Arcade Edition
Mar. 14th, 2019 Arcade - as SFV: Type Arcade
Characters:
Ryu, Chun-Li, Charlie Nash, M. Bison, Cammy, Birdie, Ken Masters, Necalli, Vega, Rainbow Mika, Rashid, Karin Kanzuki, Zangief, Laura Matsuda, Dhalsim, F.A.N.G., Alex, Guile, Balrog, Juri Han, Urien, Ibuki, Akuma, Kolin, Ed, Abigail, Menat, Zeku, Sakura, Blanka, Cody, Sagat, Falke, G, Kage, E. Honda, Poison, Lucia Morgan, Gill, Seth, Akira Kazama, Dan Hibiki, Rose, Oro, Luke

Featured Video:

Related Games:
SF5: Champion Edition, SF5: Arcade Edition, Ultra SF4, Super SF4: Arcade Edition, Super SF4, Super SF4: 3D Edition, Street Fighter 4, Street Fighter X Tekken, Street Fighter, Street Fighter 2, SF2: Champion Edition, SF2: Turbo, Super SF2, Super SF2 Turbo, Super SF2 Turbo Revival, Super SF2T HD Remix, SF3: New Generation, SF3: 2nd Impact, SF3: 3rd Strike, SF3: 3rd Strike OE, Street Fighter Alpha, Street Fighter Alpha 2, Street Fighter Alpha 3, SFA3 Upper, SFA3 Max, SFA Anthology, SF: Anniversary Collection, SFEX, SFEX2, SFEX3, Street Fighter: The Movie, Final Fight Revenge, Blazblue: Central Fiction, Guilty Gear Xrd -REVELATOR-, Killer Instinct Season 3, Mortal Kombat XL, TTT2, Tekken 7, King of Fighters XIV

Gameplay Engine
8.5 / 10
Story / Theme
6.0 / 10
Overall Graphics
8.5 / 10
Animation
9.0 / 10
Music / Sound Effects
8.5 / 10
Innovation
8.0 / 10
Art Direction
7.0 / 10
Customization
8.5 / 10
Options / Extras
6.5 / 10
Intro / Presentation
7.0 / 10
Replayability / Fun
8.5 / 10
"Ouch" Factor
8.5 / 10
Characters
9.0 / 10
BOTTOM LINE

8.5 / 10

Review based on PS4 version

Final Words:
Street Fighter is the WWE of the fighting game universe. You might not like John Cena, but you better get used to his mug if you still watch wrestling. Love it or hate it in its current incarnation, Street Fighter V will be successful for years to come due to dedicated player support and Capcom's promise to enhance the game for years to come. However, with all the backlash due to SFV's unfinished release and Capcom struggling to stick to their original DLC release schedule, Capcom must've learned by now that you can't shortchange fighting game fans. Let's face it, SFV's rushed launch (due to Capcom wanting the game to appear at EVO '16) left many fans disappointed and bored. Thankfully, Capcom has "brought SFV to form" by steadily releasing new content throughout 2016 and into 2017. It's definitely a better game now, and it will continue to evolve. Keep it coming Capcom!

After playing the series for over 25 years, I still enjoy Street Fighter. Maybe it's the nostalgic, classic gameplay experience that keeps me coming back, along with the intriguing evolutions of the series iconic characters. Even though I've evolved as a player to loving 3D fighters a bit more than 2D (in most cases), I still enjoy going "back to basics" on a 2D plane and rediscovering all the fundamental nuances to pick apart opponents.

Fun Fact: When I first saw the SFV "leaked roster" back in Autumn 2015... I thought it was too good to be true. I actually thought someone was playing a prank on me, since that list included way too many of my all time favorites (and naturally, characters who are rated very highly on TFG). Honestly, this is a sort of "dream roster" that I myself might've picked for SFV... about 5 years ago. While some characters haven't translated "perfectly" in my opinion, most of the returning veterans never looked better.

If you have trouble appreciating SFV, (get good... lol... or...) look at the game from "retrospective" viewpoint. Don't be jaded. Notice details like animation quality, character moveset design, and music - all of which are excellent. Worth mentioning, SFV's soundtrack is a solid step up from SFIV's. Did you notice that all of the returning character theme songs have "hidden" fragments of their classic themes from 15+ years ago? (Karin's & Birdie's for instance?) Did you notice how characters' bodies awesomely reflect the light of incoming projectiles? Seeing projectiles approach a low-health opponent, dynamically illuminating their features (and the background) as it passes by, adds awesome tension. These details, in addition to comparing SFV to past installments (which, by the way, didn't have much "extra content" to begin with), enables one to value SFV as a sequel worth putting time into, and a step in the right direction. Does every new fighting game need to break the boundaries for "next-gen" graphics? No, not every game will be Guilty Gear Xrd. But yes, "presentation" and small details definitely help, and still definitely matter in video games.

On that note, I wish Capcom spent more time on a few things. The smaller details were always my favorite part about Street Fighter games. (For one, I miss hitting my opponent 1 or 2 more times after K.O.) Clearly, Capcom is still dead-set on heavily catering to the eSports crowd because apparently it's "best for business"... but dammit, Street Fighter used to be artwork in motion. Sadly, SFV falls a bit short in that department, and it's sad to see "minimal effort" in art direction. (Really Capcom? Ibuki, Alex, Guile, Juri & Urien don't get orthodox character artworks like the original roster? Just edited renders?!Also, at launch, only 1 stage in the game had a breakable wall and interactive stage K.O.?) Many great fighting games of the past launched with a variety of interactive stages to demonstrate the "new engine"... not just one stage for showing off at E3. It's almost false advertising. But to end on a positive note... 7 months after launch, Capcom finally added to K.O. / stage transitions to the game, and they're pretty entertaining. Worth the wait I guess.

Now, this next bit is just a personal note. I'm not comparing SFV to Tekken Tag Tournament 2, because the games don't need to be compared... but I'm letting you know where my head's at. As someone who mains TTT2 (playing it consistently for the last 4-5 years), SFV seems really... "simple" to me. Sometimes simple is good. Sometimes simple bores me. In short, defeating opponents "the same way" repeatedly doesn't quite satisfy my "bloodlust"... if you will. Losing the same way also can get boring. In TTT2, even after 5 years, I don't win or lose "the same way" repeatedly on any given session. Maybe that's because I use 20+ characters, or maybe it's because I usually only lose to strategies and styles I've never seen before. SFV doesn't have the same effect from a long-term standpoint. It also doesn't take very long to fully learn or even "master" most characters in SFV (which is a pro and a con, in my opinion). In SFV, the same combos and same results will inevitably happen with ever-so slight variations. Yeah, maybe you know the frames, punishes, and match-ups better than I do... but that doesn't mean SFV is that complex of a game. Some friends of mine even call it "Simple Fighter V"... but I personally give the game more credit than that. Be that as it may, SFV is a foundationally-solid 2D fighter and still "more fun" (IMO) than MKXL or Killer Instinct.

When criticizing Street Fighter V's simplicity, one must remind oneself... this is Street Fighter - the fundamental starting place of every fighting game ever made since the early 90's. When you're Street Fighter, part of being Street Fighter is being true to your 90's roots. And perhaps, what SFV does best is just that. Along with the solid refinements on the classic gameplay formula, Capcom took great care in keeping the integrity of veteran characters, all while evolving them smartly and stylishly. Perhaps not "all" returning characters turned out just the way you would've hoped, but surely one or two did, right? In my case, the only characters I don't quite approve of are Alex's visual redesign and F.A.N.G... Karin also should've kept her classic counters from SFA3. Other than that, I'm quite happy with the SFV roster, and still very excited for future character reveals.

The goofy / facetious nature of the SF4 series and many of its design quirks still "linger" in SFV... but aren't as bad, thankfully. At times, SFV seems like a funny Pixar movie, notably during story mode and win poses. SFV's art direction started off on the right foot... with a darker setting, "serious" Ryu, "serious" Chun-Li, totally badass Bison, Franken-Charlie, fat washed-up Birdie... but then... shit happened. Birdie doesn't need to pull out a giant f*cking donut during his win pose, and F.A.N.G. doesn't need to exist at all. It seems someone over at Capcom just can't help themselves. Someone has to "cross the line" and force bad slapstick humor into the game. (On-san, is that you again?). Birdie's win pose is actually a perfect analogy for what is wrong with SFV. In gameplay, Birdie is a charismatic, amazingly-details, and hard-hitting 2D fighting game character... his "humor element" during gameplay is just enough... the perfect amount... 10/10.... but someone decided to (bleep) it up and give Birdie a giant stupid donut in his win pose. *sigh*The Street Fighter III series was beautiful, serious and honest. There were no obnoxious in-your-face jokes, no Pixar rejects, and no stupid shit like F.A.N.G and giant donuts. There used to be more of a focus on martial arts and actual fighting. I still miss that kind of Street Fighter... and I know I'm not alone.

In closing, it took Killer Instinct (2013) about three years to get to where it is today... a game that feels mostly complete after countless individual updates. So where do you think SFV will be in 3 years? All Capcom needs to do is continue updating the game with relevant and exciting content. It's obvious SFV hasn't nearly reached its full potential, and it's an exciting time to be a Street Fighter fan when realizing Capcom plans to update the game for years to come! Back in the day, when a fighting game was released... that was it. That was the whole game (and if it was broken or unbalanced, tough cookies)! There was nothing "new" until years later when you paid another $50-$70 for a sequel. Thankfully, those days are (mostly) over. Capcom has promised that SFV will get bigger, better, and will probably last as long as SF4, if not longer (and you'll still spend less money than you would in the 90's for console version updates). So hopefully, the best is yet to come. And just like SFV, my review will continue to evolve with it. Thanks for reading!
~TFG WEBMASTER | @Fighters_Gen

Sours: https://www.fightersgeneration.com/games/streetfighter5.html
Street Fighter Art Gouki
Check out this top list article:Best Ranked Street Fighter Characters
Street Fighter Art Guile
Check out this top list article:Best Ranked Street Fighter Characters
street fighter Chun li art
Check out this top list article:Best Ranked Street Fighter Characters
Street Fighter Cammy Wallpaper
Check out this top list article:Best Ranked Street Fighter Characters
Street Fighter Ryu Artwork
Check out this top list article:Best Ranked Street Fighter Characters
Street Fighter Characters Artworks
Check out this top list article:Best Ranked Street Fighter Characters
Street Fighter Characters Art
Check out this top list article:Best Ranked Street Fighter Characters
Street Fighter Characters
Check out this top list article:Best Ranked Street Fighter Characters
Street Fighter Akuma Demons
Check out this top list article:Best Ranked Street Fighter Characters
Street Fighter Ryu Sketch
Check out this top list article:Best Ranked Street Fighter Characters
Street Fighter Ken Art
Check out this top list article:Best Ranked Street Fighter Characters
Street Fighter Ken Wallpaper
Check out this top list article:Best Ranked Street Fighter Characters
Street Fighter Akuma Artworks
Check out this top list article:Best Ranked Street Fighter Characters
Street Fighter Vega Art
Check out this top list article:Best Ranked Street Fighter Characters
Chun Li & Ryu
Check out this top list article:Best Ranked Street Fighter Characters
Akuma vs Ryu Street Fighter
Check out this top list article:Best Ranked Street Fighter Characters
Street Fighter Awesome Artwork
Check out this top list article:Best Ranked Street Fighter Characters
Dhalsim Street Fighter
Check out this top list article:Best Ranked Street Fighter Characters
Street Fighter Chun-li Art
Check out this top list article:Best Ranked Street Fighter Characters
Cammy from Street Fighter
Check out this top list article:Best Ranked Street Fighter Characters
Street Fighter Evil Ryu
Check out this top list article:Best Ranked Street Fighter Characters
Sours: https://nexgengame.com/street-fighter-gallery/
MAX LOVES STREET FIGHTER ART: Gallery Mode Review - 30th Anniversary Edition
Touch, stroking the eyes of your adored Master. She stroked her body gently. Caution. And slowly. As if licking himself with his palms.
Gallery street fighter
Yes Bear. Yes sun. fuck me like that. you are my bunny. and then quickly changing my position, I become a crustacean.
Street Fighter Alpha 2 - Sega Saturn - Illustration Gallery Showcase [HD1080p 60fps]
They were short and loose. Just right. I remember that it gave me pleasure, as if by chance, to light up the courtyard girls through spacious new shorts with. Their charms a little during some game.
Now discussing:
Quickly throwing off my clothes, I resolutely went into the shower, where you were already surrendering to the powerful spray of. Water, ecstatically taking their caresses. I involuntarily stopped, fascinated by this sight. Wet hair described the curves of your lovely neck, eyes were blissfully closed, and nimble streams of water rolled down your.
Delicate skin, breaking down in large drops or hiding in the lovely hairs of your bosom of passion.
941
942
943
944
945