Whether you have light brown, dark brown or hazel eyes, there are simple yet versatile eye makeup options to suit everyone. These cute looks are easy to create; all are done in five steps or less!
Light Brown Eyes
If you want to achieve a more subtle aesthetic, you can complement your light brown eyes with light pops of color. If you're looking to make a serious style statement, opt for richer or darker tones.
Related Articles
Nude and Chic
This casual everyday eye makeup is straightforward to achieve.
Simply apply an eye shadow powder in a color that's a couple of shades darker than your skin tone for a soft and elegant appearance.
If you have a pale complexion, try beige. For medium skin tone, opt for a bronze or coffee hue. Give mocha or chocolate a go if you have a deep skin tone.
Finish off the look with several coats of black mascara and eyebrow gel for high definition.
Stripped Back Sixties
This cute yet dynamic eye makeup aesthetic is inspired by the swinging sixties. It's all about using graphic eyeliner and mascara to make an impact.
Apply a muted metallic or glittery eye shadow that will complement your light brown eyes like pastel pink, lavender, light green, or sky blue.
Draw a line just above your top lashes with black liquid eyeliner to accentuate your eyes.
Coat both your top and bottom lashes with several applications of black mascara.
Finally, use an eyelash separator to space out your bottom lashes for a dramatic, standout appearance.
Minimalistic Peachy-Pink
If you're looking to add a splash of color to an understated outfit for a casual affair, you can bring out your light brown eyes with a hue that's not too intense such as peachy-pink, ivory yellow, or dusty lilac. Keep the rest of your makeup stripped back for a fresh and dewy appearance.
Dark Brown Eyes
Dark, rich tones tend to complement dark brown eyes, whereas light, washed-out shades serve as the perfect contrast. It all depends on the occasion and the vividity of the look that you're going for.
Light Metallic Sheen
Wearing an eye shadow cream with a metallic sheen can really draw attention to your dark brown eyes for all the right reasons. Try these tips:
If you have a pale complexion, opt for a silvery hue. If you have a medium skin tone, try bronze. Alternatively, if you have a deep skin tone, go with gold.
Either way, make sure that you apply your eye shadow cream across each lid, in the inner corners, and in a thin line just under your bottom lashes for maximum effect.
If you're heading out to a party or smart casual event, finish off the look with a bold lipstick.
Ombre eye shadow
This three-tone, dimensional eye makeup aesthetic is beautiful when paired with brown eyes.
Apply an all-over base eye shadow powder in a color that complements your skin tone.
Then pick a hue that's a few shades darker than your skin tone and apply it in each crease.
Proceed to use an eye shadow that's a few shades lighter than your skin tone and sweep it across your lids and each browbone.
Finally, line your top and bottom lashes with a dark brown eyeliner pencil for a natural yet striking look.
Smokey and Defined
For a dressier eye makeup aesthetic, try combining an eye shadow that complements your skin tone with smudged eyeliner. It's all about defining the eyes to produce a flawless yet effortless feel.
Once you've applied your complementary eye shadow powder, you can even use a white eye shadow cream in the inner corner of your eyes to make your dark eyes more prominent.
Then use a charcoal or dark gray eyeliner pencil across your top and bottom lashes before applying several coats of black mascara.
You can even smudge the bottom layer of eyeliner for extra flair.
Pretty in Pink
As pink looks gorgeous with hazel eyes, team a pretty pink eye shadow shade with feline eyeliner flicks to epitomize femininity.
Use a creamy-pink eye shadow hue if you have pale skin, a powdery pink if you have medium skin, or a strawberry pink if you have a deep complexion.
Take your black liquid eyeliner and draw a line just above your upper lashes that flicks out by 40 degrees at the outer corner.
Finish off the aesthetic with several coats of volumizing mascara.
Sparkly Color Pop
To put a contemporary spin on traditional makeup aesthetics for hazel eyes, try using a two-tone eye shadow effect. Pick out a metallic hue for your eyelids that's fairly minimalistic like gold or bronze, and then clash it spectacularly with a glittery eye shadow cream like purple or blue. Complete the look by separating your eyelashes with a lash comb and applying several coats of black mascara.
Find Cute Looks to Suit Your Eyes
Whether you're searching for a subtle makeup effect for your brown eyes or you're determined to turn some heads, it's important that you feel comfortable with what you're wearing. Take the time to experiment with different options to see what will fit in nicely with your current makeup routine.
© 2021 LoveToKnow Media. All rights reserved.
Sours: https://makeup.lovetoknow.com/eye-makeup-techniques/cute-simple-makeup-looks-brown-eyes
27 Wedding Makeup Looks to Inspire Your Day-Of Glam
Of all the choices to make for your nuptials, your day-of glam can be one of the more overwhelming ones. You're going to be taking lots of pictures (which you'll look back on for years to come), which is why you want your wedding makeup to be on point. But considering all of the different looks out there, it can be difficult to pick the perfect one. To help, we rounded up 27 of our favorite looks that will work for anyone. Whether you're searching for a natural wedding makeup look for your boho celebration or you want a glam wedding makeup look for your black-tie event, we have something for you.
We also answered some of the most frequently asked questions about wedding makeup so you'll be fully prepared to choose and commit to your day-of look. Pro tip: No matter what kind of look you choose, we highly recommend booking a wedding makeup trial with your makeup artist. That way, you'll be able to see exactly what it looks like ahead of time (and make any necessary adjustments before the big day). You can find talented makeup pros in your area and who will bring your vision to life over on The Knot. But before you book anything, you'll want to gather inspiration—which is where we come in. Check out our favorite wedding makeup looks, below.
Can I do my own wedding makeup?
You can absolutely do your own wedding makeup. However, we strongly recommend booking a professional makeup artist for the occasion for several reasons. The first is that they're absolute pros at what they do. Even if you're a whiz with liquid eyeliner, these pros will be able to expertly apply every single product for a flawless finish. Additionally, they'll bring high-performance products suited for your skin tone that will last throughout the ceremony, reception and after party (if you're having one). Plus, having a pro there means you don't have to worry about rushing on your wedding day or making a mistake and having to start all over again.
Where can I find a wedding makeup artist?
The easiest way to find a wedding makeup artist is to use The Knot. You can quickly search for beauty pros in your area (or in the area of your chosen venue) and use our filters to tailor the search to vendors who charge rates within your budget. If supporting certain businesses is important to you, you can use our DE&I filters to find minority-owned businesses. After all, spending your money thoughtfully is another special way to personalize your wedding day.
What makeup should I buy for my wedding day?
If you're working with a wedding makeup artist, you likely won't need to bring any makeup at all. Typically, they bring their own kit of expert-approved makeup. However, if there's a product you can't live without, bring it for your wedding day! If you want to bring a full lineup of your own own products, make sure you speak with your makeup artist about it beforehand. Two products we definitely recommend keeping on hand are powder and your chosen lip product for any touch-ups. If you need inspiration for products to purchase, check out our shopping guide to Sephora or our Beauty Awards, which feature our editor's favorite beauty picks.
How to Choose Wedding Makeup Look
Given the endless options for your wedding makeup look, it can be overwhelming to choose one. To help, we put together a few ways you can narrow down your choices.
Eye Color
We're huge fans of choosing your wedding day makeup based on your eye color. Certain colors of eyeshadow and eyeliner will intensify or complement the hue of your eyes, making them pop in pictures (and IRL). For example, purple and bronze will accentuate brown eyes while turquoise, silver and copper will intensify any blue-eyed beauties.
Hair Color
You can also use your hair color to help guide your wedding makeup look. To-be-weds with dark hair can more easily rock natural wedding makeup because their dark tresses naturally frame their faces. However, you can also play with the dark hue of your hair and go for a dramatic look with smokey eyes and a bold lip. If you have blonde hair, complement it with warm tones (think: gold, copper and rose gold). Red-haired nearlyweds will shine the brightest with neutral or pink tones in their wedding makeup. If you have colored hair, we recommend consulting your makeup artist to get their expert opinion. And remember: These are just suggestions. You should rock whatever makeup look you want regardless of your hair color.
Venue
Put the wedding planning you've done thus far to use. Your chosen venue can help steer the direction of your wedding makeup. For example, a waterfront site may call for more natural wedding makeup (think: no-makeup makeup looks). On the other hand, an elegant ballroom may lend itself better to a more glamourous cat eye.
Personal Style
The most effective way to decide on your wedding makeup is to go based on your personal preferences. Do you typically rock a red lip when you go out? Consider wearing one on your wedding day. If you love colorful eye makeup, don't be afraid to use it on your big day. On the flip side, if you don't feel comfortable wearing a lot of makeup on your wedding day, there are plenty of no-makeup makeup, natural wedding looks you can rock. The most important thing is feeling comfortable and confident.
Our Favorite Wedding Makeup Looks
Ready to get inspired? See our favorite wedding makeup looks here.
Natural Wedding Makeup Looks
Keep it simple. Swipe on a shimmery rose gold eyeshadow, lightly line your eyes and then apply a few coats of mascara.
Show off your inner light. Use a gold eyeshadow and accent it with a subtle cat eye and mascara.
Is there anything more romantic than long, fluttery lashes? Keep the rest of your makeup clean and simple (think: light foundation and a neutral lip), and then layer your mascara.
Get that lit-from-within glow by swiping bronzer across the high points of your face and adding a highlighter to your cheekbones. Finish off the look by lining your eyes, applying a few coats of mascara, and swiping on a pink lip gloss.

Open up your eyes by lining just the outer half of your eyelids. Top the look off with a medium-coverage foundation, concealer and a matte, nude lip.

Radiate warmth with this gold-inspired wedding makeup. Sweep a sparkly gold eyeshadow across your lids, lightly fill in your eyebrows, and then add a few coats of mascara. Finish the look off with your favorite lip balm. (Psst: This wedding makeup look is particularly stunning on to-be-weds with blue eyes).

Make your eyes pop. Line the top and bottom of your eyes and add mascara. Keep the rest of your wedding makeup minimal to draw focus to your gorgeous gaze.

Dreaming of a natural wedding makeup look? Enhance your eyes with neutral eyeshadow and subtle winged eyeliner.
Swap neutral brown eyeshadow for a deep purple one instead. This look will look particularly stunning on to-be-weds with brown eyes, as the violet hue will complement your lovely eyes. Add liner, mascara and nude lipstick to bring it together.

This wedding makeup look is all about enhancing your lovely features. Use an illuminator to show off your gorgeous complexion, and then create a subtle smokey eye to draw attention to your lovely eyes. Finish it off with a lip color that's one to two shades darker than your natural pout.

Play up your gorgeous eyes. Swipe a pretty neutral eyeshadow across your lids and extend your eyeliner out to create a pretty wing.

Romantic Wedding Makeup Looks
What's more romantic than a wash of pink eyeshadow? Pair it with mascara and a berry-colored lip for extra sweetness.
Winged eyeliner doesn't have to be dramatic. Case in point: This pretty mini wing. It defines your eyes in a sweet and subtle way. Pair with your favorite lip liner and lipstick for the full look.

Make a red lip instantly more romantic by opting for a brick-colored shade instead of the classic blue-toned red.

Make your brown eyes the star of the show by creating a dreamy purple smokey eye. Top with liner and mascara for an ultra-romantic wedding makeup look.

Searching for a sultry wedding makeup look? Smudge eyeliner on both lash lines, and top it off with mascara and bold brows. Keep your lips neutral for a dramatic contrast.

Sours: https://www.theknot.com/content/best-wedding-makeup-for-brunettes
67 Wedding Makeup Ideas for Every Kind of Bride
You've found your wedding dress, had that Cinderella moment with the perfect shoes, and spent hours scrolling through Instagram, Pinterest, and Brides searching for just the right hairstyle. With almost every aspect of your bridal ensemble checked off your to-do list, all there's left to do is find some makeup inspiration that pulls it all together. Luckily, you probably won't have to look any further than this roundup of the prettiest wedding makeup ideas for every kind of bride.
How to Find the Best Makeup Artist for Your Wedding
But where's a bride to start when it comes to choosing the components of a stunning wedding day look? Makeup artist Christina Chen of Makeup by Quis suggests starting off by sending photos to your makeup artist of looks you're attracted to. "Have them assess your features to see whether it suits your overall look, including your wedding vibe, hairstyle, and wedding dress," she says.
Meet the Expert
Christina "Quis" Chen is a San Francisco–based makeup artist and the founder of Makeup by Quis. Chen is also a licensed esthetician with additional training from the Cinema Makeup School in Hollywood.
Whether you choose lush, look-at-me lashes, a dramatic cat eye, a cheek color that'll turn you into the very definition of a blushing bride, or any combination of the three, we just know you're going to be gorgeous. Ahead, we've rounded up wedding makeup ideas from stunning real brides.
01of 67
A Gradient Look With Ombré Eyeshadow
Ombré eyeshadow and lush lashes give this bride a flirtatious vibe. What a gorgeous look for a daytime wedding on the beach.
02of 67
A Sheer Face With Thin Eyeliner
This bride opted for barely-there makeup with thinly lined eyes and long lashes for her outdoor wedding with a bohemian vibe. Armed with lipstick in a natural shade, she pulled off the look effortlessly.
03of 67
A Contoured Look
A contoured complexion, mauve lip, and glam eye give this bride an alluring appeal. This is a stunning look for an early-afternoon wedding.
04of 67
Bronze Lids With Red Lipstick
Romantic red lipstick married with defined eyes and a gorgeous glow creates such a stunning look for this bride. This was the perfect look for the couple's wedding in Italy, saying "I do" as the sun set around them.
05of 67
Distinguished Eyes and Brows
This winter bride stands out amongst the snowfall with stunningly defined features. Pull off something similar by opting for strong brows, a nude lip, and rich eyeliner.
06of 67
Classic Neutrals
We love this beaming bride's neutral aesthetic. A light smoky eye combined with a nude lip is always a classic.
07of 67
A Gilded Eye
Consider adding gilding for some modern-boho flair. Party-ready metallic accents and bold ruby red lipstick ensure this bride is the star of the show.
08of 67
A Retro Look With Gold Eyeshadow
We love this soft glam with a pop of shimmer. Gold eyeshadow and graphic liner harken back to the golden age of glamour.
09of 67
Bronze Eyes and a Bold Lippy
Sultry bronze eyes meet a scarlet pout fora vixen-like appearance. This is a gorgeous combo for a subtle vintage vibe.
10of 67
A Subtle Glow and Mauve Shades
This is a timeless choice that will work for any time of day. Softly defined features and a subtle glow are the perfect pairings for dusty mauve shades.
11of 67
Simple Sophistication
This elegant composition was the perfect complement to the couple's wedding historical locale in Italy. Clean and classic, with subtly lined eyes and a light pink lip, this bride's style is absolute sophistication.
12of 67
A Bold Red Lip
There's always room to incorporate a bold lipstick, especially when it's paired with a wedding drenched in Southwestern hues. We love the way this brave red lip color perfectly matches the saturated notes in this couple's bouquets.
13of 67
Shimmery Eyes With a Nude Lip
An enchanting tropical garden celebration calls for an ethereal aesthetic. With shimmery eyes, simple mascara, and a nude lip color, this look comes together flawlessly.
14of 67
Gilded Radiance
Despite the matte complexion, Josiane's skin is still all aglow with a captivating gold radiance. A subtle gold eye and strong brow let her natural sparkle shine through—quite literally.
15of 67
A Bright Pink Lip
Who says you can't incorporate a bright pop of pink? We love the way this bride blends defined eyes with a bright pink pout.
16of 67
Winged Eyeliner With Pink Lips
We can't get enough of this composition. Winged liner, pale pink lipstick, and eye-catching highlight make for the perfect complement to this bride's berry-hued bouquet.
17of 67
A Neutral Palette With a Smoky Eye
Keep a natural face but add just a little bit of drama with a smoked shadow. A charcoal-hued eye takes center stage as the rest of the palette remains neutral.
18of 67
Natural Tones With a Nude Lip
Soft browns and a nude lip make for a sunkissed appearance. This is a gorgeous look for a nature-inspired ceremony.
19of 67
A Glowing Look With Glossy Lips
A gorgeous evening soirée calls for a stunning look to match. Glowing skin, stand-out eyes, and a satiny lipgloss complete this beaming bride's style.
20of 67
Winged Liner With a Subtle Pink Lippy
We love the way winged liner adds drama to a look. Muted tones and a subtle lip color pair perfectly without overdoing things.
21of 67
Smoky Eyes and Nude Hues
Monochromatic nude hues blend with the bride's hair color creating a uniform appearance that showcases those stunning eyes. Talk about a gorgeous look that works well into the evening.
22of 67
Full Brows With Rosy Lips
A dramatic, modern wedding is the perfect occasion to embrace a romantic palette. Voluminous lashes and rosy lipstick pair well with a full brow to create a stunning combination.
23of 67
Subtle Eyes and a Pink Pout
We love a simple, natural palette for a beach wedding. Look-at-me lashes go well with subtly defined eyes and a pink pout for this bride's outdoor ceremony.
24of 67
A Natural Composition With Bold Brows
A natural look with subtly shaded eyes and slight definition pairs beautifully with a nude lippy. The bold brows frame the entire composition exquisitely.
25of 67
Dramatic Makeup With a Smoky Eye
A dramatic smoky eye and ultra-defined brows pair complement a heavily embellished look. We love the way this bride opted for metallic shadows to play off of the gold embroidery in her bridal ensemble.
26of 67
Romantic Hues With Lush Lashes
A charming farm wedding implicitly calls for a romantic look. Soft shadows and luscious, long lashes paired with a mauve lipstick are simply stunning.
27of 67
Simple Makeup With a Rosy Lip
This natural wedding composition features a rosy lip and a touch of shimmer on the lids. Combined with subtly shaded brows and just a touch of mascara the finished face is fabulously flawless.
28of 67
Barely-There Makeup With a Subtle Pink Lip
A look that celebrates stunning, flawless skin is a gorgeous match for an elegant wedding. The subtle palette practically calls for a fresh pink lippy.
29of 67
Neutral Hues With Bold Lashes
Va-va-voom lashes stand out against neutral eyeshadow shades. The light pink lipstick complements the playful style.
30of 67
A Bronze Look With Metallic Eyes
A daytime wedding in Palm Springs is the ideal time to incorporate some warmth. Complete with metallic shadows and glowy cheeks, this bride's desert-inspired palette is absolute perfection.
31of 67
Luscious Lashes and a Bold Lip
No sound needed to know this exuberant bride's laughter is infectious. A crimson, mile-wide smile reflects her effervescent personality.
32of 67
Bold Eyes With a Rose Lip
Sours: https://www.brides.com/wedding-makeup-ideas-real-brides-4797560
15 Glamorous Eye Makeup Ideas \u0026 Eye Shadow Tutorials - Gorgeous Eye Makeup Looks
Brown eyes are often underestimated, but the fact of the matter is that they are gorgeous and have a huge amount of potential in the area of eye makeup!  While blue eyes and green eyes are a bit more limited in terms of the colors that tend to compliment them, brown eyes are generally thought to be able to be paired with almost any color of shadow or liner!  Example of colors which tend to suit brown eyes more than blue eyes include purple and pink.  While pink can sometimes make a person with blue eyes appear as if they might have an irritated eye of some sort, pink eyeshadow on brown eyes often looks absolutely perfect.  Of course, all of this also depends on the individual as well, and everyone is different.  Make sure to keep on reading for information on a myriad of makeup looks that especially compliment beautiful brown eyes.
Pink and taupe/via pinterest.com/pin/542613455079964848

This simple and pretty look beautifully complements brown eyes.
Taupe cat eye/via pinterest.com/pin/354236326915267274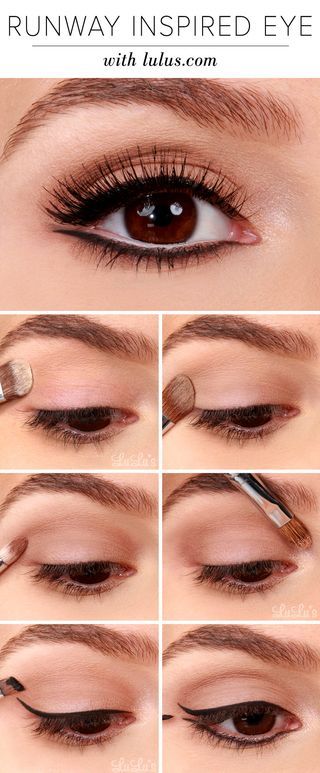 This glamorous look brings out all the beauty and mystery of brown eyes.
Smokey eyes/via pinterest.com/pin151503974938426309

This fashionable and flattering look is sure to suit your beautiful brown eyes.
Sparkly gold/via pinterest.com/pin/133137732710570432/

This ultra-glamorous look is perfect for holiday parties or even the nightclub!
Sparkly silver white/via pinterest.com/pin/322711129519997455/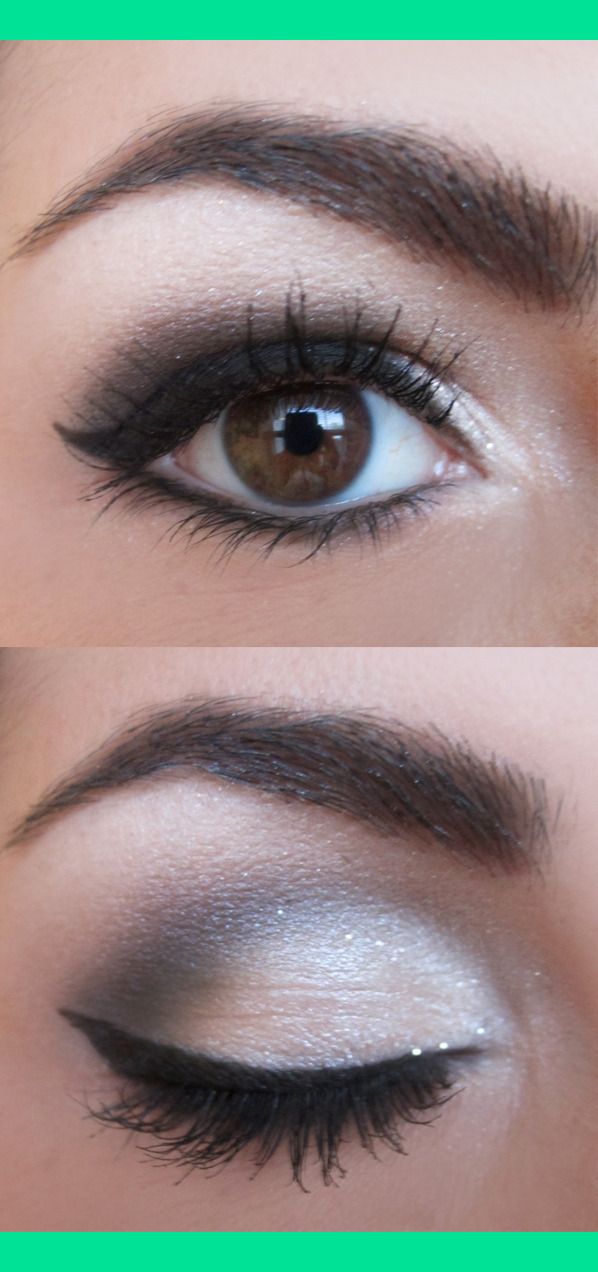 This ethereal, angelic look will make your brown eyes pop.
Sweet lavender/via pinterest.com/pin/501377370992378296/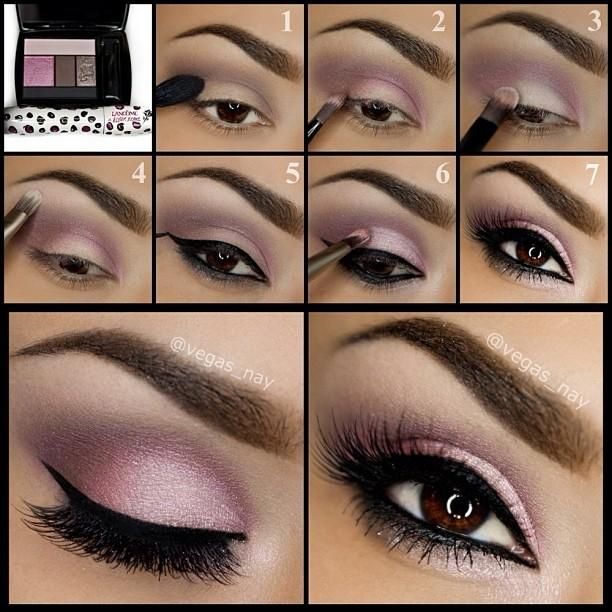 Lavender does a wonderful job of showing off all of the natural beauty of brown eyes.
Soft champagne shimmer/via pinterest.com/pin/376754325049653263/

This incredibly pretty look is versatile, and could be done for either day or night.
Plum and navy/via pinterest.com/pin/499477414899994877/

Navy and plum come together to show how gorgeous your brown eyes really are!
Metallic teal/via pinterest.com/pin/16747829841901855/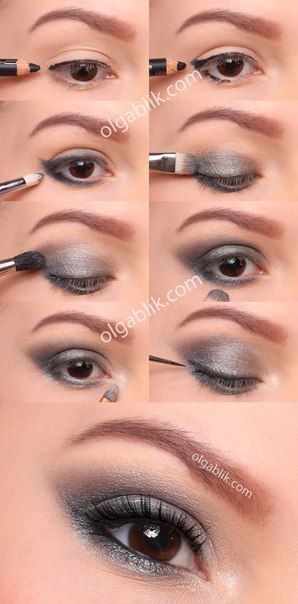 This fun and flattering look is sure to get your eyes noticed.
Rose gold/via pinterest.com/pin/377387643750431251/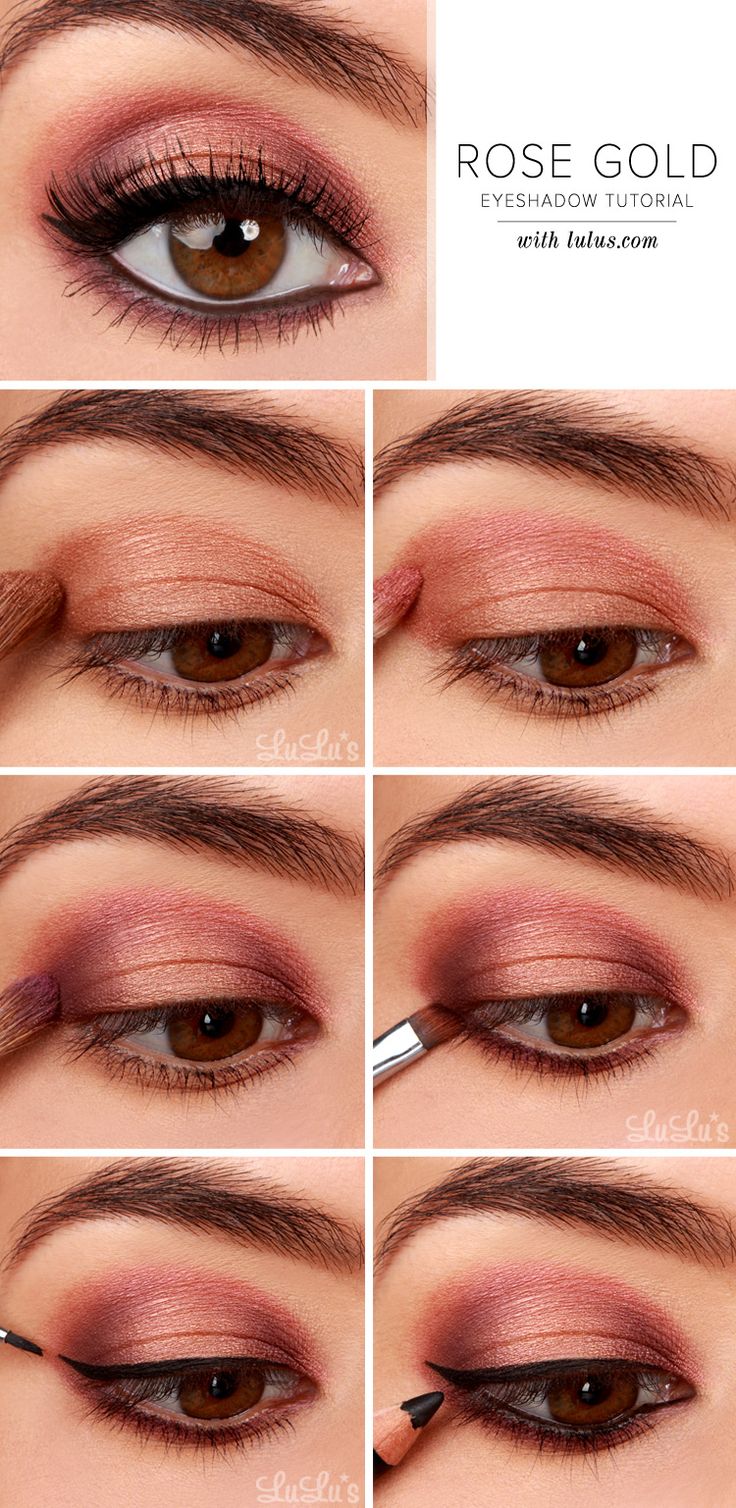 This dramatic look looks wonderful on brown eyes.
Daring brights/via pinterest.com/pin/536491374335768317/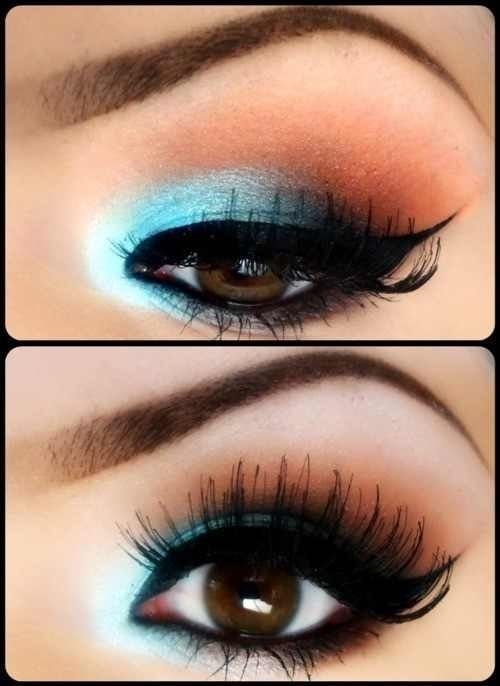 This is a great evening look for brown eyes.
Lilac eyeliner/via pinterest.com/pin/292311832034973127/

This simple and easy look will brighten your beautiful eyes in no time!
Soft natural look for browneyes/via pinterest.com/pin/292311832034621550/

This easy look will bring out your natural beauty all day long.
Neutral look/via pinterest.com/pin/292311832033923912/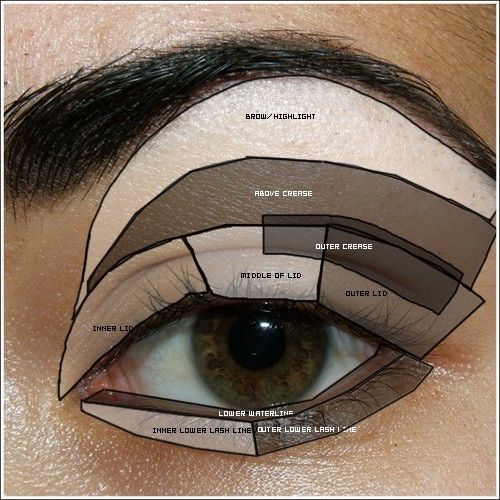 This classic and structured look is professional and polished.
Pink chocolate/via pinterest.com/pin/553028029219012262/

This pretty pink look will bring out all of the glamour of your brown eyes.
Draw an outline/via www.pinterest.com/pin/50172983325143315/

This eye-catching look is surprisingly easy to do, and is great for evening.
Incomparable sparkle/via www.pinterest.com/pin/478577897878499275/

This versatile and pretty look can suit either day or evening.
Twilight colors/via pinterest.com/pin/230316968420145261/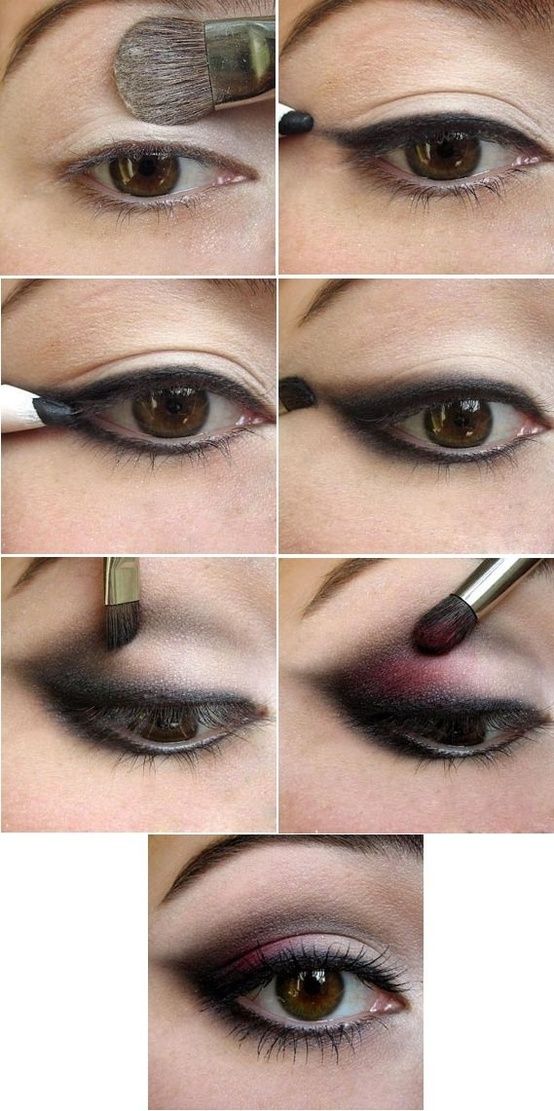 This wonderfully soft and pretty look will make your brown eyes pop.
Purple below/via pinterest.com/pin/254453447672774420/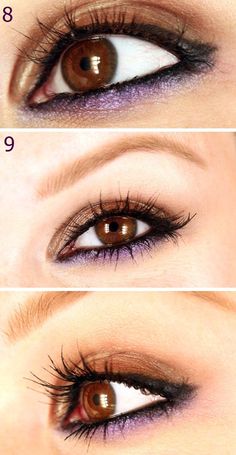 This trendy look will make you stand out!
Electric pink/via pinterest.com/pin/466052261412890112/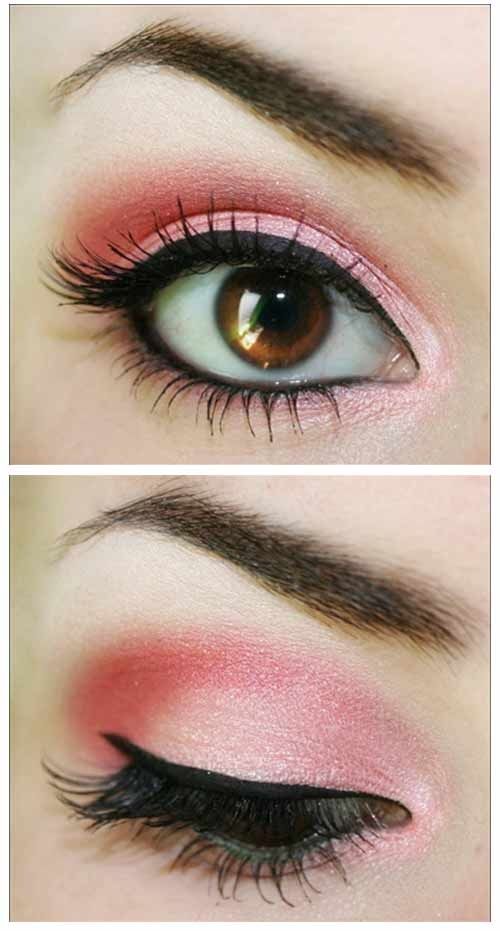 This incredibly pretty and feminine look shows off all of the versatile beauty and appeal of brown eyes.
Sparkling peacock/via pinterest.com/pin/368450813235724423/

Wear the colors of the beautiful peacock with this eye look.
Amber base/via pinterest.com/pin/397161260865020882/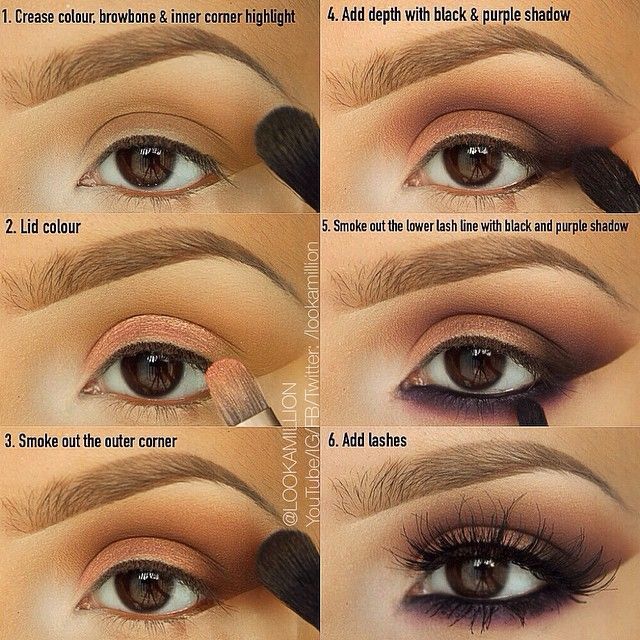 The amber base will help to bring out the golden flecks in your beautiful brown eyes.
Olive green/via pinterest.com/pin/455989530995338571/

This glamorous olive green look will help bring out the green in your brown eyes.
Cat eye with gold/via pinterest.com/pin/292311832038361177/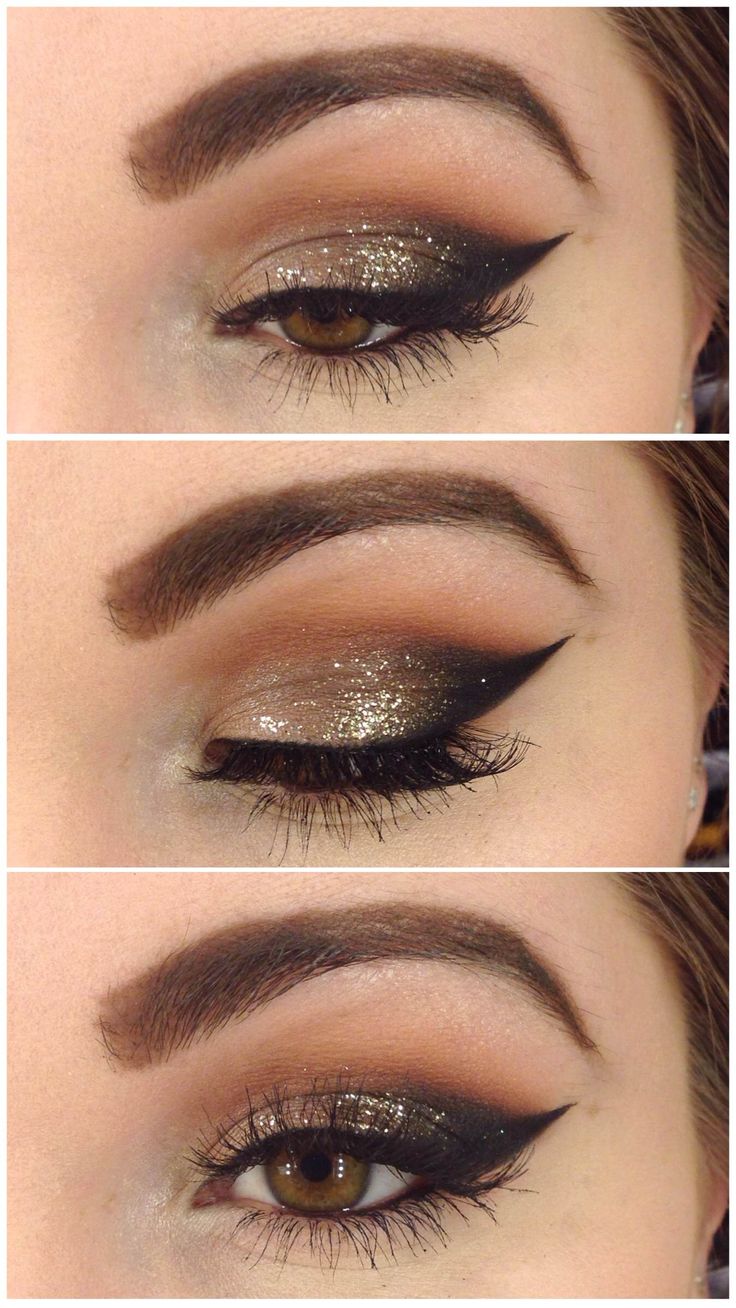 This cat eye with gold glitter is a good evening look for brown eyes.
Simple brown line with taupe shadow/via pinterest.com/pin/292311832038361177/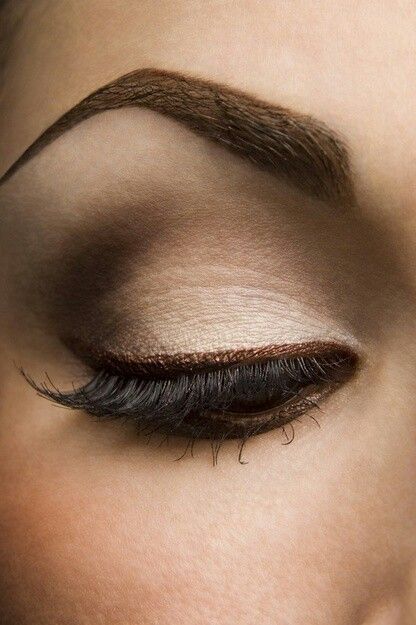 This soft and pretty look is sure to turn heads.
Mega long lashes/via pinterest.com/pin/292311832035391280/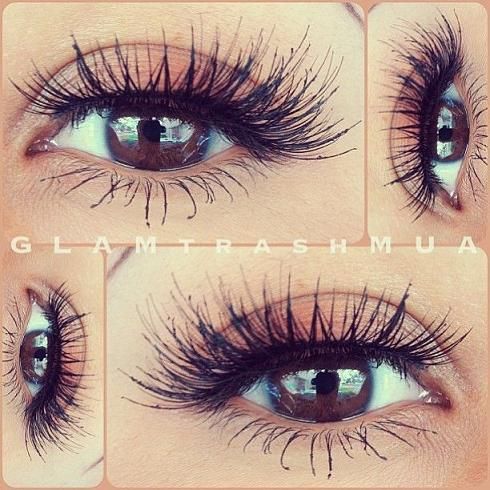 This mega long lash look will show off all the exotic beauty of your gorgeous brown eyes.
Sours: https://www.stylesweekly.com/27-pretty-makeup-tutorials-for-brown-eyes/
Looks cute makeup
After the year we've had, even putting together easy makeup looks might sound exhausting. But the truth is, all you need is a few products and a couple of minutes to revisit the beauty routine you once relied on every day. As the world slowly reopens, prepare to excavate your beloved foundation, concealer, mascara, lipstick, and eye shadow. 
We spoke to the coolest celebrity makeup artists about the everyday makeup looks they keep in their back pocket for when they're pressed for time but want to pack a punch. From glittering eyelids to berry lips, there's nothing boring about these looks. Scroll on for their makeup tutorials, and get ready to be inspired.
Pop of Purple 
"This look is all about a very 'sneaky' pop of color very close to the lash line," says Pati Dubroff, who created this subtle liner on Margot Robbie. "For this look, keep the rest of the face soft and neutral," she says. Then draw a dash of colorful liner at the very base of the lash line. Dubroff used Chanel Stylo Yeux Waterproof in Purple Choc, and then used Chanel eyeshadow in Vibrant Violet on a small flat brush to add intensity to the line. 
Chanel Stylo Yeux Waterproof Long-Lasting Eyeliner
Chanel Ombre Première Longwear Eyeshadow
Subtle Wing
Take a cue from TikTok, and swap your liquid or pencil liner for a matte shadow instead. "This way there's a softness, yet the wing still gives the illusion of a cat-like elongated eye," says Dubroff. "I used the deep brown tone from Chanel Les 4 Ombres in Clair Obscur with a damp stiff angle brush."
Chanel Les 4 Ombres in Clair Obscure
Glossy Lids
Glossy eye makeup is a pretty yet subtle way to bring all the attention to your eyes. "This look is all about radiance and glow, and bringing more light to the eye area," says Dubroff. "I first used a eye shadow that has a rosy hue across the lid up through the crease. On top of this, I tapped Chanel Baume Essentiel in Golden Light into the center of the lid for a glossy layer." She  also loves the gloss on the tops of cheekbones.
Chanel Baume Essentiel Multi-Use Glow Stick

Fluffy Brows 
If you only have 10 minutes to get ready, try playing up your brows. A full, fluffy brow is modern and cool, especially when paired with natural makeup. "Fill in sparse areas by creating hairlike strokes, and always finish with a brow gel to keep them lifted and fluffy," says celebrity makeup artist Emily Cheng. "We used Kosas Brow Pop here. Keeping the tip of your brow pencil sharp is key; if it's a twist-up, you can shave the edges or just break off the top to get the sharp edges back." She also loves Glossier's Brow Flick to add realistic "hairs," and Benefit 24 Hour Brow Setter to keep things in place.  
Kosas Brow Pop Eyebrow Pencil
Twinkly Eyes
The easiest way to look like you tried today? Throw some shimmer on your eyes. For the above look, Cheng used the metallic end of Huda Beauty's Matte & Metallic liquid eye shadows. "I'll use my fingers to tap onto the center of the lid or corner of the eyes for a subtle twinkle," she says. "If I want a full on sparkle, I'll use Lemonhead's fun assortment of glitters. Mixing and matching texture and layers of colors is a fun way to get more dimension."
Huda Beauty Matte & Metal Melted Double Ended Liquid Eyeshadow
Flushed Lips 
For a fresh take on lipstick, apply your favorite shade as a just-bitten stain. "I use a pigmented matte lip color like Charlotte Tilbury Matte Revolution, and press it on with my fingers," says Cheng. "Slightly balmy makeup products work as well. Tower 28 Beach Please in Power Hour is another one of my favorites."
Charlotte Tilbury Matte Revolution Lipstick
Tower 28 Beauty BeachPlease Lip + Cheek Cream Blush
Glowing Skin
Glowy skin is one of those makeup trends that will never go out of style. While makeup can help amp up the dew, Cheng says the key is focusing on skin prep. Use a gentle exfoliant to smooth over any dry patches (Cheng likes Glossier's new Cleanser Concentrate) and a good moisturizer. Then go in with a dewy foundation like Monika Blunder's Blunder Cover or Shiseido Synchro Skin before popping a highlighter on the high points of your face. Cheng used Pat McGrath's Highlighter Balm on Indya Moore, above. 
Shiseido Synchro Skin Radiant Lifting Foundation SPF 30
Pat McGrath Labs Skin Fetish Highlighter & Balm Duo
Monochromatic Makeup
If you're short on time (or space in your makeup bag), using the same tone across eyes, cheeks, and lips is so cohesive and easy. "This will be a forever favorite makeup look," says Cheng. "I love using one or two shades across all the features." She recommends the Tower28 Beach Please tints, as well as Sisley Le Phyto Blush. "I'll use this on the cheeks and I'll dab it onto my lip when I have balm on already."
Sisley-Paris Le Phyto Blush
Colorful Cat Eye
Consider this green cat eye further proof that simple makeup doesn't mean boring. Just swap your usual black liner for a vibrant shade. Makeup artist Kate Synnott, who created this look for Ashley Graham, used a soft light-brown shadow to sketch out her wing shape. "Once I've perfected the shape, I then go over the line with my green liner," she says. 
Make Up for Ever Aqua Resist Color Pencil Eyeliner
Nude Lips
Nude lips are a classic for a reason—they can pull together any look without looking too "done." Synnott recommends choosing a "fleshy nude color that's about two shades lighter than your skin tone. Use a brownish liner thats only one shade lighter to create more dimension and depth around the mouth." She recommends using a shadow smudge brush to blend the liner and lipstick so it looks seamless. She likes Róen Kiss My Liquid Lip Balm in Charlie, and Victoria Beckham Posh Lipstick in Pose for darker skin.
Roen Beauty Kiss My Liquid Lip Balm
Victoria Beckham Beauty Posh Lipstick
Glossy Lips
Gloss isn't going anywhere. For this '90s inspired beat, makeup artist Kasey Spickard lined the lips with classic MAC Cork Liner, then went in with a "generous coat" of the Viseart Moisture Boost Lip Shine in Beignet. "This is a gorgeous warm, toasty brown that gives the lips a perfect juicy pout," he says.
Viseart Moisture Boost Lip Shine
$19
Viseart Moisture Boost Lip Shine
Buy Now
Berry Kiss
Berry lips make as much of an impact as red but are a little more unexpected. Spickcard loves LiveTinted's Huestick in Free. "You can use the Huestick as a liner due to its pointed tip, and then fill it in."
Pink Flush
"To achieve a flushed look, my best tips would be to use the same shade on the entire face to create a monochromatic look," says celebrity makeup artist Patrick Ta. "It brings a brightness to the face and allows that one shade to really pop. Don't be afraid to select a pigmented blush; just adjust the tools you use to gently build up the color until you're happy." He loves his Crème & Powder Blush in the shade She's That Girl for a pop of color with a natural finish.
Patrick Ta Double-Take Crème & Powder Blush
Red Lips 
A red lip seems simple, but Ta says to make sure your lips are prepped for the best results. "I love to use a thin but super-nourishing lip mask and apply to lips while working on the rest of the face," he says. "Then I'll go in and apply a high-pigment lipstick straight from the bullet, as I find that it gives the best color payoff and wears longer and better than if you applied with a lip brush."
Patrick Ta Major Glow Softening Lip Masque
Full Lashes 
For full fluffy lashes without falsies, Ta says double-curling your lashes is the secret. "It may seem excessive, but once you try this, you'll be hooked on how amazing it makes your lashes look," he says. "Then I like to go in with two coats of any volumizing mascara. I like wands that have bristles, as I think it adds to the fullness of the lashes." Ta loves Pat McGrath's Dark Star Mascara. 
Pat McGrath Labs Dark Star Volumizing Mascara
Bella Cacciatore is the beauty associate at Glamour. Follow her on Instagram@bellacacciatore_.
Sours: https://www.glamour.com/story/easy-makeup-looks-to-try
NEW Updated 2021 E-Girl Makeup Tutorial!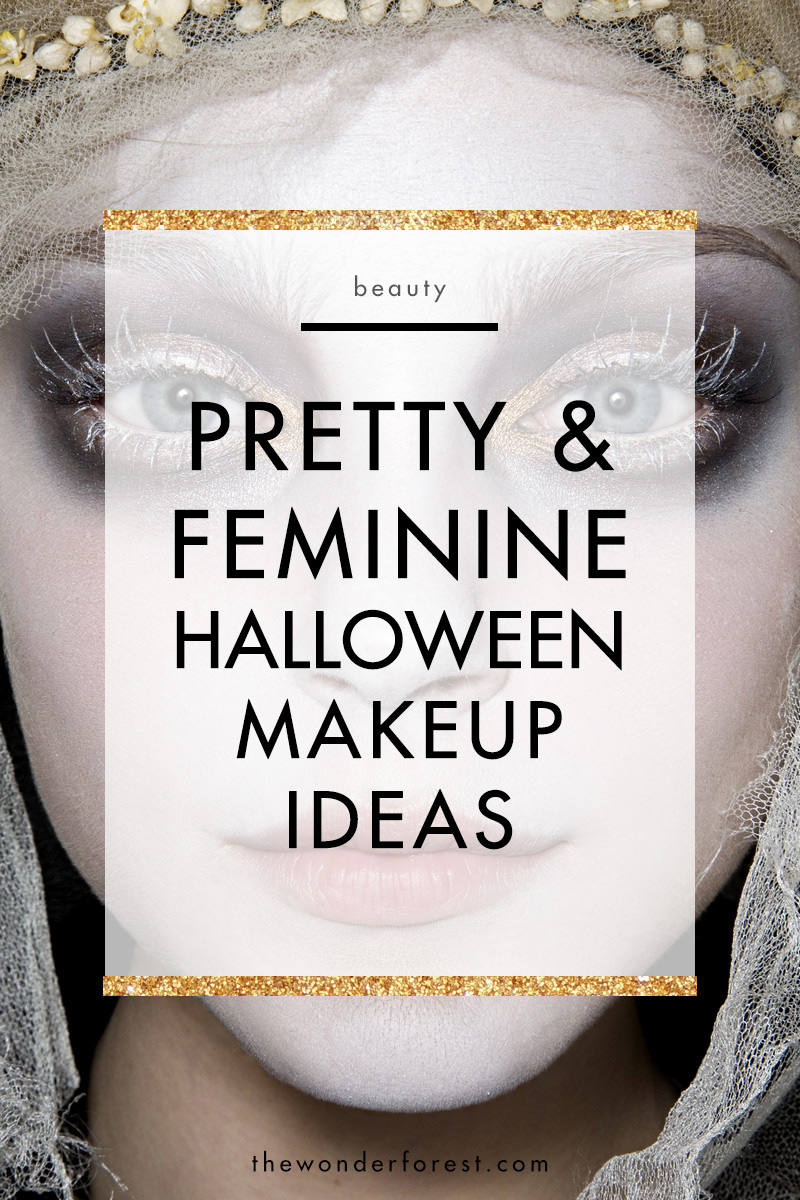 With Halloween just around the corner, you might be trying to come up with a unique Halloween makeup look that can be recreated easily. Don't worry, I've got you covered! While spooky is always fun, sometimes us girls just want to be girls!
I've compiled a bunch of my favourite girly and feminine makeup looks for Halloween that can be recreated using tools and products you probably already have in your makeup bag.
This post contains affiliate links for product recommendations. Any purchases made through these links help support the blog with a small commission. As an Amazon Associate I earn from qualifying purchases.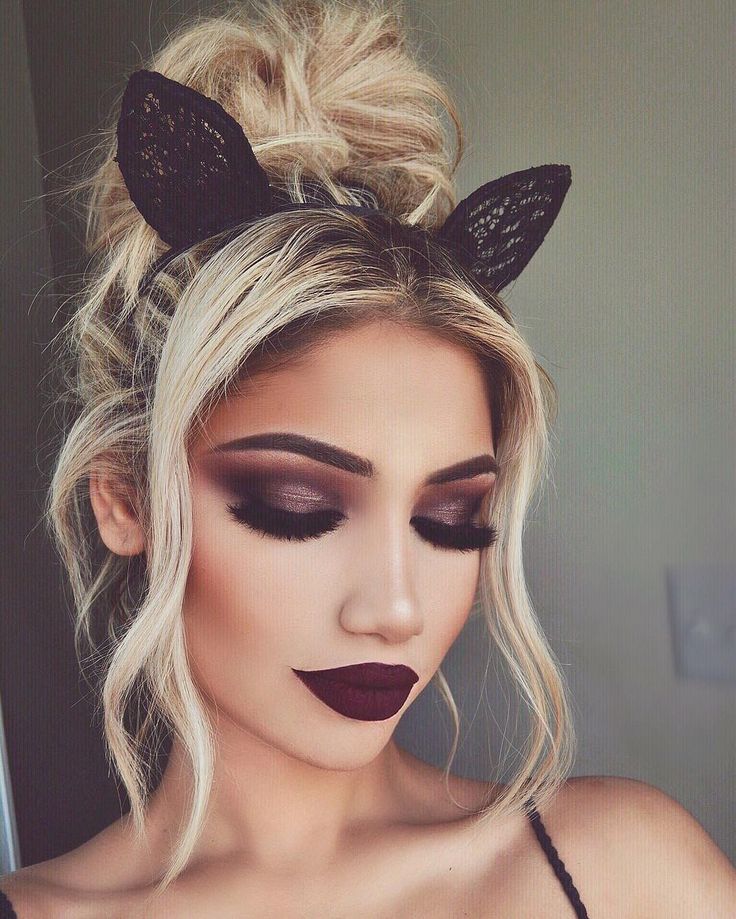 1. Easy Kitty Cat Halloween Makeup
"I'll tell you in another life… when we are both cats." I love the simplicity of this look with the emphasis on the bold makeup. The burgundy shades are a nice change from your typical black smokey eye cat look and the dark lips make it so feminine and sexy! Grab yourself some cat ears and you're good to go!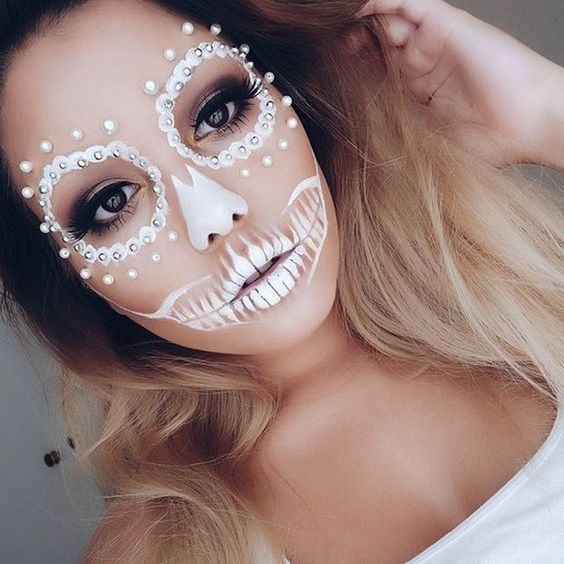 2. Lacey Day of The Dead Halloween Makeup
The all-white design makes this look like lace… definitely a softer and prettier look than some others I've seen! The addition of the pearls around the eyes makes it even more girly!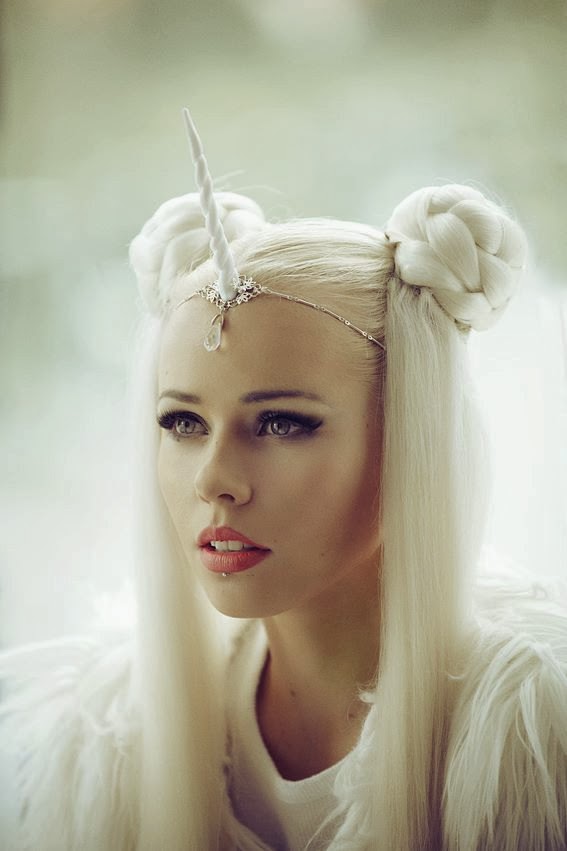 3. The Last Unicorn Halloween Look
Although this look is simple, there's something so nostalgic about it. I love the softer makeup with the space bun hair and horn. Throw on a faux-fur jacket and you're good to go!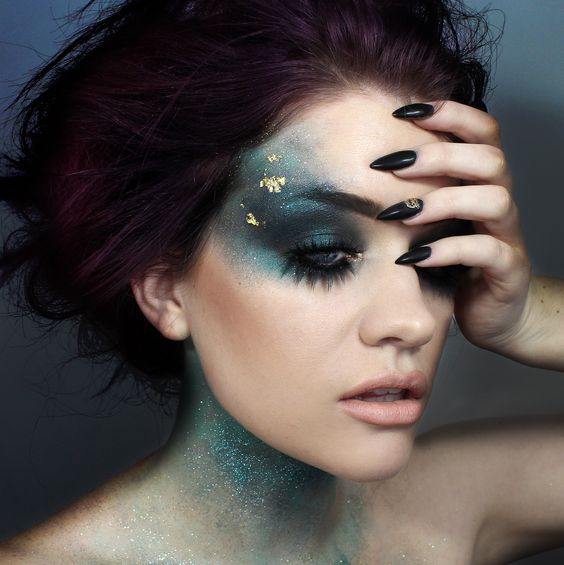 4. Cosmic Dust Makeup
I think this looks so good with dark hair! Like you've just stepped out of the cosmos. With some sparkles, lashes, and a bit of gold leaf, you can easily recreate this galactic look.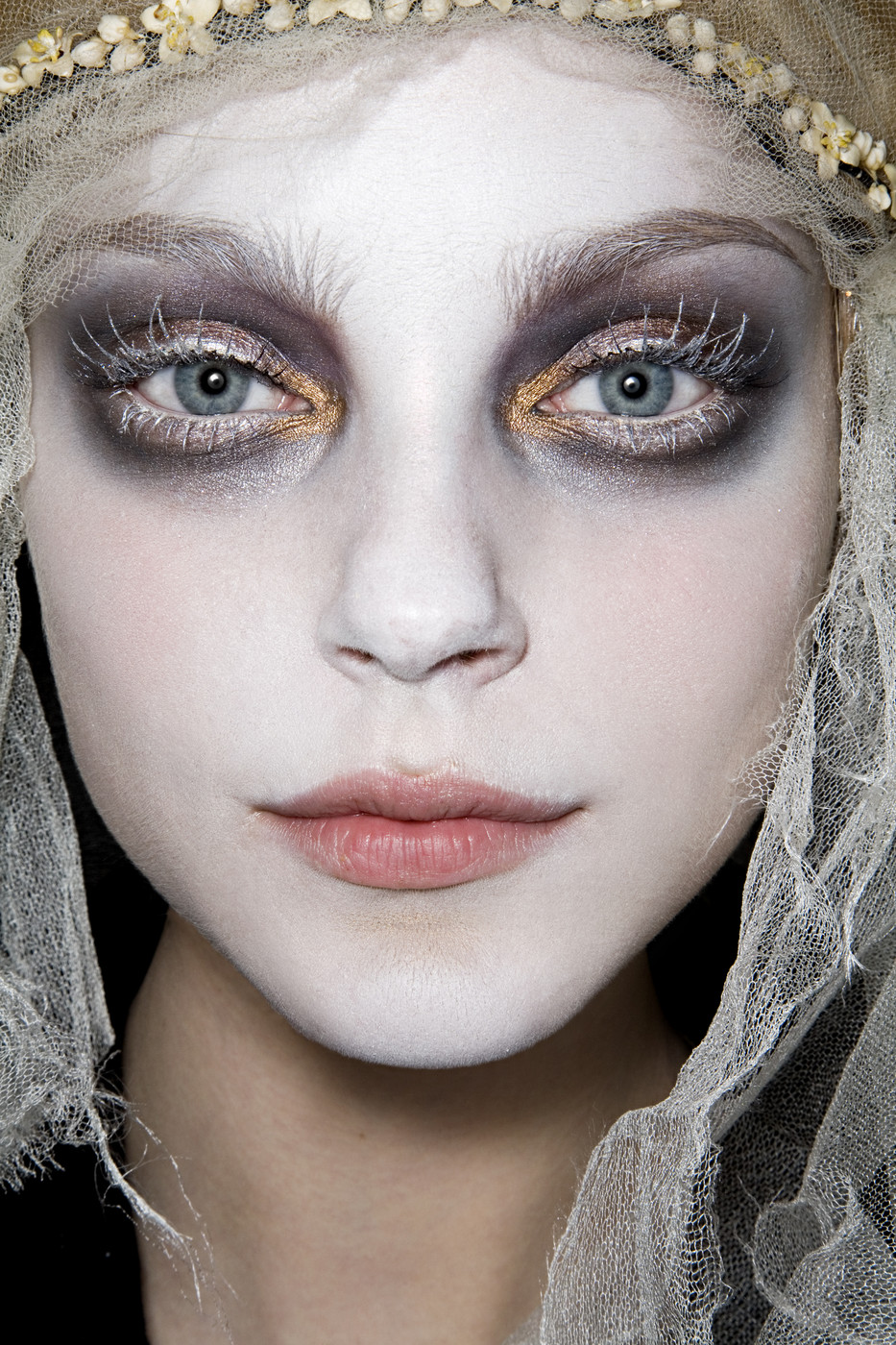 5. Victorian Ghost Halloween Makeup
This makeup was from a past John Galliano fashion show but it would work so well for Halloween! Lots of white, silver, and shimmery shades make her look almost frozen in time.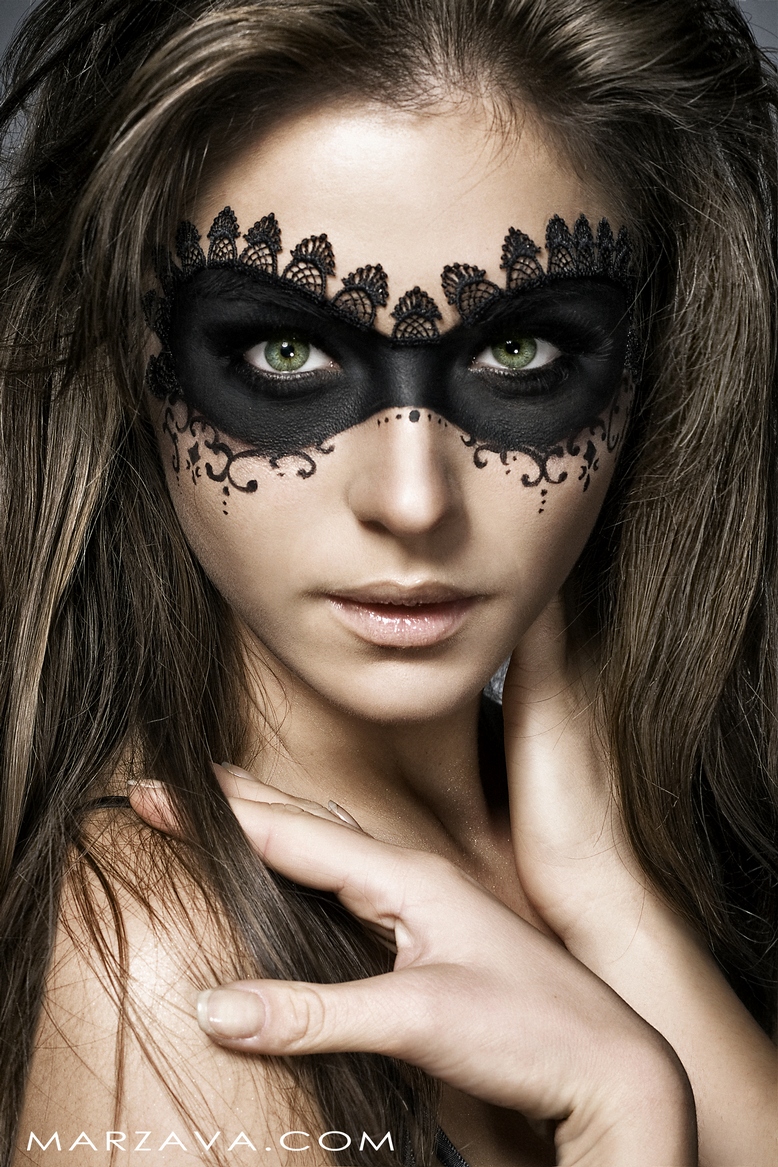 6. Masked Beauty
If you're heading to a masquerade party, skip the paper mask and create your own with black makeup! The actual lace border around the top could be adhered with lash glue!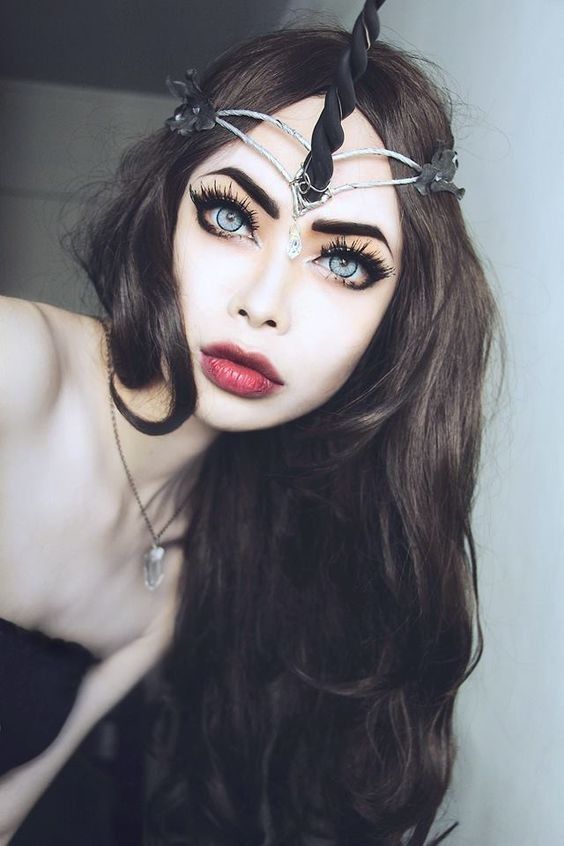 7. Dark Unicorn Makeup
In contrast to the previous unicorn look, this dark unicorn would look great with dark hair.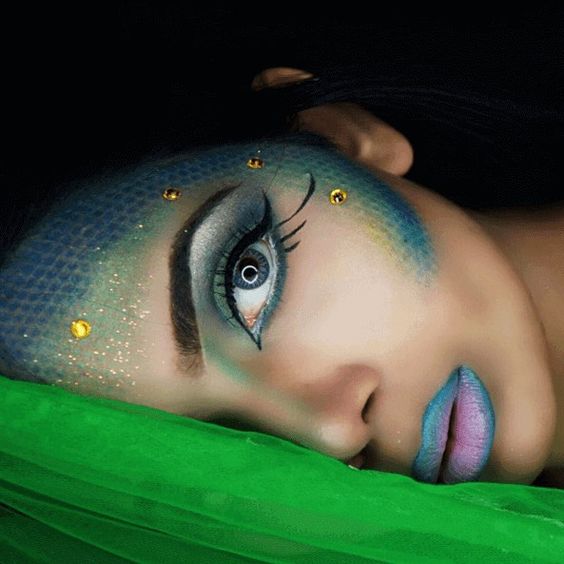 8. Beached Mermaid Makeup
The colours in this mermaid halloween makeup look are stunning! The textured scales can be recreated with a fishnet stocking used as a template and eye shadow. Love the contouring with green and turquoise!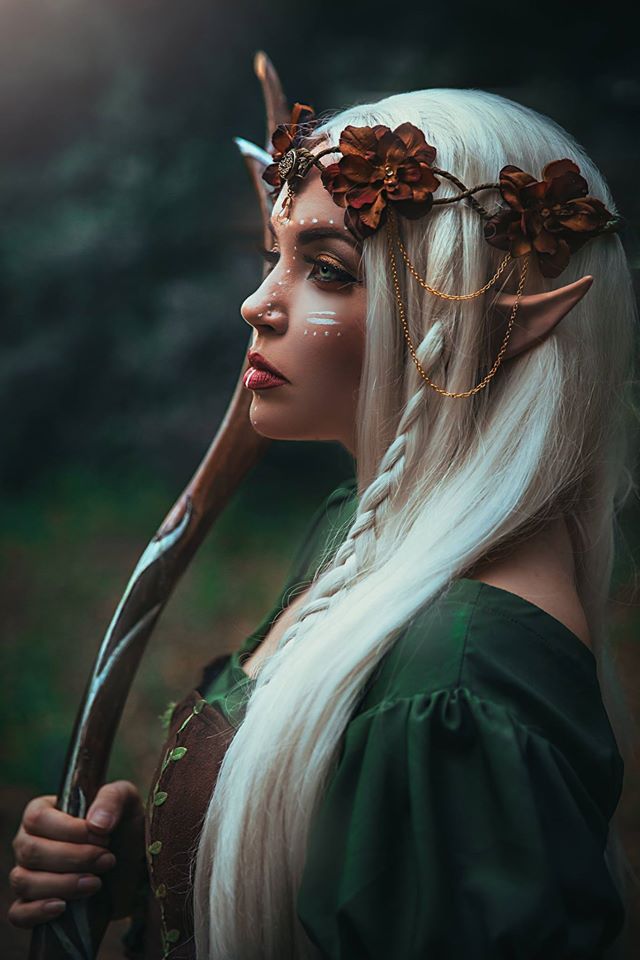 9. Warrior Elf Costume Makeup
This Halloween look is so cool! With a few stripes and dots on your face and emphasized eye makeup, all you need are some pointy ears to pull off the rest!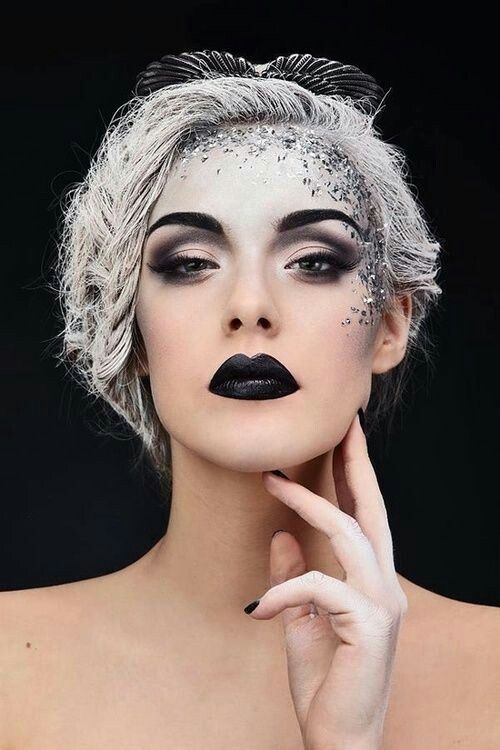 10. Avant-Garde Makeup
This girl looks like she's stepped out of time and is transitioning from greyscale to full colour. Silver foil completes it around the forehead!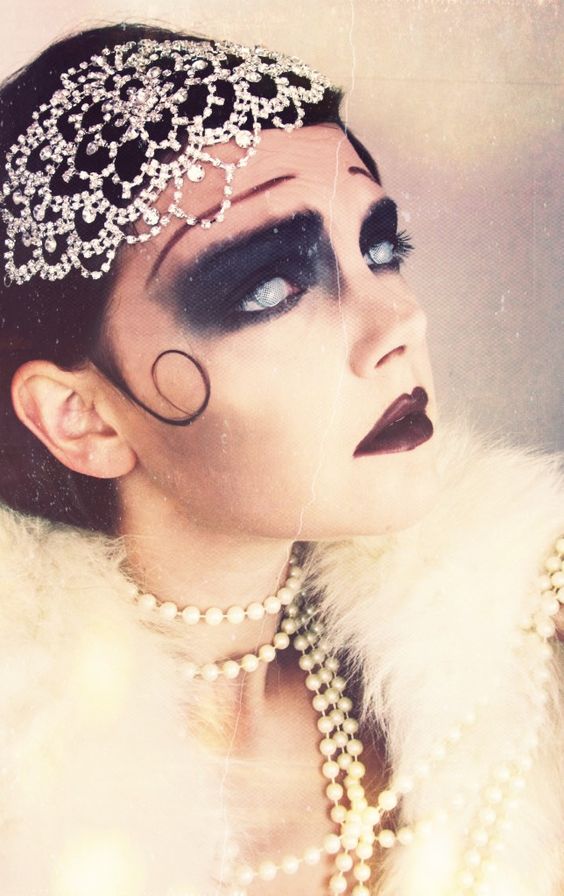 11. Great Gatsby Makeup
There's something so spooky yet beautiful about this Halloween look. The contacts really make her look lost and the hair and lips send her back in time. It would be fun to recreate if you're going for a retro vibe!
Which look is your favourite? And what are you going to dress up as for Halloween this year?
Check out these makeup looks we created specifically for Halloween:
Last Updated on
Sours: https://www.thewonderforest.com/stunning-feminine-halloween-makeup-ideas/
Now discussing:
Did you hear? Summer is officially here—and with it so are summer makeup looks. The warm-weather season has always been an exciting time to play with beauty, but this one hits different. After the year we've had—and with vaccine rates rising daily—we're more excited than ever to finally break out the glitter eye shadows, glowy highlighters, and bold red lipstick. 
And from the looks of our Instagram feeds, we're not alone. From bright pops of color to shimmering finishes, everyone seems eager to have fun again with makeup. Sure, we've all been playing up our eyes for over a year now—that won't go away—but now we can start giving the rest of our faces some much-needed love too. Expect to see a lot of glossy lips and statement-making blush.
But there's really only one real trend this summer: doing what makes you feel good. We even rounded up a few ideas to get you started. From lacquered lips to sunset eyes, here are the looks we can't wait to copy this summer. And if you've gotten comfortable with a more natural look over the past year, don't worry—we have that covered too. Scroll on for the best summer makeup looks to try between now and Labor Day. 
All products featured on Glamour are independently selected by our editors. However, when you buy something through our retail links, we may earn an affiliate commission.
Sours: https://www.glamour.com/gallery/best-summer-makeup-looks
911
912
913
914
915