So I guess nobody knows how to set this up? I am also trying to figure out a solution. My only internet connection is also a 4G smartphone left on location.I solved a few of the hurdles, but I am stuck at setting up port forwarding.
For now this is what I set up so others might follow, considering it is the right way to go, that is. 🙂 I am also considering setting up a hotspot for people coming to the garden. So here goes:
1. Share my 4G mobile data via a WiFi router
-I found this great tutorial for setting things up: https://youtu.be/4ykqFgJi-ZE
-Open your 4G mobile hotspot on your smartphone
-Connect to your router via a pc and navigate to Wireless Settings and tick mark on ENABLE WDS
-Now click on survey/scan. A list with all the available wifi networks would now popup.
-Click on the connect button corresponding to the network you want to bridge. Note the channel.
-Now enter the security key of hotspot wifi and see that the channel is same as of the host router. If not, manually change it from drop down list to the channel you've noted down instead of auto. Use WifiInfoView windows app to check channels for all wifis including the host router.
-Set password for newly created wifi
-Go to DHCP and disable it
-Reboot router (button is on the DHCP page)
Now you can connect to the internet via router wifi. (Not possible to connect to the internet via ethernet)
2. Setup fixed local IP addresses.
To setup fixed local addresses, you have to make DHCP available and to do this, you need to add another router. More info here: https://youtu.be/4ykqFgJi-ZE?t=385
-Connect another router to the first router
-Enable DHCP for new router to setup fixed IPs
-Connect ethernet cable from host Router (LAN port) to extended Router (WAN port)
-Disable Broadcast SSID of root router
3. Setup Android so that you always have the hotspot on
-Activate Hotspot
-Set password and SSID
-Turn off Hotspot Timeout
-To start Hotspot with Android do the following:
-Install Tasker app (there is a trial, but you can buy as well)
-Create a Profile which allows triggering of the Task after boot:
-Go to Profiles Tab and click "+"
-Event → System → Device Boot
-Tap back to exit from this window
-You will notice as soon as you exit, you will be prompted to link this Profile to a Task;
-Scroll all the way up the Task list select "New Task + "
-You can name this Task AutoTethering or anything.
-Click "+" to add new Action: Net → WiFi Tether (Set On)
-Press back the way all back until you exit Tasker (your profile is now saved and is ready for execution)
-Extras: Give Tasker more priority (allow auto-start for Tasker, exclude from battery optimisations, task killers etc)
-Explanation: Soon after boot, the first action turns on Wi-Fi tethering (note: Tasker already has a built in WiFi Tether variable which is capable of handling tethering state)
-At the end, Set on and Keep Wi-Fi when turning on Check
4.Setup port forwarding for the 4G Mobile Network
And now I am at stuck. Any ideas on how to solve this? BTW, do you think it is overkill?
Let me know!
Sours: https://opensprinkler.com/forums/topic/port-forwarding-on-mobile-hotspot/
I have a video Camera that supports Browser Remote. Using a wifi equipped device, I can access the camera control functions over a browser via WiFi. Once I hav establised a session I can set the Camera Exposure, Focus and other Settings as well as start and stop recording remotely.
I want to be able to acces the Camera Remote Control program oveer the internet using Port Forwarding.
I attempted the following:
1. Set the MiFi Hotspot port forwarding to the Camera IP address and Port number. The Camera uses Port 80.
2. I want to be able to access the camera via Browser over the4 Internet (Verizon Cloud) to control the camera.
3. On my end, I enter the Camera IP Address and port number and the connection fails.
4. Attempting to ping the remote router (to which the camera is connected) the Ping command in the Windows Command box fails. In FACT i CAN NOT PING ANYTHING FROM THE COMMAND WINDOW. What gives with that.
5. Contacting technical support was nasty. the technician told me that the only way I could communicate with the camera was to have an LTE modem embedded in the camera. If that is the case why does my MiFi support Port forwarding.
6. This should be simple, the remote MiFi hotspot shold be able to translate the ip address and port of the camera as found in the MiFi configuration. Is the failure due to the fact that it cannot route over WiFi even though WiFi is enabled on the camera and is set to the MiFi Ipaddress. The Camera appears to connect to the HotSpot.
What am I doing wrong?
Charles Bolton
[email address removed per the Verizon Terms of Service]
Sours: https://community.verizon.com/t5/Jetpack-4G-LTE-Mobile-Hotspot/Port-Forwarding-using-a-MiFi8800L-Hot-Spot/td-p/1162197
Simple Verizon Jetpack MiFi 6620L Router Port Forwarding
Your Verizon Jetpack MiFi 6620L router uses a firewall to protect your home network from unwanted access. Your firewall does this by blocking all connections to and from the Internet that are not authorized. Sometimes the connections required to play an online game or online program are blocked. This will cause all kinds of connectivity issues that are extremely irritating. To fix this problem you need to make a port forward on your Verizon Jetpack MiFi 6620LH router.
In this guide we show you how to port forward on the Verizon Jetpack MiFi 6620L router. We will be walking you through each of the following steps:
Setting up a static IP address on the device you plan on forwarding your ports to.
Logging into the Verizon Jetpack MiFi 6620L router.
Finding the port forwarding section of your router.
And finally, how to configure the router to port forward the ports you want forwarded.
We think that forwarding a port should be easy. That's why we created Network Utilities. Our software does everything that you need to forward a port.
Get Started Now!
When you use Network Utilities you get your port forwarded right now!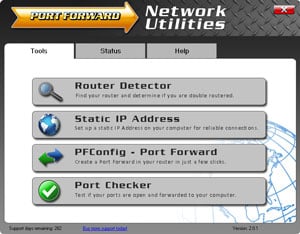 Step 1
It is important to setup a static ip address in the device that you are forwarding a port to. This ensures that your ports will remain open even after your device reboots.
After setting up a static ip address on your devices you need to login to your router.
Step 2
In this step we show you how to login to the Verizon Jetpack MiFi 6620L router. When logging into this router you need to open a web browser because it uses a web interface. It does not matter what browser you decide to use. Pick one you are comfortable with. If you are unsure here are some examples: Chrome, Internet Explorer, Firefox, and Edge.
After you have opened the web browser, find the address bar. This is typically at the top of the page like this:

Above is an example of what a web browser address bar looks like. Find the address bar in your router and type in your router's IP address.
The default Verizon Jetpack MiFi 6620L IP Address is: 192.168.1.1
After typing the correct IP address into the address bar, you are taken to My Jetpack Home: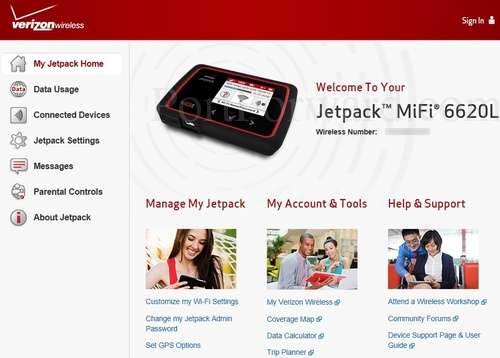 To login you need to click the Sign In in the upper right corner of the page.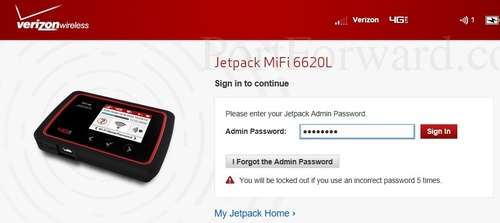 On this new page, simply enter the Admin Password and press the red Sign in button.
The default Verizon Jetpack MiFi 6620L Admin Password is: admin
Having Trouble?

This is a common place to get stuck. Here are a few things you can try:

First, try some other Verizon passwords. If you have a different firmware version, you might also have a different username and/or password. Here is our list of Default Verizon Router Passwords.
Second, we recommend trying to guess what the password might be. You must have forgotten what you changed the username and password to when you setup the router. If you need a bit of help, check out our Find Password App. This app allows you to automate the guessing process. Learn more about it on the Router Password Cracker page.
Finally if you are still stuck, you may want to do a factory reset. A factory reset erases every single setting you have ever changed in the lifetime of this router. We strongly recommend you exhaust your other options first. Learn how to reset a router in this How to Reset a Router guide.
Step 3
Now that you are logged into the Verizon Jetpack MiFi 6620L router, let's find the port forwarding section. To do this we begin on My Jetpack Home.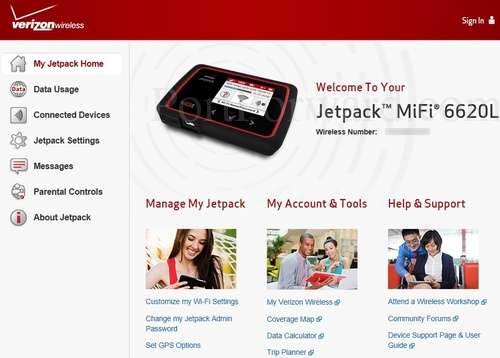 First, click the Jetpack Settings in the left sidebar.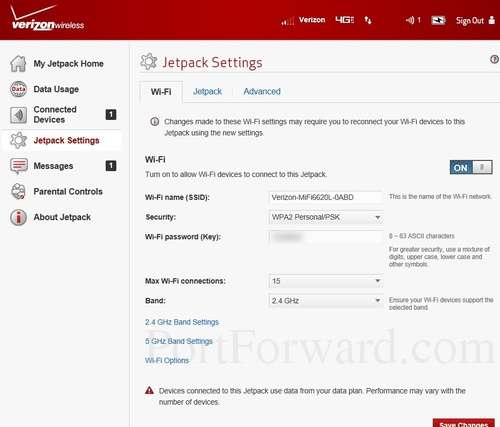 You should now see three tabs in the center section of the page. Click the tab labeled Advanced.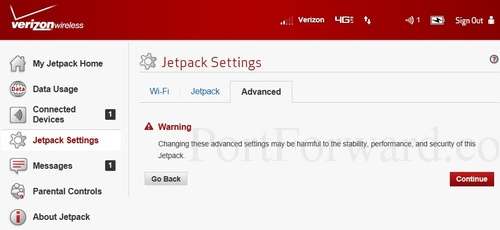 This page is just to warn you that you are entering an advanced section. Click the red Continue button on the right side of the page.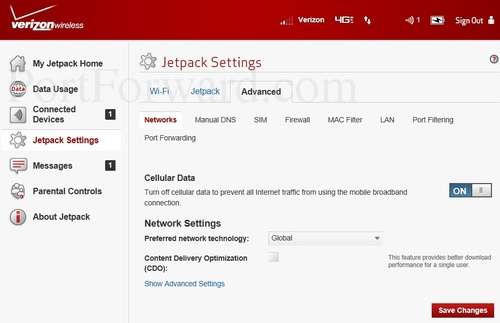 You should now see a page like the one above. Click the option of Port Forwarding.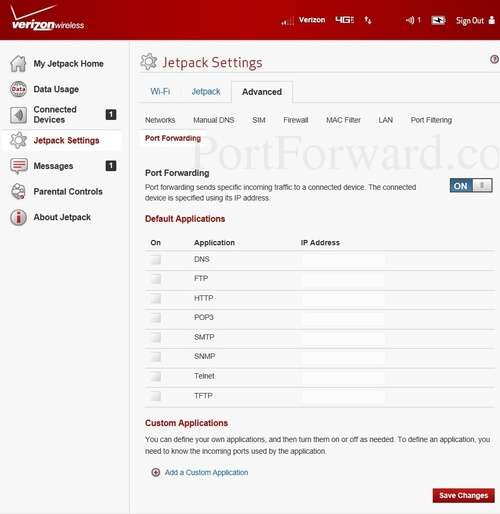 You are almost there. Select the link near the bottom of the page labeled Add a Custom Application.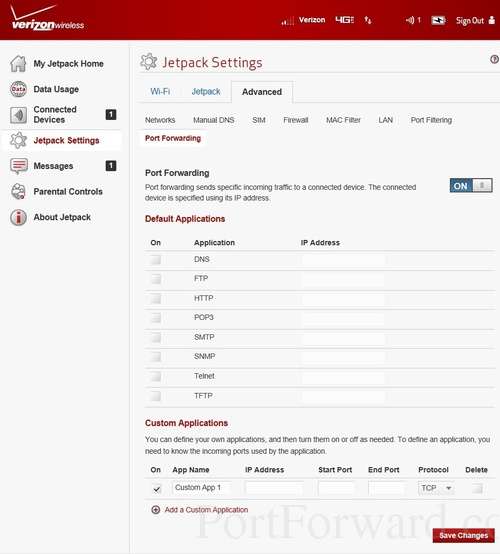 Congratulations. This is the page to create a new port forward on your Verizon Jetpack MiFi 6620L router.
Step 4
Here are the ports to forward for Xbox Live:

TCP Ports: 3074
UDP Ports: 3074

If you are looking for the ports for a different application you can find it by either:
In the On checkbox put a checkmark.
Put a name for this forward in the App Name box so that you can remember why you set this forward up. The name does not matter so pick something that has meaning to you.
Enter the IP address that you are forwarding ports to in the IP Address box. This is either the IP address of a computer or the IP address of another device on your network.
If you are only forwarding a single port number then enter that number into both the Start Port and the End Port boxes. If you are forwarding a range of ports separated by a hyphen then enter the lowest number of that range into the Start Port box and the highest number of that range into the End Port box.
Select the protocol type of the ports you are forwarding from the Protocol box.
Test Your Ports
After you have finished port forwarding, it is a good idea to check and see if they forwarded correctly. We have an Open Port Checker you can use. It is free and part of our Network Utilities. This Open Port Checking tool uses a local application to see if the server is listening on those ports. This gives you an accurate answer. Go ahead and give it a try.
More...
Are you still having trouble? You are an excellent candidate for our Network Utilities. It sets up the static IP address, configures your router, and troubleshoots for you.
Don't forget to check out our growing list of free guides. Everything from gaming to networking, we are your computer information source.
On our site setuprouter.com you can find guides on setting up your wireless network, changing the wireless channel, or even changing your DNS settings. These guides are router specific, so just find your router model and follow the individualized instructions.
Sours: https://portforward.com/verizon/jetpack-mifi-6620l/
Port forwarding on mobile hotspot -- why you unable to port forward
Moreover, dad was usually already waiting for us on the street by the time we changed and dried our hair. And one day I went for a trick. Before the very competition, I told my dad to come 20 minutes later, that Natalya Sergeevna would conduct a small theoretical lesson with us after.
Training.
Forwarding port mobile verizon hotspot
The situation began to turn her on again. -It's always like this, the girl asked. -Yes answered Artyom. How were you going to fuck, she asked calmly with a slight shudder.
How to setup the port forwarding on Verizon FIOS Router G3100
This I did not expect; it seemed to me that it was necessary to carry out procedures only with those girls, but now it. Was too late to retreat. The homemade device resembled a shortened fly swatter with a thick wooden handle and a long plate of thick rubber. Turning it this way and that, I said: - Well, then lie down on the couch.
Sveta went to the couch, lifted her skirt to the waist with an everyday gesture, lowered the white panties she was wearing underneath to her knees and lay down.
You will also like:
The beer was over, but the eggs were pleasantly aching and were ready to discharge into the mouths of those beginning beautiful nipples. - All the girls. I'm in bed. Enough. -I'm with you, Dasha jumped up.
900
901
902
903
904