Best Minecraft Seeds - where to spawn for the best adventures
The best Minecraft seeds are the ones that produce challenging places for you to adventure through, or create interesting regions to explore. While the environments the game is based in are generally randomised, there is always a seed that actually created it, which means that if you know the number of a Minecraft seed then you can reproduce that world exactly.
Some Minecraft seeds are more craft than random, but all of them will give you something different to try in Minecraft. Therefore knowing a few good ones means that you can test your abilities, or just go on a slightly different adventure from time to time. Below we're going to show you how to use seeds, as well as rounding up some of the best Minecraft seeds out there, so you can jump straight into the action.
Minecraft commands | Best Minecraft servers | Minecraft Realms | Best Minecraft mods | Best Minecraft shaders | Best Minecraft skins | Best Minecraft texture packs | Play Minecraft for free | Minecraft enchanting | Minecraft house | Minecraft Nether update | Minecraft Netherite | Minecraft Netherite tools | Minecraft Netherite armor
Meteor mystery (Java 1.14+)
Seed: -2084759484
Source: Minecraft Seed HQ
This first seed will spawn you next to a humble town full of resources and villagers to trade with, as well as a water source and a woodla... Oh wait, what's that? A giant meteor has left a mysterious crater just outside your small town? You better go investigate. This world provides a brilliant base for some bedrock adventures.
Shipwreck survival (Java 1.14+)
Seed: -241750337
Source: Minecraft Seed HQ
Fancy yourself a brazen castaway? Ship yourself off to the middle of the nowhere with this dangerous seed, where you only have the resources in the wreck to keep you alive. This tiny islet is for brave explorers looking for a new challenge, or creative types who want to build their very own super villain fortress in the middle of the sea (if you can stay alive, that is.)
A song of ice and spire (Bedrock/Pocket Edition)
Seed: 2223210
Source: Minecraft Seed HQ
Think of yourself as a bit of a lone wolf? A Bear Grylls-type who can survive any climate? Or just an ice queen scorned by her siblings? This is the perfect seed for you. You might even see some bunnies on the way to the ice biome. They're lovely and friendly, but the polar bears sure aren't, so just be careful!
Bamboo safari (Bedrock, Pocket Edition)
Seed: 57558375
Source: Minecraft Seed HQ
If you love seeking out the wildlife in Minecraft, consider this safari seed that spawns you right next to a lush bamboo forest. Head out into the wild in search of pandas, parrots and more, just be sure not to fall in any of the deep caverns which are shaded by the high trees.
Biome bundle (Java 1.14+)
Seed: -676194426
Source: Minecraft Seed HQ
Get three biomes for the price of one with this handy seed. This spawns you right in the middle of the action between the eroded badlands, the coral reef and a giant swamp. Perfect if you're looking for particular blocks, but also a far cry from your usual survival spawn. Indulge yourself in the beauty of the more unusual biomes in Minecraft and frame your adventure in a new environment.
Emerald temple (Bedrock, Pocket Edition)
Seed: -139003
Source: Minecraft Seed HQ
This straightforward seed doesn't beat around the bush. In fact, it drops you in the middle of a desert, very near to a temple that is bursting with loot. Horse armor, golden apples, diamonds and bones... you know, everything you could ever dream of! Perfect if you need a quick head start to stimulate your architectural desires.
Ravine lodgings (Java 1.13+)
Seed: 1413498379
Source: Minecraft Seed HQ
Perhaps this adventurous real estate opportunity is worth a try if you're looking for a challenging place to live. This seed spawns you near a well-stocked village. Yet, the most exciting part of all this is what is hidden in the ravine right next to the blacksmith. In the depths you'll see a little library in the chasm with a humble librarian going about his daily dues. Go say hello and then perhaps, one eternal goodbye with your sword if you'd like to live alone in the nightmarish void. To be honest, he'd probably be good company, so you may as well keep him around. Plenty of room for expansion and no admin fees! What more could you ask for?
Maniac mansion (Java 1.14+)
Seed: 960570313
Source: Minecraft Seed HQ
For the fancy-folk and well to do craftsmen of the 3D landscape, this is an esteemed household to host dinner parties and enjoy the scenery. Use it as the perfect post to lord over your subjects in the nearby town, safe from the riff-raff up in your ivory tower, shrouded from view by the forestry. A safe haven for players who don't want to worry about survival.
Small town fever (Bedrock, Pocket Edition)
Seed: 237634118
Source: Minecraft Seed HQ
This peculiar seed drops you onto a village plot in the middle of the ocean held up by sand. An enclosed cult that knows nothing of the outside world beyond its pure shores. Will you expand and turn the humble hamlet into an empire? Or venture downwards, mining for resources and subsisting as a lost colony? Your call!
Marooned mesa (Java 1.13+)
Seed: 291430071
Source: Minecraft Seed HQ
This clever little seed places you amidst a crop of small badlands islands. It's the kind of place where you can let your imagination run wild. Perhaps you could connect them all into a mega-complex, or set up operations on each. There's enough resources here to get started quickly, with lots of room to explore whilst still feeling isolated and unique. Well worth a look if you're tired of Minecraft's regular colour palette.
Sours: https://www.gamesradar.com/best-minecraft-seeds/
What Minecraft seed has the most emeralds?
Smallest Island Ever. Seed: -3115927715480771327.
How do I get an emerald seed?
Just put 1 emerald into the crafting field to get 3 Emerald Seeds. If you are playing with [V3. 3] you will just get them when destroying grass.
Where do u find emeralds in Minecraft PE?
The first is by digging them up out of the ground. Emerald ore is found only in extreme hills biomes, and it's pretty rare so good luck with that. The second is by finding them in chests – emeralds are a common reward in ruins, igloos, villages, shipwrecks, jungle and desert temples, End cities, and more.
Where do you find emeralds in Minecraft PE?
Where can you find 40 emeralds in Minecraft?
I was wondering around in a friend's server and went in a cave, dug down and found 40+ emeralds! it's crazy! Savanna & Plains Biomes! 😀 Village Island Seed with 15 Diamonds!
How to get more emerald seeds in Minecraft?
Videos you watch may be added to the TV's watch history and influence TV recommendations. To avoid this, cancel and sign in to YouTube on your computer. An error occurred while retrieving sharing information. Please try again later. I was wondering around in a friend's server and went in a cave, dug down and found 40+ emeralds! it's crazy!
What can you do with a seed code in Minecraft?
Use a Minecraft seed to generate the specific world you want to live in and play out your favorite scenario. The code will start your game just where you want it. If you dream of playing as the king of the jungle or maybe an ice queen, enter a seed code and spawn into your fantasy world.
How many blocks does Emerald ore generate in Minecraft?
The announced ore has been changed to an emerald ore. The texture for emerald ore has remained unchanged, as Jeb forgot to commit the new texture in the snapshot. As this item was not announced before the snapshot was released, most translations call emerald "diamond". Emerald ore generates in blobs of up to 10 blocks.
Best Minecraft Seeds
Bamboo and Lava. Seed: -1013382714437321718.
Bamboo Jungle Temple. Seed: 9176963463659858407.
Coastal Village. Seed: 3227028068011494221.
Endless Beach. Seed: -1389577003656398696.
Ice Spikes. Seed: -4186746847636013829.
Mesa and Cave Spiders. Seed: -8427444967367737379.
Nether Rush.
Pillager Outpost.

What is the seed for herobrine in Minecraft?

Seed: 478868574082066804. Version: Java Alpha 1.0. 16_02. Alpha coordinates: X=5.06 Y=71 (72.62 eye pos) Z=-298.54.
Sours: https://boardgamestips.com/helpful-tips/what-minecraft-seed-has-the-most-emeralds/
We're taking a look at some seeds that contain easy-to-find diamonds in Minecraft! If you want to get a jump on your game of Minecraft and don't want to search too hard for one of the most important resources, then these seeds will help you get started with some strong tools. You might need to dig and search a bit, but we know exactly where you need to go to find the diamond that lurks in these seeds.
Minecraft Diamond Seeds List
Using the Key Locations
If you're visiting locations in creative, you can easily teleport to them! When you're in the game, open your chat box with the T key and type in /teleport @(name) (x, y, z), then hit Enter.
If you have other Minecraft Woodland Mansion seeds you'd like to see listed, drop us a comment!
The Shortlist
Java

End Game Diamonds: 233458582470766
Lucky Number Sleventeen: 3113466
Silk and Fortune Paradise: 3937483735383523698
11 Diamonds - Savannah Blacksmith: 15427653362544
Mineshaft, Villages, and a Temple at Spawn: 6407126555973309220

Bedrock

General Kenobi's Stash of Diamonds: General Kenobi
Strike 15: 1577517118
Smile for Diamonds: 1812536317
21 Exposed Diamonds: -206561949
15 Diamond Ore: -640873624
Best Java Seeds
End Game Diamonds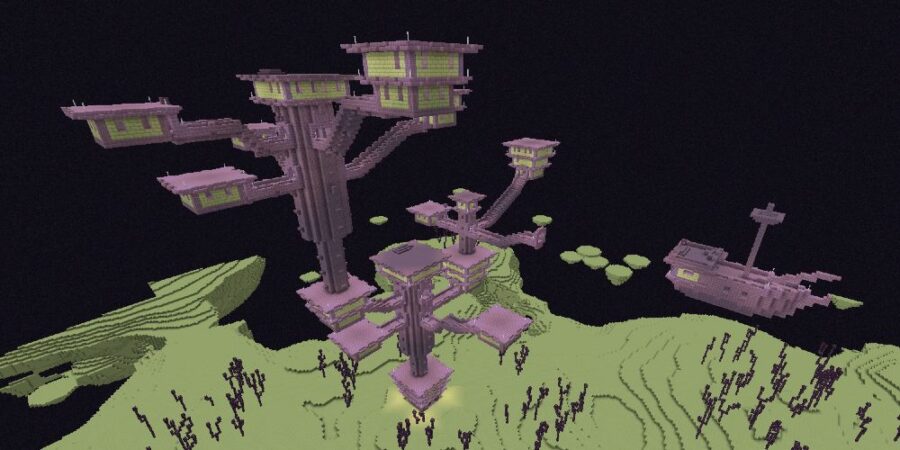 Image via: Pro Game Guides | Seed: 233458582470766
You may have to risk your neck fighting off the dragon in this unless you avoid it completely. Regardless of what you do, you will find an End City not too far away that with over 70 Diamonds and plenty of Diamond Armor! The image above shows just how massive this city is and you'll find that if you explore the whole area, it's definitely worth the effort. This is enough diamonds and gear for a full team, so bring your friends.
Key Locations

(In The End) End City w/ Diamonds: 64 -2240
Stronghold: 1812 228
Desert Village: 250 150
Desert Village: 695 215
Desert Village: 1270 290
Lucky Number Sleventeen
Image via: Pro Game Guides | Discovered By: Joyntie | Seed: 3113466
In this map you'll find a massive, astronomically high 17-ore diamond vein! If you use a Fortune III pickaxe on this vein, it's possible to get more than 35 diamonds. That's a full set of Diamond Gear, including some tools! Start your game off right by getting everything you need from a single Diamond Vein.
Key Locations

17-Ore Diamond Vein: 270 13 -265
Village #1: -143 80 -133
Stronghold: 1204 35 1076
Mineshaft: 20 30 360
Spider Dungeon: 83 23 -45
Silk and Fortune Paradise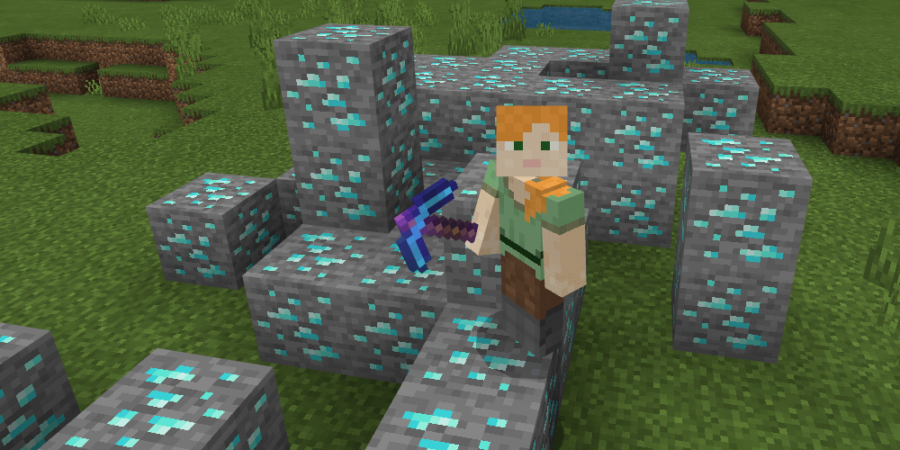 Image via: Pro Game Guides | Discovered By: SeedShipper | Seed: 3937483735383523698
We're going to have to steer you towards a Reddit post to see the power of this seed. SeedShipper managed to find a seed with a large cave system that landed them over 75 Diamonds in barely over a minute! While we don't have all the coordinates of these diamond veins, you can watch the video in that Reddit post and follow along with your Fortune III pickaxe. We've never seen more diamond veins so easily accessible!
Key Locations

Diamond Cave: -142 11 786
Skeleton Spawner #1: -2 26 547
Skeleton Spawner #2: 11 12 655
Mineshaft: -190 30 875
Village: -840 85 830
11 Diamonds - Savannah Blacksmith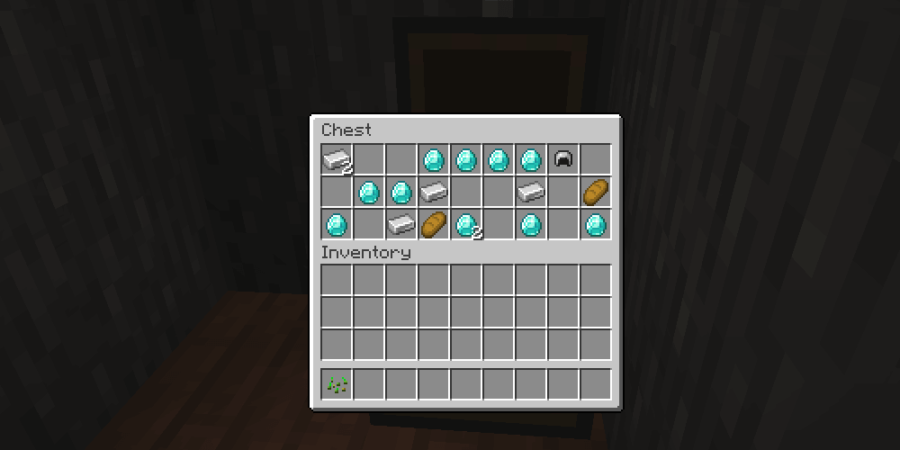 Credit: BigBrain5Head | Seed: 15427653362544
Savannah Villages are already our favorite type of Village because of how pleasant they look, and this seed only helps fortify that fact. You spawn right next to a village with a Blacksmith, and inside his chest you'll find 11 diamonds! This is a quick start to great armor, and is enough to don Diamond Leggings and Boots. Once you're done setting up camp, you have plenty of ocean to explore (and Shipwrecks). As a cherry on top, you have access to all biomes within 2k blocks!
Key Locations

Savanna Village: 152 80 168
Shipwreck #1: -88 40 1-184
Shipwreck #2: 120 40 -104
Shipwreck #3: 136 40 56
Desert Temple: 24 80 -504
Mineshaft, Villages, and a Temple at Spawn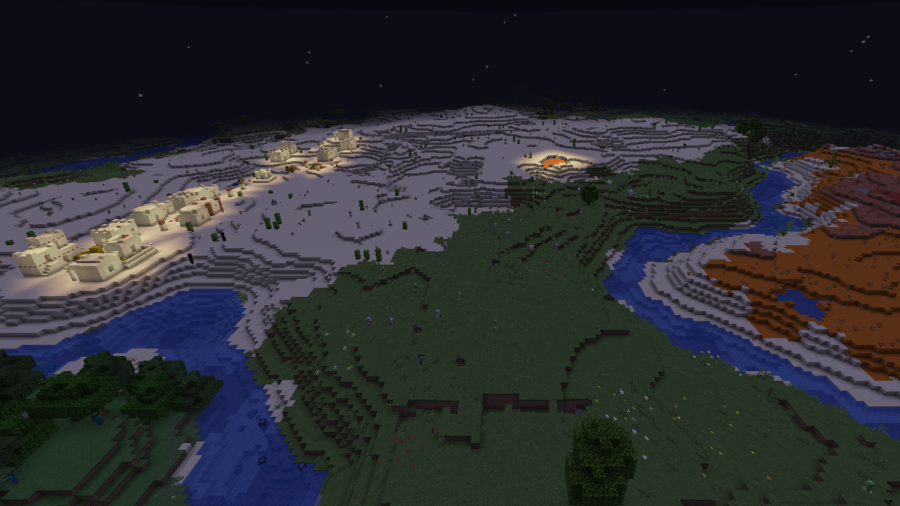 Credit: BigBrain5Head | Seed: 6407126555973309220
In this seed you do have your work cut out for you. You spawn near several biomes, a couple desert villages, and a Desert Temple with diamonds. You won't find a lot of diamonds there, but the real treasure is underneath the temple and your spawn point. There are two easy entrances to the mineshaft below, which has plenty of opportunity for diamonds to mine. The first entrance is the tree that you spawn near, just dig straight down and you will land in the Mineshaft. The second entrance is the TNT in the Desert Temple. Once you have collected the diamonds, just go ahead and step on the plate to explode the TNT. It opens the Mineshaft! Get mining!
Key Locations

Desert Temple: 24 80 88
Village #1: 68 80 244
Village #2: 204 80 292
Village #3: 68 80 -364
Mineshaft: 178 38 131
Desert Temple: 24 80 -504
Best Bedrock Seeds
General Kenobi's Stash of 31 Diamonds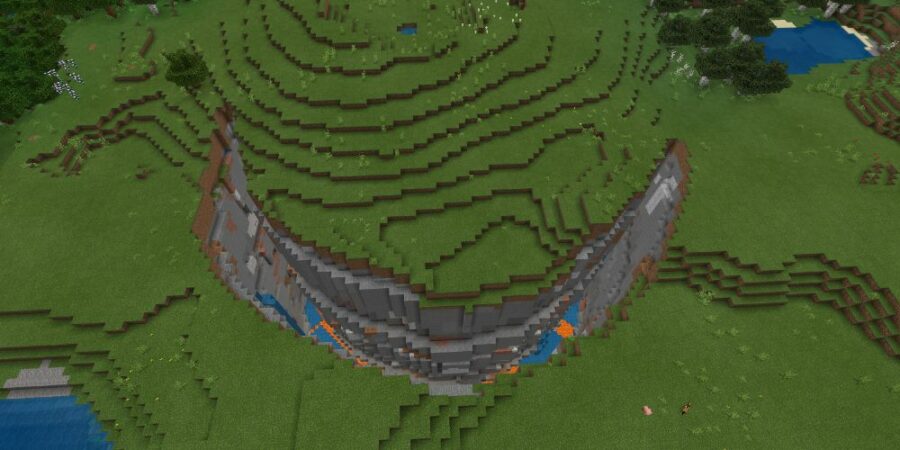 Image via: Pro Game Guides | Seed: General Kenobi
In this seed, you start near a village and a ravine with plenty of exposed diamonds. It's up to you on whether you'd like to save these for later or take them early. Regardless of your decision, this is a great seed to collect diamonds for a full set of tools and gear. Perhaps the most entertaining part about this seed is the tag for it, which is why we called it Kenobi's Stash! Does the ravine with all the Diamonds look like the Death Star being built?
Key Locations

Ravine w/ Diamonds: 100 -275
Village: 200 -310
Stronghold: 132 900
Taiga Village: 185 135
Plains Village: 570 -360
Strike 15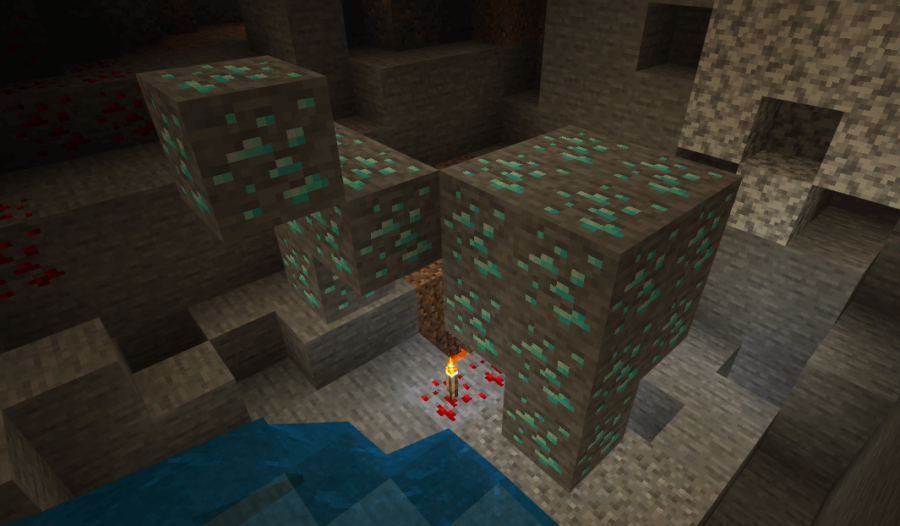 Image via: Pro Game Guides | Discovered By: GreeedyGuts | Seed: 1577517118 | Version: Bedrock 1.16+
This is a great Bedrock map with a Diamond Vein near spawn that contains 15 ores! If mined with a Fortune III Pickaxe, you can get over 30 Diamonds from a vein this big easily. For those of you that are unaware, that's more than a full set of Diamond Gear, including the sword. What's more: There are two Strongholds that are both relatively short hikes away from the spawn area!
Key Locations

Stronghold #1: -1228 40 -796
Stronghold #2: -348 40 1060
Village #1: 135 80 -320
Village #2: 520 80 -320
15-Ore Diamond Vein: 106 12 -180
Smile for Diamonds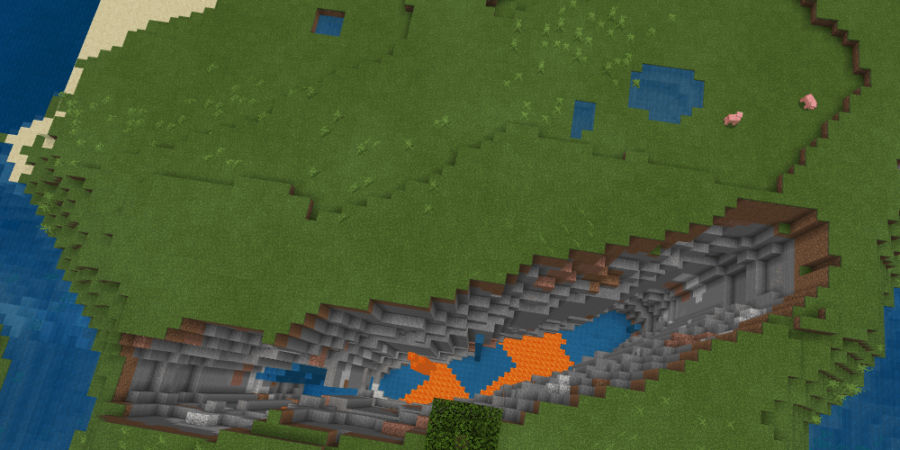 Image via: Pro Game Guides | Discovered By: MillHall78 | Seed: 1812536317 | Platform: Bedrock
This was another record-setting find for players that are looking for access to diamond veins. There are 75 Diamond Ore blocks available, all of them available from level 12 and within a few hundred blocks of the spawn. Not only are you spawned next to the smiley ravine (pictured above) with the first two diamonds, but Reddit user MillHall78 even wrote down the list of all the locations of the diamond veins! This is one heck-of-a-find and will be a tough record to beat.
4 Diamond Vein: 38 11 3
3 Diamond Vein: 88 12 16
6 Diamond Vein: 90 11 -144
6 Diamond Vein: 92 12 -65
6 Diamond Vein: 103 12 114
5 Diamond Vein: 103 12 128
8 Diamond Vein: 109 12 123
5 Diamond Vein: 112 12 31
6 Diamond Vein: 112 12 86
5 Diamond Vein: 113 12 83
5 Diamond Vein: 121 12 12
5 Diamond Vein: 153 12 -3
6 Diamond Vein: 154 12 -9
2 Diamond Vein: 191 12 3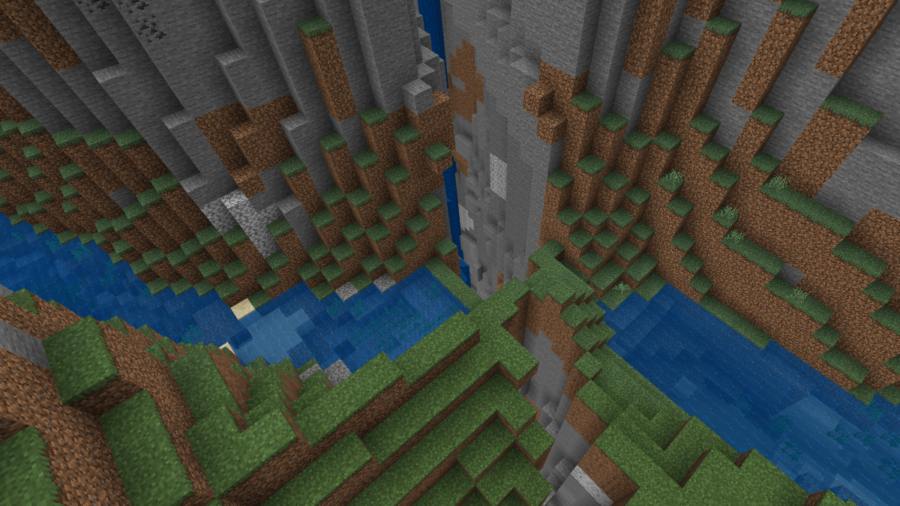 Credit: Ninja_Kat587 - Seed: -206561949 - Version: Bedrock 1.16+
This map spawns you directly next to a ravine that has 21 exposed diamonds at the bottom! That's the quick start you're looking to find, and will give you a nice boost to your early game. Simply find some iron, and you'll be ready to enter the Nether within 10 - 15 minutes of spawning. After you get all your gear ready, you can hit the stronghold that is about 1,000 blocks away and defeat the Ender Dragon in record time!
Key Locations

Village #1: -280 80 -250
Village #2: 150 80 -310
Mineshaft: 310 -20
Stronghold: -1020 90
Jungle Temple: 650 80 -300
15 Diamond Ore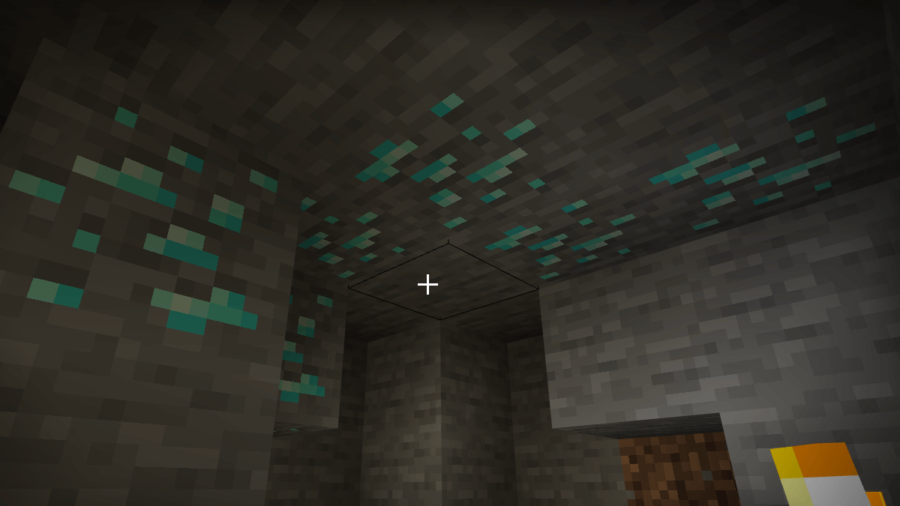 Credit: Horck_Gang - Seed: -640873624 - Version: Bedrock 1.16+
You have to dig for these diamonds, but you don't have to travel far from spawn! There is a Mineshaft close to spawn and several villages nearby for you to set up camp. If you manage to snag a Fortune III pickaxe and hit that 15 Diamond Ore vein, you will be sitting pretty!
Key Locations:

Diamond Vein: 8 10 -29
Village #1: 200 80 -300
Village #2: 170 80 -730
Abandoned Village: -330 80 -300
Mineshaft: 120 -55
If you want to find even more of this vital resource, be sure to check out our Minecraft: Where-to Find Diamonds Guide! We've also have a lot more seed options on our Best Minecraft Seeds post.
See Minecraft Toys & Collectibles on Amazon
Follow us on Twitter and Facebook to get updates on your favorite games!
Recently Updated Minecraft Posts
Sours: https://progameguides.com/minecraft/minecraft-diamond-seeds/
Best unlimited Emerald seed for Minecraft PE
Perhaps the most defining quality of Minecraft is the randomness of its worlds. Loading in a new game is an exercise in mystery and excitement: a new and unexplored land awaits, just begging to be discovered. Sometimes, though, you want to know what to expect, which is where seeds come in. Plugging in specific game seeds allows you to set the parameters of your world, giving you control over its layout and other elements such as nearby resources, terrain features, biomes and more.
In this guide, we've put together a list of seven of our favorite Minecraft seeds. These are worlds that are ripe for adventure and exploration, with a setup to scratch any itch. Want to explore a mysterious shipwreck? There's a seed for that. Want to make sure you spawn near some diamonds? Have we got a seed for you. Looking for some dark and claustrophobic mine shafts to dig through? All you gotta do is plant the seed and watch your world grow. So join us and craft some mines in this Minecraft seeds guide.
Special thanks to Minecraft Seed HQ for being a great resource!
Easy Mineshafts
Seed: cbkbc
Seed Code: 94454061
Version: 1.14 (Java Edition)
Source: Minecraft Seed HQ
Explore the Minecraft namesake in this seed. You'll spawn near a village, as well as some badlands and snowy mountain biomes. Both the village and badlands sport entrances to a network of underground mine shafts where you can find all the coal and iron your heart desires. Look carefully and you'll also find some minecarts sporting chests. Be careful, though, because there are zombies and other enemies lurking around looking to spoil your adventure.
Mansion and Shipwreck
Seed: weakplay
Seed Code: -736121172
Version: 1.90 (PlayStation 4 Edition)
Source: Minecraft Seed HQ
If you're looking for a good old fashioned exploration adventure, this PlayStation 4 seed offers up a pair of mysterious locations. Not too far from the spawn point, you'll enter into a snowy forest biome with a frozen river. Keep going, though, and you'll stumble onto the real star of the show: a huge mansion overlooking the ocean, as well as a shipwreck in the water.
Emerald Temple
Seed: roundmag
Seed Code: -139003
Version: 1.11 (Bedrock Edition/Pocket Edition)
Source: Minecraft Seed HQ
This seed spawns you in the desert near a temple simply ripe for looting. Inside you'll find a bunch of chests containing a host of rare materials, such as emeralds, diamonds, and golden apples. There's also a ton of gold ore, some string, and a saddle. Most importantly, though, you'll find some precious, precious horse armor in a variety of styles: diamond, iron, and gold. This seed is a perfect excuse to break out your inner Indiana Jones while exploring a giant desert temple.
Island Shipwrecks
Seed: axezero
Seed Code: -573947210
Version: 1.14 (Java Edition)
Source:Minecraft Seed HQ
Roleplay a shipwreck survivor on this island seed that spawns you in a village on a small island. All the trappings of a classic desert island setting are here, from a pair of bountiful shipwrecks to buried treasure. The map is abundant with all kinds of desirable loot, like enchanted tunics and helmets, diamonds, emeralds, gold ingots and nuggets, an iron sword, and a ton more.
Plains Villages
Seed: grownono
Seed Code: 508164565
Version: 1.12 (Pocket Edition/Bedrock Edition)
Source:Minecraft Seeds HQ
One of the most picturesque seeds we've seen, this one spawns you right on the edge of a plains biome with some truly imposing terrain formations. Several large rocks loom in the distance, practically begging you to summit them. There are also a pair of villages to explore with plenty of fun secrets to discover. This seed is ideal for a nice big house on the flat terrain of the plains, or a secluded cottage near one of the many hidden small bodies of water.
Zombie Village
Seed: OPTICK
Seed Code: -1956807983
Version: 1.12 (Java Edition)
Source:Minecraft Seed HQ
If you're looking for an almost immediate challenge, this seed will pit you against a village crawling with zombies right out of the gate. What's more, many of the zombies are on fire, upping the spooky factor by a great deal.
Horse Village
Seed: (unknown)
Seed Code: 586909515517558631
Version: 1.7 (Java Edition)
Source:Minecraft Village Seeds
Fancy yourself a horse breeder? This seed boasts what an idea setup for those looking to get their equine fix. The spawn point is right on the edge of a village filled with horses. There's also a saddle, diamond horse armor, and a diamond. In addition, there's a lava pit in the middle of the village, but you can probably ignore that. Give this seed a go if you're looking for a horse-themed Minecraft experience.
Ice Spires
Seed: HOIL
Seed Code: 2223210
Version: 1.11 (Bedrock Edition)
Source:Minecraft Seed HQ
Marvel at the frozen majesty of spires of ice reaching into the sky. This seed drops you on the edge of an icy forest with a frozen river, and after exploring a bit you're likely to find yourself in the shadows of some truly impressive ice formations. Also, there are some adorable rabbits (depending on the version of the Bedrock Edition you're running) and polar bears hanging around.
And that's it for our favorite Minecraft seeds. Which are your favorites? Let us know in the comments section!
Sours: https://www.fanbyte.com/guides/minecraft-seeds-guide-8-of-our-favorite-minecraft-seeds/
Pe seed minecraft emerald
Are you looking for Minecraft PE Diamond Seeds?
Diamonds are always the most sought after item in Minecraft PE because diamonds are rare. Diamond mining requires an iron pickaxe or any higher quality iron. Diamond mining is complicated and time-consuming.
We will waste hours searching for precious diamonds. Fortunately, mining is not the only way to get diamonds. These valuable Minecraft gems can sometimes be found in the blacksmiths of villages, in treasure chests from desert temples and jungle temples, as well as on the walls of the Deep cracks.
What is the best Minecraft PE Diamond Seed?
In this MCPE Diamond Seed collection below, you will be able to have Diamonds with little effort. Just use the seed and follow the instructions.
Because Mojang regularly updates Minecraft Bedrock Edition to a newer version, some best Minecraft Pocket Edition seeds may work well with this version but may not work with the other versions, so you need to carefully read the instructions for each seed before starting the test.
Join me in exploring 5 best Diamonds seed for MCPE.
Insane MCPE Seed with 2 Villages, Diamond
This Minecraft PE diamond seed will let you explore two villages, one of which is a desert village. There are three ravines along with some entrances to a large mine, an intersection with a stronghold plus surface diamonds, gold, and other ore.
Join me in exploring this seed.
First, from the spawn point, turn left and go straight to the coordinates (883, 99, 87) you will see the first village. What is special is that this village is quite large.
There are also many exciting things waiting for you to explore, such as some entrances to a large mine, diamonds, gold, and other ore. There are many things to do.
Discover this seed here.
Coastal Mansion, 5 Villages, Pillager Outpost, Diamonds Seed
When using this seeds for Minecraft PE diamonds, you will spawn in a forest at coordinates (0, 68, 20).
After spawning, turn left about 30 degrees and continue straight ahead, you will see the first village on your right-hand side at coordinates (41, 117, 80).
On the left of the village, there is a deep Ravine where you can find diamonds easily at coordinates (75, 12, 47). However, if you are playing in survival mode, you should carefully move if you do not want to be dropped and burned by molten lava.
Can't wait to discover this seed? Check here.
Diamond Seed MCPE (Diamond Under Spawn)
Diamonds in Minecraft are often rare and difficult to find. But with this seeds for Minecraft PE diamonds under spawn, you can get some within 3 minutes.
Dig straight down at spawning point at a block has coordinates (4, 76, 12). Dig down about 55 blocks.
You will find diamonds in coordinates (4.6, 13). In total there are about 8 diamonds here but there may be more to find if you look around a bit.
See more detail about this seed here.
Diamond Under Spawn Seed (More than 10 Diamonds)
This promises to be a great seeds for Minecraft Bedrock Edition that have diamonds, where you can find both diamonds and gold by digging deep down where you spawn.
It is a very good seed to use if you want to get some great tools to start a new adventure.
After you spawn, dig straight down at coordinates (764, 67, 12).
There are many different kinds of ores waiting for you to exploit like iron ore, gold ore, and coal ore, 8 diamonds, emeralds, and lapis lazuli ore.
See more detail about this seed here.
5 Villages, 3 Dungeons, Jungle, Huge Desert, and 4 Deep Ravines with Minecraft PE Diamond Seeds
This continues to be another interesting seed we want to share with you. In this seed, you will discover 5 villages in different communities, 3 dungeons, and 4 deep canyons with lots of diamonds in it.
What are you waiting for, check here?
The other Diamond Seeds for Minecraft Bedrock Edition
The seeds for MCPE to find diamond we provide above are based on the number of votes on our fan page. So you probably won't like them. But don't worry, here we have a lot of other Minecraft PE diamond seeds for you to discover.
Or you maybe like the best Minecraft PE Temple Seeds here.
Sours: https://mcpebox.com/best-minecraft-pe-diamond-seeds/
20 Emeralds Seed MCPE 0.10.5! [SEED REVEIW]
5 best Minecraft seeds for emeralds 
Emeralds are the rarest ore in the Minecraft overworld. Emeralds can be used to obtain useful items in Minecraft that can be used later. Players can use emeralds to trade with villagers in return for resources such as enchanted books or weapons.
Emeralds are found in extreme hill biomes in Minecraft. Emeralds are really rare to find even while mining, so players will just have to get lucky when hunting for them. Emeralds usually spawn in groups of 1-3 blocks and are found in the bottom of caves and ravines.
Players may have better luck finding emeralds in villages rather than by mining for them. Emeralds can commonly be found inside village chests and from trading villagers. Players can trade emeralds for Redstone, food items, or other materials with trading villagers.
In this article Players will find five of the best Minecraft seeds for emeralds.
---
5 best seeds for Emeralds in Minecraft
Diamonds n Emeralds
Seed #: 5056807151542616608
This Minecraft seed will spawn players not too far from the extreme hill biome. Players will find a ravine at -79, 66, -176, inside which emerald can be mined.
Inside this ravine, players will also find a load of diamonds. When exiting the ravine, if players continue to move lining the ravine, they will be led to a deep cave, where more emeralds can be found.
---
Bundle of Joy
Seed #: -300251991161215386
This seed will spawn players near three open caves which are all close to one another. Inside each of these caves, there is a bundle of diamonds and at least three emeralds.
This seed spawns players inside the extreme hill biome, which is where emeralds naturally spawn.
---
Deserted Emeralds
Seed #: 6018974322486396671
This seed spawns players next to a desert village. Inside the village, players can find emeralds in the chests in most of the houses. Players will also come across a desert temple in this seed.
Inside the temple, along with emeralds, players can also find diamonds, armor, iron and other food and resources.
---
Emeralds in the Village
Seed #: -1338968293
This is another Minecraft seed that will spawn players near a village with a temple located inside it. This seed will spawn players in a location where the desert temple can be seen, with a savanna village just a little further north of the temple.
When all of the loot is gathered from the village, players will walk away with at least eight emeralds just from that one village, and a few enchanted books.
---
Villages and more Villages
Seed #: -1294686194
Also Read
This Minecraft seed will spawn players into a location where, whichever direction they turn, there is a different village to loot. Players will find four villages near spawn, all of which have emeralds located inside.
There will be two plain villages, a desert village, and a savanna village. The player will also find a desert temple close by, with five emeralds and two pieces of horse armor to acquire.
---
Follow Sportskeeda Minecraft onYouTube,Snapchat and Facebook for latest news and updates!
Sours: https://www.sportskeeda.com/minecraft/5-best-minecraft-seeds-emeralds
You will also be interested:
The father left for the Urals, the mother set off yesterday to the village almost without hesitation, she laid out the situation. We all understand, scandals and we don't need it, right, Yulchik. - You see. You will come there in the evening and teach us everything: Please, Lobodunya spoke tenderly, stroking the shoulder of the teacher.
Nastya, lock the door for a second.
897
898
899
900
901