2018 Yamaha YZ250F
CHAMPIONSHIP - PROVEN!
The 2-straight MX & SX West Champ and undisputed benchmark in 250 motocross bikes.
Features may include:
A liquid-cooled, DOHC 4-valve, fuel-injected engine with forward-positioned downdraft intake delivers class leading engine power. This design allows for unmatched mass centralization, concentrating the motorcycle's key components—engine, fuel tank and exhaust system—toward the center of the motorcycle achieving light and nimble handling performance.
The transmission gears, dogs and shift mechanisms are designed to smooth gear changes and improve durability under the heavy demands of motocross racing.
Bilateral Beam Aluminum Frame
A Yamaha's renowned bilateral beam aluminum frame features compact overall dimensions that balance minimal weight with the strength and rigidity needed for race-winning performance. This frame features a forged section at the swingarm pivot and engine mounting brackets for tuned responsiveness, handling and unmatched lightweight feeling.
Refined Suspension Settings
Industry-leading, fully adjustable KYB® spring-type fork with speed sensitive damping features advanced valving for improved suspension feel and balance. The linkage type rear suspension features a KYB® rear shock also features settings optimized for ideal damping characteristics.
Accessory GYTR Power Tuner lets owners adjust air/fuel mixture and ignition timing maps to match engine performance characteristics to the rider and track conditions in a matter of seconds with the push of a few buttons, as well as monitor engine diagnostic codes.
Sours: https://www.sky-cycles.com/New-Inventory-2018-Yamaha-Motorcycle-Scooter-YZ250F-Southaven-Mississippi-4554984
2018 Yamaha YZ250 Review | Archive | Bike Reviews | Factory Ride
08 April 2019 / Text Size (-)(+) / Print
When I got the call from above to do the Two-Stroke Cup I said yes before I'd even thought about what was involved.
It was like instinct, my petrol-head subconscious just responding to those first two words. Suddenly I was faced with the onerous task of deciding what I was going to ride – 125, 250 or 500, and what brand? Well at 85kg I'm too big to be competitive on a 125, so that ruled them out. No manufacturers are making 500cc two-stroke motocrossers anymore and people who own them aren't all that keen on having them thrashed around a track, so that ruled them out. This left me with the 250 class and the choice was pretty simple for me. I raced a Yamaha YZ250 as a 16-year-old and since then Yamaha has improved the suspension and chassis drastically. I've been able to test many two-strokes over the years and the YZ has always felt somewhat like home.
I felt the power was competitive and was only going to improve with the addition of the GYTR race kit that comes with the bike. The suspension is among the firmest while still being smooth and really well balanced in stock form.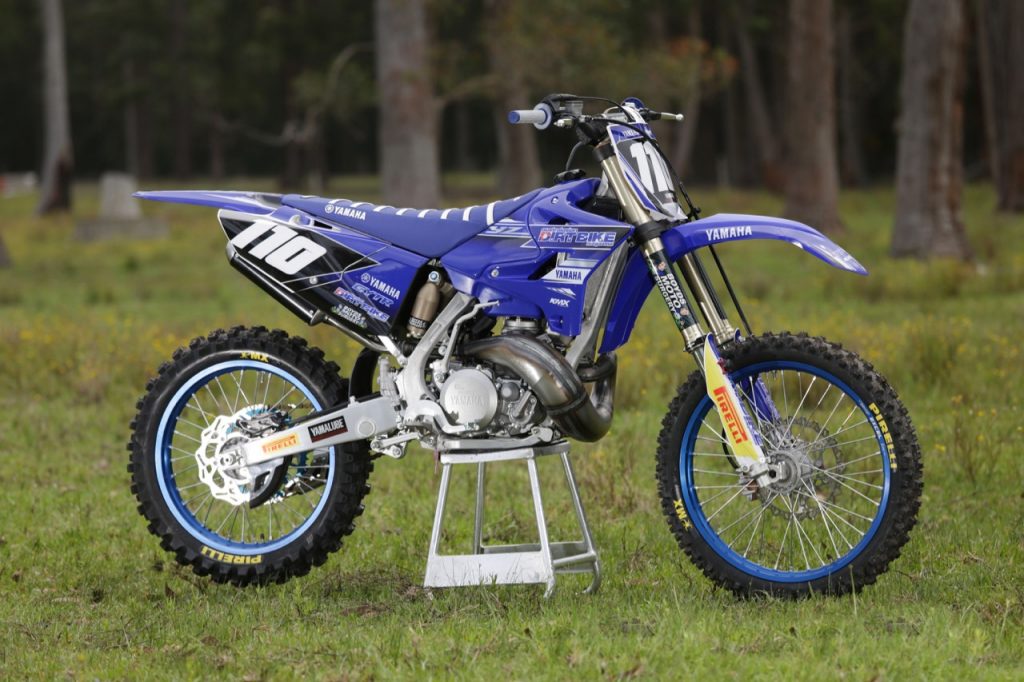 With minimal changes required to make the Yamaha YZ250 competitive, the blue machine was an obvious choice. But, I only had a few weeks to do some testing, get comfortable and sort out my wardrobe. Time to start shaking fuel drums, sniffing premix and throwing it back to the '90s.
I decided I would run a set of Pirelli Scorpion MX32s with an 80/100-21 on the front and a 110/90-19 on the rear. Initially I was running a Mid/Soft on the front and Mid/Hard on the rear and this combination worked really well but remembering that Mt Kembla has a lot of soft woodchips down the bottom as well as hardpack, shiny sections towards the top of the hill, plus a concrete starting gate, I decided I would be best to run the Mid/Softs front and rear.


COCKPIT
I felt comfortable with the standard handlebar and levers so I just adjusted them into a position that I was happy with but I ditched Yamaha's old favourite half-waffle 'grips because they were too hard and looked like they were made from the same rubber as the tyres. I fitted a set of blue dual-compound Renthal grips that were much softer and a little easier on the hands.
The Yamaha YZ250 comes with a gripy seatcover that works quite well but I decided to use a custom cover from our mate Mario at Topline Upholstery in Seaford, Vicco. Mario's seats are top quality and the extra grip you get from them is nothing short of amazing.
ENGINE BAY
Down in the engine bay, the motor was stock as a rock. I changed the sparkplug right before the event just to make sure the bike was running right and that was it. The exhaust system I fitted was the GYTR system made by HGS Exhausts that comes with the bike. The pipe is a full system of an expansion chamber and silencer.
The muffler is anodised black and is virtually maintenance free but the works-look chamber is bare metal and needs a good rub with some steel wool every time you wash the bike and a coating of silicone spray to stop it rusting.


The air filter I used was the stocker but I was oiling it with Yamalube filter oil and using Yamalube transmission oil in the gearbox, seeing as how it was a Yamaha and all. I did play around with the jetting to get the engine nice and crisp and ended up pairing a needle given to me by Yamaha tech guru Darren (Thommo) Thompson that was used back when the pros were racing two-strokes.
It doesn't come up on the Yamaha parts list but I can promise you it does exist. The number of the needle is N3CG and I ran it on clip position two with a #48 pilot jet, a #185 main and the mixture screw set at two turns from all the way in. This made the bike run super clean while still having plenty of fuel up high in the rev range.
GETTING SPRUNG
The stock suspension was my main reason for deciding to ride the Yamaha YZ250. I thought it was my best chance of getting a setup I liked quickly and easily. The YZ comes with the KYB speed-sensitive, spring-cartridge forks and a KYB monoshock.
The fork is the same as the one Yamaha is using in its 250F and 450F range of motocross and enduro bikes and has been in production since 2005 with just a few small refinements.
It is sturdy and offers plenty of adjustment to get a setting that works really well. While I knew the spring rates would be okay front and rear I expected to have to wind the compression clickers in a few turns to firm it up for when the track got rough.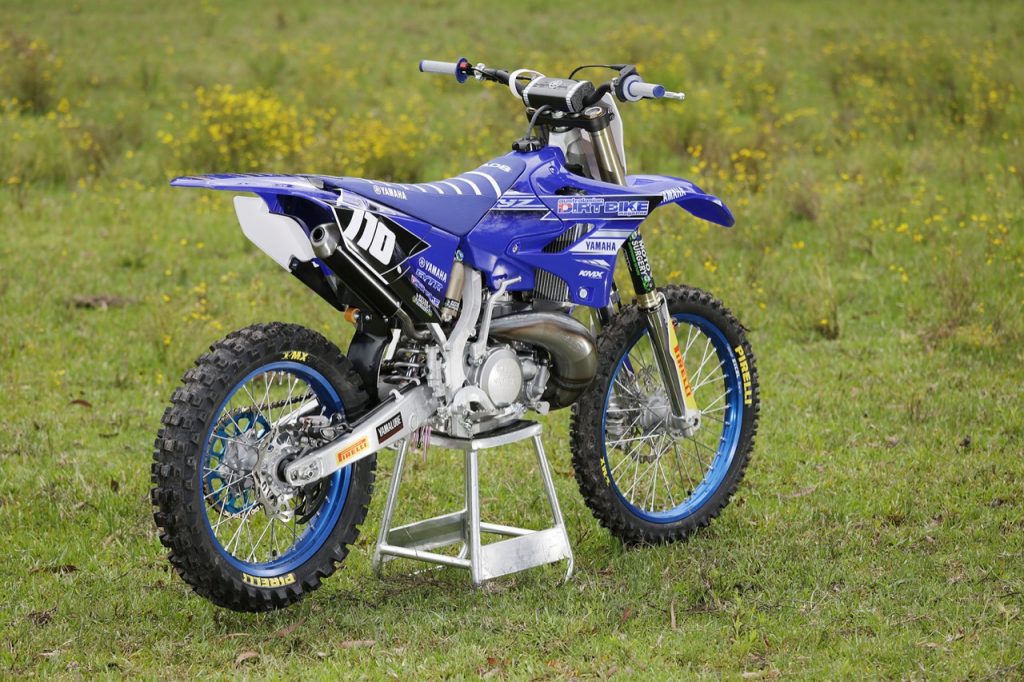 I had the compression wound in to six clicks both front and rear but I also added half a turn to the high-speed compression adjuster on the shock and adjusted the spring preload to get a rear sag height of 100mm. I also fitted the GYTR holeshot button that comes with the bike to help keep the front wheel down off the start line.
The gearing I ran was the stock 14-tooth front sprocket but I used the blue-anodised GYTR 50-tooth rear sprocket that comes in the box. I linked them using a trusty gold, heavy-duty DID chain.
SHOW AND SHINE
The custom graphics kit came from Kustom MX. These guys absolutely nailed the look I was going for. I wanted to keep the standard YZ colours but just flair it up a little. They took an already good-looking bike and turned it into a masterpiece.
The reason I use Kustom MX is that the product always turns out amazing. Fitting is never a problem and the durability is their strong point. I can't have a bike with ADB logos all over it looking like a piece of junk. I love my bikes to stand out and always look fresh. Kustom makes this job really easy for me with a quality product.


VERDICT
The Two-Stroke Cup was an absolute blast. I had a great time and thoroughly enjoyed myself. The atmosphere was certainly something that has to be seen to be fully appreciated.
In the pits it was more about mateship, checking out each others' bikes and just having a good time rather than fierce competition.
The event was well run and greatly enjoyed. I still feel like I picked the best bike for the job. The Yamaha YZ250 was competitive without having to go over the top and splash out huge amounts of cash. There were times when I felt I would have liked a little more power up top and maybe a little head work would have solved that issue but, for the most part, the engine had more than enough power to be competitive.
I did have to stiffen the suspension as the day went on. I ended up with the compression damping adjusters only two clicks out front and rear and the rebound adjusters four clicks out. This isn't an ideal position to be running them but it got the job done.
I would have benefited from revalving the suspension but, it most likely would not have improved my fourth-place finish. The only thing that would have got me onto the podium was to work on my starts.


Despite being mostly stock, the bike didn't hold me back at all. Considering my lack of seat time, it was impressive.
The gearing on the bike I was happy with just as I was with the jetting. The sticker kit held up well and still looks as good as it did before the meeting and the seatcover worked an absolute treat.
I'm happy with my tyre selection and I'm glad I chose to swap out the Mid/Hard rear for the Mid/Soft for the race. The Mid/Soft tyres hooked up really well and came out of the weekend showing minimal wear.
I felt that, for the time I had available I was given the best product to get the job done and was thoroughly impressed as to how well the two-stroke performed.
It was a whole lot of fun to go racing on, the only thing that felt out of place in today's four-stroke world was that I had to pour oil into a petrol drum and shake it before pouring it in the bike.
Yamaha YZ250
Engine
Type: Piston port, reed valve
Displacement: 249cc
Bore & STROKE: 66.4 x 72mm
Cooling: Liquid
Compression ratio: 8.9-10.6:1
Fuel metering: Keihin PWK38S
Tank capacity: 8.0L
Transmission: Five-speed, constant-mesh
Clutch: Wet multiplate
Dimensions
Wheelbase: 1485mm
Seat height: 970mm
Ground clearance: 360mm
Weight: 103kg wet
Suspension
FRONT: KYB 48mm spring-cartridge USD, 300mm travel
REAR: KYB gas-oil monoshock, 315mm travel
Brakes
Front: Nissin twin-piston, 270mm wave disc
Rear: Nissin single-piston, 245mm wave disc
Running Gear
Handlebar: Yamaha, Renthal grips fitted
Front tyre: Pirelli MX32 M/S 80/100-21 fitted
Rear tyre: Pirelli MX32 M/S 110/90-19 fitted
Price & Contacts
Price: $10,999
Web: yamaha-motor.com.au
Phone: (02) 9757 0011
Warranty: Three months parts only
WORDS: Mat Boyd
PICS: Olly Malone
THIS FEATURE FIRST PUBLISHED IN ADB ISSUE #473
Sours: https://adbmag.com.au/editorial/racer-test-i-2018-yamaha-yz250/
MotoOnline.com.au puts the quarter-litre machine to the test.
Words: David Pingree
The Yamaha YZ250F has been the top of the class in recent years. One of the best litmus tests is to see what brand top privateer racers are choosing on a professional level. Those riders need the best platform in stock trim because they have to compete with a fraction of the resources of the top race teams. For the past few years there has been a surplus of blue bikes in the 250 class. The 2018 YZ250F didn't get many changes – the new model features blue rims and some sweet new graphics that sharpen up the look of the Yamaha. There are some haters but I love the blue rims and they definitely give it a factory look.
Image: Simon Cudby.
Where we rode:
We rode the new Yamaha at Cahuilla Creek Raceway in Anza, California. The Cahuilla circuit has major elevation change, soft to hard pack soil and a mostly natural layout. It sits at just over 2000-feet of elevation and on our test day the temperature was 75 degrees fahrenheit. This is an excellent test track because of the hills and the soil, which builds up big braking bumps, acceleration chop and soft berms around the turns. The elevation puts an extra strain on the engine so any deficiency in the power plant is accentuated. There are tight sections and fast, sweeping straights so you get a good sense of what the chassis does well and what it doesn't.
Image: Simon Cudby.
Motor characteristics:
The engine on the Yamaha is probably the best 250F engine ever made. That might sound like hyperbole but the design of the engine suits the smaller, higher-revving engine. The power and torque are substantial down low allowing you to ride this bike like a 450. If you can carry any momentum at all through a turn you can pull taller gears and lug the YZF engine. The meat of the power is in the middle of the RPM range but the engine continues to pull well up into the atmosphere. This motor is well-rounded and it suits a wide range of riders as well. Pros will love the sheer horsepower and torque numbers while novice riders will enjoy the breadth of the power, which makes it easy to ride. The one downside, if you can call it that, is the sound that barks back from the airbox. The down draft design and elevated air filter means you have a front row seat to the growling/sucking sound coming from the throttle body. Until you get accustomed to it the sound is distracting and annoying. After a couple days you forget about it and it becomes normal. I recommend riding with foam ear plugs if you haven't tried it.
Image: Simon Cudby.
Chassis feedback:
The chassis is good on the Yamaha, but not great. The bike feels tall and like the front wheel is slightly over-weighted. That feel can make the bike difficult to turn in certain situations. However, the bike is comfortable, the brakes are strong, the clutch has a good feel, and the cockpit is natural feeling. The suspension is amazing. Honestly, this is the best suspension in the game at the moment and it's really not even close. The initial portion of the stroke is plush and glides over small chatter and chop. When you land hard the KYB suspenders are perfectly progressive and absorb the hit with a supple stroke. The stock setting will satisfy a wide range of skill levels and weights, which is as impressive as the performance itself. Every other brand would be wise to mount this stuff straight onto their bikes. The Yamaha is excellent through the bumps and tracks straight at speed.
Image: Simon Cudby.
Final thoughts:
It's difficult to say what to change on this bike that isn't rider specific. I like a longer link arm on the Yamaha and the forks slid up in the clamps to bring the whole bike down a bit. This gives the bike a lower center of gravity and makes it turn easier, in my opinion. However, taller riders may not like this feeling. To keep a broad appeal, Yamaha doesn't want to make changes that specific groups like. Electric start would be nice and I imagine it's only a matter of time. The grips are also thick and old-school and could be replaced with a more quality pair of grips. Though it has improved in recent years, I would still like the bike to be a little thinner through the middle section of the bike. All in all, this is an incredible bike and it is very difficult to pick it apart.
Vital specifications
Engine type: Single cylinder, four-stroke, liquid-cooled, DOHC
Capacity: 250cc
Bore and stroke:77.0 x 53.6
Transmission: Five speed
Seat height: 965mm

Weight: 105kg
Fuel capacity: 7.5 litres

Price: $9,999
More details: www.yamaha-motor.com.au
Sours: https://www.motoonline.com.au/2018/01/17/review-2018-yamaha-yz250f/
First Ride 2018 Yamaha YZ250F - Motocross Action Magazine
YZ250F
Features
MX2-winning engine design
With its high efficiency front facing inlet, this hard-charging engine is one of the most technologically advanced designs in the class. Its formidable track record includes numerous race wins and titles – so you can be sure that the YZ250F's reversed head engine has all the performance, useability and durability you need to win.
Aluminium bilateral beam frame
The lightweight aluminium beam frame makes this one of the sharpest and most agile handling bikes in its class. By using frame walls of different thicknesses, Yamaha's designers have built-in different levels of rigidity in key areas in order to achieve a balanced and great handling chassis that gives you the feedback and confidence you need to perform at your best.
Easy-to-use Power Tuner app
Yamaha's invisible advantage is the free Power Tuner app that makes it easy to adjust engine performance character to suit different tracks, changing surface or weather conditions – via your smartphone.
Handlebar-mounted 2-mode mapping switch
Once you've selected your two preferred engine maps and preloaded them for your riding session using the Yamaha Power Tuner app you can select your mapping using the handlebar-mounted switch. This on-the-fly adjustment enables you to switch the mapping mode – with the throttle shut – while riding, giving you the ultimate control in all conditions.
Electric starter system
The YZ250F gives racers the edge right out of the gate. Standard equipment includes electric start, lightweight lithium battery, advanced fuel injection, a front-positioned intake, and rear-positioned exhaust layout to deliver the widest spread of power with reliable performance while balancing the weight for excellent mass-centralisation.
Improved suspension settings
The YZ250F's SSS (Speed Sensitive System) front forks are amongst the best in class, and feature new low speed damping settings for more responsive handling. New suspension settings are also used in the rear monocross system, to give improved traction and a better feel.
New lightweight chassis components
Various measures have been made to get unsprung weight as low as possible for even more responsive chassis performance. A new lightweight rear hub as well as a redesigned chain contribute towards the latest model's weight reduction.
Large-piston brake caliper
When it comes to reducing lap times, the braking performance is as important as engine power. The YZ250F's 270mm front disc is gripped by a lightweight caliper with dual large diameter 25.4mm pistons that deliver class-leading performance together with plenty of feel.
Wider rear rim and tyre
The YZ250F is fitted with a new wider 2.15 inch rear rim which is equipped with a wider 110/90-19 rear tyre that hooks up more effectively for increased traction and more holeshot-winning performance.
New graphics and duo-tone body colours
With blue rims and duo-tone Yamaha Blue bodywork, the YZ250F looks as good as ever on the track and in the paddock. And to sharpen up the style the latest model comes with new in-mould graphics that remain looking good longer.
Sours: https://www.yamaha-motor.com.au/products/motorcycle/off-road/motocross/yz250f
Yamaha 250 2018
Yamaha's profilation of this bike
The 2 and #8209;straight MX and SX West Champ and undisputed benchmark in 250 motocross bikes.
General information
Model:
Yamaha YZ250F
Year:
2018
Category:
Cross / motocross
Price as new:
US$ 7699. MSRP depends on country, taxes, accessories, etc.
Rating:
3.4 Check out the detailed rating of off-road capabilities, engine performance, maintenance cost, etc. Compare with any other bike.
Engine and transmission
Displacement:
250.0 ccm (15.26 cubic inches)
Engine type:
Single cylinder, four-stroke
Engine details:
Titanium-valves
Compression:
13.5:1
Bore x stroke:
77.0 x 53.6 mm (3.0 x 2.1 inches)
Valves per cylinder:
4
Fuel system:
Injection. Keihin® fuel injection, 44mm
Fuel control:
Double Overhead Cams/Twin Cam (DOHC)
Ignition:
TCI: Transistor Controlled Ignition
Lubrication system:
Wet sump
Cooling system:
Liquid
Gearbox:
5-speed
Transmission type,
final drive:
Chain
Clutch:
Multiplate wet clutch
Chassis, suspension, brakes and wheels
Frame type:
Bilateral beam aluminum frame
Rake (fork angle):
28.0°
Front suspension:
KYB speed-Sensitive System, inverted fork: fully adjustable
Front wheel travel:
310 mm (12.2 inches)
Rear suspension:
KYB fully adjustable single shock
Rear wheel travel:
315 mm (12.4 inches)
Front tire:
80/100-21
Rear tire:
100/90-19
Front brakes:
Single disc. Hydraulic.
Diameter:
250 mm (9.8 inches)
Rear brakes:
Single disc. Hydraulic.
Diameter:
245 mm (9.6 inches)
Wheels:
Bridgestone® M403A tyres
Physical measures and capacities
Weight incl. oil, gas, etc:
104.8 kg (231.0 pounds)
Seat height:
965 mm (38.0 inches) If adjustable, lowest setting.
Overall height:
1280 mm (50.4 inches)
Overall length:
2164 mm (85.2 inches)
Overall width:
826 mm (32.5 inches)
Ground clearance:
325 mm (12.8 inches)
Wheelbase:
1476 mm (58.1 inches)
Fuel capacity:
7.50 litres (1.98 US gallons)
Oil capacity:
0.90 litres (0.95 US quarts)
Other specifications
Color options:
Team Yamaha Blue, White
Starter:
Kick
Factory warranty:
30 Day Limited Factory Warranty
Update specs
Report missing specs or required updates.
Further information
Insurance costs
Compare US insurance quotes from the nation's top providers.
Finance options
Compare US motorcycle loan quotes from the nation's top providers.
Parts finder
CMSNL provides online schematics & OEM parts
and ships to Australia, Austria, Bahamas, Belgium, Canada, China, Croatia, Cyprus, Czech Republic, Denmark, Estonia, Finland, France, Germany, Greece, Hong Kong, Hungary, Iceland, India, Ireland, Italy, Japan, Kuwait, Latvia, Lithuania, Luxembourg, Macedonia, Malta, Montenegro, The Netherlands, New Zealand, Norway, Poland, Portugal, South Africa, Spain, Sweden, Switzerland, Taiwan, Ukraine, United Kingdom, The United States and more. Also check out our overview of motorcycle webshops at Bikez.info.
Motocross parts
Parts and accessories available from Revzilla Motocross
. Ships to the US.
Maintenance
Find parts, fluids. filters, maintenance tools and service manuals at Amazon.com.
Ask questions
Join the 18 Yamaha YZ250F discussion group or the general Yamaha discussion group.
Related bikes
List related bikes for comparison of specs.
Rating sample for this Yamaha bike
Racing track capabilities for the 2018 Yamaha YZ250F:




(74.4 out of 100)

Click here for complete rating. You can also compare bikes.
Pictures, trademarks and logos of third parties are the exclusive property of the respective owners. Technical specifications are subject to change without notice. Bikez.com has been developed by ObjectLabs.
Sours: https://bikez.com/motorcycles/yamaha_yz250f_2018.php
Yamaha FZ25 Long Term Review - Best 250cc Commuter? - MotorBeam
CHAMPIONSHIP ‑ PROVEN!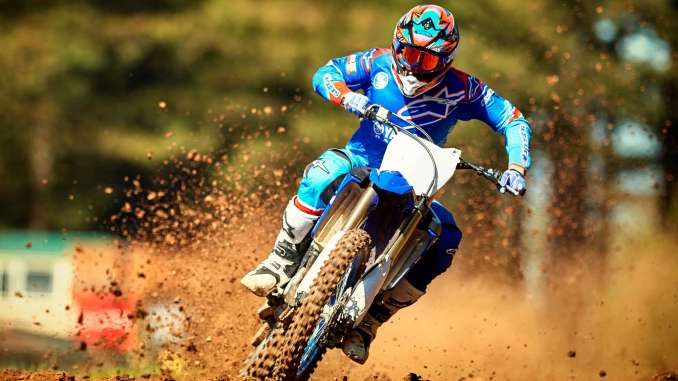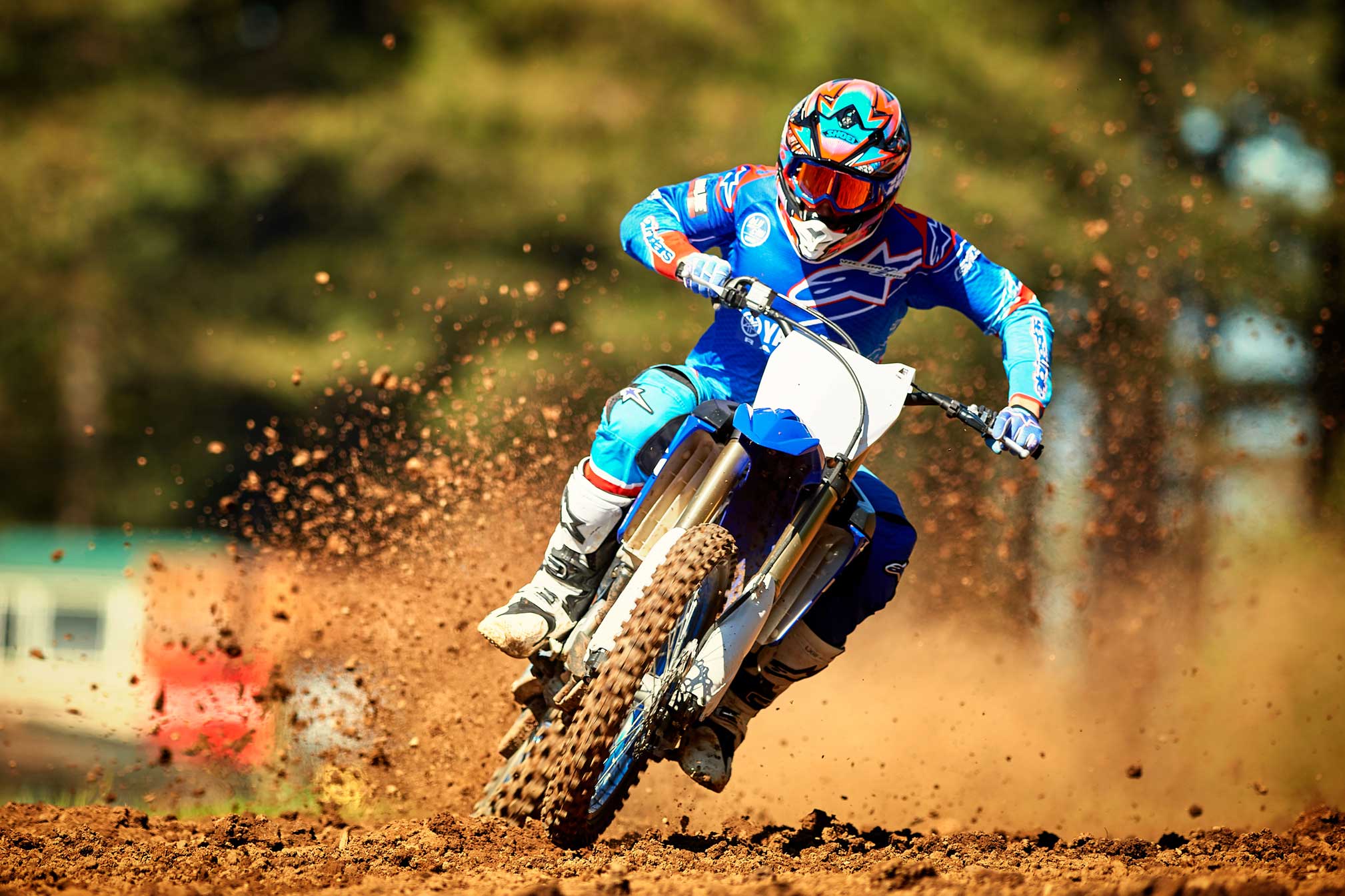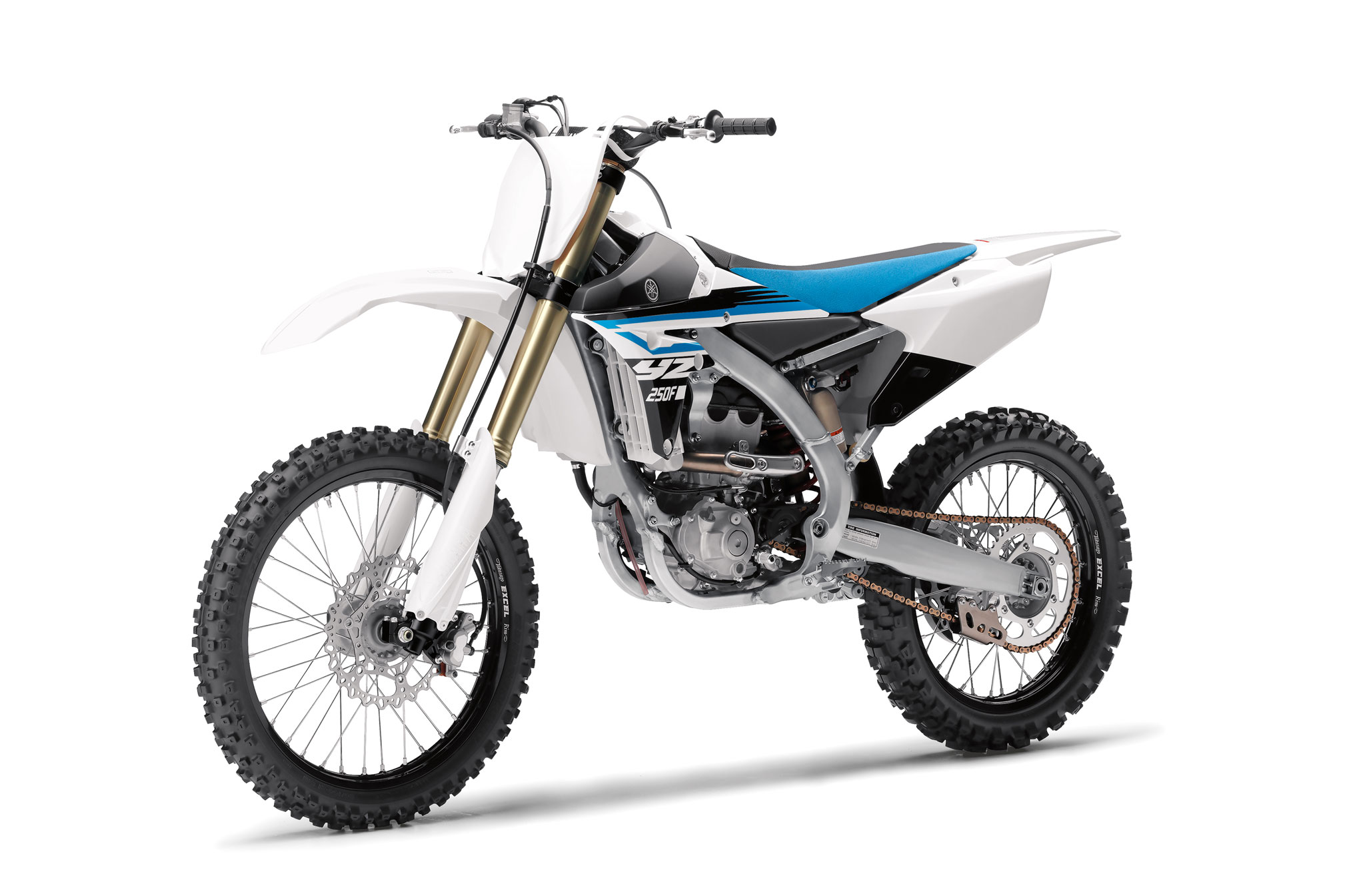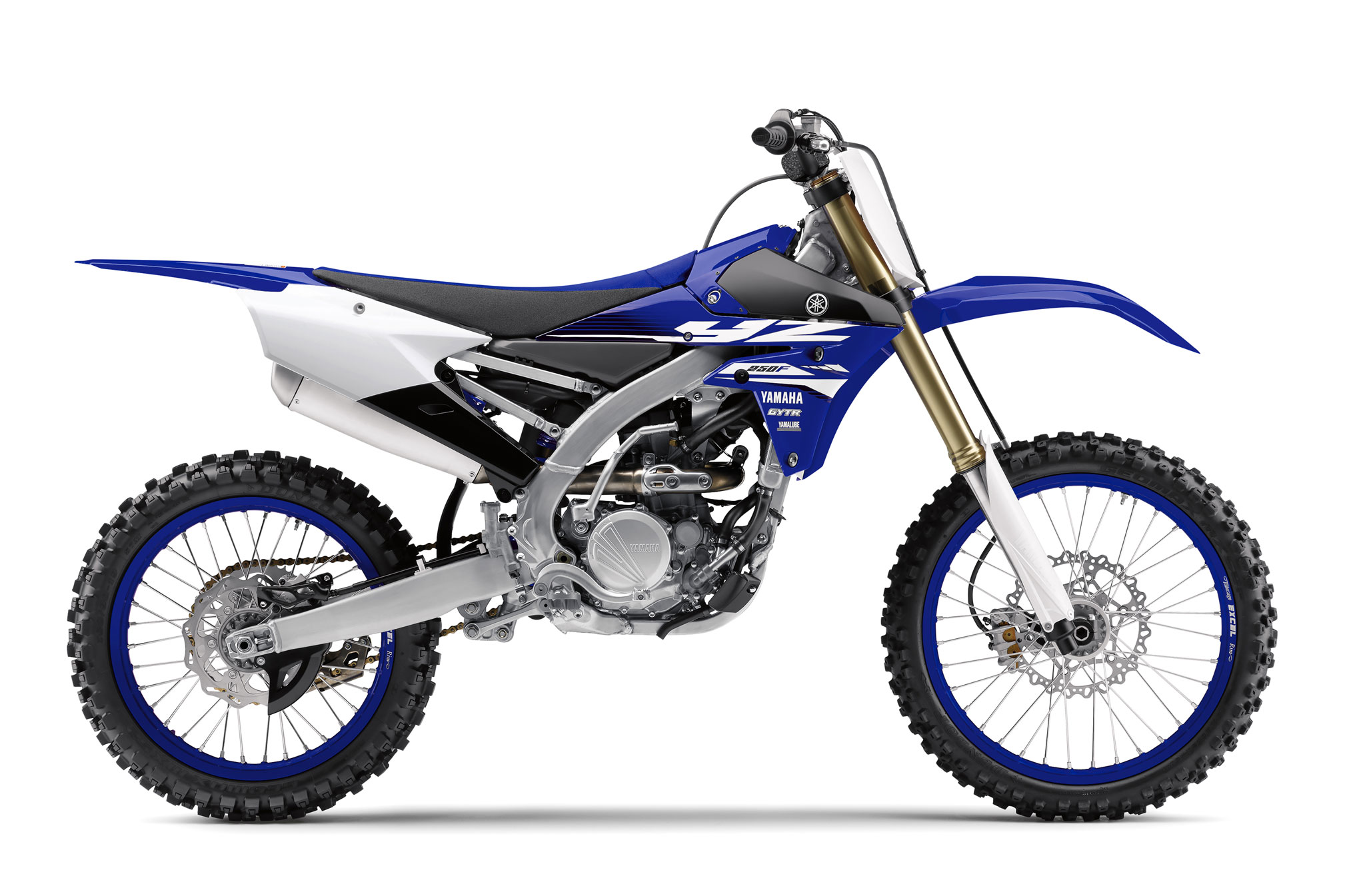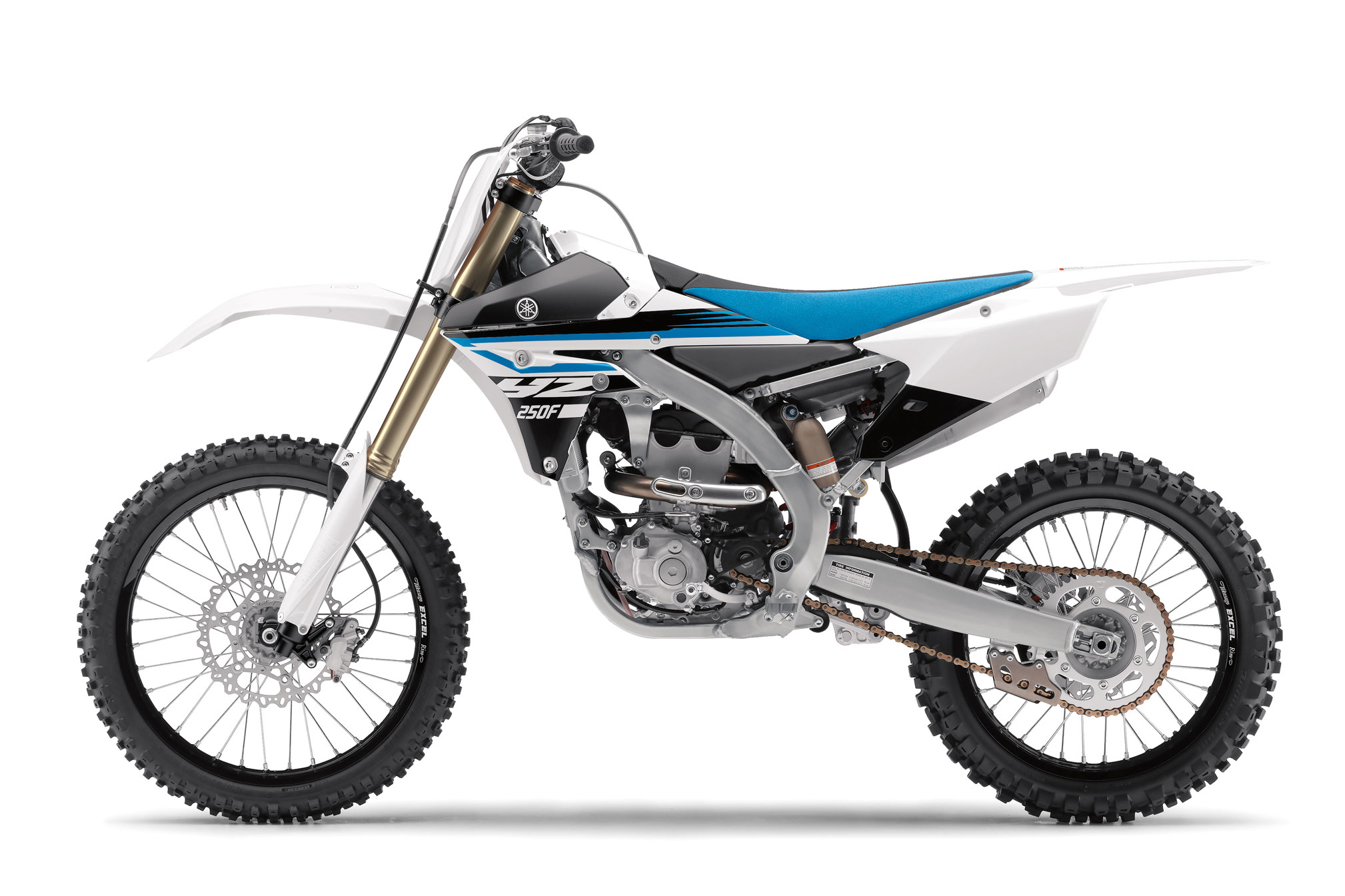 The 2‑straight MX & SX West Champ and undisputed benchmark in 250 motocross bikes.
CONQUER DIRT
The fuel injected YZ250F offers excellent power and amazing cornering performance thanks to exhaustive mass centralization efforts and a compact, super responsive chassis design. At the 2017 YZ250F press test, numerous journalists were shocked by the wide spread of power the YZ250F produces, even from low rpms. The YZ250F has the response and depth of power that the competition can't match.
MASS CENTRALIZATION
Yamaha's innovative engine design with forward mounted fuel injection delivers class leading power & handling. The "reversed" engine design concentrates many of the motorcycle's heaviest components; engine, fuel tank & exhaust system, towards the center of the motorcycle achieving excellent mass centralization and reduced gyroscopic effects for light , nimble, championship winning performance.
With a winning track record that includes hard-fought FIM and AMA Championship wins on both sides of the Atlantic, the game-changing YZ250F has the right stuff to power you to the top of the podium.
This high-tech motocross bike comes with a high-performance reverse cylinder head that gives you the winning advantage against the opposition. And with its refined aluminium frame and sharp suspension settings, you can run harder and faster from the gate to the flag!
Whether you're an experienced pro racer or a hard-charging amateur, the revolutionary YZ250F delivers all the power and agility that you need to maximise your potential. Think forward. Think YZ250F.
2018 Yamaha YZ250F Totalmotorcycle.com Key Features
Revolutionary reversed engine design with front mounted FI system & rear exiting exhaust
Mass centralizing rearward-slanted-cylinder helps keeps weight centred in the chassis
"Battery-less" 44mm throttle body FI & easy access air box
Compact aluminum Bilateral Beam frame & aluminum swingarm
Industry-leading, fully adjustable KYB® "SSS" fork & Monocross rear suspension
270 mm front & 245 mm rear disc brakes
Adjustable, tapered aluminum handlebar
GYTR® Power Tuner Ready
Convenient oil level sight glass
Lightweight, extra wide foot pegs
Folding shift lever tip
Lightweight chain guide / support helps reduce chance of chain derailment & helps protect rear sprocket
Heavy duty rubber swingarm protector (chain)
Heavy duty DID 520 chain
Clutch cable features integrated silicone grease & Teflon liner for smooth cable operation
Easy access GYTR Power Tuner & Yamaha Diagnostic tool connectors
Innovative Engine Design
A liquid-cooled, DOHC 4-valve, fuel-injected engine with forward-positioned downdraft intake delivers class leading engine power. This design allows for unmatched mass centralization, concentrating the motorcycle's key components—engine, fuel tank and exhaust system—toward the center of the motorcycle achieving light and nimble handling performance.
Durable Transmission
The transmission gears, dogs and shift mechanisms are designed to smooth gear changes and improve durability under the heavy demands of motocross racing.
Bilateral Beam Aluminum Frame
A Yamaha's renowned bilateral beam aluminum frame features compact overall dimensions that balance minimal weight with the strength and rigidity needed for race-winning performance. This frame features a forged section at the swingarm pivot and engine mounting brackets for tuned responsiveness, handling and unmatched lightweight feeling.
Refined Suspension Settings
Industry-leading, fully adjustable KYB® spring-type fork with speed sensitive damping features advanced valving for improved suspension feel and balance. The linkage type rear suspension features a KYB® rear shock also features settings optimized for ideal damping characteristics.
GYTR® Power Tuner Ready
Accessory GYTR Power Tuner lets owners adjust air/fuel mixture and ignition timing maps to match engine performance characteristics to the rider and track conditions in a matter of seconds with the push of a few buttons, as well as monitor engine diagnostic codes.
2018 Yamaha YZ250F Totalmotorcycle.com Features and Benefits
ENGINE
Design goals for the fuel injected YZ250F are a balance of easy cornering & a lightweight feeling. thanks to excellent mass centralization. The fuel injected engine features a wide, controllable power band that sets the standard in the 250 class.
"Reversed" liquid-cooled, 250cc, DOHC, 4-valve (titanium), single with fuel injection.

excellent "ride ability & controllability"
broad power from low rpms right through to high rpm with excellent power characteristics

Rearward slanted, reversed cylinder design.

rearward slant moves a significant amount of rotating weight toward the centre of the chassis, centralizing mass for light, agile handling

"Reversed" engine design (FI system is front mounted, exhaust exits from rear of cylinder).

FI throttle body & air box are front mounted, providing a straight intake path
straight shot intake path provides optimum fuel / air / exhaust flow for excellent power
front mounted intake keeps fuel cooler since engine heat has less effect on incoming fuel (cooler fuel is more dense & increases power)
design also helps centralize mass for light, agile handling

4-valve cylinder head features a 13.5:1 compression ratio.

4-valve design offers optimum flow & excellent power
compact combustion chamber provides optimum combustion speed while also reducing heat & power losses

Lightweight titanium valves.

31 mm titanium intake & 25 mm titanium exhaust valves with load reduced valve springs
load reduced valve springs reduce internal power losses
titanium valves reduce weight & improve performance… titanium valves are 40 to 45 % lighter than steel valves
reduced valve weight improves valve train reliability & longevity
reduced reciprocating weight allows for a higher rpm limit & better control of the valves

Automatic cam chain tensioner.

reduces maintenance & mechanical engine noise
special cam chain "sliders" reduce internal friction losses

High lift intake & exhaust camshafts.

strong power with excellent "control-ability"
hollow design reduces weight

"Liner-less" lightweight aluminum cylinder features a ceramic composite coating applied directly to the aluminum block.

ceramic coating sprayed directly on aluminum block, eliminating the need for a heavy liner & therefore reducing weight
excellent heat dissipation for consistent power delivery
coating enhances the thin film of oil between cylinder & piston, reducing friction & increasing power

Cylinder "cutaways" allow air "trapped" under the piston to enter a special side chamber (cutaway).

reduces horsepower-robbing "pumping losses"

Crankcase also utilizes special "cutaways."

reduces horsepower-robbing "pumping losses"
crankcase cutaways match cylinder cutaways for maximum efficiency

Lightweight, short-skirt, forged aluminum piston.

flat top piston with lateral ribs on both sides of the piston pin area for strength & durability
single compression ring & specially designed oil control ring increases the surface contact area for better sealing
2-ring design decreases sliding resistance, reduces weight & provides faster throttle response

Lightweight piston pin with diamond like coating (DLC).

reduces internal friction

Piston oil cooler jet nozzle directs oil to the desired portion of the cylinder & underside of piston.

reduces piston, cylinder & rod temperatures for excellent durability

Ball bearing style crankshaft.

heat treated for strength & durability
balance ratio of the crank has been optimized to reduce vibration

Nickel-chromium-molybdenum connecting rod.

excellent strength & durability
molybdenum coated thrust washers on either side of the rod to reduce friction

Lightweight gear driven counter balancer shaft.

reduces vibration for improved rider comfort & less rider fatigue

5-speed transmission utilizes a 2-bar, floating shift guide system & a 14 mm shift shaft.

gears ratios are matched to engine power
floating shift guide system provides smooth, positive shifts
14 mm shift shaft provides good durability in the event of a crash
see spec page for gear ratios

Heavy duty, clutch with quick access magnesium outer cover & on the fly "barrel" adjuster.

quick access, lightweight, magnesium outer cover provides fast & easy clutch access
light lever pull for reduced hand fatigue during a long moto
works-style lever mounted "barrel adjuster" for on-the-fly clutch lever free play adjustments

44mm Keihin throttle body fuel injection system.

10-hole injector maximizes fuel atomization for more complete combustion
FI benefits include automatic adjustments to insure the optimum fuel — air ratio regardless of outside air temperature & altitude
other benefits include excellent starting & instant throttle response
cold start knob also doubles as an idle adjuster

Injector spray pattern, spray direction & distance to the intake valves have been optimized.

forward mounted straight intake tract maximizes benefits of the FI system & improves power output

Optional, compact, hand held "GYTR Power Tuner" allows tailoring of both fuel injection duration & ignition mapping.

9-different setting points can be accessed for both fuel injection duration & ignition maps
maps can be stored & shared with other Power Tuners if desired
easy access GYTR Power Tuner connector port

Forward mounted air box features a washable, dual-stage, foam air filter.

no tools required to access air filter
washable foam filter reduces tune up costs

Wet sump lubrication system with "cartridge-type" oil filter

reduces weight (no remote oil tank or oil lines)
oil volume is optimized to reduce oil related drag & weight
fast & easy oil changes

Compact, lightweight, single core, dual radiators.

provide excellent cooling efficiency

Maintenance-free transistor controlled ignition (TCI).

produces a strong spark for fast starts
provides precise ignition timing / mapping for optimum engine performance at all rpms

High capacity AC magneto eliminates need for a battery.
Wrap-around exhaust.

exhaust exits from the rear of the engine & circles cylinder body
wrap-around design ensures the optimum tuned header length
design maximizes exhaust "pulse effect" for excellent power delivery
centralizes mass by moving weight closer to the centre of the chassis

Lightweight, aluminum, re-packable muffler (aka silencer).

sound output is 94 dB meeting CMRC & AMA regulations
muffler / silencer is re-buildable for optimum performance & reduced noise levels

Special "G" sensor system.

shuts down fuel injection system if bike lies on its side for more than 10 seconds
no special procedure to re-start the bike… just kick it & go
helps prevent costly engine damage
CHASSIS/SUSPENSION
Compact "Bilateral Beam" aluminum frame.

frame & engine designs centralize mass for exceptional handling & maneuverability
frame offers an optimum rigidity balance between strength, rigidity & tuned flex, plus excellent shock absorbing qualities
frame design provides excellent "rider — machine communication" (a.k.a. feedback)
key goal of this chassis design is faster & easier cornering … one of the keys to winning races

Lightweight, tapered aluminum swingarm.

lightweight design reduces unsprung weight for excellent suspension performance
excellent rear wheel traction & control
large 25 mm rear axle

Lightweight detachable rear sub frame.

constructed of square-section, lightweight aluminum pipe with no bends
allows easy access when servicing rear suspension components
reduces costs in the event of damage

48mm, adjustable, inverted, Kayaba "SSS" cartridge fork offers 310mm (12.2″) of wheel travel.

front fork adjustments include: 20-way compression damping & 20-way rebound damping
inner tubes feature a special friction reducing coating for reduced stiction
22 mm front axle
optional fork springs are available through Genuine Yamaha parts

Fork features a twin-chamber, "Speed Sensitive System" (SSS) design

damper unit is in a separate structure (completely separate air & oil chambers)
helps prevent aerated fork oil from entering the inner damper assembly & degrading its damping abilities
since the inner damper is pressurized; it also eliminates bubbles forming in the oil

Fork features a Transfer Control Valve (TCV).

TCV enhances damping from mid to full stroke & improves bottoming characteristics
TCV offers more precise control throughout the full suspension stroke
TCV is located on the upside of the spring & its function is controlled by piston speed, not piston position, hence the term "Speed Sensitive System fork"

Large "wrap-around" plastic fork protectors.

provide excellent lower fork tube protection
"self-supporting" design reduces friction for smoother fork operation

Adjustable handle bar holders offer a total of 4 different handlebar positions with an adjustment range of 30mm.

suits wide variety of rider sizes
handle bar holders are rubber mounted for reduced vibration & improved rider comfort

Monocross link rear suspension with 315 mm (12.4″) of wheel travel.

features a fully adjustable KYB piggyback shock
separate adjusters for high- and low-speed compression damping
shock is in-line with the center axis of the frame for excellent control
shock adjustments include: threaded spring preload, low-speed compression damping, high speed compression damping & rebound damping

270 mm floating front "wave-style" disc & compact Nissin twin piston caliper.

wave disc design reduces weight & improves cooling (wave design offer more surface area for better cooling)
"shorty style" adjustable front brake lever can be adjusted to fit various hand sizes
high friction brake pads
excellent braking performance

245 mm rear disc brake uses a "wave-style" disc & single piston Nissin caliper & master cylinder.

wave disc design reduces weight & improves cooling (wave design offer more surface area for better cooling)
rear caliper & lower portion of the wave style disc are protected by heavy duty plastic protectors

Lightweight, plastic resin 7.5 litre fuel tank is located under the seat.

reduces centre of gravity & centralizes mass for exceptional handling performance
tank can be flipped on its back without disconnecting fuel line (for servicing under the tank)
compact in-tank electric fuel pump

Compact body work.

reduces weight & enhances the lightweight look & feel of the YZ250F
flat design, "minimal" bodywork allows for fast, easy rider movements & a natural riding position
minimal design aids in keeping the body looking good (less plastic to scratch or damage)
graphics are impregnated directly into the plastic rad shrouds & will not peel off or get damaged by pressure washing

Flat seat design.

provides easy rider movements
features a "cap cover" to access the fuel cap

Rugged Excel rims.

excellent durability & strength
reduces unsprung weight for optimal suspension performance & handling
front rim size is 1.60 x 21″; rear is 1.85 x 19″
rear hub features second bearing on sprocket side for increased rigidity & durability
2018 Yamaha YZ250F – Totalmotorcycle.com USA Specifications/Technical Details
US MSRP Price: $7,699 USD
Engine Type 250cc liquid-cooled DOHC 4-stroke; 4 titanium valves
Bore x Stroke 77.0mm × 53.6mm
Compression Ratio 13.5:1
Fuel Delivery Keihin® fuel injection, 44mm
Ignition TCI: Transistor Controlled Ignition
Transmission Constant-mesh 5-speed; multiplate wet clutch
Final Drive Chain
Suspension / Front KYB® Speed-Sensitive System inverted fork; fully adjustable, 12.2 in travel
Suspension / Rear KYB® single shock; fully adjustable, 12.4 in travel
Brakes / Front Hydraulic disc, 270mm
Brakes / Rear Hydraulic disc, 245mm
Tires / Front 80/100-21 Bridgestone® M403A
Tires / Rear 100/90-19 Bridgestone® M404
L x W x H 85.2 in x 32.5 in x 50.4 in
Seat Height 38.0 in
Wheelbase 58.1 in
Rake (Caster Angle) 27.1°
Trail 4.6 in
Ground Clearance 12.8 in
Fuel Capacity 2.0 gal
Wet Weight 231 lb
Warranty 30 Day (Limited Factory Warranty)
Color Team Yamaha Blue; White
2018 Yamaha YZ250F – Totalmotorcycle.com Canadian Specifications/Technical Details
Canada MSRP Price: $8,849 CDN
ENGINE
Engine
4-stroke, liquid-cooled, DOHC, 4-valve (titanium), single
Displacement
250cc
Bore and Stroke
77 x 53.6 mm
Compression Ratio
13.5:1
Fuel Delivery
44 mm Keihin throttle body F.I.
Lubrication
Wet sump
Ignition / Starting
TCI / Kick
Transmission
5-speed transmission
Primary ratio 3.353 (57/17)
Secondary ratio 3.846 (50/13)
1st gear 2.143 (30/14)
2nd gear 1.750 (28/16)
3rd gear 1.444 (26/18)
4th gear 1.222 (22/18)
5th gear 1.042 (25/24)
Final Drive
Chain
CHASSIS
Suspension (Front)
Adj. 48mm, inverted fork / 310mm (12.2″) wheel travel
Suspension (Rear)
Fully adj. Monocross / 315mm (12.4″) wheel travel
Brakes (Front)
270mm, floating disc / twin piston caliper
Brakes (Rear)
245mm disc / single piston caliper
Tires (Front)
80/100-21
Tires (Rear)
100/90-19
CRITICAL DATA
Length
2,165mm (85.2″)
Width
825mm (32.5″)
Height
1,280mm (50.4″)
Wheelbase
1,475mm (58.1″)
Ground Clearance
325mm (12.8″)
Seat Height
965mm (38″)
Fuel Capacity
7.5 litres (1.7 imp. gallons)
Wet Weight
105 kg (231 lb)
Colour(s)
Purplish White
Yamaha Racing Blue
2018 Yamaha YZ250F – Totalmotorcycle.com European Specifications/Technical Details
Europe/UK MSRP Price: £6,999 GBP (On The Road inc 20% Vat)
Engine
Engine type        Single cylinder, liquid-cooled, 4-stroke, DOHC, 4-valves
Displacement    250cc
Bore x stroke     77.0 mm x 53.6 mm
Compression ratio           13.5 : 1
Maximum power             kW (PS) @ rpm
Limited power version   kW (PS) @ rpm
Maximum torque             Nm @ rpm
Lubrication system          Wet sump
Clutch type         Wet, Multiple Disc
Fuel system        Fuel Injection
Ignition system TCI
Starter system  Kick
Transmission system      Constant Mesh, 5-speed
Final transmission            Chain
Fuel consumption            –
CO2 emission     –
Chassis
Frame   Semi double cradle
Front suspension system              Upside-down telescopic fork
Front travel        310 mm
Caster angle       26º 50
Trail        118 mm
Rear suspension system Swingarm, (link suspension)
Rear travel          315 mm
Front brake        Hydraulic single disc, Ø 270 mm
Rear brake          Hydraulic single disc, Ø 245 mm
Front tyre            80/100-21 MS32
Rear tyre             100/90-19 MS32
Dimensions
Overall length    2,170 mm
Overall width     825 mm
Overall height    1,280 mm
Seat height         965 mm
Wheel base        1,475 mm
Minimum ground clearance         330 mm
Wet weight (including full oil and fuel tank)          105 kg
Fuel tank capacity            7.5 L
Oil tank capacity               0.9 L
Manufacturer Specifications and appearance are subject to change without prior notice on Total Motorcycle (TMW).
Sours: https://www.totalmotorcycle.com/motorcycles/2018/2018-yamaha-yz250f-review
Similar news:
2018 Yamaha YZ250F First Ride Review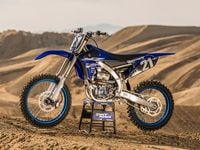 The Yamaha YZ250F has won the Dirt Rider 250F MX Shootout four years running since the latest-generation design was released in 2014. During the past four years, the YZ250F engine produced the broadest power in the class, and Yamaha's decision to remain with a spring fork proved to be a good one as the bike has been widely praised for its excellent suspension in the front and rear. For 2018, Yamaha made a few appearance changes with new graphics and blue rims. Shortly after we took delivery of our bike, we hit LACR for a first ride to see how the YZ250F handled the sandy, jump-filled track.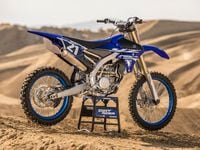 Engine
The YZ250F powerplant is one of the most powerful, rider-friendly engines in the 250 class. It has a remarkably broad powerband and a crisp throttle response throughout the entire rpm range. In fact, its powerband is so broad that it appeals to and works for riders of all different skill levels. The engine's rider friendliness results from its impressive amount of bottom-end and torque, which allows it to be lugged and short-shifted comfortably but still effectively. Low-end torque is not a characteristic commonly associated with 250 four-stroke engines, but such is not the case with the YZ250F. The torquey bottom-end power pulls well into the midrange and transitions smoothly into the top-end and over-rev, both of which offer an impressive amount of power.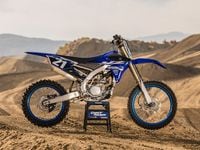 Suspension
We can sum up the suspension on the YZ250F in one word: plush. The KYB Speed Sensitive System (SSS) spring fork and shock are widely regarded as the best suspension in the class, and for good reason. Both units have a comfort-based, plush feel throughout the entire stroke that eradicates any type of harshness or jarring feeling in the arms or legs when charging through braking bumps or on big jump landings. If there is one slight drawback to the YZ250F's suspension, it's that the fork feels so plush that it's sometimes difficult to "feel" the front end tracking through corners, which leads to a somewhat vague front-end feel when turning. But all in all, the Yamaha's suspension is excellent.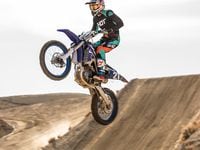 Chassis/Handling
The handling on the YZ250F feels different than any other bike in the class. The Yamaha feels somewhat tall and has great straight-line stability. It's easy to trust the bike when charging down straightaways and into braking bumps because it stays planted, which is partly due to how well the suspension absorbs everything. One area where it could be improved is in corners. The YZ250F's slightly vague front-end feel makes it difficult to trust when railing a corner. The front end occasionally seems to wander and wash out slightly, which can be somewhat alleviated by placing your weight toward the front and positioning yourself farther forward on the seat, but the Yamaha still doesn't feel like it has the greatest front-end traction and therefore doesn't track through corners as well as we would like.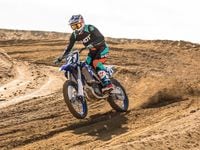 Conclusion
The Yamaha YZ250F is a great motocross bike. It comes as no surprise it has won Dirt Rider's 250F MX Shootout for the past four years since this generation's debut back in 2014. The bike has a broad, powerful engine with tons of torque making it user friendly and appealing to both novices and pros alike; the suspension is regarded by many as the best in the class with an incredibly plush, comfort-based feel; and the chassis offers great straight-line stability. It doesn't turn as easily or intuitively as some others in the class, but the Yamaha has plenty of other outstanding qualities that have put it and kept in the top spot for years. All in all, the new graphics and blue rims look fantastic, and the bike performs as great as ever. It will be interesting to see if the YZ250F can win its fifth consecutive Dirt Rider 250F MX Shootout, which will be taking place in just a couple of weeks.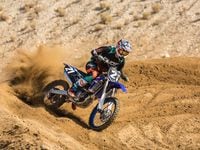 What's Hot
Strong engine with lots of torque
Plush suspension
Good straight-line stability
What's Not
Vague front end feel in corners
Wide feel in the radiator shroud area
Intake noise from airbox is more audible than other bikes
Sours: https://www.dirtrider.com/2018-yamaha-yz250f-first-impression/
78
79
80
81
82