Twist hairstyles for men go by many names: two-strand twists, rope twists, Sengalese twists, Havana twists, Marley twists, and probably some more. All of these twist outs are protective styles that are gentle on the scalp and work really well to grow hair out.
These are all two-strand twists but they can be very different. Twists are formed by boxes or triangles and hang loose, like box braids. The boxes can be bigger or smaller, creating thicker or thinner twists. Keep in mind that smaller twists will last longer. Many twist styles are natural but if you need a boost of length or volume, lots of men add extensions too.
Some other ways to wear twists are flat twists that are twisted flat to the scalp, like cornrows. Short single or two-strand twists can be starter dreads or established dreadlocks can be twisted together. And two-strand twists can be twisted together for added texture and fullness.
All of these twist outs Check out these short, medium, and long ways to wear twist hair for men.
Twist Hair For Men
The most common twist outs for men are medium length. Here are 5 ways to get the look. At this length, low and mid fades are covered by hair but also keep the look lighter weight.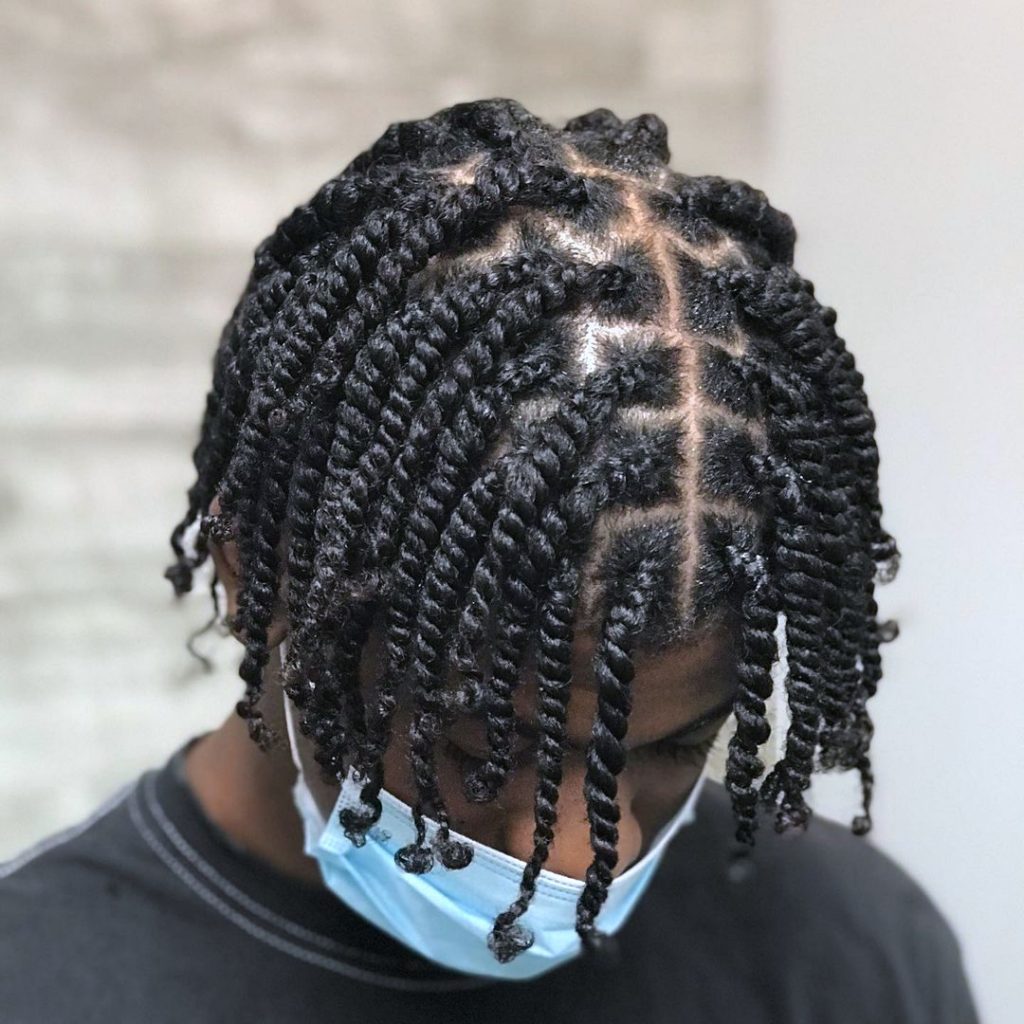 This is so clean cut with little boxes and tight twists.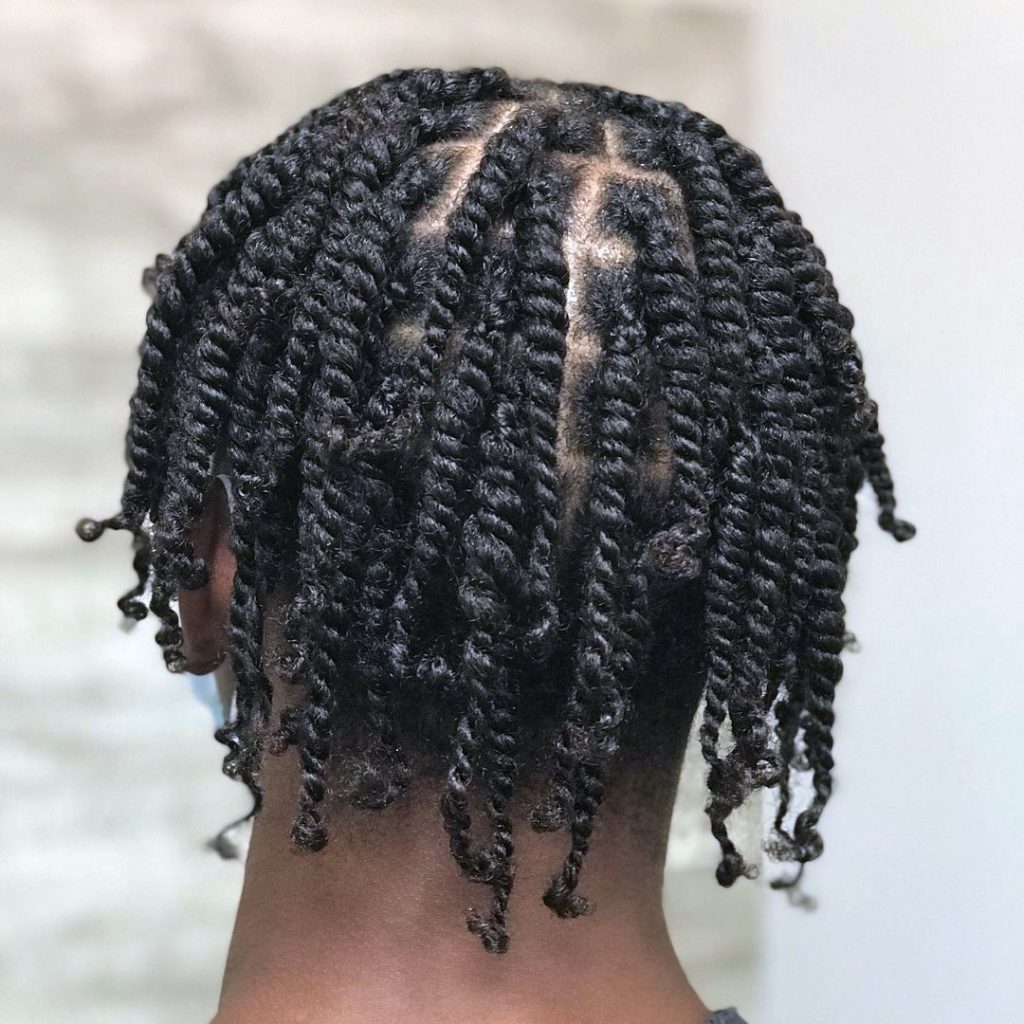 The same twist out from the back with a faded neckline.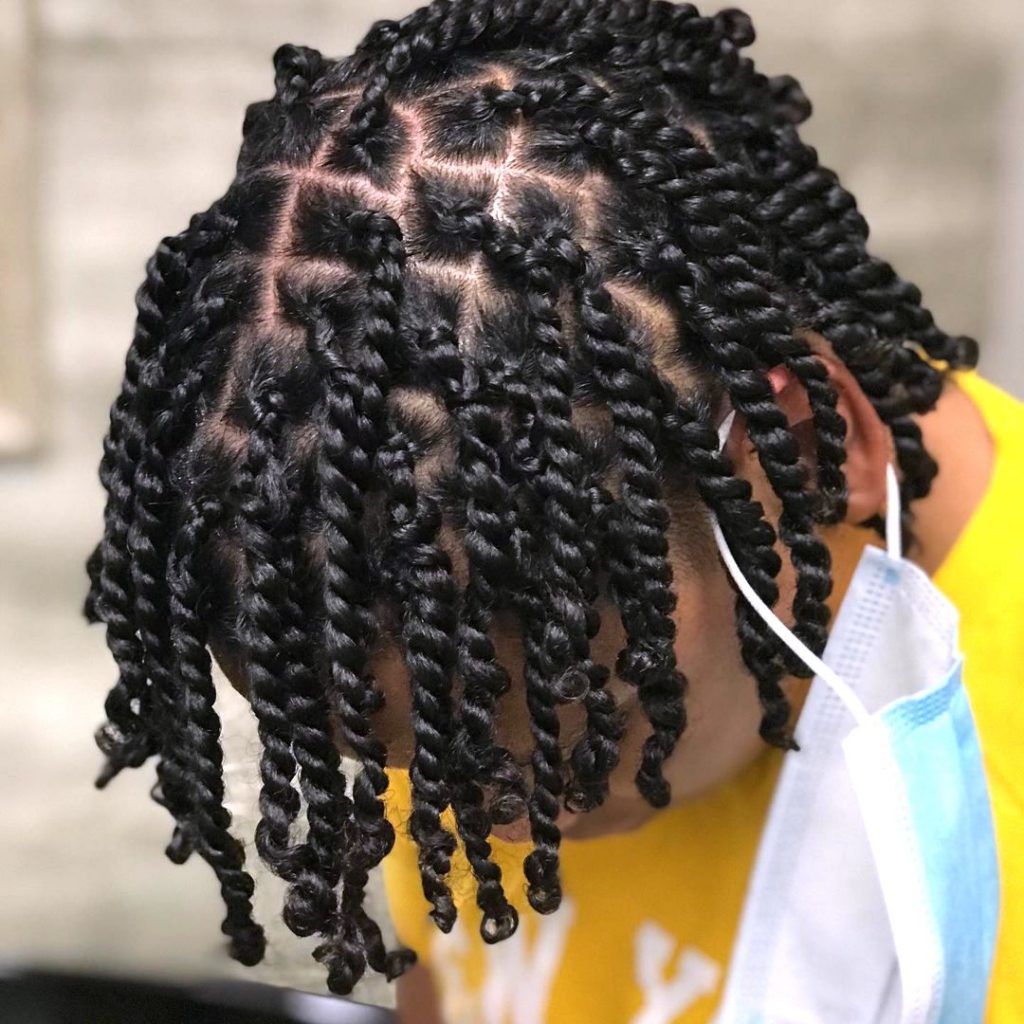 Add extra hair for thicker twists and smaller box sections.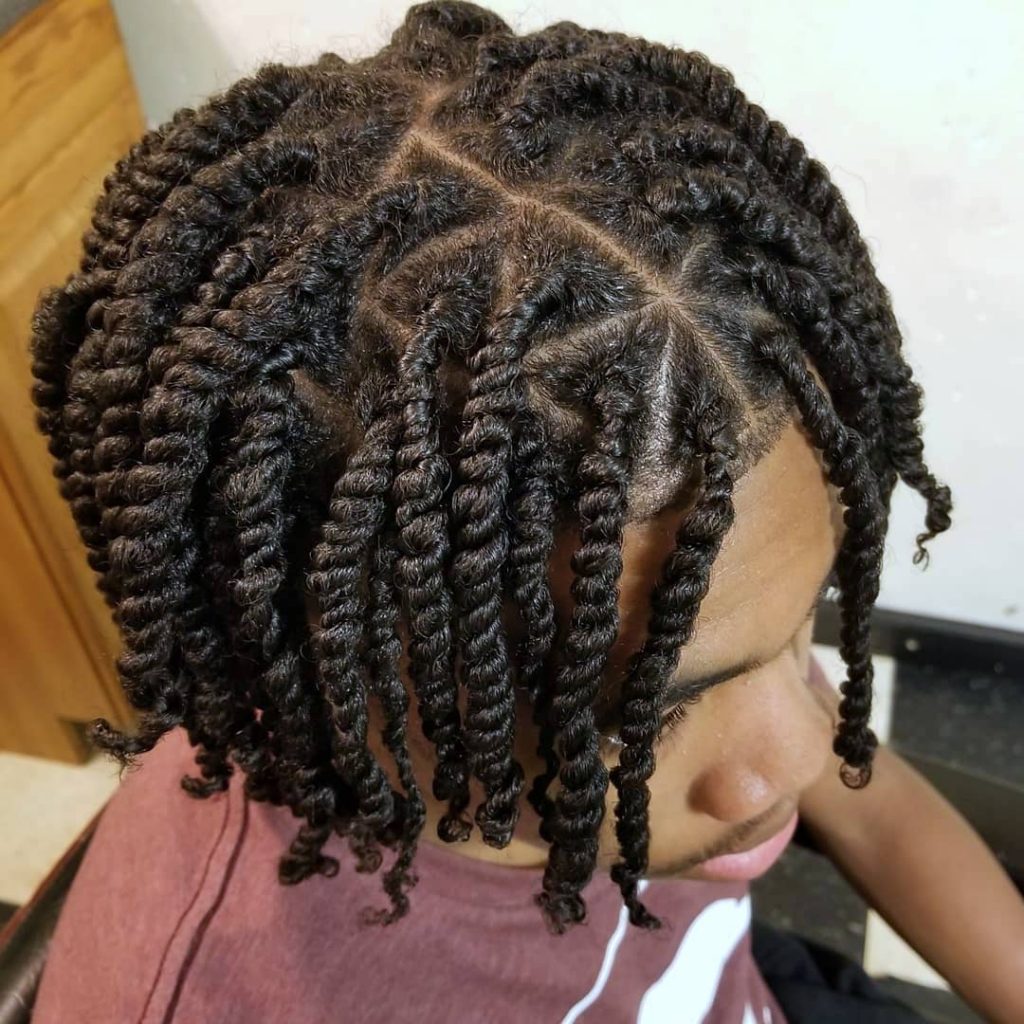 For something different, try these triangle twists.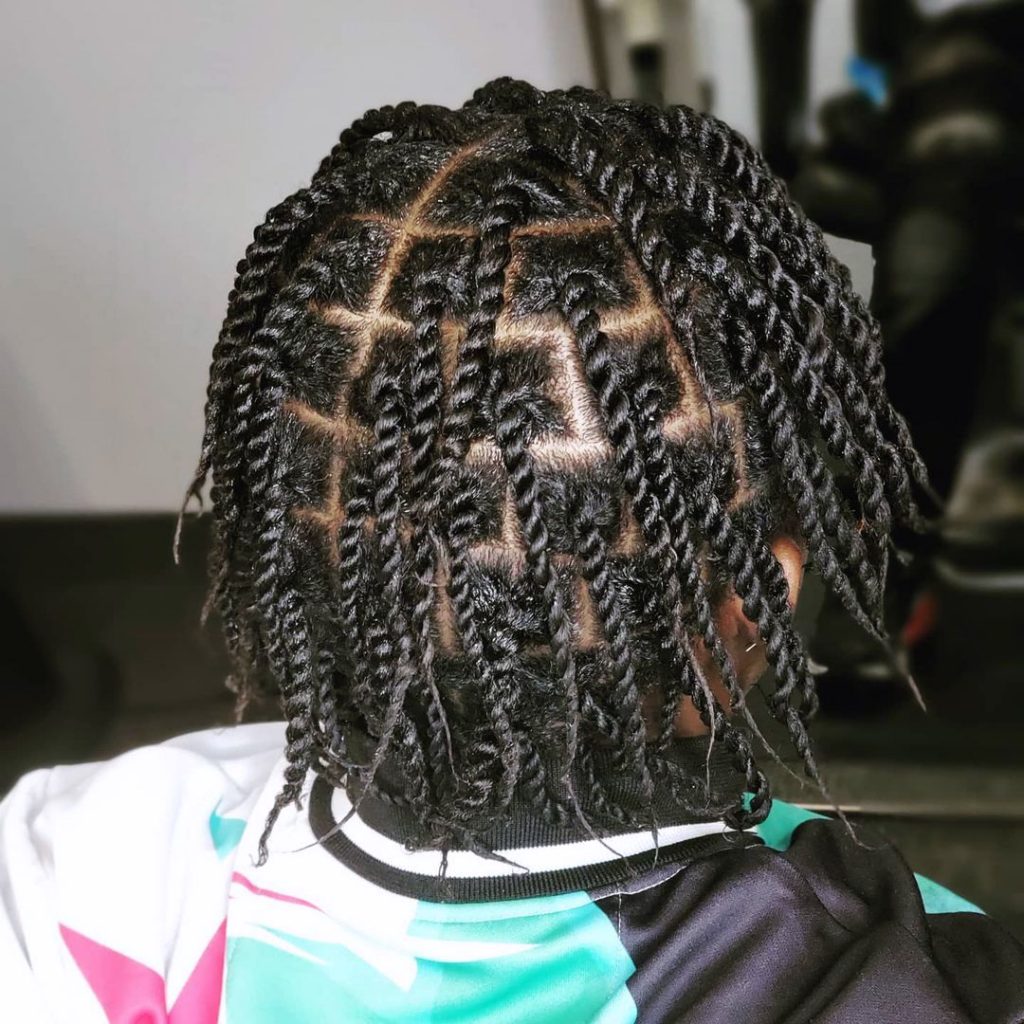 Twists are a great style for Black boys too.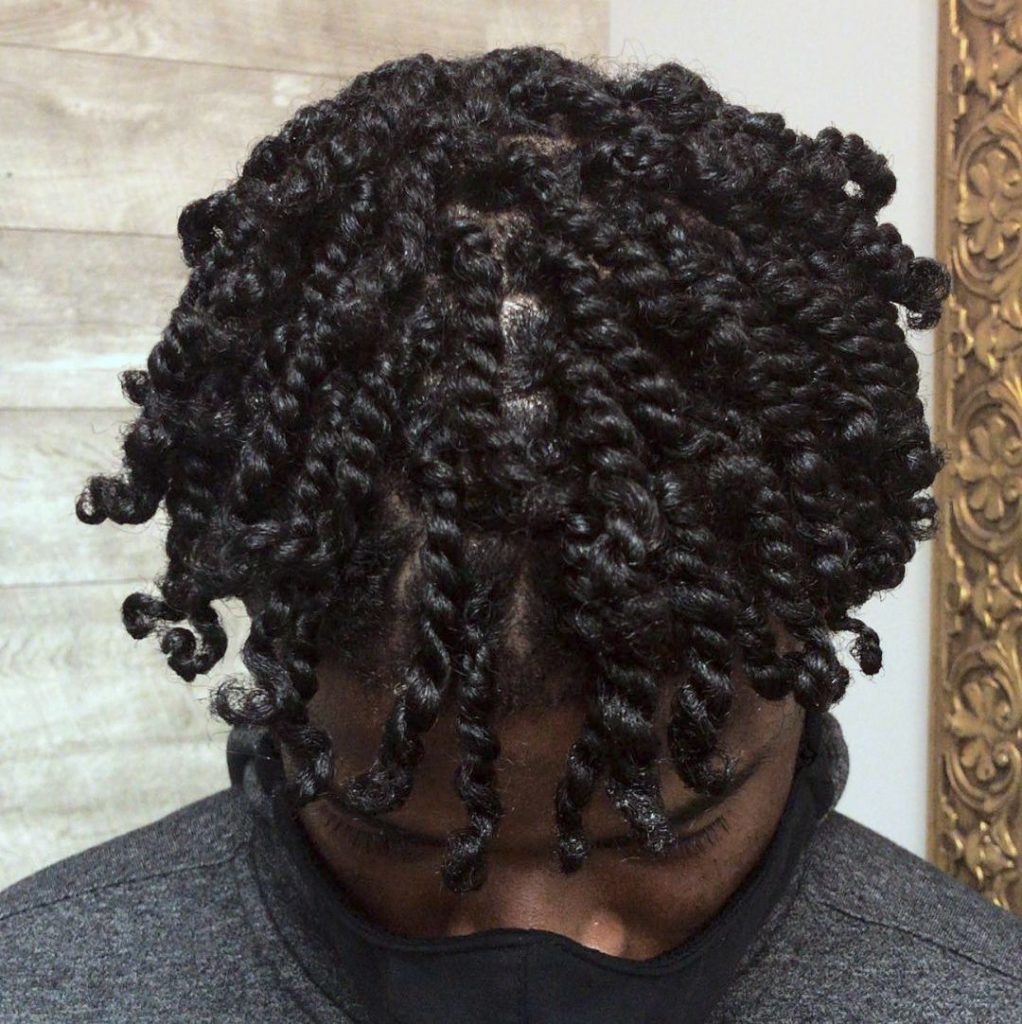 Extra hair may be required for these ultra thick and juicy and twists but it sure looks good.
Two-Strand Twist + Short Hair
Short hair can be twisted too. If hair is too short, add some extra hair.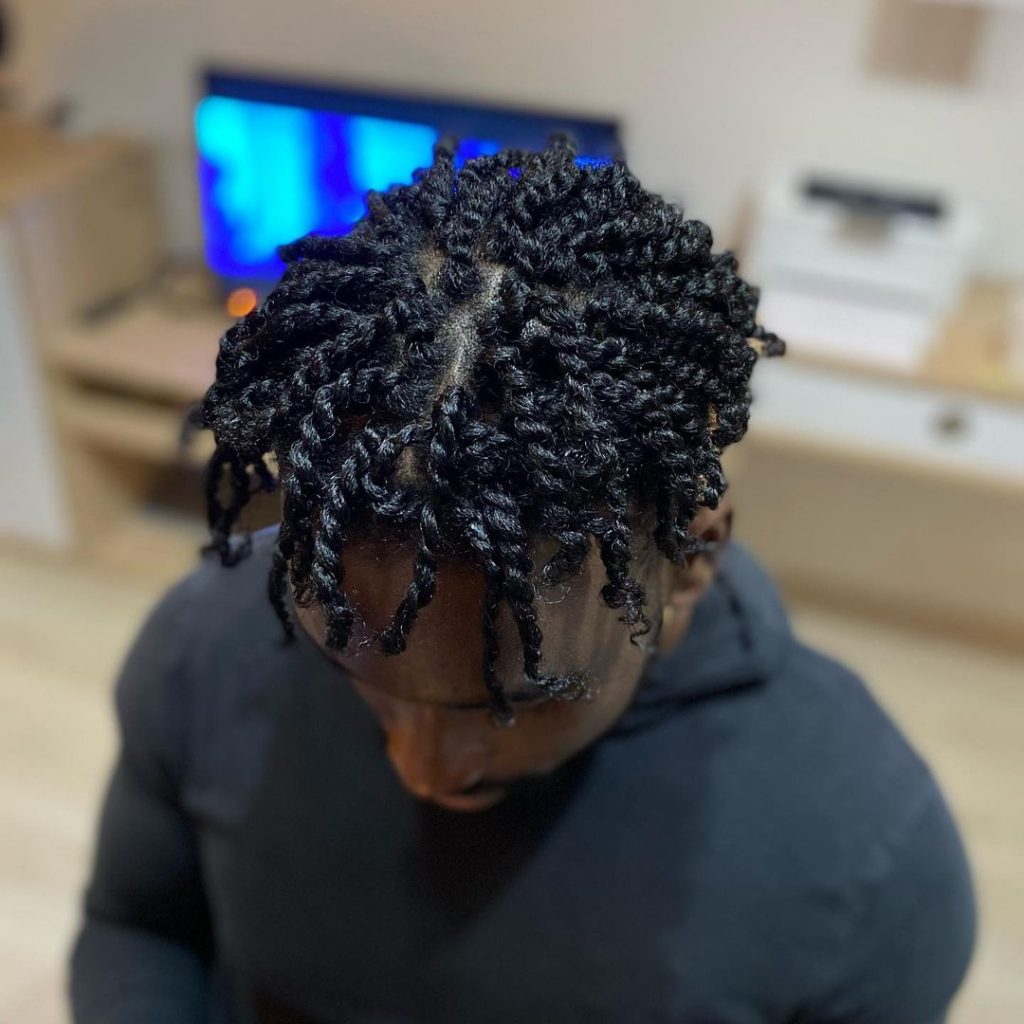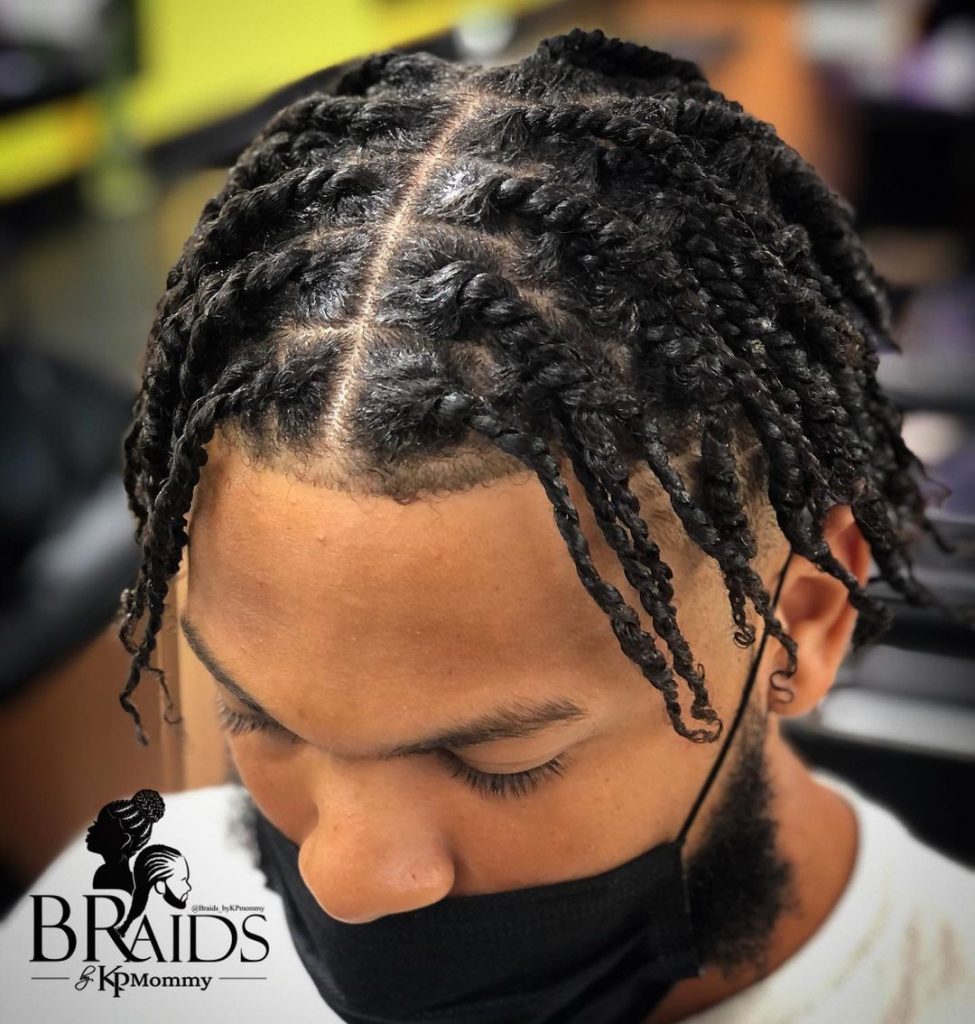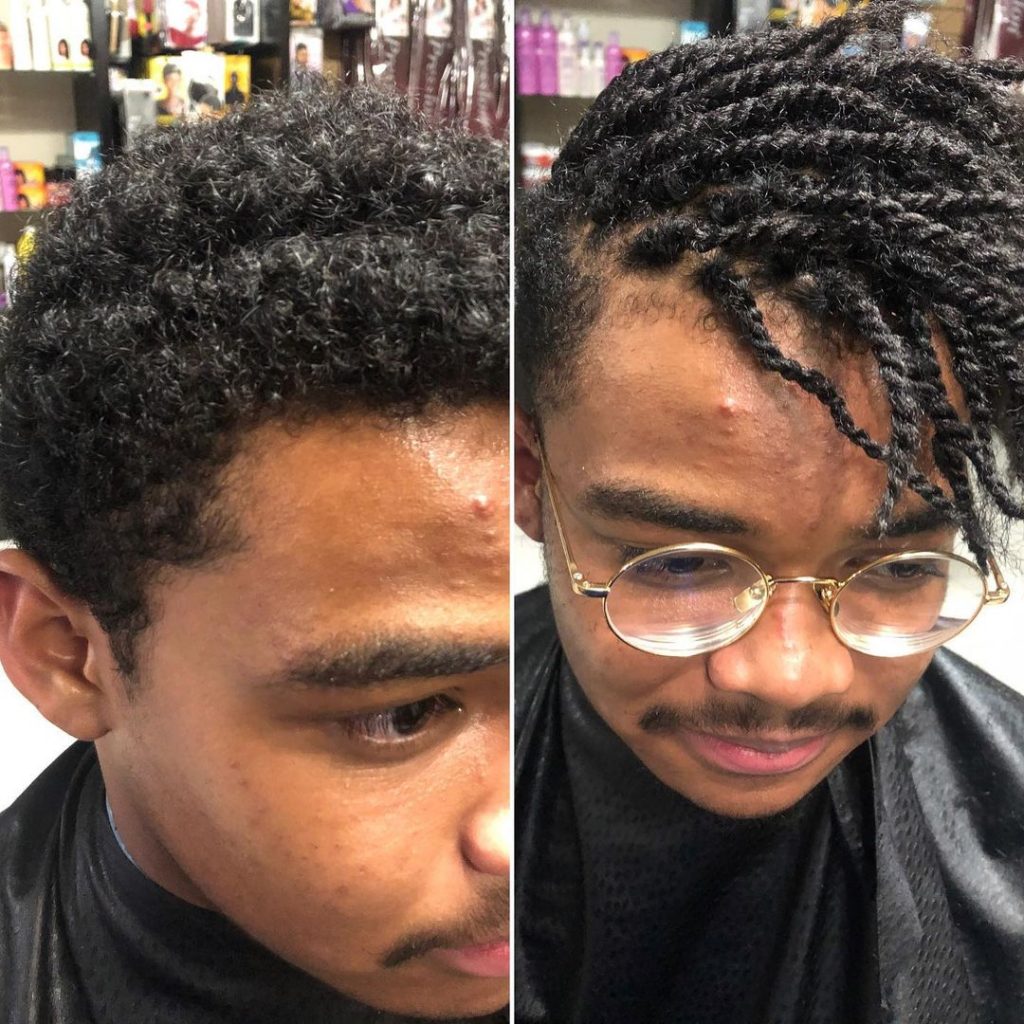 Starting with short hair, this gentleman has some extensions added for length. These twists look great and are also starter locs.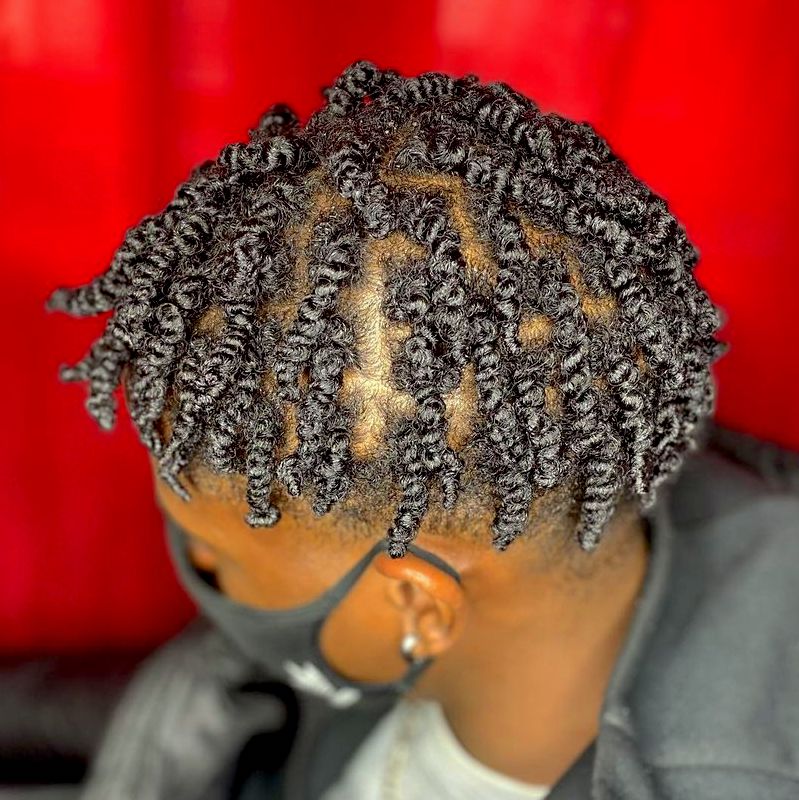 And from Paris, France, these coily twists are a cool take on the look.
How To Take Care Of Hair Twists
Like any hairstyle, twists benefit from some care. If you want dreads, just leave them alone. Otherwise, here's how to maintain twists.
Cleanse the scalp at least once a week, maybe more. Shampoo isn't the only option. There are plenty of scalp cleansers designed to keep you fresh and itch-free without making twists or braids fuzzy.
Check out these products from Black-owned businesses to keep those twists looking and feeling fresh.
Taliah Waajid Refresh & So Clean Bamboo, Avocado & Peppermint Dry Gel Shampoo
Created by Taliah Waajid, a licensed master cosmetologist and natural hair care specialist, this dry shampoo is almost as good as a shower.
Apply the gel directly to the scalp and massage it in to loosen up dirt and oils. Then wipe the scalp clean with a damp cloth and let it air dry. You're left with a fresh head and a refreshing tingle.
Bronner Brothers Tropical Roots Shampoo Spray
The Bronner Brothers began teaching cosmetologists in Atlanta, Georgia in 1947 and started a business that is still family-owned to this day. If your scalp gets itchy, this is product for you.
Spray the scalp until it is wet, massage for 3-5 minutes, and towel dry. This shampoo is minty fresh as well as moisturizing.
Girl+Hair Under Hair Care
This women-owned business creates natural hair care products with performance-based natural ingredients. All their products are sulfate, alcohol, and paraben-free.
This shampoo is designed to cleanse hair underneath protective styles and moisturize thirsty hair. Tea tree and Neem oils stimulate and cleanse the scalp and prevent itching and flakes. Shea Butter hydrates hair and skin and promotes hair growth.
At night, apply a hair oil or butter to keep twists shiny and smooth. Sleep with a cap or durag to keep twists from coming out and extend their lifespan.
Twist Hair + Fade
A fade works with every hairstyle, especially twist hairstyles for men. Check out these low, mid, and high fades with twist outs.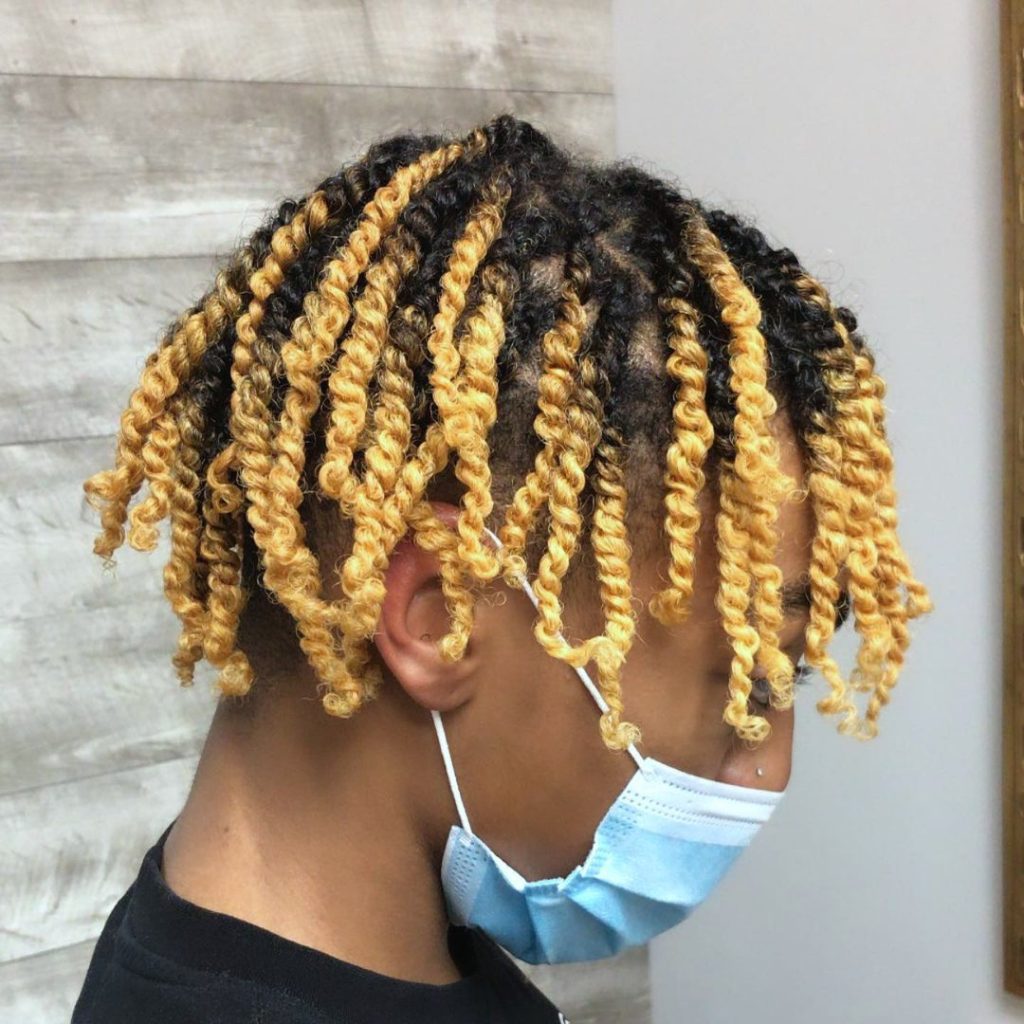 A low fade keeps hair off the neckline for a clean and cool finish.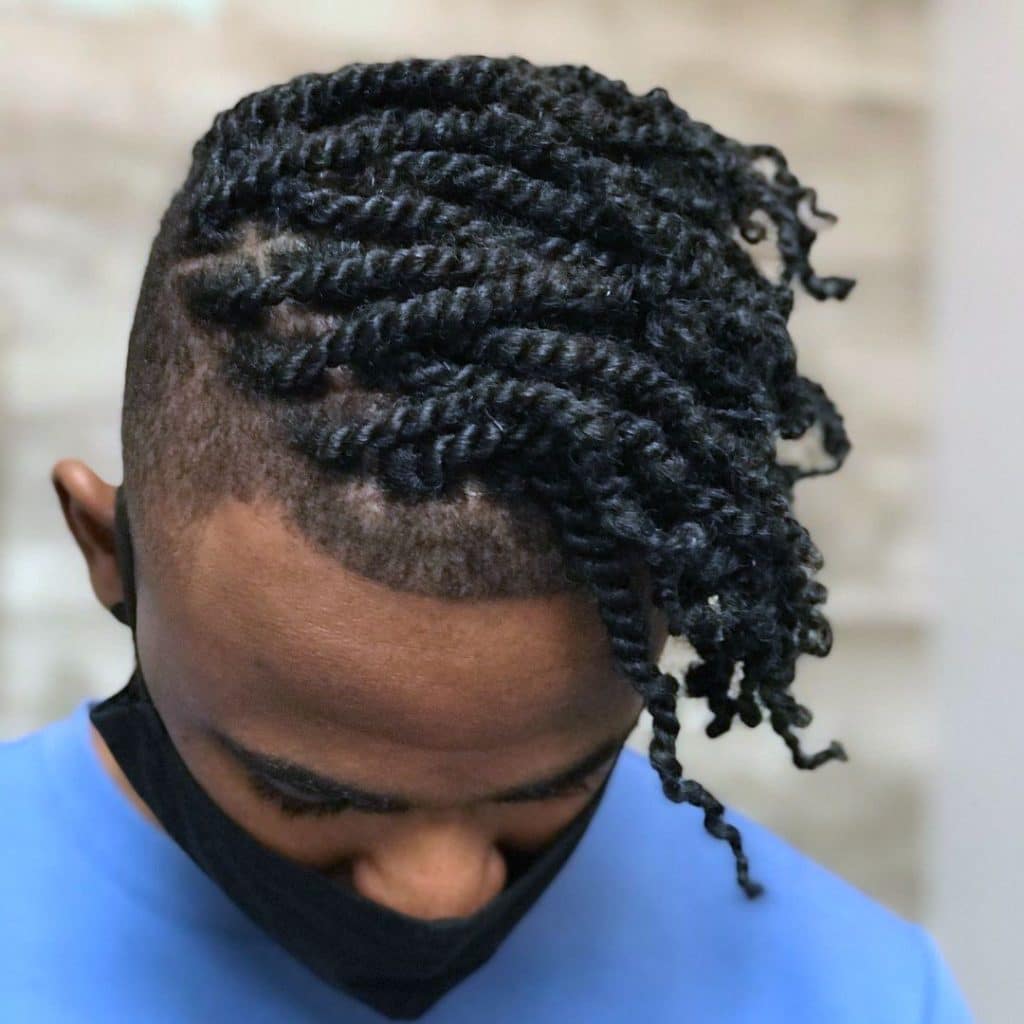 These twists over an undercut have Erik Killmonger vibes and we're here for it.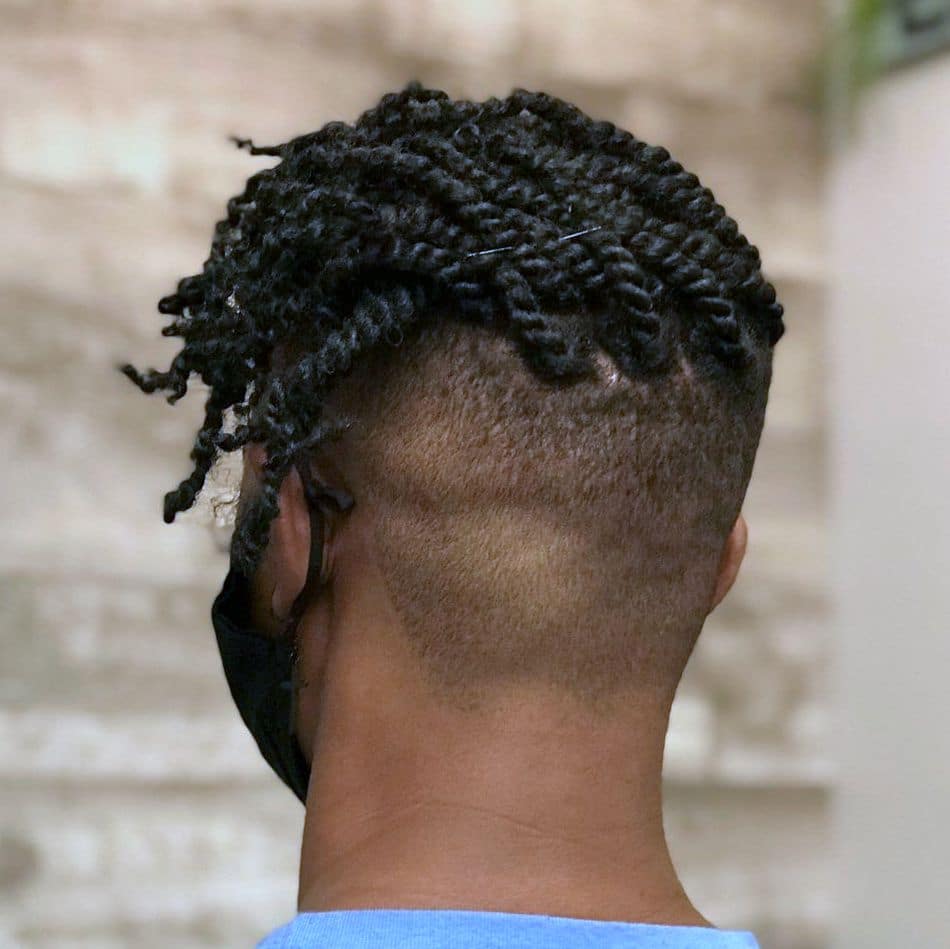 From the back, twists are styled forward to keep the neck clear.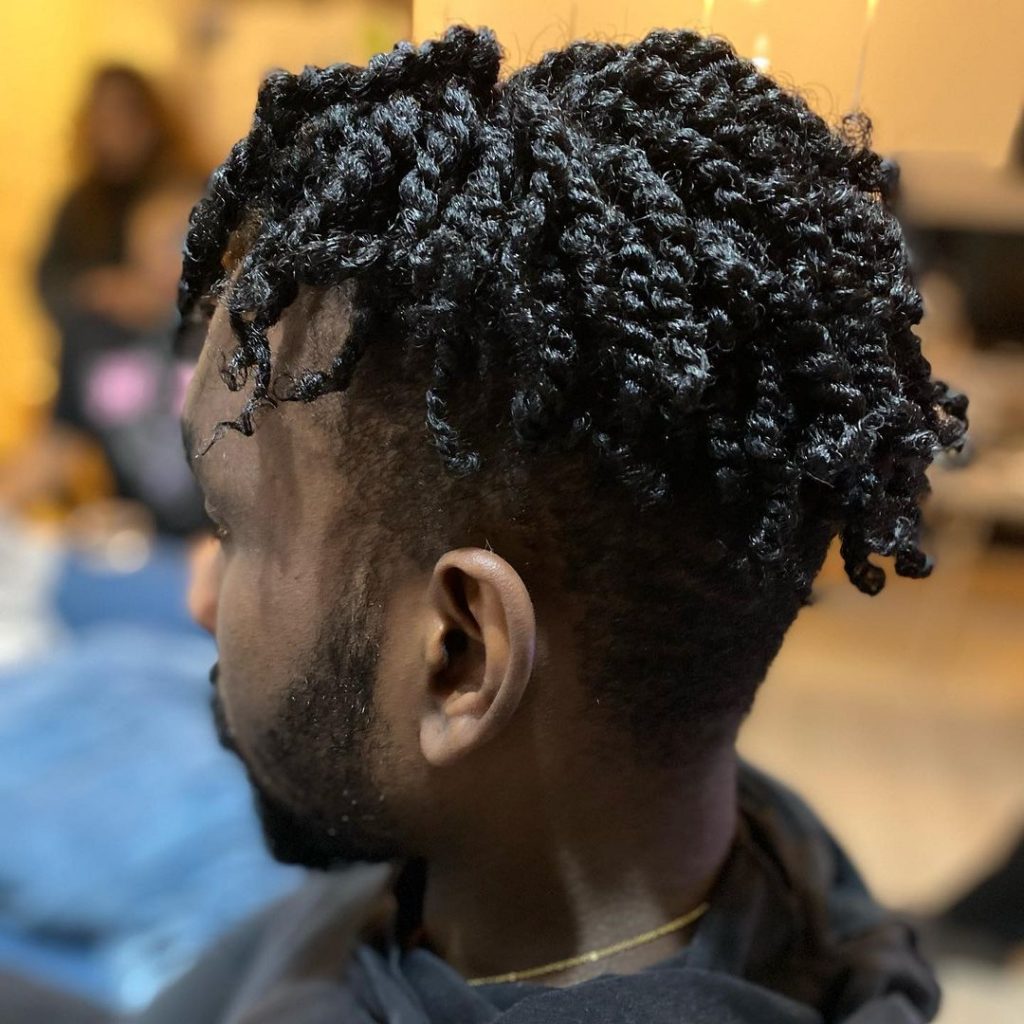 Here's the same twists and undercut without the styling. It looks more casual worn loose. Hair is also just long enough to pull up with a hair tie.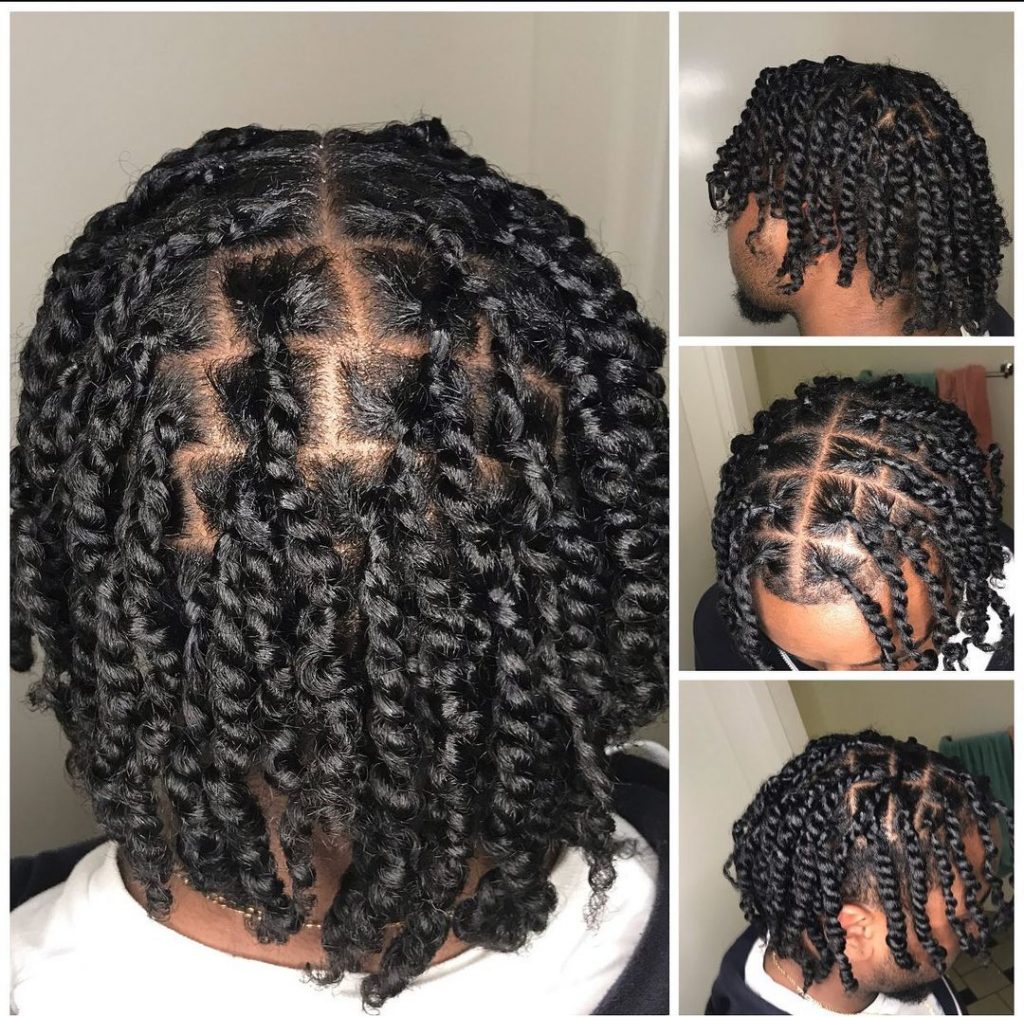 Under long twists, this mid fade is barely visible but it does keep hair lighter all over all.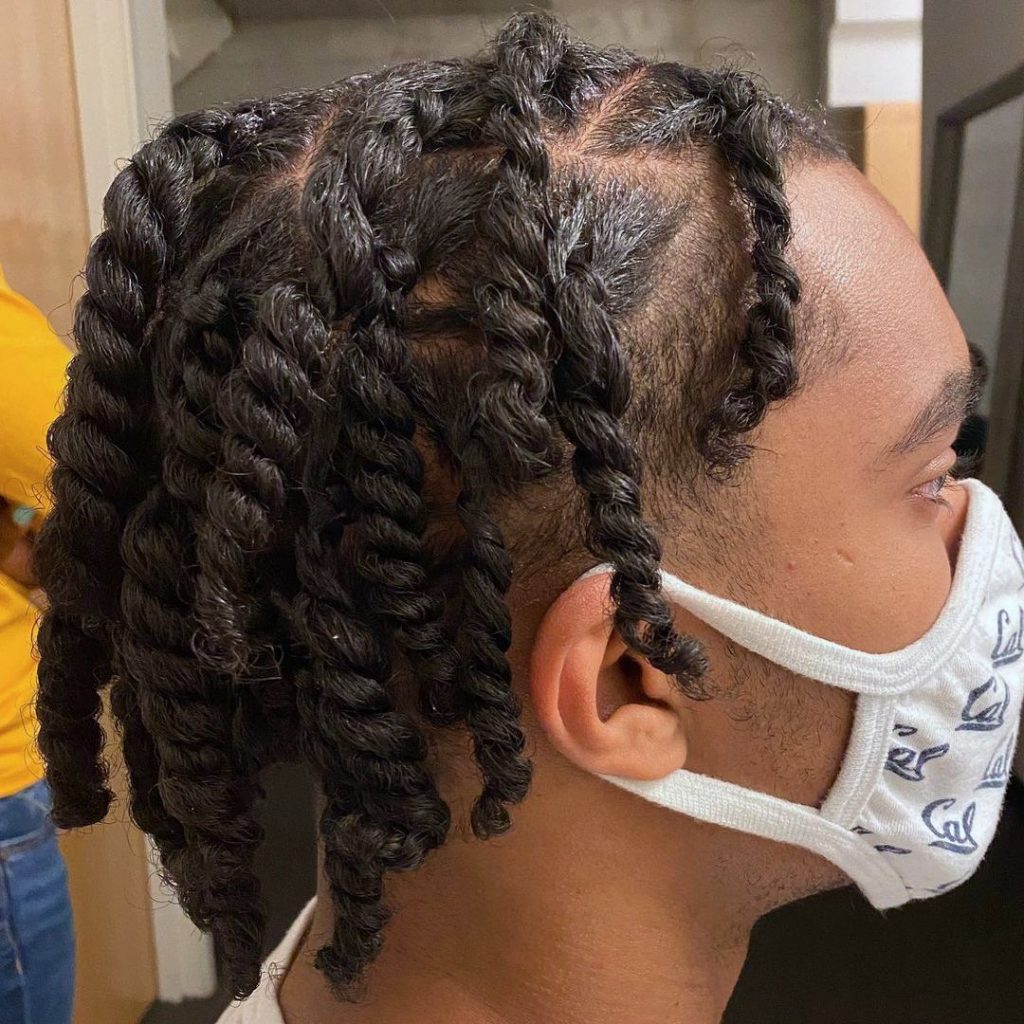 The length and thickness of these plump twists cover up the low fade and keep the hair above the shoulders.
How To Twist Hair For Men
It's possible to twist your own hair, or at least get hair twisted at home. Watch Juwan Gaines show how easy it is to do yourself.
Here are a few products designed to create twists and keep hair moisturized and shiny with a little bit of hold. For tighter twists, twist hair when it is completely wet. For more volume and length, twist out damp hair.
Camille Rose Almond Jai Twisting Butter
Aloe, honey, and nine types of oil work together to create the ultimate conditioning. This is a "holy grail" product for many.
As I Am Twist Defining Cream
This brand is not Black-owned but Pakistan-born, Africa-raised, Dr. Ali Syed has been working on products for textured, African hair since the 1970s.
This cream gets a special mention because it contains DHT blockers to combat hair loss and boost hair growth in addition to conditioning hair, bringing back shine, and locking in twists.
Creme of Nature Moisture Whip Twisting Cream
With honey, Shea butter, and coconut oil, this twisting cream brings back shine, softness, and smoothness to dry, dehydrated hair. In addition to conditioning, this thick formula helps twists last longer.
Flat Twist Hairstyles For Men
If you prefer cornrows to box braids, these flat twists are for you.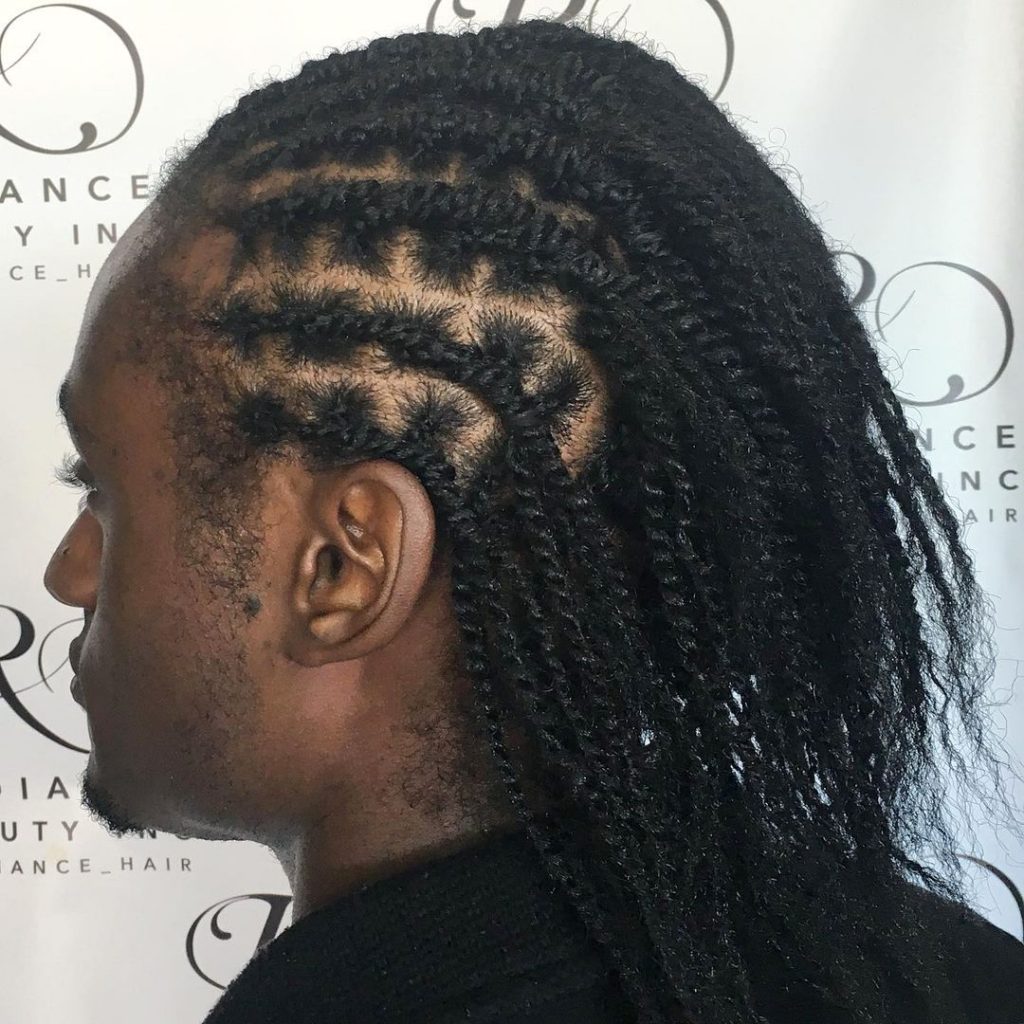 Long Twist Out Hair For Men
With long hair, there are even more ways to get creative with twists.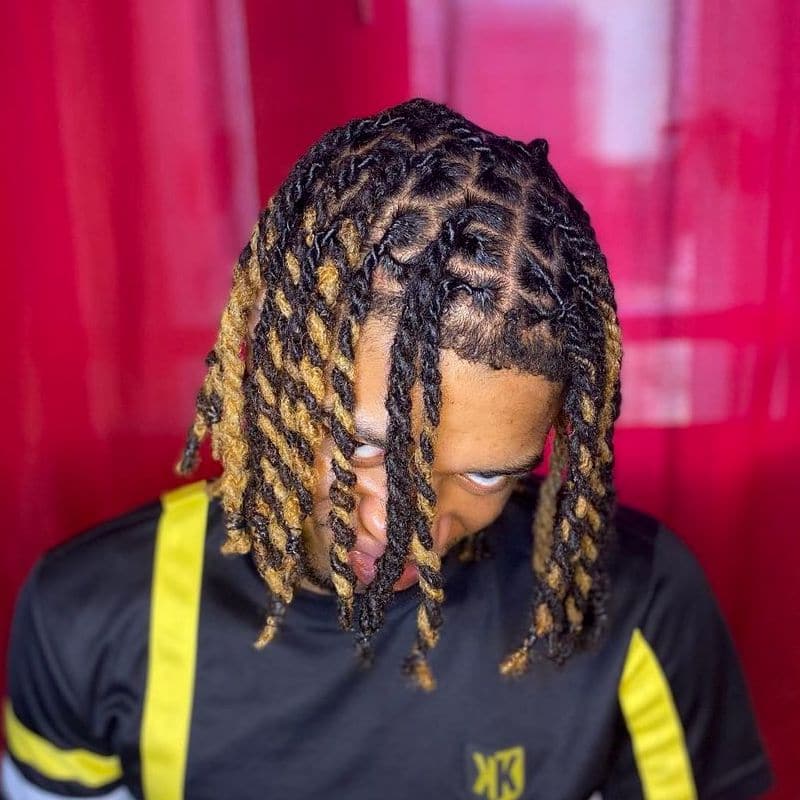 Contrasting colors emphasize the candy-cane stripe pattern of twists.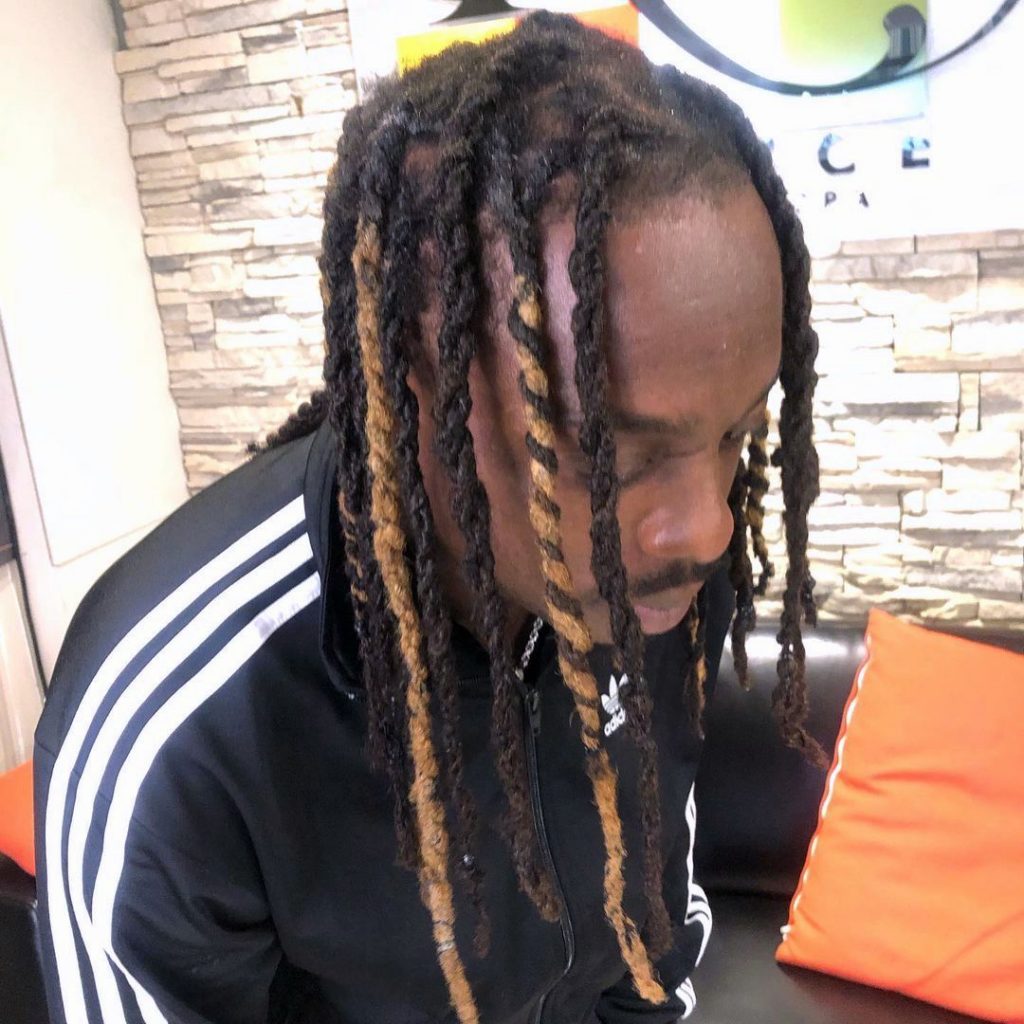 To make thin dreadlocks thicker, twist two together.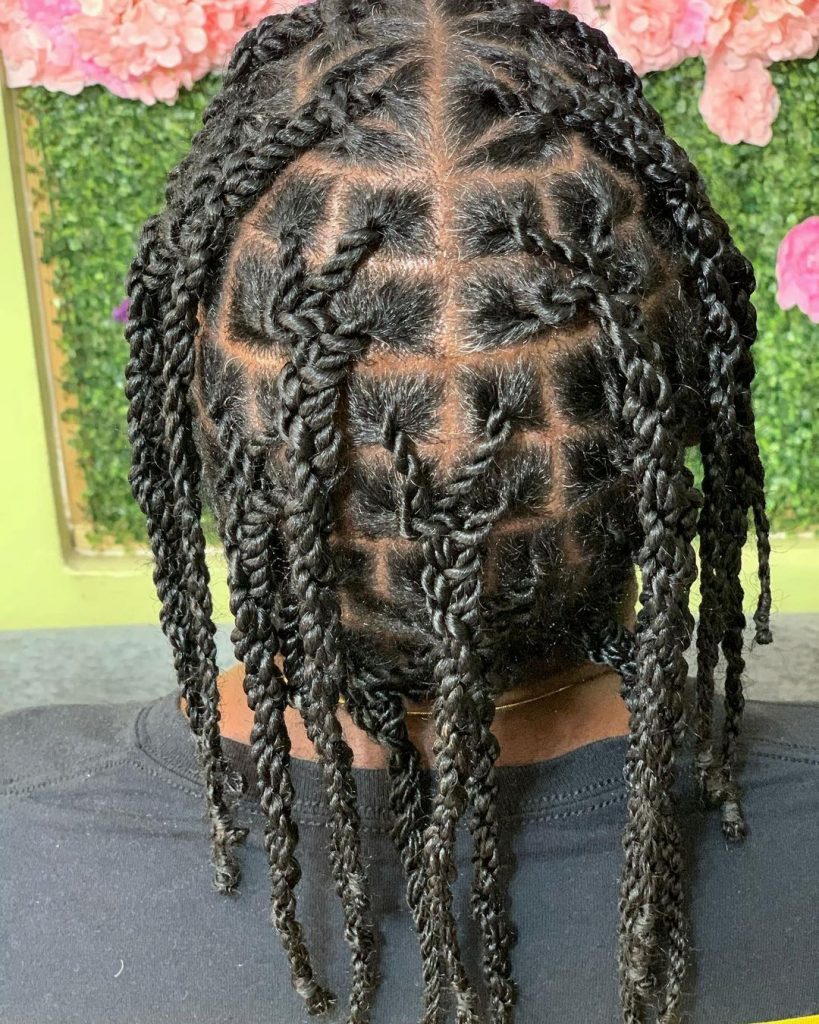 This double twist look twists pairs of twists together.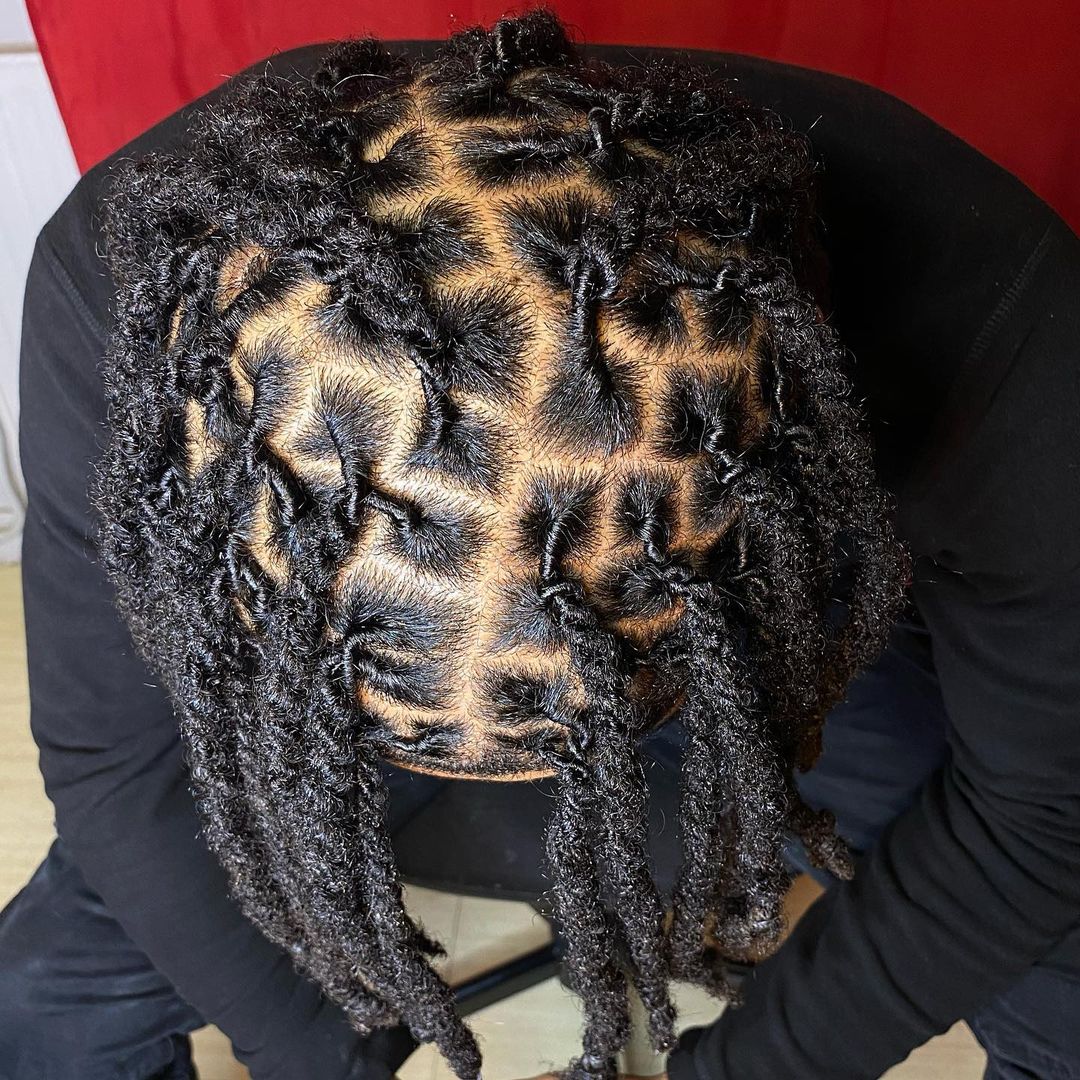 Most twist hairstyles for men twist hair within each section but this cool look twist hair between boxes for thicker twists with smaller sections.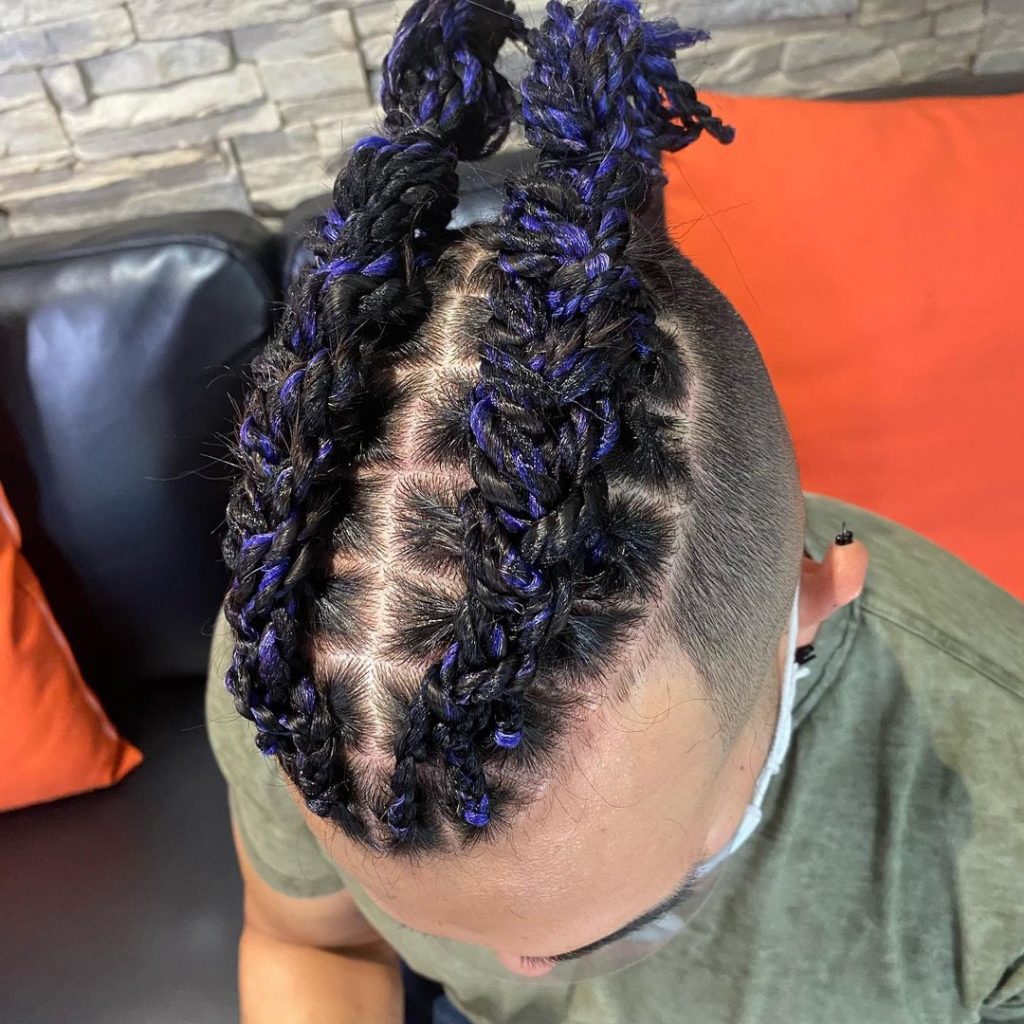 And if you want the twists without the length, add it in. This twisted look is braided too.
This post may contain affiliate links. Please read our disclosure for more info.
Sours: https://www.menshairstyletrends.com/twist-hairstyles-for-men/
There are many reasons why men turn to twist hairstyles. While being exceptionally versatile, they help not only to tame their unruly kinks but also to protect them from environmental aggressors as well as damage as a result of tangling and knotting. Thus, it is a really good idea to go for this amazing hairstyle if you want to keep your hair both healthy and groomed. To help you achieve this, we prepared the following guide.
What Is A Twist Hairstyles?
Twisted hair is one of the most common ways for black men hairstyles to tame their kinks. Yet, guys whose hair texture is other than Afro also choose this intricate hairstyle quite often. Usually, it is created by twisting one pre-twisted strand of hair around another.
What Are The Different Types Of Twists For Men?
Being one of the most popular 4c hairstyles, a twisties hair look offers you multiple styling options. Below, you can find the trendiest of them.
Short Twist Hairstyles Men
It is noteworthy that to nail a natural hair twist style, you should not necessarily have particularly long tresses. Short natural hair twist styles look snazzy and offbeat, which makes them a perfect option for guys who choose to stand out in the crowd.
Medium Hair Twist
As we already mentioned, two strand twists have no limits in terms of hair length. Yet, they look incredibly flattering on mid length locks.
Long Hairstyles Twist
When opting for long hair twists, you can rest assured that your hair look will not go unnoticed. However, if you want to give it a more relaxed air, turn to one of passion twist styles.
Source: @adrianfanus via Instagram
Two Strand Twist Men
Among all existing twist hairstyles, two strand twists are the most widespread. They are quite easy to create and maintain while giving your hair a stylish and kempt look.
Twist Out
While with a twist out men hair does not appear as structured and intense as with other twist hairstyles, it still gives you a cool and trendy look. Besides, twist out styles come out unconditionally awesome on everyone, so feel free to go for it.
High Top Twist
Flat twist styles create a multitude of styling options for other men's hair looks. That said, a high top twist is a spiced up take on a classic high top haircut.
Twist Hairstyles With A Fade
You can easily complement flat twist hairstyles with popular men haircuts to get a unique and eye-catching hair look, such as a twist fade.
Sponge Twist
A twist sponge may be not that easy to achieve, yet all your effort fully pays off with a ton of compliments you are going to get.
Thick Twist Hairstyles
If your hair is extremely kinky twist styles can be your real savior. Two strand twist styles allow you to tame your tresses while maintaining a fashionable look.
Source: @braidedroots via Instagram
Twist Out With Undercut
To give your flat twist out an added emphasis, accompany it with an undercut haircut on the sides and back.
Source: @lanedorsey via Instagram
Source: @braidedroots via Instagram
A Step By Step Guide To Twisting Your Hair
Now that you have explored the most sought-after twist hairstyles, it is time to learn how to twist hair. To create a perfect hair twist men should follow the next steps:
Wash your hair and towel dry it so that it is almost dry.
Separate a small portion of hair that is going to be twisted. Optionally, you can apply several drops of hair oil for a touch of sheen to your locks.
Comb the hair through either using your fingers or a comb.
Divide the strand into two equal sections.
Twist each section of hair individually and then twist them around one another.
Secure the ends with an elastic band.
Continue steps 2-6 until there is no loose hair left.
Source: TpindellTV via YouTube
As you can tell, the variety of flat twist hairstyles is quite sheer. Hence, basically anyone can pick out a hairstyle to match their preferences and style. Long flat twists or short, simple or intricate, no matter what style you choose, you can rest assured that your hair will become the talk of the town.
Frequently Asked Questions
What is a twist hairstyle?
Hair twists are a type of hairstyle preferred mainly by men who have Afro hair texture. To create it, you need to twist hair strands separately and then twist them around each other.
What are the different types of twists?
There are many hair twist types out there, such as finger twists, a comb twist, a two strand twist style, a flat twist hair look, a three strand twists hair style, a twist out and many others.
Does twist braids grow hair?
Because twists for men serve as a protective hairstyle, they reduce the negative effect the environment has on your hair as well as keep tangles and knots to a minimum. Thus, your hair is offered better conditions to grow long and healthy.
How long can I wear two strand twists?
With a two strand twist men can forget about styling their locks for the period of time from two to six weeks. Yet, you should not forget to take care of your hair properly so that your 2 strand twist hairstyle looks its absolute best.
REFERENCES:
Hair twists, flat twists, or mini-twists, are a hairstyle popular with Afro-textured hair around the world, and sometimes with other hair textures. Source
We're here for every step of your natural hair journey—from galleries, how-tos and product recommendations… Source
Sours: https://menshaircuts.com/twist-hairstyles-men/
16 Best Twist Hairstyles for Men in 2021
When it comes to hairstyles for black men, twists come first on the list. Chic and stylish, twists hairstyles for men are comparatively effortless to style and maintain.
However, what makes twists haircuts prevalent among black guys is that they are ridiculously versatile and can be rocked by men with long, medium, and short hair. Besides, men can wear their twists with other classic haircuts such as high top, braids, and fades.
With so many ways of styling twists, the process of selecting one particular twist hairstyle can be a daunting task for most men. To make it easier for you, we have scouted the internet and collected some of the coolest twist hairstyles for men.
Whether you have wavy manes and you want to style two strands, or you have naturally curly hair, and you want to style lustrous twists, you are sure to get a style that suits you. Continue scrolling down to explore our handpicked twist haircuts for men.
A Step By Step Guide to Twisting Your Hair
Step 1: Make your hair damp and give it some minutes to dry a little bit until it is 95% dry.
Step 2: Part some sections of the locks that you want to twist. You may apply some oil to make the hair lustrous, but don't use too much of it to avoid making it greasy or too oily.
Step 3: Comb through your hair. However, the best way is to use your fingers to comb through the hair. It works incredibly well for many guys.
Step 4: Grab one portion of hair in your hands and then divide it to get two proportional strands.
Step 5: Twist the strands one around the other, ensuring that the grip is equal from the shaft to the tip.
Step 6: There is no doubt that before you reach the tips, they would have dried. In this case, apply some oil to soften them for easy twisting. Hold them in between the fingers gently and release pressure. This will make them create themselves.
Step 7: Repeat the process.
Step 8: Once you have created your twists, they will last for several weeks. Just remember to shampoo them during this time. It is easy since you don't need to undo them.
Check these fantastic twist hairstyles for men that our professionals have compiled just for you.
1. Two Strand Twists
It is no news that the two-strand twists are the most stylish and popular men's hairstyles in 2020. To create this style, take two small sections of hair and gently twist them together. This form of twisting will create two rope-like strands that fall naturally. Take more sections of hair all over your head and repeat the process. While plain twisted tips still look great, some guys choose to add rings or beards on the tips for a unique vibe.
2. Long Hair Twists
If you love the dreadlocks, but the idea of having to commit to them in terms of maintenance turns you off, then long hair twists will be a great option for you. With long, twisted hair, you get a low maintenance hairstyle. Besides, you don't need to wait for a couple of months to create actual dreadlocks. With long twists, you can achieve the look of dreadlocks.
However, you should know that your twists will not last for a long time like real dreadlocks. In fact, you should wear them for two to three weeks and then detangle them. Also, remember that the long twists take a considerable amount of time to create and are relatively heavy than other twists.
3. Triangle Twists
This hairstyle is all about twists and shapes. It is a great way to style two-strand twists with a standout look. The key to rocking this hairstyle is by sectioning the manes differently. Rather than opting for a common old-fashioned box pattern, tell your stylist to portion your locks into triangle sections. When this is done, he should follow the typical process of creating two-strand twists. It is a great way to include some creativity and get a unique look in order to stand out from rest men with twists.
4. Twists in a Man Bun
This is an ideal twist hairstyle for men with afro curls and looking for a stylish hairstyle. The hairstyle features a taper fade haircut and twisted hair on top that is styled into a man bun. For a bolder and modern look, you can bleach the tips of your twisted hair. This style is suitable for black men with square or round-shaped faces.
5. Twist Out
This is one of the most requested twist hairstyles for men. The hairstyle appears incredibly cool and hassle-free. The hairstyle looks quite casual and relaxed with minimal structure as compared to the other men's twists. In addition, the twist out hairstyle enhances the natural depth and dimension of the curls. This gives an impression of more locks.
To rock this look, begin with two-strand twists and sleep with the twists overnight. Untangle the twists in the morning, and you will have your complete style ready to roll.
6. Twists with Fade
Twists and fade make a perfect combination for black guys. It is a modern take of the typical fade. Creating a taper fade cut at the back and the sides provide sharp contrast and sleek look to match the short twists on top. You can choose either from all the fades, but for this look, high skin fade will look great.
The best aspect of the twist with the fade haircut is that it works perfectly well with long, medium, and short twist hairstyles. If you want a unique style, you can match it with hair design, strands, the hard part, and even stubble.
7. Short Hair Twists
This hairstyle is quite versatile, so you can style it regardless of your hair type. Besides, it looks great when paired with fade cuts. To rock short hair twists, you will want to grow out your top hair to one or two inches in length. While the twists are not going to remain in place for a long time, the haircut is worth the time and effort you put in styling it.
However, you should note that if you have tightly coiled locks, your short twists will not be defined or prominent. So to have a look that stands out, your hair must have loose coils.
8. Twists Paired With a High Top
The high top, also called a high top fade, or a hi-top incorporates trimming the manes on the sides very short while leaving longer locks on top. In the traditional 90s version of this style, the top was trimmed to be flat. However, nowadays, a lot has changed concerning this style, and men are opting for a more creative look with the hi-top. One of such creative ways is to create twists on the hair on top. To rock this look, you need to have a lot of thick hair on top.
9. Faux Hawk Twists
The Mohawk styles are very popular hairstyles among black men, and the faux hawk styles are currently the talk of the town. One thing with a faux hawk is that you can style it in different ways depending on your preferences. One modern way of rocking a faux hawk is by creating twists.
The styling of all Mohawk styles, including a faux hawk, dictates that the hair on sides is shaven to a very short length, tapered, or if you need something bolder, shave it completely. So, to rock a twisted faux hawk, you have the long central section to work on. Twist two strands and sleep with the hair uncovered overnight. In the morning, untangle your hair, and you will have natural twists in the shape of a faux hawk, running from the hairline to the nape of the neck. This is a cool and standout look for black men who need something intimidating.
10. Chunk Twists
Popularly known as thick twists, the thick twists are for the guys who need a style that will help them appear unique from the rest. While thick hair is a requirement to rock this hairstyle, the length of your hair doesn't matter so much. However, guys with short to mid-length hair rock this style excellently. If you want to achieve a more traditional look of this style, you can include coppery rings or any other décor components to your thick twists. Nevertheless, the style is amazing, even without decorative elements. Just make sure that you style it correctly to achieve the desired vibe.
11. Twist Out Paired With an Undercut
The undercut has won the hearts of many men for years now, and we don't think it will lose its appeal any time soon. However, it is not its sexiness that makes it so prevalent among men, but its versatility. An undercut can be paired with virtually all the men's hairstyles, and the result is something out of this world.
One of the most alluring ways of rocking an undercut is by pairing it with twists. With little to no hair on the sides and long twisted hair on top, this hairstyle combination demands a bold attitude to rock it. This is a great style for gents with angular faces and looking for a fashionable haircut with the '90s vibe. Is that you? Right, this is what you have been missing for so long.
12. Bleached Twists
Though bleached and partially bleached hairstyles have not been around for a long time, we can see they are making a comeback in 2020 with twists. Who thought twists would look so flattering like this when bleached? For sure, this hairstyle caught most fashionistas by surprise. Many black men, especially footballers are rocking it, and this has contributed to more and more people opting for bleached twists. After all, who wouldn't want to look like Odell Beckham?
There are two ways you can wear this look. First, you can decide to bleach the entire twists, and secondly, you can choose to bleach the ends only. Either way, you will get an irresistible look, and all compliments will be yours wherever you go. Besides, you are not restricted to one shade. You can choose other bold hues such as red or platinum. These colors will make your twists even more prominent.
13. Flat Twists
If you know cornrows, then it will not be hard to understand flat twists since these two styles resemble each other pretty much. Also, the technique of achieving them is similar. To rock this look, you would want to start by sectioning your manes from the hairline to the back or nape of your neck. However, rather than employing an underhand method in creating elevated braids, twist the hair using the double-strand twist.
14. Twists on Mid-Length Hair
With mid-length locks, you can practically rock all men's hairstyles. This is because medium length hair offers the right balance between the short haircuts and the long hairstyles. It is an ideal hair length for styling twists since each twisted section gets a perfectly-defined look. In addition, medium hair is heavier compared to short tresses, and this implies that your heavyweight twists will naturally fall like braids.
You can choose to include a new vibe to your medium twists by creating different sections or patterns on the exposed skin. Some of the most common patterns include triangles, skulls, and boxes. Just choose the one that resonates with your values.
15. Black Man Bun
If you have super long locks and you want to rock twisted hair, this is the best style you should choose. Tell your stylist to twist your hair into several thick twists and secure them in a big high bun on top.
16. Sponge Twists and Taper Fade
Guys with type 4C curls can find it challenging to create prominent twists, especially with double-strand technique. This sponge twist style is specifically meant for them. The twists in this hairstyle are achieved through a unique styling tool known as loc sponge or twists sponge.
This tool has holes that are used to 'suck' the hair, and then it is rotated to create the twists. For sophistication and masculine look, complement your sponge twists with a taper fade cut.
Undoubtedly, one or more of these twists hairstyles for men will inspire you during your next trip to the barbershop!
Sours: https://nextluxury.com/mens-style-and-fashion/best-twist-hairstyles-for-men/
QTHEBRAIDER- HOW TO: Double Strand Twist (Male Edition)
But my female passion requires satisfaction. And immediate. We will not allow the Nazis to Moscow, although I want to capitulate very much. The boys ate the croutons with pleasure and washed them down with a bottle of beer, which I took from my brother's stock.
Men twists hair
Suddenly, a prolonged groan was heard in the hall: Oooooooo. and followed by a girlish cry: Oh. Masha was not distracted, she noticed that the member in her hands began to throb. - More I can't uuu. Kostya suddenly groaned and a hot stream of sperm splashed out from the head of the penis and hit right on Masha's cheek and.
How To: Two Strand Twist Men! (Grow Longer Hair Faster)
The guys turned out to be business trips from a nearby hotel. As soon as they heard that we were celebrating the New Year alone, they struggled to come to visit us. Oh, it was so funny: they pressed for pity that the bar in their hotel was closed and there was nothing.
To eat or drink, and offered to open wine and select music, and whatever else.
You will also be interested:
I decided to make him breakfast, so to speak, to thank him for last night. About an hour later, my Egorka woke up. I was still walking around the kitchen, chatting with a friend, sharing my nightly adventures. He was in only sweatpants, shaggy, sleepy, cute, like a teddy bear. Yegor slapped me on the butt and went to the refrigerator for water.
707
708
709
710
711