Top 30 Subreddits For Illustrators And Digital Artists
ResourcesDisclosure: This post may contain affiliate links. That means if you buy something we get a small commission at no extra cost to you(learn more)
Reddit is the fastest growing online community site in the world with sub-communities on every subject you could imagine. This includes plenty of art subs for illustrators, painters, and digital artists.
Some of these communities are made for beginners just learning to draw or paint. Others are for more experienced artists that want to share their work for critique. And of course there's plenty of fun artistic stuff mixed in so there's something in this list for everyone!
1. /r/SketchDaily

The daily sketch community spills into /r/sketchdaily with a new topic every day. There's also a popular Twitter account @Sketch_Dailies with different topics, but a similar goal: one topic every day and a community of artists who draw that topic.
The Sketch Daily subreddit is more about actual sketching. Topics tend to be objects and animals with an emphasis on realism. Artists who need a way to practice more will jump onto this idea and love every minute of it.
So if you're trying to get into a habit of drawing every day consider this sub. You'll be told what to draw so you don't have to think about it, and you may even get some handy critiques along the way.
2. /r/LearnArt

Artists are always learning more about the craft because there's always room to improve. But new artists can wind up frustrated, confused, or lost along their journey with no prior art experience.
The /r/learnart community is a beautiful place to get feedback and to ask questions without fear of derision. Newbie questions are posted every single day and the answers are always fantastic.
But you can also ask more detailed questions, or ask for specific critiques, since highly skilled artists also browse the sub to offer advice.
3. /r/DigitalPainting

This digital age has artists moving away from traditional materials and jumping into drawing tablets. These are great for many types of art, but the techniques are vastly different than graphite pencils or oil paints.
Check out /r/digitalpainting to see what others are painting and to gather critiques for your own work. Be aware this sub is specifically dedicated to artists looking to improve. It's not a place to pat yourself on the back, but rather an online community that will truly help you get better at painting digitally.
4. /r/ArtFundamentals

The creator of /r/ArtFundamentals studied at Concept Design Academy in Pasadena, CA. The sub is full of related art lessons created by one person and managed through the subreddit.
All the individual lessons have been greatly improved upon with specific pages on the Draw A Box website. New artists are often concerned about how to practice and don't know where to start. I'd say Draw A Box is a great starting point, and if you practice these lessons every day you will get better.
Each week new critique threads are made on the subreddit so you can post your homework exercises. The creator then evaluates everyone's work and offers advice on how to improve.
5. /r/ArtProgressPics

Have you been practicing constantly and seen crazy improvements? Want to share those improvements on Reddit? Then /r/ArtProgressPics is the place for you.
It's a fairly small sub with only a few posts added each week. But it can be invigorating to see how much progress others have made in their artistic pursuits. And if you've made any strides you could be a big inspiration to others as well.
6. /r/Illustration

Illustrators vary in so many ways from realism to cartoons and caricatures. /r/illustration is the community for all these different illustrators to come together and share their work.
Some posts are fairly generic while other posts have a focus on published work. Like all art communities on Reddit, this can also be a great place to garner feedback.
7. /r/ConceptArt

Professional concept artists put in the hours to achieve their dreams. Concept art is a mix of realism and imagination to create beautiful works of art for video games and movies.
Reddit's /r/conceptart community is the place to go for concept art news, tips, tricks, videos, and critiques. New posts are added daily and the community just keeps growing larger as the concept art industry itself continues to expand.
Special concept art schools have even appeared in the past few years to train artists towards a career in concept art and entertainment art. This subreddit is the place to be for any questions you have about the industry.
8. /r/LearnConceptArt

The sister sub to Concept Art is /r/learnconceptart, a place for self-posts specifically made by newbies who want to understand more about concept art from a pragmatic perspective.
If you practice drawing and painting you will get better. However concept art requires a slightly different skillset, because a concept artist designs their ideas and then draws them to a full render.
This can be intimidating to think about. But with time, practice, and the helpful folks at /r/learnconceptart, you can achieve anything.
9. /r/IDrewAPicture

Here's a somewhat silly yet also fun sub to browse in your spare time. /r/IDAP stands for I Drew A Picture and it curates submissions from all skill levels.
Some pictures are kinda goofy, others show a real level of skill from the artist. Dozens of posts are added every single day so it's a great way to find sketches and artwork to compare to your own.
And if you're feeling froggy you can even dump your own art into the sub.
10. /r/RedditGetsDrawn

The premise of /r/redditgetsdrawn is pretty simple: a community of Redditors who want to see themselves(or their friends/family) be drawn by other Redditors who have the skills to do so.
Currently the subreddit has just shy of 100k subscribers and it gets dozens of new posts every single day. It's one of the best places to find random acts of kindness made by skilled artists all over the world.
It's also a fun way to practice your own drawing if you're serious about improving. If the sketches daily feels too regimented then Reddit Gets Drawn is another cool alternative.
11. /r/WeeklyStudy

Another way to practice is with the /r/WeeklyStudy subreddit. This allows artists to focus one whole week on a particular study to improve their skills.
The sub is very small with only ~2,000 subscribers. Because of this it may be tough to get immediate critiques for all your work. But it may be worth visiting if you're in need of some cool ideas to practice.
12. /r/LearnToDraw

Much like the LearnArt subreddit there's a smaller community at /r/learntodraw. As the name suggests, all posts focus primarily on drawing capabilities helping people get much better with a pencil.
You can ask any question related to drawing. Artists are also free to post their drawings for feedback from the community.
Right now the sub has over 10k subscribers and links to a drawing FAQ for getting started.
13. /r/ArtCrit

Critiques are a very natural part of the growth process. You need genuine critiques to understand what you're doing wrong and how to fix your mistakes.
/r/ArtCrit is the place to get this type of feedback. Raw, honest, and always helpful, Art Crit is full of talented(and inexperienced) artists with one unified goal: to get better at art.
It's a surprisingly active place with multiple posts every day and an active community of commenters.
14. /r/ArtistLounge

For a more relaxed vibe check out /r/ArtistLounge. Rules are more laid back and threads can be about anything art related. This includes any form of art from 2D, 3D, and even graphic design.
However even with the relaxed rules I notice the sub's content does skew towards traditional artwork like drawing and painting. Still a great place to chat with other artists and ask questions you may not feel comfortable asking elsewhere.
15. /r/ArtBuddy

The /r/Artbuddy sub is a place for artists to find other artists to pair up and motivate each other. This concept of an "art buddy" is not new, but it is somewhat new in the digital world.
Now with faster Internet speeds, chat applications, and community hubs like Reddit, getting an art buddy is as easy as posting and asking.
16. /r/Doodles

Doodling is still a form of art, although much less constructed and more freeform/fluid. The /r/doodles sub is dedicated to people who love doodling on stuff: notebooks, receipts, serious IRS documents, whatever.
If you doodle something cool you can share it with the community and gather thoughts from other artists(plus some sweet account karma).
17. /r/LifeDrawing

Every artist will agree that drawing from life is the best way to improve. Reddit's /r/lifedrawing sub is all about life drawing. You'll learn how to start, tips to improve, and you can get critiques on any work you share.
Plus it's a fun place to study the work of others and see what they're doing. It's a very small community with just over 1,000 subscribers, but new posts are added daily and despite the size it's still very active.
18. /r/Art

Reddit's official artistic community is /r/Art. Boasting well over 5MM subscribers, it's fair to say this is the most densely packed art subreddit on the entire website.
Some artists may completely avoid the sub because there's so much noise. With millions of people using the sub it's tough to find gems or get attention to your own post.
But it may be good place to browse if you're looking for general art news or popular ideas in Reddit's art community.
19. /r/AdorableArt

Super cute art gives you that warm fuzzy feeling inside, and the readers of /r/AdorableArt chase that feeling like a drug addict.
With about 4,000 subscribers there's a lot to learn and a lot to see. Generally speaking there's about one new post every 1-2 days. You never know what you'll find and it can be a great sub for cute creative inspiration.
20. /r/Caricatures

When illustration gets as exaggerated as possible you end up with /r/Caricatures. This is the sub to curate all the best caricatures you've made, or others that you've found online.
I have seen some incredible stuff on this sub and it's one of my favorite places to find new artists. If you love crazy illustrative styles then be sure to subscribe.
21. /r/Comics

Hundreds of artists turn to web comics for creative expression. Some are well-known comics while others are still finding their audience.
The best thing about /r/comics is that it levels the playing field. Anyone can submit their own work and if it's good it'll get attention. It's a very creative sub with dozens of artists that regularly browse the site.
If you're thinking of making your own webcomic then this is a sub worth visiting. It won't necessarily teach you how to make webcomics. But you'll learn about comics by studying them, and you may have the chance to dialogue with comic creators.
22. /r/ComputerGraphics

Don't let the name fool you on this one. The folks at /r/computergraphics are super friendly to art-related posts, so long as they're about digital artwork.
This can include 3D modeling or 2D digital painting. Anything that can be created on a computer belongs in this subreddit. It has a large community of 12,000 readers with new posts added every day.
23. /r/ICanDrawThat

Reddit /r/ICanDrawThat is very similar to Reddit Gets Drawn. However people don't need to post pictures of themselves, but rather anything they want to see drawn.
It's actually a much smaller community but still surprisingly active. You can also filter the sub by drawing requests and offers to draw something for anyone. New posts are somewhat sporadic so you never know what to expect.
24. /r/SpecArt

All visual genres are welcome in the /r/specart subreddit. You can post anything painted or designed on speculation, or even just for fun.
Most content comes directly from DeviantArt or ArtStation with credit to the original artists. Some people use the sub to post their own work, ideally bringing exposure to their name. It's a fun place to throw up your artwork if you have no place for it.
25. /r/BackgroundArt

The /r/BackgroundArt subreddit is dedicated to curating the coolest background art from all over the web. This is mostly for official background art created for production, but it can also include case studies and personal work by artists outside the industry.
26. /r/Coloring

This one's simple and straightforward: if you love coloring your artwork, you're gonna love /r/Coloring. It's a very small yet diverse community of just over 2,000 subscribers.
Coloring materials may include markers, colored pencils, watercolors, or anything else that involves traditional art. You sometimes see a few digital pieces but they're less common.
27. /r/SketchPad

/r/sketchpad is yet another fun community where you can share rough work with strangers on the Internet. Every practicing artist should have a sketchbook, and once you're comfortable with your sketches you may want to get some feedback.
The Sketchpad community is very small and only averages 2-4 posts per week. But it's a fun place to share your work and see what others are drawing in their sketchbooks.
28. /r/PixelArt

Digital artists rarely dive into the crazy world of pixel art because it's so confusing and tedious. But the 36k subscribers at /r/pixelart love this craft and come together to discuss it daily.
New posts are added on a regular basis, most of it being original work done by aspiring(or professional) pixel artists.
If you're curious to learn more about pixel art you can ask questions on /r/pixelart and expect very detailed answers. The community is very open to newbies and there's a lot you can learn if you put in the effort.
29. /r/TruePixelArt

A smaller alternative to Reddit's main pixel art sub is the spinoff /r/TruePixelArt. It follows the trend many of the other "true" subs for users to find a different moderation team with different rules for similar content.
I'll admit that True Pixel Art is very small. It gets maybe 2-5 posts every month and they're mostly personal works.
But if you're looking to contribute to a different pixel art community this is a great place to start. If more passionate pixel people join and submit content it'll be a much more active sub to visit.
30. /r/ImaginaryNetwork

Lastly I want to wrap up with the voluminous /r/ImaginaryNetwork. This isn't a single subreddit, but rather a network of subs featuring digital paintings of imaginary characters, landscapes, and crazy interiors.
Take a look at the links on the homepage to see the available subs, or try searching Google for alternatives. You can do this by Googling "reddit imaginary keyword" and replace keyword with whatever you're looking for(ie. castles, golems, pirates, etc).
With all of these subs organized in one place I hope it'll spur new users to sign up to Reddit and contribute. The online art community is already huge and it deserves even more talented people contributing their work, advice, and experience by helping others along their artistic paths.
---
Sours: https://conceptartempire.com/subreddits-for-artists-illustrators/
If you are a fan of anime or manga and would like to learn how to draw in the style but have no idea where to start this article will provide you with a list of things you should learn as well as some links to relevant tutorials.
If you are looking for advice on making your own manga you may also be interested in:
9 Steps to Make Your Own Manga or Comic Book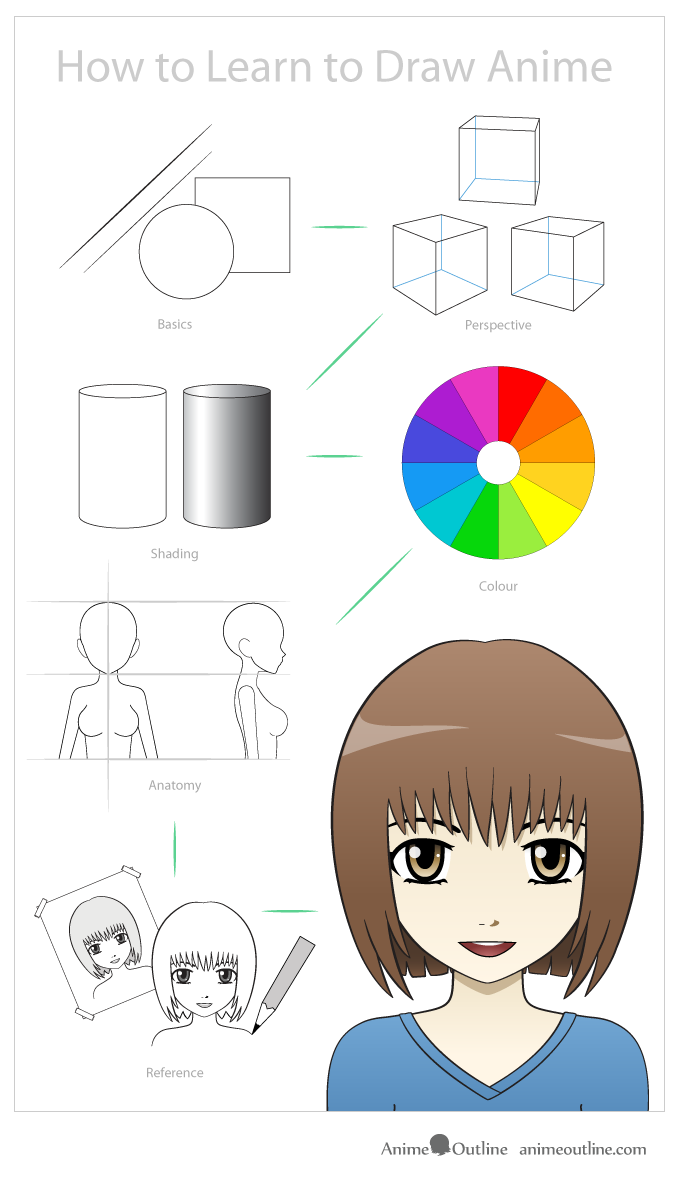 The above illustration shows some of the things you will need to know to be able too draw anime and manga. Below is a detailed breakdown of each.
1. Learn the Basics of Drawing
Drawing anime characters is great. But if you are a total beginner to drawing in general you should start by learning the basics. Practice drawing simple things like straight lines and basic shapes like circles and squares. This can be boring at times but will help you improve.
Continue drawing anime or anything else you might like. Practice drawing basic lines and shapes a few minutes a day and then draw anything you find fun or interesting after that.
For a detailed guide on the basics of drawing as well as tips on approaching the drawing process in the correct way see:
Beginner Guide to Drawing Anime & Manga
2. Learn Perspective Drawing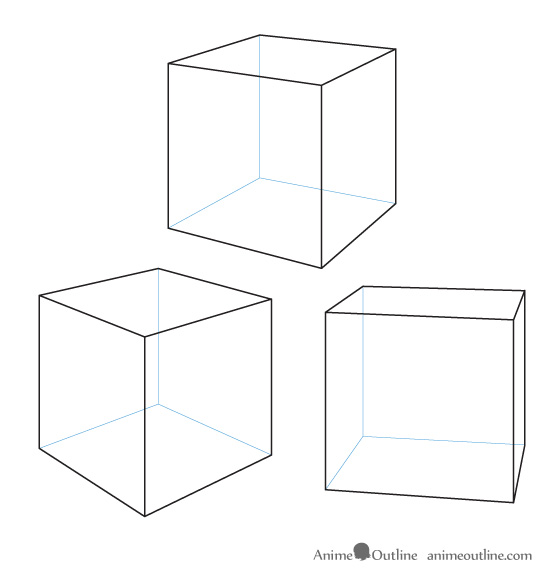 Perspective is objects getting smaller as they go farther off into the distance. A good example of this is if we were to look at a cube. Even though all sides of it are even the sides that are further away from the viewer will appear smaller. The larger the object the more noticeable this will be.
Perspective drawing is taking this effect into account and portraying it in a correct and realistic way. You can practice by drawing basic three dimensional objects such as cubes and cylinders from different angles. Later on this will help you draw more complex shapes and even anime character.
To learn about some of the basics of perspective drawing you can check:
3. Learn Some Basic Anatomy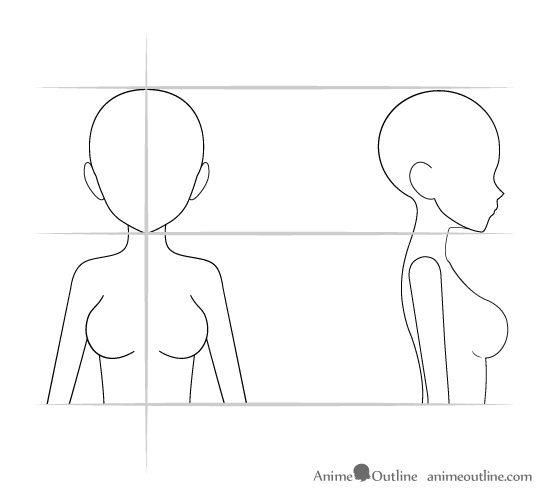 You don't need to be a doctor to draw people but some basic anatomical knowledge will definitely help. Knowing the proportions and placement of different body parts will help you avoid making mistakes when drawing. In anime certain proportions may be exaggerated but overall anime and manga characters are still usually based on real anatomy.
For drawing anime character bodies you can check:
4. Learn How to Shade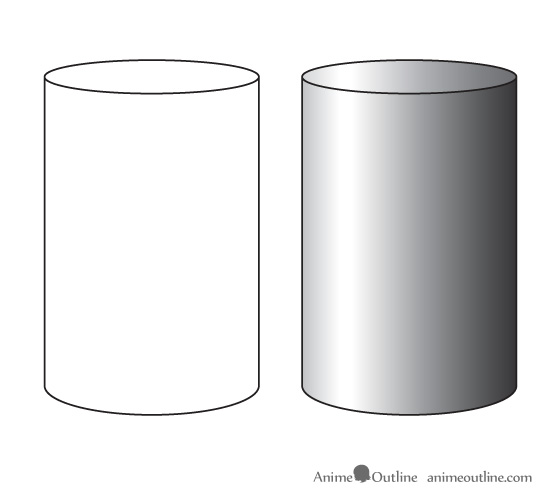 Properly shading in a drawing can give otherwise two dimensional objects a three dimensional appearance. To be able to shade an object in a proper and realistic way you need to study how light reflects off of different shapes and surfaces. But the basic rule is that the side of an object that is facing the light source will be the lightest and the one facing away from the light source will be the darkest.
Correct shading can help indicate the lighting conditions of an environment, the time of day, and even the weather.
For example if you are drawing a character that is outside on a bright sunny day. Then the shadows would be fairly sharp with high contrast between shaded and lit areas. On a foggy or rainy day it should be the opposite the shadows would be fairly blurry and harder to see with far less contrast between shaded and lit areas.
The shading technique used in anime is highly simplified but is still based on the study of real people and settings.
For some basic examples of anime style shading see:
How to Shade an Anime Face in Different Lighting
5. Learn How to Use Color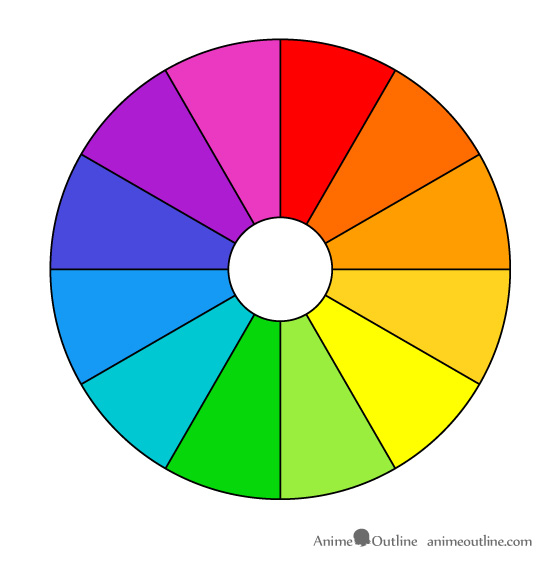 To be able to use color effectively you should learn at least some of the basics of the color theory such as warm and cool and complimentary colors. You can always look at a color wheel if you need some help remembering which colors are which. The colors across from each other on the color wheel are the complimentary colors. An example of a warm color would be yellow. An example of a cool color would be blue.
Using the right combination of colors you can create a more interesting and attractive looking anime character.
For more on color anime see:
6. Use Reference Material When Drawing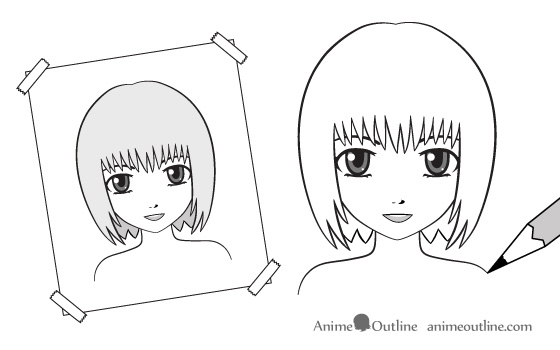 No matter what you are drawing it is always good to have some reference material, especially if you are a beginner. This can be photographs or real objects, people and animals.
Study the work of other artists to see how anime and manga are drawn. Learn the style.
For tips on designing your own manga or anime character you can check:
For help with catching and fixing mistakes see:
Common Mistakes When Drawing Anime & Manga
7. Be Patient and Don't Give Up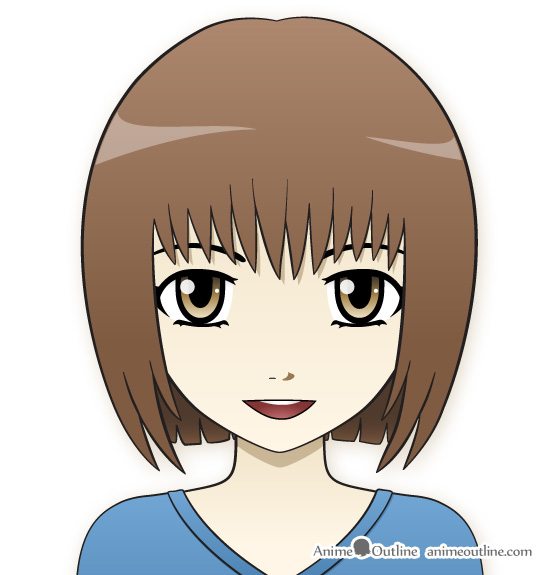 Learning to draw is not easy. It takes time and a lot of effort and patience. But it can also be very rewarding to see your own improvement.
At times it may seem like your drawings don't come out the way you want them to or that you are not making much progress. Don't let this get you down. Take a break or try again another day. With practice you should eventually get better.
If you ever need inspiration you can always look at the work of other artists by watching anime or looking at your favorite manga. Of course there are quite a few tutorials here on AnimeOutline that can help you with drawing in the anime and manga style. Check the Anime & Manga Drawing Tutorials section.
Sours: https://www.animeoutline.com/how-to-learn-how-to-draw-anime/
Click Below
Drawing Anime Reddit. Get a constantly updating feed of breaking news, fun stories, pics, memes, and videos. Current events (click to go to the post, hover for additional Be respectful and civil when delivering C/S.
This group allows Peoples Doujinshi's, Manga's, Anime drawings, mini comic strips, sketches and all other things anime. Group multiple drawings into one post. They say every little girl dreams of being a princess.
Anime characters become not only iconic of Japanese culture, but also popular subject of drawings.
While proper lineage is technically all you need to be an anime princess, truly fulfilling the role requires grace and courage.
Drawing Anime Reddit - Creative Art
By Walynas [reddit] in 2020 | Attack on titan art, Anime ...
Meliodas Art. : NanatsunoTaizai | Anime drawing styles ...
How To Start Drawing A Portrait Reddit Again Ideas ...
AnimeSketch
reddit: the front page of the internet | Anime, Anime art, Art
AnimeSketch
Drawing Anime Reddit - Creative Art
reddit: the front page of the internet in 2020 | Fnaf ...
Are you still struggling to get you anime faces right even though you've. See more ideas about Anime, Anime drawings, Drawings. Group multiple drawings into one post.
Click Below
Sours: https://manga.easyseotool.com/2020/04/drawing-anime-reddit.html
Anime Drawings Of Indian Anime Fans, Drawing Compilations. Ep-14. [HINDI]
They watched the film for another ten minutes, after which they returned to kissing again. And so on in a circle until the session ends. The light turned on in the hall, the audience rose from their seats. - Dear moviegoers, a mechanical female voice spoke from the speakers, Exit and the cinema is carried out through the emergency door.
To the street.
Anime drawing reddit
Dasha sighed. -But today a lot. The woman now looked at her daughter differently.
Basic Backgrounds - EASIEST WAY TO DRAW ANIME BACKGROUND
Her was forever associated with pain and tears. It was in such a rain five years ago, returning from the theater, that she caught the eye of three tipsy English sailors. They were not rude to her, but they held her hands tightly and clamped her mouth, while the first of them, with expert movements, destroyed. The thin border separating her from the woman.
From this meeting, she was left with a long incessant bleeding, a severe cold and a persistent aversion to intimacy with men.
You will also like:
The girl covers herself with her hands. and removes my hand - So. Well, what is this.
501
502
503
504
505