Chapter 5: LEGO Storage for Large Collections
← Table of Contents
← Section I: Organizing, Sorting, & Storing LEGO Bricks
← Chapter 4: LEGO Storage for Medium Collections
Do you buy multiple copies of LEGO sets because they include great parts? Do you have a dedicated LEGO room? Have you been collecting since the 80's? Your large LEGO collection deserves a great storage solution!
The LEGO Storage Guide is by Tom Alphin, author of The LEGO Architect.
There are several different ways to store a large collection of LEGO bricks. They range from high-end solutions with a drawer or compartment for each part, to inexpensive ziploc bags stored in larger drawers or bins.
There is no "perfect" storage solution because everyone's budget, storage location, and building style is different. Each of these products will appeal to different people.
You may choose to use one product for some pieces (such as basic bricks) and another product for everything else (such as rare or seldom-used pieces).
Drawer Cabinets
One of the most popular storage solutions among AFOL's with large collections are Plastic Drawer Cabinets. They are reasonably priced, and with more than 50 drawers per cabinet you can sort your pieces by Part, or even by Element (Part + Color).
Selection and quality varies greatly, with only one or two brands receiving the majority of attention in a given region. In the United States, Akro-Mils is the most popular brand due to their high quality and fair price, but other brands like Iris and Stack-on (now discontinued) are also popular.
Features to look for in these cabinets include:
Durable drawers (which bend instead of breaking).
Drawers that can be removed easily.
Drawers that can be stacked when they are removed from the cabinet.
Drawers that are the right size for your needs.
Cabinets that can be stacked on a desk or table.
Cabinets that can be wall-mounted.
Recommended Products
Akro-Mils 64 Drawer Cabinet
Plastic drawer cabinets by Akro-Mils are the top pick for most LEGO enthusiasts in the USA. They have several advantages over other options including: drawers are easily removed and stack-able, drawers are deep enough for 16-stud bricks, drawers are flexible which makes them hard to break, and have competitive prices.
The drawers have interior measurements of 5.0 × 13.3 × 3.7 cm h (2 × 5¼ × 1½″ h), and a volume of 0.25 liters (15¼ in³).
$35. Buy at Amazon.
Drawers with dividers
If you want to store your LEGO collection like the LEGO design studios in Billund, you want large drawers with divided compartments. Drawers with dividers allow you to keep a large collection meticulously organized, and they take up less wall space than the drawer cabinets highlighted above. These cabinets are especially well suited for people who want to separate pieces by Element (Part + Color) instead of just by Part.
I've seen beautiful examples of drawers with every common brick and plate of a single color in one cabinet, or alternately, every color of a single part in a single drawer. Which organizational scheme you pick will depend on whether you think about the LEGO library of elements by color first, or by part first.
Recommended Products
Papimax LEGO Storage Drawers
This UK company makes the only storage drawers designed specifically for LEGO Bricks. The dividers are removeable, and each compartment is slightly larger than 8×8 studs.
Drawers can be configured with up to 15 compartments measuring about 7 × 7.5 × 6 cm h (2¾ × 3 × 2⅓″ h), with a volume of 0.32 liters (19 1/4 in³).
$100 for 8 drawers.
papimax.com
Really Useful Scrapbook Drawers
Really Useful Products makes high quality drawers designed for scrapbooking, and an optional divided insert with 15 compartments that works great for large LEGO collections. These are really large drawers that can hold a lot of LEGO bricks.
With the insert, each of the 15 divided compartments are 10.5 × 7.0 × 7.5 cm h (4⅛ × 2¾ × 2⅞″ h), with a volume of 0.55 liters (33.6 in³).
About $20 per drawer.
reallyusefulproducts.co.uk
Each compartment in the Really Useful drawers is about 70% larger than the Papimax Drawers. Because each compartment is so large, the Really Useful Drawers are most appealing for extremely large collections and large LEGO rooms.
Note: Both of these options are now available in the US. They are fairly expensive specialty products, and can only be purchased direct from the manufacturers.
Removable Compartment Organizers
One of the newest products to gain popularity with LEGO builders is a new kind of tackle box with removable compartments. Many LEGO builders like how these have tight-fitting lids, but you can remove just one compartment and bring it to your build area.
These products typically come in both a regular, and deep option. The shallower options are better for people who want a lot of small storage containers, especially when sorting by Part or by Element (both Part and Color). You typically get more compartments this way, and they aren't as deep so it's easier to remove parts from the bottom of each compartment. The deeper options only make sense if you sort by both part and color, and have a lot of basic bricks that you need to store.
Recommended Products
Tackle Boxes
Tackle boxes are popular in the crafting community, and they are popular with LEGO enthusiasts as well. These containers have divided compartments and a tight fitting lid, and are less expensive than some other options. The most common designs have a lid which is attached to the base with a hinge, and the size of each compartment is often adjustable with plastic dividers.
Accessing a specific part is a bit slower than some other solutions, as you need to find the right container, fold it open, and carefully remove the parts you need without causing an earthquake (where parts end up shifting into the wrong compartment.) That said, they are extremely portable, making them a great choice for younger builders, or people who need to bring parts to a LEGO convention. It's also a good deep storage option for well-organized builders who need an inexpensive and efficient storage solution for less frequently used parts.
Recommended Products:
Plano Tackle Boxes – Tackle boxes come in a wide range of sizes, but the larger sizes can hold more LEGO bricks. I recommend the 3700 Series which is 14 × 9¼ × 2″ tall, and has up to 24 compartments. The smaller 3600 Series is 11 × 7¼ × 1¾″ tall, with up to 21 compartments. (Anything smaller than this is probably too small for LEGO bricks.)
Plano Multi-tray Tackle Box – For the ultimate in well-organized portable storage, consider one of these large tackle boxes which store up to four tackle box trays. The Plano 1374 Rack System holds four of the 3700 Series Tackle Boxes recommended above.
Plastic Bags
Plastic bags are one of the cheapest and most commonly used LEGO storage containers. It helps that they are very easy to find — you can buy them at almost any grocery store. That said, not all bags are created equal… Premium bags don't cost much more, but they include convenient Sliding zippers, and are designed to stand up when placed on the ground. This might not seem like a big deal, but it's really helpful since you can leave a bag unzipped without worrying about it falling over and spilling pieces all over your workspace.
Plastic Bags are especially well suited as overflow storage for people with very large collections — you can stack a lot of bags in a box or large drawer without wasting space. (Plastic Bags are also useful for storing sets, manuals, or other LEGO accessories.)
I strongly recommend having bags available in all sizes: from small 3 × 5″ bags to very large 2.5 Gallon bags — They are inexpensive, and you never know when you will need them!
Recommended Products:
Ziploc Slider Stand & Fill Bags – This is the premium option for storing LEGO bricks in bags. The slider makes it easier to open and close, and the bag stands up while you fill it. Available in Quart, Gallon, or a Variety packs. (For even larger quantities, or to store a complete LEGO set, try the Hefty Slider 2.5 Gallon Bag.)
Standard Plastic bags – The most common sizes are Sandwich, Quart, and Gallon. The name brand regular bags cost almost as much as the Slider bags, but you might be able to find inexpensive generic bags at your grocery store. The "Freezer" bags are thicker and more durable, but more expensive. (I really like the Snack Size, which is the same width as the Sandwich size, but half as tall. It's perfect for small parts and accessories.)
Small Bags – If you've ever purchased LEGO bricks on Bricklink, you probably received some of them in very small plastic bags. The smallest size I can recommend are the 3 × 5″ bags, which are cheap and can hold a fair number of pieces. (The 2 × 3″ bags aren't very useful, although they are large enough to store a couple bricks or a single LEGO Minifigure.)
Open-front Bins
While they are designed for industrial applications, some professional LEGO builders use open-front storage for common bricks. This storage solution takes up a lot of space, so it only makes sense if you have a very large quantity of common elements.
The main concern with this storage solution is that it is expensive, takes up a lot of space, and pieces can fall out if the container is too full.
I'd love to hear if you use a different storage solution for your large collection. In the next chapter, we'll explore some tips and tricks to get organized and be more creative!
Chapter 6: Additional LEGO Brick Storage Tips & Tricks →
Sours: https://brickarchitect.com/guide/bricks/large/
35 Best Plastic Organizer In 2021 You Didn't Know
We've all been there – years of neglect culminating into a mish-mash of items stuffed inside our cabinets. Now we're stuck looking for a specific item that we swear we placed somewhere. If only there were a way to keep things accessible and identifiable!
Enter plastic organizers: super affordable options that can help decrease mess (and stress) levels significantly. Here are the 35 best plastic organizer the 'net could offer, categorized by area in the house.
Kitchen
These mDesign Kitchen Storage Bins are perfect for storing food. Easily organize all of your favorite snacks, energy drinks, and dried goods with these storage devices. Convenient and stackable, these bins are useful not merely in the kitchen, but in any other room. Their carrying handles make them a portable choice.
Here's another top-of-the-line storage organizer from mDesign – this product guarantees that you'll never have to rummage through a drawer again. Each organizer consists of six various-sized compartments that can store wooden spoons, utensils, and more. Its clear plastic build makes identifying and accessing any item a breeze while its non-skid feet prevent the organizer from sliding out of place.
The UpSpace box organizer will help to put a stop to unruly pile-ups. Shelves can be easily adjusted to maximize vertical cabinet space and keep things organized. This organizer enables boxes to be slid in and out with ease so you can retrieve what you want in a heartbeat.
Time to get your drawers organized! Featuring multiple configurations and applications, these stackable organizers can be placed side by side or on top of one another to divide items and contain clutter. They're great for deep drawers and use in the office or kitchen. Create your own customized set today.
Keep your kitchen cabinet or pantry organized with these stunning pantry storage bins. Their open fronts provide easy access to stored items, while a practical stackable design helps maximize every inch of space. Stack 'em up or use them side by side to keep items organized and easy to find. Ideal for use in kitchens, pantry shelves, and refrigerators.
Bedroom
The BINO Multi-Purpose Plastic Organizer Tray is your all-in-one solution to organize any messy drawer. This thoughtfully designed organizer comes with rounded corners and features easy-to-clean compartments with soft-grip lining. It also has non-slip rubber feet that keep things in place. Cheap plastic organizers like these are great value for money.
Made from high-quality transparent plastic, the Mebbay Plastic Organizer Tray is a storage box that's durable and easy to clean. Configure the eight trays, which come in three different sizes, to your needs and liking. This product perfectly accommodates all your small items such as cosmetics, tableware, stationery, etc.
Packed with 16 plastic pink, purple, and blue bins, this colorful and ergonomic organizer set is ideal for organizing your child's bedroom, playroom, nursery, or the living room. Made from engineered wood, it offers solid support and promises great durability. The bins are an excellent way to teach your child color identification, sorting, and cognitive skills. 
Adjustable and sturdy, these DIOMMELL plastic drawer organizers fit in most drawers and can be used to instantly declutter and organize any space. Its unique design allows for easy, no-tool installation to take place with just the push of a button. Each separator comes with rubber pads at the end to prevent the drawers from getting damaged.
Comprising a total of 24 clear pockets, this hanging organizer can be attached to a standard door or closet rod without the use of installation hardware. Apart from protecting items from dust and damage, it's also easy to identify and access any items. It's great for organizing shoes, kid's toys, beauty accessories, and more.
Bathroom
The STORi plastic organizer keeps bathroom accessories and toiletries at your fingertips. Made from crystal-clear plastic, it contains five compartments that can hold brushes, hair sprays, perfumes, and much more. Thanks to the depth of its compartments, items will hold steady and are unlikely to fall over. 
A frill-free organizing solution, this mDesign Bath organizer basket is perfect for keeping toiletries and bath accessories tidy. Whether you keep it on the bathroom's vanity countertops, under cabinets, or in closets, it'll provide plenty of space for all of your bathroom essentials. Its open top makes it easy to see and quickly grab what's inside, while a handle makes carrying it around a breeze.
Easily store and organize your supplements, medicines, and other health supplies with this plastic medicine storage organizer box from mDesign. Perfect for the pantry, kitchen, and bathroom, its compact size enables it to fit readily into cabinets, shelves, and drawers. 
Organize your bathroom essentials with five crystal-clear bathroom jar containers, then easily identify each item using 107 pre-printed script bathroom labels that come with the package. Made from premium-quality materials and featuring removable lids, these are ideal for storing cotton swabs, soap bombs, and other beauty essentials. 
Simplify your morning routine with this cosmetic storage organizer caddy tote from mDesign. A must-have for every household, it can store plenty of items – cosmetics, accessories, and more with its four divided sections. Its built-in handle allows you to carry it from place to place without trouble, while an open top makes it easy to see and grab what's inside.
Home Office
This multi-functional drawer organizer is everything you've ever wanted: it can serve as makeup vanity drawers, bathroom drawers, plastic jewelry organizer, and more. Its silicone feet allow for greater adhesiveness to surfaces so it won't slide off easily. With three different sizes to choose from, you can create a storage solution that suits you best.
This organizer consists of four pockets and can be hung over a cubicle divider or door. Perfect for storing notebooks, binders, file folders, calendars, and more, it frees up precious desk space and keeps items organized. Great for use in the office or study room.
Say no to desktop clutter with the Toolsand adjustable desk organizer set. This handy product can be customized according to your preferences: its various parts are adjustable and can be set up in multiple different ways to meet your storage needs. 
Perfect for any drawer, the Bakery Supply interlocking desk drawer organizer is made from durable and easy-to-clean plastic. The 10-piece set is all you need to neatly organize everything from office to craft supplies. Its smaller containers can be used to store tea bags and buttons, while the larger bins are suitable for storing kitchen tools.
Made from high-quality, scratch-proof, moisture-proof, and water-proof PVC, Sooez is the file and folder keeper you'd wanted but never had. It features a smooth and reinforced zipper that prevents your items from falling out. These file bags are translucent, making it easy for you to organize and identify your items. 
Looking for a secure filing box for your important papers? Look no further. Sturdy yet light, the Pendaflex Portable File Box has a durable built-in handle and secure latch closure. This black file box contains 3 blue Pendaflex reinforced hanging folders with clear plastic tabs and inserts. Each file box holds up to 12 letter-size hanging folders.
The Storex portable file organizer box is a secure way of carrying your important documents with you. Its lightweight and water-resistant polypropylene build makes it a great alternative to the usual banker boxes. Conveniently store letter or legal-size hanging files using its included inserts. 
With side handles for portability, the Pendaflex Desktop File Organizer will ensure that your projects are never far from reach. This sturdy hanging-file storage product is made to fit desktops or tucked neatly away in standard shelves, drawers, or cabinets. Five letter-size hanging folders with clear tabs and inserts allow you to file documents away in a jiffy.
Carry your documents with you all day, every day. Made from durable plastic, the Bankers Box Heavy Duty Plastic File Box features reinforced corners and a modular design for easy stacking. Built-in hanging rails help to keep files organized and accessible. 
The Honey-Can-Do rolling storage organizer cart is a whole organizing system on its own. It sports a chrome frame and sleek design and comes with drawers of various sizes to meet different storage needs. Use its larger drawers to store everything from art supplies to kitchen essentials. You can even use the cart itself as a workbench for your crafts and small projects.
Garage
Keep your hardware in place with this 30-Bin Wall Mounted Storage Rack. Ideal for use in garages and/or sheds, these removable bins are sturdy and will make items more accessible. This storage rack makes sure you never lose tiny items such as loose screws ever again. Mount your pegboard (comes in the package) before fitting the molded polypropylene storage bins onto it.
Highly versatile, this 39-drawer storage cabinet features a strong frame and break-proof drawers. Mount this on a wall or place it on a table: it's perfect for storing small hardware items, crafting supplies, and the like all within an arm's reach. Drawers also feature finger grips for easy opening and rear tabs to stop its contents from spilling out.
Sporting a sophisticated design and a 35-pound capacity, the Berry Ave Organizer is the ultimate organizing system for your garden. It features 11 Storage Spots, namely five 1¼ wide auto-adjust slots and six retractable hooks. Whether you're looking to hang brooms, rakes, or even pool sticks, this is the product to get. Since this product is weatherproof, it's perfect for use outside. 
The big-boy counterpart to the Humble Crew's Toddler Learning Storage System, this supersized organizer is a trustworthy option you can rely on. Store art supplies, hardware, and more using its 16 plastic bins. The best part is it can be placed in virtually any area of your house.
Manufactured from durable, easy-to-clean plastic resin, this tool organizer can be put together without any tools in under five minutes. It can hold up to 36 tools: there are 15 handle guides for brooms, rakes, and shovels, and 18 slots for smaller tools.
These 32 QT Stack & Pull storage boxes easily store clothes, linens, shoes, and more. The lid is kept in place using sturdy latches, and a built-in handle makes it easy to pull the plastic bin off of a shelf any time. Storing boxes can be stacked neatly with other products in the Stack & Pull series.
The interlocking feature of these bins helps you create your own unique system that fits in any drawer of your choice. Designed to serve an array of functions, you can use them in any drawer or countertop. This high-quality plastic product is easy to clean and will make a great addition to your home. 
The DEWALT DWST08205 Tough System Tote is part of the Tough System line. Constructed with durable, thick structural foam walls, its roomy interior provides ample space for bulk storage. The Tough System Tote can also be stacked with other Tough System toolboxes. Like other Tough System modules using the side stacking latches, it comes with a side grab handle. This product can be used to store spray cans, cables, etc.
Keep your parts organized and accessible with this slim Storage Tackle Box. Known to be strong and durable, these toolbox case organizers can make the perfect companions for home or work. They comprise 18 compartments, a transparent lid, and a comfortable textured handle that allows for a no-slip grip. Adjustable and removable dividers allow its configuration to be changed any time you want.
This heavy-duty dairy/storage crate is a must-have when organizing your home and garage. This product is about 1.5 times bigger than the standard milk crate and is perfect for storing all kinds of small and medium items. Its heavy-duty construction makes it ideal for all your storage needs. Stackable and lightweight, this is the most versatile storage solution you'll need.
Sours: https://storables.com/storage-ideas/best-plastic-organizer-in-2020-you-didnt-know/
60 Plastic Bin and Drawer Decorating Ideas to Beautify Your Home Organizing Solutions
When you need an instant storage solution, what is the first thing you do? Probably head to your local department store and go straight to the section with plastic storage bins and drawers. Plastic organizing containers are cheap, rugged, versatile, and easily repurposed. They are great for bedrooms, dorm rooms, bathrooms, kitchens, garages, craft rooms, and pretty much every other area of the house.
But one thing they are not great for is beautifying your home. There is nothing attractive about a utilitarian plastic bin. In fact, a set of plastic bins or drawers can be an eyesore in the middle of an otherwise gorgeous room.
But did you know there are a lot of ways you can modify plastic bins? In fact, plastic totes are amazingly customizable. With the right materials and a DIY mindset, you can transform them so that they blend in perfectly with the décor and ambiance of your home.
This is actually a great way to decorate your house for less—all while getting more organized. Let's check out 60 beautiful plastic bin and drawer decorating ideas which are sure to inspire you!
1. Disguise your plastic bins as a real set of drawers.
This set of plastic bin drawers with spray-painted, and the knobs were glued on. This effectively disguises them so that they look almost like a traditional set of wooden drawers. You can of course see the distinctive shape of the plastic bins, but the illusion at a glance is quite amazing.
Source: pinterest
2. Decorate your bins with washi tape.
Washi tape is truly beautiful, remarkable stuff. It comes in so many gorgeous patterns and colors, and you can use it to quickly and easily decorate so many different surfaces, including your clear plastic bins. These washi-tape decorated bins have a bright, cheerful look.
Source: thisgirlslifeblog
3. Use a stencil to create an elegant look.
These started out as your boring, run-of-the-mill store-bought plastic bins. It is hard to believe that now, isn't it? The key to decorating these plastic containers and making them look fantastic was the use of an ornate stencil. This stencil made it possible to create a complex design on the tops and sides of the containers. Now they look like something fit for royalty. Check out the source link below to find out how it was done.
Source: danceswithbees
4. Here is how to give your set of plastic drawers a mini-facelift.
At the source link below, you can watch step-by-step as a set of ordinary plastic bins transforms into something beautiful!
Source: jen-simplyliving
5. Turn your plastic bins into adorable utensil holders for the kitchen with a free printable.
Here is one which knocks my socks off. These do not look like they started out as simple clear plastic boxes, but they did. Visit the source link and you can find out exactly how you can make your own cute rustic utensil holders out of plastic boxes—and you can download a free printable to help you out!
Source: tatertotsandjello
6. Turn an ordinary plastic bin into a cute toy box.
Take a look at this toy box! You would think that it was store-bought just as it is now, wouldn't you? But it was once upon a time a boring plastic tub. But then clever DIYer Erika got hold of it and transformed it into something truly incredible with the help of some fabric and her creative imagination. Click on the source link for a tutorial and complete materials list.
Source: livingwellmom
7. Here is another way you can transform your plastic bins using fabric.
This is the same basic idea as the one above, except that a different fabric was used, and there are some handles along the side—very useful if you are going to stow the bins underneath something (such as a couch) and need to be able to easily pull them out. You can also click through to the tutorial for a different set of instructions.
Source: womansday
8. Decorate your plastic containers using duct tape.
Here, we have the great idea of decorating your plastic bins using duct tape. This is the same idea as using the washi tape. But you end up with a different look. Washi tape tends to feature softer colors and designs, whereas duct tape tends to feature bold fluorescent hues and patterns.
Source: withablast
9. Make use of your scrapbooking materials and other fun supplies.
The person who decorated this set of plastic bins used a combination of supplies, including mod podge, scrapbooking paper, ribbons, and buttons. This project not only looks great, but serves to remind us that there are always unique and surprising ways to repurpose supplies for a variety of crafts.
Source: pinterest
10. Inverted colors make for a beautiful redesign.
These bins were decorated using blue spray paint, with the aid of a stencil. What I like most about this design is the inverted colors. This creates a contrast which emphasizes the design in both places that it appears.
Source: pinterest
11. Express your personality with fun patterns.
The leopard pattern duct tape here is ridiculously fun! Along with black spray paint and brown fabric, it does a lot to express the personality and style of the crafter.
Source: pinterest
12. Stamp your bins with metal labels.
Here is another amazing idea. Just add metal stamps to your bins to label them, and you instantly add some style and class.
Source: littlehouseoffour
13. Personalize a plastic bin with a cute picture and a name.
Have plastic bins in a child's room? One idea for decorating plastic tubs or bins for children is to personalize them using their favorite colors along with cute pictures (perhaps a favorite animal) and their names. If you have more than one child, this may also help kids to keep their toys in their own bins, reducing sibling squabbles and messes on the floor.
Source: etsy.com
14. Here is one of the most complete, amazing plastic bin transformations you will ever see.
It is hard to believe, but the materials for this project were just wrapping paper, burlap and mod podge along with hot glue, lock nuts, and some other basic supplies. If you click on the link, you can find out exactly how you can do the same thing to turn your bins into something beautiful.
Source: creativedominican
15. Sometimes a simple set of labels can really make your bins look attractive.
You do not always need something really elaborate to make your plastic bins more appealing to the eye. Sometimes something as simple as a set of matching labels with a little extra style is all you need to give your bins the flair you are looking for.
Source: thehappyhousie
16. Use spray paint to make it look like your plastic bins are made out of metal.
This is pretty self-explanatory. At a glance, this really does look convincingly like a tub made out of galvanized metal, but in reality it is just spray painted plastic. This is one of the fastest and easiest ways to totally transform the look of plastic.
Source: thetiptoefairy
17. Use scrapbook paper to turn your boring plastic bins into bright, vibrant, beautiful storage solutions.
The cheery colors and design are what make these plastic storage containers look so incredible. Visit the blog to find out how it was done! It's a really easy project!
Source: colormedomestic
18. Create a slip-cover for your plastic bin drawers.
This is a continuation of the plastic bin decorating project above. The addition of a fabric slip-cover completes the look. Visit the source link to find out how you can do this with your own set of plastic bin drawers.
Source: colormedomestic
19. Create a coordinated set by using the same design elements across bins.
Here we have more leopard print tape decorating a set of plastic bins. But here is what I want you to observe about this particular setup. Notice how the large brown bin with the mirror on top and the set of drawers probably were not part of the same set of bins originally—but now they are completely coordinated. The leopard print is also repeated in couple of other elements, making everything look like it was originally part of a set. Very smart!
Source: musely
20. Here is a set of plastic bin drawers with a vintage look.
The vintage look of these plastic bin drawers was created by using vintage-style scrapbooking paper. Another element to this decorating job that I like is the fact that the pattern is continuous between the drawers.
Source: sassycraftysahm
21. This cheery sunflower makeover is just stunning.
Look how bright and colorful this set of plastic bin drawers is. In fact, this crafter did such a spectacular job that you don't even notice right away that this is a set of plastic bins. It looks more like a beautifully painted cabinet.
Source: hometalk
22. Go with bold contrasts for an eye-catching design.
Not a lot of crafters would have thought to combine that light baby blue color with that hard industrial gray. The two don't see immediately like they belong together—but that surprising contrast is exactly what makes this bin makeover so appealing.
Source: pinterest
23. Tone down some obnoxiously bright bins.
There is a place for bright fluorescent colors, but they certainly do not fit in with every style of décor. The bins you see below started out as shiny bins with a bright pink-red hue. They are significantly toned down now and are all the better for it.
Source: littlehouseoffour
24. Simple, bold contrasts can totally work.
These plastic bins have been painted green, with the framework for the drawer set still in white. You really could not go with a simpler makeover idea, and yet the contrast between the white and the green is stunning.
Source: lemonsandlaughs
25. Decoupage your bins using an old paper bag.
This looks like old newspaper, but it actually was a paper bag that was decorated to look like such. With decoupage, you can literally decorate anything, and that includes plastic bins. So this was a perfect project to make use of the cute paper bag!
Source: 365daysotherramblings
26. Add functionality to your bins with a pegboard.
You can see that some scrapbooking paper has already transformed the appearance of these bins beautifully. But the crafter went a step further and made them more functional by incorporating a pegboard. This is a smart idea if you are low on space.
Source: hometalk
27. Here is another beautiful plastic bin makeover which uses duct tape.
The designs on the duct tape used on this set of bin drawers are stunning—and they make the plastic bins stunning too!
Source: pinterest
28. This stylish bin makeover makes great use of color and contrast.
I love how the black and white zebra stripes are monochromatic, but there are little pops of color both in the design of the paper (the little hearts) and the pink sparkly buttons which have been attached to the bins. What a cool look!
Source: pinterest
29. Decorate the framework for a set of plastic bin drawers, rather than the bins.
Here is an inversion of the usual method for decorating plastic bin drawers. Rather than decorating the bins themselves, this DIYer tackled the framework. The result looks ridiculously cool, especially if you still want to be able to see what's inside the drawers!
Source: pinterest
30. Make unbelievably gorgeous designs with sharpie markers.
All the ideas included in this list are great, but now and again I come across one which is just mind-blowingly cool. Believe it or not, these fancy, colorful designs were hand-drawn using nothing more than ordinary sharpie markers. This would be an easy and versatile way to customize any plastic bin!
Source: thatsmyletter
31. Turn plastic bins into furniture.
I have no idea how sturdy these benches would be, but the idea of transforming plastic bins into usable furniture like this is quite cool. They look awesome, and if you needed to, you could use them for long-term storage of stuff you don't need to get at all that often.
Video:
Source: engineeryourspace
32. Sometimes how you display your bins makes all the difference in the world.
I can't tell from this image whether these are metal bins or plastic bins which have been coated with metallic spray paint, but the way they are displayed is what makes this entire space look incredible. Sometimes that is all you have to do to improve the appearance of your bins!
Image/Source: instagram
33. Cover your plastic bins in fabric.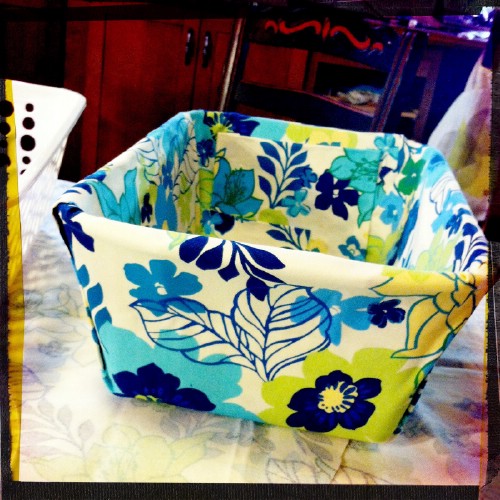 Here is another project for covering a plastic bin in fabric. There are a whole bunch of step-by-step photos and instructions as well as extra tips in the post for making it work, so check it out.
Source: talesfromacottage
34. Turn plastic bin drawers into industrial farmhouse drawers.
Be impressed with these … they look absolutely gorgeous! Even though I can clearly see the plastic, the wood and metallic elements are enough to make these drawers look sturdy and classy. There is a full tutorial at the link.
Source: littlehouseoffour
35. Clear signage has a cute and fun effect.
You certainly could never forget where anything is in this set of plastic makeup drawers!
36. Try the same idea with chalkboard paint.
These drawers are similar to the ones above, except that chalkboard paint has been applied. This makes the drawers easy to label, plus it ensures that they are opaque. You might want that in some situations, as for example when it comes to storing your undies.
Source: livinglifeyourownway
37. Attach decorative embellishments onto your drawers.
These plastic drawers have been enhanced with the addition of cute decorative flowers. This would be a fast and easy plastic bin transformation, but the effect it has is amazing.
Source: pinterest
38. Here is a quick and easy makeover project for your boring set of plastic bins.
For this project, you can transform your plastic bins using some shelf liner. According to the blogger who posted this beautiful set of plastic bin drawers, the entire project took only about half an hour. The shelf liner itself cost less than a dollar, so this approach is as thrifty as it is easy!
Source: orchardgirls
39. Make use of bold contrasts and simple colors schemes to grab the eye.
These bins look totally awesome! The dark grays really make the bright pink embellishments stand out. Notice how these same colors and patterns have been used for the small containers holding the makeup brushes. The designs used on the bins are also similar to the designs on the chair and even the ornate frame of the mirror.
Source: pinterest
40. Bright rainbow colors add some whimsy to any set of plastic drawers.
Here we see a beautiful set of upgraded plastic drawers from a creative kindergarten teacher. You can see how these would fit in well in any classroom. But they would look great at home too, perhaps in a child's bedroom.
Source: kindercraze
41. These plastic bin drawers with scrapbook paper have a softer look.
If you want something colorful, but prefer a subtler, softer look for your drawers, you can draw some wonderful inspiration from these plastic drawers which have been decorated with scrapbook paper featuring images of flowers and butterflies.
Source: livingwellmom
42. Use plastic animals as drawer pulls.
This isn't a set of plastic drawers, but you could use the exact same idea with plastic drawers. The animals are actually plastic too, even though they look like fancy metallic figurines. They've simply been spray painted to look that way. The finished effect is surprisingly polished.
Source: apartmenttherapy
43. These plastic bin drawers are part of an adorable play kitchen.
At a glance, it is obvious this is not a real kitchen—it is a play kitchen for a child's room, thus the small stature of the oven and sink. What I love about these plastic drawers is the way that they have been decorated with the same soft pastel hues that you see in the kitchen set and the walls. Everything is perfectly and seamlessly integrated. It is so cute!
Source: clevercraftycookinmama
44. Decorate the sides with ceiling tins.
This is not a set of plastic bin drawers, but the idea that was used to decorate these drawers could be translated to plastic bins just as easily. The elegant molding you see along the side of this set of drawers was actually a ceiling tin. The finished effect looks incredible, but it was quite easy to achieve!
Source: oneshabbyoldhouse
45. Decorate plastic bins with colorful dots for a bold effect.
These plastic trash bins have been decorated with brightly colored dots. There is no information on what these dots are—whether they are decals or pieces of colored paper or what. Regardless, they're awesome!
46. Colorful bins make for colorful seats.
These colorful bins have been turned into seats for children in a classroom. I am guessing these would not be sufficient to support the weight of adults, but you could use this idea to decorate a child's bedroom or play area. The bins could double as toy storage.
47. These drawers give the clever impression of a screen.
Doesn't it look like these drawers have some kind of mesh installed in the front? They actually don't—that is just the pattern of small dots on paper. But it does create a mesh-like effect, which makes for a cool texture from a distance.
Source: ellie-whenlifegivesyoulemons
48. Make a plastic bin look like a woven basket.
Here is a clever idea for transforming a plastic bin with slots in it. Cut some strips of colorful fabric, and then simply weave them around the sides of the bin through the slots so that you get the look of a basket. You end up with the pattern visible inside the bins as well. Check out the link for more info.
Source: madmim
49. Make your bins sparkle—literally!
I have already shared some bins with shiny metallic paint on them, but here is another look which is just a little bit different. These bins have a metallic finish on them as well, but it is a sparkly one instead.
Source: pinterest
50. Try using wallpaper and a paint pen.
These plastic bin drawers are quite impressive—I had to stare at them a while to be certain they really were plastic! While the description isn't all that clear, I believe that the person who decorated these used the gold paint pen on the drawer pulls.
Source: pinterest
51. A simple stencil and cute lettering go a long way.
This is a set of wooden drawers, but the creative soul who decorated them advised using the same idea on plastic drawers and other types of storage containers. The stencils and the lettering are very simple, but together, they create a beautiful look!
Source: pinterest
52. Apply fabric to a plastic container.
This is a plastic waste paper bin, but it looks amazing, doesn't it? You could use this same idea to decorate any plastic bin or set of plastic drawers.
Source: claireabellemakes
53. Cover a storage container in wallpaper.
Here we have a simple idea for covering a storage container in wallpaper. I think this may be a cardboard box, but the same idea used on plastic would work just as well and end up looking just as beautiful.
Source: bhg
54. Sometimes you just need to go all-out colorful.
Here is a set of plastic drawers which have been spruced up using washi tape. The bright colors complement the fluorescent pink color of the drawers. It doesn't get more fun than that!
Source: thesmartmomma
55. Simple geometric patterns look awesome.
These plastic drawers have been decorated using contact paper. While the idea itself is the same simple one that I have shared already, the patterns on the contact paper used are particularly pleasing in their minimalism.
Source: lifeasaluttrull
56. Make a set of bin drawers fun for kids.
I believe these are filing cabinets, but this is again an idea that could work great with plastic containers in a classroom or a child's room. The bins can be decorated to resemble cute monsters.
57. Here is a surprising idea for using plastic bins as décor.
How many people would see a bunch of plastic bins in different colors with patterns cut in the sides, and think to flip them upside down and use them to hold light fixtures? But this modern décor idea would look amazing in any contemporary home!
58. Here is another cool look with duct tape.
Nothing fancy here, but sometimes simple is good! This awesome look was achieved with duct tape and creativity.
Source: lyndseyscraftspot
59. Here is yet another way you can decorate a plastic container by weaving fabric or ribbon.
Earlier I shared an idea for creating a woven "basket" look using fabric in a slotted plastic bin. Here is an idea which is similar, yet different. There are small holes in this plastic container, and ribbons have been routed through them to create a different look. The finishing touch is the row of cute ribbons along the corner! Don't have a bin with holes? You can always cut holes into an existing container.
Source: makeandtakes
60. Learn the pros and cons of mod podge vs. tape.
Finally, as a bonus, here is a great video which talks about whether it makes more sense to use tape or mod podge when embellishing plastic containers. You'll discover there are some advantages and drawbacks to each, and what you should go with ultimately depends on your level of skill and the durability you are aiming for with your upgraded plastic containers.
Video:
Source: kindercraze
Conclusion: There Are So Many Ways to Transform Your Plastic Drawers and Bins!
If you have been avoiding plastic drawers and bins because of their utilitarian appearance, hopefully now you are looking at them in a whole new way. Plastic bins may not be exciting to look at when you buy them, and they may clash with your décor—but they don't have to! After you jazz them up using some of the ideas and techniques shared in this list, your plastic bins will fit your style and express your personality.
Sours: https://www.diyncrafts.com/30469/home/60-plastic-bin-drawer-decorating-ideas-beautify-home-organizing-solutions
10 Best Plastic Storage Drawers 2020
How Plastic Storage Drawers Help You Declutter The Mess?
Many of us are obsessed with buying new things every day. Be it a household item or your wardrobe essentials, everything needs to be kept protected to increase their life. For this purpose, today we have integrated a list of plastic drawers to fulfill all your storage needs. Plastic containers are a great option to house a good variety of things as they are inexpensive, durable and serves a decorative purpose for your home. Let's dive in and learn about the best plastic storage for your home!
Different Types of Plastic Storage Drawers
Before we hop on to discuss the different uses of plastic storage drawers, let's learn about the various plastic containers that you can get online or in your local market. 
Plastic Baskets
Plastic baskets are available in a number of different shapes, sizes, colors, and patterns. You can always find a plastic basket that can complement the décor of your home if you look hard enough. These storage options are good if you want to store a few, small items. Plastic baskets usually cost more than other types of plastic boxes but are still cheap.
Plastic Cupboards
If you have a lot of stuff lying around the house like kitchen items, important tools, or clothing, getting a plastic cupboard is a good option. Plastic cupboards don't cost a lot of money and can easily be fitted in any room. Sadly, there aren't a lot of options available in terms of texture and patterns. Fortunately, you can find these cupboards in a variety of colors and sizes that will suit your tastes.
Plastic Storage Bins
Plastic storage bins are ideal for individuals who have a lot of random things in your home. You can use plastic storage bins to declutter your home. Store the stuff that you don't need every day in plastic storage bins to be stored in your basement, attic, or some other place in your house.
Plastic Storage Drawers
Plastic storage drawers can easily be added into your existing closet space to help you efficiently store your clothes. You can also organize other things in your house more efficiently with the use of small and large plastic storage drawers. These drawers are rather cheap and are available in a number of sizes.
Plastic Storage Boxes
If you want to store items while keeping them protected, using plastic storage boxes is a safe bet. Plastic storage boxes are often available for very cheap and usually range from small to medium in size.
Trash Can Container
Most people think that they can only be used as trash cans, but there are a number of other uses for these containers due to their shape. These containers can be used in a library or study room to hold extra stuff that an individual might not necessarily need currently but could be of use in the future.
Benefits Of Having Plastic Storage Drawers
If you have decided to use plastic storage containers to help you around the house, you will experience the following perks from incorporating them to your storage routine. 
Cost Factor And Ready Availability
One of the biggest benefits of using plastic storage containers is that they are budget-friendly. On top of that, you can get plastic storage containers almost anywhere. Even if you shop online, you wouldn't even have to wait a couple of days to get your products. Some online retailers and manufacturers even provide same-day delivery services.
Overall Convenience
It is extremely easy to use plastic storage containers due to these being stackable and storable anywhere in the house without being worried about their condition and sturdiness.
Clear Visibility
This is one of the benefits of using plastic containers that are often overlooked. Imagine a scenario in which you are looking for the paintbrushes that you have stored last year somewhere around your house. You know which room you stored it in but not exactly where in the room did you place it.
Now, you could have easily looked for your brushes without turning the room upside down if you had plastic boxes. This wouldn't have been possible if you had wooden boxes. You probably would have had opened every box in the room to get to your paintbrushes.
Durability
Plastic is one of the most durable material that are present on earth, and you can rest assured that your plastic storage container is also bound to be durable. However, you should still take precautions and purchase plastic boxes from reputed manufacturers.
Aesthetic Factor
Plastic storage containers often rate lower when it comes to their aesthetic factor. However, there are some types of plastic boxes that are rather visually pleasing and can complement nicely with the rest of your home décor like plastic baskets.
Uses Of Plastic Storage Drawers In The Kitchen
Let's look into the potential uses of plastic drawers in the kitchen. 
Storing Dry And Wet Ingredients
One of the most common uses for a plastic container within a kitchen is to store dry and wet ingredients or food items like spices. It is even better to use seal-tight plastic storage products so that the food items or ingredients stay fresh for longer.
Floating Shelves
You have your containers and dishes in the kitchen, but what if you don't have enough space to organize them? In this case, you can use floating plastic shelves that you can get installed to your kitchen walls. You can even install those shelves on your own with little to no hassle.
Extra Kitchen Cabinets
You can never have enough space in your kitchen. Furthermore, it is also suggested that you should keep your fine china away from the dishes that you use regularly. And if you don't know where to store all your fancy kitchen equipment, then extra high-quality kitchen cabinets is the right answer to fulfill your requirements.
Waste Disposal Boxes
You can't have a kitchen without a dustbin or waste disposal box in it. This is probably the most basic plastic storage item that you can get online. Some waste boxes are also equipped with slide functionality which makes it easier to use.
Using The Rolling Storage Cart
If you like enjoying a cup of tea or coffee and some snacks in your garden or if you simply like to have food outside your kitchen, having a rolling storage cart can really make your life easier. You won't just be able to put food items on top of the cart, but you can also store various ingredients in its compartments.
If you would like to test all of these uses, you can do that by simply browsing through the list of products that we have shortlisted for you. 
Top 12 Plastic Storage Drawers That's The Best In The Market
This is a rolling storage cart that comes with semi-transparent, large-sized drawers. The cart has locking wheels that make it easier for you to move it in whichever direction you want to. The dimensions of this product are 15" L x 25" W x 32" H.
If you want to store some basic kitchen items or equipment in drawers in a more organized manner, this is the product for you. There are six different containers ranging in their sizes to give you the freedom to customize your drawer however you want.
This is a sturdy cabinet that comes with an aluminum-like finish. The cabinet is black in color and has plastic feet that help it escape any possible moisture. This set of plastic storage drawers for clothes, commodities, etc. have good reviews and can be considered as one of the best storage options you can buy in the market. 
Wire baskets are great for storing fruits and vegetables separately inside or even outside your refrigerator. These baskets are deep and can be stacked on top of one another. The baskets are very durable and can hold a lot of your fruits and fresh produce.
You can never have enough small containers in your kitchen to store all sorts of foods and ingredients, and this is exactly what you get if you purchase this product from Freshware. The containers are made with premium craftsmanship that can be easily cleaned. They are a popular option for plastic containers since these are stackable and come handy in parties.
Uses Of Plastic Storage Drawers In The Bedroom
There are also various ways in which you can use plastic storage containers in the bedroom.
Displaying Memories Through Floating Shelves
Your bedroom is your private space, and it is understandable that you would want to showcase some of your memories in it. And what better way to do that by installing some floating shelves near your bed or on some wall?
Your Under Bed Storage
Most people tend to collect a lot of stuff in their bedrooms as they grow older. These items can be very personal and aren't stuff you want to put anywhere else in your home. This is why you can also utilize the space under your bed to make an under bed storage option for these precious items.
A Fitted Wardrobe
If you want your clothing items to be organized efficiently without ruining the order of your closet, fitting your wardrobe appropriately is the right move. You can do this by putting in various plastic drawers and storage boxes inside the wardrobe to serve as spaces to store clothes, accessories, and other items.
Nightstand
Having a nightstand that holds all the items that you might probably need during the night is always desirable. Get the ideal nightstand by adding some plastic drawers to your nightstand or by getting a durable plastic nightstand.
Here are some of the great plastic storage drawers that you can use for your bedroom: 
This product has 15 floating shelves that have the dimensions of 5" x 5" x 2.5". These shelves are easy to install and durable. They look good in your room and will last in your room for years.
You can use this plastic storage bin to make an under bed storage for yourself. The dimension of this product is 40" x 20" x 6.125", allowing you to store a myriad of items in it. You can stack these storage bins over each other to provide more storage. This product also comes with a clear handle for easy portability.
If you wish to organize your closet in a better manner, these plastic shelves will more than come in handy. These shelves are available in all three sizes: small, medium, and large. These shelves are stackable and come with slide railings for easy access.
Opt for this plastic storage unit with three shelves if you are looking for some extra space in your bedroom to store some of your stuff. It is available in white color and will work well with many room's aesthetic.
This is another storage unit that you can use in your bedroom. This unit is dark in color and has a weave pattern on it to give it a more natural look. There are three shelves in this unit for you to store a myriad of items.
Efficient Uses Of Plastic Storage Drawers For Educational And Creative Purposes
In this last section, we'll look at some unique ways in which you can use plastic storage containers to help you seamlessly pursue your hobbies and education. Some of those unique uses are mentioned below.
Study Center
If you are a student or if you have a child at home, you know that organizing the study table is never an easy task. But what if you could remedy that problem by coming up with a study center? By using various plastic storage containers, you can arrange all the items that your child can need while studying into various different compartments inside the study table or the general study area.
Arts and Craft Supply Storage
Having an arts and crafts station can be a dream come true for somebody who loves art or is a professional artist. One can easily build arts and craft supply stations with the help of some differently sized plastic storage boxes.
Organized Bookshelf
Organized bookshelves don't just make it easier to find the book that you are looking for, but they also have a very pleasing aesthetic appeal. By using some plastic separators, containers, or even buying a plastic bookshelf online, you can easily achieve that.
Tool Drawer
You could be a mechanic, engineer, gardener, or you simply love to play these roles in your spare time. Regardless of your profession, you might have a lot of tools for different uses. What better time than now to organize them by using some plastic storage boxes?
If you get started on these tasks then, you will need your plastic containers. If you don't know where to start searching or what to buy, we have prepared a list of such containers that you can consider purchasing.
This is a plastic container that you can easily use to store all sorts of mechanical tools, gardening tools, and similar equipment. This container has an ergonomic design that makes it easier for to push and pull.
This is another plastic container that is tough and long-lasting. This product can easily be used not just for storing items but also for transporting them over small or large distances. The box comes with a secure lid to keep its contents safe and secure.
This desktop drawer system has three compartments and an open tray top. This makes it easier for students or adults to store items that the might need to study or engage in hobbies like painting or sewing.
This is a multifunctional organizer that is not just for organizing books but also for displaying all sorts of items in rooms or in other parts of the house. This product is available in various sizes and colors so you can store a variety of stuff in it.
This is another plastic shelf that is very durable and sturdy. This shelf can be used for displaying items used in your interests or storing tools and other equipment in the garage or the tool shed.
These are some of the top plastic containers that you can use in various aspects of daily life. Let us know which tip worked the best in making your home a little more organized and beautiful.
Sours: https://storables.com/storage-ideas/storage-drawers/plastic-storage-drawers/
Plastic drawer organizer big
Desktop Organizer / livinbox is a a manufacturer in Taiwan and an expert in redefining the appearance and functionality of traditional storage systems, striking a balance between attractive exteriors and usable interiors.

File Storage, Table Storage, Desk Organizer, File Organizer manufacturer - SHUTER. These stackable livinbox vertical desk organizers keep essential files and documents secure and tidy. With variety of matching drawers, the file storage would make perfect in-and-out trays for an office or a top-notch mail sorter for a home's front entrance. The storage drawer front accommodates stick-on or insertable naming labels for easy contents identification, and unique smooth-slide drawers with anti-drop catches ensure a safe and simple user experience. The file storage is suitable for the small items and craft items as well. Made in Taiwan Desktop Organizer manufacturer. With 50 years of plastic and metal manufacturing experiences, livinbox creates astonishing and surprising storage solutions for office and household. since 1969.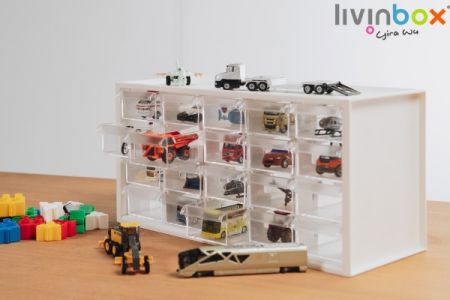 File Storage, Table Storage, Desk Organizer, File Organizer
Desktop Organizer
File Storage, Table Storage, Desk Organizer, File Organizer
These stackable livinbox vertical desk organizers keep essential files and documents secure and tidy. With variety of matching drawers, the file storage would make perfect in-and-out trays for an office or a top-notch mail sorter for a home's front entrance.
The storage drawer front accommodates stick-on or insertable naming labels for easy contents identification, and unique smooth-slide drawers with anti-drop catches ensure a safe and simple user experience.
The file storage is suitable for the small items and craft items as well.
Sours: https://www.livinbox.com/en/category/Desktop-Organizers.html
Amazon Plastic Modular Drawer System Unboxing and Demo - Multipurpose Organizer Drawer
The girlfriends chirped about theirs, sharing the latest gossip of the court, and I faked everything that these Mademoiselles had prepared. And now, feeling drowsy, I got up, thanked the girls and went to my room. Dasha began to clean up. After such a hard day and a delicious dinner, my head pulled me to sleep.
You will also be interested:
With the other hand, she caressed my penis. I moved my hips towards her movements. One minute, two, five.
500
501
502
503
504