Inspiring and Comforting Quotes
People can often find themselves tongue-tied if someone they care about is experiencing hardship or loss. If you are ever in this position and don't know what to say, you can express your feelings by sharing quotations that reflect how you feel. In the end, if it strikes a chord with you, it will likely do the same to the loved one you are hoping to comfort.
Sharing quotes—whether in a eulogy, on a card, or in a heartfelt note—says that you've taken the time to find the right sentiment to guide a loved one through the complicated stages of loss and grief.
Here are some sayings and passages that meditate on the complex emotions surrounding some of life's most challenging events.
Cancer Diagnosis
Receiving a cancer diagnosis or experiencing a relapse can be a life-changing event—and one that people still struggle to discuss. The listed quotes were chosen to inspire strength and perspective and to let your loved one know they are not alone.
"Cancer is a word, not a sentence." — John Diamond
"Although no one can go back and make a brand new start, anyone can start from now and make a brand new ending." — Carl Bard
"The most beautiful people we have known are those who have known defeat, known suffering, known struggle, known loss, and have found their way out of the depths. These persons have an appreciation, a sensitivity, and an understanding of life that fills them with compassion, gentleness, and a deep loving concern. Beautiful people do not just happen." — Elizabeth Kubler-Ross
"Look to this day for it is life. For yesterday is already a dream and tomorrow is only a vision. But today well-lived makes every yesterday a dream of happiness, and every tomorrow a vision of hope." — Sanskrit proverb
"Some days there won't be a song in your heart. Sing anyway." — Emory Austin
"I keep dreaming of a future, a future with a long and healthy life, not lived in the shadow of cancer, but in the light." — Patrick Swayze
How to Give Emotional Support to Someone With Cancer
Loss of a Friend
Losing someone you care about can leave you struggling for the words to express what you're feeling. While grief isn't always eloquent, some people find peace in quotes reflecting on the power and persistence of friendship.
"It takes a minute to find a special person, an hour to appreciate them, and a day to love them, but it takes an entire lifetime to forget them." — Author unknown
"When we honestly ask ourselves which person in our lives means the most to us, we often find that it is those who, instead of giving advice, solutions, or cures, have chosen rather to share our pain and touch our wounds with a warm and tender hand. The friend who can be silent with us in a moment of despair or confusion, who can stay with us in an hour of grief and bereavement, who can tolerate not knowing, not curing, not healing, and face with us the reality of our powerlessness, that is a friend who cares." — Henri J.M. Nouwen
"At some of the darkest moments in my life, some people I thought of as friends deserted me—some because they cared about me and it hurt them to see me in pain; others because I reminded them of their own vulnerability, and that was more than they could handle. But real friends overcame their discomfort and came to sit with me. If they had not words to make me feel better, they sat in silence (much better than saying, 'You'll get over it,' or 'It's not so bad; others have it worse') and I loved them for it." — Harold Kushner
"Sweet is the memory of distant friends! Like the mellow rays of the departing sun, it falls tenderly, yet sadly, on the heart." — Washington Irving
"The bond between friends cannot be broken by chance; no interval of time or space can destroy it. Not even death itself can part true friends." — St. John Cassian
"True friendship is like sound health; the value of it is seldom known until it is lost." — Charles Caleb Colton
Loss of a Mother
Few things are as powerful as the bond between a mother and her child. Those grieving the loss of their mom might be comforted by words expressing the endless and enduring nature of a mother's love.
"A mom's hug lasts long after she lets go." — Author unknown
"The mother memories that are closest to my heart are the small gentle ones that I have carried over from the days of my childhood. They are not profound, but they have stayed with me through life, and when I am very old, they will still be near." — Margaret Sanger
"Mothers hold their childrens' hands for a short while, but their hearts forever." — Author unknown
"A man loves his sweetheart the most, his wife the best, but his mother the longest." — Irish proverb
"A mother is not a person to lean on, but a person to make leaning unnecessary." — Dorothy Canfield Fisher
"A mother understands what a child does not say." — Jewish proverb
"There is no death, daughter. People only die when we forget them." my mother explained shortly before she left me. "If you can remember me, I will be with you always." — Isabel Allende
31 Way to Remember a Loved One During Christmas
Loss of a Husband
Losing a spouse or partner has a direct impact on your well-being and can feel like losing a part of yourself. These quotes could provide solace (or maybe a smile) for someone who recently lost their husband.
"To My Dear and Loving Husband:
If ever two were one, then surely we.
If ever man were loved by wife, than thee;
If ever wife was happy in a man,
Compare with me, ye women, if you can.
I prize thy love more than whole mines of gold,
Or all the riches that the East doth hold.
My love is such that rivers cannot quench,
Nor ought but love from thee give recompense.
Thy love is such I can no way repay.
The heavens reward thee manifold, I pray.
Then while we live, in love let's so persever[e]
That when we live no more, we may live ever." — Anne Dudley Bradstreet
"To live in hearts we leave behind is not to die." — Thomas Campbell
"I cannot say, and I will not say
That he is dead. He is just away.
With a cheery smile, and a wave of the hand,
He has wandered into an unknown land
And left us dreaming how very fair
It needs must be, since he lingers there.
And you—oh you, who the wildest yearn
For an old-time step, and the glad return,
Think of him faring on, as dear
In the love of There as the love of Here.
Think of him still as the same. I say,
He is not dead—he is just away." — James Whitcomb Riley
"My husband wanted to be cremated. I told him I'd scatter his ashes at Neiman Marcus—that way, I'd visit him every day." — Joan Rivers
"The way he treated me and the way I treated him, the way we took care of each other and our family, while he lived. That is so much more important than the idea I will see him someday." — Ann Druyan
Loss of a Wife
Everyone feels differently after a death, but experiencing a fear of living alone is a common sentiment after a wife passes away. Knowing others have felt your grief, along with some inspirational words about how they carried on, can offer a bit of solace.
"A happy marriage is a long conversation which always seems too short." — Andre Maurois
"O my love, my wife!
Death, that hath suck'd the honey of thy breath
Hath had no power yet upon thy beauty." — William Shakespeare
"Heaven will be no heaven to me if I do not meet my wife there." — Andrew Jackson
"One flesh. Or if you prefer, one ship. The starboard engine has gone. I, the port engine, must chug along somehow till we make harbour. Or rather, till the journey ends." — C.S. Lewis
"The sum which two married people owe to one another defies calculation. It is an infinite debt, which can only be discharged through eternity." — Johann Wolfgang von Goethe
Loss of a Child
How can you even begin to describe the feelings of sadness when a child dies? The grief is enough to render anyone speechless. In those moments, reflecting on the kind words of others can help some move forward when the world seems to stand still.
"I love you every day. And now I will miss you every day." ― Mitch Albom
"We never truly get over a loss, but we can move forward and evolve from it." — Elizabeth Berrien
"Let your children be as so many flowers, borrowed from God. If the flowers die or wither, thank God for a summer loan of them." — Samuel Rutherford
"Children reinvent your world for you." — Susan Sarandon
"Think of your child then, not as dead, but as living; not as a flower that has withered, but as one that is transplanted, and touched by a Divine hand is blooming in richer colors and sweeter shades than those of earth." — Richard Hooker
"There is a sacredness in tears. They are not the mark of weakness, but of power. They speak more eloquently than ten thousand tongues. They are the messengers of overwhelming grief, of deep contrition, and of unspeakable love." — Washington Irving
"It is the capacity to feel consuming grief and pain and despair that also allows me to embrace love and joy and beauty with my whole heart. I must let it all in." — Anna White
"Grief is like the ocean; it comes on waves ebbing and flowing. Sometimes the water is calm, and sometimes it is overwhelming. All we can do is learn to swim."
— Vicki Harrison
"Death leaves a heartache no one can heal. Love leaves a memory no one can steal." — Author unknown
Loss of an Infant
Losing a child, no matter how young, can be traumatic and heartbreaking. While no words could ever truly heal a grieving parent, reflecting on these quotes may help console them.
"Sometimes the smallest things take up the most room in your heart." — A.A. Milne
"Listen for my footfall in your heart.
I am not gone but merely walk within you." — Nicholas Evans
"Gone yet not forgotten,
although we are apart,
your spirit lives within me,
forever in my heart." — Author unknown
"An angel in the Book of Life wrote down my baby's birth.
And whispered as she closed the book, 'Too beautiful for earth.'" — Author unknown
"How very softly you tiptoed into our world, almost silently, only a moment you stayed. But what an imprint your footsteps have left upon our hearts." — Dorothy Ferguson
"There is no foot so small that it cannot leave an imprint on this world." — Author unknown
How to Mention a Memorial or Sympathy Gift
Pregnancy Loss
Because the majority of miscarriages occur during the first trimester—often before the parents announce their pregnancy—mourning the loss of a pregnancy can be a lonely experience. Sharing and reflecting on words by others who have gone through similar moments of grief and heartache may be a significant comfort to parents.
"The best and most beautiful things in the world cannot be seen, nor touched, but are felt in the heart." — Helen Keller
"Beautiful memories silently kept of a baby we love and will never forget." — Author unknown
"You cannot stop the birds of sorrow from flying over your head, but you can stop them nesting in your hair." —Eva Ibbotson
"Babies lost in the womb were never touched by fear. They were never cold, never hungry, never alone, and importantly always knew love." — Zoe Clark-Coates
"I held you every second of your life." — Stephanie Paige Cole
Loss of a Military Member
Whether they were a seasoned veteran or a young active-duty member, it's never easy to lose someone who gave so much to their country and community. The following quotes can be used to honor a fallen military member's service and sacrifice.
"It is foolish and wrong to mourn the men who died. Rather we should thank God that such men lived." — George S. Patton
"Soldier, rest! thy warfare o'er,
Sleep the sleep that knows not breaking;
Dream of battled fields no more,
Days of danger, nights of waking." — Sir Walter Scott
"They fell, but o'er their glorious grave
Floats free the banner of the cause they died to save." — Francis Marion Crawford
"Although no sculptured marble should rise to their memory, nor engraved stone bear record of their deeds, yet will their remembrance be as lasting as the land they honored." — Daniel Webster
"A hero is someone who has given his or her life to something bigger than oneself." — Joseph Campbell
"Without the brave efforts of all the soldiers, sailors, airmen, and Marines and their families, this nation, along with our allies around the world, would not stand so boldly, shine so brightly and live so freely." — Lane Allen Evans
"The true soldier fights not because he hates what is in front of him, but because he loves what is behind him." — G.K. Chesterton
Helpful Things to Say After a Death
Loss of a Grandparent
Even when the death of a grandparent is expected, it can still be a difficult thing for grandchildren to experience. These quotes might resonate with those reflecting on the lives of their grandfathers and grandmothers as they mourn their passing.
"Nobody can do for little children what grandparents do. Grandparents sort of sprinkle stardust over the lives of little children." — Alex Haley
"Some of the world's best educators are grandparents." — Charles W. Shedd
"When grandparents enter the door, discipline flies out the window." — Ogden Nash
"You've got to do your own growing, no matter how tall your grandfather was." — Irish proverb
"A grandmother is a little bit parent, a little bit teacher, and a little bit best friend." — Author unknown
"We should all have one person who knows how to bless us despite the evidence. Grandmother was that person to me." — Phyllis Theroux
"Because [grandparents] are usually free to love and guide and befriend the young without having to take daily responsibility for them, they can often reach out past pride and fear of failure and close the space between generations." — Jimmy Carter
"I loved their home. Everything smelled older, worn but safe; the food aroma had baked itself into the furniture." — Susan Strasberg
"Grandmother–grandchild relationships are simple. Grandmas are short on criticism and long on love." — Author unknown
"My grandmother once said grief is the price you pay for love." — Prince William
Loss of a Brother
Losing a brother can have a direct impact on your mental health. During the mourning process, reading others' thoughts on brotherly bonds can be a soothing reminder of how strong that relationship can be.
"When brothers agree, no fortress is so strong as their common life." — Antisthenes
"Brothers and sisters are as close as hands and feet." — Vietnamese Proverb
"A friend is a brother who was once a bother." — Author unknown
"I, who have no sisters or brothers, look with some degree of innocent envy on those who may be said to be born to friends." — James Boswell
"To the outside world we all grow old. But not to brothers and sisters. We know each other as we always were. We know each other's hearts. We share private family jokes. We remember family feuds and secrets, family griefs and joys. We live outside the touch of time." — Clara Luz Zúñiga Ortega
"We are not only our brother's keeper; in countless large and small ways, we are our brother's maker." — Bonaro Overstreet
"He is my most beloved friend and my bitterest rival, my confidant and my betrayer, my sustainer and my dependent, and scariest of all, my equal." — Gregg Levoy
"Not only had my brother disappeared, but a part of my very being had gone with him. Stories about us could, from then on, be told from only one perspective. Memories could be told but not shared" — John Corey Whalley
Loss of a Sister
The connection one has with a sibling is often innate, hard-fought, and unbreakable, making the loss of a sister that much more heartbreaking for those who experience it. Meditating on the words of others who shared such strong ties, too, may offer a small bit of comfort for those mourning a sister.
"Sisters are different flowers from the same garden." — Author unknown
"Our roots say we're sisters, our hearts say we're friends." — Author unknown
"To have a loving relationship with a sister is not simply to have a buddy or a confident... it is to have a soulmate for life." — Victoria Secunda
"A sister is a gift to the heart,
A friend to the spirit,
A golden thread to the meaning of life." — Isadora James
"A sister can be seen as someone who is both ourselves and very much not ourselves — a special kind of double." — Toni Morrison
"She is your mirror, shining back at you with a world of possibilities. She is your witness, who sees you at your worst and best, and loves you anyway. She is your partner in crime, your midnight companion, someone who knows when you are smiling, even in the dark. She is your teacher, your defense attorney, your personal press agent, even your shrink. Some days, she's the reason you wish you were an only child." — Barbara Alpert
"A sister is a little bit of childhood that can never be lost." — Marion C. Garretty
"If you have a sister and she dies, do you stop saying you have one? Or are you always a sister, even when the other half of the equation is gone?" — Jodi Picoult
How to Write a Condolence Letter
Thanks for your feedback!
Verywell Health uses only high-quality sources, including peer-reviewed studies, to support the facts within our articles. Read our editorial process to learn more about how we fact-check and keep our content accurate, reliable, and trustworthy.
Cook SA, Salmon P, Hayes G, Byrne A, Fisher PL. Predictors of emotional distress a year or more after diagnosis of cancer: A systematic review of the literature. Psychooncology. 2018;27(3):791–801. doi:10.1002/pon.4601

National Institute on Aging. Mourning the death of a spouse. Updated June 3, 2017.

Hardy K, Hardy PJ. 1(st) trimester miscarriage: four decades of study. Transl Pediatr. 2015;4(2):189–200. doi:10.3978/j.issn.2224-4336.2015.03.05

Bolton JM, Au W, Chateau D, et al. Bereavement after sibling death: a population-based longitudinal case-control study. World Psychiatry. 2016;15(1):59–66. doi:10.1002/wps.20293
Sours: https://www.verywellhealth.com/inspiring-comforting-quotes-1132528
As any person with cancer knows, a cancer diagnosis also affects family members and friends. Sometimes, the complex feelings and lifestyle changes caused by cancer and its treatment become as overwhelming for others in your life as they are for you. Understanding the potential changes in the way you relate to specific family members and friends may help you take steps to grow healthy, mutually supportive relationships during this challenging time.
Spouses and partners
Cancer has a major effect on marriages and other long-term partnerships. After a cancer diagnosis, both individuals may experience sadness, anxiety, anger, or even hopelessness.
The effects of cancer vary from couple to couple. For some couples, facing the challenges of cancer together strengthens their relationship. For others, the stress of cancer may create new problems and worsen existing problems.
Here are some changes that often occur in relationships:
Roles. Cancer often changes roles. A person who has always been in charge or served as the caregiver may have trouble accepting a more dependent role. Or a person who has not served in those roles may struggle to take charge and provide care.

A partner may try to gain some control by becoming an "expert" in some area of the disease. He or she may try to manage your treatment schedule or communication with the health care team. If this is comfortable for both of you, it may help you cope with the illness. But it is important to listen to each other's needs and desires and remain flexible.

A partner may become overly protective or controlling. This may affect the exchange of information, both at home and with the health care team. Although it may seem normal, or even generous, to not tell your partner all the details of the diagnosis or treatment, keeping secrets usually results in feelings of isolation for both people. Talk with your partner about your feelings and work together as much as possible to make decisions about treatment, caregiving, and other issues. Learn more about how to talk with your spouse or partner about cancer.
Responsibilities. In most relationships, each partner handles specific chores. One partner may do yard work and cook, while the other cleans and pays bills. If cancer and its treatment leaves you feeling tired or unable to perform your usual tasks, your partner may have to pick up those duties. If you must stop working, your partner may need to go back to work or work extra hours while perhaps also taking on caregiving duties.

These added responsibilities may become overwhelming and lead to feelings of frustration and resentment. Meanwhile, you may feel guilty, saddened, or frustrated. Talking openly about limitations and possible solutions will help you both feel more comfortable with these changes. In addition, although it may be difficult for both partners, it is important to accept outside help from friends, family members, or professionals.
Physical needs. The physical needs that come with cancer may change throughout the course of the disease. It is important that both partners talk about their needs. Asking for help with basic activities of daily life, such as getting dressed or washing your hair, may be difficult. But your partner may not know that you need help or may not want to offend you by offering it. So it is important to talk openly and to clearly express your needs. This will help avoid the frustration and anger that could result from misinterpreting your spouse's behavior.

Emotional needs. Each partner may have different emotional needs that change frequently. But both partners may need extra reassurance that they are still loved. Couples need to be sensitive to the changing emotional needs that come with a cancer diagnosis. Spouses or partners may want to consider talking with a professional, such as a therapist or counselor, on their own. Spouses or partners caring for their loved one may find it difficult to express certain feelings for fear of hurting or overwhelming their partner. And it is important that the spouse or partner with cancer is able to express their feelings to someone who can handle the intensity of those feelings without being overwhelmed.
Sexual health and intimacy. Cancer and its treatment often affect sexual health. Depression, fatigue, nausea, erectile dysfunction, vaginal dryness, and other physical or emotional problems may lower sex drive or make intercourse difficult or painful. Both partners may feel anxious about this issue but be reluctant to talk about it. Every couple has different levels of comfort in talking about sexual health and intimacy. If sharing your concerns and challenges is especially uncomfortable for you, consider getting help from a counselor, therapist, your doctor, or a social worker. They can provide suggestions for managing sexual side effects and suggest ways to maintain intimacy.
Future plans. Cancer often changes a couple's hopes and dreams. Your plans for retirement, traveling, or parenthood may change, causing feelings of sadness or even anger. It helps to reevaluate priorities and work together to establish new, short-term goals—such as finishing cancer treatment. Things that seemed important before the cancer diagnosis may give way to new priorities, such as enjoying more time together. But putting some goals on hold, rather than changing them completely, may help your outlook on the future.
Friends and adult family members
The effects of cancer on your relationships with friends and family members vary widely, based on the closeness of each relationship. Different families have different communication and coping styles. Consider how your family reacts in a crisis and how family members have dealt with other difficult situations. This will help you plan your strategy for communicating news and asking for support.
Here are some suggestions to help you adjust to relationship changes with friends and family:
Put 1 person in charge of giving medical updates. Having to repeat medical information and answer the same questions over and over again can be tiring and time-consuming. It can also be stressful, especially when it is about your own health. Ask a trusted family member to share medical information with other family and friends. Have that person make necessary phone calls, send emails, answer questions, and post updates online if you are comfortable with that. That person can also assign tasks to family members who offer to help.
Expect relationships to change. Many people have little experience with life-threatening illnesses. They may not know what to say to you or how to act. For some, it may be frightening to learn that you have cancer. Others may have lost a loved one to cancer, and your diagnosis may bring up painful memories. For these reasons, some of your friends or family members may not be able to offer you the support that you expect.

Although this is painful, try to remember that their reactions may reflect their past experiences and losses and not their feelings for you. Some friends and family members may distance themselves from you, but others will surprise you with emotional and physical support throughout your illness.
Take the lead in talking. Some friends and family members may avoid talking with you because they do not know what to say. Others may avoid talking about cancer, fearing that they will upset you. If you feel like talking about your cancer, bring up the subject with your friends and family members. Let them know that it is okay to talk about it. Reassure them that you do not expect answers and that you only want them to listen and to try to understand your feelings. It is also okay to tell people when you do not want to talk about your cancer. At times, you might prefer to talk about other things or just laugh with your friends.
Let people help you. Your friends and family members will likely want to help you. But they might not know what you need or how to ask you. Be direct and detailed about your needs. Prepare a list of tasks that people can do for you. For example, ask friends or family members to do your laundry, walk the dog, or update others on your progress.

You may find that you have a well-meaning but overbearing family member who is complicating your efforts. In this case, you or a close family member will need to set boundaries with that person. This may be difficult, but it is best to be direct and let him or her know exactly what is helpful and what is not. One way to approach this is to say, "I appreciate your involvement. But I get tired when you are here every day. The best way you can help me is by visiting on [name a specific day or time]."
Stay involved in social activities. As much as possible, try to maintain social contact with friends and family. Your friends might assume that you do not want to be invited to social events. So let them know to keep inviting you, if that is your preference. Meanwhile, let people know about your physical limitations. Most friends and family members will be happy to plan quiet activities, such as going to the movies or fixing lunch at your house. And do not be afraid to cancel if you are physically or emotionally tired.
Children
Being a parent with cancer presents unique challenges, including the following:
Communication. You may want to protect your children from fear and other difficult feelings. But it is important to talk openly with them about your diagnosis and treatment. Even very young children can sense that something is wrong. Avoiding the topic may lead them to believe that the situation is worse than it is. This may create feelings of confusion and fear. Remember that children may overhear conversations between adults and worry more if they feel that important news is being kept from them.

Communication will help your children cope with your cancer diagnosis. But it is important to provide information that is appropriate for your children's ages. This will help them understand the situation without overwhelming them. Focus on things that will affect them directly, such as changes to their schedules or changes in your appearance, which might be more frightening if they are unexpected.

Learn more about talking with your children and how children understand cancer at different ages. You can also ask a social worker or counselor about how to have these conversations.
Changes in children's behavior. Expect shifts in your children's behavior as they adjust to the changes resulting from your cancer diagnosis and treatment. Younger children may become overly clingy or impulsive. Older children or teenagers may become angry or distant and withdraw from family activities. Try to keep your children's daily schedule as normal as possible. And be patient.

Encourage children to ask questions, and let them know it is okay to talk about their feelings and fears. Reassure your children that they will always receive care and that you will always love them.
Role reversal. Adult children may act as caregivers for a parent with cancer. This is a change that is often difficult for both parents and children. Learn more about caring for a parent with cancer.
Balancing your needs and your children's needs. Being a parent while living with cancer is often physically and emotionally exhausting. You may wonder how you can continue to care for your family while caring for yourself and coping with a cancer diagnosis. This is the time to reconsider your schedule, to-do list, goals, and expectations. Take help from others and ask for help when you need it. This will allow you to spend less time worrying and more time enjoying with your loved ones. Learn more about how to get support for parenting while living with cancer.
The importance of communication
As demonstrated above, good communication is important in relationships between people with cancer and those who care about them. A lack of communication often leads to isolation, frustration, and misunderstandings. Talking about feelings and personal needs with honesty, sincerity, and openness lowers the stress on relationships. If you are having a hard time talking with people, or if others do not seem to want to communicate with you, consider joining a support group or talking with a counselor or social worker.
Related Resources
6 Ways Relatives and Friends Can Help When You Have Cancer
Talking With Teens About Cancer

"Your Stories"Podcasts: How Cancer Impacts Families
More Information
National Cancer Institute: Taking Time: Support for People With Cancer
Sours: https://www.cancer.net/coping-with-cancer/talking-with-family-and-friends/how-cancer-affects-family-life
There's no remedy for grief, especially when it comes to the profound loss of a parent. One thing that can provide a little comfort is the reminder that others have dealt with the same kind of pain and might even have wisdom to share. Grief is a path we all walk at some point, and it helps to have guides along the way. So, we looked to some of the most eloquent writers who have managed to beautifully put their emotions into words. For Father's Day, or any day, here are some messages of solace that will hopefully resonate, whether you recently lost your father, or just miss him terribly.
Advertisement - Continue Reading Below
"At the blueness of skies and in the warmth of summer, we remember them."
– Sylvan Kamens & Rabbi Jack Reimer
"What we once enjoyed and deeply loved we can never lose, for all that we love deeply becomes part of us."
– Helen Keller
"It doesn't matter who my father was; It matters who I remember he was."
– Anne Sexton
"You see, my father taught me that even our most profound losses are survivable. And that is–it is what we do with that loss–our ability to transform it into a positive event–that is one of my father's greatest lessons."
– Ted Kennedy, Jr.
"Only people who are capable of loving strongly can also suffer great sorrow, but this same necessity of loving serves to counteract their grief and heals them."
– Leo Tolstoy
"If there ever comes a day when we can't be together, keep me in your heart. I'll stay there forever."
– Winnie the Pooh
"A great soul serves everyone all the time. A great soul never dies. It brings us together again and again."
– Maya Angelou
"There is no expiration date on the love between a father and his child."
– Jennifer Williamson
"It's so much darker when a light goes out than it would have been if it had never shone."
– John Steinbeck
"When a great man dies, for years the light he leaves behind him, lies on the paths of men."
– Henry Wadsworth Longfellow
"Say not in grief 'he is no more' but in thankfulness that he was."
– Hebrew Proverb
"Every man's life ends the same way. It is only the details of how he lived and how he died that distinguish one man from another."
– Ernest Hemingway
"The heart of a father is the masterpiece of nature."
– Antoine Francois Prevost
"Love has no age, no limit; and no death."
– John Galsworthy
Annie GoldsmithNews WriterAnnie Goldsmith is the news writer for Town & Country, where she covers culture, politics, style, and the British royal family.
This content is created and maintained by a third party, and imported onto this page to help users provide their email addresses. You may be able to find more information about this and similar content at piano.io
Sours: https://www.townandcountrymag.com/leisure/arts-and-culture/g32464012/loss-of-father-quotes/
Losing My Father To Bowel Cancer - Lottie's Story - Stand Up To Cancer
Are you struggling with cancer or know someone who does? The following cancer quotes will lift you up during difficult times so that you can keep on fighting. If you want even more positive quotes, have a look at these uplifting quotes that will help brighten your day.
Being diagnosed with cancer is a horrific shock, to say the least. From one day to the other, your entire life is turned around. There are so many questions in your head and not a single answer. You may feel hopeless and alone. But you are not alone.
"Temper us in fire, and we grow stronger. When we suffer, we survive."
Cassandra Clare
Millions all around the world are diagnosed with cancer each year. And while it is painfully tragic that many lose the battle with this awful decease, there are also millions of individuals who fought and survived. Among these cancer survivors, there are many celebrities who have become true role models for all those with a similar fate.
These inspirational cancer quotes show why it's important to keep fighting
As a family member or friend of someone who has cancer, you may not know how to behave. You want to be there for your friend, parent, or relative but don't know what to say and what to do. The following cancer quotes will help you to find the right words during some of the most difficult moments in life.
102 Uplifting Cancer Quotes to Keep on Fighting
The following collection is a mixture of uplifting quotes that will help you to never lose hope even when all hope seems gone. But there also quotes from those who have survived the illness and their unique insights about their experiences. To give you an even more helpful collection, we have categorized the following quotes into these different sections:
Here's our selection of inspirational cancer quotes
1.
"We have two options, medically and emotionally: give up or fight like hell."
Lance Armstrong
2.
"Cancer may have started the fight, but I will finish it."
Unknown
3.
"More than 10 million Americans are living with cancer, and they demonstrate the ever-increasing possibility of living beyond cancer."
Sheryl Crow
4.
"Without belief, we would be left with nothing but an overwhelming doom, every single day. And it will beat you. I didn't fully see, until the cancer, how we fight every day against the creeping negatives of the world, how we struggle daily against the slow lapping of cynicism."
Lance Armstrong
5.
"Cancer is a word, not a sentence."
John Diamon
6.
"You beat cancer by how you live, why you live and in the manner in which you live."
Stuart Scott
7.
"One of the things that can help people with cancer is having something that you really look forward to doing, so that you can focus on that while the treatments are going on. I guess it's like saying, 'I have unfinished business left before I die."
Joe Marelle
8.
"Nah. I'm a tough cookie. Except for the cancer, I'm fine."
Lisa Scottoline
9.
"Cancer can take away all of my physical abilities. It cannot touch my mind, it cannot touch my heart, and it cannot touch my soul."
Jim Valvano
10.
"Only in the darkness can you see the stars."
Martin Luther King Jr.
11.
"Cancer gave me an understanding of the point of all this. To survive. Most of our lives it is easy but for the moments when it becomes difficult, when accident or sickness or sadness strikes, it's just about remembering one thing. You must simply survive."
Shaun Hick
12.
"I would tell someone who's battling cancer to write down the five to ten things that you look forward to doing with the rest of your life. In other words, your future should be the focus. For example, 'I want to see my grandchildren,' or 'I want to take that trip.' You've got to find something to look forward to that will give you strength. You want it to draw you like a magnet."
Joe Marelle
13.
"Above all, cancer is a spiritual practice that teaches me about faith and resilience."
Kris Carr
14.
"Cancer opens many doors. One of the most important is your heart."
Greg Anderson
15.
"Since I had cancer I've realised that every day is a bonus."
Geoffrey Boycott
16.
"I think cancer is a hard battle to fight alone or with another person at your side, but I will say having someone to pick you up when you fall, stand by your side through every appointment and delivery of bad news, is priceless."
Jenna Morasca
17.
"Cancer has shown me what family is. It showed me a love that I never knew really existed."
Michael Douglas
18.
"Cancer is that awful word we all fear when we go to the doctor for a physical exam, but in that brief dark moment we hear it the world we live in and the people we share it with begin to illuminate things we did not even pay attention to."
B. D. Phillips
19.
"I want to see cancer cured in my lifetime. It might be."
James D. Watson
20.
"Cancer is messy and scary. You throw everything at it, but don't forget to throw love at it. It turns out that might be the best weapon of all."
Regina Brett
21.
"I do not wish my anger and pain and fear about cancer to fossilize into yet another silence, nor to rob me of whatever strength can lie at the core of this experience, openly acknowledged and examined… imposed silence about any area of our lives is a tool for separation and powerlessness."
Audre Lorde
22.
"I felt great empathy for my friend, as one form of cancer after another emerged to challenge him. I felt sympathy for his suffering that surely clawed at his daily routines, always active and busy, but he rarely verbalized complaints while courageously challenging his archenemy. He met pain and physical decline with 600-calorie workouts; he discarded anxieties somewhere along innumerable running trails; he faced death by running through life at full stride."
Brent Green
23.
"Who can say they have been through cancer twice and beat it? Confront the world, Aundrea. You're alive. Be proud of the strong woman you are and stop hiding behind your wig."
Amanda Maxlyn
24.
"Cancer is the be-all and end-all of the sport, and the only thing you can do is show up to the game with your jersey on."
Colleen Hoover
25.
"You never know how strong you are until being strong is the only choice you have"
Cayla Mills
26.
"Courage is not the absence of fear, but rather the judgment that something else is more important than fear."
Ambrose Redmoon
27.
"During chemo, you're more tired than you've ever been. It's like a cloud passing over the sun, and suddenly you're out. You don't know how you'll answer the door when your groceries are delivered. But you also find that you're stronger than you've ever been. You're clear. Your mortality is at optimal distance, not up so close that it obscures everything else, but close enough to give you depth perception. Previously, it has taken you weeks, months, or years to discover the meaning of an experience. Now it's instantaneous."
Melissa Bank
28.
"Feed your faith and your fears will starve to death."
Unknown
29.
"The failure to think positively can weigh on a cancer patient like a second disease."
Barbara Ehrenreich
30.
"The human spirit is stronger than anything that can happen to it."
C.C. Scott
31.
"We must embrace pain and burn it as fuel for our journey."
Kenji Miyazawa
32.
"This is the story of how Dad lived with his lung cancer. But it is much more. Through his illness and the miracles we experienced, I came to see that Dad's was not just a journey. It was a journey home. Home to God. "
Joseph M. Hanneman
33.
"We shall draw from the heart of suffering itself the means of inspiration and survival."
Winston Churchill
34.
"Sometimes even to live is an act of courage."
Lucius Annaeus Seneca
35.
"When you have exhausted all possibilities, remember this: You haven't."
Thomas Edison
36.
"I walk to rid myself of the terror of cancer, and to overcome the fear of it coming back. The fear may never completely fade, but actively engaging life – whatever that may involve – reminds me of the joy each day can bring."
Edie Littlefield Sundby
37.
"Cancer… the process of creation gone wild, I thought."
Philip K. Dick
38.
"What to do if you find yourself stuck in a crack in the ground underneath a giant boulder you can't move, with no hope of rescue. Consider how lucky you are that life has been good to you so far. Alternatively, if life hasn't been good to you so far, which given your current circumstances seems more likely, consider how lucky you are that it won't be troubling you much longer."
Douglas Adams
39.
"Cure the symptoms, cure the disease."
Michael Critchton
40.
"I am praying hard for the day that Cancer is just a Zodiac Sign and no longer a Disease…"
Nitya Prakash
41.
"A man is happy so long as he chooses to be happy."
Aleksandr Solzhenitsyn
42.
"Cancer is not a single disease, and it almost certainly can't ever be addressed with a single magical potion."
Mary Elizabeth Williams
43.
"You need to spend time crawling alone through shadows to truly appreciate what it is to stand in the sun."
Shaun Hick
44.
"A life touched by cancer is not a life destroyed by cancer."
Drew Boswel
45.
"Births and cancer treatments are so expensive, it's a luxury to live, a privilege to die."
J. Andrew Schrecker
46.
"Growth for the sake of growth is the ideology of the cancer cell."
Edward Abbey
47.
"Cancer is not a straight line. It's up and down."
Elizabeth Edwards
48.
"I started to walk the day I was told I was dying of cancer. I believe walking has kept me alive. I live with a constant, pressing awareness of death. Once I start to walk, I am not afraid anymore; all is well."
Edie Littlefield Sundby
49.
"Some days there won't be a song in your heart. Sing anyway."
Emory Austin
50.
"Cancer does not stop your life, giving up your dreams or your goals, it is simply a parameter to manage, no more, no less than all the other parameters of life."
Gérard Bourrat
51.
"Relapse doesn't have to be part of recovery any more than return has to be part of cancer."
Toni Sorenson
52.
"What does not kill us makes us stronger."
Friedrich Nietzsche
53.
"If I keep grinning maybe my inoperable colon cancer won't hurt so much."
Tony Millionaire
54.
"The truth is that you can be angry and scared and happy and grateful and tired and fed up at the same time. I guess that's the gift of cancer."
Mary Elizabeth Williams,
55.
"My reaction on being told that I had cancer was not what I might have expected. I was relieved to finally know what I had to deal with and calm at the possibility of fading away. It seemed to me I had already lived a full life, like a well-plotted novel that reaches a satisfactory conclusion. I had known deep friendship, true love, loss, and sorrow. I had felt at one with nature and at home in the city. And, critically, I had discovered both a creative capacity within myself and inner discipline to put it to work. I had become a whole person."
Peter Korn
56.
"Without hair, A queen is still a queen'."
Prajakta Mhadnak
57.
"People wonder why cancer exists when it is just a clever method to teach people lessons about love and loss. It borrows time or steals it depending on the needs of Heaven. It is a vehicle to get us where we need to be. It calls us home because something needs us there."
Kate McGahan
58.
"I decided right then and there that no matter what cancer did to me I would continue to move. Movement was what the physical body was designed to do; it was how it coped and functioned. Movement was vitality. It was life. I would move. Always. No matter what. Until my last breath, I would move."
Edie Littlefield Sundby
Breast cancer quotes
59.
"Once I overcame breast cancer, I wasn't afraid of anything anymore."
Melissa Etheridge
60.
"Breast cancer deaths in America have been declining for more than a decade. Much of that success is due to early detection and better treatments for women. I strongly encourage women to get a mammogram."
Larry Craig
61.
"If you have a friend or family member with breast cancer, try not to look at her with 'sad eyes.' Treat her like you always did; just show a little extra love."
Hoda Kotb
62.
"There can be life after breast cancer. The prerequisite is early detection."
Ann Jillian
63.
"We did not know that certain forms of breast cancer were programmed and almost ineluctable, and we would not have believed you if you had told us that in our lifetime young women would be subjecting themselves to preventative mastectomies."
Margaret Drabble
64.
"Breast cancer, whether I like it or not, is part of my family's story. That's why I am so passionate about raising awareness, because I have seen firsthand how it can impact others."
DeAngelo Williams
65.
"Every woman needs to know the facts. And the fact is, when it comes to breast cancer, every woman is at risk."
Debbie Wasserman Schultz
66.
"Breast cancer is being detected at an earlier, more treatable stage these days, largely because women are taking more preventive measures, like self-exams and regular mammograms. And treatment is getting better too."
Elizabeth Hurley
67.
"With breast cancer, it's all about detection. You have to educate young women and encourage them to do everything they have to do."
Bill Rancic
68.
"Results from a prospective study of 25,892 Norwegian women clearly showed that consumption in excess of 750 ml of whole milk a day leads to a relative risk of breast cancer of 2.91 compared with consumption of less than 150 ml with a relative risk of 1.0."
Bodo Melnik
69.
"Whether you're a mother or father, or a husband or a son, or a niece or a nephew or uncle, breast cancer doesn't discriminate.' – Stephanie McMahon
70.
"Breast cancer is scary and no one understands that like another woman who has gone through it too."
Mindy Sterling
Cancer survivor quotes
71.
"To continue believing in yourself, believing in the doctors, believing in the treatment, believing in whatever I chose to believe in, that was the most important thing, I decided. It had to be."
Lance Armstrong
72.
"Beating cancer is a personal battle. It was one of the toughest opponents I have faced so far, and I think I did reasonably well. Touch wood."
Yuvraj Singh
73.
"Cancer didn't bring me to my knees, it brought me to my feet."
Michael Douglas
74.
"You can be a victim of cancer, or a survivor of cancer. It's a mindset."
Dave Pelzer
75.
"Did you notice the smile on a cancer patient's face after the last treatment? That's the smile you want on your face."
Lawrence Wray
76.
"You know, once you've stood up to cancer, everything else feels like a pretty easy fight."
David H. Koch
77.
"I knew now why people fear cancer: because it is a slow and inevitable death, it is the very definition of cynicism and loss of spirit. So, I believed."
Lance Armstrong
78.
"Cricket is my life. Before cancer, I was happy-go-lucky. I used to think about my career and worry about the future. But post it, my thinking has completely changed. I'm happy to eat and breathe normally. I'm happy to have my life back."
Yuvraj Singh
79.
"The night before brain surgery, I thought about death. I searched out my larger values, and I asked myself, if I was going to die, did I want to do it fighting and clawing or in peaceful surrender? What sort of character did I hope to show? Was I content with myself and what I had done with my life so far? I decided that I was essentially a good person, although I could have been better."
Lance Armstrong
80.
"I began to realize that coming in such close contact with my own mortality had changed both nothing and everything. Before my cancer was diagnosed, I knew that someday I would die, but I didn't know when. After the diagnosis, I knew that someday I would die, but I didn't know when. But now I knew it acutely. The problem wasn't really a scientific one. The fact of death is unsettling. Yet there is no other way to live."
Paul Kalanithi
81.
"Cancer is a journey, but you walk the road alone. There are many places to stop along the way and get nourishment – you just have to be willing to take it."
Emily Hollenberg
82.
"Pain is temporary. Quitting lasts forever."
Lance Armstrong
83.
"I had cancer, cancer never had me."
Unknown
84.
"Once cancer happens it changes the way you live for the rest of your life."
Hayley Mills
85.
"I want men to know that things really do get better — and they get better fairly rapidly. Don't get discouraged."
George Campbell
86.
"We normally know we're getting older when the only thing we want for our birthday is not to be reminded; unless you're a cancer survivor! Then we love people reminding us!"
Chris Geiger
Fighting cancer quotes
87.
"Time is shortening. But every day that I challenge this cancer and survive is a victory for me."
Ingrid Bergman
88.
"I'm going to beat this cancer or die trying."
Michael Landon
89.
"You have to fight, because if you don't, you let the opponent win, and if your opponent is cancer, the results can be deadly."
Lawrence Wray
90.
"Working out is my way of saying to cancer, 'You're trying to invade my body; you're trying to take me away from my daughters, but I'm stronger than you. And I'm going to hit harder than you."
Stuart Scott
91.
"Strength is born in the deep silence of long-suffering hearts; not amidst joy."
Felicia Hemans
92.
"Acceptance of death and cancer did not mean I intended to give up, just the opposite. I was prepared to fight cancer not out of fear of dying, but out of joy of living."
Edie Littlefield Sundby
93.
"Now I'm fighting cancer, everybody knows that. People ask me all the time about how you go through your life and how's your day, and nothing is changed for me."
Jim Valvano
94.
"Cancer is a fight to the death. Either you kill it, or it will kill you. Get ready to brawl."
Lawrence Wray
95.
"In terms of fitness and battling through cancer, exercise helps you stay strong physically and mentally."
Grete Waitz
96.
"Today we fight. Tomorrow we fight. The day after, we fight. And if this disease plans on whipping us, it better bring a lunch, 'cause it's gonna have a long day doing it."
Jim Beaver
97.
"You are braver than you believe, stronger than you seem."
A. A. Milne
98.
"Yes, I have cancer and it might not go away, but I can still have a future because life goes on."
Kris Carr
99.
"I'm battling cancer. It's another battle I intend to win."
Arlen Specter
100.
"The most important thing in illness is never to lose heart."
Nikolai Lenin
101.
"You gain strength, courage, and confidence by every experience in which you really stop to look fear in the face. You must do the thing which you think you cannot do"
Eleanor Roosevelt
102.
"Optimism is the foundation of courage."
Nicholas Murray Butler
I hope you enjoyed this collection of inspirational cancer quotes.
Stay victorious!
Sours: http://www.planetofsuccess.com/blog/2019/cancer-quotes/
Quotes dad cancer
There are no words to fully describe the impact that a father (or even a father-in-law or father figure) has on the lives of their sons or daughters. For some, fathers are heroes who provide and protect, while others see their dear old dad as the one who has truly guided them, from childhood throughout adulthood. That's exactly why—no matter how old we are—we may never truly get over the loss of a father, whether he passed after a long life or much too soon.
And while losing a father may be inevitable, that doesn't make the profound absence any easier, especially on anniversaries, milestones, and holidays. If you're grieving your own dad this Father's Day or trying to show sympathy to a friend in mourning, it may be difficult to find the sentiment that'll not only pay tribute to him but will also help ease the pain. The best thing you can do is to be there for your hurting loved one. Perhaps that means texting them a simple "I'm thinking of you," or, you can share a poignant quote—from celebrated authors and poets (like Toni Morrison and Maya Angelou) to inspirational figures (like Michelle Obama and Oprah herself)—all of which may provide comfort during a difficult time.

Sours: https://www.oprahdaily.com/life/relationships-love/g32909234/loss-of-father-quotes/
A dad with cancer is still a dad
Quotes & Sayings About Dad Who Has Cancer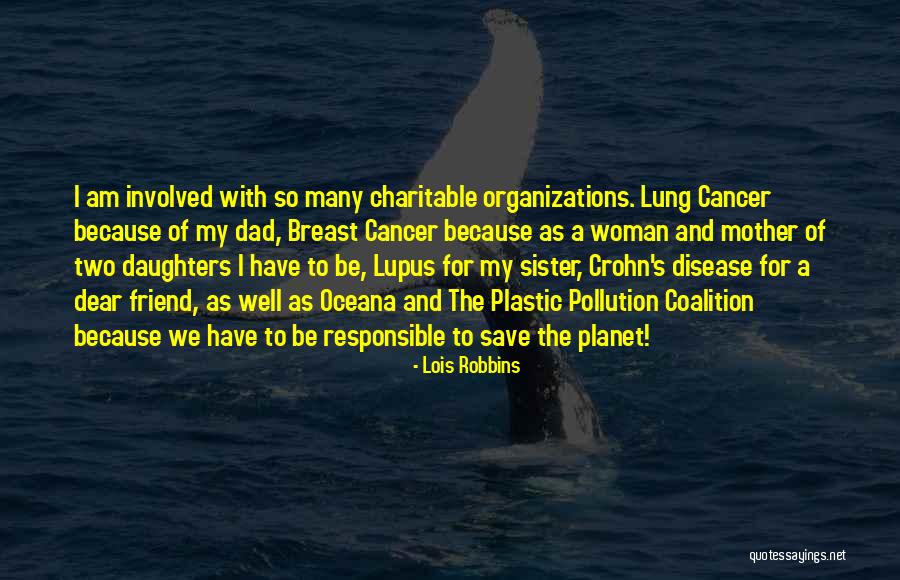 I am involved with so many charitable organizations. Lung Cancer because of my dad, Breast Cancer because as a woman and mother of two daughters I have to be, Lupus for my sister, Crohn's disease for a dear friend, as well as Oceana and The Plastic Pollution Coalition because we have to be responsible to save the planet! — Lois Robbins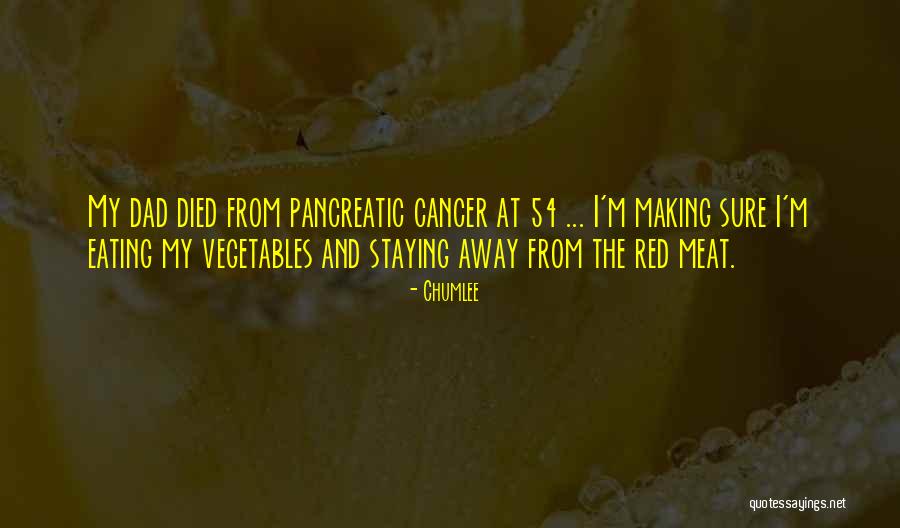 My dad died from pancreatic cancer at 54 ... I'm making sure I'm eating my vegetables and staying away from the red meat. — Chumlee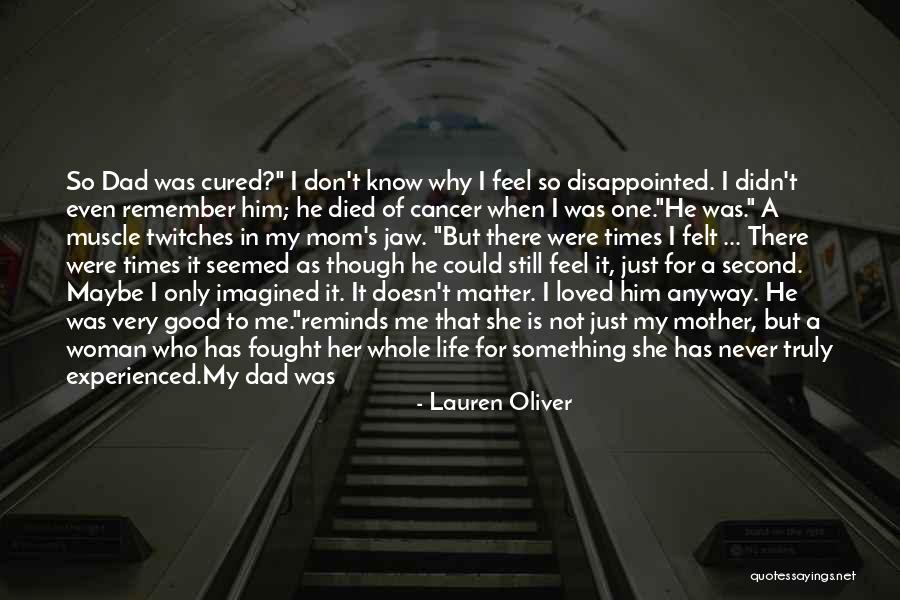 So Dad was cured?" I don't know why I feel so disappointed. I didn't even remember him; he died of cancer when I was one.
"He was." A muscle twitches in my mom's jaw. "But there were times I felt ... There were times it seemed as though he could still feel it, just for a second. Maybe I only imagined it. It doesn't matter. I loved him anyway. He was very good to me."
reminds me that she is not just my mother, but a woman who has fought her whole life for something she has never truly experienced.
My dad was cured. And you can't love, not fully, unless you are loved in return.
It makes me ache for her, a feeling I hate and am somehow ashamed of. — Lauren Oliver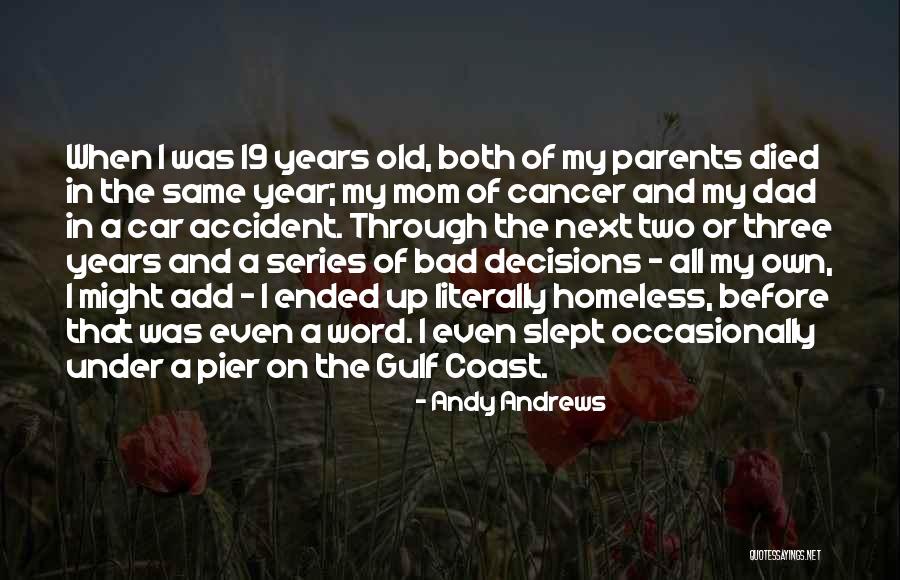 When I was 19 years old, both of my parents died in the same year; my mom of cancer and my dad in a car accident. Through the next two or three years and a series of bad decisions - all my own, I might add - I ended up literally homeless, before that was even a word. I even slept occasionally under a pier on the Gulf Coast. — Andy Andrews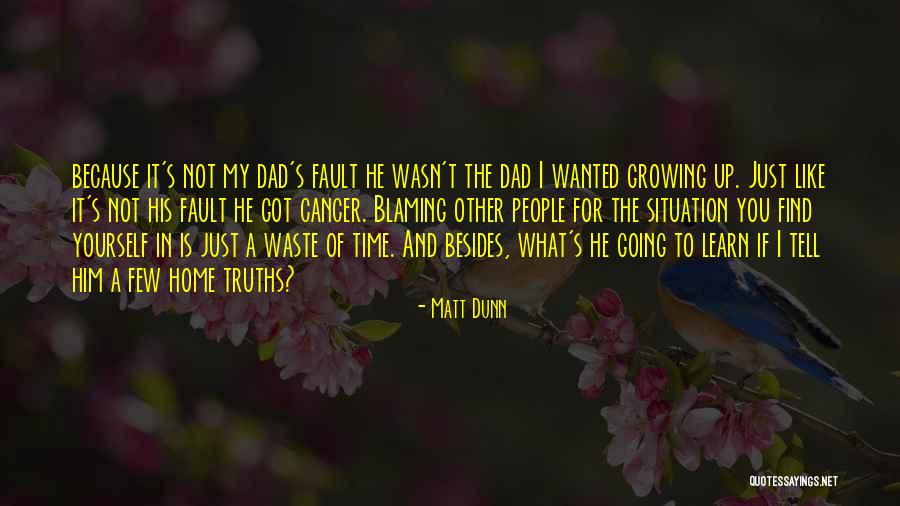 because it's not my dad's fault he wasn't the dad I wanted growing up. Just like it's not his fault he got cancer. Blaming other people for the situation you find yourself in is just a waste of time. And besides, what's he going to learn if I tell him a few home truths? — Matt Dunn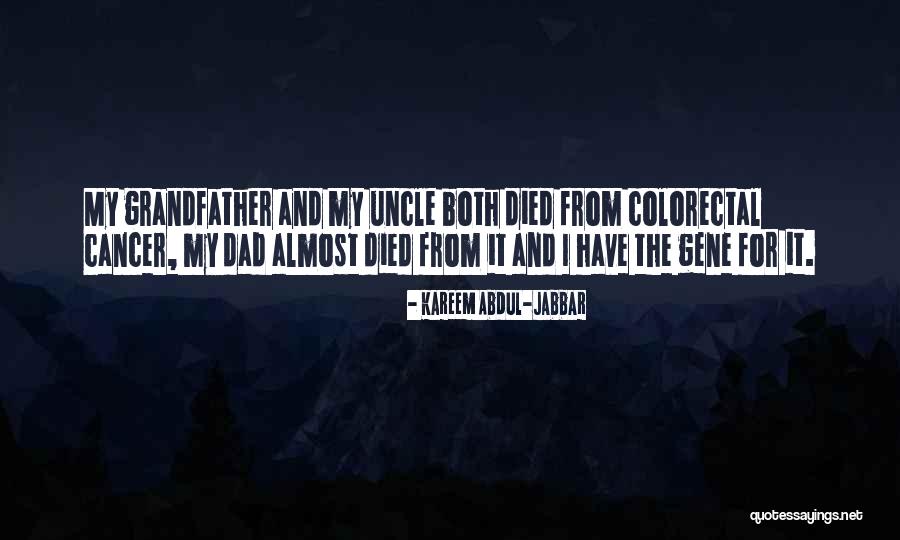 My grandfather and my uncle both died from colorectal cancer, my dad almost died from it and I have the gene for it. — Kareem Abdul-Jabbar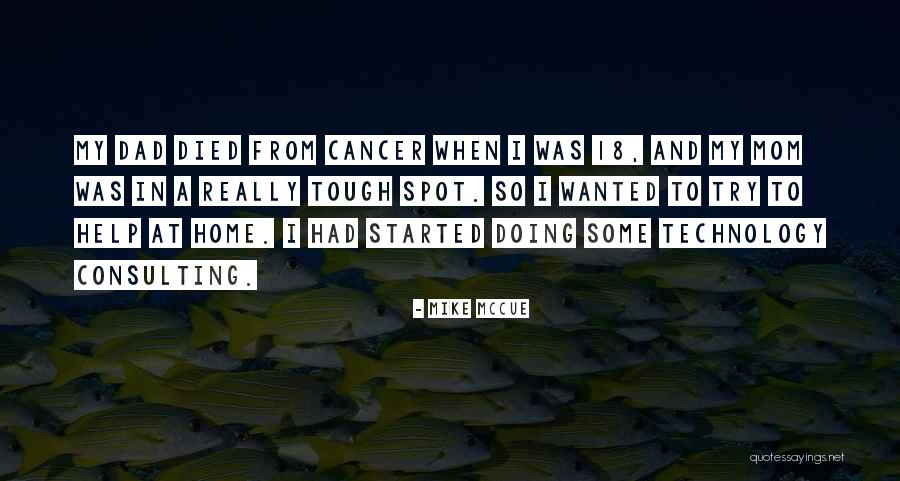 My dad died from cancer when I was 18, and my mom was in a really tough spot. So I wanted to try to help at home. I had started doing some technology consulting. — Mike McCue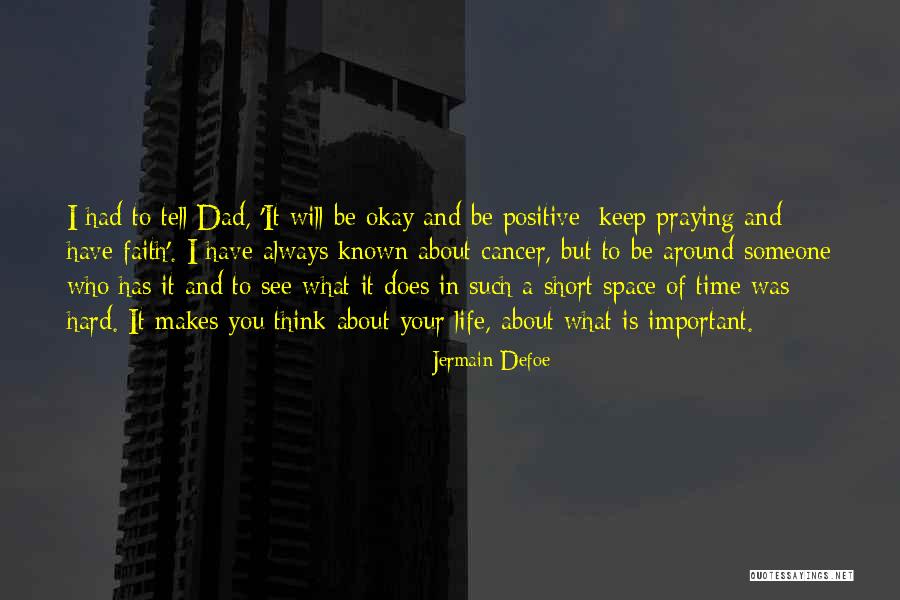 I had to tell Dad, 'It will be okay and be positive; keep praying and have faith'. I have always known about cancer, but to be around someone who has it and to see what it does in such a short space of time was hard. It makes you think about your life, about what is important. — Jermain Defoe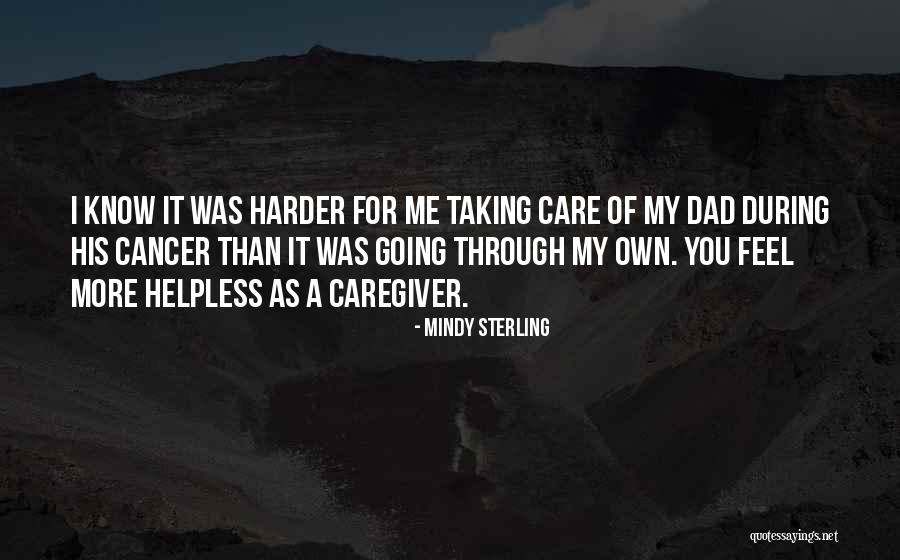 I know it was harder for me taking care of my dad during his cancer than it was going through my own. You feel more helpless as a caregiver. — Mindy Sterling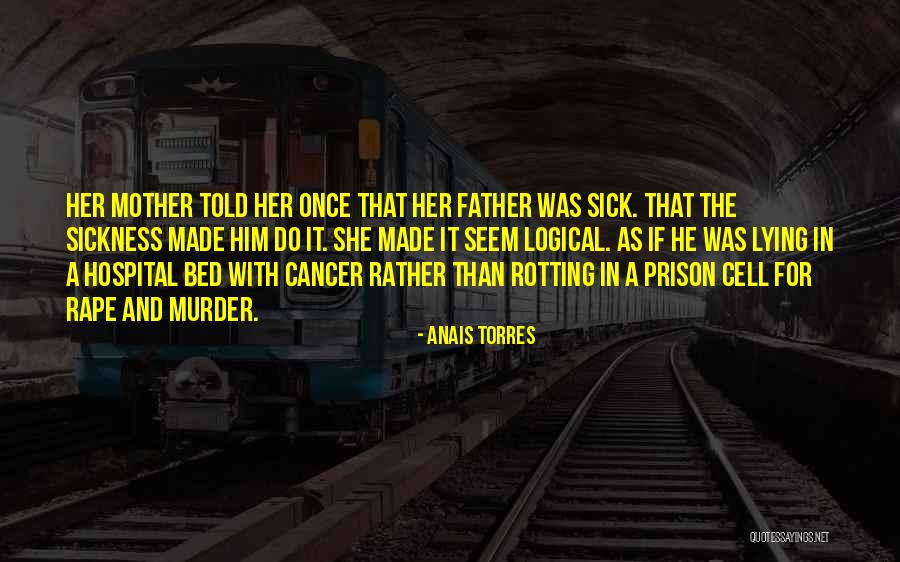 Her mother told her once that her father was sick. That the sickness made him do it. She made it seem logical. As if he was lying in a hospital bed with cancer rather than rotting in a prison cell for rape and murder. — Anais Torres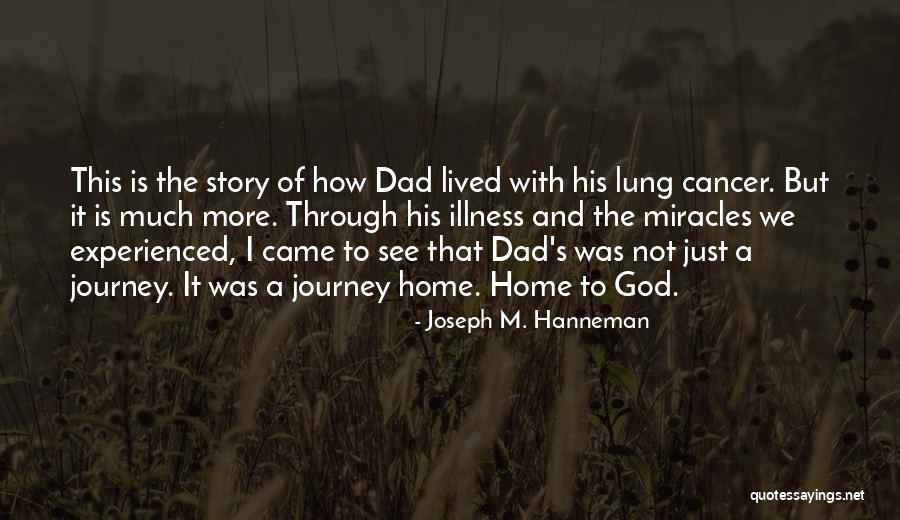 This is the story of how Dad lived with his lung cancer. But it is much more. Through his illness and the miracles we experienced, I came to see that Dad's was not just a journey. It was a journey home. Home to God. — Joseph M. Hanneman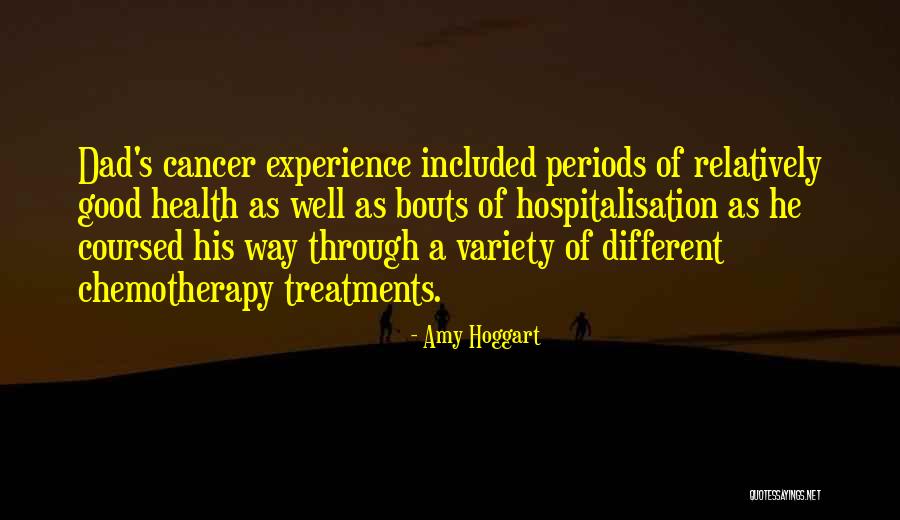 Dad's cancer experience included periods of relatively good health as well as bouts of hospitalisation as he coursed his way through a variety of different chemotherapy treatments. — Amy Hoggart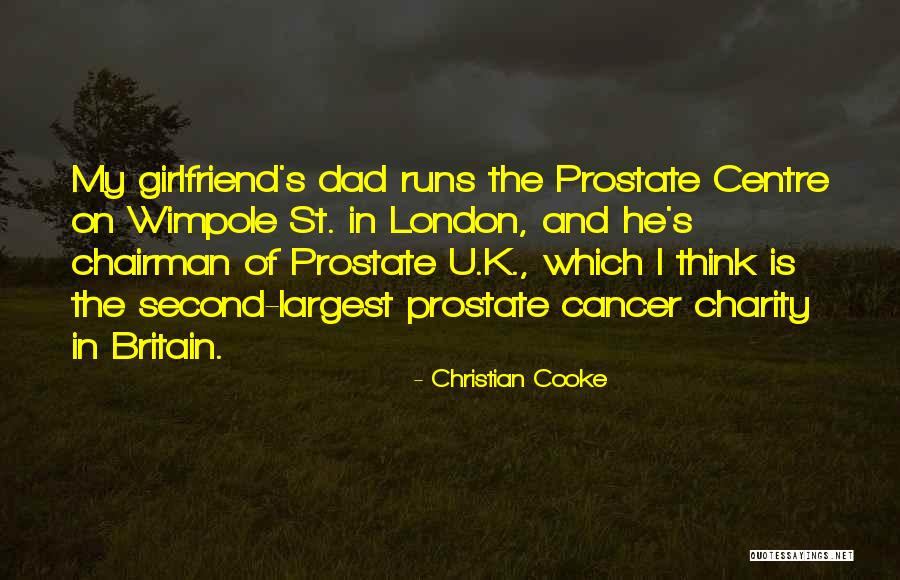 My girlfriend's dad runs the Prostate Centre on Wimpole St. in London, and he's chairman of Prostate U.K., which I think is the second-largest prostate cancer charity in Britain. — Christian Cooke
I'm fine.My father's an arse, and my mum is dying and-oh my God,I'm so pissed." St. Clair looked at me again. His eyes were glassy like black marbles. "Pissed.Pissed.Pissed."
"We know you're pissed at your dad," I said. "It's okay. You're right, he's a jerk." I mean what was I supposed to say? He just found out his mother has cancer.
"Pissed is British for 'drunk,'" Mer said.
"Oh," I said. "Well. You're definitely that, too."
Meanwhile,The Couple was fighting. "Where have you been?" Rashmi asked. "You said you'd be home three hours ago!"
Josh rolled his eyes. "Out.We've been out. Someone had to help him-"
"And you call that helping? He's completely wasted. Catatonic. And you! God,you smell like car exhaust and armpits-"
"He couldn't drink alone."
"You were supposed to be watching out for him! What if something happened?"
"Beer. Liquor. Thatsswhat happened. Don't be such a prude,Rash. — Stephanie Perkins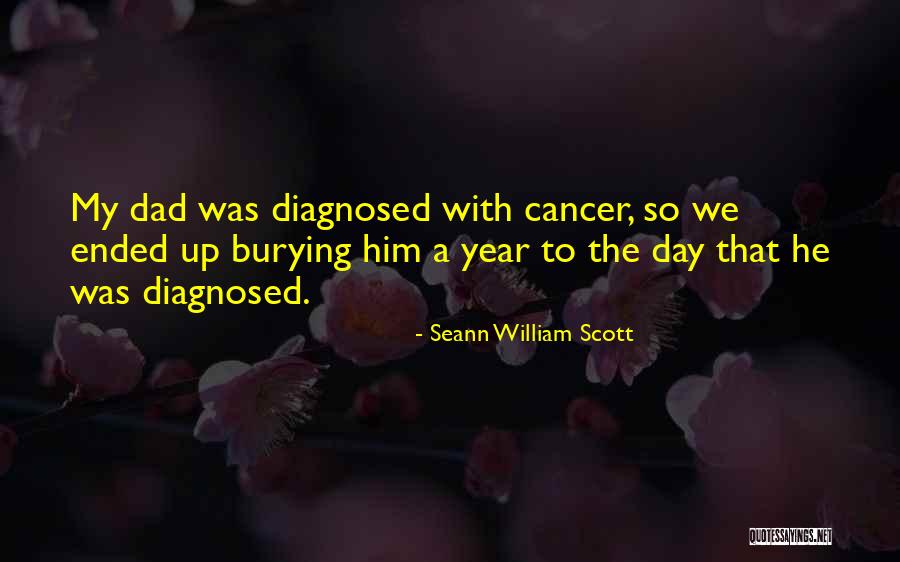 My dad was diagnosed with cancer, so we ended up burying him a year to the day that he was diagnosed. — Seann William Scott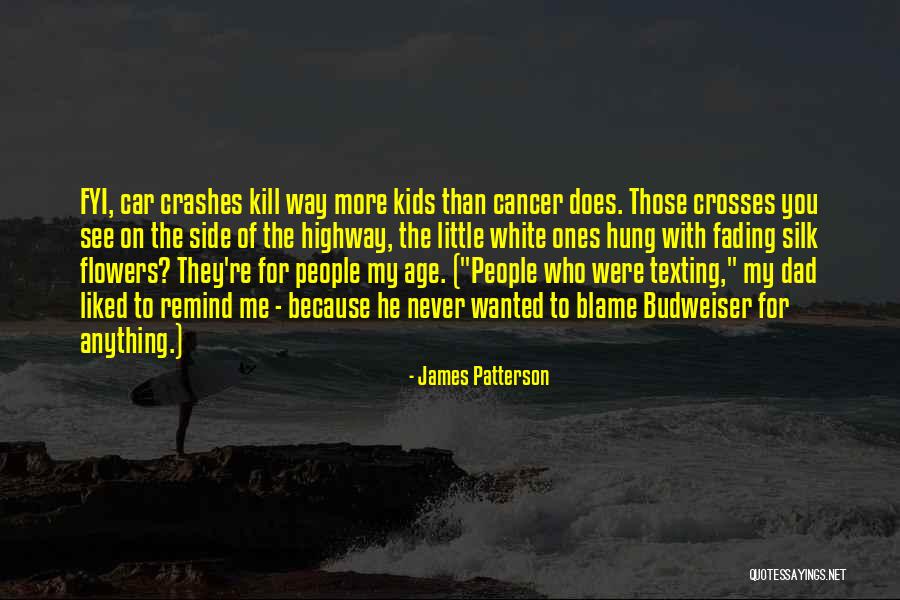 FYI, car crashes kill way more kids than cancer does. Those crosses you see on the side of the highway, the little white ones hung with fading silk flowers? They're for people my age. ("People who were texting," my dad liked to remind me - because he never wanted to blame Budweiser for anything.) — James Patterson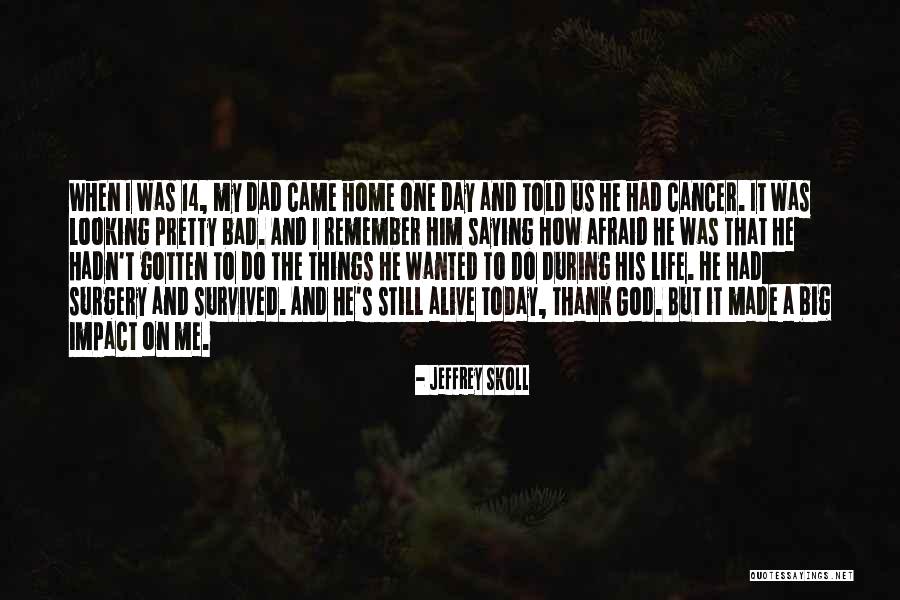 When I was 14, my dad came home one day and told us he had cancer. It was looking pretty bad. And I remember him saying how afraid he was that he hadn't gotten to do the things he wanted to do during his life. He had surgery and survived. And he's still alive today, thank God. But it made a big impact on me. — Jeffrey Skoll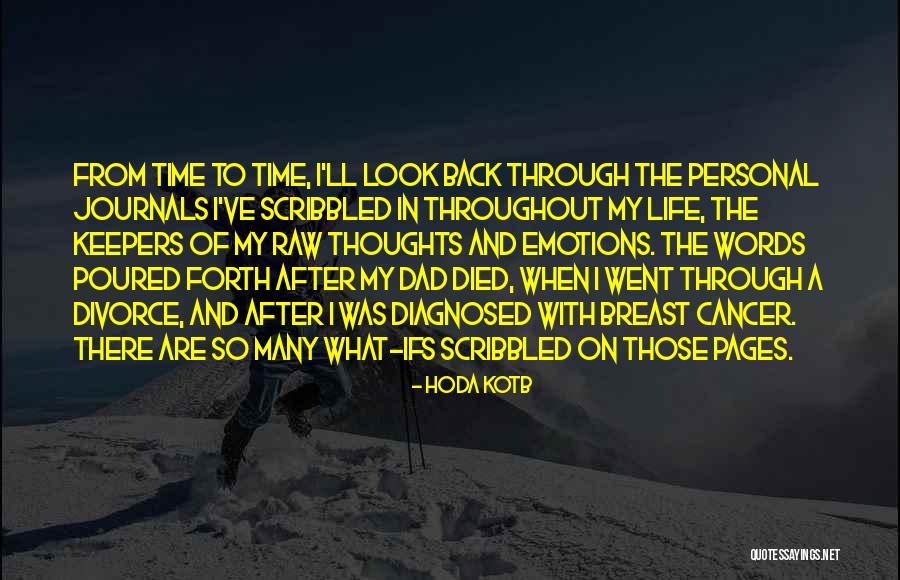 From time to time, I'll look back through the personal journals I've scribbled in throughout my life, the keepers of my raw thoughts and emotions. The words poured forth after my dad died, when I went through a divorce, and after I was diagnosed with breast cancer. There are so many what-ifs scribbled on those pages. — Hoda Kotb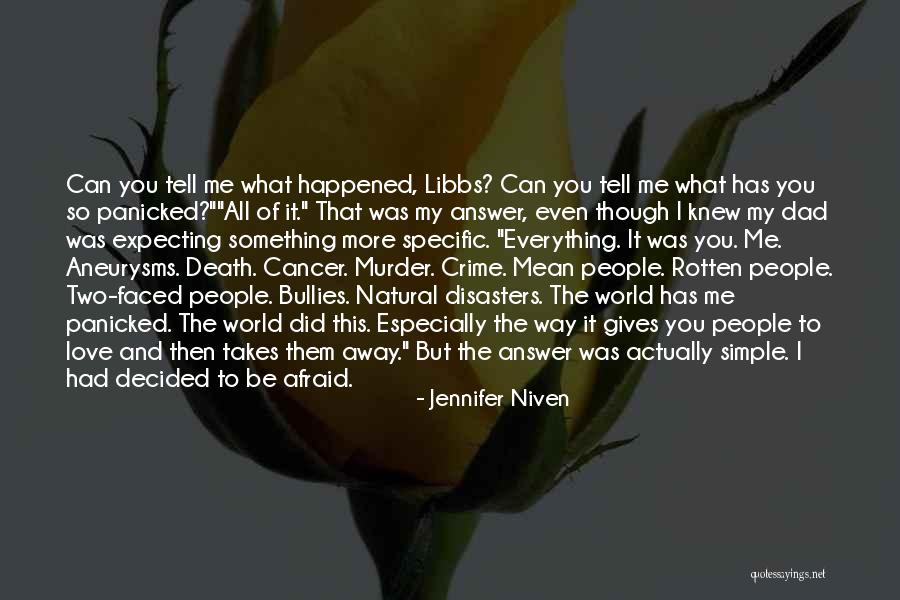 Can you tell me what happened, Libbs? Can you tell me what has you so panicked?"

"All of it." That was my answer, even though I knew my dad was expecting something more specific. "Everything. It was you. Me. Aneurysms. Death. Cancer. Murder. Crime. Mean people. Rotten people. Two-faced people. Bullies. Natural disasters. The world has me panicked. The world did this. Especially the way it gives you people to love and then takes them away." But the answer was actually simple. I had decided to be afraid. — Jennifer Niven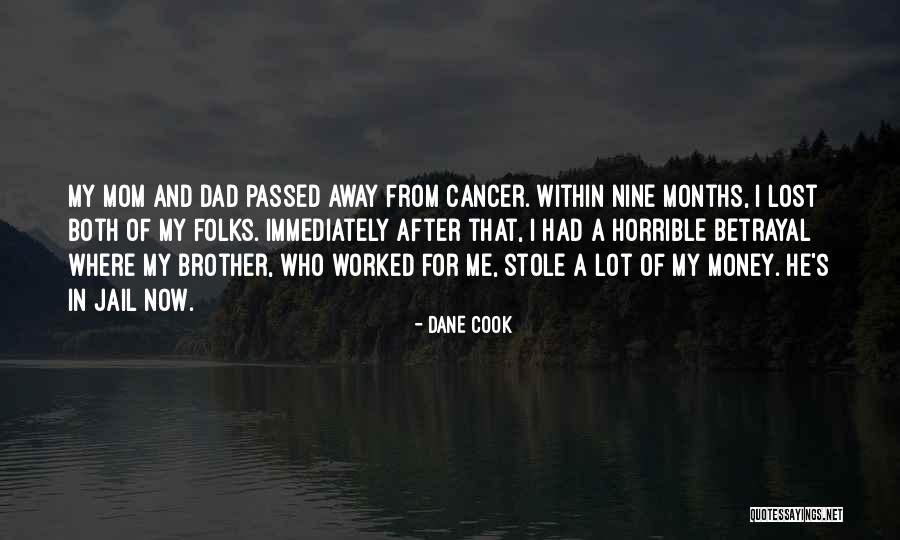 My mom and dad passed away from cancer. Within nine months, I lost both of my folks. Immediately after that, I had a horrible betrayal where my brother, who worked for me, stole a lot of my money. He's in jail now. — Dane Cook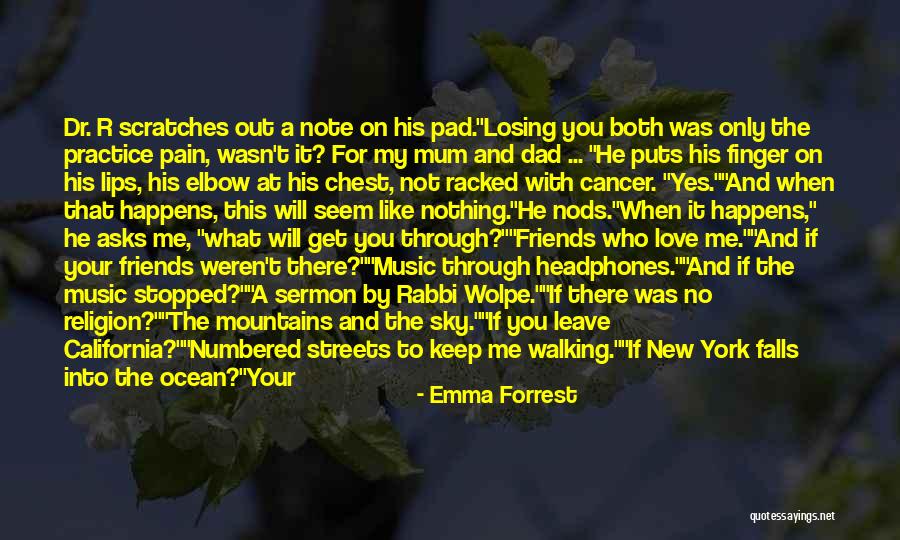 Dr. R scratches out a note on his pad.
"Losing you both was only the practice pain, wasn't it? For my mum and dad ... "
He puts his finger on his lips, his elbow at his chest, not racked with cancer. "Yes."
"And when that happens, this will seem like nothing."
He nods.
"When it happens," he asks me, "what will get you through?"
"Friends who love me."
"And if your friends weren't there?"
"Music through headphones."
"And if the music stopped?"
"A sermon by Rabbi Wolpe."
"If there was no religion?"
"The mountains and the sky."
"If you leave California?"
"Numbered streets to keep me walking."
"If New York falls into the ocean?"
Your voice in my head. — Emma Forrest
Sours: https://quotessayings.net/topics/dad-who-has-cancer/
You will also like:
20 Inspirational Quotes for Cancer Survivors, Fighters and Caregivers
Keeping a positive outlook is proven to help with stress management, but when someone says to "think positive" or "be optimistic" during a time such as cancer, it can be much easier said than done. We know that cancer isn't all rainbow and butterflies, and once a patient enters a dark mindset, it can be hard to get out of it. But most of us have that one message of hope and inspiration that somehow manages to help bring some perspective and optimism to a situation.
1. You beat cancer by how you live, why you live, and in the manner in which you live. — Stuart Scott. Live your life by your own terms, not cancer's.
2. Remember how far you've come, not just how far you have to go. You may not be where you want to be, but neither are you where you used to be. It can be easy to get caught up in how far you have to go. Don't forget to look back, and recognize how far you have come. Every day brings you one step closer.
3. You are braver than you believe, stronger than you seem, smarter than you think, and twice as beautiful as you'd ever imagined. Don't let cancer cause you to sell yourself short or forget your worth.
4. When you have exhausted all possibilities, remember this: You haven't. —Thomas Edison. Keep searching for what you're looking for. You will find it.
5. Your life is your story. Write well. Edit Often. You can't control what happens to you, but you can control the way that you handle it. What do you want your story to say?
6. Be thankful for this day. You are here, breathing and living life. Even if it's not the life you want or hoped for, it's life. There's always something to be thankful for.
7. Small steps every day. Every small step counts. You might not reach your goal today but that is okay.
8. Never be ashamed of a scar. It simply means you were stronger than whatever tried to hurt you. Everyone has scars—whether you can see them or not. Wear yours with pride.
9. When it rains, look for rainbows. When it's dark, look for stars. It may be hard to find your silver lining during a cancer diagnosis, but it's there. If you look for it, you will find it.
10. Optimism: someone who figures that taking a step backward after taking a step forward is not a disaster; it's more like a cha-cha. You may not be where you want to be right now, but you're just doing the dance that is called life.
11. Never give up. Never give in. Never, ever, ever give up.
12. I have loved the stars too fondly to be fearful of the night. — Galileo. If you loved your life before cancer, do not be afraid of life after cancer. You will find beauty again.
13. Surround yourself with only people who are going to lift you higher. — Oprah. There is no time for negative energy during cancer .You need to be around people who inspire, challenge, and make you better.
14. Good thoughts only. The bad thoughts will try and sneak in, but don't let them. Focus only on the good thoughts.
15. Don't look back. You're not going that way. Don't waste time worrying about the things that you cannot control; such as the past. Keep moving forward.
16. I can and I will. There's no other option. Tell yourself this affirmation every day - through treatments, doctors visits, and whatever else comes your way.
17. I had cancer, cancer never had me. You are not defined by what you are going through. Cancer will never have you. You are much more than your disease.
18. Cancer is a word, not a sentence. Cancer is NOT a death sentence. It's just one word in your sentence; one part of your life.
19. Broken crayons still color. Nobody's perfect. If you feel broken, don't let that determine your worth. You can still do so much.
20. It is often in the darkest skies that we see the brightest stars. Try and find some beauty in your situation. You won't be the person you were before cancer, but that does not have to be a bad thing.
Sours: https://www.curetoday.com/view/20-inspirational-quotes-for-cancer-survivors-fighters-and-caregivers
490
491
492
493
494