Millions of people tune in to watch and enjoy different sports experiences every year. Many sports have huge fan bases that support them with much passion and excitement every day.
While there are many popular sports, football is arguably the most popular sport in the worldwith billions of passionate fans!
These free football coloring pages for kids are the perfect way to celebrate your favorite sport and represent your favorite players and teams.
In this huge collection of football coloring printables, you may see some familiar faces and team uniforms, but you'll be free to color in these pages however you want!
Once you've finished coloring in your favorite football coloring sheets, we hope you'll share them to our Facebook page! We're sure to see many different team colors and famous players represented in this collection.
We'll be looking forward to sharing in the football fun by marvelling at your coloring skills!
25 Brand New Football Coloring Pages – Free to Print and Color
This first free football coloring page for kids has our first player working hard to control the ball with a fancy move.
I bet he must be going for a goal! Does this footballer remind you of one of your favorite players? If they do, you could color them in with the colors of their team to show us who you think this could be!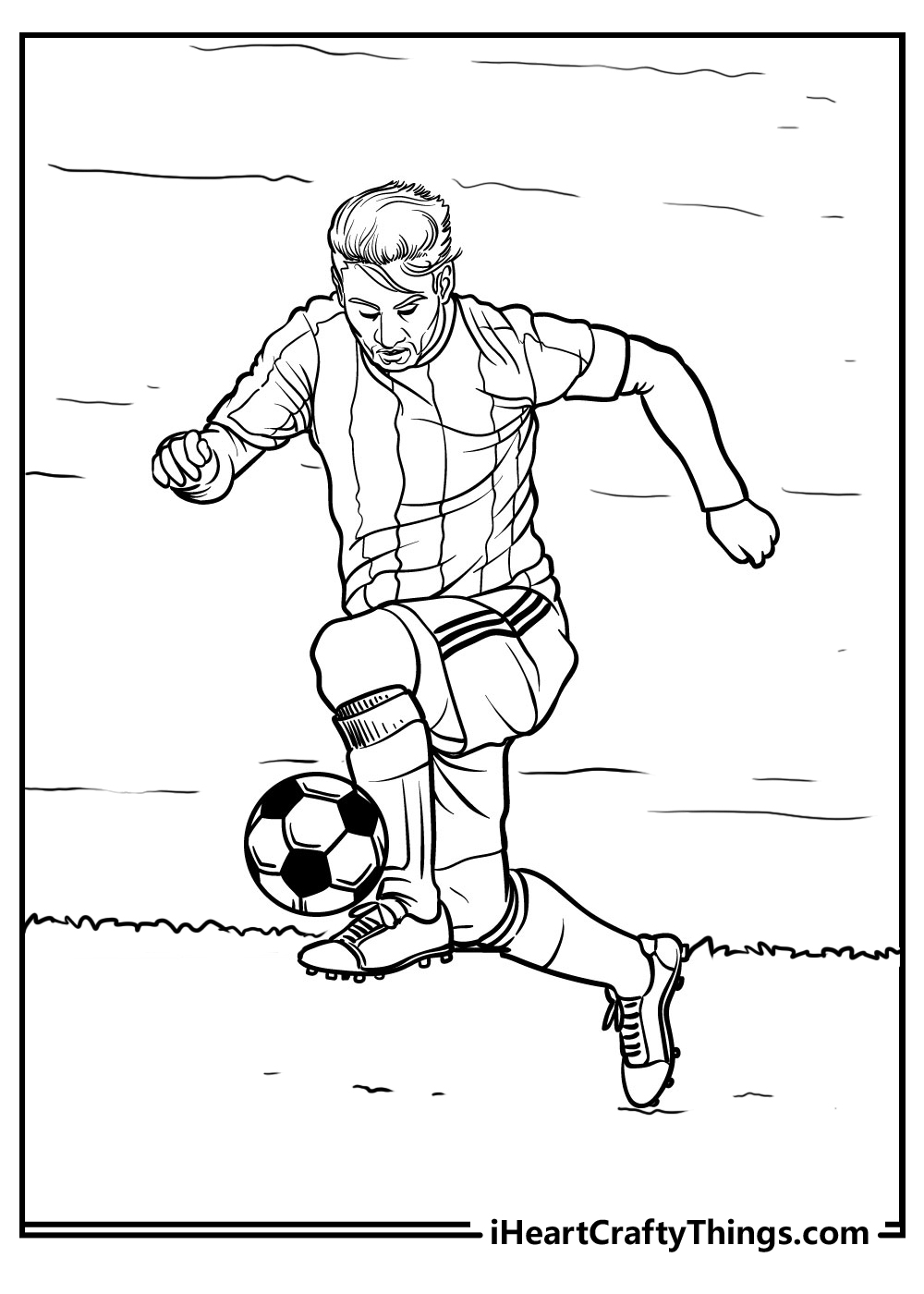 The player in this football coloring sheet is right in the action as he seems to have just been passed the ball.
You could stick to some established team colors for this image, but you could also get creative with your own color choices to make a unique uniform!
What colors will you use for this image?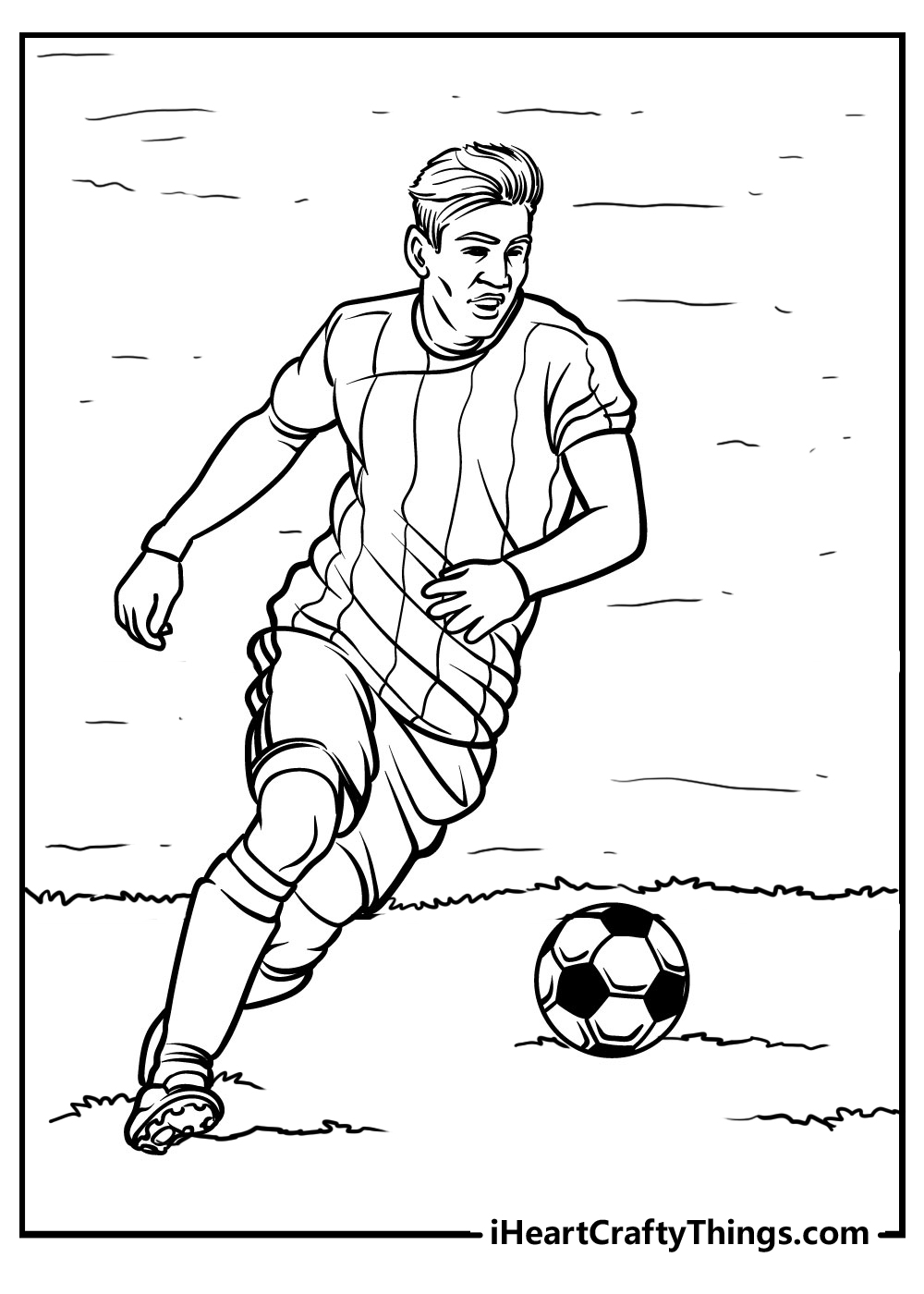 We have another football player going for it in this football coloring printable. He looks like he's about to kick the ball to another player, and maybe doing so will result in a much needed goal!
How will you color in the background of this image to show the movement being displayed?
I would use a lot of different colors for the background to suggest the flurry of movement and speed this player is showing.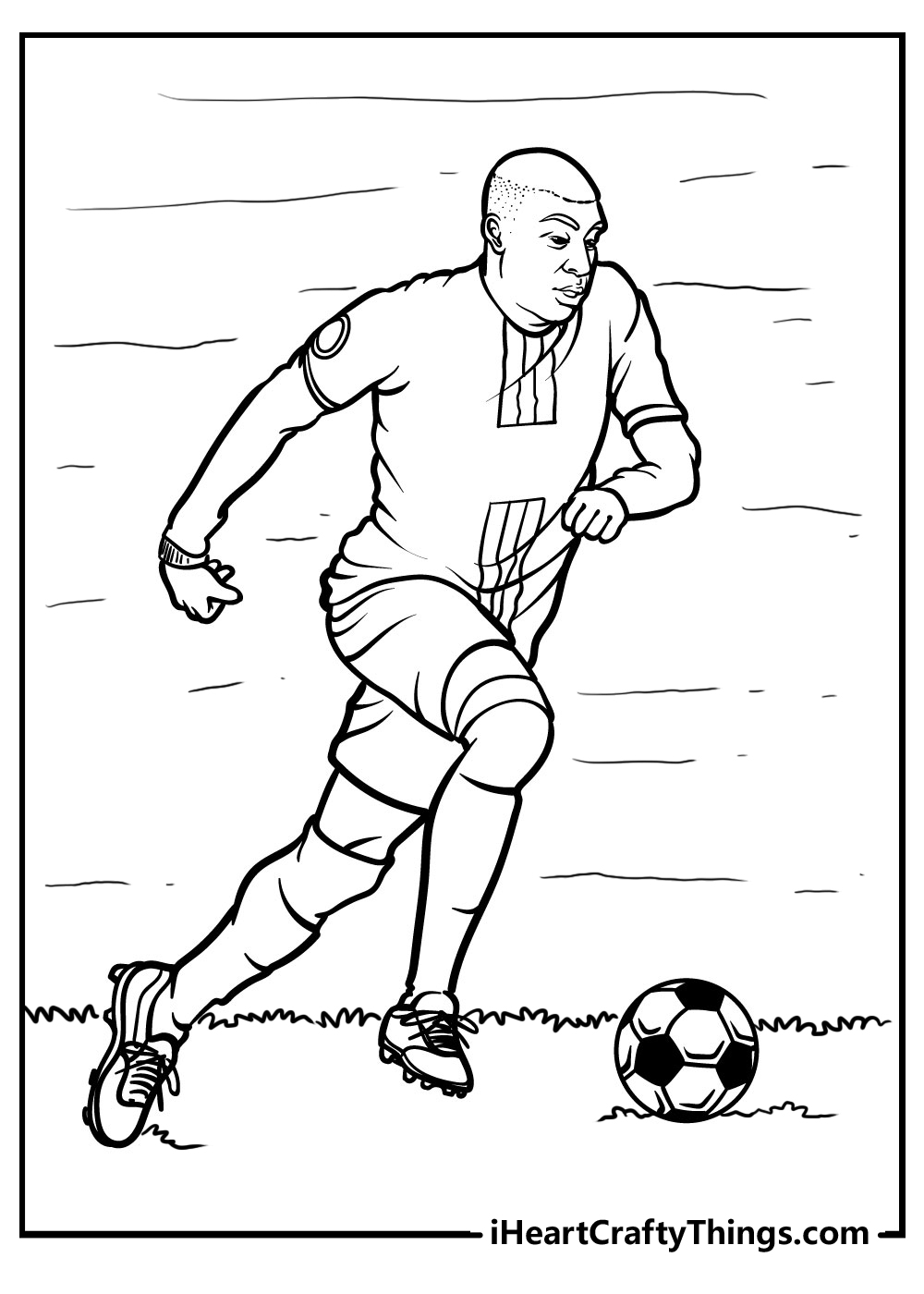 This next player has been given a tough situation to deal with! The ball is coming at him from a tricky angle, so I bet it would take some skill and precision to successfully intercept this ball.
You can show a mood with colors, so maybe you could use some darker colors for the background to show the concentration and intensity of this move.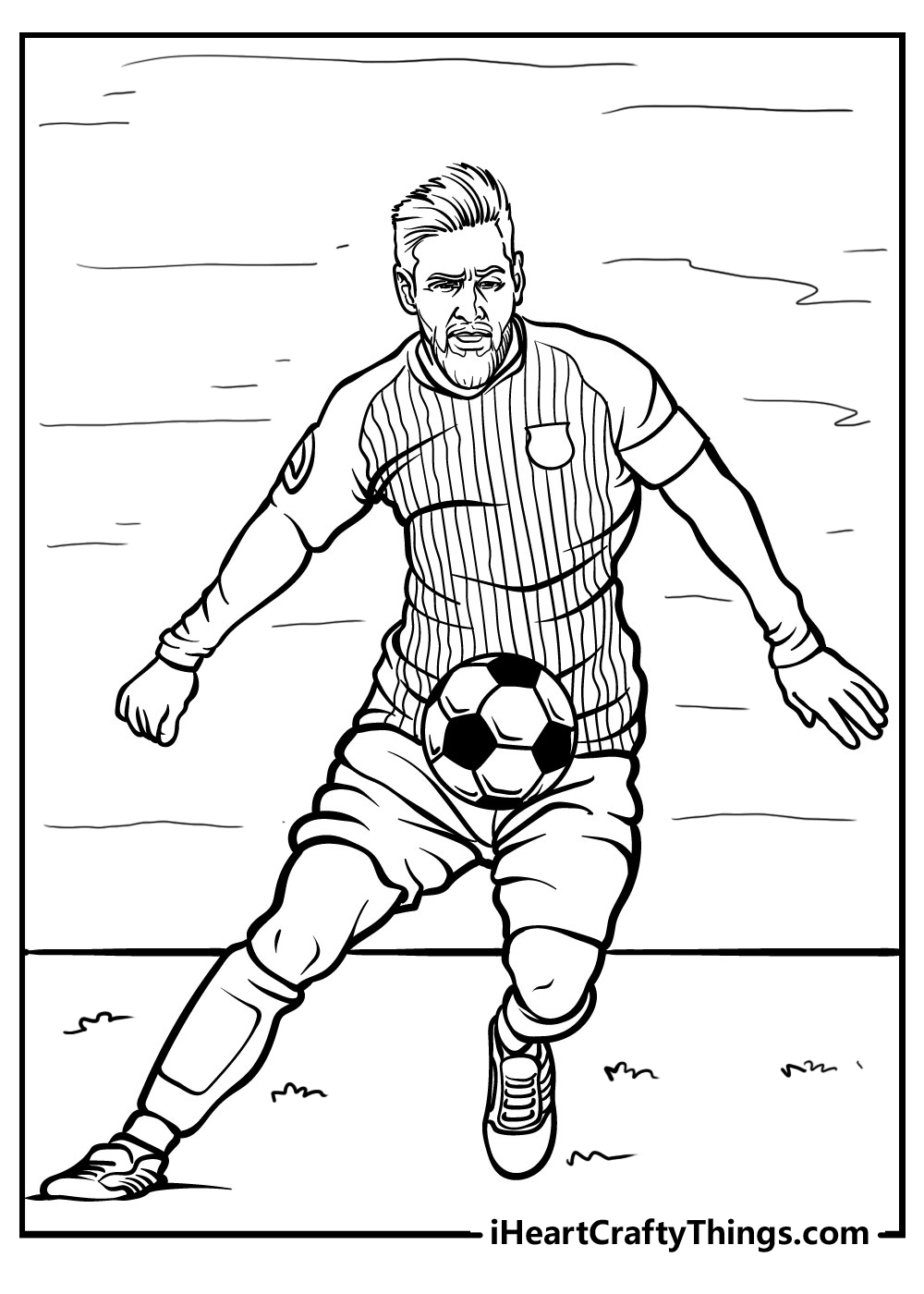 We have another cool move being performed in this next free football coloring page. Do you have an idea for which of your favorite team colors you'll use for this image?
If you can't decide then you could print out a few copies to use any team colors you'd like!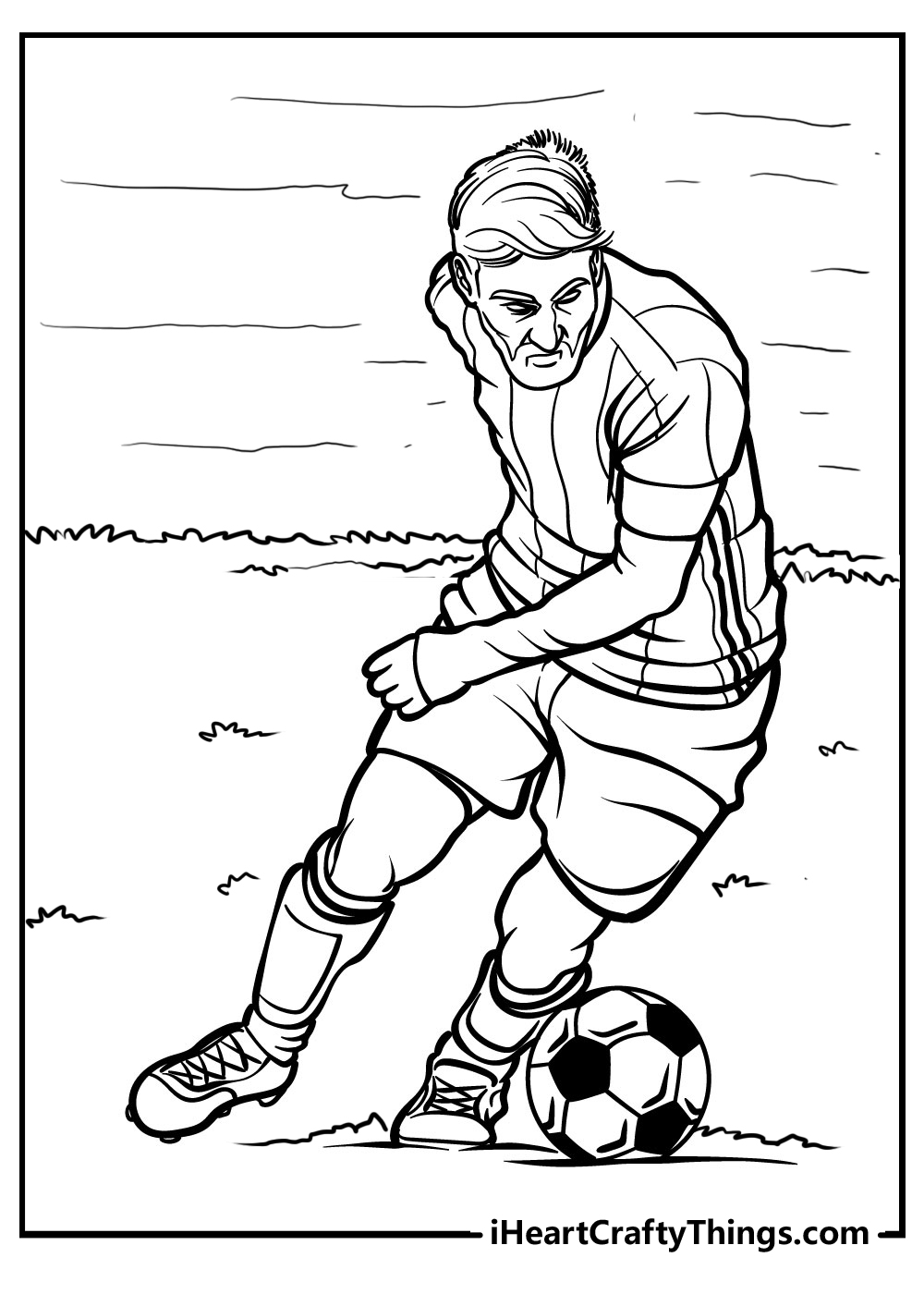 For our next free football coloring sheet, a player seems to be receiving the ball from someone. I wonder what they will do next with it? Will they pass it along or go for the goal?
We can't wait to see what your color interpretation of this football moment will be!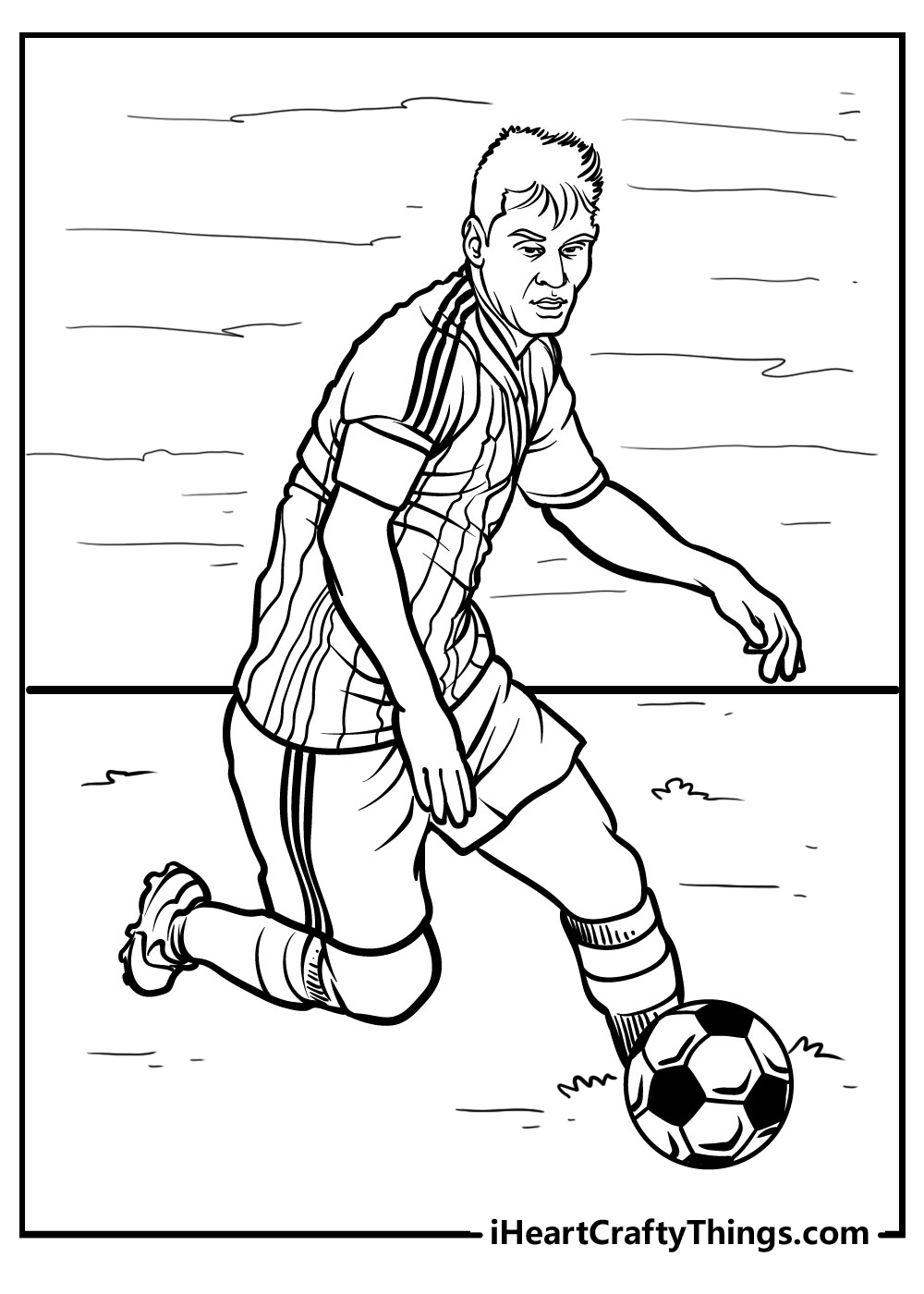 The kick being performed in this football printable is something to behold! The timing and precision for such a move would need to be perfect, but this player has pulled it off.
For this picture, maybe you could use a combination of paints and colored pencils for a really intense look to suit this great move!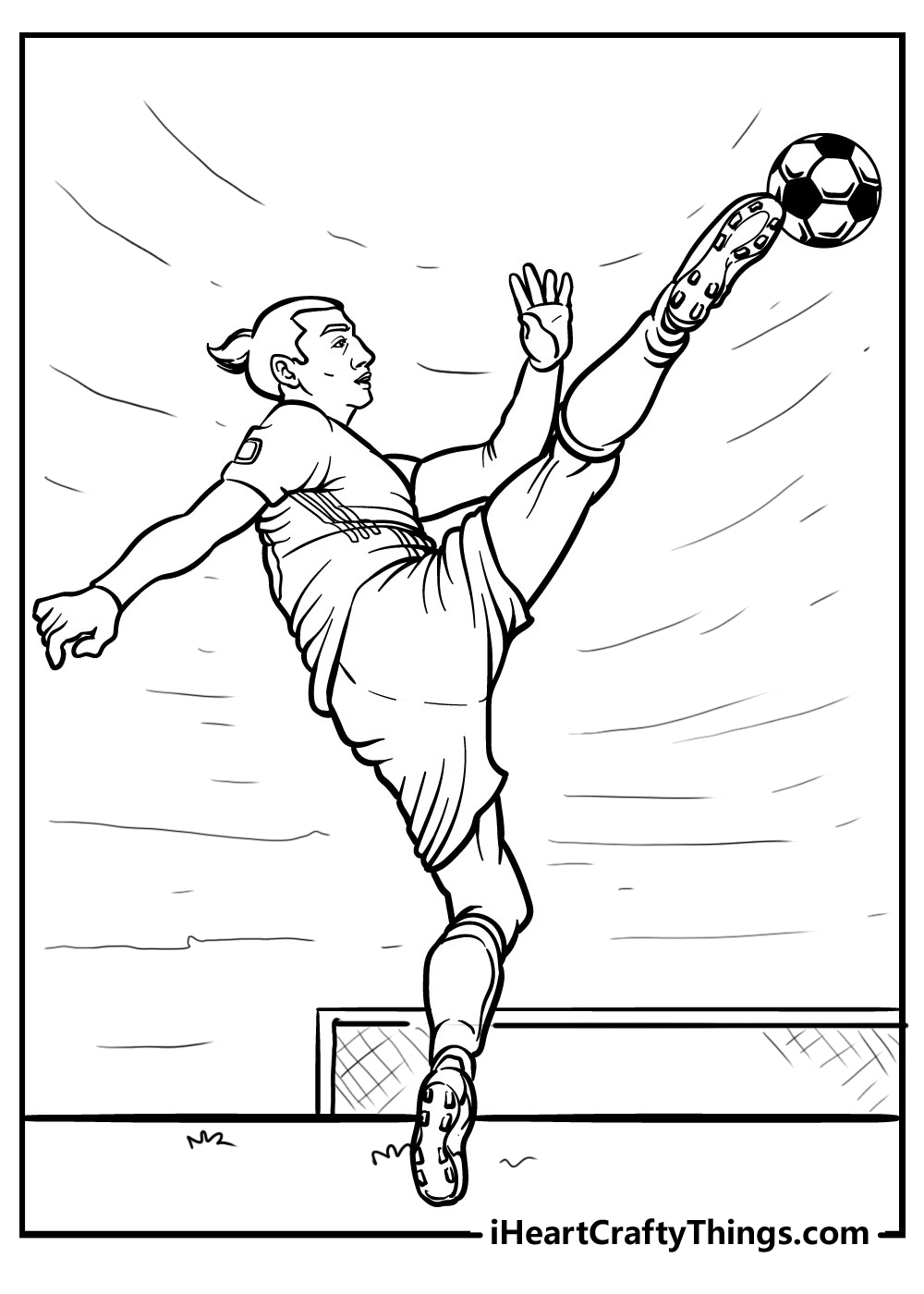 In this next football coloring page we have another player about to go for the kick. Do you have a team in mind for this image?
You can show us who you think this player is playing for using your colors!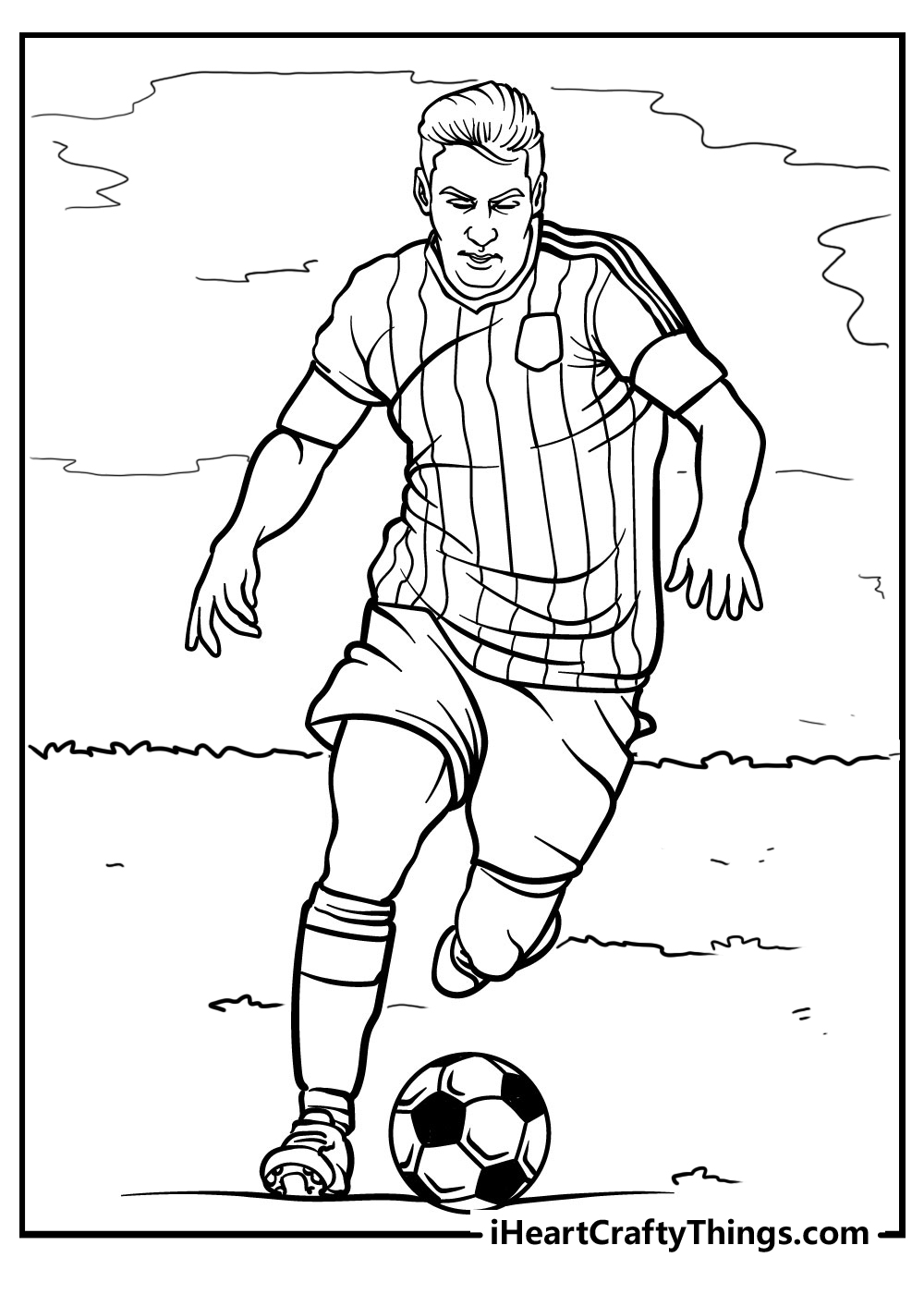 The level of concentration the player is experiencing in this football coloring sheet is clear from the expression on his face!
I wonder what he would do next with the ball after the moment in this picture? Maybe you could draw in the team number of your favorite player in real life onto the shirt of the player in this image!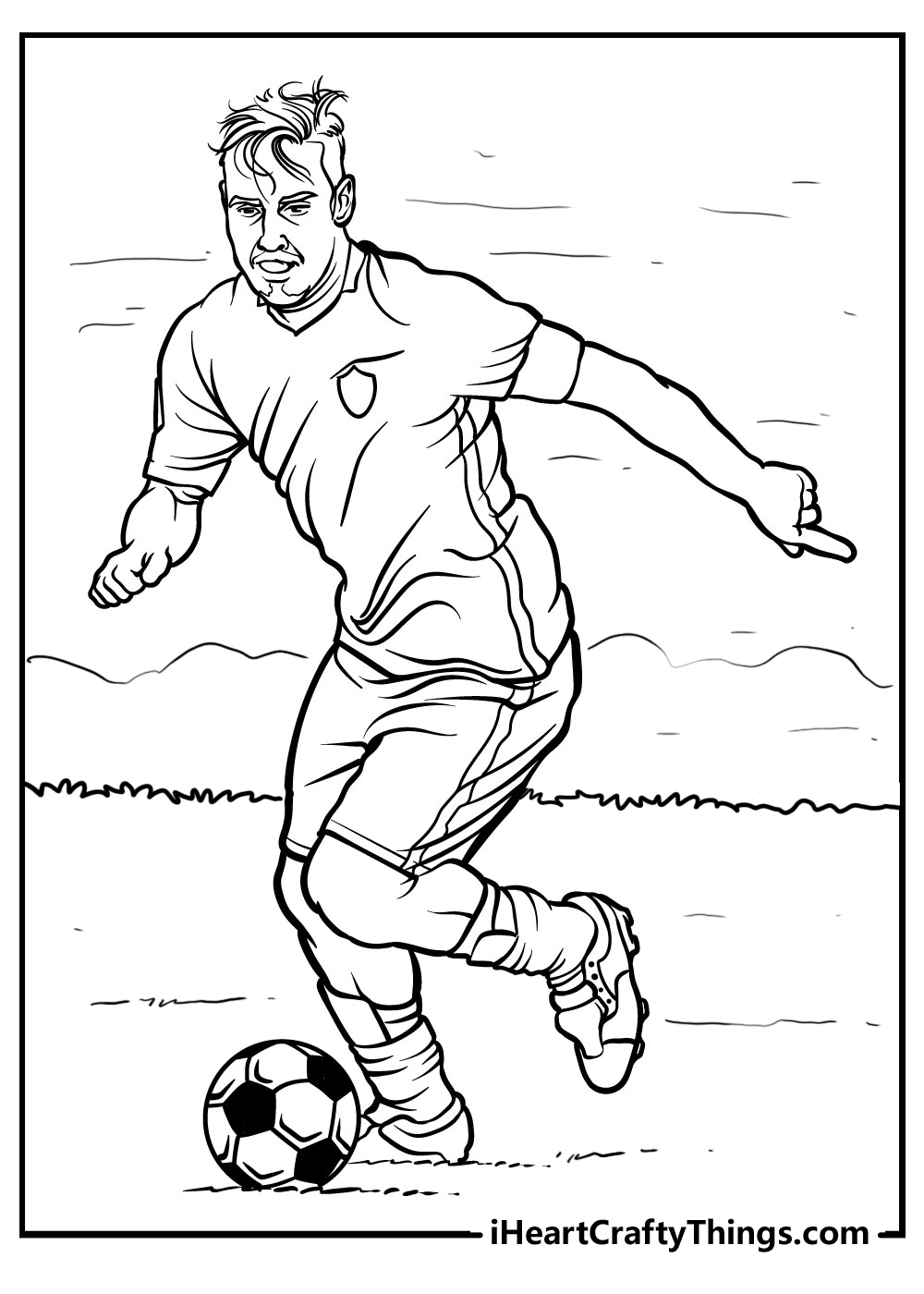 There's a huge amount of speed and skill being shown off in this football printable! This is another image that I would suggest using many different colors for the background to suggest whirling movement.
I think it would look cool to do this with a thick paintbrush and some watercolors to really finish off the illusion of movement.
How will you finish off this intense image?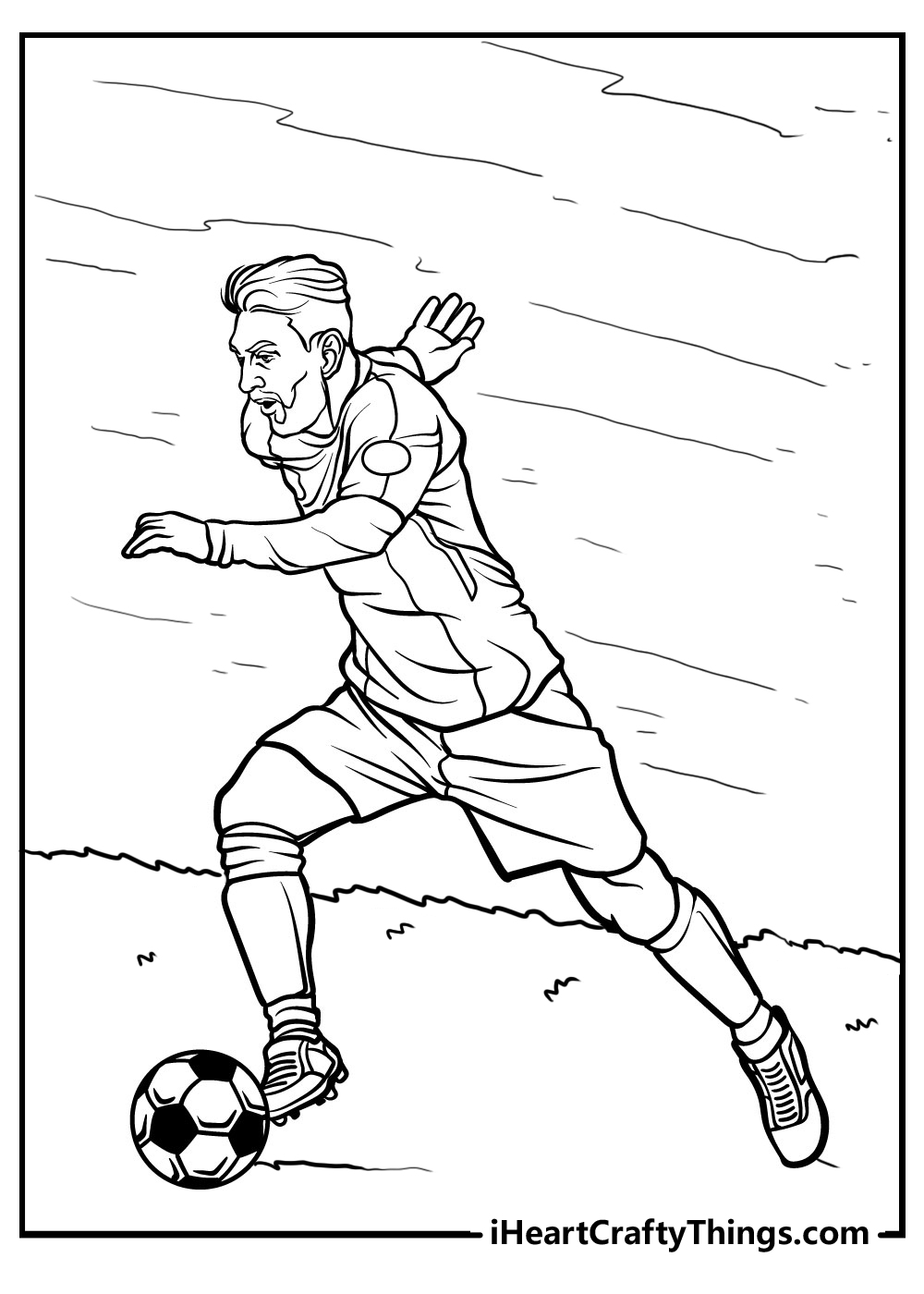 We're calming things down a bit for this football coloring page. It looks like a quieter moment to me, almost as if this player is taking a moment to practice his footwork.
I would use lighter greens and blues for the background of this picture to help produce a more calming look to the image.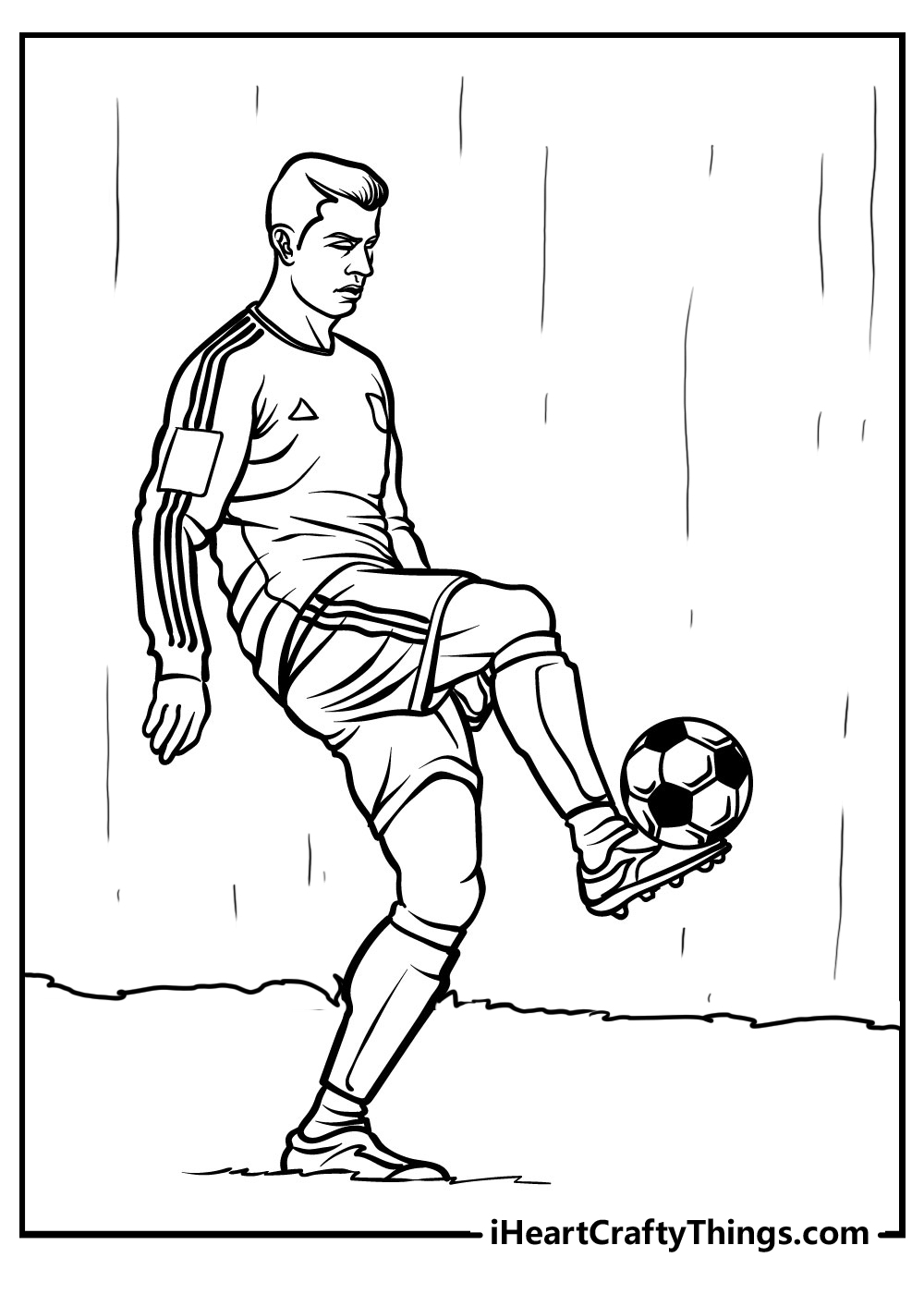 This football coloring sheet puts us right back in the action! Imagine being this close to the game when watching a live match.
If you've been coloring in the previous football printables with established team colors, maybe you could pick new ones to make your very own new team!
What would you name your own team if you could? Why not write the name on his uniform for us to see!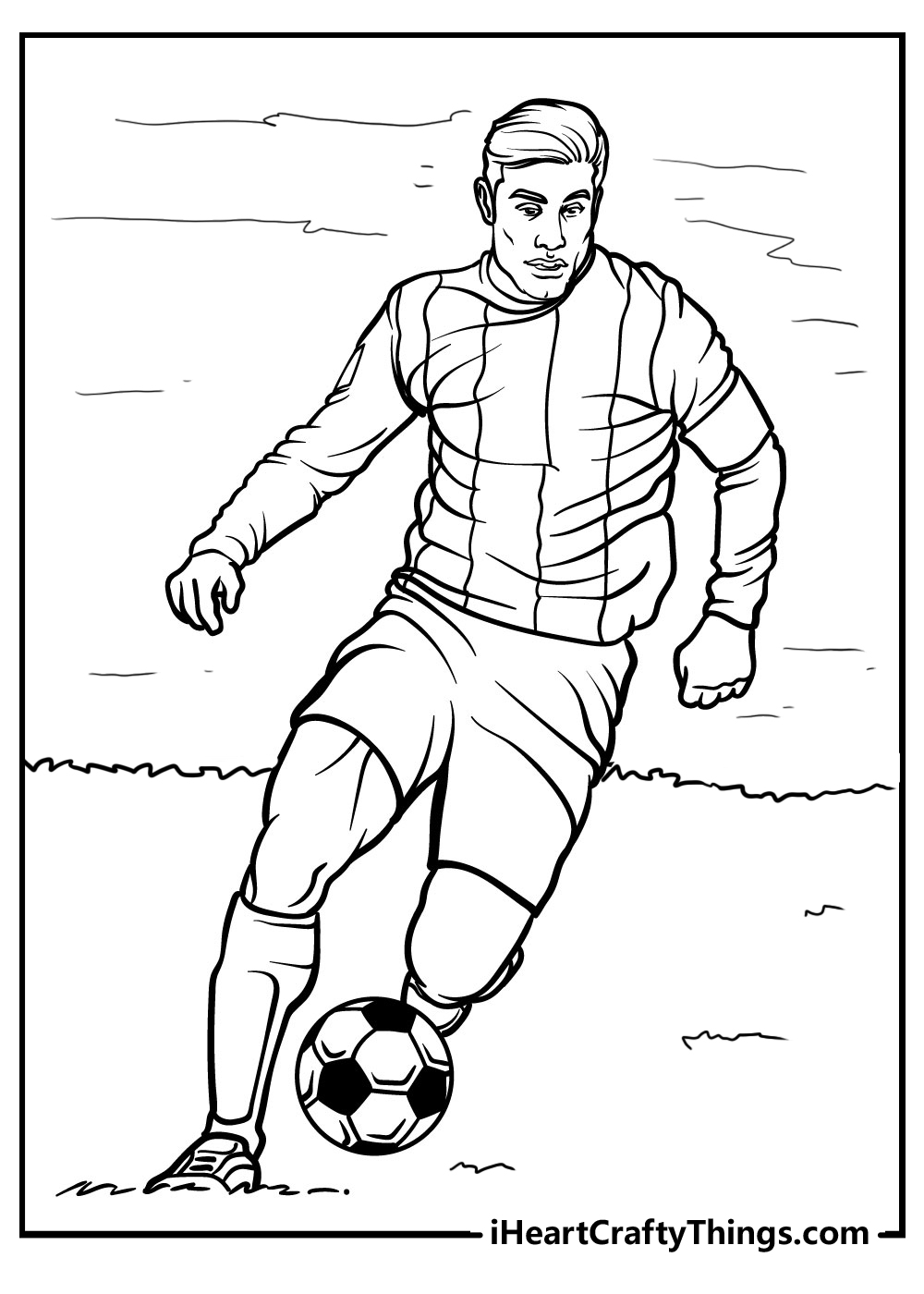 It takes a lot of skill and practice to have the amount of skill with the ball that professional players have. The man in this football coloring page shows that he has that skill and practice under his belt!
You could try to shake things up by using different mediums on the same image.
You could maybe use watercolors for the background and colored pencils for the player. What mediums will you use for this skillful player?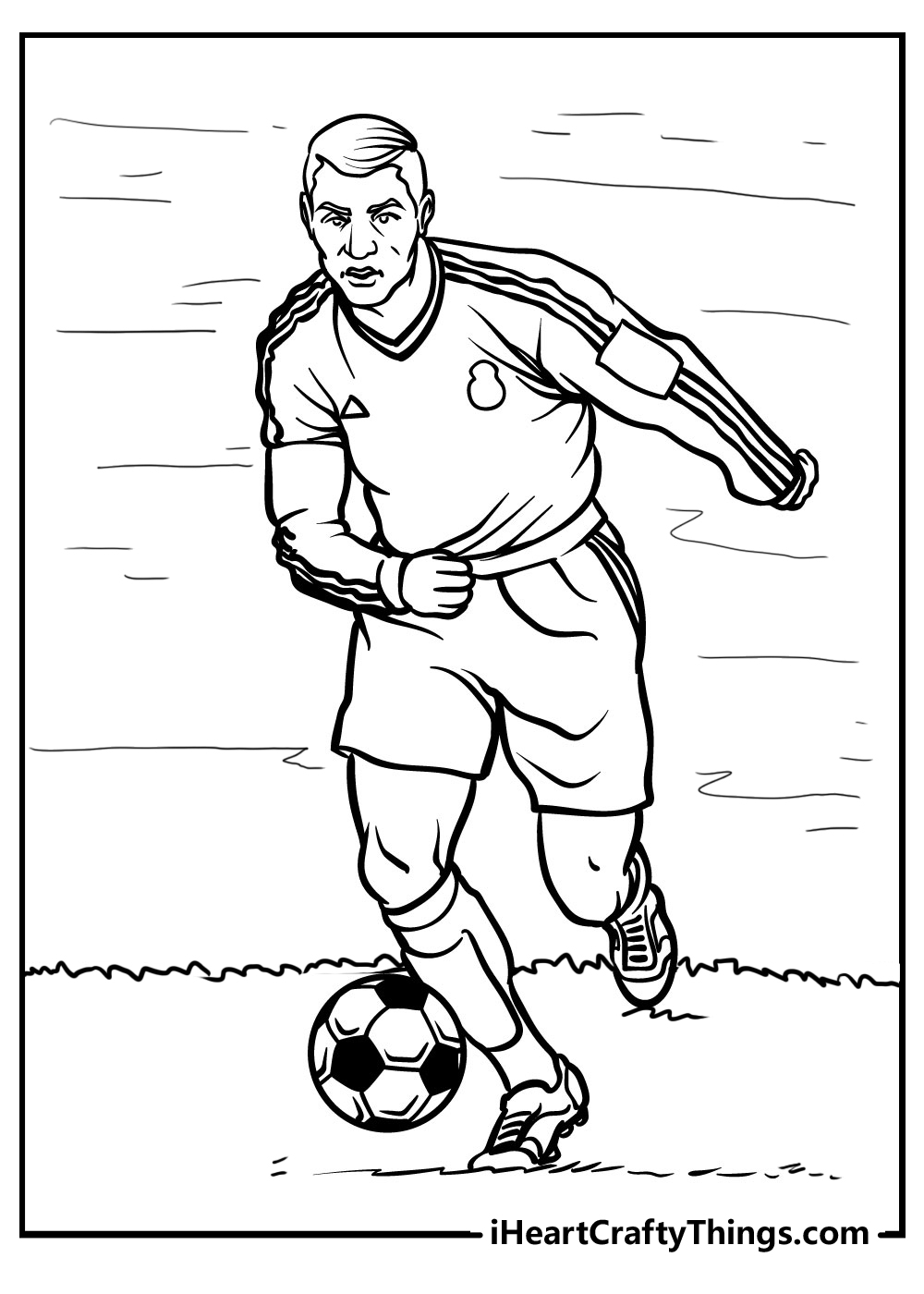 When playing football, it's easy to get passionate and sometimes that passion can erupt into rumbles on the field!
This passion is clear on the face of the player in this football coloring printable.
For this image, I would use a warm red for the background of the image to create a sense of the burning passion that players feel.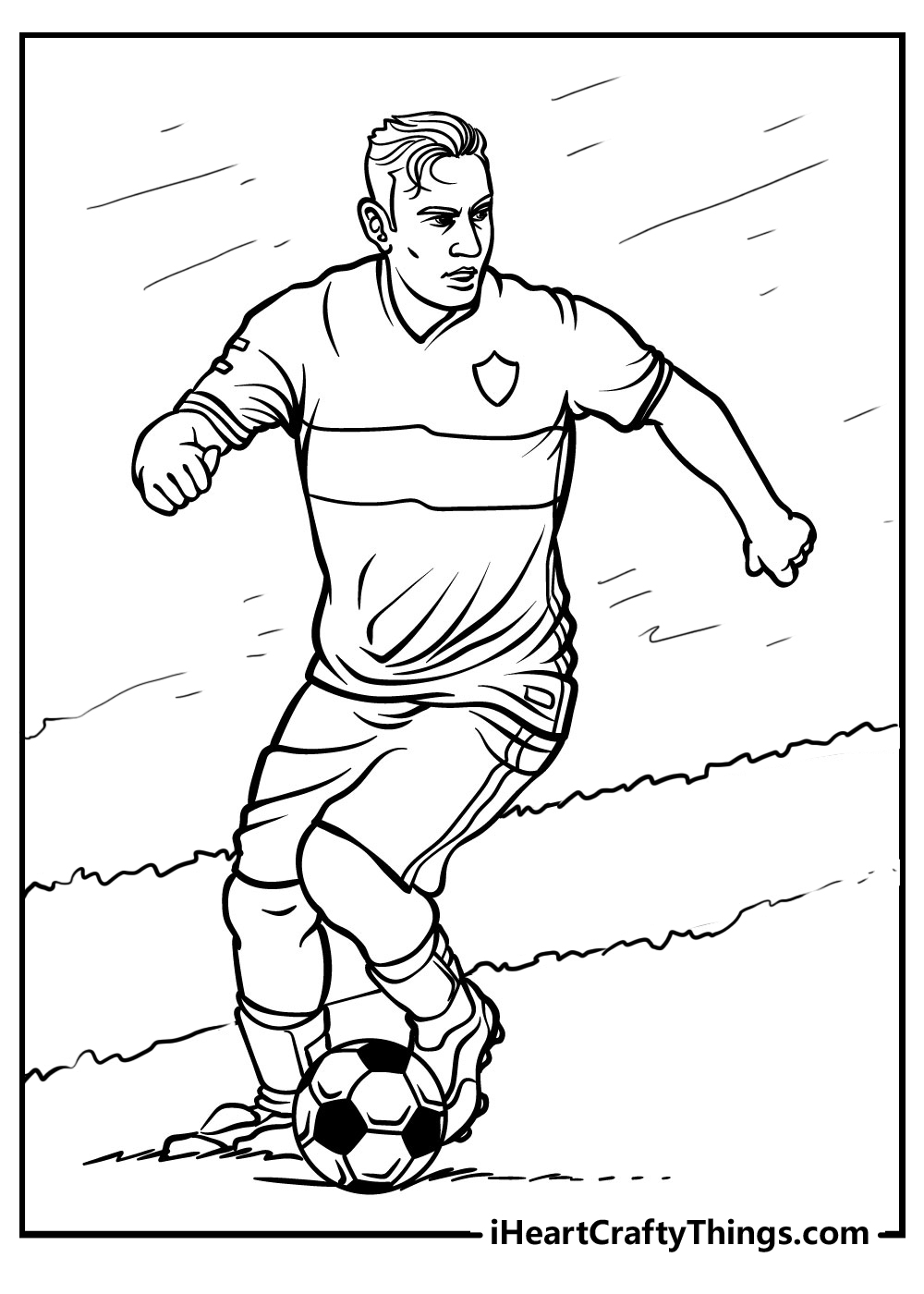 For this football coloring page for kids, the player is seconds away from a kick.
Sometimes when you see an amazing move, you wish that you could have a mental snapshot of the moments leading up to it!
This image captures one of those moments, so how will you immortalize this move with color?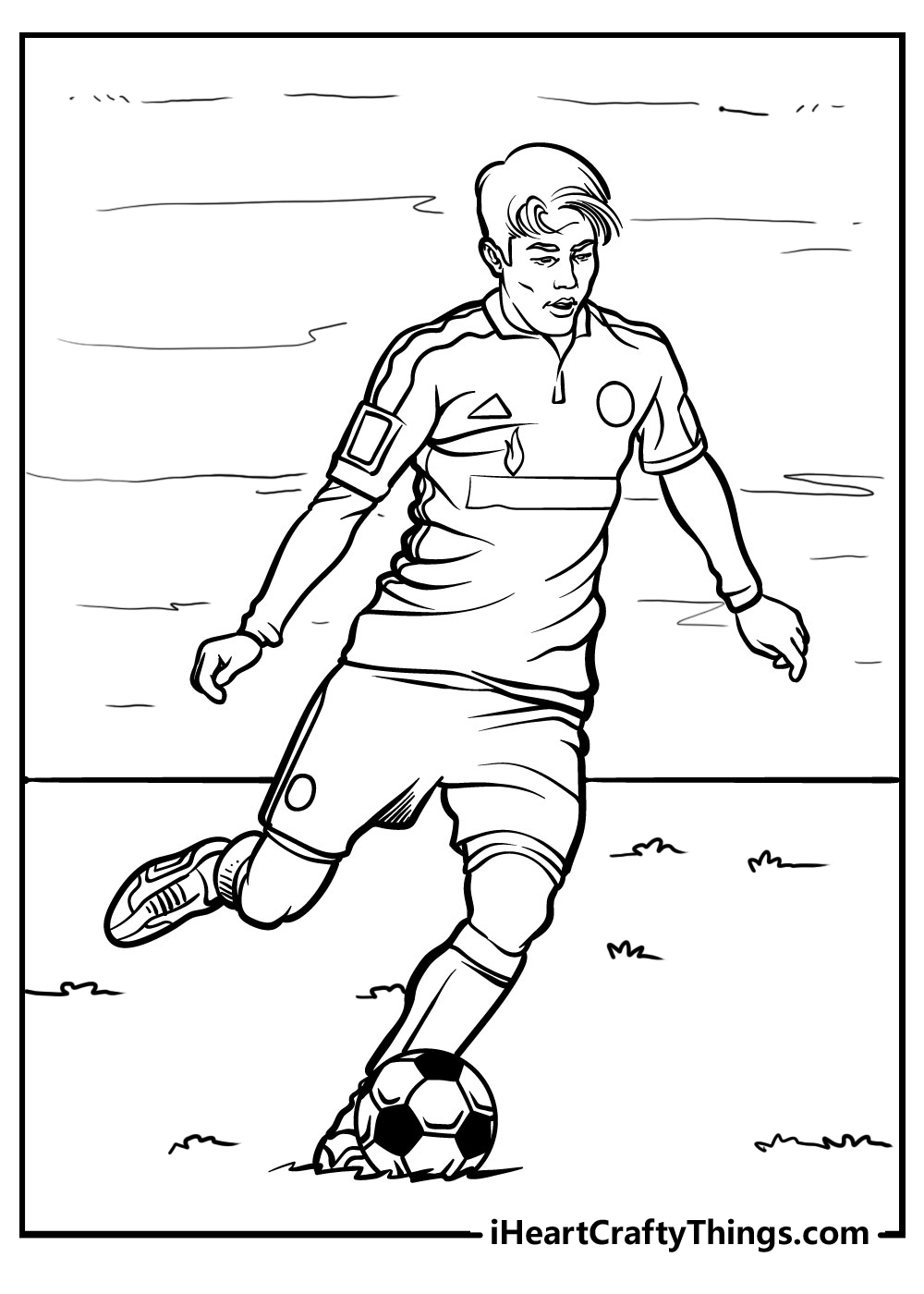 This next player looks like he's weaving the ball through the field with great determination! Football is all about teamwork, but there can be moments of individual heroism as well.
Does this football coloring sheet remind you of a memorable match? If it does, maybe you could color in his uniform to match one of the teams in that game!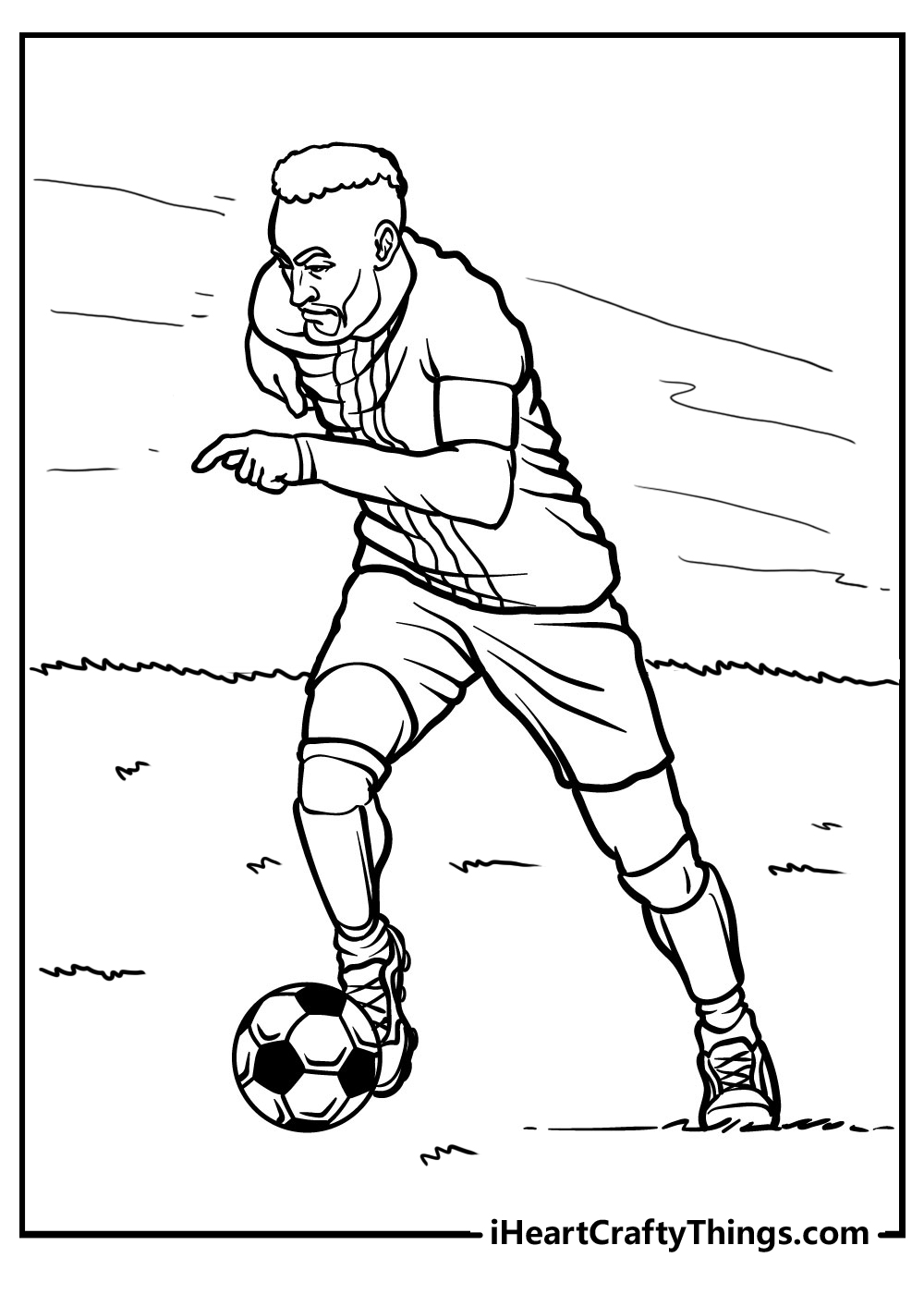 It looks like the ball has just been passed to the player in this football printable. When receiving the ball like this, a player has mere seconds to make some important decisions on the fly.
Do you think this player will pass the ball or keep it to go for the goal himself?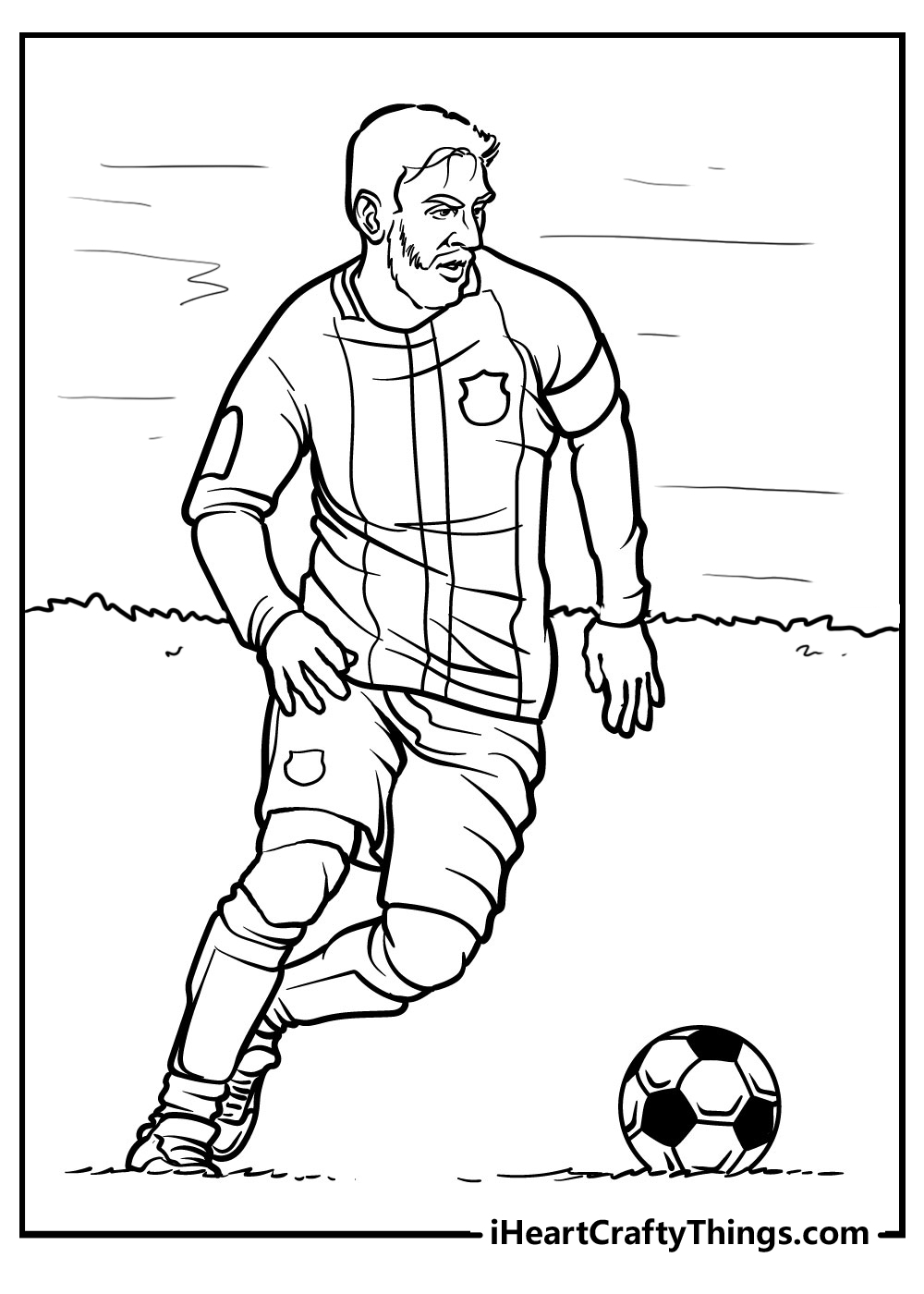 This player had to sprint with all his might to get to the ball in time for this football coloring page!
Maybe you could cut out some pictures of real life players that are smaller than the one in this image.
You could stick them in the background of this picture to simulate a real game going on!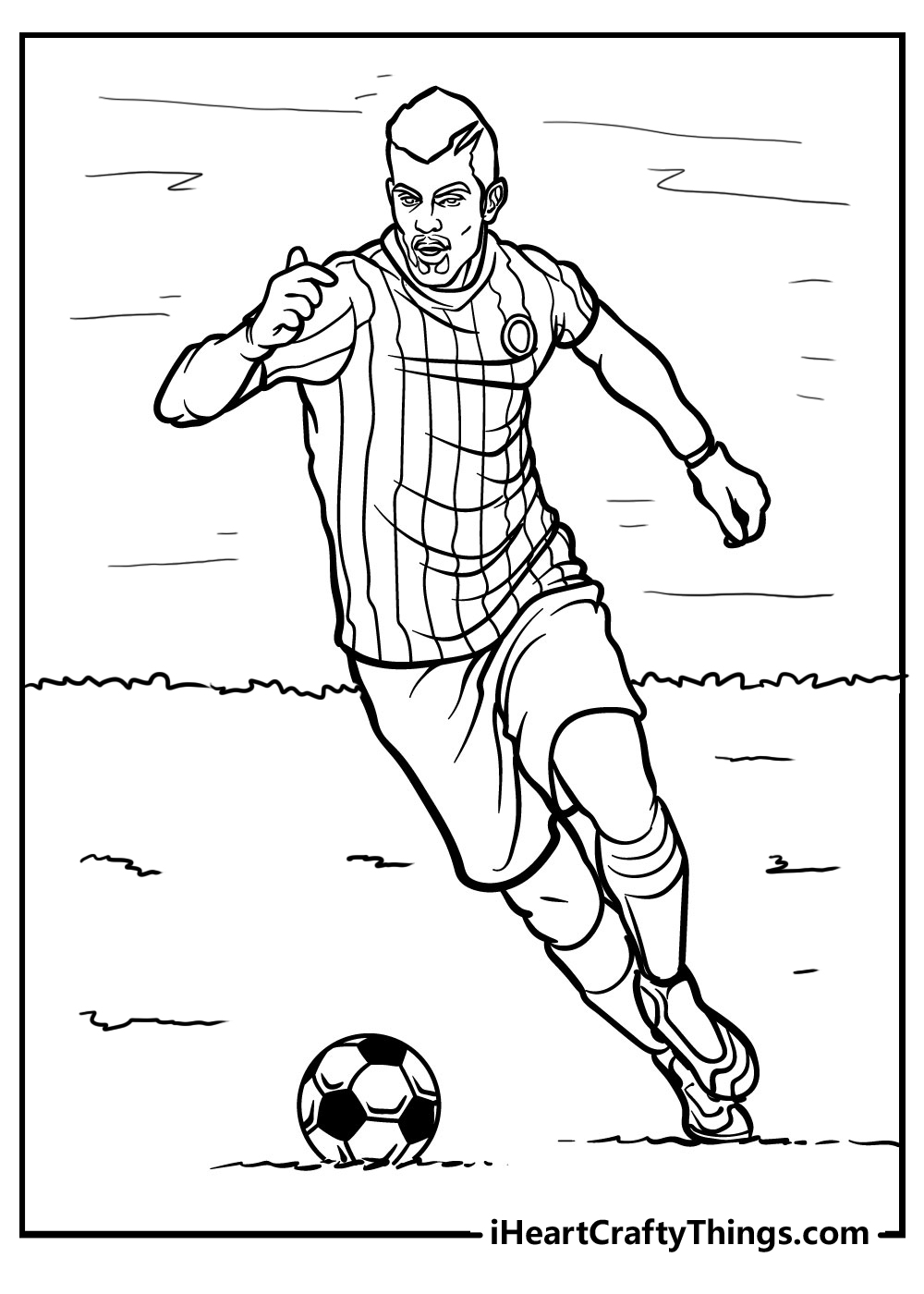 It takes an enormous amount of skill and determination to run full speed to intercept the ball without tripping yourself up.
This football coloring sheet shows a player doing just that! I know that if I attempted this I would land up flat on my face.
Which real life player do you think this could be? Let us know by writing their name or number on his shirt!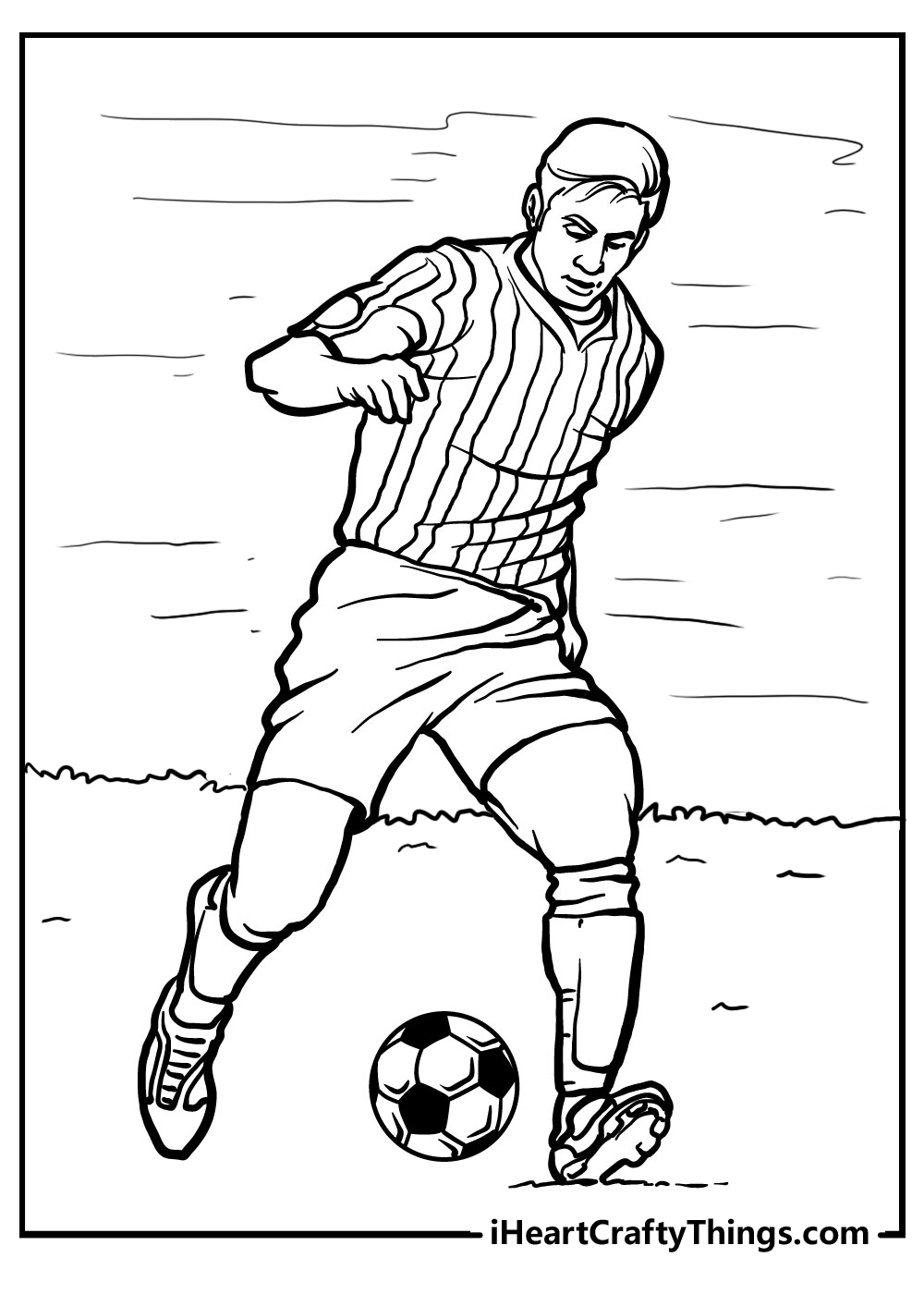 A header is a tough move to perform without having a football flatten your nose! This football coloring printable shows a player executing this tough move flawlessly, though.
Maybe you could draw in the outline of a cheering crowd behind him to cheer him on for pulling off such an impressive move!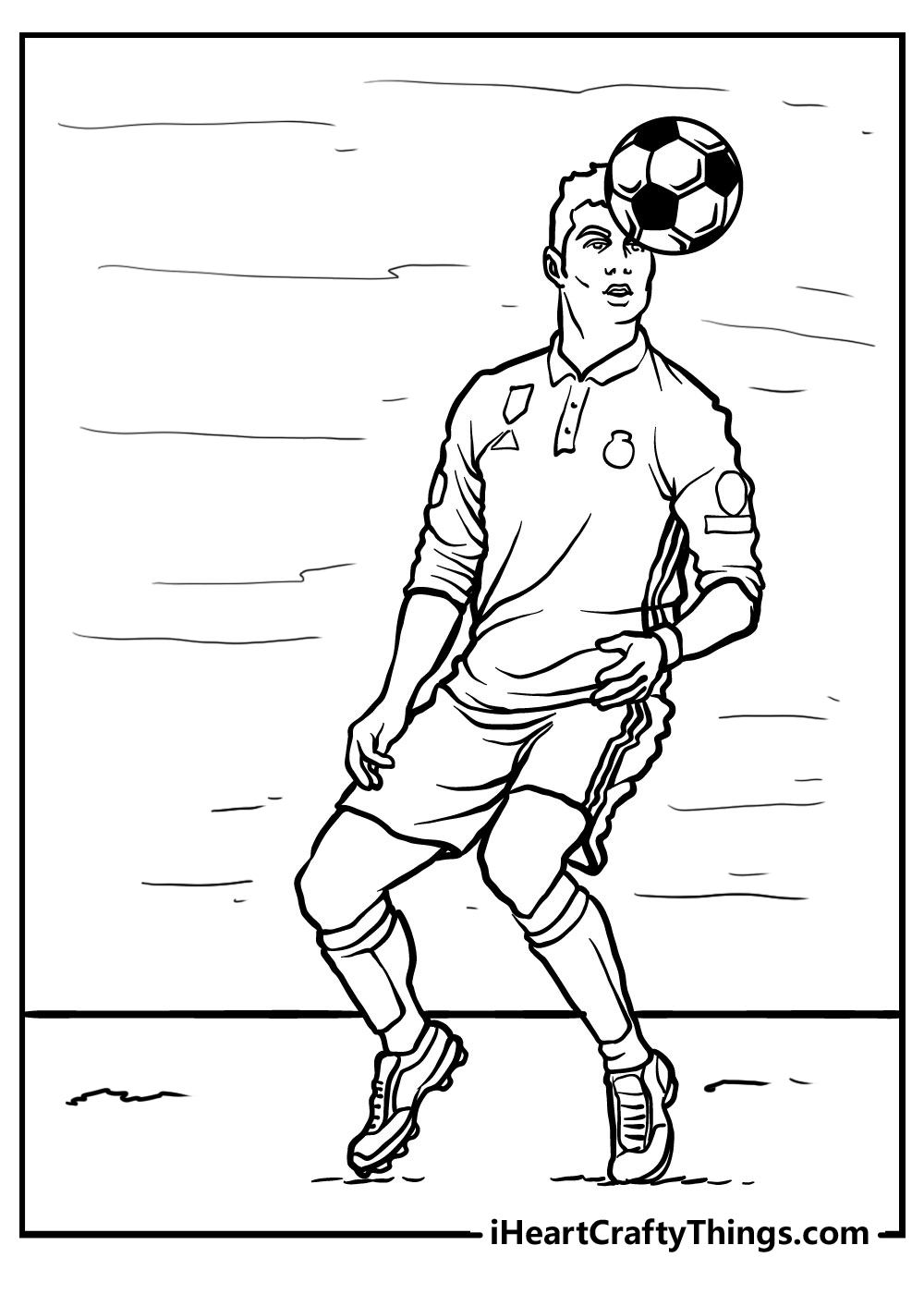 This next free football coloring page shows another player proving that they have immense skills!
For a fun picture, you could get a big white piece of paper and cut out some of the players from these football printables.
If you arranged and stuck them to the paper, it would make it look like there's a game being played by all your favorites from these coloring pages! We'd love to see a picture if you make something like this.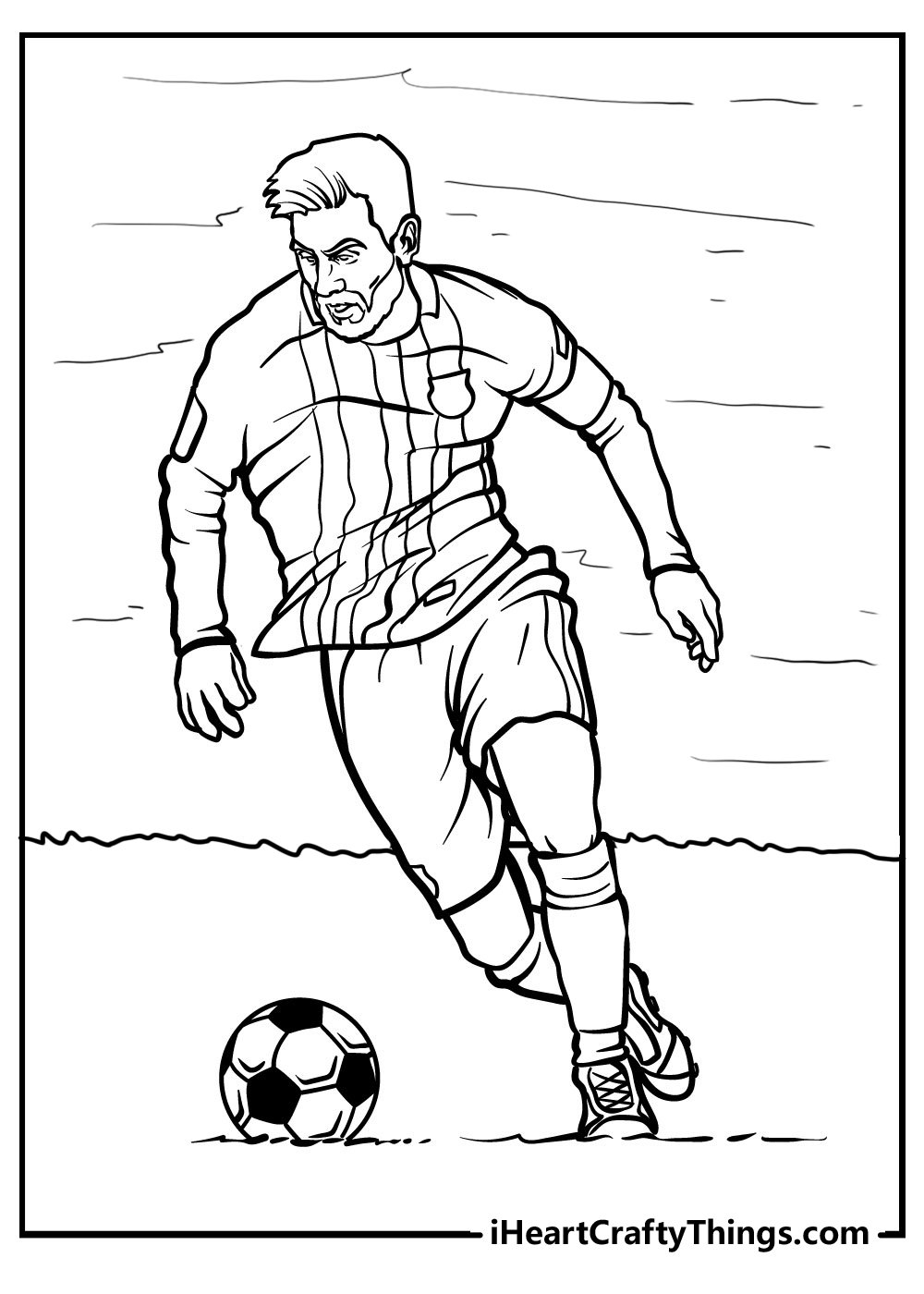 The player dribbling the ball in this football coloring sheet seems to be taking things a little more slowly.
He seems to be going at a slower pace and is contemplating his next move.
This is another image where I would use some blues for the background, but what colors are you feeling for this printable?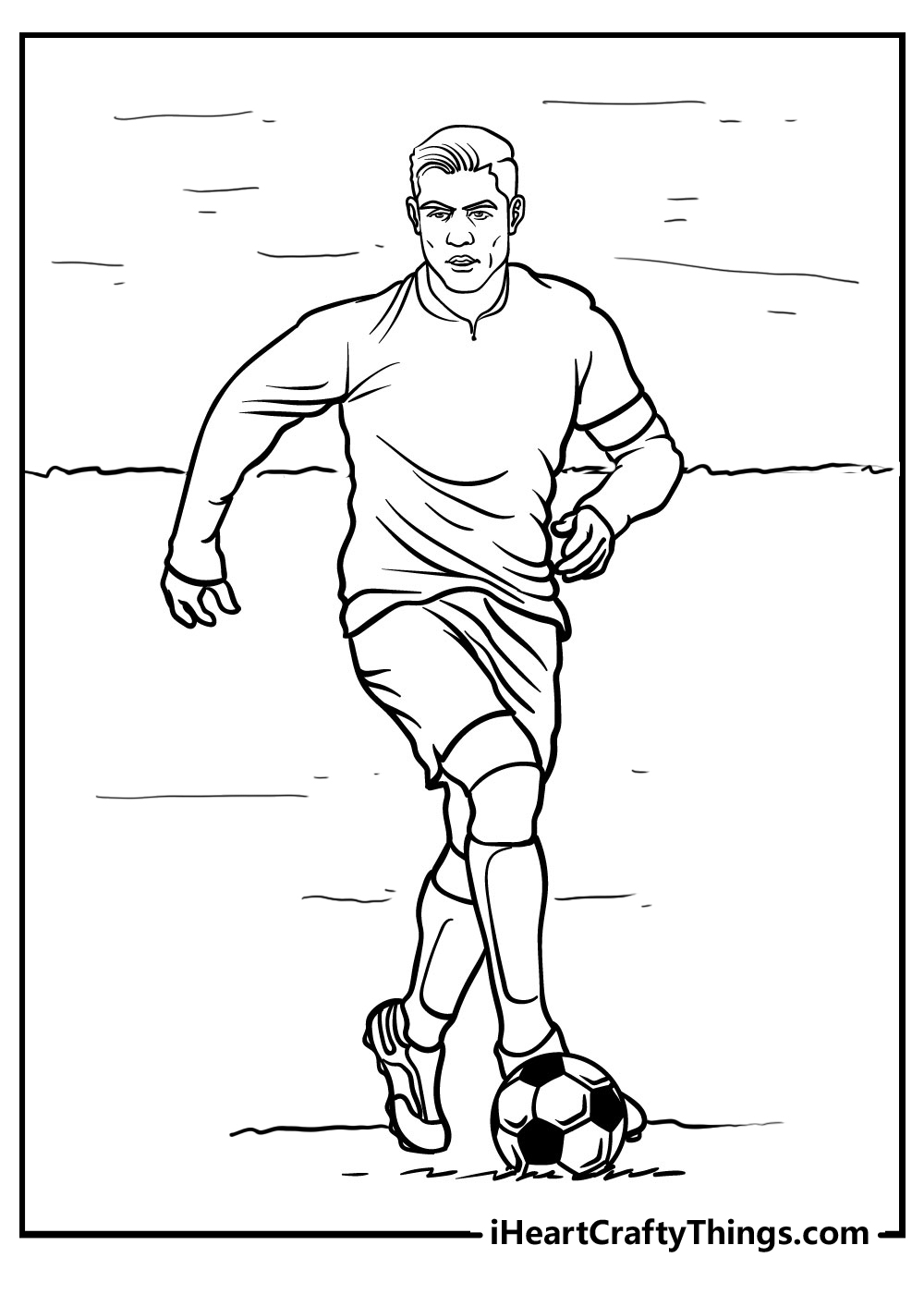 What an incredible move we're seeing in this football printable! There's no way this player won't land up on his backside after this move, but I'm sure it would be worth it if he went to such trouble to do this move.
I would suggest the opposite of the previous printable and use a warm red or yellow for the background of this one to suggest the intensity of this move.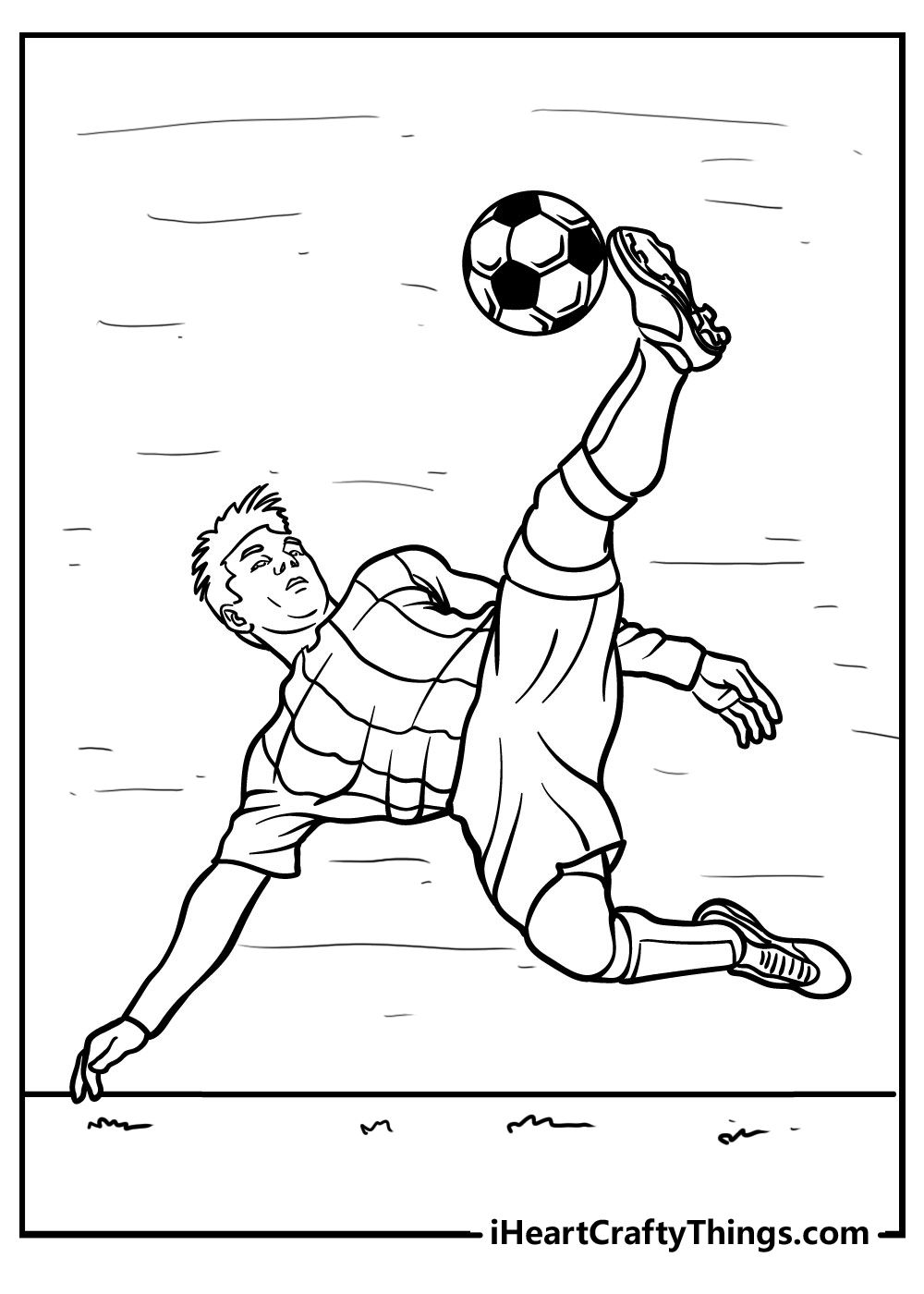 The look on the face of the player in this football coloring page suggests to me that he has a tough move ahead of him!
Maybe you could draw in a speech bubble for this player and write in what he could be thinking. You could even draw a small picture into the speech bubble that shows the move he's thinking of doing!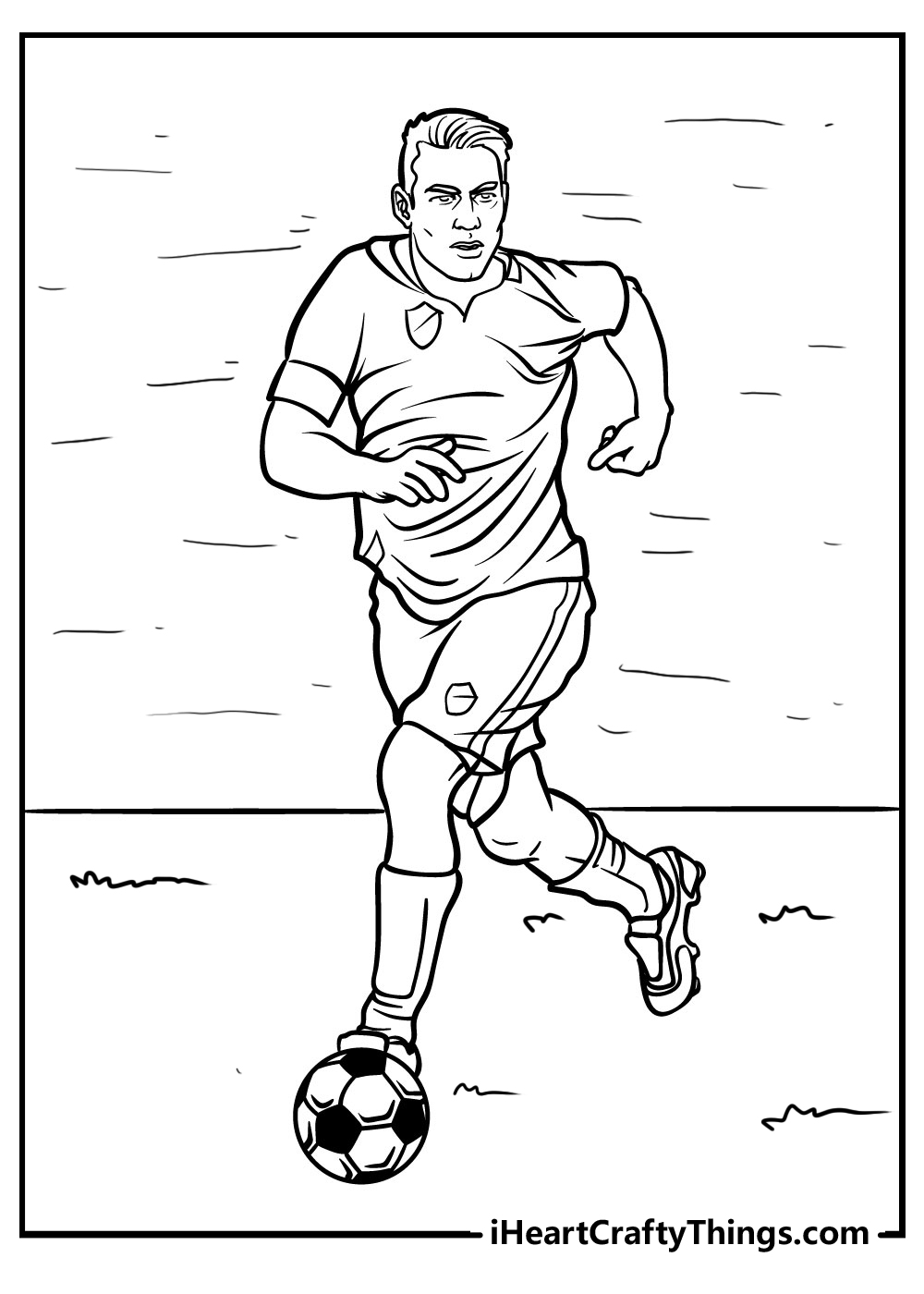 Our final image in this collection of free football coloring sheets for kids has a player once again moving at high speed!
For this image, I think it could look cool to color in some silhouettes of players in the background using watercolors.
You could keep the detail at a minimum to suggest the movement of this image!
If you wanted to try this, you could use some of the previous printables as inspiration to draw in the outlines. We hope you'll share this final football printable to our Facebook page once you complete it!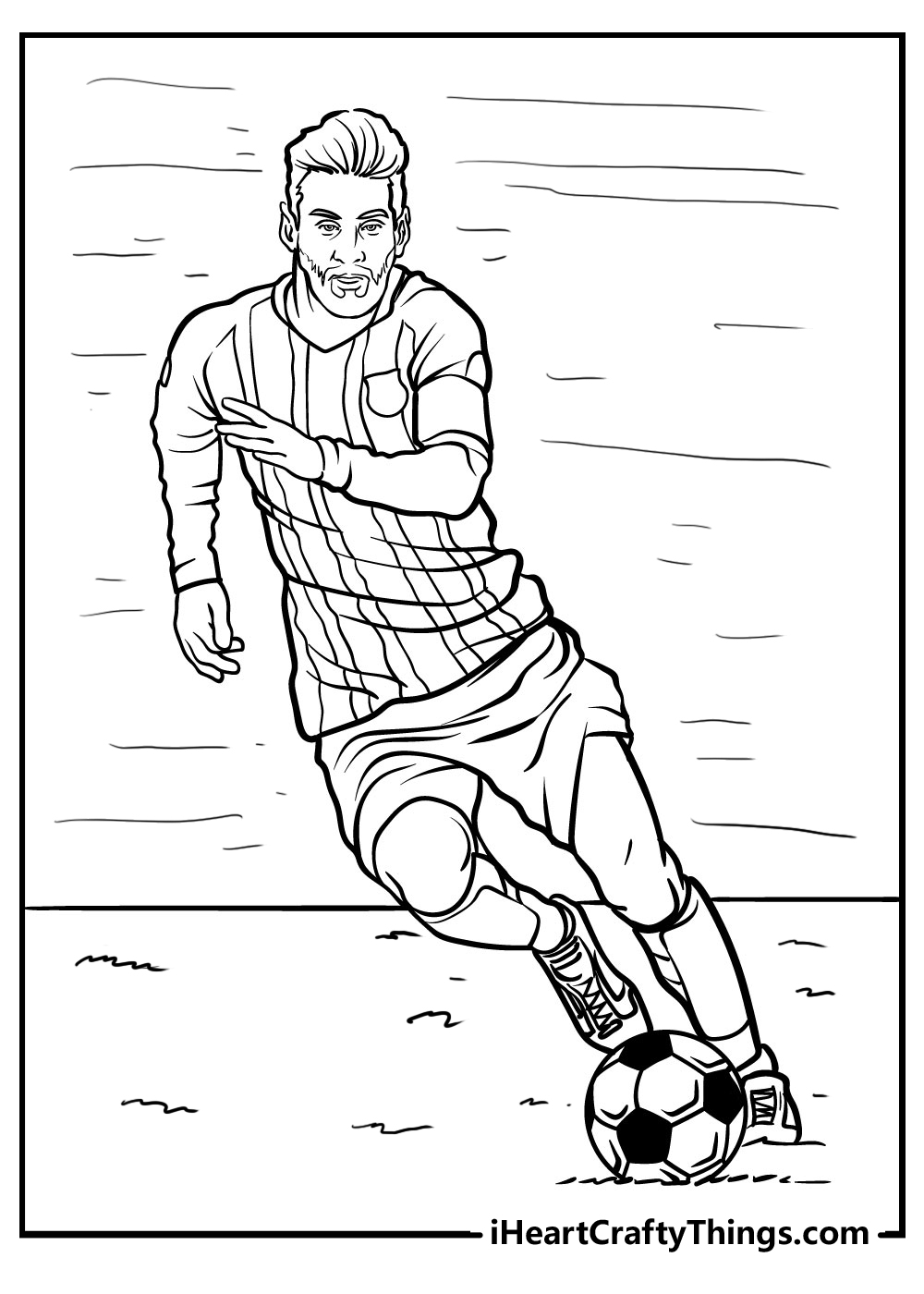 Football Coloring Pages – Which will you choose?
We really hope that you had a fantastic time reliving some of your favorite football moments with this series of free football coloring pages for kids!
Remember that all of our coloring pages and printable art fun are 100% free for you to print, color and enjoy!
That means you can print as many copies of your favorite pages as you'd like to use different colors and try out new mediums.
As well as trying out paints, pens and pencils, you could also try some of the additional craft ideas that were suggested throughout this series of football printables.
We can't wait to see what you try!
Please be sure to like and share our Facebook page with your friends to make sure you never miss out on any of our awesome free coloring pages and printables!
We also really hope you'll share your favorite finished football coloring sheets to our Facebook page for us to see! We'll be looking forward to sharing some great football coloring action with you.
Sours: https://iheartcraftythings.com/football-coloring-pages.html
17 free football coloring pages & party printables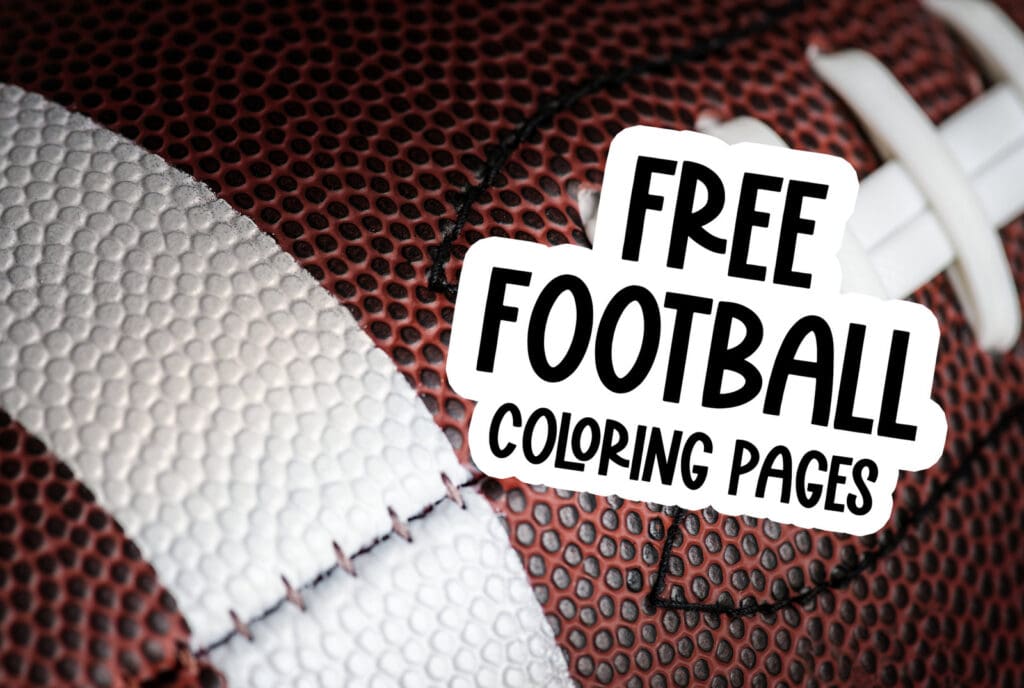 Every fall is welcomed by football fans, because it's the start of football season. Then, and each winter, two teams head into football's finale, The Super Bowl.
Luckily, with these football coloring pages, you don't need super skills to have some football fun, or to create some bowl-worthy decor.
As a bonus, scroll down to learn more than 40 different football terms and definitions.
For even more colorful fun, take a look at our 14 football player coloring pages!
---
American football coloring page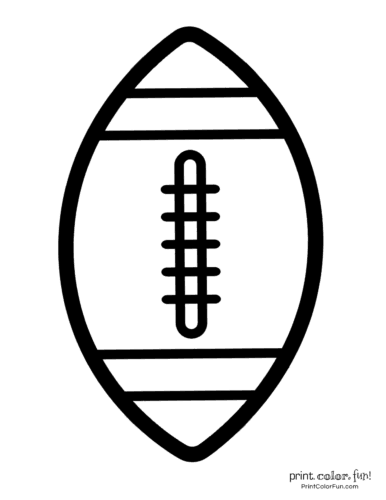 ---
2 footballs free printable coloring page

---
4 small footballs to download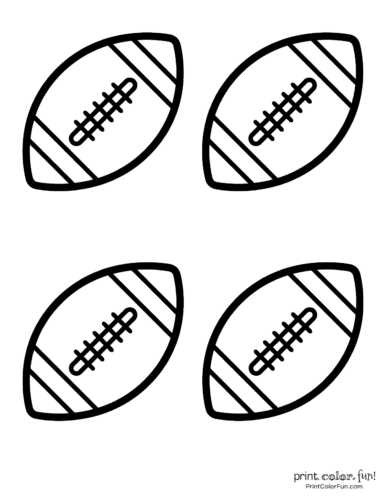 ---
Football cake toppers/small party decorations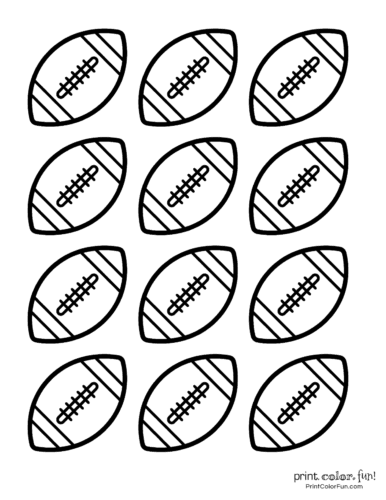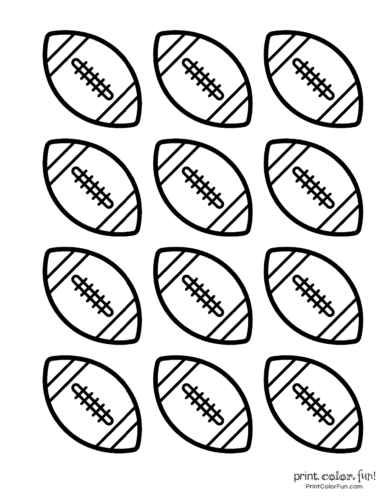 ---
COMMON AMERICAN FOOTBALL TERMS & DEFINITIONS
ACTION PASS: Forward pass thrown from an offensive formation stimulating a running play.
AUDIBLE: A change of the original play at the line of scrimmage by the quarterback after he looks over the defense and decides the play called in the huddle won't work. Also known as check- off or automatic. Audibles are also called by the defense, usually by the middle linebacker.
BLOCKING: A means of protecting the ball carrier by moving defensive men out of his path.
BUTTONHOOK: A pass pattern in which the receiver goes downfield and U-turns back sharply to receive the ball.
CLIPPING: Running or diving into the back of an opponent, or throwing the body across the back of the leg or legs of an opponent other than the ball carrier. A 15- yard penalty.
CRAWLING: An attempt to advance the ball by a player after any part of his person except a hand or foot has touched the ground. A 95-yard penalty.
DOWN: A unit of action in the game that begins with the snap of the ball and ends when an official whistles the ball dead, signifying that the play is over. The offensive team gets four downs in order to advance the ball 10 yards. When 10 yards are gained, a first down is ruled, and the offensive team receives four more downs.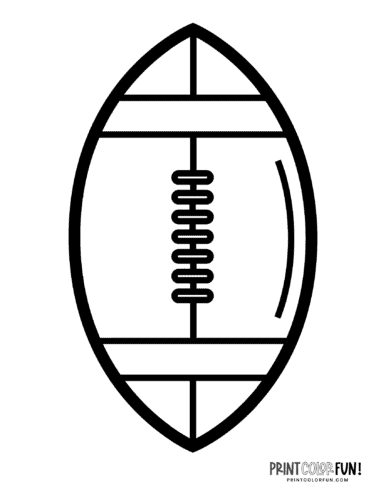 DRAW: Quarterback backpedals as if to pass, but instead hands off for running play to set back who has delayed. Linemen's initial movements are as if to pass block. When the defense is overloaded against the pass, this can be a big gain call.
DROP KICK: A kick given to the ball as it rebounds after having been dropped from the hands to the ground. Once an art, the drop kick is obsolete. Points after touchdown can still be drop kicked, but the only time you'll see one tried is by a harried kicker after a busted play.
FAIR CATCH: The opportunity for a player of the receiving team to catch a kicked ball that has crossed the scrimmage line, without being tackled or blocked by an opponent, after signaling his intention by clearly extending one hand above his head and waving it from side to side more than once.
FLAG: Officials' penalty marker, otherwise known as a handkerchief.
FLANKER: A running back who takes a position to the far left or right of the quarterback to function as a pass receiver. The difference between a flanker and split end is that a flanker will usually line up behind the line of scrimmage, on the opposite side of the field.
---
Football helmet coloring pages/party decorations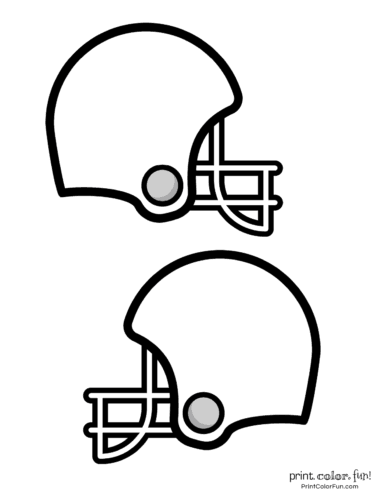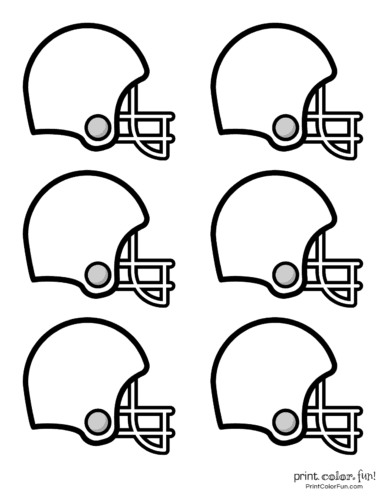 ---
Football helmet cake toppers/small party decorations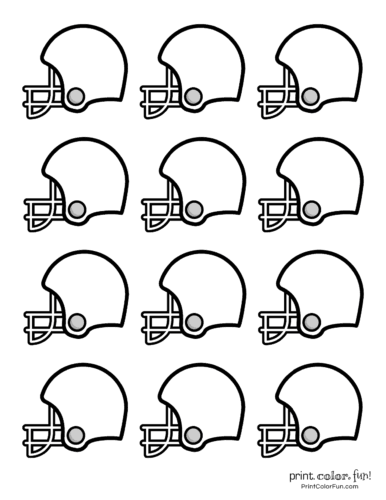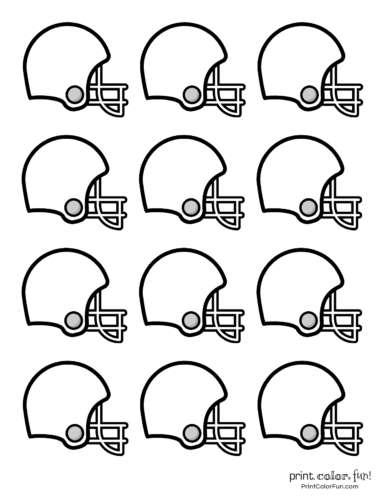 FLARE: A quick pass in which the receiver will take a few steps downfield and then take a step or two right or left in anticipation of the quarterback"s throw. Also called a swing or wheel pass. It is not a screen pass.
FLY PATTERN: Pass play on which receiver will run straight down the field, hoping to beat the defensive man — by simply outrunning him.
FORWARD PASS: Live ball thrown toward opponents' goal to an intended receiver.
FREE KICK: A kick that is required after a safety and may be attempted after a fair catch of a punt. After a safety the team scored upon also must give up the ball, putting it into play with a free kick, a punt, from its own 20-yard line. After any fair catch the receiving team, without interference, is allowed to attempt kicking a field goal.
FRONT FOUR: The defensive line, consisting of two ends and two tackles.
FUMBLE: The loss of possession of the ball by the ball carrier. Fumbles are free balls and can be recovered by either team.
HUDDLE: Two or more players grouped together after the ball is ready for play, usually for receiving instructions from their offensive and defensive quarterback concerning the next play.
KICKOFF: With the ball either resting on a kicking tee or lying flat on the ground, a kick that begins either half or follows a touchdown or field goal. For years college and pro teams kicked off from the kicking team's 40-yard line, but in 1974 the National Football League changed the spot to the 35-yard line, intending to discourage touchbacks and revive crowd-pleasing runbacks.
LATERAL PASS: An underhanded pass thrown backward or sideways. The difference between a forward pass and a lateral pass is that a dropped or errant lateral is not incomplete, it is in play. A forward lateral, in which the receiver is not behind the thrower, is illegal and will draw a penalty.
LINEBACKER: A defensive player operating immediately behind his line where he can either aid linemen in Stopping a running play or cover an opponent's receiver if a pass develops.
LINEMAN: A player position on the line of scrimmage. On offense, there must be seven men on the line of scrimmage. On defense, there can be any number. Conversely, a back is a player legally behind the line of the snap.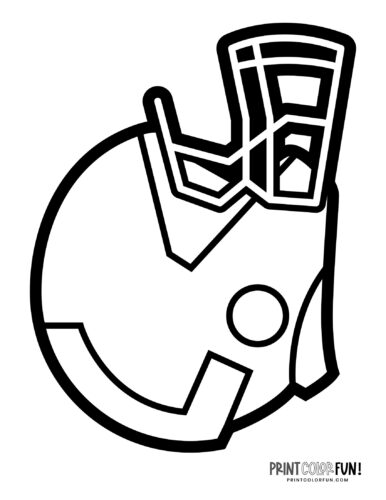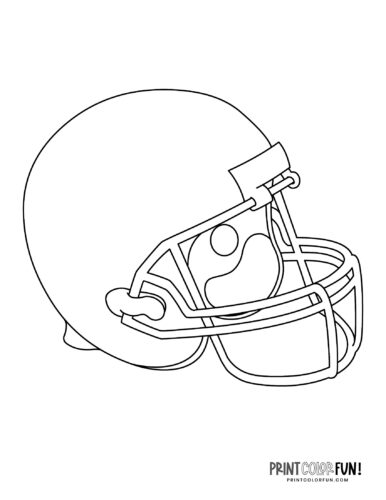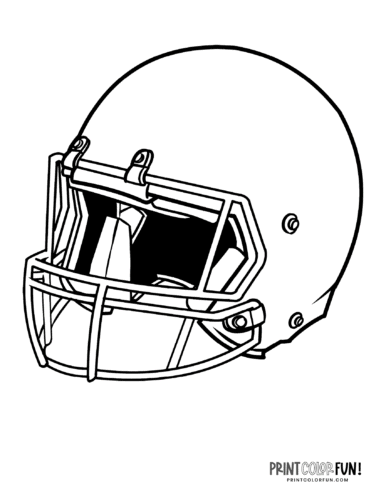 LOOK-IN PASS: A short pass pattern, usually designed for the tight end, in which he will run diagonally for a few yards toward the center of the field, then look up for the quick throw. Timing between the quarterback and receiver makes this play go.
NEUTRAL ZONE: The space between the scrimmage lines of the offense and defense, about 11 inches or the length of the football.
ONSIDE KICK: A kickoff in which the ball is placed flat on its side. The purpose is to make the return hard to handle and perhaps make the receiving team fumble. The disadvantage is that the kick will not travel as far or as high as the end-over-end type. On a kickoff the ball must travel 10 yards from the spot it is kicked, making it a free ball.
PLACE KICK: The technique most often employed to kick off and on-field goal and try-for-point attempts. The ball, which may be held in position by any player of the kicking team, is kicked from a fixed position either on the ground or on a toe.
PULLING GUARD: Guard who pulls out behind scrimmage line for a trap block or to lead sweep blocking for ball carrier.
PUNT: A scrimmage kick that the offensive team will use either when it is deep in its own territory with no prospects of a first down or when it wants to put the opposing team at a disadvantage deep in its territory. Punts are usually fourth-down plays. A punt is kicked out of the hands or after a short drop, but the ball must not touch the ground.
REVERSE: A running play on which the lead blockers go in one direction, while ball carrier goes in the opposite direction. A big gainer if things go right; suicide for the runner if the defense catches on.
ROLL OUT: A play in which the quarterback runs laterally to either side of the line of scrimmage, waiting for an option to pass or run the ball himself.
SCREEN PASS: A deceptive pass intended to fool the defense into thinking a deep pass is developing, while the blockers let linemen penetrate deep into the backfield. Meanwhile, a wall of blockers form for a back, who takes a lob pass from the quarterback with the hope of penetrating a vulnerable defense.
SCRIMMAGE: A play that begins with a snap from the center.
Football coloring pages: Equipment and gear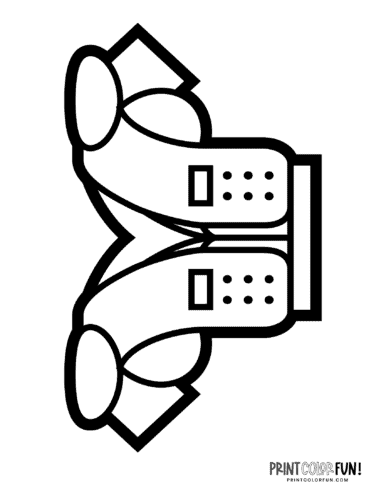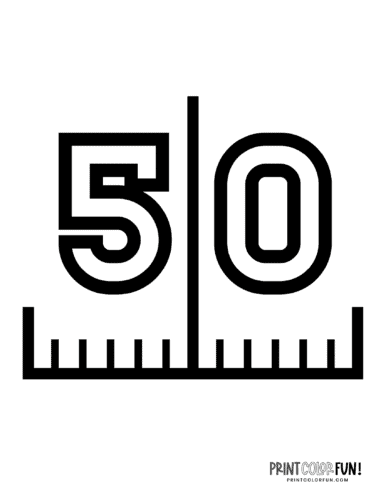 SCRIMMAGE LINE: The yard line (marked or unmarked) that passes through the point of the ball nearest a team's own goal line.
SEAM: The imaginary line where two zone-defense coverage areas meet. The passer attempts to take advantage of hitting the "seam."
SHIFT: A change in position by either the offensive or defensive players after the teams have reached the line of scrimmage. The offensive team is required to reach a set position one second after any shift.
SNAP: A quick, continuous motion by which the ball is handed or snapped back by the center.
TACKLING: Grasping or encircling an opponent with hands or arms.
TIGHT END: Offensive end who lines up in close formation (as opposed to split end's wide set) where he can either block for a ball carrier or be employed as a pass receiver. Lines up next to the tackle on either side.
TURNOVER: A loss of possession because of fumble or interception.
WIDE RECEIVER: A split end or flanker back. Either or both are set wide of scrimmage line as potential pass receivers.
WISHBONE: A offensive formation requiring a versatile quarterback. The quarterback has four options — to hand off, toss laterally to another back, keep and run, or pass. The main drawback to the wishbone is that plays take longer to develop and long passes are limited because with a tight end there is only one wide receiver.
These football terms and definitions were excerpted from material published in the Quad-City Times (Davenport, Iowa) on September 11, 1977
ALSO SEE: 14 football player coloring pages
Sours: https://printcolorfun.com/565/football-coloring-pages/
Football Coloring Pages
Our coloring pages require the FREE Adobe Acrobat Reader. This ensures that both MAC and Windows Users can download the coloring sheets and that your coloring pages aren't covered with ads or other web site junk. ;) To download your free copy,
click here.
(Kids: don't forget to get your parent's help downloading software!)
Download and print lots of pages and you can make your own colouring book!

Get notified about new coloring pages by following us on twitter!
All of our colouring pages are FREE and printable.




Download the
Coloring Castle
Sours: http://www.coloringcastle.com/football_coloring_pages.html
Sport Coloring Pages for Kids, How to Draw and Color a Soccer Player, Soccer Football ⚽
Football Coloring Pages
Football coloring pages are a great activity for kids as they settle into fall and cooler temperatures. I love how easy free printable coloring pages are to print off and how much my kids love having a variety of things to color!
FOOTBALL FACTS FOR KIDS
If you have some football lovers at your house you may want to share some interesting football facts with them.
I enjoy watching football games in person but don't enjoy watching games on TV very much. It is always fun to learn new things and you have a captive audience when your kids are coloring!
Here are some football facts that kids may find fascinating:
The NFL home team has to provide 36 footballs for each outdoor game. 
You can only have 11 players on the field at a time. 
A football field is 100 yards long.
Before 1943 you didn't have to wear a helmet to play in the NFL.
The Dallas Cowboys is the most valuable sports franchise.
Thanksgiving is the only day during the year where more food is consumed than on Super Bowl.
The Colts were the first team in the NFL to have cheerleaders.
[mailerlite_form form_id=1]
FOOTBALL PARTY IDEAS FOR KIDS
When the adults are watching football this fall it may be a good idea to have some activities planned for the kids. After they get done with the football coloring pages here are some other ideas to keep them entertained.
Have the kids play a charades game that is football-themed. They can act out different football positions, words and phrases.
Send the kids outside to play monkey in the middle! This is always a hilarious game and they can play it with a football.
Hand out packs of football cards and let the kids do some trading.
Ask the kids to all dress in their favorite team colors for the party.
Serve some easy finger foods like Tortilla Pizza Pinwheels and Velveeta Queso Dip.
FREE PRINTABLE FOOTBALL COLORING PAGES
You can download and print off these free printable football coloring sheets for your own personal use. 
Just click the link here or the image below to download: Football Coloring Pages
If you love free coloring pages be sure to check these out:
Be sure to SHARE this post with your friends on social media so they can come and print these football coloring pages off too!
Hi, I'm Jamie! Welcome to Life is Sweeter by Design, where I am working on recapturing the JOY in life!You will find me blogging about family, food and fun. I love being a wife to my husband and mom to my four kids.Cooking, crafting, travel and homemaking make me smile!
Like this:
Filed Under: Free Printables, Kid Approved ActivitiesTagged With: free printables, Kid Approved Activities
Sours: https://www.lifeissweeterbydesign.com/football-coloring-pages/
Sheets coloring free football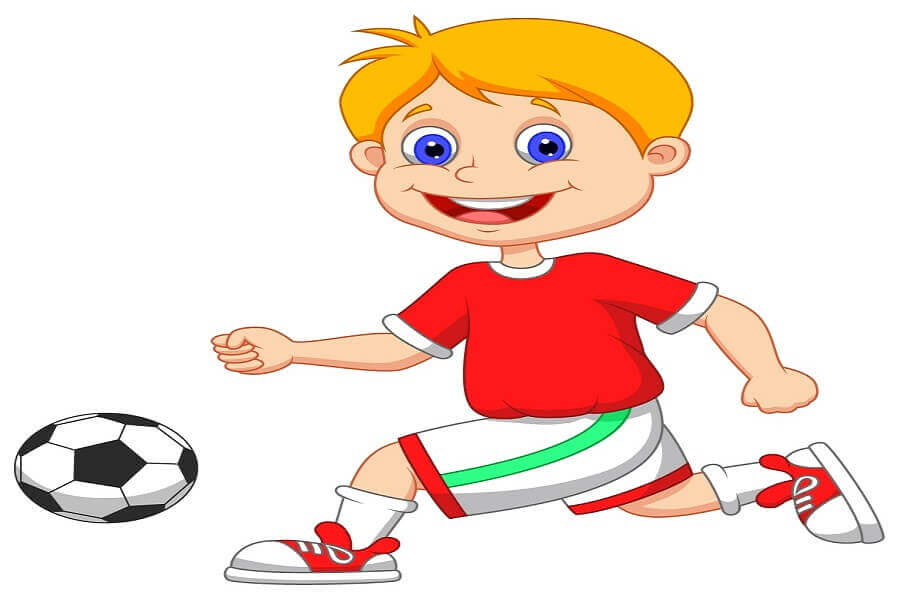 Greetings friends! Today we've got you coloring pages of the most popular sport in the world. Yes, we're talking about football and soccer coloring pages. Also known as the "beautiful game", it is estimated that almost half the global population watches association football or soccer (as Americans call it). Contemporary soccer began in England from where it gathered interest and spread to other parts of the world. It is more popular in Europe and America, specifically South America, than any other continent.
Football is played between 2 teams with 11 players on each side. The objective is to drive the ball past the defenders and the goalkeeper into the goal net by the opponent team. Let us learn more about this beautiful game and with these free printable football coloring sheets to print.
Free Printable 35 Football Coloring Pages:
Adidas Soccer Ball Coloring Page:
Adidas being one of the leading sports brands is a big name in the world of football. One of the main focuses of Adidas has been football kits and equipment, including soccer balls. Adidas has supplied footballs for many important football tournaments that include FIFA World Cup 2006, 2010 and 2014 and the official ball of UEFA Euro 2016.
American Football Coloring Page:
Football, as known by many, is very different in America. American football in America and Canada is also known as Gridiron. Although like European football, it includes 2 teams with 11 players each, American football involves carrying the ball beyond the opponent's touchline rather than using the feet to score a goal.
American Football Coloring Page: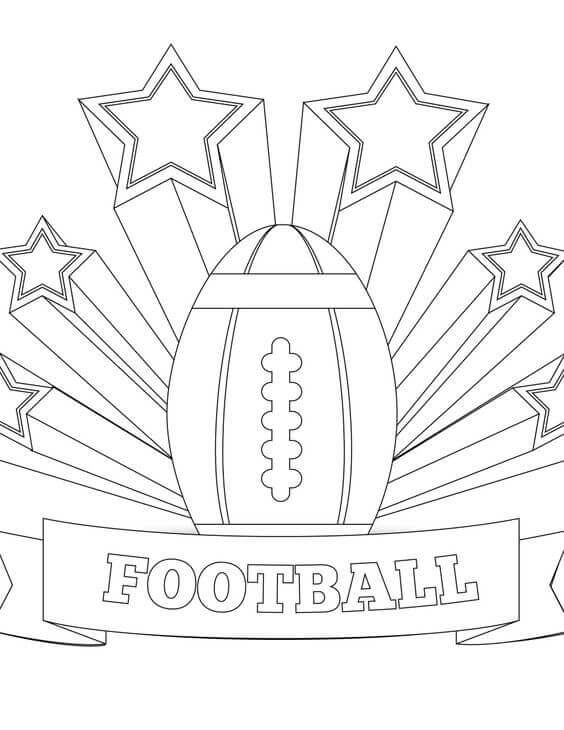 An American football is shaped as a prolate spheroid and is approximately 28 cm long, 56 cm in circumference, and weighs 0.875 lbs. Mainly famous in America and Canada, American football is aggressive, contact sport.
Bratz Girl Playing Football: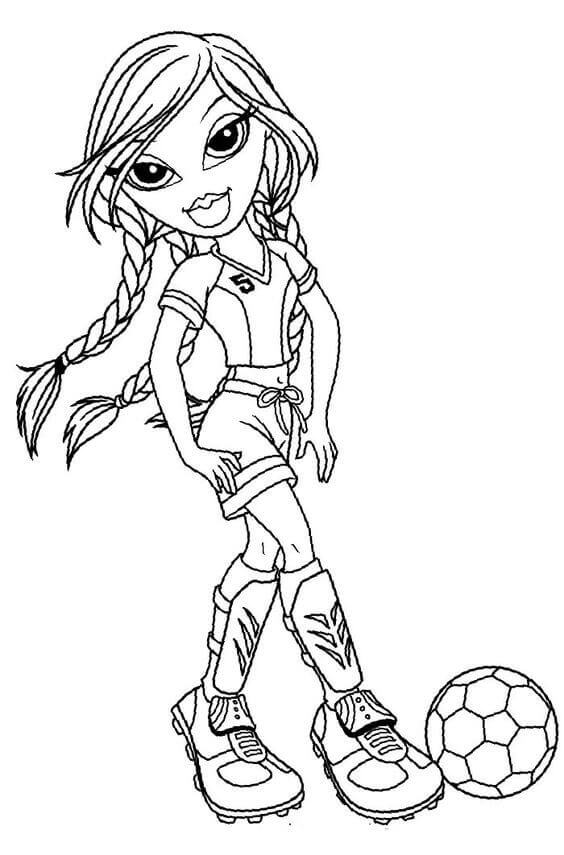 Who says football isn't for girls? This Bratz doll is ready for the kick-off. Although she is a fashion model and follows pop culture, she knows her game. DO you? Color this model cum football player.
Coloring Page Of Football: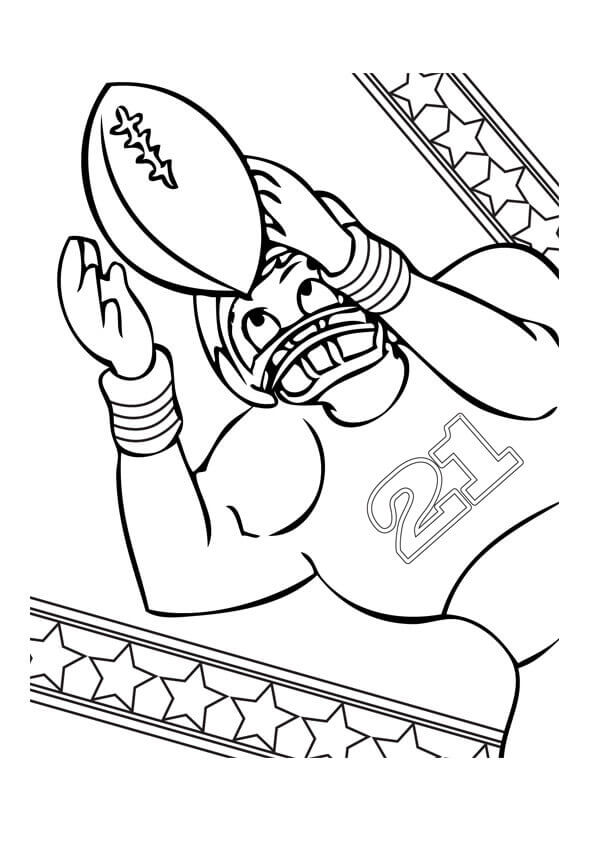 American Football is often confused with rugby possible because of their shared origins and similar game concepts. American football lasts much longer than an 80-minute rugby game. Passing is also different in these 2 sports: while backward passing is common, forward throw may be illegal in some situations in rugby.
Cristiano Ronaldo Coloring Page: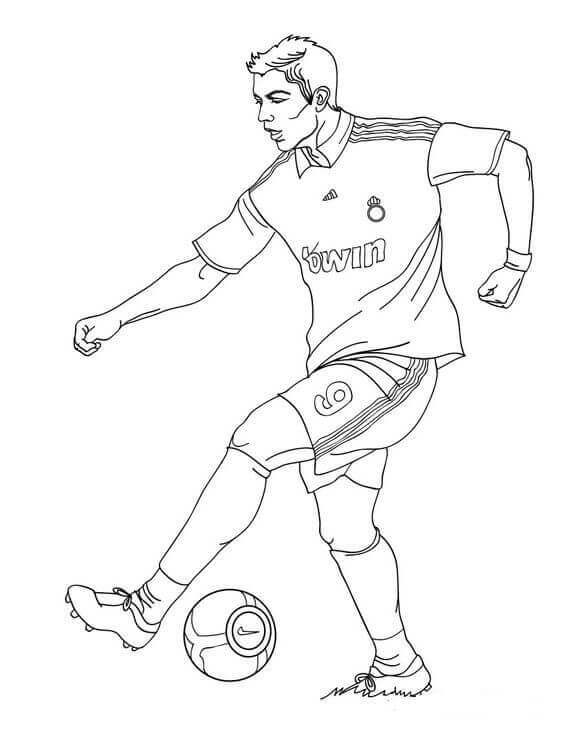 One of the best players in the world, I'm sure Cristiano Ronaldo's name isn't unheard of. The list of records broken by him is endless and his achievements are never-ending. Not only is he the world's best player, but he also plays for the best club too- Real Madrid. CR7 is the world's highest-paid athlete and the world's most famous athlete too. He is the highest goal scorer of Real Madrid with a record 34 La Liga hat-tricks. He has won a record-breaking 5 Ballon d'Or awards, 4 of which he won after a long gap of 4 years.
Cute Soccer Coloring Page:
Being the most popular sport in the world, football or soccer enjoys its popularity among everyone- children, women, elderly. Billy is a great player and prefers to wear kit number 1, a number his favorite player wears. Color this inspired Billy.
Dragons Playing Soccer: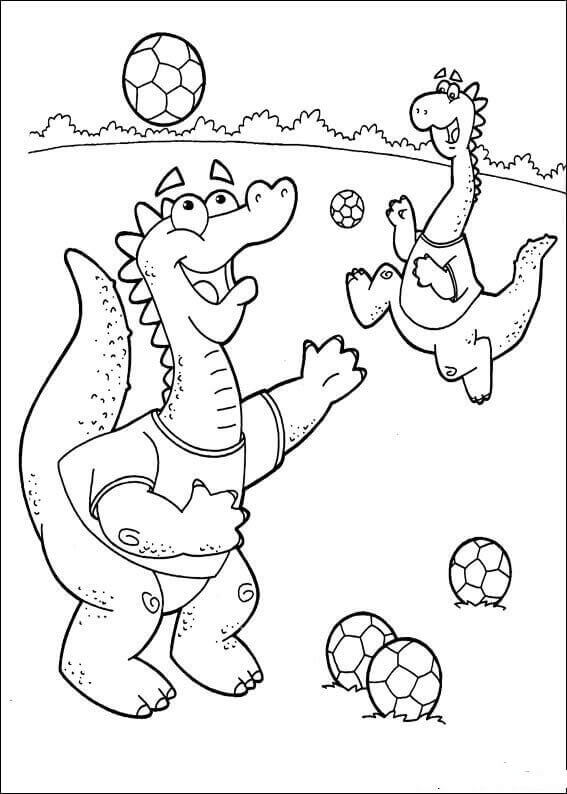 Who doesn't love soccer? Not only humans but dragons too love this beautiful game. Seems like they are warming up before the game. Their physique will surely help them win this match.
[ Read: Dragon Coloring Pages ]
English Football Coloring Page:
The English football league is called the Premier League. Also known as EPL (English Premier League), it is the world's most popular league. It consists of 20 teams or clubs which are solid from top to bottom of the table. 49 teams have played in this league since its inception but only 6 of them have won the title, with Manchester United winning the most titles (13).
English Football Goalkeeper Coloring Page: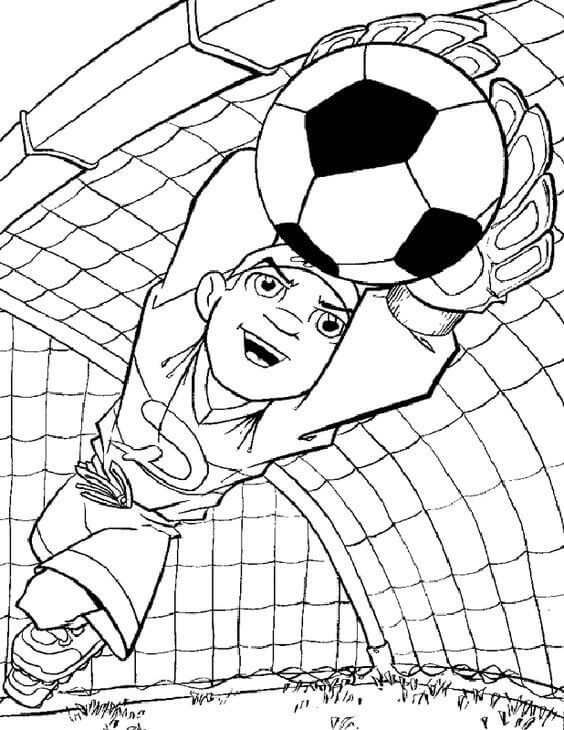 A goalkeeper or a goalie, as it is called, plays in a defensive position and is responsible for preventing the opposite team from scoring a goal. A goalkeeper plays a crucial role in football as it is the last wall of defense. To date Italy's Gianluigi Buffon and Spain's Iker Casillas are considered to be among the best goalkeepers, winning 5 FFHS World's Best Goalkeeper awards each followed by Germany's Manuel Neuer.
FIFA World Cup Coloring Page: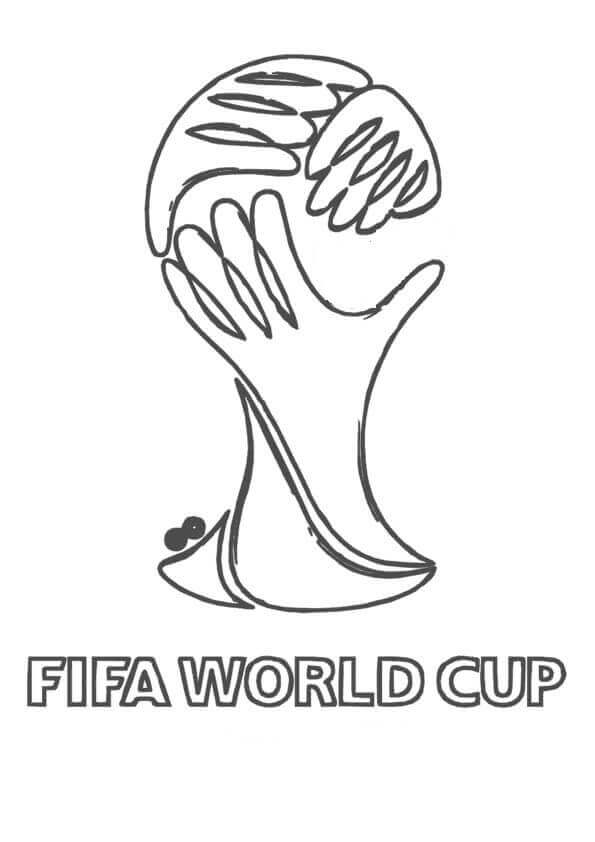 A tournament held every 4 years, FIFA World Cup still attracts the highest number of spectators. FIFA stands for Fédération Internationale de Football Association and is the highest global governing body. Billions of people wait for this tournament and they don't have to wait much this time as the World Cup starts in June. Do you think the former champions Germany can retain the title?
Football Coloring Page For Preschoolers:
I am sure whenever you go outside to play, the very first thing that comes to your mind is football. A sport that requires minimum types of equipment, football is very famous and the most played among kids. I'm sure you too play football with extreme fondness and eagerness.
Football Coloring Page Printable: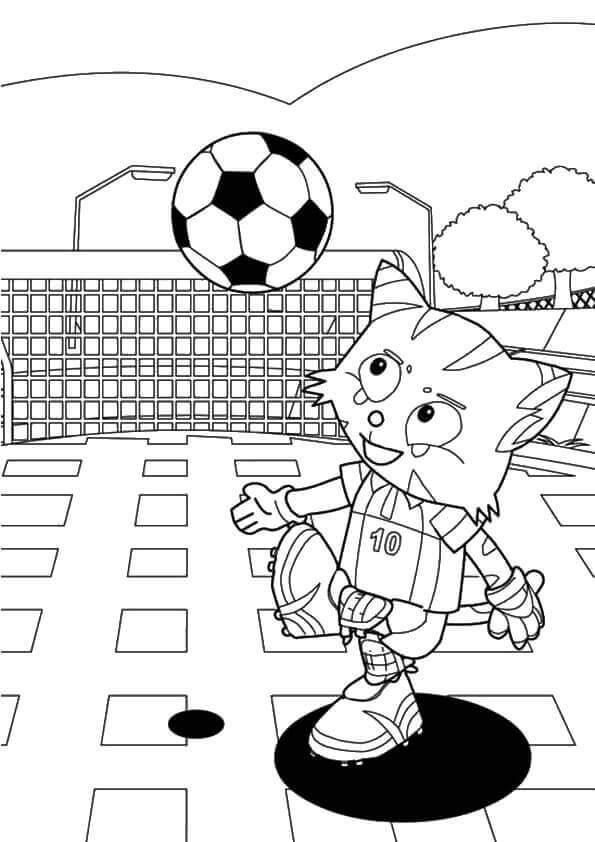 This cat is a football fanatic. He is wearing gloves that signify that he is a goalkeeper. Maybe he is practicing alone or warming up before his big game, who knows. But one thing's for sure- he is very serious about this and he means business. Color this cat goalie.
A Flying Header:
The header in football is a technique to control or pass the ball using the head usually if the ball is shot high. A striker uses a header to score a goal and a defender uses a header to clear the ball or prevent the opponent from scoring. Do you know who did the most iconic flying header? It was Robin Van Persie when he scored a goal with a flying header in FIFA WC 2014. After that, he was called the "Flying Dutchman".
Football Essentials Coloring Page:
Football is a sport that requires very few types of equipment. A ball, shoes and a ground are enough to play a game. This is the reason why you will see football being played the most in streets than any other sport. For a full, professional match you may need a few more types of equipment and gears. Color these soccer essentials.
Football Mandala Coloring Page:
Mandala represents the universe. Here is a football mandala for you if football is your world, your universe. If your whole mind and world revolve around football, then this is the best sheet for you. Color your universe with the brightest shades ever.
Football Net Coloring Page: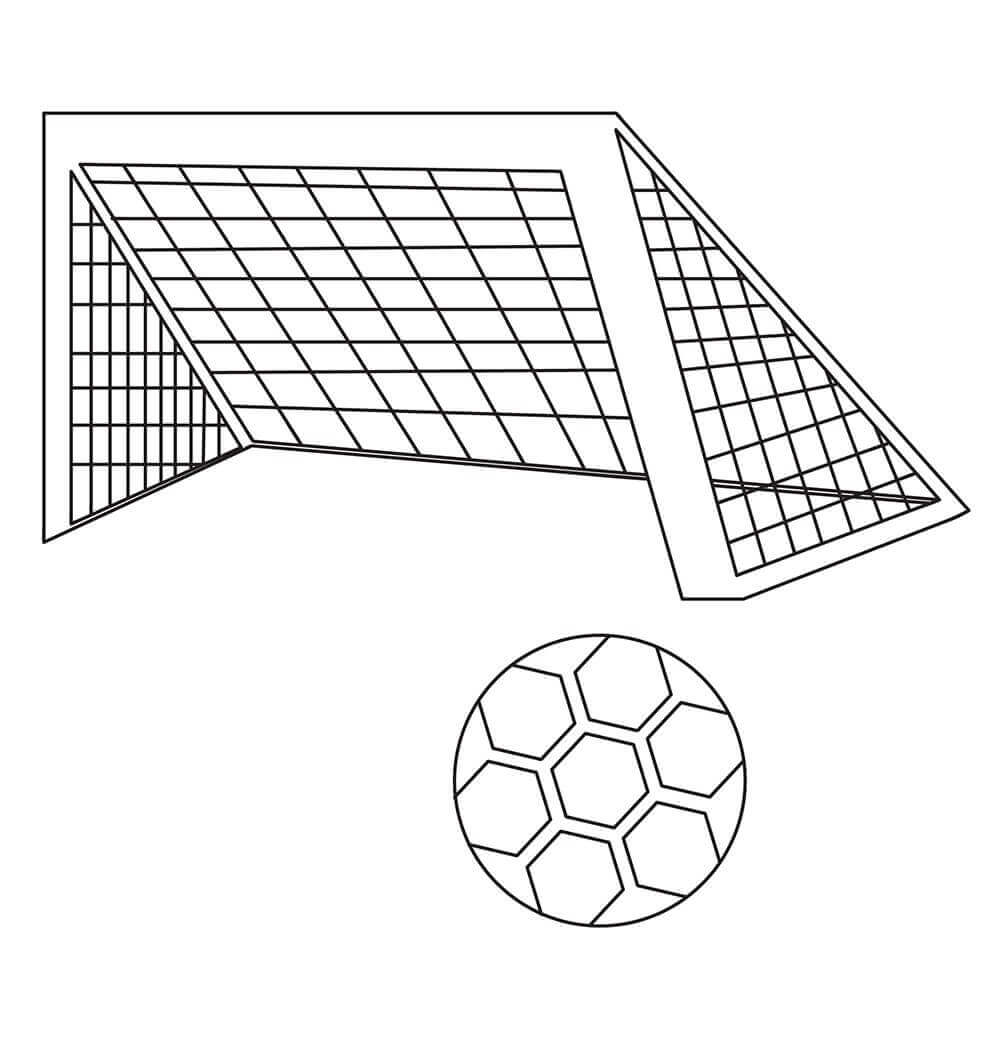 The main objective of football is to kick or shoot the ball in the opponent's net, only then a goal is scored. A goal has 2 posts placed equidistant from corner flag posts, joined at the top by a horizontal crossbar. Nets are usually placed behind the goal. The poles should be made of wood, metal, or any other approved material. The distance between the posts is 7.32 m and from the lower edge of the crossbar to the ground is 2.44 m.
Football Stadium Coloring Page: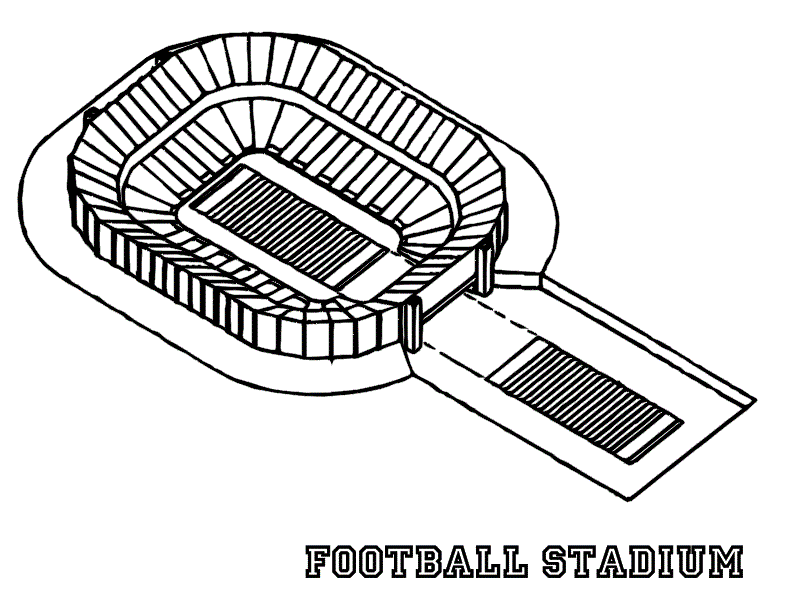 A football stadium is 110-120 yards long by 70-80 yards wide. The football field is much wider than American football field. The minimum capacity of a football ground according to FIFA regulations is 40,000. Santiago Bernabéu, Camp Nou, Signal Iduna Park are some of the most famous football stadiums.
American Footballer Coloring Page: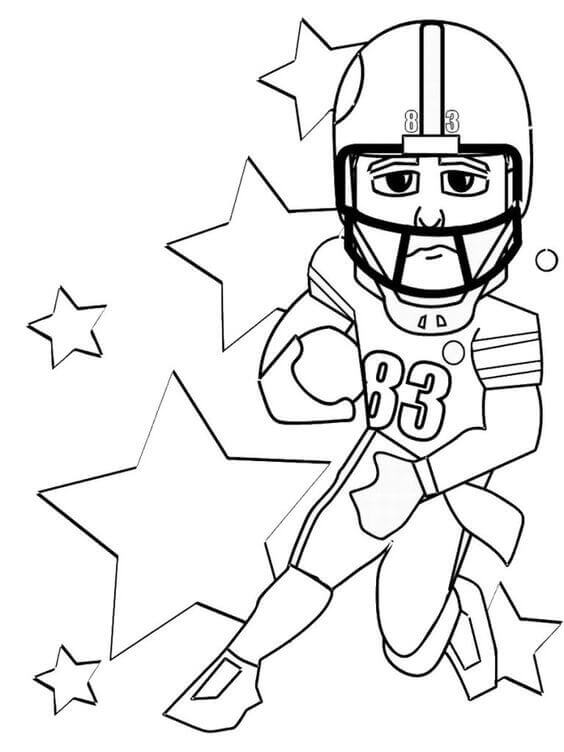 American football is different than English football but they both have some similarities. Players playing in the offensive and defensive positions have the same role; the offense tries to score, while the defense aims to stop the offense. American footballers need to meet some physical requirements, unlike soccer players.
Jimmy- The New Player:
Jimmy is a new player who was scouted and selected last week from his school. It is his first match ever for this team, in fact, it is his first-ever official match. Before this, he used to play just for fun, with his friends in school or in the streets. But today he knows he is playing officially for his new team. Color this debutant.
Rhino Playing Soccer Coloring Page::
One-horned rhinos are rare but do you know what is more atypical? A one-horned rhino playing soccer. This rhino seems very serious while playing. You don't want to mess with him. Color this rare yet beautiful species playing the "beautiful game".
Becky Playing Football Coloring Page:
Becky dreams to be the next Marta. Hope you know who she is. Regarded as the best female player of all time, she has earned herself a unique nickname-"Pele with skirts" by the legend himself. But Becky can become better, who knows. Maybe she can become the first Becky rather than the next Marta.
Best Running Back Coloring Page: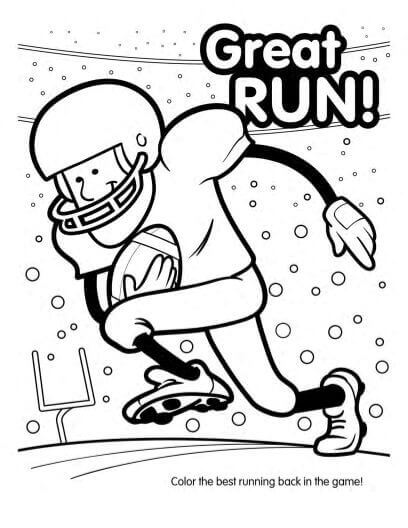 "Color the best running back in the game." What is running back anyway? A running back (RB) is a position in American football. The primary roles of RBs are to catch passes from out of the backfield and to block.  Some teams have a specialist who is skilled at catching passes or better at pass blocking.
Jack In Practice: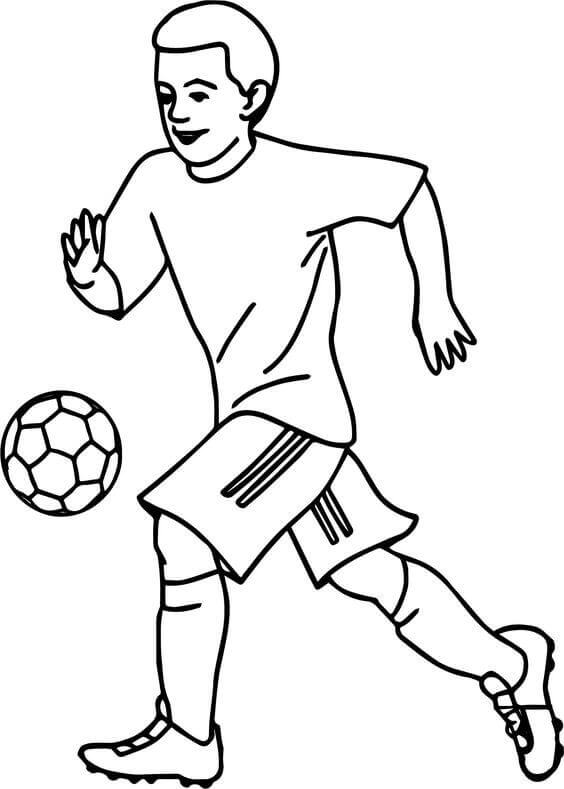 Jack is polishing his skills. Regarded as the best in this team, Jack knows everybody has high hopes from him. This is the reason why he practices as much as he can. He knows everyone counts on, his team, his coach, the fans, everyone. Color this hard worker.
Pulling Off An "Olivier Giroud":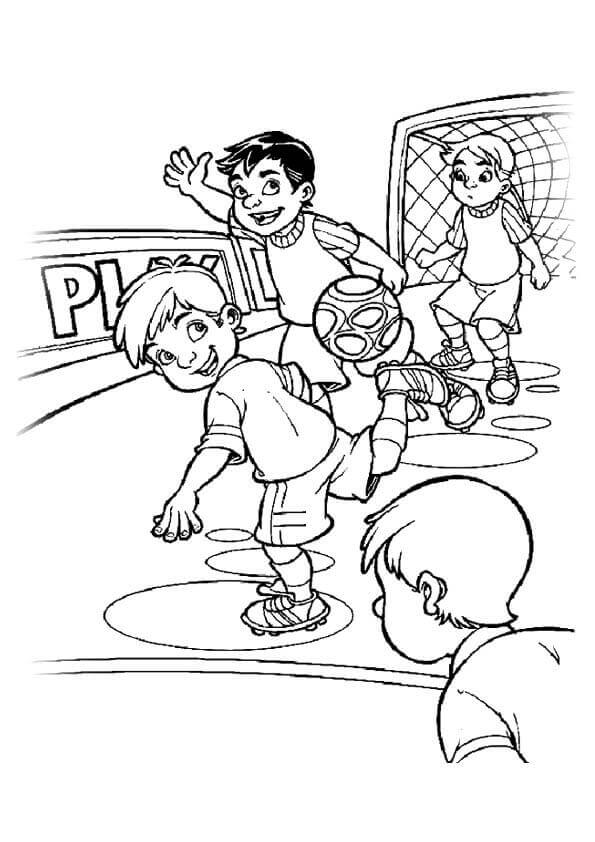 If you watch football, you might be knowing why I mentioned Olivier Giroud. If you don't, I'll tell why. Olivier Giroud won the Puskas, an award given to a player who scores the most aesthetic or the most beautiful goal of the year. Olivier won this award for his scorpion kick and this guy there is attempting the same. Hope he succeeds. 
Patrick Playing Soccer Coloring Page: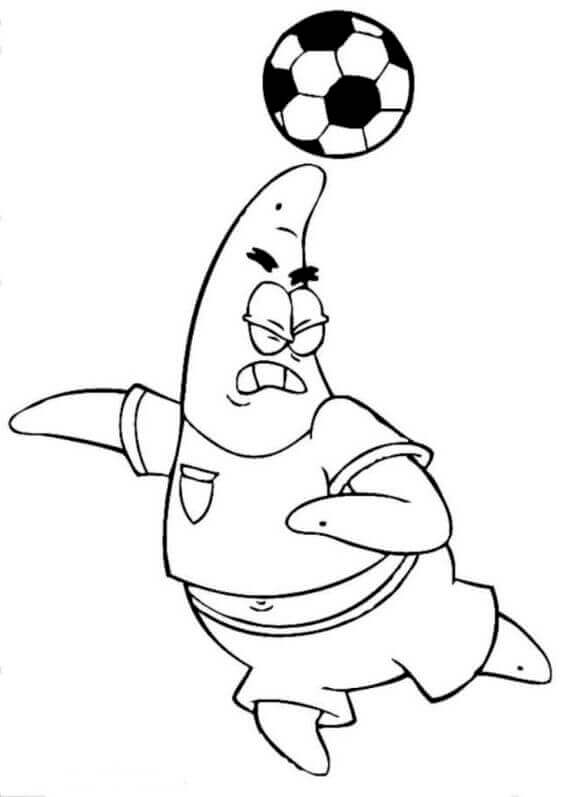 Patrick just loves playing soccer. His skills are rusty but he is working on them. Whenever his best friend, SpongeBob is away, he tries to practice as much as he can. Here he is mastering the art of heading. Color this hard-working starfish.
[ Read: SpongeBob Squarepants Coloring Pages ]
Soccer Coloring Page Printable: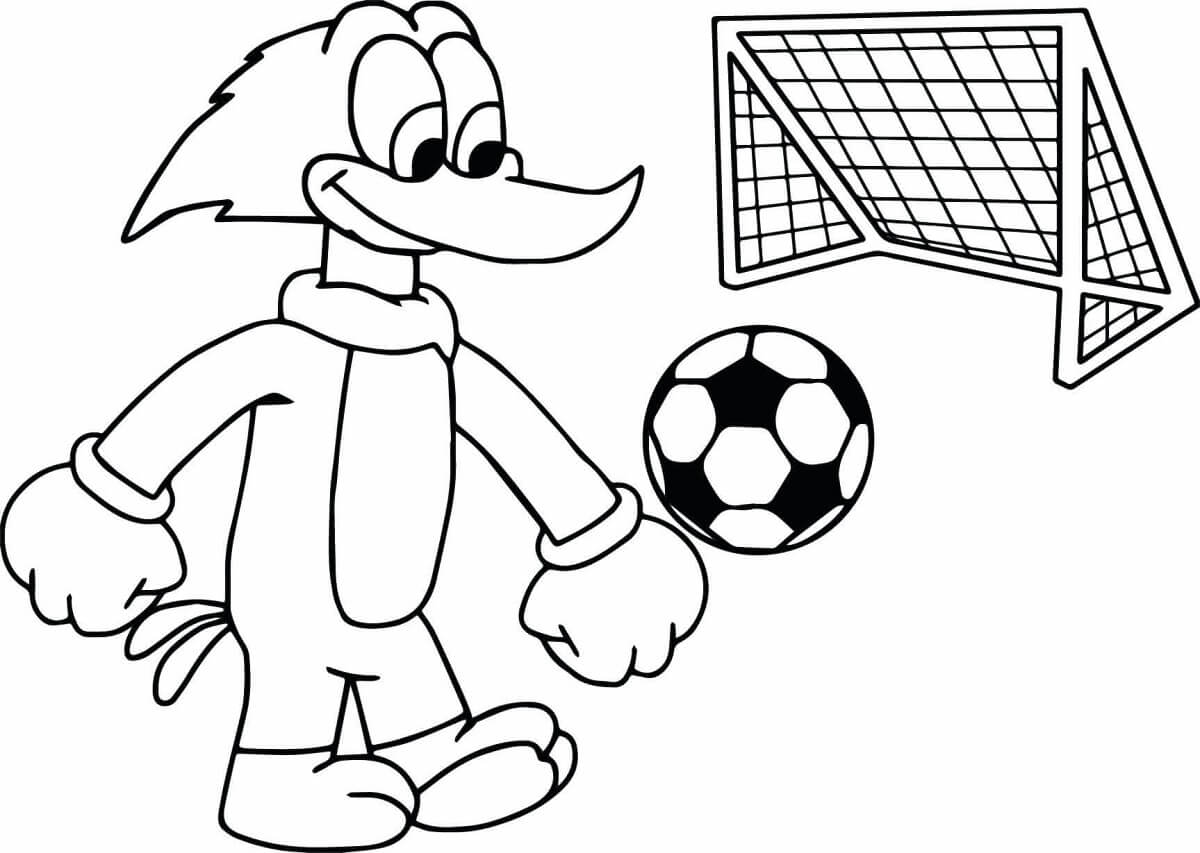 Mr. Duck is an amazing player. His speed is his strength. He can take the ball to the goal alone if he wants to but football is a team sport. One can achieve nothing without his team. Color this "Flash" duck.
Hello Kitty Football Coloring Image:
Hello Kitty is British though her creators are Japanese. Being English, she is a huge football fan and follows almost every English team. She has some favorites clubs but only one favorite country- England. She plays football too rather than only watching.
[ Read: Hello Kitty Coloring Pages ]
Kids Playing Football Coloring Picture: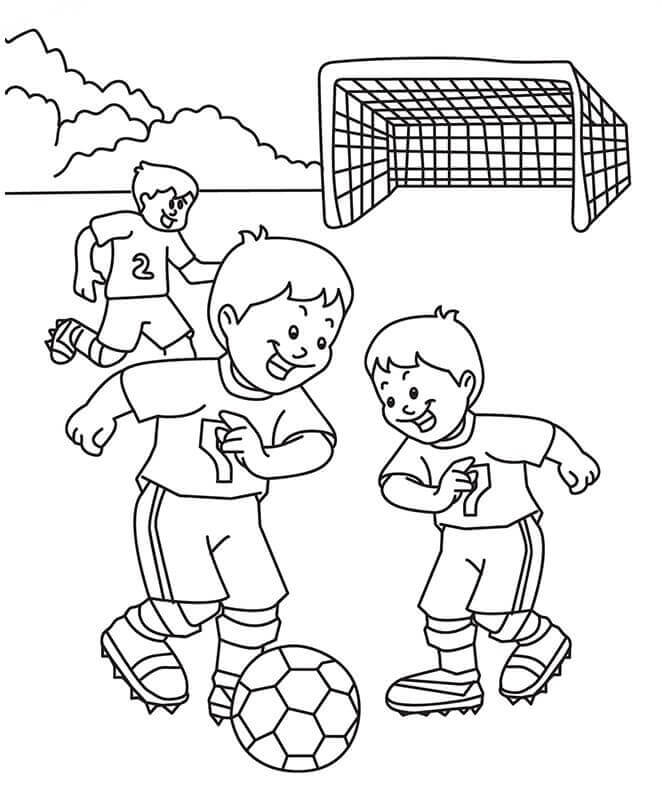 It is 5:00 pm, which means it is playtime. The kids play many games but football is their favorite. Today is Friday this means that they can play until dark, no need to worry about school tomorrow. Do you play football too?
Lionel Messi Coloring Page: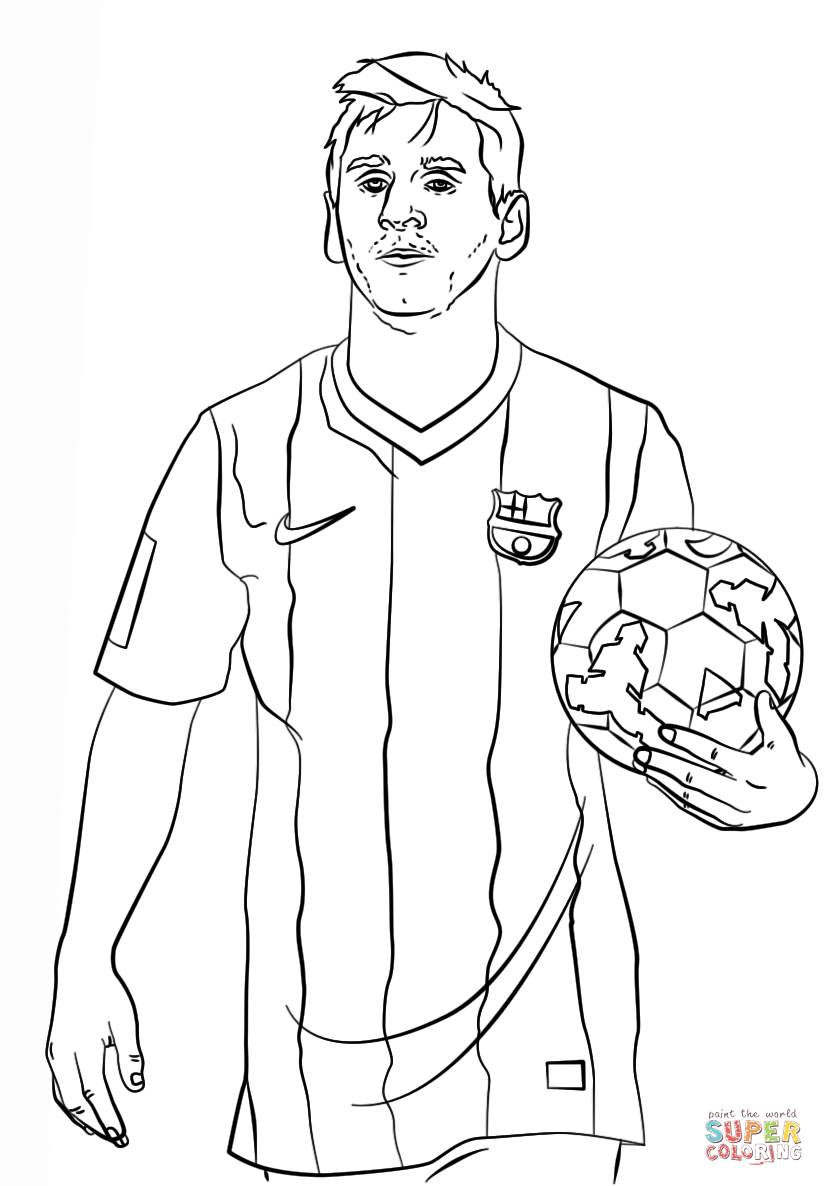 source: supercoloring.com
Another name in football everyone knows and hears every day is Lionel Messi. One of the best players ever alongside CR7, he too has broken every record known in football. He has won a record 5 Ballon d'Or award, 4 of which he won consecutively. He is like a superhero for everyone, especially kids. Considered the best rivalry ever, Messi and CR7 both have scored over 600 goals for their club and country. We are lucky that we are born in the era of these two extra-terrestrial players.
Mickey Mouse Playing Football Coloring Sheet:
Our beloved Disney character Mickey Mouse is a football fan like us. He always finds time for practice. A big match is coming next week for which he must be prepared. Color this cute little Disney character happy.
[ Read: Mickey Mouse Coloring Pages ]
NFL Coloring Page: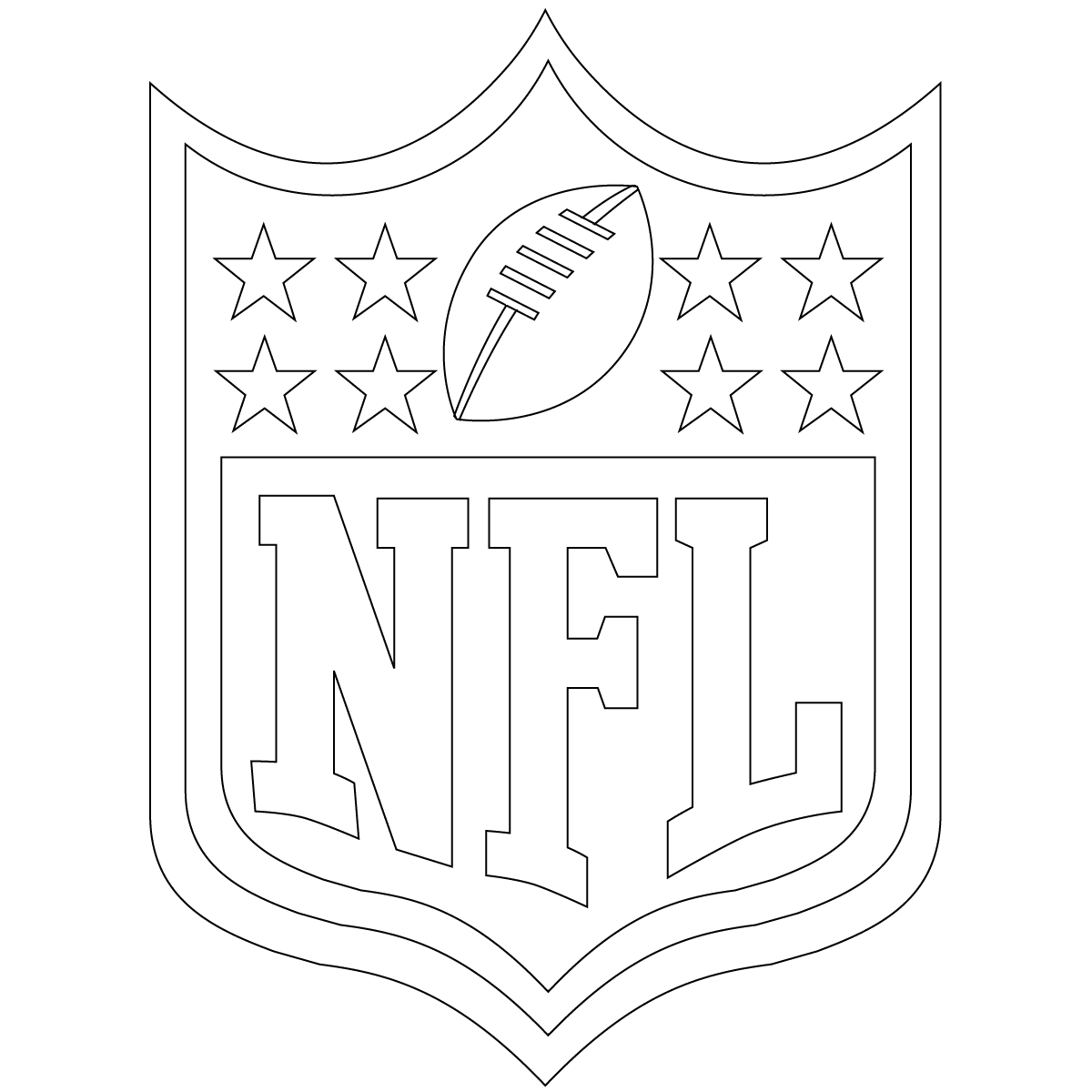 The National Football League (NFL) is a professional American football league in which 32 teams compete with each other to become the champions. Today, the NFL has the highest average attendance (67,591) of any professional sports league in the world and is the most popular sports league in the United States.
[ Read: NFL Coloring Pages ]
Smurfs Playing Soccer Coloring Sheet:
The Smurfs are small, blue, human-like creatures who live in mushroom-shaped houses in the forest. Wearing Phrygian caps that represent freedom, the Smurfs enjoy their life to the fullest and do things they enjoy the most, like play football. Color these football-playing Smurfs.
Michael Playing Soccer Coloring Picture:
Michael plays as a forward so that is why his team counts on him. Being a forward, his main role is to score goals through chances created by his teammates. He needs to work on his pace rest everything is fine including his shooting skills which some call, killer.
SpongeBob Playing Football Colouring Page: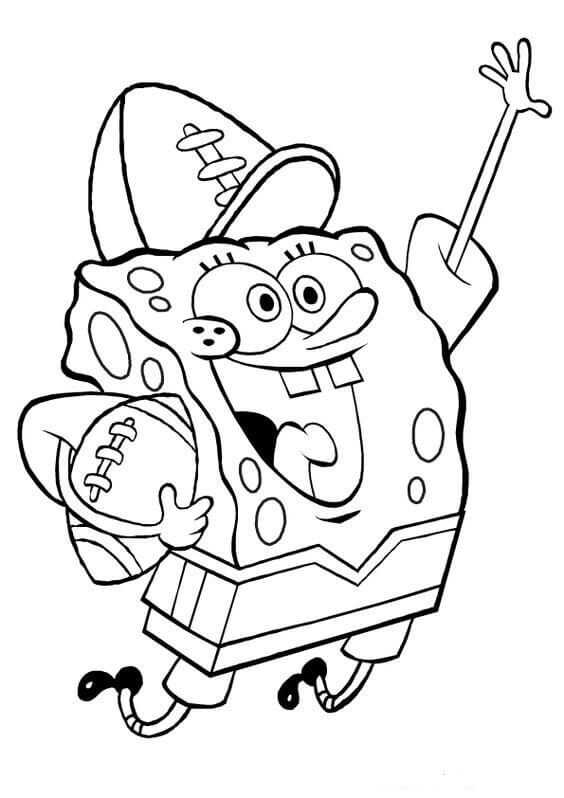 Unlike Patrick, SpongeBob is an American football fan. SpongeBob always gets excited whenever he hears or even thinks of football. Color him cute and happy.
Sport is pretty necessary for our lives and we have many options to choose from. But amidst the plethora of sports, only one pops up when you Google "The Beautiful Game". Football. This game has the ability to bring tears in grown men's eyes, legends, the strongest captains, leaders have no idea how to say goodbye to this game. It has the ability to send the sanest men into absolute hysteria and the power to provide the purest form of happiness. What makes you love this beautiful game? Think about it while you fill these free football coloring pages printable. And don't forget to share your favorite football coloring pictures by emailing us.
Sours: https://www.scribblefun.com/football-coloring-pages/
\
Print These Free Football Coloring Pages For Your Little Sports Fan
Football is a way of life for many families, and it's really never too soon to introduce your kid to the wildly popular team sport. That's why these football coloring pages for kids are great, because they can teach your child to have love for the game as soon as they're old enough to hold a crayon. Plus, these free printout coloring sheets can give your kids something to focus on when you're trying to watch the game.
Whether your family is all about high school, college, or professional football, it's a lot of fun to bring your littlest fan into the fold. Because honestly, it's a wildly engrossing game, whether you're watching an older sibling play on their school's field, or sitting entranced by all the sights and sounds of an NFL game on the big screen. But it takes a little while to learn all the rules and history of your particular team, let alone the entire game, so it makes sense to introduce the basics to your kids as soon as possible. Encourage them to fill these free football coloring pages with whatever hues they desire, or feel free to *suggest* they use the colors of your beloved team. In any case, football coloring pages are a fun, quiet activity kids can enjoy during any part of the season.
Whatever your favorite team, raising your kid as a football fan is rewarding and fun. These football coloring pages are a perfect way to get your kid into the game.
Sours: https://www.romper.com/parenting/football-coloring-pages
Similar news:

Ultimate Free Football Coloring Pages Headquarters!
Bold Bossy Free Football Coloring Pages Of NFL Helmets, Uniforms, And Rings! SEE Real Color Pictures of Your Teams Helmets To Match Crayon Colors! Print Out These 200 Unusual and Classic Printables Of Sports Gear, Shoes, Quarterbacks, Players, Mouth Guards (?!) 'N Uh, Football Balls!...
Big Stomp Football Helmets Coloring 02!
Free Football Coloring Pages Of Your AFC Teams: Bills - Dolphins - Patriots - Jets - Ravens - Bengals - Browns - Steelers - Texans - Colts - Jaguars - Titans - Broncos - Chiefs - Raiders - Chargers - Superbowl Ring
Pro Team Football Uniforms
SEE Real Color Pictures Of Their Uniforms To Match Crayon Colors!
This Football Printables Headquarters lists the names and locations of American Football. You Can Browse 11 webpages, 200 pictures!
Remember to put coloring sheets in your backpack with school supplies for quick fun and artistic practice like pencil shading.
Action Football Coloring Pages to Print 01!
Wide Receiver - Wedgebuster - Guard - Defensive Tackles - Strong Safety - Nose Tackle - Running Backs - Placeholder - Victory - Fullback - Team Flag - Football Player Moves - Football Accessories: Football Rain Poncho - Helmets and Referee Cap - Football Shoe
Classic Football 02!
Football Coloring Sheets of Quarterbacks - Offense Player - Reebok Shoe - Jersey - Shoulder Pads - Impact Shirts - Socks - Tact Glove - Balls - Playing Field - Stadium - Youth Player
American Football Coloring Pages 03
Free Football Coloring Pages of Famous Sports Arenas: Georgia Dome - Dallas Cowboys - New Orleans Superdome - Cardinals Stadium - High School Stadium - Adidas Shoe - Gym Bag - Football Shirt - Nike Ball - Football Field
Gritty Gridiron Football Coloring Sheets 04
Free Football Coloring Pages: Wide Receivers - Wingback - Nickelback - Defensive Tackles - Linebackers - Strong Safety - Cornerback - Offensive Guard - Quarterback - Runningbacks - Upback - Tailback - Holder - Referee - Nike Football Shoes - Shoulder Pads - Trophy - Helmet and Ball - Kids Football Article: "Youth Football Speed Drills"
USA Mega Football Coloring Page 05
Free Football Coloring Pages of Long Snapper - H-Back - Punter - Tail Back - Center - Slotback - Kicker - Shoulder Pads - Under Armour Football Shoe - Team Uniform - Offensive Guard - Tight End - Fullback - Kick Returner - Cornerback - Defense End - Free Safety - Punt Returner - Gunner - Referee - Coach - NFL Superbowl Trophy - Kids Football Article: "Youth Football Drills - Teaching Defensive Pursuit"
Fired Up Game of Football Coloring Pictures 06
Free Football Coloring Pages Of Football Balls - Football Shirt - Adidas Shoe - Starter - Centers - Safety - Runningback - Quarterback - Linemen - Punter - Tightend - First Down - Interception - Rushing - Pass Complete - Cheerleader
Red-Blooded Sports Football Print Outs 07
Weird But Beautiful Free Football Coloring Pages Of These: Girdle - Shooter Sleeve - Ball - Gloves - Mouth Guard and Chin Guard - Skull Cap - Tackle Shield - Training Sled - Impact Plyo Box - Quarterback - Wide Receiver - Long Snapper - Coach's Whistle - Pop Up Dummy - Rib Protector - Sunglasses and Forearm Pad.
Add YesColoring To Your Cool Website, School Resources, or Blog - Easy Copy-Paste. Thanks For Looking Out For Us.

"Ultimate Football Coloring Pages at YesColoring"
Ultimate Football Coloring Pages at YesColoring
What Boys Know Is To Learn What Men Know!
---
ADVERTISEMENT
---
Swift Sitemap Search Short Cuts
Thank You For Visiting and
Hanging With YesColoring Coloring Pages Free For All.
Sours: https://www.yescoloring.com/free-football-coloring-pages.html
47
48
49
50
51