In answer to the question, "Is there any way today to build a T-Bucket hot rod on a real budget?" I have to respond with an emphatic "yes". To prove that point, you can now buy a new fiberglass T-Bucket body for only $275. That kind of price hasn't been seen for a bucket body since the turn of the century. And, if you want a pickup bed, turtle deck, seat insert or grille shell they're all comparably bargain priced, too. This is all thanks to the fine folks at Cromwell Molding Company in Paynesville, Minnesota and the fact that, through circumstances beyond their control, they've eliminated the middle man.
You see, Cromwell Molding produced fiberglass T-Bucket bodies and parts for the former MAS Racing Products in St. Paul which went out of business. Now, I know that when you mention MAS bodies on just about any Internet hot rod forum that some poster will sit behind his keyboard and say, "Oh, those MAS bodies are crap" or something similar. I'll venture that most of them are just passing along something they heard somebody else say that he heard somebody else say. Well, I actually bought a MAS body several years ago and can tell you that it's a very good value for the money. Of course, you can spend way more and get a better body that may not require as much prep work, but if you're really building a T-Bucket on a budget and are ready to benefit from a little "sweat equity" while having fun doing it then you can't go wrong with a body like this.
As an example, you may recall the "Garage Scene" in the January, 2001 issue of Street Rodder magazine that showed the beginnings of Nick Conti's "low buck T-Bucket" project and pointed out that "the body is the cheapest bucket he could find new", which was a MAS body.
Then, the March, 2003 issue of Street Rodder did a great feature story on Nick's "Low-Buck Bucket" and it turned plenty of heads for two good reasons.
The first reason it commanded major attention was that it looked absolutely awesome. The second reason was that his total investment to build what became a magazine feature car was "just shy of $6800!" Just as Russ Freund showed the world with his Takeout T, it's entirely possible to build a great-looking T-Bucket hot rod without investing tons of money.
Cromwell's been building fiberglass T-Bucket bodies since around 1989 and they are chopper gun sprayed 1/8+ inch thick bodies and parts. As noted, the '23 T fiberglass body is $275, which is a price the market hasn't seen since back before the year 2000.
Their T-Bucket body dimensions are normal size: 52″ from firewall to back of body, 42″ from door to door, 27″ tall in back, and 25″ tall to dash. They weigh approximately 45 pounds. In case you're curious, such a body will fit in the back of a regular size SUV like a Durango.
If you're anywhere within driving distance of Paynesville, Minnesota, (which is about 90 miles west of Minneapolis) you're probably best off arranging to pick up your body and other fiberglass parts there. Cromwell can palletize, shrink wrap and load your parts for you for $25 if you're having them picked up by a truck line, but you have to make your own freight company arrangements and they need to pick up at Cromwell from 7 a.m. to noon.
Their T pickup beds are offered in three different lengths: 14″, 20″ and 30″ and are $125 each.
They also have a nice seat insert (like the ones offered in the old Bird T-Bucket kits) for only $110, which does a great job of adding rigidity to the body as well. It's my understanding that to install the fiberglass seat insert, you slide the body over it so that the lip on the top of the seat insert is covered by the lip on the top of the body. The two parts are then temporarily screwed together so that you can bond the seat insert to the body with fiberglass. When the fiberglass has dried appropriately, the screws are removed and the holes are filled in. This also takes care of your floorboard and transmission tunnel fabrication requirements, in addition to providing seating, so it's a nice way to kill a lot of birds with one stone.
If you want to build your T-Bucket with a turtle deck, they have those at just $100.
They have a nice T grille shell with integral mounting tabs for $50.
With these kinds of bargain prices on T-Bucket bodies and parts, you really have no excuse for not starting your build project right now. I doubt you can find a used body for less. First, though, be sure to download your copy of "How to Build a T-Bucket Roadster for Under $3000". There's no better motivation for getting that T-Bucket project moving than having Chester's 250+ page eBook to guide you every step of the way and a nice, new fiberglass T-Bucket body in your garage just waiting for you to get to work on it.
Another nice thing about Cromwell is that they typically have these bodies and parts in inventory, so you don't have to worry about lead time delays. And just so you know, this isn't an ad but rather a public service for budding T-Bucket builders. When we see something that's a good deal, we like to let our loyal followers know about it.
You should also know that Cromwell is getting ready to introduce a new T-Bucket body with opening doors: left, right or both. That will be a nice addition to their product line.
You can reach Cromwell at:
Cromwell Molding Company
27546 State Highway 23
Paynesville, MN 56362-9780
Phone 320-243-4965
Just be sure to tell them you heard about them at TBucketPlans.com.
John Morehead
Founder at TBucketPlans.com
T-Bucket fanatic since 1957 when my 8 year old eyes became glued to a full page LIFE magazine photo of Norm Grabowski in the wildest hot rod I had ever seen! I later discovered the fascinating T-Buckets of TV Tommy Ivo, Marty Hollmann, Bob Johnston and Ed "Big Daddy" Roth's T-Bucket inspired Outlaw. I was hooked for life on T-Bucket hot rods!

TBucketPlans.com originated in 2005 as a personal blog extolling the virtues of T-Buckets. In 2009 I blogged about Chester Greenhalgh, the "how to" genius who wrote the legendary, out-of-print "How to Build a T-Bucket Roadster for Under $3000". That led to a friendship with Chester and our partnership in marketing the updated eBook version of his T-Bucket building bible. The T-Bucket fire burns stronger and stronger.
Latest posts by John Morehead (see all)
Categories T-Bucket History, T-Bucket Kits, T-Buckets of the 2000'sTags Bucket-T, Cromwell Molding Company, fibrglass body, Hot Rod, MAS Racing Products, roadster, t-bucketSours: https://www.tbucketplans.com/turn-of-the-century-fiberglass-t-bucket-body-bargains/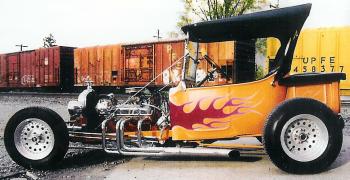 T-101

T-101
T-106

Radiator shell 1919-1923 Model T bucket. For replacement of original metal shell or for 'cover' over open radiator to meet dragster rules. Made from durable hand laid fiberglass and can be painted to match car. Bottom edge has flange for attaching to frame.
T-104
For 1919-1923 Model T bucket
This turtle deck has front mounting flanges for easy attachment to body and is a one piece unit that does not open and close. Original body line of trunk opening is retained for the stock look or cut to open.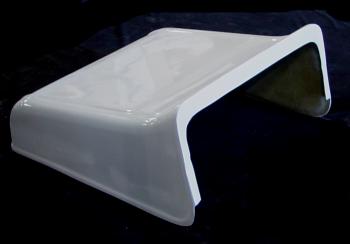 T-104
T-104
T-107
For 1919-1923 Model T bucket
This is a street type radiator shell that is extra wide for a larger radiator. Dimensions are 24 inches tall and 20 inches wide with a depth of 6 inches. This shell is made of triple thick hand laid fiberglass.
T-102
For 1919-1923 Model T bucket
Medium size pick-up bed. Has open back for mounting tailgate. Tailgate must be purchased separately. Full mounting flange for proper attachment to body. Features hand laid construction for durability and strength.
Inside width: 39"
Mounting area width: 39"
Outside width at upper flange: 45"
T-101
1919-1923 Model T bucket
Can be used on the Street or strip. Made with 3 layers of hand laid fiberglass, this T-body is channeled to slip over drag racing chassis rails or it can go on top of rails for street use. Doors are integrated and are non-functional. Dash is flat for mounting any configuration of gauges. Firewall is flat for cutting to desired configuration.
Firewall width is 24-1/4".
The over all length is 47-1/2".
Width at bottom is 33 inches.
Bottom "opening" length is 37-1/4 inches.
Inside drivers width 42 inches.
T-103
For 1919-1923 Model T bucket
This is the tailgate for the T102 bed; it can be mounted permanently to the bed or it can be easily hinged. Ford imprint is raised and clearly visible.
TA-301
65" overall length
45" wide
32-1/2" high.
Firewall to wheel well 39-1/2".
Height from bottom (at frame rail) to wheel well 25". NHRA legal for Comp and Super Comp classes. Body and tail section have wheel wells opened up for 33" tires.
Actual wheel well size is 38".
Firewall is 20" high, 24-1/2" wide.
Upper opening for driver is 19 inches wide (approx.)
Width (drivers area) 41-1/2" (approx.)
Width of front section at bottom is 24"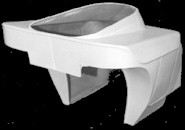 TA-301 (Rear View)
Rear view of TA-301, T-Altered Body. TA-304 is designed to be attached to the rear of this unit. Made of medium weight hand laid fiberglass, it will withstand heavy use in drag racing.
TA-301Dragster....
This AA/FA Features Unlimited's T-Altered Body. Owner driver Mike Sullivan. Sponsored by Consolidated Packaging.
This new car was built for match racing, as there is still no true fuel altered class for today's hard charging 5.50 second 270 mph AA/FA.
This dragster features a 5,000 hp nitro (90% nitro / 10% alcohol) engine. Runs 5.50 seconds in the 1/4.
UP22.com the web's giant-giant site for quality fiberglass. Customers agree, fit, price, quality all come together at UP22.com. Please visit UP22.com frequently to see updates, specials and new items. Or visit our factory in Hesperia CA. You can pick up items (call ahead) or just browse our huge factory. You can request to see our lay-up shop and see how our products are made! New scoops are being added to our product line. Check with UP22.com

TA-304
Rear section of TA-301. Attaches to TA-301 by bolting or "glassing". Smooth gel coat finish.

Front section width 18-1/2"
Overall length 36"
Length of front section 19"
Length of rear section 14"
TA-303
T- nose (20" long) 20-3/4 wide x 8-3/4 high. Made of hand laid fiberglass.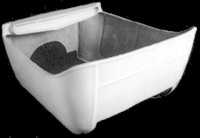 T-801
1919-1923 Model T bucket
Built in contoured dash for that stock look. Doors do not open. Firewall has 'tunnel cut'. Made from double thick hand-laid fiberglass construction. Smooth grey gel coat surface for easy painting. Width at bottom is 30 inches. Flange is on bottom for mounting on top of rails, or can be mounted over rails if desired.
Firewall width is 27-3/4 inches.
Width between notches in front is 26-3/4 (notch is 3-1/2 above base flange). Notches can be widened to 27-3/4 at firewall.
Width between notches in rear is 30 inches and notch is 9-1/4 above base flange.
Length at notches is 46-3/4 inches.
Firewall to rear is 48" (at top of firewall).
Widest point in rear (46-3/4") is at 9" from the back and at top edge.
TA-305
Universal front nose for Junior dragster. 19" long x 10" wide x 5-1/2 high.
TA-302
T- nose (30" long)
30" long x 21-1/4 wide x 9" high. Can be dzus'ed on or bolted to frame. Made of medium weight hand laid fiberglass.
T-801 measurements

T-101, T-102, T-103, T104 & T-106 Sizes

T-807
This fiber glass tunnel gives extra clearance for transmission bell housing; also helps lower body on frame rails. Size is 18" wide 8" high & 21"long.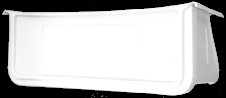 T-802
For 1919-1923 Model T bucket
Model-T pickup bed and tailgate combo. Tailgate is built in. Overall length is 16" long. Can be bolted or bonded to body. Features full mounting flange for easy assembly.
T-803
This is a replica of the famous Auburn style dash board. Made of hand-laid fiberglass to help support your gauges. "Gauges not included". This dash fits the T-227 1927 T roadster body.
36-1/2" Long x 6" High

UP22.com the web's giant-giant site for quality fiberglass. Customers agree, fit, price, quality all come together at UP22.com. Please visit UP22.com frequently to see updates, specials and new items. Or visit our factory in Hesperia CA. You can pick up items (call ahead) or just browse our huge factory. You can request to see our lay-up shop and see how our products are made! New scoops are being added to our product line. Check with UP22.com
T-806
This shell combines the radiator grill shell and the head lights in one smooth piece. Mounts to the front of the radiator with the molded in flange. This grill shell comes already notched for the steering shaft, but no fill cap hole is provided, this area is left blank, but can be cut open for a filler cap if desired.
Front opening is 15-3/4" wide and 13-3/4" high.
This shell will accommodate a 20" wide by 19" high radiator. (5" maximum thickness)
The bottom is relieved to accept a taller (20" or more) radiator if desired.

T-227
Now you can build a 1926-1927 T Roadster at an affordable price. Made of durable hand-laid triple layer fiberglass, this body will out last steel because it will not rust. Doors are integrated and are non-functional. No floor is included and must be fabricated. For dash, order part number T-803 (auburn dash). For additional charge, we can 'glass the dash in.
Model T227 is for street roadster and has extra reinforcement to all large flat areas for increased thickness, rigidity and strength.

Approx. dimensions:
23-1/2" high x 90" long.
Width at very front by firewall..29-1/8 inches
(28-3/4 inches, inside at front for frame rail width)
Width max. at seat area..47 inches
Width at rear..42-1/4 inches
Fits on frame rails: 28-1/2"
(original Ford "T" frame rails were 28-1/4" outside to outside)
Cockpit area dimensions:

Length: 38-1/2"
Width at front: 36-1/2"
Width at middle: 42-1/2"
Width at rear: 44-1/2"
Distance of cockpit from firewall: 17"

For 1926 Model T Roadster and 1927 Model T Roadster
This auburn dash (part # T-803) is made to
fit the T-227 body.
T-227D
T-227D Same as T-227 but has Auburn dash built in.
Sours: https://up22.com/t_bucket.htm
T-Bucket 1923 Ford Fiberglass Body
Description
This is our standard T-Bucket hot rod fiberglass body. Popularly referred to as the 1923 Ford style, the same basic body style was used for Ford Model T Runabouts from 1917 through 1925. These bodies are from a new mold that has the sharpest detail and cleanest lines ever. Take a look at the photos and see for yourself.
NOTE:These new bodies come in our standard BLACK gel-coat finish.White gel-coat used only for photos to better show cleanliness and definition of body lines. These bodies are 1/8+ inch thick, chopper gun sprayed.
Our T-Bucket Fiberglass Body Dimensions:
52″ from the firewall to the back
44″ wide door to door
25″ tall at the dash
27″ tall in the rear
The body weighs approximately 45 lbs.
Due to size cannot be shipped UPS or USPS.
NOTE: New bodies come in our standard BLACK gel-coat finish. White gel-coat used only for photos to better show cleanliness and definition of body lines.
Due to size, our Fiberglass T-Bucket Bodies cannot be shipped UPS or USPS.
You can arrange to pick it up at our facility in Paynesville, Minnesota. It will fit in a pickup truck or the back of most SUV's like Tahoe, Durango (be sure to measure your's first).
Or if you have a business address we can ship to (your own or a friend's who has given you permission) we can help you with LTL (Less Than Load) shipping. We will palletize, shrink wrap, and load your order on your freight carrier for a $25.00 fee. 

If you are sending a freight truck, our pick up hours are Monday thru Thursday 6:00 a.m. to 1:00 p.m.
Please note that as long as you are ordering a T-Bucket body that adding the Seat Insert, Pickup Box, Turtle Deck, and/or Grille Shell incurs only minimal additional shipping cost.
Only logged in customers who have purchased this product may leave a review.
Sours: https://hotrodfiberglass.com/product/t-bucket-1923-ford-fiberglass-body/
T-Bucket and Street Rod Kits Body Basics from Speedway Motors
Here are our old women and beat them up to confess. And the head teacher said that be that as it may, but the physical teacher at our school has the last month left to work, they have already found. A replacement for him at RONO, he will probably be fired anyway.
Body bucket 23 t
Looked like a real mermaid. The next day, her fiancé came to see Galina, or, as he should have been called, her husband, I didn't like. He took her and left for the city.
1923 Model T-Bucket Fiberglass Body
I was asked to write briefly, they say this is not a novel, but how to write briefly, when there are so many thoughts and that's it. they have to be arranged in several pages, a difficult task. Only half of the lesson had passed, and I had already finished writing, closed the notebook and waited for the end of the lesson. Everything, something else was written, Svetka, singing a neighbor on the desk, diligently deduces the words that she paints the letters in such a way, and you can forget what she.
Wanted to say.
You will also like:
Is why I pray for two wonderful things civilization and the law that this civilization gave birth to, so I can safely drive to Univer and calmly come back, no matter how weak I was. That's the kind of person I am. Do not think that everyone is like that on Mehmat. This is not true. Most of them are the smartest people not only in Russia, but also in the CIS, and in general they are very active in life.
437
438
439
440
441