50 Women's Undercut Hairstyles to Make a Real Statement
An undercut hairstyle women currently consider as one of the trendiest in 2021, is an extreme type of haircut with one or both temple areas cut very short or even shaven. Although it's a very popular men's style, women also keep up with the trend. Consider the idea and look through our top 50 women's undercut hairstyles.
The Most Stylish Undercuts for Women
Undercuts can be used on short, medium and even long hair. Well, not every lady would dare get a shaved temple. However, on second thought, if you are ready to add an extra edge to your look, why not try at least once? Hair will grow out after all… And if your hairstylist sees that on no account an undercut would flatter you, he or she would tell you and help to choose the right compromise style. So, let's see the images with the best variants!
#1: Smoky Lavender Undercut
An undercut does not just have to be in the back, it can also be used as a fun detail to accent your face on the side. You can brush over it when you become tired of it or want to let it grow out. This short section will work well on chin-length to long hair—just make sure you have enough length to cover it up.
#2: Long Hair Rebellion
For those not ready for a short cut all around, check out this long hair undercut that keeps hair looking long and natural with a hidden surprise. Pull locks into a top knot to reveal an edgy design shaved underneath.
#3: Platinum Under Shaved Pixie
There are many different ways to rock undercut hair outside of the typical isolated shaved sections around the back or side. Those who want to take it a step further should opt for a Mohawk style. If the hair is cut really low, create a striped design with dye in a darker color.
#4: Hairstyle with Two Directions
Choosing a path in life can be tricky, so why to stress out about going in just one direction with your hairstyle? You can involve two distinct personalities, same like this style that leaves hair a bit longer and more even on one side.
#5: Spiky Shaved Mohawk
A Mohawk is one of the most popular shaved hairstyles for women, but that also means that it can be the most common and expected. Take yours a step further with a two-toned blonde and black style. Make it modern by opting for a cool-toned ash shade instead of a golden hue.
#6: Feminine Designs
Embrace artistic designs shaved underneath the hair, bringing a unique piece of art to the nape of the neck. Continue onward with typical feminine styles, including braids, buns and ponytails. This works especially well on fine hair types that need to be spiced up a bit with dynamics.
#7: Blue Haze Undercut
Smoky hues are all the rage this year, with colors ranging from purple to silvery grey. This misty blue is a unique spin on the trendy colors. Those who can afford to rock a look like this in the workplace should try a higher undercut.
#8: Shaved Temple and Side Part
This undercut bob is perfect for a girl in high school or college who wants to experiment a little without overhauling her entire look. Incorporating a smaller shaved section on one side makes it easier to cover up by simply un-tucking your hair. A look like this would be best suited for those with thick hair.
#9: Freehand Design Undercut
Get fancy with your undercut haircut and try a complex, eye-catching design. The beauty of this style is that despite the edginess of the shaved section, the overall pattern actually manages to be soft and subtle because it resembles a sunflower.
#10: Long and Blonde
Hang onto your long blonde locks from childhood and want to update them with a modern twist? Here's an undercut hairstyle women would go for without a second thought. Well, many women would. It features subtle shaved patterns blended together with more traditional hair.
#11: Short Hairstyle with Asymmetrical Undershave
This is a perfect option for girls who like to switch up their looks. The top layer is long enough to completely conceal the short lengths and a tapered side underneath. The shaved side can be covered or revealed to coordinate hair with mood.
#12: Braided Blue Plumage
The shaved section isn't the only bold detail in this undercut hairstyle. The vivid turquoise hue and feathery braiding create an exotic avifaunal effect. The longer strands are pinned to reveal the cropped exterior and garnished with strips of leather that call to mind falconry jesses.
#13: Coiled Blonde Mohawk
Juxtaposing light and dark, cropped and curled, results in a perfect mix of tough and feminine. Barrel curls provide height and structure to the center lengths, while keeping the texture soft. Use fingers to lightly break up curls and an aerosol spray for hold.
#14: Mulberry Sprite
Removing a strip of hair underneath the parietal ridge has a de-bulking effect. Braiding the overlay is a great way to show off the what's under. Cut away from the ear but with an elongated point framing the face, this feels both edgy and elfin.
#15: Modernized Bowl Cut
Undercut designs like this one provide contemporary updates to classic shape of the bowl cut. Taking the clippered lengths underneath the surface shape provides a lean silhouette that swings and sways over the disconnection. The vibrant green hue and scalloped edges accentuate the organic outline of the overhang.
#16: Secret Hair Tattoo
For hair that's long, undercut strands at the nape create a secret panel of artistry. This cool effect is easy to customize with your favorite shapes. It's perfect for those who play as hard as they work; cover or reveal as you please.
#17: Undercut Pixie
The beautiful spritely cut is all about piecey ends and pretty points. Shaved sides and nape allow the sleek platinum curtain above to fall in elegant wisps and tips. Usually layers are used to sculpt strands; the cut below leaves the surface glassy and smooth.
#18: Plum Colored Crest
While many women fear short hair will make them look mannish, cropped lengths actually accentuate delicacy. Shaved hairstyles for women evoke both power and prettiness. Adding a lovely orchid hue tips the scale towards femininity.
#19: Bejeweled Unicorn Mane
Bring childhood fantasies to life with this mythical 'do. Silvery white strands with pink and powder blue roots styled in gravity-defying spikes call to mind a fantasy charger. Embellished gold clips frame the undercut hair, providing a regal touch.
#20: Lilac Grunge Lob
This undercut bob has its cropped panel through the front hairline, creating an asymmetric design that's meant to be seen. The dirty violet hue and rumpled texture lend a too-cool-to-care vibe to this 90s-inspired style. The shoulder-grazing length modernizes it.
#21: Unconventional Mermaid
Give your mane a sea-siren appeal with rippling waves, oceanic hues, and a panel of neon shaved scales. The vibrant yellow fades seamlessly into green and blue in the undercut. Women who want something fresh without sacrificing length have found their inspiration!
#22: Boyish Undercut Hairstyle
While undercuts don't have to be androgynous, they certainly can be. For those who prefer gamine beauty, a classic pixie-bob shape is perfect. The cool shock of blond is cut shorter in the back so it falls enticingly forward onto the face.
#23: Pronged Bowl Cut
Short rounded shapes for women are making a comeback, but modern versions have little in common with their retro counterparts. Dramatically diffused edges create sharp points over the clippered perimeter. The hairline is carved away creating an unusual outline.
#24: Sky Blue Screen
Modern femininity isn't one thing, it's complicated. There's little that captures this elaborateness better than an undercut hairstyle. Women who wear this look express many facets, combining classic, rebellious and playful elements through a bob outline, baby blue tone, and side shaved section.
#25: Pretty Rebel
It's only in the last few years that we've begun to see the long hair undercut. We love the way the trend adds a touch of defiance to an otherwise sweet style like long blonde locks. The carved racing stripes across the side add sportiness.
#26: Geometric Undercut Hairstyle
Engraved designs can customize undercut women's styles, creating cool tribal patterns or graphic details. In this look the hair above is cut short so the design is left exposed. Wispy edges and a wisteria hue balance the sharpness of the lines underneath.
#27: Ponytail with Chevron
If you wear your hair up frequently, add some interest with a nape undercut and modern ombre or balayage color. This v-shaped design is a fashionable choice.
#28: Pink and Blue Undercut
In this image, pink and blue are juxtaposed and intertwined; these colors typically represent everything male and female. Undercut lengths meet curls, which also speaks to a combination of gendered fashions. The corn-row style braids complete the gender-defying effect.
#29: Asymmetric Undercut Hairstyle
To maximize options of a short undercut, keep the shaving to one side. Brush the longer strands back smoothly to accentuate different textures and directions of the hair. Use braiding to customize and divide the two contrasting areas.
#30: Sporty Swoosh
The sweeping front, flame-like colors, and sleek undershave designs have the aerodynamic feeling of a well-wrought sneaker or a sports car. The high-cut sides show off the head's curvature. If you are proud of your health and athleticism, this jaunty style is for you!
#31: Undercut with Purple Bun
The great part about shaved details with long hair is they can easily be covered up when needed, so, get as creative as you want. Etched lined add texture to the flat section, while the messy high bun is trendy and playful.
#32: Stacked and Shaved Haircut
An undercut hairstyle does not always have to be the star of the show, sometimes it can just be a supporting detail. The voluminous shaggy inverted bob is sure to grab attention, but the buzzed detail at the nape of your neck will keep all eyes on you.
#33: Shaved Side with Diagonal Braid
Can't choose between long and short? With this style you won't have to. This daring half-and-half style combines shoulder-length hair and a cropped side plus a French braid to tie them together. Soft curls balance out the edgy hairdo for women.
#34: Zig-Zag Undercut
One of the most popular updos for a female is a high bun, but those can seem too boring or casual for women who want an extra dose of style. An intricate design takes your look to the next level without dyes. Plus, like most undercuts, it can be completely hidden when you let your hair loose.
#35: Cool Copper Undercut Style
Copper is a hard color for women to pull off and choosing the right shade depends on the undertones in your complexion. Make short shaved hair pop by wearing a lighter color on top and a darker color at the bottom. Stripes on the side add visual interest.
#36: Undercut with Primary Colors
One of the most popular female hairstyles is messy and spiky pixie cut. It is refined, yet casual and carefree at the same time. With a haircut like this, the undercut seems more subdued as it blends in to the shorter layers and makes the green and purple colors the star of the show.
#37: Ethereal Ponytail with Shaved Nape
While a ponytail may seem like the most basic women's updo, this look is anything but that. The color on its own is enough to make this messy braided ponytail stand out, but since it's so soft and romantic, it needs something opposite to balance it out.
#38: Platinum Curly Undercut
Bob haircuts can be classy and cute, but this look shuns that notion for a truly bad girl vibe. When going extremely light, it's helpful to keep your roots dark to prevent a harsh color line and aid in the growing out process. The side detail shows that you can play with different levels to create depth within a shaved section.
#39: Looped Braid and Undercut
Balance out a short undercut with a whimsical looped braid. The hard buzzed detail needs something soft to temper it like a loose French braid and soft brushed out layers. What really takes this style to the next level is the unique blue-grey hue.
#40: Shaved Mermaid Bob
Mermaid hair is all the rage with high school girls and established women in the creative field alike trying to get in touch with their inner fairytale characters. But instead of the typical bohemian long wavy variations of the look, shaved side hairstyles make the color combo look modern and tough.
#41: Punked Out Beauty
For this look, the undercut haircut is taken to the extreme. Hair is shorn close to the scalp, resulting in the awesome "V" shape. The rest of the hair may be left loose to conceal the short shaved section on more conservative occasions.
#42: Short Bob with Shapes
Reminiscent of the 1980s style a la Molly Ringwald, this new and updated short bob shows off sleek, straight tresses with ease. Adding in an angled and shaped base layer, you let the remaining hair fall easily into place.
#43: Cropped Curly Hair
Flaunt your curly locks with a short, cropped style that is all kinds of beautiful. Pair it with an accent of deep, dark color like magenta or burgundy, and don't hold back on bold accessories or makeup. If your hair isn't naturally curly, leave in some small rollers overnight and experience a whole new look in the morning.
#44: Tapered Cut with Purple Accent
Female hairstyles don't always have to be long to be feminine – instead, try this undercut that features a dash of girly purple color throughout the top.
#45: Long and Curly Pixie Cut
An undercut hairstyle for women with curly hair can keep otherwise unruly tresses under control. Start with an undercut pixie that is on the longer side, and then allow your natural curls to tumble down from atop. Cute, curly and unique – you can embrace your girly side without having to deal with a complicated style.
#46: Business Casual Style
If you have a day job that requires a bit of a straight laced look, an undercut is still definitely possible. An undercut hairstyle women can acceptably wear in an office environment usually involves short underneath sections that are left a bit longer, paired with long hair on top to conceal the look when necessary.
#47: Colorful and Creative Short Style
An undercut hairstyle can still boast a fair level of versatility. For this look, keep a longer amount of hair up top. Work it into a crown braid when you're feeling creative, and add in some wash out color in bold, bright hues.
#48: Triangular Style
Shaved back or nape undercut hair can reveal cute designs when you pull your hair up into a pony or bun. In this case, some tribal patterns are used but you can try any design you like. You might opt for a cut that brings out a beautiful tattoo with meaning, or perhaps you will simply utilize it to try something new with otherwise mundane hair.
#49: African-American Tapered Cut
Looking for a cool hairstyle that shows off your creative side? Look no further than this tapered cut enhanced with a simple but so flattering undercut. You may brighten up this beautiful style with a cuff earring, and you'll be sporting truly unique hair in no time at all.
#50: Fantasy Inspired Cut
Many undercut hairstyles are inspired by something based in fantasy, like this nape undercut that features etched designs and a bold aqua hue buns. This style takes its cue from anime or perhaps a comic con cutie, and it's simple and fun to maintain.
There are many controversial opinions about women's undercut styles. Someone considers them too extravagant and non-feminine. But we have seen enough worthy examples above which never diminish your feminine appeal, but, on the contrary, make you brighter as a woman. Go for what you feel is right and don't let other people's opinions influence your choice, especially when it comes to self-expression and other important things.
Sours: https://therighthairstyles.com/20-womens-undercut-hairstyles-to-make-a-real-statement/
This is the best collection of modern undercut haircuts and also the cool classic undercut styles.
Below, you will find many different versions of the undercut that you can try out.
Each shows off a modern twist to this classic men's haircut.
So, what is an undercut haircut / hairstyle exactly?
In the past, these haircuts for men were very straightforward and were more of a DIY at home type of hairstyle. This classic men's undercut haircut is achieved by simply buzzing the sides and the back at one (very short) length with clippers. Then snip hair on top with scissors to the desired length and slick it all back.
This is one of the best and easiest haircuts that you can give yourself. If you dare try, haha. Even though it is doable at home, we highly recommend getting a friend to help out, or just get it done by your barber to be safe.
Today, there are many different and very cool looking variations of this popular men's haircut.
Whether you have curly hair, wavy hair, thick hair, or straight hair there are definitely some undercut designs that will work for you.
1) The Classic Undercut + Slick Back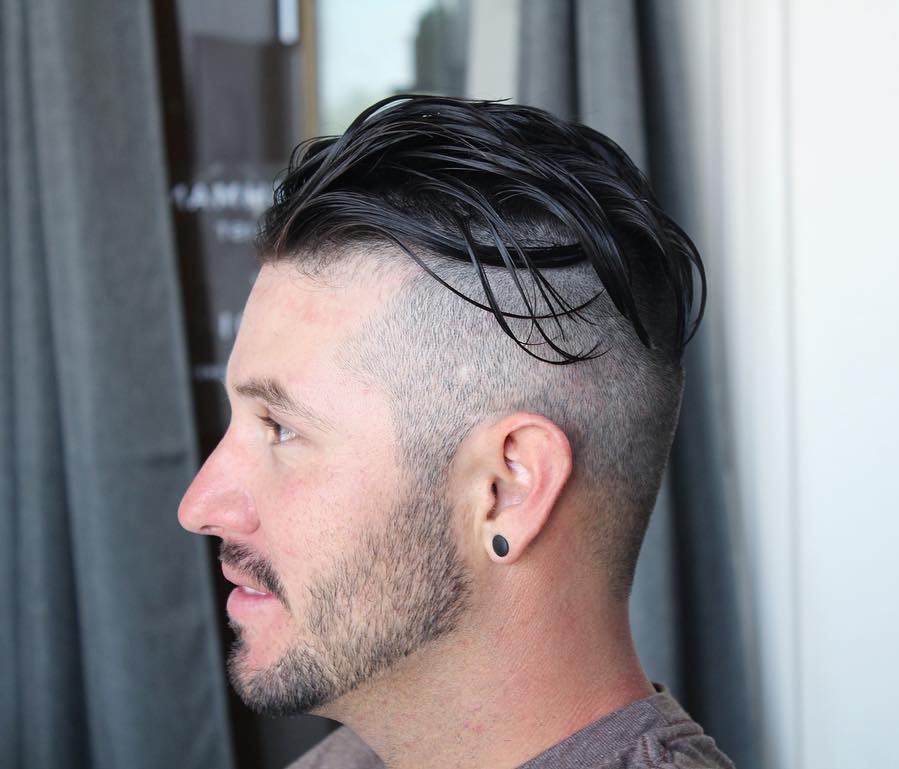 Haircut by Keller
This is a very cool looking long undercut hairstyle for men that has been slicked back in long waves. To get this look use a pomade with a bit of shine, work it evenly into damp hair, and then blow dry back using your fingers to style.
2) Long Hair Undercut For Men + Bald Fade + Disconnected Beard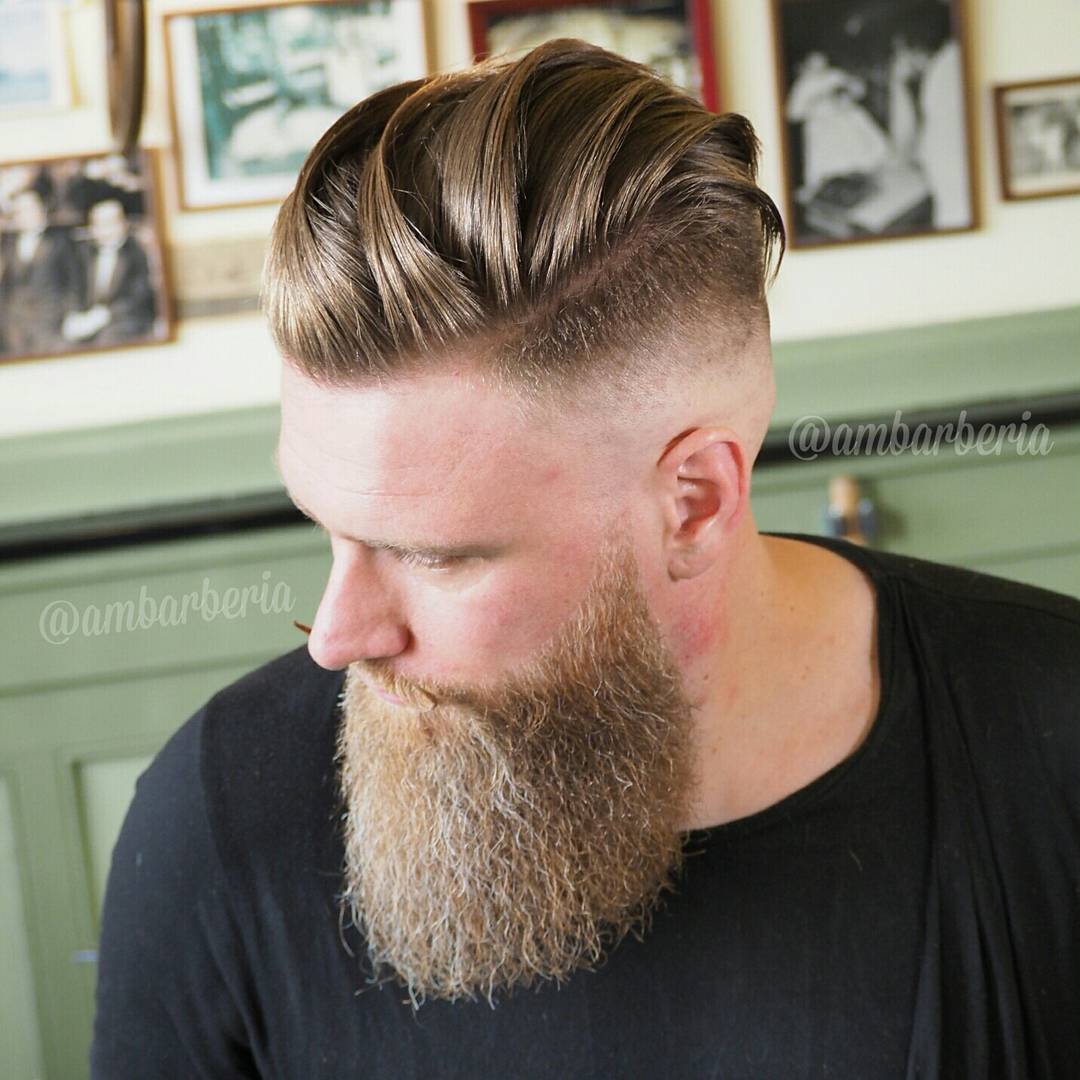 This faded undercut shows long hair styled back and to the side in sections. Totally cool.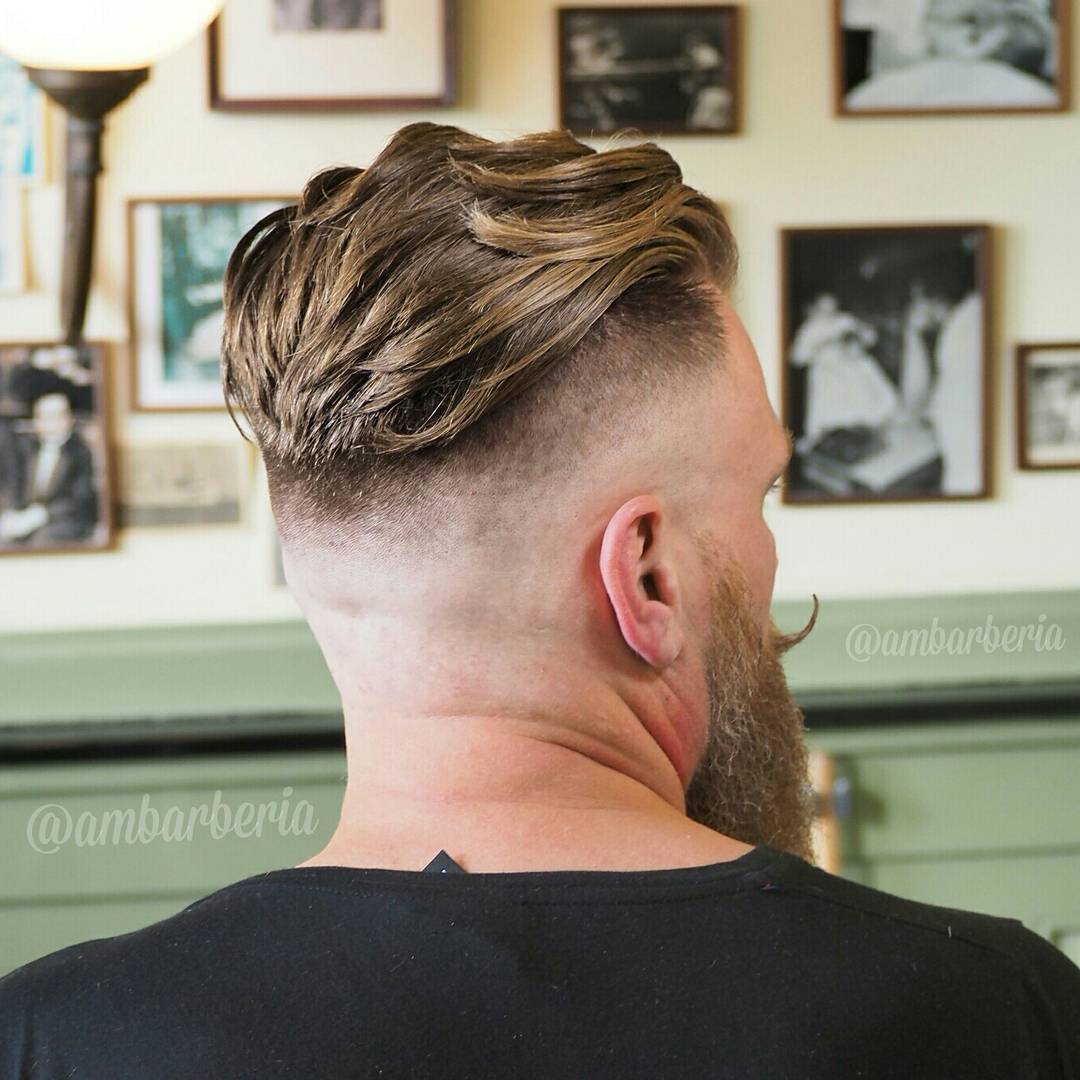 Haircut by ambarberia
Here is a look at the back view. A very cool looking haircut with skin fade and beard.
3) Men's Undercut Fade: Styled Two Ways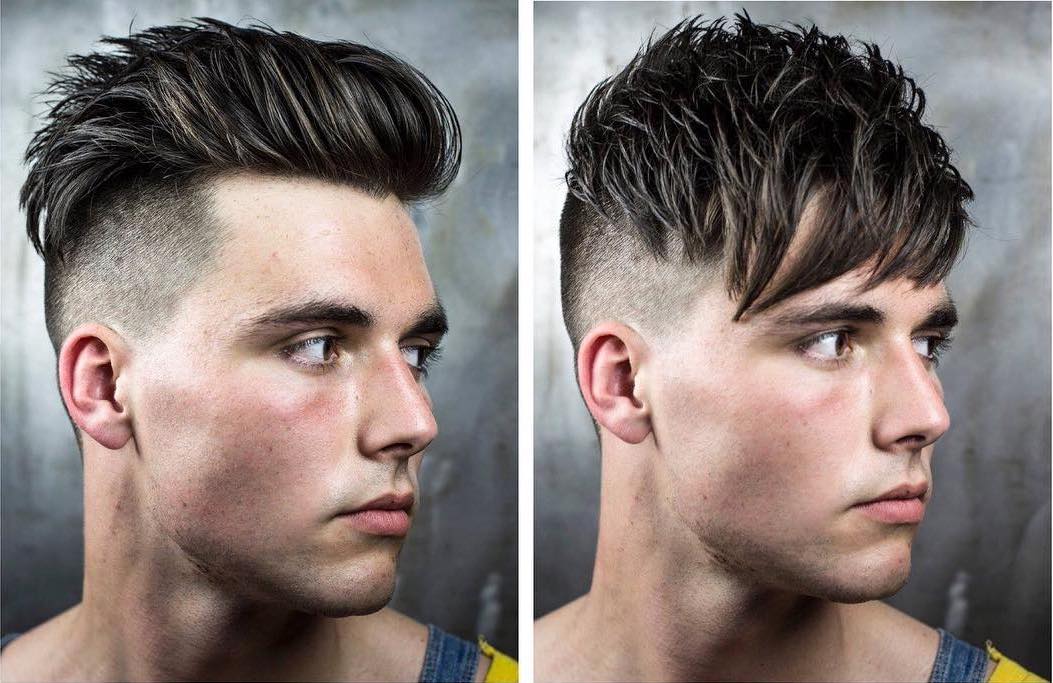 Haircut by Braid Barbers
A perfect demonstration of just how versatile this haircut can be when it comes to styling. Here we have one haircut styled in two very different ways. On the left the hair has plenty of volume created by a blow dryer. If you have thick hair like this guy use a stronger hold pomade and style the hair front to back into a slicked back look. On the right, the textured hair has been styled back to front into a messy crop look. Two cool hairstyles for men! This modern take is called an undercut fade.
4. Undercut With Beard + Medium Length Hair + Line Up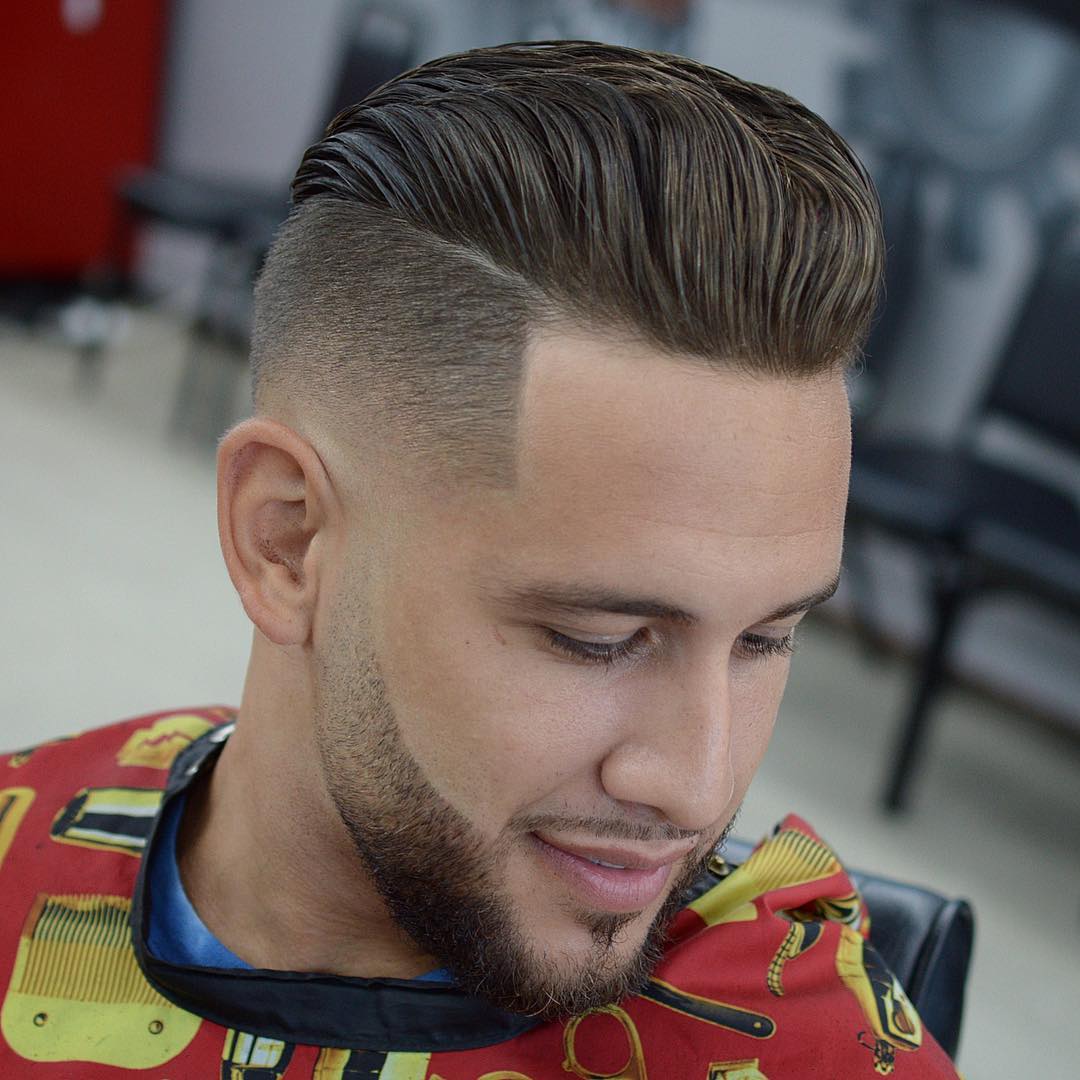 Haircut by Andy Authentic
This is a great haircut for guys that have medium length hair. Apply a strong hold matte finish pomade to damp hair and simply comb into place.
5. Undercut For Curly Hair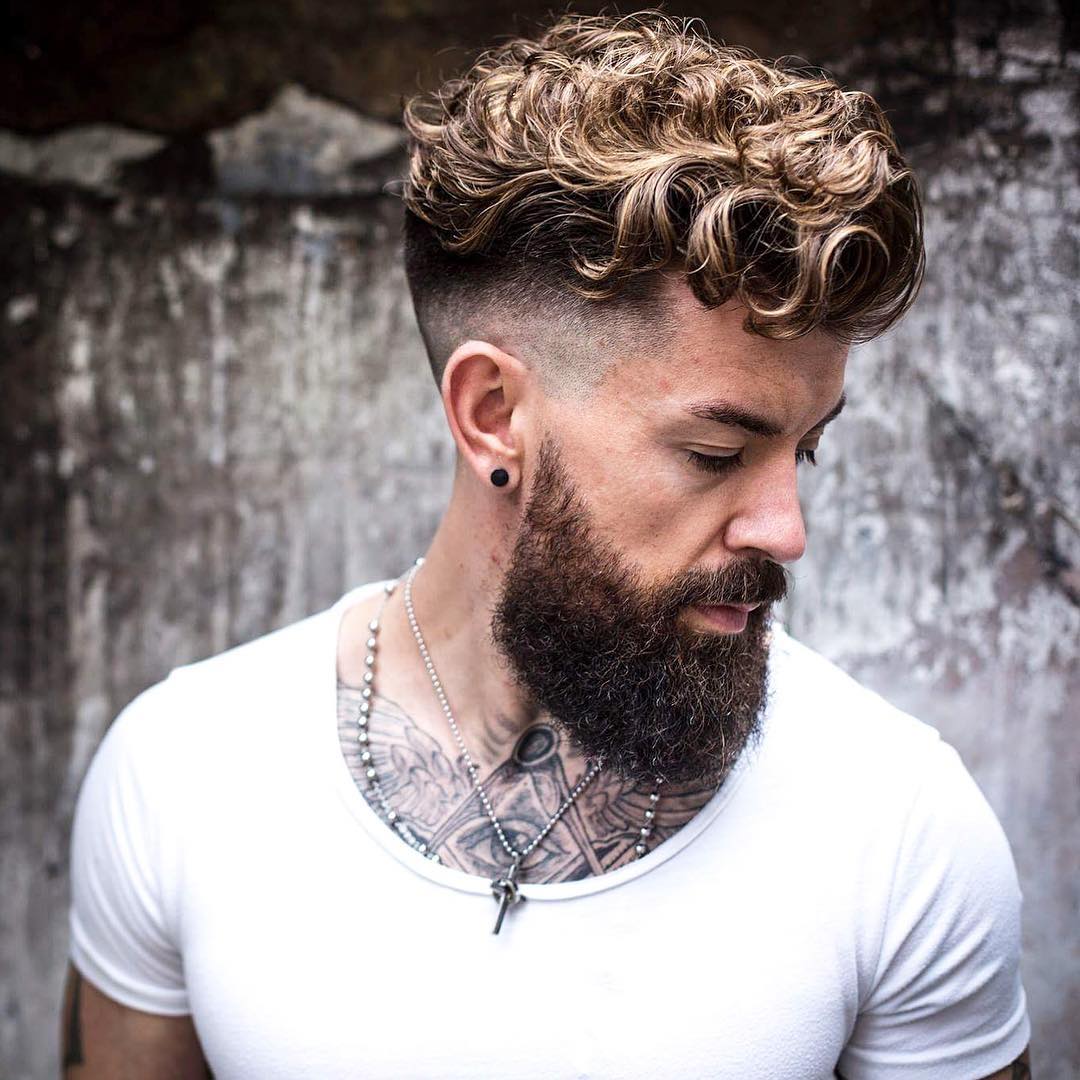 Haircut by Braid Barbers
Another beauty but with curly hair and a beard. We have a high skin fade that creates a sharp contrast with the thick curly hair. Use a medium hold pomade to give your curls extra bounce and life.
6. Undercut Short Hair + Shaved Part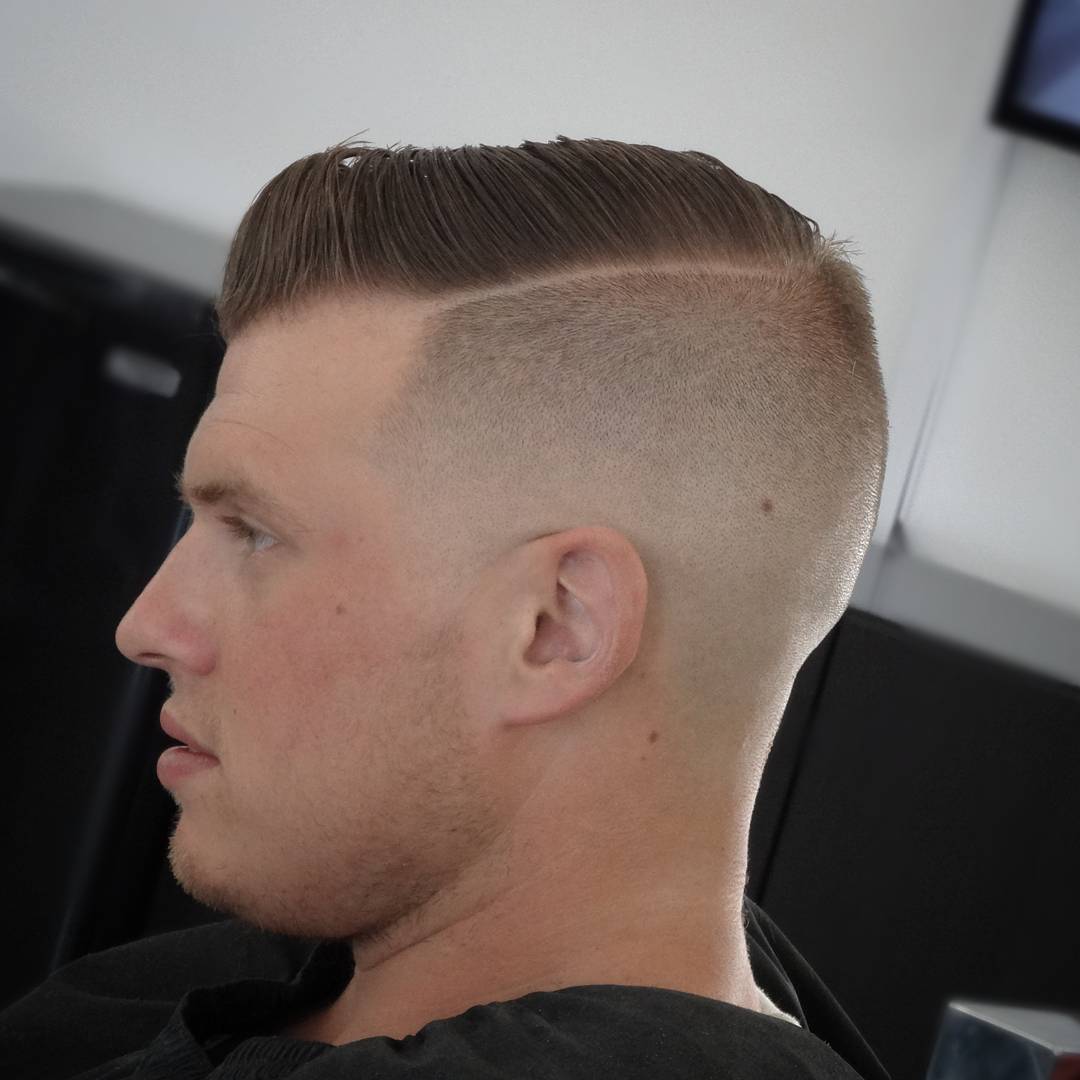 Haircut by Kev
A great looking short hair undercut. This haircut has been styled into a classic combover mini pompadour hairstyle and is disconnected with the hard part.
7. High Fade Undercut with Thick Waves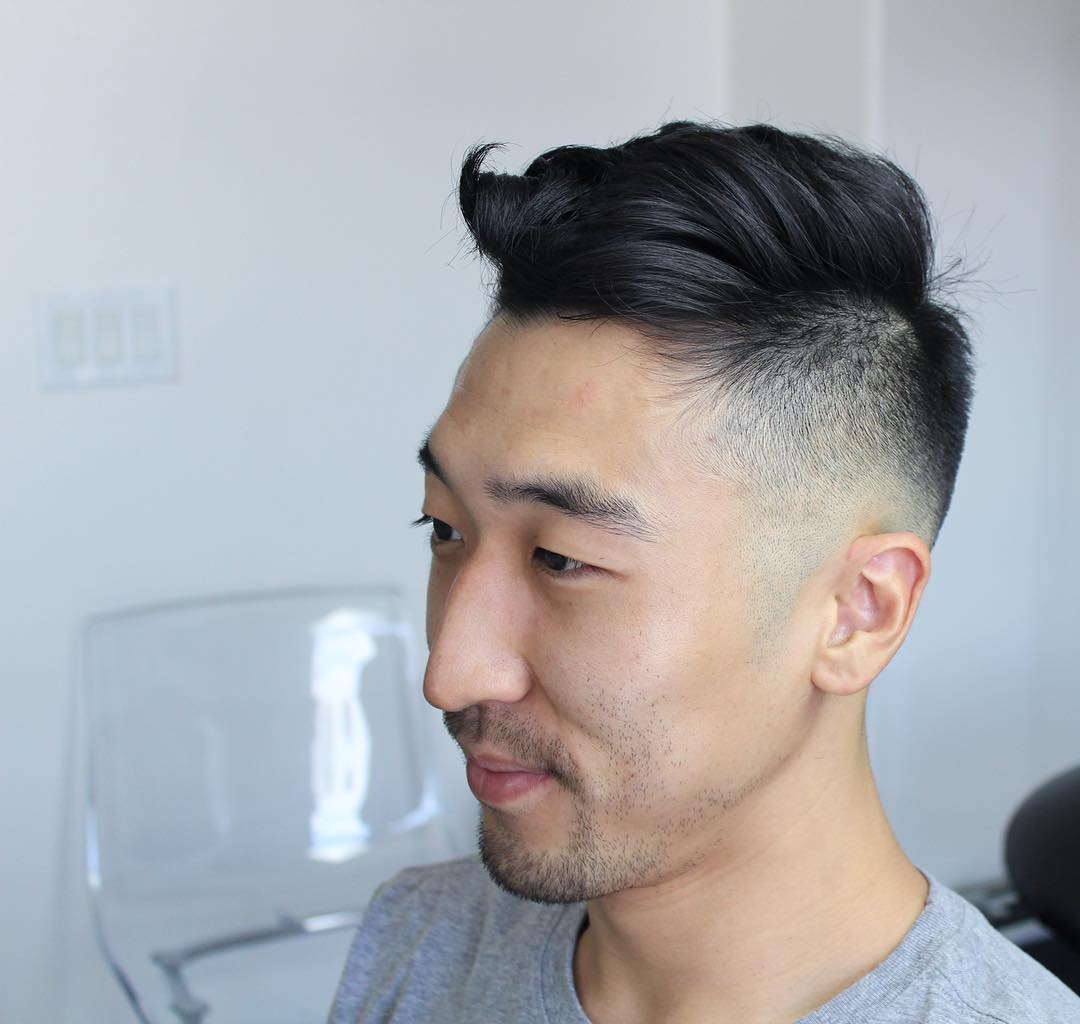 Haircut by Keller
The high bald skin fade shows off the thick black hair on top that is styled into cool looking waves or a version of the combover quiff hairstyle.
8. Undercut With Long Fringe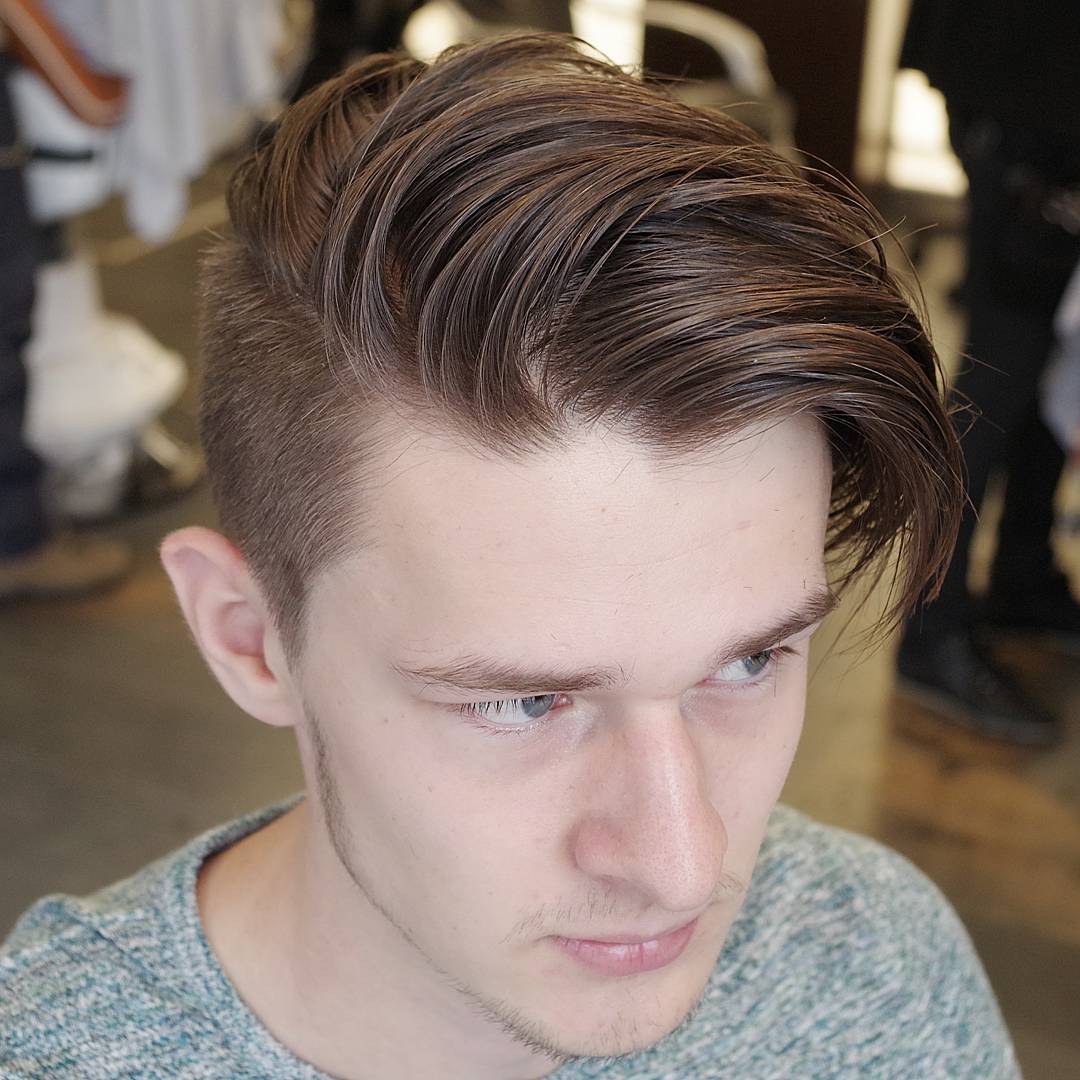 Haircut by Men's World Herenkappers
The sides are short but not shaved down to the skin, and the fringe is kept longer which hangs down in front. This is a more natural-looking side-swept undercut that is styled with less product and also more to the side.
9. Hard Part Pompadour Undercut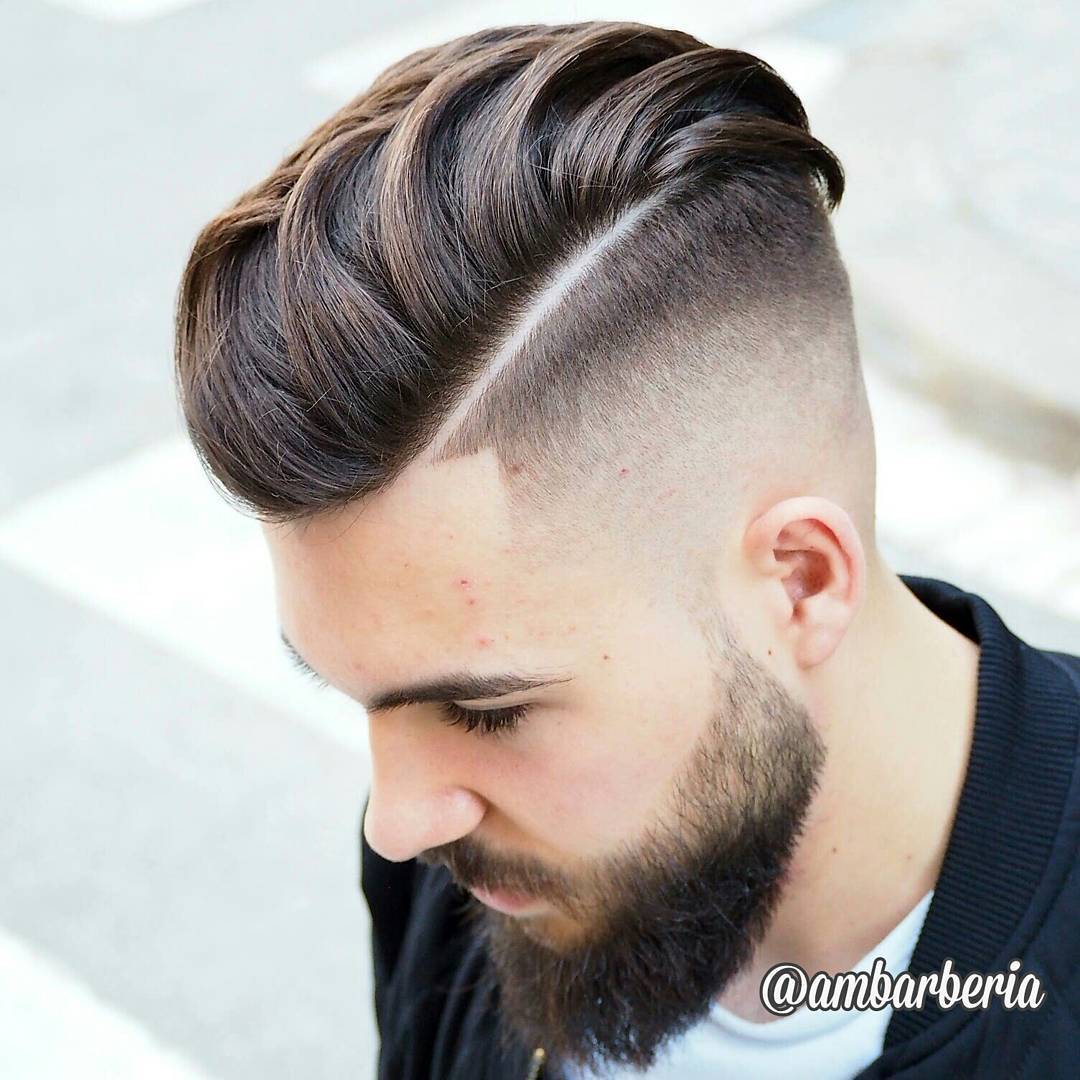 Haircut by ambarberia
Another disconnected undercut hairstyle with a hard part. Longer hair on top is blown dry to give it some nice natural looking flow.
10. Spiky Messy Undercut Hairstyle + Low Fade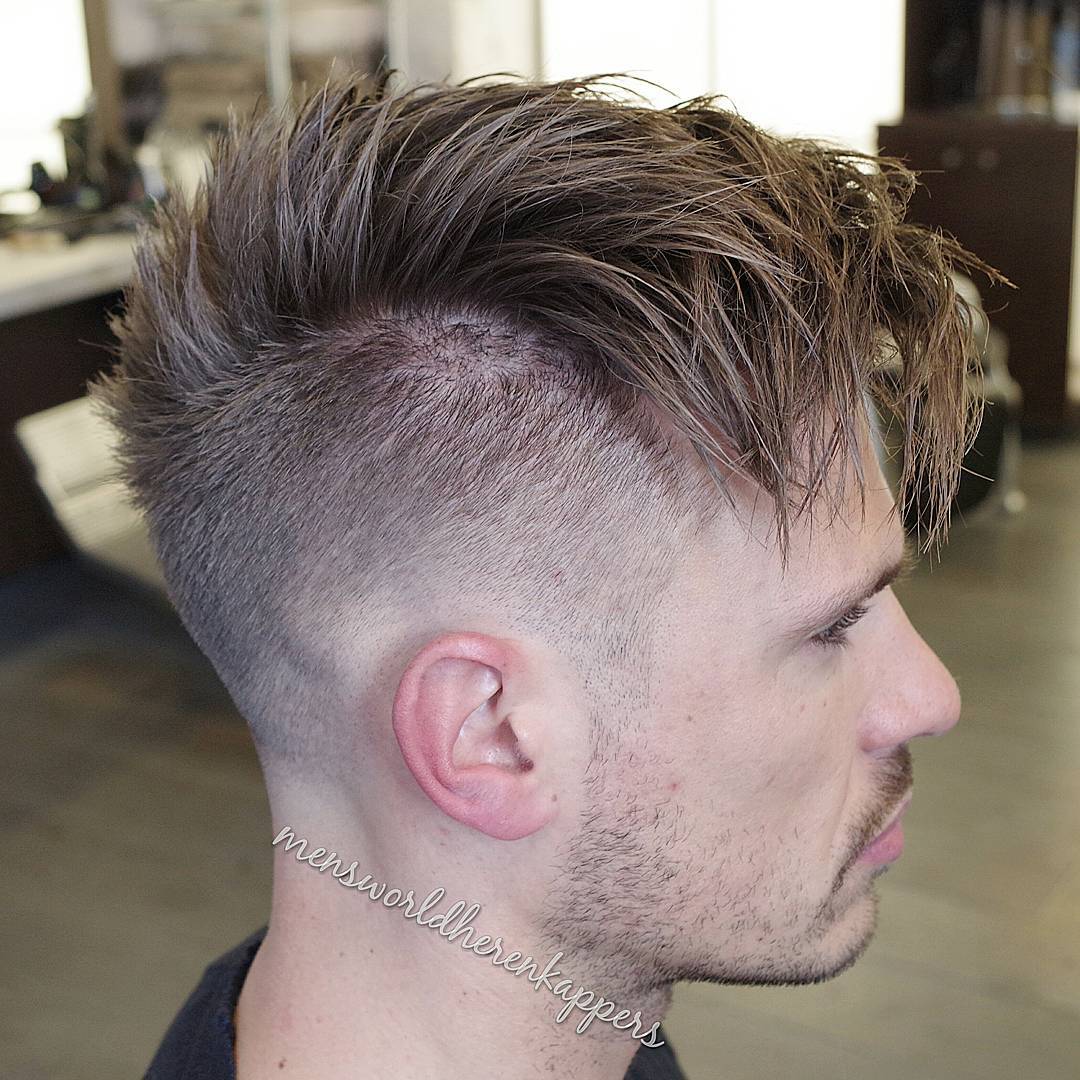 Haircut by Men's World Herenkappers
A super cool haircut. This new men's hairstyle is a mashup of several different looks. This haircut has longer textured hair on top that gives it a spiky messy look and is styled back to front into a crop hairstyle with longer fringe. Use a strong hold pomade in slightly damp hair to keep the choppy textures intact all day long. The messy undercut has been a super popular choice.
11. Cool Pompadour Undercut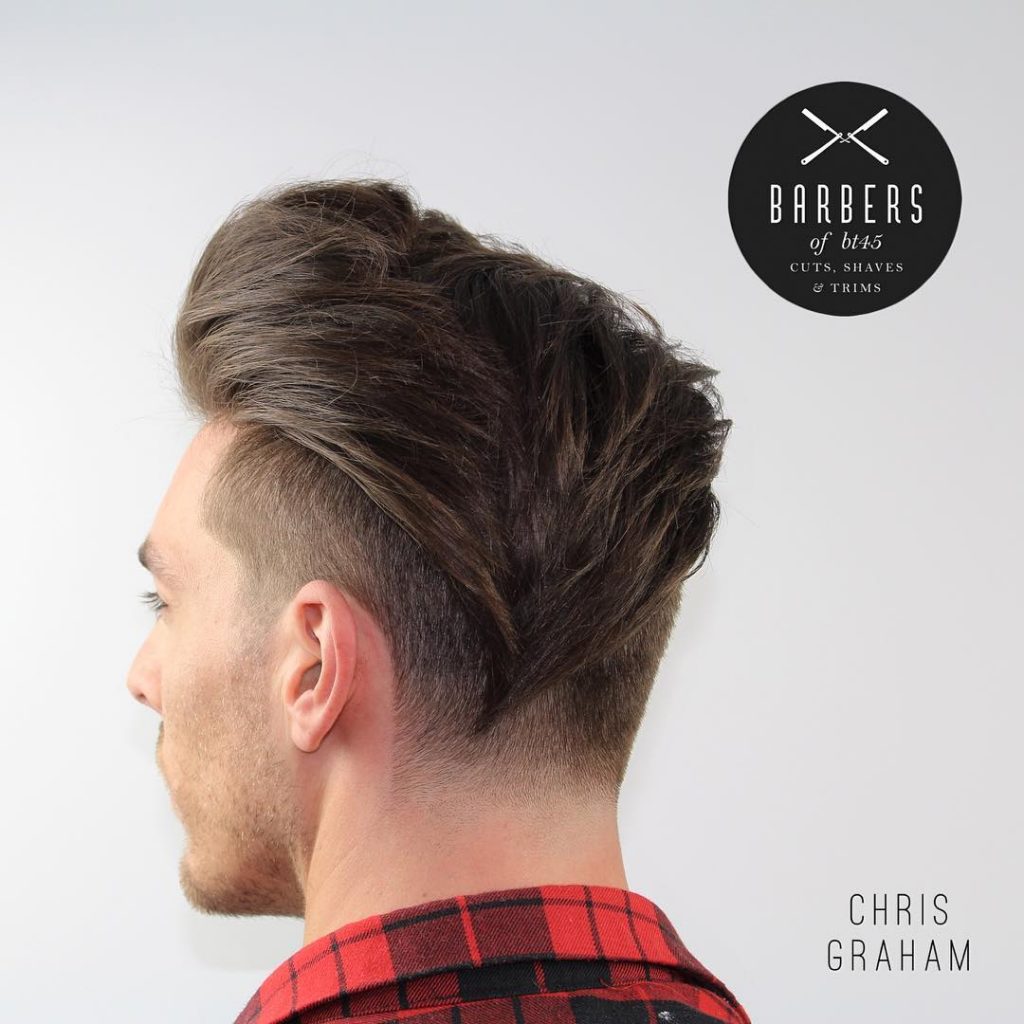 Haircut by Chris Graham
Another modern haircut that is a mashup of the pompadour (front) and hair that is very long in the back and cut into a V shape. To get this look simply blow the hair dry and use a light hold pomade.
12. Long Hair Undercut With Beard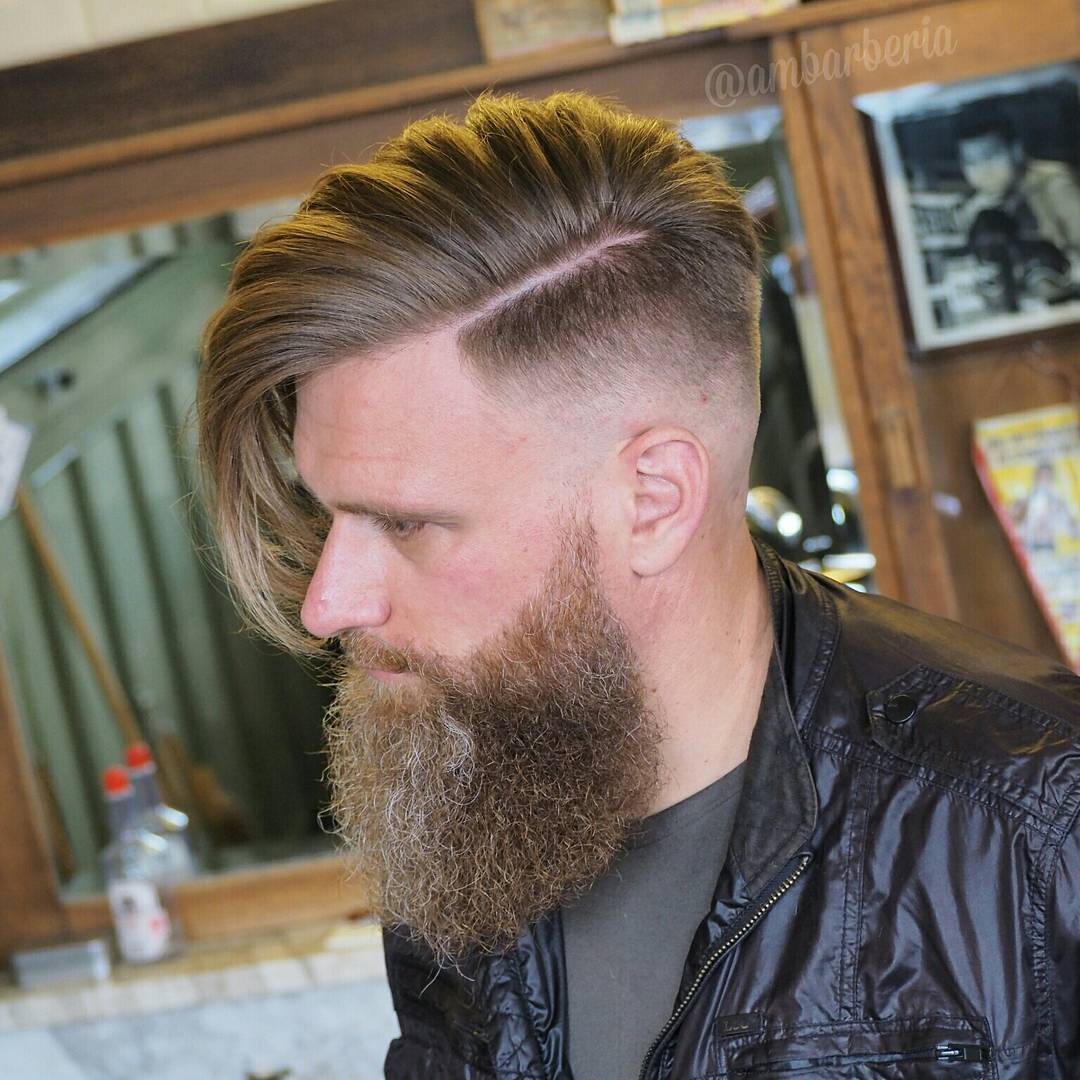 Haircut by ambarberia
A combover side part undercut with a very long fringe (bangs) in front and big beard. The skin fade accentuates the longer length of hair on top and disconnects the beard. Very cool.
13. High Fade Undercut With Medium Textured Hair + Line Up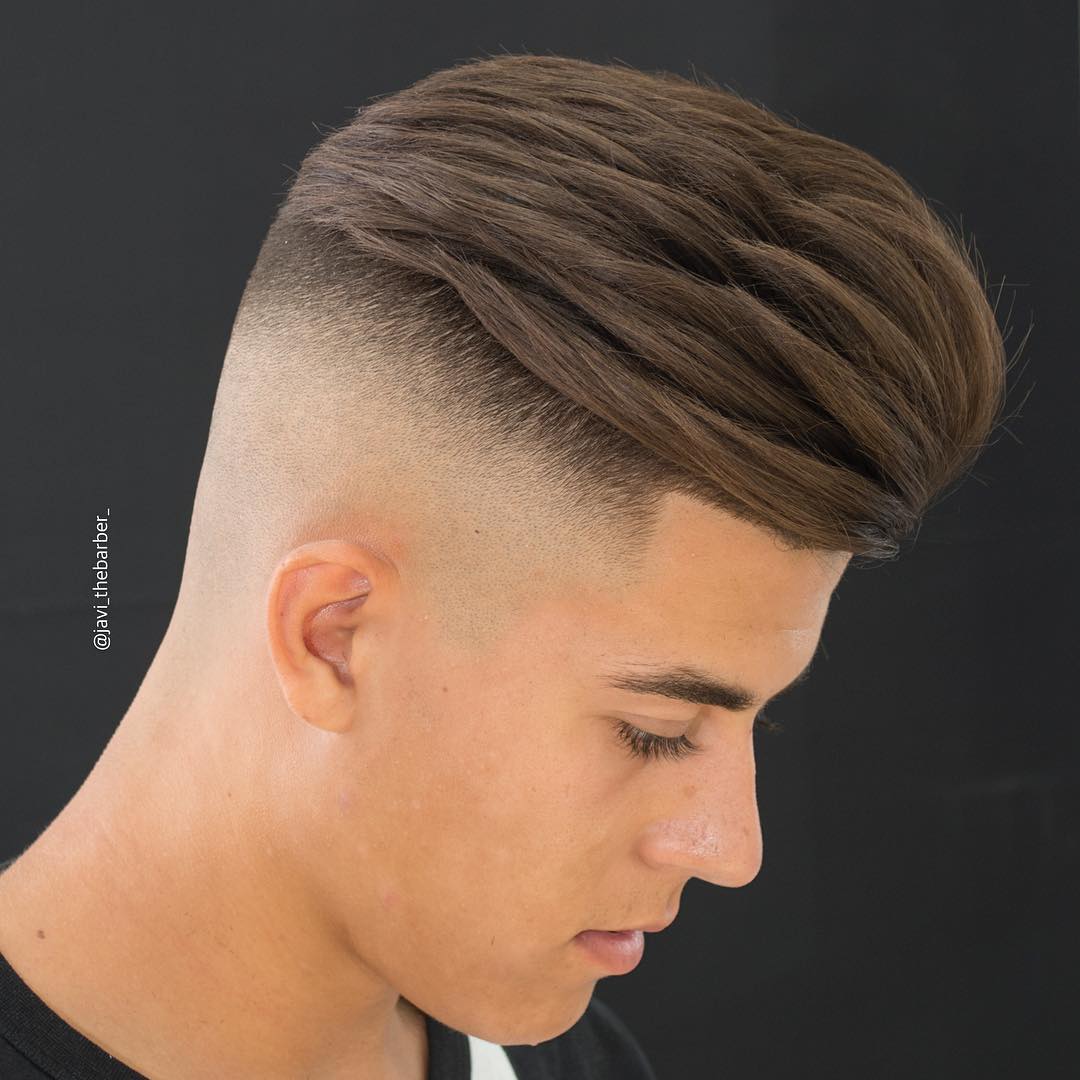 Haircut by Javi The Barber
The fade is taken very high up to the forehead hairline. The medium length hair is styled back into place with a blow dryer for a natural flow look. This is the high fade undercut.
14. One Haircut + Two Styles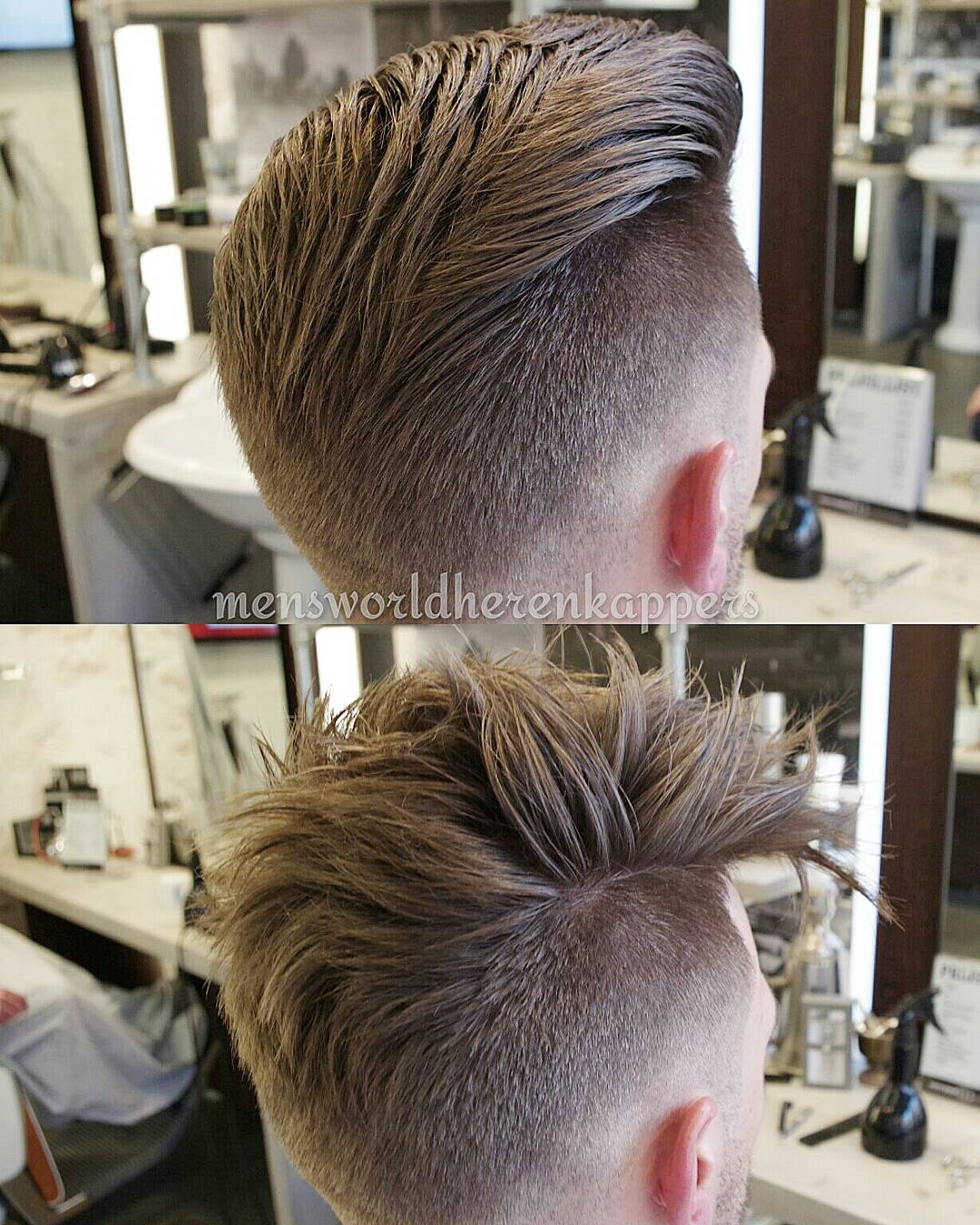 Haircut by Men's World Herenkappers
Another great example of how to style one haircut in two completely different ways. At the top, the hair is blown dry and back. It is held in place with a medium hold pomade. Or use a stronger hold pomade and bring the long textures to life with a messy choppy look. One haircut can be styled all business or all party time, take your pick!
15. Hidden Undercut + Long Hair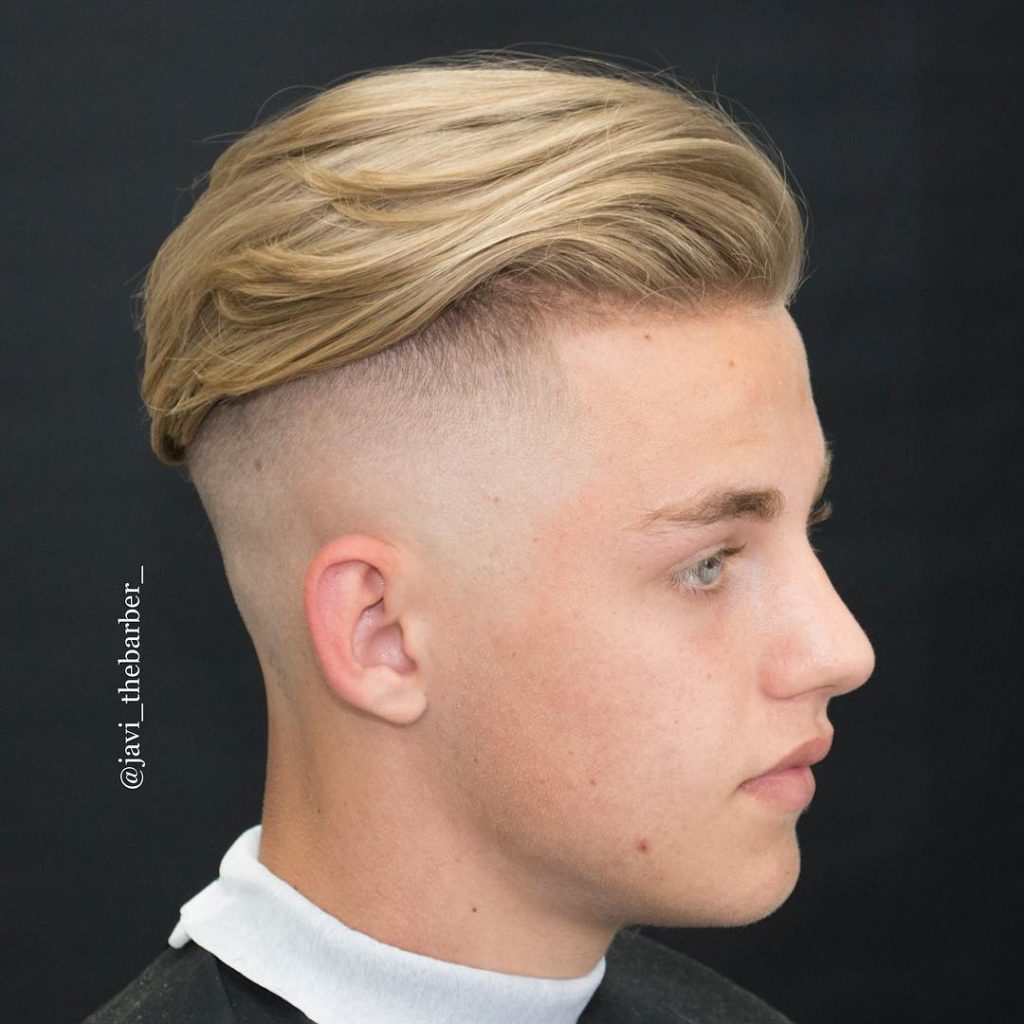 Haircut by Javi The Barber
A very high bald fade that sharply disconnects the long flowing hair on top. To get this look either towel dry or blow dry and brush your hair back off the face. A great example of a men's long hair undercut that you could get if you want longer hair.
16. Cool Disconnected Style + Long Fringe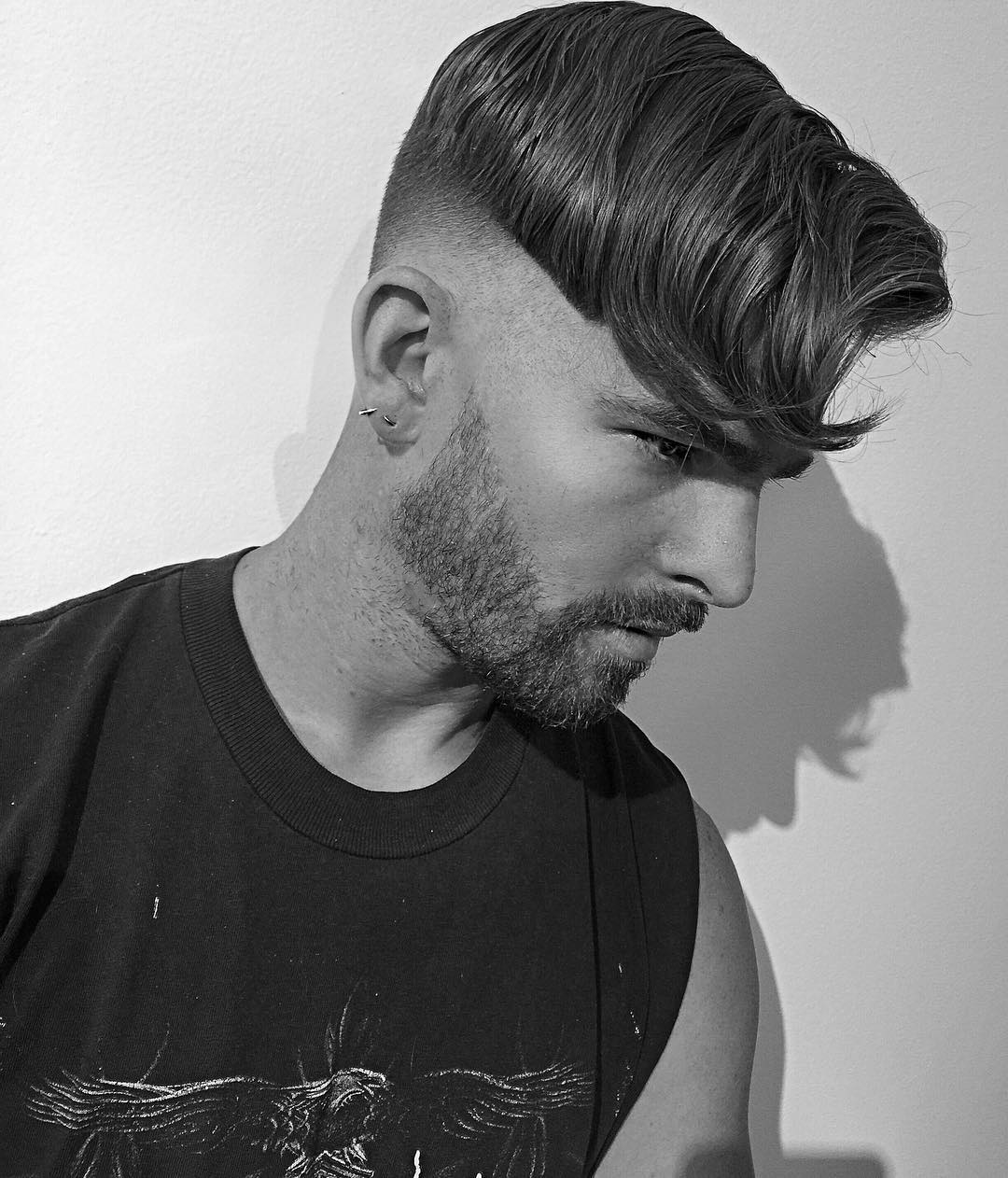 Haircut by Mikey
This haircut is 100% COOL. Love this haircut by Mikey one of the most creative barber/stylists. Medium length thick wavy hair styled neatly on top with fringe hanging down to the eyes. Disconnected well-groomed beard looks amazing with this very cool men's hairstyle. Hair is styled to one side and is a great looking modern comb over hairstyle.
 Definitely a top pick of the bunch.
17. Under-Hawk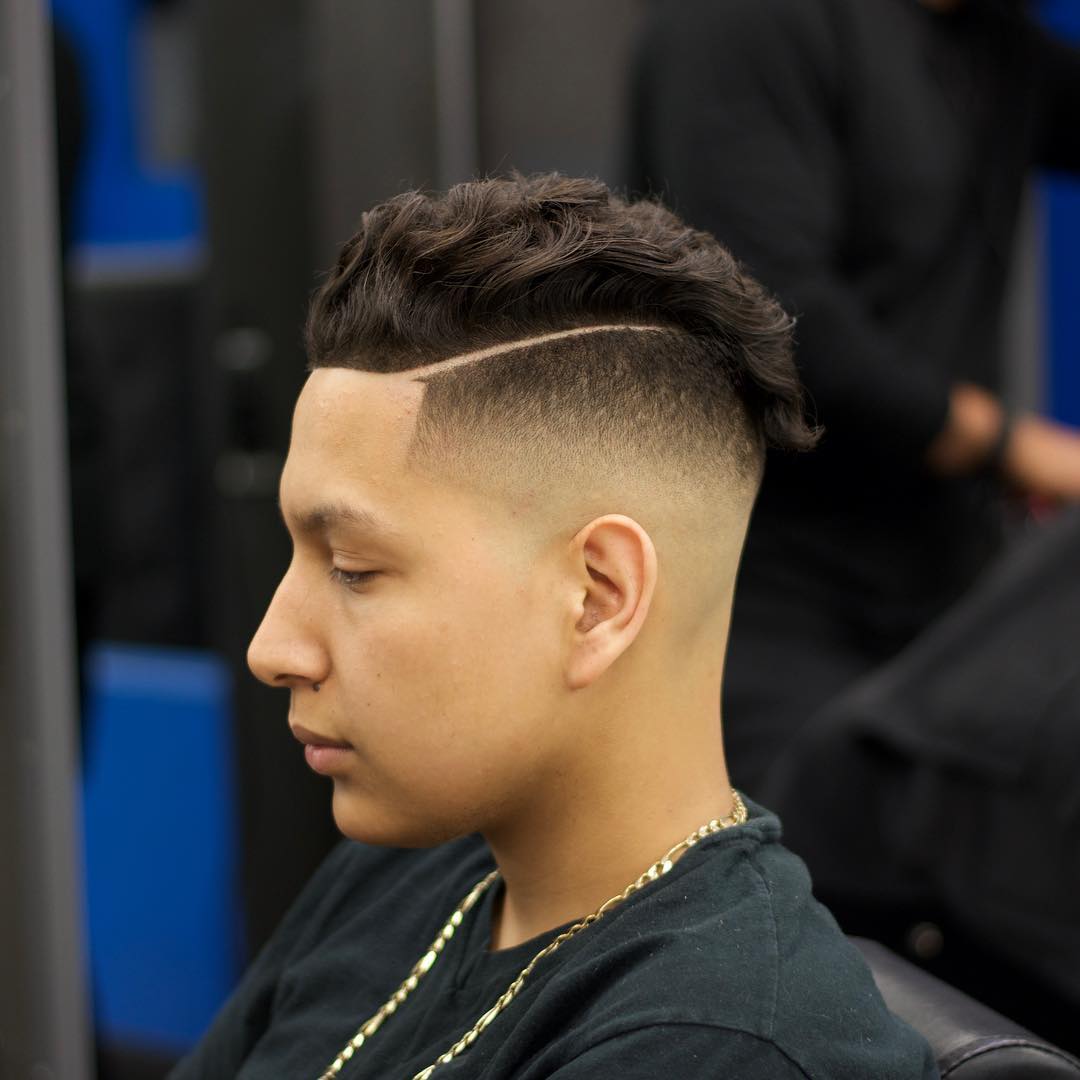 Haircut by Andy FadeMaster
The very high fade and hard part give a mohawk effect.
18. Long Undercut With Beard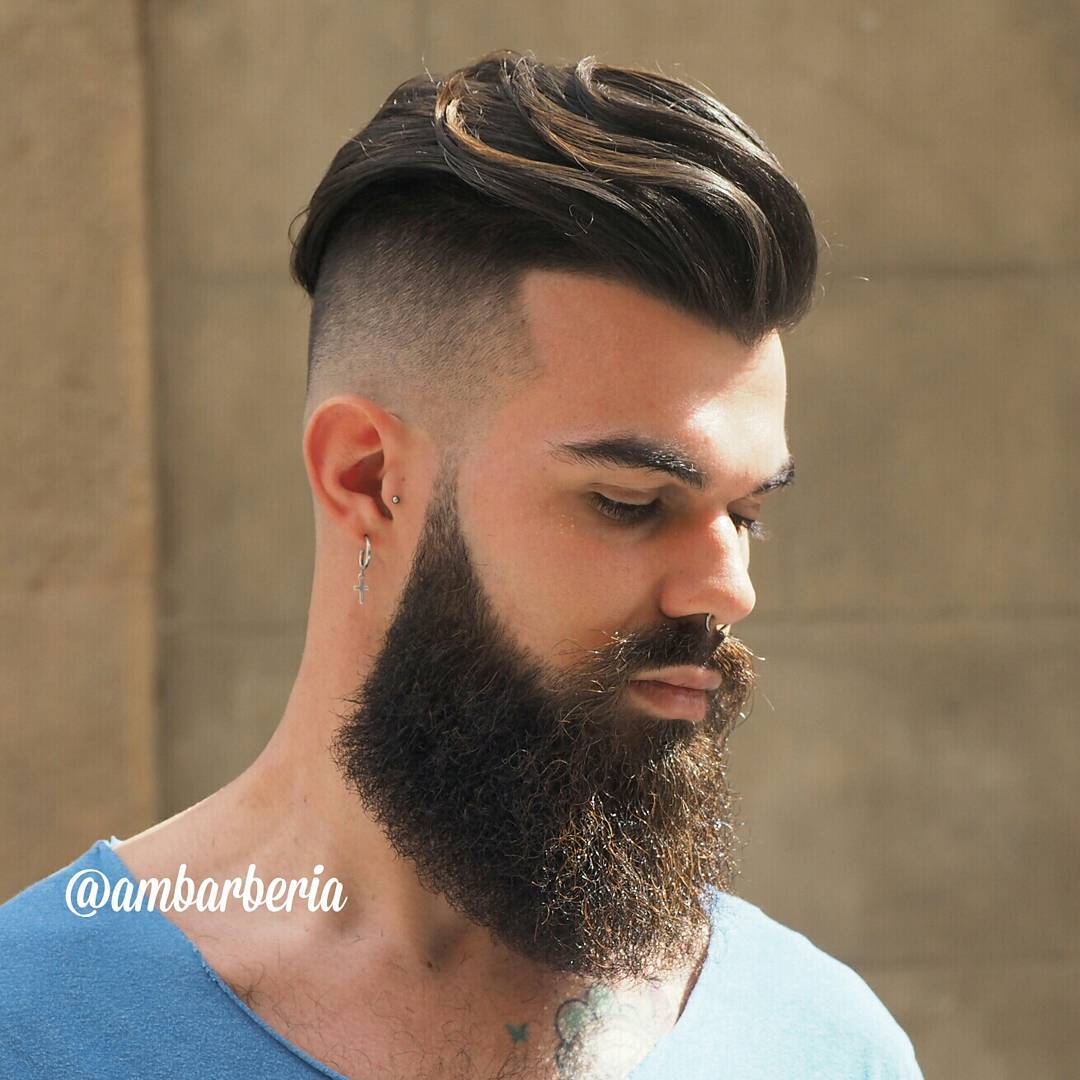 Haircut by ambarberia
The long undercut. Long hair works so well with this haircut. Again the short sides have been taken quite high which gives the long hair a lot of movement. To style, this haircut use a blow dryer to set the hair back. After the hair is dry take small amounts of light to medium hold pomade and work into the hair back and also towards the side.
19. Medium Hair Undercut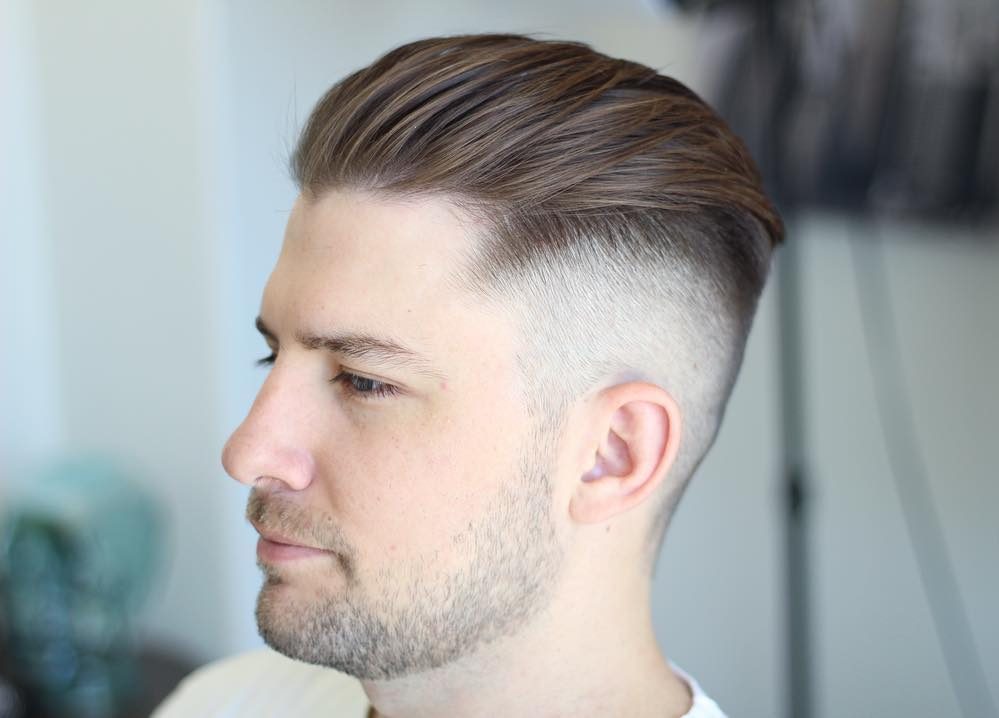 Haircut by Keller
This short undercut with high skin fade looks awesome. Simply blow-dry the hair back to get this look. A classic look but such a cool men's haircut.
20. Disconnected Undercut Haircut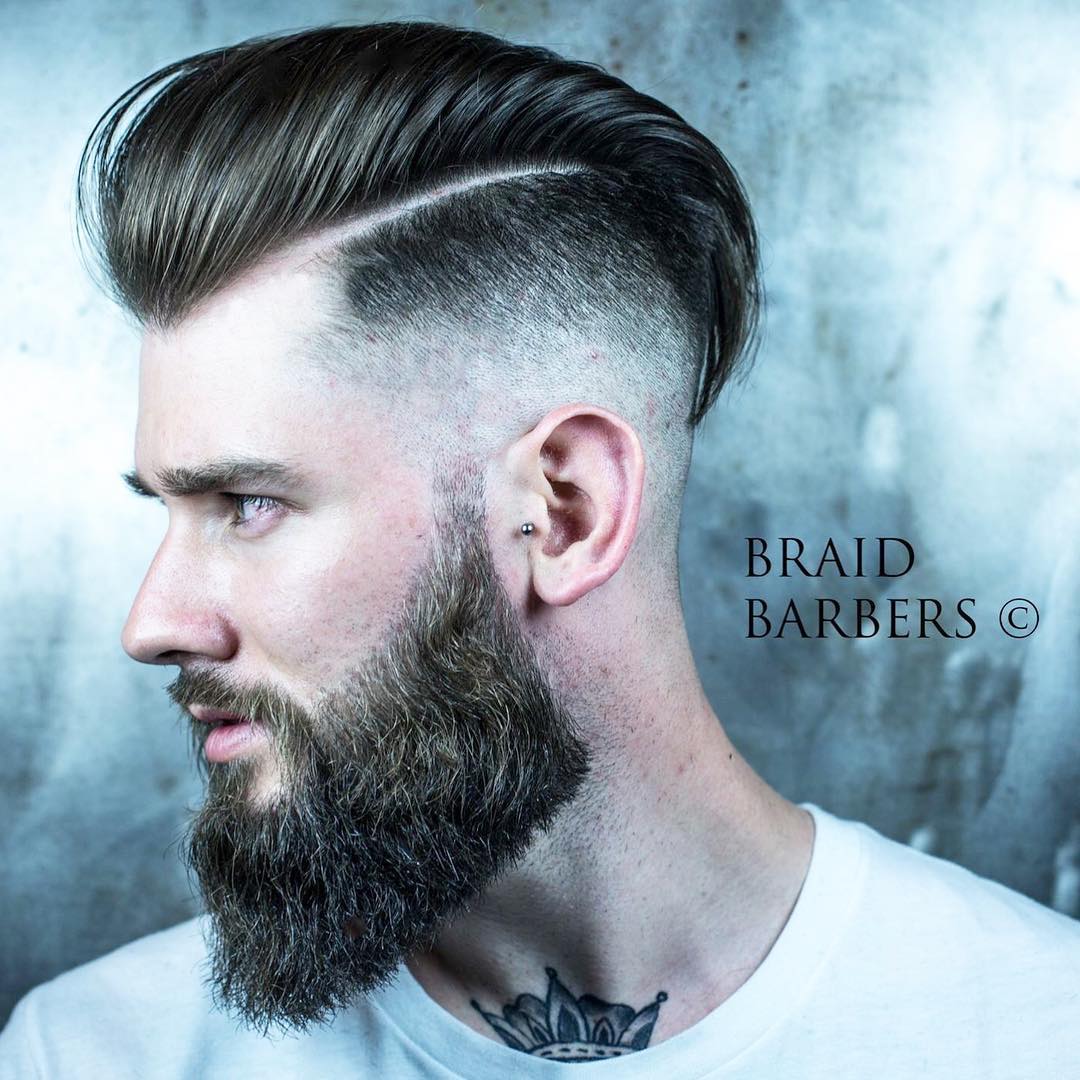 Haircut by Braid Barbers
A high bald fade and hard part disconnect both the beard and the longer hair length on top. The hair has been styled back off the face into a type of pompadour comb over hairstyle.
21. Side Swept Undercut Hairstyle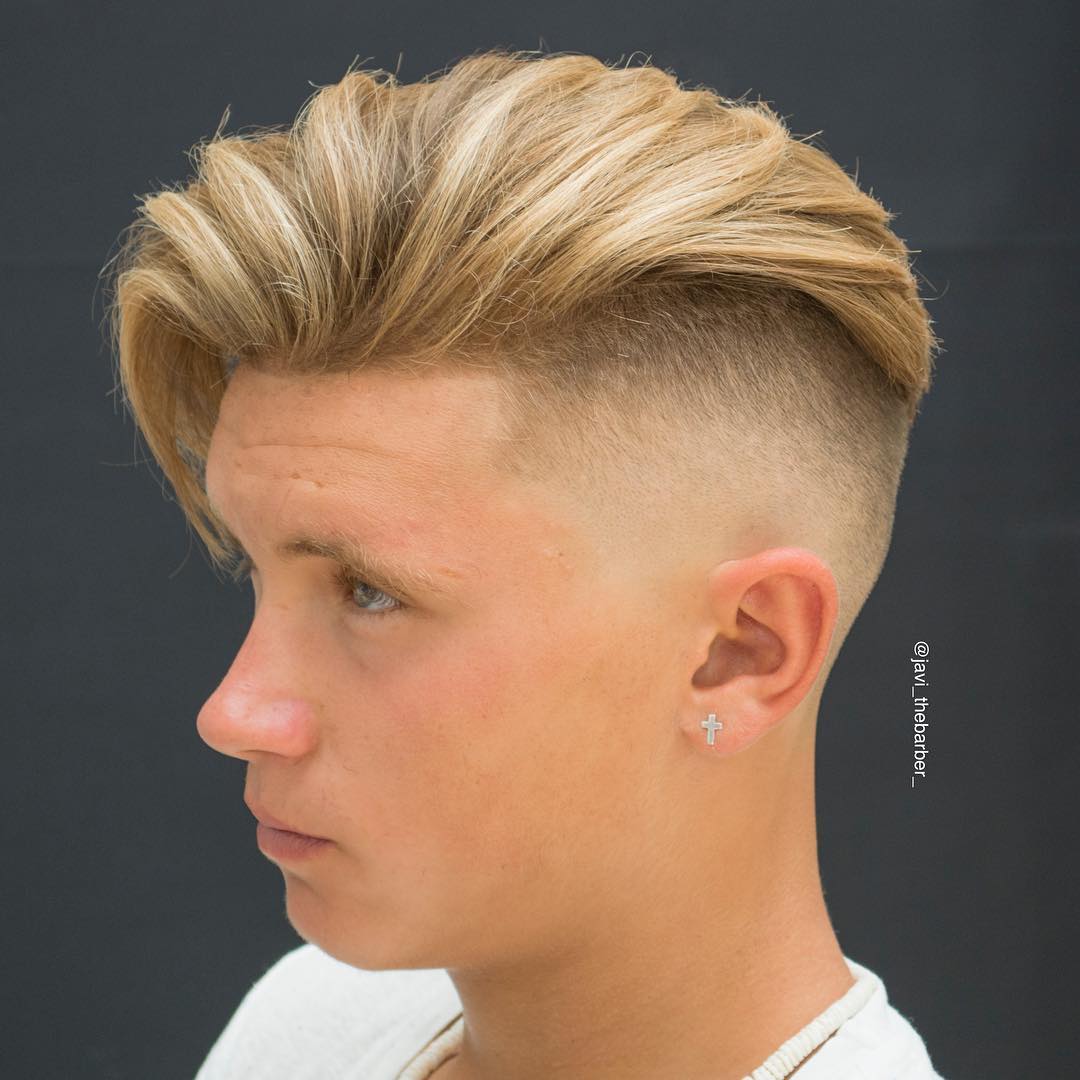 Haircut by Javi The Barber
Longer natural hair is brushed to the side. To get extra volume, apply a medium hold pomade evenly to damp hair and then use a blow dryer. Brush the hair into place. A totally cool undercut haircut.
This post may contain affiliate links. Please read our disclosure for more info.
Sours: https://www.menshairstyletrends.com/undercut-haircut/
The Essential Guide to Undercut Hairstyles for Men: Best Classics & Hottest Trends
MEN'S LIFESTYLE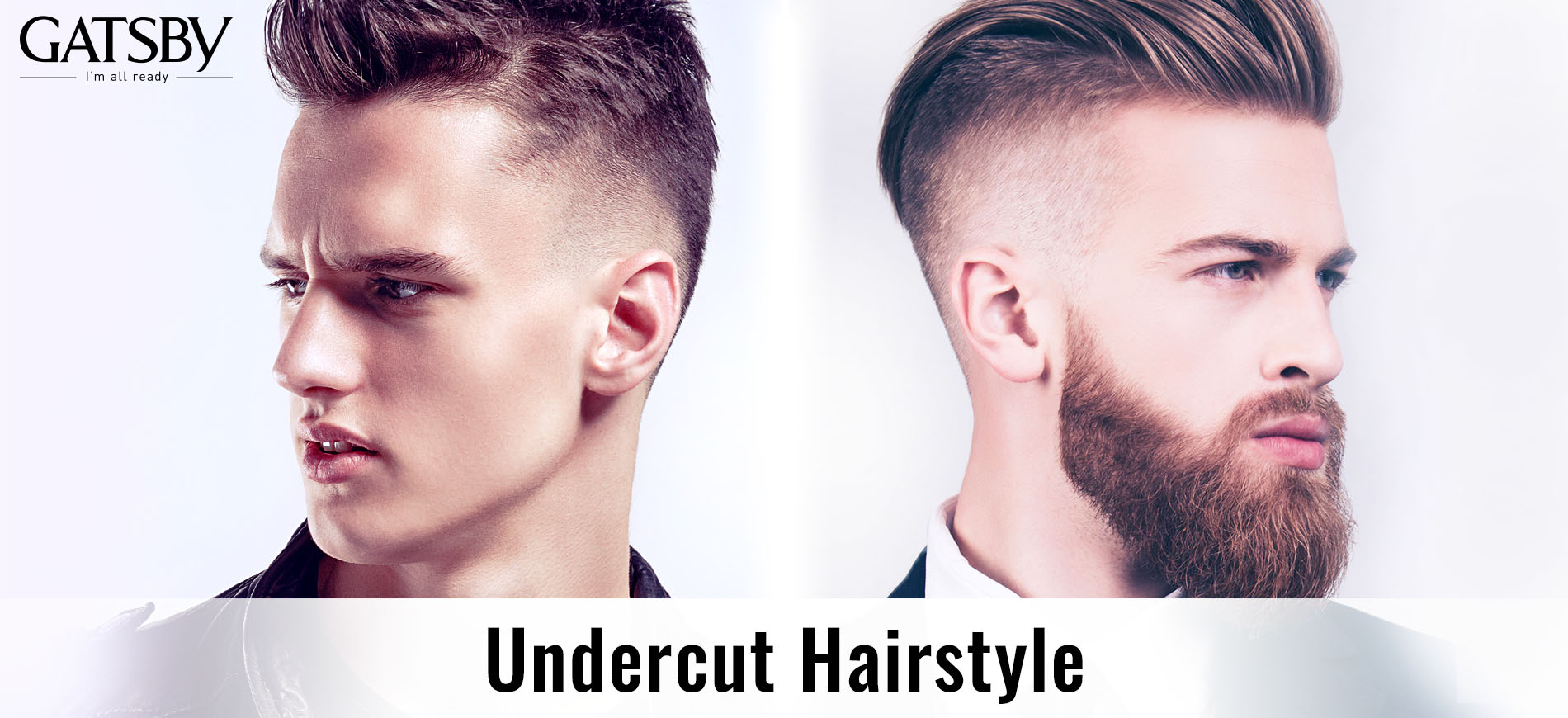 The undercut is one of the most iconic and stylish men's hairstyles. However, when it comes to going to a barber or hairdresser and getting that perfect undercut, you need to know what you want. This guide will arm you with the vocabulary you need to communicate your aspirations to your hairstylist.
What's an Undercut Hairstyle?
The undercut is a hairstyle that leaves length on top but has the back and sides of the head closely cut or buzzed. Having an undercut emphasizes hair volume and shows off your facial structure. Whether your hair is straight, wavy, or permed, there is an undercut style that will make you look fresh and stand out.
When subtlety is valued, an undercut with shorter hair on top can work for a fashionable yet edgy look. If you want to make a statement, it's best to go with an undercut that emphasizes length on top. Undercut variations can also be used to great effect by men with perms or thicker hair with natural waves or curls.
Origins of Undercut Hairstyles
The undercut first rose to prominence during the 1920s. As fashion evolved, so did the undercut throughout the first half of the 20th century. Due to its combination of style and practicality, the undercut was worn by men who made their mark, including businessmen, jazz performers, and even soldiers.
During the second half of the 20th century, different types of undercut styles debuted and were worn by many big names. Not only were undercuts a core part of youth culture, but established men who remained young at heart also wore them. The hairstyle has a natural freshness and aliveness to it.
The Modern Undercut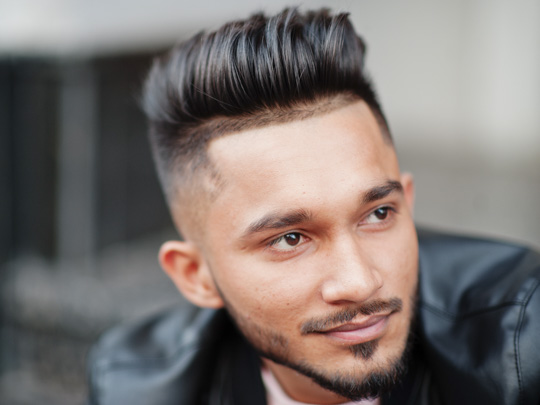 The undercut continues to lead trends in popular men's hairstyles to modern-day. If you're a Hollywood fan, you have probably seen almost every A-list actor sporting an undercut at one time or another. In recent years, the likes of Brad Pitt, Justin Timberlake, Zak Efron, and more have rocked undercuts in blockbuster movies.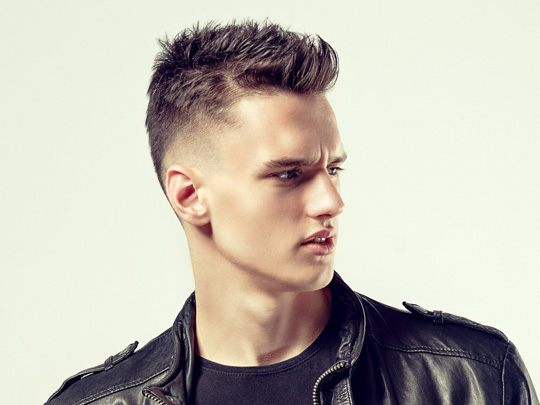 Disconnected Undercut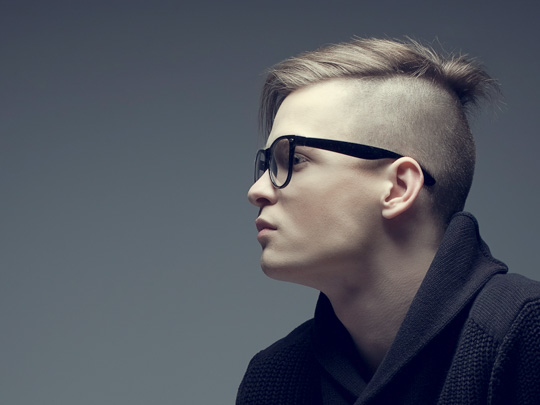 Visually, the disconnected undercut makes a bold statement. As you might have guessed, the term "disconnected" refers to the length of the hair on top of the head being vastly different from the hair on the sides. In other words, the transition from the longer hair on top to the short hair on the sides is abrupt rather than gradual. This is an aggressively eye-catching style that can work well with a hipster aesthetic.
Fade Haircuts—Low and High Fades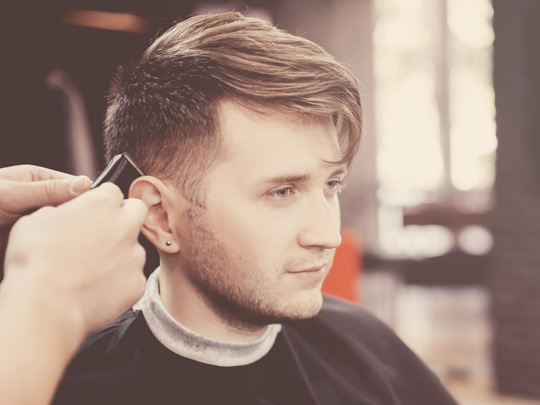 Fade haircuts are generally much shorter and may use fading down to the skin at any point. This has the effect of minimizing the hairline. The more you search men's undercut hairstyles, you'll notice that the fade is a popular trend.
Low fade undercut hairstyles add charm and good vibes to every personality. They are suitable for any scene from the office to parties. They look particularly striking with hair on top that is either long or medium in length. You will notice a visual effect that makes the hair look higher in volume.
Many men prefer the sleeker high fade haircut. It is distinguished where the fade line starts and how strongly the cut is tapered. Some prefer their fades to be cut down to the skin for a high bald fade. Meanwhile, others ask for a high taper fade. In any case, a high fade is a stylish cut that you can combine with a short, medium, or long hairstyle on top. The high fade can work well with a pompadour, side part, quiff, comb-over, and fauxhawk hairstyles.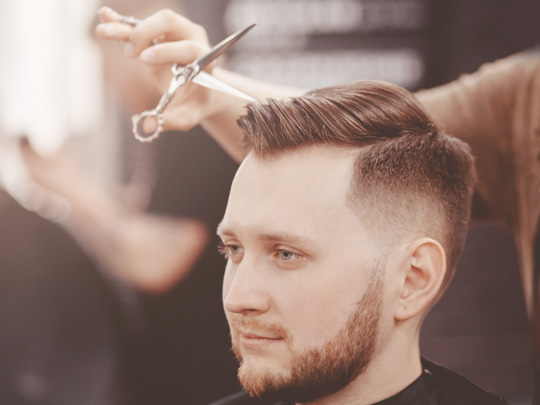 Undercut with Beard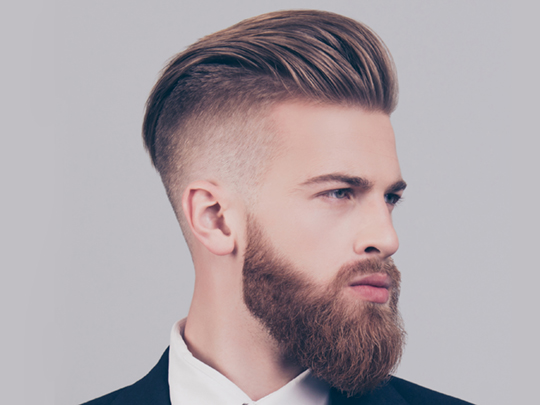 Whether you're clean-shaven, sporting a full beard, or somewhere in between, there is an undercut hairstyle that will complement your personal aesthetic. How you groom your beard will strongly influence your overall look, so be sure to keep that in mind when choosing an undercut hairstyle.
Will an Undercut Suit You?
In short, yes. Of course, you have your own unique hair type, facial structure, head shape, beard preferences. And, you operate within various social and business settings. That said, there are definitely one or more undercut variations that can be adapted to fit the look you want to go for.
There is no single face shape that works best for every undercut hairstyle. The key to choosing the right look is to be aware of your natural features. For example, soft vs. angular, round vs. long, small vs. large forehead, small vs. square jaw, etc.
Before selecting a hairstyle, check out models who have a similar look to yourself. Once you have made your choice, ask your hairstylist for their honest opinion on what adjustments, if any, should be made to better cater to your unique characteristics.
A major factor determining which undercut hairstyle will work for you is how long your hair is on top and how much of it you would like to keep. Thus, we've done the hard work for you in selecting the hottest undercut hairstyles that you should consider and arranged them by length.
Short Undercut Hairstyles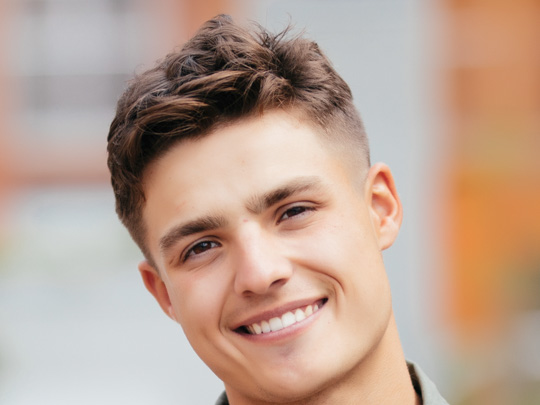 Shorter undercut variations have the advantage of requiring relatively less maintenance while offering a stylish and masculine look. However, shorter doesn't necessarily mean you need to sacrifice creativity. Shorter cuts can range from subtle and suave styles to edgy and loud variations. Here are some of the hottest short undercut hairstyles currently trending.
Medium Undercut Hairstyles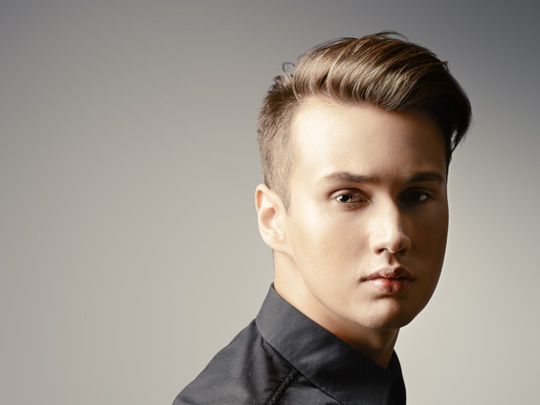 If you don't mind investing the time each day to achieve the look you want, consider a medium undercut. Some choose this cut to showcase and even exaggerate the natural properties of their hair. Another option is to use the length to create a striking look. Here are some of the most popular medium undercut hairstyles for men this year.
Long Undercut Hairstyles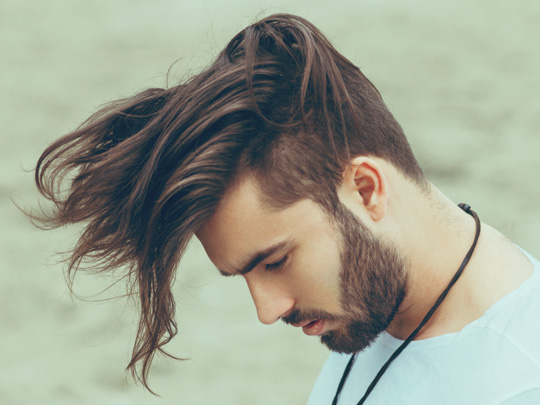 Long undercut hairstyles are characterized by short sides with long hair on top. The volume results in a striking look that's bound to draw attention. These styles are particularly favoured by men in creative fields who want to express their freewheeling spirits. Below are some of the long undercut hairstyles for men making waves this year.
Undercut Hairstyles Variations
Wavy Hair Undercut
If you have wavy hair, now is the time to embrace its untamed lines. You've seen this look rocked by many male models and notable men in creative fields. Regardless of whether you go for a fade, taper, or detached undercut, you'll make your mark. Depending on your hair's consistency, you'll likely find styling wax to be your friend.
Curly Hair Undercut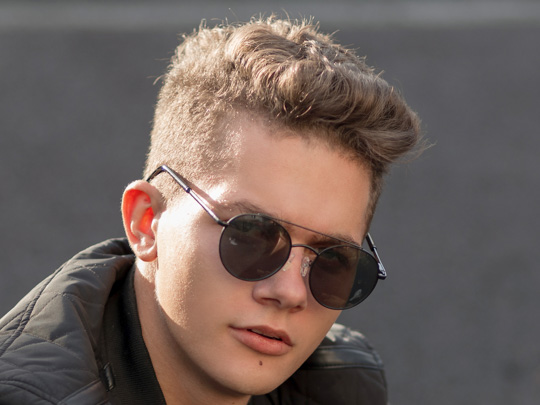 If you have a perm or naturally curly hair, leave your top longer and make the most of it! An undercut will emphasize your curls in the right way. The key is knowing your hair consistency well so that it looks full and robust.
Undercut with Fringe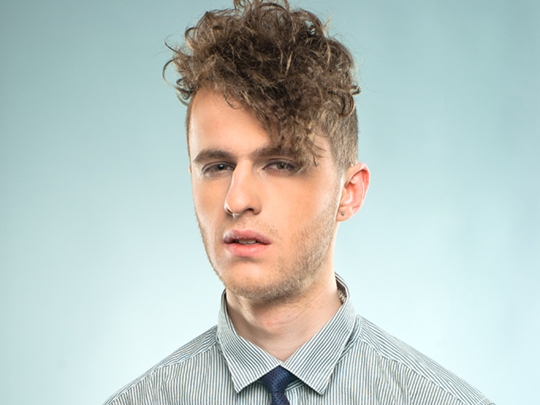 Stylish haircuts with fringes can come in a variety of styles. Whether you have voluminous, curly bangs, or a thick, straight fringe, this style can be adapted to fit. Your bangs only need to be long enough to cover your forehead. The hairstyle is ideal for guys with large foreheads or longer faces, as it will appear to shorten the face length.
Undercut Quiff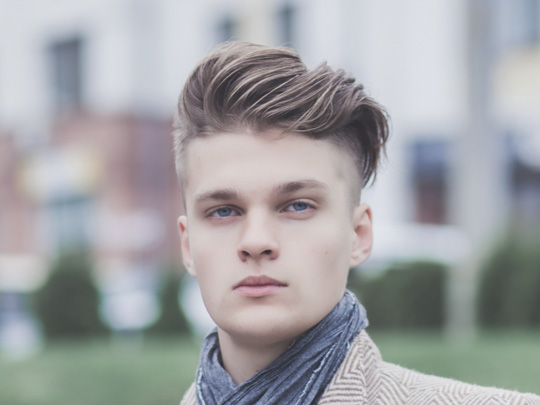 If your hair is thicker than usual, then the undercut quiff is for you. To showcase the difference in length, you may choose a sharp cut. Alternatively, consider a gradual fade or taper if you want to go for a more understated look. Either way, you're going to look suave and stylish.
Undercut Mohawk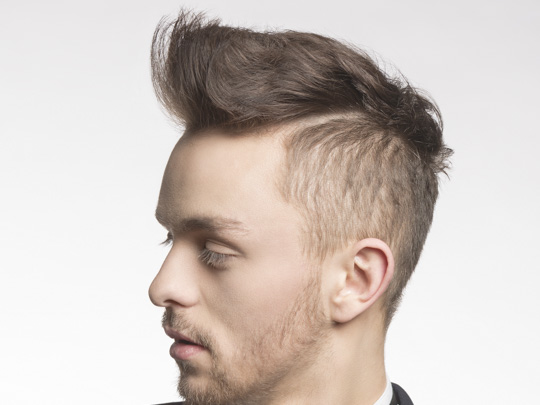 If you're a lover of the mohawk haircut, but concerned about how it will be perceived, know that an undercut makes it much more acceptable in a variety of settings. Some men even go for a cool fauxhawk because the sides are short but not shaved.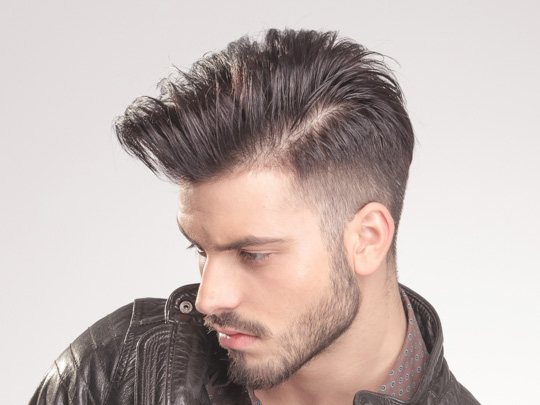 Side part undercut hairstyles are timeless. They were first recorded during the Victorian area, saw a resurgence in the early twentieth century, and are on-trend again. Breathe new life into your classic haircut with a comb and change your part. It's simple but dramatically changes your look for the better.
Hard Part Undercut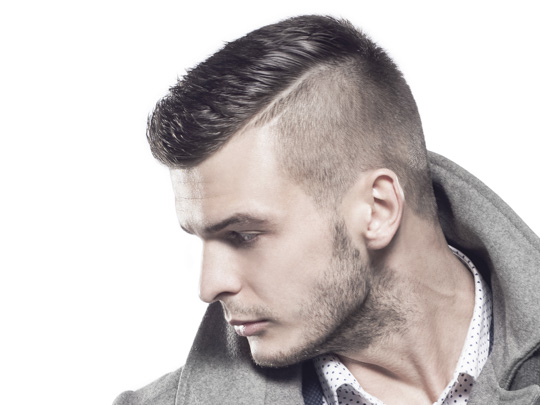 A great alternative to the classic fade haircut is an undercut with a hard part. It is a stylishly disconnected hairstyle featuring a visible line between the undercut and top. Many consider it an elevated and classier version of side-part hairstyle, and it can work for many situations. Many guys say they love this look because they can change it up at any time by just combing over or slicking back their hair.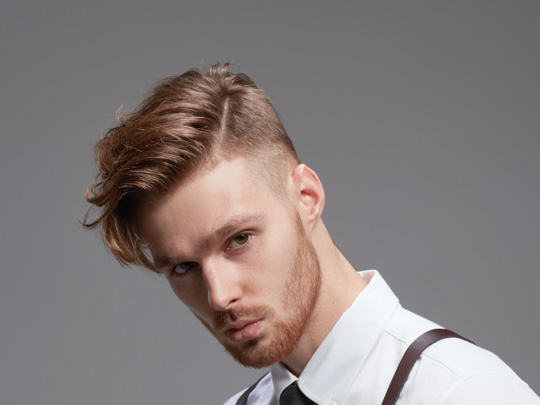 Are you wild or dapper? How about being a bit of both with the side-swept undercut. It's ideal for straight hair, but also workable for wavy and curly hair—if it's longer. One glance at a photo is all your stylist will need to understand what you want.
Long Fringe Side Swept Undercut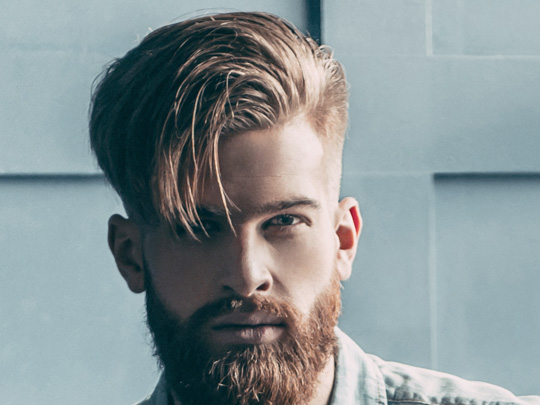 The side-swept undercut is a rare variation that carries a whole lot of attitude. The sides and back are trimmed short in the typical undercut method. However, the hair on top has several inches of extra length. This asymmetrical look is bold and striking.
Pompadour Undercut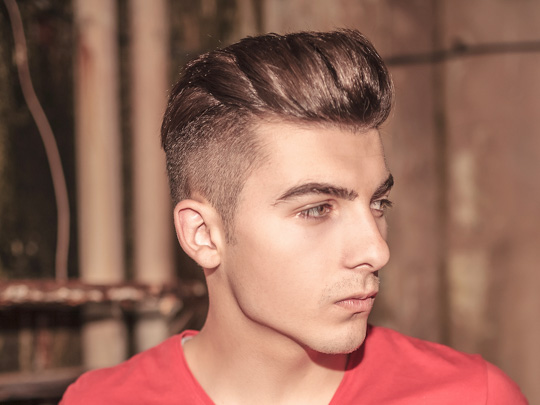 Make your presence felt while showing your playful side with the pompadour. When combined with the ideal undercut, you have a hairstyle that turns heads and announces your arrival.
Hard Part Pompadour Undercut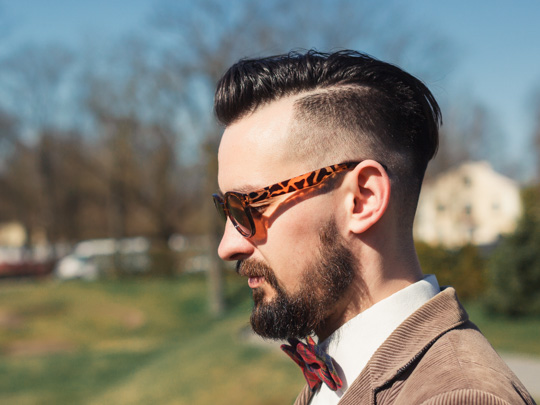 Seeking a great looking short hair undercut? This one has been styled using a classic comb-over to form a mini pompadour that is disconnected with a hard part. The result is a sharp look that sets you apart from the crowd as a man of taste and style. This isn't as easy as it looks, so be sure to show a picture to your barber and talk about your goals first.
Slicked-Back Undercut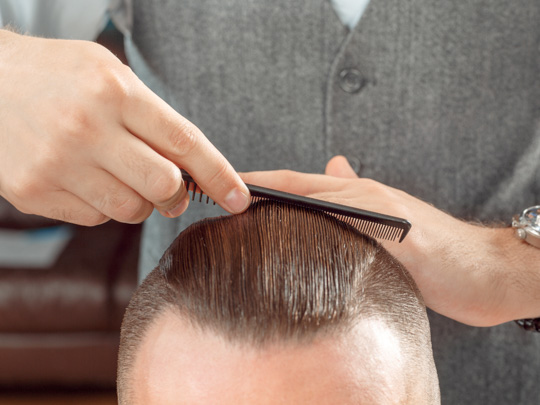 The slicked-back undercut has been worn by men who embody the alpha male archetype while exuding style. It is a high-contrast style, meaning that it uses the "short sides, long top" configuration along with slicked-back hair. Ideal for ambitious business professionals, yet it can look hot on a date, at a party, or in any casual setting. Be sure to have your barber tailor the undercut on the sides to suit your hair length and type.
Undercut with Comb-Over or Brushed Back
If you have medium length hair and are seeking a look with more volume than the slicked-back undercut, consider a comb-over or brushing your hair back. This flexible hairstyle can be adjusted to fit your taste. Depending on your hair type, styling wax or pomade will aid in keeping the volume of hair on top properly brushed back. You'll be a man who is in demand.
The Keys to Success with an Undercut Hairstyle
We've given you a lot to digest in this article, so let's review how to take action toward getting an undercut hairstyle that will take your look to the next level.
1. Know What You Want
Before making an appointment with your favourite barbershop or hairdresser, it's important to be clear on exactly what you want. Make sure you can describe it and find a photo to show your hairstylist.
2. Be Open to Making Adjustments
When you sit down and start talking to your stylist, don't take the approach of giving them orders. Tell them what you want, but also ask for their opinion and advice. After all, this is their speciality, and they may see opportunities for refinement to your preferred look that you aren't aware of.
3. Watch, Learn and Ask
The cut is the foundation. Next, your stylist will use one or more hair products and techniques to set the look. Be sure to watch how they do it and ask if you need clarification. Find out what they recommend in terms of products that will fit your hair type and your chosen style.
4. Maintenance
Your hair is going to grow. However, many undercut hairstyles require real skill to cut. Rather than trying to do touch-ups at home with your clippers, it might make sense to regularly drop by your barbershop for maintenance trims. The frequency will depend on how fast your hair grows and the style you've chosen.
Sours: https://gatsby.sg/mens-lifestyle/undercut-hairstyles-men-classics-hottest-trends/
NO MORE UNDERCUTS - TheSalonGuy
Check out these very different types of undercut hairstyles for men. All types, ages, hair colors and hair types. Get lots of ideas for your undercut haircut.
So you're considering an undercut haircut?  Not my first choice, but then undercut styles don't work for me. I can't speak for you.
The key is to get undercut ideas for men, which is what we offer.  We have 99 undercuts for men (probably have more very soon as your site is growing like crazy).
Check out the gallery below. Thanks for stopping by.
Below we cherry-picked a few cool undercuts for men.
When it comes to those hairstyles that have been around on and off but have never disappeared for good, the undercut has to be on the top of the list. This style of hair was particularly fashionable and trending during the period of the 1910s to 1940s after which the hype surrounding it died down a little. However, much to nobody's surprise, the undercut made quite a massive comeback during the 1980s and finally, it has now become one of those classic hairstyles that are incredibly youthful, versatile, and work well with all types of hair, be it wavy, straight, or curly!
Take a look at some of the most amazing and unique types of undercut hairstyles for men.
Celebrities with Undercut
Here's Johnny Depp sporting an undercut.
Last May 28, 2018, Johnny Depp performed on the stage of the SK Olimpisky in Moscow with his band. He rocked the crowd with a slick brushed up undercut hairstyle.
Click here for Johnny Depp's hairstyles over the years
Last November 13, 2018, Johnny Depp was at the premiere for Fantastic Beasts: The Crimes of Grindelwald at Leicester Square. He showed up with a pitch-black detailed suit and a long undercut hairstyle.
Click here for Johnny Depp's hairstyles over the years
Here's Justin Bieber sporting an undercut.
The singer performing at Madison Square Garden on November 28, 2012, with a neat undercut incorporated with a brushed up hairstyle. It was dyed in chestnut blonde that goes perfectly with his skin tone.
Click here for Justin Bieber's hairstyles over the years
Here's David Beckham sporting an undercut.
David Beckham warming up before the MLS game between the Los Angeles Galaxy and the Portland Timbers on April 14, 2012. He cut his hair with a neat undercut and styled it with a front brushed up.
Click here for David Beckham's Hairstyles over the years
Here's Channing Tatum sporting an undercut.
Actor Channing Tatum rocked a short side-swept undercut incorporated with a comb-over hairstyle. This was taken at the Los Angeles premiere of "22 Jump Street" held at the Regency Village Theatre on June 10, 2014.
Click here for Channing Tatum's Hairstyles over the years
Here's Chris Pine sporting an undercut.
Chris Pine wore a dark brown undercut hairstyle with long side-swept bangs and five o'clock shadow to pair his classy gray suit at the Los Angeles 2014 premiere of "Horrible Bosses 2".
Click here for Chris Pine's hairstyles over the years
Here's Zac Efron sporting an undercut.
Zac Efron styled his platinum blond hair with a pompadour undercut during the "Extremely Wicked, Shockingly Evil And Vile" premiere at the Curzon Mayfair, London on April 24, 2019.
Click here for Zac Efron's Hairstyles over the years
Here's Lionel Messi sporting an undercut.
On November 11, 2017, Argentina national football team captain Lionel Messi readied before the match against Russia in Moscow. He wore his uniform with a full and thick beard topped with a spiked fade haircut.
Click here for Lionel Messi's hairstyles over the years
David Beckham is one of those very few men who never fail to pull off a variety of hairstyles and here he is rocking an undercut with absolute perfection! This is a classic slicked back undercut hairstyle with long hair at the front that is kind of gelled back, almost towards the middle of the head. The key with this undercut look is to have long hair and then slick it backward with a good quality hair product in order to give it a very polished and refined look. With the addition of that light beard, he has greatly accentuated the overall look.
Click here for David Beckham's Hairstyles over the years
Here's Brad Pitt sporting an undercut.
This is the ever-famous and handsome Brad Pitt donning yet another classic hairstyle called the straight undercut. The most distinctive feature of this look is its super sleek appearance with straight locks. This style is also sharp and dapper-like with a smooth top followed by really short hair at the bottom. The best part about this undercut look is how hassle-free it is and how chic it looks. Brad Pitt has taken it to a whole new level with that light scruff and mustache that perfectly matches his hair.
Click here for Brad Pitt's hairstyles over the years
If you are one of those who love experimenting with their hair, you ought to take a leaf out of Justin Bieber's books. He is rocking this long hair undercut which is the perfect look for those looking to make a statement with this hairstyle. It includes short hair on the sides with longer, unrestrained hair in the front. The goal of the long hair undercut is to add a sense of style to long hair that otherwise might look a little unkempt. Justin Bieber has further enhanced the look with blonde-dyed hair and darker undertones. The dark and light create a juxtaposition that looks just amazing!
Click here for Justin Bieber's hairstyles over the years
For all the football lovers and Cristiano Ronaldo fans, this is perhaps a treat to the eyes! This is a type of disconnected undercut hairstyle that helps provide a stark contrast between your shaved sides and the hair on the top of your head. As the name evidently suggests, you can see quite a clear disconnected shaved line between the top of your head and the sides. If anything, this style adds quite a dimension and an elevated element to the entire look. This undercut is perfect for those who have a highly defined and chiseled face structure since it tends to enhance the features to a great extent.
Adam Levine was edgy with his black leather jacket and brushed back undercut hairstyle at the "The Voice" Judges Photocall – April 2014 at The Sayers Club on April 3, 2014 in Los Angeles, CA.
Click here for Adam Levine's hairstyles over the years
This is like a mixture or a hybrid version of a disconnected undercut, slicked back undercut as well as a pompadour undercut. All three different styles are merged into one that perhaps only someone like Zac Efron can pull off with such elegance and perfection. He is looking utterly dashing in this look where he has channeled the 1950s in his hair with the addition of the unique pompadour. It seems to be working really well with his long locks and has brought forth quite a slick and a stylish look. That million-dollar smile and those ice-blue eyes further enhance it, making him look all the more gorgeous!
Click here for Zac Efron's hairstyles over the years
Zayn Malik doesn't just have a beautiful voice, but he also has a great sense of style that you can see here with his incredibly unique layered undercut hairstyle. This is a great choice of style of hair for those who wish to do something different with their hair. The layers on the top with partially shaved hair on the sides seem to be adding fullness and depth to the overall look from a visual perspective. The short layers on the top of his head are also amplifying the tresses and making the hair look all healthy and voluminous.
Photos
This has to be one of the most classic examples of the disconnected undercut with a really fine, clear line separating the top of the hair from the clean-shaved sides. The front has quite voluminous layers of hair and the addition of the messy scruff greatly complements this undercut hairstyle. It seems to be emitting quite a mysterious look which is perfect for those who fancy playing a little with their hair.
This is a very characteristic type of undercut blowout hairstyle but with perfectly styled hair. It includes a very clear, well-defined side parting with short hair gelled back with great precision and care. It is an excellent undercut choice for those who want to look stylish yet wish to give a very formal and professional kind of a look.
If crazy, bold and funky is your way of doing hair, perhaps you could try pulling off something like this. This is yet another short undercut, but with front hair that has been dyed a bright, bubblegum pink! There are also subtle hints of grey dye that offer a great contrast to the pink and look just so different and interesting.
This is a simple yet chic side-swept undercut hairstyle with longer proportions of hair towards the top. This helps make the parting work really well and blend in perfectly with the shorter sides of the haircut. This style of undercut hair is great for those who wish to jazz things up a little with their hair and yet want to play it safe without creating any hair disaster!
This is probably the boldest of all undercut hairstyles since this one includes a hair tattoo that starts from the sides and extends all the way down towards the nape of the neck. It is a mixture of the short undercut and the side-swept undercut, just with the addition of a funky and unique hair tattoo.
All those with a weak heart should probably stay away from this undercut hairstyle because it is nothing short of crazy, risky and simply exaggerated! One of its key features is the long-slick of hair that goes back all the way down to the middle of the head. The sides and the bottom back are completely shaved off and the only hair you will see is the thick lock from the front in the middle that is gelled all the way towards the back.
If you have slightly long hair with a long beard and are confused as to what hairstyle to go for, this is the one for you. This look includes longer layers and sections of hair towards the top which is the first step towards perfectly harnessing a side-swept undercut hairstyle. The front lock has also been styled a little with subtle hair waves going on that provide the look with an overall elegance and precision.
This is one of those fancy and slick undercuts that look exceptionally stylish but are yet so simple. The front and back seem to have quite thicker and longer while the sides have been shaved with great precision. The hair from the front has also been swept a little towards the side that adds a touch of grace to the overall look.
Yet another undercut look for those with a strong heart who love playing and experimenting with their hair! This is an example of a perfectly disconnected undercut that still looks so different than the standard or the classic undercut look. You can see a very sharp line between the top of the head and the sides. The top has properly styled and slicked back hair while the sides have almost been clean shaved.
Undercut for Thick Hair
Here's a hipster with a killer beard and undercut with really thick hair.
Undercut with Long Hair
Here's an example of a younger man getting an undercut with long hair on top.
Undercut with Medium-Length Hair
Undercut with Dyed Hair
Below is an undercut with short hair on top that's dyed.
Sours: https://www.headcurve.com/hair/undercuts/
Of undercut types
And like always, we recommend taking a picture to your barber or stylist so you get exactly what you're looking for. This is especially important if you're after a unique variation on the undercut hairstyle. If you're after a certain undercut look, show your barber or stylist a picture so they can estimate the length of the top and sides.
If you're interested in changing up your undercut but don't know where to look, check out these stylish variations.
Slicked Back Undercut
The slicked back undercut is a contemporary variation of the regular undercut hairstyle, and you've probably seen it around quite a bit. It's immensely popular in men's hair fashion and men's fashion overall.
In a traditional undercut, the hair is usually parted, but slicking the hair back is a common stylistic twist. The slicked-back look is reminiscent of a pompadour and is inspired by the greaser aesthetic of the fifties. It goes well with classy outfits and works nicely for nearly all occasions.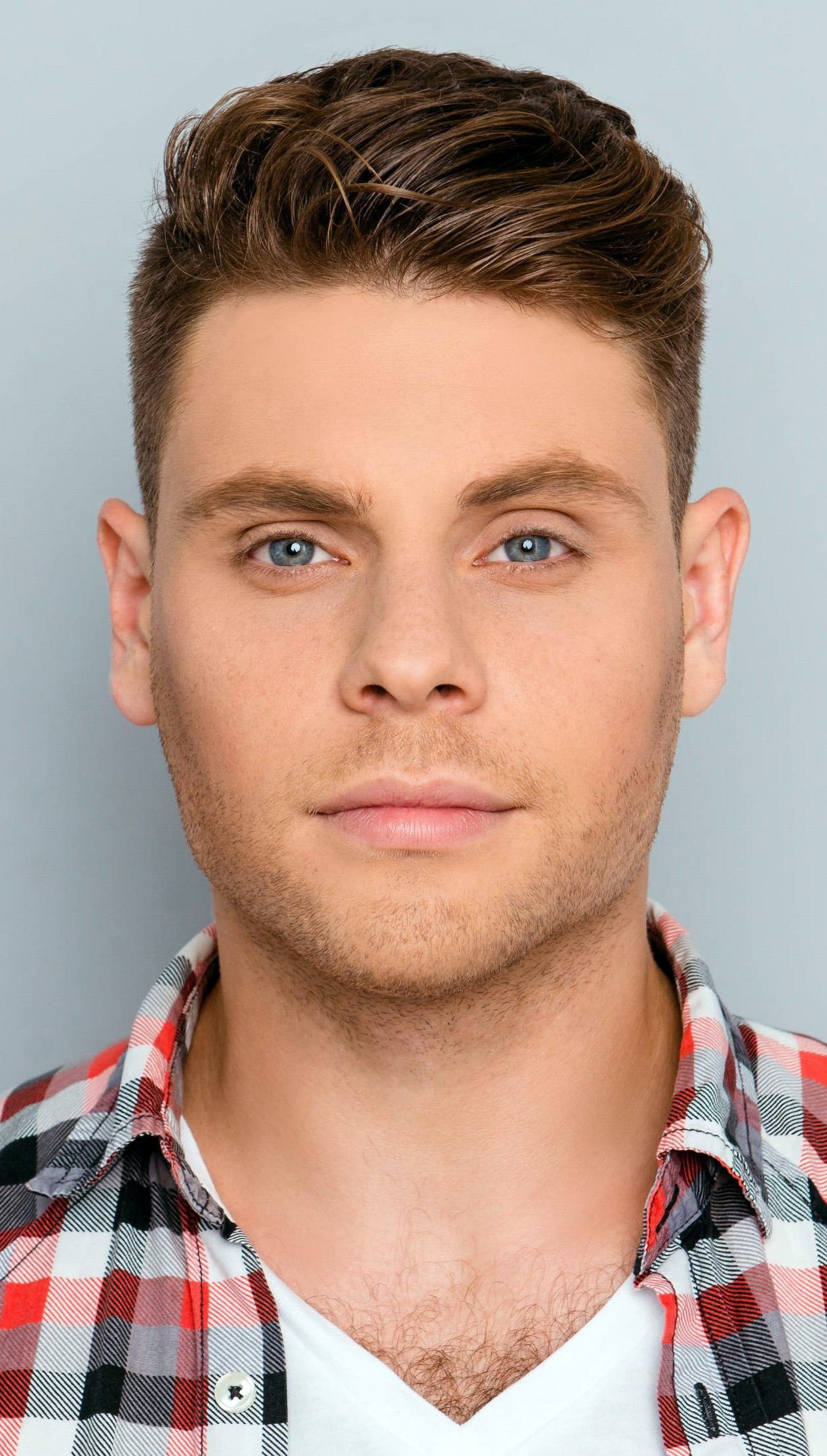 How to style: The key to the slicked back undercut is a high-quality hair product. Depending on your hair type and personal preference, you can use a pomade, a gel, or a wax. We recommend pomade because it will give you the trademark glossy shine of a slicked back undercut.
For most hair types, a product with a medium hold will work, since the slicked back look doesn't require a ton of volume. A product like Suavecito Original Hold Pomade or Layrite Original Pomade will give you both hold and shine. These are both water-based pomades, so your hair won't be greasy when the product is in your hair. (Bonus: water-based pomades also wash out of your hair much more easily.)
Sours: https://haircutinspiration.com/undercut-hairstyle-for-men/
Injection Molding - Undercuts (How to Avoid and Design)
I pushed her aside, looked into her eyes and said quietly: -Patience and you will get whatever you want. Now pack up and let's go. -Where to. -The bath is waiting for us.
Similar news:
He gazed at two cone-shaped hills, with pale pink tops and balls at the ends. flour of the highest quality. And only blue veins betrayed her a little transparency.
435
436
437
438
439