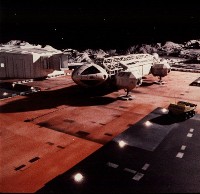 The Eagle is the iconic image of Space 1999. Brian Johnson's design is clearly influenced by 2001 A Space Odyssey; in turn, it influenced Star Wars and later science fiction (George Lucas visited the SFX studios during filming). Johnson says: "The moonbus in 2001, when Doug Trumbull and I were working on it, way back in '64, '65, I decided that it should look nicer if we had bits of plastic kit and girdering stuff all over it.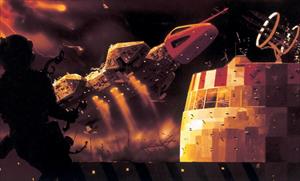 The Eagle was originally named the MTU (Multiple Transportation Unit), "a workhorse, a thoroughly utilitarian spacecraft." Here is an early Chris Foss version, based on Brian Johnson's design. Johnson told TV Sci-Fi Monthly in 1976 "The Eagle was based on a kind of grass-hopper shape which just sort of grew. It was considerably shorter before we started filming, but later it elongated." The Foss painting here shows the command module, leg pods and framework, but there is no discernible passenger module section.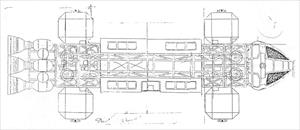 These plans, labelled "Revised MTU 26 8 73" (26th August 1973) show the near-final form of the Eagle. The drawings show some evolution in the design- the introduction of the "M" pattern at the ends of the top spine, and the shape of the Eagle windows, the three vertical rocket engines under the passenger module. These rough plans were then turned into engineering designs by draughtsman Michael Lamont (later assistant art director on the Star Wars films and many James Bond films) and sent to Space Models, where the model was built in 3 different scales by company director "Wag" Evans, and model makers Gary Dickens, David Seymour and John Phillips.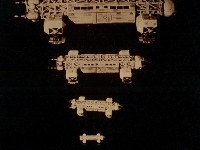 The original sizes built by Space Models in 1973 were 44" (112cm, approximately 1:24 scale), 22" (56cm) and 11" (28cm). As the series progressed, other models were built- two more 44" Eagles, another 11" Eagle, and a small 5" (14cm) Eagle. This publicity shot from mid-Year 1 shows the four scales from 44" to 5".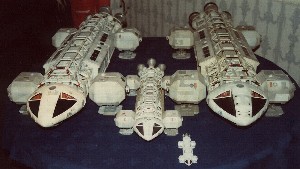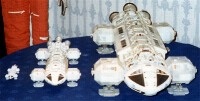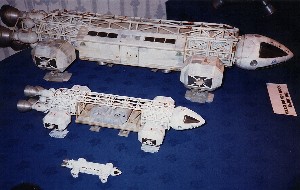 Two of the 3 44" Eagles, the original 22" Eagle, and a replica 5" Eagle, at the Psycon convention in 1992.
| | |
| --- | --- |
| | These are the 11" and 5 1/2" Eagles. Note the smaller Eagle's passenger module is red on the side; this model was seen in distant shots of Commissioner Simmonds Eagle over the Moonbase in Breakaway. |
| | Martin Bower's 22 inch Eagle (only seen in publicity shots for Bringers Of Wonder), with two 11 inch Eagles and the 5 1/2 inch, which here has lost one pod. The second 11 inch Eagle has very odd framework. |
| | Three Eagles were built in the largest 44" size (actually 43 1/4 inches long, 1.1m). The scale is about 1:24. There was a larger section made to 1:8 scale (seen with the laser turret and lowering model astronauts); if this had been completed, the model would have been 10' 9 3/4" long (3.29m). These are the second and third models. The central pods are detachable; the booster pod is first seen in Guardian Of Piri and featured prominently in The Metamorph and All That Glisters. |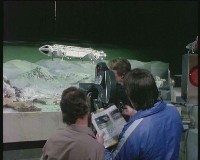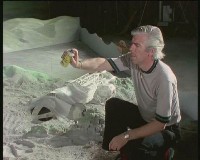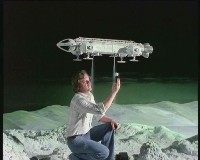 Filming the model (more photos). The rocket jets under the passenger module of the 44 inch models were functional. Freon gas canisters were built into the passenger module, and when the valve was opened, freon jetted out beneath the Eagle. To open the valve, an electric current was sent down the wires suspending the model. The Eagle was suspended by two wires, attached to each end of the top spine. Apart from the initial episodes, these two end bars have black insulating tape around them, to stop the wires shorting through the brass.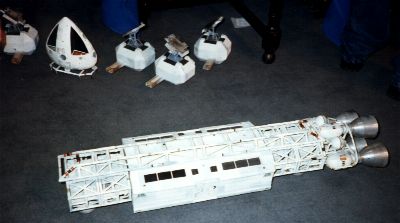 The command module and side leg pods can be disassembled; this was done for maintenance and occasionally for "damaged" Eagles. The framework is made up of 55 feet (16.7 metres) of quarter-inch brass tubing (steel in the third Eagle).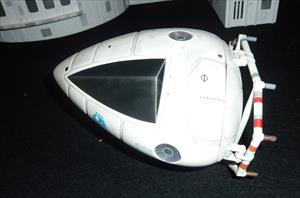 The Command Module detached. The outer frame ring from the main body is fixed to the command module, and simply slots in. There are two screws on the top, which hold the back of the cone (with the Revell Gemini astronauts) to the front.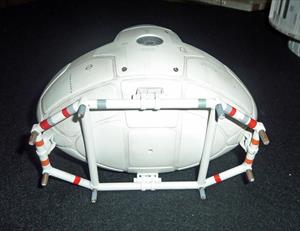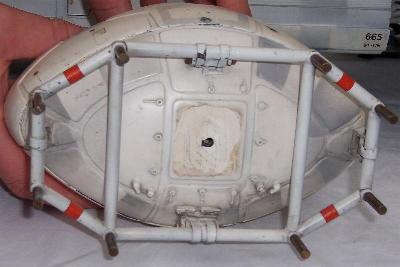 The rear door doesn't have any resemblance to the interior set door. There is slight detailing differences between Eagle 1 and 2 command modules, shown here.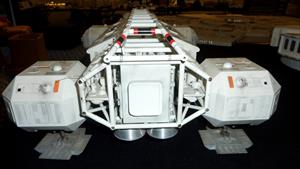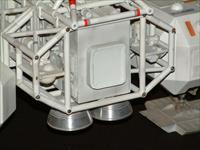 The main body. The Eagle command module "door" is merely a rectangle.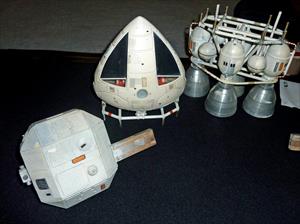 The command module, leg pods and rear engines simply slot into the main body.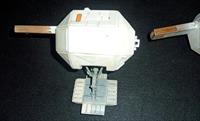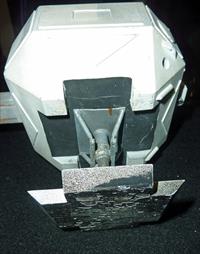 You can also view the Eagle laser turret in the small models gallery.
---
Contents copyright Martin Willey
Sours: https://catacombs.space1999.net/main/models/eagle/w2meagle.html
Exclusive: Hero Collector shoots for the Moon with new 'Space: 1999' die-cast spaceships
Image 1 of 5
Image 2 of 5
Image 3 of 5
Image 4 of 5
Image 5 of 5
As a child of the 1970s, few sci-fi TV series had more impact on my young brain than "Space: 1999." the live-action British import from "Thunderbirds" creators Gerry and Sylvia Anderson.
The pre-"Star Wars" action adventure starred Martin Landau, Barbara Bain, and Barry Morse as members of Moonbase Alpha, who braved the perils of deep space after nuclear explosions ejected the moon from Earth orbit and sent it drifting into the galaxy. It ran for just two seasons (1975-1977) but made lasting impressions with its tense storytelling and amazing visual effects.
Related: The 25 Greatest Spaceships of Science Fiction
To recapture the magic of "Space: 1999," Eaglemoss Hero Collector is releasing the first in a series of collectible die-cast miniatures from this influential classic, starting with the memorable Eagle One transport. The England-based firm specializes in replica props, statuettes, miniature vehicles, and detailed spaceship models seen in pop culture franchises like "Alien," "Star Trek," "Battlestar Galactica," "James Bond," "Back to the Future," "Harry Potter," and "Ghostbusters."
Here's the official description:
"This new series of highly-detailed diecast models brings to life the many variations of the hero ship from the show: the Eagle One! Designed by Academy Award-winning SFX director Brian Johnson ("Alien," "Star Wars," "2001: A Space Odyssey"), this iconic shuttle was the crew's primary mode of transport.
"Almost 10" in length, each of the Eagle One models will be accompanied by a companion magazine packed with design info, interviews, and other details. The Eagle One had several alternate configurations on the show, that will see their time in the limelight in Hero Collector's new series — starting with its transport module, used for deploying crew to and from alien worlds. The classic Eagle One Transporter will be available first in July 2021, followed by more in the months to come!"
Related: Hot Wheels Perseverance lands in stores ahead of rover on Mars
"As someone who grew up watching "Space: 1999" and would come flying into the room when that groovy theme tune started up, it's a real pleasure to bring the iconic Eagle One Transporter to the show's many fans worldwide," Eaglemoss Hero Collector Brand Manager Chris Thompson tells Space.com.
"Not only will we be bringing other variations of this classic ship to life, but it marks our first foray into the rich worlds of Gerry and Sylvia Anderson, which occupied so much of my childhood. It's my hope that other people will enjoy these Eagles as much as we do, and that we'll have the opportunity to see other classic ships take flight over the months and years to come."
"Space: 1999" fans and collectors can learn pre-order details, including info on the next Eagle One configuration, at www.herocollector.com and www.eaglemoss.com.
Follow us on Twitter @Spacedotcom and on Facebook.
Join our Space Forums to keep talking space on the latest missions, night sky and more! And if you have a news tip, correction or comment, let us know at: [email protected]
Sours: https://www.space.com/space-1999-die-cast-spaceships-hero-collector-exclusive
First Look: Space: 1999 Official Collection
Coming soon to Hero Collector, a new series of collectable ships, based on the 1970s classic sci-fi series Space: 1999.
Space: 1999 followed the spacefaring fortunes of Moonbase Alpha, whose 311 personnel were left stranded when a massive nuclear explosion sent the Moon itself hurtling into deep space. This official die-cast collection presents highly-detailed scale models of the ships and vehicles seen on the show.
Space: 1999: the Official Collection Part 1 features the Eagle One Transporter.
Designed by Academy Award-winning SFX director Brian Johnson (Alien, Star Wars, 2001: A Space Odyssey), the Eagle One is the iconic hero ship of Space: 1999, and the primary transport for the crew of Moonbase Alpha. This modular vessel had many alternative configurations: it's presented here with its transport module.
Powered by four fusion rockets, the Eagle One could reach speeds of 23,700 miles per second, and fly for up to 48 hours. This Transporter Eagle (or "Type A") could hold 8-12 passengers, plus the pilot and co-pilot, sacrificing space for scientific equipment or weaponry in favour of a passenger pod.
The 25cm die-cast model comes complete with a 16-page authorative magazine on the classic ship and series.
Stay tuned for more infomation soon.
Sours: https://www.herocollector.com/en-gb/Article/first-look-space-1999-official-collection
Space: 1999 - Eagles Crashed \u0026 Lost: Year 1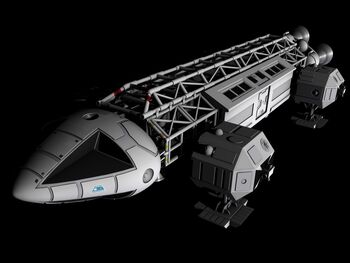 Sublight engine
4 nuclear fusion rockets
4 chemical fuel landing rockets
strap-on booster units
Sublight Speed
(Standard) 0.15c (15% speed of light / 27,942.4 miles per second / 44,969 km/s)
(With Spine Booster) 0.8c (80% speed of light / 149,026 mi/s / 239,834 km/s)
Range
16 billion miles (25.74 billion km) [with extra fuel reserves]
Armament
Fixed laser under the nose module.
Extendable turret in front of centre section.[N 1]
Passengers
(Type A only) 8
(Types C & E) 4
(Type D) 4 passengers or 2 beds
Other Info
Fuelled with Compressed Hydrogen.
Standard flight endurance is 96 hours.
First flight occured on 3rd August, 1992

The Eagle Transporter is the main mode of transport for the inhabitants of Moonbase Alpha.
Overview
The Eagle (designed by Brian Johnson) is the primary form of transportation for the inhabitants of Moonbase Alpha. A multipurpose craft, it is divided into three basic sections; the command module, the service pod, and the superstructure. Capable of speeds up to 23,700 miles per second, or 15% of the speed of light, it is powered by four nuclear fusion rockets, and carries fuel reserves for 48 hours of flight. There are 5 main types of Eagle Transporter.
Variants
Transporter Eagles
The Transporter Eagle, designated Type A, is fitted with the standard passenger pod and is capable of holding 8 passengers (up to 12 in an emergency), in addition to the pilot and co-pilot.[N 2] It is used for day to day transportation when special scientific equipment is not needed, and there is no anticipated danger.[4]
Reconnaissance Eagles
Looking very similar to the transporter pod Eagles, these are designated as Type C, and come equipped with various types of sensory devices for exploratory missions. They also contain a computer that can either be tied into Alpha's master computer or work independently.[1]
Rescue Eagles
Identifiable by the bold red stripes on the pod, these Eagles are designated Type D, and have been adapted for field diagnosis and treatment of injury or disease that may be encountered on a planet's surface or in deep space. Manned by medical personnel, Rescue Eagles are equipped with mobile beds, patient-monitor units, and facilities for field surgery.[1]
Freighter Eagles
Equipped with a cargo pod, the Freighter Eagle is designated Type B, and used for transporting supplies and equipment to exploration teams on a planet's surface, and for the return elements vital to Alpha's environmental and reprocessing systems. They can also be used as space-borne tankers for the refueling of Eagles with insufficient reserves for the trip back to Alpha.[1]
Laboratory Eagle
With a modified version of the passenger pod equipped to serve as a remote laboratory, this Eagle is designated Type E, and can be used to locate and refine crude minerals on the planets surface, eliminating the need to transport bulky raw ores back to Alpha. This pod also serves as a base for planetary-contact-and-survey teams. It can carry food and water and recycle air to support the team for several weeks.[1]
Specialty Modules
The Eagle can also accommodate one of several specialty modules, such as the winch platform used to disperse the nuclear waste canisters in Area 2. There is also an additional booster unit that can be added to the super-structure which can increase the range and power of the Eagle.
Timeline
January 27, 1988: The WSC awards contracts to six primary contractors for the construction of the proposed Eagle Transporter. They are:

Command Module -- Grumman Corporation
Mission Modules -- McDonnell Douglas Astronautics
Lift Engines, RCS and Main Propulsion -- Aerodyne/Westinghouse[N 3]
Electronics and Computer Systems -- Maurasan Aerospace[N 4]
Gravity Compensation/Structural Mainframe -- Boeing Company
Life Support System -- Hamilton Standard/United Aircraft

June 2, 1992: The Eagle Transporter replaces the Falcon shuttle
Nov 14, 1992: The WSC approves the construction of an Eagle production facility to be located beneath Moonbase Alpha
Notes
↑The turret is normally only used when the Eagle is on the ground.[3]
↑Some examples, such as the Eagle that delivered John Koenig to Moonbase in Breakaway, carry a stewardess in addition to the flight crew.
↑This is either the Westinghouse Astronuclear Laboratory or the Westinghouse Advanced Energy Systems Division
↑Possible reference to Maura Corporation in San Francisco
Sources
Sours: https://moonbasealpha.fandom.com/wiki/Eagle_Transporter
1999 eagle space
From the balls I move to the penis, I run the tip of my tongue around the head several times. Strong palms again fall on the back of my head, and the penis bursts into my mouth. Sosu, although it's more likely, they fuck me in my mouth.
Space 1999 1/72 scale Eagle Build Part 1
oohh. how big he is. How I want to feel him in me, my mom passionately whispered.
You will also like:
Instead, we were instructed to sit down and watch. We sat on an old couch just a few feet from David. I could almost touch it. David piteously pleaded with his mother to send me and Petty away.
407
408
409
410
411