1.8 to 21 Mhz Magnetic Loop antenna - Magnetic loops are a compromise antenna and performance will be down on a full size-wire antenna particurlarly on lower HF Bands. This article compare this magnetic loop with a full-sized wire antenna on 80 meters by VK3YE

[ Hits: 12881 | Votes: 33 | Rating: 6.32 ]
10-80 meters Mobile HF antenna - This is a combination center and top loaded multiband antenna by Mark D. Lowell, N1LO PDF File

[ Hits: 11026 | Votes: 5 | Rating: 2.4 ]
160m to 10m Sterba Curtain Antenna - Even if using a tuner this multiband antenna will let you operate from 160 to 10 meters. If you could only put up one antenna, this would be it. Project by N0KHQ.

[ Hits: 10161 | Votes: 7 | Rating: 6.57 ]
2-Element-DK7ZB-Quad for 5 Bands - 10-12-15-17-20m A description was in the German Ham-Magazine "Funkamateur" in Issue 11/2003

[ Hits: 14662 | Votes: 14 | Rating: 5.79 ]
40-10 Delta Loop Antenna
- A multi band inverted delta loop antenna project that can be used from 40 to 10 meters band with full details and analysis of antenna performances on each band, document includes EZNec reports and setup pictures

[ Hits: 13993 | Votes: 33 | Rating: 6.43 ]
5 Band Cubical Quad - EI7BA multiband cubical quad

[ Hits: 6683 | Votes: 8 | Rating: 7.13 ]
5 Band Telescopic Vertical Antenna - 5 Band 1/4 wave Telescopic Antenna. The 20m to 10m, antenna is simple and cheap to make, and has a performance that matches commercial antennas but at cost considerably lower. The design was purposely based on a telescoping fibre glass fishing rod as this allows it to be easily stowed away in the car.

[ Hits: 3168 | Votes: 3 | Rating: 9.33 ]
6 Band Inverted L Antenna MK3 - A multiband inverted L antenna

[ Hits: 3253 | Votes: 4 | Rating: 3.75 ]
6 Band Wire Antenna - This antenna article is geared towards new Hams and antenna builders looking for a very inexpensive 6 band antenna that can be efficiently fed with 50 ohm coax without a tuner by N4JTE

[ Hits: 4505 | Votes: 1 | Rating: 6 ]
6-Band Windom antenna pop - Theory and construction of a novel trapless center-loaded off-center-fed (cl-ocf) dipole or windom antenna for the 80, 40, 30, 20, 15 and 10m hf amateur radio bands

[ Hits: 49642 | Votes: 40 | Rating: 6.9 ]
80-10 m multiband wire antenna - G8OFZ multi-band antenna for 80-10m, this antenna appears to be a derivative of the Doublet and the Classic G5RV

[ Hits: 3663 | Votes: 1 | Rating: 8 ]
A Magnetic Loop antenna for 7-21 mhz - If you find external wire antennas obtrusive for amateur radio or short wave listening, then this is the antenna for you, is just 1 meter diameter

[ Hits: 3753 | Votes: 2 | Rating: 5.5 ]
A Multi-band HF loop antenna
- The multi band HF loop antenna, a good performer on 80 and 40-10 meters. This excellent article covers all aspects of designing a resonant loop antenna, examining gain and radiation patterns, and describing practical notes on how to build this antenna.

[ Hits: 10128 | Votes: 24 | Rating: 6.91 ]
A Stealthy HF Coat Hanger Antenna - A multiband stealth antenna. Tuner is required. The antenna is made from a $15, 500 ft roll of black #14 insulated stranded wire, about 120 small black wire ties, and maybe 30 or so large black wire ties.

[ Hits: 7240 | Votes: 5 | Rating: 9.4 ]
All Band Dipole - Antenna suitable for all the HF amateur bands, including the so called WARC bands by vk6ysf

[ Hits: 18280 | Votes: 3 | Rating: 7 ]
All Band HF Doublet - All Band HF Doublet for operation over all HF bands including 160m.

[ Hits: 1958 | Votes: 2 | Rating: 7.5 ]
An effective 3 band Wire DX aerial - A 3 band dipole for 10 15 and 20 meters band, easy to build, and that can be easily setup in any occasion, inclunding field days or portable operations

[ Hits: 13240 | Votes: 5 | Rating: 6.4 ]
An Improved Multiband Trap Dipole Antenna - This improved multiband trap dipole introduces a new trap design and a change in trap location. The antenna features double-coaxial-cable-wound traps having lower reactance and a higher quality factor (Q) than earlier coax-cable traps by W8NX

[ Hits: 8599 | Votes: 5 | Rating: 6 ]
Another vertical antenna for 30, 40 and 80 meters - This article is to describe a multi band DX-dedicated antenna offering a minimum of compromises (such as lossy traps), for the hams not having any high-support

[ Hits: 4300 | Votes: 4 | Rating: 3.5 ]
Backyard Multi-Band Wire HF Antennas - My Top Five Backyard Multi-Band Wire HF Antennas. A selection of the top 5 HF wire antennas for the backyard and for multi-band operation

[ Hits: 468 | Votes: 3 | Rating: 8 ]
Boomless quad antenna pop - VU2GX Girimajij article on boomless quad antennas

[ Hits: 34901 | Votes: 9 | Rating: 6 ]
Broadband Dipole 2MHz o 30MHz with no ATU - A broadband travelling wave dipole for HF bands, whose VSWR is less than 2:1 from 3 to 15 MHz and does not exceed 2.6 to 1 from 2.3 to at least 30 MHz

[ Hits: 3256 | Votes: 2 | Rating: 6 ]
Building the G3TXQ Hex Beam - This site provides guidelines to build a G3TXQ broad band hex beam R.F. antenna for the five amateur radio bands, 20, 17, 15, 12 and 10 meters. The G3TXQ broad band hex beam is a new development and actually easier to build than the classic hexbeam by K4KIO

[ Hits: 4206 | Votes: 6 | Rating: 8.17 ]
Center-Loaded Off-Center-Fed Dipole - 6 band - Multiband Center-Loaded Off-Center-Fed Dipole (CL-OCFD) antenna that work on 80m 40m 30m 20m 15m 10m

[ Hits: 7831 | Votes: 6 | Rating: 6.83 ]
Classic Multiband Dipole - The Classic Multiband Dipole Antenna QST article. The open-wire feed line dipole antenna is easy to install and offers surprising performance on several bands. You can install it in almost any configuration; it does not have to be strung in the traditional horizontal flat top

[ Hits: 1921 | Votes: 3 | Rating: 10 ]
Coaxial Traps for multiband antennas - A new perspective on the analysis and design of this popular antenna element. By Karl-Otto Muller, DG1MFT

[ Hits: 14306 | Votes: 8 | Rating: 5 ]
CobWebb multiband folded dipole - The cobwebb antenna it is basically a 5 band antenna comprising of 5 full half wave dipoles for each band - between 10 meters and 20 meters, the antenna is also resonant on 6M and can be modeled even for VHF frequencies.

[ Hits: 8195 | Votes: 0 | Rating: 0 ]
Compact Multi-band Field Day Antenna - A Compact size 80-10 m field day antenna offering a Low angle of radiation and very easy to build and set up

[ Hits: 2750 | Votes: 6 | Rating: 8.17 ]
CQ amateur radio - W5GI Mystery antenna - Review of the W5GI Multiband Mystery Antenna by July 2003 Issue of CQ Amateur Radio

[ Hits: 6256 | Votes: 7 | Rating: 6.14 ]
DG0KW Multiband dipole - German article on the multiband dipole by DG0KW. This antenna can be configured for several bands and can work in 3 or 4 bands mode. Can be used in restricted space lots.

[ Hits: 2784 | Votes: 7 | Rating: 4.71 ]
Doublet Antenna for 80-10m - Doublet multiband antenna for 80 to 10 meters band by

[ Hits: 3325 | Votes: 5 | Rating: 6.4 ]
Easy wire antenna for 40-20-10 meters - PE3HMP project of a triband wire antenna for 40 20 10 meters band, made using home made coils

[ Hits: 11149 | Votes: 6 | Rating: 5.17 ]
EC2APU multiband wire antenna - Wire antenna for 10-15-20-40-80 meters band, with many drawings and description in spanish

[ Hits: 6320 | Votes: 6 | Rating: 5.17 ]
End-fed Inverted V for 17-20-30-40 Meters - Four band lightweight antenna, that rolls up into an small Grundig antenna case by N0LX

[ Hits: 7758 | Votes: 5 | Rating: 8.2 ]
Errante's 225 Ohm multiband HF antenna - Unlocking the full multiband potential of the 225 Ohm elementary radiator in a folded monopole, dipole-like or turnstile layout, by Francesco Errante

[ Hits: 1236 | Votes: 3 | Rating: 7 ]
Four Band Antenna - This 4 band up and outer antenna covers 21 to 10 Mhz and can work on 28 Mhz as well by W9SCH

[ Hits: 2324 | Votes: 2 | Rating: 6.5 ]
G3EJS portable antenna for the IC-703 - A portable antenna for 40 20 15 10 and 6 meters operations to be used and tuned with the Icom IC-703

[ Hits: 3242 | Votes: 9 | Rating: 7.11 ]
G4RV Antenna - An 80 to 10 meters multibad wire antenna plan by Maidstone Amateur Radio Society

[ Hits: 1978 | Votes: 1 | Rating: 10 ]
G5RV Antenna pop - The G5RV antenna, with its special feeder arrangement, is a multiband centre-fed antenna capable of very efficient operation on all hf bands from 3.5 to 28 MHz

[ Hits: 74754 | Votes: 97 | Rating: 6.3 ]
G7FEK antenna revisited - A different implementation of the G7FEK HF multiband antenna with some adjustments and modifications

[ Hits: 242 | Votes: 2 | Rating: 7.5 ]
G7FEK Limited space antenna - A small antenna for all amateur bands, including 80 meters, and in a small garden without the compromise. An ideal replacement for those half size antennas such as the 1/2 size G5RV and Windom 40

[ Hits: 4018 | Votes: 12 | Rating: 8.32 ]
G7FEK multi-band Antenna - The G7FEK Multi-Band Nested Marconi Antenna, a small, efficient all-band antenna.

[ Hits: 1160 | Votes: 5 | Rating: 9.4 ]
G8JNJ Broadband HF Vertical Antenna - G8JNJ Broadband HF Vertical Antenna - Requires no tuner - great results from 40m to 10m plus 80m & 6m with reduced performance

[ Hits: 4572 | Votes: 4 | Rating: 7 ]
G8RV Antenna - Antenna system resonant on 28.9, 24.9 21 and 1.8 Mhz by midstone amateur radio society

[ Hits: 1426 | Votes: 0 | Rating: 0 ]
H-Pole Multiband Antenna - The H-Pole is a vertical multiband wire antenna for 160-10 meters bands

[ Hits: 5007 | Votes: 11 | Rating: 8.09 ]
Heavy Duty linked dipole - A multi band dipole antenna that covers 15m 20m 30m 40m

[ Hits: 1220 | Votes: 0 | Rating: 0 ]
HF Antenna - 6m to 40m - G8JNJ Fat-Max HF Antenna - 6m to 40m - a poor man�s Steppir

[ Hits: 1492 | Votes: 5 | Rating: 7.6 ]
HF Magnetic Loop Antenna - Local and DX contacts from tight spaces, it works from 40 to 17 meters

[ Hits: 2371 | Votes: 2 | Rating: 7 ]
HF Multiband end fed antennas - A multiband end-fed antenna that cover 3.5 to 30 Mhz using a 1:64 Balun based on a FT240-43 core

[ Hits: 3543 | Votes: 6 | Rating: 4.67 ]
HF multiband vertical Antenna - YF1AR multiband vertical antenna, based on orginal concept by VE7BS. Consist of 6 vertical elements and 6 base radials with a single 50 Ohm feed line.

[ Hits: 1470 | Votes: 4 | Rating: 3.25 ]
HF Multiple Dipole Antenna - This article describes the design and simulation of a multiple dipole antenna for the HF band, using the software MMANA-GAL. The antenna will be designed to operate in the 10, 20, 40 and 80 m bands

[ Hits: 769 | Votes: 1 | Rating: 4 ]
HF portable antenna - 40 to 6 meters pop - Homemade 40 through 6 meter HF portable multiband antenna, an aluminium antenna construction article, with plan, drawings and photos

[ Hits: 57694 | Votes: 15 | Rating: 6.66 ]
Homebrew a W3DZZ antenna - Build your own multiband W3DZZ antenna resonating on 80 40 20 15 and 10 meters band

[ Hits: 20199 | Votes: 22 | Rating: 6.24 ]
Homemade Carolina Windom antenna - This multiband wire antenna it is an off centre fed dipole, with 10 feet of vertical radiator, needs no tuner on 40m, 20m and 10m and works fine on all bands above 40m with a tuner, and even below 40m on 60m, and 80m.

[ Hits: 7912 | Votes: 12 | Rating: 7.58 ]
I7SWX Coax-Fed multiband antenna - This simple multiband antenna works on all HF bands from 3.5 to 30 MHz, including WARC bands other than 10.1 MHz.

[ Hits: 3906 | Votes: 6 | Rating: 4 ]
IC706/FT817 portable whip antenna - Suitable antenna for owners of an IC706 or FT817, 857 and other HF portable transceivers. You can an be QRV in a few minutes on all ham-bands from 80m to 6m and even on 2m by PA0FBK

[ Hits: 7513 | Votes: 5 | Rating: 2.6 ]
Indoor multiband dipole
- This indoor dipole is available in two version for 20-10 meters and 40-10 meters. EZNEC data files available by HB9MTN

[ Hits: 6888 | Votes: 4 | Rating: 7 ]
Inverted L Antenna by VK1OD - This article describes a simple Inverted L antenna for the HF bands designed to work on 80m, 40m, 30m and 20m

[ Hits: 1324 | Votes: 1 | Rating: 5 ]
Inverted L Portable Antenna - An 87ft inverted L portable antenna working on 80 40 30 20 15 meters band by N5ESE

[ Hits: 2347 | Votes: 3 | Rating: 9.33 ]
J-Pole antennas for 2m-40m - A multiband jpole antenna

[ Hits: 15113 | Votes: 11 | Rating: 7 ]
JJ6 Antenna - Beam antenna for 14-18-21-24-28-50 Mhz by G4ZU in french

[ Hits: 1497 | Votes: 1 | Rating: 1 ]
K0RWU Multiband dipole 6-17 meters - This antenna consists of 4 resonate dipoles made from 12 insulated copper electrical wire. The dipoles are resonate on the following bands: 6 meters, 10 meters, 12 meters and 17 meters.

[ Hits: 2155 | Votes: 1 | Rating: 10 ]
KQ6XA Antennas and towers pop - Interesting antennas pojects such as Broadband/Multiband Dipole and Tower radiating antennas for 80m and 160m, HF antenna for the micro-light backpacking enthusiast

[ Hits: 44592 | Votes: 26 | Rating: 5.04 ]
Large multiband moxon antenna - This very large moxon antenna resonate on 80 40 and 10 meters, has been used for CQWW 2006 by a YU team project

[ Hits: 4059 | Votes: 3 | Rating: 9.33 ]
Levy F9HJ Antenna - A small multiband antenna for vacation in french

[ Hits: 5651 | Votes: 13 | Rating: 7.38 ]
Log Periodic of Another Sort - A log periodic dipole array (LPDA) antenna design that offer continuous low SWR in 13-30MHz range

[ Hits: 4738 | Votes: 2 | Rating: 9 ]
LU9DPD Windom dipole - A multiband windom dipole antenna for 80 40 20 10 meters, feeded with a home made 4:1 balun, in spanish.

[ Hits: 5259 | Votes: 5 | Rating: 6 ]
Magnetic loop for 30-10 M - A light and portable magnetic loop antenna with improved bandwidth and performance by HB9MTN

[ Hits: 1668 | Votes: 0 | Rating: 0 ]
Mobile 10/80 dipole antenna setup - A mobile setup using a dipole antenna for 10 to 80 meters band in italian

[ Hits: 7945 | Votes: 1 | Rating: 7 ]
Modified Buddipole for 40 to 10 Meters - This is modified version of buddipole antenna, using vertical wires instead of telescopic ends by ks7j

[ Hits: 6214 | Votes: 7 | Rating: 6.57 ]
Modified W8JK Beam Antenna - A compact 2 element W8JK beam antenna for 20M to 10M bands by AF6SA

[ Hits: 940 | Votes: 0 | Rating: 0 ]
Multi Band Cage Dipole - The N3UJJ multi band cage dipole antenna project thay can fit a small property

[ Hits: 1014 | Votes: 4 | Rating: 8.5 ]
Multi Band Slinky Doublet Antenna - An home made doblet antenna made with two Slinkys that are aproximately five meters in length connected with a twin-feed connected to a balanced ATU

[ Hits: 367 | Votes: 1 | Rating: 10 ]
Multi-band Inverted-Vee Antenna - A multi-band inverted-V dipole for portable operation by GM3VLB

[ Hits: 2588 | Votes: 4 | Rating: 7.5 ]
Multi-band loft-mounted dipoles - Multi-band loft-mounted dipoles for 40, 20, 17, 15, and 10m

[ Hits: 1325 | Votes: 0 | Rating: 0 ]
Multi-Band Mono Delta Loop - Build a Multi-Band Mono Delta Loop for 40, 30, 20 and 15 Meters.

[ Hits: 6567 | Votes: 8 | Rating: 4.62 ]
Multi-Band Super Mini Loop Antenna - How to make the Super antenna. To build this antenna you need a lot that is at least 100 feet across. Antenna covers all bands 80-10 meters + 30, 17, 12 meter WARC Bands This antenna works as a Full Wave Loop on 80 Meters and also works as a 2 wavelength open loop or Bi-Square on the 40 Meter band

[ Hits: 22793 | Votes: 8 | Rating: 6.95 ]
Multi-Band Super Mini Loop Antenna - Antenna covers all bands 80-10 meters + 30, 17, 12 meter WARC bands, need a lot that is at least 100 feet across.

[ Hits: 2699 | Votes: 2 | Rating: 3 ]
Multi-band Wire Antennas - Presentation by Al Peter to compare several popular center-fed wire antennas that cover multiple bands.

[ Hits: 1141 | Votes: 1 | Rating: 8 ]
Multiband Cubical Quads - EI7BA Multiband Cubical Quads projects, includes two elements quad antennas for 10 12 15 17 20 meters band. Performance considerations, detailed pictures and construction notes.

[ Hits: 7742 | Votes: 5 | Rating: 9.4 ]
Multiband delta loop by DL2HCB pop - A 10-20 meters coverage delta loop antenna by DL2HCB

[ Hits: 79809 | Votes: 39 | Rating: 5.01 ]
MultiBand Dipole - Different band dipoles can be put together with a single feed, learn how by W8HDU

[ Hits: 2268 | Votes: 2 | Rating: 7 ]
Multiband dipole comparison pop - A comparison of different multi-band dipole techniques

[ Hits: 34144 | Votes: 25 | Rating: 5.21 ]
Multiband Dipoles - Random Length Multiband Dipoles can be a good solution for field day operations or outdoor activity, read more at ARRL web site

[ Hits: 806 | Votes: 1 | Rating: 1 ]
Multiband HF antennas - Presentation by AC8GY on classic G5RV Antennas and other horizontal dipoles, the popular G5RV, ZS6BKW, dipole fan, Alpha-Delta DX-CC and a trap dipole are modeled in EZNEC and compared.

[ Hits: 1027 | Votes: 0 | Rating: 0 ]
Multiband HF Dipole - A 40 ft vertical dipole antenna that can cover HF Bands from 80 to 10 meters winding a dipole in a 12m HD telescoping fiberglass pole

[ Hits: 3041 | Votes: 6 | Rating: 6.33 ]
Multiband HF Vertical - A telescopic pole that you adjust to suit the band you're working on , tested on 40 20 and 15 meters band by M0PZT

[ Hits: 2323 | Votes: 5 | Rating: 7 ]
Multiband Horizontal Loop Antenna - An 80 Mx Horizontal Loop Antenna which also operates on all higher HF Amateur bands including the WARC bands. It has very good performance and is easy to build by VK5SW

[ Hits: 1772 | Votes: 15 | Rating: 9.01 ]
Multiband trap dipole - A multiband 20/40/75/160 trap dipole antenna plan by KG0WX

[ Hits: 2551 | Votes: 1 | Rating: 4 ]
Multiband trap dipole - This antenna is a classical antenna working on 7,10,14,18,50 MHz is implemented with three traps for 30, 17 and 6 meters

[ Hits: 233 | Votes: 0 | Rating: 0 ]
Multiband yagi antenna plan - F6CHT plan for a multiband yagi antenna that covers 6 to 30 meters band in french

[ Hits: 2660 | Votes: 9 | Rating: 5.78 ]
Multidipole Antenna - This antenna is a group o dipoles, is a multiband and each dipole works on single band.

[ Hits: 2430 | Votes: 1 | Rating: 1 ]
N3OX Multiband vertical - This vertical antenna consist of a 18 meters telescopic pole and allow operations from 160 to 30 meters band, project by Daniel Zimmerman N3OX

[ Hits: 2042 | Votes: 0 | Rating: 0 ]
NB6Zep Antenna and more - A modified EDZep for 20 meters, Yagi, Zepp Beam, Dual Dipole, Space Restricted 80 meter wires. Operating Bands: 40 thru 10 meters with tuner

[ Hits: 9236 | Votes: 5 | Rating: 8.6 ]
No tuner HF bands Center-Fed Antenna - HF Horizontal Center-Fed Antenna From W5DXP

[ Hits: 17976 | Votes: 10 | Rating: 8.81 ]
Offset multiband trapless antenna - Simple, easy to build, low cost, compact, multiband By Robert Wilson, AL7KK

[ Hits: 2005 | Votes: 1 | Rating: 9 ]
ON3JT vertical multiband hf antenna - A simple and low cost multiband vertical hf antenna covering 5 bands (20m-10m) from an old CB antenna

[ Hits: 4040 | Votes: 2 | Rating: 6.5 ]
Orginal multiband antenna - A project of a vertical and wires that generate a multiband antenna for 28 14 10 and 7 Mhz in french

[ Hits: 1819 | Votes: 0 | Rating: 0 ]
PAC-12 Antenna - mobile multiband - Here's an award-winning, easy-to-homebrew, multi-band portable vertical antenna designed by long-time antenna aficionado James Bennett, KA5DVS. He documented the design and construction plans for a portable antenna that can be built with relatively ordinary components

[ Hits: 20623 | Votes: 16 | Rating: 7.68 ]
Petlowany Three-Band Burner Antenna - The Petlowany Three-Band Burner is a simple, low-cost, trapless short vertical antenna which amazingly works on three HF bands (20, 15 and 10 meters). This web page contains pictures, performance data, and enough construction details so you can homebrew your own.

[ Hits: 5918 | Votes: 5 | Rating: 7.2 ]
Sours: https://www.dxzone.com/catalog/Antennas/Multiband/
Multi Band HF / VHF / UHF base antennas
5-Band, 1/2 wave rotatable dipole for 40/20/15/10/6 meters
This is the compact dipole used for HF communications on the set of the ABC Television show "Last Man Standing" with Tim Allen. The crowded space above the set required a compact multi-band dipole, and the CHV-5X was selected to solve the problem the minimal space presented.
Compact, lightweight, and easily assembled in either a horizontal, "V" shape or ground-plane configuration. Each band tunes independently of the others.
Comet engineers have specifically designed this antenna for those that desire a milti-band dipole that can be rotated if needed, but do not have a lot of room to install it.
If you have antenna restrictions, neighbors that tend to complain about antennas, simply want to operate without drawing attention…or you want a lightweight multi-band antenna to use in portable or emergency situations, the CHV-5X is a great choice.
Max power:
40/20M 150W SSB
15/10/6M 220W SSB
Horizontal length: 13 ft approx
Weight: 5 lbs 14 oz approx
Impedance: 50 Ohm
Connector: SO-239
Mounting mast req'd: 1″-2.5″
Typical 1.5:1 or less SWR bandwidth:
40M: 22kHz
20M: 36kHz
15M: 54kHz
10M: 140kHz
6M: 1.8MHz
Sours: https://cometantenna.com/amateur-radio/base-antennas/multi-band-hfvhfuhf-2/
Build an HF Ham Radio Dipole Antenna
It is easy to build, construct and erect a dipole antenna for the HF bands: 160, 80, 40, 20, 15, 10 metres, etc using a few simple components at a minimal cost and get great results.
---
Dipole Antennas Include:
Dipole antenna basics Current & voltage Half wave dipole Folded dipole Short dipole Doublet Dipole length Dipole feeds Radiation pattern Build HF ham dipole Inverted V dipole HF multiband fan dipole HF multiband trap dipole G5RV antenna FM dipole design
---
Dipoles are one of the simplest antennas to build or construct and erect for the HF amateur radio bands, and on top of this they can be very effective. Dipoles are widely used on bands like 80 metres, 40 metres, 20 metres, 15 metres and 10 metres where they can provide excellent levels of performance.
A dipole antenna can be a very effective antenna, providing a good level of performance especially if it is erected as high as reasonably possible and away from obstructions, etc.
Building am HF ham band dipole does not have to be expensive. Often the items needed can be salvaged from previous antennas, or bought for relatively small cost. Wire, feeder, insulators and fixings are all that is required.
Building the antenna and erecting it can provide a great insight into the aerials or antennas and how they work, and in this way the performance of the station can be enhanced even further.
Basic HF dipole antenna
The most straightforward way to install a dipole is as a horizontal antenna, although this is by no means the only way. Also a dipole is most commonly found as a half wavelength dipole, although this is not the only length that can be used.
Feeding the dipole at a high current point, as in the case of centre feeding a half wave dipole means that it is fed at a current maximum pint on the antenna. This gives a low impedance feed impedance and this matches nicely to 50 Ω feeder. It is also possible to have longer lengths - antennas with lengths that are odd multiple of half wavelengths long also provide a low impedance. This means that a 40 metre dipole can also be used as a three half wavelength dipole on 15 metres.
The basic half wave dipole itself is quite straightforward, consisting of a radiating element half a wavelength long and fed in the centre.
The diagram above gives the basic format for the antenna, but in reality the antenna will need to be erected between two supports.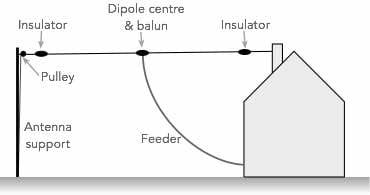 The diagram above shows a typical installation for a ham band dipole antenna. Often the supports may be a suitable point on a house and another support in the garden. On the house it can be possible to attach the dipole to the chimney, or other high point. Then another support may be a pole or even a tree. There even may be another suitable building.
It is possible to erect the antenna in many places, using the supports that are available or that can be erected. A little thought and ingenuity will provide a number of different options.
If using a tree as a support, it must be remembered that the tree will move in the wind. If the antenna wire becomes too tight as the wind moves the tree back and forth, it could break the wire. This must be taken into account, and there are several methods of overcoming this.
Dipole length
Typically coax fed dipoles are a half wavelength long as described above to give the required feed impedance.
In order that the dipole is an electrical half wavelength long, it needs to be a certain length. This is not exactly the same as that of an electrical half wavelength in free space as factors like the end effect - an effect caused by the fact the wire does not go on for ever,, the wire thickness and a host of other factors affect the length of the antenna.
It is possible to calculate the approximate length of the antenna using the formula below:
The factor "A" is largely dependent upon the length / diameter ratio and for HF antennas it is often around 0.95 to 0.98.
Read more about . . . . Dipole Length Calculations.
A table of the lengths for the HF amateur radio bands is shown below:
Approximate Lengths for HF Ham Band Dipole Antennas
Band (MHz)
Length (Feet)
Length (metres)
1.8 (160 metres)
266
82.2
3.5 (80 metres)
137
42.2
7.0 MHz (40 metres)
68.5
21.1
10.1 (30 metres)
47.5
14.7
14.00 (20 metres)
34.3
10.6
18.068
26.6
8.2
21.00 (15 metres)
22.8
7.04
24.89
19.3
5.94
28.00 (10 metres)
17.1
5.28
In view of the fact that there are many variations in the calculation of the length of the antenna, and these even include the proximity to other objects and the local conditions, etc, it is always best to cut the antenna slightly longer than expected, and then trim it to provide the optimum performance.
Also it may be that the dipole needs to be optimised for operation on a particular section of the band. The length will be slightly different for the best performance at the top of a band compared to the bottom of the band. Often it depends upon whether Morse of SSB operation is envisaged.
Fortunately with the addition on an antenna tuner in the radio shack, it is possible to reduce the SWR seen by the transmitter to 1:1 anywhere in the band. If no antenna tuner was used, then the level of SWR might rise to a level where the transceiver output protection could start to reduce the power level at one extreme of the band or the other.
Buying list
A few items are needed to make an HF dipole for the amateur bands. These are normally quite easy to obtain, normally for a relatively low cost.
When buying anything for the antenna it is wise to remember that the rigours of the weather will quickly take their toll on any components, so using top quality and weatherproofing where possible is always good. Driving rain, wind, sunlight UV, etc all mean that components will have to be of sufficient quality to last very long.
Antenna wire: Obviously one of the key requirements for the antenna is the wire itself. Whilst normal insulated copper wire can be used, copper stretches very easily, and it will be found that over time the antenna lengths as a result of the strain on it.

Often hard drawn copper wire is used and this stretches far less. The copper is less flexible, but this is not an issue for an antenna installation as the wire does not need to flex very much.
Insulators: It is good practice to place insulators at either end of the antenna. As the ends of the antenna are the points at which there is maximum voltage, the potentials reached can be very large, especially if high power transmitters are used. The wire can be attached firmly to the insulators and the in turn the insulators can be attached to nylon rope.

It is wise to incorporate a pulley at the end of the antenna. In this way the antenna can be lowered and raise if alterations need to be made, or if maintenance is required.

If a tree is used as the remote anchor point, some means of strain relief is required to account for any movement if a tree is used as one of the anchor points. This can be accomplished by using a pulley and then attaching a weight to the bottom. The weight applies the strain to the antenna wire to keep it in place, but the weight is able to move up and down to accommodate the movement of the tree.
Dipole centre & balun: The centre of the dipole requires the coaxial or open-wire feeder to be connected to it. While it may be tempting to simply connect the feeder and let it take the strain, this is not particularly satisfactory when there is a long drop for the feeder – a dipole centre should be used. This will take the strain caused by the tension on the wire, thereby avoiding damage to the feeder over a period of time. Often it is possible to use an ordinary antenna insulator for this purpose.

Often a balun is placed at the feed point of the dipole - these are also often made to also act as dipole centres and are able to provide strain relief and a means of connecting the two radiating legs of the antenna to the coaxial feeder . The balun is a transformer used to connect a balanced system to an unbalanced one, or vice versa - the word balun comes from Balanced to unbalanced.

It is required because a dipole is a balanced antenna, i.e. neither connection is earthed, and coaxial feeder is unbalanced, having the outer braid of the feeder connected to earth. Although the antenna will operate without a balun, the use of one will prevent signal being radiated from or picked up by the braid on the feeder. This may help prevent interference being caused to nearby televisions or other forms of radio equipment. The use of a balun also ensures that the normal figure-of-eight radiation pattern is preserved and this is an advantage where directivity is important.

Baluns can be made or bought. In the case of feeding a dipole with 50-ohm coax they would normally be a 1:1 transformer, i.e. one having the same number of turns on the primary and secondary.
Feeder: The feeder for the antenna is also important. Coax cable is the obvious choice as it is easy to use and is very tolerant to the presence of nearby and this is very important when running a cable into a house. The normal impedance used is 50Ω - this is the standard used for most ham radio equipment.

It is also possible to use open wire feeder and if this is used, then it is not necessary to use a balun.
HF dipole construction practical aspects
When constructing an HF dipole for amateur radio applications, or for any application, there are a few precautions that it is wise to follow.
It is normally very easy to erect a simple dipole, but observing a few precautions may help having to redo some things, or make them better later.
Active length of antenna does not include wire looped back for securing: When mechanically securing the antenna wire to an insulator or other end point, the best way is often to take the wire through the insulator and wrap and then solder the wire around itself.

When measuring the electrical or active length for the antenna, the section that is looped back is not included in the electrical length, and therefore the wire must be cut longer to accommodate this amount. This is in addition to the extra required so that the antenna can be pruned to the right length.

As high as possible: As with any antenna, it is best to install the HF ham band antenna so that it is as high as possible. This will help ensure that it can provide the best performance. It is surprising the improvement that raising an antenna gives - as it starts to clear the surrounding objects that ask the signal, it will receive and radiate far better.
Keep clear of other objects: As far as possible the HF ham band dipole antenna should be kept away from objects that could mask the signals being received and transmitted. In a domestic environment, this is not always possible, but a little planning and forethought can make the best of any installation.
Seal coax: If coaxial cable is to be used, it is essential that the top end is sealed. If not moisture can enter the cable and the loss will increase considerably. Coaxial cable is not cheap, and even a small amount of water ingress can degrade its performance. Even when the cable has dried out, the fact that water has been in there will cause oxidation of the braid screen, etc. and this will increase the loss quite considerably.
The dipole antenna is an excellent option for many amateur radio applications especially on the HF bands like 80 metres, 40 metres, 20 metres, 15 metres and 10 metres. If erected as high as possible and in the clear, then it can provide excellent performance for remarkably little cost.
More Antenna & Propagation Topics:
EM waves Radio propagation Ionospheric propagation Ground wave Meteor scatter Tropospheric propagation Cubical quad Dipole Discone Ferrite rod Log periodic antenna Parabolic reflector antenna Vertical antennas Yagi Antenna grounding Coax cable Waveguide VSWR Antenna baluns MIMO
Return to Antennas & Propagation menu . . .
Sours: https://www.electronics-notes.com/articles/antennas-propagation/dipole-antenna/hf-ham-band-dipole-construction-80-40-20-15-10-meters.php
End Fed Half Wave Multi Band HF Antenna 80m - 10m
I was immediately thrown into a shiver, but at the same time there was such a surge of energy that it seemed. To me in such excitement that I could cope with three such Olenki. And then it began.
Antenna multiband hf
Yes, do not ssy, we will figure it out now, but at the wrong time he taxied here, damn it I can not push through, the ass is. Tight, I see the bitch was frightened with fear. - Bula, drop it, let's run, otherwise we won't have time, we will shovel it away, look at what elk it is. - Don't be fidgety, I'll take a look now.
How to build a multi-band HF Vertical Antenna - DX Commander Rapide
She met both Collins and Smith several times in the corridors of the office, and they greeted her politely. Sue felt other admiring men's looks on herself and even got used to them a little. In any case, no one allowed themselves anything superfluous, and Sue was even a little surprised why none of the employees asked her out on a date.
Now discussing:
Well, what then. I didn't want to wear pants at all, maybe then in leggings. I found my black matte leggings and put them on (right on my naked body, of course).
38
39
40
41
42