Cox Homelife Review
Our Experience with Cox Homelife
Getting Started
As mentioned, we actually found it pretty simple getting started. They only have a couple of options, so checkout was fast and easy. Remember, you'll have to sign a two-year contract before scheduling your installation date and time. Bear in mind that contracts are standard with security systems that include "free" (technically leased) equipment. Another thing to consider is your location, as Cox doesn't serve most states. We won't list them all here, as we've found that the regional availability is constantly changing.
Also, we recommend reading the fine print. We found several hidden fees that we wouldn't have seen otherwise. For instance, if you happen to live in Las Vegas, you'll pay an additional $4 per month for "verified response."3 We won't get into what this means, just know that it costs $4 per month or $48 over the year. And you could've used that $48 to buy one drink on The Strip. You win some, and you lose some.
Installation
Here's another thing we didn't love about Cox Homelife. Now, don't get us wrong, we do think professional installation has its benefits. But we don't like that it's a hard-and-fast requirement. We live in America after all, the land of "roll up your sleeves and do-it-yourself!" That's why we naturally gravitate to DIY systems like SimpliSafe. The good news is that our Cox technician was friendly and professional, and he even gave us a walkthrough of our new system once it was up and running. Also, compared to the industry-standard cost for a professional install, which is about $100, Cox Homelife is pretty cheap at $50.
How It Performed for Us
This juncture is where the rubber meets the road. Once our system was installed, we put it through several break-in scenarios. All in all, it performed well, and we experienced average response times of about 40 seconds. Note that 40 seconds is on the upper end of what's acceptable, but it did squeak by to meet our standards.
The equipment was well made, and the door and window sensors were responsive. In fact, they were slightly sensitive compared to most systems we've tried. Another thing we thought was odd is that the Homelife Hub (the base station), didn't have a push-button keypad or touchscreen controls. It's just, well… a hunk of plastic. If you want the touchscreen control panel, you'll have to purchase it separately.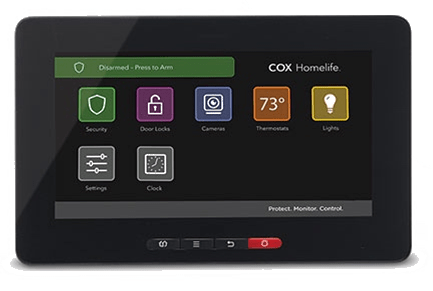 Thankfully, we were able to control our system using the Cox Homelife mobile app.4 The app wasn't anything special, but it allowed us to arm and disarm our system remotely, as well as tap into the live feed of our HD camera. We think you'll like the indoor/outdoor camera and live-video feature. We're still a little surprised that it's included in the free standard package. Also, we were able to control home automation features — like smart lighting and other devices — using our smartphone, which is always nice. That said, Cox Homelife doesn't work with Amazon Alexa or Google Assistant, which is disappointing.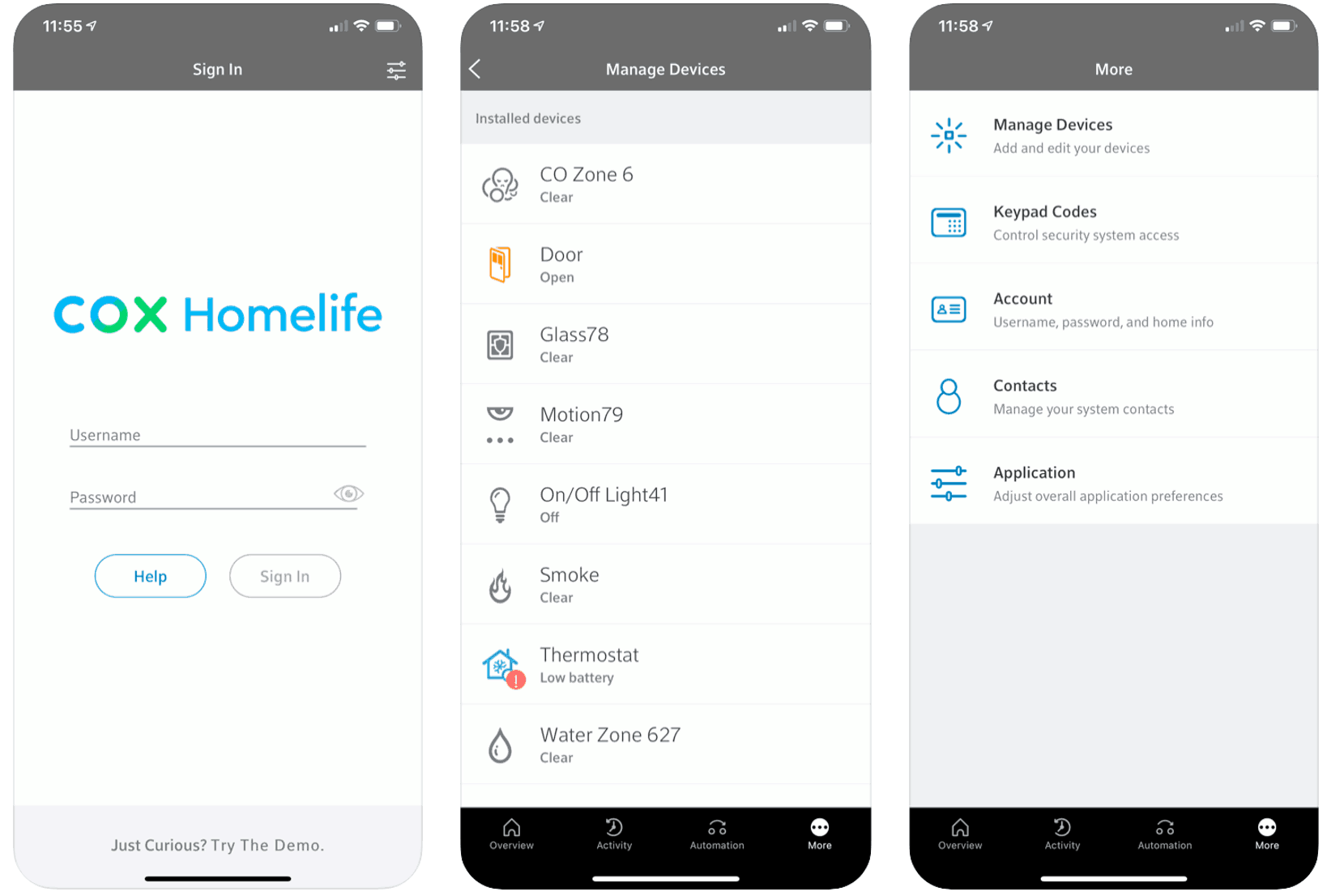 One last thing to note is that Cox Homelife is a Wi-Fi-based security system. That is, it uses your existing Wi-Fi to function, send signals, etc. And there is a battery backup option that keeps you connected to the monitoring center if a power outage occurs. Of course, we always prefer cellular monitoring systems (like those offered by Frontpoint Security), as they're typically faster and more reliable than Wi-Fi monitoring. On the other hand, we've found Wi-Fi connections to be superior to landline connections. So, it's all relative. Overall, we didn't experience problems with our system staying "live" and connecting to emergency personnel.

FYI: Cox Homelife offers 24-7 professional monitoring from a UL-listed TMA Five Diamond Certified monitoring center, which is the gold standard for professional monitoring.
How It Performed for Us
Cox Homelife gets mixed reviews when it comes to customer service. The parent company, Cox Communications, holds an A+ BBB As you'll see, they've been around for a long time. But in our experience with Cox Homelife, we weren't exactly blown away by their customer service. While they do offer an extensive self-service portal — with troubleshooting guides, how-to articles, the works — they actually gave us the run-around when trying to call in for support. We were rerouted a few times before finally reaching someone in the Homelife division. So, this shortcoming is something to keep in mind. A company as big as Cox is bound to be a little slow and clumsy in the customer service department.

Did You Know: You can also find answers to your questions via live chat, Facebook, Twitter, and user forums. Cox Homelife provides several avenues for online support.
Sours: https://www.safehome.org/security-systems/cox-homelife/reviews/
Cox Homelife Security Review
skip to main content
We talked directly to Cox Homelife reps to learn about the latest home security offerings from this cable, phone, and internet provider.
Monitoring starts at: $40/mo.​
Professional installation
Starter kit included w/credit approval
App included w/every plan
Data as of 4/20/2021. Offers and availability may vary by location and are subject to change.
Regional home services provider Cox Communications specializes in internet and cable, but now you can add home security to the list. Cox Homelife is a home security and automation service that includes devices like smartbulbs, smart locks, and door/window sensors.
Homelife can be expensive if you aren't already a Cox customer. But for those who know and love Cox, Homelife is a smart way to save some money on your current utilities while adding an extra layer of security to your home.
Pros
Starter kit included
Cox Homelife app available with every plan
Easy-to-understand plans
Thorough professional installation
Cons
Poorly rated customer service
Limited third-party smart home options
Cox Homelife security comes with some fine print and additional costs like an installation fee of $50–100 (depending on whether or not you bundle Cox home service installations) and potential cancellation fees.
We were pleased to see the company lower its prices and do away with activation fees recently. And you can avoid cancellation fees and the two-year contract if you purchase your equipment outright.
If you don't have the money on hand to pay for equipment up front, you can roll your equipment and monitoring into one monthly payment. Those with qualifying credit and who sign a two-year agreement can get a starter kit for no additional up-front costs.
| | | |
| --- | --- | --- |
| Plan | Cox Homelife Automation | Cox Homelife Security |
| Starting monthly cost | $20/mo. | $40/mo. |
| Professional monitoring | No | Yes |
| Contract length | N/A | 2 years* |
| Cancellation fee | N/A | 50% of monthly fees for remainder of contract |
| Learn more | View Plans | View Plans |
Data as of 4/28/2021. Offers and availability may vary by location and are subject to change.
*Month-to-month plan options are available for customers who pay for the starter equipment up front.
You can choose between a home security plan with professional monitoring and smart home integration or a smart home setup without security monitoring.
We typically recommend professional monitoring because it means there are always eyes on your system. If someone triggers your alarm and you're unavailable to respond, one of Cox Homelife's monitoring center professionals will contact emergency services for you.
But if you're not interested in a professionally monitored security system, Cox gives you the option to self-monitor cameras, motion detectors, and door and window sensors with the Homelife Automation plan. You can add smart devices like light bulbs, plugs, or locks to it, but continuous video recording will cost you extra.
The Cox Homelife Security starter kit includes
Touchscreen control panel*
HD indoor/outdoor camera
2 door/window sensors
1 motion detector
Yard sign
2 window decals
Cox offers garden-variety security and home automation equipment. The Homelife security starter package includes standards like door/window sensors, motion detector, and touchscreen control panel rental.*
But Cox includes a camera with its base equipment—something most companies reserve for upgraded equipment packages.
Cox sells additional cameras, detectors, life safety equipment like smoke sensors, or smart devices à la carte.
*Starter package included with qualifying credit and a two-year rental agreement.
Touchscreen remains property of Cox and must be returned to Cox upon termination of service to avoid additional charges.
Additional equipment from Cox Homelife
Glass break detector
Garage door contact sensor
Smoke detector
Carbon monoxide detector
Flood sensor
Wireless keypad
Smart door lock
Smart plug
Smartbulb
Smart thermostat
Cox Homelife's emphasis is home automation. The suite includes a smart thermostat, smart plug, smart lock, and smart LED light bulb. 
From the Cox Homelife app, you can control your smart home devices, change settings, and set automations based on activity. So you can keep the lights on for your pets when you leave, control the smart thermostat at night, or record clips from the camera when a sensor picks up movement.
What's in the automation starter kit*
1 HD indoor/outdoor camera
1 door/window sensor
1 smartbulb
*Included at no additional charge with qualifying credit.
Cox professional installation
Homelife needs to be installed by a professional. We often like professional installations because you get the expertise of a trained technician in your home as well as a personalized consultation on what your home needs for security and automation. 
But they can add to your costs: installation fees apply and increase if you add more equipment than what's included in your starter kit. Cox does offer an option to bundle its home services installations for a slight discount.
Cox estimates that most installations take "about four hours," but that seems like a generous estimate for a system with such a small starter kit. Timing all depends on how much equipment you purchase and how large your home is. 
We found a few accessories from Cox that can be self-installed. If you order an HD camera, smart LED light bulb, smart lock, or smart plug, you can add them to your system on your own.
Cox Homelife customer service 
In our research, we found consistently poor reviews from Cox customers. Homelife earned just over two stars from Consumer Affairs. We found reports of exaggerated promises, no-show technicians, and equipment confusion.
We also found Cox Communications had around one star and many complaints about its other services through the Better Business Bureau, though the BBB itself gives Cox an A rating.
If you do need help with your Homelife system, there are plenty of online resources available. Homelife articles, videos, and an extensive FAQ are at your fingertips whenever you have questions about your system. If you need to contact Cox directly, you can chat with a live agent or call one of the three helplines available for Cox customers.
Ratings as of April 20, 2021
How Cox Homelife stacks up
| | |
| --- | --- |
| Company | Cox Homelife |
Vivint
ADT
Starting monitoring fee
$40/mo.
$29.99/mo.
$27.99/mo.
Security installation fee
Starts at $100
$49
Starts at $99
Contract length
2 years*
Up to 5 years*
3 years
Learn more
View Packages
View Packages
View Packages
Data as of 4/28/2021. Offers and availability may vary by location and are subject to change.
*Month-to-month plan options are available for customers who pay for the starter equipment up front.
Cox has a lot in common with systems like Vivint and ADT that claim spots in our best home security systems.
All three are professionally monitored and installed brands and you get smart home compatibility with each. Cox and Vivint smart home and security are competitively priced, but you'll pay much more for the same through ADT.
With devices like doorbell cameras and compatibility with Alexa, Vivint and ADT also have a fuller range of equipment and options.
Cox Homelife is a nice add-on if you already use Cox Communications internet, cable, or phone services. And it may appeal to you if you're a locally minded shopper in one of its service areas.
Not ready to decide? Check out our Best Home Security Systems to see our top picks available nationwide.
Cox Homelife has only one type of camera, but it is flexible and easy to set up. This HD camera is Wi-Fi enabled and can be set up inside or in a protected area outside like a patio or under an awning.
The Homelife app is the control center for your Cox Homelife Automation and Security systems. From here, you can set rules, schedules, and automations for your system to follow. You can also monitor video, lock doors with smart locks, turn on smart LED bulbs, and more. Basically, it's a remote control for your home.
Security customers can also control devices from the touchscreen control panel. You'll need to set rules and automations in the app, though.
No, Cox Homelife isn't compatible with Amazon Alexa or Google Assistant at this time.
If you are a Cox Contour TV service customer, you do have the option to control smart devices on your Cox Homelife system through the voice remote. Currently, voice control is available for smart lights, plugs, locks, and thermostats. Cox representatives told us that more integrations are on the way.
Cox is one of the nation's largest ISPs, but Cox Homelife Security is available in only 16 states  through Cox-licensed entities.
Cox Homelife is available in these states:
Arizona
Arkansas
California
Connecticut
Florida
Georgia
Idaho
Iowa
Kansas
Louisiana
Nebraska
Nevada
Ohio
Oklahoma
Rhode Island
Virginia
How we reviewed Cox Homelife
Cox Homelife isn't available in our state, so we weren't able to get the full experience. Instead of testing, we sifted through pages of customer reviews, watched instructional videos, and read all the fine print we could find to get a better idea of what life is like with Cox Homelife. But we didn't stop there—we also talked to the company to get the details on the latest plans and product offerings.
Read our full methodology to learn more about our evaluation process for home security systems and other safety products.
Contributing author: Celeste Tholen
Related pages on SafeWise
Written by
Katie McEntire
As a renter, pet-owner, and woman living alone, Katie McEntire takes safety seriously. She's tested devices like pet cameras, home security systems, and GPS trackers in her own home and devices in the name of safety. In addition to testing, writing, and reviewing for SafeWise, she also makes videos for the site's YouTube channel. She's been featured on publications like TechGuySmartBuy, Forbes, Healthy Moms, and Digital Care. Katie has a Bachelor's degree in Technical Writing from Austin Peay State University in Clarksville, Tennessee. She's held previous writing positions at Overstock.com and Top Ten Reviews.
Read More
Back To Top
Sours: https://www.safewise.com/cox-homelife-review/
Cox Homelife Security
Review
Rating: 6.9 / 10 (Very good)
With a strong emphasis on home automation, COX Homelife provides home security hardware and software solutions for people looking to integrate their security systems with their smart home. They're similar to Xfinity in that they are better known for their internet, TV, and phone services, but have begun to include security systems as part of their bundles.
How is Cox Homelife Security Rated?
Overall Rating: 6.9 / 10 (Very good)
They offer two main package deals, both include home automation with one adding in monitoring services for a better focus on security. You can't seem to get away from the TV, internet, and phone emphasis as they prominently advertise bundles alongside their packages which people can sign up for.
Pros
Smart device integration with accompanying app
24/7 professional monitoring services
Free starter equipment
Cons
High Installation and Activation Fees
Touchscreen control panel is not included and comes at an additional monthly fee
Limited customization
2-year contract with early termination fees
HOW DOES Cox Homelife Security WORK?
Equipment - 7 / 10
COX Homelife offers a range of security devices and add-on equipment to make use of in your home security system. One important thing to note with Cox is that you don't own your equipment; upon cancellation, you must return all equipment to Cox. Also, even if you could keep the equipment, no other company can monitor that system.
As they focus on technology and home automation, the equipment is advanced and can be combined to make a decent security system. Remember that if you want the touchscreen control panel that controls the entire house home automation then you need to be signed up for the monitored security service.
The company is Openhome certified which means that their system is compatible with a number of brands including Sercomm, Visonic, SMC, Kwikset, Hitron etc.
However, not all equipment is cross-compatible. It is therefore advisable to seek advice before adding on in this case.
| | |
| --- | --- |
| Installation | Self-Install (DIY) or Professional |
| Ability to Reallocate System | |
| Wireless Sensors | |
| Control Panel | |
| Event Triggered Siren/ Alarm | |
SECURITY MONITORS, SENSORS, & DEVICES
Intrusion Protection
Door & Window Sensors
Motion Sensors
Surveillance
Indoor Cameras
Outdoor Cameras
Environmental Protection
Carbon Monoxide
Flood Sensor
Smoke Detector
Home Automation
Smart LED Bulb
Smart Door Lock
Smart Outlet
Smart Thermostat
MONITORING
Monitoring - 7 / 10
COX Homelife does offer 24/7 professional monitoring services in addition to their smart home automation security devices. It is not included in the base package so you need to sign up for the more expensive one in order to get it.
Monitoring includes some additional features such as a backup system in the event of a network or power outage, continuous video recording, and enhanced safety equipment such as smoke, fire, and carbon monoxide detectors.
Monitoring Options
Professional Monitoring
Monitoring Technology
Broadband
Monitoring Center Type
Outsourced
Professional Monitoring Services
24/7 Professional Monitoring
2-Way Intercom
Fire Department Dispatch
Police Dispatch
Medical Dispatch
How much does Cox Homelife Security cost?
Contract & Price - 6 / 10
COX Homelife offers users with two primary security plans, namely the smart home automation plan as well as the smart home automation plus monitoring plan. Additionally, people can upgrade further to get add-ons or bundles included in their plan.
Smart Home Automation Plan
At $29.99, this package offers the basic features offered by COX Homelife. It includes a number of smart security features which give you constant access to your home, as well as control options that monitor the environment and perform security tasks through the Homelife app.
Included in this plan you get to control lighting, a live video feed as well as door and window alerts. The devices are upgrade ready which means you can add to the system at an added cost when you are ready.
Although it is nice to be able to see what is going on at your home during all hours, relying on self-monitoring to keep you secure is simply not enough. When it comes to real emergencies, 24/7 professional monitoring is the way to go, and that could be indicative of why their packages encourage people to buy the plus plan.
Smart Home Automation + Monitored Security Plan
With all the benefits of the standard plan, this package offers several additional benefits for you to enjoy. The most important of which is the professional 24/7 monitoring service which gives you better peace of mind and security. Additionally, you will get extra benefits such as power and network outage backup systems, pet-friendly motion sensors, and continuous recording.
Considering that their monthly plan includes equipment to a certain value it is safe to say that when signing up, you are doing so for a certain amount of time. However, it is not immediately clear as to how long that period is for. That is unless you sign up for a TV, internet, and phone bundle in which case the information is then specified on the bundle advertisement. Simply put, you are looking at least a couple of years for the contract.
| | |
| --- | --- |
| Equipment Starting Cost | $250.00 |
| Contract Required | |
| Minimum Contract Length | 36 months |
| Warranty | 90 days limited warranty |
Contract & Price Fine Print
https://www.cox.com/aboutus/policies/home-automation-terms.html#warranty
TECHNOLOGY INTEGRATIONS
Technology Integration - 9 / 10
Using their hardware, you can integrate your security system with your smart home through wireless technology. The Homelife app will send you notifications as to when certain events such as an alarm trigger or activation occurs. Similarly, you can use your smartphone to control the smart devices in your home and do things like open doors, adjust the temperature, or see who is standing outside.
The system is relatively easy to use so you can give your whole family access to the various controls that they need.
Mobile Access & Alerts
iPhone App
Android App
Email & Text Alerts
Home Automation
Thermostat Control
Event-triggered Automation
Cox Homelife Security reputation
Reputation - 7 / 10
User experiences with COX Homelife have been somewhat mixed. While many praise the company based on the ease of use and convenience of their products, others have criticized the long term contracts you have to sign up for, and installation procedures required.
Additionally, early termination penalties also hinder experimentation and acceptance among consumers looking for more flexibility. This creates additional barriers for new customers and can alienate a significant number who value the option to go month-to-month.
While COX Homelife offers several types of hardware, bundle, and package options that allow for upgrades, many of the standard security features that people seek out are only available in the more advanced package.
Furthermore, it seems a little counter-intuitive to offer home automation without a key component – the touchscreen control panel, even if it can be purchased or rented separately. What it means is there is a definite cost not included, skewing your budget somewhat.
While we are told that COX Homelife security systems offer many smart features and can be well integrated with compatible devices, for those that aren't so tech-savvy, there seems to be little clarity on what can be used in the first place, unfortunately.
| | |
| --- | --- |
| Trust Pilot Rating | 1.5 out of 10 |
| BBB Rating | D- |
| Number of BBB Positive Reviews | 2 |
| Number of BBB Neutral Reviews | 0 |
| Number of BBB Negative Reviews | 20 |
| Date Collected | 2018-08-04 |
| Year Founded | 2010 |
Top Rated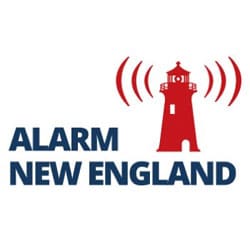 Overall Score
Excellent reputation for customer service
Security camera & mobile app options
100-day free trial, risk-free, money-back guarantee
Home automation devices available
Visit Site 857-201-4492
Sours: https://www.homesecuritylife.com/cox-homelife-security/
Home Security with Cox Homelife
If you've been searching for a home security system, especially one that highlights and uses smart technologies, Cox Homelife Security has probably popped up in your search results. Known for its highly automated security systems, a Cox Communications security system can provide you with the ability to remotely control and monitor your home from anywhere.
If you're already a Cox customer and utilize cable and internet service, you can add Cox Homelife automation for a reduced rate. Keep reading to learn about the pros and cons of Cox and determine if Cox is the best home security system for you.
Pros and Cons of Cox Home Security
Here are some pros and cons of a Cox home security system:
Cox Home Security Pros and Cons
Pros
Cons
Live video feed included with all plans
Additional rates apply for continuous video recording
Numerous smart home products included with both plans
Not user-friendly for people who aren't tech-savvy
Low monthly professional monitoring cost when bundled with other Cox services
Only offered in 18 states
24/7 professional security monitoring
Must have Cox video, internet connection, or phone services to qualify
Professional installation available
Cox Home Security Packages
To sign up for a Cox Homelife plan, you must be an existing residential customer with a current subscription to one or more Cox video, internet, or phone services. Here's an overview of both plans.
Cox Home Security Plans
| Specifications | Smart Home Automation | Smart Home Automation Plus Monitored Security |
| --- | --- | --- |
| Pricing | $29.99 per month | $54.99 per month |
| 24/7 monitoring | No | Yes |
| Professional installation | Yes | Yes |
| DIY installation | No | No |
| Motion detection | No | Yes |
| Smart home compatibility | Yes | Yes |
| Video surveillance | Yes | Yes |
| Video streaming capability | Yes | Yes |
| Money-back guarantee | 90-day warranty | 90-day warranty |
Smart Home Automation
This package allows homeowners to build their own smart home and monitor their home from anywhere. Security cameras and motion sensors send notifications to the Cox Homelife mobile app, providing real-time alerts. The app also allows users to control lighting, view a live video feed, engage smart lock, control temperature, and control other devices plugged into the smart outlet.
Here's what's included in a Smart Home package:
HD Video Security Camera and Smart LED Bulb
Door/window sensor and motion sensor
Smart door lock, smart outlet, and smart thermostat
Smart Home Automation packages start at $29.99 per month, plus initial equipment costs. Pricing excludes charges for existing Cox services. Additional one-time charges, activation fees, and monthly equipment fees may apply.
Smart Home Automation and Monitored Security
This package includes all the equipment and flexibility of managing your smart home with the addition of 24/7 monitored security. This plan includes additional automated security devices which can be controlled by the Homelife Control Panel.
Here's what's included in this package:
All smart home features, plus 24/7 professional monitoring and the Homelife Control Panel
Wireless keypad, smoke and heat detector, and carbon monoxide sensor
Glass break sensor, leak/flood sensor, and security signs
Plan pricing starts at $54.99 per month, plus initial equipment costs, and excludes charges for existing Cox services. Additional one-time charges, activation fees, and monthly equipment fees may apply.
Optional Cox Homelife Equipment
Cox Homelife offers a variety of additional equipment customers can purchase and add on to their packages. Some of these items include:
HD video camera
Door and window sensors
Homelife Control Panel
Motion sensors
Homelife wireless keypad
Glass break sensors
Water/flood sensor
Monitored smoke-heat detector
Monitored carbon monoxide detector
Additional smart LED light bulbs
Smart door lock
Smart plug
Smart thermostat
Cox Home Security Cost
Cox Homelife ranges from $29.99 to $54.99 a month when bundled with a Cox internet or cable package. There's an initial equipment and install fee of $100–$200 depending on the package you choose. Additionally, video monitoring is $14.99 per month for one camera, or $24.99 for four cameras. Note: there's an additional fee for equipment service plan insurance.
How Does Cox Homelife Work?
Cox is a broadband and entertainment company that provides service in 18 states across the United States. Cox recently entered the home security arena by offering its current and new subscribers access to home security monitoring through one of their two packages. By doing this, Cox offers Homelife customers more savings and the simplicity of having just one bill for internet, cable, and home security.
Cox Homelife builds its capabilities on smart home monitoring and allows you to build on existing smart home devices you may already have installed in your home. By installing and linking smart home options, you can monitor different areas of your home while also remotely controlling lights, temperature, door locks. With some packages, users have the ability to monitor a live video stream.
Cox Homelife also provides users with app access that allows you to self-monitor your home, or you can sign up for 24/7 external professional monitoring. HomeLife includes professional installation of the system for a fee to ensure all devices are set up and working correctly.
Cox Customer Service
Customer service can be reached through the Cox app by calling 1-800-234-3993 during normal business hours, via 24/7 online chat on the Cox website, or through a Cox store for in-person help.
Cox Home Security Reviews
Cox Communications is accredited by the Better Business Bureau (BBB), has an A+ rating, and has been in business for 55 years. As with any top-rated home security company, Cox has a mix of positive and negative reviews.
Here are a few Trustpilot reviews from Cox customers:
"Help me lower my rates, but they always raise them with no notice." — CS on 11/15/2019
"I've had Cox for a couple years and have watched the rates increase and for mediocre performance. I'm now switching to a different provider and saving about $80.00 a month. The internet speed will be significantly faster too. It's always a pain to switch but I can't wait to no longer be a Cox customer." — Sidra Carys on 7/27/2018
Our Conclusion
The This Old House Reviews Team gives Cox Home Security an 8.9/10. Though Cox provides basic home security packages at relatively low pricing, the company has received some negative customer feedback concerning raising rates with no prior notice. Additionally, you can only opt into a Cox home security package if you're a current Cox customer.
If you're not a current Cox customer or are unsure whether Cox is right for you, compare the company to other top-rated home security providers below.
Cox Compared to the Competition
| Specifications | Cox | Vivint | ADT |
| --- | --- | --- | --- |
| View Plans | Not available through This Old House | View Plans | View Plans |
| Equipment prices | $100.00–$200.00 | $599.00 and up | Bundled with contract |
| Monitoring prices (per month) | $29.99–$54.99 when bundled with a current Cox subscription | $40.00 and up | $29.00 and up |
| Contract required | No | No | 36 months |
| 24/7 monitoring | Available | Available | Included |
| Professional installation | Yes, with a fee | Pricing by quote | $99.00 and up |
| DIY installation | Not available | Not available | Not available |
| Mobile app access | Yes | Yes | Yes |
| Motion detection | Yes | Yes | Yes |
| Smart home compatibility | Yes | Yes | Yes |
| Video surveillance | Yes | With camera purchase | Available |
| Video streaming capability | Yes | With camera purchase | Available |
| Money-back guarantee | 30 days | Warranty only | 6 months (installation and monitoring fees) |
Frequently Asked Questions about Cox Home Security
What smart home devices are available with Cox Homelife?
Cox Homelife offers a variety of smart devices that can be connected to your system, including HD cameras, smart door locks, smart LED light bulbs, smart plugs, and more.
Is my privacy safe with Cox?
Cox Homelife relies on a private, secure LocalArea Network (LAN) and ZigBee technology to provide monitoring. Additionally, each system is equipped with a unique Homelife security router, adding an additional layer of security to protect your devices and your privacy.
How do you control Cox Homelife features?
You can control your Cox Homelife features through the mobile app and touchscreen control panel. The mobile app allows you to set and disarm your system, view camera feeds, and manage your smart home devices. The control panel allows users to do all of this with the extra benefit of communicating with emergency response teams.
Which is better: Cox or ADT?
The Cox Homelife system is a better option for current Cox subscribers in Arizona, Arkansas, California, Connecticut, Florida, Georgia, Idaho, Iowa, Louisiana, Nebraska, Nevada, Ohio, Oklahoma, Rhode Island, Kansas, and Virginia, as it gives current subscribers the option to bundle superior home security coverage at a fraction of the cost. However, if you're not a Cox customer, an ADT home security system may be a better option.
How much does it cost to cancel Cox Home Security?
Customers can cancel their contracts within 30 days or they'll have to pay an undisclosed termination fee. If you leased security equipment from Cox, you can return it to any Cox retail store or you can schedule a Cox technician to come pick up the equipment after you cancel for $20.
Our Home Security Rating Methodology
The This Old House Reviews Team is committed to providing comprehensive and unbiased reviews to our readers. This means earning your trust through transparent reviews and having the data to back up our ratings and recommendations. Our rating system for home security providers is on a 100-point scale based on 10 factors:
Number of systems (5)
Special features (10)
Installation options (5)
Connectivity and smart home automation (15)
Pricing (15)
Contract period (5)
Warranty (15)
Trial period (15)
Usability (5)
Trustworthiness (10)
Our team reviewed 32 companies and spent 744 hours researching and testing out products to help us compare home security systems on key factors such as package options, cost, reliability, and ease of use. Read more on our methodology here.
To share feedback or ask a question about this article, send a note to our Reviews Team at [email protected].
Sours: https://www.thisoldhouse.com/home-safety/21289015/cox-home-security
Security cox reviews homelife
Cox Homelife Review 2021
https://www.reviews.org/home-security/cox-homelife-review/
We go over the features of Cox's security system, Homelife, in this review. Check out prices, plans, and more.
We have mixed feelings about Cox's smart home and security offering. On the one hand, it's overpriced and not compatible with other systems. On the other, if you're already a Cox customer, you could potentially save money when you sign up with Homelife.
In this Cox Homelife review, we'll go more in-depth about why Cox leaves us conflicted.
Cox Homelife plans and pricing overview
| | | | | |
| --- | --- | --- | --- | --- |
| Company | Monitoring price range | Contract | Home automation integrations | Learn more |
| | $29.99–$58.99/mo. | Contact for exact quote | None | View Plans |
Data effective 11/30/2020. Offers subject to change.
Cox Homelife pricing, contracts, and fees
Homelife has a smart home plan and a security plan.
Cox does something unusual in the home security space. It sells smart home plans, not home security plans, and it offers security as an add-on.
Essentially, you can't get security in the lower-tier plan. You've got to pay for the more expensive Cox Homelife Security monitoring service.
Cox Homelife plans and pricing overview
| | | | |
| --- | --- | --- | --- |
| Plan | Price | Contract length | Learn more |
| Cox Homelife Automation | $29.99/mo. | Contact for exact quote | View Plans |
| Cox Homelife Security | $58.99/mo. | Contact for exact quote | View Plans |
Data effective 11/30/2020. Offers subject to change.
You can also add 24-hour continuous video recording with Cox for $14.99 for one camera or $24.99 for two to four cameras. (This subscription allows you to record on a rolling 24-hour loop without missing a thing. The cloud then stores that footage for up to ten days.)
Altogether, that makes Cox quite pricey. You could pay over $80 a month for the privilege to use your equipment. Still, we have to give Cox points for being transparent about its prices and making them readily available.
Something that Cox isn't transparent about? Contracts.
Based on this service agreement, it looks like you can expect a two-year commitment. Former customers have also mentioned going month-to-month after their original contracts expired. But we can't guarantee any of that because the website isn't forthcoming.
We think that, at a minimum, you should receive a contract term length when you add one of Cox's packages to your shopping cart. That didn't happen when we looked at purchasing a service.
If you decide to sign with Homelife, we urge you to clarify your contract length and terms with Cox beforehand.
There's an activation fee of $49.99 when you get the Cox Homelife Security equipment. Previous and existing customers say there are also installation and cancellation fees. Sadly, we weren't able to pin down exact numbers. That's something else to ask Cox about before signing.
Also, if you move within a Cox area, you'll pay a fee to transfer your equipment. If you move outside of a Cox area, you have to cancel and pay the early termination fee. You'll also have to return your touchscreen control panel if you're renting one.
Cox Homelife has tons of equipment, but its packages leave a lot to be desired.
Cox offers a few different equipment packages. The Homelife Security & Automation Starter Equipment package is free when you sign up with a monitoring plan (minus activation and installation fees).
The Digital Home Starter Kit is 200 buckaroos. The Homelife Automation Starter Equipment is $250.
Cox Homelife packages overview
Cox package
Cameras
Sensors
Smart home
Homelife Automation Starter Equipment
1 HD camera
1 door/window sensor
1 smart LED light bulb
Homelife Security & Automation Starter Equipment
1 HD camera
2 door/window sensors
1 indoor motion sensor
None
Digital Home Starter Kit
2 HD cameras
2 door/window sensors
1 indoor motion sensor
3 smart LED light bulbs
Data effective 11/30/2020. Offers subject to change.
The amount of equipment included in the packages is pretty sparse. We do like that every package comes with a Cox Homelife camera, though.
Cox has more equipment if you're willing to open your wallet.
You can buy any of the following:
Homelife wireless keypad
Additional HD camera
Additional door/window sensor
Additional indoor motion sensor
Glass break sensor
Water/flood sensor
Monitored smoke-heat detector
Monitored carbon monoxide detector
Additional smart LED light bulb
Smart door lock
Smart plug
Smart thermostat
Cox no longer has the equipment prices easily accessible on its website, but we weren't impressed with the last prices we saw from them. Most of these items would be much cheaper if you bought them as standalones from your favorite manufacturer. Not even Nest, the prince of product priciness, charged that much for basic sensors.
Happily, last we saw, some of Cox's items are cheaper when bought in a multi-pack. So if you need more than one sensor, you'll save a lot.
The Cox website also mentions the Homelife Hub, Homelife Router, and a touchscreen control panel, though how you get them is unclear.
We suspect that they're unlisted pieces of equipment that come with some or all of the packages. After all, most smart home and security systems require some kind of hub or control panel. The purchase prices remain a mystery, although Cox indicates you can rent the control panel for $4 a month instead of buying it outright.
If you choose to buy from Cox, we suggest nailing these details down with reps so that there's no confusion.
Cox Homelife smart thermostat
We're drawn to this sharp-looking, battery-operated thermostat. It can be controlled remotely through an app (a major plus), and we like the unobtrusive design.
Unfortunately, Cox isn't very forthright about product details. We don't know if this is a Cox Homelife original or if it comes from a third party, like Alarm.com.
Cox offers just the one camera. It's a nice-looking device, but we aren't overly impressed with the lack of variety—especially since you have to pay extra for video monitoring.
Cox touts this camera as an indoor device. We don't recommend using it outdoors, so you'll have to look elsewhere for an outdoor security camera.
Cox Homelife home automation and mobile control
There are no Homelife-compatible devices to speak of.
The equipment doesn't work with Google Assistant, Amazon Alexa, or IFTTT.
We've yet to find a voice assistant or protocol that's compatible with Homelife. By its own admission, the company's equipment doesn't work with Google Assistant, Amazon Alexa, or IFTTT. It doesn't appear to work with Samsung SmartThings, Apple Homekit, Z-Wave, or Zigbee either. It honestly looks like Homelife is compatible with just . . . itself.
That's not a problem if you're happy with the equipment selection and prices. But if you want to cobble together a smart home using a variety of brands, you're in for a nasty surprise.
The Homelife app works with iPhones 6 or higher using iOS 11.0 to 13.1. It also works with a variety of Google and Samsung phones using Android 7.0 to 9.0.
According to the Cox website, you have to use the app. A browser isn't an option.
While the app looks nice and has a decent layout, customers don't love it. iTunes store reviews state that the Cox Homelife app's connectivity with the smart home and security equipment is chancy, and user ratings aren't great.
Cox Homelife installation
Your Homelife system will be professionally installed.
This sucker is 100% professionally installed. You even need Cox's help to transfer your equipment somewhere else.
Installation fee: We know there is one; we just aren't sure of the exact amount.
Cox Homelife customer experience
The Cox Homelife customer service is definitely mixed.
People have been happy with Homelife in the past, just . . . not so much recently. There aren't many positive customer reviews from the last few years on major review sites.
Cox Communications consumers mostly complain about billing and contract issues, especially when it comes to bundles. And we have to be honest; we were less than impressed with many of Cox's responses through the BBB. They could have been a lot more personalized. One was even borderline rude, putting scare quotes around terms the customer used in their review and using passive-aggressive language like, "We apologize that you feel . . ."
Recap: Is Cox Homelife good?
We cautiously recommend Homelife to existing Cox customers who want to bundle their services.
Cox Homelife could be good if you're already invested in Cox services. Otherwise, since it costs a lot and isn't compatible with other smart home and security equipment, we think you could do better.
If you're looking for a bundle specifically, here are our top service bundle recommendations. Not all of them include home security, though, so you should also check out our best home security systems.
If you're more interested in the home automation aspect of Cox, check out our guide to setting up your smart home.
Is Cox Homelife available in my area?
Cox Homelife offers service in the following states:
Arizona
Arkansas
California
Connecticut
Florida
Georgia
Idaho
Iowa
Kansas
Louisiana
Nebraska
Nevada
Ohio
Oklahoma
Rhode Island
Virginia
You can also get service in DC.
Cox bundles include internet, TV, phone, and/or home security. You can get these services in multiple different combinations so you can meet your needs and save money.
Of course, Cox isn't the only provider offering bundles, though it is one of the only companies that includes home security. If you're not sold on Cox but want something similar, you can try an Xfinity home security bundle. Just beware of Xfinity/Comcast's customer service.
What internet do I need with Cox Homelife?
Cox says Homelife won't work as advertised unless you have a high-speed internet connection. That means internet of 25 Mbps or more.¹
There was an error initializing the test. Please reload the page and try again.
Connecting to a server ...
Connecting to
another server...
If you don't have a connection with sufficient speed, you'll need to change providers. (Cox, unsurprisingly, will generally point you to its internet service.)
It's up to you whether you want to use Wi-Fi or if you want to physically connect to a router with an Ethernet cable. You just need some fast internet.
Can I monitor the home security system on my own using the Homelife app?
Cox offers professional monitoring in a bundle with its equipment, so you can't self-monitor. If you're really invested in self-monitoring, this isn't the system for you. But there are lots of benefits to professional monitoring since you know eyes are always on your system.
Cox has six monitoring centers, so even if there's a natural disaster or power outage, there's always someone to watch your home.
Brianne Sandorf
Brianne has a degree in English and creative writing from Westminster College and has spent 6+ years writing professional, research-based content. Before joining Reviews.org, she wrote safety and security content for ASecureLife.com. Her pieces and quotes are published across the web, including on MSN.com, Social Catfish, and Parents.com. Hobbies include wearing a seatbelt, wearing a life jacket, and keeping her arms and legs inside the ride at all times. Contact her at
[email protected]
Brianne has a degree in English and creative writing from Westminster College and has spent 6+ years writing professional, research-based content. Before joining Reviews.org, she wrote safety and security content for ASecureLife.com. Her pieces and quotes are published across the web, including on MSN.com, Social Catfish, and Parents.com. Hobbies include wearing a seatbelt, wearing a life jacket, and keeping her arms and legs inside the ride at all times. Contact her at
[email protected]
Cox is the worst ever HORRIFIC Customer service if you can call it that
We have the cox system and it works as a deterrent I guess but I'm not certain it's worth the money. We had an unfortunate real life test where we left the alarm on accidentally and the housekeeper set it off. We were out of cell service and the monitoring center couldn't reach us to verify. They reset the alarm after 15 min and that was that. A guard showed up at the house over 2 hours later to "check out the scene". I've never been a criminal but I suspect most home invasions happen more quickly. I know criminals can't count on nobody answering the phone and this was an anomaly but it's a serious f aw in their coverage. We are considering switching services to a company that does what it says it does
Not happy right now…Trying to get this product & their customer service sux…3 times Ive had conversations with reps, depending on who you talk to, you get a different version. Nobody is familiar with equipment , special offers listed or what the other hand is doing. I've asked for a consultation before install, 2 assured me not needed…tech shows up, can't do the job..talk with rep again..consultation set up…between 3 & 5 pm…no show…no phone call..I drove 40 miles each way…called again. .now rep says they don't do that…seriously about to pull plug on this clown show…if I ran a business like this, there would be no business
Leave a Reply
Click here to cancel reply.
Sours: https://www.reviews.org/home-security/cox-homelife-review/
Best Home Security Systems of 2021 - Simplisafe, Vivint, ADT, Ring, Frontpoint
The Good
Cox Homelife allows users to choose between self-managed home automation systems and professionally monitored security systems. All components are wireless and a free equipment package is included for every purchase.
The Bad
Cox Homelife is a division under a huge corporate company, and as a secondary service offered by that company, we don't expect to see a lot of innovation in their offers.
Bottom Line
Cox Homelife is a fairly decent option. Users don't have many choices when it comes to monitoring, but the pricing is competitive considering that the only professional monitoring plan available includes a lot of smart home and video surveillance features.
Who's It For?
Cox Homelife is a solid option for homeowners who need a security system and also want a smart home system and cameras. Cox Homelife's monthly rate is well below the average rate of most alarm companies that offer home security, home automation, and video surveillance features.
Cox Homelife also offers a self-managed home automation system, which is a strong option for smart home enthusiasts. However, it still requires a monthly subscription fee with a 2-year contract, so it's not recommended for everyone.
Cox Homelife Sales Process
If you've ever had any Cox Communications products in your home before, the sales process is likely the same. You can either shop everything online or sign up for an in-home visit with a Cox sales rep who will assist you in buying.
If you shop online, the first step is to choose a plan that suits your lifestyle. Cox Homelife has two plan packages: Smart Home (self-managed home automation) and Monitored Security (professionally monitored with home automation features). Once you've chosen a plan, you can customize it to include all the features and equipment you want. Finally, you will be asked to provide an installation address and your personal information so they can run a credit check before sending over your system.
One thing we've noticed when we tested the online sales process is that the interface is not at all  intuitive. It refreshed for no apparent reason a couple of times, rendering previous customizations we've made null. That said, we recommend requesting an in-home visit rather than shopping online.
Another advantage of having a sales representative contact you is that you can ask all your questions before buying. This is important, because the online sales process uses a lot of terms that are difficult to understand for average shoppers. It also has a lot of optional offers that are not clearly defined. With a sales rep guiding you through the sales process, it's much easier to get from point A to point B.
Cox Homelife Equipment Review
Cox Homelife offers a total of 14 types of devices, but which products you can use will depend on your service plan of choice. Below are all the products in Cox Homelife's portfolio.
HD Video Camera
Door/Window Sensor
Motion Sensor
Wireless Keypad
Smoke & Heat Detector
Carbon Monoxide Sensor
Glass Break Sensor
Leak/Flood Sensor
Smart Door Locks
Smart Outlets
Smart Thermostats
Smart LED Bulbs
Cox Homelife Touchscreen Control Panel
Cox Homelife Wi-Fi Hub
Cox Homelife Smart Home
If you choose the Smart Home service plan, your system's main component will be the Wi-Fi Hub. The Wi-Fi Hub is a wireless device that plugs directly to a wall outlet and connects to your Wi-Fi network. It wirelessly connects to and control your entire smart home system. That said, it must be placed in a central location that is open and not covered by furniture.
The Wi-Fi Hub lacks a screen, so the only way to control your smart home system is through the Cox Homelife smartphone app. When using the app, your smartphone must be connected to the internet either via Wi-Fi or cellular data. The hub also communicates alerts to you via the smartphone app.
The Smart Home service plan only supports eight of the fourteen device types sold by Cox Homelife. They are:
Smart Door Locks (up to 4)
Motion Sensors (10+ supported)
Smart Outlets (10+ supported)
Smart Thermostats (up to 4)
Door/Window Sensors (10+ supported)
Smart LED Bulbs (10+ supported)
HD Video Cameras (up to 6)
Wi-Fi Hub (1 per system)
Cox Homelife Monitored Security
If you go with the Monitored Security plan, which includes professional monitoring, Cox Homelife will switch out the Wi-Fi Hub with the Homelife Touchscreen Control Panel.
The Touchscreen Control Panel is a tablet-like device. It's function is similar to the Wi-Fi Hub, but the presence of a screen allows you to control your system using the control panel's interface itself. It also has one additional function: sending alerts to the monitoring center. Because Monitored Security includes professional monitoring, the ability to send alerts to the central station is vital. Like the Wi-Fi Hub, the Touchscreen Control Panel uses Wi-Fi as a primary means of communication, but it also has a cellular backup. In case your internet is down when an emergency occurs, it will use cellular signal to communicate alerts. It also has a backup power supply.
The Wi-Fi Hub supports the following devices:
HD Video Cameras (up to 6)
Door/Window Sensors (10+ supported)
Motion Sensors (10+ supported)
Wireless Keypads (10+ supported)
Smoke & Heat Detector (10+ supported)
Carbon Monoxide Sensor (10+ supported)
Glass Break Sensor (10+ supported)
Leak/Flood Sensor (10+ supported)
Smart Door Locks (up to 4)
Smart Outlets (10+ supported)
Smart Thermostats (up to 4)
Smart LED Bulbs (10+ supported)
Equipment Packages
Getting a service plan from Cox Homelife entitles you to a free equipment package and the option to buy additional devices as needed. However, because the equipment package is free, a 2-year contract is required.
For Smart Home users, the free starter kit includes a Wi-Fi Hub, an HD security camera, a door/window sensor, and a smart LED light bulb. The total worth of the package if bought a la carte is $265.
For Monitored Security users, the free starter kit includes a security camera, two door/window sensors, and a motion sensor, with a total worth of $400. A Touchscreen Control Panel is also included, but it's only for lease. Once your contract expires, or if you decide to cancel the service, you'll need to ship the control panel back to Cox.
Monitored Security users have the added option to swap out the free equipment package with a discounted equipment package with more inclusions. Instead of paying nothing for the equipment upfront, you can opt to pay a one-time $200 equipment fee and receive two security cameras, two door/window sensors, a motion sensor, and three LED smart light bulbs. The total worth of the equipment package if bought without discounts is $655. That's a $455 savings.
If you want to expand your system, there's also an optional add-on bundle that includes a security camera and a door/window sensor. The bundle sells for $160, but it's value if purchased separately totals to $240.
Of course, you always have the option to add devices to your system a la carte.
Door/Window Sensor — $60.00
Indoor Motion Sensor — $100.00
Glass Break Sensor — $150.00
Smoke/Heat Detector — $125.00
Carbon Monoxide Sensor — $125.00
Water/Flood Sensor — $85.00
Wireless Keypad — $100.00
Smart Thermostat — $200.00
Smart Plug — $60.00
Smart LED Light Bulb — $25.00
Smart Door Lock — $230.00
HD Camera — $180.00
Cox Homelife Monitoring Service Review
Cox Homelife offers two service plans: Smart Home and Monitored Security. However, only Monitored Security includes monitoring features. Cox refuses to call Smart Home a self-monitored service and instead insists on calling it a self-managed smart home service with limited home security capabilities. Still, Smart Home's "limited home security capabilities" is pretty extensive. So what's included in each service plan?
Cox Homelife Smart Home Service
For $29.99 per month, Smart Home includes home automation features, video surveillance features, and security alerts. However, you'll need to buy additional products to enjoy its full potential. For example, you can use the system to automate and manage your home's temperature, buy you'll need to buy a smart thermostat from Cox to do that.
The home automation feature includes access and use of scenes, rules, and remote smartphone control. Scenes are basically commands that affect multiple devices. For example, instead of turning off each smart bulb at night, then locking your doors, and then setting the thermostat, you can create a scene that does all that at once. Simply activate the scene before going to bed and your system will set everything for you. Rules, on the other hand, are automation tools that tells your system how to react when a particular event occurs. For example, you can create a rule that triggers the camera to capture a short video clip every time your door is opened as detected by your door/window sensor.
The video surveillance feature is also pretty interesting. First, it lets you stream live video from your cameras to your smartphone, allowing you to check on your house anytime and anywhere you are. Second, it comes with free cloud storage. You can store a certain amount of videos in the cloud and play it back whenever you want. Once its full, the oldest clips are deleted and replaced by new ones.
Cox Homelife Monitored Security
The Monitored Security service plan actually offers the same features as Smart Home, but with some additions. First and foremost, it activates professional monitoring. If one of your security sensors, or even your smoke alarm or CO detector, detects an emergency, your touchscreen control panel will send an alert to Cox's monitoring center where a team of trained monitoring agents are standing by. Upon receiving the alert, they will call you to verify the alert. If it's a real emergency situation, they can call your local police department or fire department on your behalf.
Another addition is power and cellular backup, which is mostly thanks to the touchscreen control panel's built-in battery and cellular chip. In case of a power outage, your system will still be able to send alerts to you and the monitoring center.
Optional: Continuous Video Recording
Both service plans include video surveillance features with limited video recording, but you may also add continuous recording for an added cost. Continuous recording lets your cameras record rolling videos in the cloud for 10 days, allowing you to review every second of the past 10 days. The cost will depend on how many camaras you want to add the feature to. For two cameras, $14.99 will be added to your monthly rate. For four cameras, there will be a $24.99 increase.
Cox Homelife Customer Service Review
Accessible & Dedicated Customer Support
Cox isn't the only triple-play company that offers internet, cable, and home security services, but what sets Cox Homelife apart, in terms of customer service, is its dedicated customer support. Other triple-play companies have the same customer support team for their internet, cable, and home security service. This often results to unsatisfying customer service. Cox Homelife, on the other hand, has its own dedicated customer support team that only handles Cox Homelife-related issues. You can reach the dedicated support team through phone at 1-877-404-2568 from Mondays to Fridays between 8AM and 8PM as well as Saturdays between 9AM to 6PM.
Cox's website also has a live chat feature. While it's not exclusively for HomeLife customers, you may use this feature to ask general questions especially when the phone line is not available.
Policies
A company as big as Cox surely has policies in place, but are they customer friendly?
Limited Warranty
Any equipment sold and leased by Cox Homelife is covered by a 1-year limited warranty. However, not all maintenance and repair costs will be waived. If an equipment is damaged due to the user's fault, standard labor and material charges will apply.
Contract & Early Termination
Purchasing services from Cox Homelife requires a service contract, but the good news is that contracts with Cox Homelife are shorter than industry norms. Most alarm companies require a 3-year contract; Cox Homelife only requires a 2-year contract.
Moving Policy
If you're already a customer who's planning to relocate, Cox offers several options, but they recommend getting in touch with their Moving Specialist first.
If you're moving to the same area, you can take your system with you and continue your contract in your new address. Nothing will change except for your address. You can even transfer and install the system yourself if you're comfortable doing that. Otherwise, you can request for a technician to perform the installation. Standard charges will apply.
If you're moving to a different state that is also covered by Cox, you may take the system with you. However, a new service agreement will need to be signed. The new agreement doesn't necessarily have to be 24-month. You can actually request a month-to-month contract after the move. Also, as a reminder, if you disconnect your system in your old address, you must reactivate it in your new address within 15 days. If you fail to do so, your contract will terminate and an early termination penalty will be charged to you.
If you're moving outside Cox's service area, you will need to cancel your contract and pay any termination fee necessary. If you're a Monitored Security customer, you'll also need to return the leased touchscreen control panel. Failure to do so will subject you a non-return fee.
Sours: https://homealarmreport.com/home-security/cox-homelife/reviews/
You will also like:
Cox Homelife
Frank of Phoenix, AZ Verified Reviewer
Original review: Jan. 21, 2021
Have been very satisfied with Cox Homelife. Very easy to change batteries in the door sensors and is completely wireless, unlike other systems that claim they are wireless and then start drilling holes in your house and cutting phone lines to connect. As stated above, a true wireless system.
Helen of Candler, NC Verified Reviewer
Original review: Jan. 7, 2021
Cox Homelife is an excellent security company, they are always there if needed. Their service is great, equipment is great, the response time is great. I have never had a problem with them. Can't say enough good about them. I have used ADT which is awful.
Thank you, you have successfully subscribed to our newsletter! Enjoy reading our tips and recommendations.
A of Phoenix, AZ Verified Reviewer
Original review: Aug. 10, 2021
If you are considering getting home security Cox is not not not the best choice!!! This company the worst customer support. Very rude technicians because most of the jobs Cox is outsourcing to anonymous companies so you never who you are dealing with, that is just the beginning. I switch from ADT to Cox and that worst mistake I have done, the technician who came to our house was on personal phone with a break up situation so he left us with no instructions at all so I called Cox two days after that to point the situation and they told me that I have to pay cancellation fee $440 although their website shows that 30 days $ back guaranteed. After all I learn that so many people are not happy with Cox service at all. We have the internet service and that we don't have a choice because the other Internet providers are not so good. After so many hours on the phone with different cox customer service we decided to go with AAA Home Secretary what a difference that made. Run away from Cox service as far as possible.
Justin of Las Vegas, NV Verified Reviewer
Original review: Jan. 19, 2021
I could start with the issues that I had in the past with this shoddy product, but honestly they pale in comparison for the reason that I just cancelled, so I will stick to what matters. I recently moved, which necessitated taking my alarm system, internet, and TV with me (which literally never worked in the 14 months I was at my last residence). A technician had to come set up my alarm. I always set up everything else of mine on my own and was not informed that they were supposed to set up any other services.
While the technician was setting things up he was speaking with me about what he was doing and he was very friendly. As he set things up I mentioned that the TV never worked and he took a look at it. After setting up the alarm, which required the internet to work he left. The motion sensor for the alarm wasn't working so I called the company to see what I could do and they sent the technician back. As an aside, I was very clear to explain that I thought the technician did a good job and that I thought it was a mechanical error (I also tipped the technician $25 just for being a nice guy while he WAS DOING HIS JOB); no good deed goes unpunished.
After the alarm was up and running I got my next bill, which went from an already high 148 to an astonishing 560; needless to say I was "shook," as the youth say. I called someone at Cox who informed me that the install fees would come off and I would only have to pay for any service that got forwarded to this bill from the old place, which I am totally fine with. After a few days the statement made by the employee obviously was false because the bill never changed and so I tried to call back...for three days, but they were "experiencing long wait times" and I kept sitting on hold for hours and then getting dropped. I then tried the chat function on their site, and that person said I had to call some special number, which I did. Upon calling the new number, I was informed that there were not any notes indicating that I was told BEFORE the install that I would not be charged and that I would have gotten an email stating the charges.
While I was on the phone with the lady I looked up the email scheduling service, and much to my shock it didn't not include any notice of exorbitant fees that I would be asked to endure. Rather, the email listed a day the technician would come to set up my alarm. When I explained to the woman that the email did not say what she purported it would and that I could send it to her, she indicated there was no way for me to send her an email. As an aside, she had a really cavalier attitude about my situation even though I explained that I have been with Cox (on and off, but mostly on) since 2007 while I was in college.
After that call I looked into getting comparable services and found out that by switching to a competitor I get more alarm services, and the same internet for 55 less a month, so I called Cox back. The woman I spoke with this time could not have been bothered and focused on the cancellation fee I would have to pay because my service is under contract until October of 2021. I was spoken to politely the entire time that I was on the phone, and I know it isn't the people, as individuals, that I spoke with, so I too was polite, but rather a national service provider that has a culture of not giving a rip about their end user; even when the user has a higher than average amount of service per month.
Accordingly, I told the nice lady that my service will be cancelled on the 25th, and that my more than decade long patronage of Cox will end, and that I will make sure I let other consumers know how Cox treats those who have spent so much of their hard-earned income on Cox's services. Finally, I asked around to make sure I'm not being the male version of a "Karen" about this, and I learned that my experience is not atypical and that numerous consumers have been leaving Cox because their customer service, products, and pricing suck; which is only compounded when juxtaposed with this seemingly apathetic culture of indifference to the people that actual pay the bills for the people on the phone.
Logically, I know that the people I spoke to did not write the rules, so I do not yell, or get overly angry with them, but dealing with what is the equivalent of shoulder shrugs on the phone made me want to break glass; and I cannot ever give Cox communications an extra penny than what I absolutely must to get out of this contract.
Read full review
Nanette of Wichita, KS Verified Reviewer
Original review: Jan. 6, 2021
Cox security system is entirely too expensive for what you get. They advertise free equipment but neglect to say exactly what is free. The only item we received was the base unit. There is additional charge for connecting door windows, fire alert alarms and CO monitors. It adds up very quickly. The monthly charge during the initial phase is reasonable but almost doubles after that. The other thing I would earn of is the two year contract. You are locked in and they refuse to leg you out of IT so be very sure before you sign.
Angee of Tolleson, AZ Verified Reviewer
Original review: March 5, 2020
We moved to Arizona in Nov 2019 and decided to get security for our new home. We decide to try Cox Homelife since we were signing up for their cable and internet. The technician who came out to install told us we had thirty days and if we did not like the equipment/service we could cancel without any penalties. Otherwise the contract was for 2-years. We were having troubles from the very beginning with the equipment not working. We have 2 cameras with the service and the monitor screen would not show what was happening on the cameras. We would continuously get a message that it was trying to connect but never would connect. After three weeks we finally called to cancel the Homelife. During that call we were told that we only had 3 days to cancel. If we cancel now before the 2-year contract was up it would cost $700. We explained that is not what we were told. They would not budge on their decision.
They said they would sent out a tech to take a look at it. The tech who came out said our internet strength in the house was causing the problem and we would continue to have issues. We called the next day to insist they cancel and remove the equipment from what the installer said. They said they would send out the next level tech. He fixed the cameras by changing it to another channel. He finally got the cameras to work on the monitor. However, we still could not get constant access with the Homelife app to monitor the cameras. We both intermittently get messages that say "Not Connected. This app requires an internet connection. Make sure your device is not in Airplane mode and has a Wi-Fi or cellular connection. When your device is reconnected, you will be able to sign in again". We are always connect by Wi-Fi or cellular when these messages occur.
We called again to say that this service still does not work and we want to cancel. We spoke to a supervisor and he said that it is the fault of our cellular carrier and that they would not do anything. REALLY?? I should not have to change cell companies to get the service to work. We told them if they cannot get this to work as it should then they need to remove it and void the contract. They refused so we filed a complaint with BBB. That caused us to get a phone call from an escalation department. They will not budge on removing the equipment. They expect us to take more time off work to let another technician come out to look at it.
How much money do we have to continue to lose in wages to be home for their technician window? We have already invested too much time on this. Every technician or supervisor has a different reason why their equipment won't work. They need to face it that their equipment and service is crap and it just does not work well at our location for WHATEVER the reason is, and the right thing for Cox to do is let us cancel without penalty. It is criminal for them to force us to keep this equipment that has proven time-and-time again that it is not reliable to keep our home and lives safe.
Read full review
Doreen of Cheshire, CT Verified Reviewer
Original review: Jan. 9, 2020
I was sold equipment that did not exist. Was supposed to be a four hour installation, installer called out to another job in a hour. Got the cliff notes tutorial. Blew out my first floor phones. They went into two of my accounts taking out the same unauthorized charges. Never called but showed up four days later to install more equipment. Had to change bank numbers, block them, called everyday, when finally got through two and a half hours, eight department charges to get the bank fraud charges handled and get them to cancel service and make appointment to get equipment uninstalled.
One agent for 45 minutes tortured me to set up uninstall and then demanded I pay 25 dollars. Next agent said it only takes ten minutes and no charge. WTH? I nearly collapsed from exhaustion, anger, frustration and disbelief that it is ok to put a 30 year customer through this? Don't do it. It's customer service that is a nightmare. An absolute nightmare. Imagine if I stayed? More fraudulent billing, agent and tech nightmares? So thankful I left as fast as I could.
Read full review
Michael of Glendale, AZ Verified Reviewer
Original review: Sept. 29, 2019
The system rarely works. It once locked me out of my own house with the alarm system locked at midnight while my family was sleeping. It's atrocious and the cameras never work. I have been required to call customer service on several occasions with no proper support or advice.
Hengameh of Irvine, CA Verified Reviewer
Original review: Sept. 20, 2019
I have been a Cox Communication customer for over 25 years. Recently I moved to a new place and requested service from cox. They show up with their technician talking about a new service "HOMELIFE" which I never agreed to. Installed the video camera and talked about all the benefits and that it is absolutely free with no charge. I got a bill for $400 charges on the equipment and service. I had to call on three separate occasion and wasted 1 hour each time being passed around from one person to the next promising that they would credit my account. Yesterday morning they disconnected my service and when I called them after being passed around to about 6 different people in order to restore my service they made me pay for the equipment for $270.00 something they said was free. They have the most dishonest employees, they are thieves. I will look for other services as I am disgusted by this company's greed and lies.
Lisa of Phoenix, AZ Verified Reviewer
Original review: Sept. 19, 2019
Do you know what Hell is? Well, I will tell you my hell...My "Hell" is dealing with Cox Communication. I have experienced the most ineffectual and poor customer service since I attempted the small feat of moving my Cox service across the hall to my new apartment in July.. I spoke to a rep in July who asked if I wanted to add Cox Homelife to my account since it was a great product and that they were offering if for FREE. The adage that you get what you pay for should have been high in my memory bank. She told me that I could cancel the service within 30 days if it was not as I expected; I verified with her that canceling the service would not affect my Bundle price Anyways, I get the service and true to form, it is horrible. It has been installed poorly so it chirps every fifteen minutes which is very frustrating.
I called back within the allotted thirty days to cancel the service and verified again that my Bundle deal would not be affected negatively because I canceled the Homelife service. Imagine my surprise when I got a bill stating that my service would increase by about…ummmm, 200.00 per month...because I lost the Bundle discount. I called and spoke to Bosha on September 4th about the increase. And, she said that it was because I lost the Bundle discount which I explained that I was told that it would not be taken but that's neither here nor there, how do I fix it? Bosha said that she would set up an appointment for the 11th to have Homelife reinstalled and to fix the issue. I called back on the 11th when no one came and spoke to a supervisor/manager, Deborah, who explained that Bosha never completed the request so that meant that my husband wasted a half day off since we had to reschedule the appointment for the next week.
I then received a bill for 300.00 to install Homelife which I refused to pay because I only got the service because the install fee had been waived. I called again to rectify this and was transferred to the requisite...deep sarcasm...four associates, one including Tonya who transferred me to another associate, when I asked to speak to a supervisor. I received ANOTHER email with the incorrect installation date so I called and had the date changed to Tuesday, the 24th, from 5 pm until 7pm. I received an email and a phone call today verifying today's erroneous install date. I called and spoke to Andrea, a supervisor, who informed me that they cannot install from 5-7 because they would not have complete time to install.
This is the epitome of a Comedy of Errors. Cox is hell. I would leave but they have a monopoly in my building. Sooo, basically, I am going through Hell to have them install a service that is horrible and that I never wanted. Oh, yeah, I just got a late notice for my bill that was supposed to be postponed until they fix this phenomenal mess. Yeah, Cox.
Read full review
Patrick of North Las Vegas, NV Verified Reviewer
Original review: Aug. 21, 2019
I purchased Cox Homelife in a bundle but after having the service for several months I noticed continuing fees for equipment that they had up charged without making me aware of. Customers service said it was in an email that I never got and said there was nothing they would do about it.
Gary of Chandler, AZ Verified Reviewer
Original review: Aug. 12, 2019
SO, where to begin. Started the service on July 15th, 2019 and reported on July 18th that I do not want Homelife security and they made me keep it stating they have open up a case for it and then keep diverting me to sales guys to make me keep the service. I finally took all the equipment out and went to nearest COX center, deposited it and ask them to call Homelife and they cancelled it finally! So I thought, "Ok it all over," but NO. They put an early termination fee on me for $750 and did not removed it and made me pay it! Horrible customer service and very rude people. Will never recommend this company to anyone and please stay away for them. They are not worth the price. I will suggest SimpliSafe, which is far more reasonable and very good customer service. Thanks, G
Sours: https://www.consumeraffairs.com/homeowners/cox-homelife.html
2
3
4
5
6