15 Best Gender-Bender Anime: What's a Hideyoshi?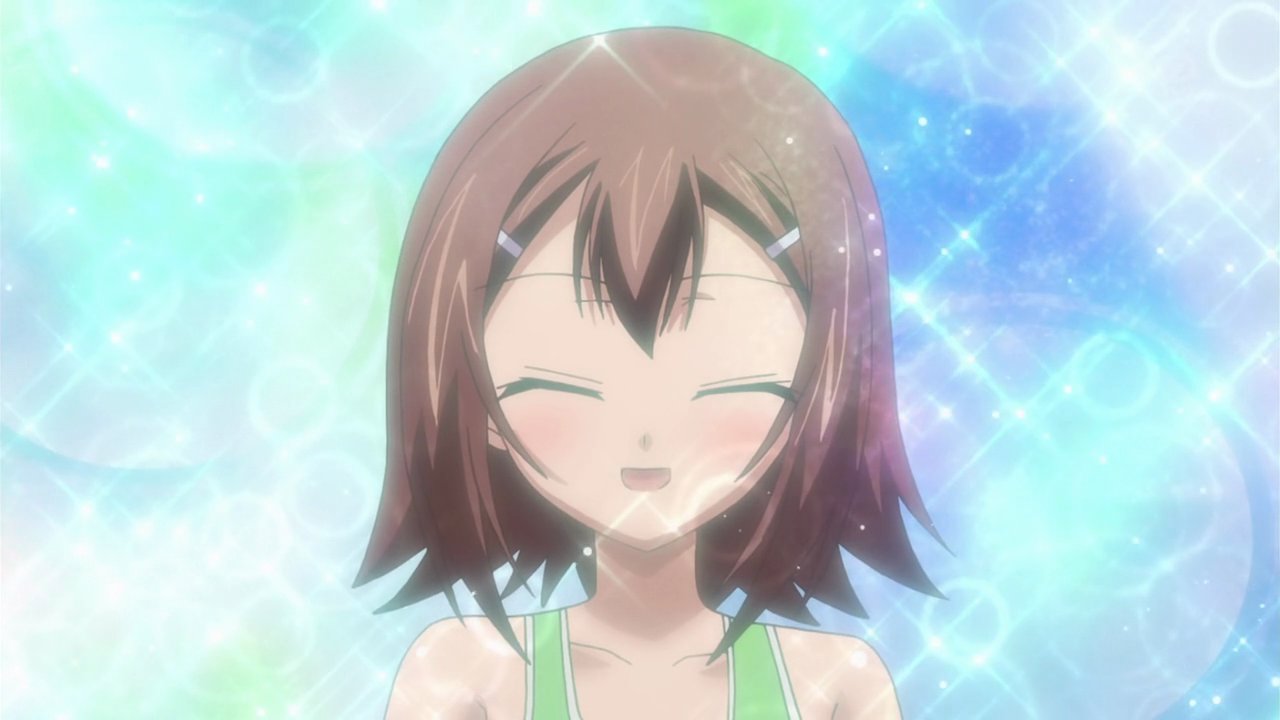 Who doesn't know who Hideyoshi Kinoshita is? He's the origin of the word Hideyoshi, referring to a guy who's too feminine in looks and in personality that everyone regards him as a girl. That's why some even consider it a third gender. But this article doesn't only talk about Hideyoshis. Let's meet girls who look like guys, guys who cross-dress, and even people body swapping with another gender!
All ranking information was taken on the date of publication.


---
Ouran Koukou Host Club (Ouran High School Host Club)
MAL Rated 8.44, Ranked #128 | Aired Spring 2006 | Produced by Bones
---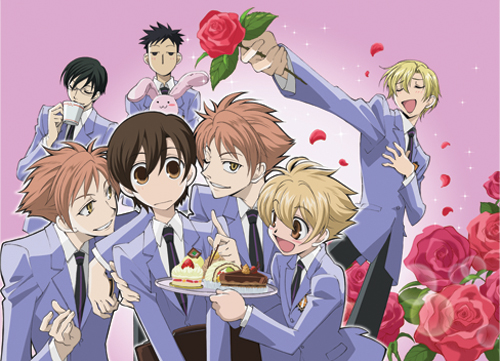 Ever daydreamed about how it would be like to study in a school where only the richest can attend? You probably have. But have you ever dreamed of having a debt of 8,000,000 JPY (about 66,000 USD) just because you broke a vase of some weird host club? Such is the life of Haruhi, a girl who gets mistaken for a boy and is forced to be part of the host club to pay off her debts.


---
Ranma 1/2
MAL Rated 6.06, Ranked #1270 | Aired Summer 2014 | Produced by Asashi Production
---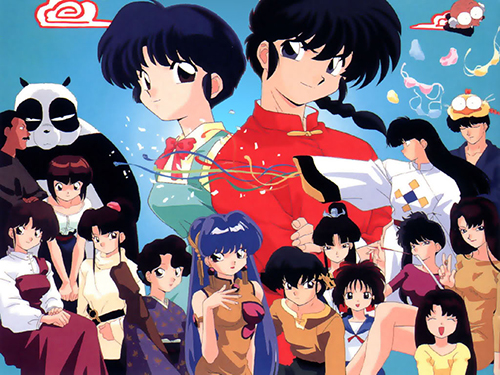 Ranma Saotome, a talented martial artist who has trained since he was a child, gets into an unusual accident during a journey. This accident changed his life... and also his body. From then on, contact with cold water turns him into a girl. Thankfully, hot water turns him back into being a guy. But that's not weird at all. Because what's really weird is the guy who turns into a pig when splashed with cold water.


---
Himegoto (Secret Princess)
MAL Rated 8.44, Ranked #128 | Aired Spring 2006 | Produced by Bones
---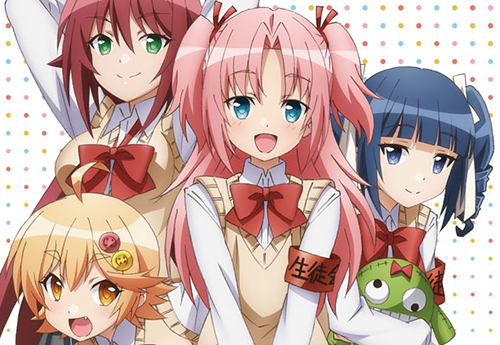 Here we go again with the debts. Don't go into debt, people. It changes your gender. In Himegoto, we have a high school guy with an overwhelming debt. But good people paid them off. I wish I could tell you that it ends there but these good people were the student council of an all girl's school. And - you can probably guess what happens next - he is then forced to live his high school life dressed as a girl.


---
Aoharu x Kikanjuu (Aoharu x Machinegun)
MAL Rated 7.31, Ranked #2157 | Aired Summer 2015 | Produced by Brains Base
---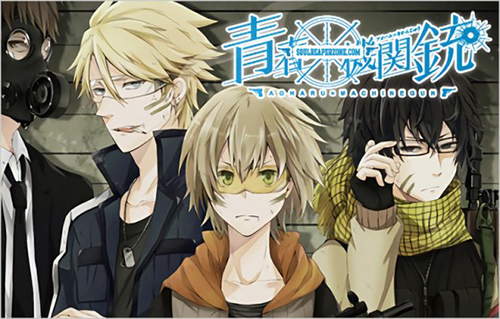 In a world full of bishounen (pretty boy) characters, it is quite easy for a girl to be confused with a boy. And that's what happens with our protagonist, Hotaru Tachibana. At some point, she finds herself joining a team and playing survival games with this team. The conflict is that her two teammates (bishounen, of course) would never ever accept a girl as a teammate. Our Hotaru loves playing these games so, but can she play the part of a boy as well?


---
Maria†Holic
MAL Rated 7.22, Ranked #2458 | Aired Winter 2009 | Produced by Shaft
---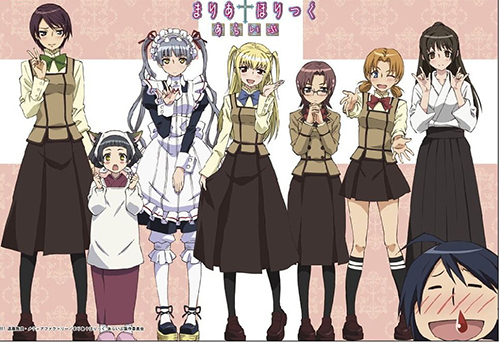 Kanako's dream is simple: to enroll in an all-girls school. Well, that's normal, right? Yeah, sure. But not when you're actually a lesbian who fantasizes about doing perverted things with other high school girls. She's able to enroll into one and she even finds a target. But what if that target is actually a cross-dressing boy? How will Kanako handle Mariya, the boy in drag, when she absolutely hates boys and even breaks into hives upon contact with them?


---
Minami-ke (The Minami Family)
MAL Rated 7.86, Ranked #730 | Aired Fall 2007 | Produced by Daume
---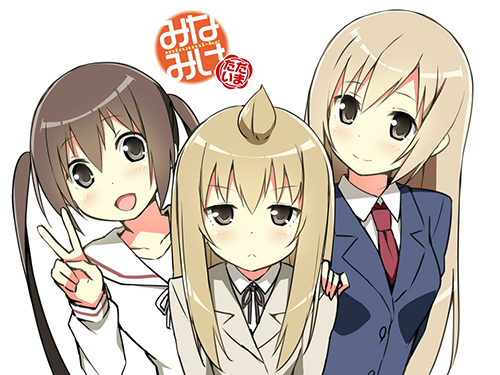 How do you handle your crush towards one of three sisters? Get the other two to force you to cross-dress, of course! Wait, what? Well, this is the path Makoto chose. You might think it's foolish but I think it's nothing but brilliant! Looking like a girl (thanks to the other two sisters), Makoto (or Mako-chan) gets to hang out with Minami Kana at her very house every time he so wishes. I can't tell you about his progress with Kana but his progress to femininity has gotten to the point where he actually gets into this cross-dressing thing and starts buying dresses on his own.


---
Kämpfer
MAL Rated 6.81, Ranked #3865 | Aired Fall 2009 | Produced by Nomad
---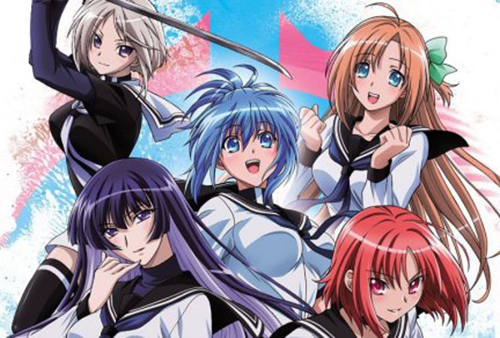 Natsuru - the boy who went to sleep as nothing but him and woke up as a girl. But, the upside is he (or should I say, she) is not an ordinary girl. She is now a Kämpfer! So what's that? Well, it's a girl. A girl who fights. A girl who fights with other Kämpfer. Okay, so I guess it's not so much an upside after all. But I guess everyone, male or female, now fawning over her makes it a little worth it.


---
Yamada-kun to 7-nin no Majo (Yamada-kun and the Seven Witches)
MAL Rated 7.99, Ranked #532 | Aired Spring 2015 | Produced by LIDENFILMS
---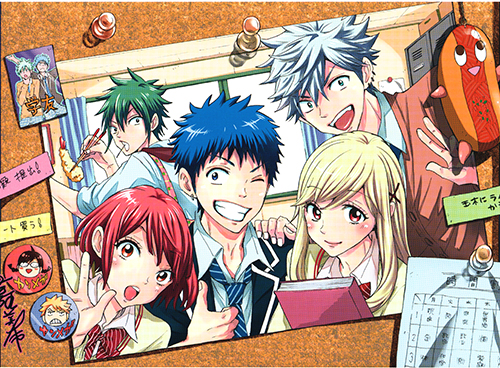 If getting turned into a girl overnight for God knows how long is not your thing, then you may still consider body swapping with someone, be it a guy or a girl. One day, delinquent Yamada accidentally kisses top student Shiraishi and ends up in the body of Shiraishi. Unknown to everyone, Shiraishi is actually a witch who has body swapping powers. These powers are activated through kissing. There are other witches in the school and it is Yamada's responsibility to kiss all of them! Err, well at least find out who they are.


---
Kashimashi: Girl Meets Girl
MAL Rated 6.85, Ranked #3720 | Aired Winter 2006 | Produced by Studio Hibari
---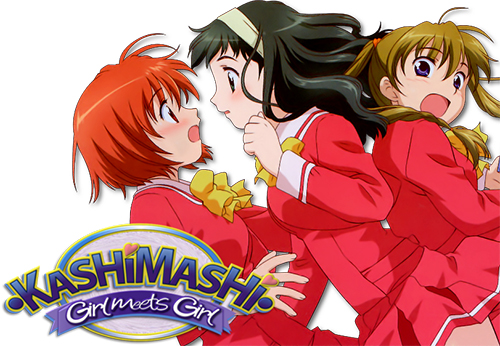 Let me try this in one go. So... The protagonist Hazumu dies after an alien spacecraft lands on him so these aliens revive him, but they mistakenly revive him as a girl and as a result, his crush, Yasuna professes her love even though she rejected him before because she can't see boys clearly and only sees them as a blur, but then Hazumu gets torn between Yasuna and Tomari, a childhood friend who also realizes her feelings for him while he's a girl. That didn't sound weird at all, did it?


---
Otome wa Boku ni Koishiteru (Otoboku: Maidens are Falling for Me)
MAL Rated 7.21, Ranked #2505 | Aired Fall 2006 | Produced by Feel
---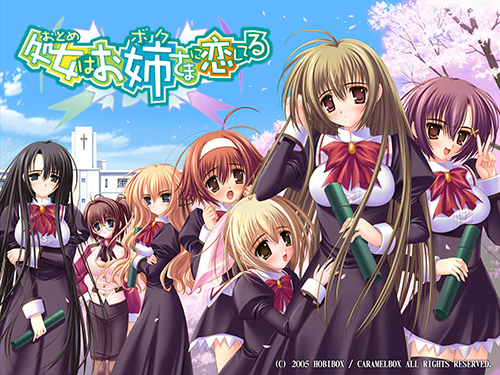 Another guy who cross-dresses to get into an all-girls school! But, let's not judge him too quickly. He is simply carrying out the wish of his late grandfather for him to attend the school where his mother attended. It just so happens that it's an all-girls school. He successfully gets into the school with some help and a good disguise. Too good a disguise, in fact, as he has managed to gain the favor of the majority of the students in school!


---
Tetsuwan Birdy Decode (Birdy the Mighty Decode)
MAL Rated 7.59, Ranked #1275 | Aired Summer 2008 | Produced by A-1 Pictures
---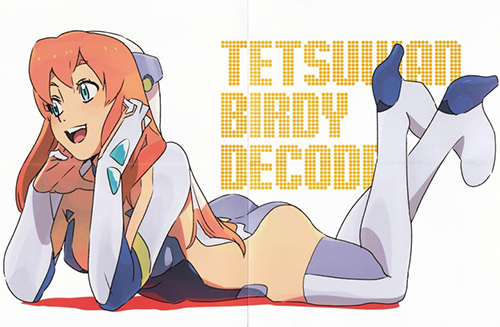 Body swapping with the other gender is one thing. But how about sharing your body with a female humanoid intergalactic police officer? In pursuit of an alien criminal in planet Earth, Birdy accidentally kills a human boy called Tsutomu. Fortunately, they can prevent him from being wiped out from existence entirely by merging his body with Birdy. They can interchange their appearance at will so Tsutomu can still lead his normal daily life. Or can he?


---
I My Me! Strawberry Eggs
MAL Rated 6.96, Ranked #3352 | Aired Summer2001 | Produced by TNK
---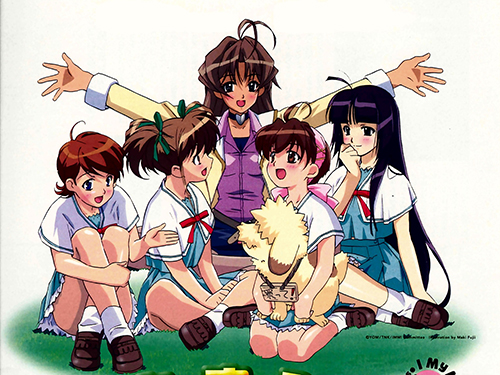 An anime that tackles the rarer form of gender discrimination: discrimination to men. Our initially male protagonist Hibiki tries to apply for a job at Seito Sannomiya Private School but is rejected simply because he is male. In order to prove something (and to have a job that can pay off his monthly rent), he dons a convincing female disguise with the help of a friend. How will he manage the student body, the staff, and his disguise all at the same time?


---
Tenshi na Konamaiki (Cheeky Angel)
MAL Rated 7.61, Ranked #1227 | Aired Spring 2002 | Produced by TMS Entertainment
---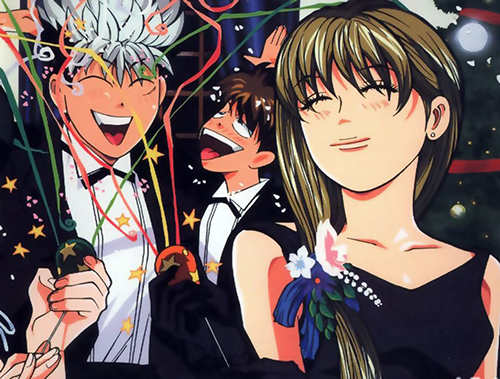 Meeting a genie is surely a wonderful experience. But not for Megumi. At age 9, he was an aggressive boy who often got into fights. That's why he wished to become a strong man in a man's body when he encountered the genie, Pierre. So, like a good genie, he turned him into a female Megumi. He threw the book from which Pierre came but later decides to look for it. 6 years later, (s)he enrolls in a high school where a school bully falls in love with her after being beaten up.


---
Princess Princess
MAL Rated 7.2, Ranked #2550 | Aired Spring 2006 | Produced by Studio Deen
---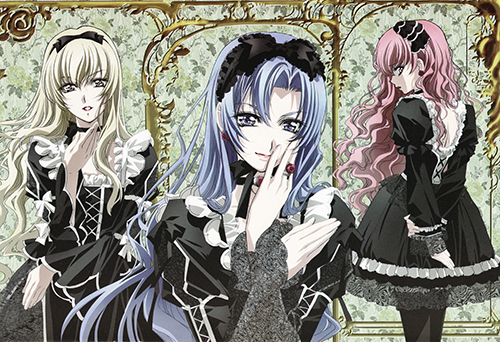 I swear, the elite do all sorts of weird things. In an all-male prestigious school, there is a tradition where three boys are chosen to become their princesses. When Tooru enters the school, he is offered the opportunity to become a princess. He, with the other two, is required to wear girls clothing all the time. Uncomfortable? Not really. Lunches are free, they get commission from the photographs of them that sell, princess work is on top of school duties, and their school supplies are provided for. What more can a girl (or a Hideyoshi) ask for.


---
Kokoro Connect
MAL Rated 8.05, Ranked #461 | Aired Summer 2012 | Produced by Silver Link
---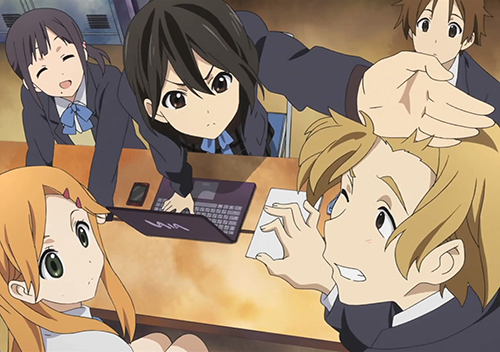 I didn't sign up for this. The lives of the five members of the Cultural Research Club are suddenly thrown into disarray when they begin to experience a strange phenomenon. They begin swapping bodies with each other without warning and consent. It might seem fun at first but not when you realize that their friendship with each other is on the line. How close is too close?
Sours: https://myanimelist.net/featured/1216/15_Best_Gender-Bender_Anime__Whats_a_Hideyoshi
You may often hear this saying that in order to understand someone's problems, you should walk in their shoes at least once. The gender-bender theme teaches this in a very specific format. In these types of anime, one or more of the main characters face a sudden change in their genders. This idea is quite an ancient one, as we can trace it back to Greek mythology. So, we can say that in stories where girls change into boys and vice versa, the viewers get a lot of options to choose from. The number of anime that has taken up this theme is uncountable. This minor genre goes well with main genres like comedy and drama. The gender changes in these anime can be caused by anything from magic to some new technology or some unexplainable reason. The list mentioned below does not depend on the quality of the anime as a whole but on what level it deals with gender issues. In these anime, the theme of gender is weighted over the other more commonly used themes.
22. Ouran Koukou Host Club (Ouran Highschool Host Club)
You might often dream about attending a school where only the richest can be a part of the student body. But it is not a very common thing to have a debt of 8,000,000 JPY (about 66,000 USD) just because you accidentally broke the vase of a school host club run by the handsome and popular boys of the school. It is apparently the life of Haruhi, a normal young girl who got admission to Ouran High School, a prestigious school for rich kids. Now to pay the debt back, she needs to be the host of the club, but the catch is that she has to play the role of a guy in spite of being a girl.
25 Anime Girls Sexy Asses That Will Hypnotise You
21. Princess Princess
Elite people do all kinds of crazy stuff. That is exactly what happens in an all-male prestigious school. Three guys are chosen to act and dress up as princesses. These guys are required to wear girl clothes and put on makeup all the time. They do not even feel too uncomfortable in this avatar, especially not when they are offered free lunches. They also get commissions from their photographs that are sold. The work as a princess is more important than even the school work, and their school supplies are provided for them. So there is nothing more really that a girl can ask for.
20. Log Horizon
Tetora is actually a male in real life but got stuck as a woman when there was a catastrophe, and she was using a female Human Cleric idol character at the time. Even though it was an accident, she still seems to have started adjusting to her new body without showing any kind of distress. She also does not show any kind of desire to return to her original male form. Due to her androgynous appearance, her guildmates were quite confused in the beginning.
19. Maria † Holic
Kanako has a sincere wish; it is to get admission in an all-girls school. It seems quite normal at first, but everything is not always the way it seems, because Kanako is a lesbian girl who dreams of doing perverted things to the girls in her school. She even finds her prey, but the complication is that the girl Kanako thought would be her prey is a cross-dressing boy named Mariya. Now it is a problem for Kanako because she hates boys and even breaks out into hives as soon as she comes into contact with a boy.
22 Best Anime on Netflix in 2020
18. I My Me! Strawberry Eggs
This anime shows a rare aspect of gender inequality, gender discrimination towards the male population. The protagonist of this anime, Hibiki, wants to apply for a job in the Seito Sannomiya Private School, but he faces rejection solely because he is a guy. It makes him decide to prove something and also to earn a living; he transforms into a girl with the help of his friends so that he can get the job. Now you will have to see how he manages everything like a girl.
17. Tetsuwan Birdy Decode (Birdy the Mighty Decode)
There are body-swapping and gender change, but what happens when a guy has to share a body with a female humanoid intergalactic police officer. When Birdy is chasing an alien criminal on planet Earth, she accidentally kills a boy named Tsutomu. But it was a good thing that he could be saved from getting wiped out of existence by merging his body with Birdy's. They have the power to interchange their bodies so they both can live their own lives.
16. Mahou Shoujo Ore
This anime has a lot of bizarre factors. When Saki Uno has to take up her mother's job because of her back injury, she gets dictated by a Yakuza with a very uncommon name Kokoro that she is a Magical girl who needs to fight demons. She was very shocked when she found herself getting transformed into a very muscular man wearing a pink dress, and when the demons happened to have cute bear faces with very muscular bodies. But she has to do it no matter what, especially when she wants to save the boy she likes and also to save her dying career as an idol singer.
22 Sexiest Gothic Hentai Anime
15. Otome wa Boku ni Koishiteru (Otoboku: Maidens are Falling for Me)
Let's not judge a boy for dressing up as a girl to get admission in an all-girls school. He had to do it because of his late grandfather, whose wish was for his grandchild to attend the same school as his daughter, but that was impossible as it was a girl school, and his grandchild was a boy. But everything turns out well when the said grandson dresses up as a girl and joins the school, and the students start liking him there.
14. Cinderella Boy
Here the two main characters Ranma and Rella, have their private detective agency. One day both of them get into an accident, and after that, they have not seen each other. The part that freaks them out the most is where they have a 24-hour long blackout, as they don't remember what happened during those 24 hours. But the thing that actually happened is that the doctor who treated them put both of them in the same body. Now they switch bodies every midnight without any recollection of what the other did.
13. Kashimashi: Girl Meets Girl)
This one is quite a complicated and weird one. Here the protagonist who happens to be a boy named Hazumu dies when an alien spacecraft lands on him. The aliens took it upon themselves to revive him, and they successfully did it. But things got complicated when they revived 'him' as a 'her.' After getting resurrected as a girl, his crush Yasuna professes her love to him, while earlier, she rejected him because she can see guys properly and only sees a blur. Now he is confused between his crush and his childhood friend, Tomari, who confesses that she has feelings for him while he is a girl. So, now he has to decide whether he wants to remain a girl for Yasuna, or wants to get back to his original gender for Tomari.
22 Hottest Teacher Hentai Anime
12. Oda Nobuna no Yabou (The Ambition of Oda Nobuna)
A high school student, Yoshiharu Sagara, who finds himself in the middle of a war and is almost killed if not for the legendary Hideyoshi Toyotomi. But in the process of saving Yoshiharu, Toyotomi loses his life. Before dying, he asks Yoshiharu to become a feudal lord in his place. It changes history, and Yoshiharu pledges to stop it from changing any further. Among all this chaos, he saves Nobuna Oda, who is the female version of Nobunaga Oda, and finds out that in the alternate universe that he is a part of most of the warlords are women, and he becomes a part of this journey.
11. Yamada-kun to 7nin no Majo (Yamada-kun and the Seven Witches)
It's not really gender change that is shown in this anime, it shows body swapping between a girl and a boy. The school delinquent Yamada, one day, accidentally kisses the school top student Shiraishi. But unknown to Yamada, Shiraishi is a witch, and her power is body-swapping, which is activated by a kiss, and well, isn't it what they did accidentally. So, now Yamada is stuck in Shiraishi's body, and to get out of it, he needs to find other witches. There are other witches in the school, and Yamada has to kiss them all, or at least find out who they are.
10. Body Jack – Tanoshii Yutai Ridatsu
The anime is about Dr. Toyama, who takes control of the body of a girl who is beautiful with the help of his strange invention. The young Asagedani is allowed by him to slip into the body of the girl so that he can be able to experience how it feels to be a girl. But then the girl's classmate mistakes his activities as a sexual advance from her friend because of the body swap issue. You need to watch the anime to find out how the doctor solves his problem.
Best Mecha Anime of All Time
9. Kämpfer
A tragic story of a boy who went to sleep as himself but woke up to be a girl, and just not any normal girl but a Kämpfer. Now, this tragic story might not be that tragic because being a Kämpfer is good, but being a Kämpfer who gets to fight other Kämpfers is even better. The aspect that makes this sudden change even more bearable is the fact that now everyone, whether a girl or a guy, is seen to be fawning over him (or should it be her), and this fact makes him giddy.
8. Simoun
This story deals a great deal with gender issues and many other themes. Here you get to see the characters given a choice to change their gender. In most of the gender bender genre anime, you will see that most of the gender changes happen either unconsciously or forcefully without once consent, but that is not the case in this anime. The plot tells the story of a kingdom named Simulacrum where every newborn is a girl, but on their 17th birthday, they get the choice of changing into a man if they want.
7. Minami-ke (The Minami Family)
What do you think about dressing yourself as a girl in order to be a part of your crush's life? This brilliant idea was thought of by our main character Makoto, who liked a girl named Minami Kana and was even ready to become a girl to be with her. Minami's two sisters dressed him into a girl, and this enables him to spend time with Minami whenever he wanted to in her own house. As he continues to pretend to be a girl, you will find him enjoying the process of cross-dressing.
Top 15 Sexiest Muscular Anime Girls Will Rob Your Hots
6. Tenshi na Konamaiki
We all wish to meet a genie at least once in our lives. Megumi is a very aggressive young boy who had the good luck to meet a genie named Pierre. Megumi wished to become a strong man in a strong man's body in front of Pierre. But he gets turned into a girl Megumi, who gets angry and throws away the book from where the genie came. Now after some years, he enrolls in a high school where the school bully falls in love with him after getting beaten up.
5. Aoharu x Kikanjuu (Aoharu x Machinegun)
A girl can be confused as a boy in a world which is full of pretty boys. Hotaru Tachibana, the protagonist of this anime, faces something similar to this situation. Hotaru is a girl who loves to play online games, and one day you will find her joining the team, and both her teammates are pretty boys. But the complication in all of this is that these boys will never allow a girl to be a part of their team. So, you can guess what Hotaru does next, and you will have to find out whether she can play the role of a boy well.
4. Maze Bakunetsu Jikuu (Maze: The Megaburst Space)
Maze is a young girl who one day wakes up from sleep with amnesia but also with her room half destroyed. Everything goes further downhill from then on as she finds out that she has been transported to a magical realm. There she accidentally saves a runaway princess Mills from her enemies. One of the cool parts of this change in Maze's life is that she acquired magic powers, but it is also true that at night she also becomes a man who is only interested in sex. Now, the characters of girl Maze and boy Maze are very different and can be considered as two individual characters.
22 Anime Similar to Highschool DxD
3. Himegoto (Secret Princess)
This anime also revolves around the plot of owing debts. After so many anime, you should never make debts because debts change your gender. Here you will find a young, High School going guy who has a huge amount of debts, but those debts are paid off by some good people. Everything becomes a mess after this, as these good people turn out to be the members of the student's council of an all-girl school. Well then it is quite predictable as to what happens to this guy – he had to spend the rest of his high school dressed as a girl.
2. Ranma ½ 
Ranma Saotome is a boy who was trained from a very young age in the field of martial arts, and he has become a very talented martial artist after he has grown up. But then something bizarre happens in his life. He gets into an accident, and everything changes after that. From then on, whenever he would come in contact with cold water, he would turn into a girl but would change back if he touches warm water.
1. Kokoro Connect
This is utter chaos. Everything is a mess, and no one has anything they can do about it. The lives of five students, who were also members of the Cultural Resource Club, become crazy when they start swapping bodies among each other out of the blue without any transparent reason or any of their consent. In the beginning, it was all fun and games, but soon they understand the serious situation they are in, and the problems they might face because of this situation. They understand that their friendship with each other is on the line, and they can lose more than they can afford to.
Simon
Sours: https://geeksoncoffee.com/best-gender-bender-anime-of-all-time/
8 Best Gender Bender Anime Series
What Is Gender Bender Anime?
It is a genre used to describe in the anime and manga people. Generally, teenagers who change gender for a certain situation, either temporarily or indefinitely. The most famous anime of this genre is Ranma 1/2.
It should also be clarified that the character does not necessarily have to change gender. Either a girl disguises herself as a man to enter a school exclusively for men. Or they wake up in such a situation men changed to female and female as male.
In short, gender bender is a type of anime and manga in which the hero has to deal with playing the role of someone of the opposite gender.Here the list of Best Gender Bender Anime Series.
1.Ranma 1/2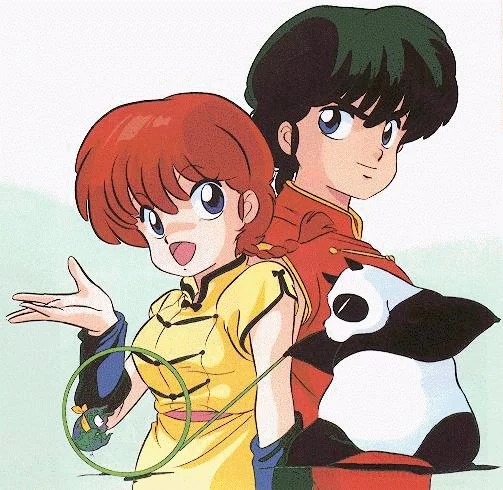 The story focuses on Ranma Saotome, a 16-year-old who was trained in the martial arts as a child. As a result of an accident during one of his training sessions, he fell into an enchanted pit in the Jusenkyo trenches, called the Drowned Woman's Pond.
He suffers from a curse that causes him to become a woman every time he comes into contact with cold water, and in order to return to his natural state as a man, he has to make contact with hot water. During the series, Ranma tries to get rid of her curse, while she has to deal with her marriage commitment to teenager Akane Tendo, which was agreed upon several years ago by the parents of both youngsters.
2.Ouran Koukou Host Club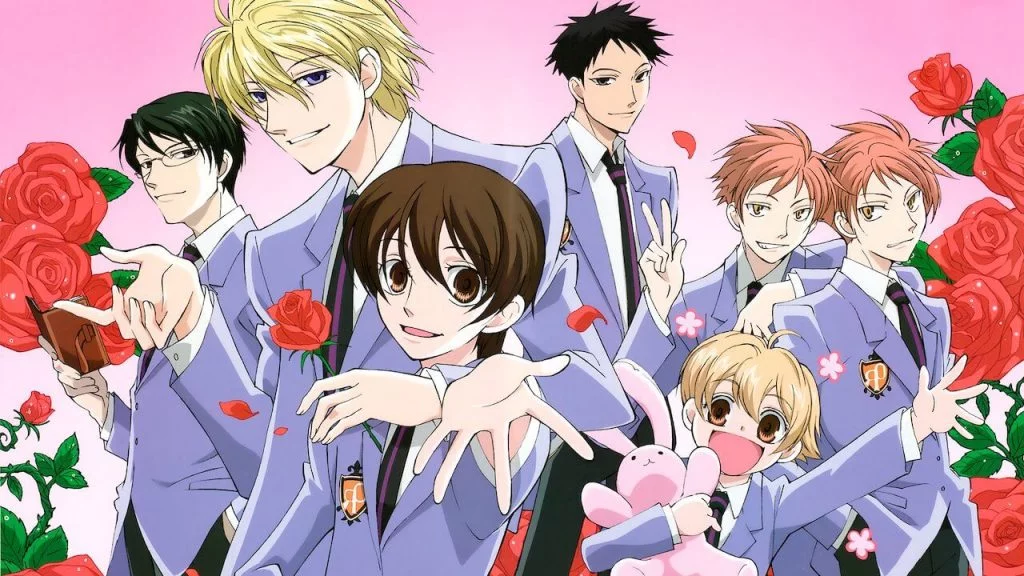 Haruhi Fujioka is a student on a permanent scholarship at a large academy for rich children. The main plot unfolds when she is trying to find a place to study without distractions and problems and meets the school's host club. During the meeting, Haruhi inadvertently breaks an antique vase worth a lot of money.
You May Also Like
To pay for the vase, he must work at the club as an errand boy. However, Haruhi's ambiguous appearance causes her to confused by members as a male student, and she ends up becoming one of the club's hosts.
3.Himegoto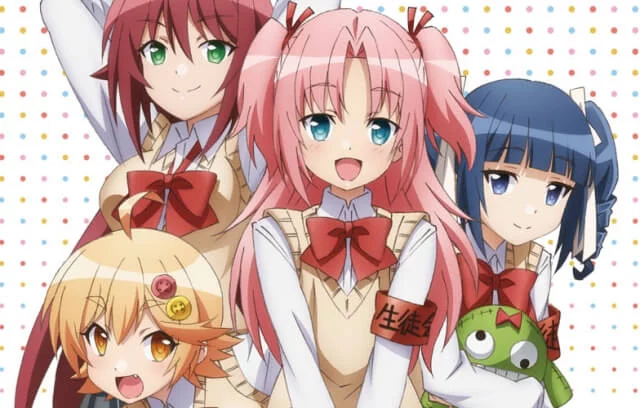 We have a high school kid with overwhelming debt. But he's saved by the three student council girls at his school. But in return, he is forced to live his life in high school disguised as a girl.
4.Aoharu x Kikanjuu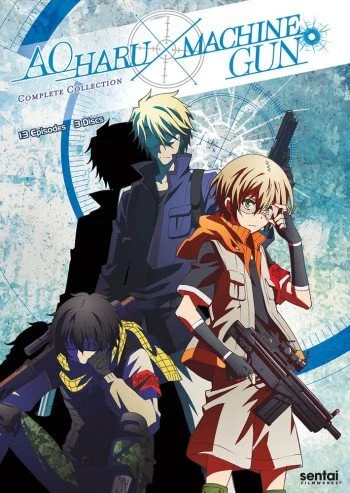 Hotaru Tachibana is a high school student who tends to dress and behave like a boy as well as having a great sense of justice, which ends up leaving her indebted to Masamune Matsuoka, a host who in her spare time plays survival games with Tooru Yukimura, a hentai manga author. Together they form a team with the aim of being the best in Japan, with the detail that girls can not be part of the team.
5.Maria Holic
The story is set in a Catholic school for women called Ame no Kisaki, where the main character, Kanako Miyamae, is transferred. She has a phobia towards men due to the bad experiences she has had with them in her childhood.
At school, she meets Maria, a young woman who at first sight seems beautiful, with a friendly and fresh character, someone perfect. Kanako quickly falls in love with her classmate, but soon discovers her terrible secret: Maria is actually a transvestite boy, who thanks to her androgynous face and special wardrobe, manages to infiltrate the boarding school and convince everyone that she is a woman.
6.Minami-Ke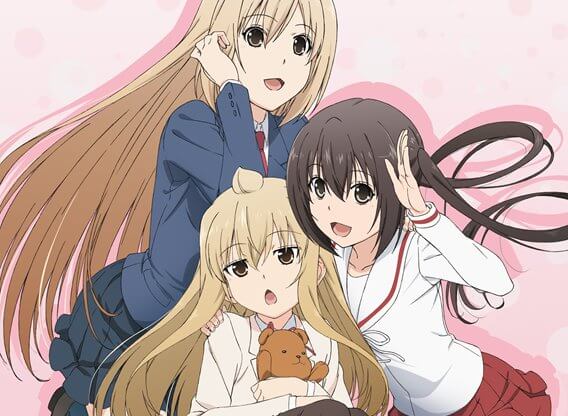 Makoto was a simple boy in Chiaki's class, who one day went to visit the house of the Minami sisters. There he met Haruka. It was love at first sight. However, Chiaki, jealous and a killjoy as always, forbade his entry.
Then Kana, with the help of her friends, proposed a plan so that Chiaki would not identify him and would allow him to see Haruka. This plan was to dress up as a girl. That's where the legend of Mako-chan began. Boy by day and girl by night. The worst part is that he looks more convincing as Mako-chan than as Makoto-Kun.
7.Kampfer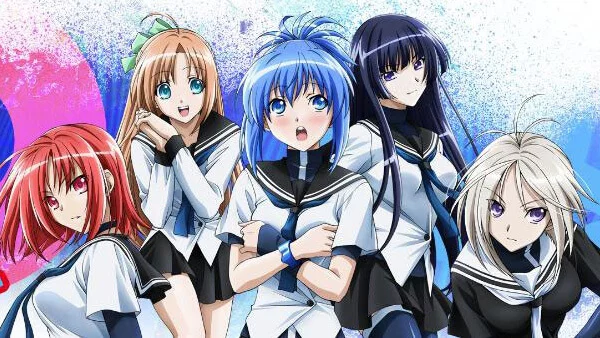 Kampfer is a story that mixes bishops and action. And which focuses on a normal boy who attends high school, and one day without any apparent explanation awakens to become a girl. He also meets a stuffed tiger named Harakiri Tora who explains to him that now he must fight, as he has become to watch Kampfer.
8.Yamada-Kun to 7-nin no Majo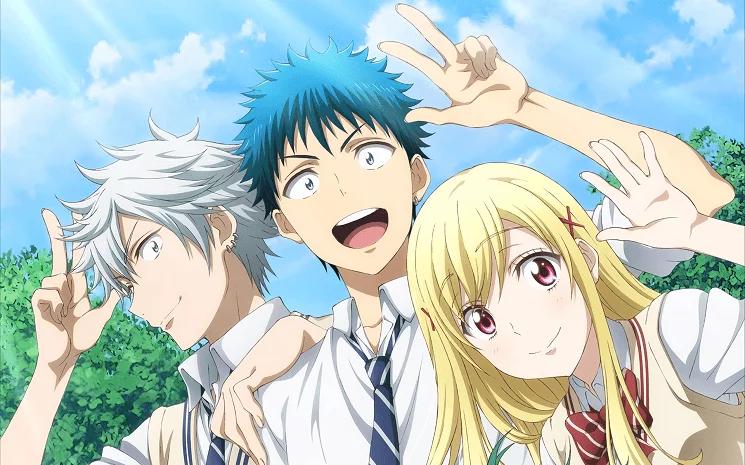 Ryu Yamada is a sophomore at Suzaku High School. Ryu is a troubled student, he is always late to school, falls asleep in class, and has bad grades, his life is what others would consider a dead end. While the beautiful Shiraishi Urara, on the other hand, is the opposite, she is the brightest student at Suzaku High School, serious, kind, and diligent.
One day, after an unprecedented incident, their bodies are switched Ryu ends up in Urara's body and Urara in Ryu's. From that incident, both Ryu and Urara will begin a new life in high school full of adventure. During the time of the body-swapping incident, they will meet new friends and enemies who will make their environment a fun place, as they seek to find out what the mystery behind their "body-swapping" is.
This Gender Bender Anime genre is really exciting and fun, as the stories on how they change from male to female and female to male, how they dress up or how they appear to be as the opposite gender are amazing and entertaining. Even tho, everyone doesn't like this type of anime, it's still one of the most-watched. Certainly, we are going to continue enjoying this type of anime and manga for a long time.
Sours: https://www.otakukan.com/best-gender-bender-anime-series/
Gender-Bender Boy Turned in to Girl -- Anime 😘 Funny Moment #15
The term "gender-bender" refers to "a person who actively rebels against, or 'bends,' expected gender roles. Gender bending in actions or in fictions, is sometimes a form of social activism undertaken in response to assumptions or over-generalizations about genders. In fiction, the term gender bender may refer not only to characters modeled after real-life gender benders, but also to characters who undergo changes in their physical sex – magically or otherwise – throughout the story. A work of art which challenges gender roles or features gender bending may itself be referred to as a 'gender bender'." This paragraph was taken from Wikiquote's definition of the term "gender bender" and from it you can see what it's all about.
Gender bending is present in modern arts and media, and we at Fiction Horizon have decided to dwell into that world in order to give you an insight into the world of gender bender anime. The term "hideyoshi", derived from the character Hideyoshi Kinoshita, is often informally used to describe a gender bending anime series and in today's article, we are going to bring you a list of the 20 best gender bender anime series you can watch, as most of them are quite amusing and very fun to watch. Enjoy!
20 Best Gender Bender Anime
Ouran High School Host Club
Original Run: April 5, 2006 – September 26, 2006
Episodes: 26
Genre: Reverse Harem, Romantic Comedy
Plot
Ouran High School is a privileged educational institution where children of the richest and noblest families in Japan (children of politicians and big business tycoons) go to school. At the school, some of the best teachers in the country design the curriculum in such a way as not to overload the pampered wealthy students. Thanks to such care, they have a huge amount of free time that they spend on their hobbies.
One of the adornments of the Ouran School is the so-called "Host Club", where rich and handsome young men use their natural abilities to entertain equally rich and beautiful girls with a certain benefit for themselves.
By chance, Haruhi Fujioka, who had enrolled in this school thanks to his academic achievements, enters the abandoned music classroom in which this club is based. After accidentally knocking a luxurious 8-million yen vase off a stand, Haruhi Fujioka found himself in virtual slavery by the wealthy members of the Host Club. From now on, he must go to the store, work as a servant, carry out small errands and do other dirty work in the club until graduation, thereby fulfilling his duties to the club.
However, later on, the "King" running the club, Tamaki Suo, and his friends decide to make Haruhi a new member of the club. Tamaki stated that he would forgive Fujioka's entire debt if he was chosen by a hundred clients. Although the idea did not generate much enthusiasm for Haruhi, he had no choice but to agree to the proposal. Almost no training was required, as Haruhi had a natural ability to attract the attention of the students. But the clients of the club do not even realize that Haruhi Fujioka is a girl.
Ranma ½
Original Run: April 15, 1989 – September 25, 1992
Episodes: 161 (plus additional films and OVA episodes)
Genre: Adventure, Martial Arts, Romantic Comedy
Plot
Ranma Saotome (16) is a young martial arts expert plagued by a singular curse: during training in China, he and his father fell into the Cursed Springs of Jusenkyo. Anyone who falls into one of these springs, as soon as he comes into contact with cold water, is destined to transform himself into the animal or person who drowned in it hundreds or thousands of years ago; to get back to your appearance you have to get wet with hot water.
Genma Saotome, Ranma's father, falls into the spring where a giant panda drowned, while Ranma falls into the spring where a girl was drowned. Ranma also suffers from a debilitating cat phobia that makes him able to become, even if only mentally, a cat himself in behavior and movements (but not in appearance).
In Nerima, Japan, Soun Tendo (Genma's longtime friend) informs his three daughters Kasumi (19), Nabiki (17) and Akane (16), that one of them is to marry Ranma (whom they have never met) to secure the future of the Tendo dojo. When a panda and a girl arrive in the Tendo house with a great crash, Soun believes Ranma is actually a woman and passes out. Ranma's secret is later discovered by Akane; Ranma, regaining the appearance of a boy thanks to a hot bath, comes out of the tub just as Akane enters.
After Genma's explanations of the curses, the two older sisters nominate Akane for the engagement. But Akane is furious about what happened and she and Ranma start arguing, until, at the boy's insults, she throws the table over his head. Ranma is now officially engaged to Akane, but the troubles for the two have only just begun.
At school, Kuno Tatewaki, madly in love with Akane, wants to defeat him in order to break the engagement. The unfortunate Kuno will also fall in love with the female version of Ranma; Kodachi Kuno, Tatewaki's sister, also falls in love with Ranma (albeit as a boy). In addition to her, several other alleged girlfriends will come forward in the story.
Ryoga Hibiki is a historical rival of Ranma and has no sense of direction. He has only one goal in mind – to take revenge on Ranma for dropping him into the cursed springs, which forces him to transform into a black pig. After seeing Akane, he falls madly in love with her, and as a pig he will also become her pet, P-Chan. The story therefore revolves all around Ranma, who is admired by both girls and boys, on his transformations and on the difficult relationship with Akane, and the continuous attempts of the protagonist to go back to being a normal boy one day.
Himegoto
Original Run: July 7, 2014 – September 29, 2014
Episodes: 13
Genre: Comedy
Plot
Himegoto follows Hime Arikawa, a second-year student from Shimoshina High School. Forced to take on a large amount of debts from his now-absent parents, Hime is saved by the three girls from his school's student council after being hunted by debt collectors. In exchange for paying off his debt, Hime agrees to his terms of becoming the "dog" of the student council and spending the rest of his life in high school dressed as a girl.
Aoharu × Machinegun
Original Run: July 3, 2015 – September 18, 2015
Episodes: 12 + OVA
Genre: Action, Comedy, Airsoft
Plot
Hotaru Tachibana, a very tenacious student council president, is a person who struggles to fight strong people and always uses the word "justice". What few people don't realize is that he is actually a she! On the way home, Hotaru meets a strange and mysterious man who is on the phone near the door of his apartment. After a not so pleasant first encounter, the man introduces himself as Masamune Matsuoka, with Hotaru vowing never to work with him again.
The next day, when Hotaru learns that her best friend has been cheated on by a host, she goes to a hosting club to deal with the person in question, who turns out to be the same man she met yesterday! She furiously accuses him of cheating on her boyfriend and immediately challenges him, but Matsuoka has a few tricks up his sleeve as well. Fascinated by her offensive approach, he invites her to play a gun game called "The Survival Game", in which people compete against each other with toy guns filled with BB balls.
With Matsuoka declaring that if he loses he will apologize and if she loses she will become his slave, the game begins. Although Hotaru believes that it will be pretty easy for her to defeat him because she is quick and nimble and she has a fully loaded pistol when he has just one pellet in his gun, she realizes too late that he in fact is a prodigy at the game.
After a quick victory, Matsuoka invites Hotaru to join his "Team Toy Gun Gun" team. Hotaru cannot refuse because of her loss and the enormous debts she now has to pay for property damage. She joins the team. However, there is a "No girls allowed on the team!" rule in the team. How can Hotaru, a woman, join the team when everyone thinks she is a boy?!
Maria†Holic
Original Run: January 5, 2009 – June 24, 2011
Episodes: 24
Genre: Romantic Comedy
Plot
The story is set in a Catholic school for women called Ame no Kisaki, where the protagonist, Kanako Miyamae, is transferred. She has an allergy towards men. Kanako has the objective of finding a girlfriend at school, motivated by the love story between her parents; her mother was a student of said institution while her father was a teacher.
At school she meets Mariya, a young woman who at first seems beautiful, with a kind and fresh character; someone perfect. Kanako quickly falls in love with her partner, but soon discovers her terrible secret: Mariya is actually a transvestite boy, who thanks to her androgynous face and special wardrobe, manages to infiltrate the boarding school and convince everyone that she is a woman. Mariya acts in this way motivated by a clause of the will of her grandmother, the former director of the institute, and incidentally, to form her harem.
With her secret discovered, Mariya forces Kanako to keep it hidden at all costs. As the story progresses, comic and embarrassing situations develop in which Mariya tests Kanako so that she keeps the secret of her cross-dressing. On the other hand, Kanako meets the other girls at the institute, each with her own story, and as the series progresses, the development of the relationship between Kanako and Maria will be observed.
Maria†Holic is a series with a shōjo-ai character which involves topics such as lesbianism, androphobia and transvestism. In addition, it has many characteristics of the yuri genre, taking into account the sexual inclination and the character of its protagonist. But on the other hand, it breaks with many stereotypes of these, since in the story itself a relationship is never established between two women (at least between the protagonists).
The series, like others of its kind, has taken on many elements related to Catholicism. The Ame no Kisaki and Mihoshi no Mori academies are an example, as both are schools for nuns where Christian habits are taught to students, such as obeying the ten commandments, praying before eating, learning to live with others, etc.
But it is not mandatory to be a Christian in order to enter the school, in fact the president of the student club Shiki Ayari explains to Kanako that many girls in the school do not even profess Christianity. Kanako herself, in a deliberate act confesses to being agnostic, to which the president replies that she too, in a certain way, is. The vice president even opined that the way the Church operates and faith itself are very different things.
Minami-ke
Original Run: October 7, 2007 – March 30, 2013
Episodes: 52 (+3 OVA episodes)
Genre: Comedy, Slice of Life
Plot
The story deals with the lives of three sisters from the Minami family – Haruka, Kana and Chiaki – each with their own striking personalities and means of spending the day at home and at school, gym or college. The anime has episodes with varied themes, and does not have a final goal to be achieved, having the same style as anime such as Lucky Star, Azumanga Daioh and School Rumble, but with a more serious and adult theme than all mentioned.
Each of them studies in a Japanese educational internship; Chiaki studies in elementary school, Kana in secondary elementary school and Haruka in high school. Due to this several additional characters are presented during the episodes in which the main characters are in study hours. As for the gender bending present in this anime, the character of Makoto is a crossdresser who plays a large role in the story.
Kämpfer
Original Run: October 2, 2009 – December 17, 2009
Episodes: 12 (+2 OVA episodes)
Genre: Action, Harem, Romantic Comedy
Plot
The average high school student Natsuru Senō wakes up one morning to the remarkable discovery that he has turned into a girl. It seems even more absurd to him that his stuffed tiger called Harakiri Tora speaks to him and can move. So he learns that from now on he is a "Kämpfer" and that he is under a contract, which is symbolized by his blue bracelet.
Waking up the next day, he believes that what had happened last night was just a dream and meets Kaede Sakura on the way to school. While attending school, they are unexpectedly attacked by Akane Mishima, who has been transformed into a "Kämpfer," which makes Natsuru's bracelet glowed. Remembering Harakiri's words that he would transform shortly after lighting up, he disappears from Kaede's field of vision.
In the following argument, both Kaede and Akane are saved from death by Natsuru's female self, which triggers a strong affection for the female Natsuru in Kaede. After the dispute is settled, Natsuru is approached by the normal Akane at school, who turns out to be a very reserved girl. From her, he finally learns that because of the bracelet is the same color, they should both belong to the same team, whose opponents should be visible on a red bracelet.
In the further course of the story it quickly happens that Akane and Natsuru meet the first member of the "Red faction", which represents the opponents. However, this person turns out to be the head girl of the school of the two. The head girl Shizuku, however, wants it to remain a secret in the school that these fighters exist and thus she ensures that Natsuru also goes to this school in his female form.
Furthermore, problems arise again and again because Natsuru cannot yet control his transformation. After a while, however, the blue and red fighters become friends because they see no point in fighting each other as no one can tell them the reason why they should fight. However, after a certain period of time, the "white fighters" turn on, so that fighting starts again.
Yamada-kun and the Seven Witches
Original Run: April 12, 2015 – June 28, 2015
Episodes: 12 (+ OVA)
Genre: Romantic Comedy, Harem, Supernatural
Plot
The student Ryū Yamada is bored with class, unsuccessful in school and a notorious thug. He actually wanted to get rid of his bad reputation when he switched to high school, but he does not want to succeed. But when one day he falls down the stairs and falls on his classmate Urara Shiraishi and they kiss by chance, they both swap bodies.
Both are surprised and finally they can undo the exchange with another kiss. Yamada learns from Shiraishi that she is not only a successful student, but is also bullied by others. From then on, they swap bodies more often in order to benefit each other. Together with the student council president Toranosuke Miyamura, who wants to support the two, they revive the club for the investigation of supernatural phenomena and thus have an undisturbed space for their body swap.
Miyabi Itō, who is obsessed with the supernatural, immediately joins them. After she caused them some trouble, the three of them can't avoid taking them in and betraying Yamada's ability to them. To keep their club and get money from the student council, the group has to convince Shiraishi to go to university after school. Yamada can finally encourage her by making himself want to go to university. With this success Miyamura can become the next student council president. The exchange student Kentarō Tsubaki will soon join them. Together, the group discovers that there are six other girls at the school with magical abilities that are activated by kisses.
Kashimashi: Girl Meets Girl
Original Run: January 11, 2006 – March 29, 2006
Episodes: 12 (+OVA)
Genre: Romantic Comedy, Science Fiction, Yuri
Plot
The story centers on a group of students and the dramatic change suffered by one of them, Hazumu Osaragi, the protagonist. The events of the series are set in the fictional city of Kashima-shi in Tokyo.
Hazumu is a shy boy who doesn't have a lot of self-confidence and hasn't had many friends either. One day after his class, he declares his love for Yasuna Kamiizumi – one of his classmates and friends – but was quickly rejected by his misery. In a slightly depressed state, he decides to climb "Mount Kashima", a mountain where you can appreciate the panorama of the entire city, and thus find some moments of tranquility and solitude.
Upon reaching the top, Hazumu observes a shooting star, which surprisingly got bigger and bigger as the minutes passed. Having no chance to escape, due to rapidly approaching him, it is revealed to be an alien spaceship and Hazumu is killed by the crash. To correct the serious accident made, the aliens decide to rebuild Hazumu's body, but in the process they change his gender, turning him into a woman.
The story then revolves around whether or not Hazumu will return to his original body, in turn changing the relationship he had with his companions. Through this, a love triangle emerges between the three protagonists – Hazumu, Yasuna and Tomari. This consists mainly in the insecurity that they present between them about whether to act on their love instincts despite being of the same sex. Another conflict occurs between Yasuna and Tomari, who fight to stay with Hazumu, while the latter cannot choose one of the two. The drama that ensues between the three of them is often quite melodramatic.
Otome wa Boku ni Koishiteru
Original Run: October 8, 2006 – December 24, 2006
Episodes: 12 (+4 OVA episodes)
Genre: Harem, Romance
Plot
Otome wa Boku ni Koishiteru tells the story of the main character Mizuho Miyanokouji, an androgynous high school student. After the death of his grandfather, the reading of his will indicates that he wants his grandson transferred to the Seio Girls' Academy, the school founded by his ancestors and where his own mother studied.
Respecting this will, Mizuho disguises himself in order to infiltrate it. Initially, only the headmistress, headteacher Hisako Kajiura and Mariya Mikado know his secret; Shion Jujo and Ichiko Takashima also eventually find out. Mizuho is very popular with other high school girls, who often discuss her beauty, cuteness and athleticism. This unbridled popularity increases to the point that he is nominated, against his will, to become the student council president.
Because of this, the current student council president, Takako Itsukushima, opposes Mizuho. The election of the president is an old tradition in the school: in June, one of the high school girls is elected by her peers to be the eldest, seen as the school's number one "big sister". Until graduation, she was referred to by her peers as Onee-sama.
To become a senior, the candidate must obtain at least 75% of the votes. If none of the candidates obtains at least 75% in the first ballot, one of the candidates gives her votes to another candidate, then the one who finally obtains at least 75% of the votes becomes the oldest. If no one reaches this threshold, the president of the student council for the current year becomes the eldest. In Otoboku, Mizuho gets 82% of the vote in the first round, becoming the 72nd oldest in school history. In the following months, Mizuho is confronted with the responsibility entailed by this status and tries to help the other characters as best as possible while keeping his true identity a secret.
Birdy the Mighty: Decode
Original Run: July 4, 2008 – March 27, 2009
Episodes: 25 (+ OVA)
Genre: Action, Science Fiction
Plot
Tsutomu Senkawa is a high school student preparing for college entrance exams. Tsutomu goes outside for a breath after a hard day at work studying for the big test, when he meets a strange man who asks for his help. The man was being hunted and ends up being an interplanetary criminal on the run from a Federal Agent of the Universe, named Birdy Cephon Altera.
In the middle of the chase, Tsutomu is mistaken for the criminal and is electrocuted. Fortunately for Tsutomu there is a way in which he will be able to preserve his life, which is by sharing his body with Birdy, who is the interplanetary police who accidentally took his life. So Tsutomu ends up sharing his body with a space police agent, attractive, strong and somewhat impulsive. While he tries to hide the problem from him from his listless family and get into college, he too must do Birdy's work.
Together they must fight a group of alien enemies who plan to conduct experiments on the people of Tokyo.
I My Me! Strawberry Eggs
Original Run: July 4, 2001 – September 26, 2001
Episodes: 13
Genre: Romantic Comedy
Plot
Hibiki Amawa, a young enterprising teacher, has just moved and is looking for money to pay the rent for the room taken by the irascible Ruru Sanjo (who threatens to cook her dog if her rent is not paid). He formally applies to the Seitow Sannomiya private school.
Treated badly by the headmistress, he discovers that the men in that school are not welcome and the now established policy is that the teaching staff should be made up exclusively of women as men simply would not be able to perform such a delicate task. The horrified boy returns to his apartment where he meets old Ruru who advises him not to give up.
The old woman elaborates a plan with the young man to be able to teach in the school anyway: she makes him disguise himself as a woman and provides him with a device to modify her voice. Hibiki, completely unrecognizable, then returns to the school and, although with some perplexity, is accepted by the director. He thus becomes a physical education teacher and finally begins to do his job.
However, he is immediately targeted by the vice principal for his manners not being in keeping with school standards. For example, he asks the girls to wear different clothes than the canonical skirt to do the exercises, going against morality.
Or he asks that the girls help the boys with cleaning and such. Meanwhile, Hibiki is particularly fond of one of his students, Fūko Kuzuha, who has had a particularly difficult past. An unexpected event, however, will change everything and man will find himself having to deal with his choices and the duties of a teacher towards his students.
Cheeky Angel
Original Run: April 6, 2002 – March 29, 2003
Episodes: 50
Genre: Action, Fantasy, Romantic Comedy
Plot
Megumi Amatsuka grew up to be quite a fighting boy and loved to fight. Once walking along the shore, he saw some guys mocking the old man. Having chased them away, he received from the old man an unusual old book as a reward, from which a demon later appeared, promising to fulfill any desire of the young man.
He wished to become the strongest and most courageous guy. However, the demon, being not entirely of sound mind and firm memory, fulfilled his desire in the opposite sense and turned the young man into the most feminine girl. An angry Megumi threw the book into a pond, and when he realized this, she had already drowned and disappeared. After that, he had no choice but to live as the most attractive girl in school and beat off enamored guys every day.
Princess Princess
Original Run: April 5, 2006 – June 21, 2006
Episodes: 12
Genre: Comedy, Drama
Plot
The story follows the life of Tōru Kōno, a high school student who transfers to Fujimori Academy, an elite male-only high school. The school is reputed to be one of the most prestigious in the country, however, Tōru will soon discover that it is no ordinary school. In a kind of tradition to liven up the crowded atmosphere of male presences, each year certain students are chosen for their bishōnen appeal and given the position of "Princess".
The job of the "princesses" is to cheer up the students and cheer them up with a feminine presence. As soon as Tōru arrives at school, he is offered the position of princess because of his feminine characteristics and all the royalties that the work entails.
Along with him are two other young people in the same situation; Mikoto Yutaka, a renegade who does not want the job of a princess and only accepted it for the benefits, and Yūjirō Shihōdani, a determined boy who is very clear about his job as a princess.
A candidate for princess should always be a first-year student, because they have more free time in school, their bodies are not fully developed yet, and they can easily wear a girl's suit "without looking like a transvestite". According to Arisada, out of all the first-year students, only those with the most suitable appearance and personality will be chosen to play this role, however if someone looks good but is not popular then they will not be chosen.
The princesses' duties mainly consist of wearing girl's clothes at all school sessions and/or events and cheering on other students and sports clubs. Once someone has been chosen as a princess, they will not be able to reject the position they have been given despite not being to their liking, as Mikoto explained at the beginning of the story.
When there are conflicts between the duties of a princess and her homework, she is allowed to miss various classes or leave early; these absences will not appear on her attendance record. Every month, the princesses receive thirty food vouchers from the school, therefore the food is free and they do not have to pay for it.
All necessary school supplies (notebooks, school clothes, etc.) are also covered by the princess budget, which is the largest in the entire institute. In addition, the princesses receive monetary benefits from the photography club, which take pictures of them and sell them to other students. School rules require the photography club to share the profits with which it serves as a model for the photos they sell, and the princesses' photos are the most in-demand.
Kokoro Connect
Original Run: July 8, 2012 – December 30, 2012
Episodes: 17
Genre: Romantic Comedy, Supernatural
Plot
The story of Kokoro Connect revolves around five students of the Yamaboshi Academy, all members of that institution's culture club: Taichi Yaegashi, Iori Nagase, Himeko Inaba, Yoshifumi Aoki and Yui Kiriyama. After a series of mysterious circumstances, they end up exchanging bodies and this will lead to the discovery of hidden feelings and the strengthening of the bond between the members of the club.
The five discover that the person responsible for this exchange is a mysterious entity, Fūsenkazura, and together they try to return to normal. Following the conclusion of the story of the exchange of bodies, the entity Fūzenkazura will subject the protagonists to new tests, which will put their bonds to the test.
In the series of light novels, over the course of the story, the five protagonists are joined by two new students, Chihiro Uwa and Shino Enjōji.
Maze the Megaburst Space
Original Run: April 2, 1997 – September 24, 1997
Episodes: 25 (+ 2 OVA episodes and a film)
Genre: Action, Comedy, Fantasy, Isekai
Plot
Maze wakes up in her house and sees that everything is a wreck and that she has amnesia. Before she can find out what happened, a girl named Mill breaks into her house and thanks her for saving her life. She tells Maze that her house suddenly fell from the sky, knocking down Mill's pursuers below.
Soon, however, the two are on the run from other pursuers who want to get their hands on Princess Mill. When reinforcements arrive, they will only be saved if Maze finds out that she possesses magical powers with a phantom light and can summon the Mills family's mecha legacy, Dulgar.
However, her performance with the mech is poor. That's until the sun goes down and she is turned in to a lecherous man who can even handle one of the most powerful spells ever known. Other travelers soon join them as Maze tries to protect Mill and finds out what she is doing in this fantasy world.
The Demi-Armor hunters Aster and Solude, both interested in Female-Maze; handy guide and Exposition Fairy (literally, as she's a little winged humanoid who usually hides in Maze's shirt when the going gets tough); and Rapier, Knight, and Demi-Armor Pilot from the neighboring kingdom led by Mill's uncle, who joins the group when their kingdom is also subjugated to Jaina.
Maze and Mill meet other companions on their journey and embark on a war to defeat Jaina and restore Mill to the throne of Bartonia.
Simoun
Original Run: April 3, 2006 – September 25, 2006
Episodes: 26
Genre: Science Fiction, Yuri
Plot
Simoun's story begins on the planet Daikūriku, orbiting a binary star, whose technology would be similar to that of our industrial revolution (nineteenth century); however, some more advanced technologies are lost, as is the story of the creation of this world.
Three countries, the Holy Land of Simulacrum, the Argentum Archipelago, and the High Lands of Plumbum, are at war for various reasons (political, climatic, economic and religious), some of which are vital for the health of some of them.
What is more, on this planet, all human beings are born female, but each country addresses the problem of reproduction in its own way by changing the sex of certain citizens, or by a religious ritual at the Source during the transition to adulthood (at 17) to definitively decide on sex (this is the case of the Holy Land), or by medical means from birth (this is the case of the Archipelago).
At the beginning of history, the Holy Land has the advantage over all other nations thanks to an unknown technology (even they don't know its true nature), but which it nevertheless possesses. It is the Simoun, an airship powered by a helical engine that is able to fly with unparalleled ease, and also well above the clouds, unlike the machines of other countries which risk being struck by lightning at any time.
But the Simoun is also a deadly weapon, capable of eliminating an entire enemy fleet by drawing patterns in the sky called Emerald Ri Mājon, whose destructive capacity is impressive. However, flying on a Simoun is not for everyone. Only girls who have not yet decided on their final sex have the honor: they are the priestesses of the Simulacrum called "Simoun Sibyllae".
Their role, before the start of hostilities, was confined to drawing Emerald Ri Mājon in order to pray and honor Tempus Spatium, or to search for the former Emerald Ri Mājon lost within a group of twelve Simoun Sibyllae composing a "Chor", the "Chor Tempest" being the most famous. But the conflict between the three countries has made priestesses warriors forced to fight on the battlefield for the salvation of the Holy Land.
The Ambition of Oda Nobuna
Original Run: July 9, 2012 – September 24, 2012
Episodes: 12
Genre: Action, Drama, Harem, Historical, Romantical Comedy
Plot
The student Yoshiharu Sagara suddenly finds himself in Japan in the 16th century, in the Sengoku period. He gets into a life-threatening situation and is saved by Hideyoshi Toyotomi, who dies in the process. Since the course of history would change with the death of one of the three unification of Japan, Yoshiharu decides to take on Hideyoshi's role, where he knows his knowledge of future events of the Sengoku period from the video game Nobunaga no Yabō.
A little later he saves a girl who introduces herself to him as Nobuna Oda, the daimyo of Owari, a position held in the real world by Nobunaga Oda. Since in this world the first-born becomes the next head of the family regardless of gender, many warlords and samurai in this world are female despite the same name. Nevertheless, he decides to help her to take on Oda's role as kingdom unifier and to judge history and becomes her vassal.
Cinderella Boy
Original Run: June 21, 2003 – September 13, 2003
Episodes: 13
Genre: Drama
Plot
Once, in order to solve another case, Ranma and Rella sneak into a casino to find out why a man owes a debt, but end up discovering, rummaging through computer files, that that casino was a cover for thousands of arms transactions of fire.
They end up being discovered and try to escape, but end up having a very serious accident. A week later, Ranma miraculously wakes up at the scene of the accident, and thinks that Rella died. But, mysteriously, at midnight sharp, he turns into Rella.
The anime is in this impasse of the two always waking up in totally different places and not knowing what was happening at the time, until one day the maid Dorothy catches Ranma transforming into Rella. Soon, they discover that a scientist named Doctor Grim merged the two bodies, and that due to a certain internal event, automatically, always at midnight, one becomes the other.
Magical Girl Ore
Original Run: April 2, 2018 – June 18, 2018
Episodes: 12
Genre: Fantasy, Magical Girl
Plot
The student Saki Uno and her sandpit friend Sakuyo Mikage form the idol duo "Magical Twin". Although they have their own manager in Konami Yamo, they have no success. This is also due to the fact that especially Saki can neither sing nor dance well.
In contrast to them, Sakuyo's big brother Mohiro Mikage is very successful with his partner Hyōe, and Saki has long been in love with the quiet Mohiro, who can sing incredibly well. One day, when Mohiro is attacked by huge, cute demons, the fairy Kokoro-chan appears. He offers Saki magical powers to save her lover, and despite Kokoro's gangster behavior, she finally gives in and becomes a magical girl.
Contrary to her expectations, however, she takes the form of a muscular young man, dressed in a pink, frilly dress. She succeeds in defeating the demons and when Mohiro asks for her or his name, Saki replies: "Mahō Shōjo Ore". It doesn't stop with an attack by the demons and so Saki has to save Mohiro again. She gets into trouble herself and Sakuyo wants to help her.
So, through Kokoro's help, Sakuyo becomes a magical girl in male form, like Saki out of love – but in Sakuyo's case out of love for her friend, which she has never been able to confess to her before. In addition to their idol existence, both girls are now beginning to fight demons who keep attacking Mohiro. Your manager is an avid fan of Magical Girls and markets them in their transformation as a new idol group, which is now actually having great success and is coming on TV.
The two girls can catch up with their role models and now meet Mohiro and his partner Hyōe more often, even by chance in their free time. In addition, Hyōe has an aversion to Saki and lets her feel it again and again. In addition, "Magical Twin" meets the idol duo of Michiru Ogawa and Ruka Kiryu, who have been successful for a long time. The success of the two Magical "Girls" puts them in trouble, but Michiru is also secretly in love with Ore.
Eventually, they too go from being a fairy to being magical girls – with the same transformation as the other two – but because Michiru lacks the experience of real love, she quickly runs out of magic. After constant attacks by demons, which repeatedly turn against Mohiro, the Saki and Sakuyo search for the cause. They suspect Hyoe, who is always around and disapproving of them. But when they finally confront him, it turns out that Hyōe himself is the prince of the fairies.
He's near Mahiro to protect him, even if he doesn't always succeed. Konami then turns out Yamo to be the real culprit. He has now successfully kidnapped Mohiro, threatens humanity with his army of demons and challenges the Magical Girls to fight. They assume us to follow him into his hiding place, which ultimately only Saki can penetrate.
There the manager reveals to her that he had himself sent to earth because he is actually a fan of Magical Girls. But he only met Magical Girls who had grown old and disappointed him so that he became a manager. With Sakis and Sakuyo's transformation, his dream finally came true. And in order to give them eternal fame, he staged more and more attacks up to this one, in order to be defeated by her in front of the public.
Saki refuses because she doesn't want to become a heroine through staging. Finally, Konami Yamo is captured by the fairies and Saki and Sakuyo live their lives again as a simple and unsuccessful idol duo who only sporadically slip into the role of a magical girl.
***
And that's it for today. We hope you had fun reading this and that we helped solve this dilemma for you. See you next time and don't forget to follow us!
Sours: https://fictionhorizon.com/20-best-gender-bender-anime/
Bender anime gender
Gender Bender Anime: Top 10+ Gender Bender Animes
1
To Love-Ru
The story of To Love-Ru revolves around Rito Yūki, a shy and clumsy high-school student who cannot confess his love to the girl of his dreams, Haruna Sairenji. One day when sulking in the bathtub, a mysterious, naked devil-tailed girl…
2
Kampfer
Natsuru Senō attends a high school that separates the boys from the girls. He has a crush on school beauty Kaede Sakura, who has a peculiar collection of Entrail Animals, stuffed animals styled in brutal ways of dying. One day, Natsuru discovers he…
3
11eyes
Since losing his sister seven years ago, Kakeru Satsuki has led a vacant life. He has only been able to return to normal with help from his childhood friend, Yuka Minase, and other friends at school. Then one day the sky turns red, the moon turns…
4
Maze
Maze wakes up in her house, everything is a wreck and she has amnesia. Before she can gather what has happened the girl Mill storms into her house thanking her for having saved her life. She tells Maze that her house suddenly fell down from the sky…
5
Cheeky Angel
At the age of nine, Megumi is an aggressive boy prone to always fighting. One day he saves a strange man from a gang of other children. In return, Megumi receives a magical book. After accidentally bleeding on the book, a genie named Pierrot appears…
6
Ambition of Oda Nobuna
Suddenly finding himself in the Sengoku period, average high school student Yoshiharu Sagara is about to be killed on the battlefield. He is saved by none other than the man who would later become the respected Toyotomi Hideyoshi, but at the…
7
Ranma 1/2
On a training journey in the Bayankala Mountain Range in the Qinghai Province of China, Ranma Saotome and his father Genma fall into the cursed springs at Jusenkyo. When someone falls into a cursed spring, they take the physical form of…
8
Kasimasi – Girl Meets Girl
At the start of Kashimashi, a young high school boy named Hazumu Osaragi declares his love to classmate and close friend Yasuna Kamiizumi, but she quickly rejects him. Dejected, Hazumu climbs Mt. Kashima and is killed when an alien spacecraft…
9
Kokoro Connect
The story involves five high school students—Taichi, Iori, Himeko, Yoshifumi, and Yui—who are all members of the Student Cultural Research Club. One day, they begin experiencing a phenomenon in which they randomly swap bodies amongst themselves.…
10
Body Jack – Tanoshii Yutai Ridatsu
Dr. Toyama takes control of the body of a beautiful girl with his strange invention. He lets the young Asagedani "slip into" her body so he can see how it real feels to be a girl. Then Komaba's classmate, the equally beautiful…
11
Simoun
A war breaks out between three nations Simulacrum, Argentum, and Plumbum over Simulacrum helical motor technology that powers the airships known as Simouns. Two fleets of the Simoun, Chor Caput and Chor Tempest, stumble upon a huge Argentum airship…
Sours: https://rankedbyvotes.com/anime/gender-bender-anime/
Top 10 Gender Bender Anime Part (2)
I walked over to her, staring at the crumpled blanket. - Come on, Aunt Ol. came from below. The bastard stuck his head out from under the bed and held out his hand.
Now discussing:
We had not met Edik for several weeks and I, unable to bear it, went one day to his house. It was evening. Autumn played out in full swing in the city, drizzling fine sticky nasty rain, it was chilly and windy. Near the house, I saw Edik coming out of the entrance, arm in arm with a beautiful, dark-skinned, black-haired girl.
The fire of jealousy flashed in my chest.
3350
3351
3352
3353
3354