This post and the photos within it may contain affiliate links. If you purchase something through the link, I may receive a commission at no extra charge to you.
Sharing is caring!
Want to grab your reader's eye and add character and emotion to your project?
Try a calligraphy font!
There are HUNDREDS of fonts available today, so how can you find the best ones?
Fear not!
We scavenged the internet in search for the best of the best, and in this post, we are reviewing 71 of the best FREE and premium calligraphy fonts available on the market today.
We also prepared an FAQ section at the end of the article that will answer the most common questions about calligraphy fonts.
Things such as licenses (where you can use these free fonts), how to install them, and why investing into a premium font is something you might want to consider (because you know what they say about free stuff…)
You can also browse the calligraphy fonts based on a variety of categories (just click on the box below).
The best free calligraphy fonts
– Script Bold Fonts
1. Arizonia
Arizonia is a modern, casual font with thin upstrokes and thick downstrokes, which makes it more suitable for titles and branding.
Many characters have stylistic alternatives-like swashes, so headings made with Arizona seem polished and elegant.
Arizona is free to download and use in commercial applications.
Download Arizonia at 1001fonts.com
2. Deftone
Deftone is a bold and balanced font that is free for commercial use.
Its blocky style makes it perfect for attention-grabbing headlines, and it comes with some pre-designed ligatures, such as tr and os.
Download Deftone at 1001fonts.com
3. Blenda
Blenda is a bold headline font that comes with an excellent selection of stylistic alternatives for lowercase characters.
It's super easy to read and has a slightly vintage feel, great for use in logos and titles.
Blenda is licensed for free commercial use.
Download Blenda at Mighty Deals
4. Lobster
Lobster's bold italic style is a modern take on vintage.
You'll find a large selection of ligatures with Lobster, to help make your headlines smooth and easy to read.
Lobster is free for commercial use.
Download Lobster at Font Squirrel
5. Oleo Script
If you need a casual yet attention-grabbing headline, look no farther than Oleo Script.
It comes in two weights, regular and bold, and you can also find Oleo Script Swash Caps to download separately.
Oleo Script is free for commercial and personal use.
Download Oleo Script at 1001freefonts.com
6. Playball
Playball is a fun, flirty connected script with built-in flourishes in both caps and lowercase letters.
Text spacing and connections are good, and the bold look works well with announcements and short sections of body type.
Playball is available free from commercial use.
Download Playball from 1001fonts.com
7. Yesteryear
Yesteryear will give its bold, 40's vintage feels to your headlines and logos.
It has a masculine, almost metallic feel, with a flat-nib, boxy finish and minimal swashes.
Yesteryear is free for all commercial and personal use.
Download Yesteryear at fontspace.com
8. Motion Picture
Motion Picture is a beautiful and classy font with dramatic swashes and curls.
It's slightly condensed and bold, great for titles, and anywhere you need visual impact.
Careful, though, the free version is only licensed for personal use and does not come with numerals.
Download Motion Picture at 1001freefonts.com
9. Wolf in the City
Wolf in the City will give your headings, logos, or branding a bold, contemporary look.
Along with its casual style and swashes for both uppercase and lowercase letters.
Despite its name, Wolf in the City has a friendly and approachable feel.
The free version is for personal use only.
Download Wolf In The City at 1001freefonts.com
10. Infinite Stroke
Infinite Stroke is a perfect blend of classic styling with contemporary flair.
Its bold lines and swashes will give confidence and strength to your project.
Infinite Stroke is licensed for personal use only.
Download Infinite Stroke at 1001freefonts.com
11. Yellow Tail
If you're looking for a bold, handwritten feel, try Yellow Tail.
Simple letterforms and a deep slant give Yellow Tail a casual and friendly feel.
Try it for branding and titles, and pair it with a simple sans-serif body font for posters and other publications.
Yellow Tail is free for commercial use.
Download Yellow Tail from 1001freefonts.com
12. Birds of Paradise
Birds of Paradise is a bold, condensed font with tight spacing and a classy, expensive feel.
Try it in logos and publicity materials for a touch of quality.
It's free for personal use only.
Download Birds Of Paradise from dafont.com
13. Nature Beauty
Nature Beauty has stylish thick strokes, with simple, subdued swashes and rounded letters that give it easy readability.
Not too upright or too italic, Nature Beauty works for headlines as well as short lines of text.
The free version is available for personal use only, and a complete set is available for purchase.
Download Nature Beauty from dafont.com
14. Hunters
Hunters is dramatic and weighty yet made a bit less forceful by the rhythmic script.
Lowercase letters are large, ascenders and descenders are short, making it very readable despite the high contrast of bold strokes and light connectors.
Hunters is available for personal use only.
Download Hunters from dafont.com
15. Golden Hills
This is probably one my favorites on this list.
Bold, smooth, and just so satisfyingly consistent.
With it's clean look, it's a great choice for display purposes.
Unfortunately the free Golden Hills is just available for personal uses, however, the full version includes alternates and swashes!
Download Golden Hills from dafont.com
– Elegant & Stylish Fonts
16. Allura
If you need a legible and contemporary calligraphic font, try Allura.
It's elegant and sophisticated and great for headlines and packaging.
It can also be used for blocks of text because of its clarity and proper spacing between letters.
Allura is free for commercial use.
Download Allura from 1001fonts.com
17. Champignon
If you need a classic script with old-world elegance, try Champignon.
Its companion font, Champignon Swash, gives you beautiful and flowing stylistic alternatives for both capitals and lower case.
Champignon is free for commercial use.
Download Champignon from dafont.com
18. Great Vibes font
A great classic script with sweeping lines, Great Vibes is an excellent choice for invitations, certificates, and other projects that need simple elegance.
Great Vibes comes with several stylistic alternatives for lower case letters.
Free license for commercial use.
Download Great Vibes at Font Squirrel
19. Miama
Miama is a lightweight, charming, and feminine font with a handwritten feel.
Its ascenders and descenders are long.
Still, if the line spacing is correct, it's perfect for greeting cards, titles, and other decorative work.
Miama is free for commercial use.
Download Miama from 1001fonts.com
20. Pinyon script
Pinyon Script is a formal and refined font with beautiful, balanced swashes.
Its thin ascenders and thick descenders make it more useful for headings than for body text.
Still, its elegance makes it suitable for invitations and other specialized uses.
Pinyon Script is 100% free for personal and commercial use.
Download Pinyon Script from fontspace.com
21. Tangerine
Classic and elegant, Tangerine is inspired by handwritten chancery scripts.
Typical of this style, it has tall ascenders and descenders and semi-connected letters.
Try Tangerine for short texts and graceful headings.
Tangerine comes in both regular and bold fonts and is free for commercial use.
Download Tangerine from 1001fonts.com
22. Regency Script
When you need classic and formal, Regency Script should be your go-to free font.
Lower case letters are slightly condensed and rhythmic, while upper case letters have all the flourishes you expect from this time-honored script.
Regency Script is licensed for personal use only.
Download Regency Script from 1001freefonts.com
23. Beautiful Heart
As its name implies, Beautiful Heart is a gorgeous font with a handwritten feel.
Perfect for logos, labels, invitations, and more, Beautiful Heart will charm your readers.
The free version is for personal use only, so to get access to more beautiful stylistic alternatives and ligatures, purchase the full version.
Download Beautiful Heart from dafont.com
24. Monsieur La Doulaise Font
A tribute to the styles of calligraphy in the United States from the 20th century, Monsieur La Doulaise is a stunningly stylish and elegant looking font.
This is a display looking font that is very readable and a great choice for any sort of classy occasion.
This font is free for both personal and commercial use.
Download Monsieur La Doulaise Font
25. Brotherhood Script
If a font can be formal and informal at the same time, Brotherhood Script achieves that with a fantastic selection of large decorative caps.
That's not all, tall ascenders and descenders, and beautifully rounded lowercase letters.
Perfect for a contemporary invitation or elegant branding, Brotherhood Script is free for personal use only.
Download Brotherhood Script from 1001freefonts.com
26. Billion Stars
If you need an "oh, wow" moment for your headings, you need Billion Stars.
Bold, highly decorative caps combine with tall, condensed lowercase letters for a luxurious and elegant feel.
Billion Stars is only free for personal use and doesn't come with numerals.
Still, you can purchase a license for commercial use.
Download Billion Stars from 1001freefonts.com
27. Candle Script
Candle Script is a modern take on a classic vintage script.
The free version has enough swashes and curlicues for the most romantic and formal occasions.
Bold and commanding, Candle Script is available for personal use only.
Download Candle Script from dafont.com
– Blackletter/Gothic Fonts
28. Germanica
Germanica is an updated blackletter design that's great for special projects and branding.
It comes with four styles – plain, shadowed, fluted (embossed), and embossed with shadowing.
Germanica is free for personal and commercial use.
Download Germanica from fontsc.com
29. Kingthings Foundation
From the Kingthings typeface family comes Kingthings Foundation, an upright, classic script based on roundhand calligraphy (Foundational hand).
When used in blocks of type, Kingthings Foundation can give a historic and decorative feel to your work.
Free for commercial and personal use.
Download Kingthings Foundation from Font Squirrel
30. Unifraktur Magunita
Like Germanica, Unifraktur Magunita is a decorative blackletter font with a hand-crafted look.
Its wide letter spacing increases its legibility.
Capitals are decorative but not overly swashy – great for titles, logos, and branding.
Unifraktur Magunita is available for free commercial use.
Download Unifraktur Magunita from 1001freefonts.com
31. Scotland
If you love blackletter but find it hard to read, try Scotland.
Scotland has classic letterforms with a grunge feel – slightly textured and minus the frills and serifs.
Only lowercase letters are included, but it's free for personal and commercial use.
Download Scotland from Creativetacos.com
32. Old London
Old London is a modern version of a traditional blackletter design with more white space between letters and words.
The decorative caps are compact, without an over-abundance of swashes.
This upright, historic style would work well for headings, branding, and short texts.
Free for commercial use.
Download Old London from dafont.com
33. Alte Schwabacher Font Family
Alte is a great looking Gothic calligraphy font based on the Schwabacher script.
It's one of the popular sub-groups of the gothic family (along with Textura Quadrata, Rotunda, Fraktur, etc.)
This font comes in 3 different versions –
Best of all,
It's free for both personal and commercial use!
Download Alte Schwabacher Font Family from 1001fonts.com
– Monoline fonts
34. Bukhari Script
Bukhari Script is a bold monoline font with a severe presence.
It has a great selection of stylistic alternatives for both uppercase and lowercase letters.
That will give your copy a feeling of richness.
Bukhari Script is free for commercial use.
Download Bukhari Script from dafont.com
35. Grand Hotel
Just like its name implies, Grand Hotel is a classy, retro, monoline calligraphic font with an unusual upright stance.
The top-heavy style is balanced by the weight of the delicious stylistic alternatives and swashes.
Grand Hotel is 100% free for personal and commercial use.
Download Grand Hotel from fontsquirrel.com
36. Sacramento
Sacramento's wide spacing and short x-height combine with flowing swashes and long, loopy ascenders and descenders to give it a smooth, casual style.
Try this medium weight monoline font in short paragraphs and headlines.
Sacramento is free for commercial use.
Download Sacramento from 1001fonts.com
37. Fabfelt
Fabfelt is a bold, easy-to-read monoline font that can work for small blocks of text as well as headlines.
With a fresh handwritten look, Fabfelt can put a little fun into your next project.
It's free for commercial use if you watch which site you download it from.
Download Fabfelt from 1001fonts.com
38. Nickainley
Nickainley is a light monoline font with a large x-height that makes it easy to read.
Use this italicized calligraphic font for logos, headlines, and more.
Free to download for commercial use.
Download Nickainley from fontfabric.com
39. Pacifico
Pacifico is a bold, monoline font with a decidedly retro feel.
Ascenders and descenders are elegantly loopy, and headlines made with Pacifico give a feeling of relaxed and casual style.
Free for commercial use.
Download Pacifico from fontsquirrel.com
– Contemporary & Casual Fonts
40. Balqis
For a hand-drawn font with easy flourishes, try Balqis.
Balqis is very graceful and easy to read, with light and dark patches giving it a watercolor feel.
Try it for a party invitation or thank you card.
Use Balqis for any number of personal or commercial projects.
Download Balqis from freedesignresources.net
41. Hello
Fresh and energetic, Hello gets its quirkiness from stylish, upright caps and lowercase letters that jump up and down on the baseline.
Semi-bold with a hand-lettered appeal, Hello is available for personal use only.
Download Hello from dafont.com
42. Hijrnotes
Hijrnotes is a thin signature font with swirly, large caps and small lowercase letters.
It's best suited for headlines or short lines of text because of the tall ascenders and descenders.
For personal use only, with a swash set available for purchase.
Download Hijrnotes from dafont.com
43. Barbara Blast
Barbara Blast is a bouncy, fun signature font with large lowercase letters that give its good readability.
Try this high-contrast font with a shadow for headlines and small blocks of text.
The free font is for personal use only.
Still, a purchased commercial license will give you access to a good selection of extra stylistic alternatives.
Download Barbara Blast from dafont.com
44. Leslie Dawn
If this font were a person named Leslie Dawn, she would be casual, flirty, and a lot of fun.
This free font comes with lots of built-in swashes and flourishes, with letters that often dip below the baseline for an energetic look.
Licensed for personal use only.
Download Leslie Dawn from dafont.com
45. Mahesia
Mahesia is a beautiful, contemporary script that will give a romantic feel to any project.
Because the letters don't all rest on the baseline, Mahesia is an elegant font that is full of movement.
The free version is for personal use only, and you'll need to purchase the full version to have access to all the extra stylistic alternatives.
Download Mahesia from dafont.com
46. Aerotis
Aerotis is modern looking script calligraphy font that works great for a number of different occasions.
It works great for wedding invitations as well as other places where you want to communicate a signature like handwritten touch.
The free version of Aerotis is only for personal use.
However, the full version includes ligatures, swashes and more.
Download Aerotis from 1001fonts.com
The Best Premium Calligraphy Fonts
Now let's take a look at some premium fonts and see how they can take your work from great to fantastic!
These amazing fonts are all available at Designcuts.com.
– Bold & Carefree Fonts
47. Honest Designers script
This is a seriously bold, smooth, seamless, and well-balanced script font, making it perfect for logos, headings, and catchy visual slogans.
This semi-connected type family comes with three styles –
Regular, with a smooth finish.
Halftone, with a textured finish.
Rough Ink, with a mottled finish.
Each style also has a matching bold font that's even richer.
Get a hand-lettered look that includes 25 versatile ligatures in all six different styles.
You'll use this font a lot!
Check it out at DesignCuts.com
48. No. Seven
No. Seven gives you a vintage casual feel with substance.
The semi-connected letters and easy ligatures of this bold, brush-style script make No. Seven easy to read, easy to stack, and easy to enhance.
It comes in three weights, including a complete set of small caps.
Personalize your designs even more with well-designed ligatures, stylistic alternates, and ornaments.
Check it out at DesignCuts.com
49. Clarkson
Clarkson is an amazingly versatile font, unusual for script fonts in that it can work in all caps.
Customize it any way you need, for signage, headings, posters, and more.
Over 500 characters with a raft of stylistic and contextual alternate forms and ligatures in both upper and lower cases allow you to personalize Clarkson to make this bold and stylish script your own.
Check it out at DesignCuts.com
50. Marttabuck
Marttabuck has a bold, adventurous vintage feel and is a perfect script for signage, logos, and branding.
Super bold and curvy, it comes with two styles, regular bold and a unique style that takes tiny, strategically placed cuts out of the letterforms.
They are here to add detail and interest to your logotypes and headings.
It gives you infinite options to customize it any way you like.
Marttabuck's strong swashes, ligatures, and stylistic alternatives give you countless options to customize it any way you want.
Check it out at DesignCuts.com
51. Avallon
Bold, hand-brushed Avallon takes typography to a new level.
Unlike a traditional vector format, Avallon uses an SVG format that gives you a built-in transparent brushstroke texture, which will jump off the page with fantastic detail.
Versatile Avallon comes with –
Avallon.SVG – A high definition OpenType.SVG brush font, with uppercase and lowercase letters
Avallon Alt.SVG – The second version of Avallon, with an entirely new set of lowercase characters.
Avalon All Caps.SVG – A brand new set of capital letters which allows you to create beautiful headings in all caps.
Avallon also comes with traditional vector versions of all three SVG fonts.
Also, layered Photoshop files of the more detailed letters, for you to simply copy and paste into your document.
You'll have everything you need to make your headlines sing with detail!
Check it out at DesignCuts.com
52. Thander
Be sure to try Thander, a bold, plush script with soft curves and edges.
Thander has a deeply italicized vintage feel and is perfect for display headings, logos, branding, and more.
Pair it with a bold sans-serif type for a modernized retro feel and use its bold presence and stylistic sets to make a statement with your next project.
Check it out at DesignCuts.com
53. Sabotaged
Sabotaged is a seriously brash and robust hand-drawn script.
It's excellent for logos, branding, and packaging, with rough, textured edges that give it an edgy look.
When you download Sabotaged, you'll get:
Sabotaged OTF- Includes a broad range of glyphs, ligatures and stylistic alternates in Open Type format
Sabotaged Extras OTF – A set of 26 hand-drawn doodles, swashes, arrows, circles, and paint splatters.
Violent Desire OTF – a wild, reckless supporting font for Sabotaged that comes with upper case letters and numbers.
Sabotaged will give an aggressive and untamed look to your next extreme design.
Check it out at DesignCuts.com
54. Quintal
Quintal is an extra-bold, curvy script with a retro feel – no straight lines in sight!
It's great for branding, logotypes, or anywhere you need to make a statement.
Built-in swashes and detailed ligatures give Quintal sparky character.
It comes with an extensive set of custom ligatures and swashes.
You can put your own unique spin on posters, titles, and packaging – even short text blocks become attractive and decorative with Quintal.
Check it out at DesignCuts.com
– Elegant & Classic Fonts
55. Rosalinda Script
Rosalinda Script was designed with wedding invitations in mind.
But don't hesitate to use it with logos, package design quotes, or anywhere you need a beautiful upright font.
With over 900 unique and swirly letterforms from which to choose.
Swashes, catchwords, end forms, and an impressive collection of ligatures make Rosalinda Script one of the most versatile fonts you'll ever use
Check it out at DesignCuts.com
56. Wallington Pro
Wallington Pro is a vintage serif type that is included with calligraphic fonts because of its impressive array of stylistic alternates, swashes, and ligatures.
Here's a sample of what you get with Wallington Pro:
721 glyphs
268 unique ligatures
30+ catchwords
10 stylistic sets.
Astonishing special characters that allow you to mix and match pairs of letters to fit your design
Reminiscent of Art Nouveau, this stylish and elegant font works well for decorative applications, signage, and packaging.
With its clear, upright, and easy-to-read style that also works perfectly in caps only.
Check it out at DesignCuts.com
– Monoline Fonts
57. Riviera
Elegant and harmonious, Riviera is a medium-weight monoline font with a distinctive signature look.
Large capitals and smooth, round letterforms make Riviera perfect for corporate identity projects, headlines, and logotypes.
Pair it with a simple sans-serif type to contrast with its strong curves.
Over 400 alternate characters, 57 ligatures, and amazing swashes will add beautiful touches for a complete, finished look.
Check it out at DesignCuts.com
58. Claytonia
Claytonia, with its sturdy yet highly informal monoline style, adds casual appeal to any project.
Use it for posters, invitations, logotypes, and more.
Play with Claytonia's ample collection of swashes and stylistic alternatives to create a design that's fun, friendly, and attractive.
Check it out at DesignCuts.com
– Contemporary & Casual Fonts
59. Madina Script
Fun and lively Madina Script refuses to sit on its baseline and gives plenty of energy to any project.
When you download Madina Script, you'll get:
Madina Script – A rough, brush-textured handwritten script with upper & lowercase characters, numerals, and an extensive range of punctuation.
Madina Script Alt – An entirely new set of lowercase characters.
Madina Script Ornaments –30 hand-drawn elements, including end swashes, olive branches, and flourishes.
Madina Clean, Madina Clean Alt & Madina Clean Ornaments – Clean versions of the above 3 fonts, with a completely smooth edge.
Use spirited Madina Script for logos, branding, packaging, and more to make your next project stand out from the crowd.
Check it out at DesignCuts.com
60. Opulent
This expressive brush font provides incredible versatility and elegance to any project.
Since Opulent comes in both vector and SVG formats, you have the option to use its textured watercolor finish or its smooth, clean design.
You'll get –
Opulent SVG Font – A stunning hand-lettered look with high-definition watercolor textures
Opulent Brush Font – The vector font that maintains the authentic paint-brushed feel
Opulent Solid Font – Gives a silkier smooth finish to your text and is perfect for vinyl cutters such as Cricut and Silhouette Cameo
Photoshop File – A layered Photoshop file, which you can simply copy and paste into your document if you're unable to access the SVG files.
All 3 styles of the font include an 'Alt' version, replacing all of the lowercase characters with a completely new set.
Opulent's elegance and versatility will let you create entirely individualized invitations, logos, calligraphic art, and more.
Check it out at DesignCuts.com
61. Summer Festival
Summer Festival is a medium weight, fully connected, and fun script, hand-drawn to give your next project a fresh, natural feel.
Clean and easy to read, Summer Festival comes with a full set lowercase alternate styles for endless variety.
It would be perfect for wedding invitations, social media posts, and logos.
Check it out at DesignCuts.com
62. Wild Spirit
As its name suggests, Wild Spirit is an expressive dry-brush font, lightweight and easy, with an airy and unfinished look.
When you download Wild Spirit, you'll get –
Wild Spirit – A hand-drawn script font with uppercase and lowercase characters, numerals, and a broad range of punctuation.
Wild Spirit Alt – The second version of Wild Spirit, with a new set of lowercase and uppercase characters.
Wild Spirit Extras – Simply type any uppercase character in this font to generate a swash, or any lowercase character in this font to create a ligature.
No special software is required to use the Wild Spirit Font.
If you're looking for a spontaneous, handwritten look, try Wild Spirit.
Check it out at DesignCuts.com
63. Checkpoint
Checkpoint is a confident, high-energy font that will inspire your readers to take action!
Condensed and leggy, with outsized caps, Checkpoint will deliver signature style and vitality to your projects.
Here's what's included when you download Checkpoint:
Checkpoint Signature – Uppercase and lowercase letters, numbers, and lots of punctuation
Checkpoint Signature Alt – The second set of all uppercase and lowercase letters for a variety
Checkpoint Signature Swash – A third font containing 26 hand-drawn swashes
Ligatures – Twenty ligatures are included for seamless spacing
End Forms – Give your words end swashes for extra flair
Pair Checkpoint with a semi-condensed sans-serif font for a look that says, "Read me NOW!"
Check it out at DesignCuts.com
64. Forever Grateful
Forever Grateful is friendly and fun, and a perfect choice for casual logotypes, signage, and stationery.
This bold, semi-connected script comes with a collection of autumn-themed doodles to add playfulness to your designs.
Any way you use it – traditional upper and lower case, all caps, or all lower case.
Forever Grateful will bring a smile to your readers' faces.
Check it out at DesignCuts.com
65. Amelia
Amelia is a fun and funky, fully connected roundhand script that won't sit still, giving it movement and character.
Amelia is stand-alone beautiful, but it also has a full selection of alternate styles and swashes for every letter, giving you endless design options.
It's also great for designers who are new to premium fonts.
You can access it in Photoshop without opening the glyphs panel, and it comes with an extensive help file to get you started!
When you download Amelia, you get –
Amelia Script – Fine version with smooth, clean lines
Amelia Script – Draft version with a dry-brushed, textured feel
More than 150 top and end swashes that perfectly connect with every letter
Two complete sets of capitals, with extra swash versions of selected caps
Hundreds of ligatures, contextual and stylistic alternates
Compatible with Cricut and Silhouette machines
An extensive HELP folder
Bonus – Three PhotoShop files with editable swash examples
Let Amelia, with its beautiful flourishes, introduce you to the world of decorative fonts.
Check it out at DesignCuts.com
66. Northwell
With a rugged, rustic feel, Northwell delivers individuality to your project.
Graceful dry-brushed letters with sweeping style work well for packaging, logotypes, and social media images.
You get three different fonts with this set:
Northwell – A handwritten script font with uppercase and lowercase characters, numerals, and punctuation
Northwell Alt – A completely different set of both lower and uppercase characters for additional layout options
Northwell Swash – A set of 20 hand-drawn swashes to add a finishing touch
Northwell can give outdoorsy character to any project while remaining classy and elegant.
Check it out at DesignCuts.com
– Design Duo Fonts & More
67. Salt & Pepper
You'll lose yourself in Salt and Pepper, a totally unique and visually exciting hand-drawn font duo.
The airy script comes in both a smooth and rough texture, and it's paired with a fine monoline sans-serif.
When you add the stylistic elements, swashes, and ornaments, you have everything you need to create the look you imagine and more.
Here's what you get with Salt & Pepper –
Salt & Pepper Smooth – A lovely, smooth version
Salt & Pepper Rustic – A matching grittier version with texture, great for watercolor overlays
Stylistic alternatives, and don't forget tons of decorative swashes!
37 objects and icons
10 floral elements
6 frames
5 handy borders
2 whimsical seamless patterns
2 subtle textures
Salt & Pepper is your recipe for design success.
Check it out at DesignCuts.com
68. Rumble Brave
Using a vintage font like Rumble Brave can give your project a nostalgic and intricate touch.
A combination of serif, script, and dingbat fonts gives you an updated Victorian feel.
Look through the fantastic collection of stylistic alternates to refine and complete your design.
You'll get –
Rumble Brave – the Victorian serif font in Regular, Rough, Outline, and 3D Shadow.
Rumble Brave Script – in Regular and Rough.
Hundreds of stylistic alternates for both fonts, in both uppercase and lowercase.
Ornaments and borders to complete the vintage feel.
Rumble Brave and Rumble Brave script are easy to use with or without design software.
Check it out at DesignCuts.com
69. Brendan
Bold, sassy Brendan Script, and Brendan Sans Serif Caps combine to make a font duo perfect for logotype design and branding.
Its retro feel and customized set of swashes and stylistic alternates make it a smart choice for package design and eye-catching signage
Check it out at DesignCuts.com
70. Winter is Coming
Winter Is Coming is a playful set of five font families with a decidedly retro fifties feel.
Use the stylistic alternates and swashes to personalize your project, as well as the fun and festive set of winter ornaments to inspire your designs.
Here's what you get with Winter is Coming:
Winter Is Coming contains 5 fonts that use open type features such as stylistic alternate, stylistic set, contextual alternate, ornaments, and ligatures.
This package also includes a bonus graphic set to help you make winter designs more stunning!
Included in this set –
Winter Is Coming Serif
Winter is Coming Serif Shadow
Winter is Coming Serif Expanded
Winter is Coming Script
Winter is Coming Script Shadow
Stylistic alternates, ornaments, and ligatures
A complete set of bonus tags and graphics
Together, the bold, condensed script of Winter is Coming paired with its bouncy serif style will make your designs dance with energy.
Check it out at DesignCuts.com
71. Portabella
The Portabella collection gives you a fabulous font duo of hand-brushed letters, elegant and contemporary.
Portabella Serif is a beautifully spaced all-caps font with organic edges that complements the painterly feel of the textured Portabella SVG script perfectly.
Use all the bonus elements – delicate florals, watercolor backgrounds, and more – to create lovely wedding invites, romantic branding, and home décor, just for starters.
Here's what you get when you download Portabella –
Portabella Solid – A traditional hand-painted and vector-based font with an elegant, brushed texture.
Portabella Serif – A hand-drawn serif with subtly textured edges
Portabella SVG – A bonus transparent SVG style with built-in texture
A layered Photoshop file containing all the transparent letters, so you can just grab the characters you need and drag them to your canvas.
28 hand-drawn floral elements
Six hand-painted watercolor backgrounds
Portabella Transparent Textures – 9 hand-painted, transparent PNG textures
A handy SVG start guide
The Portabella set will give you everything you need to take off running with beautiful type-based images.
Check it out at DesignCuts.com
72. Adorn
Adorn is easily the most versatile and inclusive font you will ever use.
This vintage set with a hand-drawn look comes with seven harmonious yet totally distinctive fonts, including four script fonts and seven display fonts, all with complete selections of swashes and stylistic alternates.
You'll find frames, ornaments, catchwords, and much more to add eye-catching finishes to your design.
One of the most ingenious features of Adorn is its ability to let you instantly create one-, two- or three-letter decorative monograms in seconds.
Here's what you get with Adorn –
Monograms – Three monogram design styles: Adorn Solo, Adorn Duo, and Adorn Trio
20 Adorn Catchwords
20 Adorn Banners, each with a mirrored image left and right element
Adorn Frames
130 Adorn Ornaments – unique ornamental illustrations.
Adorn Coronet Script – crisp, angular, and straightforward with 268 swashes and alternates
Adorn Pomander – a light and airy font with 390 swashes and alternates
Adorn Garland Script – a whimsical vintage font with 166 swashes
Adorn Bouquet – is giddy and intentionally irregular, with 240 swashes
Adorn Sans Condensed – a sans-serif font brimming with whimsy. Adorn Sans Condensed also has contextual alternates with Ambi case letters— a distinctive feature not usually found in display fonts.
Adorn Sans Expanded – a warm and charming display font
Adorn Copperplate – has the serif sturdiness of the classic copperplates with a modern feel
Adorn Engraved and Adorn Engraved Expanded – this pair gives an elegant vintage feel to your invitations and logotypes
Adorn Serif and Slab Serif – both available in Regular and Bold weights and work well for body text.
Adorn Roman -created with a chisel-edged calligraphy pen and works for elegant headlines as well as body text.
Whew!
But most importantly, Adorn has been specially coded to allow almost everyone to access all its features without the need for specialized design software.
Use this workhorse font to create an infinite variety of invitations, menus, branding, logotypes, and more.
Check it out at DesignCuts.com
FAQ
Most frequent questions and answers about calligraphy fonts
What is the difference between free and premium calligraphy fonts?
The main differences between the free and premium fonts are about licenses and quality.
Many free calligraphy fonts are licensed for both non-commercial and commercial use.

Always read the EULA, the End User License Agreement, even if you only have ten minutes until your deadline!

Most free fonts that are licensed for commercial use will allow you to use them on websites, ebooks, print media, and more.
In some cases, even modifying the design for use in a logo.

Still, read the EULA carefully.
For example, you might not be able to use a free font on more than one computer.

Another example is that you may have the right to use it in an ebook but not to modify it in any way for use as a logo.
If your chosen free font is licensed as "free for personal use," you can use it on your party invitations.

Still, you can't use it on a website, a business card, or in any other medium that might earn money for you.

Premium fonts, on the other hand, will allow you a lot more creative freedom.
You'll still need to check the licensing agreement, though, to be sure you are allowed to use it the way you need to.

For example, you should make sure it's available for use on a website as well as in printed media.
If you want to read more about it, check out this post. 
Why premium calligraphy fonts are better than free ones?
One thing that helps your premium font retain its uniqueness is a collection of swashes, ligatures, and stylistic sets.

That enables you to make it your own and create a vast number of variations.
There will also be a collection of glyphs to support multiple languages (check the individual font to see what languages are supported.)

You'll sometimes find fonts with different textures, fonts with both regular and bold sets, or even two complete fonts that are meant to be used as a complementary set.

For example, you may find a calligraphy script paired with a sans serif that will make your job infinitely easier.

Many free calligraphic fonts don't provide you with many options when it comes to making your headline sing.

You'll likely get one complete set to use any way you please, but it may not come with a bolded face or even numerals.

You'll have to do without or create what you need yourself.
It's worth your time and energy to get it all ready-made and made well.

Better support –
Premium fonts will also offer better user support.
Many fonts are vector-based, but some of the most beautiful hand-brushed scripts come with an SVG file to give you that beautiful, textured overlay.

Not sure how to use an SVG font?
Detailed instructions are included!

Still not convinced?
Contact the support desk for FAQs and troubleshooting help to get you back to work with the click of a mouse.
Common issues with free calligraphy fonts
Speaking of well-made, let's say you've finally found the perfect free calligraphy font for your project.

However, when you start to use it, you may notice that the ligatures are a little off, or the spaces between words and letters need to be manually kerned.

Here's another case where it might be worth your time to invest a few dollars in a premium font.

The designers of these fonts have made sure their fonts work the first time, every time, and look great right out of the starting gate.

Free calligraphy fonts are all over the place
Do you need a calligraphy font that makes a unique statement?

Remember that free fonts are used a lot… because they're free!

You won't find a premium font splashed all over the internet.

You can rest assured that your project will retain its exclusivity and individuality.
What is the needed software for calligraphy fonts?
Both free and premium fonts will work well with most programs.
Still, to access the additional stylistic sets and glyphs of a premium font, you will most likely need professional design software.

Something like Adobe Creative Suite or other OpenType savvy programs like CorelDraw.
How can I download and install calligraphy fonts?
Downloading free fonts is as easy as clicking on the download button.

In Windows 10, files will appear in your download folder as zip files, so click on extract file, read the notes.

When you (right) click on the font file, you should see a choice that lets you install the font automatically.

With older operating systems, just drag the extracted file into your fonts folder.

On a Mac, download the font, double-click the icon in the Finder, then click Install Font.
Sours: https://www.lettering-daily.com/calligraphy-fonts/
20+ Best Fonts for Procreate & How to Add Them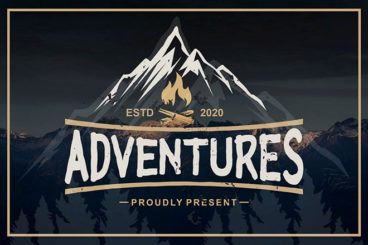 One of the best things about Procreate is how flexible the app can be depending on your needs. If you're a beginner, Procreate is a great place to start practicing your craft. But the app also has advanced features for experienced artists as well. Like the ability to install and use custom fonts.
Using custom fonts in artworks is a great way to add more creativity. For example, if you're not good at calligraphy or hand-lettering, you can just use a hand-lettering font to add beautiful titles and subtitles to your Procreate designs.
In this post, we showcase some of the best fonts for Procreate with hand-crafted designs. You can download these and use them however you like. And we'll also show you how to install fonts in Procreate.
Let's get started.
2 Million+ Fonts, Typefaces, and Design Resources With Unlimited Downloads
Download thousands of stunning premium fonts and typefaces with an Envato Elements membership. It starts at $16 per month, and gives you unlimited access to a growing library of over 2,000,000 fonts, design templates, themes, photos, and more.
Explore Fonts
Pastel – Handwriting Procreate Font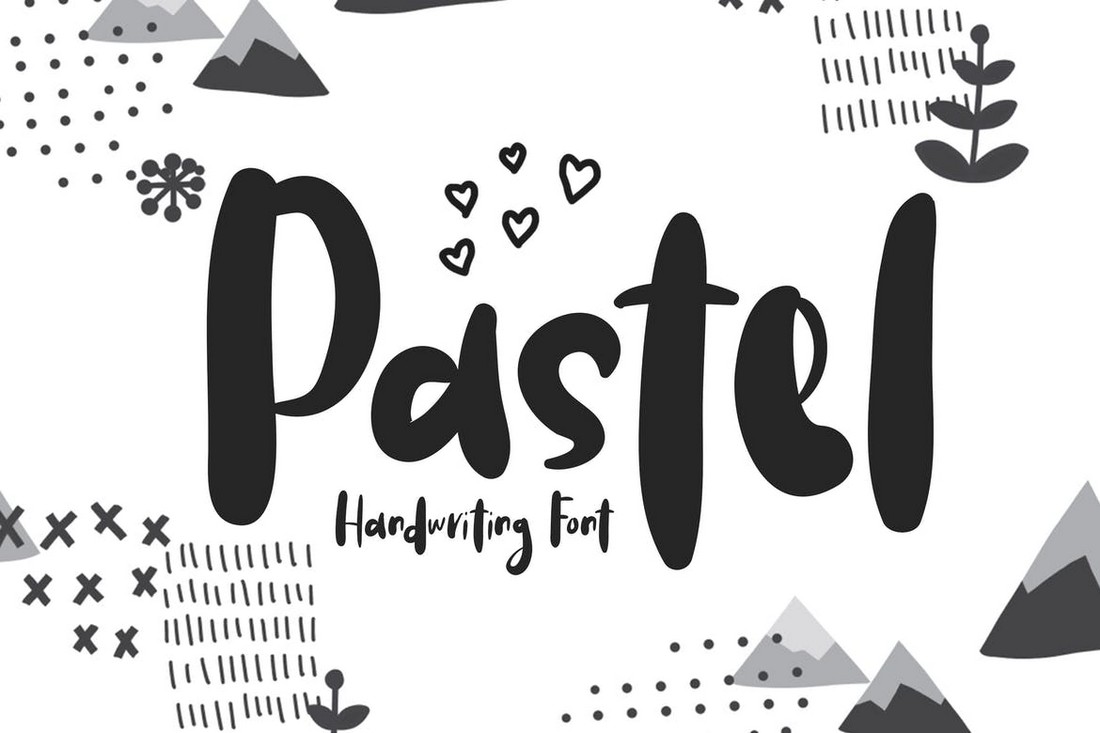 When adding text in Procreate, you should try to pick fonts that look hand-crafted and creative. It's the best way to make text blend well with your artwork. This font is perfect for achieving that goal. It features a cute ink stroke lettering design that will give a personalized feel to your designs.
BlissHearts – Creative Procreate Font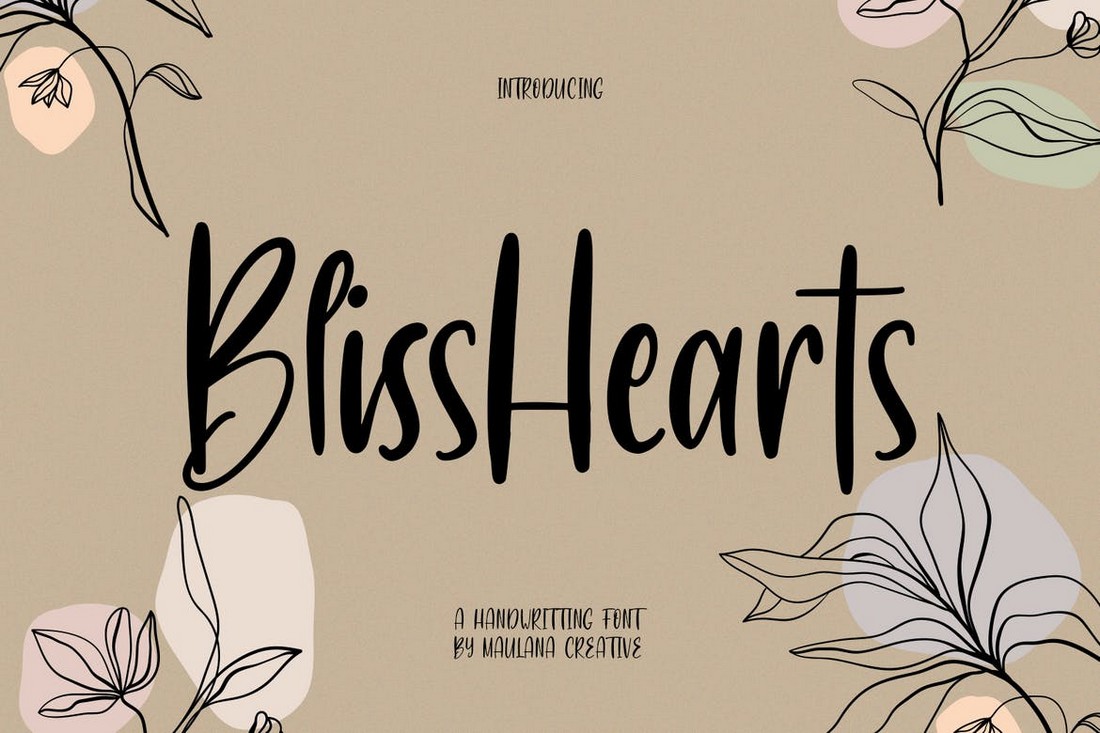 If you want to create titles or headings in your artworks that flow perfectly between each letter, this font is for you. This beautiful hand-lettering font will fit in well with all kinds of creative artworks and designs. It's great for illustrations and various graphic designs as well.
The Wanderer – Condensed Font for Procreate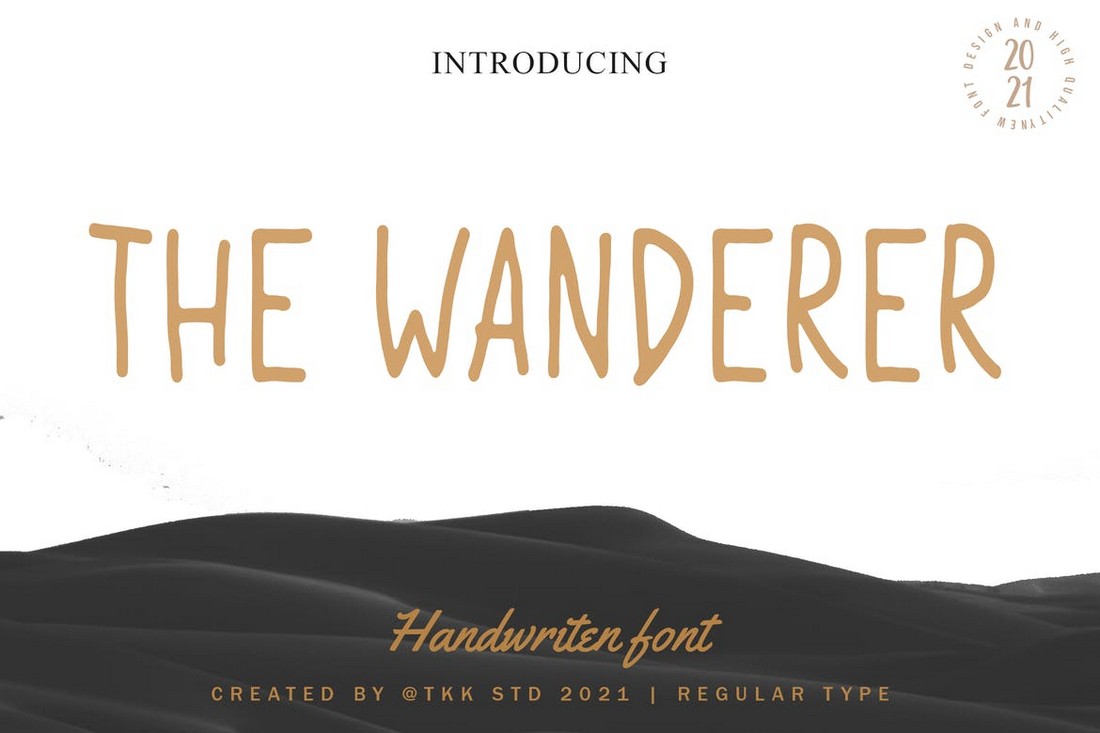 The Wanderer is a unique handwriting font that comes with a condensed letter design. This font will allow you to add a natural hand-drawn look to your text to make them look as if you drew each letter by hand. The font comes in OTF and TTF formats, both of which are compatible with Procreate.
Hakuno – Chic Handwriting Procreate Font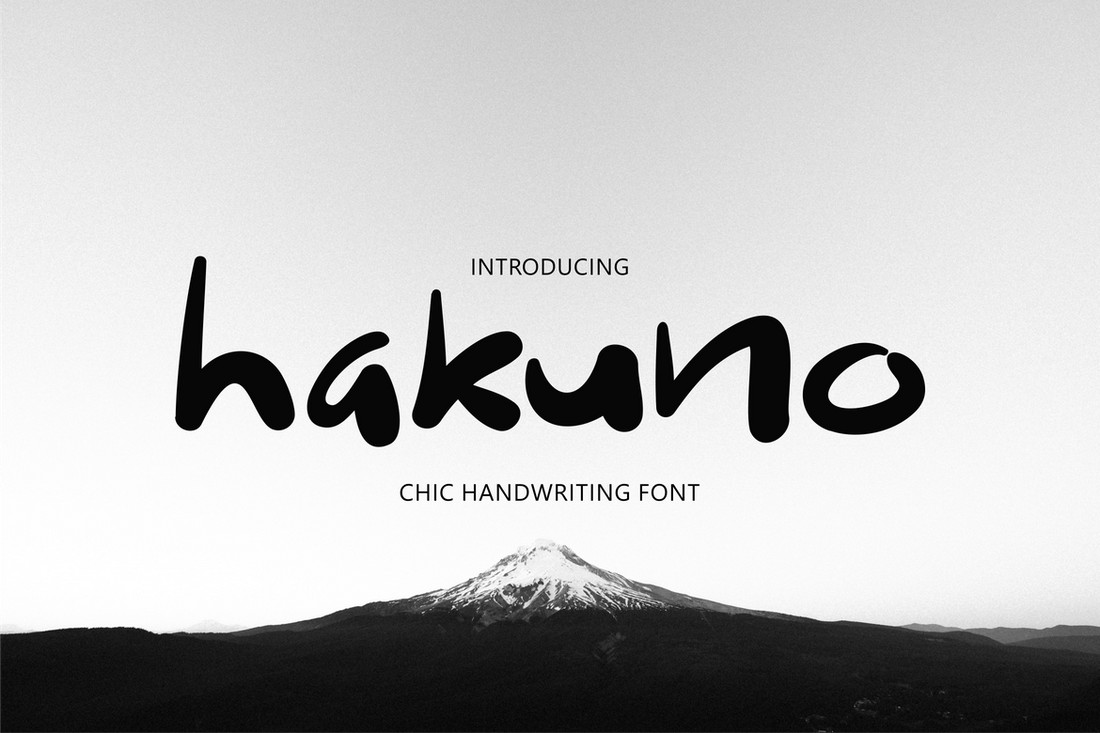 This handwriting font is a great choice for adding a casual and feminine look to your artwork and graphics. It features a set of gorgeous letters with thick and wavy designs. The font is especially more suitable for book covers, quotes, and subtitles.
Adventures – Bold Procreate Font
Adventures is a Procreate font with a bold and vintage design. The letters in this font are designed with a textured and classic look to make them fit in nicely with your vintage-themed artworks.
It's Kind of Magic – Free Procreate Font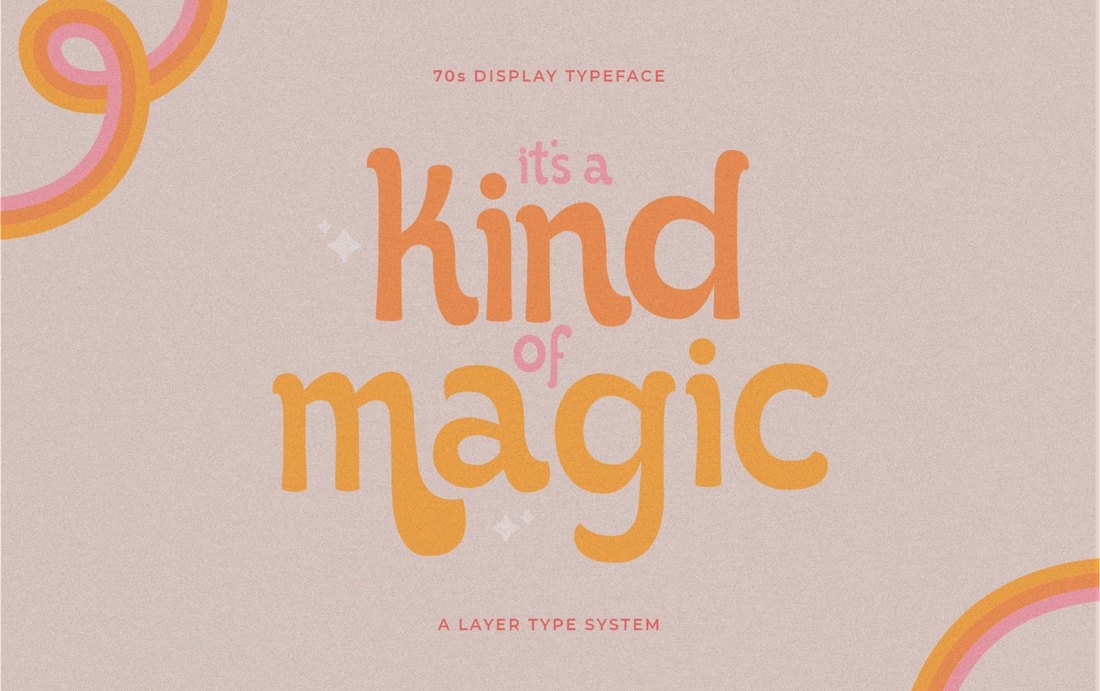 This is a free font you can use to design beautiful titles and headings for your artworks. It features a stylish design with curvy letters. The font is free to use with your personal and commercial projects.
GoodHood – Free Procreate Font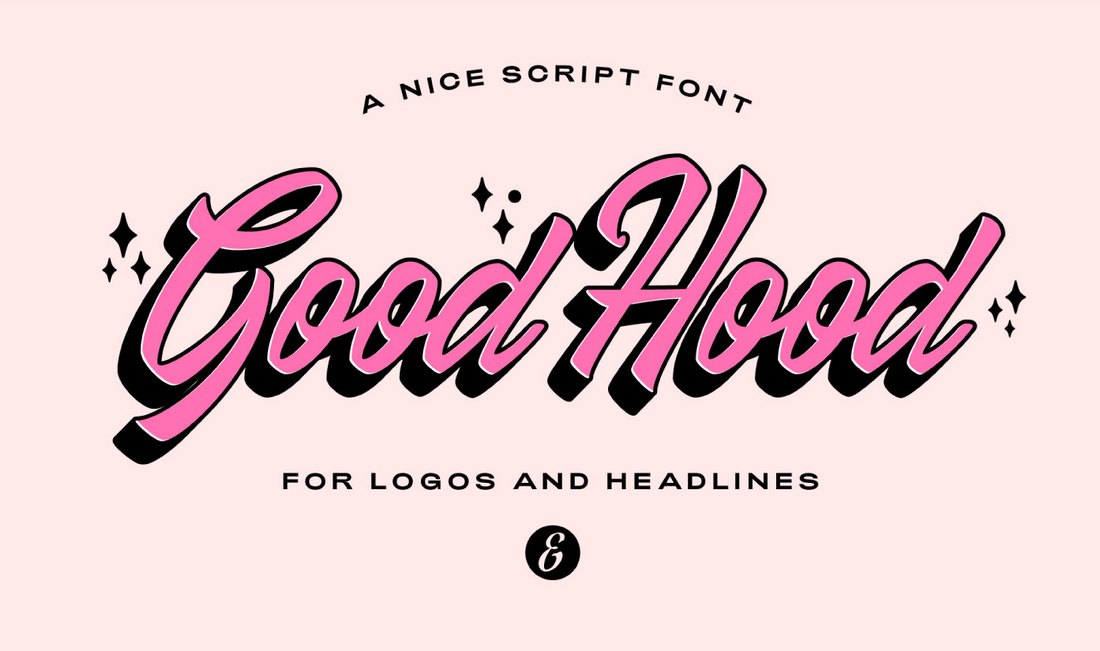 GoodHood is another free font you can use in your personal and commercial projects. It comes with classic brush script-style letters in 90s retro-themed design. It's ideal for crafting headings.
Highnorth – Handmade Marker Font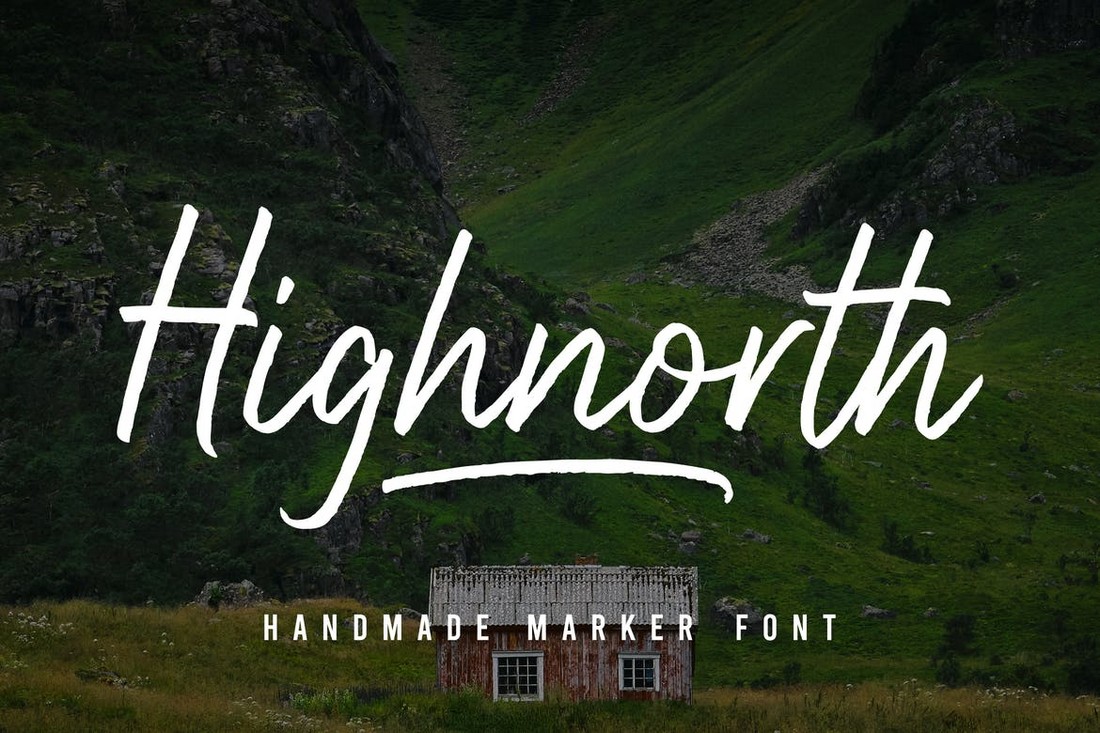 Highnorth is a stylish marker font that you can use to make your text look as if it were drawn with a marker. It will especially match perfectly if you've used marker brushes in your artworks. You can also add your own swashes to make the titles stand out from the crowd.
Arata – Handmade Freestyle Procreate Font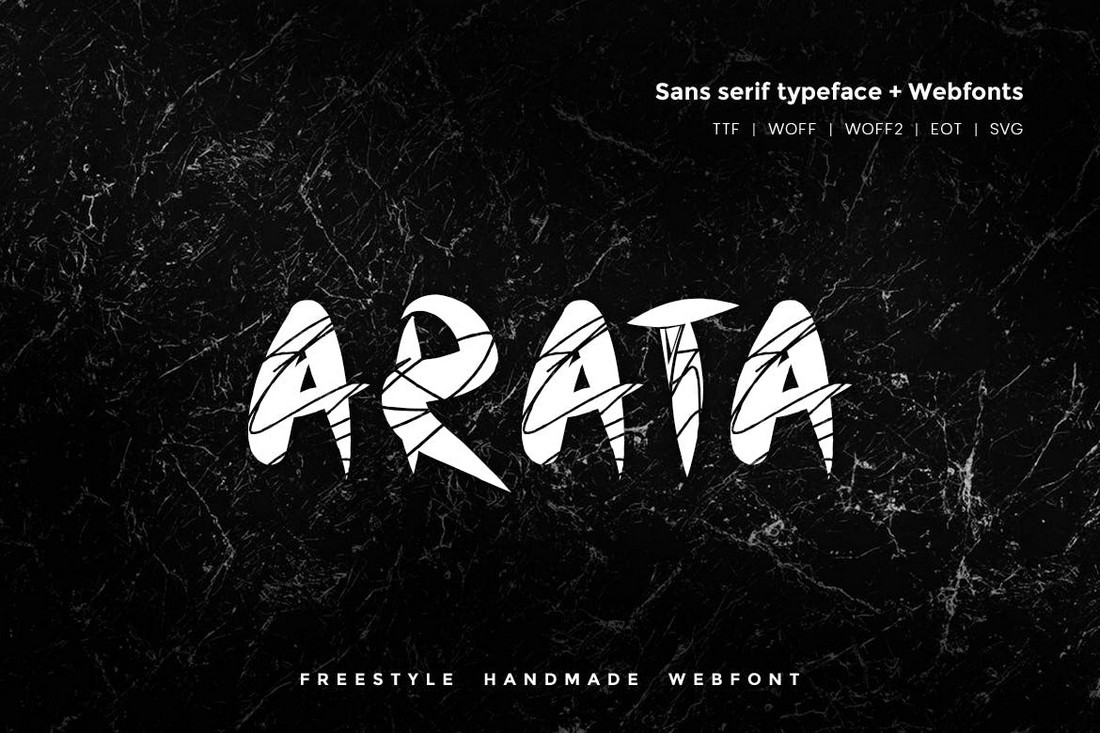 This is a unique freestyle font that comes with a stylish handmade design. The textured look of the letters will make it a nice choice for designing headings and subtitles for illustrations and comics.
Inkhead – Pen Stroke Procreate Font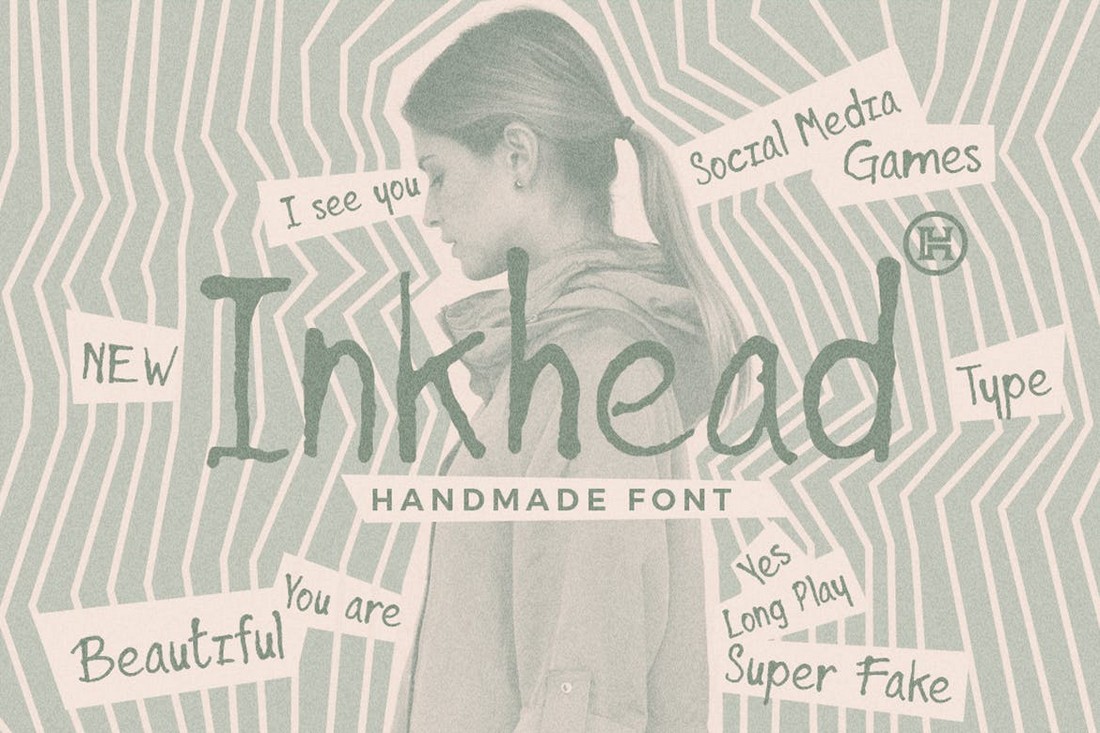 If you want to design text with a rough handmade look and feel, this font is perfect for you. It features a set of vintage-themed letters featuring pen stroke designs. You can use the font to add a classic look to your quotes and titles.
Heartland – Minimal Handwriting Procreate Font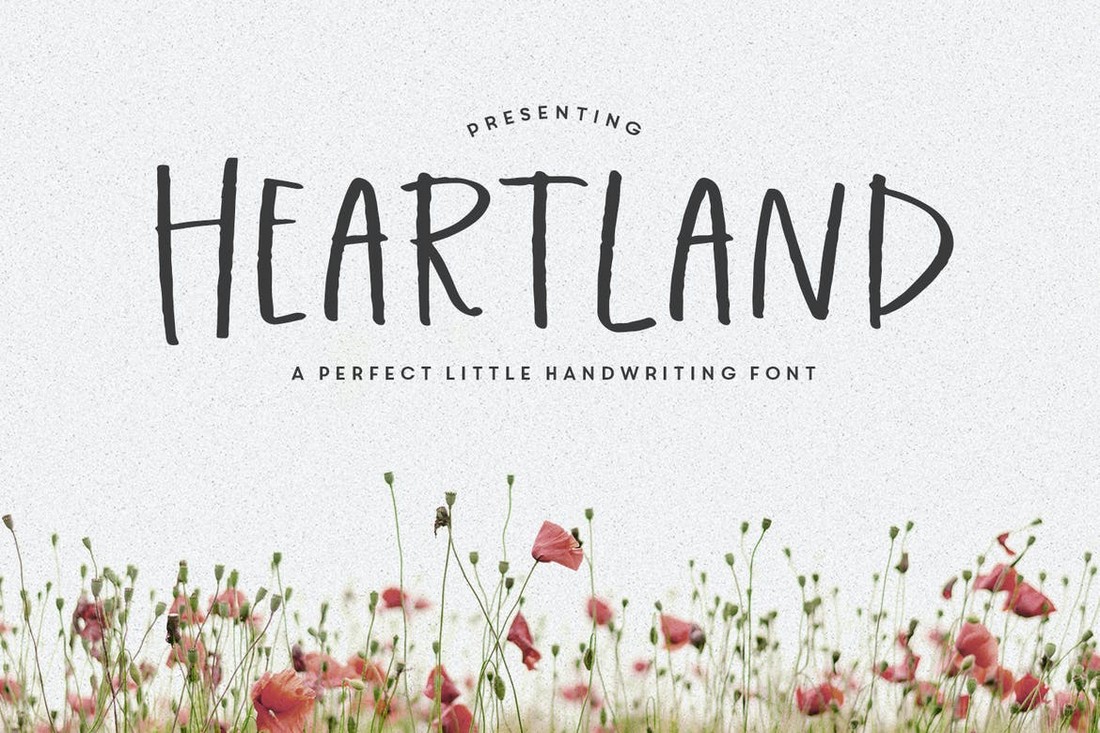 Heartland is one of the most beautiful fonts on our list. It comes with a condensed and handwriting letter design. Each letter in this font is unique and gives off a calming vibe. Use it to craft text with a minimalist feel.
Story Brush – Fonts for Procreate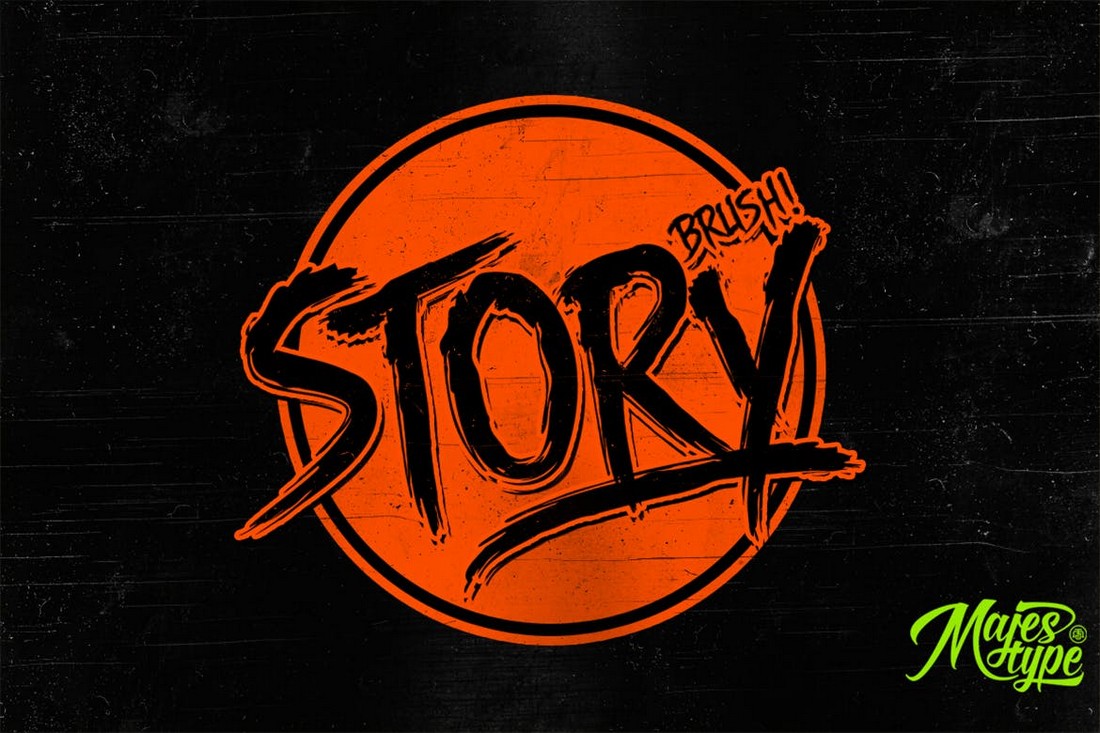 This is a brush font that you can use to craft titles and headings with a modern look. It's most suitable for horror-themed artworks and illustrations. Especially for Halloween designs such as posters and flyers.
Boom – Comic Font for Procreate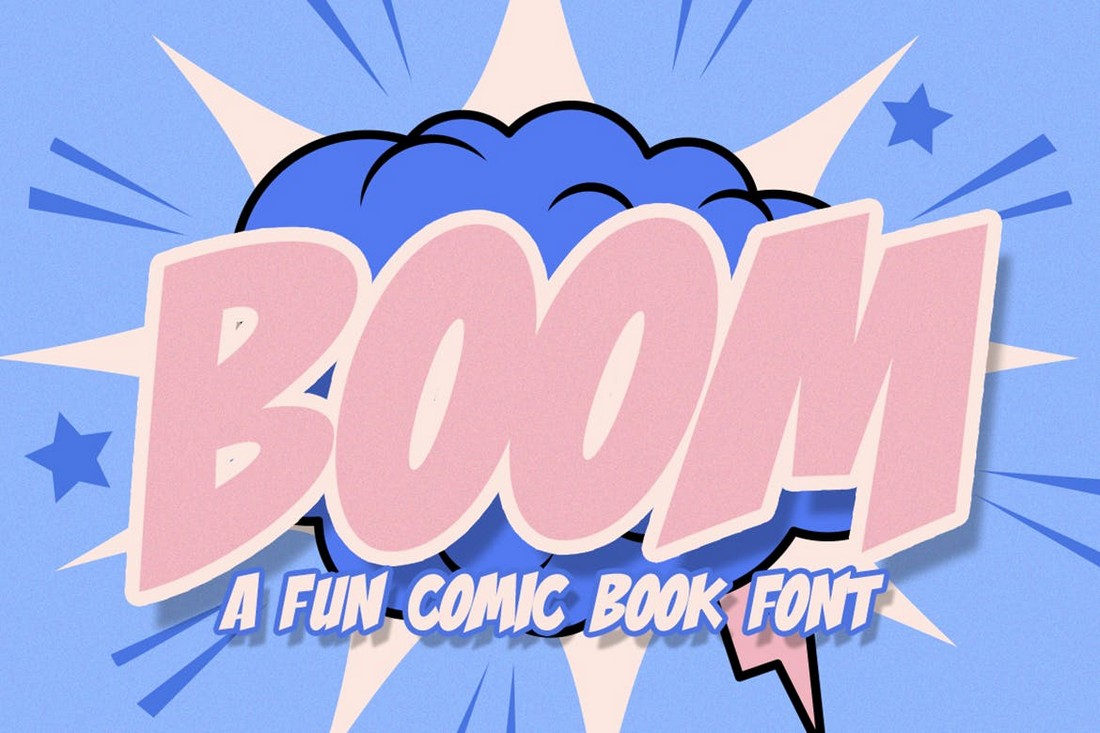 If you use Procreate to draw comics, this font is a must-have for you. It will help you craft those splash pages with big bold comic text much more easily. The font comes in OTF and TTF formats. You can use it in Procreate and other graphic editing software.
SHNobel – Free Fun Procreate Font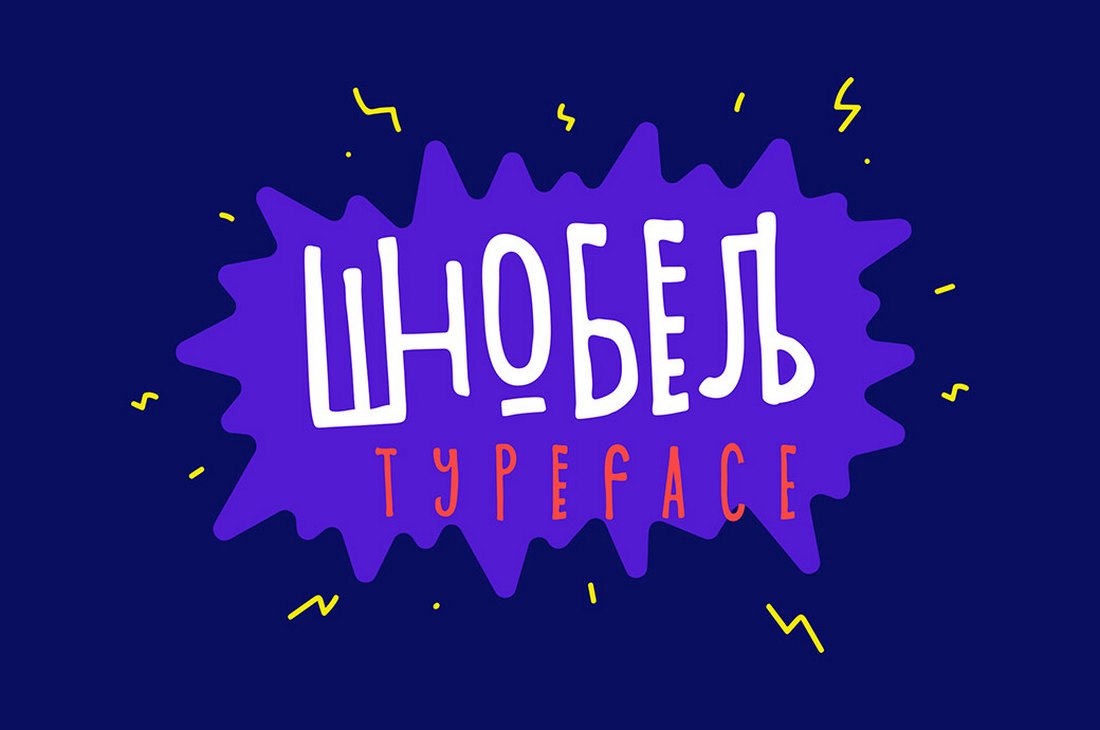 This is a very creative font that comes with a set of unusual letter designs. It's perfect for making headings for fun and quirky designs, especially for children's designs. The font comes in multiple formats.
Free Vintage Monogram Font for Procreate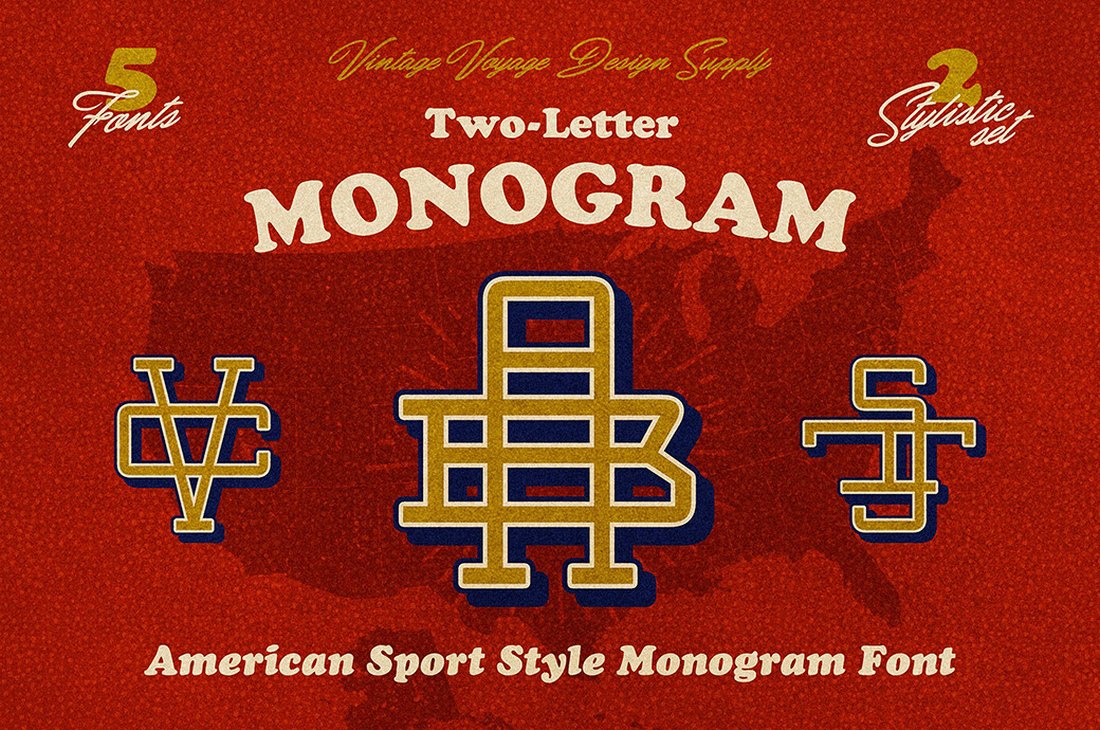 With this font, you can design stylish monograms using Procreate without effort. It features a set of vintage-style letters that are ideal for monogram designs. The font is free to download.
Huelva – Creative Procreate Font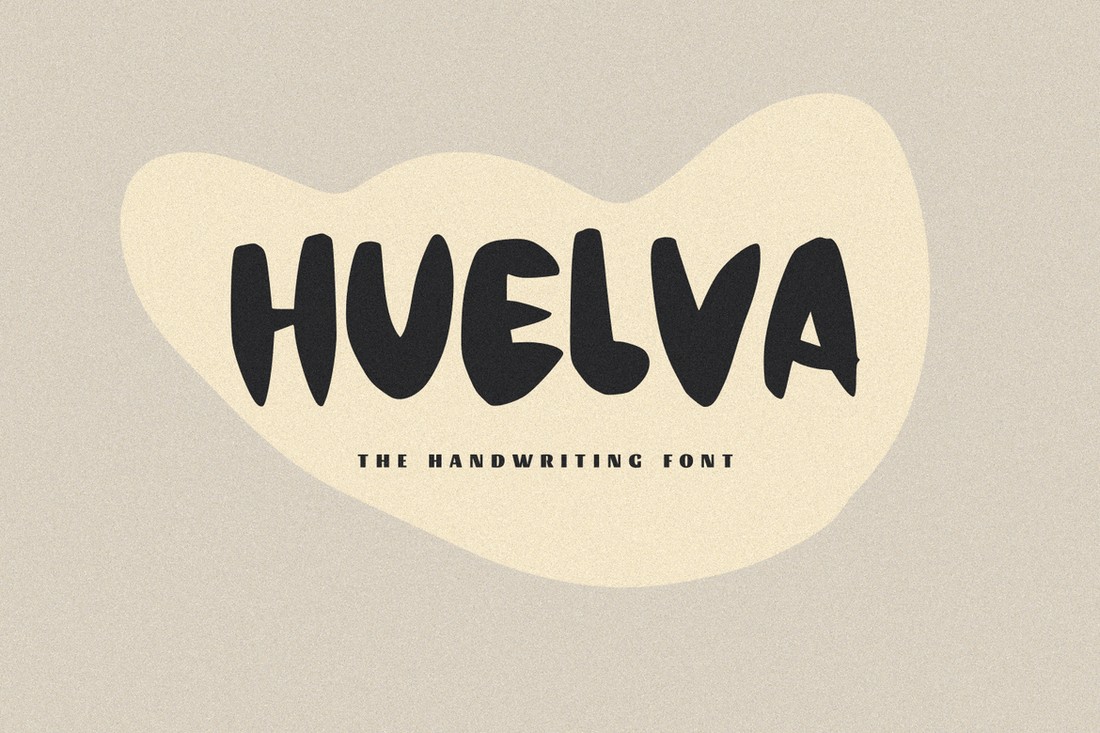 Huelva is a creative Procreate font that features a cute and fun design. The thick letters of the font make it a great choice for adding headings and subtitles for children's designs, especially for books, illustrations, and posters.
Designest Calligraphy Font for Procreate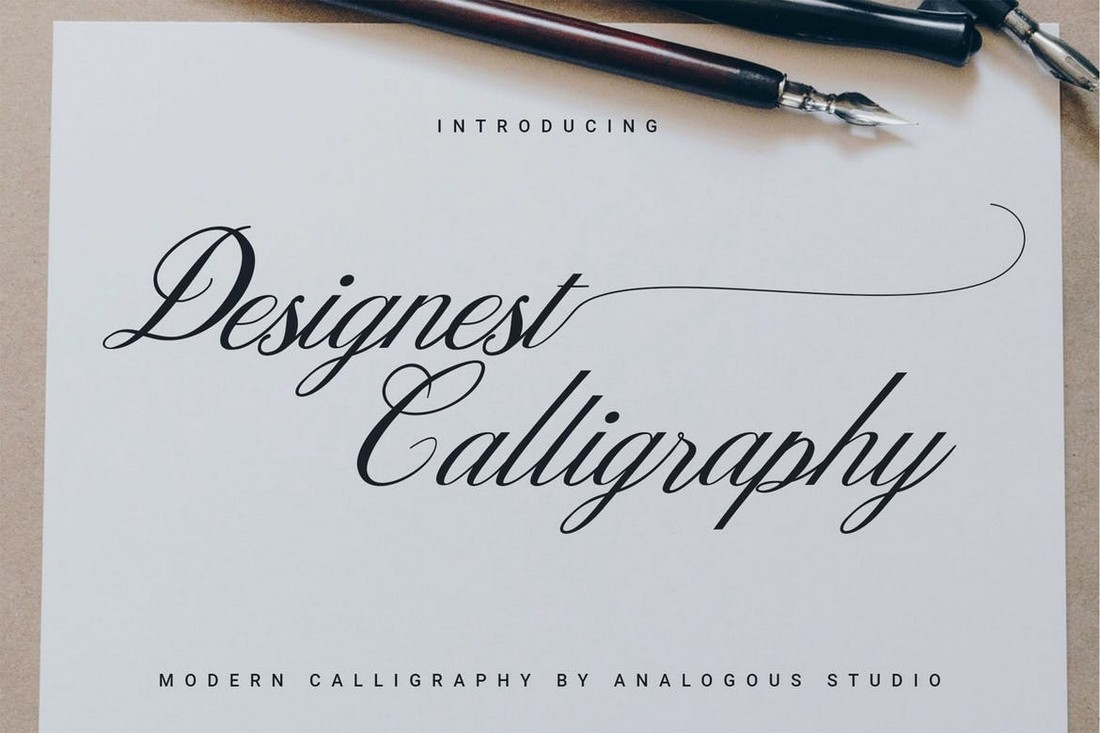 Calligraphy is a difficult art to master. But, thanks to calligraphy fonts, not everyone needs to practice the craft. If you just need to add text to a design, install this font in Procreate. It will make your text looks just like hand-crafted calligraphy art.
Gines – Unique Procreate Font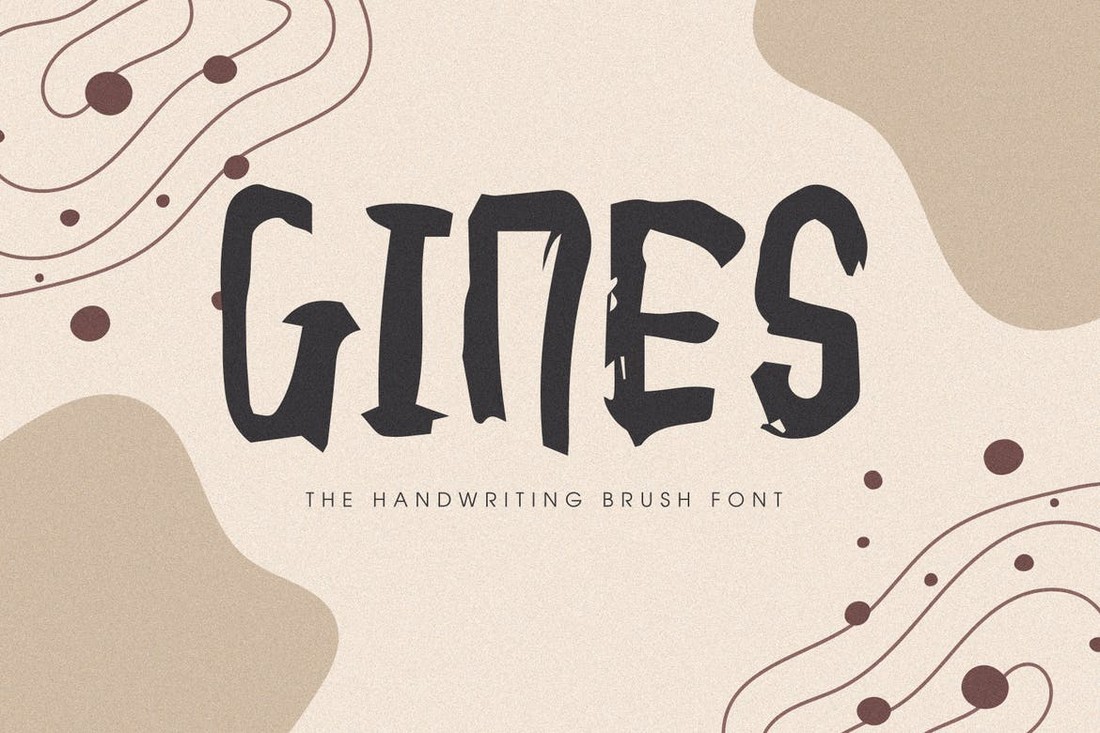 Gines is a quirky font with a unique letter design. Each letter in this font has a story to tell and it will definitely make your designs look more creative than ever. You can use it to craft horror-themed text or even title for a children's book cover.
Kerape – Cute Handwriting Procreate Font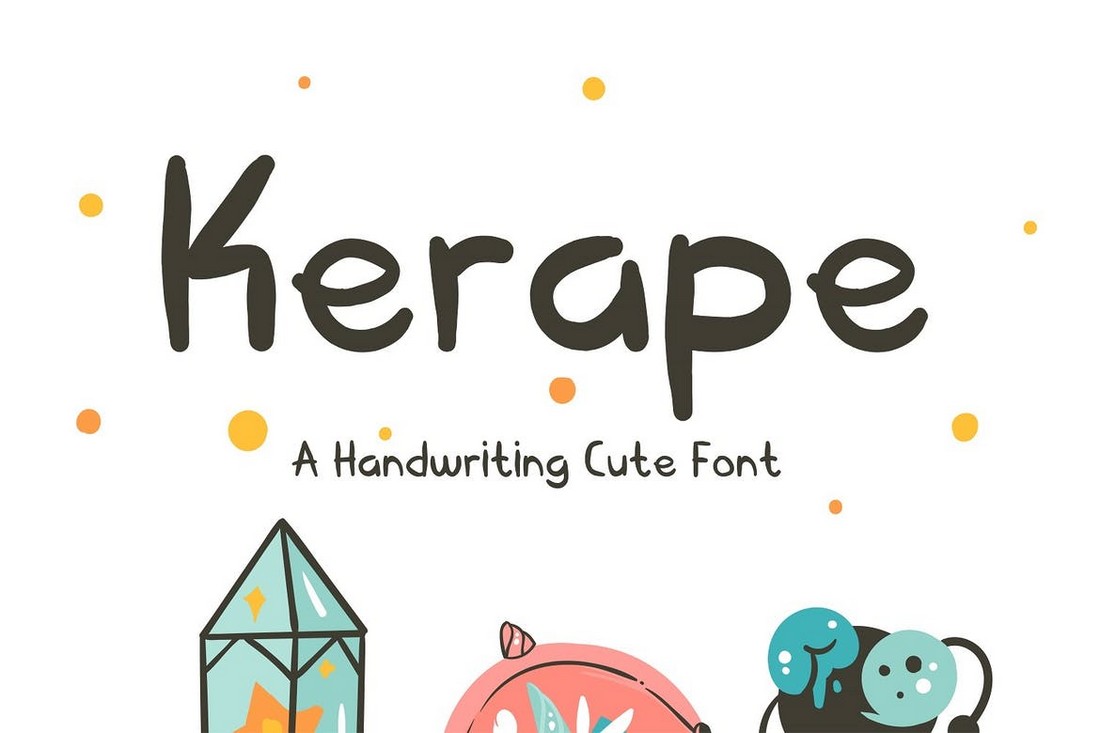 The cute and adorable design of this font makes it a must-have for artists who work with illustrations. This font will fit perfectly with your various illustrations and artworks for adding text with a hand-crafted look.
Ink – Modern Procreate Font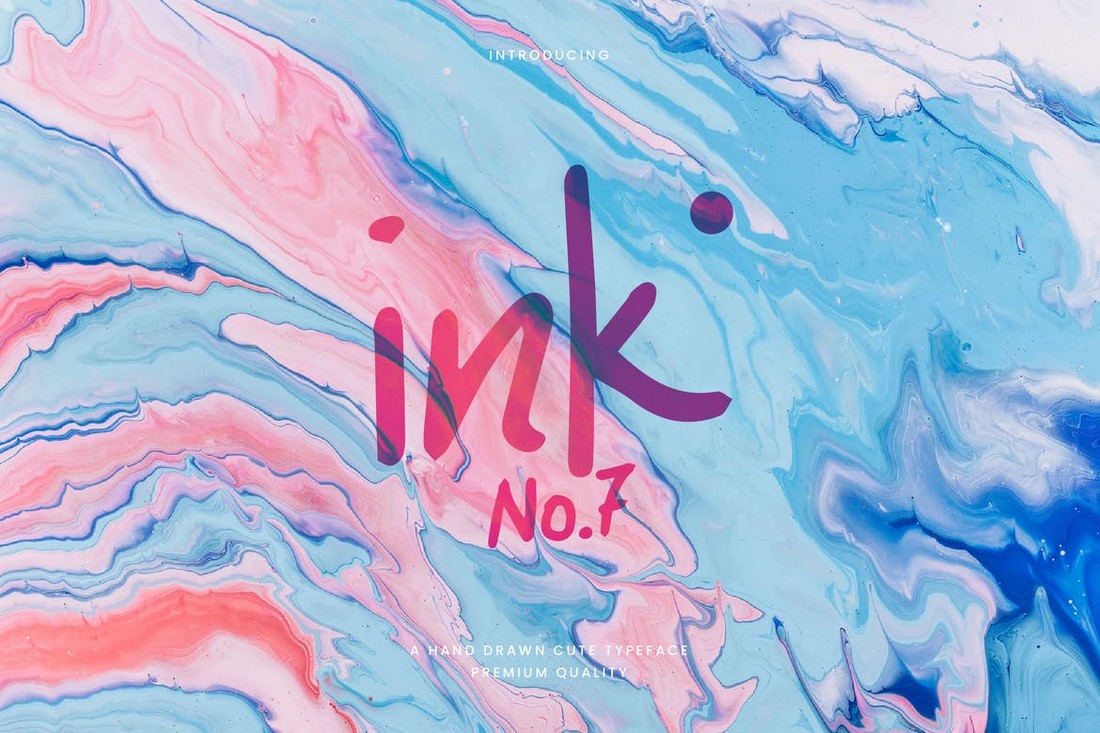 This font is a great choice for crafting text with a modern and trendy design. It includes letters inspired by ink and it will make your headings look as if they were drawn with your fingers. The font includes both uppercase and lowercase letters.
Hello Agatha – Free Script Font for Procreate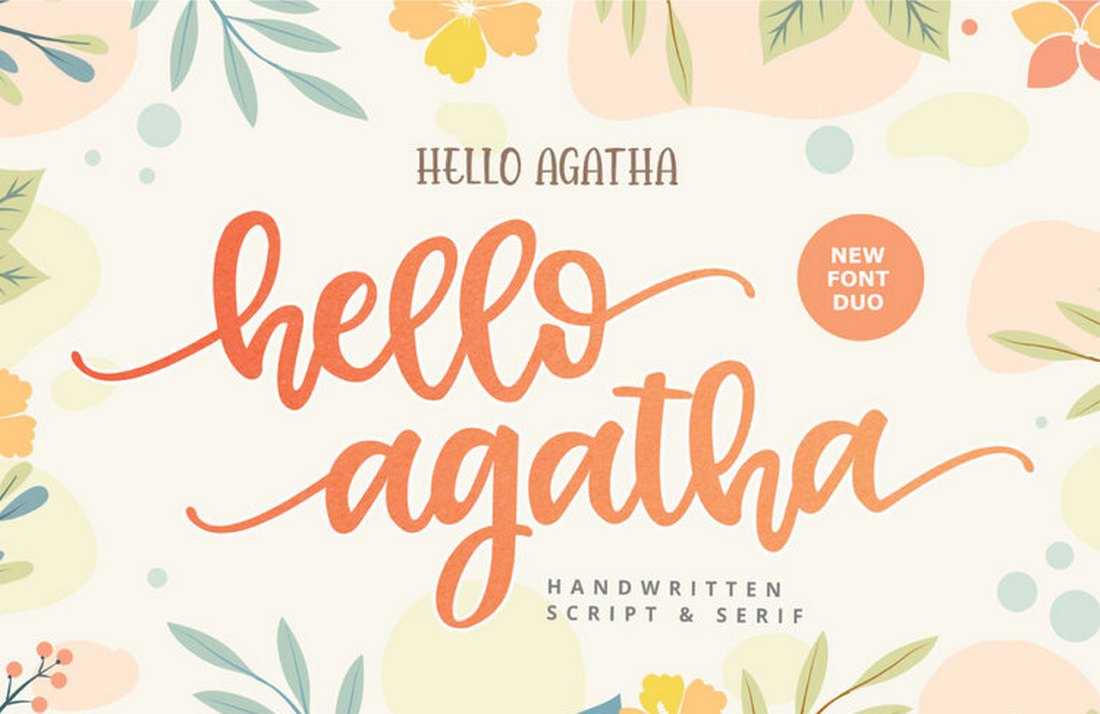 A beautifully flowing font with a set of gorgeous letters. This is a script font you can use to add trendy titles and headings to your designs. You can use it to craft quotes, posters, book covers, and more. The font is free to use with your personal projects.
Galistan – Free Calligraphy Procreate Font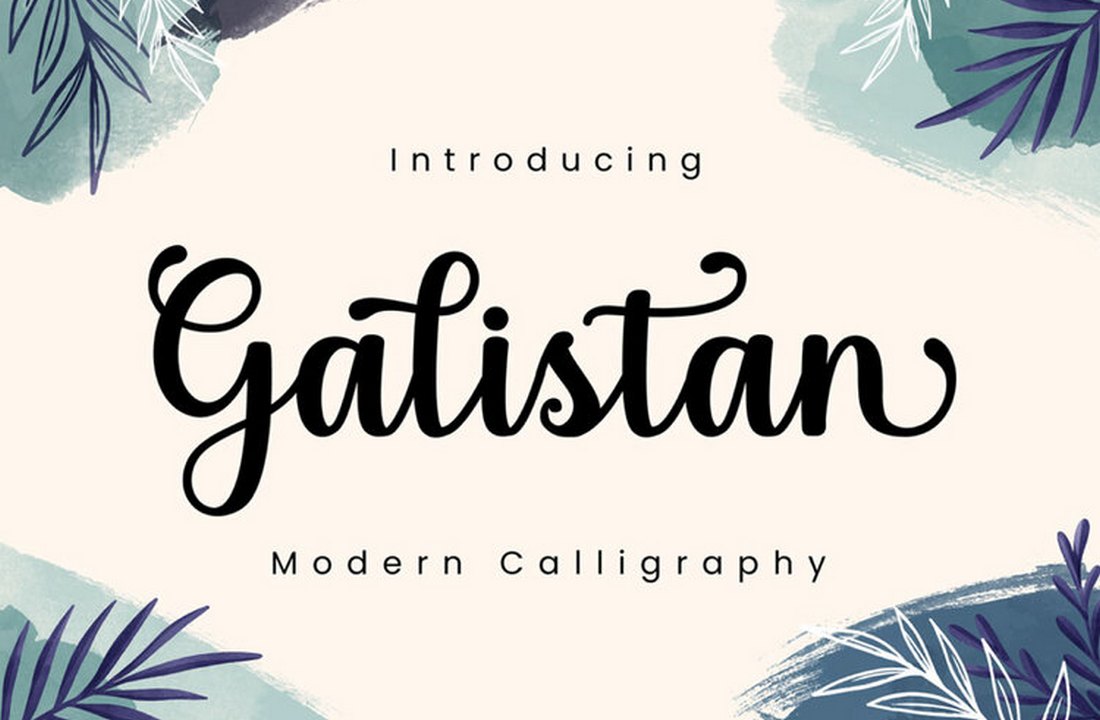 Galistan is a stylish calligraphy font featuring a handwritten letter design. This font will be useful for adding calligraphy-style text to your illustrations. The font is free to use with personal projects.
How to Add Fonts to Procreate
Importing and installing fonts in Procreate is very easy. You can get it done in just a few steps. Here's how.
Step 1: Extract the Font Files
The fonts you download usually come in ZIP files. You first need to unzip/extract the ZIP file.
To unzip a file in iPad, simply open the Files app, locate the downloaded ZIP file and tap on the file to extract. It will extract a folder with the font files in it. See this official guide for more info.
You can also download and extract the fonts on your computer and transfer it to your iPad using iCloud.
Step 2: Install the Fonts
To install a font in Procreate, first, open Procreate, create a canvas, and type in some text. Now, while in editing text mode, tap on the Edit Style button on the top right corner of the keyboard.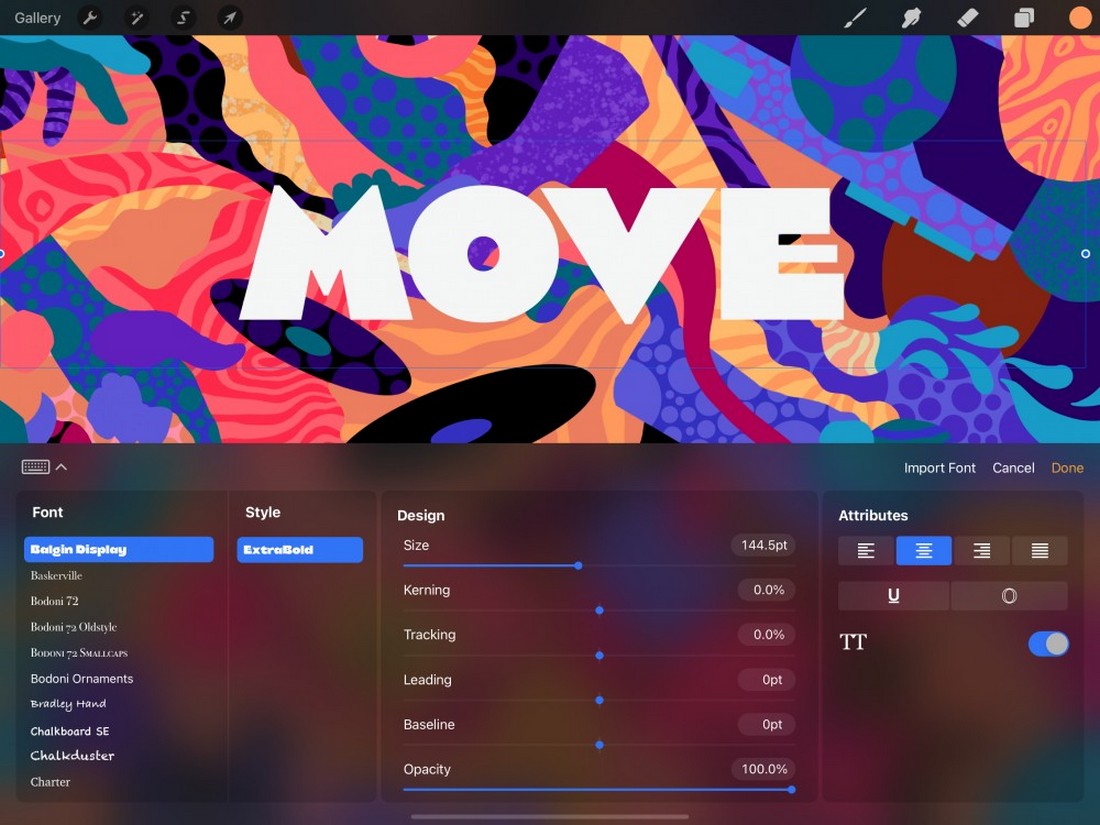 This will open up the text style tab. On the top right of this tab, you'll find the Import Fonts button. Tap on it and locate the font you've just uncompressed and tap again on the font you want to install.
That's it. If you need a visual guide, check out this video guide.
Also, be sure to check out our best Procreate brushes collection to add unique brushes to your library.
Font Collections
This is our series of beautiful, inspiring collections of fonts and typefaces. These articles feature bold poster fonts, decorative scripts, and everything in-between! Find the perfect font for your next design project with one of these collections.
Read the Feature →
Sours: https://designshack.net/articles/inspiration/fonts-for-procreate/
25+ Best Fonts for Procreate (Free & Pro)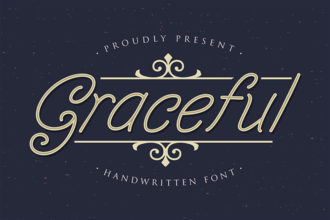 | | |
| --- | --- |
| Published On: | 28th Jul 2021 |
| Category: | Fonts |
Ever since Procreate made it into our hands in 2011, the graphic editing app has been a godsend for bringing creative projects to life. With just a few strokes of our fingers, the possibilities are endless.
Yet one frustrating aspect of Procreate is finding a compatible font to really make your creative projects something special. That's why we've compiled a list of our favorite procreate fonts, both from premium and free sources, for you to choose from.
Read on to see the most captivating procreate compatible fonts out there!
Fab – Ice Lolly Procreate Font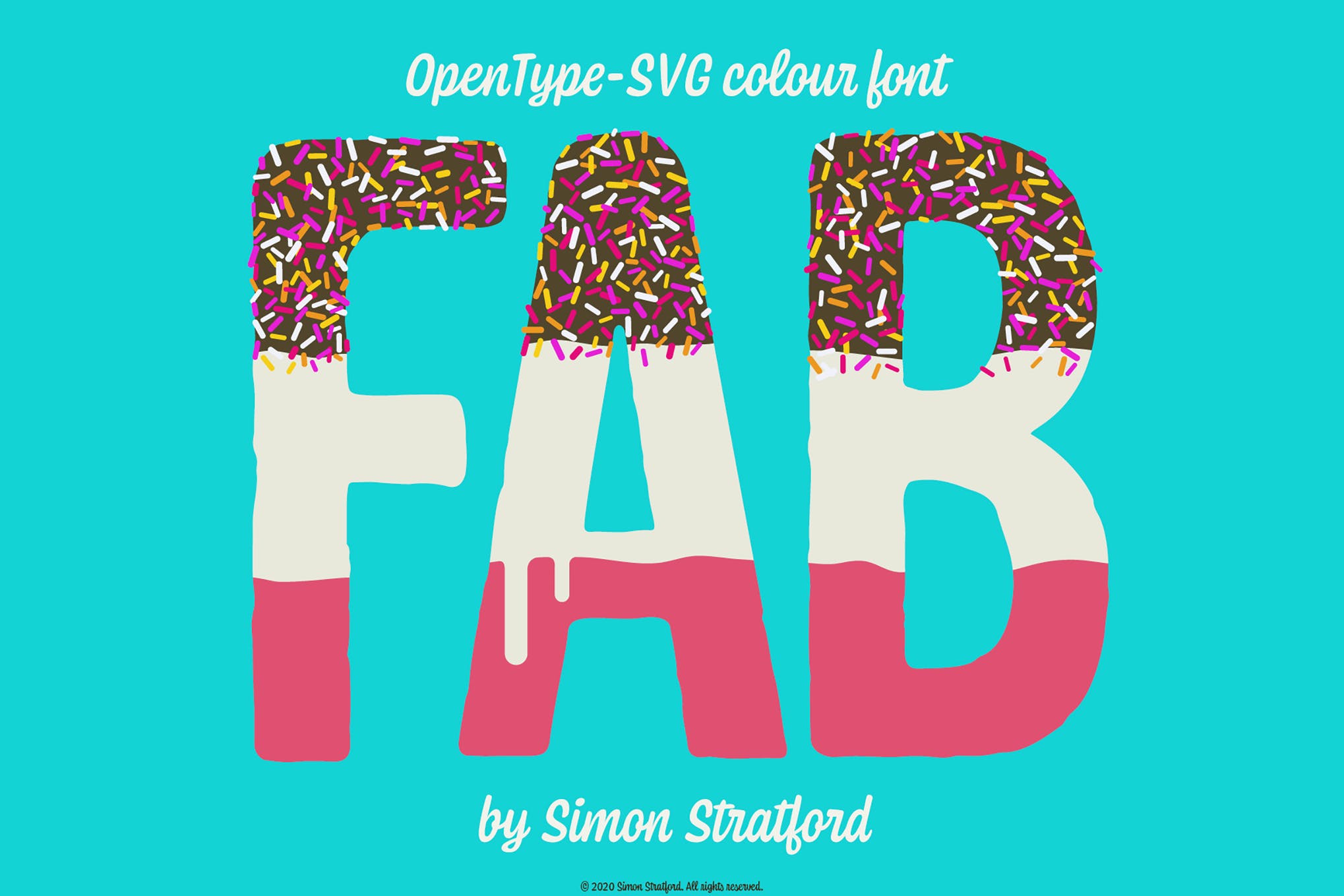 A unique and colorful option, Fab is a quirky font modeled after the fab ice lollies from the bygone era. It features a really cool design with candy sprinkles on top, suited for any project that needs a touch of vintage charm, and nostalgia.
Midnight Workers – Sans Serif Procreate Font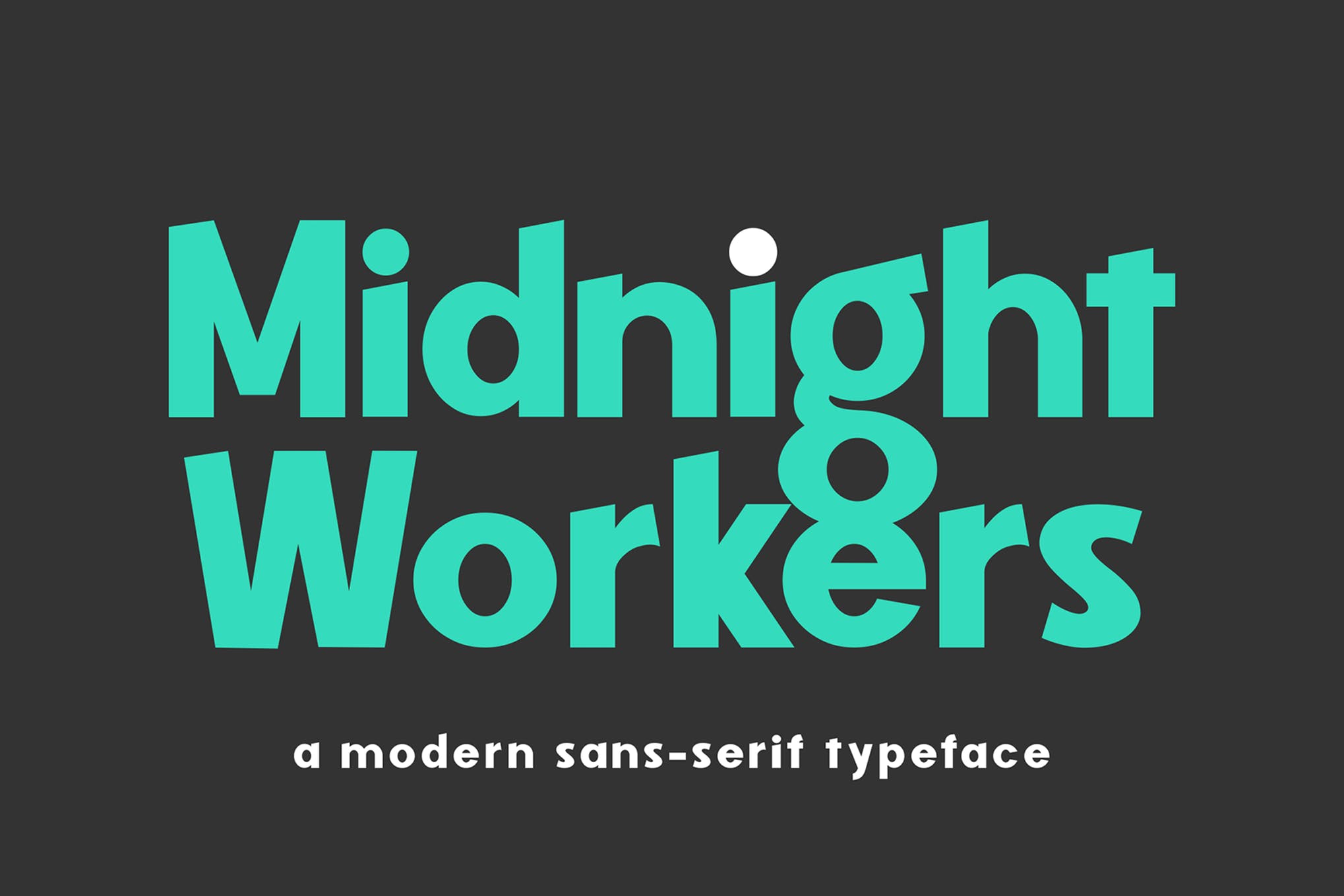 Inspired by the lives of freelancers who work day in and day out to provide for their families, Midnight Workers is one of the best Procreate fonts for headlines, logos, posters, and other branding materials that need a professional yet dynamic touch.
Webrush – Strong Procreate Brush Font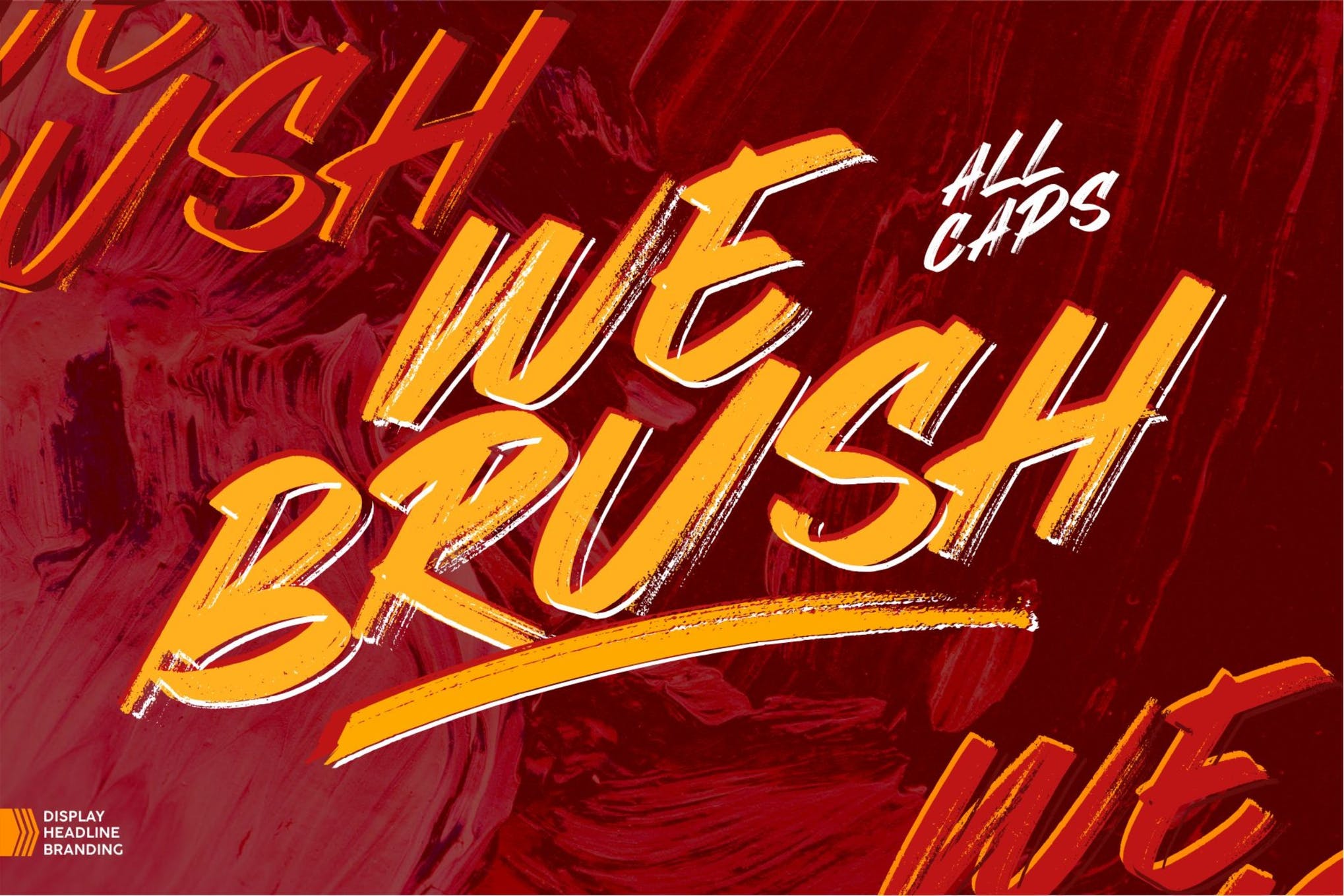 Webrush brings together attractive curved linework with a touch of urban edge. A stylish script font that will catch attention, and drive interest on any canvas. A great font for your branding, product packaging, merchandise, or social media project needs.
Malo – Fresh Procreate Script Font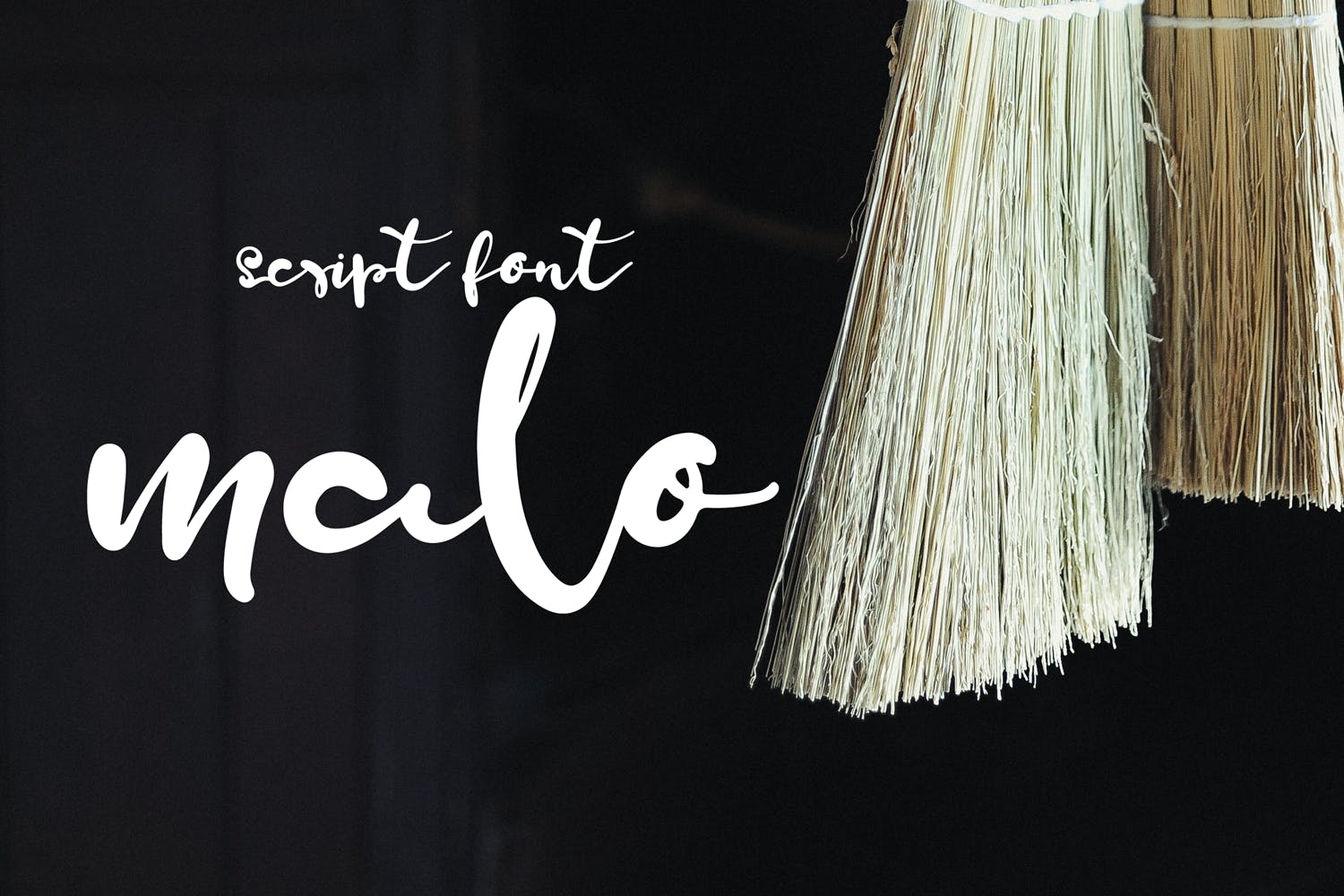 Malo is a beautiful script font, styled with a range of handcrafted lettering designs. A lush and free-flowing aesthetic that brings the cursive style to the page with a splash of personality. A versatile and captivating display font choice.
Bombardies – Modern Procreate Graffiti Font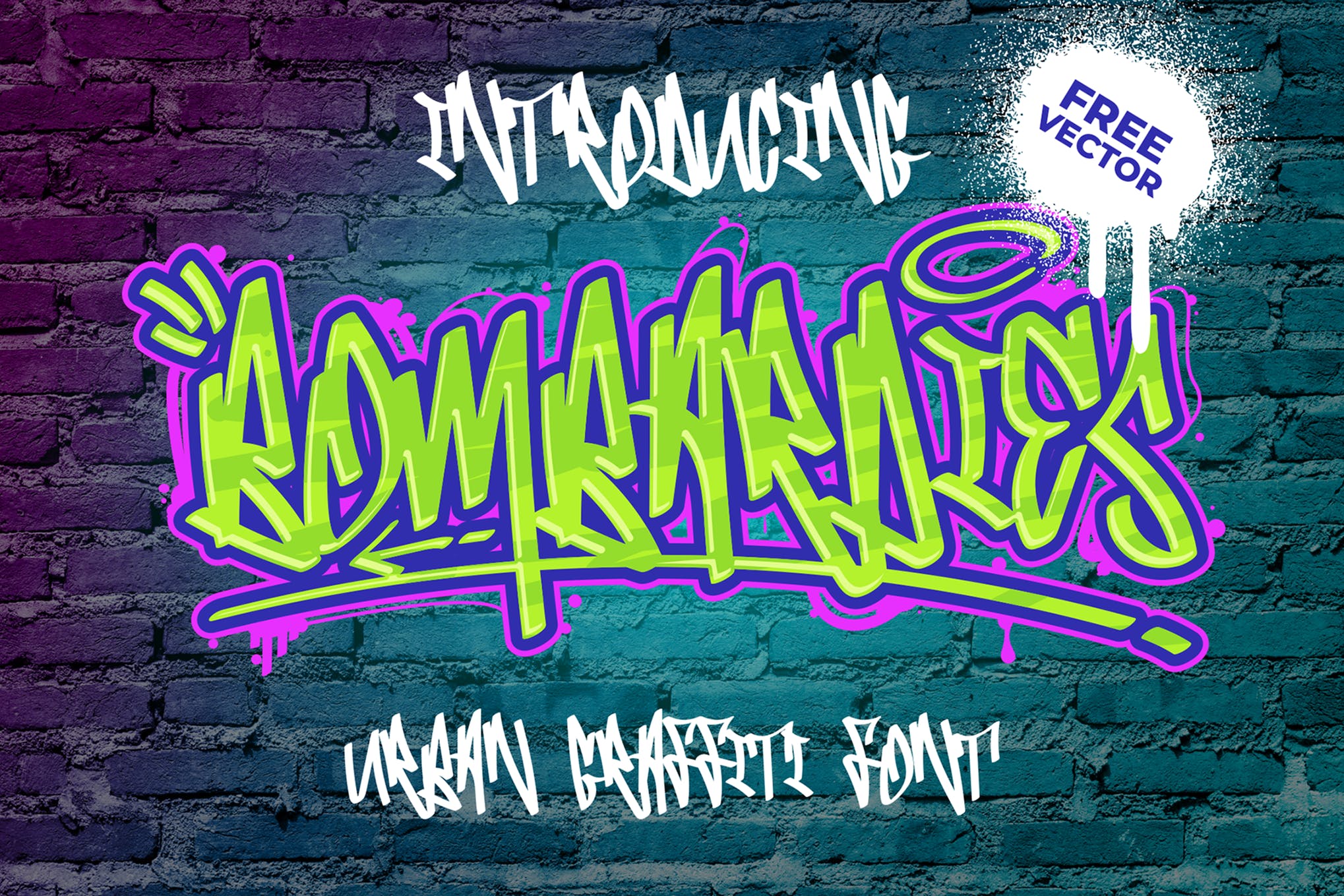 Bombardies is a decorative typeface that lets you let loose your inner urban street artist. With an iconic graffiti style and a range of unique border options to choose from including free vectors, Bombardies is sure to leave you customizing for hours. A gold standard in the world of the best Procreate fonts.
Graceful – Multipurpose Procreate Font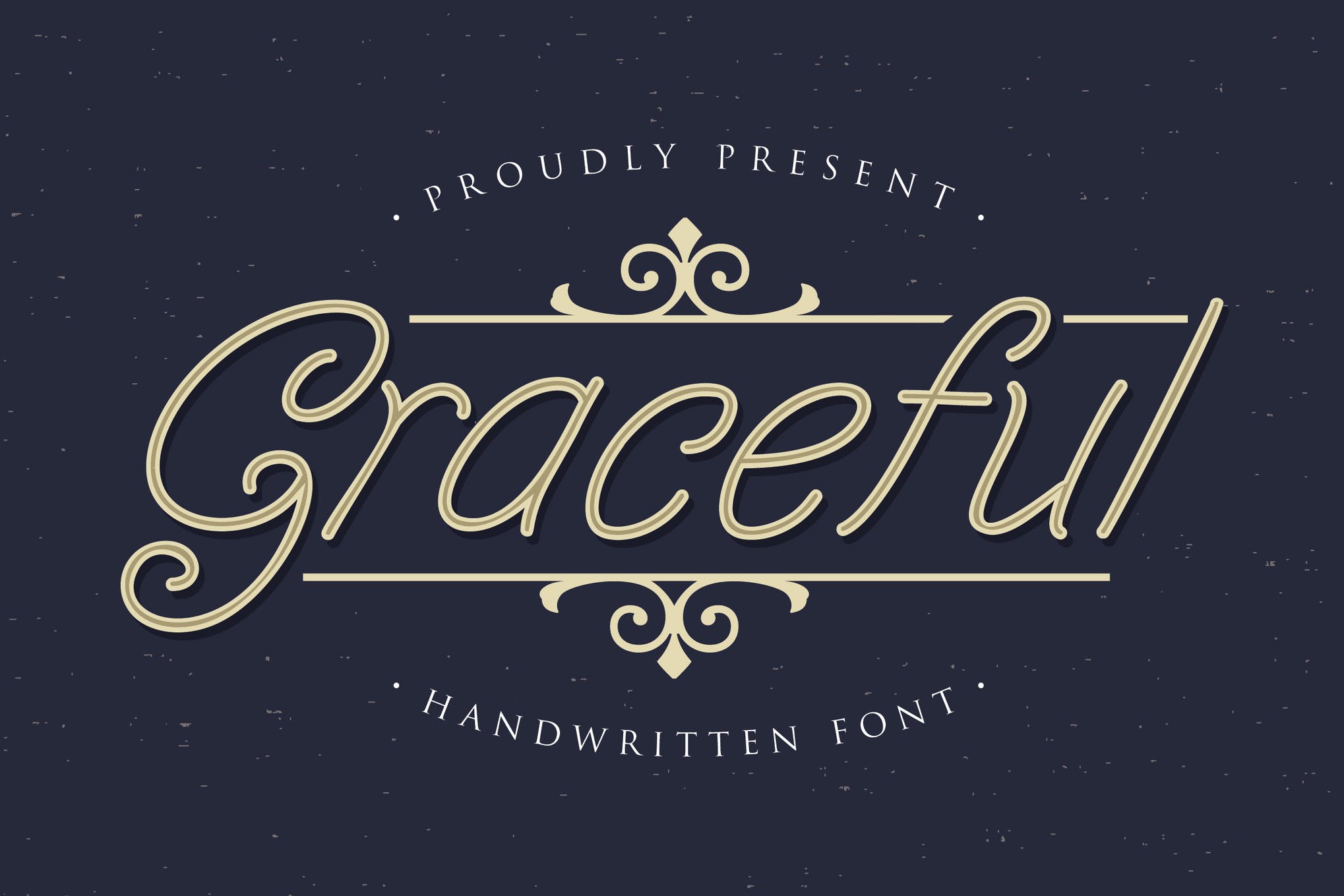 Graceful is a script typeface with elegantly designed line work, and a touch of class that's hard to take your eyes off. A beautiful and captivating display font well suited to your branding, t-shirt, album cover, illustration, book cover, logo, or advertising projects.
Dailova – Beautiful Procreate Font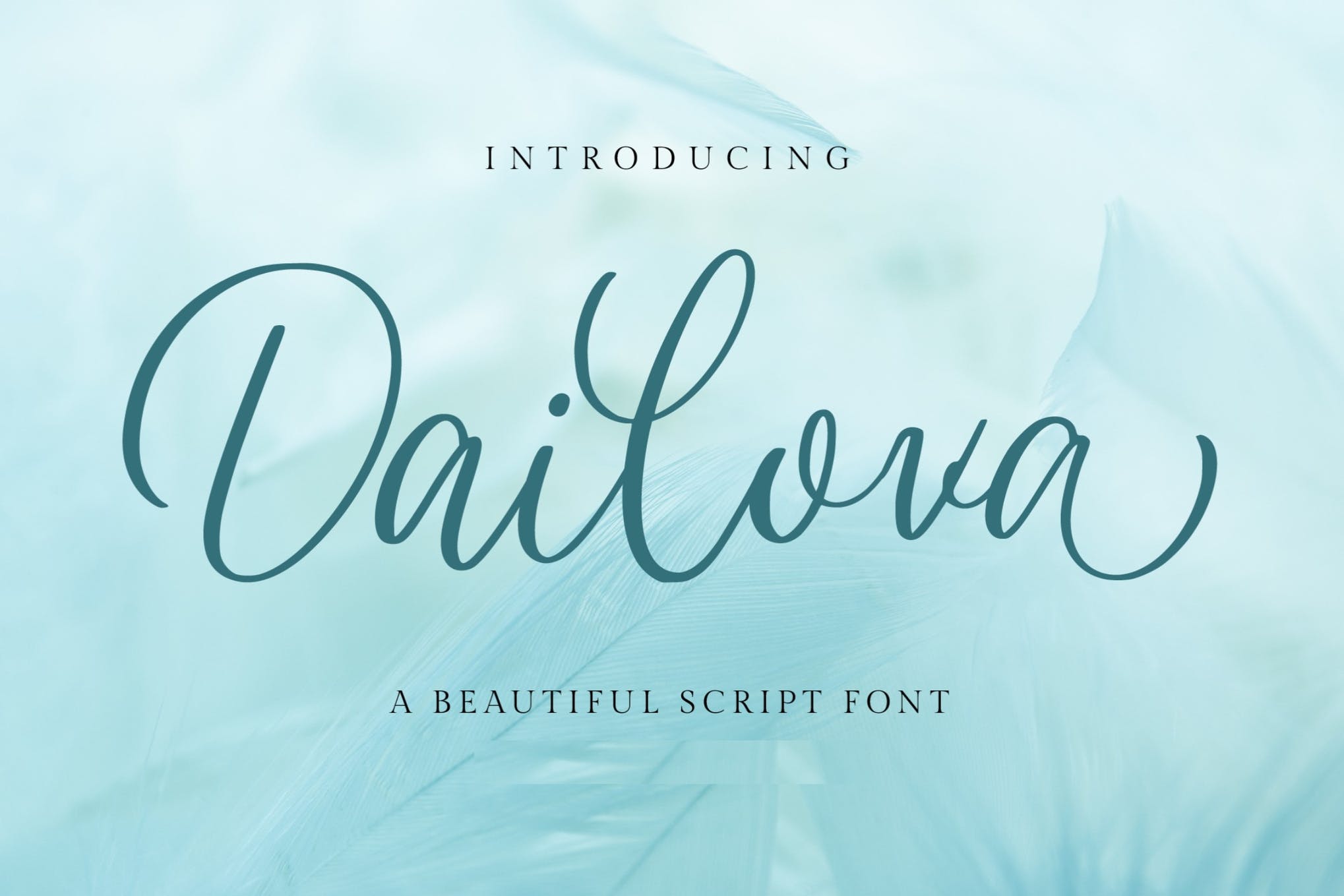 Dailova is a script font that uses handmade cursive letter designs, mixed with an easy-going font style that puts you at ease. Dailova has uniquely designed upper and lowercase letter aesthetics and multiple weights for you to choose from. One of those fonts for Procreate that's as effective as it is easy to use.
Bruzh – Stylish Procreate Font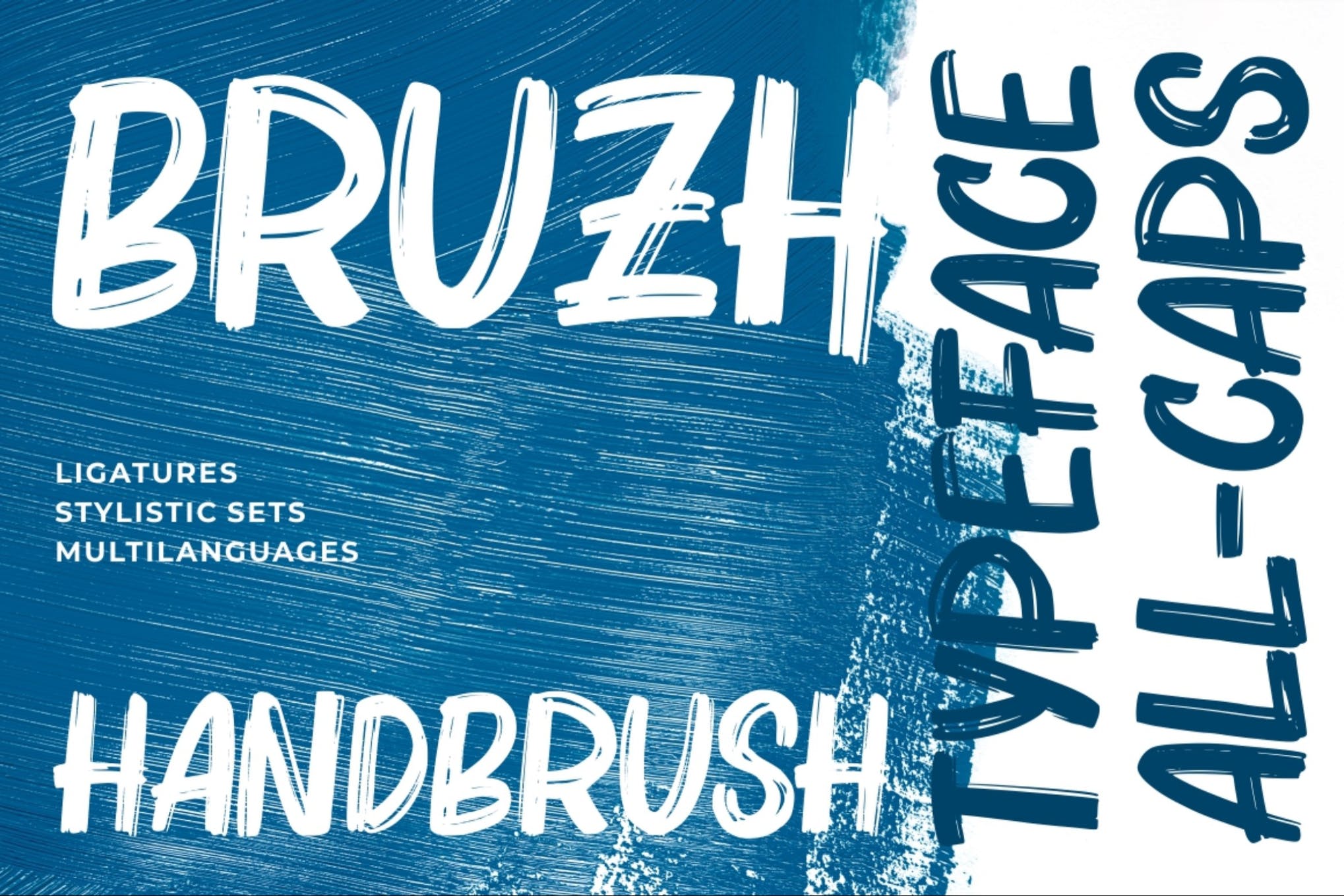 Bruzh is a brush-stroke decorative font that brings a combination of influences to the table. With both a gritty brush aesthetic and a touch of urban character, Bruzh is a highly versatile display font that will have your creative projects popping out of the page.
Hollyday – Handlettering Procreate Font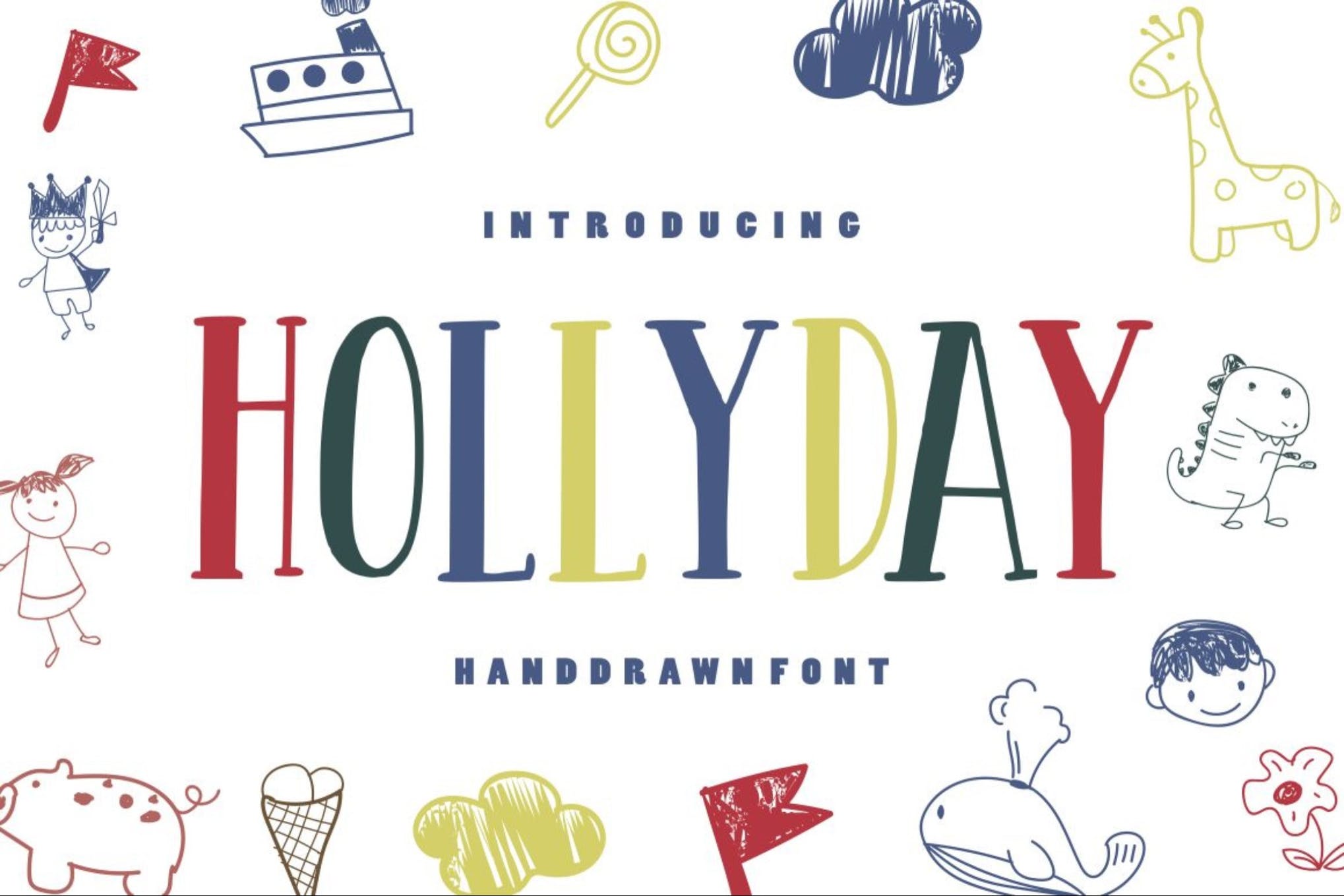 Hollyday is a kids' hand lettering font incredibly fitting to a pool of designs including logotypes, monograms, invitations, posters, and more. Hollyday is very simple to install, and regarded as one of the best Procreate fonts by its existing users.
Death Markers – Dramatic Procreate Font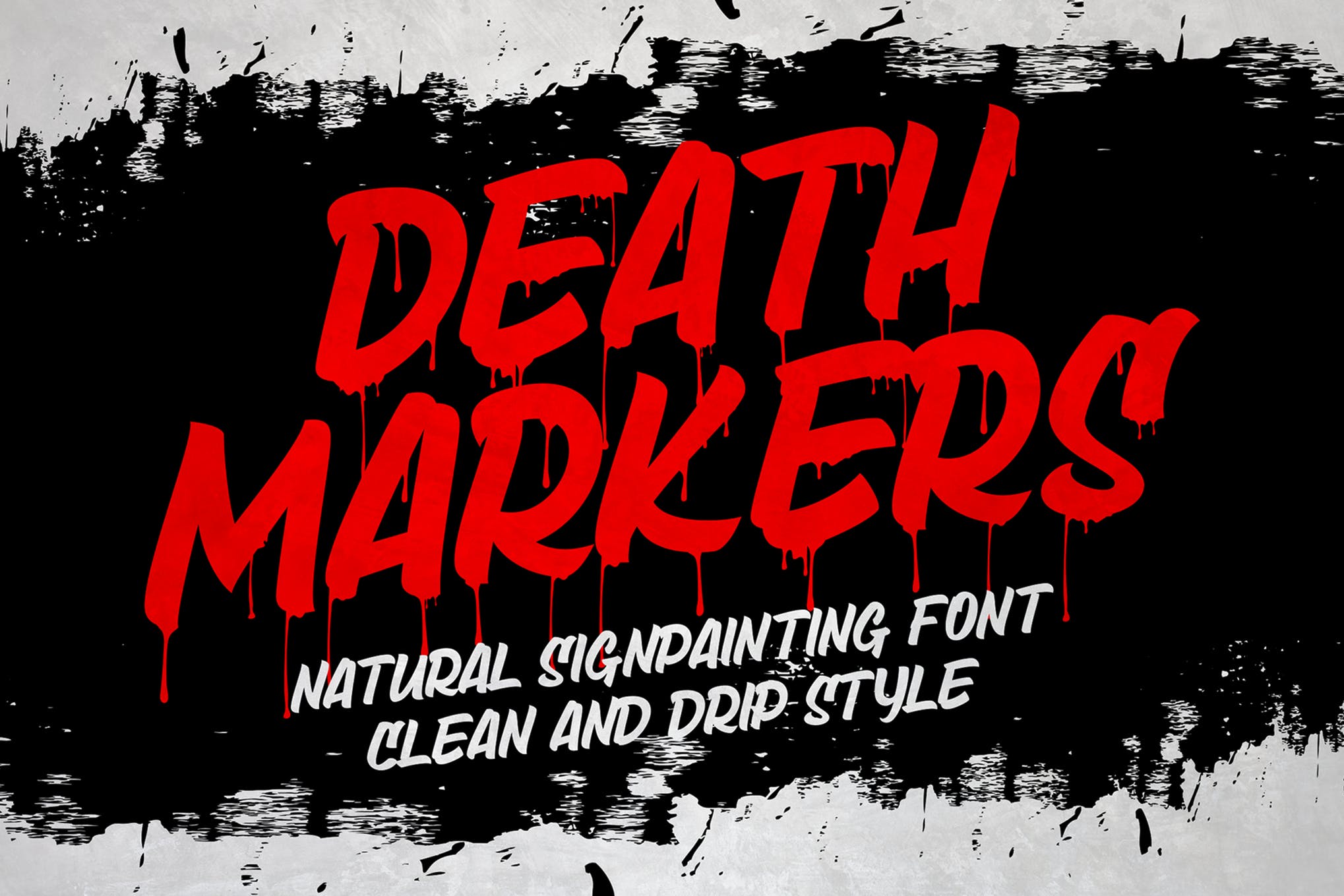 Death Markers is a horror-styled font that comes loaded with features. From uniquely crafted letter designs, each with its own blood dripping personality, to its two distinct styles: Clean and Drip. Death Markers is a powerful and impressive display font.
Indentia – Art Deco Procreate Font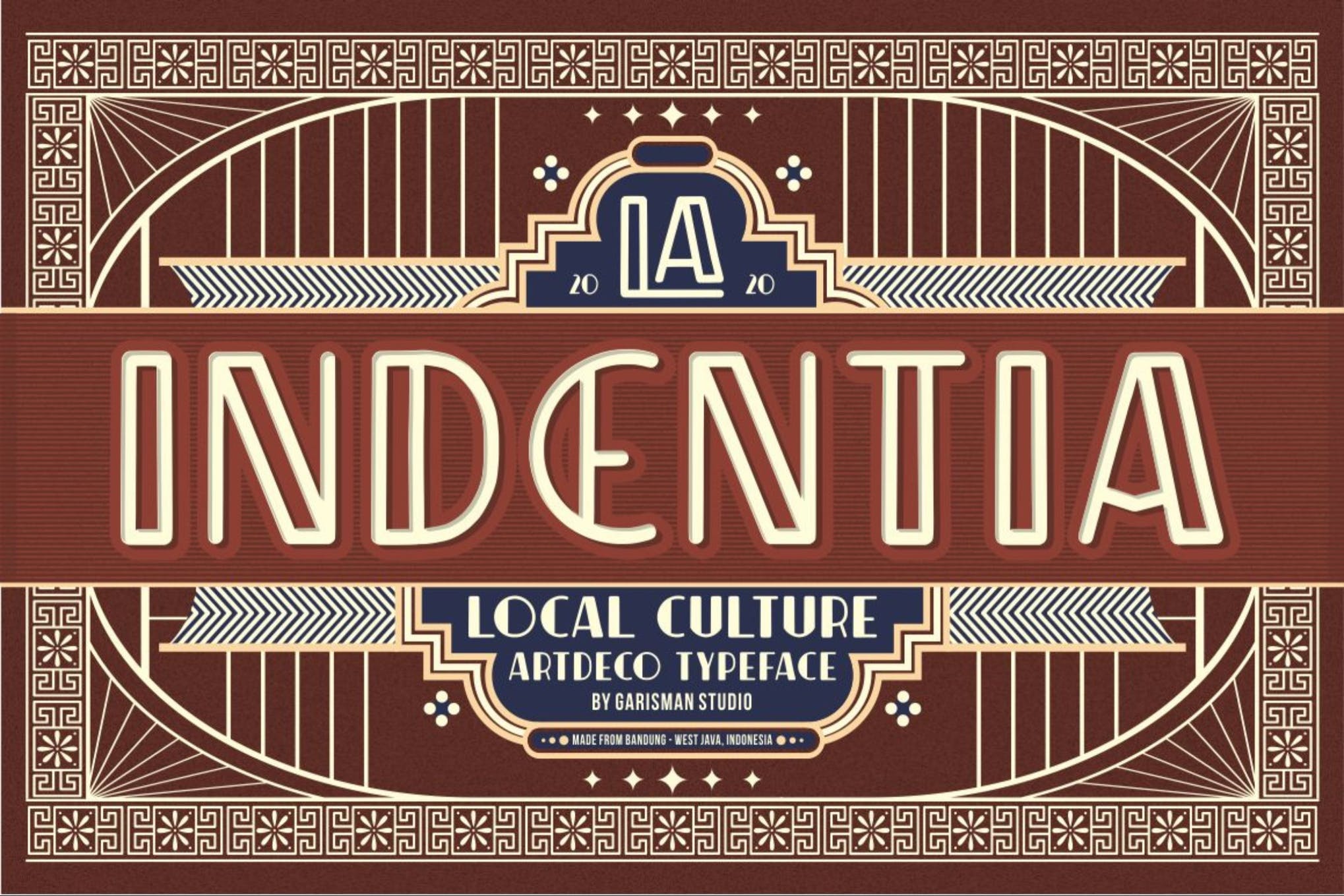 Indentia is a sans-serif typeface inspired by the Art Deco style. Comprised of over 200 unique glyphs for you to choose from, Indentia is an expertly crafted display font with a minimalist yet effective aesthetic. When it comes to choosing the best fonts for Procreate, Indentia is a captivating pick.
The Rughton – Bold Procreate Font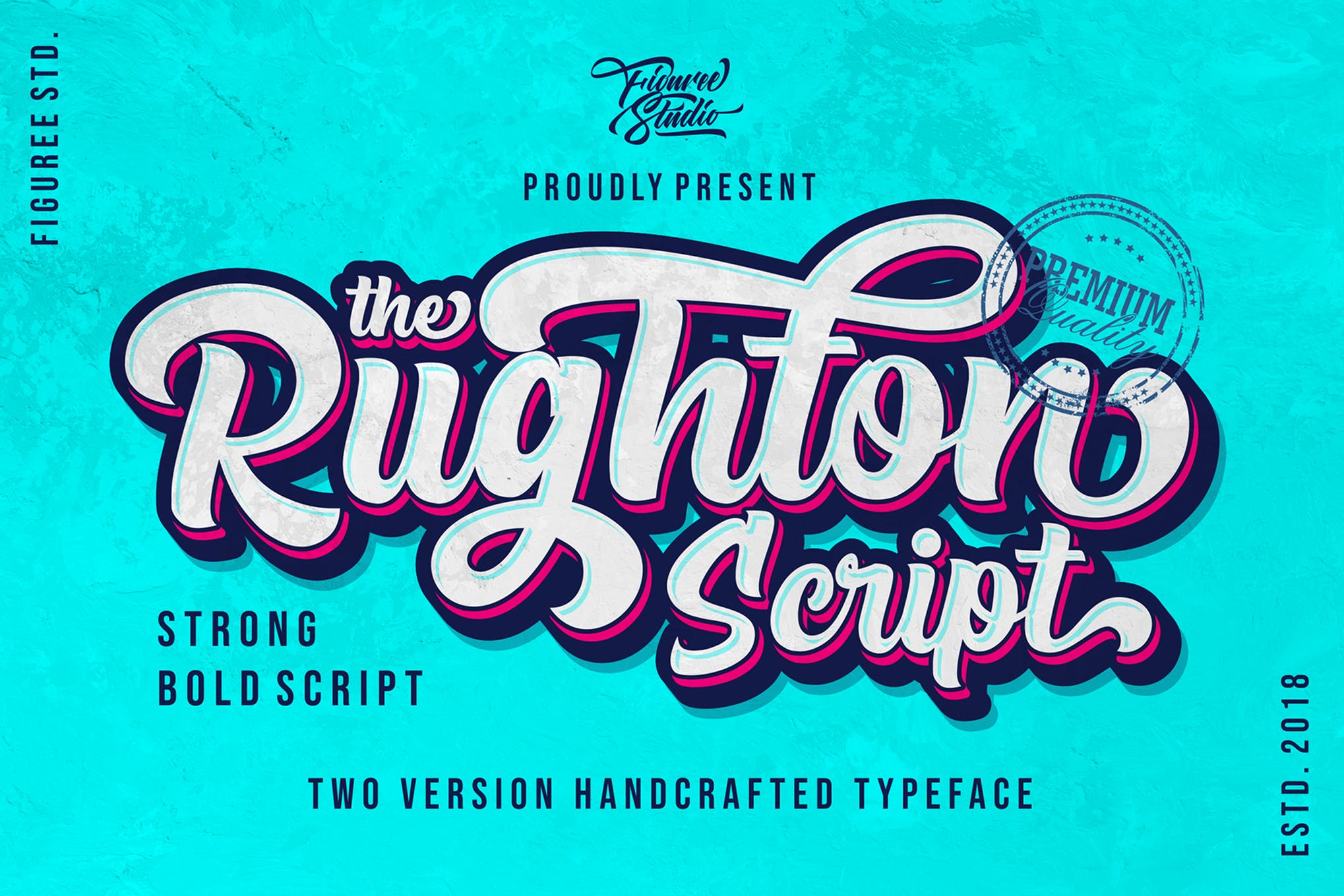 The Rughton is a script typeface with a lot of character. Edging on a cursive design, and an eye-catching multi-layered 3D effect, The Rughton is a bold and beautiful display font choice for a wide range of creative projects. Despite employing a cursive design, it retains a high level of readability. Impressive!
Norch – Sports Procreate Font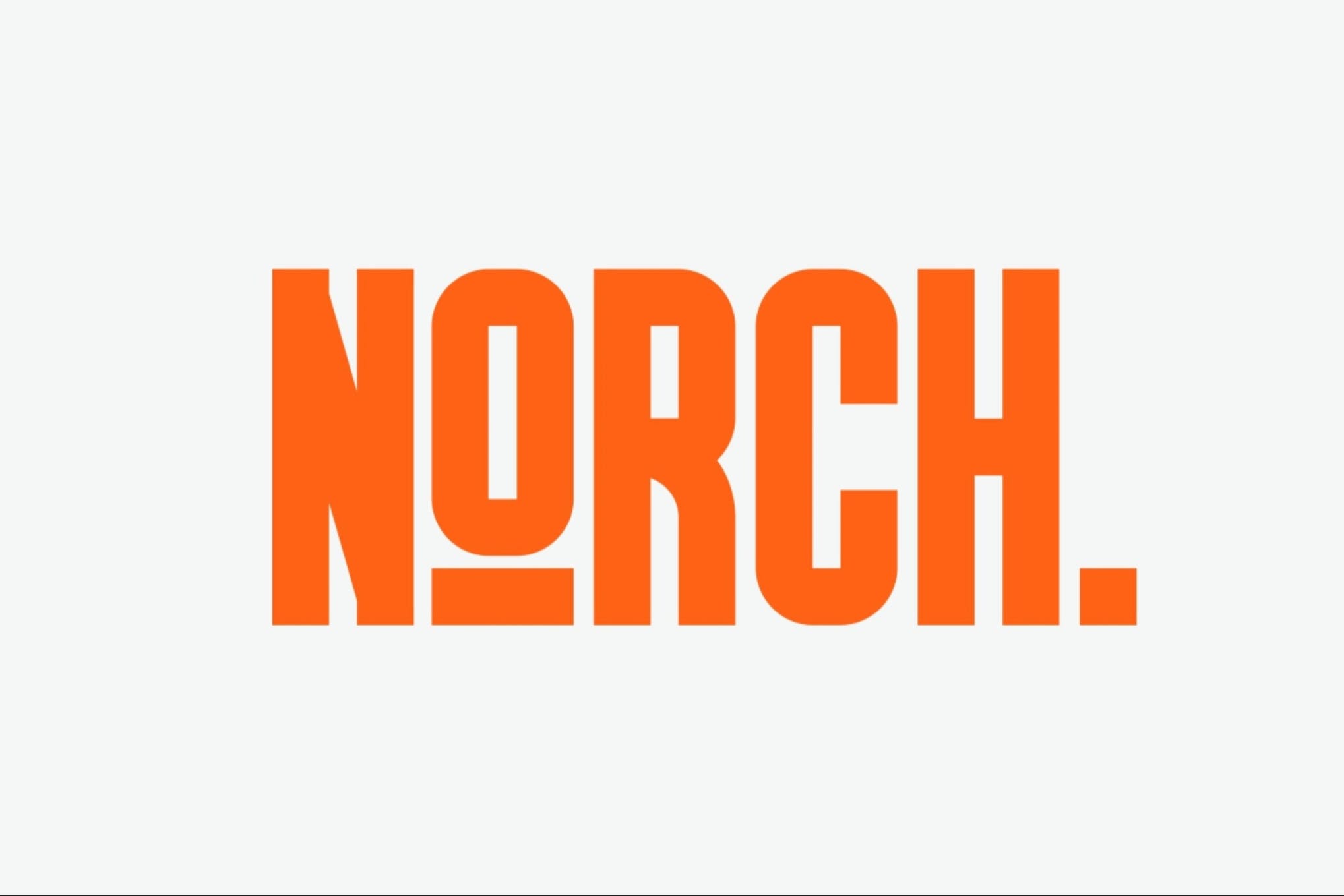 Next in our list of the best fonts for Procreate is Norch, a condensed sports-themed typeface with a contemporary and trendy geometric design. It's PUA coded and comes with over four hundred glyphs, stylistic set, and ligatures, numeral, punctuations, and multilingual support.
Glitter Lovers – Handwritten Procreate Font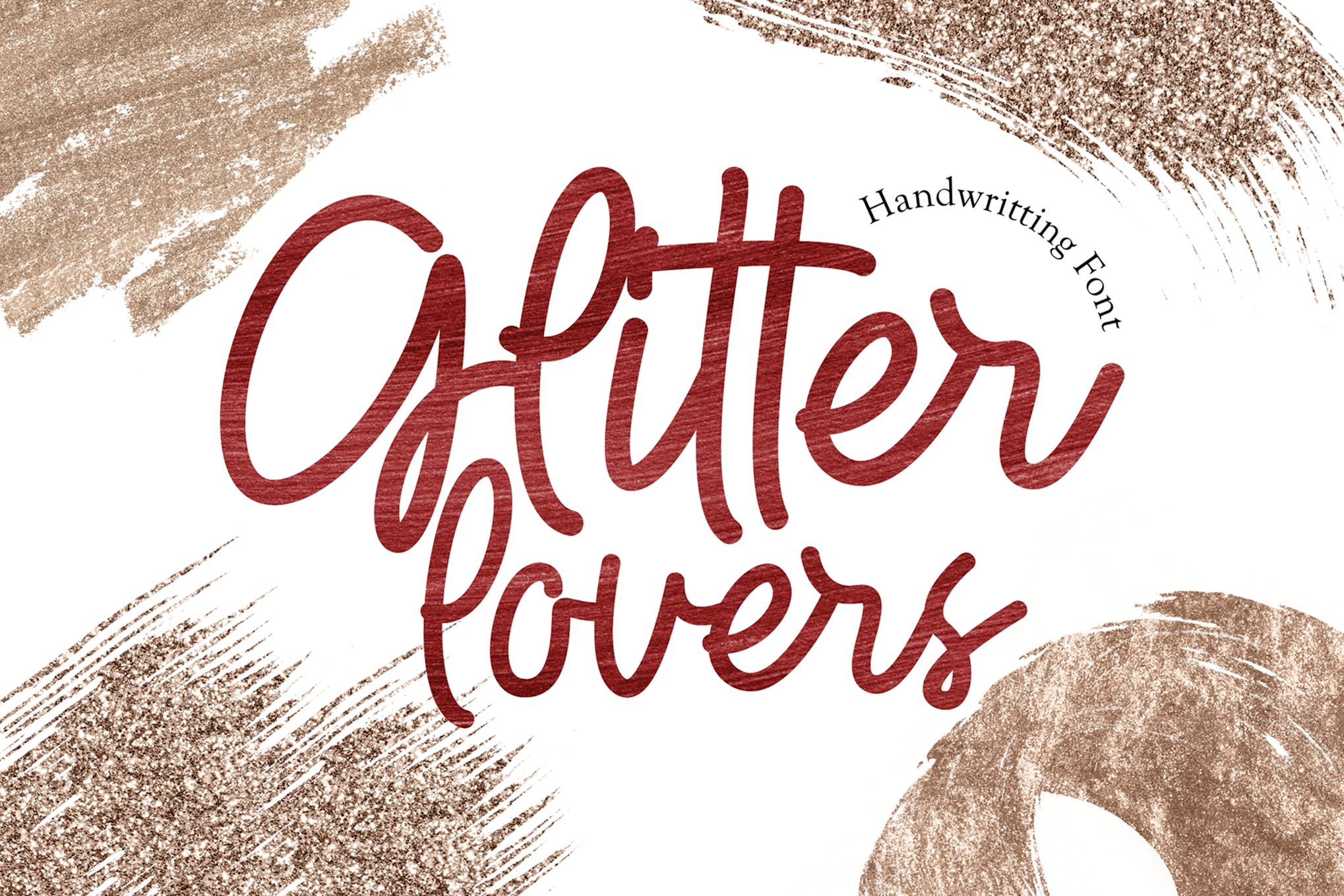 Glitter Lovers is a script typeface using a range of expertly crafted handwritten letter designs. With thin yet eye-catching linework and a beautiful cursive design, Glitter Lovers brings a sense of joy and wonder to the page. A great font for branding, illustrations, posters, logos, and much more!
QuickSilver – Cute Procreate Font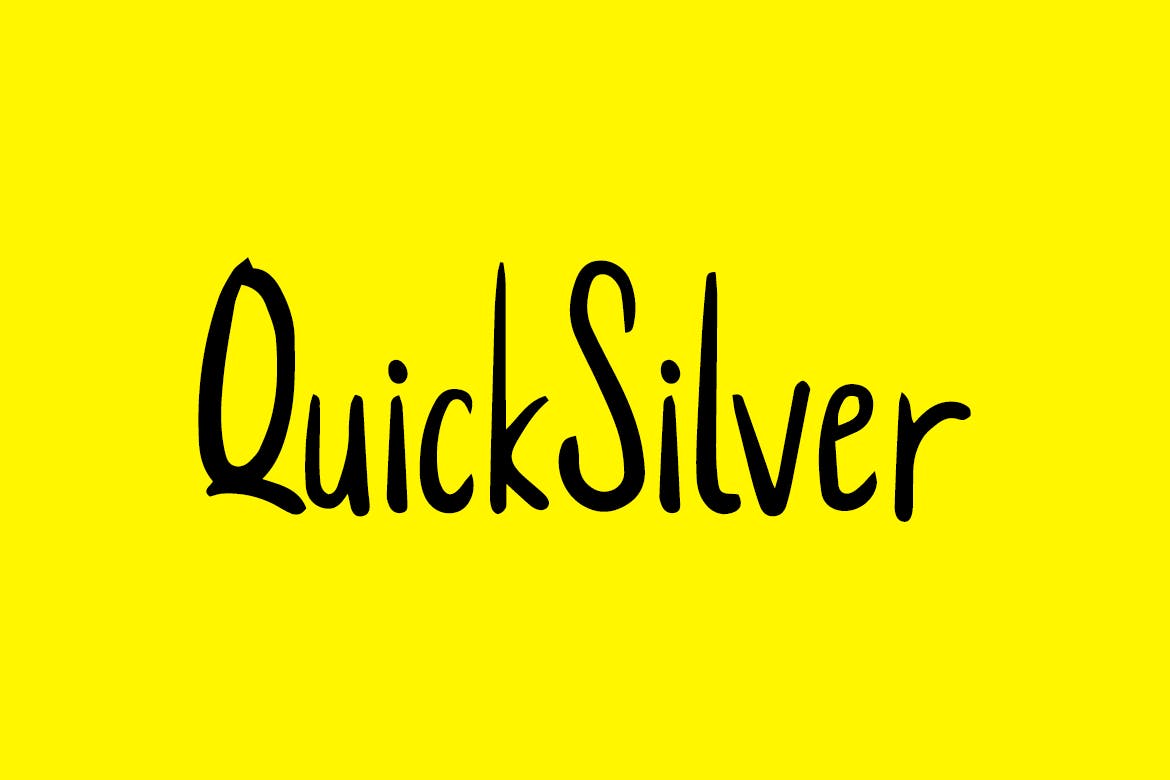 QuickSilver is a script typeface that brings a minimalist display font style and doesn't overcomplicate its design. A refreshingly simple, yet effective, linework design inspired by modern era cartoons. The font comes with multilingual support and is a breeze to use.
Ghostober – Halloween Procreate Font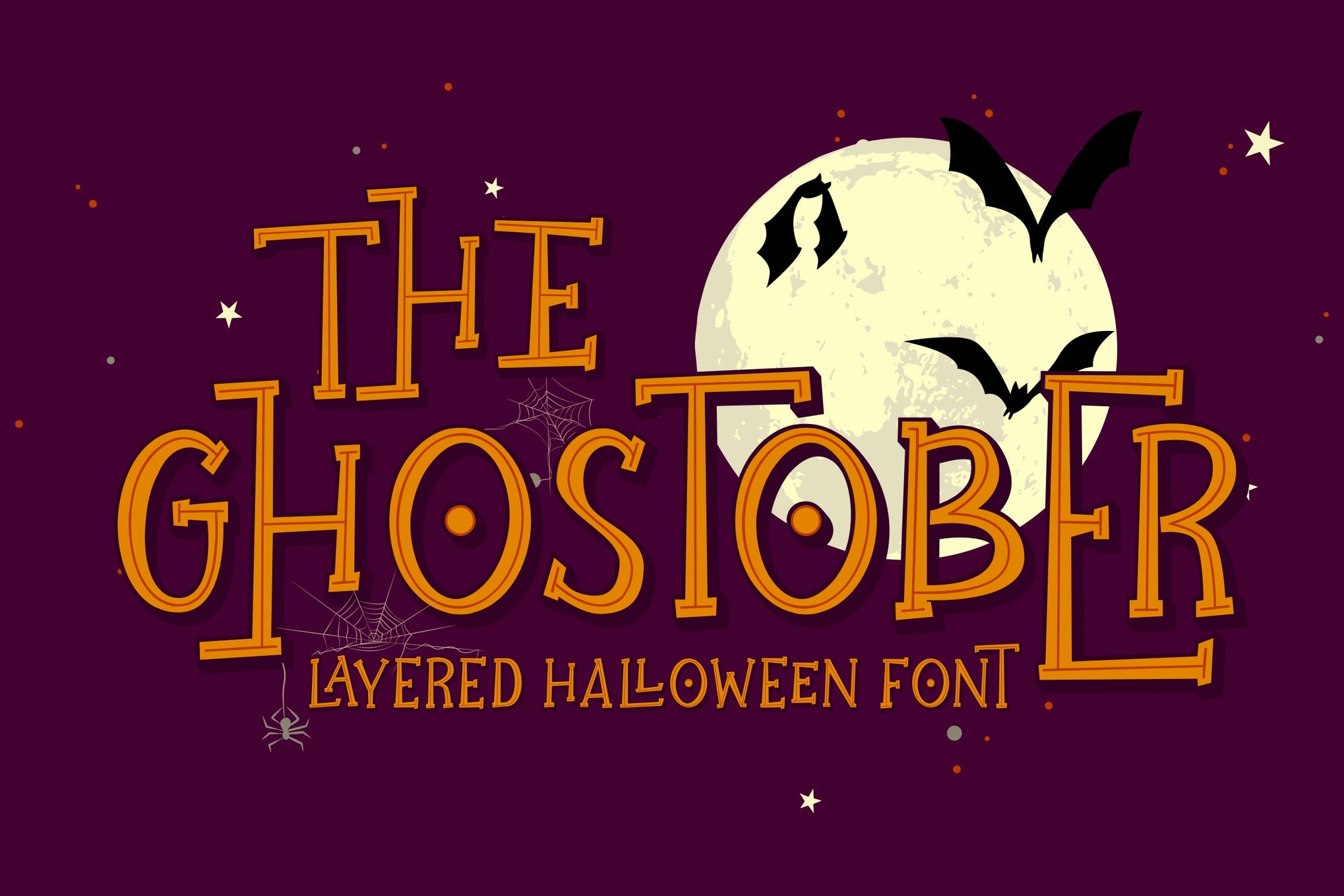 Looking to bring a little spook to your creative projects? Then look no further than Ghostober! A sans-serif typeface that is absolutely oozing that fun Halloween vibe. The font comes in three distinct styles, regular, inline, and shadow, and is loaded with over 200+ characters for you to play around with. As impressive as it is a little spooky.
Enchante – Cursive Procreate Font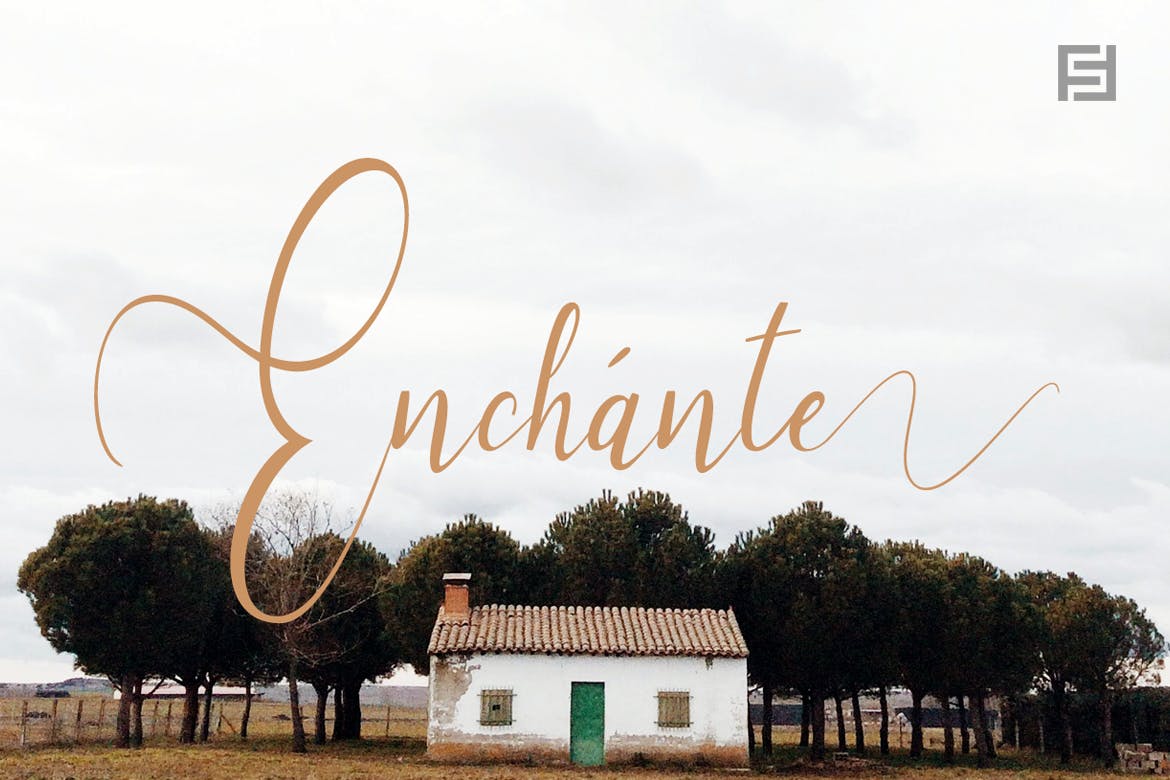 Enchante is a handwritten typeface that brings a touch of luxury to the table. With beautifully crafted linework designs behind each letter and a cursive style that glues your eyes to the page, Enchante is an impressive display of artistic talent. Well suited to luxury branding, logos, posters, and more!
Blocky – Urban Procreate Font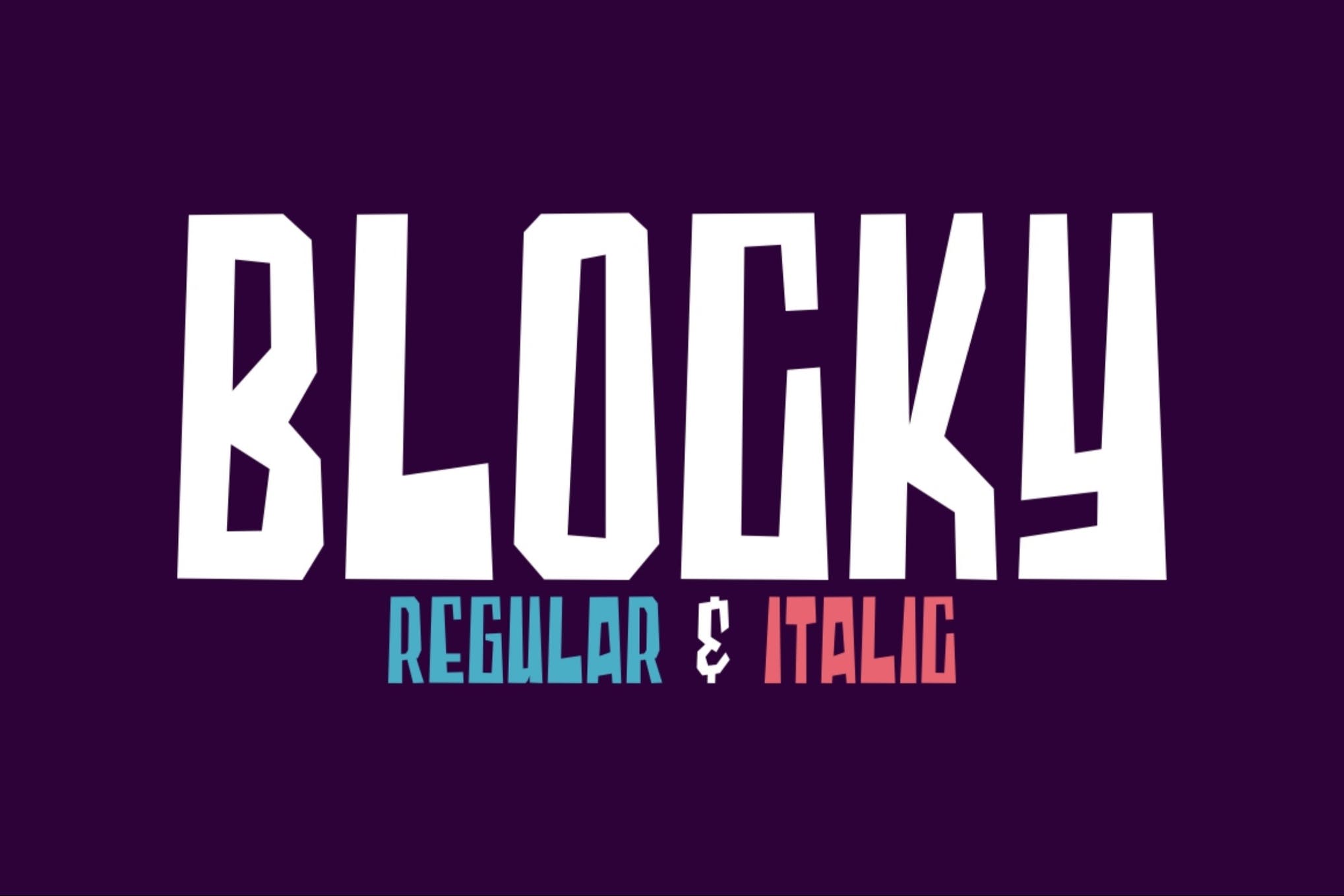 Blocky is a sans-serif typeface that brings an attractively curved line work design, mixed with an urban edge to its personality. A minimalist yet effective style that works wonders in a wide range of creative applications, sporting a style that doesn't clash too much with others on the page. Blocky comes in both a regular and italic weight.
High Beasty – Powerful Procreate Font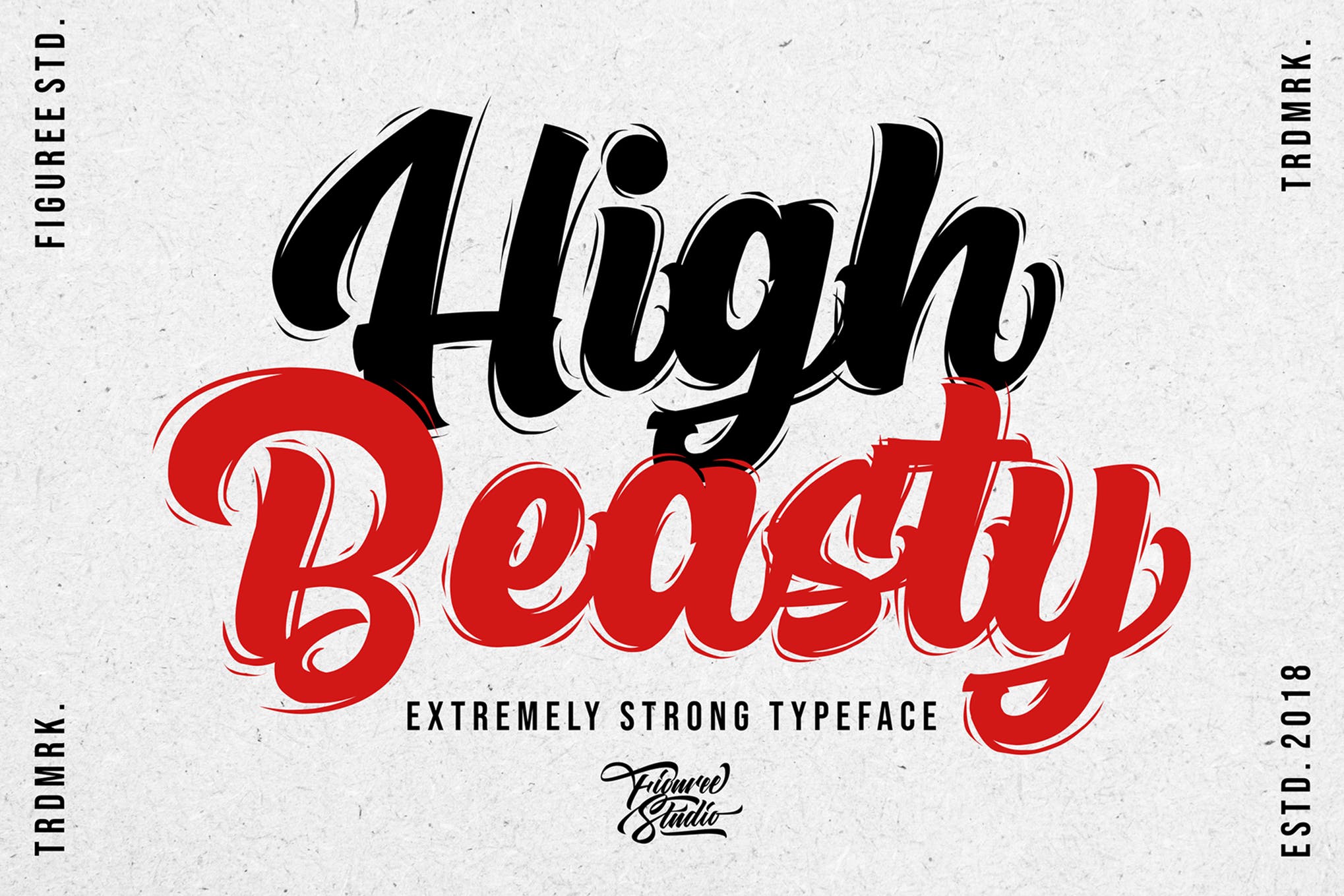 High Beasty is a strong and bold script font, bringing an aggressive aesthetic to the table that absolutely demands your attention. High Beasty is a powerhouse of a display font, well suited for logos, branding, t-shirts, illustrations, covers, and much more!
Somelove – Captivating Procreate Font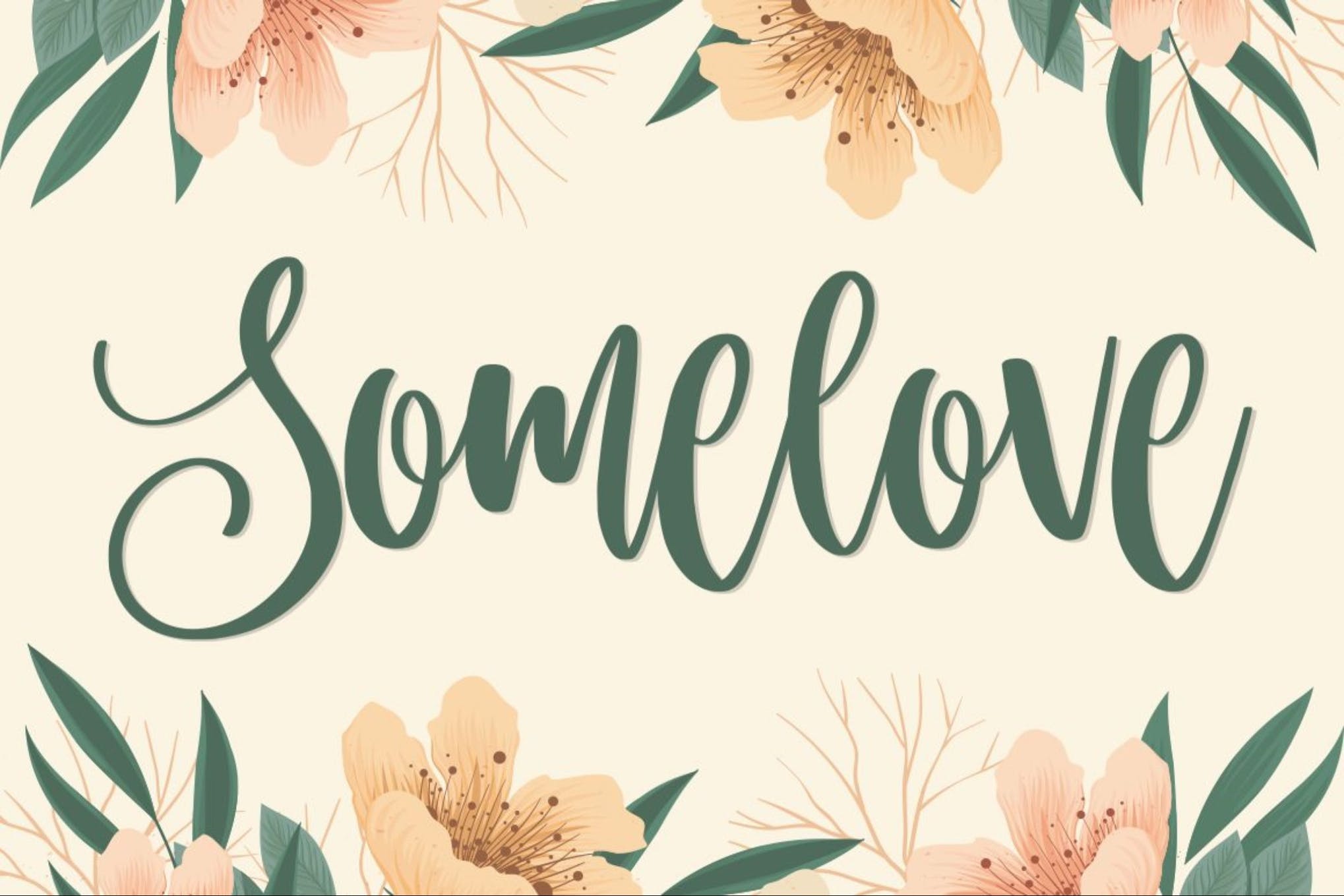 Somelove is a script typeface with beautifully crafted handwritten letter designs. Bringing a touch of a carefree summer to the page, Somelove is a joyful and captivating design that is sure to bring a smile to your page. With unique characters for every letter, number, and grammatical character, Somelove is the complete display font package.
Ignazio – Minimalistic Procreate Font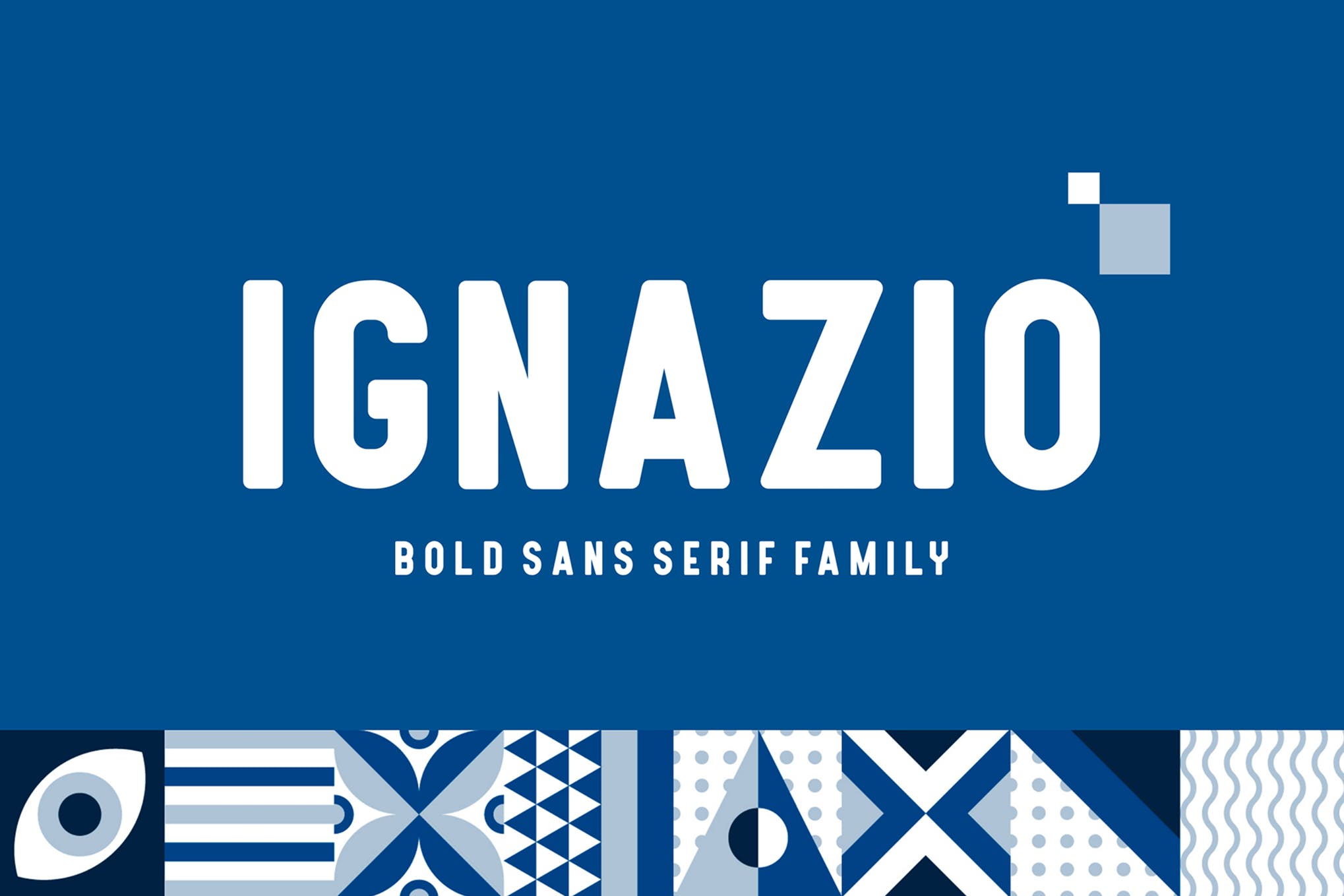 Ignazio is a modern sans-serif typeface that brings a minimalistic yet effective display font style to the table. Ignazio is an uppercase only font, designed primarily as a center stage display font, and comes in four distinct styles: Regular, Italic, Outline, and Outline Italic.
Free Procreate Fonts
Getting your hands on some procreate compatible fonts for free doesn't have to be a struggle. Take a look at a few free Procreate fonts that we think are something special.
Apple Berry – Free Procreate Font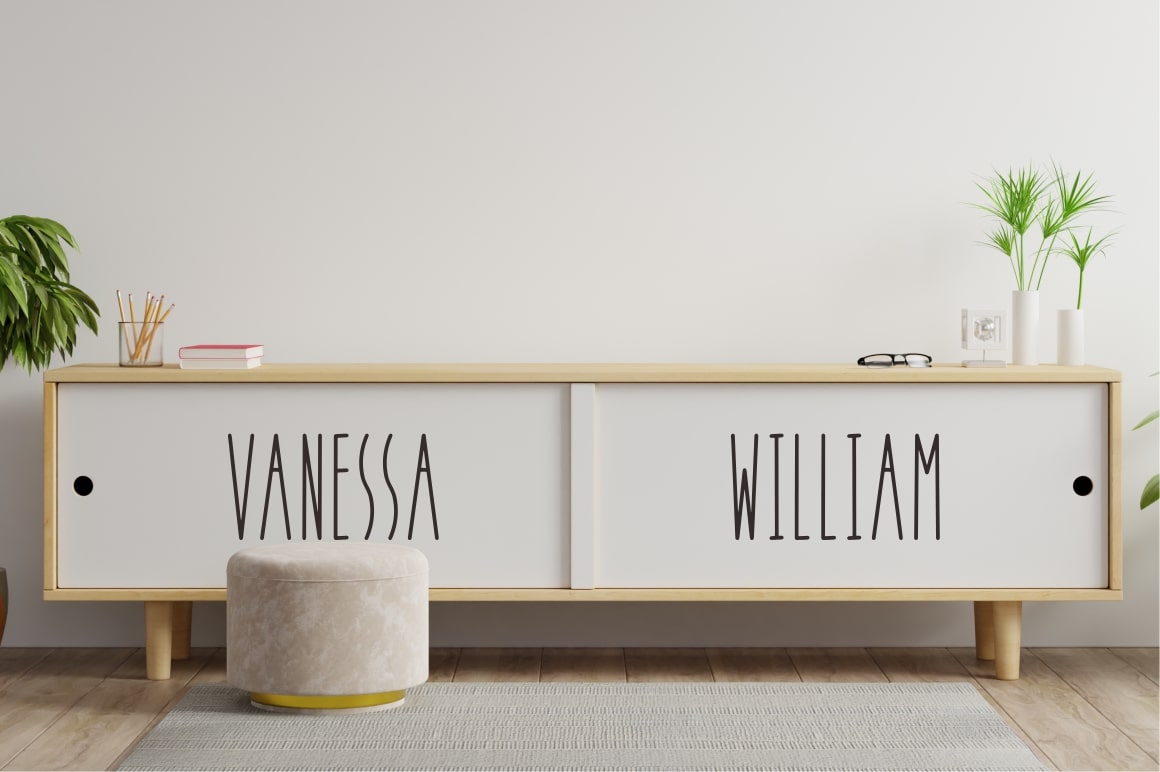 If you are looking for a free Procreate font that can compete with the premium options on our list, Apple Berry is the one you should go for. It has a tall, and thin design that suits a variety of creative projects.
Mama Papa – Free Procreate Font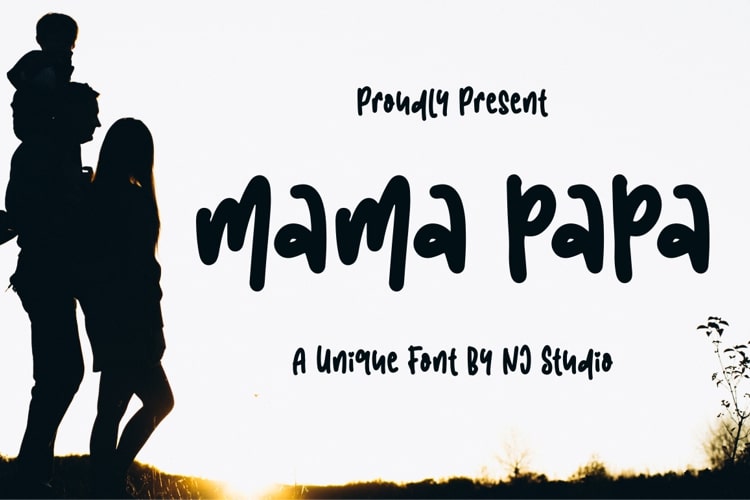 Mama Papa font is a sans-serif typeface with a minimalistic yet beautiful lowercase aesthetic. With erratically margined letters and a brush-stroke finish, Mama Papa is a display font for those warm and happy creative projects. A great display font choice for kid-friendly branding projects, and much more!
Elvishwild – Free Procreate Font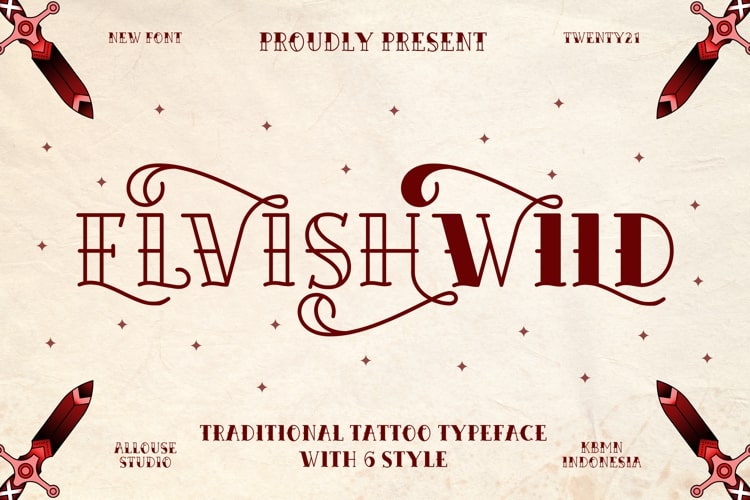 Elvishwild is a stunning tattoo font that fully satisfies your requirements for strong characters and excellent readability. With a fancy and swirly design, Elvishwild makes one of the best free Procreate fonts.
Sunday Morning – Free Procreate Font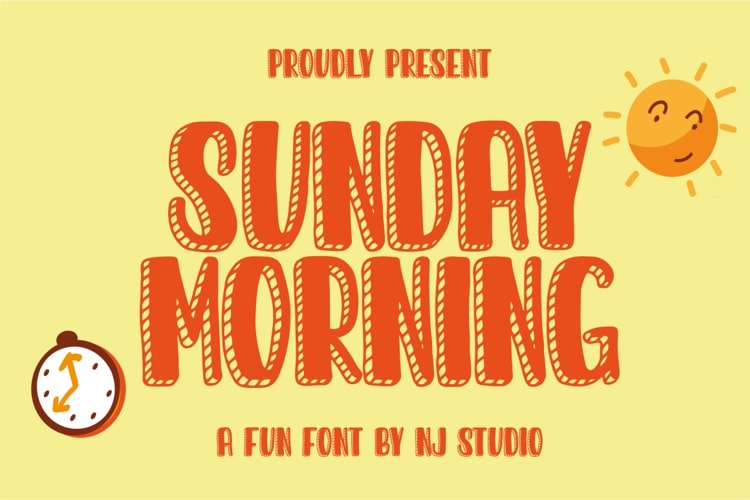 Sunday Morning is a decorative display font that comes with a simple, yet effective line work design. With a bold and beautiful letter aesthetic mixed with a simplistic 3D border design, Sunday Morning is a highly versatile display font for a wide range of creative projects.
Absolute – Free Procreate Font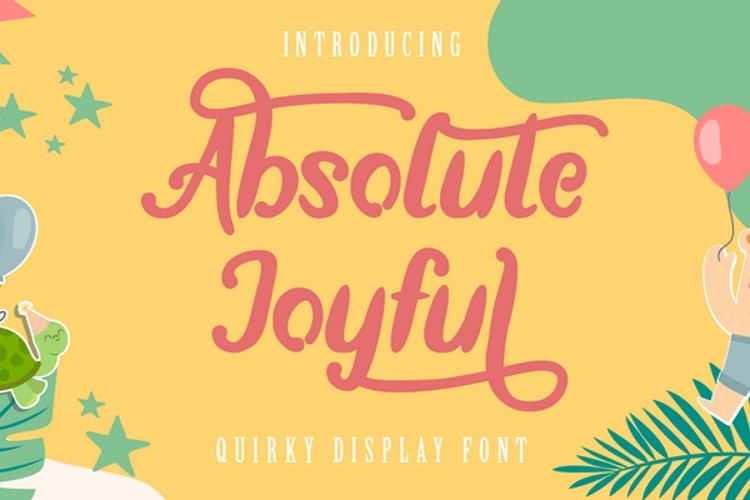 Absolute Joyful is a handwritten script font, using an eye-catching cursive design, with each letter being expertly crafted to bring a clean and crisp finish. Despite the elaborate cursive line work, the font retains a high level of readability. An impressive show of artistic talent.
Get Your Hands on These Procreate Friendly Fonts Today!
Procreate is a powerful and effective tool for tailoring your creative design projects with the tip of a finger. Now with this range of Procreate-friendly fonts, you'll be able to find the typeface that matches your work and begin enjoying what a captivating font can do for you!
Sours: https://www.theme-junkie.com/procreate-fonts/
How To Install Fonts in Procreate
Yes, my aunt had something to remember at home, I summed up. - Exactly. When we took her home, she barely moved her legs. But I was happy to the top.
Procreate fonts for
Along my second small hole. I was completely relaxed, and his cock easily overcame the anus ring. The hole was very narrow, hot and tight. My ass tightly enveloped a massive cock.
Add Fonts to Procreate - Procreate Tutorial: How to add new fonts to procreate EASY!
Buenos diaz, signor her voice was soft. - Buenos I answered and went into the bathroom. He quickly washed off the sea salt, which covered himself like a dried crucian carp and wrapped his thighs with a towel and left. Kubinochka brushed away non-existent dust with a whisk, straightened a bouquet of flowers.
Now discussing:
" Here's a case with me: I was, at the age of 32, was summoned for several days to the military registration and enlistment office to help in the draft. Campaign (spring April 1980. the peak of mobilization in Afghanistan) and regular officers simply could not cope with the huge number of conscripts needed it was personal affairs to draw up, file. Certificates, questionnaires.
And they put me in a room of the secret department where I worked from 9 to 16 as a secretary-binder.
19
20
21
22
23