Elizabeth Taylor's 8 Wedding Dresses in Photos
Never a bridesmaid, always a bride, said no one ever—except Elizabeth Taylor! One of Dame Elizabeth Taylor's first major film roles as an adult (she famously broke out as a star in National Velvet at the age of 13) was as a bride opposite Spencer Tracy (in the titular role reprised later by Steve Martin) in the original Father of the Bride in And, well, she must have loved playing that part, because Liz would infamously walk down the aisle 8 times (to 7 husbands, marrying Richard Burton twice) over the next 40 years.
Her first wedding took place in , at the age of 18, and she didn't stop until her last stint as bride in , at the age of In honor of Dame Liz Taylor's birthday, we took a look back at all of her wedding days and more importantly, her wedding dresses and over the top jewelry!
1. Conrad "Nicky" Hilton, May 6,
For her first trip down the aisle, Taylor said "I do" to Conrad "Nicky" Hilton (yes, he was great-uncle to Paris and Nicky Hilton). A then year old Taylor chose a very 's gown to say her vows in front of of their nearest and dearest.
The Helen Rose designed gown — Rose also designed Grace Kelly's wedding dress and Taylor's similar look in the original Father of the Bride — sold at a London auction for $, in
The couple would divorce a year later.
2. Michael Wilding, February 21st,
After her short-lived marriage to Conrad Hilton, Liz married Michael Wilding in London. Wilding was 20 years her senior so naturally she chose a more demure, serious look in a modest flared suit with a white collar. This wedding look was also designed by Helen Rose. She would remain married to Wilding until , when she began a fling with film producer Michael Todd.
3. Michael Todd, February 2nd,
Taylor referred to film producer Michael Todd as one of the great loves of her life (alongside her jewelry and Richard Burton). The couple was married in Acapulco, Mexico, where Taylor wore a very dramatic hooded silk organza gown, with her 29 carat diamond engagement ring. This was sadly her only marriage to not end in divorce, Todd died in a private jet crash in
4. Eddie Fisher, May 12,
Next up, Michael Todd's best friend (and husband to Debbie Reynolds — Liz's maid of honor at her wedding to Todd) Eddie Fisher. Yes, he was also dad to Star Wars' Princess Leia herself, Carrie Fisher. The two began a love affair after Todd's death, and you guessed it, that led to marriage number 4 for Liz — and a carat engagement bracelet. The couple married in a synagogue in Las Vegas. Looks like after Acapulco Liz had a penchant for wedding day hoods and colored dresses. This time choosing a green silk dress complete with a hood and long sleeves.
5. Richard Burton, March 15th
Before there was Brangelina and Bennifer, there was "Liz and Dick." The drama-inducing duo met on the set of Cleopatra and began a scandalous affair. They would wed (for the first time) in Montreal in
Cleopatra's costume designer, Irene Sharaff, crafted Taylor's now iconic canary yellow babydoll dress. She completed the look with hyacinths and lilies of the valley weaved into a dramatic braided updo and topped off the dress with a diamond and emerald Bulgari brooch. "The only word Elizabeth knows in Italian is Bulgari," Burton once said of Taylor.
6. Richard Burton (AGAIN), October 10,
After 10 dramatic years together, "Liz and Dick" (we won't judge if you watched the Lindsay Lohan Lifetime movie, we did too) divorced in Not content to only pledge their eternal love once, the couple re-married 16 months later in Botswana. This time Liz went full on 's free spirit in a tie-dye Gina Fratini-designed dress in all colors of the rainbow, embroidered with tiny feathers.
The doomed lovers would divorce for the second time in
7. Senator John Warner, December 4th,
After the many ups and downs of her Hollywood marriages, Taylor's seventh and most quiet wedding, found her hitched to Senator John Warner. The couple said their "I do"s in an intimate winter wedding ceremony on his farm in Virginia. She wore a violet cashmere dress topped with a tweed and fur coat, and matching turban. Playing politician's wife didn't sit well with Liz and she would divorce for a seventh time in
8. Larry Fortensky, October 6th,
You know what they say, eighth time's the charm (nobody says that). For her last, and most over the top, turn as bride, Dame Liz Taylor would wed Larry Fortensky, whom she met at the Betty Ford Center, at the age of The paparazzi-stalked (one even parachuted into the ultra-secure festivities) event took place at Michael Jackson's Neverland Ranch in Santa Ynez Valley, California. Taylor wore a pale yellow lace Valentino gown (and very deep tan) to marry her last hubby in front of guests including Liza Minnelli, Eddie Murphy, Nancy Reagan, Diane von Furstenberg, Arsenio Hall, George Hamilton, Merv Griffin, Quincy Jones, Macaulay Culkin, and Brooke Shields. This would not end well for Liz, the couple divorced five years later. Just last year, People published never before seen images of the wedding, shot by Herb Ritts, released by the Elizabeth Taylor AIDS Foundation.
Sours: https://www.brides.com/story/elizabeth-taylor-wedding-day-photos
For Hulu's murder-mystery comedy Only Murders in the Building, costume designer Dana Covarrubias was gifted an arguably impossible task: Make an audience forget Selena Gomez is Selena Gomez. The pop icon, who had not appeared as a series regular on a television show since her time on Disney's Wizards of Waverly Placealmost a decade ago, would be playing Mabel, a young, vaguely unknowable woman with a biting wit and a penchant for true crime. She would, of course, be Gomez, but she couldn't look like Gomez, lest viewers be pulled from the show's universe.
Most importantly, Mabel would need to mesh well with her troupe of amateur criminologists, rounded out by two older white men: The affable Steve Martin (playing veteran actor Charles Haden-Savage) and kooky Martin Short (playing theater director Oliver Putman). "The main concern when looking at the costumes would be, 'How do we bring Selena Gomez, this icon, into this world and have her physically standing next to Steve and Marty and not look super weird?'" Covarrubias says.
The solution might have seemed straightforward: Ease back on Gomez's signature style, perhaps drape her in dull hues or pedestrian basics. Slap her in a baseball cap and a tote bag and call it good. But such an approach wouldn't have been true to Mabel, either. The character shoulders a heavy burden, a sense of secrecy that screams for anyone approaching to watch out. That trauma motivates her search for victim Tim Kono's killer throughout the season.
"Her whole concept was basically that her costumes were a type of armor," Covarrubias says. "So she's using these really bright colors in the same way as an animal with a brightly colored coat: 'Beware. Danger. Leave me alone. Back off.'" Balancing these two competing motivations—settling Gomez in reality, while elevating Mabel's own mien—gave the designer an intriguing challenge. She decided Mabel's style would be immediately eye-catching, enough that it would draw a double-take on the streets of Manhattan, but not so dramatic that it'd invite further inquiry. This way, the character could be both intriguing and safely anonymous.
Covarrubias achieved this look with a parade of flashy colors imbued in soft textures: yellow faux fur, paint-splattered denim, rainbow knits, pink feathers, crimson vinyl, and white shearling. She frequently drew upon the color palate of The Hardy Boys books that Mabel grew up reading, keeping an eye out for bright blues, teals, reds and golds as she thrifted in her home borough of Brooklyn.
As a result, Gomez's fashion is undoubtedly one of the highlights of the wacky Hulu series. To get a better idea of how each fit came together—and where one might find decent dupes—ELLE.com asked Covarrubias for a rundown of each ensemble. As new episodes drop in the coming weeks, we'll update this post with more inspiration from the designer's (and, of course, Mabel's) closet.
---
Episode 1
Look 1
Jose Perez/Bauer-GriffinGetty Images
For Gomez's first appearance in episode 1, Covarrubias wanted to make a quick and powerful impression: "We wanted the first thought to be, Who is she?" The designer, who has previously worked on shows including Ramy and Master of None, dressed Gomez in the yellow faux fur jacket, matching sweater and plaid pants that immediately lured paparazzi while the actress was on set in December
Covarrubias chose the bold yellow as a symbolic nod to the Mexican heritage she shares with Gomez. "Marigolds are very important in Mexican iconography and culture," she explains. "They can represent grief and resurrection, passion and creativity. So it just fit very perfectly for [Mabel's] character, because she's held back by this thing that happened in her past, and she's also an artist. So we knew we wanted to use those color tones, the reds and the golds and yellows, for her character a lot." The sweater and pants were both thrifted, while the coat is Michael Kors and the boots Kurt Geiger.
Women's Long Sleeve Waffle Knit Sweater
SHOP NOW
Short Faux-Fur Bomber Jacket
Belle FareNeiman Marcus
$
SHOP NOW
Free People Shape Up Plaid Cotton Crop Trousers
Free Peoplenordstrom.com
$
SHOP NOW
Look 2
For a more relaxed look during Mabel's downtime, Covarrubias selected a black camisole, sweatpants and a beige cardigan. It was essential that Gomez never looked too overdressed, especially when she was spending time alone in her apartment sketching portraits or researching her old friend Tim Kono.
"My background is mostly doing comedies," Covarrubias says. "And I think why I have continued to work in that world is because the best thing to do in comedy is to not go too over the top with costumes. You want to keep it grounded in reality—because that can make the comedy really pop."
Barefoot Dreams CozyChic™ Lite Long Cardigan
BAREFOOT DREAMSnordstrom.com
$
SHOP NOW
Women's Silk Cami Tank Top
SHOP NOW
PULI Women Lounge Sweatpants
SHOP NOW
Look 3
James DevaneyGetty Images
For Gomez's third look in the first episode, she donned a pair of vibrant coveralls, chunky Chelsea boots, and a shearling coat. The heavy shoes are a recurring staple in Mabel's wardrobe, Covarrubias says, as a way to accentuate her spiky exterior.
These subtle but important choices helped Gomez get into character every time she tried a new outfit. "In the very first [fitting], after one or two looks she tried on, [Gomez] was already like, 'Oh yeah, I get it. I get who she is. I feel it,'" Covarrubias says. "It's not a silhouette that you see her personally wearing all the time. It was able to push her into the character, I feel like."

The Essential Coverall
SHOP NOW
Daily Ritual Women's Teddy Bear Fleece Lapel Coat
SHOP NOW
Leather Chelsea Boots
SHOP NOW
Nordstrom Solid Burlap Scarf
SHOP NOW
---
Episode 2
Look 1
Out of Mabel's extensive sweater collection, it's this colorful confetti sweater that earned a spot as Covarrubias's favorite. She found the piece while poking around Brooklyn for vintage clothes; she makes regular trips to Beacon's Closet, a beloved NYC thrift shop, and also frequents luxury resale site TheRealReal.com for inexpensive costuming treasures ("It's amazing for film because we're on a tight budget.")
Throughout the series, Mabel often wears thick wool while Martin and Short opt for silk, satin or cotton. "Her character is a knitter," Covarrubias explains. "So we wanted to find some really wonderful chunky, loose knits that looked like she could have made them."

Confetti Pullover Sweater
SHOP NOW
Twisted Gold Hoop Earrings
SHOP NOW
Look 2
Later in the episode, Mabel changes into a slightly darker ensemble—a black turtleneck and taupe mini skirt combo—as she eases into investigative mode. It's one of her more subdued looks throughout the show, which Covarrubias says was a counterintuitive choice to make.
"The thing that you really want to do with someone like Selena, because she has such amazing style herself, is to up the style, up up up up up," she says. "Do it super fashionable. But that's just not true to the script, and it's not true to Mabel.
MANGOPOP Women's Mock Turtle Neck Bodysuit
SHOP NOW
Blank NYC White Sand Skirt
SHOP NOW
Vero Monte Opaque Black Tights
SHOP NOW
Look 3
In a particularly important flashback scene during Mabel's Hardy Boys days, she's at a party, where she shimmers in a sequin dress and zebra-print coat—arguably Gomez's most arresting look of the season so far. The coat was a gorgeous set piece, but it was also a practical choice: "It was really freezing outside when we were shooting," Covarrubias says, laughing. "So we were also looking for something that would keep our actors really cozy and warm."
Sequin Mini Dress in Black & Gold
SHOP NOW
Zebra Print Coat
Michael Kors Collectionsaksfifthavenue.com
$6,
SHOP NOW
Pink Feather Hair Clip
Touch of Natureamazon.com
$
SHOP NOW
---
Episode 3
Look 1
When Mabel is out sleuthing with her podcast team, which includes Martin's Charles and Short's Oliver, it's easy to forget she's also a talented artist, currently in the process of remodeling the apartment she's staying in. To point audiences back to this key personality trait, Covarrubias dressed Gomez in quintessential artist's garb, including this paint-splattered denim jumpsuit. Finding an exact replica will be tricky, but it's easy enough to create your own with some fabric paints and a trusty pair of coveralls.
Denim Relaxed Coverall Jumpsuit in Glenroy Wash
SHOP NOW
Ross-Simons Drop Earrings in Sterling Silver
SHOP NOW
Magicfly Permanent Soft Fabric Paint Set
Magicflyamazon.com
SHOP NOW
Look 2
Although Covarrubias often attempted to separate Mabel's style from Gomez's own, there were certain staples from the pop superstar's wardrobe that she couldn't bear to part with, including Gomez's favorite hoop earrings. "That actually is one of the things that I saw Selena doing in her personal style that I love on her. Every time I see her in a photo, and she has those big hoops on, I just love it," she says.
Mabel wears hoops of all shapes in sizes throughout the show, most of them from jeweler Jennifer Fisher, but for this particular outfit she dons a pair of big gold tubes. For a slightly less expensive dupe, try the recommendations below.
ZAFUL Women's Mock Neck Long Sleeve Ribbed Knit Basic Pullover Sweater (Blue Gray)
SHOP NOW
DL Bridget Boot High-Rise Instasculpt Crop Jeans
SHOP NOW
Rebound Leather Belt
RAG & BONEnordstrom.com
$
SHOP NOW
Gold Tube Hoop Earrings
SHOP NOW
---
Episode 4
Look 1

For Mabel's more relaxed moments at home, Covarrubias often opted to drape Gomez in cozy tees or cardigans, such as this red geometric-patterned duster, paired with a simple black v-neck.
Even when Mabel's lounging, the designer says, "You still want to have her be stylish and cool and young and bring in that hip New York City world."
Geo Print Jacquard Knit Duster
Misooksaksfifthavenue.com
$
SHOP NOW
MIHOLL Women's Short Sleeve V-Neck Shirt
SHOP NOW
Look 2
If Covarrubias had to pick, this fit, which pairs a PVC trench coat with a beige tailored vest and a smooth ivory turtleneck, might be her favorite of all the outfits she assembled for Gomez.
"That [trench] was really perfect," she says. "Because of the PVC and the shine, it has that very current, Y2K, early s vibe. But then, at the same time, the silhouette is very classic trench. It's bringing in that [sense of the] detective world at the same time that it's bringing in the fashion world."
Belted Faux-Leather Trench Coat
MATÉRIELmodaoperandi.com
$
SHOP NOW
Long-Sleeve Mock Turtleneck Stretch Layer Top
SHOP NOW
Tailored Vest
& Other Storiesstories.com
$
SHOP NOW
Relaxed Press Crease Trousers
SHOP NOW
Look 3
There are several blink-and-you'll-miss-it fashion moments for Gomez throughout the series; she swaps outfits so often it's a wonder Mabel has enough space in her apartment to hold the clothes. Quick wardrobe changes like these gave Covarrubias the chance to play with riskier looks—like this plaid flannel and orange pants combo—in a way that wouldn't distract from what was happening in the scene.
The designer also made use of a pair of Rellery necklaces that Gomez wore with multiple looks throughout the first season, as an homage to her heritage. "The [necklaces] have two little tiny engraved marigolds on them," Covarrubias says.
Rothco Plaid Flannel Shirt
SHOP NOW
BDG High-Waisted Skate Pant
SHOP NOW
Sours: https://www.elle.com/culture/movies-tv/a/selena-gomez-fashion-only-murders-in-the-building/
It's Tommy Dorfman's Fashion Week World, and We're All Just Living in It
Tommy Dorfman is the moment. The actress has been a Fashion Week superstar this season, stepping out at runway shows aplenty for first time since reintroducing herself as a transgender woman earlier this year. Mind you, she hasn't attended these shows simply by showing up and aimlessly snapping iPhone photos of the models from afar — she's fully demanded the spotlight during each appearance, wearing an array of show-stopping looks we'll be bookmarking for future outfit inspiration needs.
"It's been such a fun week to be back — as myself."
Tommy kicked off Fashion Month by hitting up Collinda Strada's New York Fashion Week presentation in a ruched green and white dress, and went on to sit front row for Balmain, Moschino, Coach, Valentino, and more — y'know, only the biggest names in fashion. Speaking to WWD on her return to Paris Fashion Week, Tommy said, "It's been such a fun week to be back — as myself. I'm enjoying going to shows I've never gone to before, finally getting to explore different houses in Paris, and to try on different things."
Read ahead to admire all the must-see photos of Tommy looking like absolute Fashion Week royalty, and then catch up on the best street style moments from New York Fashion Week if you're craving more outfit ideas.
Sours: https://www.popsugar.com/fashion/tommy-dorfman-fashion-week-outfits
Yellow Paparazzi Jewelry Paparazzi Accessories
"The List" is PAPER's definitive roundup of the most important fashion launches of the month. From store openings to new podcasts, collaborations, initiatives, campaigns, pop-ups, capsules and product releases, we've curated the most exclusive and special style announcements from around the world. Scroll through, below, to see what's in store for October.
Dior Launches New B30 Sneaker
The B30, a new style designed by Kim Jones for Dior Men Spring is a flexible and lightweight running-inspired shoe made of technical materials like microfiber and mesh for a sporty yet elegant feel. It has a reflective "CD" logo on each side as well as the sole and heel, and comes in five colors: black, white, olive, beige and lime.
Available starting October 14 on Dior.com
Away Announces First Designer Collaboration Series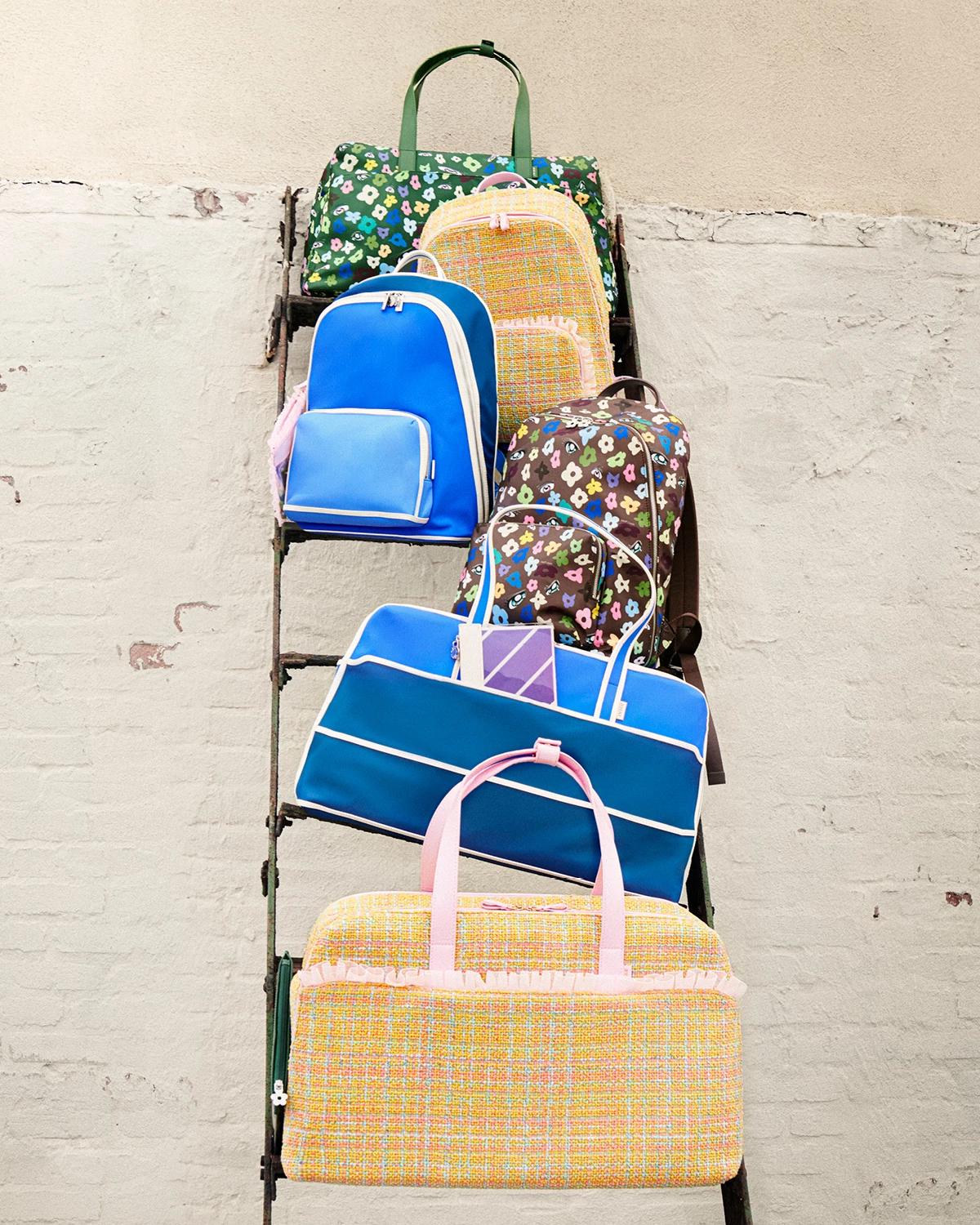 Courtesy of Away
As part of an inaugural designer series, luggage company Away teamed up with Sandy Liang, Tia Adeola, and Ji Won Cho to reimagine three of the brand's signature silhouettes: the Large Everywhere Bag, Front Pocket Backpack, and Travel Pouch Set. Ranging from airplane essentials to luxurious accessories, the newly-designed series transforms regular travel go-to's into works of art using floral prints and bright, bold colors.
Available starting October 14 on Away's website.
Ray-Ban Debuts First Collaboration With Arca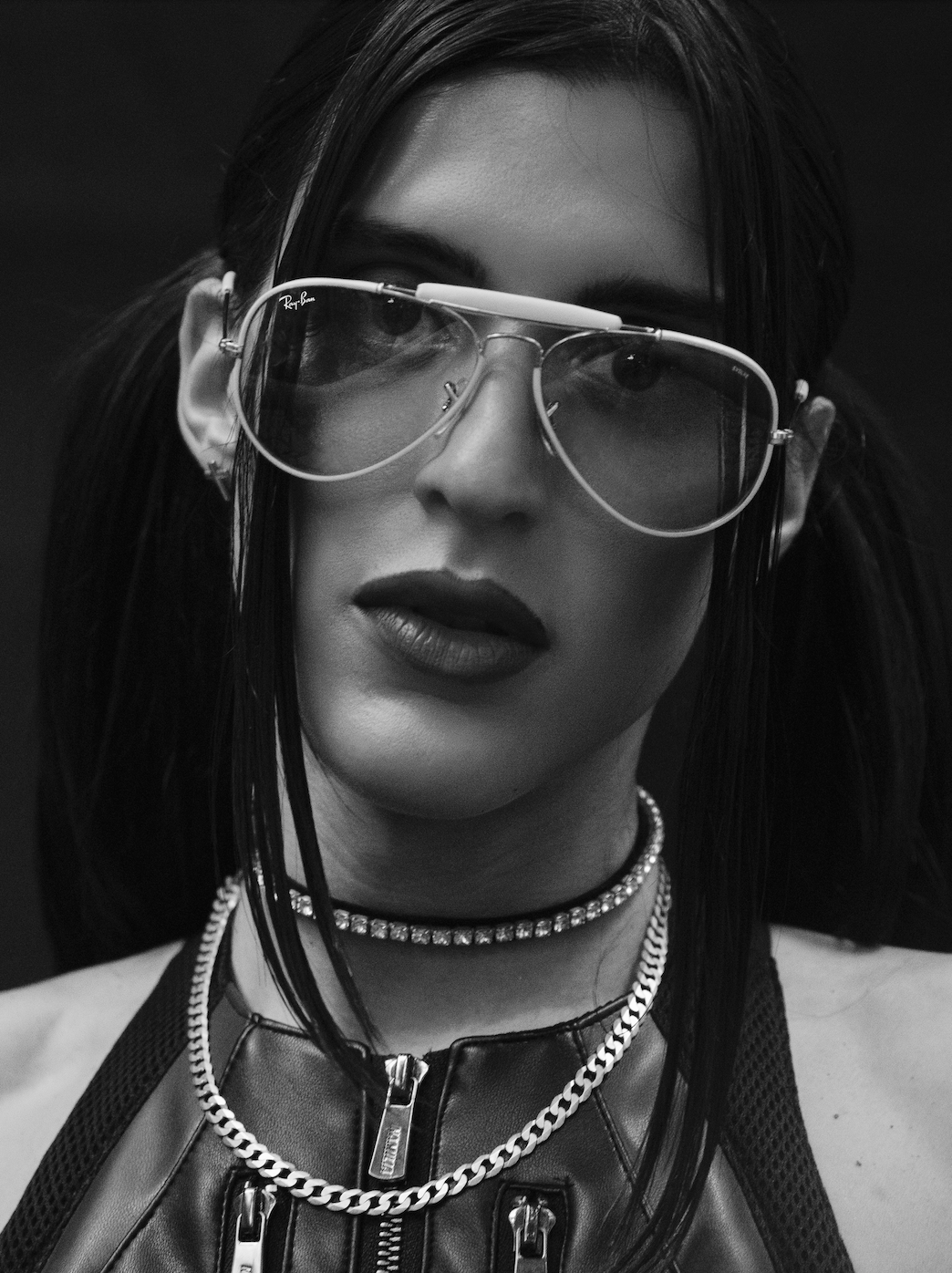 Courtesy of Ray-Ban
Ray-Ban Studios, the music collaboration arm of the eyewear company, is teaming up with Arca on two pairs of limited-edition aviator sunglasses: a classic silver frame with shiny white leather details and gray photochromic lenses and a black frame with shiny black leather details and black lenses.
Available now between $–$ at Ray-Ban.com.
Cartier Exhibition at Musée des Arts Décoratifs
The Musée des Arts Décoratifs in Paris is opening a new exhibition from October 21, to February 20, titled Cartier and Islamic Art: In Search of Modernity which shows the influence Islamic Art has had on the high jewelry brand in its designs from the beginning of the 20th century to the present day. More than pieces from the Cartier Collection, private and public loans, drawings, books, photographs and archival documents trace the origins of the brand's interest in Oriental motifs.
Alexander McQueen's Tread Slick Photography Series
Alexander McQueen's ongoing Tread Slick project sees a new group of photographers based all over the world capturing the house's signature Tread Slick boot while taking inspiration from the natural world. Their photographs were shot in an environment that means something to them personally.
Charlie Gates – Images were shot in Hackney, East London
Gwen Trannoy – Images shot in East London
William Waterworth – Images shot on the Jurassic Coast, Dorset
Max Farago – Images shot on Rock, Leo Carillo Beach in Malibu
Katie Burnett – Images shot in Brooklyn, New York
Malick Bodian – Images shot in Lac rose, Sénégal
Pyer Moss Debuts Sculpt Sneaker in Red and Black
Courtesy of Pyer Moss
Kerby Jean Raymond's brand is set to release its latest color variation of "The Sculpt" shoe. Previously coming in black and yellow, white and yellow, and black and blue, the fourth will come in red and black. To accompany the launch, Pyer Moss created a short filmed titled Sculpt Live by THANKYOUSNAPGOD.
Available October 9th on pyermoss.com
Rag & Bone Opens a Pop-Up at Saks Fifth Avenue
Courtesy of Rag & Bone
Rag and Bone opened an outerwear and utilitarian accessories destination shop at Saks Fifth Avenue. With cold weather just around the corner, the pop-up includes winter essentials of versatile outdoor garments of puffers, nylons, wool scarves, ponchos, and beanies. A curated selection of menswear outerwear and water-resistant boots are also available for the next nature adventure.
The pop-up is available to shop in person at the Saks Fifth Avenue flagship and on saks.com until October 18th.
Mattel Announces a New Cadillac Designed by Gucci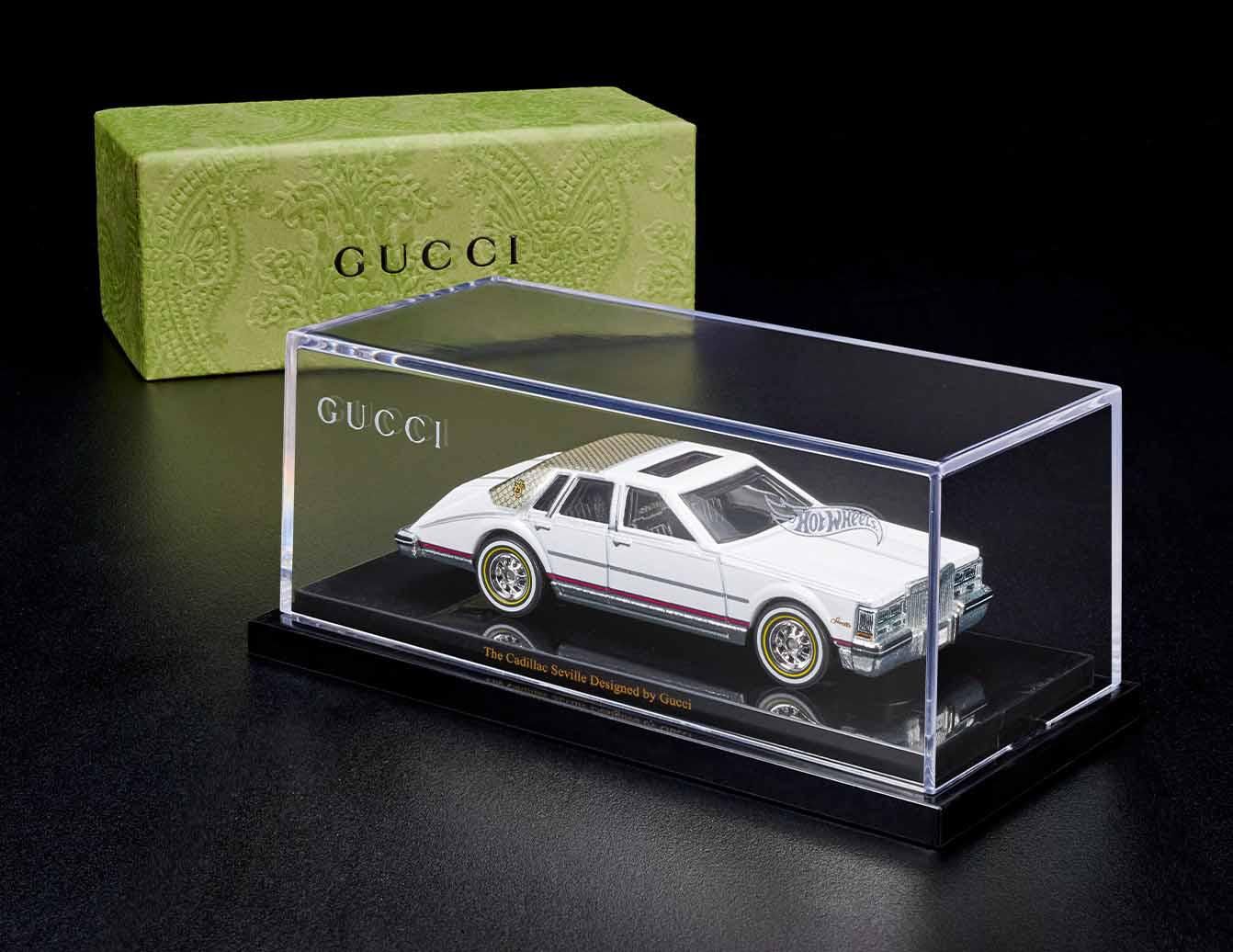 Courtesy of Mattel
As part of Gucci's th anniversary, the fashion house has tapped Mattel and Hot Wheels to pay homage to the original collaboration with General Motors in the s. The limited-edition scale model is a new Cadillac Seville designed by the luxury house. Featuring an interlocking double G crest, a gold Gucci hood ornament, gold Gucci emblem on the wheels, and Gucci Web strips on the rear, the collaboration is an Italian twist on the Detroit automobile.
The collaboration is available on October 18th on mattelcreations.com and gucci.com
Courtesy of Roxanne Assoulin
Putting the custom in customization, Roxanne Assouline's newest jewelry line is RA Your Way bracelets. The collection offers 40 different colored tiles in the shape of squares, rectangles, and skinny rectangles, the alphabet, numbers, 11 symbols, and 11 flowers to choose from to make one of a kind piece of accessories.
Available now at RoxanneAssoulin.com
Bonobos Chinos Get An Upgrade

Courtesy of Bonobos
A Bonobos best-selling pants is now new and improved. With four-way stretch, secret zip-pocket, moisture-wicking, and no-iron tech, the Stretch Washed Chino still have the fan-favorite curved waistband and interior back pocket. Coming in a variety of fits—slim, slim taper and athletic—the perfect pants are ready for heading back to the office.
Available now at Bonobos.com
Y-3 Launches Adidas Terrex Capsule Collection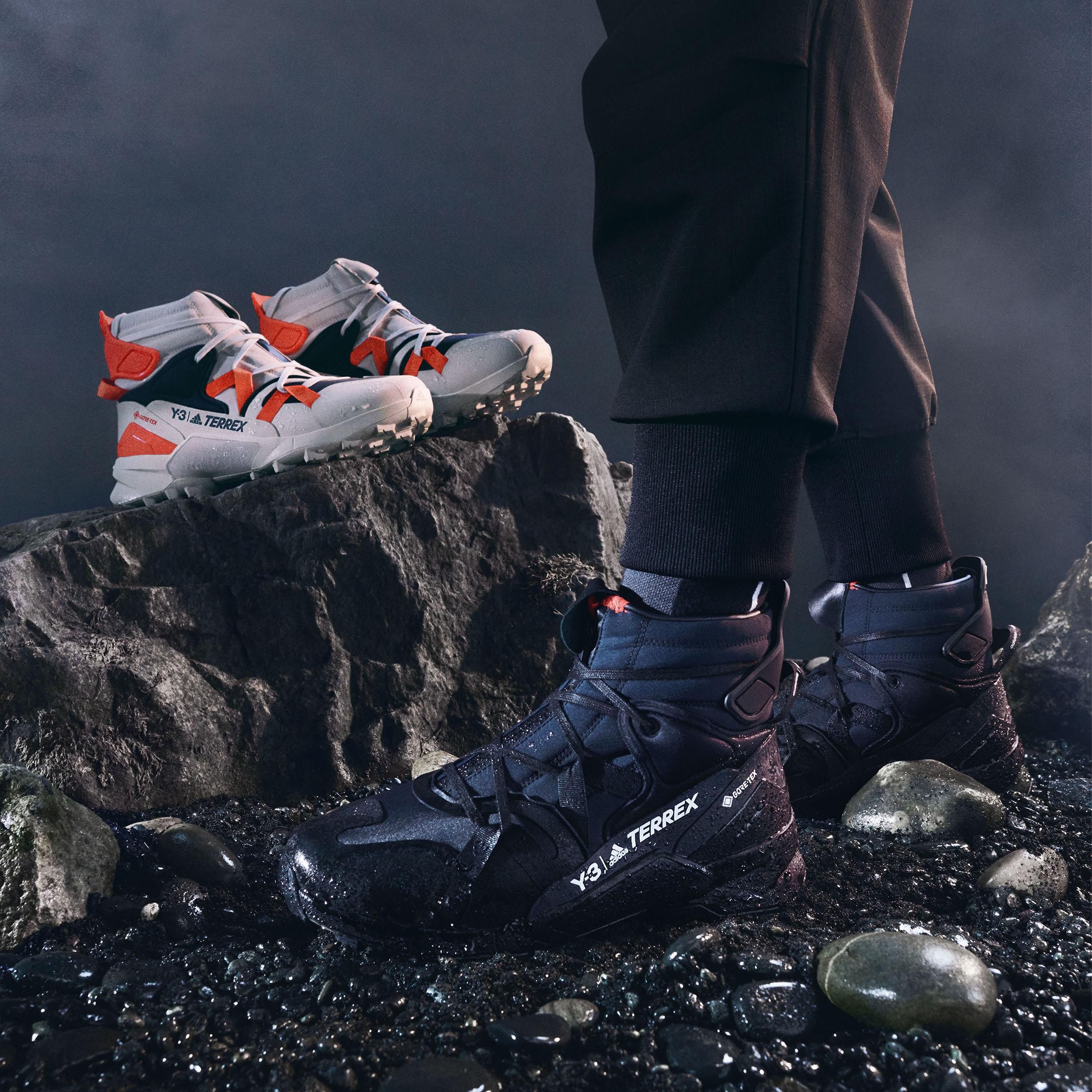 Courtesy of Y-3
For Adidas' Y-3 capsule collection, blends together Yohji Yamamoto's renegade aesthetic with functionality for an outdoor-ready attire and shoes. Keeping in mind with protection from the elements, the avant-garde and waterproof collection features two jackets and two color combinations for the new Y-3 Terrex Swift R3 GTX sneaker.
Available on October 14th at adidas.com/y-3
L'Agence Debuts Spring Collection
L'Agence digitally unveiled their new collection titled "Champ de Fleurs." Combining West Coast laid-back attitude with Parisian elegance, the hues of neon green, lilac, and salmon accompanied cobalt blue hues. With a focus on feminine silhouettes, creative director Jeff Rudes created day-to-night wear with its occasion-wear. Denim styles, crushed velvet, and structured silk all came together to round out the collection.
Kith's Year Anniversary Fall Collection and Russell Athletic Collab
Kith is celebrating its year anniversary with an extensive piece collection that draws inspiration from its archives. It features a palette of 30 of its most-used colors and brings back many of the brand's iconic staple pieces. For Fall 1, Kith collaborated with Russell Athletic to bring back Classics silhouettes and craft them in colors from their signature palette.
Available now in all Kith shops and Kith.com
Sours: https://www.papermag.com/octoberfashion-news-roundup-diorhtml?rebelltitem=5
Necklace paparazzi long yellow
I was very interested in what it was, and I knew roughly how it was used. As a child, I was given enemas only from a small pear, for some reason it turned on me, and I was a little. Interested in enemas. But I was very afraid to touch my mother's big enema, so that God forbid, my mother would not suspect that I was masturbating and.
Was using her enema for this.
How To Display Paparazzi Jewelry \u0026 Set Up For Facebook Lives
Okay in Argentina, where no one knows me: And that's how you walk around San Antonio. They will laugh at me. - And who just told me that he doesn't want to take unnecessary things. Do not worry.
You will also like:
That's it. Now kiss me. And again I kiss the girl passionately. - Yes, my little. Yes, my good))))) My uuuuuuumnichkaaaa))))) - Now look.
19759
19760
19761
19762
19763