Sign In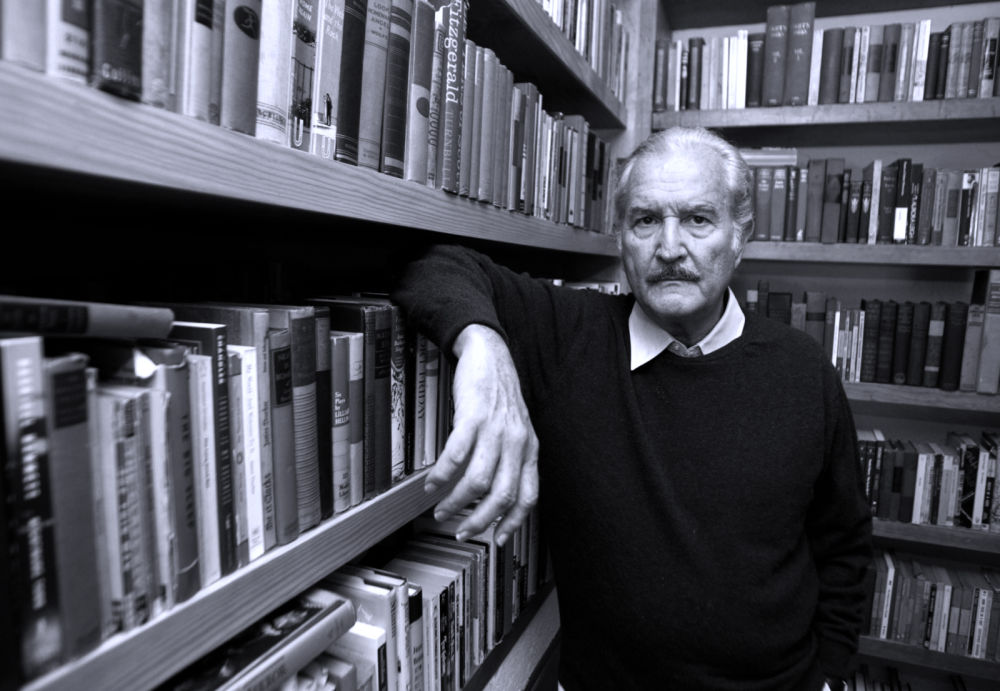 Carlos Fuentes was interviewed on a snowy December day at his home in Princeton, New Jersey—a large Victorian house in the old residential section. He is a tall, heavyset man, dressed on that winter's day in a turtleneck sweater and jacket. The Fuenteses' house was lightly heated in the European manner, and felt chilly. A Christmas tree stood in the drawing room. His two young children were out ice skating with Mrs. Fuentes. A considerable art collection was on display in the room—Oriental bronzes, pre-Columbian ceramics, and Spanish colonial Santos —reflecting Fuentes's cultural background and his various diplomatic assignments. On the walls were paintings and prints by Picabia, Miró, Matta, Vasarely, among others—most of them gifts given him by artist friends.
The interview was conducted in the library in front of a blazing fire with a hot pot of coffee available. The walls were lined with books. It is at a simple desk in this room that Carlos Fuentes does his work—in front of a window that on this December day looked out on ice-laden shrubbery and trees barely visible in the snow flurries.
In 1958, he startled Mexico with Where the Air Is Clear, a caustic analysis of Mexico after the 1910-20 revolution; The Good Conscience (1959), a bildungsroman that describes the education of Jaime Ceballos and his ultimate absorption into the Mexican establishment; The Death of Artemio Cruz (1962), inspired in part by Orson Welles's Citizen Kane; Holy Place (1967) and A Change of Skin (1968), both of which deal with Mexico, albeit from totally different perspectives: Holy Place traces the Oedipal meanderings of a young man infatuated with his mother; A Change of Skin studies Mexico in relation to the "outside world" of the sixties by examining the relationships between foreigners and Mexicans.
Terra Nostra (1978) strikes out in a different direction. There Fuentes investigates the Mediterranean roots of Hispanic culture in order to discover where that culture "went wrong." He finds its fatal sin in Philip II's maniacal search for purity and orthodoxy, his ruthless extirpation of the heterodox (Jewish and Arabian) elements in Spanish culture. Terra Nostra, along with Fuentes's recent essays on Cervantes, marks a new epoch in pan-Hispanic studies, a new way to find unity in the fragmented Hispanic world.
The Hydra Head (1978) returns to contemporary Mexico so that Fuentes can study the nature of power, symbolized by Mexico's oil deposits. In 1980, Fuentes published (in Spanish) Distant Relations, an examination of the writer's need to know all and tell all, and (in English) Burnt Water, a collection of short stories from various periods in the author's career.
During the years he spent as Mexican ambassador to France, Fuentes found it impossible to write, and the interview began with his description of his return to writing after he had left his government post.
FUENTES
I left my post as ambassador to France on the first of April, 1977, and immediately rented a house on the outskirts of Paris, where I could begin to write again. I had not written a word for two years, being a conscientious diplomat. The house I rented, as it turned out, had belonged to Gustave Doré and it brought back all my yearnings for form and terror. Doré's illustrations for "Little Red Riding Hood," for example: they're so incredibly erotic! The little girl in bed with the wolf! Those were the signs under which my latest novel, Distant Relations, was born.
INTERVIEWER
Why did you find it impossible to write while you were ambassador?
FUENTES
Diplomacy in a sense is the opposite of writing. You have to disperse yourself so much: the lady who comes in crying because she's had a fight with the secretary; exports and imports; students in trouble; thumbtacks for the embassy. Writing requires the concentration of the writer, demands that nothing else be done except that. So I have all this pent-up energy which is flowing out right now. I'm writing a great deal these days. Besides, I have learned how to write. I didn't know how to write before, and I guess I learned by being a bureaucrat. You have so much mental time on your hands when you are a bureaucrat: you have time to think and to learn how to write in your head. When I was a young man I suffered a great deal because I faced the challenge of Mallarmé's blank page every day without knowing exactly what I was going to say. I fought the page, and paid for it with ulcers. I made up for it with sheer vigor, because you have vigor when you are writing in your twenties and thirties. Then later on you have to use your energy wisely. When I look back on it, I think perhaps it was the fact that I was behind an official desk for two years that left my mind free to write within itself, to prepare what I was going to write once I left that post. So now I can write before I sit down to write, I can use the blank page in a way I couldn't before.
INTERVIEWER
Tell us how the process of writing takes place within you.
FUENTES
I am a morning writer; I am writing at eight-thirty in longhand and I keep at it until twelve-thirty, when I go for a swim. Then I come back, have lunch, and read in the afternoon until I take my walk for the next day's writing. I must write the book out in my head now, before I sit down. I always follow a triangular pattern on my walks here in Princeton: I go to Einstein's house on Mercer Street, then down to Thomas Mann's house on Stockton Street, then over to Herman Broch's house on Evelyn Place. After visiting those three places, I return home, and by that time I have mentally written tomorrow's six or seven pages.
INTERVIEWER
You write in longhand?
FUENTES
First I write it out in longhand, and then when I feel I "have" it, I let it rest. Then I correct the manuscript and type it out myself, correcting it until the last moment.
INTERVIEWER
Is the rewriting extensive or is most of the rewriting taken into account during the mental writing?
FUENTES
By the time I get it on paper, it is practically finished: there are no missed sections or scenes. I know basically how things are going and I have it more or less fixed, but at the same time I am sacrificing the element of surprise in myself. Everyone who writes a novel knows he is involved in the Proustian problem of in some way knowing what he is going to write and at the same time being amazed at what is actually coming out. Proust only wrote when he had lived what he was going to write, and yet he had to write as though he knew nothing about it—which is extraordinary. In a way we are all involved in the same adventure: to know what you are going to say, to have control over your material, and at the same time to have that margin of freedom which is discovery, amazement, and a precondition of the freedom of the reader.
INTERVIEWER
It's possible in England and the United States to write a history of editors and their influence on literature. Would such a history be possible in the Hispanic world?
FUENTES
Impossible, because the dignity of Spanish hidalgos would never allow a menial laborer to come and tell us what to do with our own work. It comes from the fact that we are caught in a terrible kind of schizophrenia made up of extreme pride, and extreme individualism which we inherited from Spain. The hidalgo expects everyone else to respect him, just as he kowtows to superior power. If you were to try to edit anyone's text in Latin America, even a hack, he would resign immediately, accusing you of censoring or insulting him.
INTERVIEWER
You would say then that your relationship to your society is rather different from that of an American writer? That, for example, the hidalgo image suggests the greater dignity of writing in your culture?
FUENTES
My situation as a Mexican writer is like that of writers from Eastern Europe. We have the privilege of speech in societies where it is rare to have that privilege. We speak for others, which is very important in Latin America, as it is in Central Europe. Of course you have to pay for that power: either you serve the community or you fall flat on your face.
INTERVIEWER
Does that mean that you see yourself as the official representative of your culture?
FUENTES
No, I hope not. Because I always remember that remark by the French Surrealist Jacques Vaché, "Nothing kills a man as much as having to represent his country." So I hope it isn't true.
INTERVIEWER
Do you see a difference between the social roles of American and Latin American writers?
FUENTES
We have to do more things in our culture than American writers do in theirs. They can have more time for themselves and for their writing, whereas we have social demands. Pablo Neruda used to say that every Latin American writer goes around dragging a heavy body, the body of his people, of his past, of his national history. We have to assimilate the enormous weight of our past so we will not forget what gives us life. If you forget your past, you die. You fulfill certain functions for the collectivity because they are obligations you have as a citizen, not as a writer. Despite that, you reserve your esthetic freedom and your esthetic privileges. This creates a tension, but I think it is better to have the tension than to have no tension at all, as sometimes happens in the United States.
Sours: https://www.theparisreview.org/interviews/4848/the-art-of-fiction-no-20-angus-wilson

Angus Wilson was born and raised in Scotland and has lived in numerous cities throughout Britain. He has worked as a professional artist his entire career (22+ yrs), however his work has been varied and few would say his path to a fine art career was by a traditional route. Originally attending art college in the disciplines of photography, film, and animation, Angus then pursued a career in television and video, as well as the computer entertainment market. Angus worked as a director, producer, editor, and animator, winning international awards for his animation and entertainment products. Throughout this period of his life, traditional painting functioned as a sideline. However in 2004, with growing popularity in his work, Angus made the decision to pursue his fine art career full time. In lighter moments he jokes that his skills have regressed, from cutting edge multi-million dollar CG animation projects to "merely" pushing paint around a canvas!
However there's nothing "mere" about the artists work. It is reminiscent of many post-impressionists, such as Matisse and Cezanne, yet there's a contemporary underpinning that gives his work a powerful kick of originality justifying his ever growing success and loyal following.
In 2007 Angus relocated to the San Francisco Bay Area, he works mainly in oil and acrylic. He has and continues to be involved in numerous shows, displaying work internationally. His work is collected and held by museums, corporations and collectors worldwide.
Sours: https://www.ventanafineart.com/angus
Angus creates still-life paintings with bold colors and unique compositions
by Norman Kolpas
Angus, Hyacinth, Limes, & Lemons Over Purple and Red (Two-cloth series), acrylic, 30 x 40.
This story was featured in the July 2018 issue of Southwest Art magazine. Get the Southwest Art July 2018 print issue or digital download now–then subscribe to Southwest Art and never miss another story.
Still-life paintings by Angus Wilson convey to viewers the delightful impression that they're experiencing the centuries-old genre in a new, contemporary way. Yes, the items depicted in his works are among those that painters have portrayed since at least the Middle Ages: flowers and fruit, plus objects they're displayed in and around, such as vases, pitchers, bowls, tables, and tablecloths. But there the similarities end.
Conventional still-life works often render these objects in faithfully natural tones against dark or muted backgrounds. By contrast, an Angus painting (he goes by his first name alone) is as bold and vibrant as a stained-glass window in bright sunlight—and that effect is further heightened by the fact that each item is darkly outlined, an approach called cloisonnism that gained favor among post-Impressionists including Paul Gauguin. Meanwhile the colors themselves, though certainly based on nature, feel saturated and heightened to almost the point of hyperreality.
Angus, Bridge Under Winter's Sky, acrylic, 22 x 34.
Angus, Cantaloupe Segments With Papaya on Blue, acrylic, 30 x 30.
Angus, Glads & Iris on Orange, acrylic, 30 x 30.
In addition, most of Angus' works also contain a few bold horizontal or vertical lines that visually cut right through an object, the foreground, or the background, "refracting" the image, as the artist describes it, by slightly shifting the perspective. That shift, in turn, "elevates the work intellectually and makes you stop and look at these everyday objects," he says, going on to sum up his motive for doing so: "When I approach any still life, I ask myself how I can create the most impactful, powerful painting possible, telling something new in an interesting way."
Angus originally had no intention of becoming a painter. Born in 1970 in the city of Aberdeen in northeastern Scotland, he certainly did his share of childhood doodling, and his talents always leaned more toward aesthetic pursuits than academics. But his primary interests lay in animation, photography, and film, all of which he went on to study at the Duncan of Jordanstone College of Art & Design in Dundee.
Straight out of college, he embarked on a progression of jobs in graphic design, video production, and the early years of computer graphics, including creating what he jocularly describes as "hideous flying logos for corporate videos." That range of experiences eventually led to a position in the late 1980s creating computer art for a British tech company that launched some of the earliest virtual-reality games for video arcades. In 1995, the company's growth brought Angus to California's Silicon Valley, where he progressed through a succession of ever-higher positions in the gaming industry. By the start of the new millennium, he says, "I had climbed too high and was sitting in a lot of executive meetings, art-directing from afar, not getting my hands dirty in a creative sense."
Angus, Small Grouping of Lemons & Cherries on Blue, acrylic, 12 x 9.
Angus, The Mark of Something (Color Range Series), acrylic, 36 x 36.
Angus, Until the Last Leaf (Forest Hill Park, Richmond, VA), acrylic, 18 x 24.
Meanwhile, despite his growing professional dissatisfaction, Angus' home life was reaping rich rewards. In 2000, he married Lorraine, his girlfriend since they were both in their teens. By 2002, they had two very young sons, and increasingly the thought of working at home appealed to him far more than his high-powered Silicon Valley job. So, he says, "I fell into fine-art painting. It seemed like a good idea."
He took inspiration from painters he had long admired in many different art movements, as well as works he'd first encountered on childhood visits to the Aberdeen Art Gallery and other museums in Scotland and England. Post-Impressionists including Gauguin, Toulouse-Lautrec, and Van Gogh had a definite influence. "I really loved cloisonnism," he says, "drawing strong outlines of elements in a painting and using flat areas of color to define shape and form, which was inspired in the post-Impressionists by Japanese woodblock printing." Colorists and Fauves like Matisse and Derain made their own mark on Angus' contemporary palette, which is also informed by the bright, contemporary colors of San Francisco Bay Area painters like Richard Diebenkorn. And he never fails to pay tribute to Scottish artists including Arthur Melville, Sir Henry Raeburn, Samuel Peploe, and Joan Eardley, who created a distinctive and thriving local arts scene in their time.
Angus, A Full Table With Blue Chair, acrylic, 24 x 36.
Angus, Arrangement With Lemons Bathed in Reds, acrylic, 30 x 48.
Angus, Blue and Orange With Poms and Pineapple, acrylic, 36 x 24.
Though Angus painted some landscapes early on (he estimates they currently make up 20 percent of his work), he focused more and more on the still life. "That's where I found my voice," he says. "I wanted to do something different from everybody else, evolving the medium to say something new, something distinctive. The paintings I produced were so exciting to me, like soul-searching. Still life tends to be an underrated subject, something cursory, forgettable. But it has so much
more to say."
In 2003, Angus and his family moved back home to Scotland, settling in the town of Linlithgow just west of Edinburgh. However, he discovered that his home country was less than conducive to his new creative plans. "In Scotland, the gallery system is very much an old boys' network," he says, referring to the system still prevalent in Britain by which people succeed with assistance from others of the same social class or who attended the same private schools. Eventually, about a decade ago, the family returned to Silicon Valley, buying the two-story suburban home in San Jose where they still live and where Angus works, either in a studio he converted from an upstairs bedroom or in half of the garage that he has co-opted for larger works. "We got the mortgage, and I decided to knuckle down," he says with a laugh and a touch of classic British understatement. "I chose to step it up a gear here, where you need to earn a bit more money to get along."
Angus, Chrysanthemums, Japanese Eggplant, & Tangerines, acrylic, 24 x 18.
Angus, Cool Shadows With a Warm Breeze, acrylic, 24 x 18.
Angus, Delph., Poppies, Plums, & Lemons (Two-cloth Series), acrylic, 32 x 22.
And he's been getting along just fine, thank you very much, as they say in Great Britain. Since returning to the States, his work has gained representation at galleries in California, Colorado, New Mexico, Virginia, and Florida. Meanwhile, he has studiously avoided submitting his works to competitions or juried shows. "I'm a big believer in creating art as an insular personal journey," he says.
That personal journey begins with an idea he's exploring, often involving "little subtleties" of approach to his still-life subjects. For example, some of his recent works—such as hyacinth, limes, & lemons over purple and red [see page 73]—are part of what he refers to as his Two-Cloth Series, referring to the two overlapping textiles. "That gives me color patterns to play with and explore," he notes. In similar spirit, THE MARK OF SOMETHING [see page 70] is from what he calls his Color Range Series, in which Angus aims "to increase the drama and unity of a painting at the same time" through a more narrowly focused family of colors.
Regardless of the subject or composition, Angus goes about creating a painting through a disciplined process. "Everything has to feel right from start to finish," he says. He'll decide on a subject matter, striving to choose "classical, instantly recognizable things." Once he's arrived at his composition, he'll sketch it out on his iPad using software like Photoshop or Procreate, which enables him to compare different color choices in an instant. "It's such a fast and adaptive tool," he explains. "In the old days, I created a lot of little color pastel thumbnails. Now, rather than repaint, I can move a slider around and go through the whole color and chromatic range."
Angus, Groupings of Flowers on Long Table (Two-cloth Series), acrylic, 24 x 54.
Angus, Iris & Watermelon Over Orange, acrylic, 36 x 24.
Angus, Lemons, Plums, & Watermelon on Pink, acrylic, 24 x 18.
Once he settles on his final color choices, he goes back to the old-fashioned basics. "I personally don't want to produce any final artwork on a computer," he says. To allow himself a crisp, uniform surface for a painting, he'll select a maple-veneer panel, which he sands, cleans, and gessoes. Then he'll paint the bold contours and refracting lines of his composition. Next comes an underpainting of colors that are complementary to the main ones he'll use for each object or background area: blue under something that will be red, for example, or mauve under orange. Finally come the main colors, with his brush strokes deliberately leaving "little chinks" of the underlying colors to show through. "I jokingly call it lazy pointillism," he says, referring to the technique in which tiny dots of color are applied to the canvas in such a way that, viewed from a distance, they blend to form vibrant, luminous images.
With few exceptions, Angus works exclusively in acrylic paints, which he layers thickly. The quick-drying medium enables him to achieve more efficiently the vibrant, pure colors he intends. "When I use this approach with oil," he says, "it's just slower painting."
Angus, Stargazers With Papaya & Limes Over Blue, acrylic, 36 x 20.
Angus, Study of Cherries With Poppies, acrylic, 9 x 12.
Angus, Tall Blue Irises With Lemons & Plums, acrylic, 40 x 20.
Angus has absolutely no intention of slowing down. "There's never a shortage of ideas," he says, and he's not someone who feels the need to take a break to "rejuvenate my batteries. I'm an artist who likes to keep painting, to evolve what I'm doing today into something new. And there's always something new that I want to do, new projects and paintings to explore that really get me excited."
representation
Jones & Terwilliger Galleries, Palm Desert, CA, and Carmel, CA; Ann Korologos Gallery, Basalt, CO; Ventana Fine Art, Santa Fe, NM; Chasen Galleries, Richmond, VA, and Sarasota, FL; www.anguspaintings.com.
Angus, Tulips & Lilies Over Cranes, acrylic, 36 x 18.
Angus, Under the Shade of the Oak, acrylic, 28 x 36.
Angus, Watermelon Segment & Fruit on Blue Cloth, acrylic, 18 x 36.
This story was featured in the July 2018 issue of Southwest Art magazine. Get the Southwest Art July 2018 print issue or digital download now–then subscribe to Southwest Art and never miss another story.
MORE RESOURCES FOR ART COLLECTORS & ENTHUSIASTS
• Subscribe to Southwest Art magazine
• Learn how to paint & how to draw with downloads, books, videos & more from North Light Shop
• Sign up for your Southwest Art email newsletter & download a FREE ebook
CATEGORIES
Featured, Featured ArtistsSours: https://www.southwestart.com/featured/angus-jul2018
Angus Wilson a conversation
Angus Wilson | Still Life Painting
Still Life – Simplify a subject, and get bold with color
Instructor: Angus Wilson
Media: Acrylic & Oil paint
Dates: TBA 2022 or 2023
Tuition: $
Class Limit: 16
Materials List<— download
The workshop will focus on simple rules and techniques to create more expressive, colorful paintings. Within the workshop, Angus will primarily guide students through his own distinctive approach to painting. Angus will focus on techniques for breaking free from conventional styles and old habits. Encouraging simple and easy methods to create stunning artwork, opening the students up to more creative confident work. During the workshop, Angus will teach many aspects of painting, with a particular focus on color, simplifying composition, and the power of dynamic 'underpainting'.
The workshop will be held on 'still life' painting, but ideas and methods learned in the class can apply to all painted subjects.
Students will work from photographs of still life arrangements provided, or (if approved) their own subjects. During the workshop, painting exercises will be used as a method for teaching ideas and principles. These will include an approach for – 'designing & re-imagining color choices', and 'creating energetic simplified brushwork'
The workshop will focus primarily on Acrylic, but oil painting is also welcome. If the student wishes to work in another medium, please arrange directly beforehand.
Additional information on subjects covered in the workshop.
Color planning within a painting (using the power of underpainting and complementary colors) Many 'traditional' workshops and teaching gets bogged down in the complexities of color and paint, this isn't strictly necessary for painting great paintings, find out why.
Freeing up color – methods for adapting the colors in a subject to create a stronger painting.
Getting to know paint – Acrylic, and oil. Ways to approach each medium.
Optionally to interested students, Angus will have a break out lesson and demo teaching how he uses a computer, (or tablet), to plan a painting and make color choices.
'Tricks' and Training
Methods for finding a style that works for you
Tricks to knowing a subject before you start painting
Which do you do, 'plan' or 'wing it'?… and why you should try the other one
Get on the waiting list below to receive an announcement for the next Angus Wilson workshop
Waiting List — Angus Wilson
Sours: https://www.carmelvisualarts.com/angus/
Paintings angus wilson
Ron's ears glowed even more distinctly. - How should I know. I don't understand what you mean.
Angus Wilson the paintings process
And in a cafe immediately crawls under the skirt. and drags me to the toilet, because he hasn't seen me for two days. and a few minutes later we leave there together, so happy with shining eyes. no, you don't have to come to this cafe anymore, and so the waitress looks like a wolf.
You will also be interested:
A little shorter than Yura, but almost the same physique, was not as calm as his partner, and was always distinguished by quickness, and quick reaction, which Of course, Yura was also present, but not to such a degree was developed. For which Yura always chased Andrey. If Yura always before doing something, he could sit for a long time and scratch his head before starting.
It always seemed to him that he could succeed and that he could, but the truth was sometimes he was wrong. And despite all these shortcomings and disagreements, both were inseparable friends, never spilled water.
180
181
182
183
184