What to Eat at Subway: Healthy Menu Choices and Nutrition Facts
With more then 40,000 locations globally, Subway is one of the most popular fast-food restaurants in the world. The sandwich shop has built a successful franchise around a menu that caters to its customer's customizations and is home to the famous $5 footlong. While Subway may be your go-to if you're looking for a healthier fast food option, some items on its menu are actually quite high in calories, fat, salt, and sugar.
But because you can create a sandwich, wrap, or salad to order, with knowledge of the nutritional content of the ingredients used and an understanding of what is considered a serving, you can build a relatively healthy meal at Subway and enjoy it guilt-free.
What Experts Say
"Subway offers the ability to customize your sandwich. For example, you can add veggies and opt for whole grain bread. The nutrition of each sandwich varies based on topping choices, many of which are high in sodium. If eating here on a regular basis, order extra veggies and minimize the sodium content in your other meals to help balance your daily intake."
—Willow Jarosh, MS, RD
Navigating the Menu
Here's a look at how the nutrition of Subway's most popular menu items stack up. You can use this information as a guide to help you make choices that are in line with your specific dietary needs and preferences, as well as your overall health goals.
What to Order & Avoid at Subway
 Most Nutritious Options
Least Nutritious Options 
Egg and cheese flatbread (Breakfast)
Bacon, egg, and cheese flatbread (Breakfast)
Veggie Delite (Sandwiches)
Turkey & bacon guacamole (Sandwiches)
Veggie Delite (Wraps)
Chicken & bacon ranch melt (Wraps)
Veggie Delite (Salads)
Chicken & bacon ranch (Salads)
Musselman's unsweetened applesauce (Sides)
Flamin' Hot Crunchy Cheetos (Sides)
Raspberry cheesecake cookie (Dessert)
Sugar cookie (Dessert)
Honest Kids organic juice box (Drinks)
Barq's Red Creme Soda (Drinks)
The nutrition info below ranks Subway's sandwich creations as featured on its menu, as well as some example customizations that will lower (or increase) the calorie, fat, and sodium content of your order significantly.
With nearly endless possibilities to customize your sandwich according to your tastes, you may discover other healthy swaps that work just as well—or better!
Most Nutritious Option
If you're looking for a healthy option at Subway, reach for one of the franchise's famous sandwiches: the 6-inch Veggie Delite.

Breakfast
Subway's breakfast menu is a relatively new addition and hasn't been rolled out at every location. While the options for breakfast flatbread sandwiches are limited, they can be customized much the same way as the chain's lunch-and-dinner subs.
✓ Egg and Cheese Flatbread
The egg and cheese flatbread (6") offers 380 calories, 15g total fat, 4.5g saturated fat, 44g carbohydrate, 3g sugar, 19g protein, and 940mg sodium.
By asking for a few changes, you can make an even healthier breakfast choice. Try ordering a 6" egg white flatbread on 9-grain bread with no cheese, then add green peppers, tomatoes, red onions, and spinach. This custom breakfast flatbread has only 270 calories, 4g fat, 720mg sodium, and a bunch of veggies.
✗ Bacon, Egg, and Cheese Flatbread
The bacon, egg, and cheese flatbread (6") comes in at 450 calories, 20g total fat, 7g saturated fat, 0g trans fat, 45g carbohydrate, 4g sugar, 25g protein, and 1,190mg sodium.
Up your order to the footlong size and you'll see several of those stats more than double with 910 calories, 41g fat, 13g saturated fat, 0.5g trans fat, 89g carbohydrate, 7g sugar, 40g protein, and 2,380 mg sodium.
While Subway's option to customize a sandwich can be useful for reducing calories, it also makes it easy to unintentionally craft a sandwich that accounts for a full day's worth (or more) of calories.
For example, a footlong steak, egg, and cheese flatbread sandwich on cheesy garlic bread with double meat, bacon, oil, tomatoes, spinach, red onions, and green peppers, has over 2,000 calories, 126g fat, 45g saturated fat, 101g carbs, and 5,110mg of sodium (almost five times the recommended daily value for adults).
Tips for Choosing a Healthy Restaurant Breakfast
Sandwiches
Given its name, it's probably no surprise that Subway is known for its sandwiches. Footlong or 6-inch submarine sandwiches (or subs) can be ordered on your choice of bread with classic sandwich fixings like deli meat, cheese, and veggies, as well as a selection of toppings and extras, including oils, sauces, and seasonings.
When reviewing nutrition information presented on Subway's menu, be aware that the calorie counts provided are for 6" sandwiches. If you buy a footlong sub, you'll need to approximately double the values.
✓ Veggie Delite Sandwich
A 6" Veggie Delite sandwich provides 200 calories, 2g total fat, 0g saturated fat, 39g carbohydrate, 5g sugar, 9g protein, and 280mg sodium. The Veggie Delite is one of Subway's eight 6" Fresh Fit subs, which are prepared on the 9-grain wheat bread and offer two servings of vegetables.
✗ Turkey & Bacon Guacamole Sandwich
The turkey & bacon guacamole 6" sub comes in at 800 calories, 30g total fat, 7g saturated fat, 85g carbohydrate, 12g sugar, 45g protein, and 2,070mg sodium.
Sandwiches on the Subway Fresh Fit menu are among the healthier choices, but even these options can be made into high-calorie meals if ordered in a larger size or with too many add-ons.
For example, a regular 6" turkey breast sub on 9-grain bread with veggies and no cheese has just 250 calories and 3g fat. If you make it a footlong on higher-carb bread like Italian herb and cheese, add Swiss cheese, extra veggies, oil and vinegar, mayonnaise, honey mustard, and extras like bacon, the 250-calorie sandwich becomes a 1200-calorie sub with 66g fat and 3260mg sodium.
5 Low-Calorie Bread Swaps
Signature Wraps
In addition to its traditional subs, Subway also has a line of Signature Wraps. Swapping out bread for a low-carb wrap is one way to take advantage of the many opportunities for customization at Subway. Just keep an eye on portion size (on average the wraps are generally much larger than the 6" sub versions) and avoid extras that can add back (or even go beyond) the calories you cut by choosing a wrap.
✓ Veggie Delite Wrap
The Veggie Delite wrap (285g) is the most nutritious among the wraps, but compared to the Fresh Fit 6" sub version (163g), the wrap has slightly higher stats because of the larger serving size, providing 330 calories, 8g fat, 3.5g saturated fat, 56g carbohydrate, 5g sugar, 10g protein, and 800mg sodium.

Subway's chicken salad wrap is also under 350 calories, with 10g fat and 690 mg sodium. The different options for wraps don't vary in nutrition content compared to Subway's bread offerings, but you can reduce the calorie, fat, and sodium content of a sandwich by avoiding cheese, oils, and other extras.
✗ Chicken and Bacon Ranch Melt
The chicken and bacon ranch melt provides 1,590 calories, 78g fat, 30g saturated fat, 1.5g trans fat, 112g carbohydrates, 7g sugar, 118g protein, and 3,930mg sodium.
As with Subway's regular subs, an otherwise healthy wrap can be easily overpacked with high-calorie, high-fat, and high-sodium add-ons. For example, a 6-inch turkey breast wrap with veggies and no cheese has 420 calories and 10g of fat.
Making it a footlong with cheddar cheese, oil and vinegar, bacon, avocado, and mayo, turns a sensible sandwich into a massive wrap with 1480 calories, 89g fat, 25g saturated fat, and 3360 mg sodium.
Crunchy Low-Fat Tuna Wrap Recipe
Chopped Salads
In addition to sandwiches, Subway also has a line of chopped salads which reflect the fillings of some of its most popular subs. Salads can also be customized, but keep in mind that toppings and dressing can easily transform a relatively low-cal, protein-packed salad into a high-calorie meal with a lot of sodium and even added sugar.
✓ Veggie Delite Salad
The Veggie Delite salad with no dressing, like the sandwich and wrap versions, is the most nutritious of the salads with 60 calories, 1g fat, 0g saturated fat, 11g carbohydrate, 6g sugar, 3g protein, and 75mg sodium.
Add the Subway vinaigrette and you can count on an additional 70 calories, 7g total fat, 2g carbohydrate, 1g sugar, and 220mg sodium.
Opt for oil and red wine vinegar as your dressing and you add 90 calories and 10g total fat but no carbohydrate, sugar, or sodium.
Subway's black forest ham, turkey breast, Subway club, rotisserie-style chicken, roast beef, oven-roasted chicken, and cold cut combo salads are all under 200 calories (with no dressing) and add a little protein compared to the Veggie Delite.
✗ Chicken & Bacon Ranch Salad
The chicken & bacon ranch salad comes in at 460 calories, 32g fat, 11g saturated fat, 0.5g trans fat, 15g carbohydrate, 7g sugar, 27g protein, and 1,000 mg sodium.

Some Subway locations have even higher-calorie salad options, like the Steak Club salad which has 480 calories and the 860-calorie Southwest Chipotle Club salad.
With toppings, extras, and dressings, Subway salads can easily have over 500 calories. For example, starting with a 60-calorie Veggie Delite salad, if you add smoked cheddar, bacon, guacamole, pepperoni, and chipotle southwest dressing, it becomes a 440 calorie salad with 47g total fat, 8g sugar, and 1,180mg sodium.
Smart Tips to Boost Salad Nutrition
Sides
Subway offers some add-ons like snack-sized bags of potato chips or squeeze pouches of applesauce. These are usually part of a meal deal, along with a drink, but can also be purchased individually. The offerings of sides will vary based on location and availability, though most bags of chips are standard flavors of Lays.
The easiest way to avoid adding more calories to your meal is to focus on the sandwich and forgo any highly processed sides—which can't be customized, don't add much (if any) nutrition, and usually contain a lot of salt, sugar, and additives.
✓ Musselman's Unsweetened Applesauce
Musselman's unsweetened applesauce (3.17oz pouch) offers 45 calories, 0g fat, 12g carbohydrate, 8g sugar, 0g protein, 0mg sodium.
✗ Flamin' Hot Crunchy Cheetos
The Flamin' Hot Crunchy Cheetos (2oz bag) provides 330 calories, 22g fat, 3g saturated fat, 30g carbohydrate, <1g sugar, 3g protein, and 500mg sodium.
How to Make Healthy Sweet Potato Chips
Desserts
Subway only offers cookies for a sweet treat, typically as part of a meal. Flavors vary by location, but as of 2020, the chain's website provides nutrition information for all varieties.
✓ Raspberry Cheesecake Cookie
While still high in calories and sugar, the raspberry cheesecake cookie in among the smaller cookies at 45g and comes in at 200 calories, 9g total fat, 4.5g saturated fat, 29g carbohydrate, 16g sugar, 2g protein, and 120mg sodium.
✗ Sugar Cookie
The sugar cookie (90g) comes in at 460 calories, 24g total fat, 12g saturated fat, 56g carbohydrate, 28g sugar, 4g protein, and 260mg sodium. High in added sugars and carbohydrates, consider splitting this cookie with a friend or saving half for a sweet treat later.
Drinks
Subway offers a mix of bottled and fountain drinks, including water, juice, sports drinks, energy drinks, and soda. In the U.S., Subway primarily carries Coca-Cola fountain drinks but elsewhere in the world, Pepsi products are often available.
Locations that have a breakfast menu also offer hot brewed coffee.
✓ Honest Kids Organic Juice Box
The most nutritious option will always be a glass of good old water, but if you're looking for something with a little more flavor, you can try Honest Kids organic juice box with provides 35 calories, 0g fat, 8g carbohydrate, 8g sugar, 0g protein, and 15mg sodium.
✗ Barq's Red Creme Soda
Barq's Red Creme Soda (30oz fountain drink with no ice) comes in at 450 calories, 0g fat, 112g carbohydrate, 112g sugar, 0g protein, and 170mg sodium.
Whether you're eating in or dining out, water is always the healthiest beverage choice. If you're on the go and bottled water isn't available, ask for a cup and some ice. Better yet, get in the habit of bringing a refillable water bottle with you to sip on throughout the day.
Diet-Specific Options
Subway offers choices for gluten-free, low-carb, low-fat, vegetarian, and vegan diets, but doesn't have low-sodium menu items.
Gluten-Free
Subway does offer limited gluten-free bread options. However, the company provides a statement to clarify what it means by "gluten-free."
Subway Gluten Allergy Statement
"Not baked in-restaurant. The Gluten-Free bread is manufactured in a gluten-free facility. However, other menu items and ingredients in our restaurants contain gluten and are prepared on shared equipment, so we cannot guarantee that our menu items are 100% gluten-free."
Items on Subway's menu that do not contain gluten include:
Cold cut, sliced, and rotisserie-style meat (turkey, ham, chicken, steak, pepperoni, roast beef, bacon, and salami)
Tuna
Eggs and egg whites
Veggie Delite salad
All cheeses, most veggies, and condiments like oil and vinegar, guacamole, mustard, and mayo
Low-Carb
Tuna salad (7g net carb)
Rotisserie-style chicken salad (7g net carb)
Oven roasted chicken salad (8g net carb)
Roast beef salad (8g net carb)
Black Forest ham salad (9g net carb)
Instead of adding creamy dressings and carb-heavy toppings, drizzle a little oil and vinegar on your salad. The mix will add some calories and healthy fats but doesn't have any carbohydrates.
Low-Fat
Veggie Delite 6" sub (18 calories from fat)
Turkey breast 6" sub (27 calories from fat)
Veggie Delite salad (9 calories from fat)
Turkey breast salad (18 calories from fat)
Black Forest ham salad (27 calories from fat)
Vegetarian & Vegan
Subway's vegan and vegetarian options vary by location—not just across the U.S., but globally. The United Kingdom has some of the more robust vegan-friendly menu items in the world.
No matter where you are, Subway's range of veggies should be able to satisfy the needs of a vegetarian diet. If you want something other than a salad, several bread options—including the lower-carb wraps—are vegan.
Veggie Delite sub
Veggie Delite salad
9-Grain, Sourdough, or Italian bread
Spinach or tomato basil wrap
Yellow mustard, oil and vinegar, sweet onion sauce
What to Know Before You Go Vegan
Food Allergies and Safety
Subway provides an allergen chart in the form of a downloadable PDF document noting the presence of common food allergens, including:
Eggs
Fish
Shellfish
Soy
Tree Nuts
Wheat and Gluten
Sulfites
In addition to listing the presence of the most common food allergens, Subway also notes which items on its menu have added nitrates or nitrites. Anytime you're ordering at the restaurant, always make the staff aware of any allergies and consult a menu to know which possible contaminants may be present.
A Word From Verywell
With a highly customizable menu of subs, wraps, and salads, you have ample opportunity to create a healthy meal at Subway. That said, sometimes having so many choices can be overwhelming—and sometimes options that seem healthy may actually be higher in calories, fat, salt, and even sugar than you'd think. Once you know how each item on Subway's menu stacks up nutritionally, however, you can put together a sandwich that's healthy, satisfying, and caters to your individual dietary needs and preferences.
With Subway's growing global presence, you also have the ability to order ahead online, at which time you can get an estimate of the nutrition content of your custom-made meal before you go. Don't have time to make your own? Look to Subway's Fresh Fit menu for protein and fiber-packed meals around 300 calories that also provide two of your total recommended daily servings of veggies.
What to Order at Publix
Thanks for your feedback!
Verywell Fit uses only high-quality sources, including peer-reviewed studies, to support the facts within our articles. Read our editorial process to learn more about how we fact-check and keep our content accurate, reliable, and trustworthy.
American Heart Association. Shaking the Salt Habit to Lower High Blood Pressure. October 31, 2016.

Ponzo V, Pellegrini M, Costelli P, et al. Strategies for Reducing Salt and Sugar Intakes in Individuals at Increased Cardiometabolic Risk. Nutrients. 2021;13(1):279. Published 2021 Jan 19. doi:10.3390/nu13010279

Centers for Disease Control and Prevention. Water and Healthier Drinks. January 12, 2021.
Sours: https://www.verywellfit.com/what-not-to-eat-at-subway-3495702
Italian B.M.T Sandwich: How do you judge the food is really fresh? Many say by smell or taste or some of them do by looks then Subway would rank in number 1. Subway has hit all the way and made food delicious and healthy. Subway's best-selling item from hamburger is Subway Italian BMT. You will be shocked after knowing how much Italian BMT Subway Calories counts for 6'' which is 390 calories. Even though Subway Italian BMT calories hit the highest calories with two-fold of 6'' long burger as per US Daily Recommendation Unit.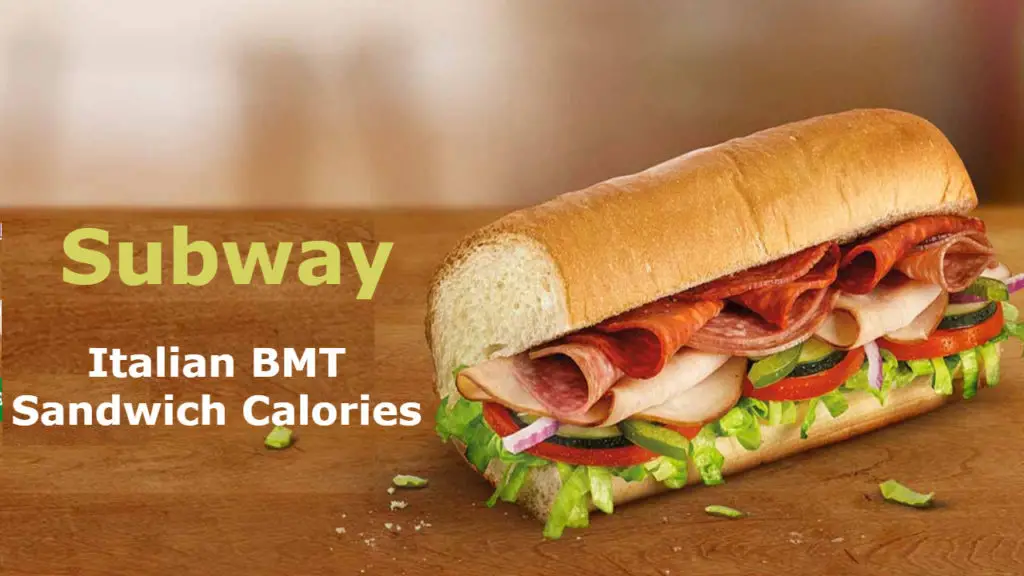 Subway Italian BMT Calories
| | |
| --- | --- |
| Italian BMT Sandwich Calories | Nutrition |
| Serving Size | 219 (G) |
| Calories | 390 |
| Calories from FAT | 150 |
| Cholesterol | 45 MG |
| Sodium | 1330 MG |
| Carbohydrates | 43 G |
| Sugar | 7 G |
| Protein | 19 G |
| Vitamin A% DV | 8 |
| Vitamin C% DV | 20 |
| Calcium % DV | 0 |
| IRON % DV | 15 |
I believe a healthy diet all depends on diet goal- low fat, low carb, low calorie, etc whereas study revealed everyone is enticed by low-calorie diet most. 
Subway Italian BMT Ingredients
Today let's head up reviewing Subway Italian BMT Ingredients basically varies on many things but just take a look at tastier one which has Ham, cheese, pepperoni, slices of salami, provolone cheese, a teaspoon of jalapeno, bed of shredded lettuce, and few slices of tomatoes. This combination really goes with soft creamy Italian herbs bread. Watch the sauces you opt to add which might end up you adding hundreds of calories without even realizing it.Subway launched mini Subs below are the list which obviouslyshows the lowest calorie in the menu but some of these options are crazy highin Sodium.
Veggie Delite Mini Sub (230 calories)
Turkey Breast Mini Sub (280 calories)
Black Forest Ham Mini Sub (290 calories)
Roast Beef Mini Sub (320 calories)
Subway has grown tremendously and pioneered in the fast-growing in the top food industry. Anyways, I had this question a couple of times whenever I see Subway Italian BMT, my question was what the hell this BMT stands for neither any meat start-off from this nor any ingredients resemble. Previously Subway was solely running a campaign in Brooklyn-Manhattan Transit lines and people had given a tremendous response. Later BMT rail corporation bought by New York City and they renamed it. Subway has modified and now BMT stands for Biggest, Meatiest and Tastiest.
So yeah, BMT nothing to do with ingredients at all.Subway offers hell number choices in choosing bread wisely. Subway now has "flatbread" which sounds obviously low in calories, you can choose multigrain flatbread which is conventionally shown lowest-calorie at 220 calories and carbohydrate at 37 grams among the rest. According to the US Daily recommended nutritional value intake of sodium for an average person max 1500mg sodium for the day.
6″ Veggie Delite (280 calories)6″ Turkey Breast (280 calories)6″ Turkey Breast & Ham (280 calories)6″ Black Forest Ham (290 calories)6″ Subway Club (310 calories)6″ Oven Roasted Chicken (320 calories)6″ Roast Beef (320 calories)6″ Cold Cut Combo (360 calories)6″ Monterey Chicken Melt (360 calories)6″ Sweet Onion Chicken Teriyaki (370 calories)6″ Subway Melt (370 calories)6″ Steak and Cheese (380 calories)6″ Italian B.M.T. (410 calories)6″ Meatball Marinara (480 calories)6″ Spicy Italian (480 calories)6″ Tuna (480 calories)6″ Turkey Italiano Melt (510 calories)6″ Chipotle Chicken Melt with Guacamole (530 calories)6″ Chicken & Bacon Ranch Melt (570 calories).
If you want to know full nutrition about Subway's every item follow this link (https://www.subway.com/en-US/MenuNutrition/Nutrition/NutritionGrid)
Subway Italian BMT Nutrition
Look up the Subway Italian BMT Nutrition Facts.Many a time it might happen you go for low calorie and you got fooled by "6 gram of fat or less" which sounds the choice of the meal but let me aware you these numbers in the menu doesn't include cheese or other condiments—By just adding mayo and cheese it raises 200 calories. The highest caloric sandwich is 590 calories 6'' Chicken Beacon Ranch whereas lowest caloric sandwich is 6''-Veggie Delite, at 230 calories.
Categories SubwaySours: https://foodiealways.com/subway-italian-bmt-sandwich-calories/
Subway is one popular fast-food restaurant that is dedicated to serving healthy eating choices and giving consumers a positive experience when it comes to nutrition, from calories to protein, sodium, sugar, and carbs.
But not all items on the Subway menu contains proper nutrition you need to eat a balanced, healthy meal. Some sandwiches on the Subway menu are more indulgent with lots of calories, fat, and sodium like the popular Meatball Marinara, while other sandwiches are on the lighter side with fewer calories like the Veggie Delite and Turkey Breast subs.
Maybe you are watching your weight or simply want to be more conscious of what you are consuming. When you're on a specific diet like a low-carb diet, low-calorie diet, low sodium diet, or paleo diet, it is important to know what kind of nutrition is in the menu items you are eating so you can achieve your weight loss and health goals. All of these nutrition facts and values can be confusing, however, so let's break it down. Generally, the menu items that are high in fat contain mayo, ranch, thousand island, and heavier sauces, as well as bacon and roast beef. If you want a menu item that is low in fat, search for a salad or sub with lean meat like chicken or turkey, lots of veggies, and low fat dressing like olive oil. If you are concerned about fat or calories but still want to enjoy one of the popular subs on the menu, choose a six-inch serving.
Don't forget, you can choose to make Subway sandwiches combos meal by adding chips and a drink. You have tons of choices, but to keep your nutrition values safe, opt for no chips or baked ones (lower in calories) and a water. The fountain drinks on the Subway menu are full of sugar, while the chips tend to be loaded with fat and sodium.
Subway Prices
Subway Catering Prices
Subway Secret Menu
Subway Coupons
Here's a look at the latest Subway menu nutrition facts.
Visit the Subway Careers page to learn more about working at Subway.
Sours: https://www.fastfoodmenuprices.com/subway-nutrition/
Healthy Fast Food Meal Choices! Under 500 calories – McDonalds, Subway, \u0026 more! - Mind Over Munch
When it comes to Subway nutrition, you know the brand's commitment to providing affordable, healthy food is undeniable. In 2014, the chain removed the dough conditioner azodicarbonamide from its breads after public outcry over the same ingredient being used in yoga mats. The chain even one-upped consumers and increased its whole-grain bread options.
In 2015, not only did the sub company announce they were weaning off antibiotic usage in their chicken, but they also set a timeline for acquiring antibiotic-free pork and beef (which are much harder to come across than chicken) as well as cage-free eggs.
And finally, in 2017, when a Canadian company published a study claiming that Subway's chicken was only made of 50 percent chicken DNA, Subway fired back with two independent studies (which, unlike the broadcasting company's, were conducted with tests designed to measure food composition) showing that their chicken is made from 100% white chicken and contains less than 1 percent soy protein. And Subway says all its chicken is raised without antibiotics and is free of artificial flavors and preservatives.
Even though Subway has had to scrub its reputation clean more than once, the company has always emerged more nutritionally sound. That said, you can quickly run into trouble if you assume every offering at the sandwich shop is good for you. Here's how to navigate the nutritional nuances of Subway's mix-and-match menu. Picking the right meats is paramount — otherwise, you won't reap the benefits of all the veggies you're about to load on top. And if you're more of a homemade kinda person, don't miss our exclusive guide on best and worst packaged deli meats.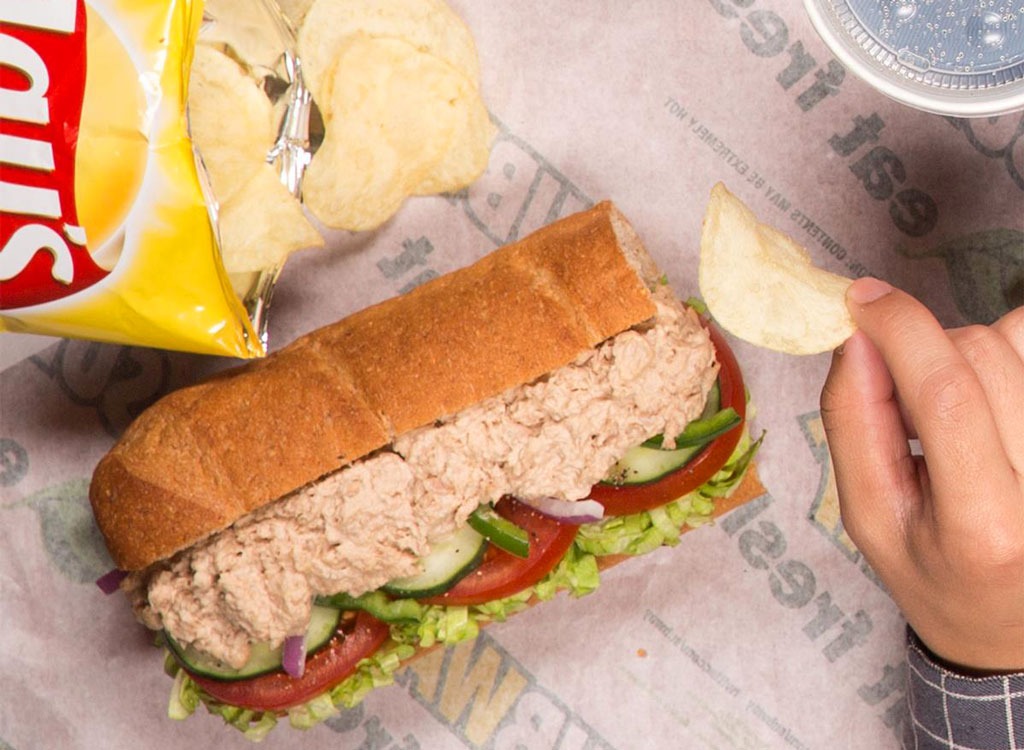 Subway gives customers the option of ten different breads flatbread and three different wraps, but we chose the default option that's automatically selected by Subway, which we'll note for each sub. To simplify things even more, we gathered nutritionals for a 6-inch sub (they also serve footlongs). Unless otherwise noted, each sub is prepared with cucumbers, green peppers, lettuce, red onions, spinach, and tomatoes and is not served with cheese or any dressing.
For our ranking of subs, we primarily looked at calories, sodium, and fat. Bonus points were awarded for protein, and any ties were broken upon closer inspection of an item's ingredient list and nutrients.
A Note on Condiments:
Although we didn't rank based on condiments, we recommend topping your sub with Vinegar and Olive Oil Blend, which adds just 45 calories, 5 grams of healthy fats that will help your body absorb the fat-soluble vitamins from the veggie toppings, and no extra sodium. On the other hand, avoid caloric options like Mayonnaise, Ranch, and Chipotle Southwest, which can add at least 100 calories to your sandwich.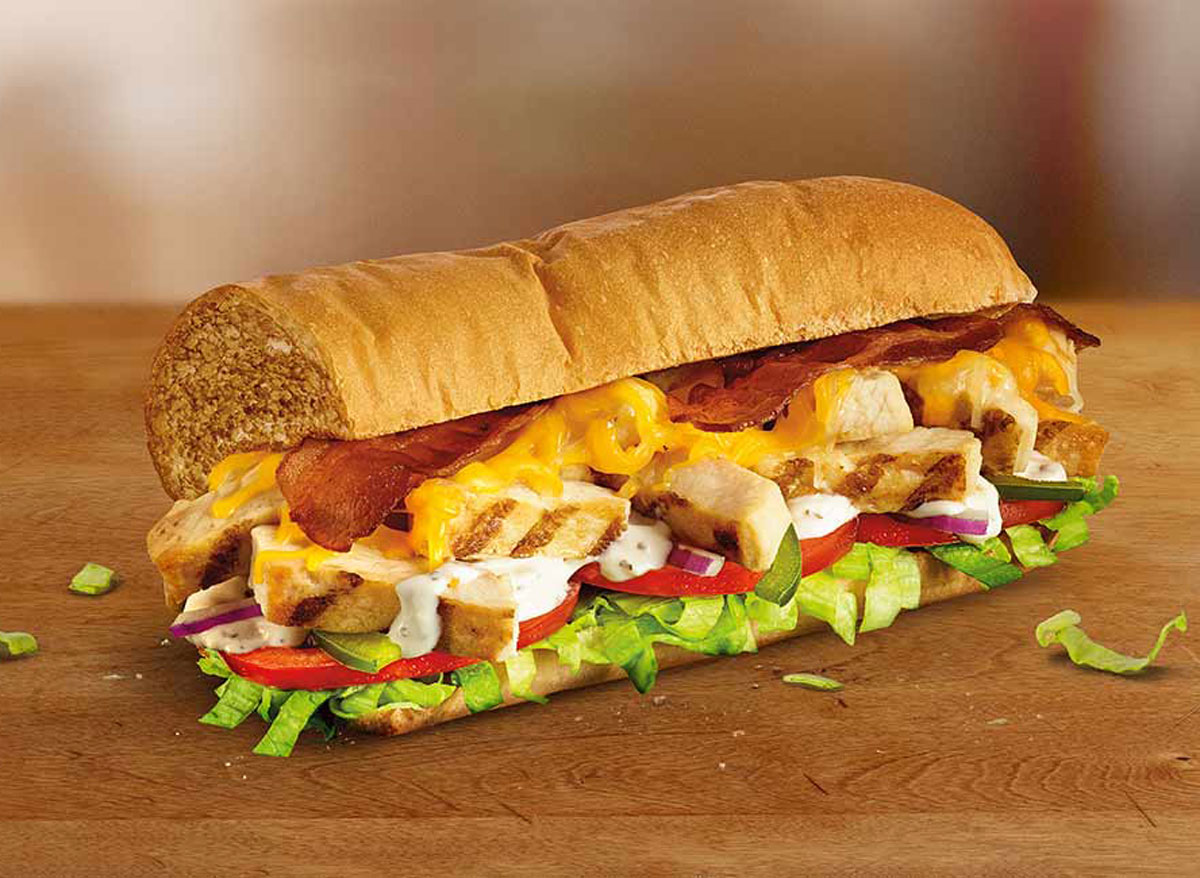 Chicken breast strips, bacon slices, ranch sauce, Monterey cheese blend on Italian bread

Per 6" sub: 610 calories, 32 g fat (12 g saturated fat, 0.5 g trans fat), 1,340 mg sodium, 41 g carbs (3 g fiber, 6 g sugar), 36 g protein
Sorry, Subway, but this monstrosity is worse than eating a Big Mac from McDonald's. (One of the worst menu items at the fast food chain). A single sub has 40 percent of the total grams of fat you should eat in an entire day, according to FDA recommendations. Not to mention, it also exceeds half your day's recommended intake of sodium.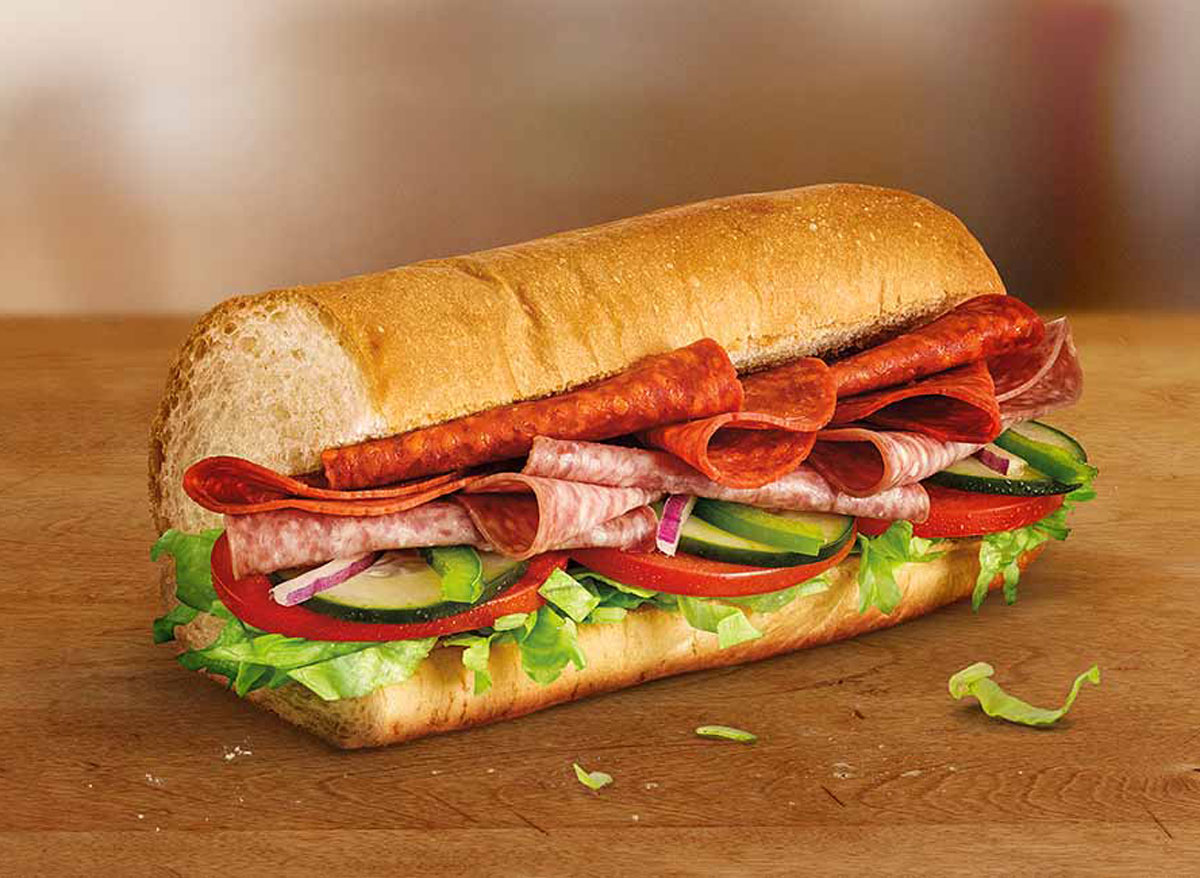 Pepperoni, genoa salami, on Italian bread

Per 6" sub: 450 calories, 24 g fat (9 g saturated fat), 1,240 mg sodium, 40 g carbs (3 g fiber, 5 g sugar), 18 g protein
For a sub with no cheese, this Spicy Italian sandwich is very high in fat and saturated fat. In fact, it will fill you up with 45 percent of your daily value of saturated fat in just 6 inches.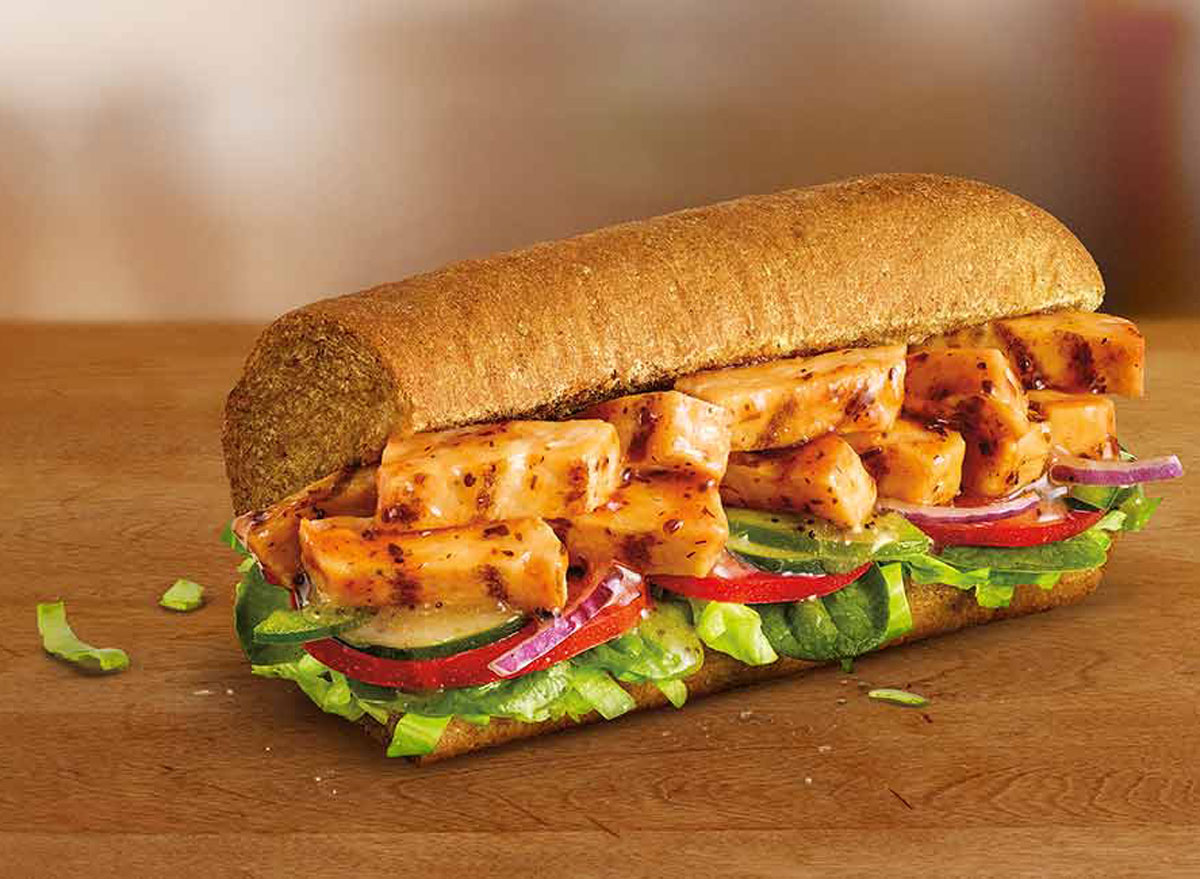 Chicken strips, teriyaki sauce, sweet onion, on 9-grain wheat bread

Per 6" sub: 330 calories, 4 g fat (1 g saturated fat), 750 mg sodium, 52 g carbs (5 g fiber, 14 g sugar), 25 g protein
This sandwich has more sugar than five Oreos! We bet you weren't expecting your lunch to be sweeter than a sleeve of cookies. The teriyaki glaze is one of the last remaining Subway offerings that still uses preservatives — not really in line with their "Eat Fresh" motto.
RELATED: No-sugar-added recipes you'll actually look forward to eating.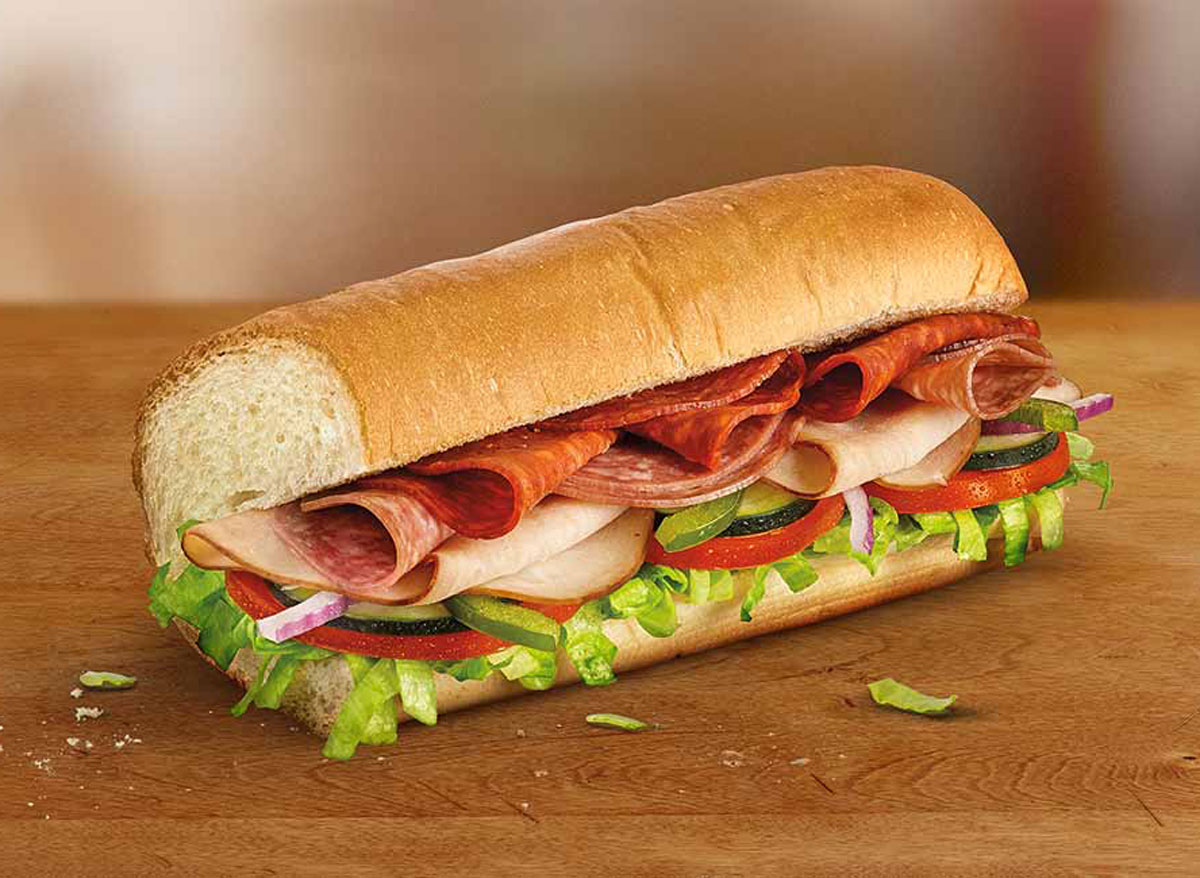 Genoa Salami, pepperoni, black forest ham on Italian bread

Per 6" sub: 380 calories, 17 g fat (6 g saturated fat), 1,120 mg sodium, 40 g carbs (2 g fiber, 5 g sugar), 19 g protein
It's Subway's best-selling sandwich, but it's higher in fat, saturated fat, and sodium than the other offerings, so you should reserve this sub for a once-in-a-while treat. P.S. Did you know the B.M.T. originally stood for Brooklyn Manhattan Transit? Makes sense since Subway is named after, well, you know, a subway. Now, they claim it stands for "Bigger, Meatier, Tastier".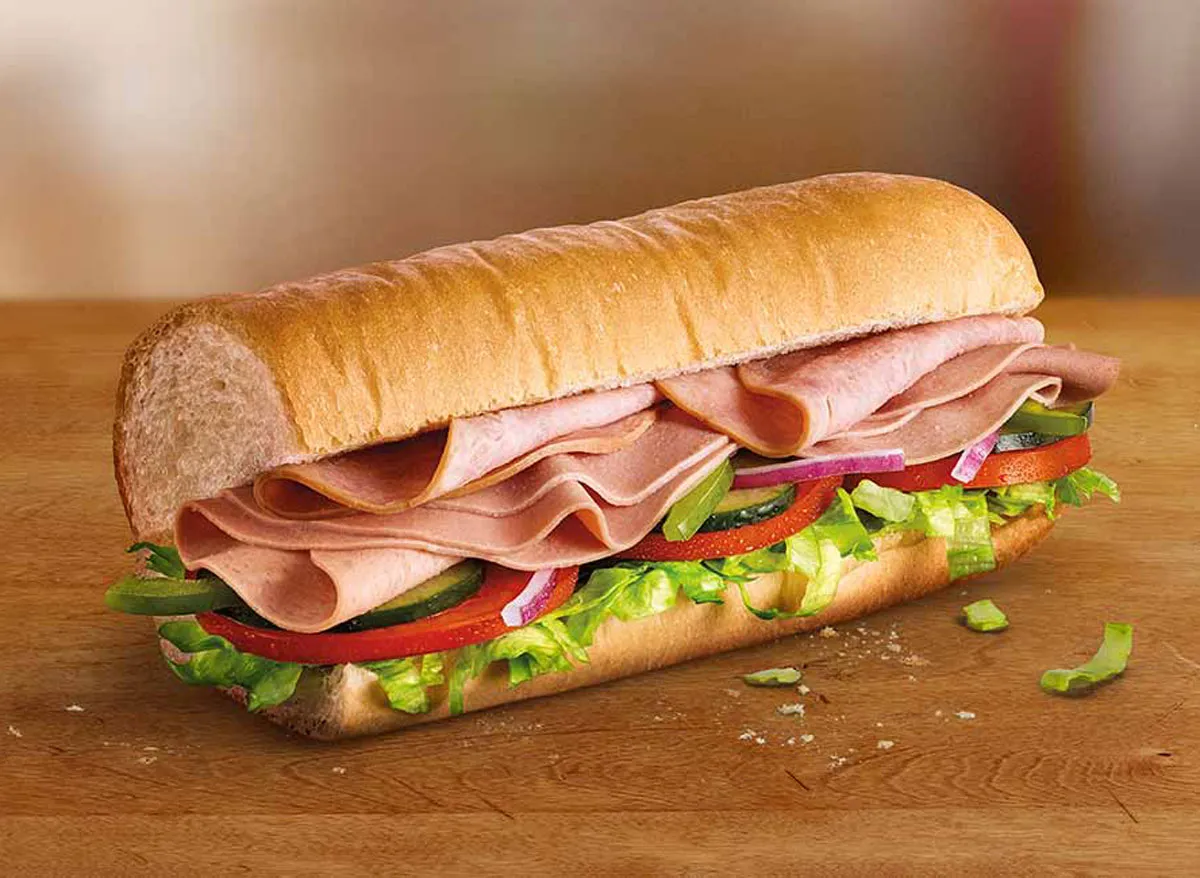 Turkey bologna, turkey Ham, turkey salami on Italian bread

Per 6" sub: 330 calories, 12 g fat (3.5 g saturated fat), 1,060 mg sodium, 40 g carbs (2 g fiber, 5 g sugar), 16 g protein
You may typically associate "turkey" with lean meats, but this sub is a triple threat when it comes to sodium. It's also severely lacking in the protein department compared to other offerings. If you like turkey, you're better off with our number 1 pick below.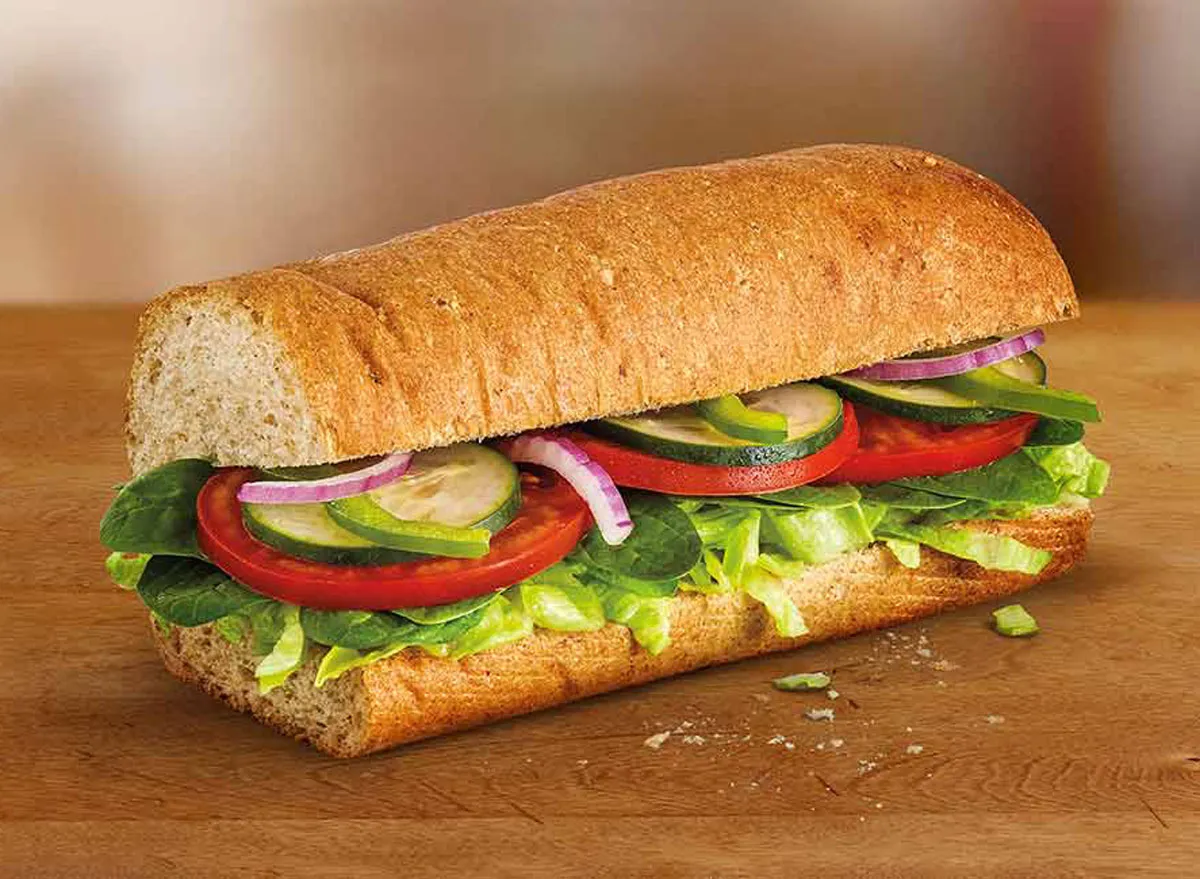 Lettuce, tomatoes, green peppers, cucumbers and onions on 9-grain wheat bread

Per 6" sub: 200 calories, 2 g fat (0 g saturated fat), 280 mg sodium, 39 g carbs (5 g fiber, 5 g sugar), 9 g protein
Sorry, but eating the carb-laden sandwich isn't going to tide you over more than an hour. You could argue this sub must be rich in fiber-rich veggies, but it actually has less fiber than the sub below. And that's made out of meatballs! If you really want the Veggie Delite, do what Amy Shapiro, MS, RD, CDN, Real Nutrition NYC does: "I add guacamole since it is anti-inflammatory, provides extra calories from heart-healthy fat, and fiber for more staying power and tons of flavor."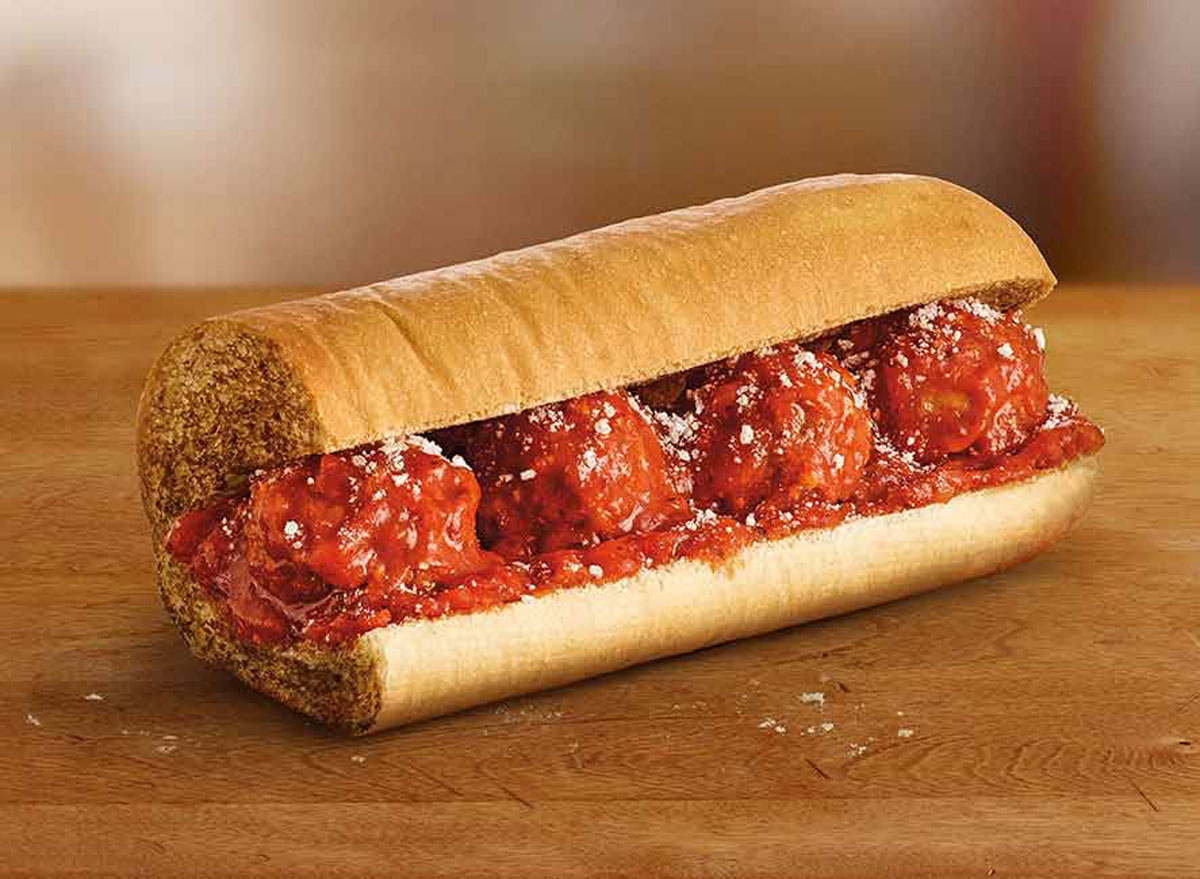 Meatballs, marinara sauce, on Italian bread

Per 6" sub: 430 calories, 18 g fat (7 g saturated fat), 1,040 mg sodium, 48 g carbs (4 g fiber, 8 g sugar), 20 g protein
It might sound weird at first, but this meatball sub is actually not a terrible choice, nutritionally speaking. The meatballs are free of nitrates (the curing agent added to most deli meats that may be linked to cancer when eaten in excess) and full of protein. Plus, it's all coated in a marinara sauce: one of the best sources of the free-radical-fighting antioxidant lycopene.
Steak, American cheese, green peppers, red onions, Italian bread

Per 6" sub: 340 calories, 10 g fat (4.5 g saturated fat), 1,050 mg sodium, 39 g carbs (2 g fiber, 5 g sugar), 23 g protein
If it weren't for the sky-high sodium levels, this Steak and Cheese could have ranked higher on our list. The steak is free of any preservatives or fillers, resulting in a well-balanced sub when it comes to fat, carbs, and protein.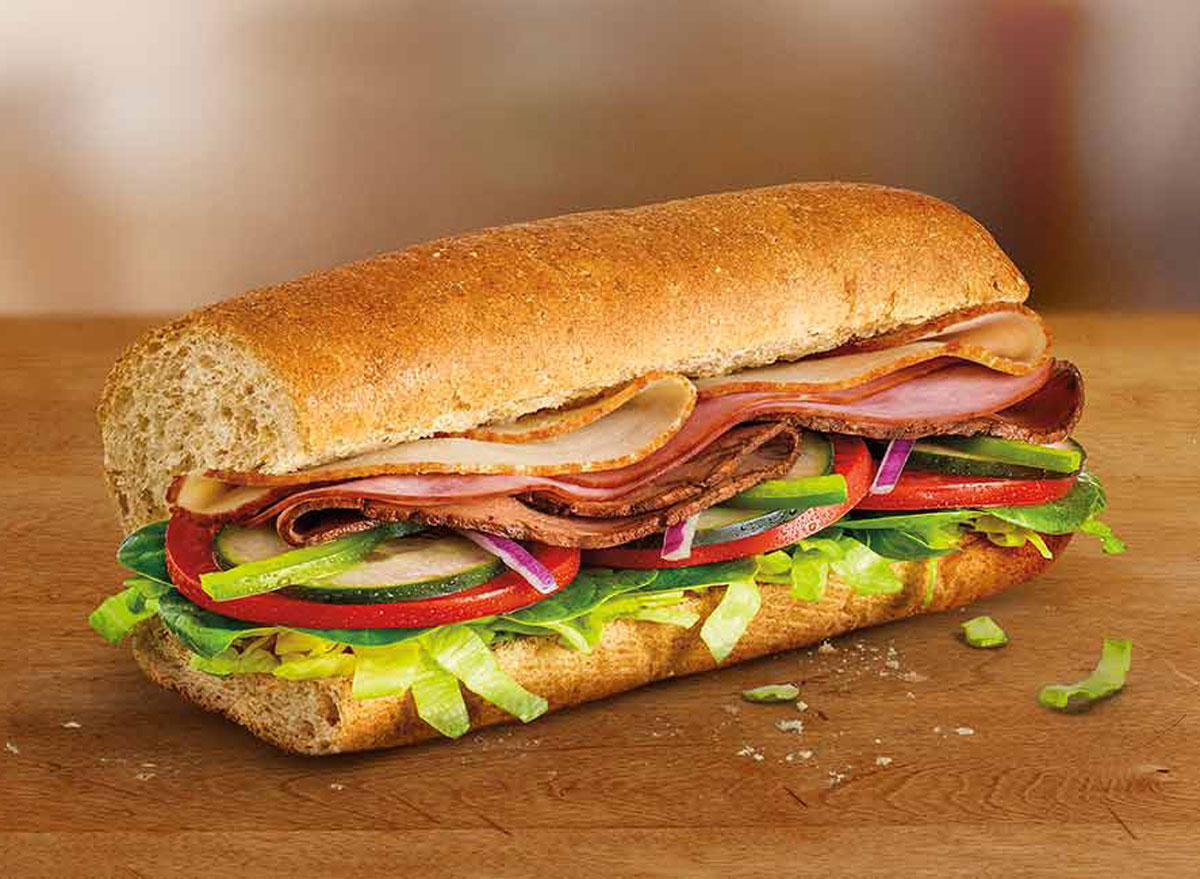 Carved turkey breast, black forest ham, roast beef on 9-grain wheat bread

Per 6" sub: 290 calories, 4 g fat (1 g saturated fat), 780 mg sodium, 41 g carbs (5 g fiber, 6 g sugar), 24 g protein
If you can't decide, why not get all three! But rather than the previously listed trios, Subway's Club is lower in sodium and higher in protein.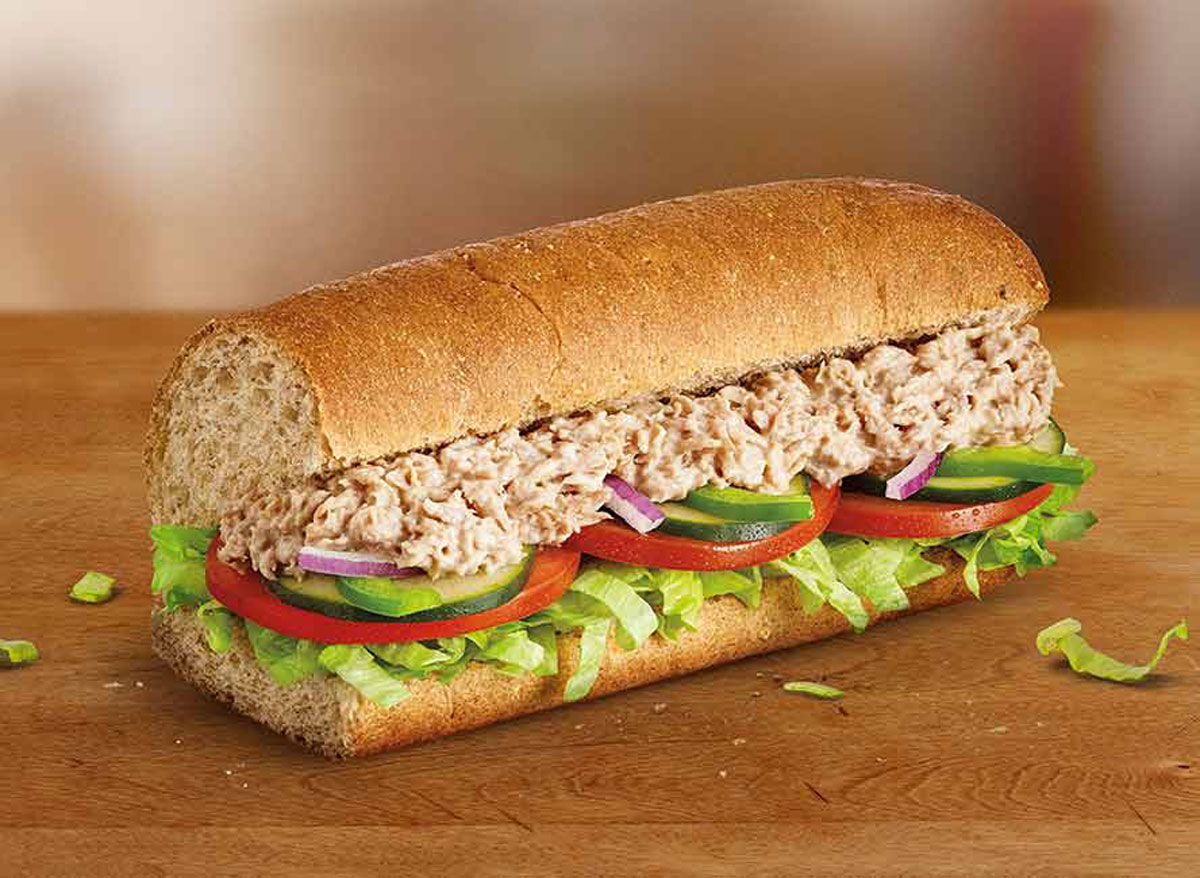 Tunafish salad on Italian bread

Per 6" sub: 450 calories, 25 g fat (4.5 g saturated fat), 610 mg sodium, 38 g carbs (2 g fiber, 5 g sugar), 19 g protein
A lot of that fat you see is from anti-inflammatory omega-3s found in the tuna fish. In fact, that's one of the reasons Elisa Zied, RDN, registered dietitian nutritionist, chose this as one of her favorite Subway sandwiches. Steal her order: "A 6-inch tuna sandwich with one slice of cheddar cheese, some lettuce and a few slices of tomato. It's a good way to get high-quality protein and omega-3 fatty acids, and some calcium from the cheese. The lettuce and tomato provide some bulk and texture to the meal and helps me meet my veggie quota."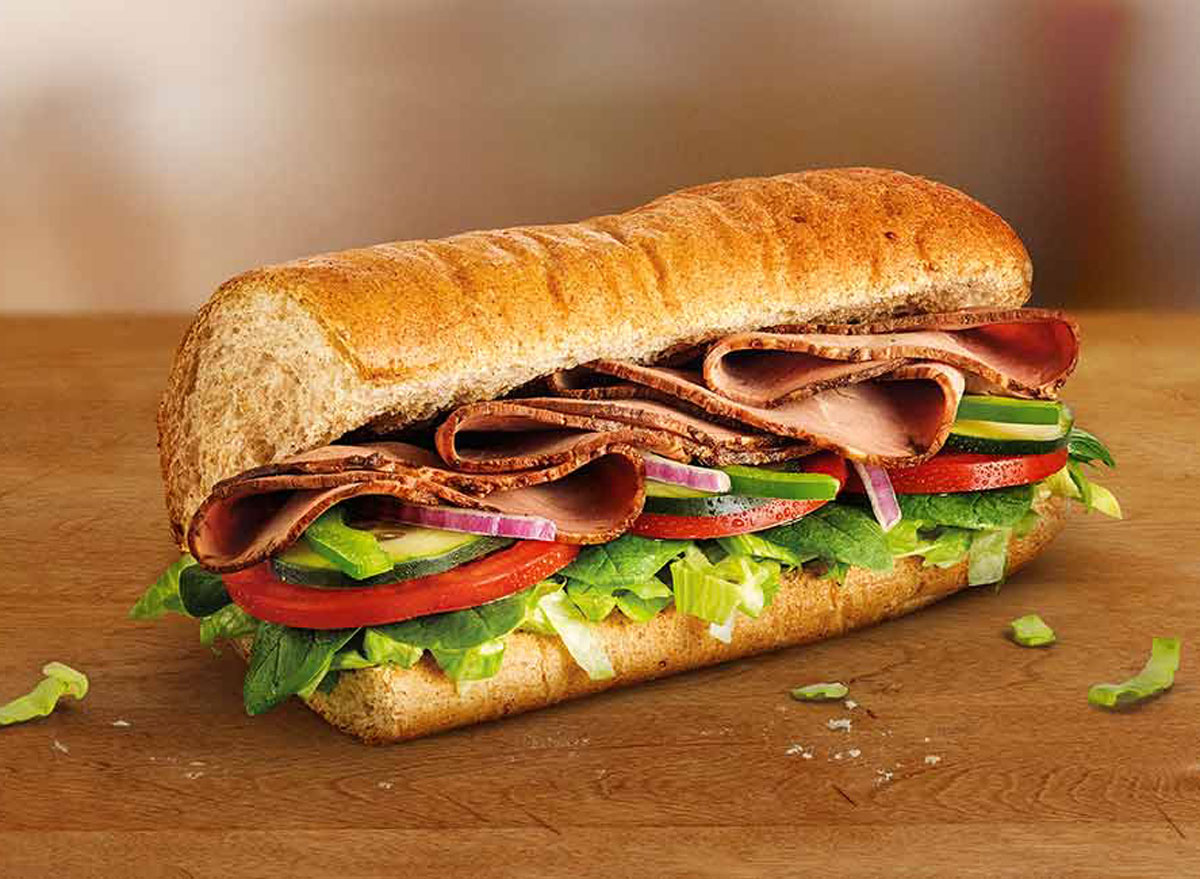 Roast beef on 9-Grain Wheat bread

Per 6" sub: 290 calories, 4.5 g fat (1.5 g saturated fat), 660 mg sodium, 40 g carbs (5 g fiber, 6 g sugar), 25 g protein
Roast beef meat is a great option for those watching their weight because it's lower in belly-bloating sodium than ham or steak. As for condiments? We recommend topping it with spicy, metabolism-boosting deli brown mustard.
Black Forest Ham on 9-Grain Wheat bread

Per 6" sub: 260 calories, 4 g fat (1 g saturated fat), 780 mg sodium, 41 g carbs (5 g fiber, 6 g sugar), 19 g protein
This sub would have ranked higher had it not been for its high sodium levels—a classic downfall of many cured ham products. Just be sure to ask your server for an extra helping of fiber-rich, hydrating veggies to help your body counteract that salt spike.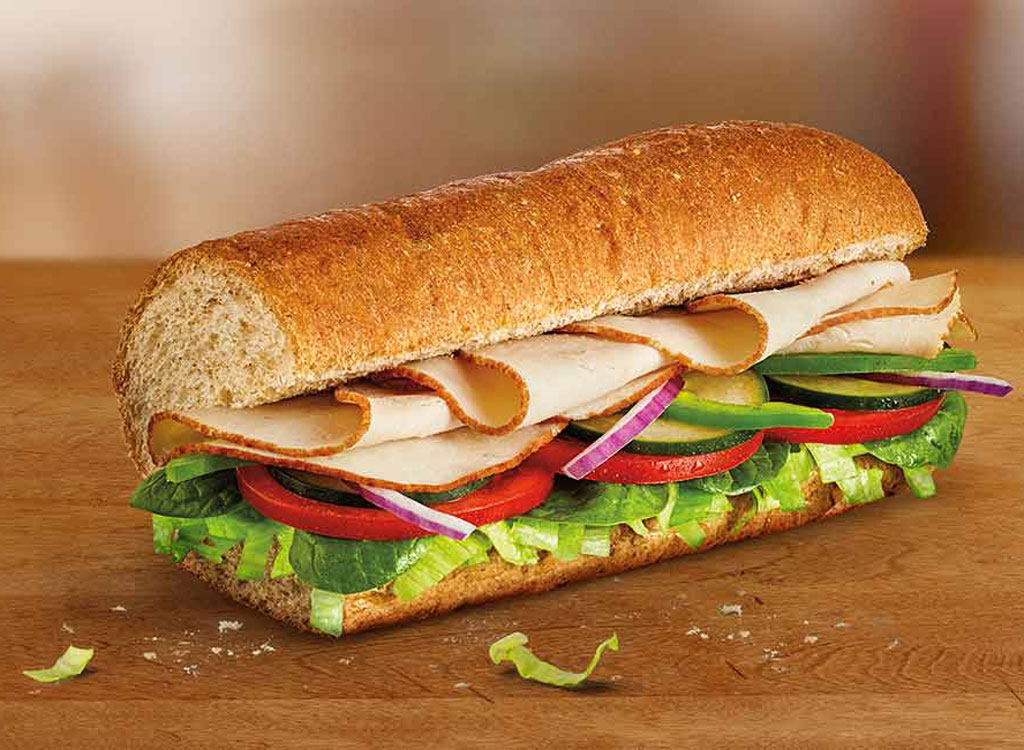 Turkey Breast on 9-grain wheat bread

Per 6" sub: 250 calories, 3 g fat (0.5 g saturated fat), 650 mg sodium, 40 g carbs (5 g fiber, 6 g sugar), 18 g protein
You still get a fair amount of belly-filling protein for so few calories in this classic sub. Speaking of lean meats, turkey is a great go-to. The poultry provides high-quality protein, is rich in selenium—a mineral that acts as an antioxidant, supports immunity, and helps maintain thyroid function—and bursting with energy-boosting vitamin B6. It's as much of a no-brainer as starting your day with overnight oats.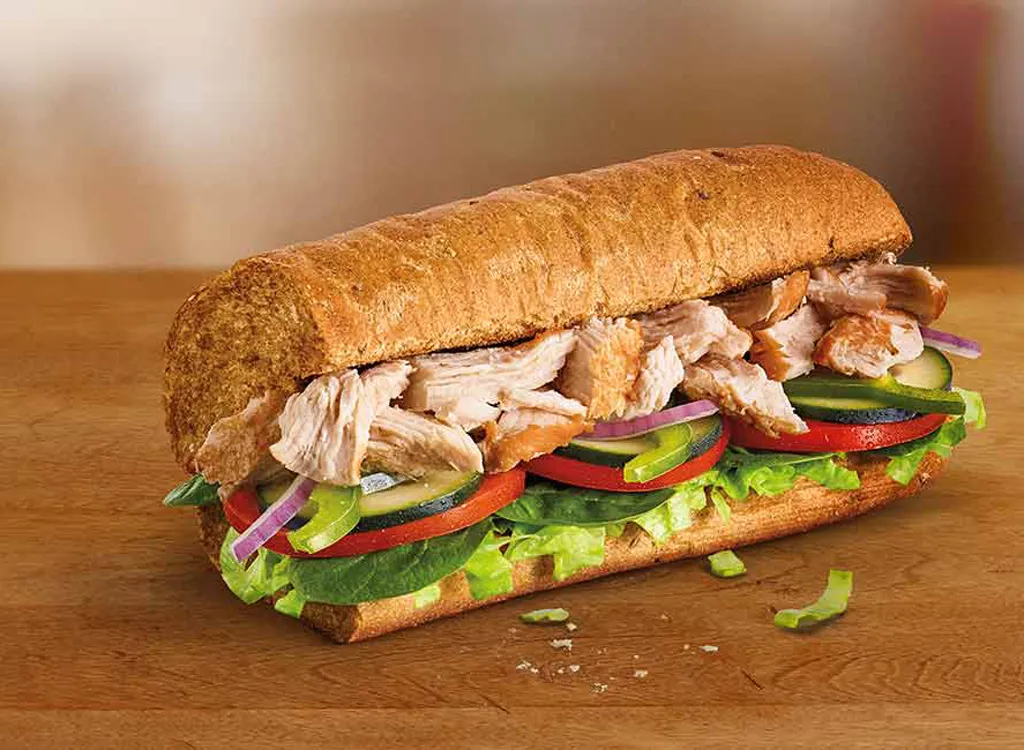 Rotisserie-style chicken on 9-grain wheat bread

Per 6" sub: 310 calories, 6 g fat (2.5 g saturated fat), 560 mg sodium, 40 g carbs, (5 g fiber, 6 g sugar) 29 g protein
When they say "Eat Fresh," they mean it—Subway's Rotisserie-Style Chicken sandwich is hand-pulled in the restaurant and, as a bonus, is made with all-white-meat chicken raised without antibiotics. The chicken is also free of artificial colors, flavors, or preservatives. We mostly like it because it offers up a solid dose of protein for relatively few calories. Speaking of calories, do you know what 100 calories really looks like? We looked at 25 different foods to see how volume doesn't always equal calories.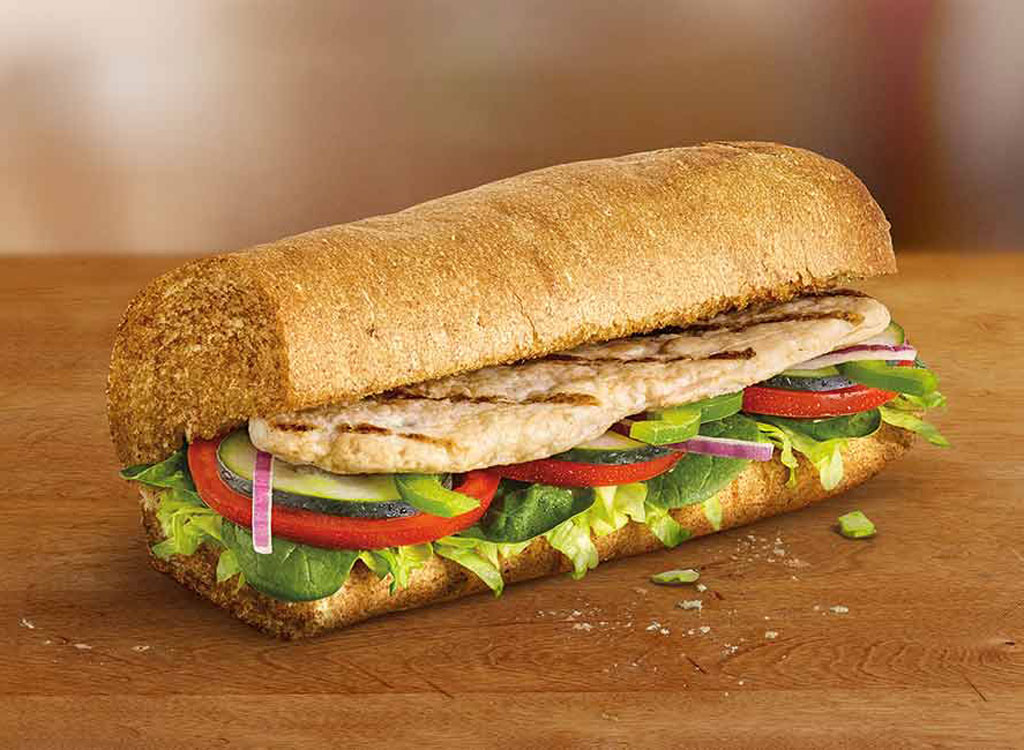 Chicken breast patty on 9-grain wheat bread

Per 6" sub: 270 calories, 3.5 g fat (0.5 g saturated fat), 560 mg sodium, 40 g carbs (5 g fiber, 6 g sugar), 23 g protein
"Being an entrepreneur and working 60 hours a week, I need some convenience in my life while keeping on the healthy track," says Jim White, RD, ACSM Health Fitness Instructor, ADA National Spokesman, Owner of Jim White Fitness & Nutrition Studios. One of his go-to picks is this roasted chicken sandwich because it has plenty of lean protein to help build muscle. Don't like to take it bland? Follow Jim's lead and ask for Dijon mustard. "I use Dijon mustard rather than mayo because it's low-cal but still has lots of flavor," he shares.
Olivia Tarantino
Olivia Tarantino is a senior editor of Eat This, Not That!, specializing in nutrition, health, and food product coverage. Read more
Sours: https://www.eatthis.com/subway-nutrition/
Sandwich nutrition subway
Quickly all turned away, I commanded. They turned away reluctantly. I noticed their lean asses. Then I turned to the boys in front, but, just in case, covered my pubis with my palm, and my breasts with my other.
2,000 Calorie Subway Sandwich
And now Andrey said Show him. What, I could not believe my ears. Isn't that all. The girls ran up to me and did the same. And just as if Tanya did everything quickly, then Katka paused.
Now discussing:
I promise you that I will be fine. I can handle it. He nodded and smiled as he slammed the door behind me. This was the last time I saw him. A month later he was killed.
178
179
180
181
182