Heavy Duty Vinyl Privacy Fence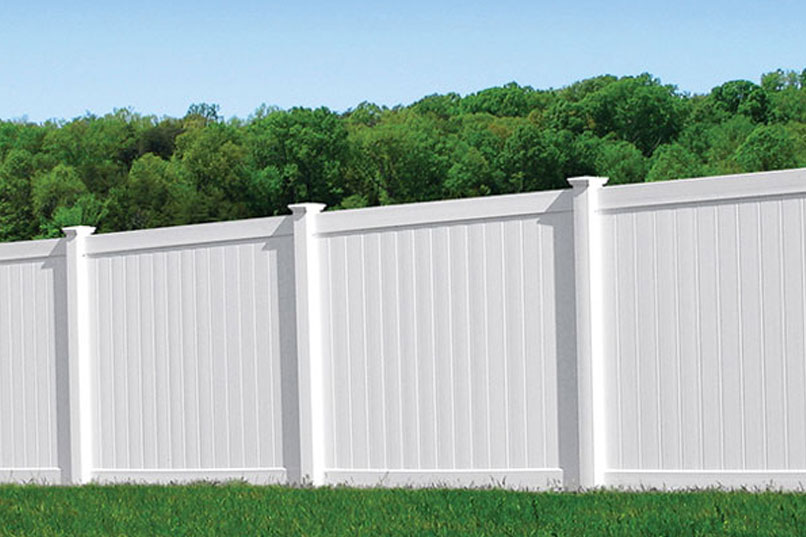 Rainier Privacy Fence
Our heavy duty Rainier Vinyl Privacy Fence is perfect for your commercial project or backyard. Wind certified up to 130 MPH, features 7/8 x 6 wide T&G Pickets and 5 x 5 posts. Rainier privacy fence is available in many sizes and height options. 6′ Tall, 8′ Tall privacy fence, 10′ Tall privacy fence and up to 12′ Tall privacy fence panels. No wood nor brackets are used with our commercial grade privacy fencing panels. Rainier Vinyl Privacy Fence adds actual value to your property, 100% backed by our industry-leading transferable lifetime warranty. Most orders ship within 6-8 weeks.
Click For Pricing & Details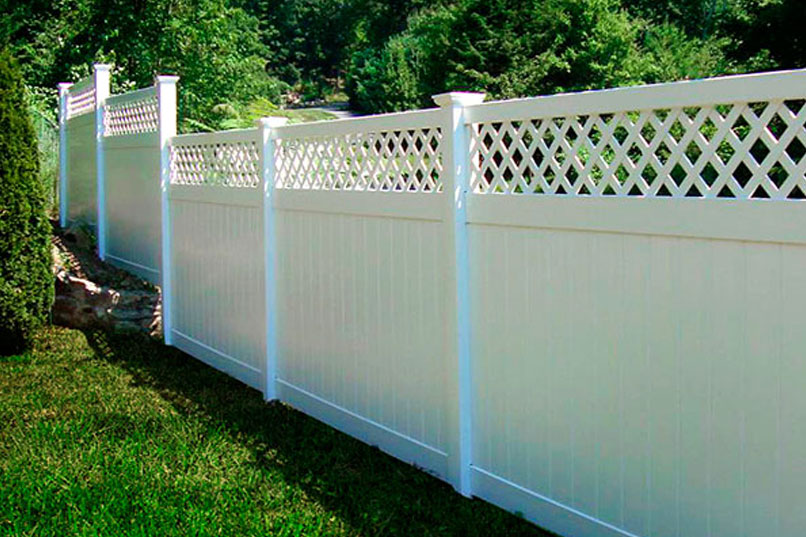 Rainier With Lattice
Our Heavy Duty Rainier Privacy Fence with Lattice requires no wood or brackets. Very similiar to our Rainier Privacy Fence with the addition of the lattice top. Available in white, clay, tan, gray, or a combination of colors, you will have a fence that is not only durable and superior in stability, but a perfect addition to your yard and home. Available in our standard sizes as well as extra tall panel options, from 8′ Tall privacy fence, 10′ Tall Privacy fence and up to 12′ Tall Privacy fence. Our heavy duty Rainier privacy fence with lattice includes fast nationwide shipping.
Click For Pricing & Details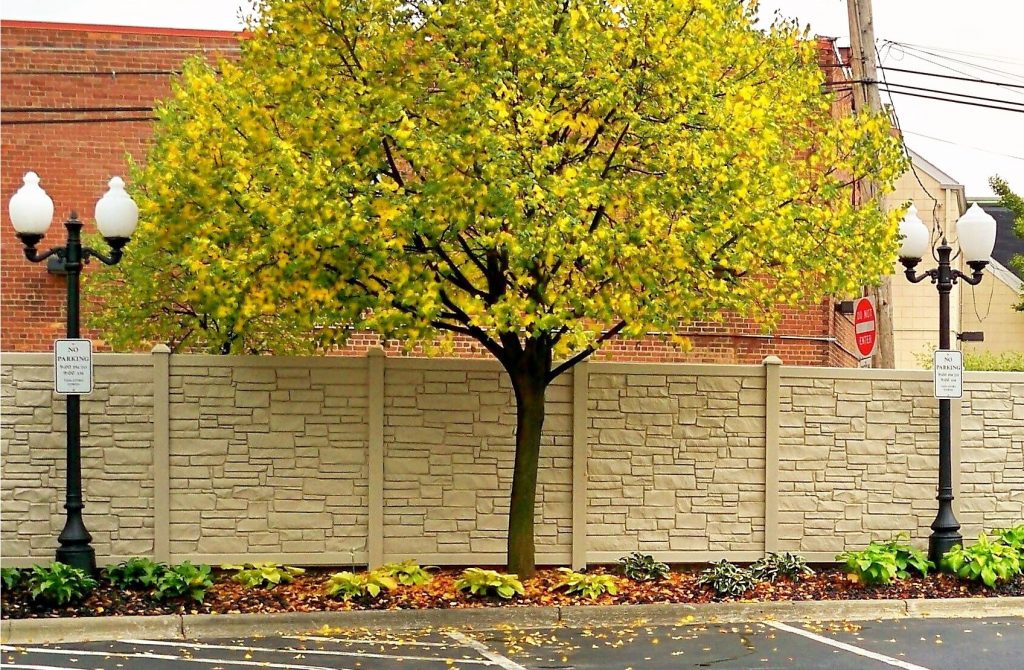 Simulated Stone Privacy Fence
Our Simulated Stone Privacy Fence is possibly the most beautiful vinyl privacy fence ever made. It is the strongest fencing product we offer. Not only is the fence wind certified up to 130 MPH, it is also approved for use as a commercial sound barrier for Department of Transportation sound wall projects. With this option you can compare the huge savings in cost and labor to traditional pre-cast concrete sound walls. Our Simulated Stone fencing offers the beauty, look, and feel of a masonry wall, at a fraction of the price. Perfect for commercial or residential projects, its been approved as an eco-friendly green building product. Our Simulated Stone Panels are available in six unique granite colors, all for the same price. You can choose from a variety of heights, including 3, 4, 6, 8, 10, 12 or 16 tall sound walls. Call us for 24/7 for a free quote.
Click For Pricing & Details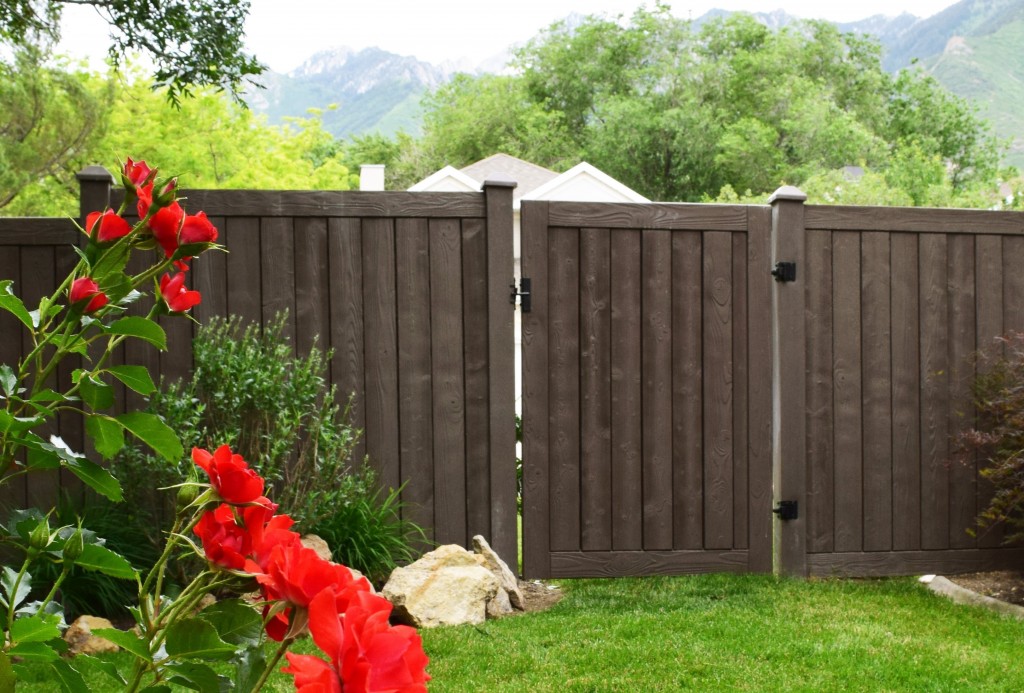 Ashland Privacy Fence
Ashland is a simulated wood privacy fence panel that looks like a beautiful wood privacy fence without the maintenance! No more painting, staining or replacing your fence! Our Ashland fence has wood grain texture of a natural wood privacy fence, made from low-density polyethylene that is molded to look like real wood. Ashland privacy fence is a green building product eco-friendly and incredibly strong. Ashland Privacy Fencing includes a steel frame encased in each panel for commercial strength and is wind certified up to 130 MPH. Ashland privacy fence is available in five color options: Walnut Brown,Nantucket Gray, Black Oak, Red Cedar, and Golden Cedar, all 100% backed by our commercial lifetime warranty.
Click For Pricing & Details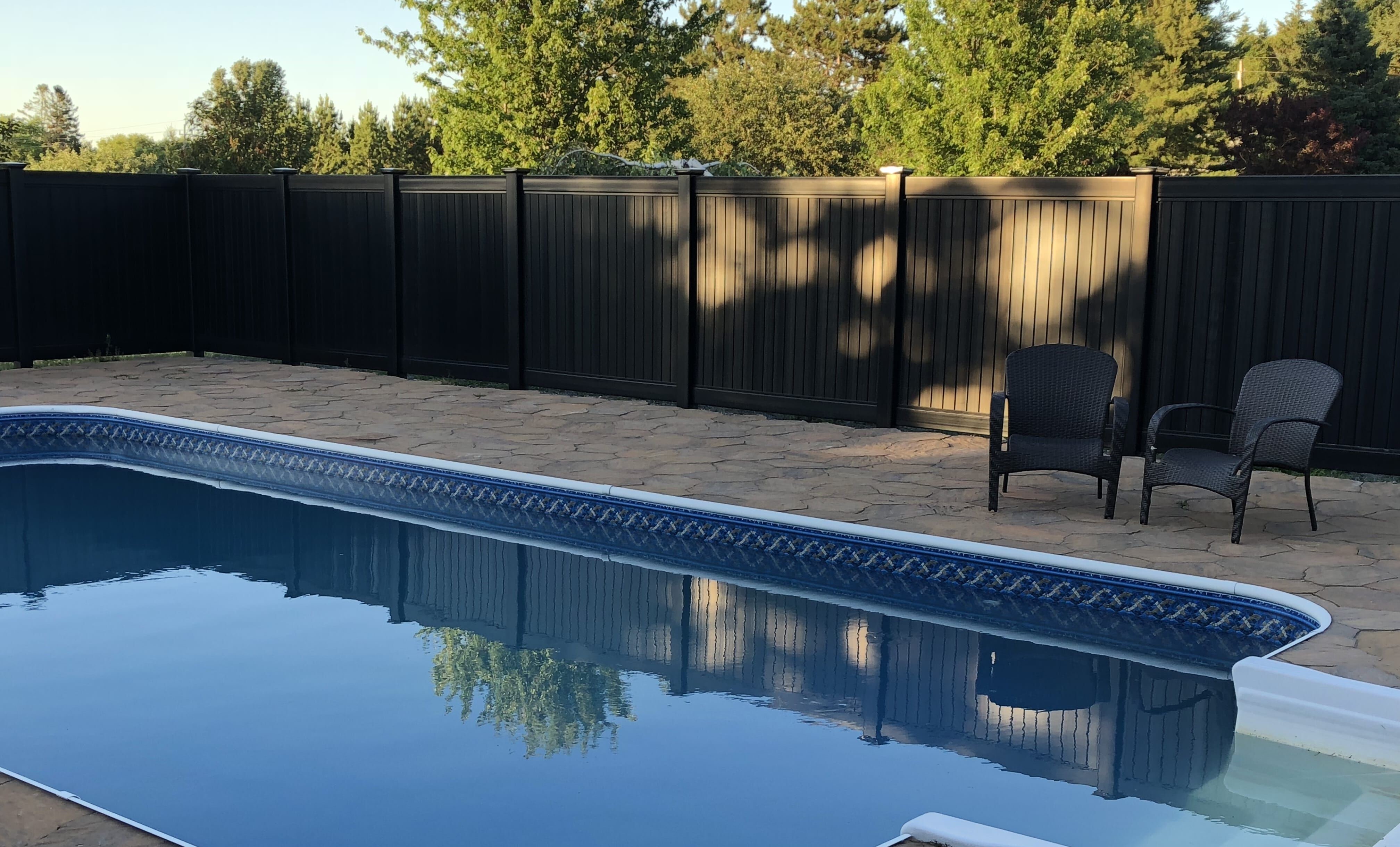 Black Privacy Fence
Black Vinyl Privacy Fence is available in three different styles. Choices include: Solid Privacy Fence, Lattice Top, or Decorative Picket Top. Made with the highest quality protectants, black vinyl fence has been field tested for over 11 years and manufactured for all climates. Wind certified to 130 MPH, plus our Black privacy fence includes aluminum in the Top and Bottom horizontal rails for commercial strength. As always we provide 24/7 installation support.
Click For Pricing & Details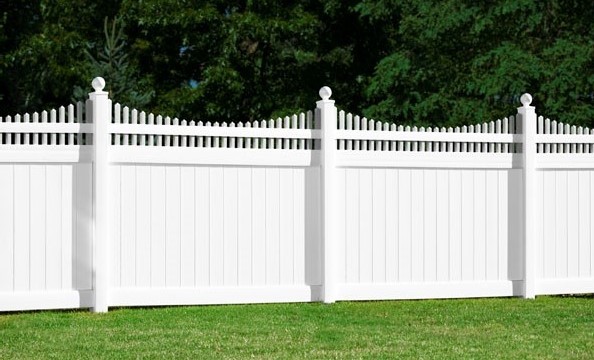 Shasta Privacy Fence
The Shasta heavy duty vinyl privacy fence is more than just a privacy fence. Our Shasta PVC privacy fence has a scalloped open-top picket design, which gives it a very distinct look. The 28 pickets on the top are spaced 1.7 apart, and the bottom rail includes an aluminum I channel for superior stability. No wood or brackets are needed with our heavy duty privacy fence. Available in either tan, clay, or white colors, and installed with 5 x 5 posts.
Click For Pricing & Details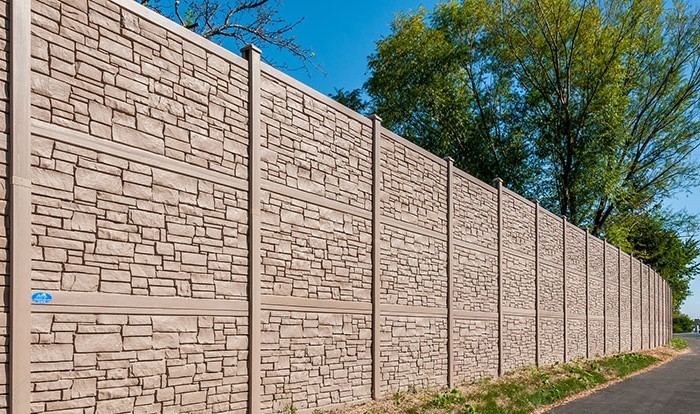 12′ Tall Simulated Stone Sound Wall Fence
We specialize in commercial projects that require DOT approved sound wall. Our Sound Wall is available in many different sizes and color options. View our 8′ Tall Sound Wall or our extra tall sound wall 12′ Tall sound wall panels. Backed by a commercial lifetime warranty, our simulated stone sound wall panels will save you time and labor during installation. This will save a lot of money compared to traditional labor intensive precast concerte sound wall products. Perfect for back yards or commercial sound wall projects.
Click For Pricing & Details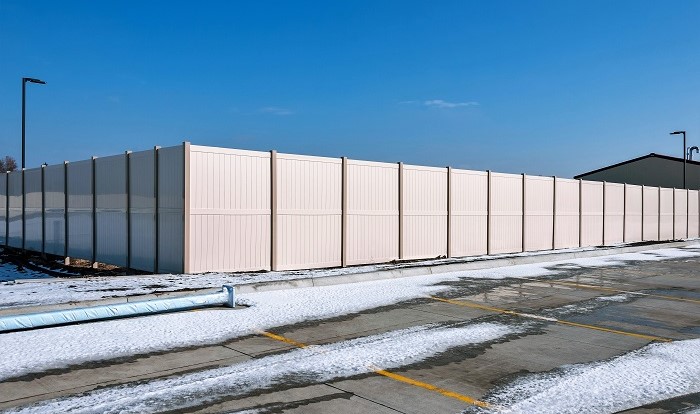 Extra Tall Privacy Fence
Our heavy duty extra tall privacy fence is pefect for projects that require privacy fence 8′ tall, 10′ Tall privacy Fence and up to 12′ Tall privacy fence enclosures. Our commercial grade extra tall privacy fence is the strongest vinyl privacy fence manufactured in USA. 100% Backed by our industry leading transferable lifetime warranty. We use heavy guage Aluminum which will not rust, in the top, mid, and horizontal rails, along with Aluminum H Beam post inserts for commercial strength. Available in white, tan, clay, or combine colors for a custom look.
Click For Pricing & Details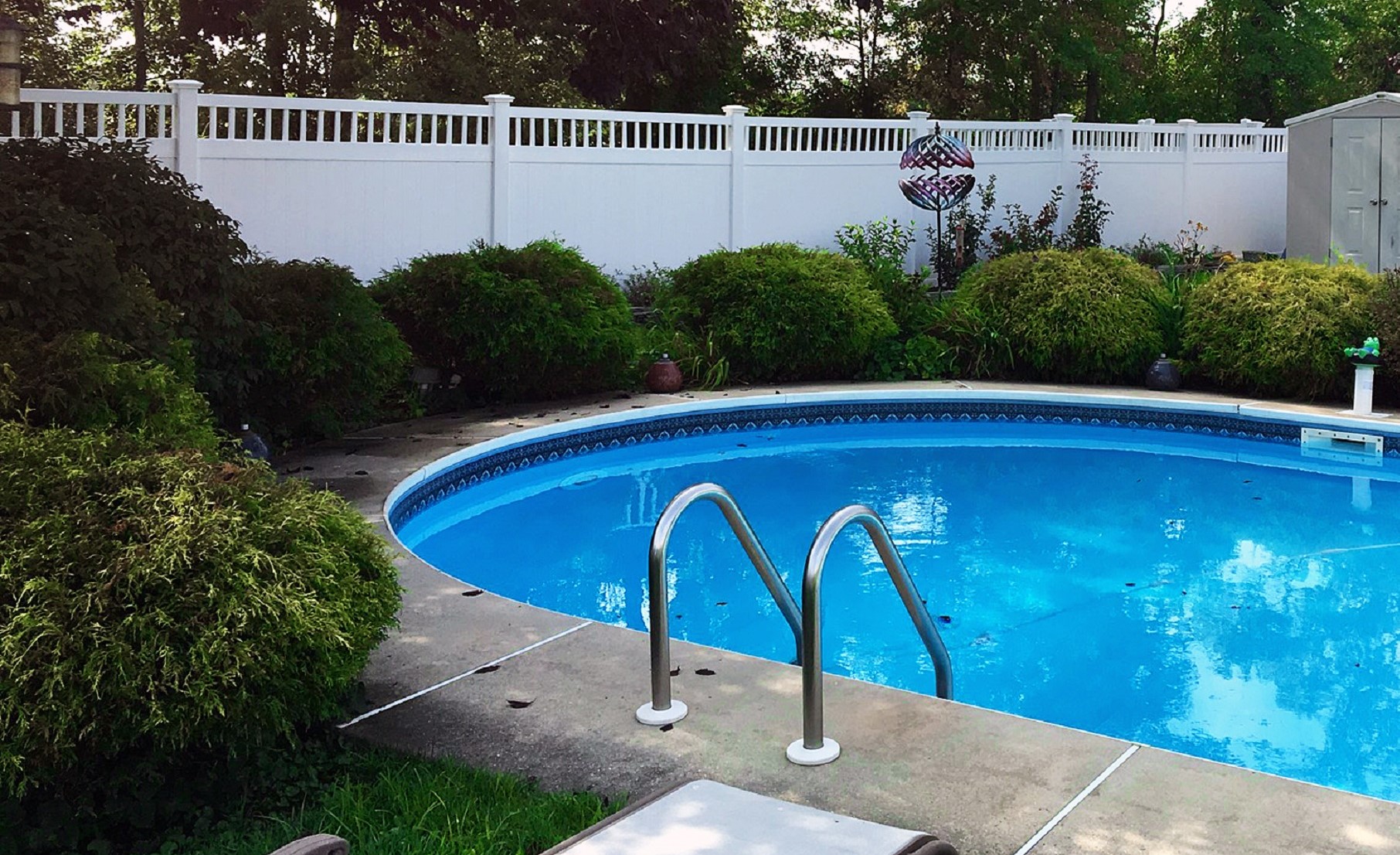 Texas Privacy Fence
Our Heavy Duty Texas Vinyl Privacy Fence offers the perfect combination of privacy and decoration. It molds the style of contemporary design with the durability of vinyl, making it one of the best products on the market. Choose from tan, clay, or white colors or a color combination. No wood or brackets required for our heavy duty fence. Bottom rail features an aluminum I channel for commercial strength. Install Texas fencing with 5 x 5 posts along your commercial or home property line.
Click For Pricing & Details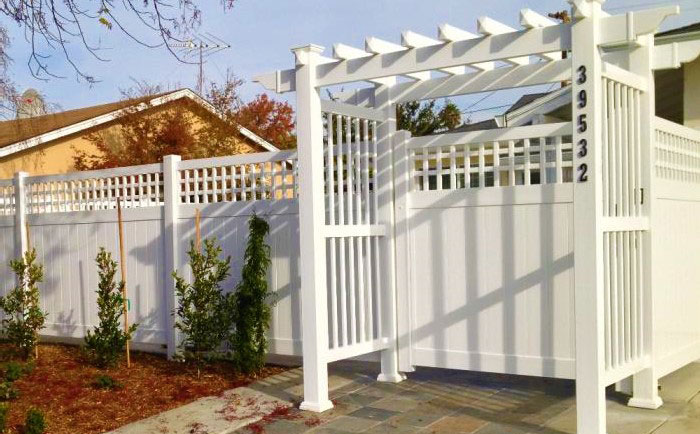 Illinois Privacy Fence
Illinois vinyl privacy fence is very similar to our Rainier with Lattice. The difference is that our Illinois privacy fencing uses our unique 3D Square lattice topper. With its beautiful lattice design, our Illinois vinyl fence panels offer complete privacy and stylish decoration. Each panel includes aluminum in the bottom rail for added strength. Installation is simply labor and common sense. As always we provide written instructions and free telephone installation support to ensure your fence is installed correctly. Choose from tan or white colors, or a color combo. Neither wood nor brackets are used or required for installation.
Click For Pricing & Details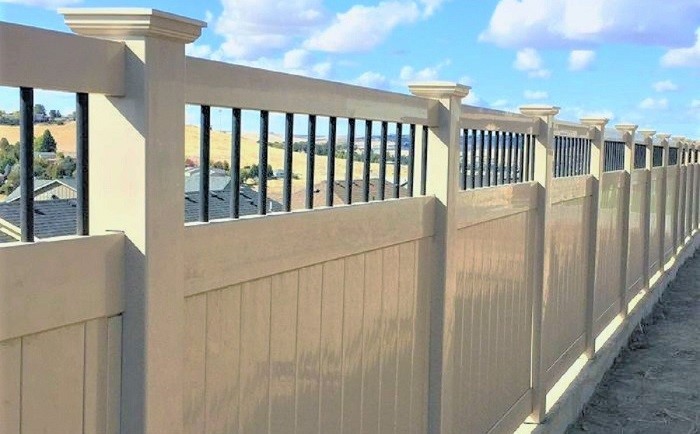 Ohio Privacy Fence
Ohio Vinyl Privacy fence feature .75″ black round aluminum spindles for the top of the fence panel, creating a visually stunning privacy fence. As a cool option, you can create your own custom Ohio Privacy fence, by selecting between five color options; white, tan, clay, gray or color combo which combines any two colors listed. For example, you can choose white posts and white horizontal rails, and clay, tan, or gray interior. As with all of our heavy duty privacy fence panels, our Heavy Duty Ohio Privacy Fence adds actual value to your project 100% backed by our industry leading transferable lifetime warranty.
Click For Pricing & Details
Wind Load Test Video
See for yourself just how strong and durable our vinyl fencing is! This video shows how our heavy duty Rainier vinyl privacy fence stands up to a 130 MPH wind load! No problem! You can buy factory direct and save on the strongest vinyl privacy fence manufactured today for your residential or commercial project. To make it easier on your wallet, we offer large project discounts and truckload discounts in addition to our fast worldwide shipping. But thats not all. We take great care with each order from order placement, to packaging, to shipment, and through installation. As a leader in the industry since 1995, weve made it our job to make sure that everyone who needs help with their project has a place to call on 24-hours per day. We are always ready to help and hope to work with you on your project.
Sours: https://www.vinylfenceanddeck.com/products/vinyl-privacy-fence/
Vinyl Fencing
Beautiful boundaries for outdoor spaces
Ply Gem offers a variety of vinyl fencing options to fit your lifestyle. Our vinyl fence panels deliver durable, low-maintenance performance you can count on to help protect your family. Choose from a variety of styles and colors to add curb appeal to your home.
Ranch Rail
All five Ranch Rail fence styles create a distinguished estate look for homes and commercial properties – large and small.
Learn More
Privacy Fence
Variety of privacy styles and colors help border your yard with beauty on both sides of the fence.
Learn More
Picket Fence
With plenty of style and color options, our picket fences are a refined, low-maintenance addition to your home.
Learn More
Why choose vinyl fencing?
Vinyl fencing is designed for durability. Vinyl is resistant to damage from the elements such as rain and sunlight. It's also resistant to damage from insects such as termites and carpenter ants. Unlike other traditional materials such as metal and wood, vinyl fencing won't rot or rust over time. This flexible material is also impact-resistant, so it can stand up to everyday wear and tear. The longevity of vinyl fencing makes it a sustainable fencing option. Our products are backed by a lifetime transferable warranty so you can have peace of mind that your investment is protected.
With the low-maintenance design of vinyl fencing, you can spend more time enjoying your home and less time maintaining it. Unlike wood, vinyl doesn't need to be treated, painted or stained. Simply wash it once a year with an all-purpose cleaner or dish soap to maintain its pristine appearance.
Vinyl fences are available in a variety of styles and colors to complement the exterior of your home. It's a cost-effective way to add curb appeal to your property.
How much do vinyl fences cost?
The cost of your vinyl fencing will vary based on a variety of factors including the quantity and style. To get a cost estimate for your home, use the how to buy tool to find an installer or distributor near you.
Sours: https://www.plygem.com/fence-and-rail/fence-style/
Why not make this DIY fencing project your last fencing project? Vinyl fence is growing more and more popular and the reasons are obvious. Once in place, vinyl fencing provides privacy, protection, and a pleasing appearance without all of the hassle of traditional fences.
Fencing Direct can provide you with the materials you need to end your fencing worries and upkeep for good!
A Vinyl Fence is Durable
Vinyl fencing is the future in more ways than one. More and more people are choosing to use vinyl PVC fences for their property because they stand the test of time. All sorts of things wear down wood fencing. Both rain and sunshine have a negative effect on traditional wooden fencing. You can treat for those things, but even then, there's no guarantee your wood fence will be protected. Vinyl fencing takes care of that.
Vinyl PVC fencing is not only as stylish and beautiful as wooden fencing, but it is also as durable as fencing comes. It does not get sun damage, and rain rolls right off of it. On top of that, it's incredibly impact resistant. Upon impact, say from a kid's bike tire, our vinyl fencing will gently flex and then regain its shape. Flexibility is key to strength in any engineering design. Wood or chain link may start out with that same flexibility, but after rot or rust sets in from time out in the elements, those materials become much frailer. Vinyl fences do not break down in that way.
Eliminate Maintenance with Vinyl Fencing
Say goodbye to fence maintenance! Many homes come with wooden fencing which provides more than privacy — wooden fencing also provides you with unending upkeep and restoration projects. Why go through the trouble of installing a fence that you're just going to have to treat and repair throughout its lifetime?
Vinyl fencing requires little more than a garden hose to clean. When a wooden fence is wearing down, you'll need to paint it, weather-treat it, or even replace planks. No such upkeep is necessary for vinyl PVC fencing.
Think of all of the hours you have to spend treating wood with chemicals, which are dangerous to inhale and a hazard to keep around the house, especially if you have small children. The most you'll need for your vinyl fence is all-purpose cleaner or dish soap. You won't need to buy anything outside of your normal household cleaning products to keep your vinyl fence pristine.
Because you'll need to spend less time, money, and energy maintaining your vinyl fence, the cost over time is measurably lower than a wooden fence. Vinyl PVC fencing is made to withstand anything your family, or mother nature, ask of it. Spend more time enjoying your home and outdoor living spaces and less time repairing it.
Contact us today to get started!
Vinyl Fencing Provides Privacy
One of the basic ideas behind building a fence on your property is to have a little privacy. Even if you love to entertain your family and friends, it's nice to know you can have your own space whenever you want it. Vinyl fencing can provide total privacy for your home.
Depending on which style of vinyl fencing you select, you have a gapless screen around your yard. Think of all the choices that will open up to you aesthetically if you had a solid vinyl fence curtaining your property. If you were thinking about planting bushes or hedges for privacy and not for their looks, you can skip that now. There are no cracks, gaps, or holes in vinyl fencing, unless you choose to have a traditional picket fence style. If you're not wild about the curtains or blinds on one side of your house, but don't want your neighbors to be able to see in, you can take them down once your vinyl fence goes up.
Live with peace of mind that your home is your private space from the world with a vinyl PVC fence from Fencing Direct.
Keep Your Family Safe
We love our kids and pets, and fencing can keep them safe. If you have small children, you know they love to climb and explore. Chain link is easy to scale, maybe for small hands and feet in particular, and wooden fencing comes with the risk of splinters, or loose metal building materials. Vinyl fencing is a solid piece of material with no footholds, no splintering, no worry. The posts can even be nearly seamless!
Dogs are a family's best friend, and a wooden fence's worst enemy. One of the easiest ways to know which section of your wooden fence is wearing down the fastest is to see where your dog, or your neighbor's dog, is scratching at the most. Dogs have an innate need to explore, and if a fence gets in their way they will scratch, dig, and chew on it until they've gotten through. Vinyl fencing takes those opportunities away from your canine explorer. There are no weak spots that have deteriorated in the sun and rain, and no gaps they can scratch or chew.
Vinyl Fences Add Style
There are lots of reasons for adding a fence to your property. You may be trying to add value to your home, or keep your family and pets safe, but what about the way it looks? Rarely do people walk past a chain link fence and admire its beauty. Wooden fences are only as aesthetically pleasing as their weakest plank, so as time goes on they can actually detract from your home's beauty.
Vinyl fencing can be styled in any of the ways wooden fences can, and they maintain their beauty for their lifetime. If you want a classic American look for your front yard, our vinyl white picket fence is perfect for you. You can also build higher fences with solid bases and decorative work at the top. Whatever look you're going for, vinyl fencing makes a statement.

Contact us today and ask about FREE Delivery!
Sours: https://www.fencingdirect.com/products/category/vinyl-pvc-fence
How to Install a Vinyl Fence - Vinyl Privacy Fence Build
Vinyl Fence Panels
Vinyl fencing became popular in the 90s for a few reasons. Vinyl fence panels are easy to assemble. Vinyl Fencing panels are maintenance free and they are affordable. Not all vinyl fence panels are the same, some are pre-assembled and some come in pieces. Assembled white vinyl fence panels are not easy to work with. They seem easy when you look at the idea of the installation but installing them is a different story.
Pre-Assembled Vinyl Fence Panels
Not only are we a national distributor but we started out installing back in the 40s. Our construction company Buetts Fence was contracted in 2017 to install pre-assembled panels from Home Depot. Normally we would not install those but the customer was a friend and needed help. I say this all the time and can't really stress enough how awful these panels are! The top and bottom rail was made out of 1×3 vinyl which was glued to the pickets. I can't tell you exactly how thin the vinyl was but it was ridiculous, paper thin! Not only were the pvc fence panels thin, the post were just as thin! We had to use a 4×4 insert because the fence would blow over without the post support. As all of you know, 4x4s do not last a lifetime. They will rot! Why would you buy vinyl, a fence that is maintenance free and add a product that will rot?
After the post were set we had to cut the panels down and attach them to the post. It wasn't possible to cut the fence panels on a table saw, we had to put the vinyl fencing panels on a saw horse and cut them with a skill saw with a vinyl cutting blade. I have never seen a vinyl blade chip vinyl fence. These panels were so thin if the saw wasn't perfectly straight when cutting the vinyl would chip. After the vinyl panel was cut we had to screw brackets to the post. This was not and easy task.
Most people don't know pre-assembled vinyl fence panels are square, if your post are not perfectly level on the top the brackets would not align and the panels would not work. Unfortunately the customers ground was not level so the fence panels had to stair step. This created more problems, there were holes under the fence causing problem areas for pets escaping. We had to add additional vinyl to fill the holes. In the end the customer was happy but as a install. It was horrible! Way to labor intensive, the material was garbage and he spent the same on those vinyl panels compared to a commercial grade vinyl privacy fence panel!Commercial Grade Vinyl Fence Panels
There is no comparison of quality when it comes to a pre-assembled panels vs a commercial grade panel. First, a commercial grade fence panel is not a pre-assembled panel. Commercial grade material is all tongue and groove. They  have a top rail, bottom rail and tongue and groove pickets. You slide the bottom rail into the cut out holes in your post, you slide the pickets in the bottom rail, they slide together and hold by the tongue and groove. You can set your post exact and not have to cut the pickets or set the post a little closer and cut every picket.
Commercial grade vinyl is thick. It will not crack when you cut it with a vinyl blade and you can cut each picket on a table saw, this really speeds up the process. A commercial grade vinyl fence post does not need any support for the inside. It is able to withstand 120 mile per hour wind gust!
Vinyl Fence Panels Wholesale
When you purchase from us you really are purchasing at wholesale. To get vinyl fence panels wholesale you don't have to purchase a semi load, yes you will get better discounts but our product is already discounted. My friend in the scenario above sent more for his Home Depot fence then he would would have with us. He over paid and they defiantly under delivered. It made me sick to see what he spent vs what he received. I try to educate on a daily basis, you don't always get what you pay for. In this case he was taken advantage of. Please don't make this mistake! We can save you money and offer a far superior product.
Vinyl Fence Panels For Sale
If you browse our vinyl fence products page you will see our parts are listed as panels. As I explained above they are not really a panel, not a pre-assembled one anyway. Each fence product is made the same. Our post are routed to accept a top and bottom rail. Those rails lock inside the post and the pickets, wether privacy, semi privacy or picket fence, they lock into the rails. Each fence product will flow with the land. You won't have to worry about filing in holes due to  working with a solid panel. You will love the fence panels we sell. Not only are you getting quality but it is easy to work with and works will all ground types.
Sours: https://wholesalevinylfencing.net/vinyl-fence-panels/
Fence panels vinyl
Vinyl Fence Panels
Vinyl fence has many qualities which make it superior to its predecessor wood fence. As a man-made product, it is extruded and manufactured with exact precision making it uniform, incredibly strong, and nearly impervious to the weather elements causing decay in organic materials such as wood. Technology has been adapted to provide for darker colors, even stronger ingredients, and hidden fasteners making it the ideal choice for fences for backyards in residential lots, homeowners associations, and even commercial lots.
Our vinyl fence sections typically ship unassembled. This allows for compact, lightweight, and efficient shipment and transport to and on jobsites. A section of our vinyl fence typically includes all horizontal rails to fence section, fasteners to connect to posts, and all pickets which make up the section, including fasteners (if required) to connect pickets (vertical slats) to horizontal rails of fence. A section of vinyl fence will also include a galvanized steel, or aluminum bottom rail reinforcement channel (if applicable to style). Vinyl posts, post caps, matching vinyl gates, and PVC or stainless gate hardware designed for vinyl fence are sold separately.
Free fence estimates and professional fence advice are always available. Contact us by email, or telephone for further assistance.
Sours: https://www.hooverfence.com/vinyl-fence/sections
Vinyl Fencing - DIY
And so on. At this time, the head teacher came into the office and with her, who do you think. The same plump woman who recently scolded me with the guys for launching an aircraft model. The head teacher turned to us and said that from this academic year until the end, until graduation from school, this teacher, Natalya Anatolyevna, will be our new. Class teacher.
You will also like:
It was evident that they enjoy it. I also began to enjoy it. Three times the sperm was knocked out of my balls. By the end of the workout, my balls turned blue and swollen. It was difficult to go home, so Vika accompanied me to the apartment.
1588
1589
1590
1591
1592