10 Best FREE IP & Ports Scanners for Open Port, IP and Service Scanning
Doing a Network Reconnaissance helps network managers improve security by identifying weak devices that can be potentially breached. It can also allow managers to maintain a detailed and updated diagram of the network.
The network reconnaissance is basically identifying live hosts and scanning ports and services. When testing security, or even hacking, port scanning becomes one of the most essential steps of a successful network exploration.
It basically helps identify open and vulnerable ports and protocols that are being used in the network. Port Scanning softwares helps managers, testers, and hackers create a profile and gain intelligence about a target organization all while ensuring Access to critical systems and services are managed correctly.
Here is our list of the ten best free IP and port scanners for open ports, IP addresses and service scanning:
Engineer's Toolset Open Port Scanner – FREE TRIAL This port scanner is part of a suite of more than 60 network management tools and is very easy to use. Runs on Windows and Windows Server.
ManageEngine OpUtils – FREE TRIAL A package of free network monitoring tools that includes a Ping-based network scanner, and a MAC address resolver. Available for Windows Server and Linux.
Nmap A command-line utility that includes a range of network management tools, including IP address management features and a port scanner. Available for Windows, macOS, and Linux.
Advanced IP Scanner A suite of network exploration tools, including a port scanner as well as an IP scanner, that has more than 53 million users. Installs on Windows.
Angry IP Scanner A free network address monitoring utility that includes IP management functions and a port scanning service. Available for Windows, macOS, and Linux.
Free IP Scanner by Eusing this tool searches a network, working through each IP address in a given range, reporting on whether or not that address is in use. It can also be used as a port scanner. Runs on Windows.
NetCat A network data management utility that has IP address usage detection and a port scanning option. This is an old utility but there are many clones available for Windows, macOS, and Linux.
LanSweeper IP Scanner This is a network device discovery tool that reports on attributes of discovered equipment, including the IP addresses assigned to them. Installs on Windows.
MyLanViewer Network/IP Scanner A network scanner that reconciles discovered IP addresses to DHCP records. Runs on Windows.
Slitheris Network Discovery This tool delivers detailed information on every device connected to the network. This includes IP address information. Installs on Windows.
Live open ports can lead into the services running on hosts which can become a door into the organization. Running a port/services scan can make you aware of these weaknesses. With this information in hand, a network manager can secure a firewall by closing unnecessary ports and services.
The following is a list of the Best FREE IP Scanners for Port and Services, including a brief description, their features and official download site.
Related post:Find any Device or IP Address using the MAC Address
What should you look for in IP and port scanning tools?
We reviewed the market for network and port scanners and analyzed the tools based on the following criteria:
Systems that can perform network sweeps to document all IP addresses in use
Tools to scan each endpoint to identify open ports
Systems that combine both network and port scanning capabilities
The option to scan for all active IP addresses within a given range
A system that offers the option to specify a particular device to scan for open ports or many devices
Options to try paid tools for free as well as a list of forever free systems
A system that is worth installing because it provides useful functions even though it's free
With these selection criteria in mind, we have identified some strong IP scanners and port scanning tools, making sure to include systems that will run on each of the major operating systems.
The Best Free IP & Port Scanners of 2021:
There are a variety of scanners on the market which are usually online tools. But the best scanners are the ones that you run on your own devices since they allow more flexibility in the process.
1. Engineer's Toolset Open Port Scanner – FREE TRIAL

The Engineer's Toolset from SolarWinds is a package of more than 60 network management facilities and one of those services is the Open Port Scanner. The Engineer's Toolset provides a menu of all of its services. This is where you get access to the Open Port Scanner.
The Open Port Scanner will scan all devices between a given IP address range. In order to get a complete system sweep, you could just enter a very wide range. While it scans the network, this tool also acts as a network discovery tool because it will register each IP address that is in use and then scan the discovered device's ports.
The tool will list all of the open ports that it has encountered and identify whether they are operating as TCP or UDP. The output display is uncomplicated and easy to read.
Common features:
Sweeps a network to discover devices
Scans the ports on each discovered device
For brevity, only lists open ports
Categorizes ports as 'Available' or 'Used'
Straightforward, easy-to-read layout
Pros:

Identifies whether ports are operating as UDP or TCP
Integrated into a suite of network management tools
Quick and official network sweeps
Operates on demand
Includes a response time report

Cons:

Not permanently free – only free for a 14-day trial
Official site and where to get a 14-day free trial:
solarwinds.com/engineers-toolset/registration
2. ManageEngine OpUtils – FREE TRIAL
ManageEngine OpUtils is a package of network monitoring and management tools. The facilities in the bundle include an IP address manager, a switch port mapper, and a port scanner. ManageEngine produces a free version of OpUtils. This version doesn't include the IP address manager or the switch port mapper but it does include a number of useful network diagnostic tools, including a range of Ping utilities and TraceRoute.
The Free OpUtils service has an attractive interface that gives easy access to all of the different utilities in the package. Clearly, the full package of the paid OpUtils is a lot better than the free version. ManageEngine offers a 30-day free trial of the paid OpUtils edition, so you can assess it for free, and if you don't think you don't want to pay for it, switch over to the free version once the free trial expires.
Both the free and paid versions of OpUtils are available for Windows Server and Linux.
OpUtils Free features:
ICMP Ping, SNMP Ping, and Proxy Ping
TraceRoute for network path investigation
A network scanner for device discovery
A DNS resolver to translate between allocated IP addresses and hostnames
A MAC address resolver to find the MAC address of an allocated IP address
Pros:

Offers a suite of tools that provide WoL, IP address management, and physical switch port mapping
Gathers hostname, device status, and MAC address alongside IP address scans
Identifies new machines via autodiscovery, great for larger deployments
Available for both Windows server as well as Linux

Cons:

ManageEngine is a large monitoring platform that offers a host of tools and features that may take time to fully explore
Official site and where to download the 30-day FREE Trial:
manageengine.com/products/oputils/
Download FREE TRIAL!
3. Nmap
Nmap is considered the Swiss Army Knife of hackers (ethical and not) and pen-testers.
Nmap stands for Network Mapper and is one of the most popular port scanners. It is an open source tool that offers a great deal of flexibility and power when it comes to performing any kind of active network reconnaissance against a target. With Nmap you can craft packets and send them to a specific target and let the software analyze the response.
For beginners, Nmap can be a little bit intimidating because there are so many different scanning combinations that get you different results.
A very short list of what you can do with Nmap:
Scan a target selection, such a single IP, a host-name, a range, etc.
Scan a port selection, such as a single port or a range.
Detect specific services and OSs.
Perform NSE scripts.
A really strong feature in Nmap is different "Port Scan Types", such as TCP Connect, TCP SYN Scan. Below is a table with the most common TCP Scans Types that you can do in Nmap.
| Scan Type | Description |
| --- | --- |
| TCP Connect (-sT) | Full Three-way-handshake (SYN, SYN/ACK, ACK) |
| TCP SYN (sS) | Send SYN. RST/ACK response=not listening SYN/ACK=listening |
| TCP FIN (sF) | Send FIN, RST response=port close |
| TCP Xmas Tree (sX) | Send FIN, URG, PSH, RST response=port closed |
| TCP Null (sN) | No Flags. RST response=port closed |
| TCP ACK (PT) | Send ACK. Firewall test to verify packet filtering. |
Pros:

Doubles as a security tool, allowing administrators to discover open ports, and applications communicating over ports that are suspicious
Massive open-source community is one of the most popular free security tools available
Offers a GUI version, Zenmap, which lowers the barrier to entry for new users
Syntax is straightforward and not difficult to learn for most users

Cons:

Nmap can have a steep learning curve for new users
Might be overkill for simpler troubleshooting tasks
Official site and where to download:
https://nmap.org/download.html
4. Advanced IP Scanner
It is a portable, easy-to-use and free network scanner for Windows. Advanced IP Scanner is free of installation. Just press play and you'll have one of the most robust scanners at your disposal. With Advanced IP Scanner you can see a list of network devices with information such as IP, Port, Manufacturer, MAC Address, OS, etc.
This scanner finds all the devices in a targeted scan in a matter of seconds and provides easy access to their shared resources, either through HTTP, HTTPS, FTP or even shared folders.
Another cool feature of this tool is that it detects the RDPs or Radmin ports, and it will let you manage the device remotely right from the platform.
Common features:
Easy access to network shares.
Control devices via Radmin and RDP.
Switch on/off computers remotely.
Find the MAC addresses.
Export all scan results to a CSV file.
Pros:

Free to use
Very easy to use, great for smaller networks
Provides hostnames, MAC address, and manufacturer statistics
Simple interface, feels intuitive

Cons:

Lacks multiple export formats
Does not support graphing to visualize traffic or devices
Not the best option for enterprise networks
Official site and where to download:
http://www.advanced-ip-scanner.com/
5. Angry IP Scanner
Angry IP Scanner (also called ipscan) is a free and open-source network scanner. The tool works on popular OSs, such as Windows, Mac OSX, and Linux. It was designed with simplicity in mind, the software is ultra-light, no installation is required (highly portable) and it is fairly easy to use.
At its most basic level, Angry IP Scanner will ping the target device/network to confirm that it is alive. It can also resolve hostnames, find the MAC address, and scan ports. You can extend the amount of information received about each target with the help of plugins.
Common features:
Can scan private or a public range of IP addresses. Additionally, it can get the NetBIOS information of a device, detect web servers and customize openers.
It is able to export the results in different formats such as TXT, CSV, XML, or IP-Port list files.
For faster scanning, the tool uses the multi-threading approach.
By default, the tool comes with common fetchers like Ping, Host-name, and Ports but you can add more fetchers with the help of plug-ins to see more information.
The tool runs on the GUI, but you can use the CLI to call up different options on the software.
Pros:

One of the easiest tools to use on the market
Great for small networks and home use
Can output in multiple formats, giving more flexibility than CLI tools
Offers DNS and hostname metrics

Cons:

The interface doesn't scale well on enterprise size networks
Lacks graphing capabilities
Official site and where to download?
https://angryip.org/
6. Free IP Scanner by Eusing
Eusing Software creates miscellaneous free applications for windows users. Among the most popular tools is the Free IP Scanner. This tool is a lightweight standalone scanner that can check a hundred devices per second. It is only supported by Windows OSs.
Free IP Scanner pings the IP (or range of IPs) to see who is alive. It can also translate the host-name to IP (or vice versa), find closed and open ports and get NetBIOS information. The last one can show details such as host-name, workgroup, active logged users, and the MAC address of the device. All the results obtained can be exported into a TXT file.
People like Free IP Scanner because it is simple, portable and easy to use. However, it cannot be extended with more functionality. Although the tool scans and finds ports, the entire layer 4 TCP/UDP information cannot be customized for deeper analysis.
Extra features:
Fast scanning using multi-threaded technology.
Free IP Scanner can scan multiple targets per second without consuming many resources.
Pros:

Runs as a standalone executable, making it great for USB toolkits
Scans are fully configurable, allowing users to exclude ranges or subnets
Stores information in a simple text log file output

Cons:

Available only for Windows operating systems
The interface can feel cluttered, especially on larger enterprise networks
Official site and where to download?
http://www.eusing.com/ipscan/free_ip_scanner.htm
7. NetCat
A fully versatile tool preferred by most hackers like NMAP above.
NetCatis not strictly an IP Scanner, it goes well beyond that. It is however a tiny Unix networking analyzer utility used by and against hackers for a large number of reasons.
It is tiny but powerful. NetCat is considered as a feature-rich networking tool used especially for debugging and investigation.
With NetCat you can create any kind of connection. It basically writes to and reads data from network connections using TCP or UDP. In other words, it can open TCP or UDP connections between two devices over any port.
The most common use for this tool is to set up reverse and bind shells, redirecting network traffic, port scanning and forwarding, debugging scripts, and service banner grabbing.
Some features?
Connect to a remote system through any port or service.
Banner Grabbing to identify the software that the target is using.
Scan, listen and forward open ports.
Create tunnels with specific network parameters, like source port/interface, listening port/interface and the remote host.
Create back-doors for easy access to the target.
Transfer files from the target
Pros:

Available cross-platform for Windows, Linux, and Unix operating systems
Simple syntax, easy to learn for beginners
Doubles as a security tool, allowing users to probe endpoints and create backdoors
Supports file transfer between host and client
Slitheris Network Discovery

Cons:

NetCat might be overly complicated for users looking for a simple IP scanner
Official site and where to download:
http://netcat.sourceforge.net/
8. LanSweeper IP Scanner
It is a free and powerful IT management tool that can scan networks and find your assets. The IP Scanner is a feature that comes integrated with LanSweeper. With the scanner, you can target a specific IP or range of IPs and get a full inventory of all computers, servers, virtual servers, switches, routers, printers, VoIP phones, etc. The results can be easily exported and created into a report.
People love LanSweeper because of its ability to automatically deploy scripts and commands to many devices at the same time. It uses an integrated deployment feature to automatically deploy software and execute commands on the devices shown on the inventory.
The software goes beyond scanning. It will let you get deep details through scanning, find issues and proactively fix them. The scanner grabs network information through WMI, SNMP, HTTP, FTP, SSH and other protocols.
Common features?
Inventorying
Scan IP addresses automatically or on demand
Import the results via a CSV file.
Run custom actions such as remote shutdown.
Wake-On-LAN Manager
Find MAC address, logged-on users, user accounts, device up-times, etc.
The free version lets you find detailed info of up to 100 devices.
Pros:

Automatically discovers devices through customizable search filters, ideal for BYOD networks
Recovers additional details such as hostname, manufacturer, hardware stats, and NetBIOS info
A great option for agentless asset discovery for smaller networks

Cons:

Only free up to 100 managed assets
Official Site and where to download?
https://www.lansweeper.com/feature/ip-scanner/
Related Post:Best Wake-On-Lan Tools
9. MyLanViewer Network/IP Scanner
A comprehensive network IP Scanner for Windows OSs. On the basic level, this tool will scan the target network and will show the IP, MAC addresses, NIC vendor, OS Version, logged users, and shared folders of the wired and wireless devices found an easy-to-read list.
MyLANViewer Network/IP Scanner can monitor all the scanned devices (even if they are hidden), and notify you when a new device was found.
Additional Features:
NetBIOS scanner
Whois and Traceroute tool
Remote shutdown and Wake-On-LAN manager.
Wireless network scanner and monitor
Show and access shared folders
Terminate user sessions
Show netstat information
Find rogue DHCP servers.
Pros:

Provides whois, traceroute, WOL, and remote shutdown options, great for small networks and home labs
Offers file management features, allowing users to quickly share or unshare folders in a workgroup
Great for detecting rouge DHCP servers and addressing IP conflicts

Cons:

The interface can feel cluttered in large networks, less nested menus could improve usability
Official Site and where to download:
http://www.mylanviewer.com/network-ip-scanner.html
10. Slitheris Network Discovery
Slitheris Network Discovery from Komodo Laboratories is a Windows-based premium IP scanner. The free version of this advanced network scanner allows you to find up to 50 network devices but can be extended with the premium license.
This tool takes IP scanning to a new level, it is fast and finds information that most scanners can't. It gathers information from target network devices without needed credentials or agents. Slitheris Network Discovery uses multi-threaded technology to quickly find all pingable devices and uses ARP pings to discover hidden devices.
What can Slitheris do?
Real-time visual ping sweep. It shows what the ping sweep is doing with a visual matrix.
OS Detection and Fingerprinting. Identify different Windows OS versions without the need for authentication and credentials.
Identify different type of devices. Find whether the device is a Printer, Virtual Machine, Mobile, Server, Workstation, etc.
Age determination. Uses MAC address to determine the age of the device.
SMB Security. Alarms when SMB (Server Message Block) is enabled or disabled on a device, to improve security.
Detects stealth devices. The tool uses the ARP cache to find un-pingable devices.
Find Web GUI access devices. The tool uses port scanning on HTTP and HTTPS to see whether a device can be accessed through Web GUI.
Pros:

Great user interface, leverages simple visuals to make scanning larger networks more manageable
It's depth and device management capabilities make it a good option for smaller MSPs
Adds a visual layer to ping sweeps to easily identity which machines are having issues

Cons:

Only free for up to 50 networks devices
Official Site and where to download:
http://www.komodolabs.com/ip-scanner/
Conclusion
Open ports can be gateways into networks and are considered weaknesses if not treated with security in mind.
The toolbox of network and security administrators should contain a Port and Services Scanner to help them identify open ports and control vulnerabilities efficiently, before it's too late.
There are many free and online scanners out there as well, But when combining portability, effectiveness, feature-richness, flexibility and cost-efficiency, only the previous nine stand out.
They are free, download a copy today and scan your network. We suggest you grab several of them (as they are all Free) and give them a try – they all have different feature sets and work well when there is no internet connection available to use an online variation. We hope this list of some of the top Port Scanners help you secure your network and keep intruders out!
IP and Port Scanner FAQs
What are the 3 types of network scanning?
There are three types of network scanning:
IP scanning looks for all IP addresses that are currently in use.
Port scanning tests each port on each device to see whether it has an active daemon looking for communications with that port number on it – this is called an open port.
Vulnerability scanning performs a series of break-in attempts using known hacker strategies to discover whether there are weaknesses in the network's settings.
Is IP scanning illegal?
IP scanning is not illegal. In fact, it is a necessary function of any communication system. Public and private IP addresses have different scopes and so slightly different uses for IP scanning. On a private network, IP scanning is an important part of the work performed by IP address management software and enables systems to reclaim abandoned IP addresses. On the internet, IP scanning is relatively meaningless; probing the availability of a device with a specific IP address or checking the route to an individual IP address is more common.
How do I scan for open ports?
You can use the command line utility netstat to scan your own computer for open ports. Run netstat -ano. In the output of this command, open ports are marked as "Listening." In order to check for open ports on all of the other computers on your network, you will need to use a recursive script that combines a search for all active IP addresses with a test on each possible port number. This can be a time-consuming process. It is better to use a pre-written facility for port scanning for an entire network. There are two perspectives that you can use. One is to test the ports from an external location — there are a number of free online services that will do this. The second perspective is to reach out to other computers from within your network. That can be performed by a number of available network testing tools.
Related Post:Best Network Traffic Generators for WAN and LAN Stress Testing
Sours: https://www.pcwdld.com/best-free-ip-scanners-port-service-scannin
Using network monitoring tools we are able to sniff and pull IP addresses from every connection on your device. Today we will recommend and learn more about the best IP puller for Xbox to locate, track and know more about a XBOX player's details.
To understand how a packet sniffer works, you need to first understand that data travels through a network in the form of packets. In packet-switched networks, the data to be transmitted is broken down into several packets. These packets are reassembled once all the data packets reach their intended destination.
When a packet sniffer is installed in the network, the sniffer intercepts the network traffic and captures the raw data packets. Subsequently, the captured data packet is analyzed by the packet sniffing software and presented to the operator in a user-friendly format.
Xbox IP Puller (TOP 5)
1. Lanc Remastered
Download Lanc Remastered or the latest version PCPS IP Puller
2. Xbox Resolver
Download Xbox Resolver. This has changed to Xresolver
3. Octosniff
Download Octosniff
4. PSN Resolver
Download PSN Resolver (Works on Xbox)
5. Console Sniffer
Download ConsoleSniffer
Conclusion
The best Xbox IP puller goes to Lanc Remastered hands down, due to its ease of use and effectively pulling IP's without any hassles.You can view our tutorial here on how to pull and trace with lanc remastered.
Now that you know how to pull IP addresses it's time to use one of our IP booters to boot people offline.
Similar Posts
Sours: https://xboxonebooter.com/2020/01/02/xbox-ip-puller/
IP Sniffers for LAN, WAN, Wifi & Network Troubleshooting
IP Sniffers, known as Packet Sniffers, Network Analyzers or Protocol Analyzers, are tools which play an essential role in the monitoring of networks and troubleshooting network related issues.
Sniffing tools are frequently used by network technicians and administrators, assisting in determining where faults lie such as congested links, applications generating large volumes of traffic, which device/s failed to respond to network requests and the identification of intrusions.
IP Sniffers intercept the raw data flowing in a digital network to achieve this and log the data, the analysis of which translates the information collected into a human-readable form.
This enables whoever is using the IP Sniffing software to understand the data and then take the appropriate actions based on the outcomes.
The configuration of network switches largely affects what the IP Sniffer is able to detect, allowing it to view traffic on an entire network or limiting it to a particular segment.
Whilst multichannel capture on wireless networks is possible if there are multiple wireless interfaces on the host computer, IP Sniffers on wireless networks are normally limited to one channel at a time.
The data assembled can help to further shape traffic through prioritization, limit bandwidth and subnets as well as determine if there is any suspicious network activity from applications taking bandwidth.
These solutions offer individuals, businesses and enterprises the opportunity to monitor, trouble shoot and improve network performance, creating a safe and better workflow across networks.
We have selected a few free and paid IP Sniffers for your perusal, detailing their features, capabilities and strengths, with download links and pricing structures listed under each IP Sniffer.
Here is a list of the Best IP Sniffers (Free & Paid) of 2021:
1. Solarwinds Network Bandwidth Analyzer Pack – (Best Overall Functionality!)
This software pack contains the Network Performance Monitor and its counterpart, the Network Analyzer, which work together to provide an effective monitoring and analysis solution.
Solarwinds is well known for their excellent monitoring tools and applications which can be found in many network operations and data centers.
The Network Performance Monitor monitors transmission speeds, rates and the reliability of packet transmissions to indicate network performance.
It comprehensively monitors faults, which leads to the reduction of network outages, with quick detection and diagnosing of performance issues on multi-vendor networks.
By being able to preemptively deal with potential issues you can save you and your company a lot of time, money and effort.
Irregularities and anomalies are very easy to spot thanks to the variety of charts and visual aids presenting the obtained data.
Identification of root causes can be sped up by dragging and dropping the metrics of network performance on a single timeline, allowing you to visually correlate all your data.
If you are part of an incident response team then this feature will be especially useful during the post operation phase of your investigations.
Solarwinds Network Performance Monitor also allows you to create your own alerts based on nested trigger conditions, simple or complex, as well as defined parent/ child dependencies and network topology.
This is great for custom applications that your company might be running that have no monitoring of their own.
This makes Solarwinds Network Performance Monitor an especially useful in development environments.
The Network Analyzer, however, focuses on the network at a closer level, ferreting out anomalies and bandwidth hogs, sorting the data by merit of applications, protocols or users.
Alerts are sent out when unusual traffic patterns are detected, including the decrease, increase or sudden disappearance of traffic.
Additional notifications can also be created for devices that stop sending flow data.
This makes it an ideal monitoring solution for complex environments that require immediate action if a drop in communication occurs.
The patterns of traffic data is presented in a web-based interface, correlating the data into an effective and understandable format for monitoring and reviewing all traffic.
Root causes can be identified easily by dragging and dropping the metrics of network performance and NetFlow analytics on a single timeline, visually correlating all your data.
This makes it much easier for your monitoring staff to detect sudden changes so that corrective action can be taken.
Solarwinds Network Bandwidth Analyzer Pack is compatible with Windows environments only.
Pricing:
30 Day Free Trial!
Download:
A free trial version of this is available for download here.
2. GlassWire
GlassWire's interface is designed for easy access and an overall visual viewing perspective of all network activity.
All past and current activity, incoming and outgoing bandwidth is shown on the graph, whilst clicking on it will provide details on the applications initiating the bandwidth use.
GlassWire can further breakdown all network activity into applications and traffic types, detailing the hosts of all applications communicated with and their country of origin while automatically resolving the hosts.
Easy use of sliders allows you to analyze all bandwidth activity under daily, weekly and monthly headings.
This is especially useful if you are trying to identify patterns on your network as date and time trends can reveal a lot about potential issues on your network.
GlassWire alerts you instantly if anything new accesses the network from your computer and if your server or computer communicates with a known domain/ IP threat.
It will also alert you if new Wi-Fi hardware with your network name appears close by and if your Wi-Fi network loses its password.
Its discreet alert system aims to not interrupt workflow or servers, allowing you to go to the GlassWire alerts tab to view in detail at a later time.
This means that you can come back to the alerts when it is convenient for you and your team.
GlassWire also boasts a toolbox of network security checks with the intention of adding more intrusion detection rules to its current arsenal.
This includes detection of system file, device list and application information changes as well as APR spoofing monitoring.
This makes the application a useful tool when trying to combat a whole host of cyber security events that have the potential to cause issues on your network.
A point to consider is that GlassWire will not track the total bandwidth usage on your entire network.
It only tracks the bandwidth for the server and computer it is installed on.
However, if you need to monitor remote servers, you can easily monitor their network activity using GlassWire's remote access feature from your local computer.
Flexibility is an important part of your network monitoring solution, and GlassWire offers you just that.
GlassWire's Remote Desktop Protocol or RDP connections provides full remote access control to your PC or the server, working in the same fashion on a remote server as it would on your local computer.
The connection allows viewing in real time and an alert will be sent every time an RDP connection occurs. This helps you to administer issues without having to leave your desk, especially if the server that you wish to monitor is sitting in a remote location such as a server room or data center.
GlassWire will also monitor when your computer idles or is in use, keeping track of major network activity whilst it is unattended, to identify it as normal or abnormal, allowing you to act on any suspicious activity.
GlassWire is compatible with Windows 7, 8, 10 and android devices.
A free version can be downloaded here.
Pricing starts at $39.00 for the basic version of GlassWire.
3. Wireshark – (Best Free Version)
Wireshark is a name that needs very little introduction in IT circles.
It is a network protocol analyzer that analyzes your network at microscopic levels, deep within the packets of your network's data.
Most importantly, it could be thought of as a standard networking utility that is found amongst both non-profit and commercial enterprises, educational institutions and government agencies.
Its continuous development thrives due to the volunteering and contribution of networking experts across the world.
This makes it a very handy tool to have at your disposal, especially if you need to understand the inner workings of an application, and how it is communicating on your network.
Wireshark balances raw data with visual representations, aiming for portability, compatibility and simplicity.
Previously known as Etheral, Wireshark not only captures data, it provides advanced analysis tools.
If the server you are using has a desktop installed, Wireshark can collect and analyze the data on the spot.
If not, you will have to capture the data remotely by targeting that specific host to generate a dump of those network transactions and the traffic that they generate.
The resulting pcap file will then have to be pulled into Wireshark and analyzed that way.
On launch of Wireshark, you can either start capturing data immediately, with the option of specifying filters on data collected, or load an existing pcap file.
Without specifications on filters, Wireshark will automatically collect all network data observed by your selected interface.
This is a lot of data, and can be useful for general analysis in some instances.
Apart from deep inspection of protocols, Wireshark also offers live capture, offline analysis as well as powerful display filters and rich VoIP analysis.
You can view your captured data via the GUI or TShark utility. For ease of use, coloring rules can also be applied to the packet list for quick inspection and identification.
This is a real time saving feature for those extra in-depth traffic analysis jobs.
Its multi-platform capabilities make it compatible with Windows, Linux, macOS, Solaris, FreeBSD, NetBSD, and several others as well.
This makes it one of the most versatile packet capturers on the internet. The best part? Its free to download and use.
Wireshark can be downloaded here.
4. Capsa and Capsa Enterprise
Capsa is a network analyzer freeware for troubleshooting, monitoring and analysis of networks and comes in two versions.
The free version of is aimed at students, teachers and those interested in learning about protocols and networking technology.
It is a good starting point for users that are not necessarily proficient in technical analysis but would like to experiment with the platform.
The level of detail that this application is capable of is very high, making it viable as an actual commercial tool that can be useful in production environments.
While limited to monitoring 10 IP addresses altogether, it does capture packets and offers some graphical analysis of data collected.
Its unique dashboard is designed to assist novice system administrators in identifying network issues, regardless of their level of knowledge or experience in packet knowledge.
This version of Capsa is capable of monitoring over 300 protocols, it both monitors and saves email content, while also supporting triggers.
These can be used as alerts, set for certain situations, enabling Capsa to be used to an extent in a support capacity.
Capsa Enterprise is the paid version of Capsa and is aimed at small businesses and enterprises and mission critical environments that need high performance monitoring and alerting solutions.
It provides monitoring, troubleshooting and analyses of wired and wireless networks and captures packets in real-time.
It saves all data transmitting over local networks while its advanced protocol analysis supports over 1800 protocols.
This includes sub-protocols, network applications based on protocol analysis and VoIP.
Caspa Enterprise supports multiple network behavior monitoring, including the viewing and storage of emails and instant messaging, enabling the ability to monitor for any security or data handling violations within small businesses and enterprises.
Its overview dashboard is designed to be user friendly which allows for quick review and interpretation of network statistics, data retrieved.
Its effective detection and diagnosis of suspicious hosts assists in pinpointing network problems timeously.
Its extensive statistics related to each host on the network also helps to identify the specific traffic that passes through each host through the mapping of the traffic, IP addresses and MAC of all hosts on the network.
Capsa is only available for Windows Server 2008/ Server 2012/ Vista/ 7/ 8/ 8.1 and 10
You can download the free version of Capsa here.
You can download a free trial of Capsa Enterprise here.
Pricing for Capsa Enterprise starts at $995.00
5. Kismet
Kismet offers a wide range of functions, being a wireless network and device detector, a sniffer, a wardriving tool as well as wireless intrusion detection framework.
This gives kismet the ability to analyze traffic from both hidden networks and un-broadcasted SSIDs.
This tool can be invaluable when you cannot source the cause of an issue, particularly in the cases of rogue networks or access points incorrectly set up.
Kismet has been around for a very long time and is a tried and trusted tool for seasoned professionals.
It lacks a GUI, which makes it challenging for new users, but it is a powerful and effective application for those that know how to navigate through its many options.
This tool is highly effective for a wireless- heavy network, where there is a lot of wireless traffic and devices connected.
Some software defined radio hardware (SDR), Bluetooth and Wi-Fi interfaces as well as other special capture hardware is supported.
If you have unexpected issues on your wireless network then this is an excellent tool to use in your investigations because of the way that it isolates the network data and gives you clear and simple information about the detected elements.
Linux is the intended operating system that Kismet functions under, but there are exceptions as seen below.
Providing your operating system is under the WSL framework, Kismet supports Windows 10 (to a point), Linux and OSX.
Bluetooth devices, Wi-Fi cards and other hardware on Linux are mostly supported. OSX supports built in Wi-Fi interfaces, while it will work on Windows 10 with remote captures.
You can download Kismet here.
6. Etherape
Etherape, modeled after Etherman, is a free, open-source network monitor for UNIX with similar functions to Wireshark.
The main difference between the software is the presentation of data.
Etherape provides a more graphic and visual oriented viewing of data, whilst Wireshark's interface allows for comparison of network performance in a more numeric, linear fashion.
This feature of Etherape makes it a better choice for those who are more visually and graphically inclined.
Sometimes a visualization can really help to understand connectivity issues instead of just strings of data.
Etherape's display of hosts and links adjust according to the amount of traffic flow in the network, with nodes seeing higher volumes of activity shown as larger in its representation.
Color is also used on nodes and links for the easy identification of the protocol most used.
For detailed information on data collected, click on the node or link which will in turn open a dialog for viewing of breakdowns and statistics on traffic.
This is an effective way of illustrating issues without needing to dig into system and network logs as it is all displayed in one central location.
A network filter using pcap syntax can refine data display and, for convenience, there is an option of centering single nodes on the display.
Users can also create an inner circle of user chosen nodes with other nodes around.
Etherape also offers TCP and IP modes as well as a link layer and you can view network traffic within your network, using either IP to IP or port to port TCP. Etherape has the ability of live viewing of captured data, with the option of also reading packets from a tcpdump capture file.
Ethernet, FDDI, ISDN, PPP, SLIP, Token Ring and other WLAN devices are supported by Etherape, including certain encapsulation formats.
An important note to consider, supporting packages such as libpcap packet library, GTK+ and GTK Builder (Version 3.0 or above) and the standard resolver library (name varies with operating system and distribution) are required to be installed on your system before you can download Etherape.
Etherape is compatible with OSX and NIX environments.
You can download Etherape here and information on supporting packages can be found here.
7. Microsoft Network Monitor
Microsoft Network Monitor is a freeware network IP Sniffer, with a dedicated support site, and is aimed at both beginners learning how to analyze network data as well as veteran network administrators.
Ideal for analyzing network traffic both at home and in organizations, it views and displays network traffic in real time on an easy, usable user interface.
Microsoft Network Monitor allows for process tracking and gives users the option to group network conversations, with support for over 300 Microsoft propriety and public protocols.
It also provides a mode for wireless monitoring, which wireless NICs support, and lets you capture wireless network packets.
Sessions can be captured simultaneously which enables faster capture and viewing of network data, easing the process of analyzing and troubleshooting problems with the network as well as applications within the network, with the added benefit of being able to reassemble fragmented data.
Libpcap capture files can be read by Microsoft Network Monitor and there is an API to access the capture and parsing engine.
It is compatible with Windows.
You can download Microsoft Network Monitor here.
Conclusion
As shown in the breakdown of IP Sniffers here, there are a variety of solutions available for the monitoring of networks and troubleshooting network related issues.
All of these applications have a place where one would be more suitable than the other as each has features specializing in different areas.
The main take away from all of this is that they all have the same objective with the aim of improving performance and creating secure networks without hassles and complications.
You can learn a lot about your environment by employing these kinds of applications, which ultimately helps you and the organization to create a more secure network in which to operate.
Depending on your intentions, experience, the size/ nature of your business or enterprise, there is an IP Sniffer designed to suit your needs as well as your budget.
Not all solutions are created equally, and your requirements will be as unique as your network's layout, and your requirements.
There is a solution out there just for you, whether it be a paid one or a free one.
We hope the information supplied here helps you make your decision when trying to find your specific requirements against both free and paid IP Sniffers,
Sours: https://www.ittsystems.com/ip-sniffers/
FREE IP PULLER FOR 24 HOURS!!! - PROTECTION SNIFFER - FREE FRIDAY!!!!!!
By using a PS4/Xbox IP puller, IP sniffer and IP grabbers, we are able to monitor the network traffic, inspect any packet and collect statistical information regarding the network or an IP address.
A PS4/Xbox IP Puller work by examining streams of data packets that flow between computers on a network as well as between networked computers and the larger Internet. These packets are intended for and addressed to specific machines, but using a packet sniffer in "promiscuous mode" allows IT professionals, end users or malicious intruders to examine any packet, regardless of the destination target. It's possible to configure sniffers in two ways. The first is "unfiltered," meaning they will capture all packets possible and write them to a local hard drive for later examination. Next is "filtered" mode, meaning analyzers will only capture packets that contain specific data elements.
Packet sniffers can be used on both wired and wireless networks, their efficacy depends on how much they are able to "see" as a result of network security protocols. On a wired network, sniffers might have access to the packets of every connected machine or may be limited by the placement of network switches. On a wireless network, most sniffers can only scan one channel at a time, but the use of multiple wireless interfaces can expand this capability.
A PS4/Xbox IP grabber is a simple web service used for logging and collecting statistics of a website or an IP address by sending them a specific link.
For PSN or Xbox Live users we will now have a look at the best IP puller, sniffer and grabbers available on the market.

Top 5 PS4 & XBOX IP Puller and IP Grabbers of 2021 (Free & Paid)
1.Lanc Remastered – PS4 & Xbox IP puller
Ask a PS4 user about IP pullers and he will mention to you Lanc. Lanc remastered is the upgraded version of the original famous PS4 IP puller that went viral on numerous forums and provides you with all the necessary information you need. It's an open source network monitoring and packet analysis application specifically designed for Gamer's to pull IP addresses.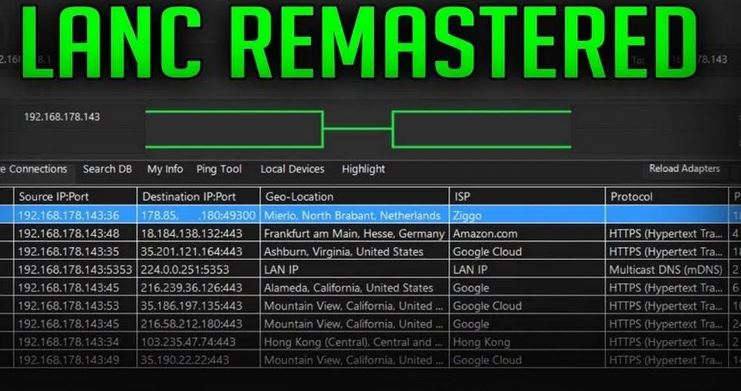 Some features include:
Compatibility – Lanc Remastered works on any console, PS4 and Xbox.
Wired & Wireless – Lanc has built in ARP spoofing that works on any connection.
GEO IP – Tracks information on other players, such as Country/City/ISP
Customizable – Able to edit source, destination IP and specify specific port numbers.
Price: Free
Ease of use: Easy
Tutorial: How to DDOS on XBOX and PS4
You can download Lanc on their website here or visit their github page for more information.
2.Grabify – PS4 & Xbox IP Grabber
Grabify IP logger will help you find and track the IP address of any person with just three simple steps:
Shorten long link
Share the short link with another user
Grab IP address after the user clicks on your short link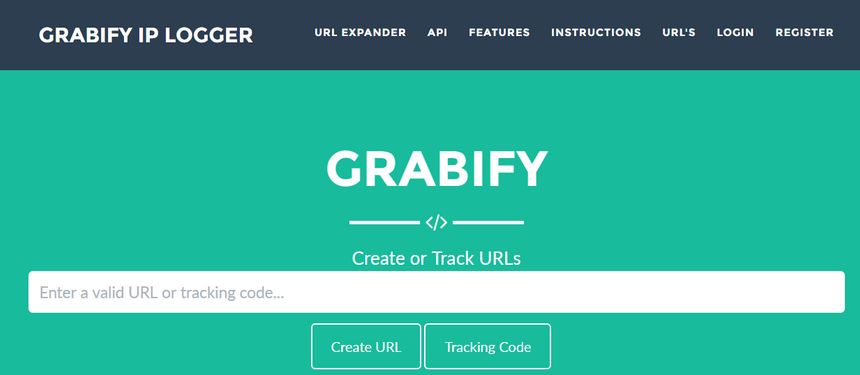 Price: Free
Ease of use: Easy
Grabify IP Logger URL & Shortener provides you with some of the most advanced and detailed statistical data and metadata for all clicks on your links. Your IP Logger link can access information about user's IP address, location tracker (country, city) and so on. You can view the full list of features here.
This IP Logger & Tracker tool is designed to be as simple as possible to use in a way to get you the most detailed and advanced analytic information on every click.
While the most popular feature is the IP grabbing link they also have a URL Expander that will check any URL you provide and view the link redirects final destination of the shortened link.
3.Octosniff
Not a new comer on the block, Octosniff operates since 2015 and is another IP puller designed for Gamer's. Octosniff comes in two paid versions, the lite and ultimate edition and boasts a ton of extra features such as
Username decryption
Server latency checks
Easy to use interface
Advanced packet filtering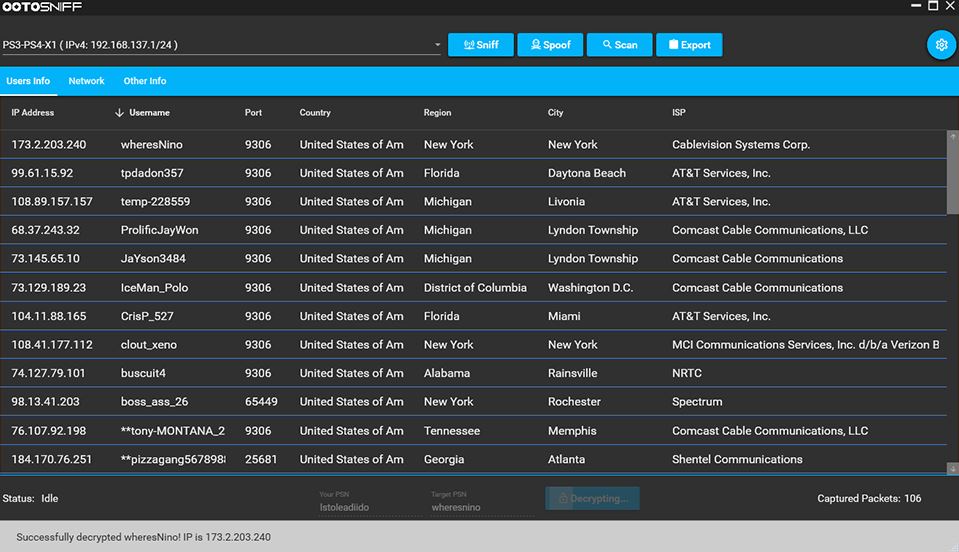 Price: $20/$30
Ease of use: Easy
While these features do sound amazing, this ps4 IP puller has only a limited games list that's compatible to run on. Also requires a single license on a device with no refund guarantees.
View / Buy Ocotosniff
4. Console Sniffer
Like Octosniff above, Console sniffer is another paid IP puller designed for Gamer's to pull IP addresses and decrypt usernames. Their features include:
Gets Usernames and IP Address
No jailbreak required
Works over WiFi/Wireless
Works on all consoles
Still works after latest patch
Simple setup, no cables required
Compatible with VPNs
Instant download after purchase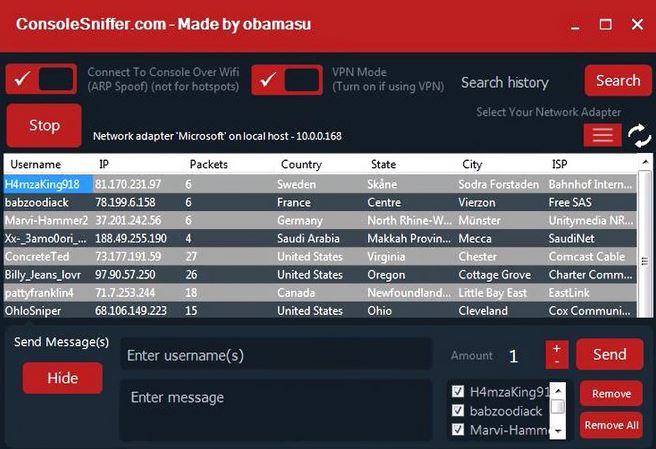 Price: $20
Ease of use: Easy
While these features do sound amazing, this PS4/Xbox IP puller has only a limited games list that's compatible to run on. Also requires a single license on a device with no refund guarantees.
View / Buy Console Sniffer
5. PSN Resolver / Xbox Resolver

PSN resolver allows gamers to find IP addresses of specific players in your party chat or in-game session. It work's the same as Lanc but comes with a built in ping, geo and port scanner under the IP multi tool.
Price: Free
Ease of use: Easy
View / Download PSN Resolver
View / Download Xbox Resolver
View Xresolver
Firstly we recommend using the Free IP Puller applications mentioned above and if you can't seem to make it work, opt in by buying a paid IP puller.  Secondly, which PS4/Xbox IP puller do you rate as the best and did we skip one on the list? Let us know in the comment section below.
Top 10 IP Stresser and DDOS Tools of 2020 (FREE)
Sours: https://bootpeopleoffline.com/2020/03/04/ps4-and-xbox-ip-puller/
Pullers good free ip
And now I have a necklace in my pocket, in a tight box so as not to damage the contents. A lot of work, a lot of effort, a lot of time and a lot of dissatisfaction with the result. But still it turned out, as for me, wonderful. But this is just my opinion, my hope: And now she is approaching me. How much space does the experience take in me about HOW she will perceive it.
How to properly use grabify
Reni Trombley. Perhaps you heard of her. Well, what difference does it make. I studied with Mr.
Now discussing:
Knock. These sounds will drive you crazy. Mmmmmmmmmmm.
1571
1572
1573
1574
1575