Do you happen to get jazzed about lawn care, and more specifically, do you have a particular fondness for well-functioning backpack blowers? Does fuel efficiency get your motor cranked? How about a cleaner-burning, 4-stroke engine that requires no mixing of fuel? Do you dream about a cool breeze caressing your back while you actively send lawn clippings off to the great hereafter? Do any of these thoughts tickle your proverbial fancy? If you answered yes to any or all of these questions, I've got some good news for you. The Makita EB7650TH MM4 4-Stroke Tube Throttle Backpack Blower combines fuel efficiency with comfort, power, and a world-class active cooling system.
We recently had the opportunity to test out the Makita EB7650TH, along with 6 other blowers from various commercial grade manufacturers, when we ran our backpack blower head-to-head shootout. We got the chance to run the blowers through all sorts of empirical tests to prove how they stood up to manufacturer claims, and how they fared against each other as well. Not surprisingly, Makita showed very well in a number of categories. Furthermore, it was the only 4-stroke blower in the shootout, and proves that you don't have to mix oil and fuel to battle with the best.
Fuel And Work Efficiency
The Makita EB7650TH excelled in this respect. In runtime tests, the Makita finished toward the top of the pile when compared to comparable pro-level blowers. On a full tank, this blower ran for over 71 minutes at WOT. Of course, the size of the tank in relation to the other models could account for this; if the Makita tank was noticeably larger, you would expect a longer runtime. However, at 64 oz, the fuel tank on the Makita falls on the smaller side of the spectrum for the blowers we tested.
Even running all of the blowers with only 6 oz of fuel proved that the Makita performed near the top of the fuel efficiency list. It finished second in our tests. Plus, with a 4-stroke engine, there is no need for premix oil. The Makita EB7650TH runs cleaner, and for longer, than almost every comparable brand of blower we tested.
Power
For those who don't know, blower manufacturers spout off all sorts of information in regards to their blower's power. Generally, after testing their product, they will list a rating for MPH and CFM. Those numbers are helpful to know, but they might not tell the whole story. So, in our tests, we look at the Newton force produced as well. Newton force is the force required to move 1 kilogram of matter 1 meter over 1 second. The Makita EB7650TH achieved 33.9 Newtons on the force test, and the difference between this blower and the winner was pretty negligible.
It performed well in our performance testing, cranking out 197 MPH winds. In the Cubic Feet per Minute (CFM) calculation, we measured the volume of air the blower produces at Wide Open Throttle, at the tip of the tube. The EB7650TH delievers 732 CFM in our test, which is quite a bit more than Makita's claim of 670. Kudos to Makita for under-promising and over-delivering.  All of that is to say that while the Makita produces fast air, with an ample amount of volume.
Real World Testing
In addition to our lab and benchtop testing, we also brought a real-world element as well. Blowing leaves just seems too easy, so we decided on using wet sand on asphalt pavement. Marking a 72″ x 72″ inch sqaure, we evenly raked out a 50-pound bag of damp playground sand. Next, we loaded the Makita EB7650TH blower on a rolling stand, with the nozzle at a 45-degree angle and the tip 12-inches from the ground. We roll the blower up, while at WOT, until the tip is even with the beginning of our marked area. After allowing the blower to run for ten seconds, we measure the swath size marking in the sand. At a max width of 22-inches and max length of 34-inches, the Makita EB7650TH blower achieved a 748 square-inch swath.
Feature Set and Ergonomics
The Makita backpack blower includes very comfortable straps and a back pad. The straps were easy to cinch up, and the vibration was such that neither of those things should cause too much discomfort on longer jobs. There was one issue I had with this blower in this regard, however. Because this blower was a little on the heavier end of things, and because it has a narrower, but deeper, body design, I felt its weight more acutely. Almost as if it hung from my shoulder blades, rather than settling evenly across my back, the Makita felt just the tiniest bit awkward by comparison to the other blowers.
However, the Makita EB7650 has a great active cooling system that makes up for the slight awkwardness of its weight displacement. Makita designed the fan intake directly behind the user. As the blower runs, it pulls air through the intake, across the users back. The result is a much cooler blowing experience. Other blowers included this feature as well, but Makita's design worked much, much better than everyone else's.
This blower also includes a couple different tips and an easily adjusted pistol grip handle. Makita designed the EB7650TH with a step plate for easier start-up as well.
Final Thoughts
The only knocks I'm prepared to give the Makita EB7650TH come down to its weight and its power. The difference in weight between the Makita and other high-end backpack blowers is, realistically, negligible. However, when it comes to weight displacement, this blower just sits a little awkwardly. It feels like its pulling down on your shoulders a bit. Waist and chest straps could probably fix this, though I don't know too many lawn guys who would be wearing this for long enough to fuss with all that unless they're tackling really large jobs. As far as power goes, this blower will definitely get the job done.
Great Value
Make no mistake though, the Makita EB7650TH is a great blower, and at $499, presents one of the better values on the market considering performance, runtime, feature set, and power. This blower might not actually be significantly quieter than other, comparable models, but with the lower tones it produces, it definitely sounds less abrasive than a 2-stroke engine. The fuel efficiency on this blower is one of the best-in-class that we tested, and we love the 4-stroke engine. Not having to mix fuel feels like a huge perk for us, believe it or not.
Plus, this blower has one of the best features we've seen (or felt) lately. The active cooling system on this backpack blower is second to none. At Wide Open Throttle, the blower pulls a good amount of air across your back. This might be a detriment during the winter, but during the summer, when the vast majority of the year's lawn work is being done, this feature sets it apart from most other blowers. We've been told that there have been lawn guys claiming that they've actually felt a little chilly while using this in the dead heat of a Florida summer. I don't know if I quite believe that, but the active cooling on this blower does feel effective.
You can purchase the Makita EB7650TH blower at your local dealer or Home Depot . To see how the Makita EB7650TH performed next to some other pro-grade blowers, check out our Best Backpack Blower Shootout.
Makita EB7650TH Backpack Blower Features
Mechanical automatic engine decompression for quick and easy starts
Shoulder straps engineered with multiple adjustments for improved fit
Tool-less handle adjustment for quick positioning of handle
Powerful fuel efficient 75.6 cc (3.8 HP) MM4 commercial duty engine
Large capacity air filter is replaceable and easily accessible
Padded back panel is ventilated for improved operator comfort
Heavy duty anti-vibration mounts between frame and engine for improved operator comfort
Adjustable tube easily adjusts to the desired length
Large grip positioned at optimum center of gravity for easier transport
Large capacity muffler ensures quieter operation (76 dBA)
Padded shoulder straps retain their shape for easier re-shouldering
Makita EB7650TH Backpack Blower Specs
Engine Displacement (cc) : 75.6 cc
Engine (HP) : 3.8 HP
Max. Air Volume: 670 CFM
Max. Air Velocity: 200 MPH
Fuel Type: Unleaded gas
Fuel Tank Capacity: 64 oz.
Crank Case Capacity: 7.4 oz.
Sound Pressure: 76 dB(A)
Dry Weight: 24.1 lbs.
Blower Type: Backpack
Power Type: 4-stroke gas
User Type: Professional
Shipping Weight: 33.9 lbs.
UPC Code : 088381-669825
MSRP: $499
Sours: https://opereviews.com/landscaping/leaf-blowers/makita-eb7650th-backpack-blower/
Makita Leaf Blowers
Below, you'll find a list of all our 12 Makita blowers.
You can use the filters to narrow your choice down and the sorting options to change the display order.
You can also click on "Compare" to add a leaf blower to the comparison table to see how it rates beside any other blower on our website.
Show Filters
About Makita
Founded in Nagoya, Japan by Mosaburo Makita, the Makita Corporation has been producing state of the art electrical power tools since 1915. Makita is the leader in electro engine technology, which is reflected in their products. The company has since expanded globally and currently manufactures its devices in 6 facilities across the world. Makita presents an innovative approach to power tool manufacture, which is testified by their LXT battery technology and antivibration AVT system. Their selection of over 400 products includes some of the best electrical leaf blowers on the market.
Sours: https://www.leafblowerguide.com/blowers/makita/
Makita 18V Cordless Blower XBU03Z Review

Manufacturer: Makita

Model number: XBU03Z

Power source: 18 Volt

Motor size: Brushless

Weight: 5.1 lbs
One of the most underrated tools on a job site is the leaf blower. There's no doubt that it makes cleaning up more efficient. The Makita 18V Brushless Blower from Makita is my go-to for both job site clean up and yard clean up around the house. 

An unsung hero
Back in my landscaping days, the leaf blower was the last tool we grabbed on a job to clean up all the grass clippings, mulch, and debris left behind. Gas-powered blowers were powerful but extremely loud, heavy, and bulky and emitted some pretty toxic gas exhausts. They also required a gasoline mix. 
As a carpenter, I use a cordless blower to clean up all the dust from the client's driveway or yard at the end of the day. Additionally, I like to blow off my tools before putting them in my truck. The Makita blower has become the unsung hero in my truck, allowing me to leave a job site spotless.
Makita 18V Blower Specifications
Max air volume: 459 CFM
Max air velocity:116 MPH
Sound pressure: 63 dB(A)
Overall length:32 -½"
Net weight with battery:6.5 lbs
Net weight without battery:5.1 lbs
Battery platform:18V 
Lightweight, Powerful, and Quiet
The Makita 18V Brushless Blower is lightweight, powerful, and quiet. It runs off of one 18V battery. So, if you're on the Makita 18V LXT platform this blower will fit right into your set-up.  It weighs in at 6.5 lbs with a 5 Ah battery, making it effortless to carry around the job site at the end of the day. 
The brushless motor is able to deliver air velocity speeds of up to 116 MPH, which is more than enough to blow debris off semi-smooth surfaces like asphalt and even rougher terrain like grass. 
It has a sound pressure rating of 63 decibels which is super quiet, and welcomed! (for comparison, a lawnmower runs on average at 90 dB). 
Since it doesn't require any oil or gasoline and it has a brushless motor, there is very little maintenance on this blower. 
Favorite features
My three favorite features of the 18V LXT Lithium-Ion Brushless Blower are the variable speed trigger, the cruise control lever, and the in-line fan design. 

Variable Speed Trigger
The variable speed trigger allows you to adjust the airflow velocity in your operating hand which gives you more accurate control when cleaning up. You can quickly dial down the power if you're trying to control how far you want to blow debris. The variable speed trigger also improves the battery life because you're not on full power all the time.

Cruise Control Lever
By contrast, the cruise control lever allows you to set the power output and airflow velocity at a specific setting so that you don't have to hold the trigger in place. This feature is great for longer periods of cleaning up. 
Yesterday I caught my boss, Rob, using the blower to clean himself of sawdust. He propped the blower on a sawhorse, set the cruise control to low, and used the blower to clean his hair, shirt, and pants of dust and debris.

In-Line Fan
Lastly, the in-line fan design really improves the tool balance and operating ergonomics of the tool. The motor fan is directly beneath your hand and in line with the rest of the tool which gives you better control and balance of the tool.  Other blowers I've  owed have the
It's amazing how well balanced it feels in your hand. If you've been using a backpack leaf blower, you will absolutely love how easy this blower is to use.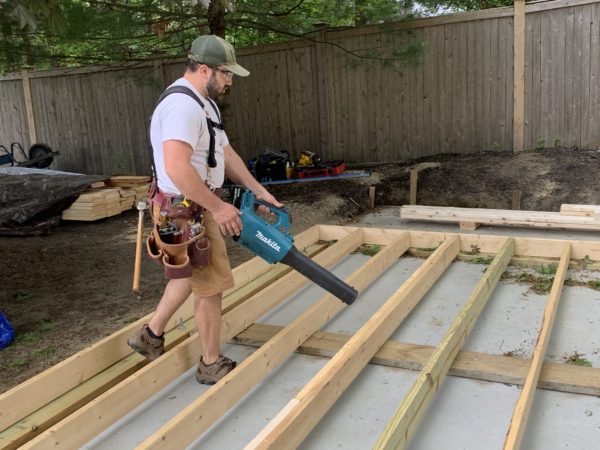 Using the Makita Blower On the Job Site
Just like when I landscaped, my Makita 18V Brushless Blower is the last tool I grab out of my truck each day. It works great cleaning up sawdust or PVC dust (which is particularly difficult to clean up with a broom). 
I also use it to clean my table saw, miter saw, and other tools before putting them back in my truck. I have noticed that this little step at the end of the day helps to maintain the lifespan of my tools by preventing dust build-up in key mechanical components of tools. 
Using the Makita Blower At Home
One thing I like about the Makita blower and other Makita landscaping tools is the flexibility of the platform.  During the weekday I'm using Makita tools to build and repair homes. On weekends those same 18-volt batteries power my Makita landscaping tools and help me tackle home repair and maintenance projects. Here are a few of the projects the blower comes in handy for:
Blowing lint from the dryer vent
Drying off my truck after washing
Cleaning out the Shed, basement
Sweeping sidewalks and driveways
Cleaning gutters of dry leaves
Blowing out my truck floor mats and truck floor
Price
The Makita 18 volt blower sells for $129.00 online.
Makita Makita 18 V Brushless Blower XBU03Z
Overall Thoughts
So far this Makita blower has been a go-to clean-up tool both on the job site and at home. It's my unsung hero, and can always be found in my truck.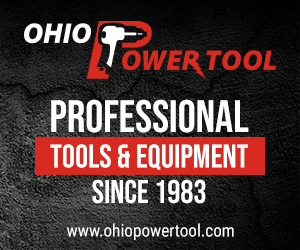 About the author
Dave Brefini
Dave Brefini has always been drawn to carpentry since he was a young kid but did not work in the trade until January 2019. Prior to this, he spent 8 years working as a Spanish teacher both at the university and high school level. As a teacher in both private and public schools, he noticed that the trades were rarely presented to students as a viable career path. His decision to begin a career in carpentry was based on both a deep interest in the craft and a passion to promote the trade to young people.
All posts by Dave »
Disclosure
Product reviews on this site contain our opinion of a product or service. We will always strive for objectivity and transparency in our reviews. Our goal is to provide readers with honest, objective information based on our own experiences. We never have and never will accept payment in exchange for a positive review. Many of the products that we review are provided to us for free by a manufacturer or retailer. In some cases, we also have advertising or affiliate relationships with manufacturers and retailers of products and services we review. For additional information please visit our additional disclosure policies.
Sours: https://www.toolboxbuzz.com/cordless-tools/blower/18v-lxt-lithium-ion-brushless-blower/
Makita 18v Brushless Blower Review
Overall, Makita has six different battery powered leaf blowers on offer. This article introduces them. As a start, we will provide an overview of the three 36V- respectively 2x18V leaf blowers in the first chapter. In chapter 2, we will introduce the three remaining 18V tools (including the well-known Makita Cordless Blower DUB 182). In the third chapter you will find a table summarizing all functional and technical specifications of the blowers which we discussed in this article. The fourth chapter provides some background about the history of Makita.
I. Makita 2x18V Leaf Blowers
In this chapter we will provide a detailed review of the three 2x18V tools. We will start with the Makita Cordless Blower XBU 02Z. Afterwards we will give an overview of the XBU 04Z and the XBU 01Z.
Makita Cordless Blower XBU 02Z – Review
The Makita leaf blower XBU 02Z does a good job at striking a decent middle ground between power, versatility and convenience. It comes in a fairly light and thin design, with more operational control options to optimize its work output relative to its energy requirements.
Not only does its brushless motor deliver longer runtime (up to 50% more per battery charge), it also offers increased power and speed, with an ultimately longer lifespan for the tool. The Makita blower is also ideal for people whose work is a bit demanding but isn't very large scale. This is evident in the variety of speed options it provides, coupled with the ability to easily adjust its length and blow at varying distances over both small and slightly large areas. The tool also has zero emissions and reduced noise, making it more friendly for domestic use.
This use case is further supported by the fact that the Makita XBU 02Z requires minimal maintenance, with no need for gas or oil. When you factor in the shortened time for charging, which can happen concurrently for both batteries, this blower becomes even more favorable for a quick and abrupt clean up. Its in-line fan design also provides better tool balance, making it a user-friendly handheld blower.
1. Performance
When powered with two 5.0 ampere hours (ah) 18V batteries, the Makita XBU 02Z's brushless motor can deliver a mid-speed of 15,800 RPM for up to 28 minutes, with an air velocity reaching 120 MPH and 473 CFM of air volume. The air volume and air velocity can be adjusted using a 6-stage dial with a variable speed control trigger. The leaf blower also has a lock-on button to help activate a blow-setting and keep it continuous.
This cordless device features Makita Extreme Protection Technology (XPT). XPT comes in the form of protective seals which channel water and dust away from the vital components to ensure reliable operation in harsh conditions.
2. Ergonomics
At only 36-5/8" long, the Makita XBU 02Z's lean design makes it convenient for blowing leaves at a distance, requiring very little effort for any sweeping motion. The nozzle supports a 3-stage telescoping mechanism, allowing you to shorten it for nearer blowing, or make it longer for more focused blowing.
The Makita cordless blower XBU 02Z weighs 9 lbs. with the batteries included, but instead of a protruding underside block, its weight is well-distributed around the handle and all the way to the nozzle in a slender design, to reduce the effort needed for side-ways movement. It also has a rubberized soft grip for more comfort on the job. The blower has a sound pressure rating of 61 dB(A) as per the ANSI B 175.2 standard.This is less than other blowers in the 36-42V segment, as for example the Ryobi 40V Jet Fan Blower or the WORX 2x20V Cordless Blower WG 584.
3. Battery- & charging technology
Battery technology:
With two 18V 5.0 ah slide-style batteries, the Makita XBU0 2Z can run for 28 minutes on dial setting #3 on a single charge. Star Protection allows the blower to communicate with the battery in real time and avoids overheating, overloading or over-discharging. You will find information on Makita's 18V battery technology in the second chapter of this article (see battery technology).
Charging technology:
The 5.0 ah batteries have an embedded L.E.D. charge level indicator. They can be charged fully within 45 minutes with the Makita Rapid Optimum Charger. Again, more information on charging can be found in the next chapter (compare charging technology).
Compatibility with other devices from Makita:
The battery standard is compatible with a wide range of 18- and 2x18V outdoor power equipment from Makita. This includes only other garden tools, such as battery-operated hedge trimmers, but also a huge variety of driver drills, jig saws and so on.
4. Scope of delivery & price
The Makita blower usually comes alone but can be supplemented with a flat end nozzle, an extension attachment, a 3-stage telescoping blower nozzle and a shoulder strap for easier carrying when in operation. The blower comes with a 3-year limited warranty.
Other Makita 2x18V Blowers
Let's take a quick look at the other two 2x18V battery-powered leaf blowers and make a few comparisons in certain aspects of these devices:
Makita Cordless Blower XBU 04Z
The Makita XBU 04Z also uses a brushless motor to deliver as much as 473 CFM of air volume and 120 MPH of air velocity. It comes with a cruise control level, with a variable speed trigger to help you adjust power and run time depending on how your work is progressing. In addition, the Makita blower has a speed lock that makes it easy to continue operating the device in a specific speed setting. Its sound pressure is rated at 61 dB(A), in accordance with the ANSI B 175.2 standard. In regard to maximum output, this blower is an equivalent of the Makita XBU 02Z.
The Makita cordless blower XBU 04Z takes on a design more geared towards heavy-duty use cases, weighing 8.4 lbs. without batteries, and 11.2 lbs. with batteries. It is also fitted with a 3-stage telescoping blower nozzle that has an adjustment range of 5" to bring the pipe closer to the ground for more convenient blowing. The blower's design also allows you to easily convert it into a vacuum if you have the necessary accessories. Its rubberized soft grip makes for more comfortable handling while on the job. The Makita XBU04Z comes with a blower nozzle as well as a 3-stage telescoping blower nozzle. You can also purchase a Vacuum Attachment Kit to convert the blower into a vacuum cleaner.
Makita Cordless Blower XBU 01Z
This blower has a Makita-built motor, outputting a peak air volume of 155 CFM and providing a maximum air velocity of 208 MPH. It features a high/low button to control power and run time. The blower has a sound pressure rating of 60.6 dB(A) measured using the ANSI B 175.2 standard, making it just slightly less noisy than the other two 2x18V blowers. The Makita XBU 01Z also has a variable 2-speed motor offering as well as a long nozzle with a wide end that simplifies blowing over large floor areas, with an overall length of 36-1/4".
This lightweight blower weighs only 8 lbs. with the batteries included, making it the lightest of the three 2×18 options from Makita. However, this blower may be the most preferable for someone who's primary desire is to experience minimal fatigue while on the job. With a soft rubberized grip for better comfort and a sleek design, it allows for better precision when targeting smaller leaves and other objects. The 5.0 ah batteries deliver up to 90 minutes of run time. When operated at peak velocity, they can run for up to 30 minutes on a single charge. The power tool comes with a long blower nozzle.
II. Makita 18V Leaf Blowers
After introducing the three 2x18V blowers in chapter 1, this section will focus on the smaller 18V tools from Makita. These are the Makita Cordless Blower DUB 182 as well as the Cordless Floor Blower DUB 183 and the Brushless Blower XBU 03.
Makita Cordless Blower DUB 182 – Review
The Makita 18V blower DUB 182 is a perfect clean-up tool and a definitive choice for many job sites and hobby workshops. It strives to combine the accessibility and ease of cordless machines with the formidable power-to-weight ratio of Makita's 18V LXT lithium-ion battery technology.
The 18V blower is a powerful yet user-friendly addition to any kit, tool bag or work shop. It is not only used by DYI fans, but also by professionals. Makita is not one to miss a trend, and thus, the battery blower is part of the expanding 18V lithium-ion series. Until now, this is the largest cordless tool range powered by 18V batteries. Makita also created Star Protection Computer Controls for improved tool performance and extended battery life. For maximum versatility, the tool should be powered by Makita 18V LXT lithium-ion batteries with the star symbol on the battery indicating protection.
Overall rating
1. Performance - 9/10
2. Ergonomics - 9/10
3. Battery & charging technology - 10/10
4. Scope of delivery & price - 7/10
8.8/10
1. Performance: 9/10
The Makita cordless blower DUB 182 features a high torque motor with a no load speed of 0-18,000 RPM. Its maximum air velocity of 179 mph and air volume of 91 cfm makes it one of the more powerful cordless blowers in the 18-/20V category. It has three different speed settings labeled 1, 2 and 3. Firstly, when using the 3.0 Ah battery with the lowest setting will get you a massive run-time of 75 minutes. Secondly, medium will get you 25 minutes of uninterrupted work. And thirdly, the highest setting can still brag with a solid 12 minute run-time.
2. Ergonomics: 9/10
The Makita 18V blower weighs around 4 pounds (including the battery), giving it an average range in this tool category. The compact design comes in at around a modest 20 inches long as well as an ergonomic shape designed for reduced operator fatigue. The separately sold shoulder strap can alleviate even more the strain. The two-finger variable speed trigger is easy to locate and operate, even when operating the Makita blower with a gloved hand. In addition, the rubberized soft grip handle by Makita ensures maximum comfort for the operator.
3. Battery- & charging technology: 10/10
Battery technology:
The cordless leaf blower can be operated by any Makita 18V battery (lithium-ion) marked with the star symbol. Makita created Star Protection Computer Controls, a communication technology that allows the equipped tool and battery to exchange data in real time and monitors conditions during operation. The technology also protects against overheating, overloading, and over-discharging and thereby extends the overall Makita battery lifetime.
Keep in mind that usually the Makita cordless leaf blower comes without a battery included, unless you are getting it in a special deal. Makita offers five different batteries for the blower with the ranges of 2.0 Ah, 3.0 Ah, 4.0 Ah, 5.0 Ah respectively 6.0 Ah. According to the US website of Makita, the usage of a 5.0 Ah battery pack allows for continuous operation of the blower for up to 20 minutes at high speed.
Charging technology:
Makita 18V batteries have the fastest charge times in their categories, meaning they spend more time working and less time charging. The charging times depend on the battery used ranging from 25 minutes for the 2.0 Ah battery, to 55 min for the large 6.0 Ah battery when using the Makita Rapid Optimum Charger which communicates with the battery's built-in chip throughout the charging process to optimize battery life by actively controlling current, voltage and temperature.
Compatibility with other 18V devices from Makita:
The 18V batteries and charging systems can be used to operate more than 225 18V products from Makita. In addition, a huge range of 2x18V applications can be operated by this technology.
4. Scope of delivery & price: 7/10
The Makita cordless leaf blower DUB 182 comes with the easy to install Rubber nozzle, made of high quality materials. Other attachments like the long blower nozzle, the shoulder strap or the dual port charger are separately available. This is also true for the 18V lithium-ion batteries.
Furthermore, the 18V blower can easily be turned into a vacuum cleaner with the dust bag (sold separately). For dust suction, simply fit nozzle onto suction inlet and dust bag onto blower outlet. After the bag fills with dust, empty the contents of the bag into a dust bin by releasing the fastener.
The Makita battery leaf blower set (i.e. incl. one battery and charger) can be found in the higher price segment when compared to other 18V- or 20V solutions. The price goes even up further when adding the extra nozzle, a bag charger or additional batteries. Above all, we can conclude that the Makita 18V blower is a solid device with a rather good price-performance ratio.
Other Makita 18V Blowers
In addition to the 18V blower presented above, Makita offers two further cordless leaf blowers. Below we will give a short introductions of the Makita Floor Blower and the Makita Brushless Blower. We will concentrate on the differences between the tools so that you can choose the optimal handheld solution for your yard needs.
Makita Cordless Floor Blower DUB 183
The maximum air speed of the Makita 18V blower DUB 183 comes in at 116 mph. This is comparably less powerful than the DUB 182. This does not have to be a condemning factor though. The maximum air volume of the Makita DUB 183 is 91 cfm, which is the same as the DUB 182. In our research we have found that the Makita blower DUB 183 is a great solution for removing leaves and small debris from gravel filled areas in the yardwithout displacing the gravel. The tools integrated variable speed trigger allows for smooth adjustment of the speed to optimize battery runtime. Similarly, to the Makita DUB 182, the DUB 183 tool can be operated by any of the Makita 18V lithium-ion battery marked with the star symbol.
The standalone weight of the blower is a total of 4.1 lbs, which is a little over the previous tools weight. Additionally, depending on the capacity of the battery, the weight can go up to 5.5 lbs. This can still be considered relatively lightweight. Regarding the noise level, with 85 db(a) the Makita blower DUB 183 is slightly louder than the DUB 182. Looking at the design, a major difference is the length of the blower tube. The Makita DUB 183 sports an unusually long blower tube which will be particularly interesting for taller people. The longer tube can spare you from bending at an uncomfortable angle, especially if you plan on working for longer periods of time. The placement of the comfortable rubber grip is also smart in design. This handheld is designed to be held pointing downward rather than at an angle, making handling very easy.
Makita Brushless Cordless Blower XBU 03
The maximum air velocity of the Makita leaf blower with the name XBU 03 comes in at 116 mph which is the same as the Makita DUB 183. However, the Makita XBU 03 has a maximum air volume 459 cfm. As most Makita cordless tools, the Makita 18V blower XBU 03 sports integrated cruise control lever with variable speed trigger. This adjustable speed option is crucial for run time management. Similarly, to the Makita DUB 182 and 183, the XBU 03 can be operated by any Makita 18V battery marked with the star symbol.
The Makita blower XBU 03 is the only one with a brushless motor. Brushless motors are more efficient at converting electricity into power than brushed motors. Due to the absence of brushes they also mitigate loss due to friction. This can give you up to 50 % longer run time per battery charge. The standalone weight of the Makita leaf blower XBU 03 is a total of 5.1 lbs, which is significantly over the previous tools weight. Additionally, depending on the capacity of the battery, the weight can go up to 6.5 lbs which can still be considered relatively lightweight considering that this leaf blower is held at a downward angle.
Regarding the noise level, with 60 db(a), the XBU03 is by far the most quiet solution, not only in comparison to the two other Makita blowers, but also relatively to comparable solutions, e.g. the Dewalt 20V blowers, the 20V solutions from Black + Decker or the 18V Milwaukee blowers. The Makita 18V blower XBU 03 is equipped with the Extreme Protection Technology. This is a protective seal inside the tool, which is engineered for improved operation in harsh conditions by directing water and dust from
key internal components.
III. Technical Data
Table 1: Makita Cordless Blowers – Components
Technical Data
Makita DUB 182
Makita DUB 183
Makita XBU 03
Makita XBU 02Z
Makita XBU 04Z
Makita XBU 01Z
Performance
Max. air speed
179 mph
116 mph
116 mph
120 mph
120 mph
208 mph
Max. air volume
91 cfm
91 cfm
459 cfm
473 cfm
473 cfm
155 cfm
Variable speed trigger
+
+
+
+
+
+
Ergonomics
Weight (tool only)
3.9 lbs
4.1 lbs
5.1 lbs
6.2 lbs
8.4 lbs
5.2 lbs
Max. noise level
83 db(a)
85 db(a)
60 db(a)
61 db(a)
61 db(a)
60.6 db(a)
Soft-grip
+
+
+
+
+
+
Max. battery run-times¹
3.0 ah: 12-75 min

5.0 ah: up to 18 min

n/a
2x5.0 ah: 28 min at mid-speed
n/a
2x5.0 ah: 28-90 min (depending on speed level)
Table 2: Makita Cordless Blowers – Technical Data
¹ Battery run times times partially calculated.
Battery- and & Charging Technology
Battery Technology
Voltage
18 Volt
Battery range
Li-Ion 2.0
Li-Ion 3.0
Li-Ion 4.0
Li-Ion 5.0
Li-Ion 6.0
Electricity use
2.0 ah: 36 wh
3.0 ah: 54 wh
4.0 ah: 72 wh
5.0 ah: 90 wh
6.0 ah: 108 wh
Charging Technology²
Charging times (fast charger)
2.0 ah: 25 min
3.0 ah: 30 min
4.0 ah: 40 min
5.0 ah: 45 min
6.0 ah: 55 min
Table 3: Makita Cordless Blowers – Battery- & Charging Technology
² Charging times times partially calculated.
IV. Makita history
Makita Corporation was founded in 1915 as an electric motor repair and sales company in Nagoya, Aichi, Japan. Today, Makita is a global brand in over 40 countries with 10 plants operating in 8 countries. Makita was quick to incorporate mass production and assembly capabilities. By the 1970s, Makita had established a strong production base which afforded greater productivity as well as improved quality control. In 1985, Makita Corporation of America began manufacturing and assembling tools in Buford, Georgia. As part of the Makita global network of ten manufacturing and assembly plants, Buford is one source Development Team works closely with engineers on job sites to develop products that exceed the demands of the American contractor.
Sours: https://cordless-blower.com/makita-cordless-blower
Leaf blower makita
The Makita 18V LXT® Lithium‑Ion Cordless Leaf Blower (XBU03Z) uses a single 5.0Ah Lithium-Ion battery (BL1850B) and delivers a combination of power, low-noise and comfort. This Makita cordless Leaf Blower Kit runs cooler and more efficiently for longer life and delivers speeds up to 116 MPH air velocity and a full 459 CFM.
Makita's efficient BL™ Brushless Motor technology is electronically controlled to optimize battery energy use for up to 50% longer run time per battery charge than similar non-brushless tools. Electronic controls efficiently use battery energy to match the changing demands of the application for increased power and speed when needed. A cruise control lever provides management of power and run time.
This Makita Leaf Blower Kit includes:
1 x 18V LXT® Lithium‑Ion Brushless Cordless Blower (XBU03Z)
1 x 18V LXT® Single Battery Rapid Charger (DC18RC)
1 x 5.0Ah Lithium-Ion Battery (BL1850B)
Max. Air Volume:459 CFM
Max. Air Velocity:116 MPH
Noise Level:60 decibels
Run-time: Up to 29 minutes
Net Weight (without battery):5.1 lbs.
Net Weight (with battery):6.5 lbs.
Overall Length:32-1/2″
Blower Type:Handheld
Battery:18V LXT® Lithium-Ion
| | |
| --- | --- |
| Weight | 10 lbs |
| Dimensions | 12 × 10 × 8 in |
Sours: https://www.gardenland.com/product/makita-xbu03z-battery-powered-leaf-blower-kit/
TESTING -- Makita Leaf Blower DUB362Z
Makita XBU02 Cordless Blower Blends Relevant Power with Low Noise and Zero Emissions
The Makita XBU02 18V X2 Cordless Blower is the brand's flagship model among its battery-powered offerings. Unlike many battery-powered brands out there, Makita has a line of gas-powered outdoor power equipment, including 4-stroke tools, to help draw their development. As a 36V model, it has some distinct performance advantages over its 18V options.
Pros
No gas engine noise, emissions, or maintenance
Reaches the power of residential gas blowers
Just 9.0 pounds with two 5.0Ah batteries
Telescoping nozzle
6 speed settings with a lock-on button
4 batteries come in the kit during Makita's Rule the Outdoors promotion
Cons
Not as powerful as other options on the market
Makita 36V Battery-Powered Blower Performance
For the amount of time Makita has been in the battery-powered lawn care business, they haven't developed as many blowers as some brands. It's been a more intentional design effort. At the time we're writing, there are only two 18V X2 (36V) blowers available—this model and the XBU04 blower/vac/mulcher. Interestingly, they share the same performance specs of 120 MPH max airspeed and 473 CFM.
We wanted to know what that translated to in terms of Newton force. At its highest of the six speeds you can choose from, it hit 14.0 Newtons on our meter. Quality residential gas models start around 12.0 Newtons, so Makita is on par with those. Of course, it's far short of the 50+ Newtons we've hit on gas backpack blowers, but that's a different class.
In terms of practical applications, this is a blower that's great for cleaning off hard surfaces after mowing and blowing dry leaves into piles for collection. Wet leaves, especially small ones such as oak, are tougher to collect at this power level. But that's not a gas vs battery compromise, it's the reality of all blowers in the same power range.
Runtime
On high, the runtime is somewhat limited. Using two 5.0Ah batteries, we were able to run the blower for 11 minutes, 19 seconds. That's more than enough for some post-mowing cleanup, but you'll want to use the speed settings and lock-on button to get more leaf-blowing time in the fall.
Noise
Using the ANSI B175.2 standard for noise testing, Makita rates this blower at a very low 61 dB(a). That's an average taken from 50 feet away, and useful to help understand the effect on bystanders. We like to test from our operator's ear and it came back at 87 dB(a) on our SPL meter. In the overall landscape of cordless blowers, that's still pretty low, but there are some units we've tested that are quieter.
Makita XBU02 18V X2 Cordless Blower Design
Two Batteries?
If you're new to Makita, they use two 18V batteries to hit 36V power. That might seem odd at first, but it's actually pretty forward-thinking. It gets you to a higher power level without having to leave the 18V LXT platform, opening up more than 250 products that work on the same batteries.
Weight
Adding a second battery increases the weight compared to Makita's 18V blower, but it's really not bad. With a pair of 5.0Ah packs, it weighs 9.0 pounds to stay well under the 10-pound mark.
Balance and grip are both excellent with the batteries installed. It's easily held and used with one hand.
Speed Selection
You can feather the trigger to control the power if you like, but there's a 6-speed thumb dial on top of the handle. It's really helpful when you need to keep the power lower to blow out your shop or you're containing dry leaves.
Additional Features
Extreme Protection Technology (XPT) for improved dust and water resistance
More efficient in-line fan design
3-stage telescoping nozzle (great for tall users!)
Lock-on button
Keyhole for hanging
Dual-port Rapid Optimum Charger comes with the kit
Makita 36V Battery-Powered Blower Price
The blower will set you back $329. If you're already on Makita's 18V LXT battery platform and don't need batteries, the bare tool runs $219. Even if you do have batteries, you might want to grab the kit anyway. During Makita's Rule the Outdoors promotion, the kit comes with four batteries, making it a really sweet deal.
The Bottom Line
Makita balanced airspeed and volume well with this model to create a blower that can really move some material with outstanding ergonomics. While it's not the most powerful cordless blower on the market, it does reach the power of residential gas models.
Makita 18V X2 (36V) Battery-Powered Blower Specifications
Model: Makita XBU02
Max Air Volume: 473 CFM
Max Air Velocity: 120 MPH
No Load Speed: 11,400 – 21,500 RPM
Power Source: 2X 18V LXT Lithium-Ion
Overall Length: 38-3/4″
Sound Pressure: 96 dB(A)
Net Weight (with battery): 9.0 lbs.
Tool Warranty: 3 years
Price: $329.00
Sours: https://www.protoolreviews.com/makita-18v-x2-lxt-cordless-blower-xbu02/
You will also like:
Me, but then. - Will you wash him with soap. - Sure. - Come on.
1510
1511
1512
1513
1514