The 5 Most Popular 6 x 4 Plastic Sheds
0
We made it easy for you to choose your best 6x4 plastic shed...
GOT A SMALL to medium size yard?
Looking to store a push lawnmower and garden equipment?
Don't want any maintenance and an easy shed assembly?
If so then a 6 x 4 is the perfect companion for your yard tools
They are small enough to fit neatly in the corner of your yard, but large enough to hold the necessities. With a large selection to choose from, how do you know which one is best for you?
6 x 4 Plastic Shed Buying Guide - What To Look For
Here is a quick and simple guide to help you find the solution that fits your needs the best
Size of door
- Is it big enough to let your push mower in easily and other larger items? (i.e. ladder)
Shelving
- Does it come standard or do you need to buy some separately
Height
- Is the shed tall enough for brooms, rakes and other long handled garden implements?
Ventilation
- If you plan on storing gas powered push mower, weed wacker and some spare gas, oil and/or paint ventilation is important
Floor
- Is the floor/base included or is it an added extra?
The 5 Most Popular 6 x 4 Plastic Sheds
Now you have a good idea of what you should be looking for when shopping for a 6 x 4 plastic shed, here are five of the most popular models available for your consideration.
1. Keter Factor Large 4 x 6 ft. Garden Storage Shed
Inexpensive Yet Functional Storage
KETER Factor Large 4 x 6 ft. Resin Outdoor Backyard Garden Storage Shed
Keter is one of the better-known brands of resin sheds and offers a pretty wide range of sizes. They are also one of the more affordable brands and in general give you more than you are paying for in terms of quality.
Being a 4 x 6 shed, you aren't going to have room for a riding lawn mower, but then this shed is not really made for that anyway. However, there is plenty of room for your garden tools, kids' toys, and extra junk you don't want to clutter the garage up with.
2. Suncast BMS6310D 6-Feet by 3-Feet Shed
Tiny but Still Highly Useful
SUNCAST BMS6310D 6-Feet by 3-Feet Shed
Suncast is another very popular brand of plastic shed, this one is a bit smaller than most at only 6 x 3. However, if all you need is somewhere to store your garden tools, you probably don't need much more space than this anyway.
The one thing that truly sets this plastic shed apart is that it is 6 feet wide by 3 feet deep, which is a bit uncommon in this size range. The double doors offer plenty of room to get in and out while the reinforced floor lets you store heavier items inside.
3. Keter Manor Large 4 x 6 ft. Garden Storage Shed
Room for your Mower and More
KETER Manor Large 4 x 6 ft. Resin Outdoor Backyard Garden Storage Shed
At a full 4 x 6, the Manor offers plenty of room for your lawnmower, garden tools, and more. Made of Keter's own brand of plastic resin, this shed will never rot, rust, dent, or peel.
It also won't succumb to the effect of heat or cold and offers you a total of 113.2 cubic feet of usable storage space. What a great way to get rid of the clutter in your garage and open up space so you can park your car in it instead.
The Manor is perfect for all of your storage needs.
4. Rubbermaid Plastic Large Outdoor Storage Shed
Great for Storing Larger Items
RUBBERMAID Large Outdoor Storage Shed,159 cu. ft., Sandalwood with Onyx Roof 
If you are in the market for a plastic shed for your backyard, this slightly oversized shed from Rubbermaid is just what you need. The inside dimensions are 52" wide by 72" deep by 72" high, making it one of the biggest in the 4 x 6 class.
Unlike the Keter Manor, this one offers true double-wall construction and a heavy-duty impact resistant floor that can handle the weight of your riding lawn mower and more.
A great choice for those who need a lot of storage space in a shed that won't rust, rot, or fall prey to the kids kicking soccer balls against it.
5. Suncast BMS7400 Resin Storage Shed
Simple, Attractive, and Quite Functional 
Suncast BMS7400 Resin Storage Shed
The Cascade is another excellent plastic shed from Suncast and features heavy duty double wall construction for added strength and durability.
The shingle style roof panels are reinforced with metal reinforcement for added strength. The double doors not only have windows in them, but they also feature lockable metal handles for improved security.
The interlocking pieces make the Cascade one of the easier 4 x 6 plastic sheds to assemble, perfect for the inexperienced builder.
Final Thoughts
There are a lot of 4 x 6 plastic sheds on the market, some may be better than these, far more of them fail to come even close. These are five of the most popular and better-made ones.
They will all work just fine for most needs ranging from tool and lawn mower storage to a dry place to stash your junk. Just be sure you choose one that is rated for your specific needs and be sure to follow the assembly instructions to the letter if you want your plastic shed to last.
I hope you have enjoyed reading the information I have put together here on 4 x 6 plastic sheds; they are a great way to add a shed to your backyard in a single weekend.
If you liked what I have put together for you here, please let me know.
Let everyone know you enjoyed reading this on Facebook, Twitter, and Pinterest.
Thank you for reading this.
Sours: https://zacsgarden.com/how-to-build-a-shed/which-one-do-i-need/what-type-of-shed-is-best/pros-cons-of-a-plastic-shed/6-x-4-plastic-sheds/
Building a shed can be a great way to learn building techniques, develop skills, and create a sense of accomplishment. But how do you start? How tall should the walls be? Does the wall height dictate the roof style? Or the roof styles dictate the wall height?
The average shed wall height is 8'-1 1/8". It is based on the standard dimensions of lumber and plywood cladding which is easily available, and there is minimal cutting. The precut 92-5/8" studs, 2 top plates (3") and one bottom plate (1½") give a wall height of 8'-1 1/8" (97-1/8"). Moreover, 8' sheathing fits perfectly.
How the shed wall height is calculated depends on 6 key factors: storage space needed, style of roof and shed, user's height, climate, and local laws and regulations. Yes, these are just 5 of the influencing factors. The 6th is fixed material dimensions. They all work together to determining the shed wall height. In this article, I'll take a look at the factors that affect shed wall height, and why the average shed wall height is what it is.

What is the Average Shed Wall Height?

The style of roof you decide upon will impact the height of your shed walls. Some sheds have walls the same height; others have one wall higher than its opposite wall. The peak-end walls are higher, so often taller doors can be placed there. Each situation is different, and each shed can be different.
Average Wall Height of Popular Shed Styles
Gable and Gambrel Roof Style

Walls are usually 8'-1 1/8" high, but can be 6'-1 1/8" on playhouse structures
walls are all the same height
lends itself to attic storage, or more headroom in the center of the shed
shorter doors can be in the 6-foot wall, a taller door in the cable end wall
Skillion, Shed and Lean-to roofs
The high wall is usually 2-feet taller than the short wall on a shed or lean-to shed; it's often 4-feet taller (or more) for a skillion shed.
has a single slope that runs from a taller wall to a shorter wall
great for storage or a loft
high wall is only limited by local ordinances – if any
the back wall height directly depends on the front wall height and roof pitch
difference in height between the high wall and the short wall is usually 2 feet or more – 8' to 6', 10' to 8', 12' to 10'.
My favorite shed runs 12' to 8' on a 12'x14' shed; the loft adds almost a third more storage space. I've also built a wood storage lean-to from the high wall which holds almost 4 cord of wood!
Saltbox roof style
The average wall heights for a backyard saltbox shed are 8-feet for the tall wall and 6-feet for the short wall.
has a taller wall opposite a shorter wall
has an offset ridge with two differing slopes
extra height for storage or headroom
What are the Factors That Impact the Shed Wall Height?
Whether building the shed yourself, having someone build it for you, or having a prefab shed delivered, the first 5 factors that affect wall height also offer the most individualization.
Storage Needs
Your storage needs determine the size of shed you need. If only storing garden tools, the tool height may determine wall height.
If storing all your adult children's childhood belongings, you may need a much larger shed capacity. The physical space available in your yard also impacts the physical size of your shed. If you can only fit a 6' by 6' base, but need 10' by 10', you may need taller walls.
Roof and Shed Style
A gable or gambrel roof usually means the walls are all the same height. A skillion, lean-to, or shed roof has a single slope, which means one wall is taller than the opposite wall.
A saltbox, however, is an offset gable roof on walls of different heights. So the roof and shed style impact the shed wall height, as well as attic or loft storage space.
User's Height
Your height will affect shed wall height, or your head is likely to impact on something! If you're 5'-9" and the only one likely to use your shed, why do you need a standard door height?
However, if you're Andre the Giant, that standard door will kink your neck or break your nose. Door height is linked to wall height; the shorter your height, the shorter the door needed, and the shorter the wall required…and vice versa.
Climate
The climate in the area you reside may determine the style of roof you need, which also impacts wall height. A heavy snow area may require a shed or skillion roof to shed snow better.
A region that experiences heavy rain may need a gable or saltbox style to encourage run-off. A hot, dry climate and you may want a flat roof. As you can see, climate does impact wall height through the best roof choice for your weather.
Local Laws and Regulations
Local homeowners association (HOA) may have restrictions on shed heights and styles. Your local government may also have height restrictions too – mine has a peak height restriction of 12 feet above ground level.
If having a prefab shed delivered, the Department of Transportation has load height restrictions too – 14'-2" from the pavement to the highest point. Keep those in mind when building or buying a shed.
How the Shed Wall Height is Calculated
The shed wall height is determined by measuring from the bottom of the sill plate to the top of the top plate. As simple as that sounds, I've seen too many people forget to take into account the plates when measuring.
It is important to remember the bottom plate is usually 1½" thick, and the top plate is two pieces giving 3" of thickness. The length of the stud is cut to provide the rest of the height.
If using a builder's precut stud (92-5/8"), which is designed for an 8' wall, it reduces cuts and is cheaper; the wall height is 8'-1 1/8". The wall is 1-1/8″ higher than the standard sheathing size. This works for a concrete pad or a wood floor with rim joists.
For a concrete pad, the bottom of the sheathing usually sits up 3/8″ to 3/4″ off the concrete to prevent it from getting wet. That leaves part of the upper top plate exposed.
But it's protected by the roof overhang and allows notched rafters to sit properly. It's also usually covered by the soffit. Additionally, any drywall on the inside walls is 3/4" off the floor too.
If building the walls are on a wooden floor with joists, the sheathing sits 1" below the bottom of the sill plate. The overlap seals and protects the edge of the wood floor deck.
It connects the walls to the rim joists, preventing insects from getting in. It also adds more strength by connecting the walls to the rim joists, reducing the chance of lift too. More of the upper plate is exposed, but again it is protected by the roof and disappears above the soffit.
Do Material Dimensions Impact Height of the Walls?
To minimize waste, cost, and time, it's a good idea to look at the standard dimensions of lumber available. Door heights, plywood or sheathing size, header requirements for windows and doors, plus anything else that will impact shed wall height also affects the cost and how long a project will take to complete.
Plywood and other sheathing come in 4' x 8' sheets. To minimize waste, cuts, and seams, walls are usually built to be covered easily by the sheathing oriented on its 8' dimension. However, a 6' wall is a sheet oriented on its 4' dimension with a 2' x 8' piece ripped and placed above.
Dimension lumber is milled to standard sizes – 2"x4", 2"x6", and so on up to 2"x12". Those are the rough cut measurements before they get planed smooth and edges rounded. The 2" thickness dimension becomes 1½", and the width dimension ½" less for if < 7" and ¾" less if >7".
For the construction industry, lumber is milled in standard widths, thicknesses, and lengths. The regular lengths are 8', 10', 12', 14' and 16', but they can be ordered up to 24'. The lengths are all divisible by 2, so it is easier to calculate other required materials like sheathing. There are two exceptions, precut builder's studs in 2"x4"x92-5/8" and 2"x6" which are 92-5/8". When added to the top and bottom plate thickness (3"+1½"+92-5/8"), you get a wall 8"-1 1/8" high; a perfect height for a plywood sheet to cover.
The standard door height is 6'-8". It usually needs a rough opening 2-5/8" larger for the door frame and leveling shims, plus space between the door and the floor. The normal header above a 36" wide door is two 2"x6" on edge – 5½". Add all those together, and the real height is 7'-4 1/8" (88-1/8"). It fits well into an 8'-1 1/8" wall. If you want a shorter wall, you may need a shorter door.
Windows are also made in standard measurements but can be custom ordered to. However, there are windows specifically made for sheds; they fit between studs spaced on 16" or 24" centers. You determine if you place them lower or higher than standard, which is typically 6'-8" from the floor to the top – it aligns with the door height.
Standardized building material sizes have a great impact on shed wall height. Deviating from the standard wall height will impact material cost, labor cost, time on the project, and waste. All reasons why it contributes to the average shed wall height.
Related Searches: What is the Best Shed Wall Height?
The best shed wall height is 8'-1 1/8". It is an easy construct using readily available precut dimension lumber and sheathing. Minimal cuts, cost, and waste. Pre-hung standard doors and windows fit the wall height, as do insulation, drywall, and other interior wall finishes. Build it on concrete or wooden floors.
Eugene Sokol
Eugene has been a DIY enthusiast for most of his life and loves being creative while inspiring creativity in others. He is passionately interested in home improvement, renovation and woodworking.
Sours: https://plasticinehouse.com/shed-wall-height/
Modernist® 6 ft. x 5 ft. Storage Shed
Featuring 200 cu. ft. of storage space, the 6 ft. x 5 ft. Modernist® Storage Shed by Suncast® is ideal for storing all your outdoor equipment. The perfect size for storing mowers and other lawn or outdoor equipment. Sturdy double doors allow you to access your items easily, and is equipped with pad-lockable doors for added security (lock not included). The metal reinforced, multi-wall resin panel construction provides additional strength and stability to the unit to withstand the elements all year long.
Compatible Accessories: BMSA4S & BMSA6B
Multi-wall resin panels are engineered for strength and durability
All-weather construction provides water resistance and UV protection
Roof is capable of holding a snow load of up to 30 lbs/ft2
Features a full steel skeleton frame for maximum strength under heavy snow loads
Shed design features 4 large transom windows providing natural light to interior
Sours: https://www.suncast.com/modernisttm-6-ft-x-5-ft-storage-shed-peppercorn.html
6 feet tall and super strong~tik tok
Many Storage Shed Styles to Choose From
Apex Shed Company is a local family owned company. We have been building sheds and other out buildings since 1995. We have over 23 year of industry experience.
The styles shown above are our standard styles and can be modified in many different ways to help you achieve the design you are looking for. Some of our styles are similar to shed styles of other manufacturers. The information below is to help our customers compare styles with different companies so that they can compare apples to apples. If you have any questions about any of our shed styles, please contact us at 801-754-3334.
Value Apex style: These buildings are considered an entry level shed for customers on a tight budget. With an exterior side wall height of only 6' and a door height of only 5'-6" this building is shorter than all of the other styles we offer. The Value Apex is also very limited on what custom options are available. The door can only be placed on an end wall on this model. This style is very similar to the Tuff Shed Garden Ranch or TR600 models, The A-Shed YardMaster model or the Wright's Shed Company's Vineyard model and many of the models you will find at Home Depot or Lowe's.
Standard Apex Style: This is one of our most popular styles. With 7' exterior height sidewalls, these buildings can be much more easily modified. Doors and windows can be placed anywhere on the shed. The door height will depend on what wall the door is placed on. If the door is on the end wall it will have a height of 6'-4". If the door is on a side wall it will only have a height of 72-1/2". This style can be customized with almost any of our custom options. The Standard Apex is similar the the Tuff Shed Ranch Or TR700 models, the A-Shed USA Ranch Style, The Wright's Shed Company Orchard model and many other models found at Lowe's or Home Depot.
Tall Apex Style: Very similar to the Standard Apex style but has a full 8' Exterior height side wall. This makes these sheds very versatile and very popular. Doors and windows can go on any wall and the door height is always 6'-4" tall but can be upgraded to be as tall as 7'. Steel entry or fiberglass entry doors are also available as an upgrade on these buildings. Most custom options are available on this style as well including: custom roof pitches, custom sidings, extended roof overhangs and more. Our Tall Apex is similar to Tuff Shed's Tall Ranch or TR800 Models, A-Shed's Tall Ranch, Wright's Orchard Style, and many other models found at home centers and hardware stores.
Tall Barn Style: Tall Barns and Super Barns are also very popular. The Tall barn has an exterior height of 7' while the Super Barn has an exterior height of 8'. These shed are also very versatile and can have doors and windows placed on any walls. Door heights are usually 6'-4" tall unless the door is on a side wall on the Tall barn model. Then the door will be only 72-1/2" tall. These models are great for additional storage space in an overhead loft. Lofts can be added to either of these styles. Lofts will span the width of the shed and can be ordered in any depth in 2 foot increments. Additional Roof overhangs are not available on these models. Our Tall Barn is comparable to the Tuff Shed Tall Barn and TB800 Models, The Wright's Shed Company Farm Shed and the A-Shed models of the same name.
Some of our models such as the Tack Shed, the Mini-Tack Shed and the Yard Hutch are unique to our company. Our Chicken Coops are also unique to our company. If you find anything from any of our competitors that you don't see on our website. Please call us to see what we can do for you.
Sours: https://www.apexshedcompany.com/shed-styles.html
Shed 6ft tall
6x6 Short Shed Plans
All Our Shed Plans Feature:
FREE - How To Build A Shed eBook included with every shed plans purchase.
Cost Effective - Our shed plans are designed to make your shed simple and inexpensive to build.
Easy To Build From - Professionally drawn with step by step instructions to show both an old pro or a first time framer how to build a shed. (see the plans example below).
Start Now - Instant download - The shed plans are emailed to you when you purchase so you can start immediately. We use the free PDF file format so you can print them on your home printer or we can postal mail them to you.
Materials List - Easily get bids and use the list numbering system to know what part goes where.
The 6x6 storage shed plans include:
5' 10" overall height when built on Framed floor. Shorter on concrete.
Home Built Door - 3'-10 1/2" x 3'-10 1/2" home built door.
Multiple Door Options - Drawings explaining how to build the door on the end or sides of the shed.
Treated Wood or Steel Stud Floor - The floor is built using 2x6 treated lumber or steel studs sitting directly on crushed gravel to reduce the overall height. A concrete slab can also be used.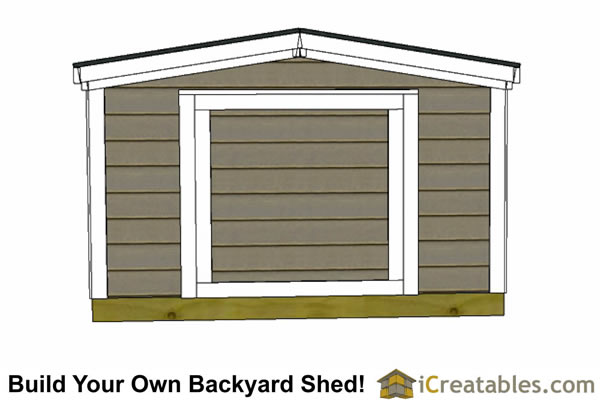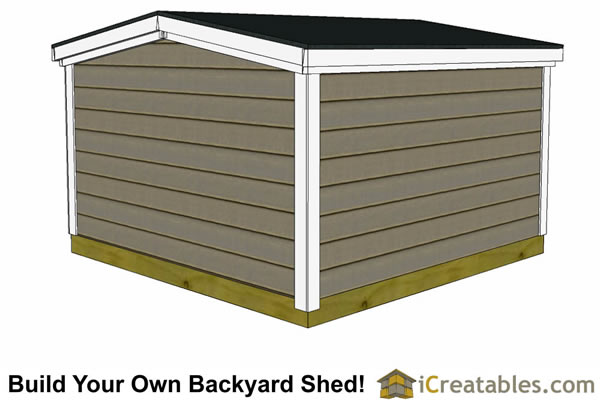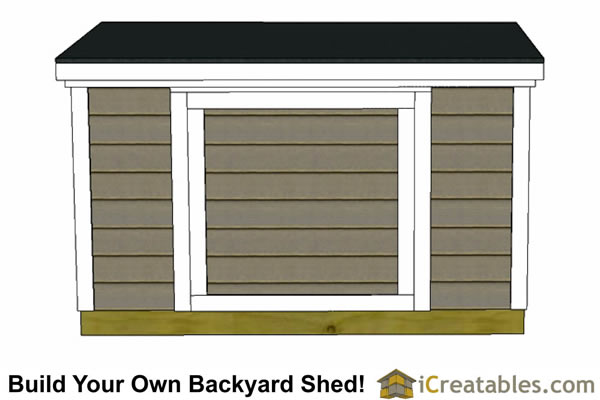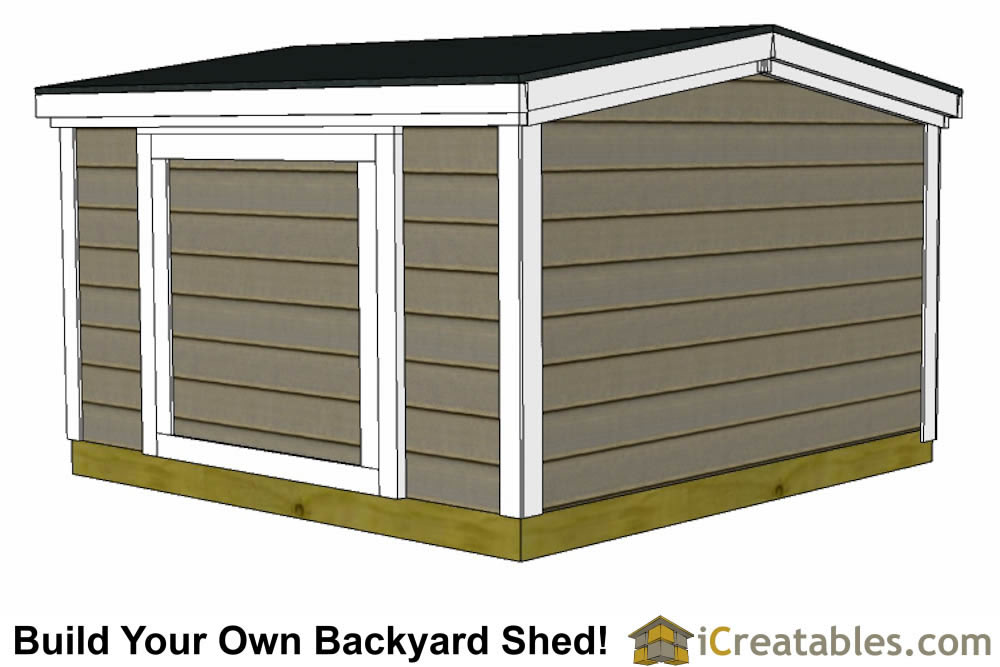 Optional door configuration included with the 8x8 shed plans
6x6 6 Foot Tall Shed Plans Floor Plan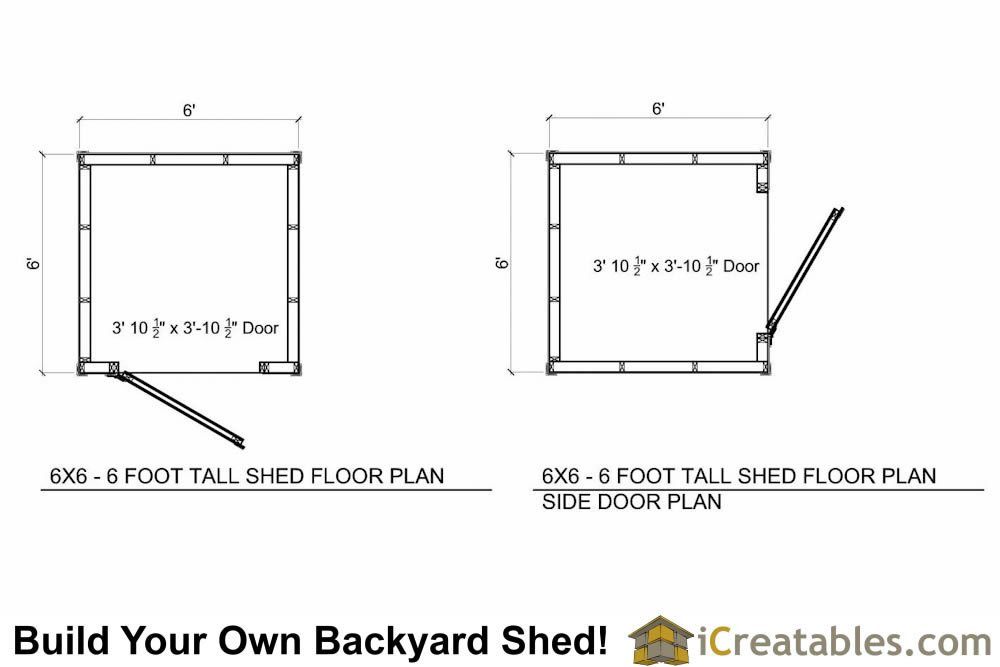 6x6 6 Foot Tall Shed Plans Exterior Elevations

6x6 Backyard Shed Plans Include The Following:
Alternalte Options: The shed plans have alternate drawings for the door on the end or sides.
Materials List:The plans come with a complete materials list that is broken down by parts of the shed.
Foundation: The shed foundation is built using crushed gravel to make a bed for the steel stud floor framing to rest on.
Floor: Treated 2x6 floor joists or steel stud floor joists with 3/4" treated plywood floor sheathing. The floor joists sit directly on the crushed gravel floor. This helps reduce the overall shed height.
Walls Framing: 2x4 framing at 24" on center with a double top plate, just like a home is framed.
Wall Height: The shed wall height is 4'-7" for a taller wall shed visit our 8x8 tall wall shed plans.
Door: Home Built Door

3'-10 1/2" x 3'-10 1/2"door is built using sandwich construction for strength and durability. Our door plan shows you how to build a shed door that will outlive the shed. The shed door is built using a 2x4 inner frame faced on the inside with 1/2" O.S.B. and on the outside there is a layer of T-111 to match the rest of the shed. We use 3 hinges on the doors and the screws go into the inner 2x4 frame of the door to give extra strength.

Siding: T-111 exterior siding. Other sidings such as vinyl may be used.
Roof: The roof is framed using 2x4's to build the rafters. It is sheeted with 1/2" O.S.B. The plans give you the dimensions and cut angles so you can build the roof rafters on the ground and then put them up on the top plates.
Roof Pitch: 2/12, this means that for every 2 inches of rise there is 12 inches of run horizontally. Note that this is the minimum of most asphalt shingle manufacturers recommended slope. Most asphalt shingle manufacturers require an additional membrane under the shingles for slopes of 2 in 12 inches.
Roof Overhang: 4" on the sides and 1" on the front and back.
Roofing: Asphalt roll roofing with approved application for low slope roofs. Asphalt shingle may be used if installed according to the manufacturers low slope install instructions.
Trim: 1x4 wood masonite or cement trim materials are used to finish the corners, roof eves and facia, and door.
Floor Load: 50 pounds per square foot for framed floors. You don't want your shed floor to feel spongy.
Roof Snow Load: 40 pounds per square foot. This is more than adequate for most areas. If you live in an area with a high snow load you should check with your local building department for your local snow load. Contact us and we can specify stronger roof framing.
Sample of our 6x6 storage shed plans: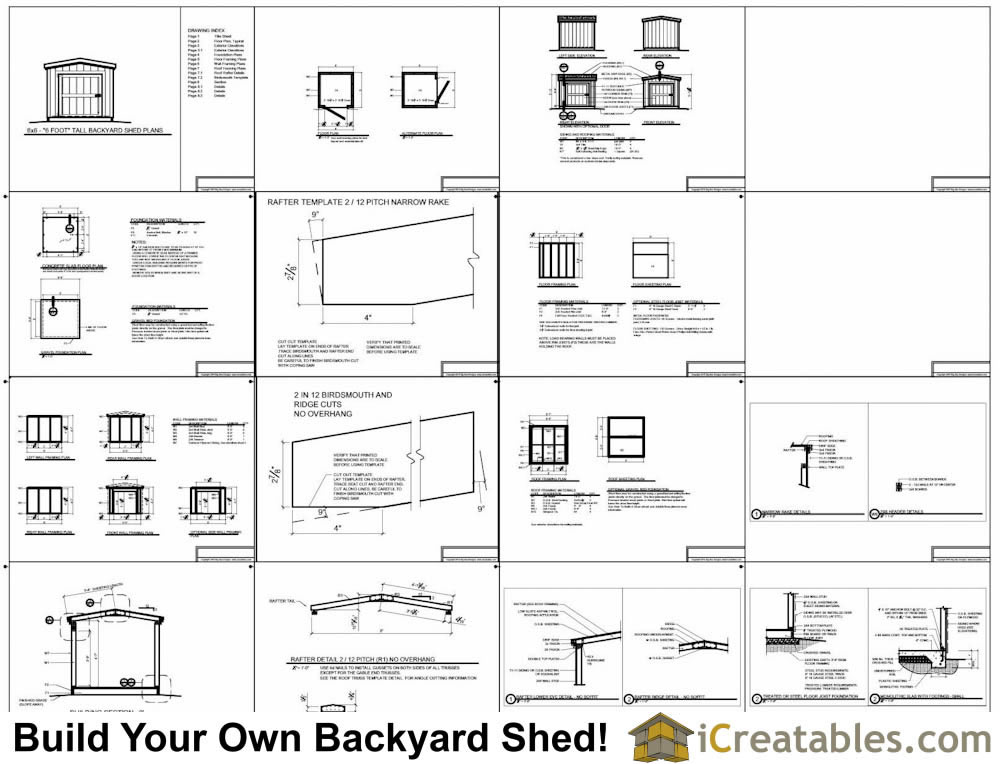 FREE Shed Materials List (Click To Download and Print)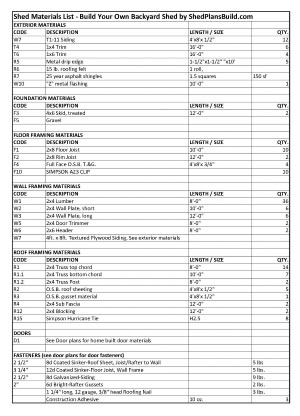 Sours: https://www.icreatables.com/sheds/6x6-B6-6-foot-tall-gable-shed-plans
How To Build a Lean-To Style Storage Shed
8×10 6 ft High Short Shed – Free DIY Plans
This step by step diy project is about diy 8×10 short shed plans. This shed is built on a 2×4 framing and it features a gable roof and double front doors. This shed's overall height is 6 ft and it is ideal for the area with strict local codes. Moreover, I have designed sheds with many sizes so check them out, as well. Take a look over the rest of my woodworking plans, if you want to get more building inspiration.
When buying the lumber, you should select the planks with great care, making sure they are straight and without any visible flaws (cracks, knots, twists, decay). Investing in cedar or other weather resistant lumber is a good idea, as it will pay off on the long run. Use a spirit level to plumb and align the components, before inserting the galvanized screws, otherwise the project won't have a symmetrical look. If you have all the materials and tools required for the project, you could get the job done in about a day.
Projects made from these plans
10×12 Shed Plans
Building a 8×10 short shed
A – 2 pieces of 2×6 lumber – 120″ long, 9 pieces – 93″long FLOOR
B – 2 pieces of 3/4″ plywood – 48″x96″ long, 1 piece – 24″x96″ long FLOORING
C – 2 pieces of 2×4 lumber – 20 1/2″ long, 1 piece of 2×4 lumber – 96″ long, 1 piece – 89″ long, 8 pieces – 53 1/4″ long FRONT WALL
D – 2 pieces of 2×4 lumber – 120″ long, 1 piece – 113″ long, 9 pieces – 53 1/4″ long 2xSIDE WALL
E – 2 pieces of 2×4 lumber – 89″ long, 1 piece – 96″ long, 7 pieces – 53 1/4″ long BACK WALL
F – 4 pieces of T1-11 – 48″x59 1/4″ long, 2 pieces – 24″x59 1/4″ long SIDING
---
2 pieces of 2×6 lumber – 10′
9 pieces of 2×6 lumber – 8′
3 pieces of 3/4″ plywood – 4'x8′
6 pieces of 2×4 lumber – 10′
17 pieces of 2×4 lumber – 10′
5 pieces of 2×4 lumber – 8′
5 pieces of T1-11 – 48″x96″
8d nails, 2 1/2″ screws, 3 1/2″ screws
wood filler , wood glue, stain/paint

 One day
Building a free 8×10 short shed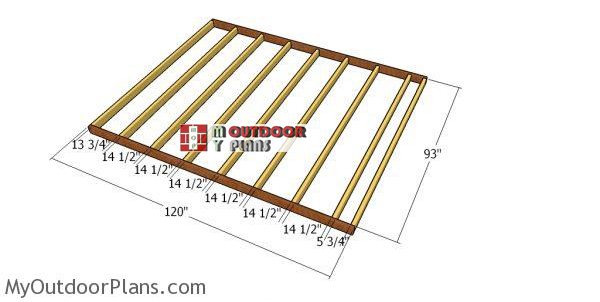 Shed-floor-frame-8×10
The first step of the project is to frame the floor for the 8×10 short shed. Cut the floor joists from 2×6 lumber at the right dimensions using a good saw. Smooth the edges with sandpaper and align the components with attention. Make sure the corners are right-angled and drill pilot holes through the rim joists. Insert 3 1/2″ screws to lock everything together tightly. Place the joists every 16″ on center.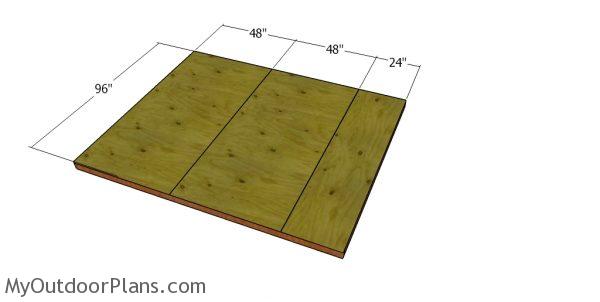 Floor sheets – 8×10 short shed
Next, attach the 3/4″ tongue and groove plywood sheets to the joists. Align the sheets with attention and insert 1 5/8″ screws to lock them into place tightly. Leave no gaps between the sheets for a neat result. Select the location for the shed and level it thoroughly. Lay and compact a 4″ thick layer of gravel. If you want to build the shed on a concrete slab, the shed will be even shorter than 8 ft.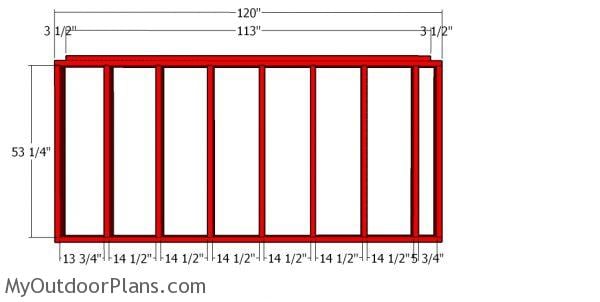 Side wall frames
Assemble the side walls from 2x4s. Make sure you cut the studs and the plates at the right dimensions. Drill pilot holes through the plates and insert 3 1/2″ screws into the studs. Place the studs every 16″ on center, making sure the corners are square and the edges flush. Use double plates at both ends of the wall. Fit a piece of 1/2″ plywood between the double studs.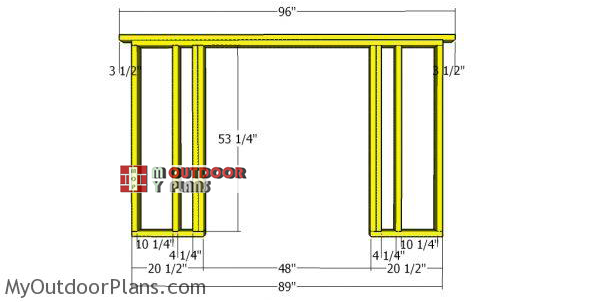 front-wall-frame-8×10
Continue the project by assembling the front wall for the gable shed. As you can easily notice in the diagram, you need to frame the door opening.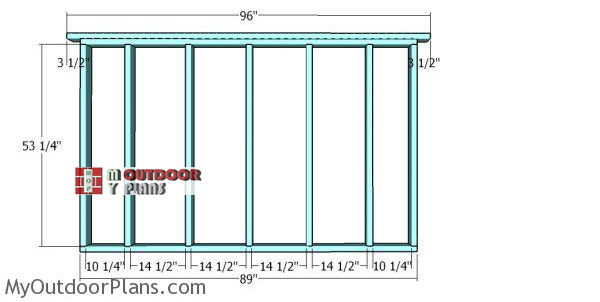 Back-wall-frame-8×10
Next, frame the back wall for the gable short shed. Assemble the walls on the shed floor, making sure the corners are square and that all joints are rigid.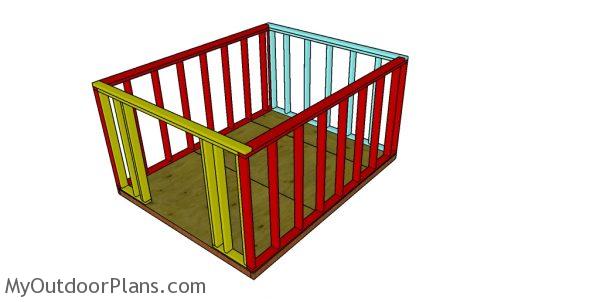 Assembling the frame for the short shed
Fit the side walls to the shed, as shown in the diagram. Insert 3 1/2″ the screws through the bottom plates into the floor of the shed. Lock the adjacent walls together tightly with 3 1/2″ screws, after drilling pilot holes. Check if the walls are perfectly plumb and if the corners are square.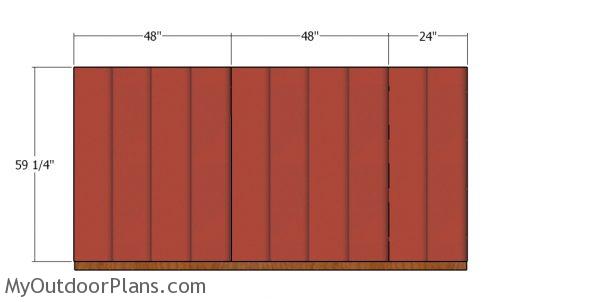 Side wall siding sheets
Build the exterior walls from 5/8″ T1-11 siding. As you can notice in the diagram, you need to make some cuts to the sheets so you cover the whole surface. Use 8d galvanized nails to secure the sheets to the wall frames. Align everything with attention and insert the nails every 8″ along the studs. Leave no gaps between the sheets.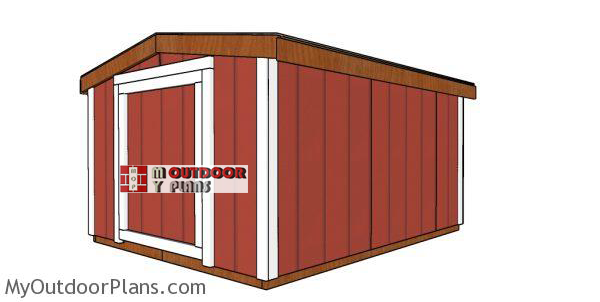 8×10-short-shed-plans
This short shed has still a lot to offer because it comes with about 100 sq ft of storage space.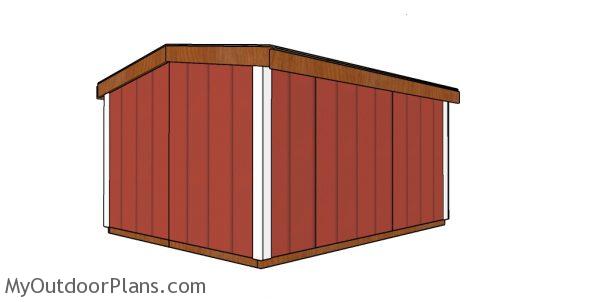 8×10 6 ft tall shed plans – back view
Make sure you check out the rest of the project, so you learn how to frame the roof and how to attach the door and the trims to the shed. In addition, I have lots of other shed projects on the site so I recommend you to browse through all alternatives before starting the building project.
This woodworking project was about 8×10 short shed plans free. If you want to see more outdoor plans, check out the rest of our step by step projects and follow the instructions to obtain a professional result. If you enjoyed the plans, please share the plans with your friends. That would help a lot!



Sours: https://myoutdoorplans.com/shed/8x10-6-ft-high-short-shed-free-diy-plans/
You will also like:
Aunt Gulnara smiled and disappeared into the house. Only two hours later, Uncle Borya showed up, he also recognized us, he also waved his hand at us and went to the car. A few minutes later, Victor and Anna, the children of Uncle Bori and Aunt Gulnara, came out.
1463
1464
1465
1466
1467