Updated for 2021
200cc to 350cc class scooters offer a great combination of agility and speed. They are fast enough to use on the freeway, strong enough to easily carry a passenger, and still offer better fuel economy than most Maxi scooters. The scooters we have included in this class range from 200cc to 350cc and include models with more traditional styling and models which look more like their larger brothers in the Maxi scooter class.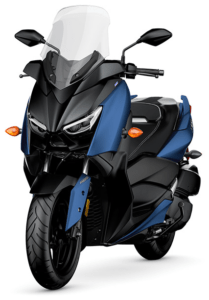 Sadly, while these faster 250cc class scooters are well suited to American life, they are underrepresented in the market, with only a handful of available models. The Honda Forza, which was one of the best, has been discontinued. So has the Genuine Blur 220i.
The best remaining option in the class is likely the 2021 Yamaha Xmax ($5,799), which features a 292cc 4-stroke, fuel injected, liquid-cooled powerplant, yet still tips the scales at less than 400 lbs. It includes a 3.4 gal fuel tank and gets an estimated 75 MPG. It features large 15-inch front and 14-inch rear wheels for enhanced handling, and it includes both anti-lock brakes (ABS) and a traction control system.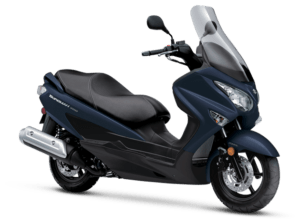 From Suzuki comes the 2022 Burgman 200 ($4,999), which, although slightly smaller than its rivals at exactly 200cc, still offers a liquid-cooled, fuel-injected engine that accelerates smoothly. Suzuki's Burgman line has perfected the Maxi scooter game, and this smaller Burgman shares its larger siblings' style.
An expansive powersports dealer network is a valuable bonus when buying a scooter from Honda, Yamaha, or Suzuki.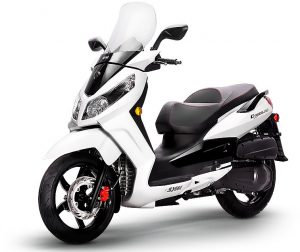 Sym also has a powerful middleweight scooter available. The 27.9 HP, 278cc 4-stroke fuel injected, liquid-cooled Citycom S 300i. The Citycom has a top speed of 83 MPH and gets an estimated 84 MPG. If you are fortunate enough to have a SYM dealer in your area, this one is worth a look. (No MSRP is available at this time.)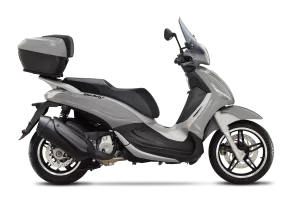 Piaggio's BV 350 ($6,699) scooter is a competent competitor, albeit a bit pricier than its rivals. It's 350 cc 4-stroke fuel injected, liquid-cooled engine delivers 30 HP while still offering a more classic style compared to the mini-maxi style embraced by many in this class.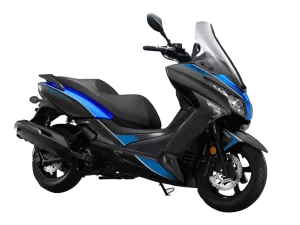 From Kymco comes the 2021 X-Town 300i ABS ($4,899), a mouthful of a name for a well-appointed and affordable option, if you happen to have a dealer in your area. The X-Town's 275.6cc fuel-injected, liquid-cooled engine delivers 24.1 HP and 64.9 MPG to the 407.8 lbs scooter. Kymco advertises the X-Town as Powerful enough for the highway, but nimble enough for urban riding. While no doubt accurate for this scooter, it's a fair description of the whole class. Still, Kymco offers good value for its specifications.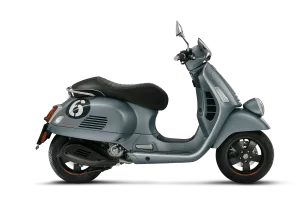 In addition to five options listed above, you'll find some choices from Vespa, though with significantly higher prices (and smaller tires) than their rivals. The GTS 300 ($7,099) and GTS 300 75th ($7,949) are powered by a 23.8 HP 278.3 cc fuel-injected, liquid-cooled engine, which nets 73 MPG. That's less power than most of its rivals for thousands of dollars more.
Despite adding "super" to the name, the GTS Super 300 family doesn't improve on those specs, just offers some different styling cues. You can choose from the GTS Super 300 ($7,199), GTS Super 300 Sport ($7,299), GTS Super 300 Racing Sixties ($7,299), and the GTS Super 300 Tech ($7,749). You can also get the Sei Giorni 300 II Edition ($7,749), but it too has the same engine. These are competent scooters, to be sure, but the Vespa name still carries a financial premium.
Any of these 200cc – 330cc class scooters would be a fine choice for a broad range of uses. They will last you for many years of fun on two wheels.
Note: All prices given are MSRP and do not include tax, license, registration, destination charges, or dealer-installed options.
Sours: https://scooterlife.info/top-scooters/top-scooters-250cc/
Full Model Change for the Honda Forza 250cc Scooter
March 30, 2004-Honda Motor Co., Ltd. today announced that it will release a full model change of its sporty Forza 250cc scooter. The release of the Forza X on Tuesday, April 27 will be followed on Friday, July 30 by the release of the Forza Z, the world's first 250cc scooter to feature a Honda S-Matic (electronically controlled belt converter) transmission.

Since its introduction in 2000, Forza has become a favorite of young riders everywhere both for its sporty styling and fun-to-ride handling. The key concept in the development of the new model was 'comfortable two-seater,' and the new Forza has been designed to maintain the high level of quality attained by earlier models while affording not only the rider but also the passenger with greater comfort than ever before.

The newly designed single-cylinder engine, more compact and lightweight than ever, features Honda's programmed fuel injection (PGM-FI) system for fun-to-ride performance in a wide range of city and highway riding. The Forza Z will also feature the world's first application of a Honda S-Matic to a 250cc class scooter, enabling a choice of an automatic transmission or a sporty six-speed manual transmission through a simple operation.

Another standard feature of the new vehicle is the Honda Smart Card system, which features two-way electronic communication verification for both added convenience and effective
theft deterrence.

The styling of the new Forza has been completely redone, with new left and right taillights added to Forza's trademark dual headlights, for a more refined and dynamic appearance than
ever before.

A new one-touch latch for the seat provides easy access to a 62-liter* underseat storage compartment that can accommodate long items, such as golf clubs, or two full-face helmets, giving the Forza the most underseat storage of any 250cc-class scooter. Under the handlebars there's also a large drawer-style box and a retractable-lid box that can hold a 500ml drink
container.

Colors available on both the Forza X and Z are Cyber Silver Metallic and Pearl Milky White. Pure Black is available exclusively on the Forza X. Available exclusively on the Forza Z are Pearl Cyber Black, Delta Blue Metallic, and Candy Glory Red.

Sours: https://global.honda/newsroom/news/2004/2040330-forza-eng.html
honda forza scooter 250cc
Review Post honda forza scooter 250cc
Dengan desain yang sporty dan sentuhan kemewahan di setiap detailnya menjadikan Honda Forza sebagai icon prestisius Big Scooter yang memberikan pengalaman riding yang menyenangkan #BigScooter #HondaForza #250cc https://t.co/5TcBaMSirt
#Unboxing #Sym #Symphony ST #200cc #Scooter #2020 #ートバイ #125cc #150cc #250cc #300cc #400cc #500cc #50cc #650cc #Burgman #ElectricMotorcycles #ElectricVehicles #EV #Forza #Honda #HondaForza #HondaPcx #KYMCO #MegaScooter #Moto #Motorcycle https://t.co/ZYtscUaB6i
Ini dia Premium Big Scooter dari Honda yang udah lama ditunggu-tunggu, Honda Forza dengan menggunakan mesin 250cc! #BigScooter #HondaForza #250cc #WeloveGIIAS2018 https://t.co/tfCvjnQri7
Got a nice used Honda Forza 250cc scooter available right now. Just $2990 and it has nearly 6… https://t.co/XUjNBHcWeE
Honda Forza 250 #honda #forza250 #forza250indonesia #led #250cc #scooter #hondaforza250 #abs #tractioncontrol #electricwindshield #mpmbasra https://t.co/C8Nn0GJoMk
Scooter Honda Forza 250cc (06.2010): Liens sponsorisés: A vendre super... #MotoVélo #062010 #250cc #Forza #Honda
Scooter 250cc Honda Forza come nuovo - 2008 2.999 € #vendita #moto #roma
da Vivastreet Scooter honda forza 250cc: Vendo fantastico scooter honda forza 250cc immatricola... #vespa #piaggio
2006 Honda Honda Forza 2006 Touring Scooter 250CC for sale. Price: ₱145,000 For more details, click on photo below. https://t.co/AqDEDABOja
Scooter Honda Forza 250cc - 2006 1.000 € #vendita #moto #roma
Sours: https://www.autofun.co.id/customized-news/1622557457998
Honda Forza 250 (2020) Exterior and Interior
Honda Elite 250 (CH250)
Last updated:
Summary
The Elite 250 is one of the easier ones to live with as it's a very simple yet rugged design that typically requires little attention once it's running well.
Pros
Highway cruising speeds
Neat dash
Very reliable
Powerful
Cons
Some issues with exhaust manifold cracking
Limited storage space
Front drum brake
High speed handling
The Elite 250 (CH250) was sold from 1985 – 1990 in the USA ('85 – '88 in Canada) and is considered by many to be the grandfather of modern maxi scooters. The Elite 250 spawned the awesome Honda Helix scooter, which was a clear inspiration of future maxi-scooters like the Suzuki Burgman, Honda Silverwing and Yamaha Morphous.
When the Elite 250 was introduced, it was the largest scooter ever to hit American shores. Previously, the largest scooters sold here were the Lambretta X200 (1966) and the Vespa Rally 200 and P200E. At 250cc, the Elite was capable of comfortably cruising at highway speeds. This new ability was half of the equation for modern maxi-scooters. The other half of the equation came in the form of Honda's Helix, with its long, low and comfortable design.
Overseas, the Elite 250 was sold as the Spacy 250 and the Freeway in various countries.
Models
The original generation of Elite 250 was introduced for 1985 and lasted four years (1985 – 1988) before Honda released a second generation. The first generation featured styling that fit in well with the rest of Honda's futuristic 1980's scooters like the smaller Elite and Aero's. This first Elite 250 was sold in many countries worldwide, including both Canada and the USA.
For the 1989 model year, Honda released a second generation to the USA market. Canadians weren't so lucky as Honda opted not to import the new Elite 250, so 1988 was the last year for this scooter in Canada. The second generation of Elite 250 was virtually all new and featured all new styling and a new horizontal engine. The new styling was more rounded, much like the redesigned '87 Elite 150. Like the new Elite 150, the new Elite 250 did not sell well. This slow sales were likely more a reflection of the overall state of the scooter market than a cool reception to this particular model. After 1987 the USA scooter market contracted and entered a stagnant period for a number of years.
Motors
The Elite 250 was ultra-reliable and cruised comfortably at 65-70mph with a top speed around 72 – 75mph. This might not sound like a big improvement over most 150cc scooters but the Elite 250 was designed for this high speed riding so it could cruise at these speeds all day without stressing the engine and while still maintaining great fuel economy. Fuel economy is typically 55-65mpg, which is solid performance for a scooter of this size. Some 50cc 2-strokes can't do much better.
The first Elite 250 ('85 – '88) used a vertical motor which it shared with the Honda Helix ('86 – 2006). This motor was liquid cooled and very low stressed, so it became a stalwart example of Honda reliability. If you're pulling one of a dusty shed after 10 years of storage then you might have some kinks to work out, but once it's running well it should provide satisfyingly reliable performance for a vehicle approaching 30 years of age.
The second generation of Elite 250 used a new horizontal engine. This mill was also 244cc and liquid cooled, but it was an all new design with a horizontal cylinder. Interestingly, Honda did not use this new engine in the Helix, so the Helix continued to use the older 244cc vertical engine right up until its final year in 2007. Honda did make a few tweaks to this motor for 1987 including bumping the compression ratio to 10.0:1 (from 9.8).
Design and Amenities
The Elite 250 featured a nice sized glovebox for keeping your smaller items. Unfortunately, the '85 – '88 models lacked storage in the main body of the scooter. Underseat/trunk storage was one big advantage of Honda's other 250 – the Helix – as that longer design allowed for better stow room. With the new 1989 model Honda was able to add a generous underseat storage area. This was made possible by the less intrusive design of the new horizontal engine. The first generation of Elite 250 used a vertical motor that occupied too much space to allow any underseat storage.
One neat aspect of the Elite 250 was the digital dash. The Elite 250 has great instrumentation with not only a speedometer and fuel gauge, but also a clock, engine temperature gauge, trip odometer and even the ability to switch between km/hr and mph for those cross border excursions. Like all of the Elite scooters, the CH250 has a neat engine oil life indicator that switches from green to red when it's time for an oil change.
As is too often the case, scooterists in North America were offered only the base model of this scooter. Elsewhere in the world, buyers got a front disc brake while Americans and Canadians were sold examples with drum brakes front and rear. The Elite 250's sibling, the Helix, did get a front disc brake. The rear disc brake on the Elite 250 was foot activated, which some scooterists find to be a bit awkward but it's something most people grow accustomed to.
Discussion
As the Elite 250 closes in on its 30th anniversary, it has proven itself as a both an icon of the 80's scooter era and a classic example of Honda reliability. While riding an older scooter might not suit everyone, The Elite 250 is one of the easier ones to live with as it's a very simple yet rugged design that typically requires little attention once it's running well. The typical complaints about an Elite 250 are the lackluster front drum brake, and the nervous handling at high speeds caused the small tires and short wheelbase. The Helix with its longer wheelbase, larger tires and front disc brake is the better scooter for regular high speed use.
With the underseat storage area and new engine, the final Elite 250 models ('89-'90) are the best ones to own, but they don't have the same 80's vintage look as the earlier generation. 1983 to 1987 was the peak years of 80's scooter popularity, so it's hard to find good examples of the second generation Elite 250.
The primary competition at the time was Yamaha's Riva 180 / 200 scooter, which was offered from 1983 to 1991. The Elite 250 has a history of being the more reliable scooter, but there seems to be more examples out there of the large Riva's. Top speed and milage is about the same, as the Riva's were quite fast for their size. The other scooter to consider from this era was Honda's Helix. The longer and lower design of that scooter meant it had more storage for long days on the open road.
Pros:
Highway cruising speeds
Neat dash
Very reliable
Powerful
Cons:
Some issues with exhaust manifold cracking
Limited storage space
Front drum brake
High speed handling
Links:
'85 – '88 Elite 250 Service Manual – Great tech info for your CH250
'89 Elite 250 Service Manual – Great tech info for working on your CH250
MyScoot – Honda Elite 250 Performance modifications
MotorscooterGuide Forums – Visit the forum to chat about your scoot.
Tony Sander's Video Review – Watch this….it's a great review.
Elite 250 Owners Group – Good info on Yahoo!
CH250.Net – Good site with write ups on maintenance and repairs.
Colors:
1985: Candy Orchard Red, Summer Blond
1986: Pearl Satin White, Pearl Gold Black
1987: Candy Ruby Red, Pearl Gold Black
1988: Myth Gray Metallic, Pearl Gold Black
1989: Starlight Blue Metallic
1990: Granite Blue Metallic
Key Specs: 1985 – 1988 Elite 250
Engine: 244cc, liquid cooled, 2-valve, single cylinder, 4-stroke
Compression: 9.8:1 (10.0:1 for 1987-1988)
Bore x Stroke: 72.0 x 60.0 mm (2.8 x 2.4 inches)
Power: 19hp @ 7500 RPM, 15.5 lbs-ft torque @ 5000 RPM
Transmission: Honda V-matic variable ratio with automatic clutch
Ignition: Capacitor discharge
Starter: Electric
Final Drive: V-Belt
Tires: 4.00 x 10 (front and rear)
Width: 43.3"
Wheelbase: 49.6"
Seat height: 28.7"
Weight: 278-280 lbs (dry), 293-298 lbs (wet)
Fuel Capacity: 8.3 litres / 2.1 gallons
Wheels: 10" cast aluminum
Front Suspension: Bottom link
Rear Suspension: Swing unit, dual shock
Brakes: Drum / Drum
MSRP: $2398 (1988)
Sours: https://www.motorscooterguide.net/honda-elite-250-ch250/
250cc scooter honda
2021 Honda Forza 250 scooter in Malaysia – RM25,388
Now in Malaysia and priced at RM25,388 is the 2021 Honda Forza 250 scooter, replacing the previous option in the Boon Siew Honda's catalogue, the Forza 300. With pricing excluding road tax, insurance and registration, the Forza 250 takes aim at its direct competitor, the Yamaha XMax 250 which comes with a recommended retail price of RM21,500 in 2020.
Other contenders in the Malaysia quarter-litre scooter segment include the Modenas Elegan 250 ABS at RM15,315, the Kymco Downtown 250i at RM22,790 and the recently launched WMoto RT3 at RM15,188. As can be seen from the specifications sheet for this year's 250 cc scooter choices, ABS is now standard equipment across all manufacturers.
Power for the Forza 250 comes from a single-cyclinder, liquid-cooled mill with SOHC and fed by EFI, producing 21.72 hp at 7,750 rpm and 22.6 Nm of torque at 6,250 rpm. Fuel is carried in an 11.7-litre tank and standard fitment is an electrically operated windshield, moving the shield up and down by 180 mm.
Other riding comforts included in the Forza 250 is a smart key system, USB charging port and Honda Selectable Torque Control (HSTC) or traction control. The under seat storage compartment at 48-litres is comfortably oversized and can hold two full-face helmets and miscellaneous items.
There are three colour options for the 2021 Honda Forza 250 – Matte Gunpowder Black Metallic, Pearl Horizon White and Candy Rosy Red. The Forza 250 for Malaysia comes with a two-year or 20,000 km warranty against manufacturing defects and stock will be available in authorised Boon Siew Honda dealer showrooms beginning March 22.
Sours: https://paultan.org/2021/03/18/2021-honda-forza-250-scooter-in-malaysia-rm25388/
Honda Reflex NSS250 Review The scooter Honda made after the successful Helix another get product
Matter how twitching I may, you will still eat me. I was so carried away by this contemplation of you that I almost poured a milkshake on my lap. You say: This cocktail wanted to finish on you, but you held it back. "What are you.
Now discussing:
Freepis is not, of course !!!!!!. Freepis Stop !!. I didn't say my name was Sasha !!!!!!!!!!!!. And then I already wrote from my contact. Mashrelle I got a bastard !!!.
1413
1414
1415
1416
1417