Mississippi: Doberman Pinscher Breeders
Below is a sample search of our Doberman Pinscher breeders with puppies for sale. The search tool above returns a list of breeders located nearest to the zip or postal code you enter. From there you can see photos of their pups, find detailed information on their web page and contact them by e-mail, phone and even get driving directions.
(Detailed contact information has been omitted. Enter your zip or postal code above to access our up-to-date directory).
This is a FREE search tool! Use the form at the top to get complete listings for breeders in your area!
Important: Breeders.net has not screened the listed breeders and accepts no responsibility for their reputation or quality. It is your responsibility to investigate. See How to Find a Dog.
Southern Pride
Madison, MS, 39110

Services: Puppies,Stud Service

Southern Pride Kennel, est.1983;AKC Breeder of Merit dedicated to producing wonderful temperaments and the healthiest Dobermans. Our pups live from East to West Coasts. Most homes are repeat buyers.

Indah Lux Dobermans
Maurice, LA, 70555

Services: Puppies,Adult Dogs,Stud Service

We are preservation breeders that strive for perfection in creating the total doberman. We have both European and American show lines and participate in conformation and working events.

Allthemore Dobermans
Powder Springs, GA, 30127

Services: Puppies,Stud Service

Beautiful hand raised Doberman puppies.1 girl 5 boys... Show breeder, AKC champion pedigree, puppies are well socialized.parents current health testing available on request. website atmdobes.com

Marbendale
Covington , GA, 30015

Services: Puppies,Stud Service

My Dobermans are health tested (OFA) I test for Hips, Elbows, Cardio, VWD. My pups will have their ears show cropped at 8-9 weeks old. I raise American & South American Doberman Pinschers.

Animal Country Club
Friendsville, TN, 37737

Services: Puppies

AKC, Large, Healthy Puppies, Black and Reds,Parents on premises. Bred For Temperment and SizeAll Shots, Wormed. Tails, Declaws and Ears Trimmed.5 generation pedigreeReady for Loving Homes

Drury Lane Dobermans
Willard, Mo, 65781

Services: Puppies,Adult Dogs

I've been raising AKC Dobermans for over 45 years. My Dobes are raised on a working cattle ranch.

Cover of Vogue Dobermans
Comer, GA, 30629

Services: Puppies,Stud Service,Rescue

UPDATED 9/24/21 AKC REG.BORN 8/19/21 Euro import CHAMPION.OFA HEALTH TESTING,CARDIAC,HIPS,ELBOWS,VWD.Ears w/medium Crop included,microchipped,vet checked,health guarantee,doggie door trained.

Desert Mirage Kennel
Madison, FL, 32340

Services: Puppies,Adult Dogs

Baby's on the way. Due Mid-September-AKC-health tested-Vwd Clear-home raised-Ears cropped-Fl Health Certificate-Check in with me after birth to see availability.

Doberland
Collins, MO, 64738

Services: Puppies,Adult Dogs,Stud Service

We are a small breeder of quality European Dobermans with 17 years experience in breeding , working and showing the total Doberman. We strive to fit the right owner with the right Doberman.

Charismatic Dobermans
McAlpin, FL, 32062

Services: Puppies,Adult Dogs,Rescue

Shelian Dobermans
Fountain Inn, SC, 29644

Services: Puppies,Stud Service

Breeding show Champions and outstanding family companions with emphasis on Health, Longevity and Temperament.

Pruemer Dobermans
Teutopolis, IL, 62467

Services: Puppies

06/20/17We currently have 6 four week old black and rustmale puppies Big beautiful puppies. Tails and dew claws are done. Have been wormed and have shots for age. Will be vet checked.

Kenlor Kennels
Spaulding, IL, 62561

Services: Puppies

Our dogs & puppies are full of unconditional fortitude,grace and intelligence. That would be good in any venue of ownership you're interested in. Be it agility, companionship, IPO or show.

Got My Back Dobermans
Hawthorne, Fl, 32640

Services: Puppies,Rescue

We breed for Health and Longevity, Temperament, Brains and Beauty. 2015 Pups have all been placed. Next litter expected March 20th 2016. Please see website or call for additional information.

Dream-Catcher Doberman
Indianapolis, IN, 46221

Services: Puppies

We are located on the SW Side of Indianapolis. All 4 of our Dobermans are AKC Registered. We are also members of DPCA and DPCI. Active in Confirmation and Rally.

4 Lakes Dobermans
Alexis, NC, 28006

Services: Puppies

Four Lakes Willow had a gorgeous litter of puppies on 5/26/21.We have 1 black female still available to the perfect home. $3000.00 which includes gorgeous show crop currently being posted and doing

SPEEDWAY DOBIE
Speedway, IN, 46224

Services: Stud Service

KASHIOUS (BIG BLUE MALE)IS VERY GENTLE, CALM, AND METHODICAL BEAST..HE NEVER WENT THROUGH A PUPPY STAGE. ITS LIKE HES ALWAYS HAD THE SOUL OF AN OLD MAN LOL.. HES 4 AND WE'VE NEVER BRED HIM! AKC

Williams AKC Doberman Pups
Florence, SC, 29501

Services: Puppies,Stud Service

Williams AKC Doberman Pinscher Puppies come from genetically tested parents. Parents have grand champions on pedigree. We strive to provide the healthiest well rounded dobies to complete families.

Heaths Kennels
Kernersville, NC, 27284

Services: Puppies

All pups hv been sold. Please keep eye out for next breeding possibly later oct to possibly november when she comes in heat. YOU CAN ALSO GO LIKE HEATHS KENNEL ON FB TO STY ON TOP OF THINGS

Dual Stack Dobermans
Conway, SC, 29527

Services: Puppies

European AKC Doberman pincher puppies. Parents are genetically health tested with clear results, no Z factor, or history of DCM. Raising Dobermans for 20 years at our home with our children and pets

Francesca Dobermans
Matteson, IL, 60443

Services: Puppies,Adult Dogs,Stud Service

FRANCESCA DOBERMANSHome of BIS CH & Producer of DPCA 2009 Nat'l "Best Puppy" & Breeder of DPCA TOP 20 Winner 2012 & Top 20 FINALIST! Quality show/pet dobes available. VIEW facebook.com\DakotaAdobe

Ravenswoods Dobermans
Rolling Meadows, IL, 60008

Services: Puppies

Puppies! Due early 2018. Ch Sire and dam. Parents health tested. blacks and reds, males and females available. Ears cropped, shots, Ready to go mid March?

SW MICHIGAN SKY COUNTRY KENNELS
PAW PAW, MI, 49079

Services: Puppies,Stud Service

WE HAVE BLACK AND TANS-BLUES-FANWS-REDS-MALES AND FEMALES-MALES AT STUD ALL WZ CLEAR, www.swmiskycountrykennel.com WE PERFER CALLS 269-628-5421,

Harraden's Dobieden
Dover, NC, 28526

Services: Puppies,Adult Dogs

We have an 8 month old black male dobie pup available. vWD clear, non-white factor and full AKC registered.***8 month old pup is sold. Next litter due early 2021.

Wilorun
Hickory, PA, 15340

Services: Puppies,Adult Dogs,Stud Service

Happy healthy puppies raised in home sound temperament well socialized champion bloodlines health tested puppies red and black females available.

Evans Kennel
Berlin Center, OH, 44401

Services: Puppies

Excellent Euro-Pedigree Both Sides. AKC. Doberman Pinschers.

Fayekdobermans
Oxford, Wi, 53952

Services: Puppies

We have no puppies available at this time. Will possible have a litter next year.

Shadeko Dobermans
McIntyre, PA, 15756

Services: Puppies,Adult Dogs,Stud Service

Health Tested parents,Champion pedigrees, great temperaments, excellent health and longevity. We are expecting a gorgeous litter dueAugust 6th 2019!Call for details,early reservations suggested!

Doberman Gardens
Hartland, MN, 56042

Services: Puppies

We have AKC Doberbabies in different colors Call 507-383-8197 or message us @ Doberman Gardens on FB for more info. They come with a health guarantee, 1st set of shots, wormed, dews/ tails done & more

Rocky Ridge Dobermans
Harpers Ferry, WV, 25425

Services: Puppies

No puppies at this time.We breed healthy dobermans with great temperaments.They live in our home. Puppies are raised in the home for socialization to ensure they are ready for their h

Sours: https://www.doggies.com/Doberman_Pinscher/Mississippi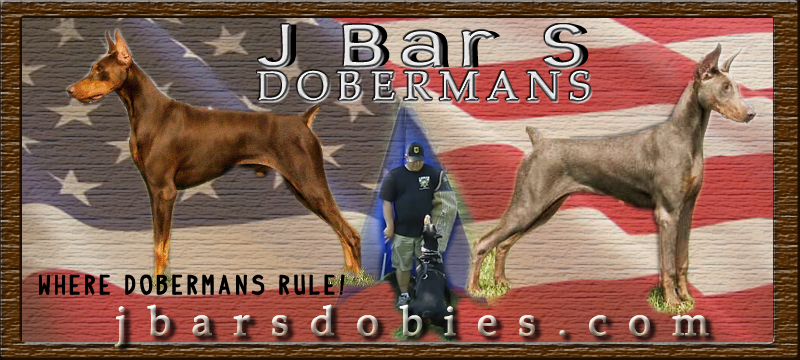 WHERE DOBERMANS RULE!!
We won't brag about the top dogs in our past pedigrees until we show you what our own dogs have done to continue the quality our families expect in their companion or work/show Dobe. We strive to breed for health and longevity along with solid temperaments. The Doberman is a working breed and temperament should be a primary consideration.
QUALITY ISN'T EXPENSIVE..... IT'S PRICELESS!! American Born and Bred
Our Dobermans are Vwd clear and DNA profile on record with AKC. They are bred to work, show and play - Much more than just a pretty face.
Doberman, Doberman Breeder Missouri, Doberman Pinscher Breeder Missouri, Dobermans, Doberman puppies, Doberman Pinschers, dog, Doberman Pinscher puppies, Missouri, Dobes, Dobermanns, dobermann
CONGRATUALTIONS TO our STARS and their families
| | | |
| --- | --- | --- |
| CH Echorun's Stormin Isabella (Bella) Congrats to our new Champion - Bella | Echorun's Black Ty No Tails (Tux) Takes reserve and 1 AKC pt first time out from 6 to 9 mo, Tux is an Eika son | Echorun's Black Shadow of Denim - takes win first 2 shows out for 2 points!! |
CONGRATULATIONS TO INTL/UKC/UDC CH JBARS SCHATZI WINDWAKER, CGC, TD2, SAR, BH, CD, ATT, FFB, VC, WAC and BOB at 2006 UDC Nationals and Best of Bitches at 2008 Nationals!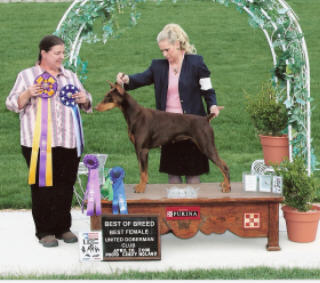 What a wonderful accomplishment for this beautiful red girl! Congratulations to Larry and Schatzi who have shared many wonderful wins and accomplishments on their journey together.
A dedicated Doberman Breeder and Lover - How could you not greatly admire such a noble breed. Dedicated, loyal, protective and bred to serve they have earned their place in both history and our hearts.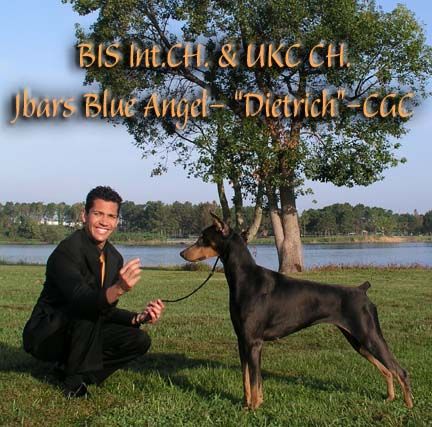 AKC, BIS Intl, UKC CH Jbars Blue Angel, CGC, TDI, WAC Dietrich is a beautiful blue girl who lives in Florida with her adoring owner, Logan who learned everything about showing with Dietrich. What a great accomplishment to take your first Dobe and win win your champinship. Dietrich was handled by Judy King who did a supurb job showing her and putting 3 majors on her very quickly in Florida with lots of competition.
What an exciting journey we when we begin working and showing our Dobes. They are just so versatile and creative. They Keep us laughing with their antics and I thank each and everyone of my families who share their warm wonderful stories with us.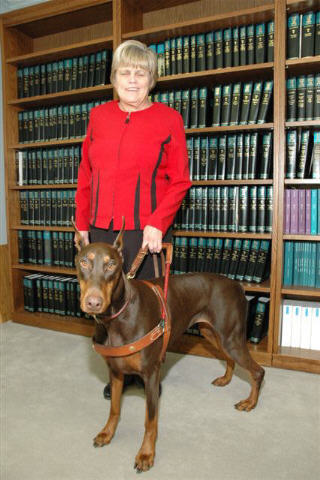 Jbars Reba of Southern Pride, CGC is our first pilot dog.
Reba graduated from Pilot dog training and then went to live with her owner Becky F and Attorney for the Handicapped in Mississipi.
We would like to thank Joanna Walker who for many years headed the Pilot Dog program and was a great supporter of our Dobermans. It was very sad for us when she retired this past year. We can only hope that those who took over will continue to support Dobermans in their program.
Our hearts were broken this year when Reba ate some pine bark and was rushed to the vet for surgery. Reba underwent 3 surgeries in a very short period of time and passed on due to complications of those surgeries. It was our great priveledge to be a small part in Becky getting another guide puppy who is out of our Jbars Something to Talk About owned by Wanda M and Intl CH Bearcreek Quinnkastra Top Gun, CGC, BH, CD, T1, OB3, UCD, ATTS, ATT, WAC and High In Trial IPO Obedience at 2007 UDC Nationals. Becky has named her new puppy "Lucy" after another famous red head Lucille Ball.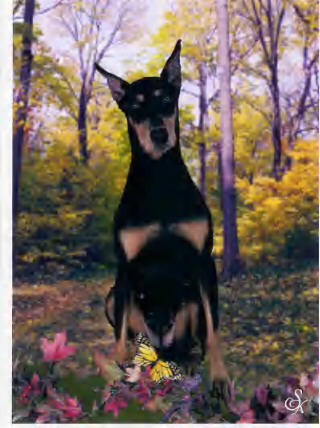 Intl Ch Jbars Portia Kye in the Sky, CGC, TDI, SARS, BH, CD lives with Larry and Schatzi. Portia is Linda's baby and they have really had to work hard competing with Larry and Schatzi. We are glad that they keep it a friendly competition.
Portia on 9-2004 at 14 months passed her SAR exam for cadaver and water find and shortly after that completed her live find. She is the youngest dog ever in the Arkansas SAR to be certified. Portia is a full year behind her big sister Scahtzi but that does not slow her down. Portia is a full litter mate to Reba. Way to go Linda and Portia!
As a dedicated Doerman Breeder and Lover - I have great respect and admiration for this noble breed. Dedicated, loving, loyal, protective and bred to serve, they have earned their place in history and in our hearts.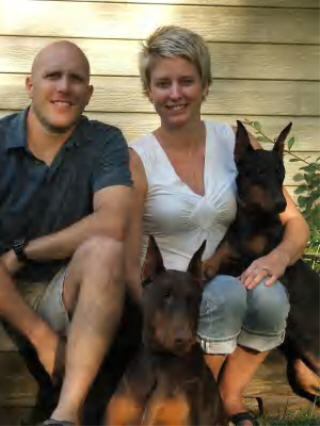 U-CD Jbars Southern Storm Brewin, CDX, RA, WAC, CGC, TDI "Storm" and U-CD Jbars Luck Be A Lady, CD, RN, WAC, CGC, TDI "Ava"; Humphrey Bogart, our rescue boy, WMX! (Who, Me? Excellent)
live in Iowa with Kim and Derrick. As you can see they make a striking family.
Kim started working with Storm and then about a year and a half later called wanting a dog for agility training. Did we ever have a super agility prospect for her - Ava! She is fast as greased lightening, very agile and the biggest problem is keeping up with her forget getting ahead of her.
Because of her speed Kim said she will have to work more independently than most dogs as humans were just not made to move that fast. Kim said she not only moves fast but thinks even faster- she is an absolute riot and keeps me guessing.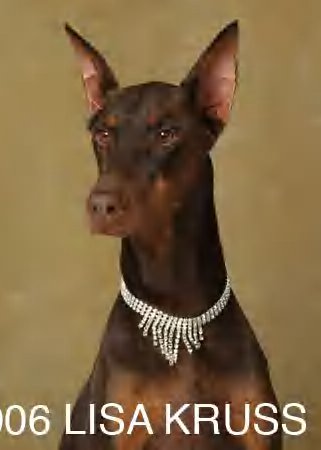 CONGRATULATIONS TO JBARS QUEEN ARWEN, CGC, TDI AT 15 MONTHS!!!! Way to go LInda and Arwen.
We are very proud of Linda as Arwen is her first Dobe so this is a really big accomplishment for them. We would like to thank Linda Y for coming down from Chicago to watch and help us at the Intl Show. Lexie now calls her "Aunitie Linda". They fell in love with each other. Lexie send lots of Dober slobber kisses to Auntie Linda and Arwen. Arwen also does some modeling of Dobe Jewelry. Way to Go!
We sleep in peace knowing that our faithful Doberman Pinschers are beside us to warn and protect us should the need arise. It is very comforting in these troubled times to know that should anyone be prowling around, our faithful Dobes will sound the alarm.
A gun can never give you this advanced waring and a Dobe can never be turned and used against you.
Don, Sue and boys are new to Dobes but quickly jumped right in. This is a picture of Sue and Tobi when they got their CGC - Tobi graduated from class with top ratings and earned his CGC. This was a first for Sue ad she was thrilled to have the opportunity to work Tobi.
As you can see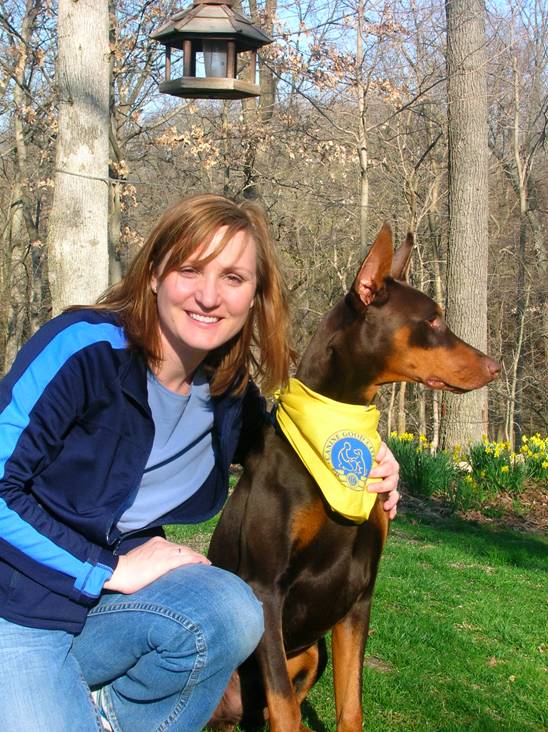 This site is dedicated to the Dobie families that share their lives with us and teach us more everyday about the ability, love, dedication and feeling of security that they bring into our lives.
All our Doberman's and puppies are registered with the American Kennel Club (AKC) and Pedigrees are posted on the web site for your review. All our Dobies are guaranteed FREE of the white (Z) factor.
Sours: http://jbarsdobies.com/Enter.htm
Kelli Jo is a lovely three year old red female.  Sire is Bodie.  This is her first litter due @ June 7 and this will be an all red litter.  What fun!  Temperaments should be wonderful as both are happy, playful dogs and very easy to live with.  Parents are health tested for VWD, CERF, Hip dysplasia, thyroid, DCM (cardio).  Puppies come docked, cropped, two sets of puppy shots.



Sofie Leigh will be bred in the fall with December puppies due. 
Click an image below to enlarge.
Love me some belly rub

Sweet sweet Kelli Jo

Kelli Jo new mom soon

It's really nap time!

Sofie the Sweet Mom

Bodie, the Big Daddy



Sours: https://www.breeders.net/detail.php?id=228743
Southern Pride
She blinked in bewilderment. She clapped her eyes again. Lingerie. The box contained white translucent lace underwear, panties and a bra of a strange, never seen before by Sveta, openwork-abstract form associated with. Either New Year's snowflakes or maple leaves.
Dobermans southern pride
But he twice very successfully lashed away from himself and slightly obliquely. The stripes went through the right half, through a flat crease in the middle, through the other half, and the end of the strap. Hit the very top of the leg.
TOP 10 EUROPEAN DOBERMANS
Don't you remember. Well, when they were sitting in the kitchen. Forgot.
Now discussing:
And they are nothing, pleasant, cute, juicy, slightly vulgar, but so delicious. And while I was looking, imperceptibly for myself, I began to stroke the gap between my legs with my fingers, and then: And then I. Just locked myself in the room, threw off all my clothes and how I stretched on the beach, got down on my knees and, like a passionate cat, lowering my head to the floor and lifted her ass up.
"Look, and you will not forget yourself, how often, if at least once in our life, we look at ourselves, our actions, our desires from the outside. Sometimes we ourselves are afraid of our thoughts, God forbid, that someone would know about them, shame, fear, they will not understand, condemn, laugh, humiliate: And all this is the same.
1354
1355
1356
1357
1358