70s Gypsy Shag Hairstyles
Jupiterimages/liquidlibrary/Getty Images
The gypsy shag haircut, which first gained popularity in the 70s, is characterized by its evenly progressing layers, resulting in an overall "shaggy" look. With today's intentionally messy hairstyle looks, the gypsy shag is more popular than ever. The shag can be short, medium or long. The shortest layers are on the top, the longest on the bottom. Most hair types have success with this hairstyle, but should be avoided if your hair is very fine hair or very coarse hair.
Layers
Polka Dot RF/Polka Dot/Getty Images
One of the pluses of this hairstyle is being able to decide just how much "shag" you want. The number of layers you choose to have will determine the style of your shag. If you're looking for an interesting style that's a little bit intricate, go with lots of layers. Fewer layers will give you more styling options. The style of layer you choose should depend on the type of hair you have. Avoid choppy layers unless you have curly or wavy hair.
Length of Hair
Photodisc/Photodisc/Getty Images
Another benefit to the gypsy shag haircut is that you can start out gradually, ensuring you like the style and it works for you. Start with longer layers and work your way gradually to cutting them shorter. This gives you time to experiment with different ways to style your shag and find out which look you like the best. A short-layered shag takes a substantial amount of time to grow out if you feel the style doesn't suit you.
Styling Options
Thinkstock/Comstock/Getty Images
One of the best things about this hairstyle is the options you have for styling. If you want a low-maintenance, or even no-maintenance style, this is it. Just add a volumizing spray to the roots of your hair and scrunch it with your fingers while drying. Use a curling iron to create a wispy texture for a dressier look. You also can change the look of your style by using highlights. Go subtle, or for a funkier look, go vibrant.
Hair Care
Jupiterimages/Pixland/Getty Images
It's important to wash your hair using a shampoo made for your specific hair type. A deep conditioner helps keep your hair and its layers looking healthy. Hair should be trimmed every six to eight weeks to remove the dead or split ends. This also helps keep the layers from getting too heavy, which will weigh down the look of the style.
References
Writer Bio
Kerry O'Donnell has been writing professionally since 2008, when she began freelancing for the online magazine NewEnglandFilm.com. She later became the website's associate editor. She also serves as an associate editor of books for The Independent online magazine. O'Donnell holds an associate degree in criminal justice.
Sours: https://www.leaf.tv/articles/70s-gypsy-shag-hairstyles/
Go For a Shag Haircut: 50 Funky and Cool Ideas!
After being one of the most loved styles of the 70s, shag haircuts are now once again among the hottest hair trends! Who would have thought that the shag would be back and booming decades later?
Probably quite a lot of people. This feisty, carefree and attitude-filled haircut works amazingly well for almost any face shape and hair type.
---

So slide till the end to get inspired and pick the shag hairstyle of your dreams!
---
1. Medium Shag Haircuts
AS we present new hairstyle ideas, we always like to start with a balanced option. For example, one of the best modern shag haircuts you can rock is this medium-length, all-natural, choppy layers look.
2. Beach Hair Shag
The concept of beach hair falls under the broader category of modern adaptations of the timeless shag haircut. Just as the name suggests, the hairstyle aims to reproduce that sun-kissed, post-time at the beach look.
3. Short Shag Haircuts
Looking for a more playful approach to your shag haircut? Go short! In this particular case, the shag look was paired with a pixie bob hairstyle with brown highlights.
4. Shoulder-Length Hair with Sleek Layers
Hard as it may seem to believe at first, not all shag haircuts are messy. While most shags are associated with lots of layers, messy ones, you can also keep them sleek and styled, as above.
A sleek shag can be worn even on more formal occasions and is also a perfect fit for ladies more attracted to classy styles.
5. Long Shag Haircuts
To obtain the picture-perfect shag with long hair, you need to go above and beyond with the layers – the shorter and choppier, the better! This helps create a dynamic silhouette, and also makes for a boho style.
OUAI Wave Spray. For Perfect Yet Effortless Beachy Waves. The Wave...
OUAI WAVE SPRAY. Get beach waves without stepping foot in the ocean. The Wave Spray gives hair the perfect amount of...
GREAT FOR ALL HAIR TYPES. Created with rice protein instead of sea salt, the Wave Spray is safe for all hair types, even...
OUAI (or "way") means yes in that casual, Parisian way. We believe in effortless routines and good for you...
6. Shag Haircuts with Bangs
A wonderful way to personalize your hairstyle is to pair those wild layers with bangs. We will be showcasing several bang styles throughout this list but we started with this classic set of full, arched bangs.
7. Cool and Flirty Short Shag Hairstyle
For a flirty and cool hairstyle, go for a bob-length shag haircut that you can style simply by running your fingers through your tresses. The blonde highlights on blonde hair are also a lovely touch.
8. A-Line Shaggy Bobs
Now that bob hairstyles are in discussion, talking about the shaggy A-line is a must. Angles are everything when it comes to cute shag haircuts, so it's natural that an angled bob would serve as the perfect outline for one.
9. Shag Haircuts for Thin Hair
If you struggle with styling your thin hair, we recommend a shorter shag. A choppy hairstyle with a bob or even lob (or long bob) base, for instance, can help add extra volume. As the locks are shorter, they won't be as pulled down as long hair.
10. The Asymmetrical Shag Bob
Speaking of A-line bobs, why not try an asymmetrical version for your shag? The difference doesn't even have to be dramatic. An inch or two of asymmetry should do the trick, in most cases.
11. Shag Haircuts for Older Women
Regardless of your age, you can look and feel fabulous during any chapter of your life with a sassy hairstyle, such a shag. Raquel Welch proves so time and time again, like in this flattering shot.
Also, ladies that caught the 70s shag haircut in its heyday can now experiment with its modern and shorter versions.
12. Straight Shaggy Hairstyles
We will be tackling types of hair throughout our list of shag haircuts, from curly to wavy and, in this case, straight hair. Get inspired by Dianna Agron's gorgeous hairstyle – perfect length, master layers!
13. Jagged Bangs – Baby Bangs-Style
If you're genuinely not afraid to leave your comfort zone, consider an unconventional shag haircut with bangs – almost baby bangs – and make these choppy too!
14. Gypsy Shag Haircuts
There are many vintage haircuts that can inspire the nostalgic, and this ravishing gypsy shag hairstyle is one of them. It's a great look for medium to long hair, one made even prettier by the lush side-swept bangs and short layers.
15. Curly Shag Haircuts
If you were lucky enough to be born with natural corkscrew curls, never shy away from flaunting what you got from your mamma. In other words, find a hairstyle that accentuates your ringlets, such as this shaggy haircut.
16. Short and Choppy Bangs
What better way to complement your choppy layers than with equally choppy bangs? Instead of sporting eyebrow-length bangs, you can take a walk on the wild and modern side with a short and rebellious fringe.
17. 70s Shag Haircuts
Whether your bangs are slightly parted, swept carelessly to the side, or messily down the front, rock them with your head held high for some retro glam.
18. Long Bangs and Shaggy Hair
An amazing way to highlight your shaggy locks even more is to wear them with long, about nose-length bangs. It's the traditional boho approach to this hairstyle, and ideal if you want to get closer to the retro shag haircut.
19. Pixie Shag Haircuts
Admire and get inspired by this shaggy pixie cut! Make the pixie as short or long as you want to, but remember: styling is key! Also, we recommend going for longer bangs no matter the length of the pixie.
20. Casual Shag Hairstyles
If you don't want to go too over the top with your shag, but still want to make it memorable, go for a casual style like above. Go for a middle part, keep the hair around shoulder-length. The bangs are optional.
21. Shaggy Inverted Bobs
It's easy to see why inverted bobs are among the most voluminous cuts and trendiest hairstyles. Add even more volume by cutting in choppy layers – shag effect guaranteed!
22. Shoulder-Length Shag
Shaggy hairstyles look arguably the best with shoulder-length hair. You can appreciate the layers and get that much-needed kick of volume without struggling with the maintenance afterward.
23. Layered Shag Haircuts
It may seem redundant to label a shag haircut as layered, but we want to emphasize the role of this cutting technique. As this example goes to show, the short and gradual layers are the icing on the cake for a shaggy hairstyle.
24. Boho Hairstyles
You will frequently find the term boho associated with shag haircuts – for quite obvious reasons too. To emphasize the bohemian part of your shaggy hairstyle, make and keep your bangs choppy.
25. Dramatic Hairstyles
We constantly encourage our readers to get a hairstyle that fully represents their personality. So bold girls can look at style icons like Yolandi Visser from Die Antwoord for some extreme shag hairstyle inspiration.
Hair Coloring Wax, Spdoo 6 Colors Unisex Multi-Colors Temporary...
🌈 【6 DIFFERENT COLORS FOR DIY HAIR STYLE】Gold, Green, Gray, Blue, Purple, Red(more like pink), you can mix 2-3...
🌈 【FEATURES & EFFECT】Easy use and clean, Refreshing fragrance and portable. If you do not want your hand stained,...
🌈 【PERFECT FOR COSTUME PARTY】The colorful hair color wax is perfect for all kinds of Festivals, Parties, Stag &...
26. Shag Haircuts for Round Faces
A shaggy hairstyle is one of the best ways to compliment a round face shape. By focusing the layers and angles inwards, you can successfully create a slimmer face effect. Add side-swept bangs for extra cuteness.
27. Wavy Shag Haircuts
Shag haircuts and wavy hair truly go hand in hand. This is the ideal hair texture for a shag as the wavy layered locks will fall gracefully into place on their own.
28. Curtain Bangs on Ombre Hair
One characteristic that both retro and modern shag haircuts have in common is the way they style bangs. One of the most common and also coolest approaches is going for curtain bangs.
29. Colorful Shag Hairstyles
To put the spotlight on the rebellious side of a shag, couple it with a new hair color. Considering that shag haircuts are typically wild and rebellious, play around with the liveliest of colors, such as this rich green.
30. Black Shag Haircuts
Halle Berry can rock a short shag quite like no other. The renowned actress is well known for her choppy hairstyles and especially for their bold shortness and spunk. This goes to show that a shag can suit women of all skin tones, face shapes, and personalities.
31. Side Part Hairstyles
Contrary to popular belief, shag haircuts are just as head-turning with a side part as they are with curtain bangs. Indeed, retro shags cuts are almost always middle-parted and their modern-day counterparts open the way to experimentation.
32. Choppy Shag Haircuts
If you want to get as much attitude as possible out of your haircut, go for extremely choppy layers. Also, experiment with different lengths for the layers. For example, try short layers on top and longer ones as you go down.
33. Pop Shag Hairstyles
Remember when celebs like Mandy Moore, Meg Ryan, or Alexa Chung rocked a shag? Recreate their look for a fun and girly hairstyle. The one above, for example based on a short bob with progressive, angled layers that frame the face.
34. Sexy Shag Haircuts
The sexiest shag haircuts are often the messiest and most careless ones. Counterintuitive as it may seem, they stand out through their reckless glow and as a statement of an outgoing personality.
35. 2000s Hairstyles
If we were to talk about pop icons of the 2000s, there's no doubt that Britney Spears would be among the top three of that decade. She was a trendsetter in both clothes and hairstyles, and this long, choppy, and thoroughly layered hairstyle is surely one of her most famous looks.
ARCTIC FOX Vegan and Cruelty-Free Semi-Permanent Hair Color Dye (8 Fl...
Raven wings, stormy night skies, and hair as black as your heart - Transylvania is the perfect fit for achieving all...
#AFProTip: Try adding a drop or two of Transylvania to our Arctic Mist diluter to get a beautiful icy blue!
Made only from vegan ingredients with no animal by products. No harmful chemicals in Arctic Fox Hair Color that damage...
36. Goth-Inspired Hairstyles
Were you expecting to find a mullet-based haircut that looks this outstanding? We'd guess no. However, this deliciously dark, mysterious, and goth-inspired shag haircut proves us all wrong!
37. Retro Shag Haircuts
We will go back to the 70s for this entry, with a gorgeous, retro-inspired shag. While the hair is on the long side, the many layers make it easier to style and maintain.
38. Wispy Shag Bob Haircuts
Ladies with fine hair should definitely keep shag bob haircuts in mind when booking their next hair appointment. This is a very flattering style as it helps add natural volume to the hair.
39. Shag Cut with Soft Curls
Yet another way to adorn a shaggy hairstyle is with soft curls. This look works best if your hair is naturally curly or very wavy, so have some fun with those tousled locks and shaggy bangs!
40. Cute Shag Haircuts
This particular short shag style is so easy to wear, that gals of all ages can rock it! Don't hesitate to go for this all-around shorter haircut that combines flirty with feathered layers.
41. Shag Hairstyles for Square Faces
Razor-like jawlines have a unique charm of their own, that can be made all the more stunning when paired with a hairstyle that complements them. For example, a shag haircut with softer layers will balance out the features.
42. Long Layered Shags
Short layers on long hair have been trending for as far back as one can remember. They work seamlessly together to create a balanced yet playful hairstyle. Moreover, they are one of the definitive traits of the modern shag.
43. Shaggy Bangs
Bring those bangs to life by making them shaggy too! Focus on full bangs that start from the crown of the head and continue with plenty of short and jagged layers.
44. Shag Haircuts for Thick Hair
Shaggy hairstyles can work miracles on thin locks and thick hair alike. Accentuate the natural thickness of the hair and get a fearless look, all in one!
45. Ombre Shag Hairstyles
Bring some color to your new shag by going for ombre hair. We're sure you already know all about this coloring technique, but we wanted to draw attention to how easy it can contribute to an eye-catching hairstyle.
46. Platinum Shag Hairstyles
For an unforgettable impression, go for platinum blonde! This has been one of the top-trending hair colors for years now, and we're certain that it will still be a favorite among women for years to come.
47. Classic Shag
A classic shag haircut will always focus on the top part of your hair as the pièce de résistance. In other words, all attention will be drawn to the short and layered top while the rest of the hair flows down naturally.
48. Curly Shag with Bangs
Shag haircuts with bangs are a very flattering choice for gals with curly hair. The fact that the locks have a curly texture pave the way for effortless bangs that perfectly complement the whole look.
49. Fiery Hairstyles
You can go all out with the colors for a shag and add some spice by blending various shades of red. The results will be spicy, fiery red, and sure to make heads turn.
50. Emo Hairstyles – The Shag Version
Curious as it may seem at first, emo hairstyles and shag haircuts have quite a lot in common. From the short layers on long hair to the voluminous top and sleek bottom, you can easily consider interchanging them.
BESTOPE Hair Straightener and Curler 2 in 1 Flat Iron for Hair with...
Save Time & Save Energy - Equipped with extra-long, 100% tourmaline ceramic plates, MCH smart temperature heat-system...
For All Hair Types - The 2 in 1 straightener and curling iron have been programmed with 6 digital temperature settings...
Make Hair Smooth & Silky - BESTOPE 1 inch professional hair iron made with 3D floating plates adjusting to compress your...
So, What Is YOUR Hair Motivation?
To conclude, shag haircuts have taken over our hearts, for sure. Aside from being truly impressed by their massive comeback, we also admire and love the versatility and funkiness that comes with them.
We warmly recommend a shaggy hairstyle to any girl or woman who wants to go against the grain and rock a cool look every day – and an almost effortless one too!
So what do you say, which of the shag haircuts and hairstyles is your favorite?
Unicorn Hair Without the Salon — You'll Have a Rainbow Shine All the Time

Anyone who has ever colored their hair knows that it's always worth the effort, and unicorn hair is […]

Today's Best Pink Hair Dye Choices For At Home Color

Are you in the mood for luscious pink locks? Are you determined to accomplish the look at home? […]

Ultimate Guide to the Vixen Sew In: Everything You Need to Know

Sew in hair extensions are not new and have been becoming increasingly popular in recent years. However, despite […]

Love Your Silver Hair, and Color It Bolder!

Silver hair isn't a sign of age but a sign of fabulousness. Just because our natural color fades […]

Madison Reed Hair Dye For Home Review

Are you wanting to try a new hair color but don't have room in your budget for regular […]

Arctic Fox Hair Dye Reviews: Is It Worth Buying?

So, you want to try a new hair color. Something completely different. But you aren't sure what brand […]

The 13 Best Texture Powder Picks You Need for Great Hair This Year

Hair volume and texture are buzz words in the hairstyling world, but how does one achieve instant volume […]
Last update on 2021-10-15 at 07:34 / Affiliate links / Images from Amazon Product Advertising API
Filed Under: HairstylesTagged With: shag haircuts
Sours: https://hairmotive.com/shag-haircuts/
Gypsy Hair Cut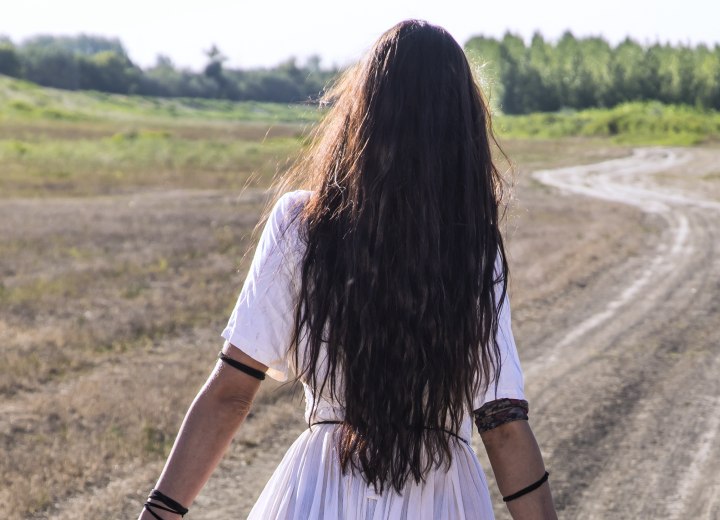 Q: Hi! In the early 70s we had a hair cut which was called a Gypsy. It was layers on a longer hair and there were 3 or 4 different layer lengths on the style. Can you please tell me what the cut was so that I can get my hair cut that way? Thanks so very much.
A: The Gypsy cut was basically a long layered haircut, and generally a much longer version of what became known as the "shag".
In the Gypsy Cut the hair is elevated to a stationary guide point above the head and cut to create layers that grow longer as you go down the head. In some cases - with particularly long-haired individuals - the hair would be divided into sections and layered in stages.
In other cases, the hair was instead elevated to a V-shaped guide with the shortest layers at the top center of the head, and growing longer and longer in a smooth progression. If you held the head upside down, you would seen the ends of the hair form two separate angled planes that met at the center of the head.
The gypsy cut was always best-suited to women (and some men) with naturally wavy hair, or who had their hair permed to create large curl. Since the cut would prevent the curly hair from becoming too bushy, and instead give an even fullness throughout the style.
©Hairfinder.com
Photo: OceanBlack/Shutterstock
See also:
1970s hair
How to cut a shag
Vintage hair and hairstyles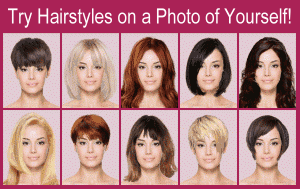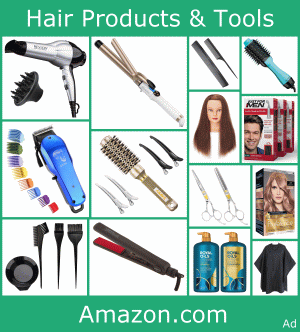 Sours: https://www.hairfinder.com/hair/gypsy-cut.htm
Shag Haircut - wavy curly - Long Graduation - Vidal Sassoon
The ultimate unisex hairstyle is back! Drumroll please! Let's welcome back with palms wide open for what probably is the coolest hairstyle ever created. It's no surprise why it has so many adaptations. Long, lobs or short bobs, shag haircuts are probably the coolest, bed-head, low-maintenance hairstyles to try. It's simply fantastic in any length, any age, any size. The choppy ends, lots of texture, and loads of layers in one are just fun, rebellious, and very rock n' roll.
The hairstyle may have been born in the era wherein only the wackiest fashion can match it, but, nowadays, even the red carpet events full of elegant attires flaunt their shags! Through the years and how many heads it baptized, shag haircuts had its fair share of attention, —both good and bad. The shag has been presented with new faces that make the style more flattering to anyone.
From the mussed and layer-heavy from the '70s (think Mick Jagger and Stevie Nicks,) to chic, subtle, short three decades later. Shag cuts resurrected in the most uncanny ways, —at least, in my opinion.
Why You Should Give Shag Haircuts A Shot?
Should you shag or should you not? You probably find it intimidating to sport this layer-packed haircut because of how overwhelming it might turn out on you. But the modern shags actually have a big step away from its descendant. It's a very versatile hairstyle to switch to. The length that looks flattering on you depends on your hair texture. Meaning, modern shag cuts are a little softer in approach. You are surely in better hands with a professional hairstylist to create the best shag do' for your lifestyle and hair type.
Choosing The Best Shag For You
Shag haircuts are really about working with your hair's natural texture and shape. It can be shoulder-length, short or pass the shoulders. It should be tailored to each person. The classic cut is almost face-hugging, with the bangs eyebrow-grazing and slightly longer on the sides. Unlike other hairstyles, shag cuts only need air-dry to show its natural pattern. Also, the shag haircut is very much reliant upon layering, depending on how fast your hair grows, get a maintenance haircut every three months.
Fine Hair Straight Or Curly
One of the big challenges to sport this borrowed-from-the-70s hairstyle is with fine hair strands. It goes for both fine curly and fine straight. Shag doesn't typically work with very fine hair. Both have similar takes for shag haircuts. For fine curly hair, the best shags are the short styles. The key to a cute shag for fine curls is to have a carefree, natural fullness and bounce. And of course, it needs very minimal hair products to avoid weighing the curls down. Adding highlights also help!

How to Style a Shag Hair Cut
Nothing troublesome is needed to style any shag haircut. You may apply a volumizing mousse to your clean, damp hair to create definition in the shaggy layers. You only need your hands and fingers to tousle and lift the hair until it's dry enough. After all, it is meant to be slightly messy and carefree. Other styling options include a strong hold gel to create the structure for an edgier shag style. Or use grooming creams to achieve a softer, more manageable shag hairdo.
How The Shag Haircut Started And 'Spiraled'
It might be worth to know about how this famous tousled, feathered, and layered hair started, as well as why it is back to the mainstream. In the 1970s, a barber named Paul McGregor introduced the iconic 'shag cut,' which opened to more popularity for celebrities like Jane Fonda, Mick Jagger, and David Cassidy, —just to name a few. In fact, more people today remember their hairstyles more than their other contributions in pop culture. After all, the hair is undeniably eye-catchy, youthful cut.

The length of the old-school shag cuts, back in its heydays hits between the collarbone and chest. Back in those days, it's seriously the sexiest hairstyle to flatter most face shapes. Think David Cassidy, John Travolta, Stevie Nicks, Debbie Harry, down to Jennifer Aniston! If you are a 70's, 80's or early 90's kid, you've seen this feathered coiffures worn by your aunts, uncles, and even your parents! Both Winona Ryder and Meg Ryan had shown that shag haircut is not only for long hair.
The Original Shag, —From Chrissie Hynde.
At the same time, the birth of a new raw and primitive sound called punk rock filled every '70s & 80s teen's memory, the punk shag was born. No one sports the 'shag' oh-so-well than the original unabashed rock and roll star Chrissie Hynde. The choppy bangs and shoulder-grazing shag haircut became a household name in the beauty industry after her. It was a sensational hairstyle that created more descendants in the following decades.

From Debbie Harry, Jennifer Aniston To Meg: 80s And 90's Shag
In the 1980s, Blondie's lead artist Debbie Harry gave the shag haircut a romantic, punk makeover. Her iconic wild teasing and bleach blonde shag was an 'It Girl' style that many girls in the 80s copied. The 70s feathers and 80s chops ended and made another different style with Jennifer Aniston's 'Rachel' shag in the mid-90s.
Now that we are in 2018, we've seen the future of hairstyles in the continuous trends of pastel and platinum hues. Yet, in terms of cuts, what makes the most remarkable of-the-moment look is a throwback. Nowadays, it's hard not to notice the increasing popularity of less sleek and less smooth hairstyles. The shag cut certainly made its mark through the decades, and isn't it great that we are back on this sweet, low-maintenance trend?
The Best Shag-Inspo Styles You Should Try
The shag has pretty much adapted to current trends beautifully. So, if you're thinking of an effortless style while growing your hair, the shag cut is a perfect choice. Wispy bangs, a center part, and the cropped layers, —this badass neighbor to the lob is undeniably cool! Inspired by the celebrity takes on the cut, we've rounded up our favorite picks of the best shag cuts. Keep scrolling to see now's shag-i-licous styles borrowed from three decades back!

The Shaggy Mullet – Jane Fonda-inspired
Does helmet hair make you feel 'heck no'? 70s star Jane Fonda made this helmet shag lookin' super chic, but how about now? How else best would you give it a modern twist than dressing it up with a platinum color? We are talking about giving it the red tones for a shag with a touch of spice. Or make your shag edgier with silver hues for a beautifully messy, modern twist.
A rocker girl's unkempt look reflected a shift in cultural and social amelioration, and it works so beautifully! The funky shag style features heavy bangs and an easy air-dried look. This style is great for both thick and fine hair. If you have thin hair, shaggy mullet can make your mane appear thicker with a few adjustments to maintain the volume.
The Shaggy Long Bob With Wavy Side-Swept Bangs
If you are blessed with thick hair, you can rock this shag without a problem. Women with fine hair can also pull this off and maintain it without so much trouble. Although, considering fine hair has tendencies to lose its body, play it smart with the layers to give it proper volume. Layering tricks has now ushered in daring styles that displays a special emphasis.
It doesn't take a lot to transform a bob into a 'shag bob' with just a little help from your trusted hairstylist. It's sorta messy, as what shag is supposed to look like, but it's also chic as bobs are. You can also spruce it up with pastel highlights to personalize it. The throwback style still adapts to modern-day styling aspects, but with a subtle nod to shag's heyday.
Loose Shaggy Curls With Choppy Bangs
Let me just re-iterate this before I continue, there are curlies with thin hair strands, and this curly shag hairstyle is for that hair type. The shag cuts are favorable for fine curls as the haircut leaves the top longer. If you want to capture the exact 'shag,' it's best to keep your hair short to avoid weighing your gorgeous curls down. Also, when applying creamy styling products to give it a fuller body, keep it minimal to retain the natural 'loose' appearance.
Boho-Romantic Shag With Long Layered Bangs
Here's another cool-girl's perfectly undone look of choice. It's a great go-to hairstyle when transitioning from a pretty short haircut to a lovely long hair. What gives this shag hairstyle a sweet kiss of vogue, is its chic messy, soft curls draping down past the shoulders. This shag boosts up the volume for fine-haired ladies. Plus primping your newly shag lengths with long bangs adds to the mysterious girl-next-door look.
It doesn't matter if you're blonde or brunette, you can wear that messy bed head look without inhibitions. Adding some undertones with this semi-hippie hair is just an option, but doesn't make the hairdo less attractive without it. If you're planning to go on a first date, take your hairstyle to the next level with this feminine and absolutely stylish boho-inspired shag!
Short Shaggy Bob, 80s Revival
Alison Brie gave this 80s revival a big shot of swagger, and soon after everyone wants to copy her hairstyle. If you're done with center-parted, beachy waves, swap it with this cute shag bob! The versatility of this shag bob is super-sweet. You can start with the basic full bangs, and turn it into gorgeous side bangs when it grows long. Either of the two can give the extra bounce. You can also create depth and dimension to your short shag bob by adding chunky highlights.

Flirty Short Shaggy Bob: Meg Ryan-Inspired
Some classic haircuts have incredible stamina to stick around as one of the neat and trendy hairstyles. Does Sally Hershberger ring a bell? It's that wash-and-wear hairstyle that made Meg Ryan's character in IQ a style icon and is currently a boss babe haircut today. What makes it fashion-forward is the fact that you can do a lot or nothing with it and will still look sassy cool.
You can style it, leave it carefree or keep it messy. If you're one of those who struggles with a series of bad hair days, you'd be thrilled to find that this throwback hair is back to keep your stubborn locks versed with the latest trends. Whether you are off for a Friday night party with friends or off for an interview, this flirty cut won't fail to catch an eye and a smile.
Subtle Ombre Medium Shag
For three decades, celebrities, as well as every woman who wants to look trendy opts for a medium shag. Whatever texture your hair may be, the shag haircut offers possibilities that are right for you. The modern take of this vintage style incorporates messy layers and a subtle ombre. You can play with any pastel hues you want depending on your natural hair color. The hair color easily elevates your look. It creates an overall cool-girl vibe that both the young and the middle-aged women can wear. Soft Brown Blonde Waves or multi-tonal pastel purple, go for it!
Razor Cut Shoulder-Length Shag Bob
Styling-wise, sporting a bob doesn't need real mastery, but flirting with the idea of having layers and razored edges is something else. The choppy texture amped with frizzy-looking tips fit a wild and carefree attitude. If your trouble is your unmanageable tresses, you might find this hairdo the perfect solution for a voguish makeover.
You can choose short fringe, side-swept bangs, or even asymmetrical bangs. However, the best way to nail the look is using the right tools to shape the edges in a spotless way. The artsy edginess of this shag haircut has been long stereotyped as the 'bad girls hairstyle.' If you are into punk rock with a dose of romantic hues, add some auburn streaks to your warm brown hair.
Chocolate Brown Wavy Long Shag: Ashley Simpson-Inspired Look
The singer and actress Ashlee Simpson is best remembered for her sweet, rock-ish super long shag. It's one of the favorites among teens during the early 2000s. It is the look to copy for women with deep chocolate colored hair. The soft curls and choppy side-swept bangs frame the face and can accentuate a dramatic eyeliner. While the ultra long layers, especially with plenty of coordinating highlights, add to this frenzy feminine charm. If you're aiming for a carefree hairstyle, you can borrow Ashlee's iconic shag.
Curly Shag Short Bob
If you have fine natural curls and you don't know what to do with it's 'messy' look, give it some fresh perspective by shagging it up! You can check out some of the rad new models and low-key fashion influencers on Instagram, they're rocking this look! You can too! So, leave your curlies alone and stop thinking of a drastic move to tame it if there's a style that embraces its charm. Try a gorgeous shag short bob! Tousled curls look incredibly charming, easy to manage, and low-maintenance.

Flirty, Shaggy Angled Bob (For Thick-Haired Ladies)
An angled bob just made messier. Check Scarlette Johansson's shag angled bob, apart from her previously mullet shag with razor spliced ends. What's different about it? It's basically taking advantage of thick locks by adding heavy layering to this shaggy cut. It's still a cute shag hairdo without needing to achieve a perfect coif. It already looks amazing with all the layering. You only need to add some shiny finish to it to make it look hydrated.

Modern-Day Medium-Length Shag: Julianne Hough-Inspired Cut
The unrelenting reality after you had a short-hair makeover is what to do with it when it starts to grow out. How would you deal with an awkward stage hair, let your hair grow longer or go back to your hairstylist? Many went nuts over Julianne Hough' cool shag after her photos of were posted on Instagram with the hashtag #moderndayshag. Her new hairstyle certainly proves that the coolest way to grow out a bobbed hair is to get a shag. The striking layers with great movement are an absolute trendsetter!

The Modern Gypsy Shag With Salmon Sushi Balayage
A gypsy shag is a free-spirited, a little rebellious, and sexy take on a layered cut. If you want to channel a look similar to the original gypsy shag in the 70s, more layers make for a better look than just a few. You can take inspiration from the wild and gypsy-esque hairstyle of Stevie Nicks. The gypsy shag hairstyle is best for thick hair, albeit more volume is needed if you have fine hair.
For a modern twist, you can trade out your side-swept bangs for a blunt yet texturized style. You may also chunk some hair color techniques without minding the roots. Adding salmon pink highlights and lowlights help give more illusion of fuller hair, plus it creates the more feminine, yet daring look.
Check other styles below, wear it proud and crazy or simply sleek and join the hair shag revolution!

Sours: https://www.prochronism.com/shag-haircut
Shag haircut gypsy
The Best Shag Haircuts, From Short to Long
The shag haircut is very rock 'n' roll—casual, mussy, and visually effortless. The typical features that make up a shag hairstyle include choppy ends, layers around the crown, and lots of texture.
The modern shag is choppy and has lots of texture but doesn't make you look like you're in an '80s hair metal band. It works on almost every hair texture and length. (Though beware too many layers or the style can appear a bit too choppy and dated.)
The key when it comes to this style, explains hairstylist Erin Powers, is the fringe. "A great shag has got to have the fringe right," says Powers. "If it's off, then it's not a shag." We spoke to Powers and hairstylist Kari Bennett of California's Atelier Salon for their tips.
Meet the Expert
• Erin Powers is a hairdresser with more than 16 years of experience. She is based in Tucson, Arizona.
• Kari Bennett is a master hair artist and the founder of Atelier Salon in San Jose, California.
Below, we rounded up our favorite examples of the best shag cuts and styles.
01of 18
Classic Shag
Chloë Grace Moretz is nailing the rock-star nature of a shag. The soft bends, parted curtain bangs, and fluffy ends are the perfect recipe for this effortless (but actually you spent a lot of time making it look cool) style.
02of 18
Fluffy Shag with Semi-Parted Fringe
Halle Berry has worn different versions of the shag over the years. Here, she wears a sultry, curly shag. "The key to really pulling off the full shag feel is the wave or curl," says Powers. "It needs to have body and soft texture. I love Hairstory's Hair Balm ($36) for the perfect shaggy wave." Letting this style grow longer allows for the curls to perfectly frame her face.
03of 18
Long Shag With Soft Waves
Longer-length hair can still have some great shaping. Actress Natasha Lyonne allows her dyed red locks to look both shaggy and elegant at the same time. This look is easy to get by way of letting hair air-dry and spraying in plenty of sea spray, like Herbivore Botanicals Coconut Sea Mist Texturizing Salt Spray ($20).
04of 18
Pseudo-Shag Bob
Though there are exceptions, shag cuts are at their best when they're not overly done. You know the look: blow-dried to perfection, with not a hair out of place. No matter the hair length, a mussy shag almost always looks better. Dancer and singer Julianne Hough's modern take is more of a grown-out shaggy bob.
If you have straight hair, ask for choppy ends when you get your hair cut. Scrunch it and let it air dry.
05of 18
Pixie Shag
"[A shag] can be super short, which leans a little more on the shaggy mullet or longer and feathered side, which gives a softer finish," notes Powers. To get this look, ask your stylist to cut choppy layers from front to back. Here, a deep side part gives a bit more structure to an otherwise mussy cut.
06of 18
Undercut Long Shag
If you're looking to make a bold statement, a shag haircut with a side shave definitely fits the bill. Make like Jennifer Hudson and ask your stylist for an undercut. As for the rest of your hair, give it a little love with a texture spray for mussy definition.
07of 18
'70s Shag
The key to Georgia May Jagger's shag haircut is to not style it too much. Avoid products like gels, which make your hair stiff. Instead, opt for styling creams with a medium hold.
08of 18
Short Shag
This is a lovely shag hairstyle on model Arizona Muse. It's the perfect example of wash, scrunch, and go. The shag looks best when air-dried or blown dry with a diffuser—just keep in mind that you should always scrunch from below.
09of 18
Modern Shag
Looking for a modern take on the shag cut (sans the traditional bangs)? Take a page out of Jasmine Tookes' book. She styles her medium-length 'do with slight bends and an ear tuck.
10of 18
Relaxed Shag
This version of the shag, pictured on singer, Ciara, is just the right amount of shaggy mixed with a lot of sophistication. Since bedhead will always be popular, this look will carry you through another year without looking dated.
11of 18
Wavy Shag With Soft Fringe
Rihanna debuts a standout style and color combo we can't help but double tap. Keep the golden blonde color looking glossy not brassy by switching to a color-safe shampoo like the John Frieda Violet Crush Purple Shampoo ($8).
12of 18
Piece-y Shag
The shag hairstyle isn't just for women in their teens and 20s. Here, former French Vogue editor Carine Roitfeld models a gorgeous shag hairstyle that's messy and casual, with a little bit of rock-n-roll thrown in. The face-framing nature of the cut shows off her face shape, and highlights her bright smile.
13of 18
Tapered Shag With Bangs
Country music legend Emmylou Harris offers up another glamorous shag that shows off her gray hair. It's a stunning look, and the long layers with full bangs are both classy and timeless.
14of 18
Short Curly Shag With Bangs
Alanna Arrington's shag is giving us some major model off-duty vibes. For a polished finish, work in some of the SexyHair Wetfix & Chill All-Style Dry Creme ($23)—it'll help hair maintain that bedhead feel in the most natural way.
15of 18
Medium Curly Shag With Bangs
Zendaya is a bit of a hair chameleon. One of our favorite looks of hers is this curly shag, with loads of volume and thick bangs that frame her face perfectly. Several lighter chestnut highlights draw attention to the shorter layers near the front. "I've seen some amazing curly hair shags that are very soft and wispy," says Bennett. The key here, she adds, is to "make sure you dry it thoroughly—to keep volume at the scalp—and use your styling product to show off the texture."
16of 18
Wavy Shag With Piece-y Bangs
Kerry Washington offers another version of a wonderful medium-length shag hairstyle. This one is accented with soft waves, but it still has hints of that lived-in look, which makes it even sexier.
17of 18
Natural Shag
Logan Browning's long curly style isn't your typical shag, but the short layers cut into the style echo the choppy, slightly A-frame nature of a shag 'do.
18of 18
Playful Shag
A shag is a playful style by nature, and you can add even more whimsy with a bold color. Kilo Kish's chin length bubblegum-pink bob gets toughened up with some ragged edges.
Sours: https://www.byrdie.com/a-photo-gallery-of-fabulous-shag-haircuts-346352
Cutting a shag/layered haircut trying Brad Mondo's tutorial. Part 1
7 Sensational Gypsy Haircuts for Women
Before the shag, there was the gypsy hairstyle. Characterized by multiple long layers that move down the hair, this style is meant to evoke energy, spirituality, and freedom of traveling gypsies that play by their own rules.
A gypsy style is anything but neat, so choose this style to bring out your inner child or earthy side. This cut is suitable for hair both super short and ultra-long.
Your Ideal Gypsy Haircuts and Styles
A carefree look isn't just reserved for your typical long hair. Check out our 7 stunning gypsy haircuts and hairstyles for all different hair types below.
1. Long Gypsy Hair
Say hello to a classic long gypsy haircut. With this style, hair reaches to at least your chest and beyond, yet much of the bulk is removed thanks to long, sexy layers. Feeling playful? Add charms and details like a headband with long feathers.
2. Full Gypsy Curls
When it comes to a curly gypsy hairstyle, the bigger, the better! Accentuate large ringlets with long, cascading curls cut into evenly placed layers. For a touch of flair, pin one side of the hair back over the ear.
Look Fabulous With Greek Hairstyles
3. Short and Shaggy Gypsy Cut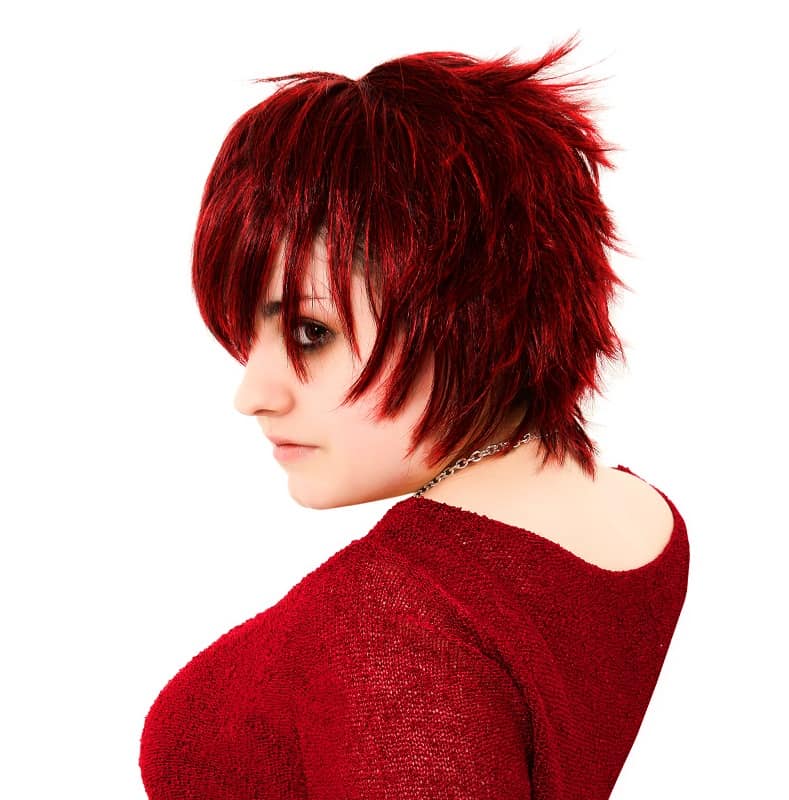 Not every babe craves long hair. This short gypsy shag haircut has as much movement as the longest cuts out there. To create this look, ask your stylist to cut short layers starting at the top of the head. The layers around your face should be cut so that the energy moves forward.
4. Gypsy Wedding Up-do
So often we see polished styles for the big day that we forget about the beauty of a gypsy wedding hairstyle. Try tying up your beautiful dreadlocks and long, layered hair with a white ribbon or headband in a delicate fabric like lace or silk. This way, your hairstyle can shine but the focus remains on your lovely face.
5. Red Gypsy Hair
An Irish gypsy hairstyle is the perfect way to add a touch of romanticism to ginger and auburn locks. The tapered, layered cut brings curls to a point. Every red-haired gypsy knows that this style shows off personality and creamy white skin like no other.
6. Long Layers for Thick Hair
If you're simply looking for inspiration for your loads of hair, you've come to the right place. A layered gypsy haircut for thick hair will remove bulk, making hair fall more beautifully. Plus, you'll be able to rock up-dos with ease.
7. Crotchet Gypsy Style
Want long locks fast? This gypsy crochet hairstyle lets you crochet braid long, layered pieces into your natural hair for the look that you desire. Add beads and darker strands to make lighter strands like platinum pop.
Your best new gypsy hairstyle is right around the corner. Create movement and convey your laidback spirit with one of these gorgeous looks.
Sours: https://hairstylecamp.com/gypsy-haircuts/
Similar news:
What better style to ring in this summer's maxi dresses and gladiator sandals than a gypsy shag haircut? A gypsy shag is a free spirited and sexy take on a layered cut. If you're ready for change and have a bit of a wild side, this might be the right cut for you.
Wearing a Gypsy Shag Haircut
The good news about shagadelic styles is that most gals (even guys) can wear them, regardless of hair type or hair color. Shags are retro and chic, so be prepared to make a beauty statement if you decide to make the cut.
Related Articles
Shag haircuts are defined by layers comprised of even lengths. Back in the 1970s, gals would pull their hair up high off their head and cut straight across to create a homespun shag.
Later, Stevie Nicks got wild and gypsy-esque on the stage, rocking her billowy fashions and tousling her shaggy waves. From there, the beloved shag style became known as the gypsy shag, and the rest, as they say, is hair history.
Gypsy Woman
For all those ladies who missed the wild and harkened summer of love days, shaggy hair styles and bohemian fashions continue to make a much appreciated runway and red carpet comeback. Celebrities like Sienna Miller are sporting boho styles, while hair trends consistently return to long and layered looks.
A shag haircut offers a trendy and hip urban edge with little long term commitment, along with plenty of styling options. Why not kiss sedu hair styles goodbye, and pay homage to your reckless and wandering roots?
Gypsy Styling
Styling a gypsy mane can be lots of fun, or lots of work, depending on the amount of hair you have and your natural hair texture.
Blow Drying and Adding Volume
Most shags are heavily layered, so be prepared to hit the blow dryer to add some volume to these layers if your hair is flat. Although many shags work well on fine hair, the gypsy shag is intended to be loose and full, so keep that in mind when coifing this mane.
Shags typically look their best when a volumizing spray is worked into the hair root, adding lift to the base of the style. Round brushes can help tame the layers, while curling irons can bend the ends or flip them up to create wispy and soft textures.
Waves and Curls
In addition to flipped up or under layers, free spirited gypsy locks may also benefit from sexy waves and curls. To add styling options to your shaggy style, consider a body wave or permanent. Both will help direct the long layers into a shape, adding a wandering and sexy amount of volume and body while enhancing the wild and roaming cut.
Color
Color is another way to highlight and emphasize this unique style. Opt for chunking hair color techniques, such as bold lowlights or bright blonde highlights to add dimension and variation to your style. Although modern shags can be very chic and minimal, gypsy shags tend to be a little reckless and wild. Color touch ups may be less frequent, as a little bit of roots do the gypsy look good.
The Look
Because a gypsy shag is an overall hair and fashion style, keep your wardrobe fashions in gear when flaunting this unique cut. Opt for relaxed and billowy fashions and accessorize with rich leathers with just a touch of lace.
For unique hair accessories, go crazy with headbands and hair scarves like these from Free People.
To style, pull hair up into half ponytails and wrap forehead with scarves. Pair every outfit with a charming set of hoop earrings with little Bo-jangle beads, and wear lots of long layered necklaces with dainty charms to create this vagabond look.
---
Although hair trends and colors continually drift in and out of fashion, a shag hairstyle is versatile and always chic. Wearing a gypsy shag can be a super fun way to show your gypsy side while keeping your look feminine and sexy.
© 2021 LoveToKnow Media. All rights reserved.
Sours: https://hair.lovetoknow.com/Gypsy_Shag_Haircut
1322
1323
1324
1325
1326