The Gadgeteer is supported by readers like you! If you buy something through links on our site, we may earn an affiliate commission. Thank you! Learn more.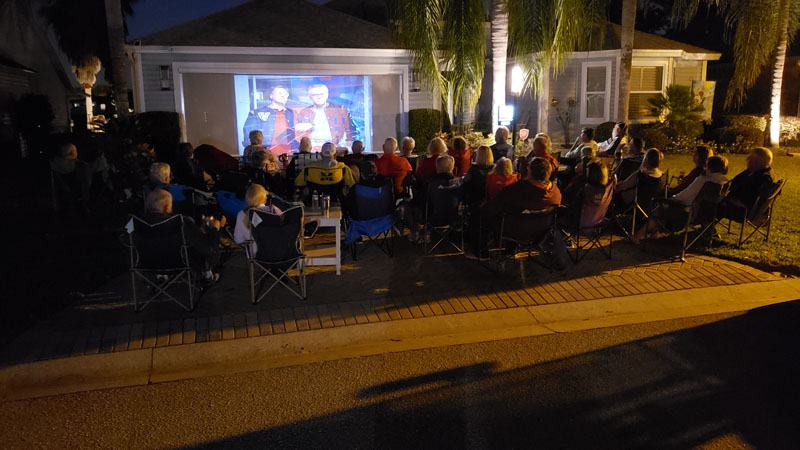 REVIEW – Big screen TVs are great and all that, but what if you want to go really big?  You can snag Samsung's 8K 98″ QLED for a cool $60-grand. Of course, for that price, you could also grab a nicely equipped Chevy Suburban or nearly cover a loaded Tesla Model 3. Plus, if you're going huge, you probably are going to be outside, so do you need 8K or is 1080P good enough?
I'll answer that – 1080P is good enough, so let's get into a solution that can work for your large-screen viewing pleasure, and also work for your modestly large-screen needs inside as well.
What is it?
The VANKYO Performance V630 is an LED/LCD-based projector that can produce images in 16:9 and 4:3 format at recommended sizes from 46″-300″ diagonally measured in full 1080P high definition.
What's in the box?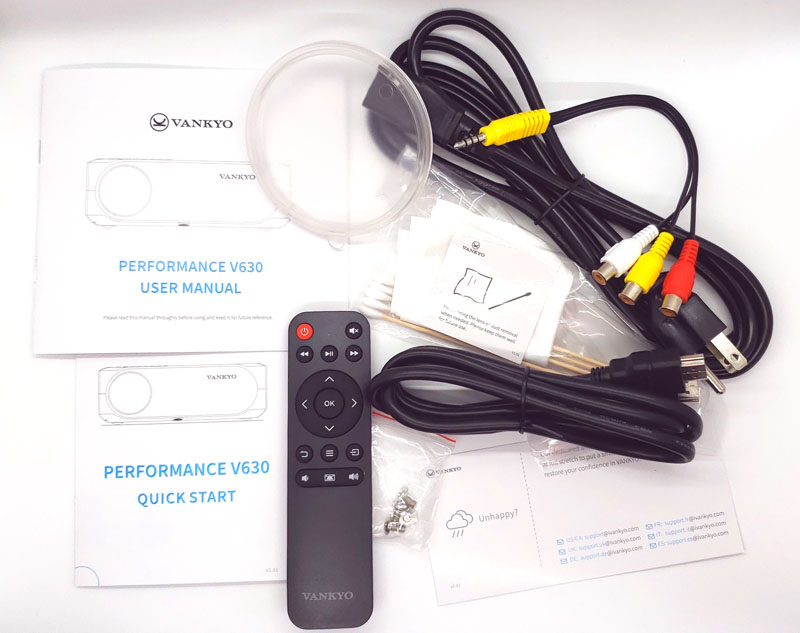 Projector
Power cable
HDMI cable
Audio/video cable
Remote control (no battery)
Four screws – not sure why
Lens cleaning cloths and swabs
Lens cover
User manual
Quick start guide
User satisfaction card
Carry case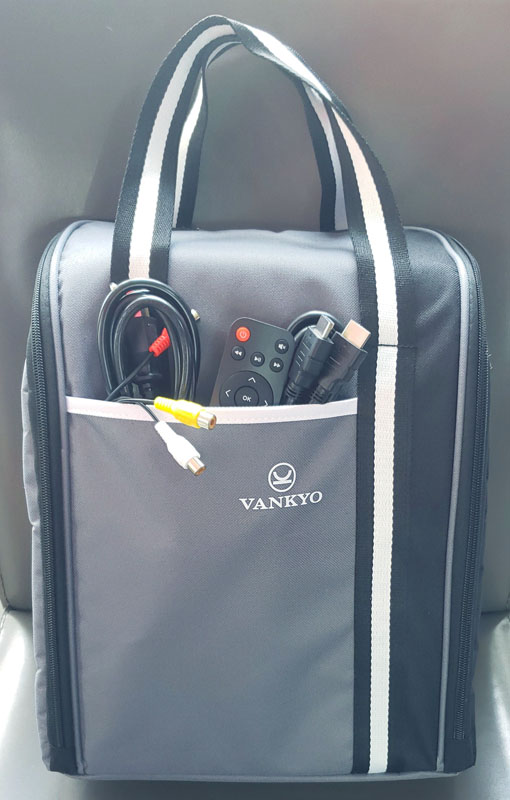 The carry case was quite nice with an outside pocket as well as an inside mesh pocket. It held the projector along with cables and remote and provided a nice handle for toting.
I should also note that Vankyo also included their portable, wrinkle-free 120″ cloth projection screen. Since that was not planned for the review, and since I have a larger screen option, that screen was not used for this review.
Hardware specs
Dimensions: 9.3 x 4.3 x 12.4 inches
Weight: 5,95 pounds
Brightness: 6,000 lux
Contrast ratio: 5,000:1
Resolution: 1080P full HD, 16:9 & 4:3 aspect ratio
Installation: Desk or ceiling, forward or rear projecting
Speakers: stereo 5Wx2
Lamp type: LED
Life expectancy: 50,000 hours
Inputs: VGA, USB, SD card, HDMI (2), combined A/V
Output: 3.5mm headphone jack, 5V USB
Keystone: manual +-15°; digital +-45°
Projector distance from screen / screen diagonal measure: 5.15ft-30.18ft. / 46″-300″
Design and features
Setup
There isn't really any setup to do other than connecting the power cable, applicable input source and positioning it.
Hardware design
The front of the projector has a large projection lens as the predominant feature.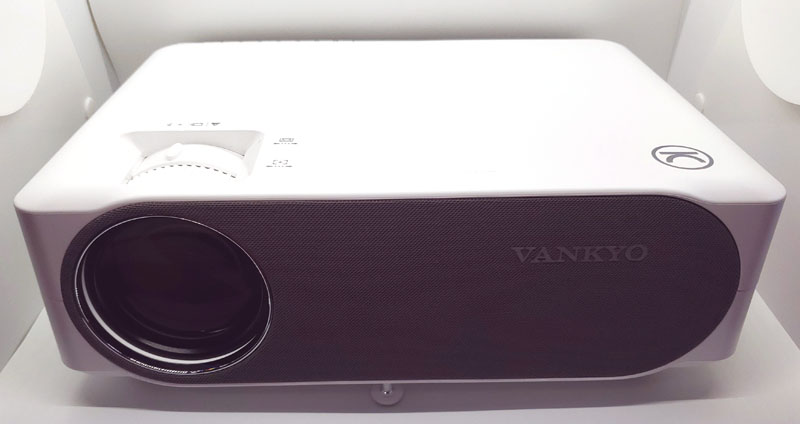 On the bottom center, you can also see the adjustable front stand used to tilt the projector up.
Above the lens are two wheels.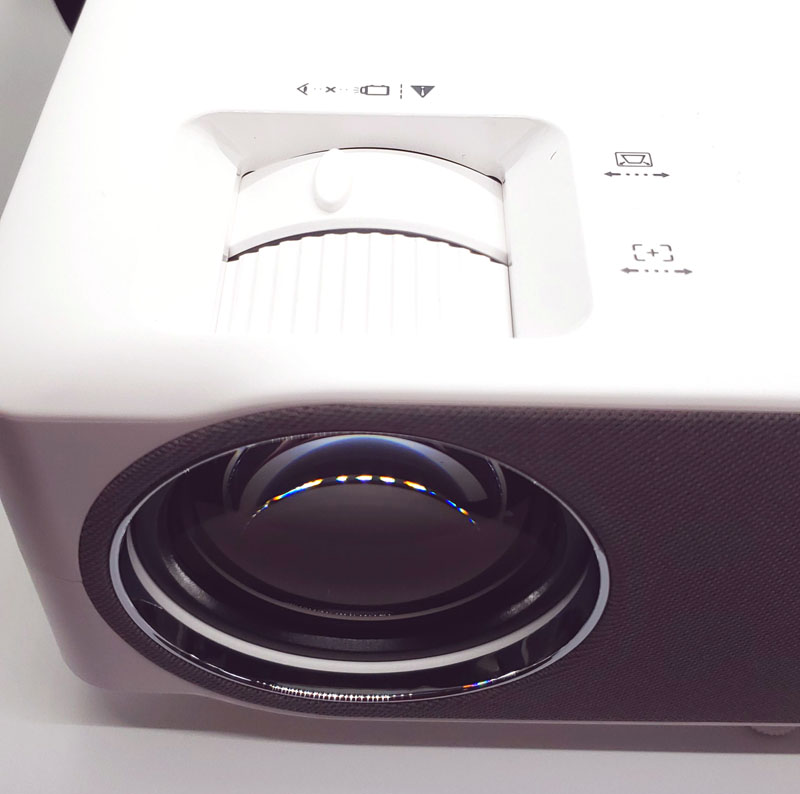 The forward knurled wheel is the focus adjustment wheel.  The rearward one with the small adjustment handle is the manual, mechanical keystone adjustment.  Keystone adjustment changes the shape of the projected image, tilting it so the top or bottom narrows or expands to compensate when you projecting at an upward or downward angle.
The right side of the projector holds the cooling vents.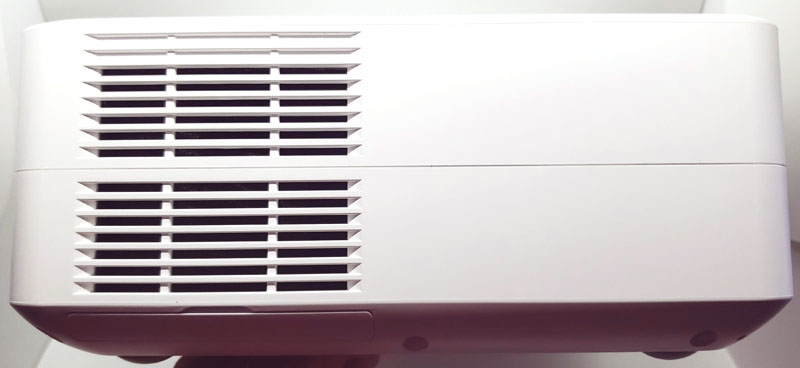 The left side holds the SD card slot and the two HDMI input ports plus additional cooling vents.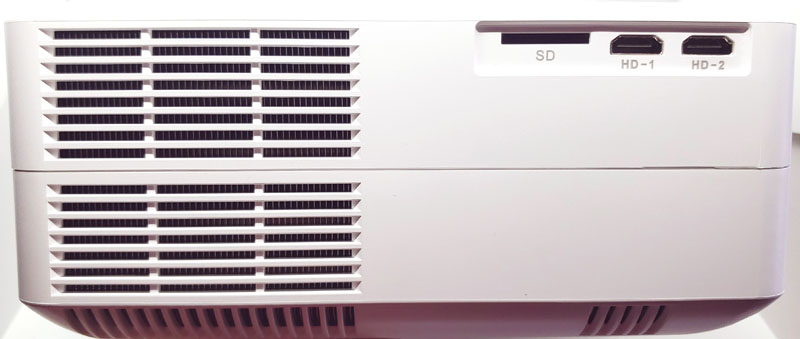 The back has the rest of the input and output ports.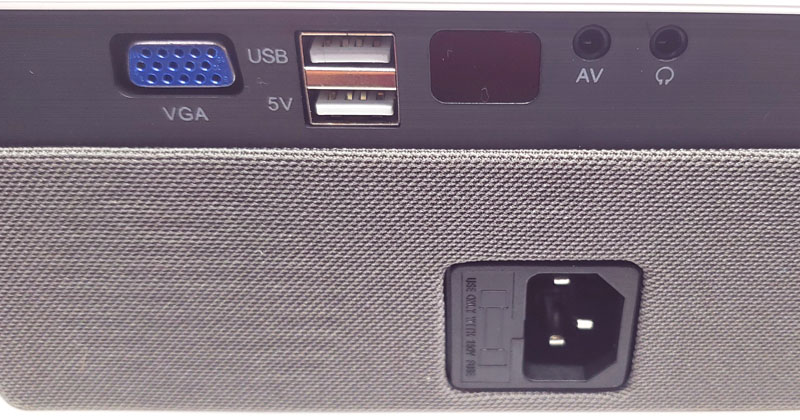 We see the VGA connector, a USB input port, a 5V USB power output port, I guess in case you need to power something, the audio/video input port, the audio output jack, and the power cord connection.  The dark rectangle is the infrared input window where the remote control signals are received.
The bottom of the projector features four small rubber feet at the corners.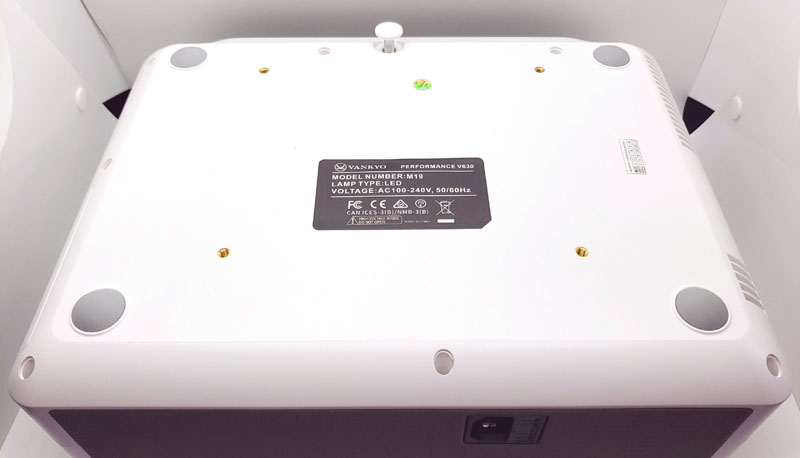 You can also see the four brass screw holes that fit the four included screws.  The included screws are so small, they seem essentially useless.  The holes, when used with longer screws, or more correctly, bolts, can be used to mount the projector. The projector can be mounted right-side-up or upside-down and can project on the front or rear of the screen.  All image direction controls are in the menus.
All the control buttons are located along the back edge of the top of the projector. They duplicate the functions on the remote control.

From right to left – Power, menu, input source, play/pause, OK, right, left, down, up.
Software design
The on-screen menu features three menus with multiple submenus.
Picture menu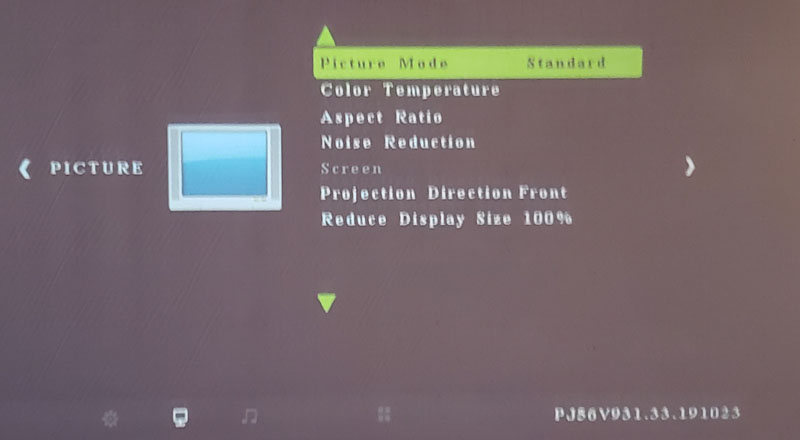 Sound menu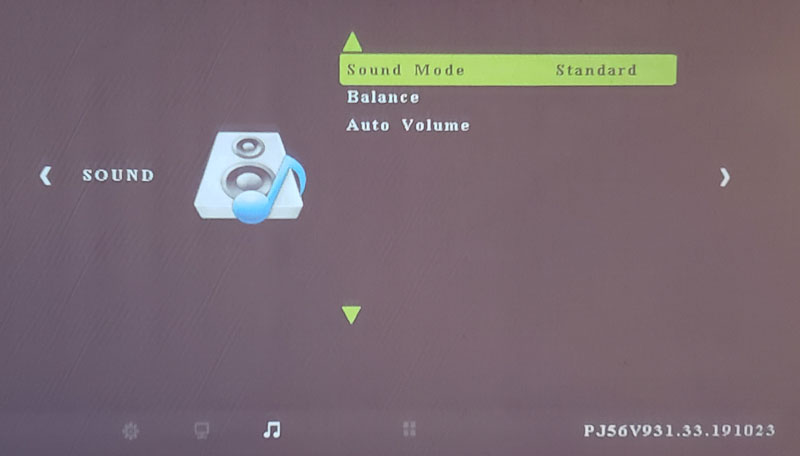 Options menu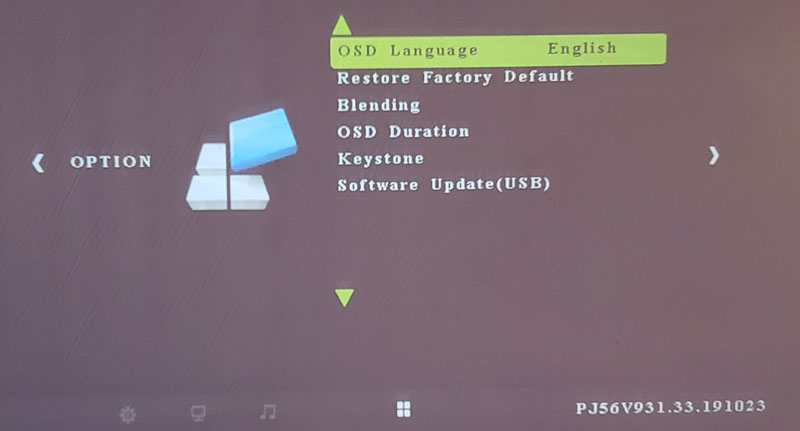 I won't go into every single option, but suffice it to say that you can control most aspects of the picture and sound as well as changing display languages.
Let's plug in a video source and get playing!
Performance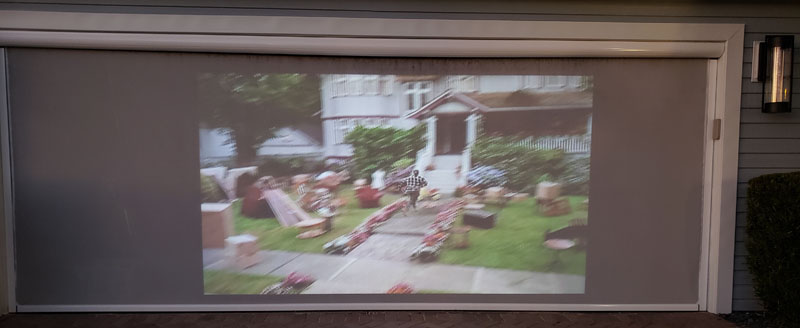 First, let me explain my use case.
We live in the largest retirement community in the world.  We're always looking for new ways to have fun, so my wife and I decided we wanted to start doing something here that we used to do when we lived in Michigan – set up a neighborhood "drive-in". Back in Michigan, we had an old low-def 4:3 projector and projected movies onto the side of our house. We'd get anywhere between 20 and 70 people in the side yard and enjoyed family-friendly movies in the late fall months when it started getting dark earlier, but the weather was still nice.  Here in Florida, we can take advantage of warm spells in winter months as it is dark at 6:30 pm and we get nice, warm nights from time to time.  The photo above shows an image projected on a roller screen we use to ventilate our garage.  It has a white finish, and even though it is perforated, it does a great job as a movie screen.
The screen area is 75″ high. At a 16:9 aspect ration, that means my horizontal measurement comes out at 133.33″.  Leveraging our friend, Pathogras, a little math yields a diagonal image size of 153″.  Not too bad.
I plugged in amplified speakers and an inexpensive DVD player with HDMI output.  The projector sprang to life.  The image quality was surprisingly good. Multiple people at our screenings made a point to comment on the quality of the picture. Here's the setup: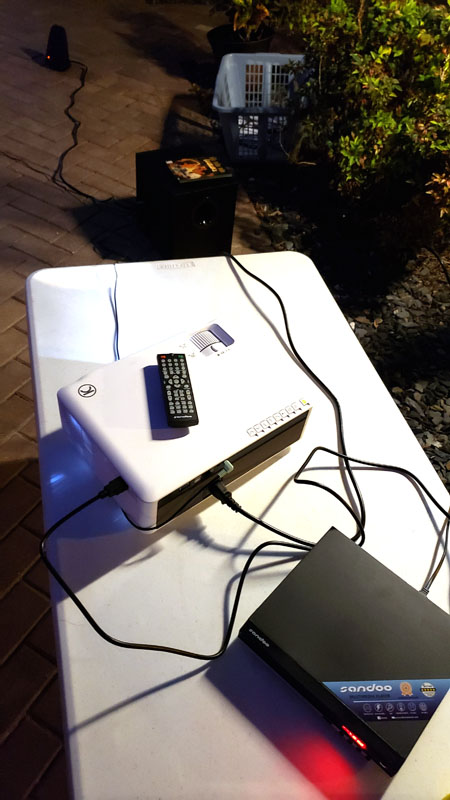 I had the projector off to the side of the driveway pointed at the center of the garage screen.  I was able to use the keystone feature to provide a nice, squared-off image even from this extreme off-center angle. The table is square to the screen, and you can see that the projector is quite skewed to the left.
Here are three shots from the movie tonight: Casablanca.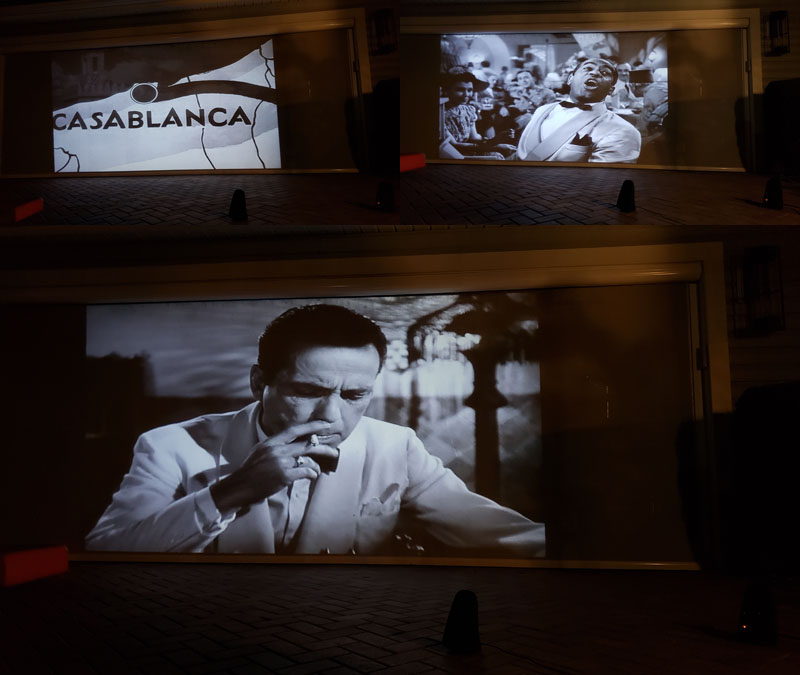 Like the last movie, people commented on how great the picture was.  At 6,000 lux and a 5,000:1 contrast ratio, it was plenty bright with deep blacks and bright colors, or whites in the case of this black and white movie.  All in all, it is a terrific projector in terms of picture quality.
Now, the little things that devalue it a bit.  First is the sound.  The included 5W speakers produce very little sound and that sound it a bit tinny to my ear. In my opinion, you need to add auxiliary speakers to make this a useful solution. Even with 200-watt amplified speakers, the volume is a little low.  I had the volume output level on the projector set to 100 – its highest level.  Also, I had the speakers up at full volume.  The sound level for the movie was simply too soft. There are multiple sound settings in the sound menu, and choosing Movie produced the loudest sound, but it was still too little for an outdoor venue. To be clear, I have another projector – a competitor to this one with similar specifications.  The sound output from that projector is noticeably louder.  The second thing is the noise from the projector itself – specifically the cooling fan. It is somewhat loud to the point of being noticeable. Again, when comparing projectors, this one was a bit on the noisy side.
Will these things bother you? It all depends on how you will use it.  If you are going to use it inside, the lower movie volume level won't be an issue but the cooling fan level might be.  If you're using it outside, as I do, the movie volume is an issue but the fan volume isn't a big deal. I don't want to overstate the fan sound, it isn't terribly loud, but to me, it was a bit noticeable.
What I like
Compact size
Image control options
High-quality picture – it garnered positive comments from multiple guests
What I'd change
Internal speakers are too weak
Even with amplified external speakers, the low sound output could be boosted
The somewhat noisy cooling fan could be quieter
Final thoughts
Overall, this is a capable projector at a bargain price.  It provides a bright, clear, contrasty image that looks great.  If it could put out more sound and have a quieter cooling fan, it would be near perfect. Still, if you are trying to get a big image on a budget, the Vankyo Performance V630 might be the projector you're looking for.
Price: $269.99 less currently available $40 coupon (Amazon)
Where to buy: Amazon
Source: The sample of this product was provided by Vankyo.
SHARE ON
TwitterFacebookPin It
Support The Gadgeteer: The Gadgeteer is supported by readers like you! If you buy something through the links on our site, we may earn a small affiliate commission. Thank you! Learn more.
Sours: https://the-gadgeteer.com/2020/01/21/vankyo-performance-v630-native-1080p-full-hd-projector-review/
Quick Analysis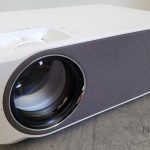 Pros
Projects high-quality images in vibrant color.
Screen size and tilt can be adjusted easily.
Fairly quiet operation.
Can be used with a multitude of storage mediums, including SD cards.
Cons
Manual controls are slim; most are digital.
Can still run a bit hot at max settings/brightness.
View on Amazon
There's nothing quite like gathering the family together and enjoying a movie on a projected screen. Full HD projectors are just starting to become more common household appliances. They can stand in for larger TVs and enable bigger groups to enjoy the same feature film or TV show. With these, you don't have to purchase a super-huge TV set for everyone to see the screen. Alternatively, you can use these kinds of projectors to set up your own backyard movie party. Grab a screen that works with the projector, and your own drive-in theater is almost ready to go.
Yet although these projectors can be fun for the whole family, they can also be frustrating. Cheaper, poorly designed projectors will leave you disgruntled up the quality of the film on the screen. Or they might run terribly hot or loud, preventing you from enjoying the action being projected. Other subpar projectors are difficult to use or may not bring the movie to life in high detail.
The Vankyo Performance V630 Full HD Projector seeks to provide an excellent movie-going experience. But doesn't succeed in its endeavor? We're going to find out in our in-depth review of all of its features and qualities. We'll examine how well it provides movie projection services and see how easy and comfortable it is to use. By the end, we'll all know exactly what it can offer and whether it's worth the asking price. Let's jump in!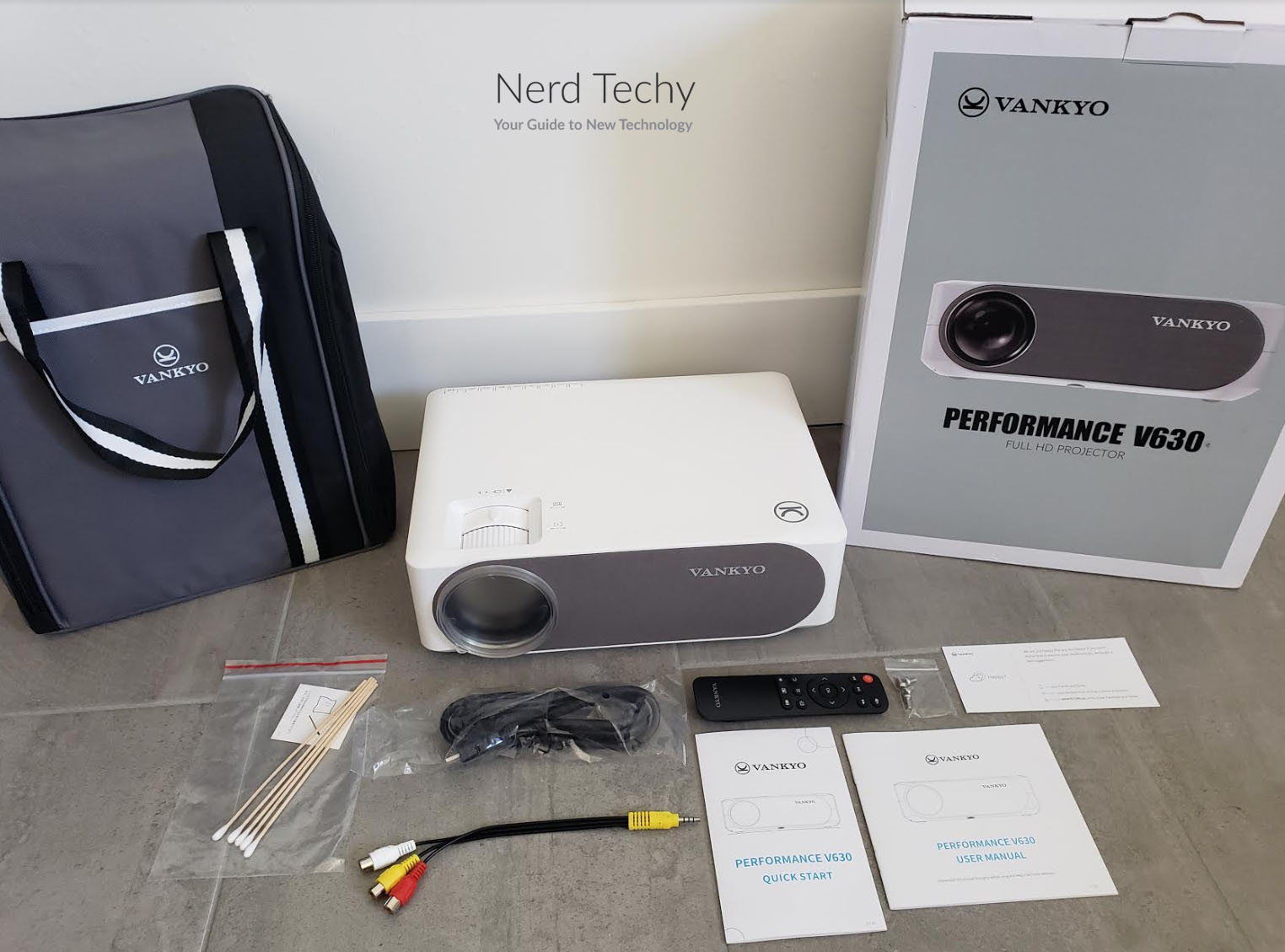 HD Projection Performance and Quality
The Vankyo Performance V630 Full HD Projector has a number of excellent features that make it worth a look. Let's start with its projection's normal or native resolution, which is 1920x1080p. To put this number in a more practical way, it's excellent. This is full HD imaging whenever you use this project are to play video or film. With a 5000:1 contrast ratio, pixel quality will be sharp and image detail will be extreme. Characters and backgrounds should look crisp and colors should be fully dynamic no matter what kind of video content you play. The colors are actually improved thanks to the high brightness power of the projector, too.
It measures in at 6500 LUX. For those not in the know, LUX is a way to measure the illuminance of a square meter of space. The higher this number, the better illuminated it is and the more color you can achieve with a video projector.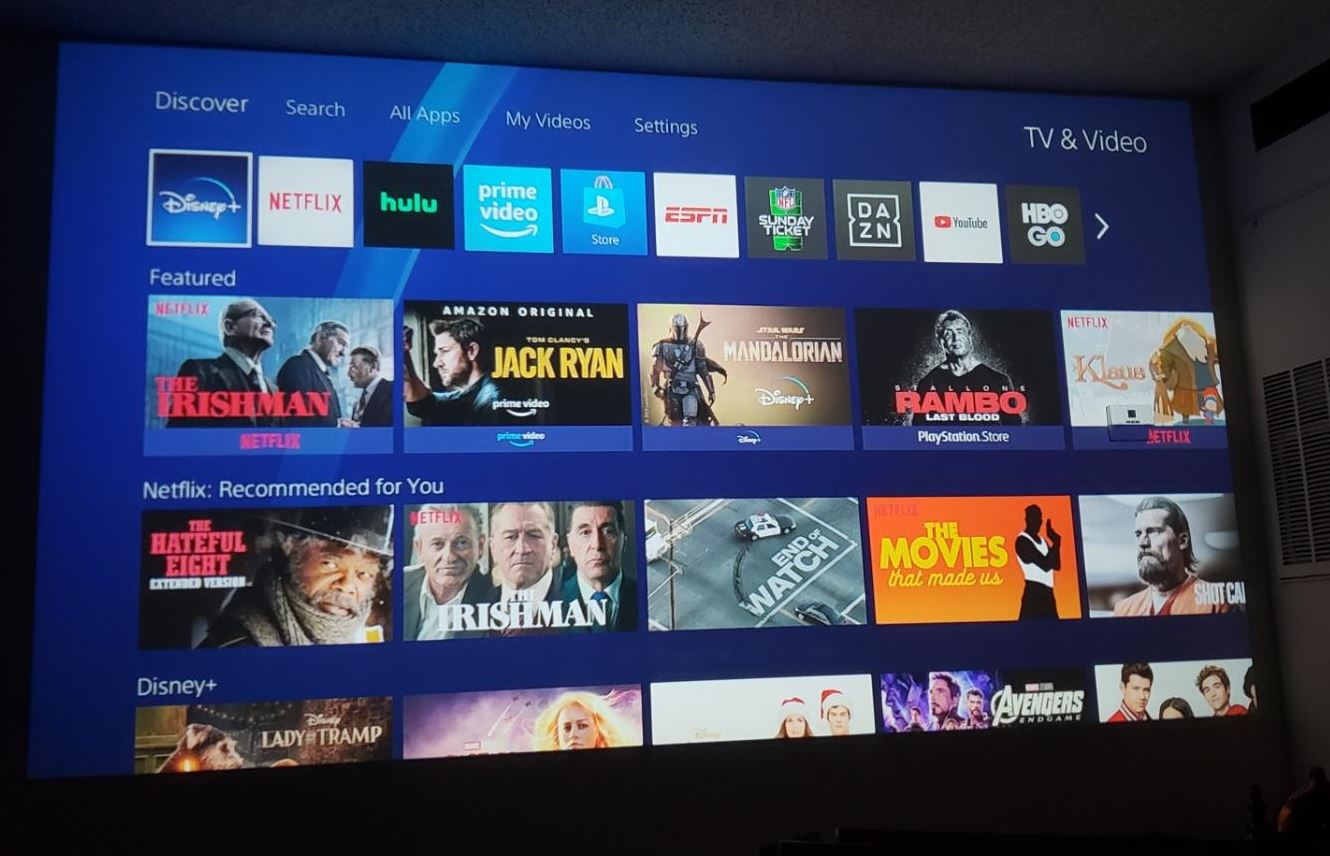 This high LUX rating is doubly useful because it means the projector will look great even in brighter ambient light conditions. For instance, weaker LUX projectors are best used for dark rooms only. But this projector is capable of projecting with enough intensity that you can use it during daylight hours.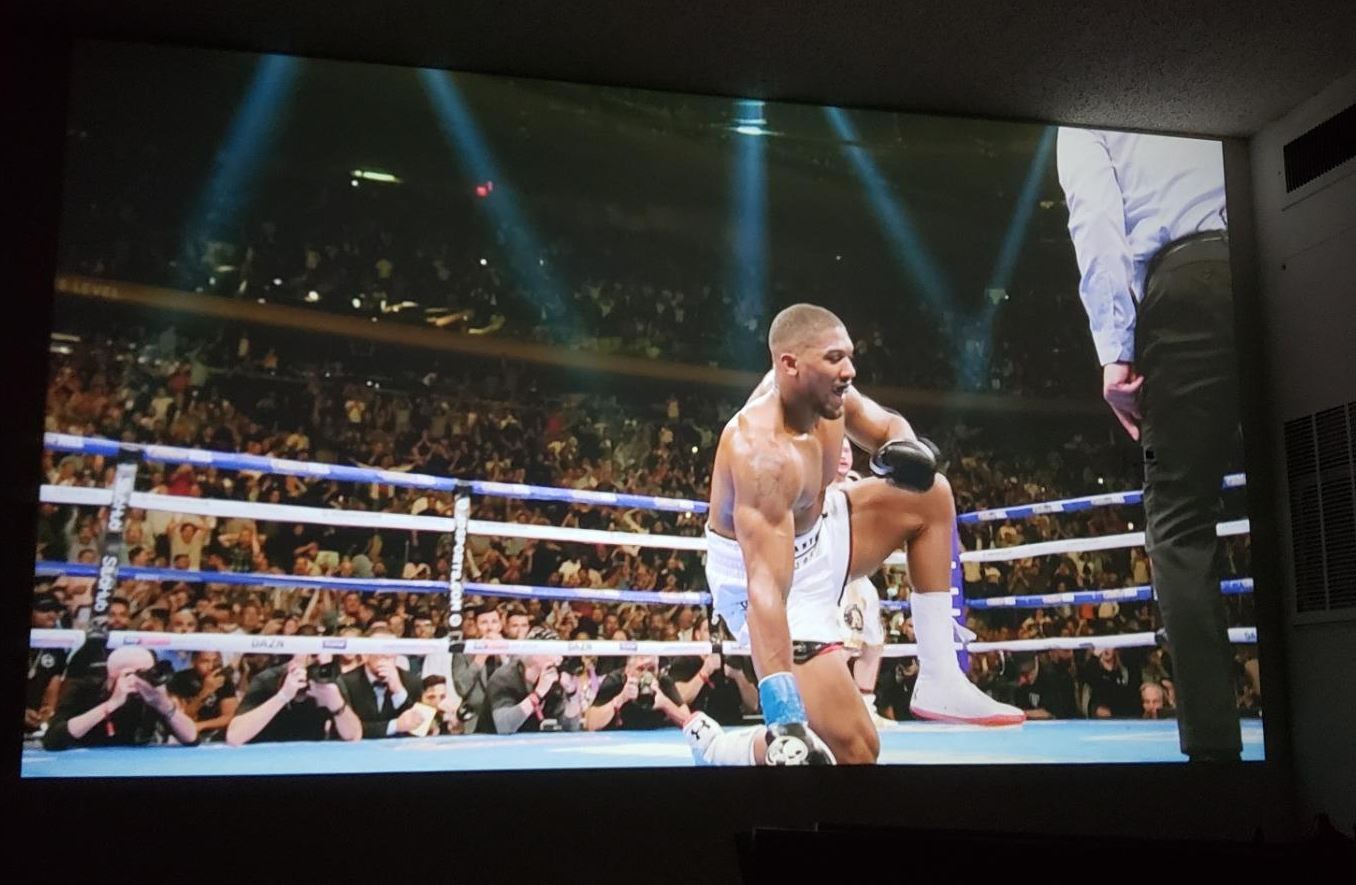 For context, the vast majority of other movie projectors can only reach 2400 LUX. They can also only reach 480 P resolution. These are the projectors you probably had to endure at school when teachers gave presentations. We can't understate how superior and more advanced the V630 is in comparison. The difference between the images projected by the former and latter types of machines will be night and day.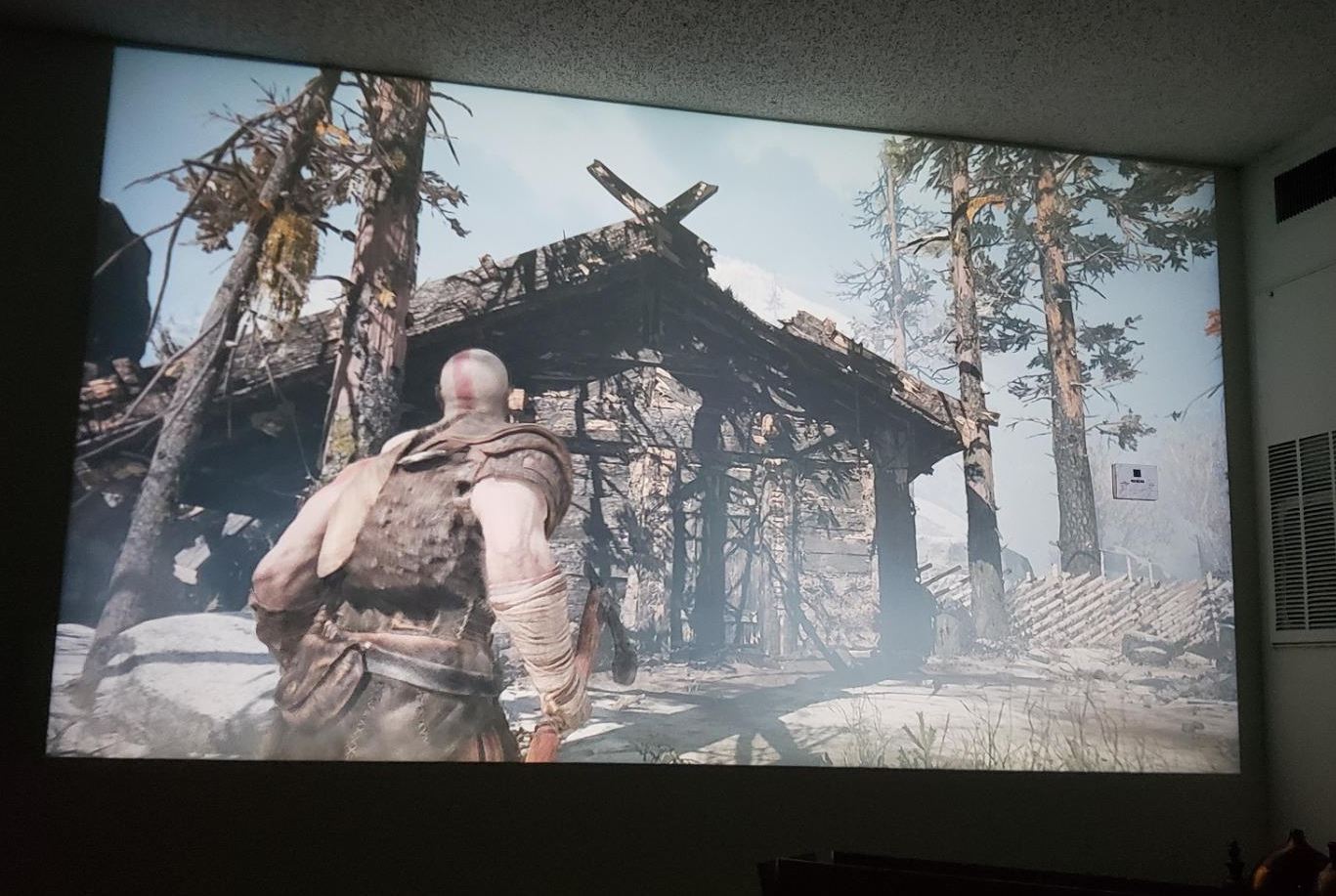 All of that brightness will eventually wear down even the most durable projector lamps. The V630's lamp life span is 50,000 hours: quite remarkable given the high lumens rating. This means you'll very rarely need to replace the projector lamp bulb, compared to cheaper projectors that require more frequent replacing.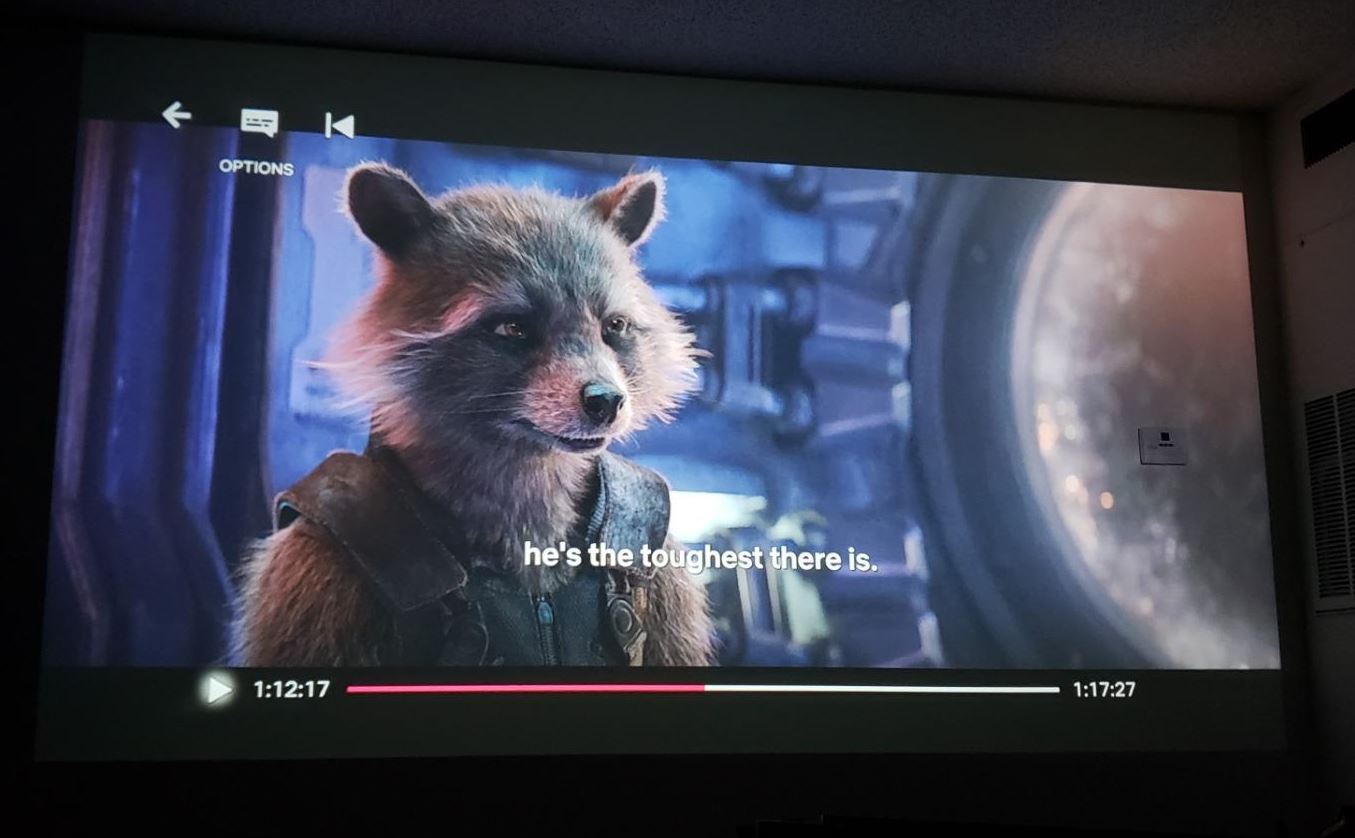 Projection Options and Adjustability
When it comes to projection screen size, the V630 doesn't disappoint. It can project at a maximum screen size 300 inches, with a minimum screen size of 46 inches. As you can see, there's plenty of versatility and flexibility with this projector. No matter the size of your screen, it should be able to provide you with ideal imagery within its borders.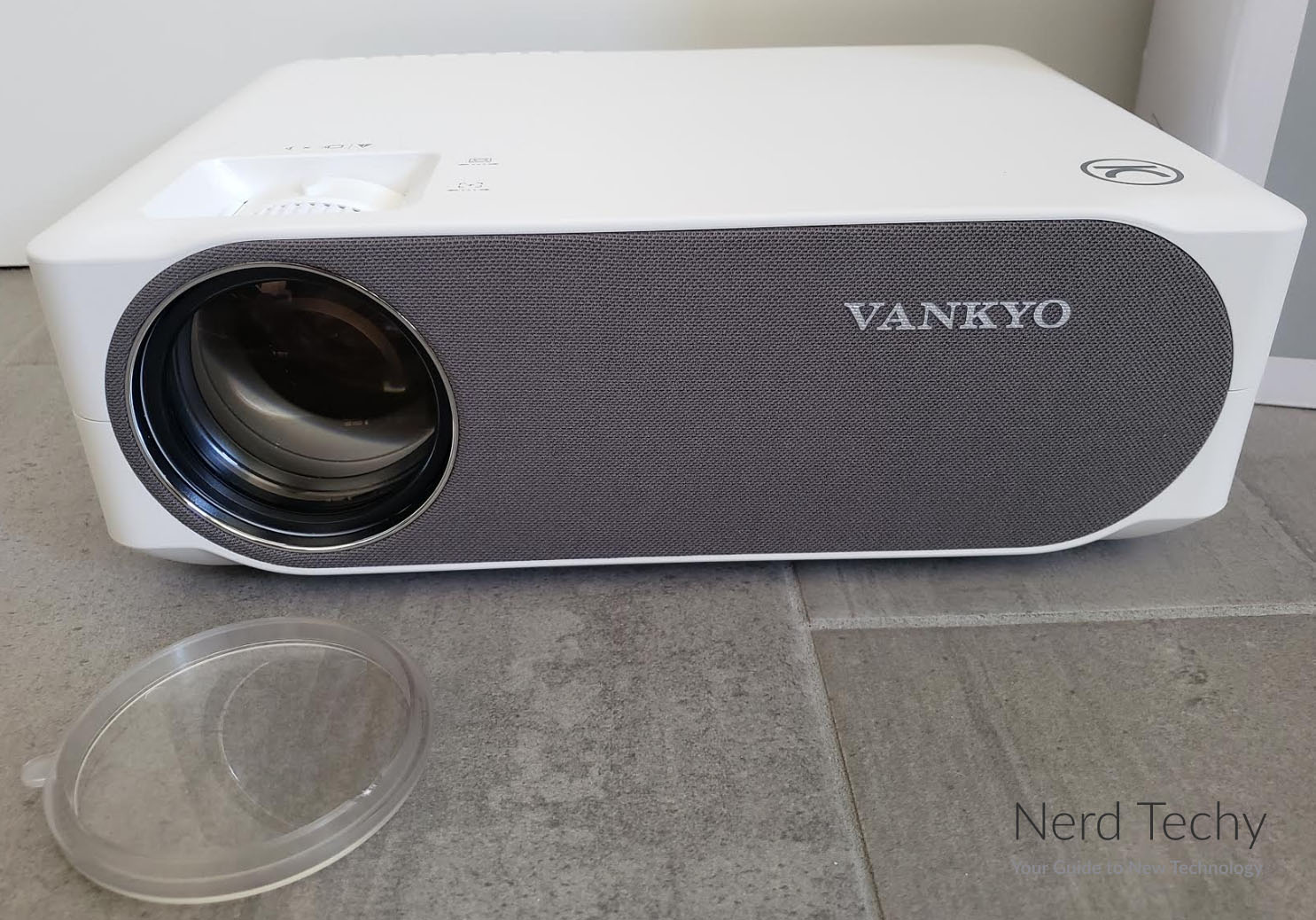 The projection distance is similarly flexible. The V630 can work from distances between 5.15 feet and 30.18 feet. This gives you lots of wiggle room one setting up your home theater or backyard movie viewing experience.
Other Features and Ease of Use
So far, we're impressed. What about extra features? The V630 LED projector makes good use of a set of advanced electronic keystone correction technologies. Once you get past the fancy words, this just means that it can adjust keystone correction up to 45°. Keystone correction refers to the tendency for projected screens to actually hit the wall at a slight angle. With this tech, the V630 can compensate for this. Your projected movies should look excellent no matter the surface on which you hang your screen. It's just another way that the projector ensures fantastic performance and visual fidelity.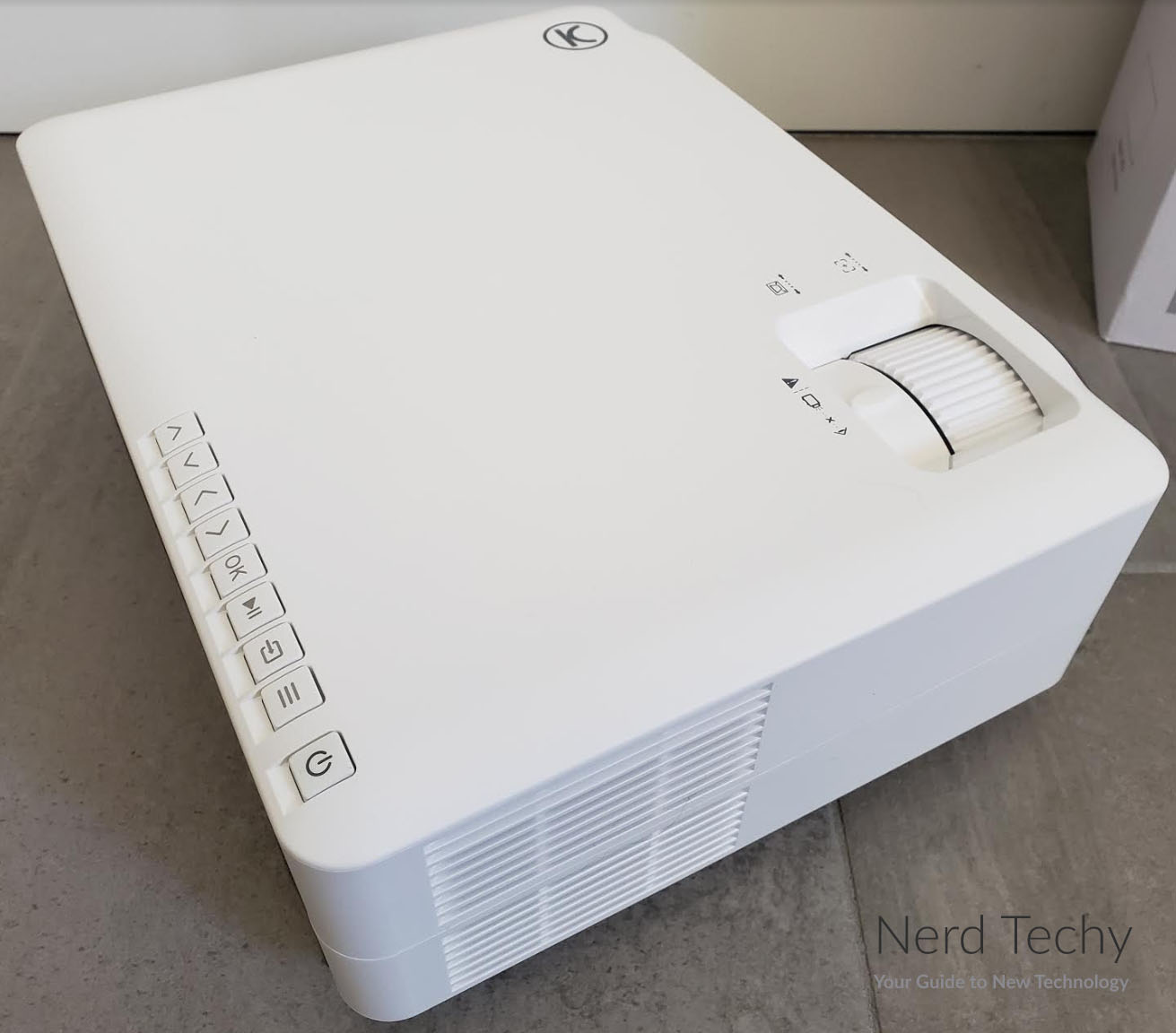 Controlling all of these systems is really easy thanks to the row of simple buttons located on the top of the projector. These buttons are easy to understand with or without the included instruction manual. They control the screen projection settings or brightness settings. A ring near the lens itself can help you change the width of the screen and other elements, too.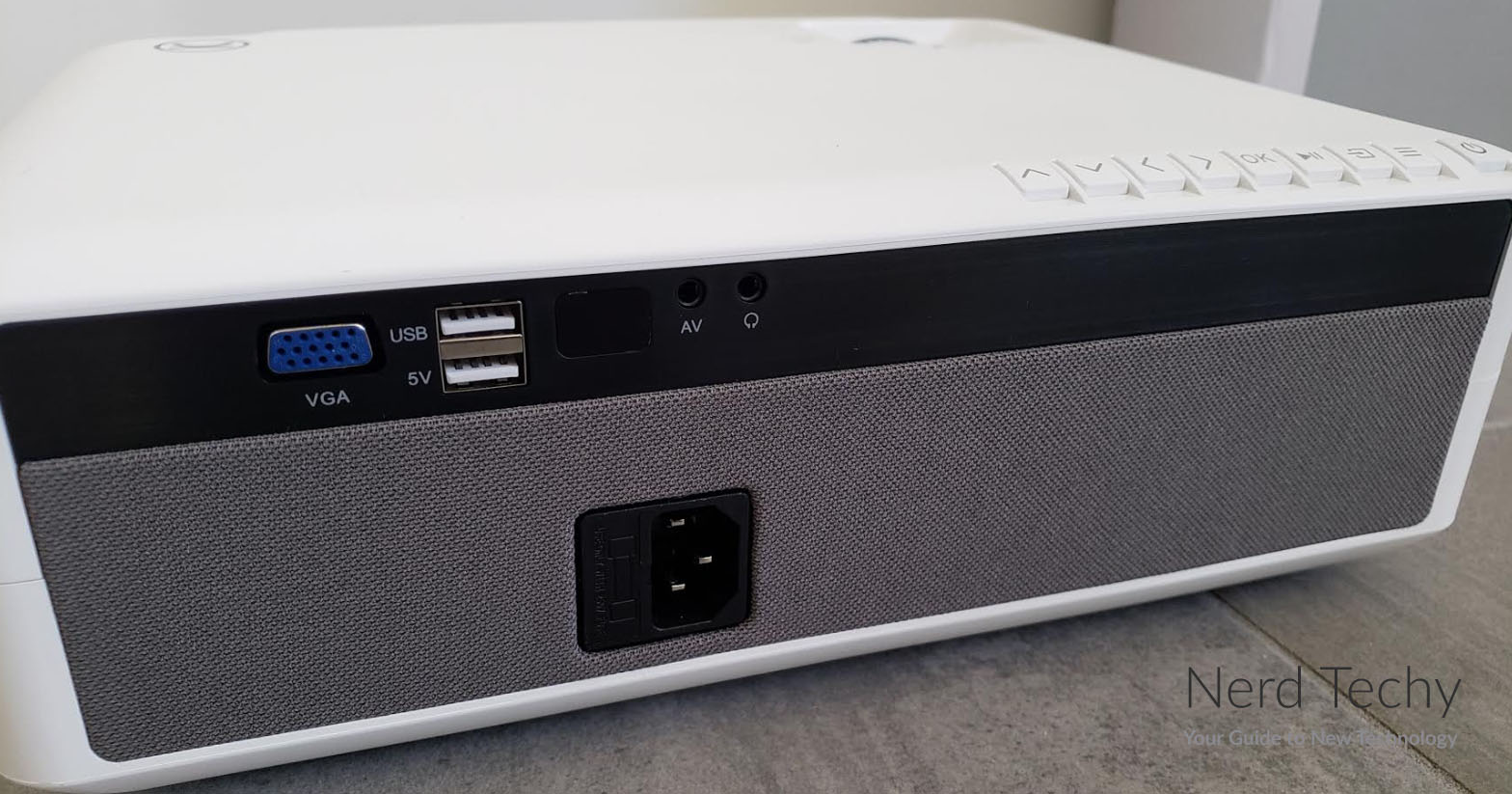 Noise and Cooling
However, many of the best movie projectors are quite loud thanks to their cooling systems. How does the V630 measure up? Quite well, with an innovative cooling system that effectively disperses heat. The design of the projector allows for ambient heat dispersal that works in conjunction with a built-in fan.
At the same time, the fan does a great job of keeping the internal components cool. The surrounding chassis for the projector cuts down on fan noise by about 80% compared to other projectors. As a result, one of the most annoying aspects of projectors is largely eliminated in the V630. You'll be able to set the projector relatively close to your seats and still hear your favorite movies above the fan.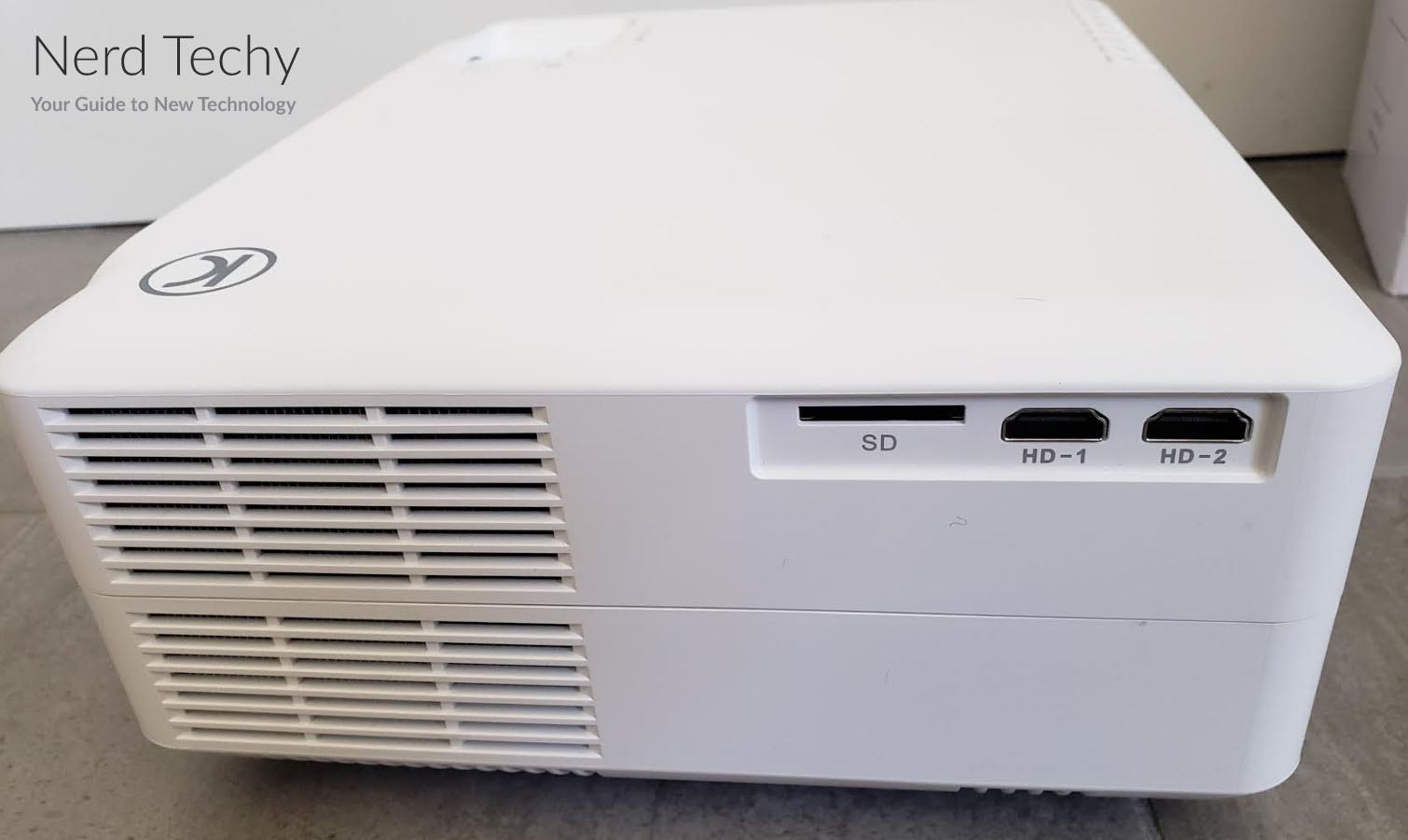 How Can It Play Movies?
There's even more that makes the V630 worthwhile, however. It's equipped with lots of compatibility ports, which we find helpful for most users. HDMI, AV, VGA, USB, and even SD card ports are all represented with at least one slot for each. This helps the average movie projector fan since you can combine this projector with multiple devices or video types.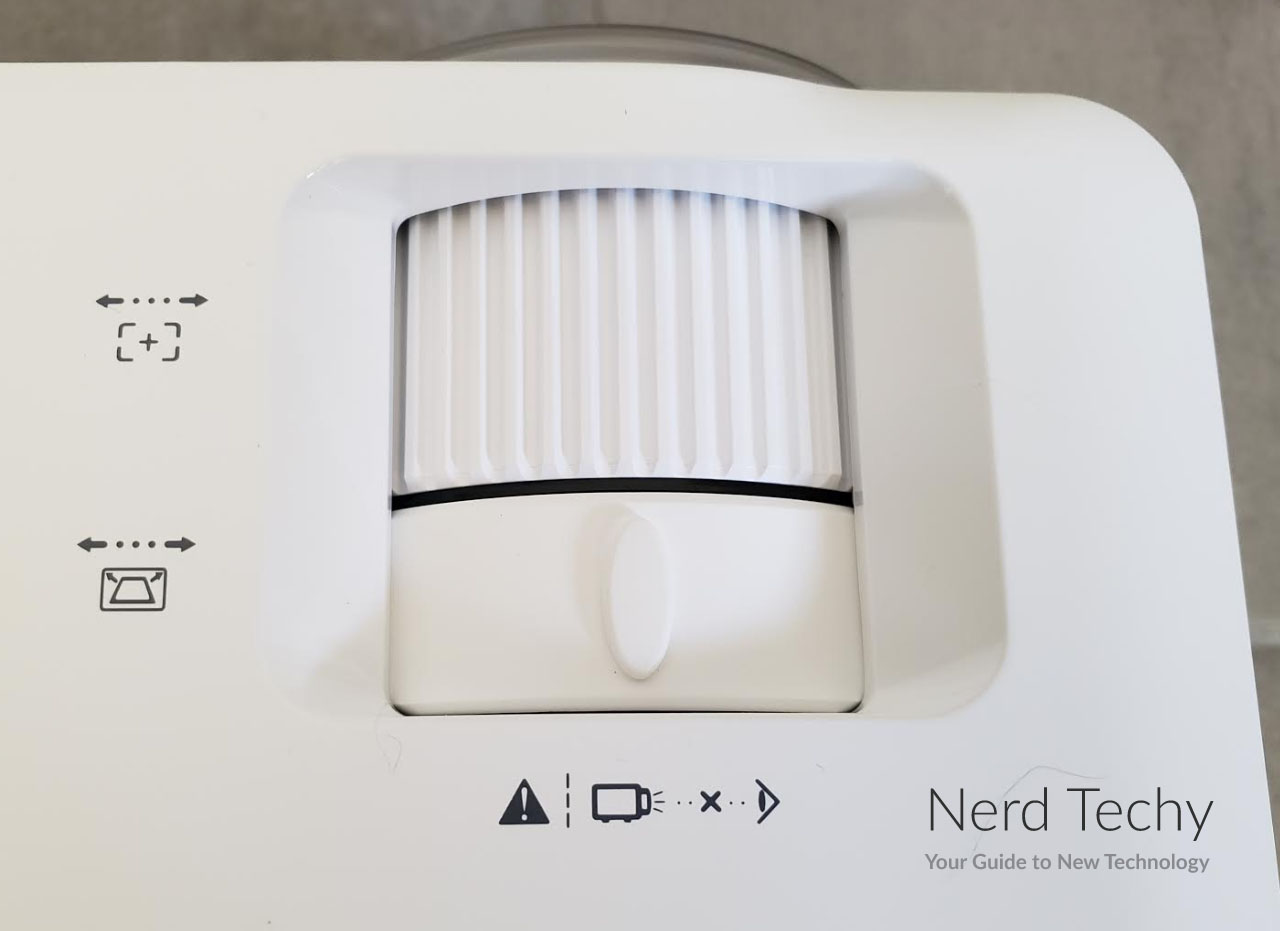 Too few projectors have SD card slots, so it's nice to see this functionality present in the V630. All of these ports allow you to combine the projector with gaming consoles, laptops, and even some smartphones. Basically, you can use this projector with almost any video-holding device you can imagine.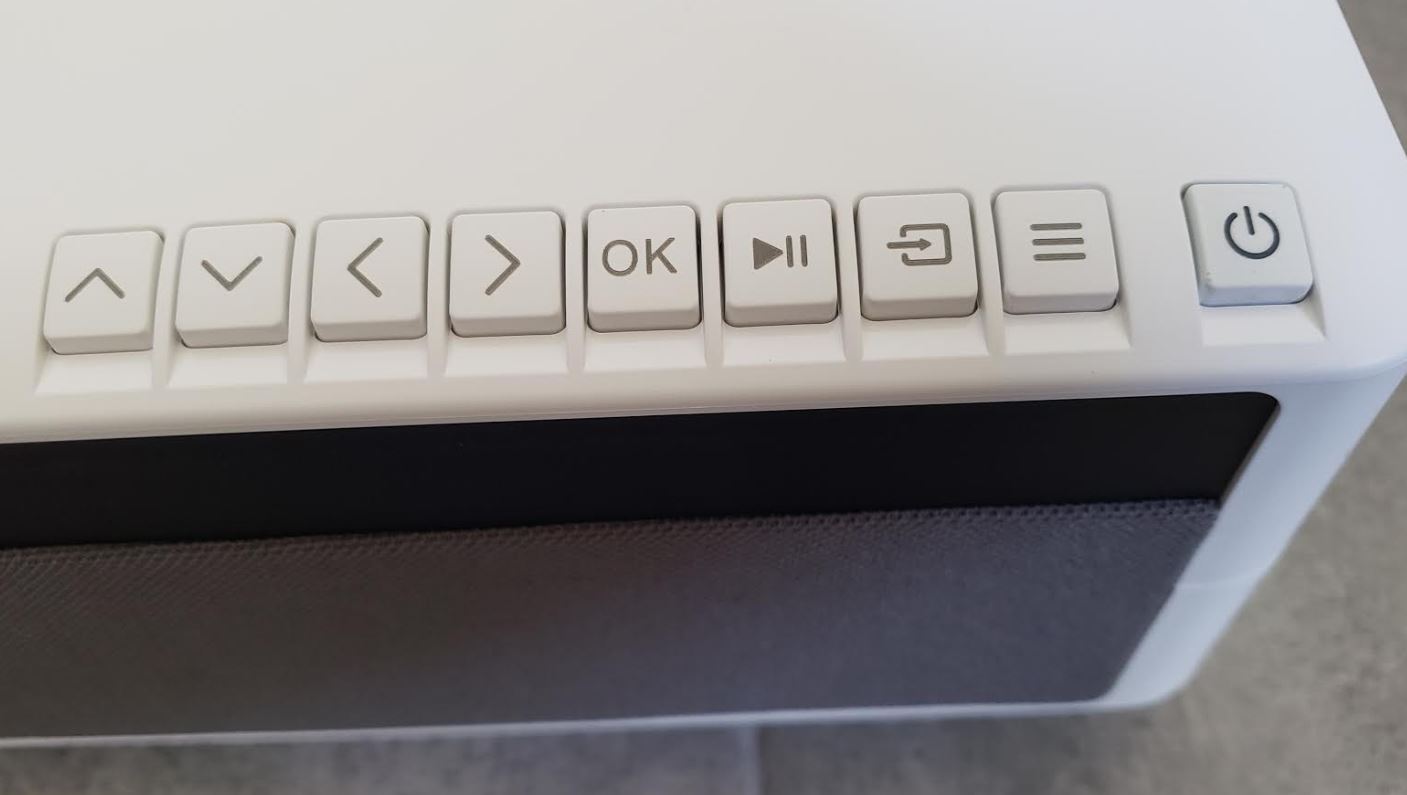 Then there's the three-year warranty and professional support. The warranty is actually precluded by a three-month period when you can return the projector for a full refund. Shipping is even covered during this timeframe. As such, this is a great projector to choose if you're not 100% sure about which kind you need for your set up.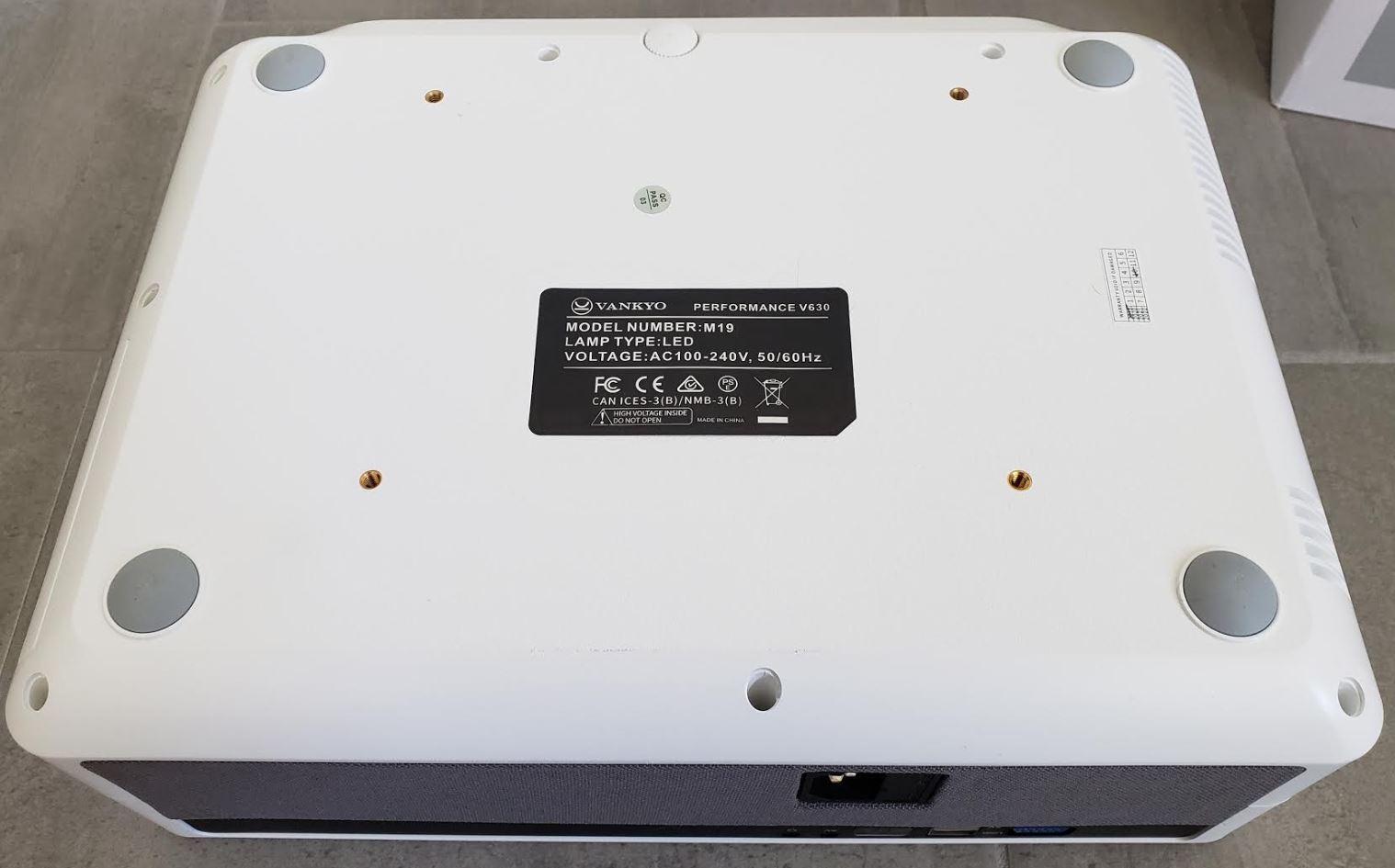 After the free return period has passed, the three-year warranty kicks in. It offers free repair and lifelong professional customer service. If you have any technical issues, the Vankyo support team is on hand to help you tackle those, too. Once again, this is great for those who aren't the most technically minded.
Final Verdict
We think the Vankyo Performance V630 Full HD Projector is a great example of its kind. It provides fantastic video quality for anyone who uses it and a very bright picture with high color fidelity. In short, you'll enjoy any film or TV show you combine with its projecting abilities. It's also super easy to use thanks to its myriad ports. Whether you have a show or movie on a computer or ST card, the V630 can handle it.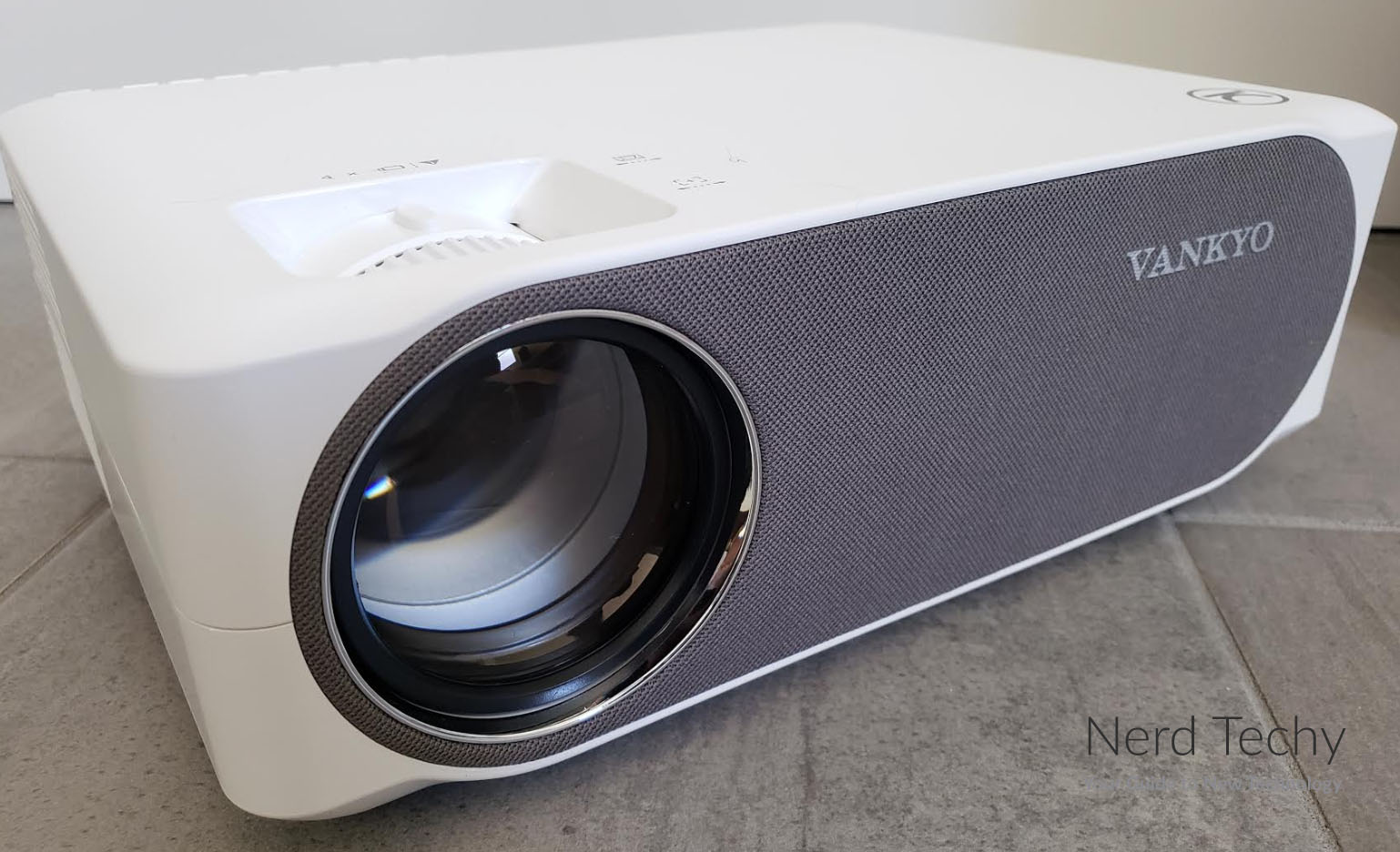 We also really appreciate its quiet running and its ability to properly cool itself without screaming in the background. Nothing ruins a movie faster than a whining projector. Add to that its excellent screen adjustment settings and you've got a real winner on your hands.
It'll work fabulously as either an indoor or outdoor movie projector. Pair it with a high-quality backyard screen and you'll be set up for a great time.
Was this helpful? Please consider sharing:
Sours: https://nerdtechy.com/review-of-the-vankyo-performance-v630-full-hd-projector
The Vankyo Performance V630 is an updated version of the popular V6XX series projectors. This model is now the fourth version that exists, which may make the consumer a bit confused as to which one is the best. They actually do have differences that may not seem apparent at first glance. Perhaps you'd assume that the higher the number, the better it is, but the V620 for instance comes equipped with a "Component" input, which the others don't have.
I'm going to go ahead and assume that you're looking for answers to some questions. You undoubtedly want to get a projector that's right for you, one that has the features that you need. Do you need a certain type of connectivity? What about the specifications and their meanings? I'll try to go over as many things as possible to point out all of these things to help you make the right buying decision. Let's review the resolution and jump into everything right away.
Resolution
This is a term that is thrown around a lot and is used in ways that the average consumer may not realize. The important information that you need to know is the "native resolution". This spec is the actual internal resolution that the projector is capable of projecting onto your wall. The higher the native resolution, the crisper and clearer your image will appear. This means you'll see finer textures and skin pores in a movie or video game, versus a lower 480p projector, which will be blurrier.
Whether this is really important to you depends on how clear of an image you'd like. The Vankyo V630 is a true 1080p machine and is able to output a full HD video with all detail intact. It's recommended that you get a projector with native 1080p if you watch a ton of movies or play video games. Seeing the extra detail can really help while gaming so the image isn't too soft.
Note: If you do end up buying this model be sure to manually adjust the "focus ring" to get a clear picture. This is very important, there isn't any auto focus, so you'll have to physically turn the focus dial on the machine for a crisp image.
Brightness
Having a bright enough projector is also an important aspect. A low brightness rating will limit your overall usage and location that you can use the device. If you have a brighter projector you'll be able to use it a far more times during the day. Maybe you want to project a giant image against your house with your friends, that's totally your prerogative and it's something some people actually do.
The brightness rating of the V630 is a very nice 6,500 Lux (recently updated from 6,000) and if you compare that to the popular Leisure 430 it's about a 60% increase. Some companies also sell a giant inflatable projector screen that you could consider if you plan on having some outdoor parties. You could have a movie playing or something outside during the event which would be pretty neat.
Contrast
Contrast is an interesting technical thing to talk about because it's a measurement of how bright and dark the colors of the projector can get. All of the bright colors will look far more striking with a higher rating. The darker colors will appear as a more "true" darkness.
If you'd like an overall pleasing picture quality it's important to look at the contrast ratio. The rating of the V630 is 5000:1 which by comparison the 430 model has a rating of 2000:1. So, the images will appear more intense and rich comparatively.
Keystone Correction
The keystone is basically a way to align your projector image when the machine is off-center. Maybe you have it set up to the side, up above, or down really low in your room. With the keystone correction you can adjust the image so that it sits as a perfect rectangle against your wall or screen.
A typical rating you may see tends to be about 15 degrees, that's pretty common. The V630 however offers up an extra wide 45+/- degrees of freedom. That means it can be up to 45 degrees off-center and you'd still be able to have a flush picture from the projector. Having a higher rating allows you to place your machine in more places. This might not be that important if you already plan on having your projector directly in front of your wall.
Lamp Life
All of this is pretty nice to hear but what about the lamp life? This was a major drawback to owning a projector in the past because of the expensive bulb replacements. Well, a normal light bulb variety may have a lamp life of 6,000 to 10,000 hours, like in the Epson VS250.
The V630 is an LED model which does not use a typical light bulb, because of this it has an extended life of 50,000~ hours. This will ensure that you can use your projector for a long time to come. In fact, I'd imagine you'd probably upgrade your projector before they'd fail.
Connectivity
It's so important to have the right inputs available for what you plan on plugging in. You don't want to get a projector home only to realize that it doesn't support your preferred media device. If you love using an Amazon Fire TV stick you need to make sure that the projector has an HDMI port, for example.
The Vankyo Performance V630 has two HDMI ports available. This is really for all of your modern devices including media sticks, gaming consoles, Blu-ray players, and more. It's nice that there are two ports just in case you want to leave two devices plugged in at the same time. You'll only have to switch the setting via the included remote instead of having to unhook something.
There's also two USB ports and an SD card slot as well. This is where you'll plug in your flash drives to play movies from directly. Not every format and encoding is supported unfortunately but it's great having the option when it works.
Legacy Connectivity
There are some legacy inputs for your old devices as well. Maybe you have a huge collection of VHS tapes and you want to be able to watch those. Well, you'd actually be able to do that with this projector thanks to the AV/Composite port. This is the old red, white, and yellow cables you may remember seeing before. You'll use this for VHS, DVD players, and classic game consoles like the SNES or GameCube.
To round it off, you have a VGA input for desktop computers. So, you can plug your tower computer directly into the projector and have your computer screen on your wall. Be aware, this port doesn't carry any audio information so you'll also need to use the audio port to pass-through sound separately.
Speakers
As with every projector, you'll really only be able to get the "best" audio experience by plugging in external speakers via the AUX port. The V630 does have a Hi-Fi stereo speaker, two 5-watt speakers to be precise, and that will do a fine job filling the room with audio. If you're going for a movie theater type of experience you'll probably want to upgrade at some point. Just attach a soundbar and subwoofer to get the loud sound shaking cinema feeling.
Summary
Native Resolution: 1920×1080
6500 lux LED brightness
5000:1 Contrast Ratio
Usage Distance: 5.15ft to 30.18ft
Image Size: 46″ – 300″
Lamp Life: Vankyo typically states 50,000~ Hrs
Inputs: 2x HDMI, AV/Composite, VGA, AUX, 2x USB, SD Card
Installation: Ceiling mounting capable
Electronic Keystone: +/-45 degrees
Includes: Remote, carrying case, AV cable, HDMI cable
Conclusion
There's definitely a lot of appealing things about the Vankyo V630 projector. It has support for a ton of devices thanks to its wide range of inputs onboard. The brightness and contrast is also pretty nice since it'll provide a pretty bright and vivid picture. Of course, the fact that the machine is outputting a true 1080p image is also a big plus. This is really important if you watch a lot of HD content on your Netflix account, Blu-ray videos, or modern gaming consoles.
The V630 is a solid choice if you're looking for a projector with these specific features and performance points. If you're trying to decide between the V600, V610, V620, and V630 that's another story. They're very similar but there are a few quirks about them that make them each a bit unique. Go ahead and read each of the articles for further complete information and hopefully it helps you narrow down which model to purchase. If you're interested in having wireless functionality read about the newer Vankyo V630W and Vankyo 530W models.
Update: This Vankyo projector model is currently off of Amazon. If you'd like to consider similar models from other brands, I'd recommend reading about the other native 1080p models below:
Article link: DBPower L23
Article link: Fangor 701
Article link: DBPower RD828
Vankyo Performance V630 Projector Offers
If you're looking for deals and offers click the links below to see the newest prices. I highly suggest you add the projector to your shopping cart to view an entire total. Sometimes the company will offer coupons or something which need to be applied on the product page.
"As an Amazon Associate I earn from qualifying purchases. This does not influence the content presented and helps keep the site running."
You may also like
Sours: https://projectorinsider.com/vankyo-performance-v630/
Vankyo Performance V630 REVIEW: Can Budget Projector Be Good For Home Theater?
Movie nights are delightful, isn't it?
There's nothing like gathering your friends and family for enjoying a blockbuster movie. Thus, a value-for-money projector like Vankyo Performance V630 certainly fits the bill.
While there's no shortage of Full HD projectors in the market, finding the one that fits under your budget is of utmost importance.
The Vankyo Performance V630 looks like a promising option for the price – but is it worth your money? Let's find out!
In this Vankyo Performance V630 review, we will go through all of its features, look at its design and build quality, and test its performance before gauging the pros and cons.
Time to find out if it's really the best budget projector around!
Shall we?
Vankyo Performance V630 Review
First Impressions and Design
Opening the box, you will find the Vankyo V630 comes packed in its included carrying case.
The bag feels rugged, and you'll like that the company included the bag since the projector is portable. You don't want to be scratching the lens or dropping the unit when you carry it.
The packaging includes the power cord, long Q-tips and a cleaning cloth for cleaning the lens and dust removal. It also includes a 6-feet HDMI cable, remote, an AV splitter, and some screws for mounting.
The carrying bag has a pouch in the front, making it easy for you to carry the power cord, remote, and cables without needing to use another bag.
Talking about the projector, you will find the focus and zoom dials right above the lens, and the projector also has two built-in 5W speakers, which are embedded right next to the lens. The grey cloth finish makes the front very appealing.
The backside also has a cloth finish, and in addition to the slot for power and an assortment of ports, you will also find the menu buttons here.
The HDMI slots and the SD card slot are placed on the projector's side, separate from the other slots. Additionally, you'll find the heat sink right next to it.
Compared to its cheaper projectors from the same brand, the Vankyo Performance V630's overall design feels refined.
The projector weighs less than 9 pounds, hence, carrying it around with the provided carry bag shouldn't be an issue.
You'll appreciate that the projector has a tiny height adjustable feet at the bottom that helps improve the projection angle.
Build Quality and Performance
Projectors, in their very nature, are fragile. You cannot expect them to withstand rough use or fall from the table. Thus, the Vankyo V630 is no different!
The projector's casing is made from plastic – but this is industry standard and you'll find the same material used in higher priced projectors too.
The Vankyo Performance V630 is not the sturdiest of projectors, but it is tough enough not to break if you accidently bump it into a wall or carry around in your backpack.
The projector offers a native 1920 x 1080p resolution – with support for 4K content, and it can provide a projection display up to 300 inches diagonally.
While I've not tested that claim, the picture does look great at 100" – Moreover, you'll notice a very subtle decrease in sharpness and brightness as you move the projector farther from the projection screen or wall.
This is common in most budget projectors because it isn't as bright as compared to projectors from Viewsonic or Benq.
It wouldn't make a significant difference to you, unless you have experience with multiple projectors.
You can also expect to hear a weak hum of the projector's fans when nothing is playing, but the fans don't get nearly loud enough to disrupt playback, which is impressive for a projector at a low price point.
The Vankyo Performance V630 is a lot brighter compared to other budget-oriented projectors in the similar price range.
However, it pales when compared to budget options from reputed-brand projectors like the ViewSonic PA503W and the Benq TH585, both of which offer 3600-lumens brightness. This makes them ideal for daylight viewing as well.
Vankyo hasn't provided the exact lumens value of V630. Although a detailed test by projectorreviews.com has revealed the max brightness to be under 450 lumens.
Coming to the built-in speakers, they can fill a room, and the clarity is comparable to a small Bluetooth Speaker.
If you need a better audio experience, you can surely connect it to a soundbar or your home theater speakers.
Important Features and Functions
I like the electronic keystone correction feature. You can use the remote to navigate to the "Auto Adjust" toggle in the menu or manually configure the keystone correction using the horizontal and vertical calibration options.
While the projector offers a keystone correction of ±45° degrees, there is one minor issue with the feature. Cranked all the way down, it produces slight distortion in the edges of the picture. But mounting the projector properly will correct this issue.
The color reproduction is excellent in a dimly-lit room. To get the best projection quality, I highly recommend getting a projection screen with this projector.
You can set the projector up to 10-12 feet away without affecting the picture quality, and the 5000:1 contrast ratio is fantastic when compared to its cheaper siblings. For reference, Vankyo's Leisure 430 model only has a 2000:1 contrast ratio. Whereas the DBPower L21 offers up to 3000:1 contrast ratio and costs less than $100.
Vankyo claims that its LED bulb lasts 50,000 hours; however, you can expect the bulb to last anywhere between 20,000-25,000 hours.
Vankyo Performance V630 Review: Pros and Cons
Pros
Bright, true 1080p output
Portable and comes with carrying case
Excellent 50,000-hour bulb life
Affordable pricing
3-year free repair warranty
Cons
Slight distortion when keystone correction cranked down
Visible distortion when displaying large picture
Conclusion
I'm blown away by the overall quality of this projector – it has impressive features, delivers a bright and crisp picture, and the built-in speakers deliver sound loud enough to fill a room.
I'm surprised that it beats the slightly more expensive ViewSonic PA503W in terms of features and pricing. If I had the option to pick between the two, I'd pick the Vankyo Performance V630 every time. Although the Viewsonic PA503W offers 8x more brightness than the Vankyo V630.
If you're on a lower budget, but want a projector that makes no compromises, then the Vankyo Performance V630 is the perfect option.
You'll likely find family and friends welcoming themselves over to your home for a movie every weekend!
If you have any questions regarding this projector, please don't hesitate to leave them in the comments section below.
Liked this article? Please consider sharing it on social media sites like Facebook, Twitter, and Pinterest.
Categories ReviewsSours: https://visualjacker.com/vankyo-v630/
Review vankyo v630
Is the Vankyo V630 The Budget Projector for Your Home Theater?
Building a home theater and want to switch from a TV to projection? Redesigning your living space and eschewing traditional TV sets in favor of something more inconspicuous? Or just want a big screen for movies, TV, and gaming without the outlay on a 60-inch plasma?
The solution is a projector capable of full HD presentations, movies, and other entertainment. From Vankyo comes the Performance V630 Full HD Projector, a table-top projector capable of displaying a screen size of 46 to 300 inches.
With dozens of alternatives available, why should you choose the V630? It's an affordable projector---but what more does it have to offer?
Why Use an HD Projector?
Having a high definition projector is a massive advantage over a TV. Standard 40-inch LCDs or plasma TVs are large and often difficult to hide, so they end up standing out and dominating a small room.
While this can be mitigated with strong interior design, an alternative is to simply forget about TVs altogether.
But other factors might impact your use of a projector. Perhaps your home theater space demands it, or you demand better immersion from games without switching to VR. Maybe an affordable HD projector is a smart alternative to a new TV… Or maybe you just really want an HD projector.
What's in the Box?
In the box you will find the Vankyo Performance V630 bundled alongside a useful carry case and remote control.
All the necessary cables are also included: a mains power lead, HDMI cable, and a small RCA adaptor.
You'll also find the maintenance kit. This consists of a lens cloth and Q-tips for cleaning the projector and keeping it dust-free. Dust is the enemy of heat, so it is important to keep the projector dust-free to ensure prime performance.
Also bundled is a pack of four quarter-inch screws. These are for attaching the projector to a ceiling mount. Vankyo offers its own ceiling mount and tripod for use with this projector, available separately.
Vankyo Performance V630 Specifications
The Vankyo Performance V630 is not a top-of-the-range projector. Despite this, the specification and feature list are impressive.
Sure, it might be limited to 1080p Full HD---but given that is the quality of the majority of TVs and displays in use in homes around the world, it's hardly a deal-breaker. Unless you're looking specifically for a 4K projector---and have already budgeted accordingly---this won't be a problem.
Unlike many other budget projectors, the projection on the V630 is a native 1080p, and not just "HD-ready". This deceptive term means they will accept an HD input but actually project closer to DVD resolution.
The Performance V630 features a 50,000 hour lamp life (though obviously we can't verify that in a short time of testing), and a 5000:1 contrast ratio. This indicates the luminance ratio of the brightest color to the darkest color that a system can produce. To compare, movie theaters are usually around 500:1.
While there is no physical screen included, the V630 is capable of projecting an image of up to 300 inches (25 feet). This can be as small as 46 inches, and projection distance can be set between 5.15 feet and 30.18 feet. So, it's suitable for projecting in a room, lecture theater, home cinema, or even on your home's exterior wall. A small retractable foot gives additional elevation if needed.
With electronic keystone technology, distortion of up to 45 degrees can be adjusted. This means the projector can be directed at angles to the surface and automatically corrected.
The projector also features an innovative cooling system for heat dispersion. Meanwhile, noise reduction technology cuts 80 percent of fan noise. There's a removable dust filter on the side which you should clean from time to time to maintain good airflow.
Vankyo states a brightness of 6800 lux, but this isn't a standardized measure so it shouldn't be used for comparison. The industry-standard ANSI lumens brightness rating is not specified, which makes it difficult to compare the actual image brightness to other models.
With two HDMI ports, AV and VGA connectors, plus audio out, the Performance V630 projector offers wide device compatibility. It also features USB and an SD card reader. In short, you should be able to hook it up to almost any device, from Blu-ray player to PC. Or plug in media directly to enjoy it.
Buying the Vankyo Performance V630 projector also gives you three months of free return for a full refund. Three-year repair cover is provided, as well as customer service and tech support for the product's lifespan.
Setting Up the Vankyo Performance V630
Before buying the Vankyo Performance V630 it's a smart idea to ensure you either have a suitable wall or screen.
While projection can be up to 300 inches in size, if the surface isn't suitable, the picture will suffer. Matt-white untextured walls should be fine.
You should also ensure you have suitable elevation for the projector, an accessible power outlet, and optionally some better audio equipment. Our test unit was projected onto a screen at a distance of 7.5 feet, with a standard soundbar connected to the audio jack.
After connecting the HDMI cable from the source device (initially a Windows laptop), the V630 was powered up. The initial results are good and improved considerably as the room was darkened.
Controls on the unit are duplicated on the remote, which takes a pair of AAA batteries. Switching between video sources, adjusting volume, and navigating the settings menus is straightforward, with no fuss. As long as you're using the remote and have the projector permanently mounted, there's little need to touch it beyond keeping it clean and dust-free.
What Can You Connect?
The beauty of modern media devices is that you can connect almost any suitable hardware.
While there is no Wi-Fi or Bluetooth option with this budget projector, plenty of wired alternatives are supported.
With dual HDMI ports, you might connect a games console and TV box, or perhaps a media device like the Amazon Fire TV Stick. A 5V USB port is included to ensure power to your media box. There's also a VGA option for older TV decoders, PCs, and game consoles. An AV input for RCA connections (perhaps video camera) is also provided.
Two more options for playing media are included. A single USB 2.0 data port for hard disk drives and USB sticks, and an SD card reader. Finally, there is a single audio out port, so you don't have to rely on the internal speakers.
Play Movies, Games, and Watch TV
In practice, displaying media is a little trickier than you might like. While HDMI devices connect with little difficulty, static media is a different story.
A drive connected to the USB port can be accessed using the channel select button. This initiates a rather clunky file browser that wouldn't look out of place on a 1990s karaoke machine. It's functional, but unattractive.
Media files can be browsed and opened, with the projector capable of displaying images, music, video, and text documents.
Meanwhile, the SD card reader is an enigma. Foremost, the card must be inserted upside down. More importantly, however, it seems limited to smaller SD cards. While not a massive problem, this naturally restricts how much you can store on the card for playback through the projector.
We tested movies, video clips, Britbox streaming, YouTube, and video games through the Vankyo V630. Admittedly there was a small latency issue with the FPS game we tried, but overall the results were satisfactory.
Picture Quality Good, But Not Perfect
It's always difficult judging the image quality of a projector. There is so much to consider, from finding the optimum viewing angle to ensuring the display surface is conducive to projection.
We tried the Vankyo V630 with a budget display that can be quickly and easily mounted and removed as needed. This, in turn, was mounted on a white PVC wall (with reflective flecks). This resulted in a small amount of image separation when viewed at an angle, but overall the result was satisfactory. It certainly didn't detract from a family viewing of The Rise of Skywalker on Disney+.
Positioning was tricky due to the size of the test area and suitable wall space. However, the Vankyo V630 has a surprisingly good selection of keystone correction tools. It does, however, underline the importance of finding a permanent home for the projector, either mounted on a ceiling or placed on a movable stand.
You Will Need External Audio
As satisfying as the picture quality is from the Vankyo V630, you will prefer an external sound system to the built-in audio.
While acceptable, the limited tones and range of the speakers are suitable only for a few purposes. Kids TV, perhaps, or watching some sporting events; playing media in presentations. For most standard viewing activities, whether watching a popular drama boxset, the latest Marvel movie, or gaming, a soundbar or surround system will be preferable.
In terms of comparison, the projector's audio is probably on par with the output from a TV. Avoid turning it up too loud, as on some surfaces this can cause some visible vibration in the projection.
Don't worry too much about overcoming the audio from the projector's fan. It features enhanced cooling technology and noise reduction, so you'll barely notice it through the audio of whatever game or movie you're enjoying.
The choice for digital projectors is massive. From high-end 4K Ultra High Definition projectors edging towards $2000 to pocket-sized devices you can connect to a phone, there is a product for every budget.
So, is the Vankyo V630 suitable for your budget?  Undoubtedly. It's priced so low that anyone in the market for an entry-level projector would be foolish to overlook it. The picture quality is good enough, it's lightweight, not too noisy, and features two HDMI ports---more than most TVs in the same price range.
Spare $300 to spend on an LCD projector? Put the Vankyo V630 at the top of your list.
For those purchasing from the UK, we have an exclusive coupon for you: enter the code NXZC6KYL at checkout for a further £10. Combined with the £40 coupon on the Amazon page itself, that brings the grand total to £149.99. Bargain!
We hope you like the items we recommend and discuss! MUO has affiliate and sponsored partnerships, so we receive a share of the revenue from some of your purchases. This won't affect the price you pay and helps us offer the best product recommendations.
ShareTweetEmail
About The Author
Christian Cawley (1527 Articles Published)
Deputy Editor for Security, Linux, DIY, Programming, and Tech Explained, and Really Useful Podcast producer, with extensive experience in desktop and software support. A contributor to Linux Format magazine, Christian is a Raspberry Pi tinkerer, Lego lover and retro gaming fan.
More From Christian Cawley
Subscribe to our newsletter
Join our newsletter for tech tips, reviews, free ebooks, and exclusive deals!
Click here to subscribe
Sours: https://www.makeuseof.com/tag/vankyo-v630-review/
VANKYO V630 In-Depth Projector Review - Compared To The V600
BenQ TH585 vs. Vankyo V630 Comparison Review
Posted on April 12, 2020 By Phil Jones
BenQ TH585 vs. Vankyo V630 Comparison Review – Overview, Hardware Differences, Picture Quality Comparison
Everyone has heard the old saying "You get what you pay for" and that holds true in projectors as well. There are consumer projectors on the market that retail starting at $100 and models that sell for well over $30,000. But, the law of diminishing returns states there is a point at which the benefits gained aren't worth the amount of money or energy invested to attain them.
Is there a use case for the lower end models? Do I need to spend thousands of dollars to get a decent picture? To answer this question, we compared the Vankyo V630 to another a 1080P projector, the BenQ TH585 which retails for $599.
Overview
Lately, we have been seeing projectors from newer brands selling on sites like Amazon for less than $300. Several of these projectors have received lots of positive user reviews. One example of these affordable entry-level projectors is the Vankyo V630.
Even though the Vankyo V630 retails for less than $300, it is one on the company's higher-end models. This Vankyo offers good performance for the price. The question is: do you really get a big bump in performance by stepping to a projector like the BenQ TH585 which sells for a few hundred dollars more?
The Benq and Vankyo are very similar in size and weight. The fit and finish of both units was good for their respective price point and they both come with 3-year warranties. The Benq TH535 is a DLP projector while the Vankyo V630 is a LCD unit but both can deliver 1080P resolution. While they may be rated at the same resolution, things like lens quality, and video processing can result in a noticeable difference in projector quality.
Since the V630's specifications are limited on Vankyo's website as well as on their retail sites, my impressions are based on physical side-by-side visual comparison and measurements. So let's see how Vankyo's top model compares to BenQ entry level model.
Vankyo V630 (SRP $269.99)
LCD Image
LED lamp rated for up to 50,000 hours,
Native FULL HD resolution (1920×1080 pixels)
Brightness of 6,500 lux (not standard measurement, need to test for ANSI Lumens)
Contrast ratio of 5,000:1
Built-in two 5W stereo speakers
Electronic keystone correction
Dimensions 12.4" x 4.3" X 9.3" (315mm x 109mm x 235mm)
Weight 5.95lb
3 year warranty
Benq TH585 (SRP $599)
DLP (.48") with RGBW color wheel
Bulb rated for up to 15,000 (lamp save mode)
Native FULL HD resolution (1920×1080 pixels)
Rated brightness of 3500 ANSI Lumens
Contrast ratio of 10,000:1 (FOFO????)
95% for Rec709
3D Playback
Built-in 10W stereo speaker
Electronic keystone correction with digital lens shift
Low Lag Game Mode (rated for 16ms)
Dimensions 12.28" x 4.33" x 8.85" (312mm X 110mm x 225mm)
Weight 6.15lb
3 year warranty
Hardware Differences
The BenQ TH585 and Vankyo V630 were nearly the same size and weight. Both projectors are 1080P units with dual HDMI inputs and a single VGA input. The BenQ is a lamp based DLP projector while the Vankyo V630 is a LED LCD unit.
The Vankyo V630 has two USB inputs while the BenQ TH585 has one. The Vankyo also has a SD card input to playback photos and videos from a memory card.
The Vankyo V630 has a fixed lens and the throw is not listed in the specifications. At the top of the Vankyo right above the lens is a focus ring and a manual keystone correction lever. To project a 90" image the Vankyo V630 needs to be 3 meters (9.84ft) away from the screen.
The BenQ has a throw range of 1.5 to 1:65 with a zoom ratio of 1.2:1. On the top of the projector is a zoom and focus ring. To project a 90" image the BenQ V630 needs to be 2.9 meters (9.5ft) to 3.3 meters (10.8ft) away from the screen.
Picture Quality Comparison
To compare overall picture quality, I set up both projectors side by side on my 120″ screen. Source content was sent to both projectors simultaneously through an 2 way HDMI splitter.
The images above show the difference in color reproduction and skin tone between the Vankyo and the BenQ. Both projectors were setup side-by-side and shot simultaneously. Colors and brightness were not adjusted so while the photos can't show every detail, they do provide a reasonable representation of the actual difference in clarity brightness and colors.
Color Reproduction
The BenQ TH585 is a DLP unit that Benq says can produce 95% of Rec709 due to its RGBW color wheel. The BenQ TH585 has 8 preset picture modes and several delivered good color reproductions out of the box including the CINEMA, LIVING ROOM and two USER modes. Like all BenQ projectors, the TH585 also has a full set of picture calibration adjustments.
The Vankyo V630 has four preset picture mode but the colors and skin tones were never quite right. In addition to being more accurate, the colors on the BenQ were a lot richer and more saturated than the Vankyo.
Black Level/Shadow Detail
Sours: https://www.projectorreviews.com/vankyo/benq-th585-vs-vankyo-v630-comparison-review/
Similar news:
There are a ton of top tier 1080P projectors on the market, including some heavy-hitters like Epson, Sony, and Panasonic that can cost up to $1,000 or more. But do you need to spend that much money to get a top tier 1080P experience with all the bells and whistles? We took the Vankyo V610 1080P Projector with 6800Lux for a spin and found that it offered a very comparable experience to the higher priced name brands, at an accessible $220 cost.
Vankyo V630 Pros:
Great, bright, crispy 1080P display at 25′
Relatively low cost ($220)
Lots of ports: 2xHDMI, SD, VGA, 2xUSB, AV in, aux/headphones out
Good speakers, remote
Helpful buttons
Cons:
Fan noise (abate)/ heat
Build quality is on par for sub-$300
OS/Menus design dated
Vankyo certainly isn't a household name so you'd be forgiven for not knowing of it. They've been focused on mid-tier projectors mostly and have a variety of options from portables to the high-end V630 that we're looking at today.
The V630 is a little powerhouse that you can either take around in its portable bag or mount using its mounting kit to a ceiling. It is about the size of an unabridged dictionary (4.3 x 12.4 x 9.3 inches) and weighs about 8lbs. so portable but not something you'd throw in a pocket or purse. Even a backpack is a tight squeeze.
Vankyo V630 setup:
It takes about 5 minutes from unboxing to watching videos so nothing complicated. It comes in a marked Vankyo box packed well. Inside you have most of the cables you will need including Power cable, and HDMI as well as an old school AUX-RCA jacks cable. If you want to hook up your iPhone or Android phone or tablet directly you'll need Lightning or USB-C to HDMI adapters which are fairly inexpensive. While it has a VGA adapter, it doesn't come with that cable and for most people, it will never get used.
To set it up, simply plug in the power cable and plug in the HDMI to whatever you want to use. I think most people will plug in a Chromecast/Fire/AppleTV and there are 2 USB power ports to make that a little easier.
There is only a 1-foot adjustment screw at the bottom and 4 rubber feet so getting the height perfect is hit or miss. From there, you just hit the power button and it finds HDMI and throws your picture on the wall. From there you'll want to adjust the focus and the keystone and you are watching anything you can put through an HDMI cable.
Vankyo V630 picture quality
Picture quality is a subjective matter and it is important to remember this is a sub $300 projector here. While it is amazing for the price and is super bright, it isn't going to be fantastic latency-wise for gamers or color adjustment-wise for AV geeks. Again, this blows away anything I've ever used including our older $1000 InFocus projector by a long shot. But I know picture quality and latency can get better.
That said, we had a quick family movie night within 5 minutes of the box arriving and the kids hooked up the Nintendo Switch themselves later on for some very satisfying huge screen gaming.
Sound quality is solid and probably equivalent to a good $50 Bluetooth speaker. It is quite easy to hook up a much better sound system through the headphone jacks.
Slide shows and presentations
Our friends had a Sweet 16 party and we lent them the Vankyo. They simply uploaded their slideshow to a USB stick and navigated right to the show which played well right off the USB stick even at 1080P. SD cards and microSD cards with an adapter work just as well.
I didn't try out VGA because I don't have any of those cables still laying around but I'm sure it works fine and would be great for business presentations where this is still used frequently. For those who present with HDMI, you will do fine.
Downsides:
Overall I'm super satisfied but I'd like to highlight some things that might be disappointing. The biggest issue for me was the fan which is noticeable at first but fades away as you get into your movie or games. The menus and buttons are a little old school but are fairly easy to navigate and have al the options you'll expect. The refresh rate isn't up for hardcore gaming but is fine for casual gaming and of course movie watching.
Vankyo V630 Conclusion
I can fully recommend this projector at its very inexpensive price point. It has a ton of inputs, better than average sound quality, and a picture quality that you'd normally expect to find on projectors double and triple the cost. For this price, you can throw one in the kid's bedroom, out on the porch, in the basement, or just have ready for summer movie nights. A huge 25-foot screen projector turns a normal evening into a special event.
You can find this at Vankyo for $220 after on-screen coupon or at Amazon for $250
VANKYO Performance V630 specs:
VANKYO Performance V630 is equipped with native 1920×1080 resolution, 5000:1 contrast ratio and 50,000 Hours lamp life. Revolutionary 6800 LUX video projector meets all audio-visual satisfactions for office PowerPoint Presentation or home entertainment.
Features a huge projection screen, Performance V630 movie projector provides a screen size of 46"-300" with projection distance varies from 5.15ft-30.18ft. Exceptional home cinema projector conveys the truest color and impart the deepest feelings upon the viewer.
Performance V630 LED projector utilizes advanced electronic keystone correction technology, which creates a possibility for you to automatically adjust the keystone correction of 45°. Innovative cooling system with heat dispersion and a powerful noise-reducing technology cut 80%fan noise.
Equipped with 2*HDMI, AV, VGA, USB, SD Card and Audio Out Ports, Performance V630 video projector enables to flexibly connect to various devices like TV Stick, X-BOX, PS4, PC, Laptop, USB sticks, SD cards, Android or IOS devices, etc.
VANKYO provides 3-month free return for full refund and 3-year free repair, long life professional customer service and technical support. Please feel free to contact with VANKYO Support Team if you have any question.
---
Subscribe to the 9to5Toys YouTube Channel for all of the latest videos, reviews, and more!
Sours: https://9to5toys.com/2020/04/24/vankyos-v630-1080p-projector/
1307
1308
1309
1310
1311