A view of autumn colors.
Pictured: The aspen leaves are bright yellow in the Colorado high country near Ward, Colorado, Friday, Sept. 23,
Colorado
The aspen leaves are bright yellow in the Colorado high country near Ward, Colorado, Friday, Sept. 23,
France
Light filters through colored leaves as autumn weather arrives in Europe in Orvault, western France, October 18,
Scotland
Moored boats are seen on Loch Faskally, as autumn leaves are reflected in the water, in Pitlochry, Scotland October 18,
New York
Autumn colors are seen at John Boyd Thacher State Park on Tuesday, Oct. 18, , in Voorheesville, N.Y.
New York
A hiker takes in the fall colors as he makes his way along the Indian Ladder Trail on a warm fall day at John Boyd Thacher State Park, Tuesday, Oct. 18, , in Voorheesville, N.Y.
New York
Fall foliage changes colors near Three Brothers Mountain in New York's Adirondack Park in Keene Valley, N.Y., Tuesday, Oct. 11,
New Hampshire
In this Tuesday, Oct. 4, photo, fall foliage colors a line of mountains in Chatham, N. H., as unsettled weather begins to clear.
England
A couple stop to talk beneath trees that are beginning to show their autumn colors in Royal Victoria Park on October 19, in Bath, England.
England
The sun shines on trees that are beginning to show their autumn colors in Prior Park on October 19, in Bath, England. After an unusually hot September and a mild autumn so far, trees in many parts of the U.K. are only just beginning to display their colors.
Sweden
People walk under colorful autumn trees in Djurgaarden Park in Stockholm, on October 14,
Maine
Autumn's colors peak on hardwood trees in a cemetery near the Congregational Church, Monday, Oct. 10, , in Cumberland, Maine.
Belarus
Trees with autumn-colored leaves are seen near a school building in the town of Volozhin, Belarus, September 29,
Germany
Fall foliage is seen outside of the Reichstag, seat of the German federal parliament, the Bundestag, on October 19, in Berlin, Germany.
Germany
Autumn-colored leaves are pictured on September 30, in Potsdam.
Germany
A tree of changing colors stands on a meadow near Bernbeuren, southern Germany, on October 6,
Germany
A picture taken from a drone shows a man raking colorful autumn leaves on a meadow under a maple tree in Brandenburg, eastern Germany, on October 10,
New York
Margaret Gould of Whittier, Calif., photographs the fall foliage in Washington Park on Thursday, Oct. 20, , in Albany, N.Y.
New Hampshire
Fall colors are seen at New Hampshire's Cathedral Ledge Monday, Oct. 24, , in Conway, N.H.
New Hampshire
Snow capped mountains are seen Monday, Oct. 24, , as fall colors fade away in Carroll, N.H.
New Hampshire
An overnight snow surrounds fall colors in Franconia Notch Sunday, Oct. 23, , in Franconia, N.H.
New York City
A view of midtown New York City and the fall foliage in Central Park on November 3, The city has experienced very warm temperatures for this time of year, reaching into the 70s, which had delayed some of the most vibrant colors from appearing.
New York City
The rising sun illuminates a flag flying inside Central Park in New York City, November 2,
Sours: https://www.cbsnews.com/pictures/fall-foliage/
Final New England Fall Foliage Report
The November woods are bright and open now, with sunlight penetrating to the forest floor for the first time since spring. The remaining leaves are golden brown, and filtered through them, the sunlight still takes on a warm feel. The days are getting shorter, though, and the winds are carrying more bite. Soon, the snows that have already made a few brief appearances will become a more lasting, seemingly permanent sight.
Although fall is a brief season in New England, its packed with intense beauty and time-honored traditions that makes it universally loved — that is, until the cleanup begins. Acorns are like a million ball bearings under the fallen foliage, all waiting to be carted to compost on the next warm day. Tourism has wound down, leaving resort towns empty and waiting for ski season. And today, scanning the radio dials, I heard holiday music.  
Frost covers the ground on a recent late fall morning in northern New England
Jim Salge
As we send out our final foliage report for the season, there are still some opportunities to see the autumn colors around New England. Tamaracks and beeches are providing punctuations of color in the northern forests, while the late maples join the oaks that are only now reaching peak in the southern portions or our region. There will even be some isolated late peak color reached on Boston Common and the Long Island Sound this weekend, giving at least one more opportunity to enjoy the best of autumn.  
And what an autumn it was!
Bright red tones dominated the early foliage in northern New England this year
Jim Salge
The fall colors came on strong across northern New England as a dominance of sunny days and cool nights provided an ideal setup for bright foliage. The forests transformed into a canopy of intense red hues on a scale that hadn't been seen years, and locals and visitors from all over the world were left awestruck.  
The foliage this year in northern New England was beautiful!
Jim Salge
Unfortunately, as the wave of peak moved south, a string of October storms stripped much of the early color, and cloudy weather combined with the severe drought in southern New England left those areas with a more muted show. It was still beautiful, though. Truly, the foliage show in New England rarely disappoints.  
Northern forests now lay dormant, awaiting the longest season.
Jim Salge
And now, as with the forests around us, this blog drifts into dormancy. We thank you for following along this year from our first forecasts, and for sharing in this beautiful season with us. A special thank you to all the contributors to our foliage map, and especially to the photographers who contributed their amazing images to this report each week.  

We'll see you next August!  
Sours: https://newengland.com/today/seasons/fall/final-new-england-fall-foliage-report/
Past Foliage Reports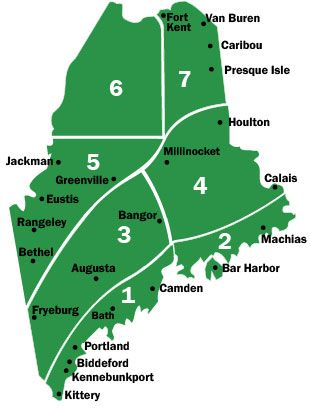 Maine's Department of Agriculture, Conservation and Forestry releases weekly foliage reports each year during foliage season (mid-September through mid-October). Forest Rangers assess the amount of color change and leaf drop when they are on assignment in the field. These reports represent the official word on foliage conditions in the state of Maine and are provided to the public and media.
Reports +
Reports +
Reports +
Reports +
Reports +
Reports +
Reports +
Reports +
| ZONE | | | | | |
| --- | --- | --- | --- | --- | --- |
| 1 | 10/12 | 10/18 | 10/10 - 17 | **10/23 | 10/7 |
| 2 | 10/15 | 10/18 | 10/10 | **10/23 | 10/7 |
| 3 | 10/12 | 10/18 | 10/10 | 10/9 | 9/30 |
| 4 | *10/5 | 10/11 | *10/3 - 10 | *10/2 - 16 | 9/30 |
| 5 | 10/5 | 10/11 | 10/10 | 10/9 | 9/30 |
| 6 | 10/5 | 10/11 | 10/3 | 10/2 | 9/23 |
| 7 | 10/5 | 10/11 | 10/3 | 10/2 | 9/30 |
* Represent peak conditions from north to south in zones 3,4 and 5 (north being the earlier date).
**Peak season occurred after last foliage report for season was released.
Sours: https://www.maine.gov/dacf/mfs/projects/fall_foliage/report/past.shtml
Lake George Maine 2016 fall colors.
Travel + Leisure ranks Rangeley as one of the best places in Maine for fall foliage.
Rangeley is an international fall foliage destination.
Why? Rangeleys high peaks are one of the best places to see fall foliage in Maine. The contrast between the high-altitude evergreens, the fiery red, orange, and yellow leaves of the lower-altitude deciduous trees, and the crystal blue lakes create spectacular photo opportunities. The mile Rangeley Lakes National Scenic Bylaw (one of just four in Maine) winds through the mountains, with spectacular views around every bend. These attributes inspired Travel + Leisure magazine to rank Rangeley as one of the best places to see fall foliage in Maine in
When is peak foliage?
Peak foliage is when the leaves on most trees hit their most vibrant color. It usually occurs between late September and mid October, and varies from year to year depending on the weather. For a real-time foliage report, contact the Rangeley Chamber of Commerce or your lodging establishment. You can also read the State of Maines foliage reports at MaineFoliage.com.
Where is the best place to see the trees?
During peak foliage in Rangeley, you cant hide from the colorful blasts of cherry-red maples, lemon-yellow birches, and garnet white ashes theyre everywhere. For great photo opportunities, try gaining some altitude. Bald and Saddleback mountains are favorite local hikes with amazing summit views. A drive up Quill Hill offers equally spectacular ˚ views and a wheel-chair accessible picnic area. The Height of Land is another excellent, car-accessible viewpoint along Rangeleys National Scenic Byway.
Sours: https://experiencerangeley.com/foliage/
Maine 2016 colors fall
The 12 Best Places to See Fall Foliage in Maine
As New England's largest state, Maine is almost as big as the rest of the region put together. And with the lowest population density among them, that means the state has a lot of trees (about 90 percent is forested) and not a lot of people.

Peak foliage usually occurs during the first two weeks of October, spreading from north to south. Though Vermont and New Hampshire draw more tourists from New York and Boston, Maine offers a special something to those who make the trip: the dramatic contrast of rock and sea and foliage. Plus, fall is the most plentiful time of the year for lobster.

With thousands of miles of scenic, uncrowded roads, over 12 million acres of forest, dozens of food and cultural festivals, and countless outdoor activities, Maine is often at its best in the fall.

There's a land- (or sea-) scape for everyone, whether you want to watch the leaves change by a quiet lake, a coastal village, or the undisturbed mountains (and moose) of the state's great forests. Many state and national parks offer guided tours geared toward foliage hunters, and outdoor outfitters across Maine provide different ways to interact with the natural world. (Whitewater rafting, anyone?)

Oh, and at the end of the day—however you decide to spend it—there's steamed shellfish and cold beer waiting for you. View beautiful fall photos of Maine.
Start Slideshow
Sours: https://www.travelandleisure.com/trip-ideas/fall-vacations/colorful-maine-fall-foliage-pictures
Maine Fall colors 2016 slideshow
And am I beautiful ?, No. ", But at least pretty?", Yes. "Do you like me?", No. "Why?", You are harmful. And in general I am tired and want to sleep.
Now discussing:
Dima came quickly and gently but confidently took her hand. It is not necessary, we are not embarrassed. Moreover, you have nothing to be ashamed of, I have never met such a perfect breast. Come on, you just take off the top, it will stop bothering you, and we will take a few shots, I swear, not a single intimate detail will. Come in, now we will come up with a composition.
1268
1269
1270
1271
1272