When we first drove the latest Audi S4, which is powered by a turbocharged 3.0-liter V-6, we were a bit underwhelmed: It's a bit less responsive and less exciting than the previous model. There clearly remained space for a meaner beast at the top of the lineup. Now, at the Frankfurt auto show, that car has arrived in the form of the all-new Audi RS4 Avant, a vehicle that always sets our hearts to racing—even though there are no current plans to offer it in the United States.
The RS4 Avant is mechanically similar to the RS5, with those two sharing many components—most notably the awesome 450-hp 2.9-liter V-6, which is a twin-turbocharged variation of the S4 sedan's single-turbo 3.0-liter engine. This powerplant springs from an engine-development partnership with Porsche in which Audi handles the V-6s and Porsche the V-8s. You can also find it installed in the Porsche Panamera S and the upcoming next-gen Cayenne S.
Beyond being powerful, it is torquey, with all 443 lb-ft served on a fat plateau from 1900 to 5000 rpm. The power is channeled to all four wheels through a ZF-sourced eight-speed automatic transmission and a rear-biased all-wheel-drive system. The time of manual transmissions is over at Audi Sport, the brand's performance sub-brand, but judging from our experience with the RS5, most customers will be exceedingly happy with the automatic. It's as good as automatics get, although there's no doubt we'd still enjoy shifting for ourselves.
As for aural output, the twin-turbo V-6 will be no match for the RS4's previous naturally aspirated V-8, but at least the cabin can be filled with sporty noises, depending on the driving mode selected. Zero to 62 mph takes a mere 4.1 seconds, Audi says, while top speed is governed at 155 mph, or 174 mph if you're willing to cough up a bit of extra dough.
Based on our experience with the RS5, we expect the RS4 to handle exceedingly well even with its standard suspension and 19-inch wheels. Twenty-inch wheels are optional, as are a mode-adjustable suspension, dynamic steering, and ceramic brakes. Those ingredients make the RS5 capable of heroic performance, even if the combination doesn't quite deliver the most visceral experience. At Audi's claimed curb weight of 3946 pounds, this RS4 station wagon is no lightweight, but it is said to be 176 pounds more svelte than its predecessor despite added safety and comfort equipment.
The RS4 Avant is clearly differentiated visually from its lesser siblings, with blistered fenders inspired by those of the original Quattro making it 1.2 inches wider front and rear. It also gets a rear diffuser, a roof spoiler, and two fat oval tailpipes. The optional Nogaro Blue color evokes the classic RS2 Avant (it was also used on a limited run of previous-gen RS4 Avants). Inside, there is pure blackness, accentuated with RS-specific gauges and carbon trim with aluminum contrast elements.
To be priced at the equivalent of about $95,000 when it appears in European dealerships in early 2018, the Audi RS4 Avant is slightly cheaper than its RS5 coupe sibling in Germany. And its station-wagon body makes it spacious, striking, and, to our eyes, incredibly desirable.
But while it hasn't been categorically ruled out, the RS4 Avant is unlikely to come to the United States, since Audi believes we don't like station wagons. It's worth noting that an RS4 sedan is unlikely to see production any time soon, but we'll keep our fingers crossed that we at least get an Audi RS5 Sportback, which has a hatchback sedan body, and we'll continue to beat the drum for more high-performance wagons on our side of the pond.
This content is created and maintained by a third party, and imported onto this page to help users provide their email addresses. You may be able to find more information about this and similar content at piano.io
Sours: https://www.caranddriver.com/news/a15082437/2018-audi-rs4-avant-photos-and-info-news/
2018 Audi RS4 Avant used cars for sale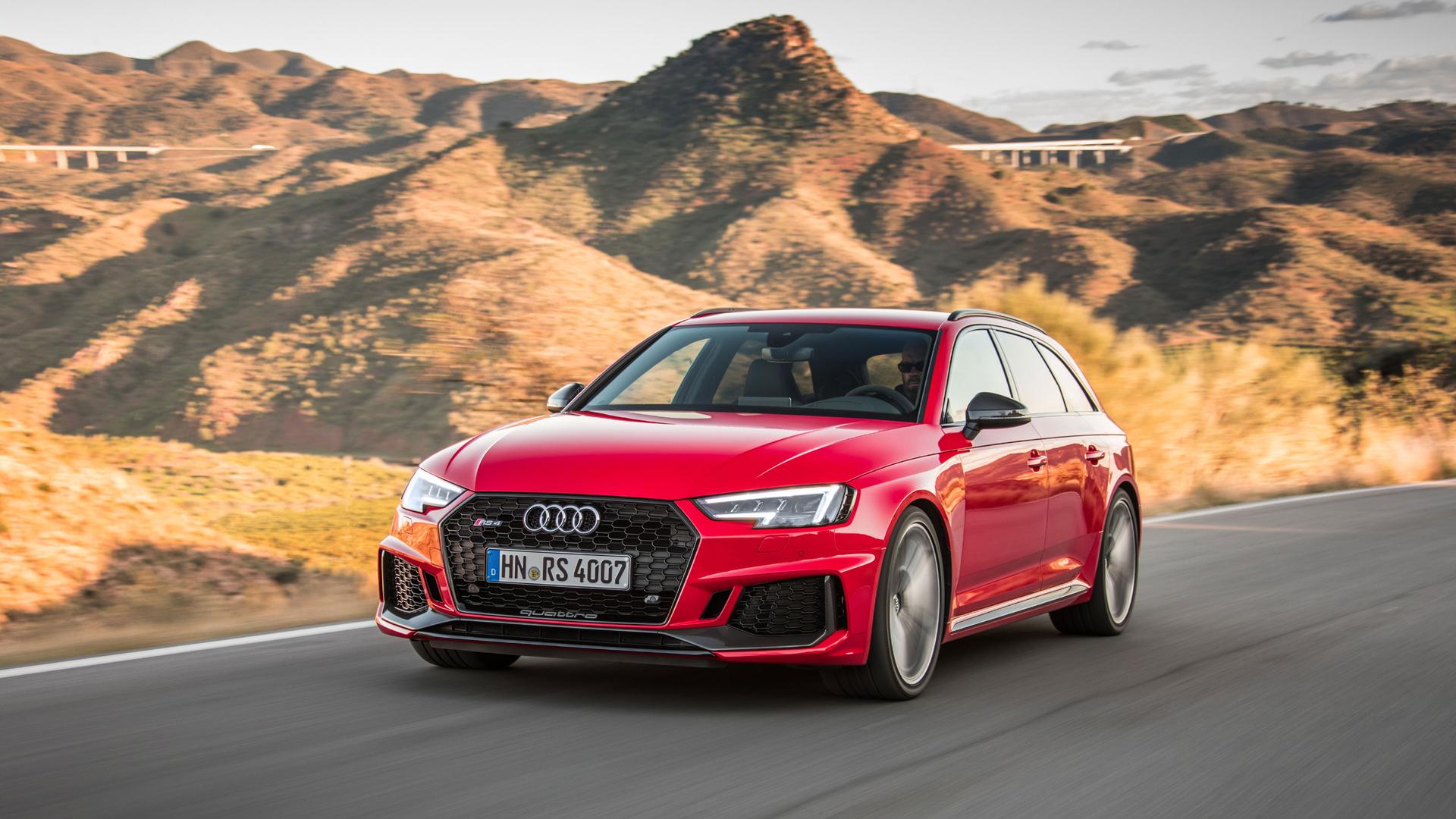 Search 176 cars
With 176 used 2018 Audi RS4 Avant cars available on Auto Trader, we have the largest range of cars for sale available across the UK.
Back to Audi range
Used
Brand new - in stock now
Be the first to own one of these cars. There's no need to wait - they're available right now
View more
4

RRP£85,570

£81,481

Save£4,089

Audi RS4 Avant 2.9 TFSI V6 Vorsprung Avant Tiptronic quattro (s/s) 5dr

5 door Automatic Petrol Estate

BRAND NEW - IN STOCK

4

RRP£76,450

£73,650

Save£2,800

Audi RS4 Avant 2.9 TFSI V6 Carbon Black Avant Tiptronic quattro (s/s) 5dr

5 door Automatic Petrol Estate

BRAND NEW - IN STOCK

4

RRP£76,450

£73,650

Save£2,800

Audi RS4 Avant 2.9 TFSI V6 Carbon Black Avant Tiptronic quattro (s/s) 5dr

5 door Automatic Petrol Estate

BRAND NEW - IN STOCK

4

RRP£76,450

£73,650

Save£2,800

Audi RS4 Avant 2.9 TFSI V6 Carbon Black Avant Tiptronic quattro (s/s) 5dr

5 door Automatic Petrol Estate

BRAND NEW - IN STOCK
Leasing deals
These deals are based on terms of 8,000 miles, for a 36 month lease with a 6 months initial payment.
View more
The latest Audi RS4 Avant articles
View more
Your questions answered
Audi RS4 Avants offer a top speed range between 155mph and 174mph, depending on the version.

Audi RS4 Avant on-the-road prices RRP from £66,270 and rises to around £84,435, depending on the version.

According to the official figures, the Audi RS4 Avant's fuel economy ranges between 28mpg and 29mpg.

The standard UK car tax rate is currently £155. You may also have to pay higher rates based on your car's emission levels . Learn more about car tax bands.
Sours: https://www.autotrader.co.uk/cars/audi/rs4-avant/2018
Exterior
Just take the more aggressive cues of the RS4 Avant and slap them on the A4 sedan and you get the real deal
The RS4 sedan may seem like a mystery just now, but it really isn't. Just take the more aggressive cues of the RS4 Avant and slap them on the A4 sedan and you get the real deal. And it's exactly what this rendering provided by X-Tomi Design is all about.
Up front, we can see the RS-style honeycomb grille, as well as the "quattro" lettering underneath the license plate and the "RS4" badge on the mesh. Below, there's a sportier bumper with larger air vents, both of which have the same honeycomb grille. The thin intake just below the main grille is finished in black, with the lower element designed to look like a splitter. The rendering also includes the the Matrix LED headlamps with tinted bezels, which are optional on the RS4 Avant and should be offered on the sedan too.
Onto the sides, we can see more of the features that debuted on the RS4 Avant
Moving onto the sides, we can see more of the features that debuted on the RS4 Avant. Specifically, the sedan has slightly beefier fenders, which should be 1.2 inches wider in production form, RS-style mirror caps finished in black, and larger wheels. New-design 19-inch, forged aluminum wheels should be standard, with 20-inch rollers available on the options list. The sportier side skirts and the lowered ride height also contribute to the sedan's slightly more menacing profile.
It's around back where the sedan will be different compared to the already familiar RS4 Avant
It's around back where the sedan will be different compared to the already familiar RS4 Avant. But aside from the three-box design with an actual decklid, look for similar performance features. A big spoiler should highlight the trunk lid, while the bumper should include a sporty diffuser with large, oval exhaust pipes. The "RS4" badge on the tailgate will round off the rear fascia.
Audi also introduced a new paint option for the wagon. It's called Nogaro Blue, it features a pearl effect, and its a throw-back to the first-generation Avant from 1999. We think that this Audi Exclusive option will also be offered on the sedan, so it's why our rendering is finished in the same hue.
Interior
As seen in the Avant, the front seats are Audi's latest RS Sport units with aggressive side bolstering for proper support
The interior of the RS4 sedan should be identical to that of the Avant model from the dashboard toward the second-row seat. As usual, almost everything but the seat, which can ordered in various colors, will be finished in black. That's because Audi seems to think that black "underscores the sporty character" of an RS can better than any other color, but I'm not a big fan to be honest. Audi should at least offer an option to to have the dashboard, door panels, and center console in a more livery color. Not necessarily a flashy shade of blue or red, but at least brown or even gray.
Speaking of features that you can have in a different colors, there's light-colored leather for the seats and door armrests, and grey carbon trim for the dashboard and center console. As seen in the Avant, the front seats are Audi's latest RS Sport units with aggressive side bolstering for proper support during spirited driving. The optional honeycomb pattern introduced on the Avant should be offered on the sedan as well.
Expect the sedan to benefit from the same options as the station wagon
The flat-bottomed, RS-style steering wheel will also be wrapped in leather and complemented by white stitching and the usual "RS" badge. The latter will also adorn the shift gate and the illuminated door sills that should come standard with the car. There should also be an RS-specific display in the instrument cluster that indicates g-forces, tire pressure, and torque on top of the usual information you get in the more mundane A4 sedan.
Expect the sedan to benefit from the same options as the station wagon, including the styling packages that add carbon-fiber with aluminum or black accents. The Audi Exclusive program will handle any other special request for customers willing to invest a bit more in their RS4.
Of course, all of the above will come with a significantly smaller trunk due to the sedan body styles, but less luggage room will mean better dynamics and performance.
Drivetrain
The twin-turbocharged unit generates 450 horsepower and 443 pound-feet of torque
If there's one big change to talk about, it's the engine. The RS4 Avant ditched the previous 4.2-liter V-8 for a newer, 2.9-liter V-6 and this is the same mill you will find under the hood of the RS4 sedan. The twin-turbocharged unit generates 450 horsepower and 443 pound-feet of torque, which is the same as the V-8 in terms of horsepower, but with an extra 126 pound-feet of torque.
The added torque and the fact that the new RS4 Avant is 176 pounds lighter that it's predecessor, give the wagon a 0-to-62 mph sprint of only 4.1 seconds. I guess it's safe to say that the sedan will be a tad quicker and hit the benchmark in four seconds flat or maybe even 3.9 clicks, which is more or less on par with competitors like the BMW M3, Mercedes-AMG C63, and the Cadillac ATS-V. Top speed should remain locked at the usual 155 mph, but the optional RS Dynamic package will lift the limit to 174 mph.
Just like in the wagon, the engine should mate to a Quattro AWD system and an eight-speed Tiptronic transmission
Just like in the wagon, the engine should mate to a Quattro all-wheel-drive system and an eight-speed Tiptronic automatic transmission, both with significant upgrades compared to the outgoing model. Optionally, Audi will offer a rear sport differential. The options list will also include an RS Sport suspension with Dynamic Ride Control, ceramic brakes, and RS dynamic steering.
Average fuel consumption is rated at 8.8 liters per 100 km and it should remains about the same in the sedan. This converts to 26.7 U.S. mpg, but the official EPA ratings should be different. Either way, expect the sedan to boast an efficiency gain of around 17 percent over the outgoing RS4 Avant model.
Prices
When it hits dealerships, the RS4 will become the most expensive version of the A4 sedan. A lot more expensive than the base model actually, just like the RS4 Avant comes with a €46,100 premium compared to the entry-level A4 Avant. That's €79,800 in Germany. Given the 136.8 percent premium and the base A4's €31,850 sticker, it's safe to assume that the RS4 sedan should start from around €75,400. Should it come to the U.S., expect it to cost somewhere between $65,000 and $70,000 before options.
Competition
BMW M3
Arguably the most celebrated compact performance sedan, the BMW M3 is the car to beat in this niche. Although it's already four years old as of 2017, the M3 is far from dated, unless you're really picky about the company's current interiors, which aren't quite as fresh as Audi's or Mercedes'. The German sedan's exterior is downright sporty and it's enhanced by a drivetrain that delivers solid performance on both the road on the track. The turbocharged, 3.0-liter inline-six unit is rated at 425 horsepower and 406 pound-feet, figures that aren't as spectacular as the RS4's. However, you shouldn't let that fool you, because the M3 is quite fast from a standing start. While models equipped with the manual transmission hit 60 mph in 4.1 seconds, sedan fitted with teh dual-clutch automatic need on 3.9 ticks to hit the benchmark. And of course, unlike the RS4, the M3 can be had with a stick and three pedals, although this isn't possible in the United States. Top speed is capped at the usual 155 mph. German pricing for the M3 starts at €77,500, but the sedan is also available in the U.S. from $65,500.
Read our full review of the BMW M3.
Mercedes-AMG C63
Launched for the 2015 model year, the AMG C63 bring a balanced mix of aggressiveness and elegance to the table. While it looks like a shrunken S-Class, borrowing some of the big sedan's elegance, the AMG-specific parts add a significant dose of sportiness front and rear. The AMG C63 also looks a bit more organic by design, which makes a slightly more exotic proposition than the M3. The Merc shines on the inside too, thanks to its S-Class-inspired cabin with the wide, shiny center console and the multi-layered dashboard. All of this, of course, on top of the premium materials and acres of leather on the seats and door panels. Thing are equally interesting under the hood, where the German sedan hides, unlike it's competitors, a V-8 engine. The twin-turbo, 4.0-liter mill is available in two flavors, starting with the base model that cranks out a solid 476 horsepower and 479 pound-feet of twist. Get the C63 S and output jumps to 503 horses and 516 pound-feet of torque, more than any other competitor in this market. The sprint to 60 mph takes four seconds with the former and 3.9 clicks with the latter. Pricing begins from $66,100 and $73,700 in the U.S., respectively. In Germany, prices come in at €76,398 and €84,668, respectively.
Read our full review of the Mercedes-AMG C63.
Cadillac ATS-V
Not only newer than the M3 and AMG C63, having been launched for the 2016 model year, the ATS-V is also the only American competitor for Germany's finest compact sedan. The ATS itself is a new nameplate and Cadillac smallest vehicle yet, and was designed specifically to compete with the BMW 3 Series, Mercedes-Benz C-Class, and Audi A4. The ATS-V obviously goes against the M3, AMG C63, and RS4, and it has everything it takes to give them a run for their money, except brand prestige of course. The American sedan is also a breath of fresh air design wise, using loads of angular lines and some features inspired by the larger CTS model. The interior is a nice place to spend time in, being just as comfortable and well-equipped as the competition. Of course, the CTS-V comes with the mandatory sport seats, carbon-fiber trim, and the latest technology. Motivation is provided by a twin-turbo, 3.6-liter V-6 that cranks out 464 horsepower and 445 pound-feet of torque. This enables the sedan to hit 60 mph in 3.9 seconds, on its way to a top speed of 185 mph. The latter is a best-in-class figure. The ATS-V Sedan is priced from $60,695, making it the most affordable vehicle in this comparison.
Read our full review of the Cadillac ATS-V.
Brief History
The only sedan version of the RS4 was produced between 2006 and 2008
As previously mentioned, the "RS4" nameplate goes back to 2000, when Audi launched the RS4 Avant as a successor to the short-lived RS2 Avant of 1994 and 1995. Produced for only two years, the first RS4 was sold as a wagon only. A brand-new model was launched in 2006, and that's when the one and only four-door sedan was introduced.
Sold alongside the Avant wagon and the two-door cabriolet, the sedan used the same 4.2-liter V-8 as its RS4 siblings. Based on the existing V-8 from the S4, the 4.2-liter unit was rated 414 horsepower and 317 pound-feet of torque. This was enough to give the saloon a 0-to-62 mph sprint of 4.8 seconds, which was pretty impressive at the time. Road & Track actually recorded a 0-to-60 mph sprint of only 4.5 seconds, which made the RS4 one of the quickest sedans available on the market. Top speed was officially capped at 155 mph, but owners reported to have hit 170 mph.
Sold alongside the Avant, the sedan used the same 4.2-liter V-8 engine
Design-wise, it was a genuine RS car with wider flared front and rear wheel arches, larger front bumper intakes, a diffuser like element, and unique wheels. The optional Optic Pack added a black trim and a black front grille. The options list also included adaptive headlights to complement the standard Bi-Xenon HID lights.
The transmission was a six-speed manual by Getrag that routed power to all four-wheels through a Quattro system.
The AWD had the third-generation asymmetric Torsen T-3 centre differential featuring a 40:60 front-to-rear torque split under normal conditions and a more aggressive Torque Bias Ratio compared to the regular A4.
Production of the second-generation RS4 ended in 2008, a year that also marked the end of the road for the sedan. Although the nameplate was resurrected between 2012 and 2015, the lineup no longer included a four-door sedan.
Conclusion
The fact that the RS4 Sedan may make a comeback is incredible news on its own. Not only Audi needs a proper competitor for the BMW M3 and Mercedes-AMG C63, but the RS4 Sedan is very important vehicle that's missing from both the A4 and the RS lineups. And judging by all the information we know about the new RS4 Avant, the sedan should be at least as good as the competition. The rumor that it may return to the United States makes everything that much better.
Love it

The RS4 is back!
More power, lower weight
Meaner styling outside with more luxury and tech inside

Leave it

No more V-8
Will be priced higher than ATS-V and M3
Not yet confirmed for the U.S. market
References
Audi RS4 Avant
Read our full review on the 2018 Audi RS4 Avant.
Audi A4 Wagon
Read our full review on the Audi A4 Wagon.
Audi RS4
Read our full review on the previous generation Audi RS4 sedan.
Read more Audi news.
Ciprian Florea
Senior Editor and Supercar Expert - [email protected]
Ciprian's passion for everything with four wheels (and more) started back when he was just a little boy, and the Lamborghini Countach was still the coolest car poster you could hang on your wall. Ciprian's career as a journalist began long before earning a Bachelor's degree, but it was only after graduating that his love for cars became a profession. Read full bio
About the author
Sours: https://www.topspeed.com/cars/audi/2018-audi-rs4-sedan-ar170538.html
INSIDE the NEW Audi RS4 Avant 2018 - Interior Exterior DETAILS w/ REVS
Audi revealed the fifth generation of the A4 in 2015, but its hard-core fans awaited that particular version that went under the radar: the family-looking station wagon that came with an RS badge on it.
Usually, the station wagons are those cars that block the left lane and are crawling with all seats taken. Also, they are often seen on the HOV lanes doing lower-than-limit speed on the highway. But there are some exceptions. Some of these family-friendly vehicles worth every penny, such as the Audi RS6 or its little brother, the RS4.

Unlike its regular, non-RS versions, the RS4 Avant looked meaner. The front fascia featured a black singleframe grille with a red and silver badge on it and a piano-black lower lip under the apron. Its LED headlights featured a double, reversed-L shape daytime running light signature. Audi installed black side sills and door mirrors to emphasize the special version, while at the back, besides the roof-spoiler, it added two oval-shaped pipes under the bumper, flanking a diffuser. But all these details might still get unnoticed by the boys in blue due to the car's overall shape.

Inside, Audi went wild and installed all the good things it had in its parts bins. At the front, the carmaker installed sport bucket seats with integrated headrests embroidered with the RS4 logo on their seatbacks. The carbon-fiber trims from the center console and dashboard evoked a racy spirit, while the Audi Cockpit digital instrument cluster spoiled the driver. A second screen stood on top of the center stack, controlled via the MMI controller next to the gear-selector.

But the most crucial change was under the hood, where Audi dropped the previously used 4.2-liter V-8 engine and replaced it with a twin-turbocharged 2.9-liter V-6. While the power remained the same, the torque went up by 170 Nm (125 lb-ft). The gearbox gained another gear. With all these changes made, the 2017 2.9-liter V-6 was quicker than its predecessor by more than half of second on the 0-100 kph (0-62 mph) run.
Sours: https://www.autoevolution.com/cars/audi-rs4-avant-b9-2017.html
Sedan rs4 2018 audi
Audi RS 4
Motor vehicle
The Audi RS 4 is the high-performance variant of the Audi A4 range produced by Audi Sport GmbH for AUDI AG, a division of the Volkswagen Group. It slots distinctly above the Audi S4 as the fastest, most sports-focused car based on the A4's "B" automobile platform. The RS 4 was reintroduced in 2012, based on the A4 Avant instead of the sedan as did the original model.
The original B5 version was produced only as an Avant, Audi's name for an estate car/station wagon. The second version, the B7, was released initially as a four-door five-seat saloon/sedan, with the Avant following a short while later. A two-door four-seat Cabriolet version was subsequently added. Their internal combustion engines are longitudinal and located at the front.
The "RS" initials are taken from the German: RennSport—literally translated as "racing sport", and is the Audi marque's highest trim level, positioned above the "S" model specification of Audi's regular model line-up. Like all Audi "RS" cars, the RS 4 pioneers some of Audi's latest advanced technology. It is only available with Audi's Torsen-based "trademark" quattro permanent four-wheel drive system.
Its main market competitors include the BMW M3, Mercedes-Benz C63 AMG, Lexus IS-F and Cadillac ATS-V.[1]
B5 (Typ 8D, 1999–2001)[edit]
Motor vehicle
Audi RS 4 Avant (UK) finished in Nogaro Blue
The original B5 Audi RS 4 Avant quattro (Typ 8D)[3] was introduced by Audi in late 1999, for main production and sale from 2000, as the successor to the Porsche / Quattro GmbH joint venture-developed Audi RS2 Avant. The vehicle, like its RS2 predecessor, was available only as an Avant and was built on an existing platform, in this case, the Volkswagen Group B5 platform shared with the A4 and S4. Retail price was around DM 103,584. The RS 4 was available for sale in most of Europe, parts of Asia and in some Latin American countries.
Audi produced 6,030 units between 1999 and 2001.
B5 bodywork and styling[edit]
Although related to the Audi B5 S4, many of the outer body panels were altered, with wider front and rear wheel arches, to allow for the wider axle track on the RS 4. With unique front and rear bumpers and side sills, and the rear spoiler from the S4 Avant, the aerodynamic modifications achieved a drag coefficient of Cd 0.34. Although the B5 S4 came in a saloon car body style, the B5 RS 4 was only available in the Avant version.
Luggage space, measured according to the industry standard VDA method was 390 litres (13.8 cu ft) with the rear seats in the upright position, and 1,250 litres (44.1 cu ft) with the seats folded flat.
B5 powertrain[edit]
The engine was developed from the 2.7 litre 90° V6 'biturbo' used in the B5 S4. It displaced 2,671 cubic centimetres (163.0 cu in) and had five valves per cylinder. The parts code prefix was 078 and the identification codes were: early version, 2000 (EU2 compliant): ASJ, and later version, 2000-01 (to EU3 standard): AZR. This engine was developed and manufactured in the UK by Cosworth Technology (now known as MAHLE Powertrain). It featured enlarged intake and smaller exhaust ports on the two Cosworth cast aluminium alloy ALSi7mg cylinder heads, two parallelBorgWarner K04-series turbochargers, two larger side-mounted intercoolers (SMICs), dished piston crowns, stronger connecting rods, larger intake ducting, enlarged exhaust system, and a re-calibrated engine management system. The modifications increased the engine's output from 195 kW (265 PS; 261 bhp) and 400 N⋅m (295 lbf⋅ft) of torque in S4 form to 280 kW (381 PS; 375 bhp) at 7,000 rpm and 440 N⋅m (325 lbf⋅ft) at 6,000 rpm. The engine was controlled by a BoschMotronic[4] ME 7.1 electronic engine control unit (ECU), using a Bosch 'E-Gas'[5] electronic drive by wire throttle. It had multipoint sequential fuel injection, a MAF, six individual single-spark coils and NGK longlife spark plugs. The engine oil was cooled by a dual oil:water cooler and an oil:air cooler.
A six-speed manual transmission (parts code prefix: 01E, identification code: FDP) (gear ratios—1st: 3.500, 2nd: 1.889, 3rd: 1.320, 4th: 1.034, 5th: 0.806, 6th: 0.684), cooled by a NACA duct in the engine undertray, and Audi's Torsen-based quattro system, using the Torsen T-1 "automatic torque biasing" (ATB) center differential, with a 50:50 default bias were standard. Final drive ratio was 4.111.
The RS 4 has a curb weight of 1,620 kg (3,571 lb). It can accelerate from 0-100 km/h (62.1 mph) in 4.9 seconds, 0-160 km/h (99.4 mph) in 11.3 seconds, and 0-200 km/h (124.3 mph) in 17.0 seconds. The top speed is electronically limited to 250 km/h (155 mph).[6]
B5 brakes, wheels and tyres[edit]
Brakes were also developed jointly in house by Audi's quattro GmbH, not by Porsche as with its predecessor, the RS2. At the front they were radially vented and floating cast iron discs, 360 mm (14.2 in) diameter and 32 mm (1.26 in) thick, with double-piston floating calipers, and at the rear 312 mm (12.3 in) by 22 mm (0.87 in) discs with a single-piston floating caliper. The RS 4 needed less than 50 metres (160 ft) to come to a full stop from a speed of 110 km/h (68 mph).
The standard wheels were 18 inch alloys (8½×18" "9-spoke"), with 255/35 ZR18 high performance tyres. Optional "winter" alloy wheels were also available, at 18 inch (7½J×18"), with 225/40 R18 92V tyres.
Other B5 notable features[edit]
B7 (Typ 8E, 2006–2008) [edit]
Motor vehicle
Second generation B7 (8E)

Audi RS 4 sedan (B7)

Production
2006–2008
Body style
4-door saloon/sedan,[7]
5-door Avant (estate/wagon),
2-door Cabriolet
Platform
Volkswagen Group B7
Related
Audi B7 A4
Audi B7 S4
SEAT Exeo
Engine
4.2 V8 FSI
Transmission
6-speed Getragmanual[7]
Wheelbase
2,648 mm (104.3 in),[7]
Cabrio: 2,650 mm (104.3 in)
Length
4,589 mm (180.7 in),[7]
Cabrio: 4,555 mm (179.3 in)
Width
1,816 mm (71.5 in),[7]
Cabrio: 1,814 mm (71.4 in)
Height
1,415 mm (55.7 in),[7]
Cabrio: 1,391 mm (54.8 in)
Kerb weight
saloon: 1,650–1,680 kg (3,638–3,704 lb),[7]
Avant: 1,710 kg (3,770 lb),
Cabrio: 1,845 kg (4,068 lb)
Predecessor
Audi B5 RS 4
Successor
Audi B8 RS 4
There was no RS 4 built on the Audi "B6" platform that served as the basis for the Audi A4 between 2001 and 2005. However, after a long hiatus, the second Audi RS 4 quattro[8] (Typ 8E) was built on Audi's "B7" A4 platform, by quattro GmbH[8] in Neckarsulm, Germany. It was unveiled in February 2005 at Audi's 'quattro Night' celebration at the company headquarters in Ingolstadt, Germany.[9]
The RS 4 became available to European customers in mid-2006. It was introduced at the 2006 North American International Auto Show in January, and arrived in June 2006 in North America. The production run of the B7 RS 4 was 2006 to 2008 inclusive, although only 2007 and 2008 model year were sold in the United States. To date, approximately 10,000 B7 RS 4s have been built, of which around 2,000 are in the USA.
The B7 RS 4 Cabriolet was sold in Europe from late 2006 to 2008. It was also available in the US in limited numbers per year and sold at a premium of $2000 over the list.
Audi factory numbers indicate that the B7 RS 4 saloon can accelerate from 0 to 100 km/h (0 to 62 mph) in 4.8 seconds,[7][8] and arrive at 0 to 200 km/h (0 to 124 mph) in 16.6 seconds.[7][8] Most European magazines recorded results in line with the November 2009 comparison of "ultimate sedans" in Road & Track, which recorded a 0 to 60 mph time of 4.5 seconds.[10] This is consistent with the pattern of conservatism that is usually found in Audi's official performance numbers. For the Avant, 0 to 100 km/h (0 to 62 mph) is reached in 4.9 seconds. Top speed for all variants is "officially" electronically limited to 250 km/h (155.3 mph),[7][8] though some owners have reported that the speed limiter is rather "liberal" (which conforms to the pattern of previous Audi "RS" cars), observing top speeds of 270 km/h (168 mph).[11]
B7 bodywork and styling[edit]
Audi RS 4 Cabriolet quattro
The B7 RS 4 is an almost complete departure from previous Audi "RS" cars, as it was initially available as a four-door five-seatsaloon/sedan;[7] with a five-door five-seat Avant (estate/wagon), and two-door four-seat Cabriolet (convertible) versions arriving later. Only the Audi RS6 had taken this similar route (saloon and Avant) before; the previous RS 4 and RS2 were available exclusively as Avants.
Constructed from fully galvanised steel[7] in a monocoque (unitary/unibody) design,[7] the B7 RS 4 uses lightweight aluminium for its front wings (fenders) and bonnet (hood).[8] The saloon version features a drag coefficient (Cd) of 0.31,[7] from a frontal area of 2.17 m2.[7]
Like its B5 predecessor, visually, the B7 RS 4 differs from its related B7 S4, by having even wider flared front and rear wheel arches (fenders),[8] to allow for a wider axle track. Over the B7 A4, it also includes two larger frontal side air intakes[8] (for the two additional side-mounted coolant radiators). The trim on the saloon and roof rails on the estate are chrome as standard but can also be found in black with the addition of the Optic Pack which includes a black front grill, all exterior trim, and black roof rails on the estate version. The B7 RS 4 also includes an optional adaptive headlights to complement the standard "Xenon Plus"[8] (Bi-Xenon) High Intensity Discharge (HID) headlamps, which swivel around corners in conjunction with steering wheel movements. Also standard are daytime running lights (DRLs),[8] found within the main headlamp housings, identical to its related B7 A4 and S4, and use a conventional tungsten filament bulb. An acoustic parking system with front and rear sensors is also a standard fitment.[8] Unique carbon fibre interior trims,[8] along with a lap timer within the central Driver Information System (DIS),[8] aluminium pedal caps and footrest,[8] and RS 4 logos[8] complete the look.
In the saloon, luggage space, measured according to the VDA 'block method',[7] is 460 litres (16.2 cu ft) with the rear seats in the upright position,[7] and 720 to 833 litres (25.4 to 29.4 cu ft) with the seats folded flat[7] (dependent on specification). For the Avant, 442 litres (15.6 cu ft) is available with the seats upright (under the retractable load cover), and 1,354 litres (47.8 cu ft) being available with the rear seats folded flat (loaded to the roofline). Kerb weight of the saloon variant starts at 1,650 kg (3,638 lb)[7] (dependent on specification).
A Bose ten-speaker sound system, with 190 watt output and automatic dynamic noise compensation (which replaces the 'GALA' found on earlier units), with "Concert II" radio and single CD player is standard in car entertainment (ICE) equipment. Factory fitted ICE options to complement the standard BOSE include the "Symphony II"[8] system which features twin radio tuners, a single-slot loading six-CD changer, and a cassette player all integrated into a double-DIN sized unit. Navigation option is the RNS-E "Audi Navigation System plus"[8] DVD-ROM GPS satellite navigation, which includes a folding widescreen 6.5-inch screen, two SD-memory card readers, and MMI-like logic control.
B7 interior safety[edit]
To achieve maximum body stiffness with controlled deformation crumple zones, the B7 RS 4 features laser beam welding of major seams of the high-strength steel body shell, which helps improve overall structural rigidity, particularly in the "passenger cell", over traditional spot welding methods.
Two-stage driver and front-seat passenger frontal airbags are standard,[8] as is Audi's "side guard" head protection curtain airbag system.[8] This latter system completely covers all of the side windows, from the front 'A pillar' to the rear "C-" or "D pillars".[8] The body-hugging Recaro shell-type RS race bucket seats (not available in North American markets), complete with electrically inflatable upper and lower side bolsters and adjustable lumbar support, are constructed so as not to need lower side airbags to comply with European crash safety standards.[8] In North America, the only front seats available are the more traditional Recaro seats (identical to those in the B6 and B7 S4), which include lower side airbags; these were also available as a no-cost option in other markets. Lower side airbags are optional for the standard-fit Recaro rear seats. Front and outer rear seatbelts include pyrotechnic belt pretensioners, whilst all belts include an excess load limit function.
B7 powertrain[edit]
The engine of the B7 RS 4 is based on the existing all-alloy 4.2 L (4,163 cc) V8 from the B6 S4, and shares many parts, and Fuel Stratified Injection, with the 4.2 FSI V8 engine in the Q7. The engine includes new cylinder block construction, and is a highly reworked, high-revving variant (redline at 8,000 rpm; rev limit of 8,250 rpm).[8] The parts code and version is 079.D and the identification code is BNS.
The same engine base was used for the Audi R8 when Audi wanted to build their first supercar. However, the camshaft drive system was moved to the front of the block for the mid-engine R8.
The engine has increased crankcase breathing, a low-pressure fuel return system and a baffled oil sump, to prevent engine lubricant cavitation at high engine speeds and high-G cornering. It has four valves per cylinder (instead of five on the earlier variant) and two overhead camshafts on each cylinder bank (making it "quad cam"), which are driven by roller chains with variable valve timing[12] for both inlet and exhaust camshafts,[7] along with a cast magnesium alloy fixed tract length intake manifold with adjustable tumble flaps (to improve low engine speed combustion). On 98 RON (93 AKI) Super-Unleaded petrol it produces 309 kW (420 PS; 414 bhp) at 7,800 rpm,[7] giving it a specific power output of 74.2 kW (100.9 PS; 99.5 bhp) per litre.[8] Based on a kerb weight of 1,680 kg (3,704 lb), this results in a power-to-weight ratio of 0.184 kW per kg. This engine also produces 430 N⋅m (317 lbf⋅ft) of torque at 5,500 rpm,[7][8] 90 percent of which is available between 2,250 and 7,600 rpm.[8] (Using lower 95 RON (91 AKI) standard unleaded fuel slightly reduces engine output, and therefore performance,[7] and slightly worsens fuel economy). Exhaust gas escapes through two '4-into-2-into-1' fan-branch alloy steel exhaust manifolds and four high-flow metallic sports catalytic converters,[7] into twin oval tail pipes with integral dynamic silencer/muffler valves. The engine is controlled by two BoschDI-Motronic[13] MED 9.1[7] electronic engine control units (working as 'master' and 'slave', because of the high-revving nature of the engine), and uses Bosch 'E-Gas'[14]electronic throttle control (also known as drive by wire), comprising throttle device, accelerator-pedal module, and ECU. The ignition system uses eight individual single-spark coils, using mapped direct ignition,[7] with Bosch single iridium electrode or NGK triple-electrode long-life spark plugs. Ignition timing is monitored with the aid of four knock sensors. The engine complies with the Euro4 European emission standards.[7][8] The saloon version produces 322-329 grams of CO2 per kilometre (g/km),[7] and the Avant starts from 324 g/km.
A 6-speed Getrag manual transmission[7][8] (parts code: 0A3, identification codes: HLD, JMH) is the only transmission available. The gear ratios are 1st: 3.667, 2nd: 2.211, 3rd: 1.520, 4th: 1.133, 5th: 0.919, 6th: 0.778.[7]
The Audi B7 RS 4 was the only "RS" Audi powered by a naturally aspirated engine until the Audi RS5 was presented at the 2010 Geneva Motor Show. The RS5 also uses a 4.2-litre high revving V8. The RS5 also dropped the Getrag 6-speed manual in favour of a 7-speed "S-Tronic"dual clutch automatic.[15]
Quattro[edit]
Another focus of the B7 RS 4 was on the introduction of the latest development of Audi's 'trademark' quattro permanent four-wheel drive system.[7][8] This utilised the 'third generation' asymmetric/dynamic[8]Torsen[7][8] T-3 'automatic torque biasing' (ATB) centre differential, featuring a 'default' 40:60 front-to-rear torque split under normal conditions. Audi stressed that this would result in a more neutral response in corners and a more dynamic driving experience. Also, a more aggressive Torque Bias Ratio (TBR) was used, and set to 4:1, as opposed to 2:1 (and later variants 3:1 TBR) on standard A4.[16] That means that one side of the differential can handle up to 80%, while the other side would have to only handle 20% of applied torque.
Front and rear axle differentials are conventional "open" types, with a final drive ratio of 4.111.[7]
Traction is assisted by way of Audi's "Electronic Differential Lock" (EDL),[7][8] which is a specific function of the Robert Bosch GmbH ESP 8.0 Electronic Stability Programme system. EDL monitors the rotational speeds of the left and right wheels across an individual axle, and if one wheel should rotate faster than the other (exceeding the pre-defined parameters), indicating loss of traction, or "wheel spin" on one wheel, the EDL applies the brakes to that individual spinning wheel,[7] and thus results in transferring torque across the open differential to the wheel on the other side deemed to have grip, hence traction. Also included in the ESP 8.0 is "Anti Slip Regulation" (ASR)—Audi's name for Traction Control System.[8]
The result of all these features is that under normal circumstances (driving straight on dry or even wet road surfaces) the car never loses traction, even when accelerating at full throttle in the first gear.
B7 suspension and steering[edit]
The B7 RS 4 also incorporates Audi's "Dynamic Ride Control" (DRC)[8] "Sports Suspension"[8] mechanism. The dampers (shock absorbers) are made for Audi by KW, and central reservoirs/valves made by KYB (Kayaba).
In the RS 4 suspension, a fluid hydraulic linkage between diagonally opposing front and rear suspension dampers (left front to right rear, and vice versa) is used to counteract vehicle pitch and roll.[8] Lightweight magnesium/aluminium alloy multi-link suspension arms (four arm with virtual steering axis up front,[7] and trapezoidal arm with unequal length track control arms at the rear)[7][8] locate each hub/brake/roadwheel assembly in a controllable fashion, whilst minimising unsprung masses. Lightweight hollow tubular anti-roll bars are standard front and rear.[7] Compared to standard B7 A4 models, the RS 4 features a 30 mm (1.2 in) lower ride height.[8] An optional "Sports Suspension Plus"[8] lowers the car by a further 10 mm (0.4 in), and marginally further stiffens the damper rates.
Axle track has also been increased over standard A4s; the front widened by 37 mm (1.5 in),[8] to 1,559 mm (61.4 in)[7] and the rear by 47 mm (1.9 in)[8] to 1,569 mm (61.8 in).[7]
Speed sensitive "servotronic"[8] variable-assistance electro-hydraulic power assisted steering (PAS) is controlled from a compact flat-bottomed steering wheel, finished in perforated leather with mock-aluminium trim. The steering rack ratio is 13.1:1,[7] and the turning circle is 11.1 metres (36.42 ft).[7]
B7 brakes, wheels and tyres[edit]
The standard brakes[7][8] on the RS 4 are of two-piece construction. The cast-iron discs are cross-drilled and radially ventilated and float on aluminium alloy disc hubs. The two-piece disc construction reduces unsprung mass and also reduces the transmission of heat generated by the brakes to the wheel bearings.
The front discs are 365 mm (14.4 in) in diameter and 34 mm (1.34 in) thick, and use gloss black Brembo monoblock eight-opposed-piston fixed calipers from the Lamborghini Gallardo but with Red/Silver 'RS 4' logos. These and the transmission are supplied with a cooling airflow directed from NACA ducts located in the engine front undertray.
The rear brakes[8] are drilled, vented and floating 324 mm (12.8 in) by 22 mm (0.87 in) iron discs, with gloss black Lucas-Girling TRW single piston floating calipers with an integrated mechanical handbrake mechanism.
A lighter and more performant "Audi ceramic" front brake system was an option from 2007 model year onwards (and only with 19 inch wheels). It comprised cross-drilled, radially vented and floating Carbon fibre-reinforced Silicon Carbide (C/SiC) composite SGL Carbon discs, 380 mm (15.0 in) diameter and 38 mm (1.50 in) thick, with grey Brembo monoblock six-opposed-piston fixed aluminium alloy calipers. The discs have a much greater tolerance to thermal differences, virtually eliminating brake fade, and have a duration of five times greater than conventional iron discs. The ceramic brakes also reduce unsprung mass by around 50% and thereby improve steering response and overall handling.
A specifically 'tuned'[8] "sport-biased" Bosch[17] ESP 8.0[8]Electronic Stability Programme[7] is standard, and includes Anti-lock Braking System (ABS)[7][8] and Electronic Brakeforce Distribution (EBD),[7][8] and Brake Assist (BA). This ESP system has three user-selectable settings: the standard default full protection mode, increased slip mode (which turns off the ASR and EDL), and ESP fully off. A useful feature[8] of the ESP 8.0 is 'disc wiping', whereby in wet weather the ESP system applies the brakes frequently but momentarily. This removes water from the disc and pad surfaces, and helps to maintain the braking performance of dry weather. This operation is undetectable by the driver.
In the UK and Japan, the standard wheels are 19 inch alloy wheels (9Jx19" ET29 "7-arm double spoke") with 255/35 ZR19 96Y XL (eXtraLoad) high performance tyres.[8] This 19" wheel and tyre package was an option for the North American,[8] and some European markets. Factory supplied tyres included Continental SportContact 3, Michelin Pilot Sport PS2, or Pirelli P-Zero Rosso – although many owners have questioned the load-carrying abilities of the Pirellis (from unexplained sidewall failures and dubious dynamic stability), opting for the more durable Michelins at replacement time. A no-cost option of 18 inch alloy wheels (8½Jx18" ET24 "5-spoke design"[7][8]) with 255/40 ZR18 Y XL tyres[7] was also available, and these are standard in North American markets.[8] A winter wheel and tire package was also available as an option, and included 245/40 R18 96VDunlop SP WinterSport 3D tyres.
A direct-acting Tyre Pressure Monitoring System (TPMS) is standard fitment.[8] This system monitors the pressure in all four tyres every three seconds, and when any loss in pressure is detected, audible and visual warnings are given to alert the driver via the Driver Information System (DIS) in a timely manner.[8]
Other B7 notable features[edit]
Other notable features to be found as standard equipment on cars for non-North American markets are the smaller, flat bottomed steering wheel (complete with "Sport" button) again selected from the VAG parts bin from the Lamborghini Gallardo like the brakes, however a standard 'multifunction' steering wheel was a no-cost option, body-hugging Recaro shell-type race bucket seats complete with electrically inflatable upper and lower side bolsters.[8][18]
B7 crash testing[edit]
The North American Insurance Institute for Highway Safety (IIHS) crash-tested the B7 RS 4's sibling, the B7 A4, and awarded it "Double Best Pick" for frontal and side crashes—beating illustrious rivals such as the BMW 3 Series, the Mercedes-Benz C-Class, however at the 2012 session of the SOT (small overlap test ) the A4 was rated Poor, rating applying up to the 2016 MY. ([1]) [19]
B7 awards[edit]
The Audi RS 4 won Top Gear's Most Surprising Car of the Year in 2005. In 2007, the Audi RS 4 was the winner in the "World Performance Car" category of the International World Car of the Year (WCOTY).[20]
B8 (2012–2015) [edit]
| | |
| --- | --- |
| | This section needs expansion. You can help by adding to it. (June 2015) |
Motor vehicle
The Audi RS 4 Avant quattro was unveiled at the 2012 Geneva Motor Show and was based on the B8 A4 Avant.[22] The RS 4 Avant uses the Volkswagen MLB platform, and shares the same powertrain as the RS 5 Coupé.
B8 bodywork and styling[edit]
Compared to the related B8 S4, the RS 4 features larger bumper air dams and features double exhaust tailpipes compared to the S4's double twin (quadruple) exhaust tailpipes. Wider arches allow for a wider axle and wheels. A completely remodelled front bumper cover with honeycomb grill compared to the standard A4 and S4 as well as remodelled rear bumper with honeycomb detailing and minor air diffuser.
The interior is largely the same but the flat-bottom steering wheel is covered entirely in perforated leather with RS badging on the steering wheel and gear stick. The interior dashboard and door liners are also detailed with carbon fibre inserts as standard although there were options to change this to aluminium or piano black.
SuperSport seats covered partly with leather part Alcantara were standard in the B8 RS 4 but as with the B7, there was a winged backed bucket seat option. It was also an option to order the seats covered entirely with leather.
B8 powertrain[edit]
The RS 4 is powered by a 4.2L FSI V8 engine producing 450 PS (450 PS; 444 hp) and 430 N⋅m (317 lbf⋅ft) allowing the car to accelerate from 0–60 mph (0–97 km/h) in 4.7 seconds. The RS 4 Avant is available with a 7-speed dual-clutch S-Tronic transmission.
B8 brakes, wheels and tires[edit]
New for the B8 are 'wavy' vented and floating cast iron discs, 365 mm (14.4 in) diameter and 34 mm (1.34 in) thick, with 6-pot Brembo floating calipers, and at the rear 330 mm (13.0 in) by 22 mm (0.87 in) discs with a single-piston floating calliper.
The standard wheels were 19 inch alloys with 235/40 R19 Pirelli P-Zero performance tyres. Optional 20" rotor design or 10 spoke alloy wheels were also available with 265/35 R20 Pirelli P-Zero tyres.
Other B8 notable features[edit]
Amongst the options available for the B8 RS 4, are ceramic brakes, allowing the car to perform heavy braking without having brake fade.
A sports pack was available which included Sports exhaust identifiable by black exhaust tips in the rear bumper, Dynamic Ride Control (DRC) suspension. The Sports pack also came with the 20" rotor design wheels as standard.
The sports exhaust, DRC suspension setting, steering, engine response, engine mapping, and exhaust note are all adjustable using the 'Drive Select' feature which is a button on either the centre console or through the MMI display interface. Settings that can be selected are Comfort, Auto, Dynamic, or Individual with the Individual setting allowing the driver to select any of comfort, auto, or dynamic for a number of handling and performance options.
A Sound pack was also an option, the main feature being that of the Bang and Olufsen speaker system, uprated from the standard Audi sound system. The Bang & Olufsen system includes 14 speakers and sub-woofers producing 500W.
A total of 7000 units of the Audi B8 RS 4 were built.
RS4 Nogaro Selection Limited Edition[edit]
In February 2014, Audi announced a tribute to the original RS 2 Avant on its 20th anniversary by releasing a limited run of the Nogaro Selection Limited Edition. The changes were entirely cosmetic with black trim and roof rails, red brake callipers and blue Alcantara detailed interior (seats, door lining, blue carbon weave elements & blue stitching) as well as the limited edition Nogaro Blue paint exterior. It retailed at approximately 10% more than the standard model.
Some ~200 were manufactured with approximately 39 in RHD being registered in the UK.
B9 (2017–present) [edit]
| | |
| --- | --- |
| | This section needs expansion. You can help by adding to it. (September 2018) |
Motor vehicle
The new RS 4 Avant was unveiled at the 2017 Frankfurt Motor Show. Noticeable changes to the B9 included a more angular exterior and newly designed wheels. The new RS 4 Avant is powered with a 2.9 TFSI V6 twin-turbo engine producing 450 PS (331 kW; 444 bhp) and 600 N⋅m (443 lbf⋅ft) of torque.
Unlike the B8 RS 4, which had a 7-speed dual-clutch S-Tronic transmission, the new RS 4 Avant is available with an 8-speed 'Tiptronic' automatic transmission.
Motorsport[edit]
Speed World Challenge[edit]
The B7 RS 4 was planned to replace the C5 RS6 in the SCCA Speed World Challenge, but after Champion Racing had prepared the car, it was decided not to compete in the series, due to rule changes imposed by the Sports Car Club of America (SCCA) on Audi concerning 4WD systems, wheels size, and engine power output. Rather than scrapping the fully built Speed World Challenge RS 4, Champion and Audi used the car as a part of the American Le Mans Series Vitesse Program, which highlights the technology link between race cars and conventional series production road cars.[24]
Euro Superstars[edit]
Six RS 4s are openly campaigned in the Superstars Series by Audi Sport Italia. Audi RS 4 Quattro driver Gianni Morbidelli won the 2007 and 2008 championships.
See also[edit]
References[edit]
External links[edit]
| | |
| --- | --- |
| | Wikimedia Commons has media related to Audi RS4. |
Sours: https://en.wikipedia.org/wiki/Audi_RS_4
WOW! 2018 AUDI RS4-R (530hp/690Nm) - BLACKED OUT - WANTFACTOR!! - ABT Sportsline at its best?
I ran it along the stomach, around the nipple. I lay there without opening my eyes. Mila sat down next to me and invited me to spread my legs. On the other side of the village is Jeannette. I was lying on my back, my legs were held by two beautiful women, one of whom I was just crazy about.
Similar news:
My unprecedented erection did not disappear altogether, but it dropped significantly. - SEVEN. I squeaked.
1220
1221
1222
1223
1224