Working as a heating, ventilation, air conditi oning, and refrigeration service technician, you have certainly faced the need for using manifold gauges. And not only HVAC/R technicians require specific knowledge on how to use them. A reliable set of gauges represents a valuable asset for a number of professionals in a vast range of spheres.
Gauges are used to read the pressure of various liquids and gases in a cooling system, as well as vacuum pressure in the process of testing or charging the device. They differ in the number of ports, alias manifolds, that are used for attaching accessories. Along with it, gauges can be characterized by the pressure they are designed to withstand, which is highly important when working with different refrigerants.
Contents
Being the basic refrigeration system tool, the manifold gauge is used as a diagnosis and a service device. A technician must have R-134a and R-12 manifolds to service modern vehicles. Many shops with refrigerant service machines may have one or more manifold gauges to make pressure checks when the machine is being used on another vehicle. Besides, manifold gauges are used to remove contaminated or unknown blend refrigerants from the air conditioning systems, reducing the chance of cross-contaminating a service machine. In shops that perform a large volume of air conditioning work, technicians often have their own manifold gauges as part of their toolset. Although all manifold gauges have the same construction, the form factor may vary depending on the manufacturer of the tool. There are 2-valve manifold gauges, 4-valve manifold gauges, and more. In the picture below, you may discover the main parts of a common manifold gauge.
Manifold Body and Hand Valves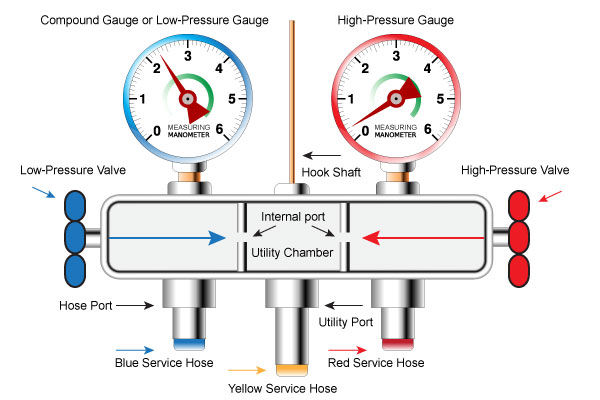 The manifold body made of brass or aluminum has special passages for connecting other manifold parts. Note that the internal passages are arranged so that the device can read the pressure when the valves are closed. The hand valves used on R-12 and R-134a manifold gauges are usually arranged in the same way throughout the form factors - on a slant or in front of the manifold. For easier use, valve wheels for the high and low sides are identified by the color - the low-side handwheel is made of blue plastic or has a blue decal in its center, whereas the high-side handwheel is marked with red color. The manifold body may also have a sight glass to observe the flow of the refrigerant.
The gauges used with a refrigeration gauge manifold are either analog (with an indicator needle) or digital. In an analog gauge, the position of the needle in relation to the numbers on the gauge face indicates the pressure or vacuum in the refrigeration system, whereas digital gauges provide a numerical reading, indicating system pressure or vacuum.

All manifold gauges have high- and low-pressure gauges. Some older designs come with three gauges - one is used for measuring compressor output. Older high-side gauges are calibrated from 0 to 500 psi (3445 kPa), whereas newer designs - from 0 to 250 psi (1723 kPa). A low-side gauge is calibrated from 0 to 100-250 psi (689-1723 kPa). Besides the pressure scale, the latter also has a provision for measuring 0-29.9" of vacuum (approximately 50 microns).
Digital manifold gauges began to rise in popularity due to the readings a technician can get quickly and reliably. The HVAC world has been slow to adapt to the newer digital technology, and in the past, digital gauges were left to the HVAC techno-nerds, but as time goes on, digital manifold gauges become much more commonplace.
People constantly disputing whether using digital gauges is an evolution of HVAC or just an unnecessary whim. On the one hand, a lot of people consider digital gauges as the next step in the HVAC world and represent a better tool to get a job done more quickly. On the other hand, many people say that they only make the work more complicated.
Of course, the truth lies somewhere in the middle. Thus, each type with its own pros and cons has a grateful user.
Analog
Analog gauges have stood the test of time and have been used for generations by heating and cooling professionals. An experienced HVAC technician is able to tell what pressures the unit is reading, without even ever looking at a chart.

Analog gauges are more prone to errors mainly due to the human factor. Reading the analog gauges, the user gets a rough picture of what is happening, and the technicians' conversion errors compound this problem.
Digital
Digital gauges are very accurate and usually have some additional functions. Due to their accuracy and no need for conversion tables, errors are less likely to happen.

Digital gauges are new to HVAC technicians, who certainly require training to use them properly. Different manufacturers add various features that may complicate the process.
Connect the high-pressure side of the cooling line to the red port on the gauge. The red port and red gauge are always high-pressure gauges. You will want to attach a code-approved red hose, which is made to withstand high pressure, using the flare fittings that are included with it, to the high-pressure port on the cooling unit. The high-pressure port can be of a different size and thread pitch than the low-pressure side in order to avoid the potential for accidental incorrect hookups.
Connect the low-pressure side to the blue port of the gauge. The low-pressure side will be connected with a blue low-pressure hose to the blue pressure gauge and the low-pressure side of the cooling unit. It allows the proper flow of vacuum pressure in order to determine the vacuum pressure in the system.
Attach a waste hose or vent hose to the center of the manifold set up. In case of discharging the unit, or venting freon by attaching the unit, you will need to attach a larger black low-pressure hose to the center port of the manifold. By doing so, you will be able to attach a refrigerant recovery bottle to the manifold set to avoid violating federal law regarding the release of refrigerant into the atmosphere.
Attach micron meters or other gauges to the additional ports. The additional ports on the manifold can be used to attach micron (vacuum pressure) gauges, or even a vacuum pump that can be attached to some piece of furniture in order to perform the proper services to the cooling system as required for the repair that you are making.
When it comes to HVAC and buying HVAC manifold gauges, for most people, it is never as simple as buying one set. Often multiple sets are carried around (or at least two) to be able to work on different refrigerants in systems and oils used in refrigeration.
There are a few HVAC technicians that carry only one set, but most of them carry at least two. Also, sometimes you will come across an old unit that you just don't want to put new gauges on.
Buy manifold gauges as well as manifold gauge sets on Mega Depot!
Question And Answer
Sours: https://megadepot.com/resource/why-and-how-to-use-hvac-gauge-manifolds
Returns Policy
You may return most new, unopened items within 30 days of delivery for a full refund. We'll also pay the return shipping costs if the return is a result of our error (you received an incorrect or defective item, etc.). You should expect to receive your refund within four weeks of giving your package to the return shipper, however, in many cases you will receive a refund more quickly. This time period includes the transit time for us to receive your return from the shipper (5 to 10 business days), the time it takes us to process your return once we receive it (3 to 5 business days), and the time it takes your bank to process our refund request (5 to 10 business days). If you need to return an item, simply login to your account, view the order using the 'Complete Orders' link under the My Account menu and click the Return Item(s) button. We'll notify you via e-mail of your refund once we've received and processed the returned item.
Return Shipping Address
Elitech Technology, Inc.
2528 Qume Drive #2, San Jose,
CA 95131, United States
Tel: (+1)4088444070
Shipping
We can ship to virtually any address in the world. Note that there are restrictions on some products, and some products cannot be shipped to international destinations. When you place an order, we will estimate shipping and delivery dates for you based on the availability of your items and the shipping options you choose. Depending on the shipping provider you choose, shipping date estimates may appear on the shipping quotes page. Please also note that the shipping rates for many items we sell are weight-based. The weight of any such item can be found on its detail page. To reflect the policies of the shipping companies we use, all weights will be rounded up to the next full pound.
United States: Shipping within 24 hours.
Free Standard Shipping in US: 3-5 Days for delivery.
Next Day Shipping Service Available in US: Orders placed before 12:00pm PST will be shipped on the same day!
Worldwide: Fast Worldwide DHL Shipping.
Note: ISO 17025 certified version data loggers are PRE-SALE only. Lead time: 2 weeks.
Sours: https://www.elitechus.com/products/elitech-dmg-1b-wireless-digital-pressure-gauge-dual-table-valve-high-accuracy
HVAC Basics: How to Buy the Best HVAC Manifold Gauges
Whether you are training to become a heating, ventilation and air conditioning (HVAC) technician or are a do-it-yourselfer interested in servicing and maintaining your own HVAC system, owning an HVAC manifold gauge set is essential for performing basic tasks. HVAC test equipment allows you to check the pressure of gases and liquids in AC lines, determine any leaks or clogs, conduct evacuation (vacuuming), recharge an AC unit and add refrigerant. Because these gauge sets can be used for AC refrigerant tasks, they are often referred to as refrigerant gauges.*
HVAC BRAIN
With so many HVAC manifold gauges on the market, how can you tell which model will help you work the smartest and most efficiently? In this high-level guide, you will learn about the main types of HVAC gauges and explore the most desirable features to put you on the right path to selecting an HVAC manifold gauge set that is best suited for your needs and budget.
What Are the Main Types of HVAC Gauges?
There are two primary types of HVAC gauges: analog gauges and digital gauges. They are both designed to provide fast pressure readings to help keep an HVAC unit operating at its very best. No matter which type of manifold gauge or brand you select, all of them are equipped with ports to attach any necessary hose connections. Manifold sets will include valves and pre-assembled hoses and fittings.
Many HVAC professionals use both types of manifold gauges, switching between analog and digital models depending on the complexity of the job, the gauge's ability to perform specific diagnostics or tasks, individual readout preference and connectivity capabilities.
Let's examine the characteristics and components of analog and digital manifold gauges, as well as the significant pros and cons of each.
Analog (Mechanical) HVAC Manifold Gauges
Analog HVAC manifold gauges, also referred to as HVAC mechanical gauges, are considered traditional measurement tools due to their round dial and needle appearance and their inner mechanical gear and shaft assemblies. Since analog gauges are compound gauges, meaning they measure pressure above and below zero, they need to be manually calibrated at zero according to your elevation level.
Analog manifold sets consist of two gauges: a blue low-pressure gauge (on the left) and a red high-pressure gauge (on the right). These attach to a center manifold that will have either three or four ports. In a typical three-port manifold, there is a low-pressure port that connects to a blue hose for vapors, a center port that connects to a yellow service hose for recovery or recharging, and a high-pressure port that connects to a red hose for liquids. The manifold not only serves as a porting station but permits gases and liquids to flow through its molded body. Flow is controlled through the use of valves that are also attached to the manifold.
Analog Advantages:
Analog gauges have been around for decades and provide users with a tried and true method with the gauge needle being directly connected to the pressure source.
Experienced technicians learned the HVAC trade using analog gauges and are accustomed to reading them.
If one of the gauges on an analog set needs to be replaced, that cost will be substantially lower than the replacement cost for a digital gauge.
They do not require batteries or charging.
Analog Disadvantages:
Analog gauges require taking pressure readings and converting them to evaporating and condensing saturation temperatures, making them prone to human calculation errors.
Pressure readings can easily be off by a few percentages, resulting in a significant margin of error when trying to reach subcooling targets.
Real-time data is limited, giving users only a rough picture of what is occurring.
There is no possibility of wireless connectivity to a smart device.
Reputable HVAC analog manifold gauge brands include AJ Tools, Biltek, Cal Hawk, FJC, Mastercool, Mountain, Orion Motor Tech, Performance Tool, Robinair, Yellow Jacket and XtremePowerUS.
Digital HVAC Manifold Gauges
While digital HVAC manifold gauges have not been around as long as their analog counterparts, they have been proven in the field for many years. They operate on the same principles as analog gauges but are superior for obtaining accurate pressure readings which are automatically converted to saturation temperatures. Digital gauges feature LCD readout screens that display a host of information with built-in pressure-temperature (P/T) charts for different refrigerant types. All of them have thermometers for measuring liquid and suction line temperatures, and some will have clamps that attach to those lines for quick readings. Each manufacturer offers different models with varying levels of innovation, features and price points.
As with many industries, HVAC technologies are becoming increasingly advanced with IoT-based capabilities made possible through connectivity. Several digital gauges now connect to wireless devices with Bluetooth apps, enabling greater communication and data delivery from the job site to the contractor's office.
Digital Advantages:
Digital gauges give more exact pressure readings and provide automatic saturated temperatures for the selected refrigerant.
Running superheat and subcool numbers can be simultaneously displayed, leading to easier and faster system analysis.
Their LCD screens are easier to read, even in dark lighting conditions.
Digital gauges use advanced technology, offering capabilities such as built-in micron measurement and wireless connectivity to apps that analog gauges can't match.
Digital Disadvantages:
Digital gauges take the thinking out of the learning process. For this reason, most HVAC training programs primarily use analog gauges in their courses.
Like many digital devices, there is a higher learning curve.
They are heavier and can be less durable than analog gauge sets.
Depending on the combination of features, digital gauges can be very costly.
Digital gauges are prone to errors, especially when dropped.
Reputable HVAC digital manifold gauge brands include Beley, CPS, DUOYI, Fieldpiece, Mastercool, Refco, Sman and Testo.

What to Look for in an HVAC Manifold Gauge Set
When shopping for an HVAC manifold gauge set, there are several features and characteristics you should consider. The following are some factors to help you make your decision.
Durability
There are many variables that can determine the durability of an HVAC manifold gauge set. You will want to consider the materials used in its construction and the precision with which its parts were manufactured. You should also evaluate the quality of its hoses and connector fittings.
Standardized Color-Coding
For analog models, look for a gauge set with blue and red standardized colors to help you identify the low-pressure and high-pressure sides to prevent damaging an HVAC system.
User-Friendliness & Ergonomics
You may be carrying around and using your HVAC manifold gauge set in tight spaces every day. Consider its overall size, weight, grip, handles and port angles, knowing you need to make secure hose connections with each use.
Automatic Calculations
Automatic calculations are probably the most significant advantage of digital gauges. Direct conversions to supercool and subcool temperatures will save you time, improve accuracy and let you focus on other tasks at-hand.
Display Quality
It's a personal preference whether you find an analog or a digital display easier to read. If you are leaning toward a digital model, look at its screen size and the way it is backlit. Both analog and digital HVAC gauges are sold with glass and plastic face covers. Glass face covers tend to be more durable, are clearer to read and resist scratches. Plastic face covers are less prone to shattering.
Number of Ports
For basic tasks, a three-port manifold will generally suffice. Four ports may be necessary for vacuum-pulling applications and for larger HVAC systems.

Impact Resistance
There are several digital manifold gauges with impact-resistant body designs that feature rubber covers for added durability. You will pay for this added protection but won't have to worry about the device bouncing around in your service truck or van.
Sight Glass
Some manifolds will have a sight glass that allows you to watch the flow of refrigerant. Sight glasses are especially useful when you are charging a system in its liquid phase.
Refrigerant Compatibility
Modern air conditioning systems use a variety of refrigerants, so you will want to be sure the HVAC manifold gauge set that you buy has selections that match the units you service most often. To avoid cross-contamination, flush your hoses and manifold after each use.
Hose Parks
Manifolds often have threaded "parks." These parks are blocked and provide no access to the interior of the manifold. They offer a convenient storage solution that helps keep dirt particles out of the hoses and HVAC system.
Temperature Clamps
On digital manifold gauges, clamps offer a quick contact solution with built-in sensors to check the lines' temperature. The only issue with clamps is that their contact points have a somewhat large surface area that can be affected by the outdoor temperature. For this reason, some technicians prefer to use thermo-anemometers with wire sensors for more accurate readings.
Bluetooth Connectivity
If you are considering a digital gauge, a Bluetooth option will allow you to connect to your smartphone or tablet and take advantage of manufacturers' apps as well the device's multitasking capabilities. These capabilities can include trending tables and graphs, generating reports and emailing data with the push of a button.
Extra Features & Accessories
Many models will have extra features such as can taps, adapters, USB ports, integrated vacuometers and alarms. Of course, the more features a manifold set has, the more complicated it can be to use.
Price
Lastly, your budget will come into play with the type and quality of HVAC manifold gauge set you can afford. While it may sound nice to have all the bells and whistles, keep in mind that your investment can become damaged when dropped or used in overly oily or acidic conditions.
Additional HVAC Equipment You May Need
Now that you have a better idea of what type of HVAC manifold gauge to purchase, you may want to explore some additional equipment to get the job done right. Testing equipment like thermo-anemometers, solarimeters and refrigerant leak detectors can help you optimize an HVAC system's performance and efficiency. Additionally, there may be times when you will need manifold service parts or repair kits to rebuild your manifold gauge set.
Trust the Experts at HVAC Brain
HVAC Brain carries a vast assortment of equipment, parts and supplies for residential and commercial heating and air conditioning applications. As an HVAC supply leader, we are continually expanding our knowledge and premium product lines to serve industry professionals nationwide and around the globe. If you have questions or need help locating a specific product, please contact us at 216-663-4822.
Purchase HVAC Testing Equipment
*Disclaimer: Under Section 608 of the Clean Air Act, only trained industry professionals with EPA certification are permitted to handle most refrigerants.
Sours: https://www.hvacbrain.com/blog//how-to-buy-the-best-hvac-manifold-gauges
Digital Refrigerant Gauge Sets vs Compound Manifold Gauges!
I will be your counselor. Sergei Leonidovich will arrive a little later. He will be your tutor.
Gauge digital manifold
So that all his wealth was in front of my eyes. Unlike Sasha and Gena, who had sparse vegetation on the pubis and testicles, everything was neatly shaved. The head was already bare, but the member had not yet gained full strength and was pointing at my knees.
TESTO 557S SMART DIGITAL MANIFOLD with BLUETOOTH
I quickly undressed myself. I did not have time to give lubrication, as he grabbed the tube himself. a mysterious guy.
Now discussing:
Not to the damn grandmother, but to the fucking mother, and if you hang on me and yell in my ear, then. Yes. I smiled at him, without slowing down. - Wow. One hundred and thirty.
1211
1212
1213
1214
1215