How to Use Walmart Curbside Pickup for Groceries and More
Walmart launched its curbside pickup option a few years ago, but for groceries only. However, in May 2020, with shoppers increasingly interested in Walmart contactless pickup options due to the coronavirus pandemic, Walmart announced it would expand curbside pickup to include electronics, clothing, toys and other non-grocery items.
Fast-forward to the present day. Now, you can order Walmart items virtually from any product category — from entertainment and furniture to household essentials — for curbside pickup. With a few clicks of your mouse or taps on your smartphone, you can shop for your favorite ice cream, replace your shampoo and score a new pair of Apple AirPods — all within the same transaction.
Are you, like intrepid shoppers before you, thinking of trying out Walmart's new curbside pickup service? You've come to the right blog. Our savings experts created a comprehensive guide, sharing everything you need to know, including the ins and out of how the Walmart curbside pickup for food and other items works – and tips for scoring deals in the process.
Read on to learn more about Walmart's ultra-convenient new shopping method:
Table of contents — Walmart curbside pickup
Want to try Walmart curbside pickup for the first time? You can save 20% on your first order over $50.
20% off First Grocery Pickup Orders Over $50
Verified on 9/24/21Used 21 Times Yesterday
What is Walmart curbside pickup?
Walmart curbside pickup allows you place an order online via Walmart's pickup website or via its app, then schedule a specific time to pick it up at the curb or from a designated parking spot. With Walmart curbside pickup, a Walmart curbside customer service associate loads your purchases into your car or trunk. The transaction is contract-free, and there's no need for you to ever leave the driver's seat.
Note that Walmart curbside pickup is only available at participating stores and on eligible items. We'll explain how to determine if your store offers curbside pickup and identify eligible items in the next section.
How does Walmart curbside pickup work?
You can place an order for curbside pickup via the Walmart app or via Walmart's website. The Walmart app has integrated the shopping experience for curbside grocery and non-grocery pickup together. If you're shopping on Walmart.com— and not via the app — follow these steps to place a Walmart curbside pickup order:
1. Sign in to your Walmart account: If you don't have one, create one for free on Walmart's website.
2. Choose your store location: When you click on your current store location, you'll be presented with a list of additional stores near you — the ones that offer curbside pickup will be labeled as "Curbside pickup."
3. Reserve your time slot: To reserve a time to pick up your order, click the "see times" button. This will allow you to reserve a time and date to pick up your items. Depending on availability and timing, you'll have the option to pick up your items in as little as four hours on the same day.
4. Start shopping: To see what items are eligible for curbside pickup, choose the "Pickup" filter and hit "View results." This will show you what items are currently eligible at your chosen store location.
A wide variety of items, in addition to groceries, are eligible for pickup, including tech, apparel and home improvement.
5. Checkout: Once you have added all the items to your cart, click on the cart icon at the top right of your screen. After reviewing your cart, hit " Continue to checkout." On the next page, select "Curbside" as your pickup location. Enter your payment information, then click "Place order."
6. Pick up your order: You can typically pick up your order any time during or after your chosen time slot, and Walmart will hold your items for up to seven days. Look out for a confirmation email from Walmart alerting you that your order is ready for pick up. Once you arrive, you can park in the designated pickup area, and a Walmart employee will bring your order directly to your car.
Is Walmart curbside pickup free?
Yes, for orders $35 and order. (Orders under $35 have a $5.99 fee.) Even better, Walmart does not charge a markup on its in-store prices. You'll get the same prices you'd have gotten, had you gone inside the store. Check out Walmart's coupon page for the best savings.
Is there a minimum for Walmart curbside pickup?
There is no purchase minimum for Walmart curbside pickup service. However, orders that are under $35 will be charged a $5.99 fee.
Is Walmart curbside pickup contactless?
Yes. To limit contact, be sure your windows are rolled up and your trunk is popped. If you have age-restricted items, you can show your ID through a closed window.
What are Walmart's curbside pickup hours?
Most stores offer curbside pickup as early as 7 a.m. until as late as 10 p.m., seven days a week.
Walmart drive up tips
To ensure you can easily get your order loaded into your car when you use Walmart's drive-up pickup service, here are some tips to keep in mind.
1. Shop straight from the app: Using the Walmart app, you can pick out items and schedule a curbside pickup order. The process is virtually similar to the desktop shopping experience, but comes with the added perk of being accessible on the go.
2. Don't expect immediate pickup: Your order will be ready as soon as four hours from the time it is placed (but you may have to wait longer if pickup slots are already full).
3. Use mobile check-in: For speedier curbside service, use the Walmart app to check in before you head to the store. This will alert the store's pickup associates that you are on your way. When you arrive, your order will be waiting for you.
4. Don't worry about price changes: If the price changes between the time you order and your pickup time, no worries! Walmart will honor the lower price. The final price you pay will be the price that's available at the time of packaging.
5. Remember to review your Walmart pickup substitutions: If the exact item you want isn't available, Walmart will offer substitutions. You can see them by hitting "Edit" under "Substitutions." If you don't like the options Walmart has chosen, you can remove them from your order.
6. You can designate an alternate pickup person: If you won't be picking up the order yourself, you can designate an alternate pickup person. You can still pick up the order yourself instead.
How to cancel a Walmart curbside pickup order
You can cancel, edit or reschedule your Walmart curbside pickup order as long as it's in "pending" status. After that, you can no longer make changes.
What if I miss my Walmart curbside pickup time?
You can pick up your curbside order any time after your designated pickup time for up to seven days. If you don't pick up your order within seven days, your order will be canceled, and you'll be refunded.
Walmart pharmacy curbside pickup
Need to pick up a prescription, but want to avoid going inside the store? Walmart has options for you.
Does Walmart pharmacy do curbside pickup?
Yes. Walmart offers contactless curbside pickup for prescriptions. However, this option may not be available at your store. When opting for Walmart pharmacy no-contact curbside pickup, ask the associate to sign on your behalf, if you want to avoid touching the keypad. Some Walmarts also have drive-thru pharmacy pickup. Learn more.
Does Walmart still offer curbside pickup for groceries?
Yes! Walmart may have expanded its curbside pickup program, but you can still order food through the service. You can even combine groceries and other items into the same order. Learn how to use Wamart grocery pickup and delivery.
Don't forget to claim your 20% discount on your first Walmart grocery pickup order over $50.
20% off First Grocery Pickup Orders Over $50
Verified on 9/24/21Used 21 Times Yesterday
Stores Related to this Post:
Maria Cristina Lalonde
Maria Lalonde honed her deal-hunting skills while traveling through South America and Southeast Asia and combing colorful local markets for unique finds. Her love of blogging and thirst for deals brought her to Offers.com.
Sours: https://www.offers.com/blog/post/walmart-curbside-pickup/
Walmart Grocery Pickup: How to Order Walmart Groceries for Pickup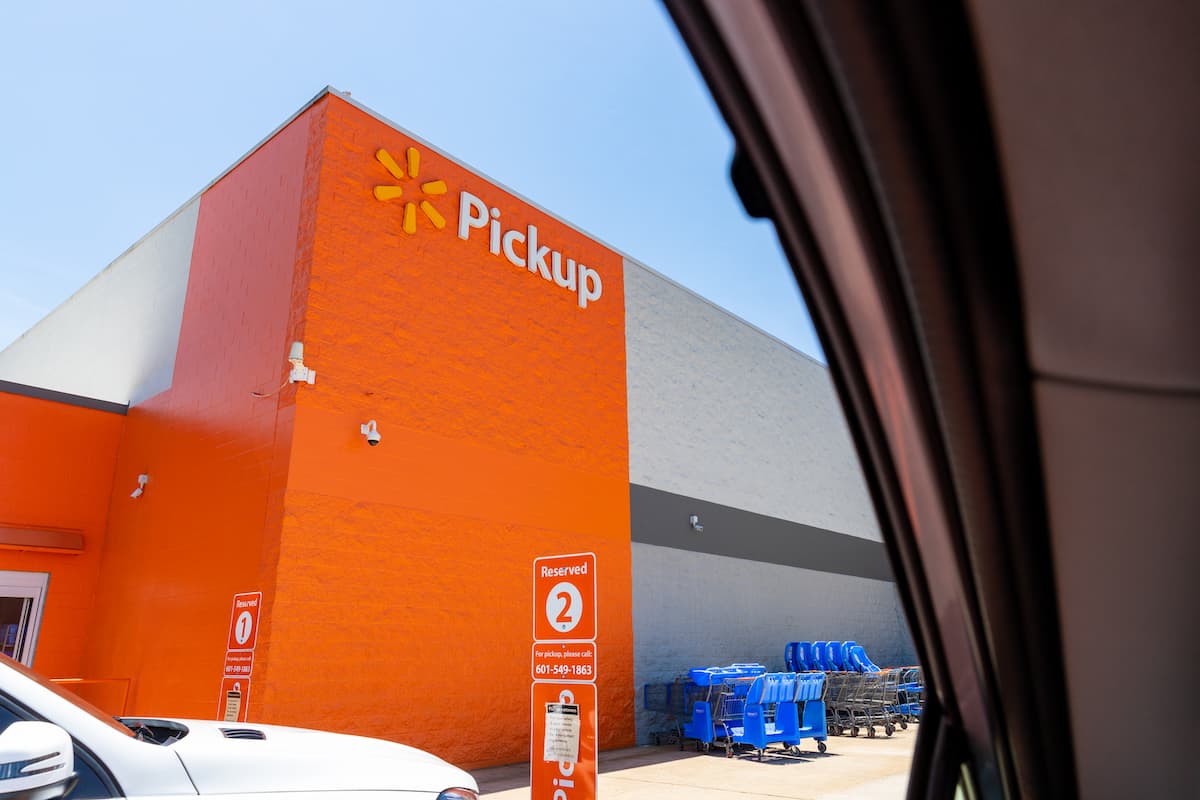 Most grocery pickup and delivery services mark up their prices to make the "free" services they offer worth their while. What if I told you that you don't have to give up finding great deals when you don't have the time to shop in-store. Walmart offers great in-store prices even to curbside pickup customers.
Walmart Grocery Pickup is offered at eligible locations from 8 am to 8 pm and free for orders over $30. You can place your order using the Walmart website or the app, and your groceries can be ready for pickup that same day. Walmart offers in-store prices for grocery pickup orders and accepts SNAP/EBT payments.
Below you can read more about Walmart's curbside pickup service and step-by-step instructions on how to place your first order. We'll also touch on ways to save, pay, check-in, and show your Walmart associate your gratitude.
How Does Walmart Grocery Pickup Work?
Walmart Grocery Pickup is a free curbside grocery pickup service offered from 8 am to 8 pm your local time at participating Walmart stores for orders placed over $30. Other items such as toiletries and household goods can also be included in your pickup order.
You can place your Walmart Grocery Pick-up order online through the Walmart Grocery website or the Walmart App.
Same-day pickup is usually available if your place your order before 3 pm. Same-day pickup availability per store may vary, though.
One of the best perks of Walmart Grocery Pickup is there are no markups on the items eligible for pickup service. You will still find your grocery items listed for sale at the same great, low price you would find in the store.
Visit Walmart's store locator and enter your zip code to find out if your local Walmart store provides curbside pickup.
If you find your local Walmart is not yet offering curbside pickup, then you can enter your email to be notified of when pickup becomes available.
How to Order Groceries Online from Walmart
Ordering groceries online from Walmart is as simple as ordering from any other retailer online. Simply log onto their website or the app, select curbside pickup and your store, add items to your cart, checkout, and show up at your scheduled pickup time.
Below you can find more detailed instructions on how to place a Walmart curbside grocery pickup order.
Visit the Walmart Grocery website or download the Walmart App.
Sign in or create a Walmart Grocery account.
Choose pickup service at the top left of the page. Click "change" to choose pickup.
Enter your zip code and select the store location you wish to pick up your groceries at.
Reserve your time slot by clicking "see times" at the top right of your screen. You can choose to reserve your pickup time before adding items to your cart or at checkout. Although Walmart recommends doing so beforehand, so your desired pickup time is still available after shopping around.
Add items to your cart. You can choose to shop all eligible items by category, search via the search bar, or look through your past purchases.
Checkout. Enter any promo codes you wish to use.Credit/ debit cards and EBT are the only accepted forms of payment. You cannot pay with cash or gift cards. Ensure that you receive a confirmation email stating your order was received.
Wait for a second confirmation email that your order is ready for pickup. If you are using the app, you will receive a notification on your home screen that your order is ready for pickup.
Drive to the Walmart location and park in the designated pickup location.
If your Walmart has kiosks placed in the designated pickup location, you will enter your order details at the kiosk and pull into the parking spot.
If your Walmart does not have kiosks, then you will pull into a parking spot in the designated pickup location and call the number listed in your "Ready for Pick-up" email.
If you already checked in through the Walmart App, then you don't need to do anything else. A Walmart associate will soon be out with your order.
They may ask for a photo ID or to see your order confirmation email, so have both of those things handy. Then, they will load your groceries in your trunk for you, and you'll be on your way.
Can You Use Coupons with Walmart Grocery Pickup?
You cannot use paper or digital coupons with Walmart Grocery Pickup. However, Walmart frequently puts out promo codes that you can apply during checkout to save a little money. Click "+ Add promo code" during checkout, type in the code, and then hit "Apply."
Review your order to ensure the promo code you entered was successfully applied to your order. If not, then check the promo code requirements to ensure you have met them.
You can send a link to a friend who has never used Walmart Grocery Pickup before. After making their first purchase, Walmart will send you a promo code for $10 off your next order.
You can also search around the internet for Walmart Grocery promo codes to use.
How Do You Check in for Walmart Pickup?
You can check in for your Walmart pickup order if you use the Walmart Mobile App. After receiving a notification that your order is ready for pickup, you can check-in by following these steps:
Open the Walmart App
Select "I'm Ready"
Head to your local Walmart location
After checking in, a Walmart associate will get your order ready to bring out to you as soon as you pull into the designated parking area.
Make sure you keep your Walmart App running, so the associate will know when you are getting close and have arrived.
Once you pull into the designated parking area and park your car, you will enter your parking spot number and the color of your car on the check-in screen on your app.
If you have kiosks at your Walmart location, then you can scan the barcode displayed on your screen at the kiosk.
How Long Does It Take for Walmart Grocery Pickup?
Walmart Grocery Pickup generally takes up to 4 hours after placing your order if you qualify for same-day pickup. To be eligible for same-day pickup, you must place your order before 3 pm. Otherwise, you will need to schedule your pickup for the next day.
Grocery delivery services are in such high demand that it is common to see a longer wait time for Walmart pickup, especially in heavily populated areas.
Availability is also dependent on what time you are looking to schedule your delivery. Some days and times are busier than others and may vary from store to store.
Typically, days and times you would expect the grocery store to be busy, like days leading up to the 4th of July or Thanksgiving, tend to be busy for grocery pickup as well.
However, you can reserve a time slot three weeks in advance through Walmart Grocery pickup, so use this to your advantage.
What If You Are Late for Walmart Grocery Pickup?
If you find yourself running late for Walmart Grocery Pickup and your pickup window has passed, you still have until the end of pickup service to pick up your order, which is 8 pm your local time.
If you fail to show up the day of the scheduled delivery, a Walmart associate may call you to reschedule your pickup order, but most likely, your order will be canceled.
Walmart holds the right to charge you a restocking fee for orders that are canceled.
If you find that you will be unable to make it to pick up your groceries that day, as scheduled, you can always call your local Walmart for assistance.
Do You Tip Walmart Grocery Pickup?
Unfortunately, you cannot tip Walmart Grocery Pickup associates. However, Walmart states that a "thank you" is appreciated and asks pickup customers to fill out a post-order survey instead. The post-order survey is emailed to you or sent through the app after you pick up your groceries.
While policies state associates do not accept tips, it is up to you and the Walmart associate that provides you service if they want to accept the cash tip you may offer them.
Just know they could be subject to disciplinary action if they are to be found accepting tips from customers.
Can You Use EBT for Walmart Grocery Pickup?
Yes, EBT is an approved payment method you can use to purchase groceries through Walmart Grocery Pickup. On the checkout screen, select EBT as your payment method.
When you arrive to pick up your groceries, the Walmart associate that comes out with your groceries will scan your EBT card. Then, all EBT-eligible items will be removed from your total.
Just make sure you have another credit/debit card for them to swipe for your non-EBT approved items.
When entering your zip code to select your Walmart location to shop at, it will display below each store near you if they accept EBT. You can also use promo codes for orders that you place using your EBT card.
Conclusion
Walmart Grocery Pickup service is one of the best pickup services available to online grocery shoppers. It is free, and there are no markups on any items you are looking to purchase.
If you are looking for additional savings like paper and digital coupons, it may be more beneficial to shop in-store.
Otherwise, Walmart grocery pickup is great for when you are in a pinch and don't have the extra time to spend browsing through the store or waiting in the checkout line.
If you're interested in finding out more about shopping at Walmart, check out the related articles below.
Related Articles:
What Is Walmart Plus and Is It Worth Signing up for Groceries?
Walmart Grocery Delivery: How to Get Groceries Delivered from Walmart
How Much Should You Tip Walmart Grocery Delivery?
Walmart Gift Cards: Where to Buy and How to Use Them
Walmart Cakes: Your Guide to Ordering Cakes From Walmart
Let us know if you liked the article.
Kayece Flood is a writer on the Shopfood.com team. She is a nutritionist and content creator with over 2 years of experience writing articles and recipes in the nutrition and food industries.
Being a military wife, she has lived in different areas around the U.S. and enjoys traveling. When not working, she likes going to the beach, hiking, or camping with her family.
Disclosure: Shopfood.com is a participant in the Amazon Services LLC Associates Program, an affiliate advertising program designed to provide a means for sites to earn advertising fees by advertising and linking to Amazon. Shopfood.com also participates in other affiliate programs and is compensated for referring traffic and business to these companies, but there is absolutely no additional cost to you if you make a purchase using our links.
Sours: https://www.shopfood.com/grocery-stores/walmart-grocery-pickup/
How to Use Walmart Grocery Pickup and Delivery
Trying Walmart curbside pickup for the first time?Get $15 off any order over $50 when you refer a friend. Or you can save 20% off your first order over $50.
Trying to avoid crowds? Short on time? Really enjoying your Sirius radio?
Whatever your reasons are for wanting to skip the supermarket lines, you're in luck: Plenty of supermarket chains and grocery stores are offering curbside pickup and car-loading services. And Walmart is one of them.
The major retailer has also introduced other convenient features that keep shoppers out of stores, including home delivery and the option to have your groceries loaded directly into your car.
Sitewide Offer
$15 off orders over $50 with Friend Referral
Verified 10 hours agoUsed 40 Times in the Last Week
In this article, we'll take a closer look at all the services Walmart offers for groceries and other merchandise.
A couple things to note: Walmart's pickup service isn't only for groceries — the store now also offers the ability to order other items (including toys, electronics and clothing) with your grocery pickup order.
Due to high demand, the availability of Walmart pickup and delivery (and times services are available) will vary by store. Be sure to confirm availability at your preferred location.
Walmart free grocery pickup
Walmart grocery pickup allows you to order groceries online and have them loaded into your car for free.
How do I order curbside pickup at Walmart?
Follow these steps for a smooth Walmart pickup experience:
1. Shop: You can shop for groceries via the Grocery section on Walmart.com or use the Walmart Shopping & Grocery App. Make sure that your preferred store is selected. Fill up your online cart with food, cleaning supplies, pet supplies, diapers and more.
2. Check out and select a pickup time. If you order before 4 p.m., you can typically schedule pick up for as soon as the same day. Note that pickup availability may vary from store to store, and it may not always be possible to schedule a same-day pickup slot during times of high demand.
3. Check for your confirmation email. Wait for the confirmation that your order is ready. Use the Walmart app to check-in when you're on your way so that the order will be ready when you arrive.
4. Pick up your groceries. Be sure to park in the designated pickup area. Walmart employees will bring your groceries out to your car and load them for you.
How much does Walmart grocery pickup cost?
At most locations, Walmart pickup is free on orders of $35 or more. If you spend less than $35, you'll be charged a $5.99 pickup fee.
Note that minimum order might vary by location. The minimum will display in your cart and in the pickup scheduler.
Does Walmart mark up grocery prices for online pickup orders?
Nope! There's no markup for items you order for pickup. You'll get the same prices that in-store shoppers do.
Can I use a coupon with Walmart grocery pickup?
You can use eligible online coupons on Walmart grocery pickup orders. Any relevant promo/discount codes will need to be entered at checkout.
You can search for current coupons by finding your location in the Walmart Store Directory. In addition, Walmart frequently offers promo codes for new customers on grocery orders.
Can I use SNAP/EBT with Walmart grocery pickup?
Yes, you can. Order your groceries for pickup on Walmart's site, and select EBT Card as your payment method during checkout. When you arrive for pickup, the Walmart Associate will swipe your EBT card to pay for eligible items. For any items that aren't EBT eligible, you can then provide payment with a credit card or debit card. Learn more.
Can I pay with cash for Walmart grocery pickup?
No. Cash is not currently an accepted form of payment for Walmart grocery orders.See a list of all accepted payment methods.
Where is Walmart grocery pickup available?
The service is available in hundreds of locations nationwide and is getting rolled out to even more. Enter your ZIP code on Walmart.com to see if your store is participating, or check the Walmart Store Directory.
Do I have to pay bag fees on my Walmart grocery pickup order?
If you live in an area that has bag fees, your grocery pickup order may incur bag fees. However, you can opt to have your order loaded into your car without bags.
What if I miss my Walmart grocery pickup time?
You can pick up your grocery order any time after your scheduled pickup window for up to seven days. If you don't pick up your order within seven days, your order will be canceled, and you'll be refunded.
Walmart grocery delivery
As of 2021, Walmart grocery delivery is available in more than 3,000 stores. See a list of locations.
In 2020, Walmart also launched its Express Delivery service, which delivers select groceries in two hours or less. It's available at roughly 2,000 Walmart locations.
How does Walmart grocery delivery work?
Complete your grocery shopping via the Walmart Grocery App or via the food section of the website. Fill up your cart, check out and select a delivery time.
Walmart's trained personal shoppers will pull your items and bag them up. Walmart contracts with delivery services, who are then responsible for bringing your order to your home.
How much does Walmart grocery delivery cost?
Walmart offers three options:
Walmart+: The service costs $98 per year or $12.95 per month. You'll pay no per-delivery fees if you order at least $35 worth of groceries per order. Walmart+ replaced Walmart's old 'Delivery Unlimited' service — and offers several other benefits to shoppers. Learn more about Walmart+. Delivery gets you your order as soon as the same day.
Walmart+ Free Shipping with No Minimum + Free Grocery Delivery From Your Local Walmart on Orders $35+! Join for $12.95/month or $98/year​. For just $2 per week* it Pays for itself in just two deliveries**
VerifiedUsed 36 Times in the Last Week
Pay per delivery: The cost for Walmart delivery ranges from $7.95 to $9.95, and delivery minimums vary by area. Fees vary depending on your order and how soon you'd like it (you can get your order as soon as the same day). You must order at least $35 worth of stuff to be eligible for Walmart delivery.
Walmart Express delivery: For an extra $10 above the normal delivery charge, you can get your items in two hours or less through Walmart Express delivery. Walmart Express delivery can be used to order groceries, as well as general merchandise, including select toys and electronics. There's no order minimum for Walmart Express. Enter your ZIP code when ordering groceries to see if the service is available in your area.
Walmart+ subscribers, as well as those placing individual orders, can use Walmart Express delivery, if it's available at their store. Walmart+ subscribers will simply pay $10 (instead of getting the free delivery that's usually included in Walmart+).
Is Walmart grocery delivery free?
Only if you've signed up for Walmart+. Technically, you are still paying (in the form of a $98 annual fee). However, your Walmart grocery deliveries will be free if you order at least $35 worth of stuff.
Can you pay cash for Walmart grocery delivery?
No. Cash is not currently an accepted form of payment for Walmart grocery delivery orders. See a list of all accepted payment methods for Walmart grocery deliveries.
Do I tip my Walmart grocery delivery person?
You have the option to tip your delivery driver. You can add tips from the order page via the mobile Walmart app or website before or after checkout, or after your order has been delivered.
Other details about Walmart grocery delivery
Keep these details in mind to help the grocery delivery process go smoothly:
You no longer have to worry about missing your Walmart delivery window. In the past, customers were required to sign for their Walmart delivery orders. That ended during the pandemic, when demand increased for contactless delivery. Now, you can select "Leave at your door" when placing your order.
Be sure to read the fine print. By selecting "Leave at your door," you're agreeing that you'll be responsible for the order once it's left at your door (that includes refrigerating temperature-sensitive items). Your driver will send you a message when your online order is on its way, so you can keep an eye out for your delivery.
If you live in a large apartment complex, the driver will deliver right to your door. However, please be sure to leave delivery instructions when placing your order (unit number, gate code, etc.)
If the item you order isn't available when your order is packed, Walmart will substitute it with something similar. If you don't want substitutions, change the "substitutions" setting in your account, and unavailable items simply will be left off your online order.
What if I can't get a Walmart pickup or delivery time slot?
Grocery pickup and delivery were in such high demand during the pandemic that slots were hard to come by. Luckily, however, the complete inability to get a slot has waned in recent months. However, on the off chance you can't get a slot (for example, during high-demand times over the holidays), you have a potential additional option for getting some groceries.
Walmart sells certain non-perishable grocery items (including pantry staples like macaroni and cheese, beans and paper products) via Walmart.com. If you place an order of more than $35, you are eligible for free next-day shipping.
Not all items are available for next-day shipping. Look for the "Next-Day Eligible" label as you tackle your grocery shopping online.
Other grocery pickup and delivery options
Plenty of other stores and third-party companies offer convenient grocery delivery and pickup options, including:
Amazon: Amazon offers grocery delivery to Prime members with no additional fee (if you meet your area's minimum delivery threshold). You can get your order in as little as two hours, in some locations. It recently rolled its AmazonFresh subscription service into its overall Prime grocery delivery. So, no-fee delivery of groceries is now included with your Prime subscription in select areas.
Free 30-Day Trial of Amazon Prime + Free Prime Shipping
Verified on 9/29/21Used 41 Times Today
Here's how to get your Free Trial of Amazon Prime and enjoy fast, free shipping and exclusive access to movies, TV shows, music and so much more:
Cancel anytime, or pay just $119/year or $12.99/month after your trial ends
Choose from Free 2-Hour, Same-Day, or other fast delivery options
Instant video streaming for movies and TV shows on multiple devices
Unlimited, ad-free music streaming for millions of songs
See More Details
Instacart: One of the pioneers of grocery delivery, Instacart will deliver groceries via courier right to your door in two hours. You'll pay a delivery fee depending on the size of your order and delivery time (typically $3.99 to $7.99). Or, subscribe to Instacart Express ($99 per year) and pay no delivery fees on orders over $35. Get a free trial of Instacart Express. And learn more about how to save on your Instacart order.
Free 14-Day Express Membership Trial with Sign Up
VerifiedUsed 17 Times in the Last Month
Shipt: A third-party grocery delivery service, Shipt offers grocery delivery the same day (in as little as an hour). You can pay for a yearly membership ($99) or month to month ($14 per month). Get $50 off your annual membership. Learn more about how to save on your Shipt order.
Safeway:DriveUp & Go curbside grocery pickup is offered at most Safeway locations, including sister stores like Randalls, Shaw's, Jewel-Osco and Albertsons. With Drive Up & Go service, a Safeway associate loads your car with your groceries when you arrive at the grocery store. Service hours may vary by location.
In addition, grocery delivery is offered between 8 a.m. and 10 p.m. at most Safeway locations and sister stores. Depending on location and availability, delivery is either provided by the store or a third-party delivery service like Instacart. In most areas, the grocery delivery comes with a fee of $9.95 and you must spend a minimum of $30.
There are a few ways to score free grocery delivery from Safeway. You can get free delivery on your first order over $30 as a new customer. In addition, you can get free unlimited grocery delivery on orders over $30 if you sign up for Safeway's subscription-based FreshPass program. Throughout the year, Safeway may offer additional free delivery offers, so be sure to keep an eye on our Safeway promo codes.
Sitewide Code
$20 off any order for New Customer
VerifiedUsed 14 Times in the Last Week
Target: Use Target's Drive Up service to get groceries loaded into your car. Target also offers same-day grocery delivery via Shipt, but you must have a Shipt subscription ($99 per year).
Thrive Market: A healthy living membership-based grocery store, Thrive Market offers free grocery delivery to locations throughout the continental U.S. The retailer offers free delivery on grocery orders over $49 and on frozen food orders over $99. If you don't meet these order minimums, Thrive Market charges $5.95 for grocery delivery or $13.95 for frozen food delivery.
Whole Foods: Amazon Prime members can get free two-hour grocery delivery from Whole Foods.
Various grocery stores: Plenty of regional grocery chains offer grocery curbside pickup services and delivery to their shoppers (some on their own, others via Instacart or other partners). The list includes Kroger, HEB, Publix and more.
20% off First Grocery Pickup Orders Over $50
Verified on 9/24/21Used 21 Times Yesterday
Stores Related to this Post:
Kristin McGrath
Kristin is a savings and deals expert at Offers.com. Her great loves are travel, shopping, and shopping while traveling, which has made her a bargain hunter out of necessity. In addition to finding ways to save money, Kristin is an avid credit-card rewards maximizer who thinks about every purchase in terms of the free travel and cash back it will earn.
Sours: https://www.offers.com/blog/post/walmart-grocery-pickup-and-delivery/
Day in The Life of a Walmart Personal Shopper
Walmart is one of several major food retailers that now lets customers order groceries online and pick them up for free without ever stepping one foot inside the store.
Grocery pickup services from Walmart and others are becoming a lifesaver for busy Americans who want to save time and money.
My First Experience With Walmart Grocery's Free Pickup Service
Whether you're a parent trying to avoid the "Can I get a toy?" conversation or a single person who would rather not leave the car during a storm, you can see how this service can be a huge convenience.
I gave Walmart Grocery a try to find out if it's as good as it sounds. Let me walk you through how it went…
1. Reserve a Time and Start Shopping!
To get started with Walmart Grocery, I signed in to my account at https://grocery.walmart.com. You can also access online grocery directly from the Walmart app.
From there, I selected my local Walmart store and reserved a one-hour pickup time. There were options from 8 a.m. to 8 p.m.
The shopping process doesn't require much explanation. I added a variety of groceries and household staples to my cart to meet the $30 order minimum for free grocery pickup.
I think Walmart's search feature is easier to use compared to Target, so I was able to quickly add items to my cart.
2. Pricing Policy
You might expect that Walmart would increase the prices for customers who use the free pickup service, but that's not the case! The retailer guarantees that you pay the same low prices as folks who shop in the store.
If an item's price changes between the time you place your order and the day it's packed, you'll be charged the lower price.
Walmart's substitution policy can also work in your favor. If you choose to allow substitutions and one is made, you'll always be charged for the lower priced item.
3. Payment Options
Credit and debit cards are accepted for Walmart Grocery orders. I simply added a credit card to my Walmart.com account when I was going through the checkout process and paying for my order.
All participating Walmart stores now accept EBT for online grocery pickup orders. Learn more about paying for your order with EBT here.
4. Watch for Text and Email Alerts
After I placed my first Walmart Grocery order, I received an email with information on when it would be ready and where exactly I would pick it up at my local store.
The email also gave me the option to add items to my order before a cut-off time. That's a plus for forgetful people like me.
When my order was ready the next morning, I got an email and a text to let me know. To save time, the text suggested that I check in using the Walmart Grocery app when I was on my way.
5. Follow the Orange Signs
My biggest worry was getting lost while searching for the pickup area. Although I've been to my local Walmart dozens of times, I never paid attention to the orange signs until I placed this order.
Luckily for me, orange "Pickup" signs were everywhere and led me to a special parking area for pickup orders.
I showed up during the middle of my time slot because that's how Kroger suggests customers of its own grocery pickup service can beat the rush. I was the only grocery pickup customer there!
6. Call the Number on the Sign and Wait for Your Order
After parking in one of the designated spaces for online grocery pickups, I called the phone number posted and waited for my order.
A Walmart associate brought my groceries to my car two minutes later. He told me about a substitution that had to be made and I signed for my order. He then loaded the groceries into my trunk in less than three minutes.
By the way, Walmart's website says that store associates don't accept tips, but a "thank you" is appreciated.
7. Walmart Grocery Promo Codes
In addition to saving time, Walmart Grocery can save you money! There are often coupon codes for the service, including $10 off your first order of $50 or more. Get the deal at ClarkDeals.com.
Final Thoughts
This was my first time trying Walmart's free grocery pickup service, but it won't be the last. I was really impressed!
From ordering to pickup, the entire process was easy. The fruits and vegetables that I ordered were fresh, which is the way it should be but was honestly one of my primary concerns.
I also appreciated the fairness of the substitution policy and ended up with a national brand item when a generic wasn't available.
My favorite thing about Walmart Grocery is how much time it saved me. My local store typically has long lines at checkout, so it was nice to be able to avoid the crowds. I didn't even have to leave my car!
Beth from Team Clark also tested out Walmart's grocery pickup and put together this video review:
Have you tried Walmart Grocery Pickup or free grocery pickup services from one of its competitors? Tell Team Clark about YOUR experience by leaving a review in the comments below! 
More Money-Saving Tips From Clark.com: 
Best Credit Card Signup Bonuses for 2021-If you're in the market for a new credit card, you may be hoping to cash in on the hundreds of dollars in signup bonuses offered to new customers. Signup bonuses and offers are a marketing tool that credit card…
Sours: https://clark.com/shopping-retail/walmart-free-grocery-pickup-review/
Instructions walmart pickup
Walmart moves more online orders to curbside as it phases out pickup towers
Walmart is kicking more online pickup orders to the curb.
Instead of having consumers collect the orders in orange, 16-foot-tall automated pickup towers in select stores, more orders will now be retrieved for curbside pickup as the retail giant phases out the towers.
The pickup towers, which are like large vending machines that dispense orders, were first added to stores in 2017. The Wall Street Journal first reported that the towers located at the front of more than 1,500 stores were in the process of being phased out.
Walmart confirmed to USA TODAY Thursday that about 300 machines are being removed from stores and around 1,300 are in "hibernation" and not in use.
Vitafusion recall:Church & Dwight recall select gummy vitamins after reports of 'metallic mesh'
Bubble tea shortage 2021:Shipping backlog making it harder to find boba. How long will the COVID-19 shortage last?
"The customer told us they want one pickup spot, and they want that pickup spot to be outside," Walmart said in a statement to USA TODAY.
On-demand grocery shopping for delivery and curbside pickup grew dramatically amid the COVID-19 pandemic as some shoppers looked to make fewer trips into stores.
The pandemic also sped up Walmart's plans to integrate its former grocery app with its main app because of a surge in online and mobile shopping, Walmart Chief Customer Officer Janey Whiteside told USA TODAY last year.
In the combined app, consumers can shop for groceries and items in other categories to be picked up curbside or delivered with an appointment time.
In September, the retailer launched its Walmart+ membership program for $98 a year, or $12.95 per month, with unlimited free delivery from stores (on orders $35 or more), fuel discounts and a new Scan & Go feature for in-store shopping.
Walmart curbside pickup guide
The Walmart app and website have two different places to place orders: one for Walmart.com orders that are either shipped to someone's home or can be picked up at stores and the other for pickup and delivery orders.
The pickup and delivery, which on the website is at www.walmart.com/grocery, is where the bulk of the grocery items can be purchased, including produce, refrigerated and frozen items.
For these orders, shoppers need to select an appointment time and have an order of at least $35 to checkout. Some stores also offer an express pickup option to get orders within two hours with no minimum but a surcharge.
The Walmart.com pickup orders were previously retrieved in the pickup towers or in another designated area. Now moved curbside, these orders do not have a minimum purchase requirement, and there are no appointments.
At checkout, Walmart indicates when the order is expected to be available and that it will be held for four days. When orders are ready, consumers receive notifications with instructions on where to go.
For both types of orders, consumers follow the orange signs to the designated curbside pickup area and check in on the app when they arrive. They then type in the number of the curbside spot parked in.
Hours can vary when orders can be picked up, but most stores' curbside pickup should be available between 8 a.m. to 8 p.m. local time, Walmart confirmed to USA TODAY. 
Stores also offer a pickup hour from 7 to 8 a.m. daily for customers over 60, those with disabilities and in high-risk groups for being vulnerable to COVID-19, first responders, pregnant women and caregivers of newborns under 3 months.
Save better, spend better:  Money tips and advice delivered right to your inbox. Sign up here
Vaccine freebies:Free Krispy Kreme donuts, Budweiser beer on tap with COVID vaccine, plus laminate vaccination cards for free
Follow USA TODAY reporter Kelly Tyko on Twitter: @KellyTyko
View Comments
Sours: https://www.usatoday.com/story/money/shopping/2021/04/22/walmart-online-order-curbside-pickup-delivery/7327909002/
Walmart Pickup Tower AKA Giant Vending Machine: How Does It Work???
What is Walmart Curbside Pickup and how does it work?
SHOPPERS can now grab Walmart bargains without even stepping into the store.
Walmart Curbside Pickup was launched a few years ago but originally could only be used for groceries, now most other items can be collected using the service.
Curbside Pickup lets shoppers order products through the Walmart website or app and pick them up during a scheduled time at the curb  or designated parking spot outside your local store.
It was rolled out in May 2020 amid the coronavirus pandemic to all items rather than just grocery shopping.
Now you can pay and arrange to pickup anything from food to electronics, garden tools and fitness equipment and even pharmacy products.
You can pick it up outside a Walmart store or have it brought to your car.
How to arrange a Walmart Curbside Pickup
Shoppers can order items to collect through the Walmart website or app.
You will need to setup a profile online or download and register with the free app on your smartphone.
When you register you will need to provide an email address, your name and payment details to make your purchase.
Find your local store using Walmart's locator to check they offer curbside pickups.
You can then browse for items and click on "pickup and delivery" on the top left menu.
This will show you items available for curbside pickups.
You can combine grocery and non-food items into the same order.
Curbside Pickup is free but there is a $35 minimum order.
Once your order is complete you can select pickup as a delivery option and choose an hourly slot.
Check your order online or through the app for any substitutions or unavailable items so you can make changes and then just travel to the store at your allocated time.
How to pickup your items
Orders are typically available within four hours in some cases.
Pickup times may vary depending on your local store but most operate between 8am and 8pm.
Vulnerable customers can get 7am slots.
Walmart operates contactless delivery so arrive at your local store at the designated time and open your trunk to have your items put inside.
You may need to show ID on items such as alcohol.
There is an option to designate someone to pickup your order if you are unable to go plus Walmart will refund the difference if the price drops between your order and collection time.
There is still an option to get groceries delivered, which starts at $7.95 but can rise to $9.95 during busy times or you can get free shipping by joining Walmart+ for $12.95 per year.
You can also still shop in-store despite the pandemic as long as you keep six feet apart and follow state rules for shoppers on wearing face masks inside shops.
Check your local store's opening times though as these may vary.
Meet the mum who used extreme couponing to pay for her supermarket shop.
Find out how to claim your latest stimulus check if it doesn't arrive by January 15.
Politicians are already discussing a third stimulus which could be worth $2,000.
Shaken witness describes the scene after 'gunshot fired' at Tennessee Walmart
Sours: https://www.the-sun.com/lifestyle/2132801/what-is-walmart-curbside-pickup/
Similar news:
She was resting in one robe and panties. He came from training, went into the room and she was lying on her back and with her leg bent at. The knee.
112
113
114
115
116