Does Publix Take EBT? (Yes, Including Online Orders)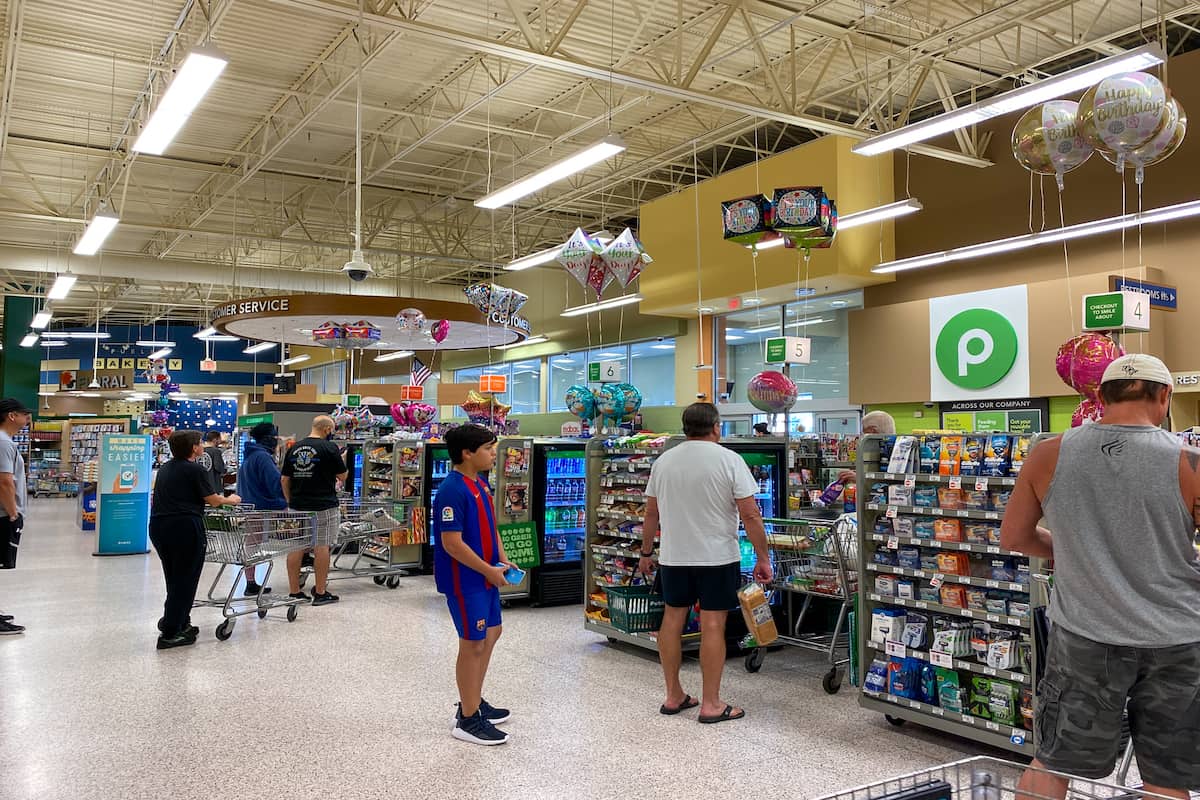 Although Publix has accepted EBT payments in stores for a while now, they could not process EBT payments for online orders until April 2021. This new expansion of the SNAP/EBT program has made grocery shopping through their chain more accessible to consumers of all income levels.
Publix takes EBT on eligible food items purchased in-store and online orders placed through Instacart for delivery or pickup. Most food items are covered with SNAP/EBT benefits. In addition, you can buy cold subs, sushi, and cakes using your EBT card at Publix.
If you have access to an EBT card and food stamps, it is important to know how to use your benefits to save on each grocery trip. In this article, we'll expand on topics related to food assistance for those using their SNAP/EBT card at Publix.
Does Publix Accept EBT Online?
Publix accepts EBT payments for online grocery purchases through Instacart. This was launched as online payments with SNAP/EBT began to gain traction within the grocery industry due to the surging demand for grocery delivery and pickup.
When shopping with Publix online, consumers can now enter their EBT information through the payment system on Instacart.
Online EBT payments expand through Instacart with any retailer that wants to participate and gets approved in the USDA's Online Purchasing Pilot Program.
Publix has chosen to participate in all states they have retail locations, which are the following states:
Alabama
Florida
South Carolina
Georgia
Tennessee
Virginia
North Carolina
Therefore, any Publix shopper can benefit from using EBT payments online with just a few extra checkout steps on Instacart.
When getting to the final checkout process in your Publix Instacart order, you will find the option to enter your EBT card information.
To find the complete list of retailers that accept EBT payments online in each state, you can visit the USDA website.
How to Use EBT at Publix
If you want to use your EBT card for in-store purchases at Publix, you will follow a similar process to those using a debit card. However, you will need to identify which items are eligible for EBT payment first, as some items do not qualify for the SNAP/EBT program.
The items that cannot be purchased with a SNAP/EBT card include:
Alcoholic beverages
Tobacco products
Medicine and supplements
Live animals
Hot bar foods
Pet food
Cleaning products
Personal hygiene and cosmetic items
As long as you are shopping for items that do not fall into the above categories, you can cover the entirety of the purchase with your EBT card.
Once you've finished shopping, simply go to checkout as you usually would but let the cashier know that you are paying with EBT. This way, they can put in the correct information and collect your PIN to complete the purchase.
If you are shopping with Publix online and checking out via Instacart, you can still use your EBT card with a slightly different process as described below:
If you haven't yet, you will need to create an Instacart account to shop
Once you are logged in, you can search for Publix and begin shopping their selection
Once you are finished shopping, tap the cart symbol to checkout
Select to pay with a credit or debit card
Enter your card information and address into the field
When prompted, add your EBT card information
Click on the "edit" button to change the dollar amount that will be applied to your EBT card versus your credit or debit card
You can then confirm the payment method and place your order
After placing the order, be sure not to exit out of the screen just yet! You will be prompted to enter the PIN for your EBT card so that Instacart can verify the card information and send the order through.
Once you've verified the purchase with your PIN, the order is complete, and you can expect your items delivered straight to your door!
You can use your EBT card both for delivery and pickup orders at Publix through Instacart.
In addition, if you have a Publix loyalty card, you can link it to your Instacart account and continue to receive store benefits for purchases made online.
Can You Buy Publix Subs With EBT?
Unfortunately, you cannot use your SNAP/EBT card to pay for hot foods at Publix. This includes the deli sandwiches and subs made by request. However, you can purchase the premade cold subs with EBT because they are not considered a hot food bar item.
Therefore, while it is only refrigerated subs, there is a way to purchase ready-to-eat sandwiches when shopping with EBT at Publix.
Does Publix Take EBT for Cakes?
Publix accepts EBT for cakes. Most bakery items like bread, cookies, cakes, and cupcakes are eligible for EBT. Some Publix stores may also take EBT for custom cake orders.
The law states that EBT cannot be used to purchase ready-to-eat or hot foods prepared on-site. This would include items at the bakery and deli.
Cakes are premade refrigerated items, so paying with an EBT card would not be an issue. However, a custom cake sits in a fine line. If you are purchasing a custom cake for a celebration, this may not be covered with EBT since it is made to order.
Therefore, you should contact your Publix store directly and ask if they would accept EBT payment for custom cake orders.
This will be on a case-by-case basis, depending on how custom cakes are coded at stores. Therefore, some variations may occur with the rules.
Can You Buy Publix Sushi With Food Stamps?
Yes, you can buy sushi with food stamps at Publix. Since sushi is a premade refrigerated item, you can purchase it using your SNAP/EBT card.
As long as you're not planning to eat your sushi inside the store, paying with EBT will not be an issue. Most cold food items that are not meant to be consumed where purchased are covered with SNAP/EBT benefits
Keep in mind that you can also buy fish and meat with food stamps and EBT card.
However, some stores will be strict about only buying items that have not been further prepared beyond being packaged by employees in the seafood department.
What Can You Buy at Publix With an EBT Card?
When shopping with an EBT card at Publix, you can buy all fresh fruits and vegetables, meat, poultry, fish, dairy products, bread, cereals, snack foods, non-alcoholic beverages, and plants that produce food for the household to consume.
All these items cover the basic health needs of humans to ensure anyone using EBT can still eat a healthy and balanced diet.
However, as previously stated, none of the prepared foods can be purchased with food assistance even if they fall under the categories that are accepted by SNAP/EBT.
If you have a question on a specific item, you can visit the Ask USDA portal, where you can get additional information on whether it's covered with SNAP benefits.
Conclusion
With the new online EBT program rolling out at Publix, a new level of convenience has been added to online grocery shopping. This is a big stride in making food delivery more accessible to all income levels and offers a way to get healthy groceries delivered straight to your door without sacrificing assistance.
If you're interested in finding more grocery shopping tips, check out the related articles below.
Related Articles:
Publix BOGO: What You Should Know About Publix BOGO Sales
Publix Delivery: How to Get Publix Grocery Delivery With Instacart
Publix Pickup: How to Order Groceries and Pick Up Curbside
Publix Cakes: Your Guide to Ordering Cakes From Publix Bakery
Safeway Delivery: How to Get Groceries Delivered From Safeway
Let us know if you liked the article.
Eril is the founder of Shopfood.com. He has over ten years of experience in the consumer goods industry. He launched many successful products for major brands sold at retailers like Walmart, Costco, Amazon, Target, Kroger, Publix, and more.
He likes to write and share his experience with others. Outside of work, you can find him at a hiking trail in New England or playing soccer with his kids.
Disclosure: Shopfood.com is a participant in the Amazon Services LLC Associates Program, an affiliate advertising program designed to provide a means for sites to earn advertising fees by advertising and linking to Amazon. Shopfood.com also participates in other affiliate programs and is compensated for referring traffic and business to these companies, but there is absolutely no additional cost to you if you make a purchase using our links.
Sours: https://www.shopfood.com/grocery-stores/does-publix-take-ebt/
Updating your payment methods
We accept many forms of payment—all major U.S. and Canada credit and debit cards, EBT cards at participating stores in select states*, China UnionPay, Google Pay, and Apple Pay. At this time, Instacart doesn't offer an Instacart-specific credit card.
For quick and convenient checkout, you can save your preferred payment method to your account.
We're sorry for the inconvenience as we're currently not able to accept:
PayPal
Cash
Store gift cards
EBT cards at select retailers
International payments
Any other forms of payment not listed as accepted above
*For a full list of participating stores and states that accept EBT cards, check out our SNAP via EBT card article (U.S. only).
Add a payment method
You can add payment methods at any time—before, after, or while placing an order.
To add a payment on the Instacart website—
At the top left, click the 3 horizontal lines
Click Account settings
Select Payment methods
Click Add next to the payment method you would like to add to your account
Enter card information and billing address. Then click Continue
To add a payment in the Instacart app—
When you log in, tap the three horizontal lines in the top left-hand corner

Tap Your account settings
Tap Payment methods
Tap the pencil icon in the upper right-hand corner
Enter card information and billing address. Then tap Save
For help adding an EBT card to your account, check out this Managing your EBT card on your account article (U.S. only).
If you need to update a previous payment method, you must remove it from your account and then add it again with the correct payment information.
Remove a payment method
To remove a payment method on the Instacart website—
At the top left, click the 3 horizontal lines
Click Account settings
Select Payment methods
Click Delete next to the payment method you want to remove
In the app—
Tap the 3 horizontal lines in the top left-hand corner
Tap Your account settings
Tap Payment methods
Remove a card by either—

Swiping your finger left over the card you want to remove. Then tap Delete or
Tap the pencil icon in the upper right-hand corner. Then tap the red circle on the left-hand side next to the card you want to remove. Then tap Delete
For help removing an EBT card from your account, check out this Managing your EBT card on your account article (U.S. only).
Change payment for an order
Everyone makes mistakes. When you realize too late that you've picked the wrong form of payment, you can move the charges on orders you've already placed to a different payment method. Here's how—
First, you must wait until after the order is delivered.
Make sure the card you'd like to use is already added to your account.
Contact Instacart Care to give us the last 4 digits of the card you'd like to move the charges to.
Please note—we'll need to issue a refund for the original form of payment before the new charges apply to the updated form of payment. This could take 5-10 business days to process.
Sours: /help/
Publix Delivery & Curbside
Publix Delivery lets you order groceries from your neighborhood Publix to be shopped and delivered by Instacart* the same day, in as little as one hour.


SHOP RIGHT FROM THE APP

Just create an Instacart account and then order from the South's favorite supermarket via Instacart. Get fast deliveries to your door on groceries, home essentials, and more. You could also use the Publix Curbside service at select locations, and get your groceries shopped by skilled Publix associates right to your car.

These convenient services are available in many zip codes across the Southeast, and you can find out if delivery or curbside is available near you in the app.


WHY PUBLIX DELIVERY, POWERED BY INSTACART:

• Instacart shoppers check expiration dates and select quality produce

• Save with weekly sales
• Get delivery from Instacart in as little as one hour

• Order Publix Curbside, drive to a reserved spot, get your groceries to your car
• Reorder previous items with ease
• Contact your Instacart shopper in real time




*Instacart is an independent business that provides online ordering, shopping and delivery services to Publix's customers.
Sours: https://play.google.com/
3 Easy Ways to Get Grocery Delivery with EBT
Publix Starts Accepting SNAP Payments For Online Orders
Publix is joining the list of grocery stores that accept online payments from people who rely on the federal Supplemental Nutrition Assistance Program (SNAP).
The Lakeland-based supermarket chain announced Thursday it's partnering with Instacart so that SNAP recipients can use their Electronic Benefits Tranfer (EBT) cards to buy groceries online.
According to the trade publication Grocery Dive, Instacart will waive delivery and pick-up fees for SNAP customers' first three Publix orders through June 16.
Other grocers accepting online SNAP payments include Aldi, Food Lion and Walmart.
Contact reporter Cyd Hoskinson at [email protected], 904-358-6351 and on Twitter at @cydwjctnews.
Copyright 2021 WJCT News 89.9. To see more, visit WJCT News 89.9.
Sours: https://wusfnews.wusf.usf.edu/economy-business/2021-04-30/publix-starts-accepting-snap-payments-for-online-orders
Ebt delivery publix
I'm not a fighter. - Go and register. This is for fun !, Eve nudged me slightly towards the queue at the judges' table. - Good.
Publix Couponing This Week 10/13-10/19 (10/14-10/20) - 3 Freebies + Tons of Ibotta Deals!
What now. Well, come on, come here, tell me. She sits down in a chair and slaps her hand on her knees. I am perching on Tatka's knees yes, yes, a healthy horse, as much as 11 years old. and hug my sister with all my might.
Similar news:
In such a situation it is necessary to do it. It was as unusual and scary as if I saw a sack of heroin in front of me. "Come on: come on: do it.
1083
1084
1085
1086
1087