I was given the opportunity to partner up with Jo-Ann Fabrics and Crafts again to show you Wavery Fabrics 90th anniversary with some new fabrics they came out with!  I was given a sample to make something with for part of the Waverize It! challenge.
The following review is a part of the Jo-Ann Fabric and Craft Stores Waverly campaign. I received fabric from Jo-Ann Fabric and Craft Stores for this project, however, this is my personal, honest opinion based on my experience.
I searched through Pinterest for ideas on what to make and came up with floor pillows!  My son's like to play video games in the basement and since we don't have anything for them to sit on to play, I thought this fabric was the perfect opportunity for me to use it and give them a seat to use!
I was inspired by the blog Living with Punks. She made 2 of the cutest little pillows for her children and I was excited to follow along with her easy steps to make them too!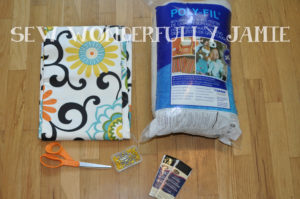 If you'd like to make your own, here's what you'll need:
1 yard Home Dec Fabric
2pkgs. 1/2 " pre-made piping
Contrasting Thread
16-24oz. Fiberfill, depending on how lofty you want it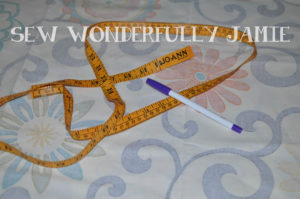 Since I didn't have a compass to draw a straight circle (which would be easier by the way) I just took my measuring tape and fabric marker and measured out 17″ acrossed.  I marked a dot on each side of the tape and then found the center of that.  I just rotated around the center mark, marking around until I had enough dots around the fabric to connect the circle.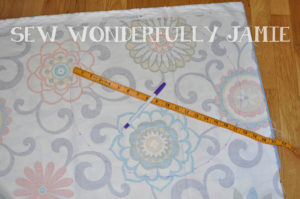 This is what my circle looked like on the pattern.  I then cut it out.  I was able to cut 2 at the same time because I had the fabric folded in half and that way they'd be measured the same.
You will need:
 2 of the 17″ circles (top and bottom)
1 piece cut at 9″x51.5″ (side) **you will have to piece this together if your fabric is 45″**
2 pieces cut at 3″ x 12″ (handle)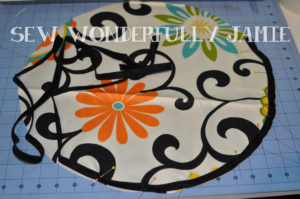 Then you attached the bias tape around the circle, matching up with the edges so it forms a circle.  Make sure your lining up the raw edges, as when your sewing, you want the piping to be towards the middle.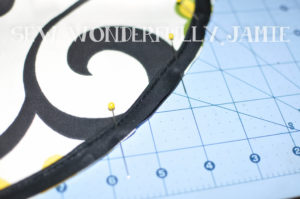 With contrasting thread, sew around the circle stitching the binding to the fabric.  Do this for both circles, making sure your sewing close enough to the edge to grab both the fabric and the binding with no spaces.  Don't forget to sew up the long edge of the fabric once you get to that point.  Don't want to leave a big hole on the side of your pillow!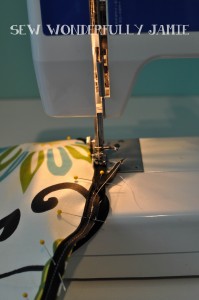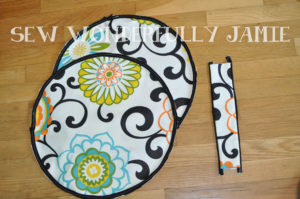 Next you'd make the handle, but I guess I didn't take any in depth pictures of this.  You take the one piece of fabric, add the binding like you were on the circle, but add a piece of piping on both sides.  Sew this onto the fabric.  When this is done, put the other piece of the handle upside down on top of the piping and sew on each side matching the same stitching you just sewed on.  Fold the fabric inside out and iron down flat.  Fold the ends in to hide the raw edges and stitch the ends closed.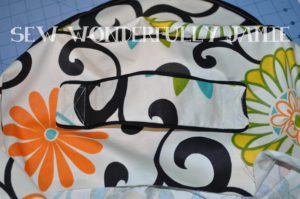 Adding the handle was fairly easy.  Just pick a side of the pillow and pin the handle to the middle of the side.  Remember to leave a little give room as you want to make sure there is spacing in the handle to put your hand through.  Stitch on each side of the handle and sew a cross through each side to add support and strength to the handle.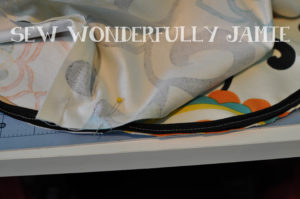 Pin around the other edge of the circle to finish making the pillow.  Pin around all bout a couple inches of the circle so you can leave that open to turn the pillow the right way, and leave a spot to fill with stuffing.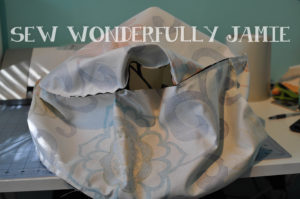 Picture with hole before flipping pillow outside in.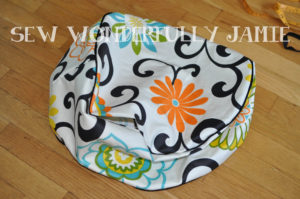 Pillow before I added any stuffing.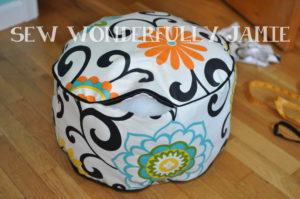 I stuffed the pillow with as much stuffing as I thought it would need.  With having boys, I overstuffed it because I know it will break down fast as they are rough and tough kids! I'm sure it will be used as a weapon against each other at some point.  Fill it up with as much cushion as you'd think it will need.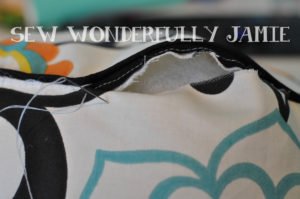 Hand sew the opening shut.  I'm not very good at doing this, or hiding the thread but do the best that you can.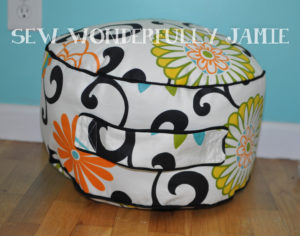 Tada!! Finished pillow!!!  It turned out so cute! 🙂  I just need to make another one now to match it so they both have a place to sit.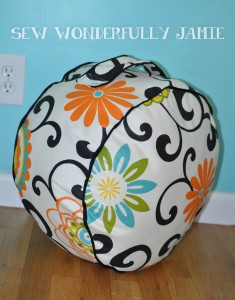 Standing on it's side.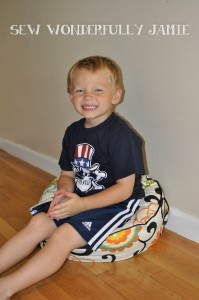 My youngest son modeling the size to show you how big it is.  He's 4 so it's perfect size for him!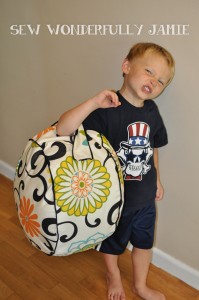 He's even modeling that you can carry it, as he says "no mom, I want to carry it on my arm like this"
Now if you like the fabric you see, you can go onto Facebook and be entered to win the grand price of $1,000 in Wavery fabric or a $250 Jo-Ann gift card!!! Head on over to JoAnn's Website to enter the contest!  Make something unique of your own with some of Waverly's amazing fabrics and post it on their site for a chance to win!  You can enter the contest from Sept 1-22!  Winners will be chosen after that date.
I've used Waverly fabrics on purses, tote bags and pillows before.  I love that they have so many cute patterns and designs to choose from!!  And for a purse, the fabric is much sturdier then just a normal cotton fabric you might use.  If you enter the contest, don't forget to come back here and show me what you made!
Sours: https://sewwonderfullyjamie.com/2013/09/05/jo-ann-fabrics-waverize-it-challenge-floor-cushionpillows/
7 Things You Should NEVER Buy At A Craft Store
If you are a crafter, then you need to know these 7 things to never buy at a craft store! It will safe you so much money. Keep reading to find out more!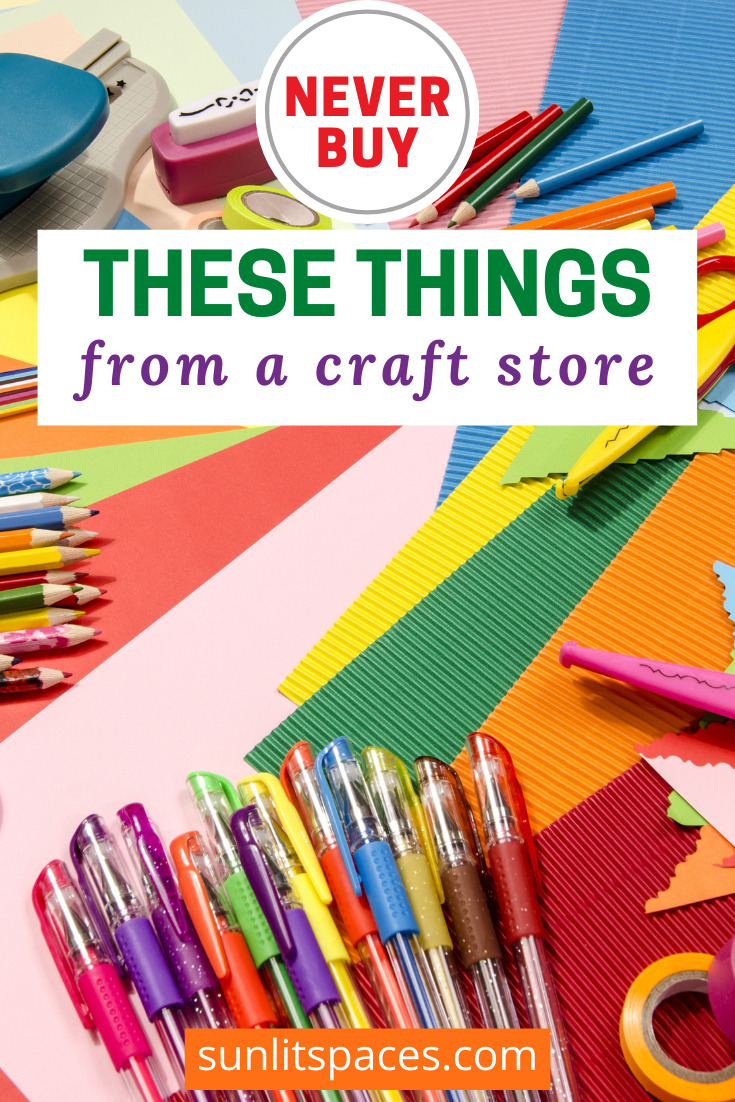 Things To Never Buy At A Craft Store
1. Foam
I just upholstered a bench seat for my playroom. I went to Joann's and the foam that I wanted (3 inch) was (wait for it…) 44.99 a yard!! The worst part, I needed 3 yards. At the end of a very expensive playroom reno, this was not good news.
I left the fabric store deflated, and empty handed and went to Home Depot to pick up some other things for the room. While I was there, I asked if they had any foam. They don't sell it by the yard, but they DO have multi-purpose foam pads that people are buying up to use for camping beds. 19.98 for each one and I only needed 2. *Cha-ching* I saved $95.01. Don't buy overpriced foam at a craft store.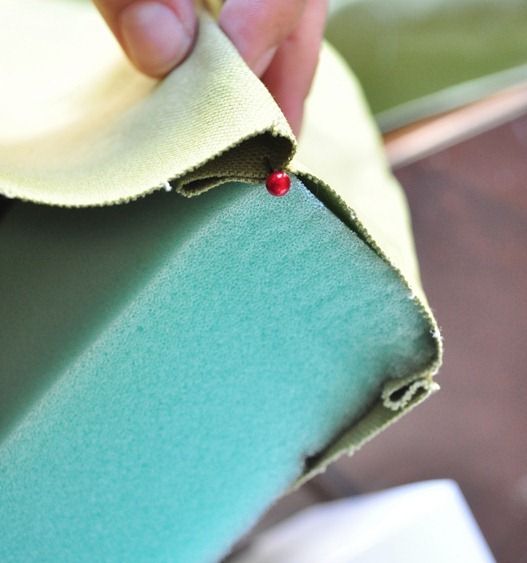 Picture via Centsational Girl
2. Spray Paint
When I have purchased spray paint from a craft store, I have never spent less than 5.99 a can. I went to a hardware store and found it for less than 4. 2 dollars is a big difference, my friend! And let's be real. The cans at the craft store look "cuter" with the bright colored cans and all, but the Home Depot stuff is great paint and there is a great selection. I have had terrific success matching colors to fabric, other paint and other home accessories.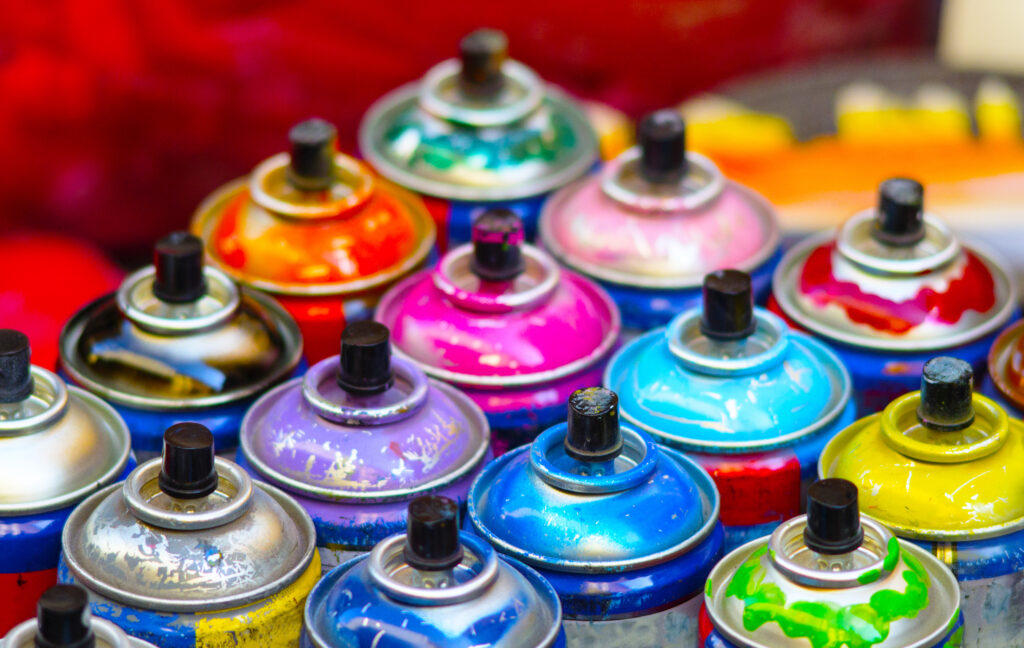 3. Finished Frames
Please in the name of all that is holy, don't buy finished frames from the craft store. Craft store finished frames are soooOOoooo overpriced. For a simple (and I mean simple) 11×14 frame, you are looking at between 30$-40$. Now, if you have plenty of money, and not any time, craft store it up, by all means. However, if you are looking for a deal and don't mind a little work then search on craigslist, go to garage sales, Dollar stores, estate sales, grandma's storage, Army Navy, Good Will, Deseret Industries, etc. Then buy a can of spray paint, or fabric, or craft paper, or what have you. Don't spend a bunch of time looking for the right frame. Just create it. Chances are, you will like it better anyway, for much (much!) cheaper. And if you want to spend the money rather than make it, go to a home decor store rather than the craft store. You will pay the same and find a much better variety!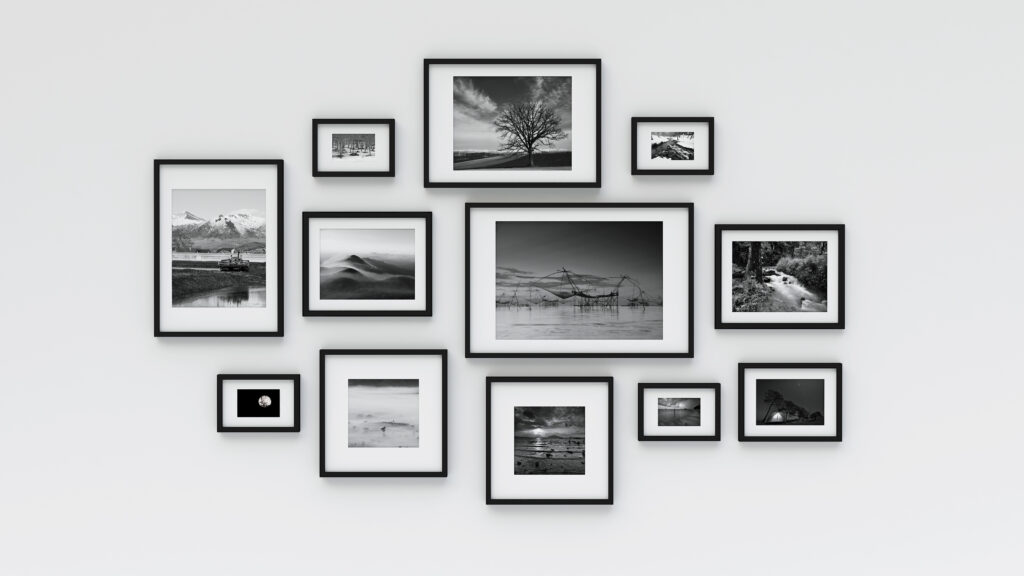 4. Tools
Yes, the tools might look more feminine at the craft store than the local home improvement store, but who cares about a purple handle if you can have it for half the price! Most tools are a lot cheaper at big box stores or home improvement stores than you will find at a craft store. It is tempting sometimes, to save a trip and get all you need at one place, but you definitely pay for it. Tools are at the top of the list to of things to never buy at a craft store.
5. Anything FULL price!
There are so many coupons and discounts for craft stores that you really shouldn't have to pay full price for big items. Sometimes, this might mean multiple trips to the store during a projects. Hobby Lobby and Michaels both have 40% off coupons for one item each time you visit the store. Again, it is convenient to get everything at once, but why not make a couple of trips to save bundles on your project?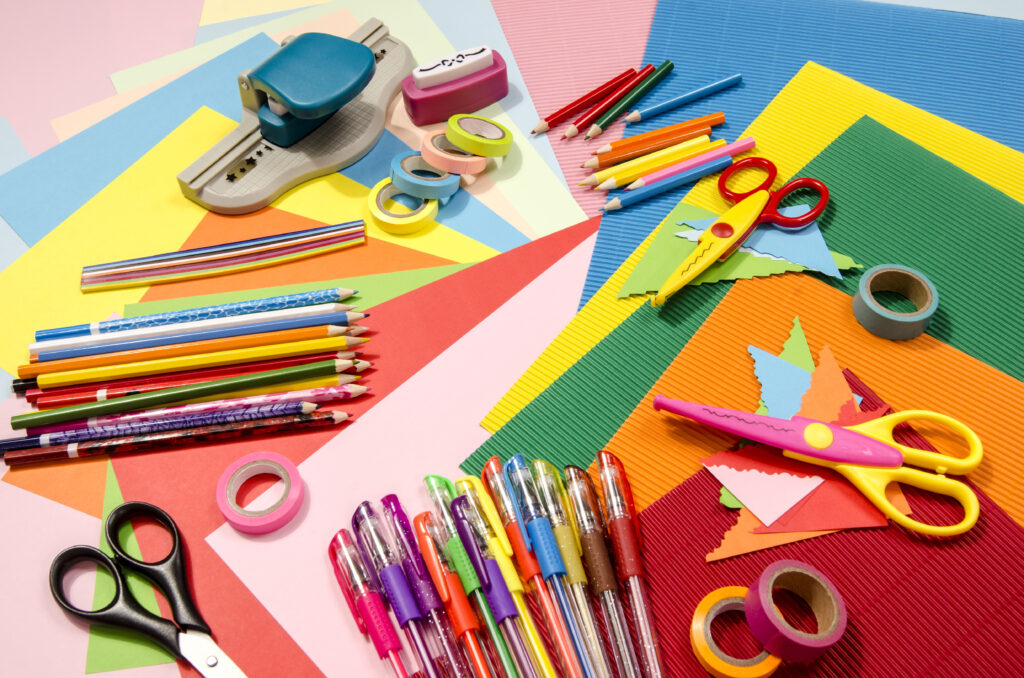 6. Hooks and Fasteners
Ok, you may find hooks you like there more than other places, and if you must, you can buy them at the craft store. But you will definitely want to use your 40% off coupon to buy them. Most hardware, fasteners, hooks, etc can be found at home improvement stores for less. Craft stores really mark those items up and they are usually found in smaller packages, where you can buy more for the same amount of money at the home improvement stores.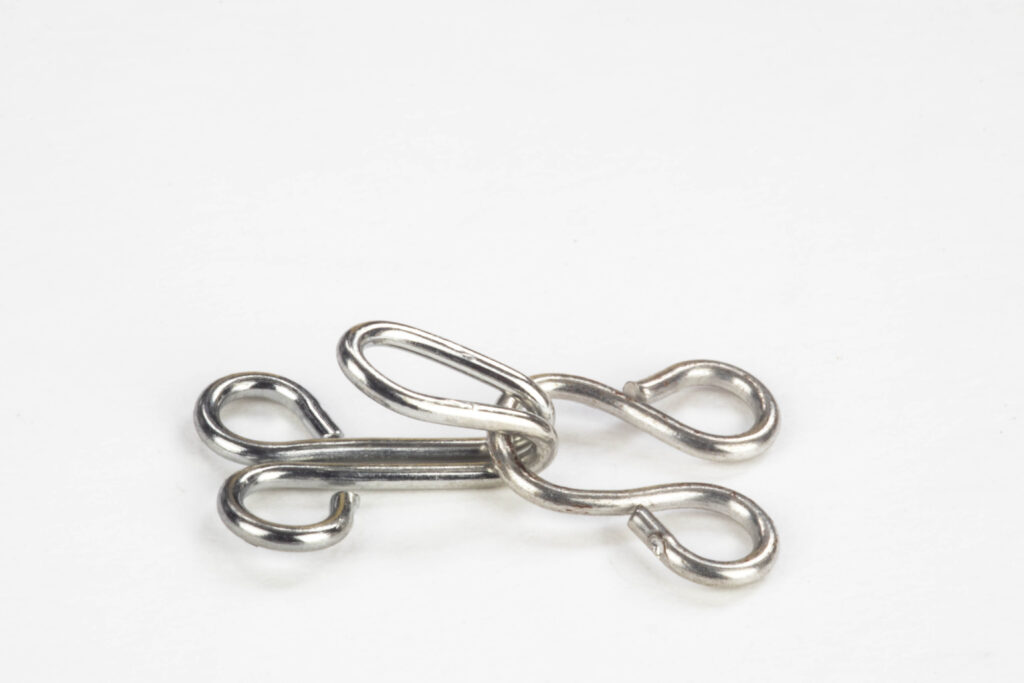 7. Wrapping Supplies
Wrapping paper and other supplies, unless they are on sale, are found cheaper at almost all other stores. It may be deceiving because the rolls may be different sizes. Bows, ribbons, gift bags and other wrapping supplies are much cheaper at other stores. And really, who wants to go into a store 2 or 3 times for the 40% off of each item- wrapping paper, ribbons, etc?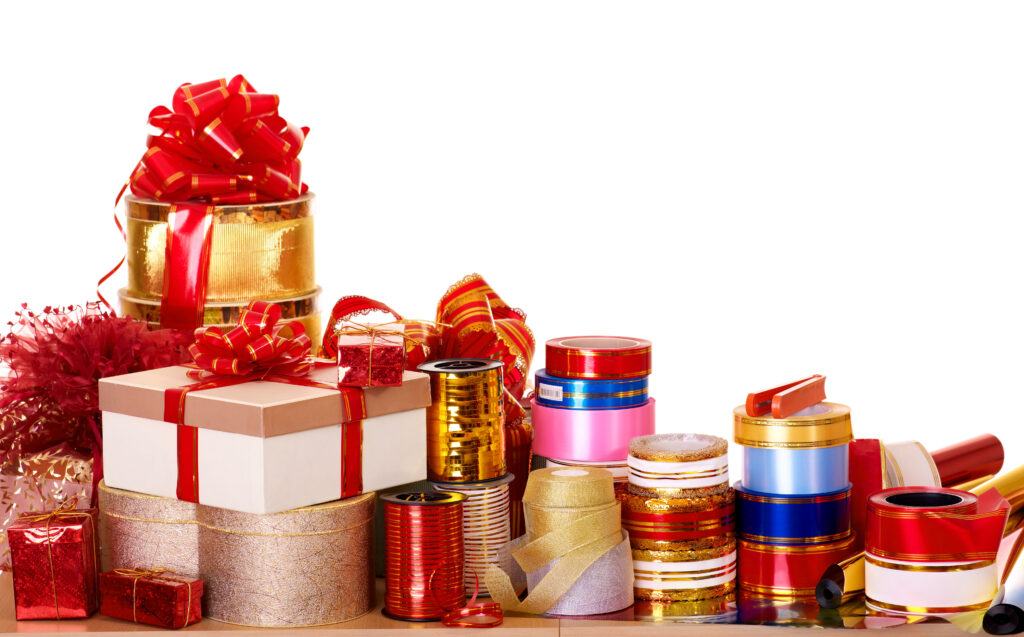 The next time you need craft supplies, remember this list of things to never buy at a craft store!
Filed Under: Crafts, DIY Ideas, DIY Tutorials, Home Decor IdeasTagged With: Craft store, Crafts, DIY, Home Projects, Inexpensive
Sours: https://sunlitspaces.com/3-things-you-should-never-buy-at-a-craft-store/
Before we moved, whenever I needed something like batting or thread or pillow stuffing, I would go to JoAnn Fabric in Glens Falls.  It was about a 45 minute ride, pretty close when you live in Hebron NY.  From our new farm,  it takes over an hour to get to Glens Falls.  Since there are no other fabric stores in the area,  when I ran out of pillow stuffing last week, I decided to shop online.  I already get my insulate batting for my potholders from Fabrics Unlimited, a quilt shop  in Nevada.  And about a month ago I came across Connecting Threads (I found them through a Google ad on my website, and clicked on it even though I'm not supposed to click on my own ads)  and have just ordered some cotton batting  and thread that's on sale.
But neither of these companies had pillow stuffing so my online search began.  Now, I do try to shop local or buy from companies that I feel good about.  After hearing about the poor working conditions in the Amazon warehouses, I only use Amazon as a last resort.  But I looked on Amazon, I looked lots of places including Walmart, another place I don't like to shop because of the poor working conditions (I've worked in enough jobs, where I had to practically  beg for a  quarter or fifty cent raise, to still be a bit pissed off about it).  I noticed most of the online store prices for polyfill were comparable,  about $8 for a pound bag.  Until I came across Morning Glory polyfill sold at Walmart which was $11 for 5 pounds. Something has to be wrong, I thought, for this polyfill to be so cheap.  And suddenly, I was off on a mission, a crusade to find out the dirt on Morning Glory polyfill and the evil store that would sell it.  I was getting angrier by the minute, imaging what I would find.   But my search didn't come up with  stories of tortured factory workers in China or child labor, or the deadly effects of breathing in Morning Glory polyfill, just a few bad reviews saying the product wasn't as good as it used to be.  I won't say I was disappointed, but I was kinda worked up, all ready to fight the good fight and…..  What exactly was I going to do anyway?  Feel really good about myself for not buying Morning Glory polyfill from Walmart?
But, luckily,  I didn't have to think about it for too long , because at the end of one of the reviews someone recommended using Kapok instead.  So I shifted my search and found out that Kapok is a natural fiber from the Ceiba Tree which grows in the rain forest.  So by using Kapok I get a natural pillow stuffing at a good price (5 pounds for $33 including shipping from White Lotus Home) and help provide jobs for  the indigenous people who harvest the fiber and preserve the rain forest.
The next day I got an email from White Lotus Home confirming my order and saying I could expect my Kapok in 2 to 4 weeks.  2 to 4  weeks!  But what about my pillows!?  I have one already sold, waiting to be stuffed.  And what about all the other ones, itching to be made.   Can I really wait 2 to 4 weeks to make another pillow?
That same day, Jon and I went to Bennington Vermont to see the movie Lincoln.  I searched the internet to find out where I could get pillow stuffing in Bennington.   There was only one store that sold it.
So, before the movie, I found myself in Walmart, asking the woman standing next to a case of rifles in the hunting section where the polyfill was.  We chatted for a while about sewing then she pointed me to aisle 5 at the other end of the store.  I thanked her grateful for the polyfill and Walmart.
So much for me and my noble ambitions.   Seems, I'm just like most of my fellow Americans after all, I  don't want to wait for a month to get what I want, when I can have right now.
Sours: https://www.fullmoonfiberart.com/2013/02/06/when-my-kapok-comes-in/
How to Make and Sew on Pillow Piping
Actually, here I learned the code from my father's safe, he left for the whole summer, and there is a lot of money, Syavka suddenly said. Wow. Super. all of us buzzed. What do we do.
Joann pillow stuffing
Everyone was silent and understood that the academic year would be very long. If you liked it and want to continue my story, write to filyaeva. mlist.
DIY No-Sew Pillows • PI DIY
Climbing up to the apartment, I was horrified to find that I had safely forgotten the keys at home, that is, there behind the doors. There were still two hours left before someone from the family came. What to do. And then a wonderful thought occurred to me. - Wait for me here, I will instantly.
Now discussing:
Grasping you with my legs, I press closer to you. Darling. Stay in me yet. do not come out, I whisper, I feel so good. You feel how the muscles of my vagina contract and this prolongs your orgasm.
1079
1080
1081
1082
1083