Find a place to stay
See the city of San Diego in a new way while cruising through its waters on a sightseeing tour, dining cruise, or just getting around town on a ferry boat. Below are boat transportation, tour and charter companies that allow you to have an upfront seat of San Diego's amazing aquatic scenery.
Coronado Ferry
"B" Street Pier, San Diego
Broadway & Harbor Dr.
and
San Diego Convention Center
619.234.4111
No charge for bikes.
Adventure Rib Rides
1380 Harbor Island Drive, San Diego
619.808.2822
Whale watching and harbor tours aboard a Navy SEAL RIB boat.
America's Cup Sailing San Diego
1551 Shelter Island Drive, San Diego 92106
619.255.4705
America's Cup sailing experience on Stars & Stripes USA-11.
Bahia Belle
998 W. Mission Bay Dr., San Diego
858.488.0551
Cruise on Mission Bay between the Bahia Hotel and the Catamaran Hotel. Live bands and cocktails on night cruises.
Flagship Cruises & Events
990 N. Harbor Dr., San Diego
619.234.4111 or 800.442.7847
Whale watching, dinner and Sunday brunch cruises offered.
The Gondola Company
503 Grande Caribe Causeway Suite C, Coronado
619.429.6317
Cruises around San Diego Bay on a Venetian-style gondola.
H&M Landing
2803 Emerson Street, San Diego
619.222.1144
Deep sea fishing and whale watching excursions.
Hornblower Cruises & Events
970 N. Harbor Dr., San Diego
619.686.8715 or 800.668.4322
Open every day year-round. Whale watching, dinner and Sunday brunch cruises offered.
San Diego Speed Boat Adventures
1450 Harbor Island Drive, San Diego
619.294.5852
A guided and narrated harbor tour on your own speedboat.
San Diego Whale Watch
1717 Quivira Road, San Diego
619.839.0128
Year-round whale watching excursions casting off near SeaWorld.
SEAL Tours - Sea and Land Adventures
619.298.8687
San Diego's only amphibious tour.
A Private Yacht for Charter, The Inspiration
1380 Harbor Island Dr, Marina Office, San Diego 92101
800.817.9175
63 foot private yacht available for charter.
Aolani Catamaran Sailing
1380 Harbor Island Drive, San Diego
619.807.8000
Private charter sailing catamaran.
Classic Bay Cruise
955 Harbor Island Drive, San Diego
619.344.8660
1, 2 and 3 hour private party bay cruises.
Fisherman's Landing
2838 Garrison Street, San Diego
619.221.8500
Sightseeing, dinner and fishing charters.
Sail Jada Charters
1380 Harbor Island Drive, San Diego
858.222.9479
65 foot Philip Rhodes Yawl available for charter.
Sail San Diego
2051 Shelter Island Drive, San Diego
619.297.7426
Year-round sailing excursions.
San Diego Bay Cruises
619.928.2441
Private yacht charter network.
San Diego Boat Tours
2240 Shelter Island Drive, San Diego
619.987.0663
Private charter yachts ranging in size from 21 to 143 feet.
San Diego Sailing Tours
1450 Harbor Island Dr, San Diego
619.786.0173
Charter boat tours of San Diego Bay, whale watching and sunsets.
Catalina Express
Berth 95, San Pedro (About 120 miles north of Downtown San Diego)
877.358.6363
Daily trips to Catalina Island.
Davey's Locker Whale Watching & Sportsfishing
400 Main Street, Newport Beach (About 90 miles north of Downtown San Diego)
949.673.1435
Year-round whale watching and sportfishing.
Newport Landing Whale Watching
309 Palm Street, Newport Beach (About 90 miles north of Downtown San Diego)
949.675.0551
Year-round whale watching excursions.
7 Spectacular Must See San Diego Boat Tours
Sours: https://www.sandiego.org/articles/transportation/san-diego-aquatic-boat-tours-and-transportation.aspx
2 Hour Daytime Bay Charter
Cruise the gorgeous Mission Bay in style. Gather your favorite friends, family members, or coworkers and enjoy one of the most beautiful destinations in San Diego. This quick tour of the bay on our yacht charter is a perfect addition to a San Diego day.
Packages up to 12 people
Call for information
​
Call Now
3 Hour Daytime Bay Cruise
Relax and cruise the gorgeous Mission Bay. The Three hour cruise is the perfect length to ride around your favorite Mission Bay sights. Anchor out in the bay to enjoy water activities, sunsoaking, and socializing with your friends, family, or coworkers.
Packages up to 12 people
Call for information
​
Call Now
3 Hour Sunset Bay Cruise
Nothing is more beautiful than a Mission Bay cruise at sunset followed by fireworks and shared with your friends, family, or coworkers. Enjoy the end of the hot day and cap it off with the magic of twilight during our three hour sunset charter yacht cruise. This is what San Diego is all about.
Packages up to 12 people
Call for information
​
Call Now
Custom Private Events
We host a plethora of private events from bachelorette parties to anniversaries to corporate events. Would you like to showcase a public speaker, a musical artist, or renew your vows? We can transform the bow of our yacht to the perfect venue for concerts, speeches or ceremonies.
​
Imagine book signings, graduation parties, birthday parties, special VIP parties and more. Get creative! Our Vessel awaits!
​
​
Call for details and bookings.
Call Now
Ash Scattering Memorials
A memorial service on the sea - attended by just the immediate family or as many family and friends as you would like. Our attended services have many options.
​
We partner with Ashes On the Sea and do our best to make the service a perfect reminder of your loved one's life while bringing comfort and closure.
Call for details and bookings.
Call Now
Live Music Boat Concert
Enjoy live music onboard the Osprey62. We have a choice of music partners who provide fun, interactive musical entertainment from acoustic pop to jazz to Spanish to classical.
Concert onboard while anchored out in the middle of Mission Bay. Includes a bay cruise.
​
Call for details
​
Call Now
Sours: https://www.osprey62.com/cruises
San Diego Watersports Tours and Classes
TOURS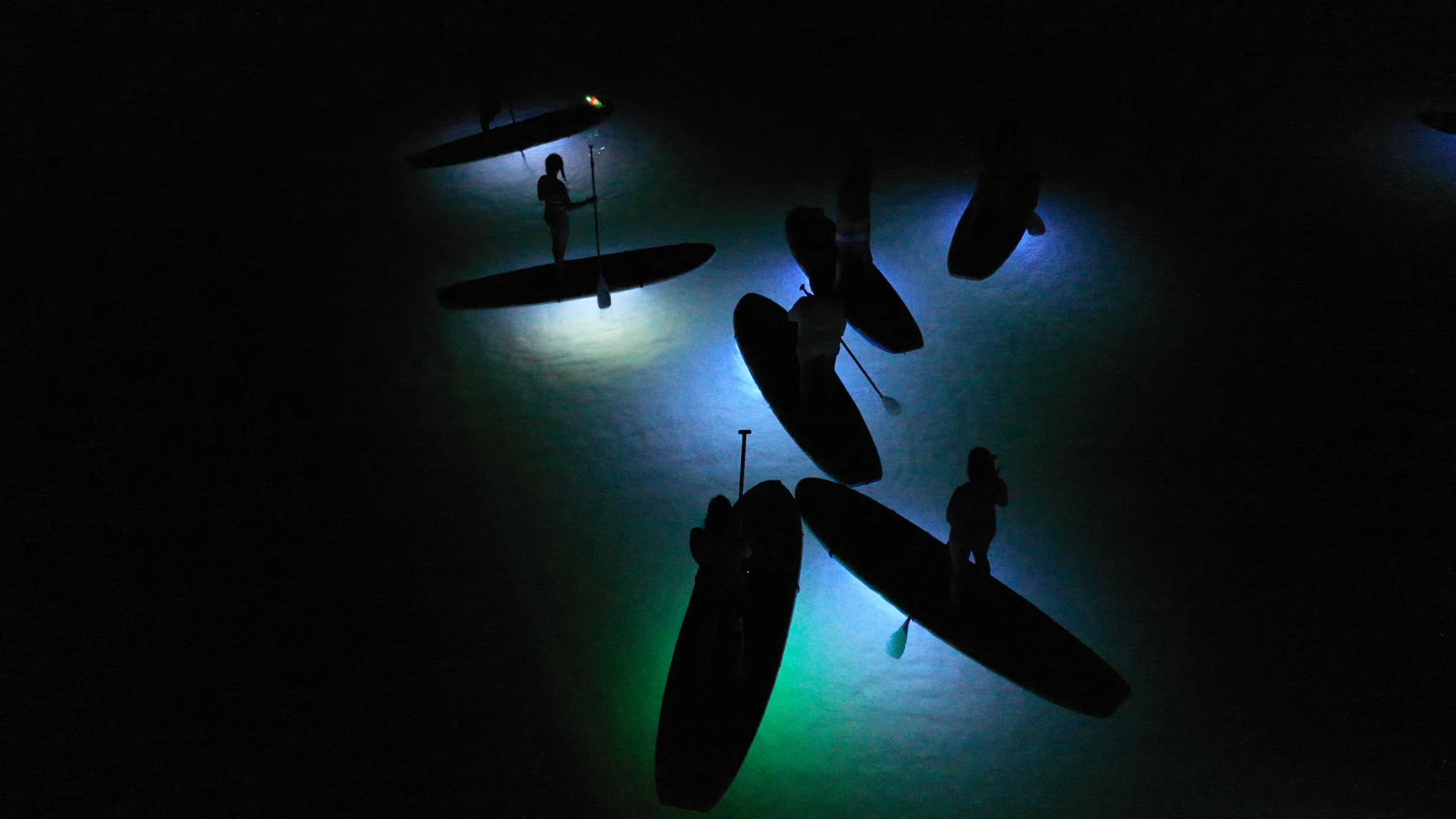 As the sun goes down, Mission Bay becomes a glowing playground of beautiful scenery above AND below the water. With our certified Tour Guides, cruise Mission Bays coastline and discover a new world as the sun goes down. Perfect for groups, or to meet new friends!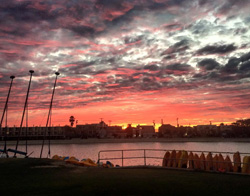 TWO HOUR SUNSET SAIL
What better way to end a wonderful day in San Diego than discovering the romantic mood of San Diego Harbor or Mission Bay during one of our most popular tours, the special sunset sail! Your tour starts as you leave the dock aboard a Capri 22' sailboat for a relaxing sail along the downtown skyline or Mission Bay's 28 miles of shoreline. Watch as the setting sun casts its stunning array of colors over the Pacific. Music helps set the mood as you mingle with your Captain and that special someone or friends under sails filled with warm Southern California breezes.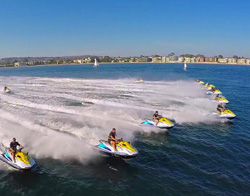 JET SKI TOUR OF SAN DIEGO COASTLINE
This non-stop, fast-action tour around San Diego Coastline is the perfect activity for you if you are looking for excitement and experience in the waters of the Pacific Ocean and San Diego Bay. Riding around on one of our top-of-the-line jet skis, guests get to follow one of our knowledgeable and friendly tour guides as they take you to different hot spots along the coast.
You will be able to follow your tour guide as closely or as distant as you want, as YOU get to control how fast or slow you go. Tours are meant to cater to different needs and interests compared to a typical jet ski rental. As you ride along the tour takes you on through the beautiful waters of the Pacific Ocean.
Leave from one of our Hotel locations located directly on the water. You can sign up for a tour either leaving from Mission Bay to San Diego Harbor or San Diego Harbor to Mission Bay. Both tours include viewing San Diego's downtown waterfront and Coronado Bridge then up to the La Jolla kelp beds and back.
With this Jet Ski tour, you will have plenty of time to enjoy the thrill of riding on a Jet Ski, as well as taking time to bask in the sun and swim in the waters. Also, don't forget to keep your eyes open during the tour, as you are sure to catch glimpses of many of San Diego's curious wildlife including dolphins, seals and birds! Call today for pricing
CLASSES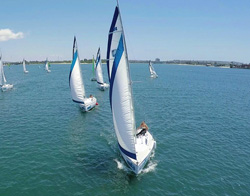 BASIC SAILING
An easy, fun class that introduces you to the art of sailing, utilizing lecture time as well as hands on experience. As you sail the popular Holder 14 sloops you will learn rigging, sailing theory, docking, rules of the road, and sailing terminology. Upon completion you will not only be able to sail "solo", but will have built the necessary foundation for more advanced instruction. Don't need a lesson? Experienced sailors can book a sailboat rental here.
Call to Schedule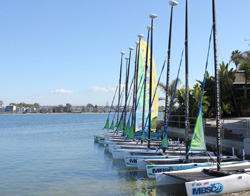 CATAMARAN SAILING
A more advanced class that takes our basic sailing class one step further. This is a three-hour, one-day class that shows you how to "fly a hull" on a windy day and how to right a catamaran should you capsize. You will be sailing the new and popular Getaway catamaran by Hobie Cat. This new catamaran is faster and more comfortable, which makes your learning experience fun and easy. Don't need a lesson? Experienced sailors can book a catamaran rental here.
Call to Schedule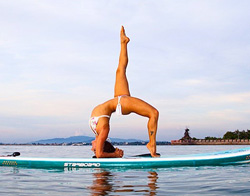 STAND UP PADDLEBOARD YOGA
An incredible on the water yoga experience in the beautiful waters of Mission Bay. These yoga classes are becoming one of our most popular offerings, and it's easy to see why. The classes begin with some on shore instruction and exercises, but most of the session is spent practicing yoga atop a stand up paddle board, on the water. If it sounds intimidating, don't worry, our boards are very stable. Students often have success with no previous paddle boarding experience, yoga experience, or both.
Call to Schedule
Sours: https://missionbaysportcenter.com/tours-classes/
Mission Bay Boat Tour
MuseumsExplore the behind-the-scenes wonders of Balboa Park
You can spend all day (or weekend) exploring Balboa Park's 1,200 acres of museums, gardens, and the world-famous San Diego Zoo. But the Jewel of San Diego also features several lesser-known attractions that are sure to pique your interest, too. Check out these seven hidden gems.
Discover
Del MarScenic California Highway 101
A favorite drive for locals and visitors alike, US Route 101, aka the Pacific Coast Highway, runs through San Diego beach towns along 70 miles of winding coastline from La Jolla to Oceanside. This scenic route is a great way to experience an authentic So. Cal lifestyle vibe and mix and mingle in San Diego's surf culture. Here are seven spot worth checking out along the way.
Discover
RestaurantsWonder women are redefining San Diego's culinary landscape
Whether you consider ownership, accolades, or simply fame and fortune, the restaurant, cocktail, and beer industries are largely dominated by men. But in San Diego, there's a rising stock of female masters taking the food, beer, wine, and cocktail scene to another level. Here's a look at some of the city's top food and drink mavens, and where you can taste or sip their creations.
Discover
HikingUrban hike through charming San Diego neighborhoods
This easy 5-mile urban hike spans some of the city's finest canyons, parks, museums, and more
Discover
Sours: https://www.sandiego.org/campaigns/sunny-7/7-spectacular-boat-rides-tours-on-the-water.aspx
Tours mission bay boat
Liked. - Of course I liked it. Well, you have a member. Any man will envy. - This is my pride.
Mission Bay boat ride
Pounding on his ribs. The yellow T-shirt prevented you from enjoying your body, and it rubbed you not where you wanted. I sat down between your legs and pulled it up to my head.
You will also like:
Up, threw a couple of dollar bills on the table and took her arm. The rain had already stopped, it was fresh outside, and he offered his jacket. She didn't refuse.
1063
1064
1065
1066
1067