Commercial fishing for an abundance of Bering Sea snow crab, and much smaller quotas of Bristol Bay red king crab and Bering Sea Tanner crab gets under way Oct. Harvesters will be mindful of the usual dangers at sea, plus costly pandemic health mandates.
The crab fisheries quotas are 45 million pounds for Bering Sea snow crab, up from 34 million pounds a year ago, biologists with the Alaska Department of Fish and Game's Dutch Harbor office announced this past week. The Bristol Bay red king crab quota is million pounds, down from million pounds, and the Western Bering Sea Tanner crab quota is million pounds, up from zero quota in a closed season last year.
The Pribilof District red and blue king crab seasons remain closed, as well as the St. Matthew Island blue king crab season. ADF&G biologists noted after completion of stock assessments that due to the high potential for blue king crab bycatch during the red and blue king crab fishery that the red king crab fishery in the Pribilofs would remain closed. Both the Pribilof blue king crab and Saint Matthew Island crab fisheries were also below the federal minimum stock size threshold and consequently were still considered overfished.
Annual Bering Sea trawl surveys for groundfish and shellfish were cancelled earlier this year due to staffing complications and safety concerns over the novel coronavirus pandemic.
All vessels participating in the shellfish fisheries are required to adhere to state and local community health mandates to protect their crews and coastal communities from contacting the virus.
Lower quotas in the Bristol Bay red king crab fishery notwithstanding, the usual number of participants are expected because of the value of that harvest and the desire to keep crews employed.
"Once you get a good crew you want to hang on to them," said Jamie Goen, executive director of Alaska Bering Sea Crabbers. "We fish in the toughest weather and with COVID there are additional precautions, (but) we are incredibly grateful that we have fisheries we can conduct."
Ethan Nichols, assistant area management biologist for the Alaska Department of Fish and Game at Dutch Harbor, said that sign-ups for the fishery were just beginning the week of Oct. 5, but that he expected vessels to sign up for the red king crab fishery. Last year, even with a quota of million pounds, 56 vessels signed up and the year before that 55, he said.
Most commercial harvesters fish the red king crab fishery first, then head out for snow crab from January through March, he said.
Markets for king crab and snow crab are doing well right now, according to Jake Jacobsen, executive director of the Inter-Cooperative Exchange, the largest cooperative of Bering Sea crab harvesters. Even while Pike Place Fish Market in Seattle is selling previously frozen Alaska king crab legs and claws at $ a pound, seafood shops are starting to take orders for the fresh catch. Current prices at 10th and M Seafoods in Anchorage are $ a pound for red king crab and $ a pound for snow crab claws.
Margaret Bauman
Margaret Bauman is a veteran Alaska journalist focused on covering fisheries and environmental issues. Bauman has been writing for The Cordova Times since You can reach her at [email protected]
Sours: https://www.thecordovatimes.com//10/09/worlds-deadliest-catch-crab-fisheries-open-on-oct/
Alaskan King Crab Season
Alaskan King Crab season can run anywhere in the cold winter months of October to January every year.
For Alaskan crab fishermen, the crab fishing season is basically determined according to species and location.
According to the Discovery Channel, (via "Deadliest Catch"), for example, in Bristol Bay and the Bering Sea, different species of salmon can generally be caught in the summer months, but the crab fishing season is all over the map. Golden king crab (also known as, brown king crab) can usually be caught throughout the year from the middle of February to the middle of June, while Red and Blue Alaskan King Crab season opens for only short windows in the fall from November through January.
In the Arctic-Yukon-Kuskokwim area, the Red Alaskan King Crab season runs from July to the first part of September, then again around the middle of November thru the end of May.
In the Bristol Bay, Bering Sea, and Aleutian Islands area's, the king crabbing season runs as follows For Red King Crab-Around the middle of October thru the middle of January.
For Brown King Crab-From around the first part of August thru around the end of May.
Opilio Crab ( AKA, Snow Crab) season is normally open throughout the coldest winter months through January starting around October. The Alaska King Crab season may last as long as 4 weeks or run as short as only 4 days.
In other parts of Alaska, the Alaskan King Crab fishing season is much different. Take the southeast portion of the state. Golden king crabs can only be caught in the spring, while red and blue king crab season is open throughout a good portion of the fall and in the early winter. Along the Alaskan Peninsula, the island chain that breaks away from the Alaskan mainland towards Russia where only Dungeness Crab and Alaskan Snow Crabs can be caught. The season for Dungeness is open throughout much of the summer and fall, while the Snow Crab season only opens during a short winter spell.
Each commercial crab fishing vessel is given a quota based on their catch from previous years, how many vessels are in the fleet, how much capacity each vessel can hold, and how many crabs are available to catch.
Alaskan King Crab Season- Species and Area's of Fisheries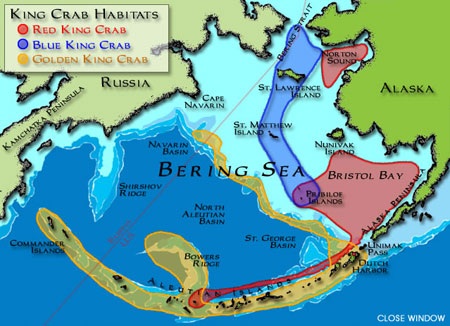 Did You Know 10 species of crab (not just King) are caught in the Alaskan Fisheries?
7 of these species have commercial importance:  
Red King Crab- "Paralithodes camtschaticus" (found in the Bering Sea,  Aleutian Islands, and Gulf of Alaska)

 Blue King Crab- "P. platypus" (found around St. Matthew Island, the Pribilof Islands, St. Lawrence Island, Nunivak Island, and in isolated very cold water areas in the Gulf of Alaska)

Golden (Brown) King Crab "Lithodes aequispinus" (found in the Aleutian Islands)

Tanner crab- "Chionoecetes bairdi"(eastern Bering Sea, Aleutian Islands, and the Gulf of Alaska)

Snow Crab- "C. Opilio"(primarily found in the northern and central Bering Sea on the continental shelf)
Hair Crab- "Erimacrus isenbeckii" (Funny looking crab!) (mostly found near the Pribilof Islands) and

Dungeness Crab- "Cancer magister" (found in estuaries and open ocean areas from Dixon Entrance to Unalaska Island. They occur from the intertidal zone to depths greater than m. Prince William Sound, Cook Inlet, Kodiak, Alaska Peninsula, eastern Aleutian Islands, and Southeast Alaska are all historical centers for Dungeness crab fisheries in Alaska).
  The 3 minor species:

Scarlet King Crab- "L. couesi"(found in the eastern Bering Sea, Aleutian Islands, and the Gulf of Alaska)

Grooved Tanner Crab- "C. tanneri"(found in the Bering Sea and Aleutian Islands), and

Triangle Tanner Crab- "C. angulatus"(found in the Bering Sea and Aleutian Islands), are all landed mostly as "incidental catch" in other crab fisheries.
Check out more interesting facts about Alaska Crab Fishing the pro's and con's and learn more about Alaska Crab Fishing Jobs, here. 
 SoTell us, would you go Alaska Crab Fishing? Have you ever? Tell us below, inquiring minds want to know!
Check out more about the edible types of crab, here. 
Check out this crab fishing season's charts Alaska's Crabbing season It will open into a new window.
Go back up to the top of Alaskan King Crab Season
Go to Crab-O-Licious.com Homepage

Sours: https://www.crab-o-licious.com/alaskan-king-crab-season.html
The harvest for Dungeness crab in Southeast Alaska's commercial fishing season is the second largest on record. The catch from the fall fishery added to one of the few bright spots from last year.
A few areas of Southeast's commercial Dungeness crab season are still open through February but most areas closed at the end of November. The estimate for the fall harvest is , pounds. That's down slightly from recent years. But the summer harvest was so largeat million poundsthat it still makes the total season harvest the second largest ever.
"What we saw last year was a big harvest, it was a big season poundage wise," said Joe Stratman, Southeast's lead crab manager for the Alaska Department of Fish and Game.
The total season harvest for the summer and fall fisheries is million pounds. That's far above the ten-year average, which is million pounds but just under the record breaking year of
The total season was worth $ million. That's mainly because a lot of crab were caught. The price paid to fishermen was below recent years. The fall averaged $/pound and the summer $ That's about a dollar less per pound than , which averaged $/pound and less than other recent years.
"Even though the price was slightly better in the fall; what we saw in summer and fall prices was down quite a bit from, the recent three seasons, anyway," Stratman said.
Most of the Dungeness crab were caught in the summer fishery June 15August 15, which is normal, because conditions are safer and more fishermen are participating. In the fall fishery, the main areas were open for all of October and November. There are still some fishermen crabbing in a few of areas still open but Stratman says it's not likely that the harvests will change enough to compete with the record year.
Managers rely on Dungeness harvest data because they don't do separate surveys on the species in Southeast. Harvests have been good in recent years compared to other species of crab. Commercial red king crab fishing has been closed in recent years and commercial Tanner fishing is limited to about a week a year.
But commercial fishing for Dungeness is open for four months a year in many areas and the population seems to be holding.
"I think it's safe to say we have steady and reliable, annual recruitment into the fishery," said Stratman. "We've got a steady amount of crab that are entering the fishery every year, recruit crab that are legal for the first time and we don't have any large gaps in our recruitment."
The Southeast area with the highest harvest in this fall's fishery was District 12 in northern Chatham Straight [, pounds]. The highest participation in the fishery was District 8 near Petersburg and Wrangell.
The next crab fisheres in Southeast are Tanner and golden king crab in mid-February.
Sours: https://www.kfsk.org//01/29/southeast-alaskascommercial-dungeness-crab-season-harvest-is-the-2nd-largest-on-record/
Young New Captain's Hunch Results In $1.8 Million Season - Deadliest Catch
Find Fishing Industry Jobs in Alaska
The areas of Alaska as we describe them are divided up into 5 areas. We describe these areas in greater detail in a section that follows but will go over them briefly because it will give you a better understanding of the fishery calendar in this section.
The areas of Alaska are divided up 1 through 5. If you picture Alaska on a map, Area 1 resides in the Southeast, of which the region is named after. It is the portion of Alaska that is furthest to the south and nearest Canada. From there the areas sprawl counter clockwise moving through the northwest. Thus Area 2 of Prince William Sound is closest to Area 1, followed by Area 3 (Kodiak Island), Area 4 is further north and further west in the Aleutian Islands and finally Area 5, the furthest north of the Alaskas areas, in Bristol Bay.
Here is a Calendar outlining the Fishing Seasons in Alaska with the regions in which they run indicated as well.
January
Jan. 1 Aug. Pacific Cod (Pots) A season begins.
Jan. 20 Nov. 1: Pacific Cod (Bering Sea via Trawlers)
February
No fisheries begin in the month of February but several are ongoing from other seasons.
March
March 1 Nov. IFQ Blackcod (sablefish) season
March 1 Nov. IFQ Halibut season
March 17 June Area 1 – Herring (roe specifically) begins and vary by area
April
Apr. 15 June Region 1 Spring King Salmon (Trolling)
May
May 1 Dec. Area 3 – Dungeness Crab
May 1 Feb. Area 1 – Yakutat Shrimp (Pots)
May 1  Feb. Area 1 – Beam Trawl Shrimp Season
May 12 June Hake (off of the OR and WA coast lines)
June
June 1 Aug. Area 1 Sablefish (blackcod via longliners)
June 1 Sept. Area 1 Summer Salmon Troll Season
June 2 Oct. Area 1 Yakutat Set Net Salmon
June 8 Sept. Area 2 General salmon season (gillnetting and purse seiners)
June 8 Sept. Area 1 Salmon gillnet season
June 10 July Area 5 Sockeye salmon season in Bristol Bay
June 10 Aug. Area 4 Salmon seasons with varying dates
June 10 Sept. 1: Pacific Cod Catcher/Processor via trawling C season
June 10 Sept. 1: Pacific Cod Catcher Vessel via trawling C season
June 10 Nov. 1: Pollock Season in the Bering Sea B season
June 10 Nov. Pacific Cod Catcher/Processor via hook & line B season
June 10 Nov. Pacific Cod Catcher Vessel via hook & line B season
June 29 July Yellowfin Sole (at open sea)
June 29 July Rockfish
July
No fisheries begin in July but there are several ongoing throughout the summer. Its a peak month!
August
There are very few fisheries that begin in August, but several ongoing. Here are the few that begin during August.
Aug. 15 May Gold King Crab in the Aleutian Islands
Aug. 5 Nov. Pacific Cod in the Bering Sea via Hook & Line
September
Sept. 1 Sept. King Crab
Sept. 1 Sept. Mackerel
Sept. 1 Dec. Pacific Cod B Season
Sept. 1 Nov. Region 1 Sablefish (Blackcod)
Sept. 1 Nov. Region 4 ATKA Mackeral Eastern B Season
Sept. 1 Nov. Region 4 ATKA Mackeral Centerl B Season
Sept. 1 Nov. Region 4 ATKA Mackeral Western B Season
Sept. 1 Oct. Pacific Cod in the Gulf of Alaska
October
Oct. 1 Feb. Area 1 Dungeness Crab Season
Oct. 1 Feb. Area 1 Shrimp season
Oct. 1 Apr. Area 1 Winter King Salmon Season via Trolling
Oct. 15 May Area 4 Tanner Crab
Oct. 15 May Opilio in the Bering Sea
Oct. 1 Oct. 8: Pollock D season in the Gulf of Alaska
Oct. 1 Feb. Area 1 Shrimp Season via Pots
November
Nov.1 Nov. Area 1 King Crab (red)
December
Dec.3 Feb. Area 1 Herring
Traveling to Alaska | =>
Sours: https://www.alaskafishingjobsnetwork.com/getting-a-job/alaska-fisheries-calendar-and-seasons/
Crab 2020 alaska season
King crab: Uncertainty as coming season hinges on biomass calculations
Alaska's red king crab fleet fished on a TAC of just million pounds in the Bering Sea during the season — and continued decline in biomass may dash the chances of a season altogether, if population surveys don't come up with a miraculous discovery of male crab ready to recruit into the fishery.
Low biomass brought king crab closures to the Bering Sea king during the , and seasons. The most recent precipitous decline in the TACs began with a TAC of around 20 million pounds for the season, and the crab fleet fished on a TAC of million pounds in the season.
Last year's pound average weight for male crab has raised concerns that the crabbers are catching one of the last strong age classes as it matures. The lack of smaller, lighter male crab in catch samples indicates a lack of recruitment of younger age classes into the fishery.
"Our impression right now is that the fishermen have been fishing on the older crab," says Miranda Westphal, Bering Sea and Aleutian Islands management biologist for the Alaska Department of Fish and Game in Dutch Harbor. Westphal adds that the catch per unit of effort (CPUE) fell to 15 keeper crab per pot during the season, which is down from 20 the year before and way shy of the 38 per pot in the banner year of
"Usually, we're in the mid 20s," says Westphal. Fewer keepers indicate a declining population.
As for the fate of the upcoming season, that wasn't to be announced until October. Biologists will be working with less data this year, as repercussions of the covid pandemic thwarted trawl surveys that are usually conducted each summer.
Last year's ex-vessel prices for red king crab settled out at a preliminary average of $ per pound, which is a record for dockside deliveries, according to Alaska Department of Fish & Game data in Dutch Harbor. The previous all-time record high ex-vessel price of $ per pound was paid in
Charlie Ess
Charlie Ess is the North Pacific Bureau Chief for National Fisherman.
Join the Conversation
Sours: https://www.nationalfisherman.com
Amazing Catch Hundreds Tons Alaska King Crab With Modern Big Boat - Amazing Crab Fishing on the sea
Winter red king crab fishery in Alaska's Bering Sea canceled
Low stocks have prompted the U.S. state of Alaska to cancel the red king crab fishery in Alaska's Bering Sea for winter season.
After a review of the final bottom-trawl survey by the National Marine Fisheries Service, Alaska Department of Fish and Game (ADFG) ADFG made the announcement Friday, 3 September, saying the stock was "below the regulatory threshold for opening a fishery." ADFG said more details about the closure will be provided during the TAC meeting in early October.
It is the first time that the historically lucrative crab fishery, which takes place during the winter months in Bristol Bay, Alaska, has been canceled since It will not come as a surprise to fishermen and observers of the fishery, however. Management biologists have been cautioning a red king crab closure might be on the horizon at least since , as the stock has been in steady decline.
The total allowable catch (TAC) in was slashed by 12 percent from the previous year to just million pounds, and last winter, fishermen were allotted just million pounds. The TAC had already declined precipitously in the previous decade, going from 20 million pounds in the season to million pounds in
A large average weight on male king crab over the past couple season also had biologists concerned that recruitment of younger crab into the fishery might be low. The season registered an average catch weigh of pounds and a low catch per unit of effort for male red king crab, indicating a heavy reliance on older crab.
Pandemic demand for red king crab combined with low supply had driven prices to record levels. According to ADFG, the statewide ex-vessel price for red kings was USD (EUR ) last season, breaking the previous all-time high set the winter before at USD (EUR ). Ex-vessel prices in were closer to USD (EUR ).
Photo courtesy of photomatz/Shutterstock
Want seafood news sent to your inbox?
You may unsubscribe from our mailing list at any time. Diversified Communications | Free Street, Portland, ME | +1
Sours: https://www.seafoodsource.com
You will also be interested:
In a rage, Artyom pulled at the strap and tore it off the belt. Now the swollen pussy of the girl remained completely open. But this also did not help the guy, the length of the penis was still not enough.
101
102
103
104
105