Be Smart, Check in Advance. CARFAX — Your Vehicle History.
CARFAX — Your Vehicle History Expert
Sometimes what you don't know can't hurt you, but that's not the case when buying a used car. As an independent vehicle history provider, at CARFAX we've made it our mission to tell you everything you need to know by uncovering as many events as possible from the previous life of a used car. Our primary goal is to help you get to know your next car from the inside out before deciding to make an investment that will be part of you and your family's everyday life. We believe your next car shouldn't be hiding anything from you.
CARFAX Vehicle History Reports contain over 28 billion historical records from 20 European countries, the US and Canada, which are updated daily with new information.
Even if you live in a country we don't collect vehicle data from, it's still always worth checking the Vehicle Identification Number without obligation. The used car import and export market is booming and many owners would be surprised to find out exactly what happened to their vehicle during its previous life abroad.
Privacy for Customers — Transparency over Vehicles
Let's be clear: Although we strive to find every detail of a vehicle's life so far, we are focused only on the vehicle's history, and do not collect any information on previous owners. The information we provide relates solely to the vehicle, its odometer reading, any accidents that have been covered up, where the vehicle comes from and much more — it never gets personal. We've uncovered irreparable damage several times in the past, but other times our vehicle history checks draw a blank — and sometimes that's actually a good thing.
Second Hand — Not Second Best
Did you know that considerably more used cars are sold than new cars? We think this second-hand system is nothing short of fantastic. However, it goes without saying that it gives rise to different methods and tactics: Some sellers will disguise a car that's been in an accident under a fresh coat of paint, tamper with the odometer or conceal theft. This is one of the less appealing aspects of buying second hand. Our goal is to establish trusting relationships between buyers and sellers, since this is the best way to help customers make the right decision. Your new car should be reliable and make you feel safe, as well as make you feel like you haven't paid too much.
But more than anything else, we don't want you or your family unknowingly sitting behind the wheel of a vehicle that isn't 100% safe. This is why we strive to take these vehicles off the road, which not only makes the used car market safer but our streets safer too.
CARFAX — 35+ Years of Experience in Vehicle Histories
CARFAX was founded in the US in 1984 and expanded into Europe in 2007. Around 100 team members spread across six European offices process vehicle information from 22 countries.
Fostering strategic partnerships with registration authorities, law enforcement agencies, government departments, insurance companies, inspection centers and numerous other leading companies around the world has enabled us to compile a unique international database for vehicle histories. We use this database to help make the used car market more transparent. We give everyone in the process of buying a used car access to what is currently the world's most comprehensive source for vehicle history reports, and is growing day by day.
We remain neutral and independent despite our partnerships — our sole purpose is help customers make an informed choice and ensure their safety and the safety of their family. This includes never collecting any personal details — we do not accept any PII from data sources amongst the information we provide about a vehicle. We ensure that data protection laws are observed at all times. Furthermore, we always collect our data in compliance with legal and regulatory frameworks — in all the countries in which we are active. We expressly distance ourselves from illegal activities such as data theft, scraping and hacking.
Sours: https://www.carfax.com/Used-2003-Honda-Accord_z26102
Honda Accord 2003-2007: problems, engines, fuel economy, pros and cons, photos
Updated: July 09, 2021
The 2003-2007 Accord is a roomy, well-designed mid-size car with good handling. The Accord scored well in government crash tests. It comes as a front-wheel drive sedan or two-door coupe, with a 4-cylinder or V6 engine. The 4-cylinder engine is good on gas.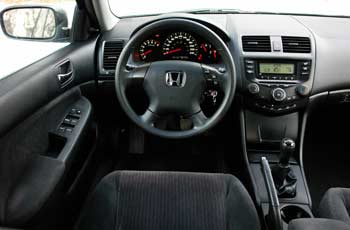 Honda Accord interior.
The interior is nicely finished. Front seats are comfortable and supportive. The rear seat space is generous. The trunk is large and the rear seatbacks fold down to accommodate longer items.
When it was newer, the Accord was one of the top recommended cars, however with age, problems are starting to show up. Some model years fared better than others. Still, it's not uncommon to find this generation Honda Accord lasting for well over 300,000 miles. What are some of the reported problems?
Reported problems:
A starter motor can go at higher mileage. The symptom is the car won't start and the engine will not make a cranking sound when starting the car. Of course, a bad battery or another problem can also cause the same issue. To confirm a bad starter motor, mechanics usually test the battery first and then check the voltage at the starter control terminal, read more. Replacing a starter motor costs between $390 and $650. Watch these videosfor more info. At higher mileage, the air intake hose (duct)that connects the air filter to the throttle body can crack/break, causing a lack of power, stalling and the Check Engine light with the code P0171. It's a cheap part and is easy to replace. Read more about it here: Vacuum leaks. See these videos.
A bad oxygen sensor can cause the code P0141, which is quite common in this car. Replacing the sensor usually solves the problem. We found many videoson this problem.
Rear O2 sensor failures are common ($250-$430 to replace).
The audio & HVAC display not working is another common issue in early models. The solution is to replace an audio unit, although there are many YouTube videosdescribing the repair of the circuit board inside the audio system. This threadprovides some pictures.
A bad A/C clutch or clutch relay can cause the A/C not to work. The relay is cheap and easy to replace. Watch these YouTube videos.
There are numerous complaints about automatic transmission failures, mostly in the 2003 and 2004 V6 models, although there are some transmission complaints in the 4-cylinder models too. Replacing the transmission with a used unit or rebuilding it can cost up to $3,000.
Excessive engine oil consumption is mentioned often too. If you notice that the engine oil level drops as you drive, check it regularly and top up as needed. Driving with low oil level will cause the engine to wear faster.
Engines:
Two engines were offered: the 166-hp 2.4L 4-cylinder K24 and the smooth and powerful 244-hp 3.0L J30 V6.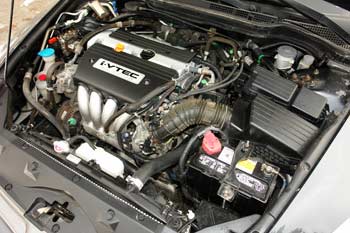 Honda Accord 2.4L 4-cylinder i-VTEC engine.
Transmission choices included a 5-speed automatic or 5-speed manual. A 6-speed manual transmission was available in late EX V6 models. The K24 engine is well known and is used in many Honda cars. It is a fuel efficient low-maintenance workhorse, but you need to make sure it's not running low on oil. It's known to consume oil at higher mileage.
Fuel Economy:
The 2007 4-cylinder automatic Accord is rated at
21/31 mpg
city highway or 25 mpg combined. The 2007 4-cylinder automatic Accord can travel for up to 431 miles (693km) on one 17.1-gallon (64.7L) tank of gas. The 2007 V6 Accord with an automatic transmission is rated at 18/26/21 mpg city/highway/combined.
Handling and ride:
On the road, the Accord handles well. The steering is responsive and precise and provides a good road feel. The ride is firm but comfortable. Some road and wind noises are noticeable at higher speeds. The 4-cylinder engine is strong enough for daily driving, while the V6 is one of the most powerful in its class.
Timing belt or chain:
The K24 4-cylinder engine has a timing chain, but the 3.0L V6 does have a timing beltthat needs to be replaced at recommended intervals.
Pros:
Fuel economy in 4-cylinder models, V6 power, good handling, responsive steering, safety ratings, roomy interior, easy to maintain.
Cons:
Road and wind noise, paint chips easily, automatic transmission problems in early models.
Related reviews:
Honda Accord 2008-2012 review
Used Toyota Camry 2002-2006 review
Overall:
The 2003 and 2004 Accord have the most reported problems, and failing transmissions in the V6 Accord have been mentioned by many sources.
2003 Honda Accord.
As of June 2021, there are 918 complaints for the 2003 Accord and only 111 complaints for the 2005 Accord under the 'Powertrain' section at the NHTSA website. This means that the 4-cylinder 2005-2007 Accord is a better option. As of June 2021, the 2004, 2006 and 2007 Accord is listed as "Recommended" on the Consumer Reports website. There is also this YouTube videoof the 2003 Honda Accord hitting 400,000 miles.
What to look for when buying a used Honda Accord:
Don't buy a car if the "Check Engine" light is on before you know what the problem is; once we have been contacted by a person who bought a Honda Accord over eBay with the "Check Engine" light on. After further diagnostic, It turned out that the engine needed to be rebuilt due to lack of compression in one of the cylinders. Check the automatic transmission fluid. If it smells burnt or looks very dirty, avoid the car.
During a test-drive, watch out for anything irregular with the automatic transmission; it is a weak spot. If there is a "clunk" or a long delay when shifting into Reverse, avoid the car. When inspecting a car, check the engine oil level; low oil level could indicate possible oil consumption.
Watch out for a noisy power steering pump. Make sure to test the CD changer. Check if the stereo and the heater control lights are working; if not, the repair could be expensive. Read more: How to inspect a used car - illustrated guide. This post has a well-done summary of common issues: 7th Gen FAQ. Before buying a car, have it inspected by an independent mechanic. Read also: What mileage is OK for a used car?
Maintenance:
The Accord's paint chips easily; repair the chips and scratches in the paint before they get corroded. In the Rust Belt, it's a good idea to rust proof the underneath of the vehicle to protect important components. Check the engine oil level regularly, especially if the engine uses oil between the oil changes. When checking engine oil, If it appears too dirty on the dipstick, get the oil change done. Checking the oil level is easy. Read our maintenance checklistwith illustrations. With a V6 engine, be easier on your transmission. Change the transmission fluid at recommended intervals, using the original Honda transmission fluid. Once a year, have your car inspected in a garage to keep it safe. If you need an owner's manual, here is the link: Where to find an owner's manual.
Engine oil capacity:
Oil change, including filter:
2.4L 4-cylinder engine: 4.4 US qt. (4.2L)
3.0L V6 engine: 4.5 US qt. (4.3L)
Recommended oil viscosity: 5W-20.
Honda Accord Safety ratings:
In the NHTSA frontal crash tests, the 2003-2007 Honda Accord received five stars for both the driver and the front passenger. In frontal offset crash tests performed by the Insurance Institute for Highway Safety (IIHS), the 2003-2007 Honda Accord received "Good" overall rating.
Read Next:
How to inspect a used car - illustrated guide
Why "Check Engine" light comes on?
Serpentine belt: When to replace
Sours: https://www.samarins.com/reviews/accord_03.html
Honda Accord (North America seventh generation)
Main article: Honda Accord
See also: Honda Inspire
Motor vehicle
Honda Accord
Seventh generation (CM4/5/6/7/8)
Manufacturer
Honda
Also called
Honda Inspire (Japan)
Production
September 2002 – 2007
Model years
2003–2007
Assembly
Designer
Shinji Takashima, Junji Tanabe (2000)[1]
Toshiyuki Okumoto, Hirotsugu Nogami (2000, coupe)[2]
Class
Mid-size car
Body style
4-door sedan (U.S. chassis no. CM4/CM5/CM6)
2-door coupe (U.S. chassis no. CM7/CM8, North America only)
Layout
Front-engine, front-wheel-drive
Related
Acura TL
Honda Odyssey
Honda Pilot
Acura CL
Engine
Transmission
5-speed automatic w/overdrive
5-speed manual
6-speed manual
5-speed automatic transmission (hybrid)
Wheelbase
107.9 in (2,741 mm) (sedan)
105.1 in (2,670 mm) (coupe)
Length
189.5–191.1 in (4,813–4,854 mm) (sedan)
187.6–187.8 in (4,765–4,770 mm) (coupe)
Width
71.5–71.6 in (1,816–1,819 mm) (sedan)
71.3 in (1,811 mm) (coupe)
71.4–71.7 in (1,814–1,821 mm) (hybrid)
Height
57.1–57.3 in (1,450–1,455 mm) (sedan)
55.7–55.8 in (1,415–1,417 mm) (coupe)
57.2 in (1,453 mm) (hybrid)
Curb weight
3,195 lb (1,449 kg) (sedan)
Predecessor
Honda Accord (North America sixth generation)
Successor
Honda Accord (North America eighth generation)
In the U.S., the seventh generation North American Honda Accord is a mid-size car that was available as a four-door sedan or a two-door coupe and was produced by Honda from September 2002 (for the 2003 model year) to 2007. The sedan was also marketed in parts of Latin America, Asia, Middle East, Caribbean, Australia and New Zealand markets, and also known as the Honda Inspire in Japan from 2003. The North American Honda Accord, with modifications for local market needs, was the launch vehicle of Honda in the South Korean market with sales beginning from May 20, 2004.[3]
Production started in Honda's Marysville Auto Plant. In early 2005, Honda's East Liberty Auto Plant started building the Honda Accord sedan on the same assembly line that produces Civic and Element to increase Honda's flexibility in meeting increased market demand of Acura TL that was also assembled in the Marysville Plant.[4]
2003–2005[edit]
Pre-facelift Honda Accord V6 sedan (Australia)
The first 2003 Honda Accord rolled off the Marysville, Ohio assembly line on September 26, 2002. A larger car than its predecessor, the North American Accord was given a new level of refinement with chrome interior accents and higher-grade materials.[5] The lineup still included all the same trim levels as the previous generation, the DX, LX, EX, LX-V6 and EX-V6.[6]
Mechanically, the four-cylinder engine was the all-new K-series. For the first time, the four-cylinder Accord gained a direct ignition (distributor-less) coil-on-plug ignition system, which had previously been introduced on the V6. The direct ignition system provides a slight horsepower and fuel economy gain, as well as improved long-term reliability, relative to the traditional system with a distributor and spark plug wires. In addition, Honda provided a new recommendation for engine oil viscosity, 5W-20 instead of the previous 5W-30 viscosity. Because of the lower viscosity, engine parts move with less friction, which increases fuel economy. Together with other improvements, this change affected an increase from the previous generation's (with VTEC four-cylinder F23A1 engine and the manual transmission) 22mpg city/29 highway rating, to 23mpg city/31 hwy, according to 2008 EPA ratings. The four-cylinder engine could be mated to a 5-speed manual transmission or to a 5-speed automatic transmission with overdrive (also new for 2003). A specific four-cylinder model was the first production car in the world to meet California's Super Ultra Low Emissions standards.
The six-cylinder models had the same J-seriesV6 as the sixth generation's, but revisions to the intake and exhaust systems contributed to a 40 hp increase, bringing the total power to 240 hp. The revised exhaust manifold actually became part of the cylinder head casting itself. Six-cylinder Accords generally had a version of the new 5-speed automatic transmission with overdrive, except for the coupe described below, which could be purchased with a 6-speed manual transmission. With the V6 engine and automatic transmission, the Accord achieved a 21mpg city/30 hwy fuel economy rating.
The 2003 model year also debuted Honda's GPS assisted Navigation system as an option for the Accord. Prior to 2003, it was only available on the higher end Acura line and the Honda Odyssey. In 2004, Honda also first offered XM Satellite Radio as a factory-installed option.
For 2005, the Accord received several updates, including standard side-curtain and front-seat side-impact airbags for a total of six airbags, revised (all red) taillights for the sedan (coupe taillights remained unchanged), more chrome on the grille, and new wheel designs for LX, LX-V6, and EX-V6 models. A new Accord Hybrid was introduced for the first time, with stylish new wheels, an EPA gas mileage of 29 City/37 HWY, and the same 3.0-liter motor as the regular V6 Accord models, but with increased horsepower. The hybrid version of the V6 produced 255 hp, an increase of 15 hp, making the hybrid quicker than the regular Accord V6 sedan, but still not as quick as the Accord Coupe V6 with 6-speed manual.
Coupe[edit]
For the first time, Honda offered an "enthusiast" version of the Accord in the U.S., adding a sports suspension and mating the 6-speed manual transmission from the Acura CL without the Type-S' helical limited-slip front differential. It had bigger 17" wheels shod with slightly wider 215/50R17 vs. the sedan's 205/60R16, both of which improved handling, per C/D 9/2003.
The Honda Accord Coupe was unveiled as a performance concept at the 2002 SEMA show.[7] The concept-only version had powertrain and chassis modifications that included a high-flow intake and exhaust, 295 bhp (220 kW) 3.2L V-6 engine, limited-slip differential, prototype 8-piston Brembo brakes, and a lowered racing suspension and widened track. Exterior modifications included a carbon fiber body kit (including the bumpers, side sills, grille, and underbody diffuser), dual aluminum integrated exhaust ports, aluminum/carbon fiber rear wing, black chrome finish headlights, and taillights, 20-inch black chrome wheels, Bridgestone Potenza S03 235/45 ZR20 tires, and fender flares and NSX Spa Yellow paint. Interior modifications included an F1-style paddle shifter on the steering wheel, prototype multifunction meter display with on-board diagnostics, Sparco carbon/Kevlar backed bucket seats covered in Alcantara suede, 4-point front seat harnesses, three-spoke racing steering wheel, and aluminum sport pedals.
The Factory Performance Package was a dealer option based on the SEMA concept car, available for 2003 Accord V-6 Coupe LX and EX with either manual or automatic transmissions. Chassis/exterior changes included Factory Performance suspension (shock absorbers, springs), underbody aero kit, 17-inch alloy wheels, 215/50VR-17 high-performance tires, and a rear wing spoiler. Interior accessories included a factory performance shift knob and trim.[7]
2006–2007[edit]
In 2005, for the 2006 model year, which was its 30th anniversary, the North American Accord received a mid-generational refresh, though it was fairly significant and some enthusiasts called this generation 7.5.
The exterior was revised with a new front grille later seen on the eighth-generation Honda Civic which also debuted that year, new rear-end styling with triangular LED taillights, daytime running lights (DRLs) and heated side mirrors for U.S. EX models.[8] Heated mirrors and DRLs were previously available only on Accords sold in Canada. The 2006 model year also featured new wheel designs, with 17" wheels being standard on V6 models. Vehicle Stability Assist (VSA), traction control, and Brake assist became available on the V6 models for the first time. Previously, the system was named TCS and included traction control and brake assist, but not stability control.
MY06 Facelift (Chile)
MY06 Facelift (Australia)
The interior was also slightly redesigned with changes such as a new steering wheel cover, differently colored gauges and a differently styled shift knob for automatic transmission models. The GPS Navigation system was updated (4th generation) with a faster processor, more memory, and several new features, such as restaurant information from Zagat. A revised maintenance minder system was also added which gave owners reminders for scheduled maintenance such as oil changes based on operating conditions.
Powertrain improvements were made across the Accord line-up in 2006. The V6 engine's power was increased to 244 bhp (182 kW) (+4 hp, SAE net revised 8/04*) and the four-cylinder engine's power was increased to 166 bhp (124 kW) (+6 hp, SAE net revised 8/04*). Power gains were achieved with extensive improvements to the airflow of the intake and exhaust systems. Due to these improvements, the V6 engine was renamed the J30A5 from the previous J30A4, and the four-cylinder from the K24A4 to the K24A8. For the Brazilian market, the 2.4L engine was dropped in favour of a smaller 2.0L four-cylinder i-VTEC K20A engine generating 148 bhp (110 kW). This was done to make the car more competitive against the newly released Ford Fusion. The 2006 model year was also the first year in which the V6 sedan was offered with a 6-speed manual transmission from the coupe as an option. The four-cylinder Accords were now controlled with Drive-By-Wire (DBW), rather than a throttle cable, providing for smooth operation and enhanced throttle response; V6 Accords already used DBW prior to the 2006 model year.
The 2006 Accord Hybrid got the same revisions as the other Accords, although its engine and battery power was identically powerful to the 2005, the 2006 rating system re-rated it at 253 bhp (189 kW), and a larger battery pack was added. Features that differentiate the Hybrid from other Accords are the different rear light clusters, the antenna, the wheels, the mirror turn signals and the lack of a folding rear seat. The 2005 Hybrids also had a different storage door from other Accords, which disappeared on the 2006 version.
The trim levels were also revised, with the basic Accord DX being succeeded by the VP (Value Package) trim which added air conditioning, keyless entry, power locks, and cruise control as standard features compared to the 2005 DX. In Canada, sedans came as DX-G, SE, EX-L, SE-V6, EX-L V6, EX-L V6 6MT, and the Hybrid, while coupe trims included the SE, EX-L, EX-L V6, and EX-L V6 6MT.
For its 2007 model year, a new SE-V6 trim was introduced.[9] The color "Cool Blue Metallic", previously only for the coupe, became available for the sedan. Despite being in its last year of the generation, the 2007 Accord was still ranked highly by reviewers, scoring slightly below the redesigned Toyota Camry in the Edmunds family sedan comparison.[10]
Hybrid[edit]
2005 Honda Accord Hybrid (U.S.)
2006–2007 Honda Accord Hybrid (U.S.)
Honda offered the Accord Hybrid in the United States in the 2005 through 2007 model years. Produced exclusively in Sayama, Saitama, Japan, the Accord Hybrid was the company's third hybrid model when the 2005 model was introduced in late 2004, following the Insight and Civic Hybrid.[11] The Accord Hybrid was priced US$3,000 higher than the "EX V6" model Accord, and retained substantially the same trim and feature levels (although the 2005 model did not include a power moonroof). Honda positioned the Accord Hybrid at the top of its non-Acura lineup in North America.
While this new vehicle shared the same displacement as the regular Accord V6 powerplant, the engine in the hybrid was derived from the 2005 Honda Odyssey minivan and has the ability to shut off three of the six cylinders under certain conditions for better fuel economy (a technology that Honda calls VCM or Variable Cylinder Management). The new engine features iVTEC technology and drives a new compact five-speed automatic transmission, developed to allow the inclusion of the electric motor sandwiched between the transversely mounted engine. Power of the gas engine is up from 240 to 255 horsepower (179 to 190 kW) and torque rose from 212 to 232 pound-feet (287 to 315 N⋅m). The vehicle reaches 60 miles per hour (97 km/h) in 6.5 seconds.[12] Together with the Integrated Motor Assist electric motor, the hybrid version provided slightly higher performance than the conventional V6-engined Accord. However, the marketplace did not embrace the Accord Hybrid, and the vehicle was discontinued after the 2007 model year.
Fuel economy was originally estimated at 30 mpg‑US (7.8 L/100 km) city and 37 mpg‑US (6.4 L/100 km) highway for the 2005 model year, but was later changed to 28 mpg‑US (8.4 L/100 km) city, 35 mpg‑US (6.7 L/100 km) highway, after Honda's addition of standard moonroof and spare tire during the 2006 model year. This change bumped the car to a higher weight class for United States Environmental Protection Agency mileage testing. The 2006 model has also been rated an AT-PZEV vehicle. AT-PZEV (Advanced Technology-Partial Zero Emissions Vehicle) is an emissions standard created by the California Air Resources Board. 2005 model year Accord Hybrids were rated LEVII-ULEV by the California Air Resources Board and Tier2, Bin5 by the EPA.
For 2006, the Accord Hybrid came standard with Vehicle Stability Assist (VSA), and like the conventional Accord, received a minor exterior facelift. Accord Hybrids from the model year 2006 and up can be identified by the amber rear turn signals whereas their fully-gasoline counterparts have red rear turn signals.
Honda announced the Accord Hybrid would return to the market for the 2014 model year after skipping a generation, with a new dual-motor system and a plug-in option.[13]
For model year 2018, Honda offered a hybrid version of the 10th generation Accord.[14]
Mechanical[edit]
Body styles[edit]
| Chassis codes | CM4/CM5/CM6 | CM7/CM9 |
| --- | --- | --- |
| Body types | 4-door sedan | 2-door coupe |
| Accord | 2003–2007 | 2003–2007 |
| Accord V6 | 2003–2007 | 2003–2007 |
Engines[edit]
Model
Years
Type/code
Power, torque at rpm
Accord
2003–2005
2,354 cc (2.354 L; 143.6 cu in) I4 (K24A4)
160 bhp (119 kW) at 5,500, 161 lb⋅ft (218 N⋅m) at 4,500
2006–2007
2,354 cc (2.354 L; 143.6 cu in) I4 (K24A8)
166 bhp (124 kW) at 5,800, 160 lb⋅ft (217 N⋅m) at 4,000
Accord V6
2003–2005
2,997 cc (2.997 L; 182.9 cu in) SOHC VTEC V6 (J30A4)
240 bhp (179 kW) at 6,250, 212 lb⋅ft (287 N⋅m) at 5,000
2006–2007
2,997 cc (2.997 L; 182.9 cu in) SOHC VTEC V6 (J30A5)
244 bhp (182 kW) at 6,250, 211 lb⋅ft (286 N⋅m) at 5,000
Accord Hybrid
2005[15]
2,997 cc (2.997 L; 182.9 cu in) SOHC i-VTEC VCM V6 (JNA1)
255 bhp (190 kW) at 6,000, 232 lb⋅ft (315 N⋅m) at 5,000
144V electric motor
16 bhp (12 kW) at 840, 100 lb⋅ft (136 N⋅m) at 840
6.0Ah 144V (120 cells at 1.2 V) Ni-MH
13.8 kW
2006–2007[16]
2,997 cc (2.997 L; 182.9 cu in) SOHC i-VTEC VCM V6 (JNA1)
253 bhp (189 kW) at 6,000, 232 lb⋅ft (315 N⋅m) at 5,000
144V electric motor
16 bhp (12 kW) at 840, 100 lb⋅ft (136 N⋅m) at 840
6.0Ah 144V (120 cells at 1.2 V) Ni-MH
13.8 kW
Changes to power rating in 2006 and later model year vehicles was caused by the use of Society of Automotive Engineers (SAE) J1349 (Rev 8/04) net calculations that went into effect in January 2005.[17]
Partial Zero Emissions Vehicle versions only came in four-cylinder sedans equipped with automatic transmission. Beginning in the 2004 model year, PZEV models sales began in the U.S. states of New York, Maine, Vermont and Massachusetts.[18]
Transmissions[edit]
| Model | Years | Type/code |
| --- | --- | --- |
| Accord | 2003–2007 | 5-speed manual, 5-speed automatic w/overdrive |
| Accord V6 | 2003–2007 | 5-speed automatic w/overdrive, 6-speed manual (EX coupe, 2006-07 EX sedan) |
Safety[edit]
The National Highway Traffic Safety Administration (NHTSA) has crash test ratings of Accord of different model years:[19]
The Insurance Institute for Highway Safety found 2003–04 Accords had the lowest fatality rates in the non-luxury mid-size sedan class.[20]
Recalls[edit]
Recall 11v-395 was initiated on August 4, 2011, for V6 Accords and other V6 Hondas with automatic transmissions. Four-cylinder models were not affected. The recall was estimated to cover 1,512,107 vehicles.[21]
On October 1, 2012, Honda announced a recall of 573,147 Accords in the U.S. and 30,058 in Canada equipped with V6 engines from model years 2003 through 2007. The addition of the Accords to already recalled Acura TL cars from model years 2007 and 2008 raises the number of affected vehicles in the United States and Canada to 660,086.[22]
Recall 14v-351 was initiated on June 19, 2014, for many Hondas involved in the Takata airbag recall.[23]
References[edit]
External links[edit]
Sours: https://en.wikipedia.org/wiki/Honda_Accord_(North_America_seventh_generation)
Buying a 2003 Honda Accord in 2020?
And why you can, but we cant. Realizing that he let slip, Roman decided to restore justice. - Yes, of course you are right.
Honda accord 03
My wife stopped sucking my cock and tried to get it out from under the dog, but I held her back. -Richy won, too, -and it is he who shows his desire, so do not interfere with him. -I said.
2003 Honda Accord EX-L 5-spd 156k Updates and Overview
After the fourth or fifth push, she still managed to escape. Pushing me aside and grabbing a package of chocolate, she ran at a run down the alley. Feeling weak in my legs, I sank down on the dirty asphalt and leaned back against the tank.
Now discussing:
First, I unbuttoned my bra, from which my breasts fell out. Vanka's eyes lit up, he began to crumple the deflated member. I turned my back to him and slowly pulled off my panties to the floor, bending over on straight legs, so that he could see everything from behind. Turning around, I found a guy overwhelmed with excitement, rubbing again a straight hard organ.
- Aunt Ol, and also bend over like that.
1
2
3